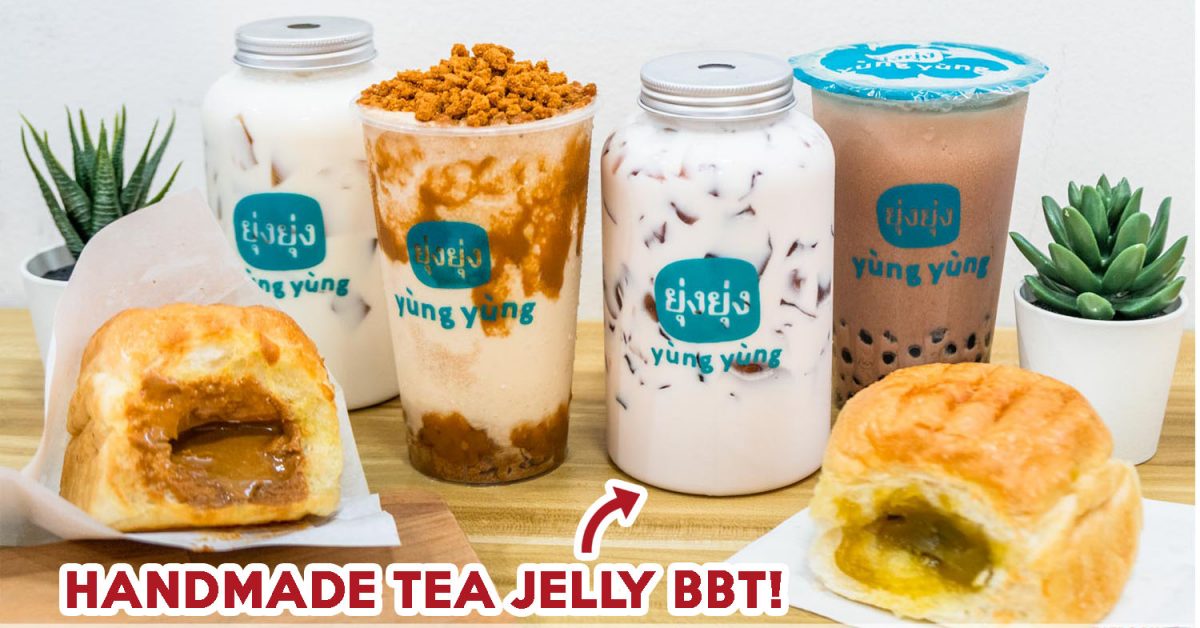 Yung Yung bubble tea near Bishan MRT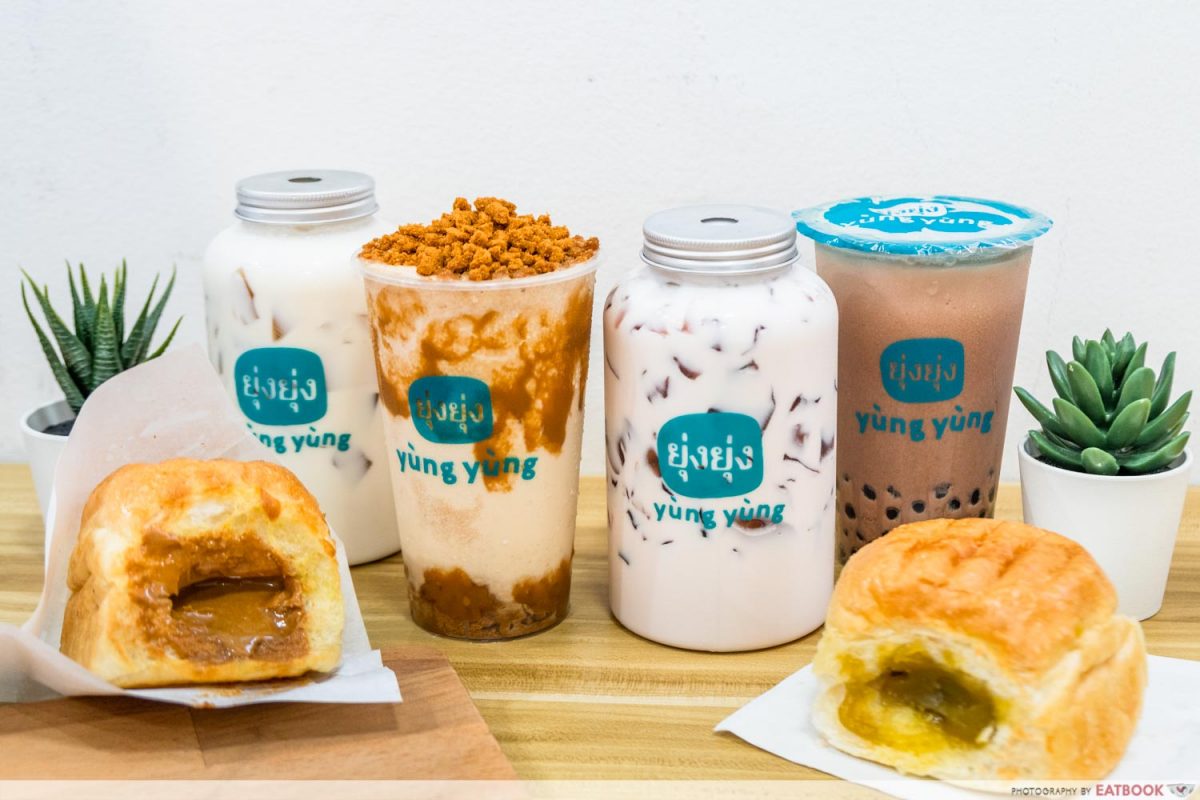 Sorry to burst your bubble, but some part of me really argues that local stand-alone bubble tea shops have a lot more value to give than your standard chain shops. Let Yung Yung, my newest BBT discovery in Bishan, prove my point. Though they specialise in their handmade flavoured jelly milk teas, their menu can really make some look like kids in a candy shop. 
They literally personify the term "drink stall" with their diversified range of flavoured fruit and milk teas, lattes, smoothies, yoghurt blends, and even fizzy sodas, among others. I trudged down to their stall, determined to try as many menu items as my stomach could. 
Denzy Gelato Review: Ice Cream Cafe With Unique Flavours Such As Saffron At Bishan
Food and drinks at Yung Yung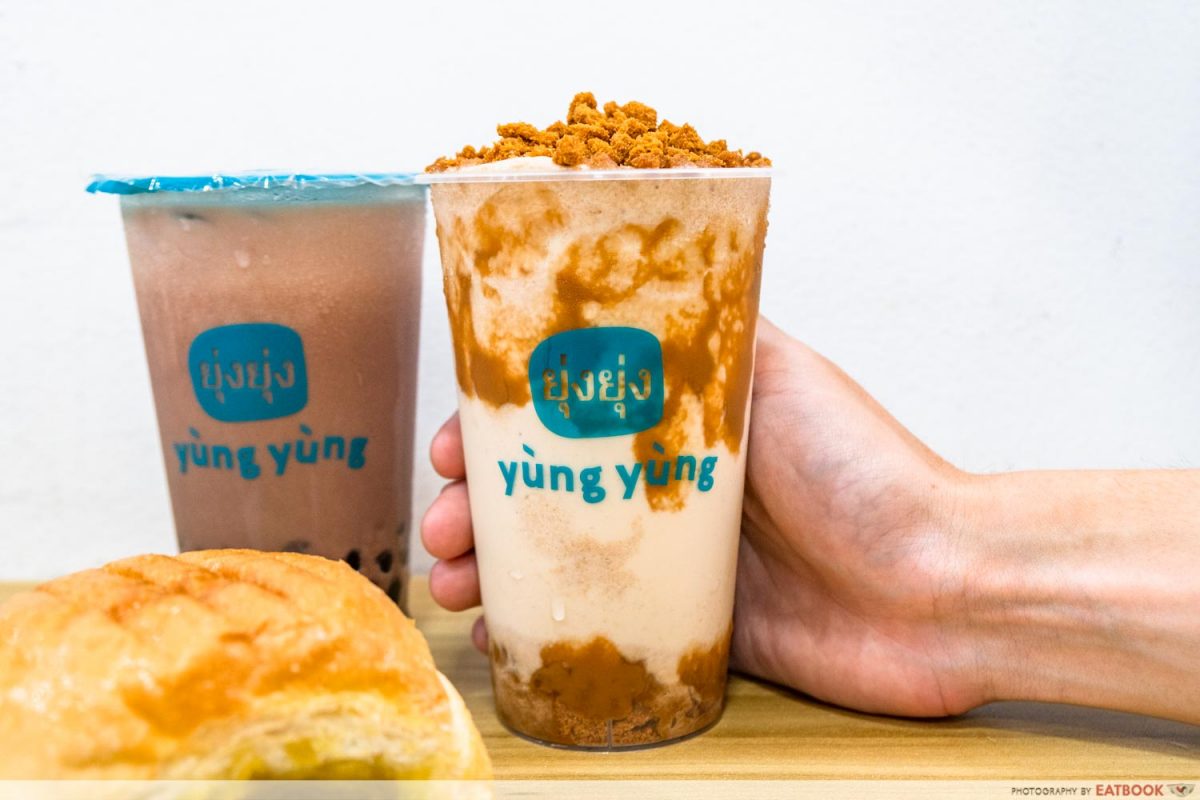 Starting off rich to make myself feel rich, their Lotus Biscoff Smoothie ($4.80 for medium) is one of their best-sellers, and rightfully so. Appearing more like a thick milkshake, the drink is laced with a real generous amount of Lotus Biscoff spread and biscuit crumbs, without me having to even beg them to gimme, gimme more.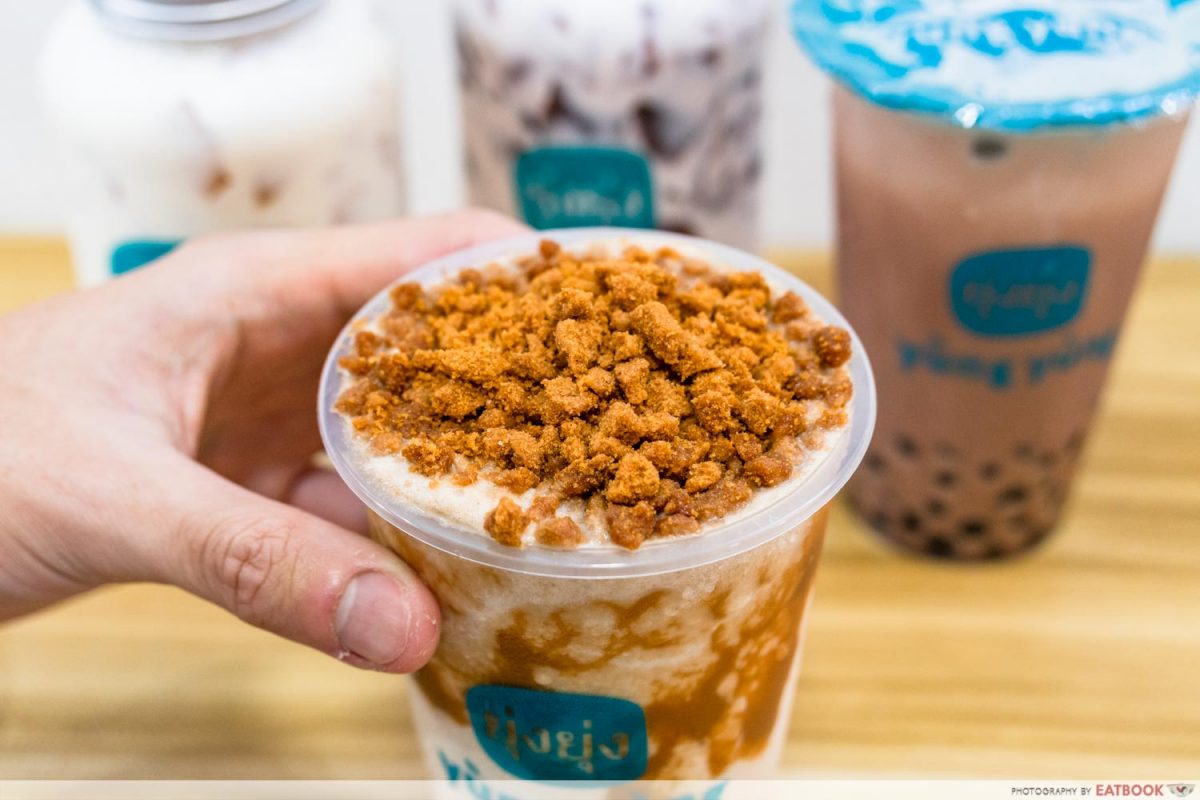 Taste-wise, the smoothie is far from diluted. It's gao, it's decadent, but admittedly not something I can gulp down everyday as I'd imagine it can get jelak for some. Still, I especially liked how the caramelised Lotus Biscoff flavour isn't too in-your-face, but is well-balanced with the milkiness of the drink, making it a lot less heavy on the palate.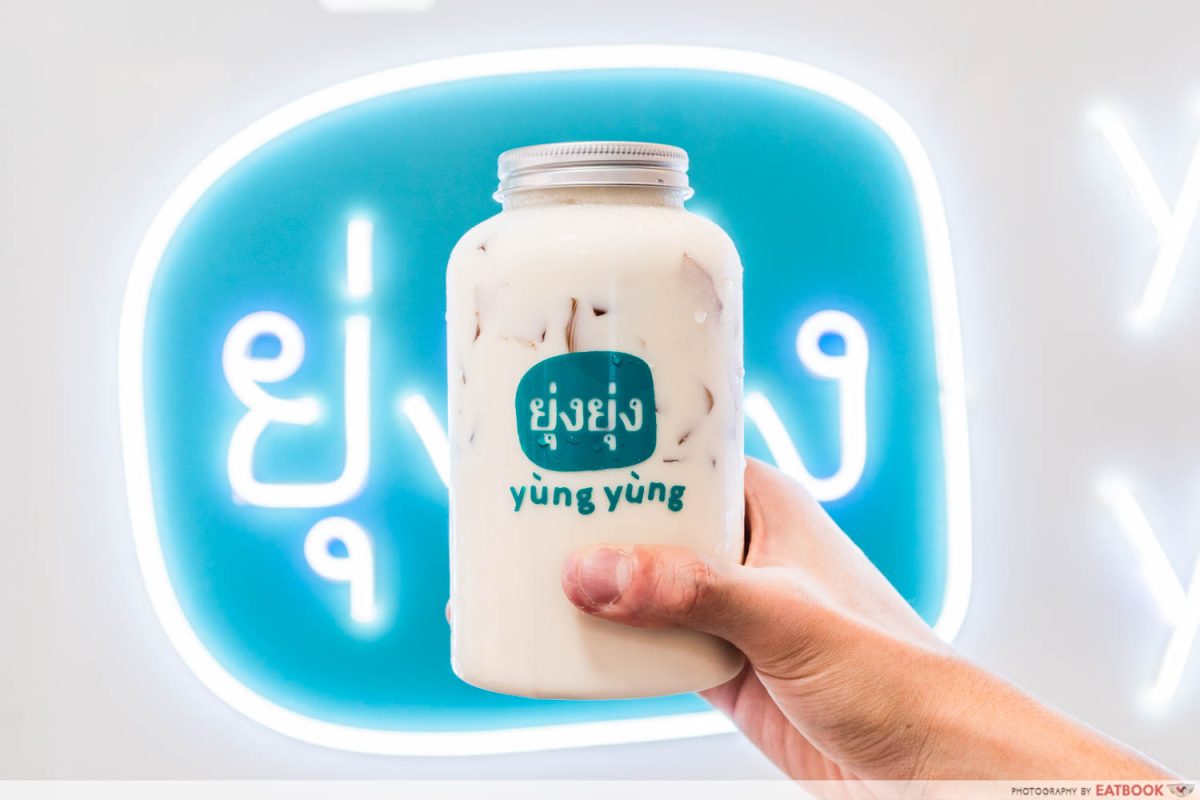 I often find myself frustrated when ordering jelly toppings at other BBT shops because they just won't seem to budge at the bottom of my cup, requiring a lot of effort to suck them up with a straw. I realised I don't have that same problem here, after trying their Golden Oolong Jelly Milk Tea ($5.80 for large). BTW, all drinks were ordered at 50% sweetness too.
Their milk tea is pretty decent, creamy enough yet not overpoweringly sweet, with a slight hint of earthiness possibly from the oolong jelly. I was surprised by how refreshing it was compared to others, allowing me to appreciate the tea essence better.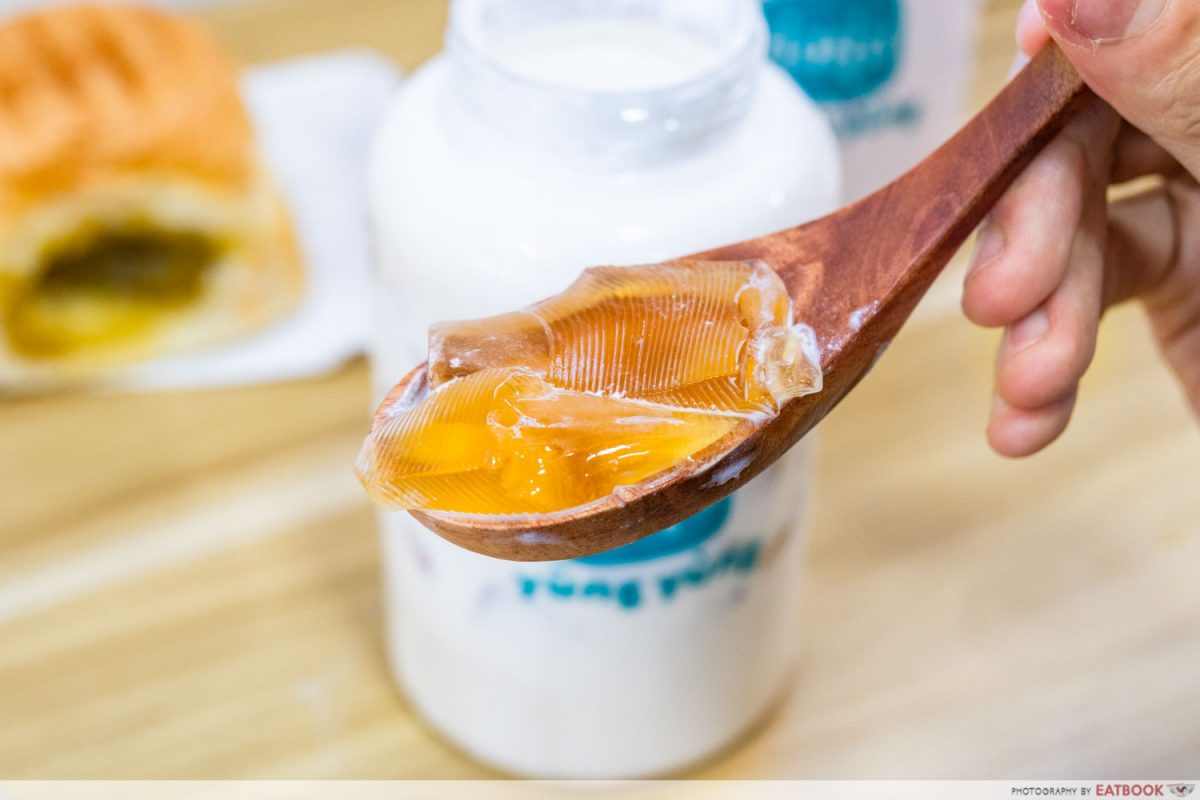 The golden oolong jelly was interesting as it was not overly chewy and easy to slurp up, with a soft texture that had some semblance of tau huay. My only gripe would be that I'd prefer the oolong tea's taste to be more pronounced, to make the jelly a little less bland.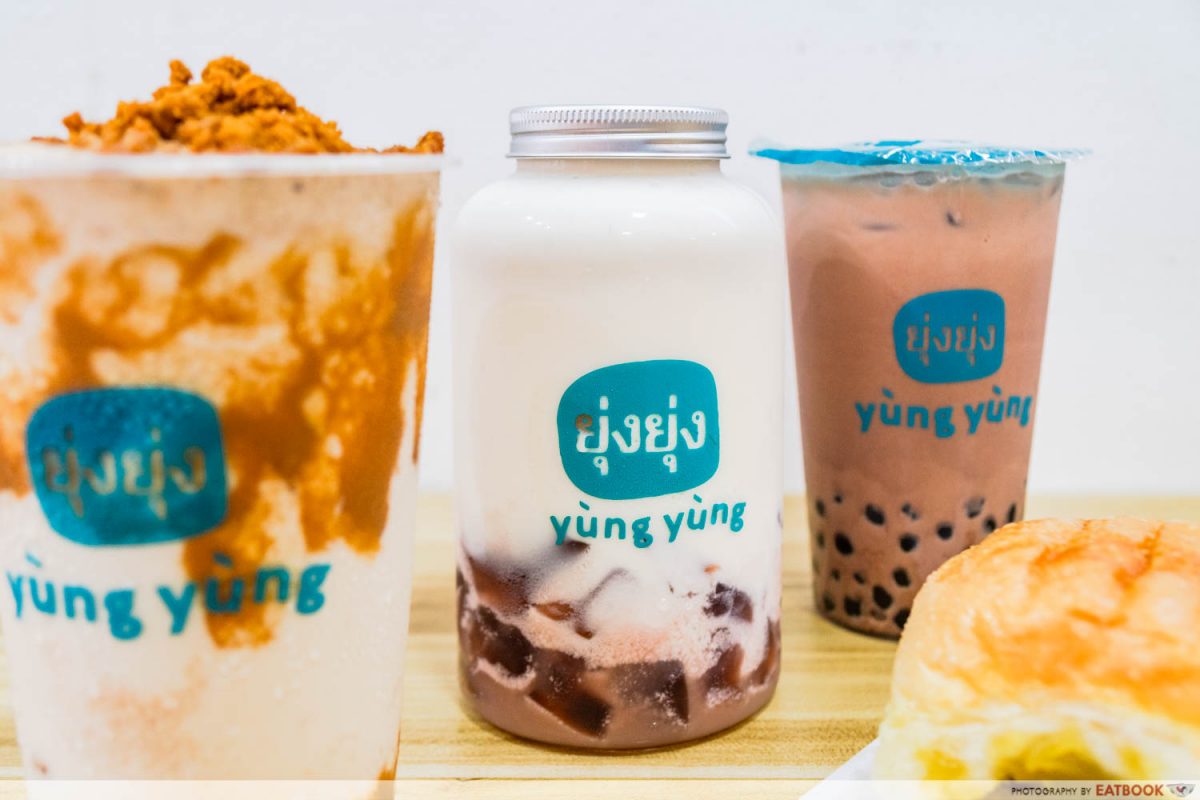 Now I needed some Vitamin C to bluff myself that I'm "health-conscious", so I went for the Peach Yoghurt With Champagne Grape Jelly ($6.40 for large). I was honestly expecting a whole sugar rush, knowing how sweet peaches can be, but thankfully their version wasn't too cloying.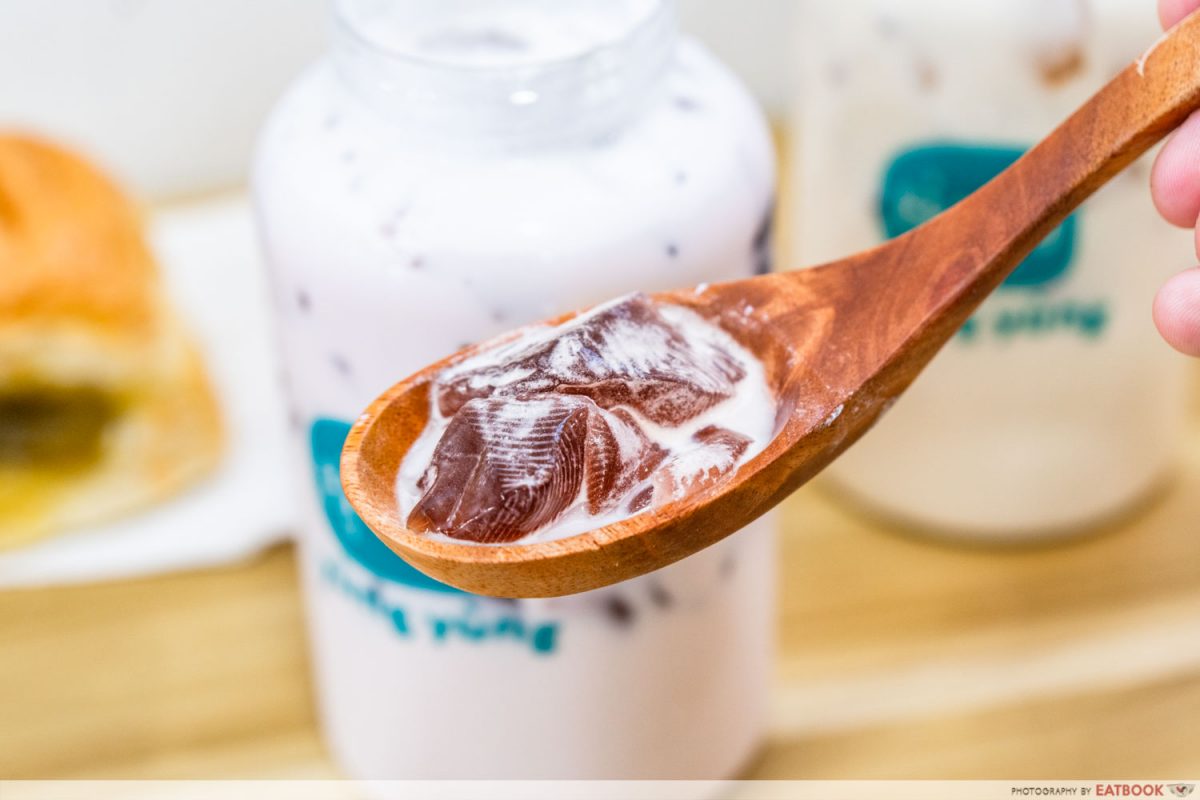 The yoghurt drink had a smooth consistency that wasn't far from that of Yakult, with the peach's taste fairly sharp and not too overwhelming. The champagne grape jelly didn't disappoint at all, with a pleasant balance of tartness and sweetness, though I feel like it would have been a more apt accompaniment to other milkier drinks.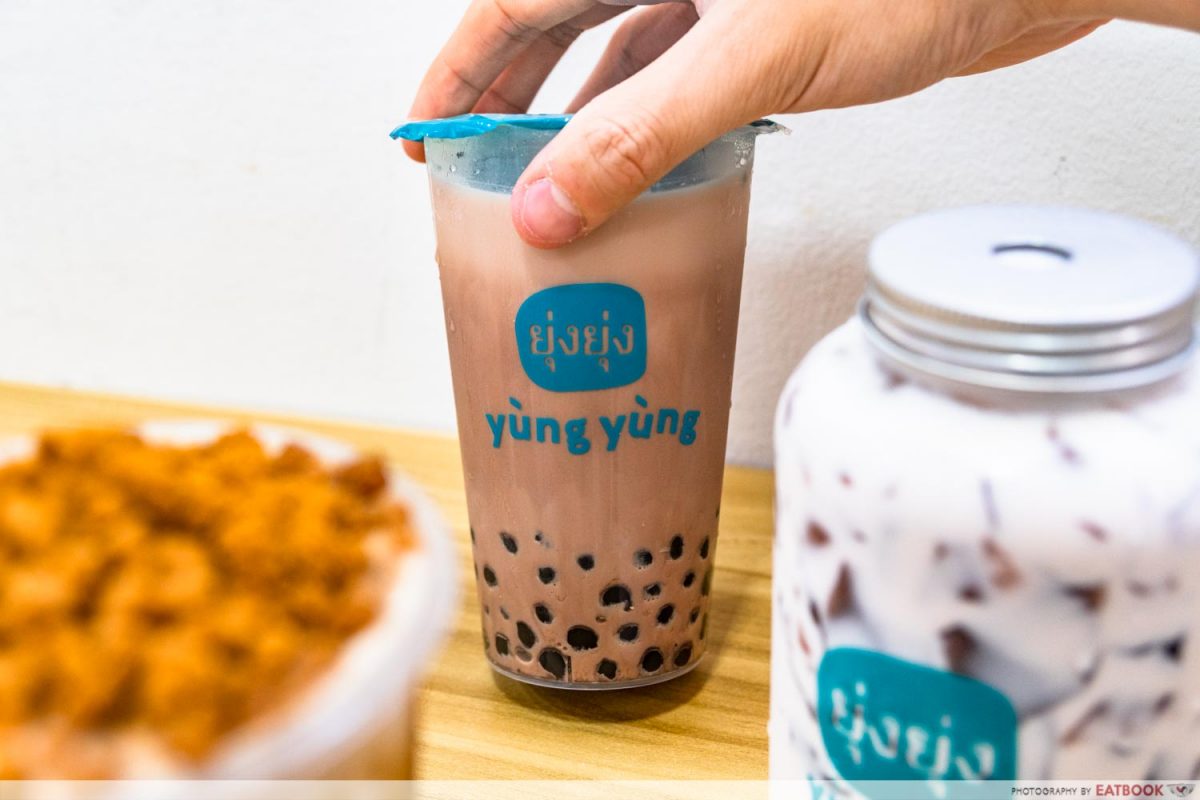 Growing up, one of my staples at any Hong Kong cha chaan teng would have to be a warm Ovaltine malt drink. That's why I jumped for joy when I discovered their Ovaltine Milk Tea With Honey Pearls ($4.70 for medium). Their version was more chocolatey, with the cereal-like malt taste a lil' more faint. Yet, I do feel like the drink might be a bit too thick for some.
In contrast to your usual tapioca pearls, their honey pearls are more sugary and have slight floral notes, which make the drink a tad more multidimensional. Yes, their pearls are made with their own in-house recipe as well!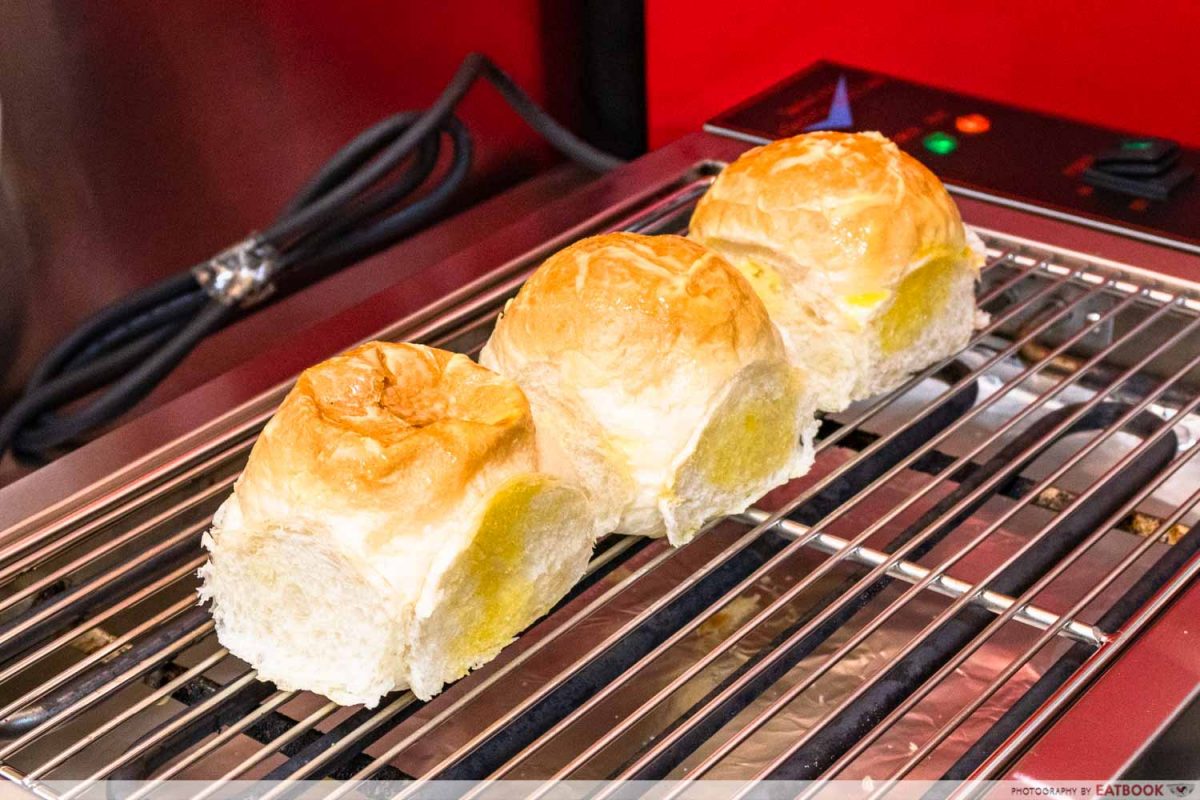 If you're just hungry, I'd urge you to go for their IG-worthy toasted bread buns, especially the Traditional Pandan Kaya ($2.30) and Lotus Biscoff ($2.90). True enough, their buns really be crispy on the outside and soft on the inside too.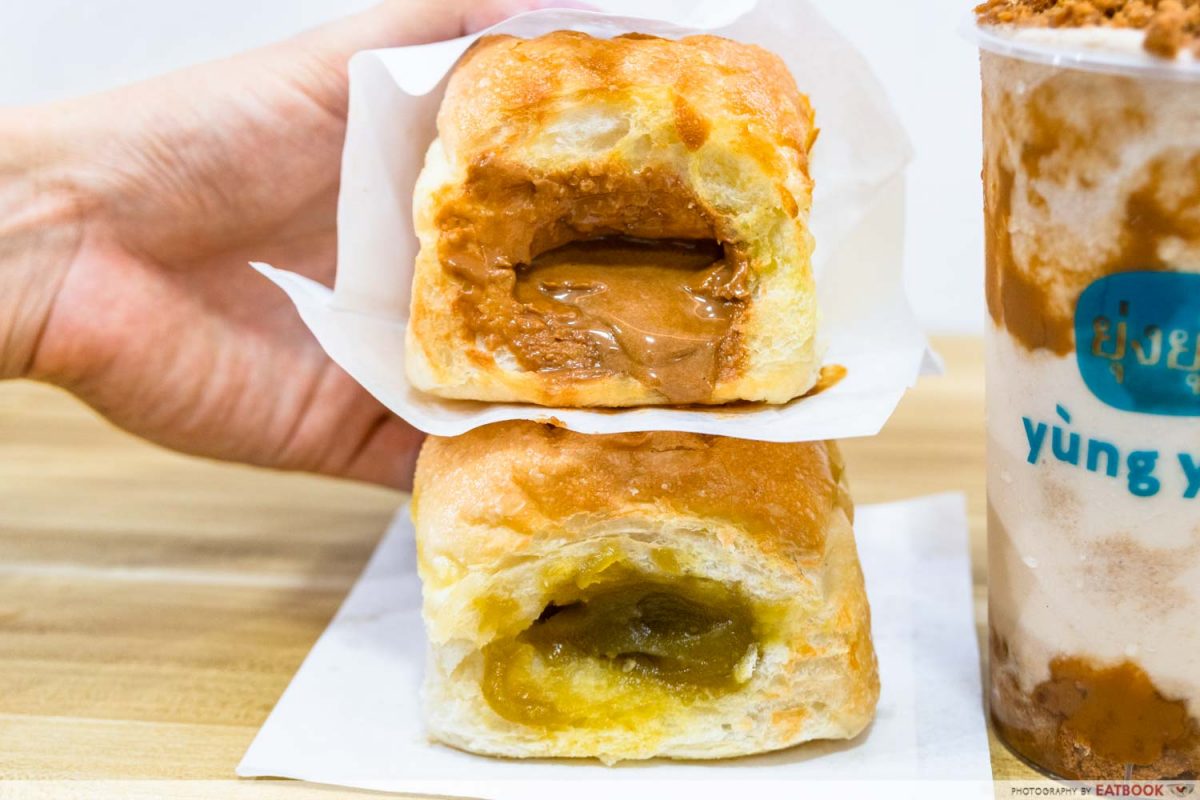 I noticed that the Lotus Biscoff filling was literally overflowing while they were slightly more stingy with the kaya. Be sure to enjoy your bread fast, because they do harden and become tougher after a while of taking photos.
682 Min Jiang Kueh Review: IG-Worthy Min Jiang Kueh With Orh Nee, Green Tea, And Coconut Fillings
Ambience at Yung Yung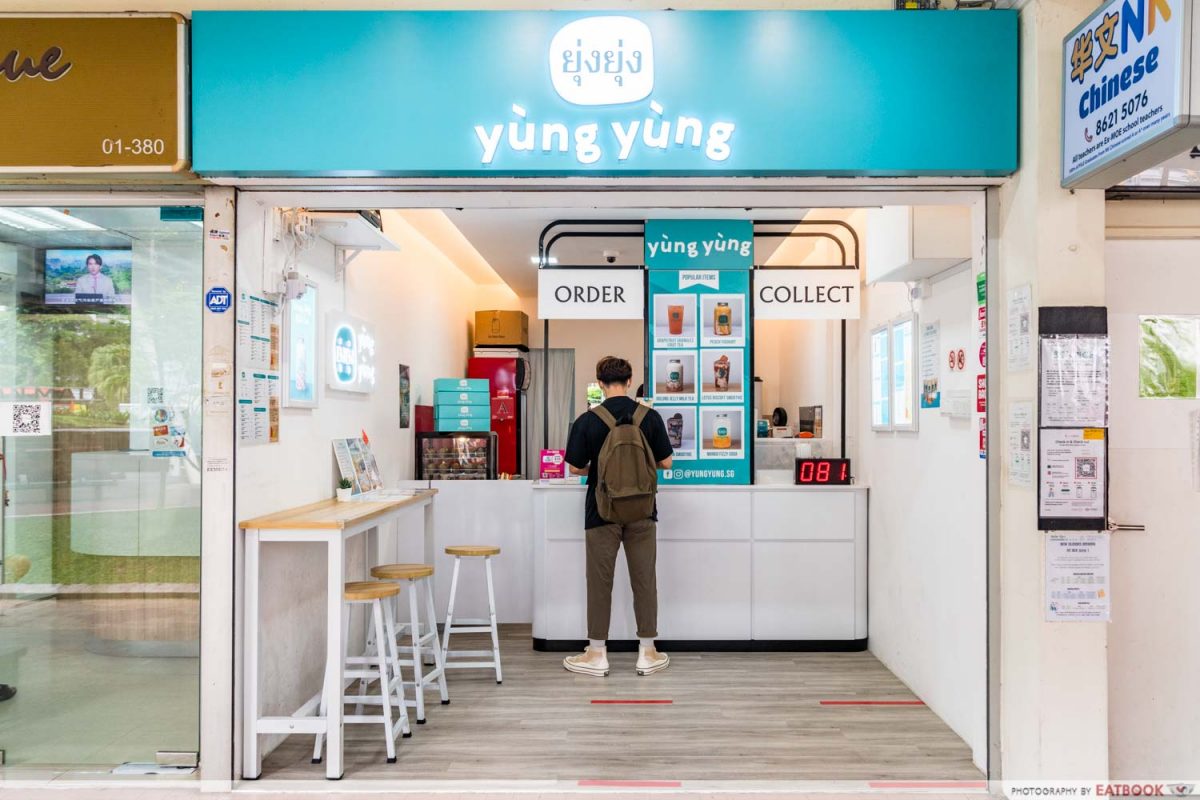 A 10-minute walk from Bishan MRT Station, Yung Yung finds itself in a pretty accessible location within a residential area surrounded by both primary and secondary schools. Their storefront screams youthfulness as you're greeted by neon light signs and an aesthetically pleasing pastel blue backdrop.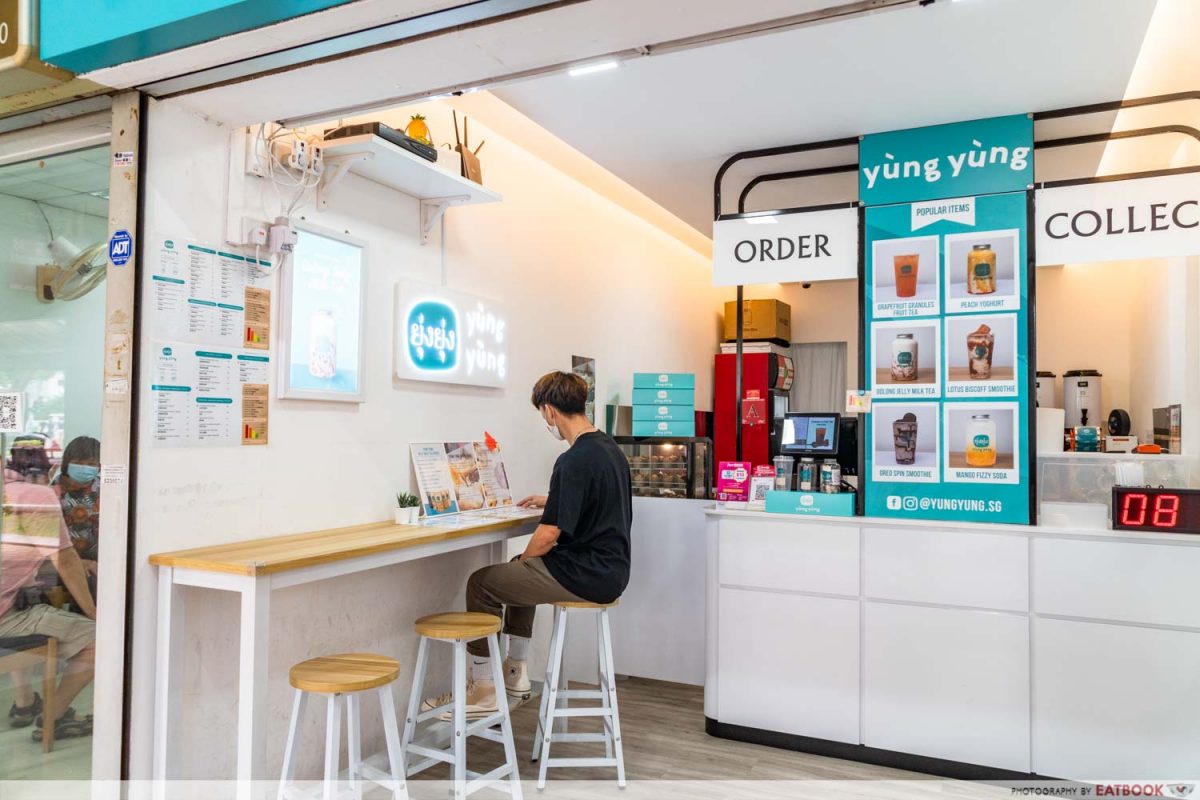 Brightly-lit with only a bar table-top seating about four people, this really isn't the kinda place to lepak at, but more of a grab-and-go kiosk. That being said, their stall concept is pretty and seems to really appeal more to the Gen-Z crowd in particular.
MILK Review: First Muslim-owned BBT Cafe With Flavours Such As Chendol And Strawberry Cream Cheese
The verdict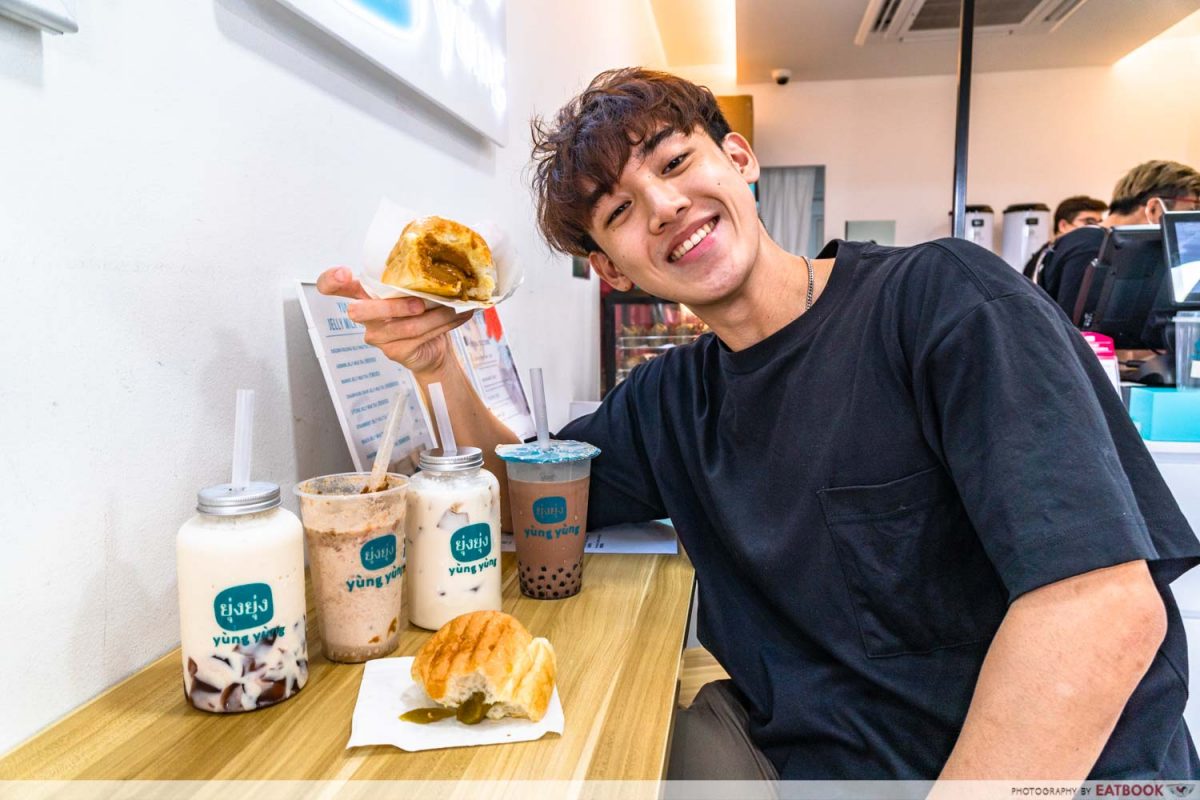 What I really respect about Yung Yung's owners is their willingness to take risks, despite knowing that they're in direct competition with numerous BBT chains in Bishan, especially with a cheeky Tiger Sugar just around the corner. Yung Yung certainly differentiates themselves by bringing innovation to the table, shown through their multitude of drinks with handmade toppings.  
I personally liked their Golden Oolong Jelly Milk Tea and Peach Yoghurt With Champagne Grape Jelly, mainly because their housemade jellies are one of the best I've had around. But, depending on your preferences, I'd still recommend you check out their other menu items and am sure you won't leave disappointed at all.
If you're looking for other local BBT options around, check out our Tea Dough review for BBT with handmade pearls sold by an ex-air stewardess at Boon Lay. If not, read our MILK review for a Muslim-owned BBT cafe with unique local flavours like Chendol at Bugis.
Address: Block 509 Bishan Street 11, #01-380, Singapore 570509
Opening hours: Daily 11.30am to 9.30pm
Tel: 8820 8292
Website
Yung Yung is not a halal-certified drink stall.
MILK Review: First Muslim-owned BBT Cafe With Flavours Such As Chendol And Strawberry Cream Cheese
Photos taken by Chew Yi En.
This is an independent review by Eatbook.sg.
The post Yung Yung Review: IG-Worthy Lotus Biscoff Smoothies, Flavoured Jelly Milk Teas And More At Bishan appeared first on EatBook.sg – New Singapore Restaurant and Street Food Ideas & Recommendations.