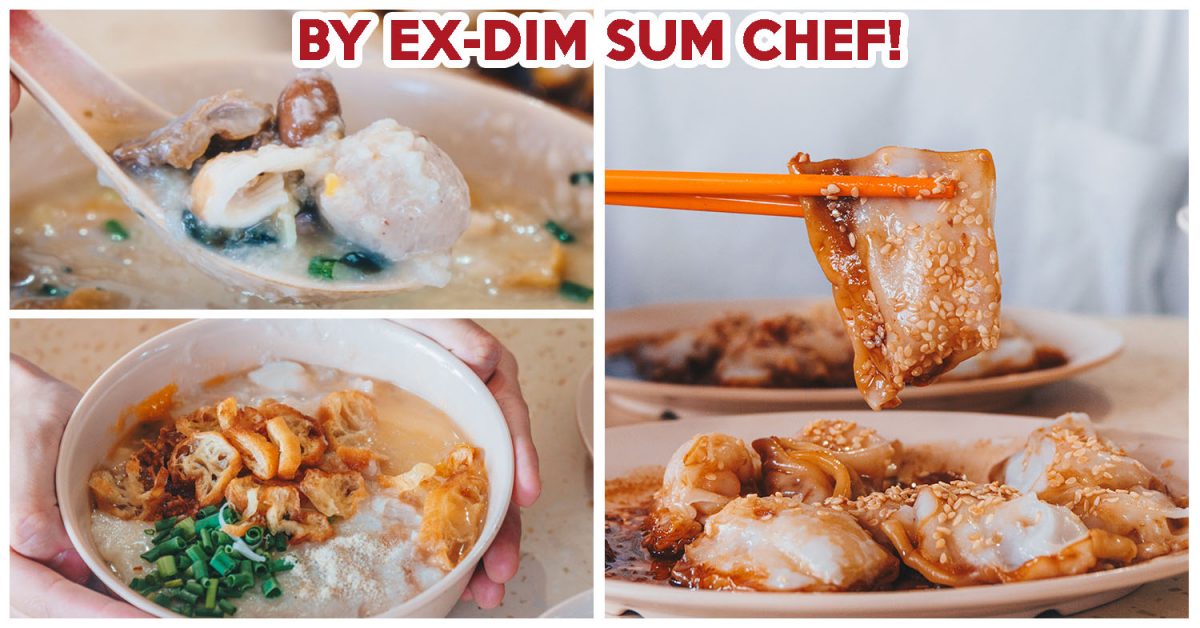 Xiang Gang Xin Kou Wei at 117 Aljunied Market and Food Centre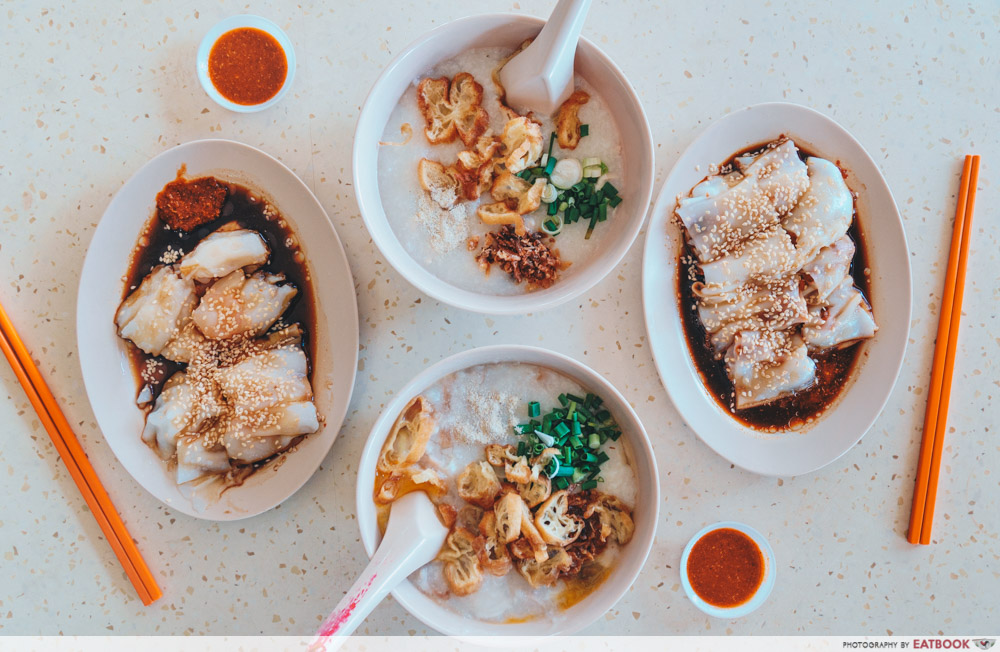 Aside from other brilliant creations like Ocean Park and TVB dramas, Hong Kongers have always found a way to integrate innovation into their food, particularly in their chee cheong fun (CCF). Because of this, I was ecstatic to discover Xiang Gang Xin Kou Wei's existence, right here in Singapore.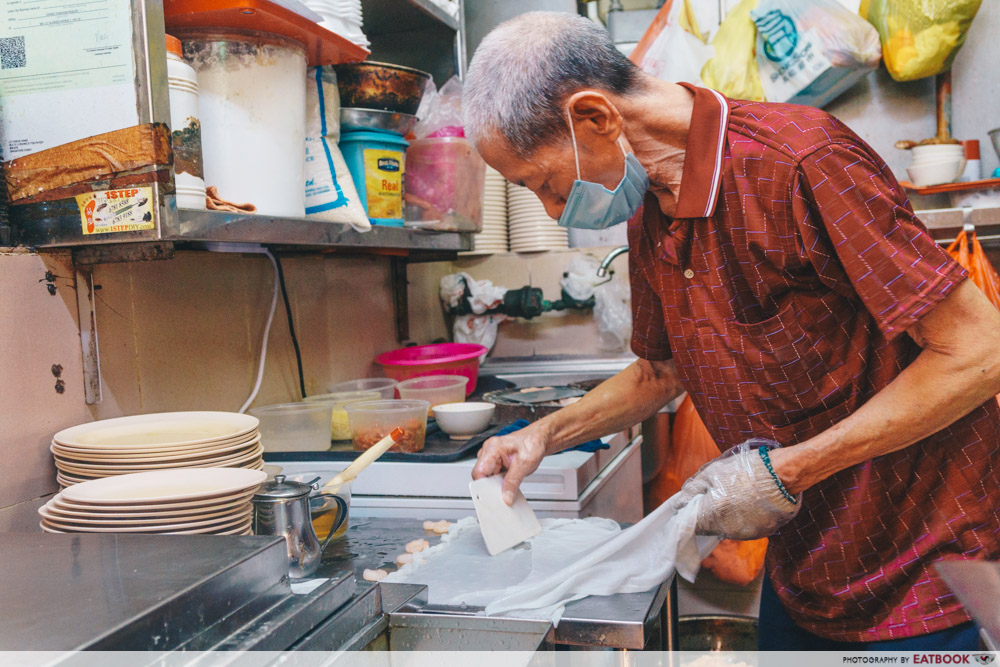 Helmed by an ex-dim sum chef straight outta Hong Kong, the stall has quite the selection of congee and CCF for you to try. The best part is you get to witness how your CCF is prepared right in front of your eyes. Having tried other styles like Ipoh Curry Chee Cheong Fun previously, I wanted to reaffirm my love of HK-style CCF, with a dining companion.
Ipoh Curry Chee Cheong Fun Review: Curry Mee And Chee Cheong Fun With Roast Meats In Yishun
Food at Xiang Gang Xin Kou Wei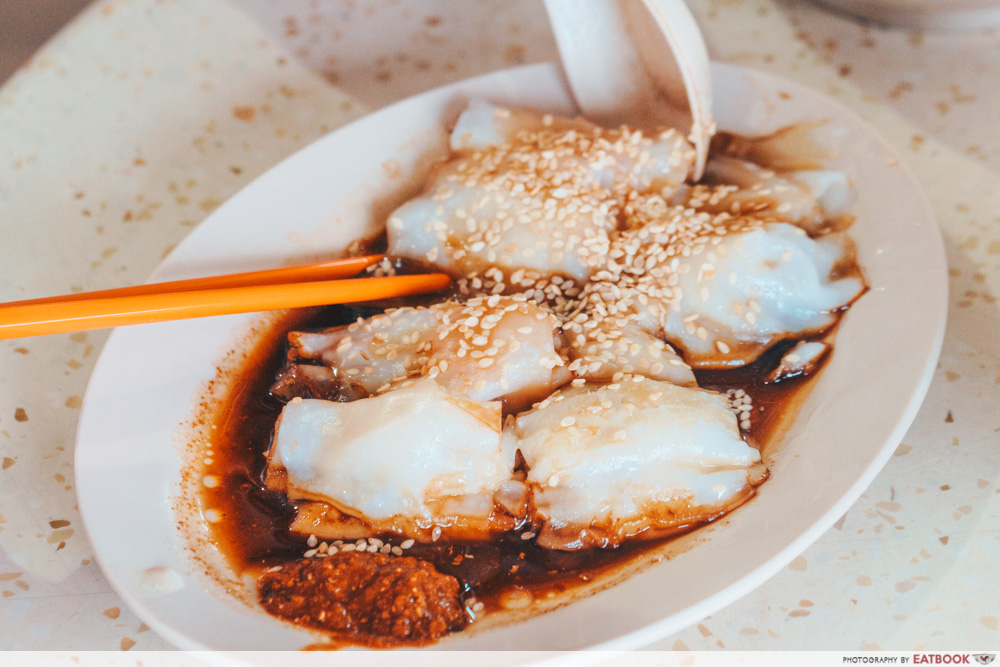 A must-have for me everytime I visit such stalls, the Fresh Prawn Chee Cheong Fun ($2.50) pretty much has the potential to either make or break my day. First of all, the rice noodle rolls are done exquisitely, as they are silky smooth and soft when bitten into.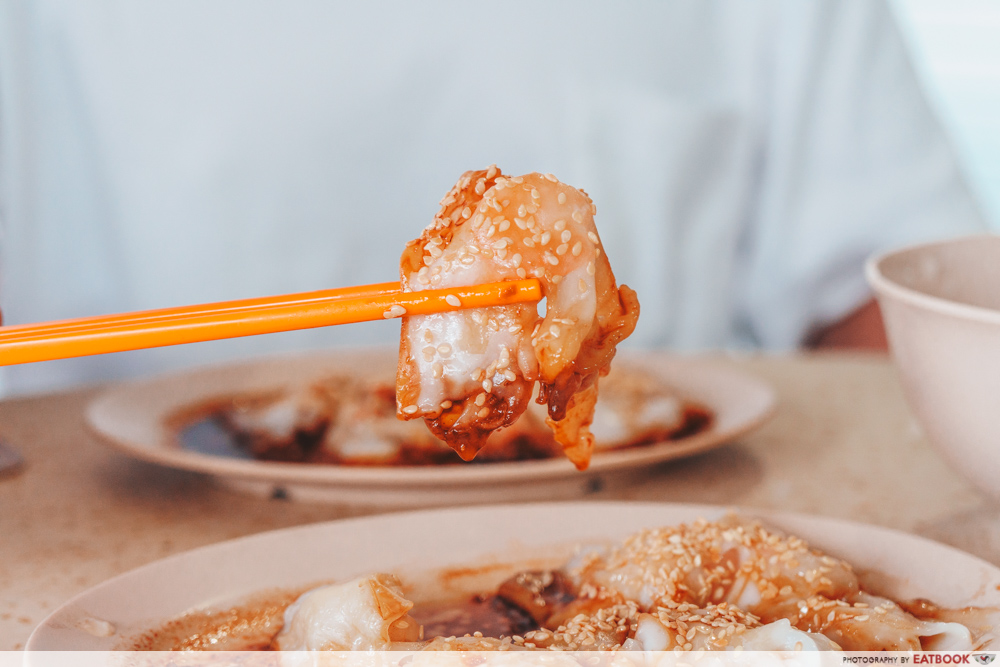 They were light on the palate, yet being able to hold their own as they retained their structure and texture well even when filled with ingredients. My only gripe would be that after a while of taking photos, the chee cheong fun dried up and ended up tasting more starchy and bland, even when paired with the sauce.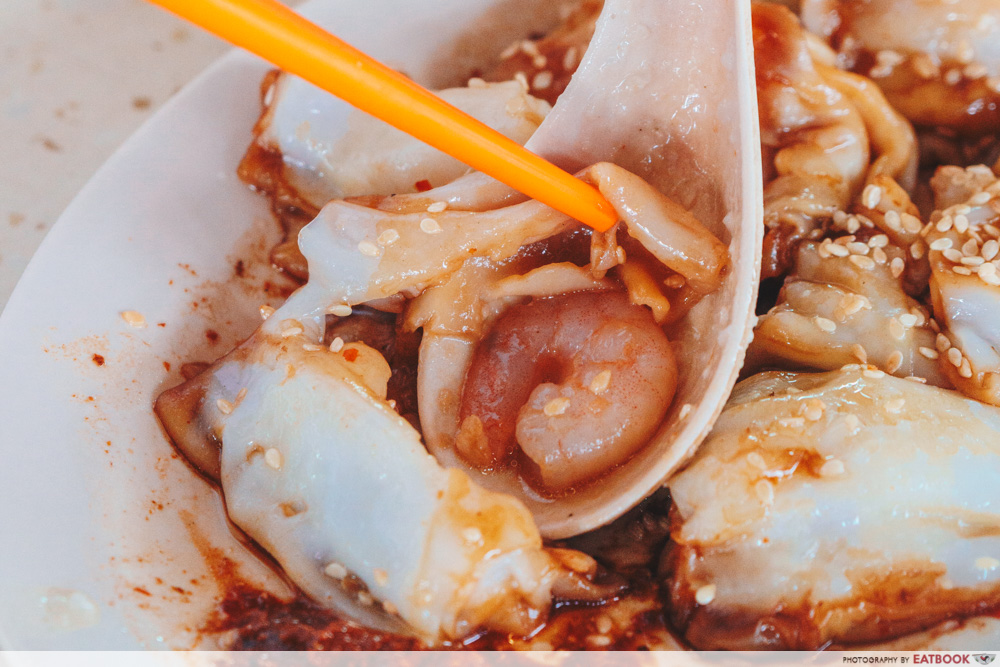 Admittedly, I did think the prawns tasted fresh enough, justifying the dish's name well. I enjoyed how the prawns had a nice little crunch when bitten into, lacking any sort of fishy taste. Though I wish a more generous portion of prawns was given, the great quality of prawns used more than justified its price tag, with a delicate sweetness that I thoroughly relished in.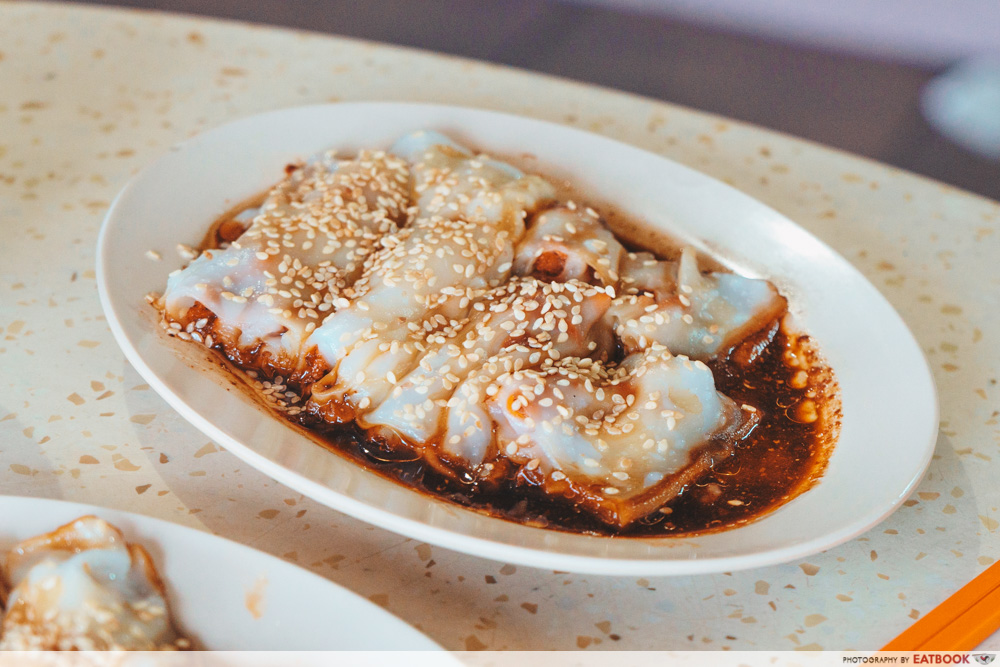 Same couldn't really be said about the Char Siew Chee Cheong Fun ($2.50), which just didn't hit as well. Although the diced char siew was aplenty, the meat was rather tough and too chewy for my liking. Instead of being a rich, slightly sweet complement to the savoury sauce, the char siew required the soy sauce and chilli combination to make it less tasteless.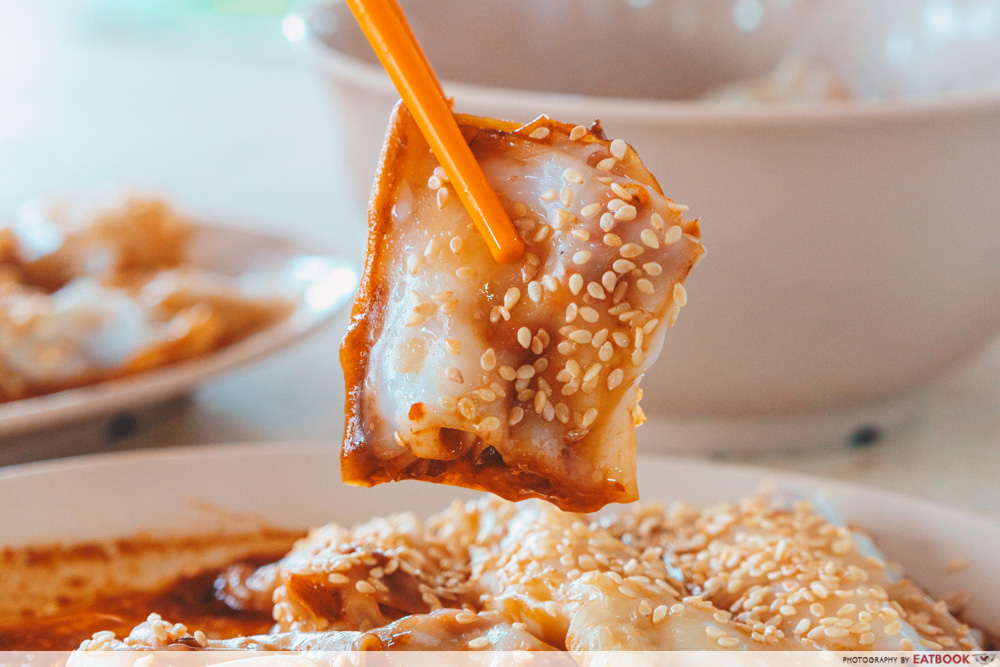 Same as the one used in its fresh prawn counterpart, the savoury sauce went well with the chee cheong fun as it was light and didn't overpower the key ingredients of the dish, with a predominantly salty-sweet taste. 
A portion of their house-made chilli was served alongside, but other than providing some tangy notes, it was pretty lacklustre because it didn't have that spicy kick.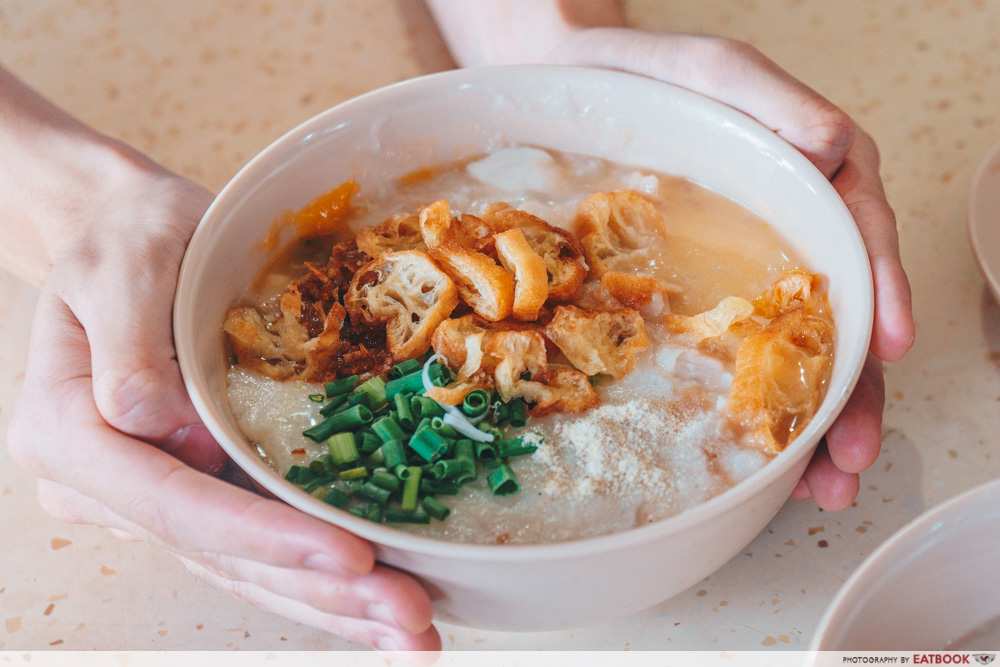 If there's anything I need to have in my congee, it'll have to be any form of pig's innards, just because I like it like that. So, I had to order the Mixed Signboard Porridge ($4) to see just how many types of offal they have to offer. 
I was elated to find bits of pig's intestines and liver in the bowl itself, though a larger variation would have been preferred. But, there were indeed plenty of ingredients to make up for that, including sliced fish, century egg, lean pork slices, and even peanuts.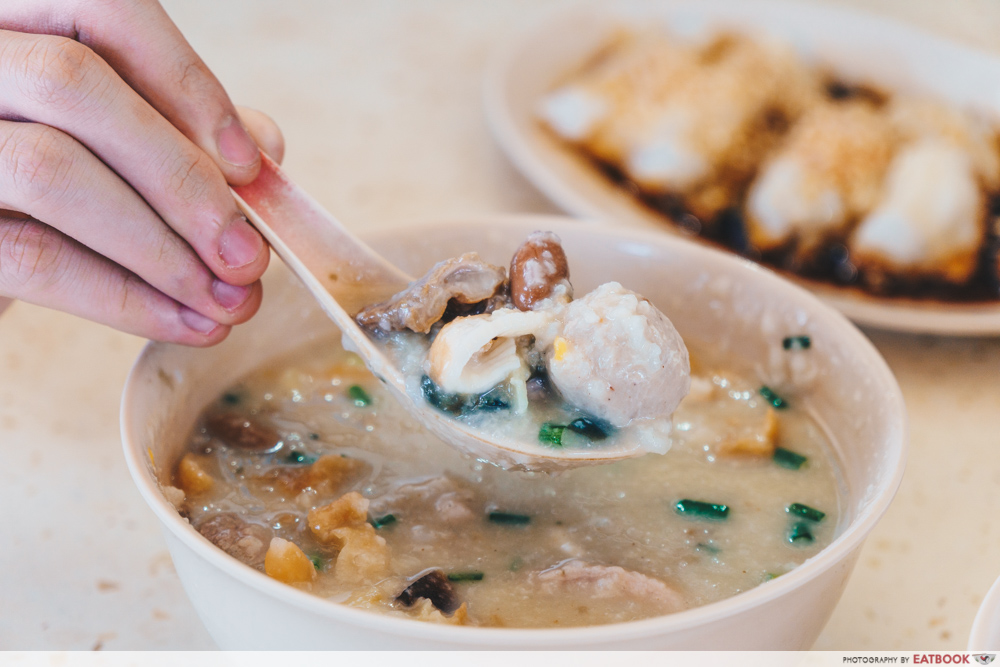 To their credit, the pig's intestines and liver were well-prepared as they lacked any bitter aftertaste, allowing me to savour the strong, slightly gamey flavours of the meat and appreciate the tenderness. The sliced fish was soft and smooth in texture, though I had to play hide and seek to find the fish most of the time. 
I'd have to say the lean pork slices were a winner, because they were more succulent than I thought with a firm but pleasant mouthfeel, pairing with the congee well. Yet, the porridge was a tad too watery for my liking, even with all the ingredients added in.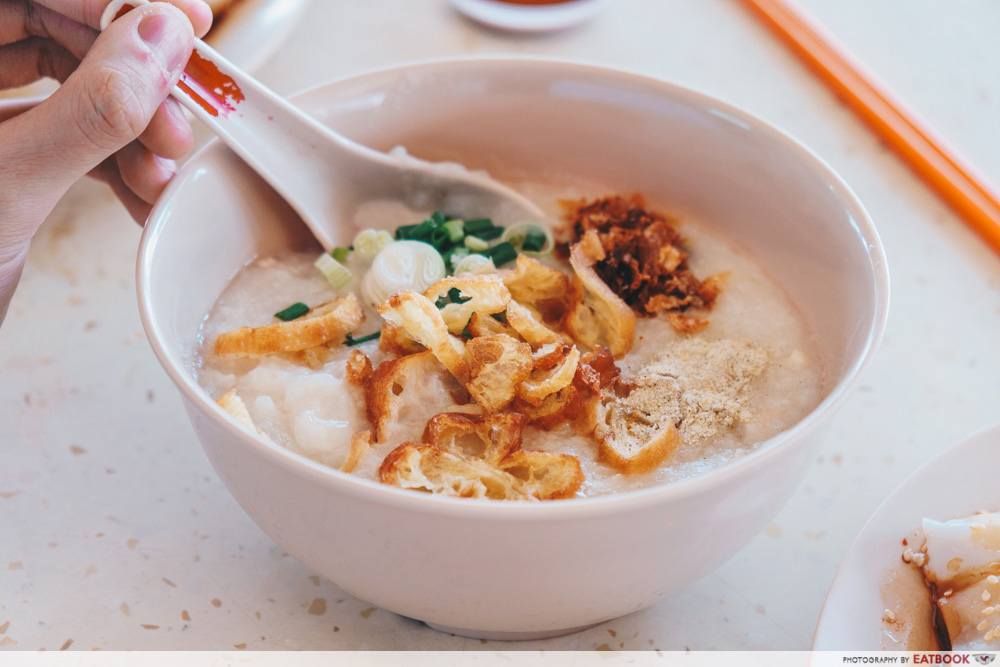 My never-ending love for mushrooms spurred me on to try the Sliced Chicken With Mushroom Porridge ($2.50) as well. The bowl is further generously garnished with youtiao, spring onions, and fried onions which make it all the more flavoursome.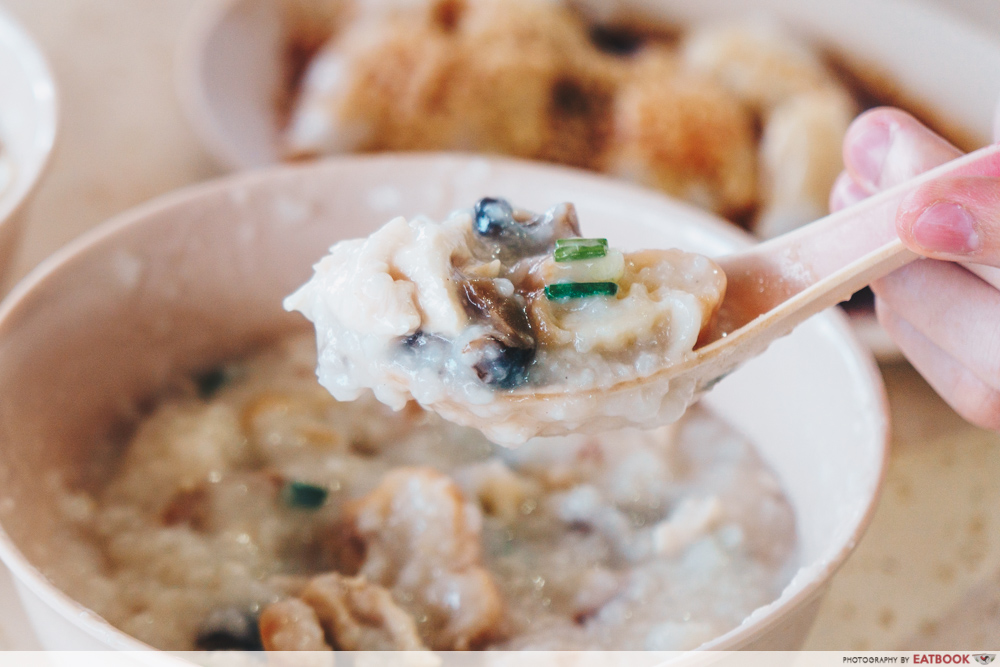 They use chopped shiitake mushrooms, which are juicy and further intensify the umami flavour in the congee, which I thoroughly enjoyed. The chicken was just sliced a little too thin for my liking and just wasn't really well-seasoned, so it came across as dry.
Unlike many others, the stall uses three types of rice in their congee, which are Thai jasmine rice, glutinous rice, and Australian short-grain rice, making their bowls more multidimensional than you think.
Mei Jie Porridge Review: Young Couple Makes Old School Cantonese Porridge From $3.50 In West Coast
Ambience at Xiang Gang Xin Kou Wei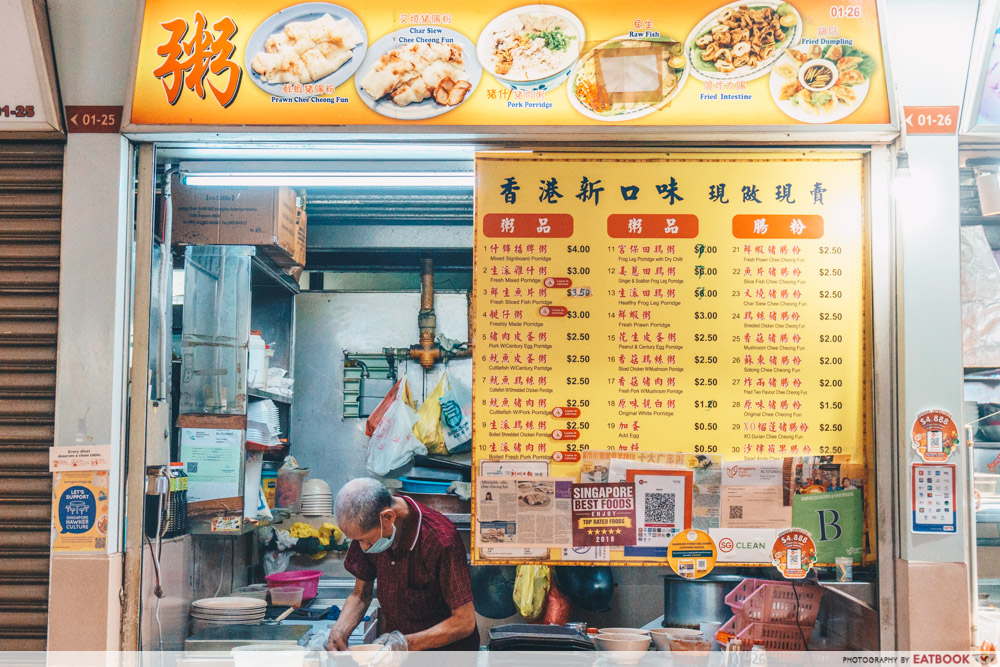 Situated at Block 117 Aljunied Market and Food Centre, the stall is pretty hidden and unassuming, sandwiched between other hawkers surrounding it. A 15 to 20-minute walk from Paya Lebar MRT Station, it's certainly not the most accessible place and seems to be mostly populated by residents who stay around the market.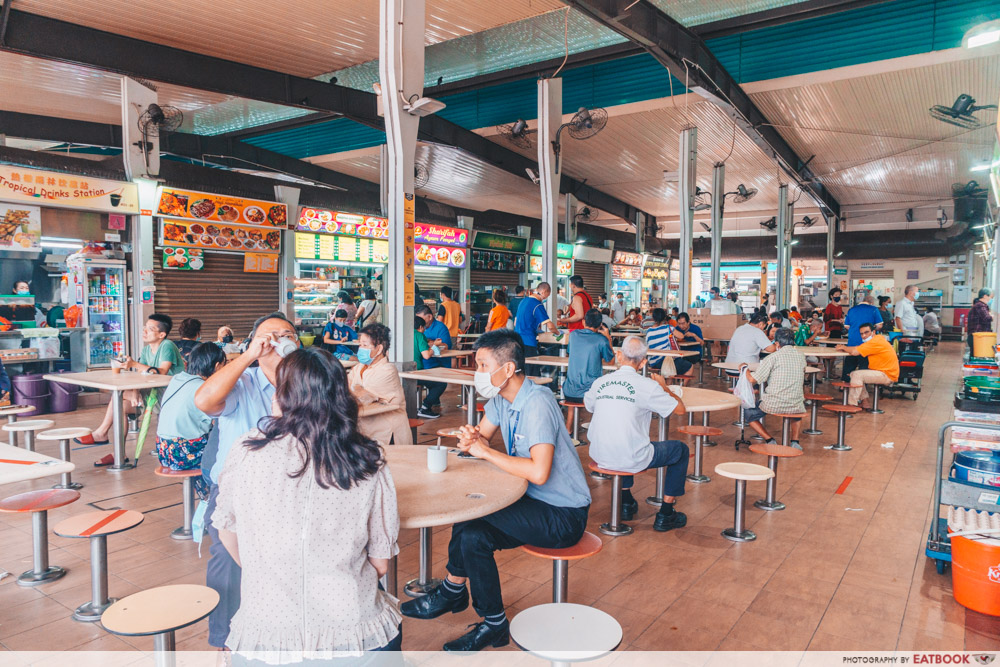 It attracts its fair share of customers, both loyal and new, because of their wallet-friendly prices and extensive menu variety, with most of their items below $5. I'd recommend going down just after the peak breakfast hours around 10am to avoid the possible queue, so you can immediately tuck into your piping hot delights.
Johor Road Boon Kee Pork Porridge Review: Traditional Hainanese Porridge Stall Open For Nearly 70 Years
The verdict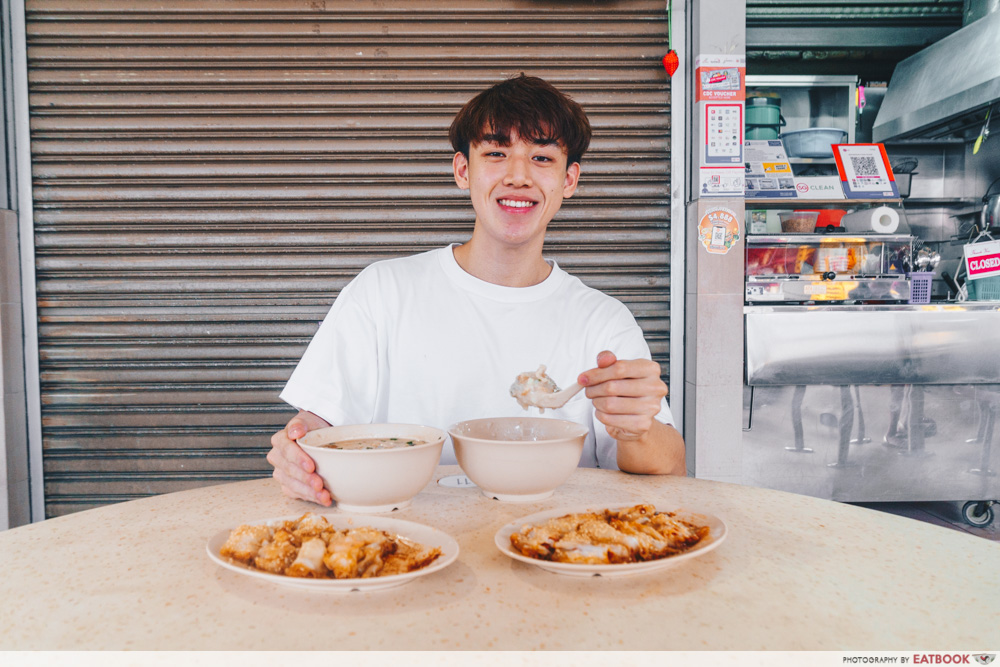 In order to get my fix of Cantonese food in Singapore, I'd return to Xiang Gang Xin Kou Wei for an authentic dining experience, featuring HK-style congee and CCF recipes that have been constantly refined by the chef over a long period of time. 
The sheer quality of his dishes aren't a surprise, especially since the chef himself has been no stranger to the culinary world, starting his apprenticeship to a dim sum chef when he was 15 years old. To see him transfer his expertise into the diverse local hawker culture is exciting, as hopefully he paves the way for many of his kind to follow in his footsteps.
If you're looking for other congee places around, check out our Happy Congee review for abalone congee and triple sauce chee cheong fun located around Bendemeer. Alternatively, read our Congee Legend review for a special congee hotpot in Geylang Road.
Address: Block 117 Aljunied Avenue 2, Block 117 Aljunied Market and Food Centre, Singapore 380117
Opening hours: Mon-Tue 8am to 3pm, Wed-Sun 8am to 8pm
Xiang Gang Xin Kou Wei is not a halal-certified food stall.
Happy Congee Review: Handmade Mala Chee Cheong Fun And Abalone Congee At Bendemeer
Photos taken by Doreen Fan.
This is an independent review by Eatbook.sg.
The post Xiang Gang Xin Kou Wei Review: Handmade Chee Cheong Fun By Hong Kong Chef Near Paya Lebar appeared first on EatBook.sg – New Singapore Restaurant and Street Food Ideas & Recommendations.