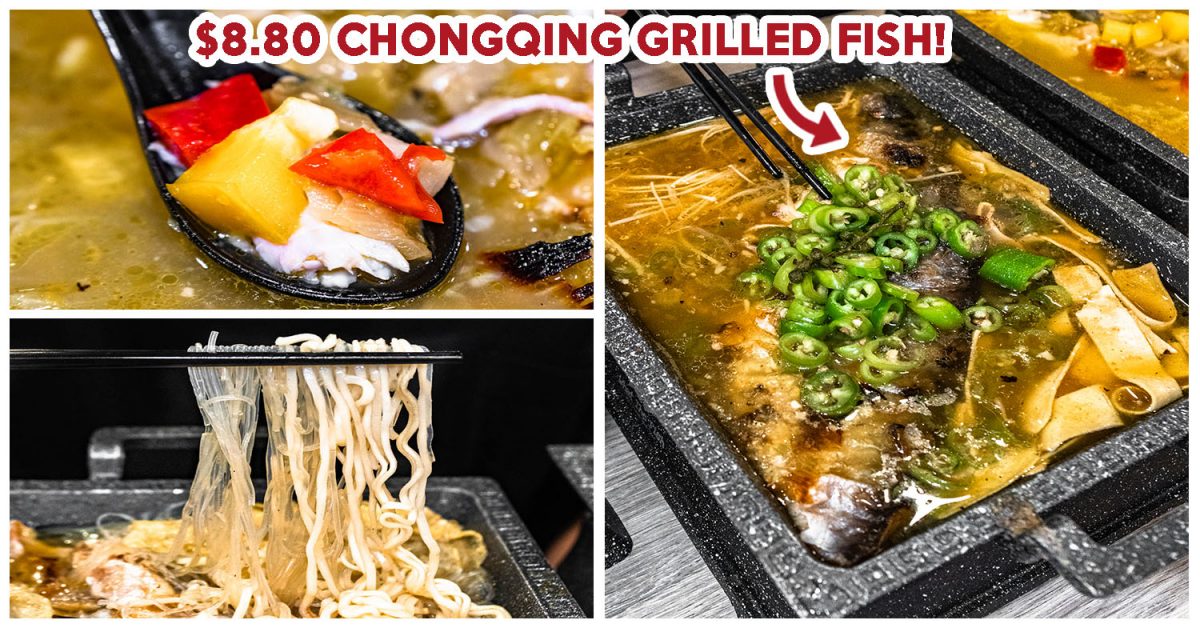 What The Fish in Junction 8 mall
To be honest, I felt like a fish out of water when I visited What The Fish for the first time, having mustered the courage to take on the spiciness of Chongqing grilled fish. Located conveniently in Junction 8 mall, they sell five different flavours of the Chinese delicacy, catering to most palates. 
The best part about them is that they present their food at much more reasonable price points compared to more established brands like Tan Yu and Chong Qing Grilled Fish. With a dining companion, I wanted to see if I could tahan the impending spiciness from their dishes and whether their affordable fare was matched by good quality. 
10 Bishan Food Places Under $15 That Aren't Found In Junction 8
Food at What The Fish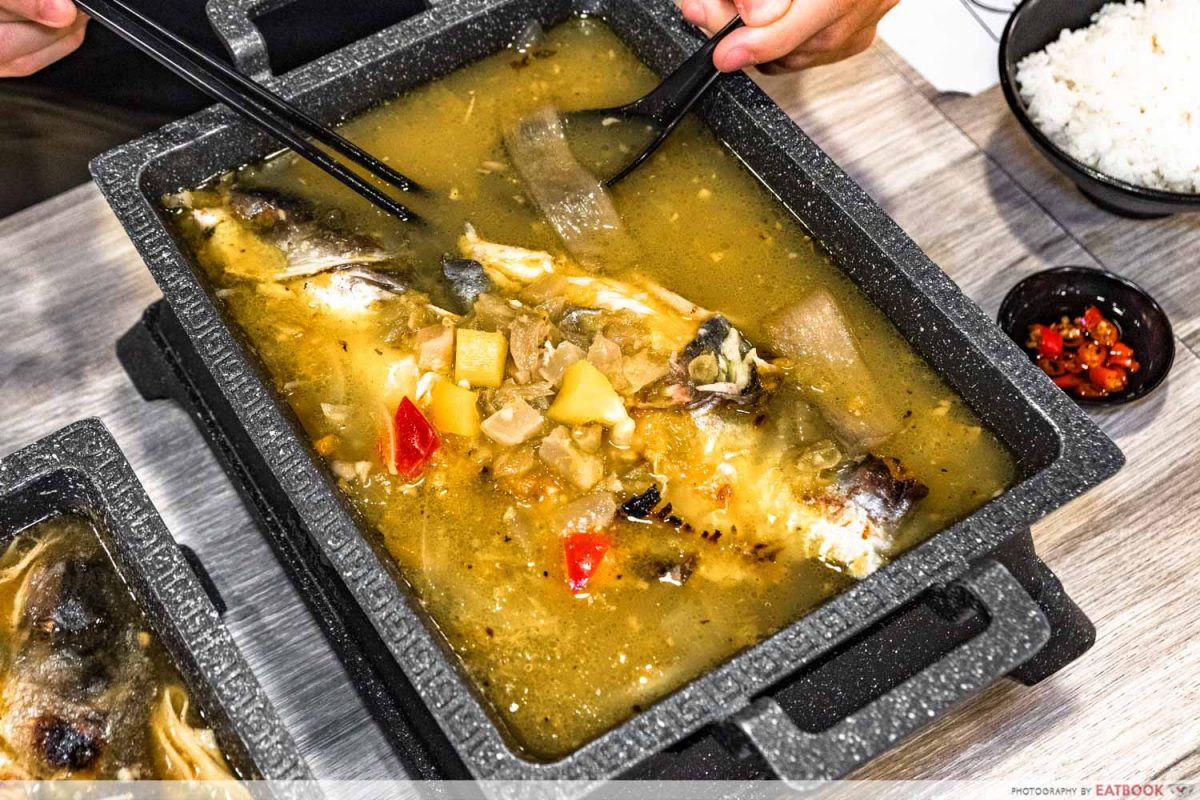 I felt like I was hit by a right hook when I took a sip from the broth of the Golden Tantalising Punch Half Limbo Fish With Rice ($8.80), with a sharp tanginess that knocked me out of my senses. I was honestly surprised by how meaty the fish was, as I expected way more visible bones, though it was a little tougher than I expected.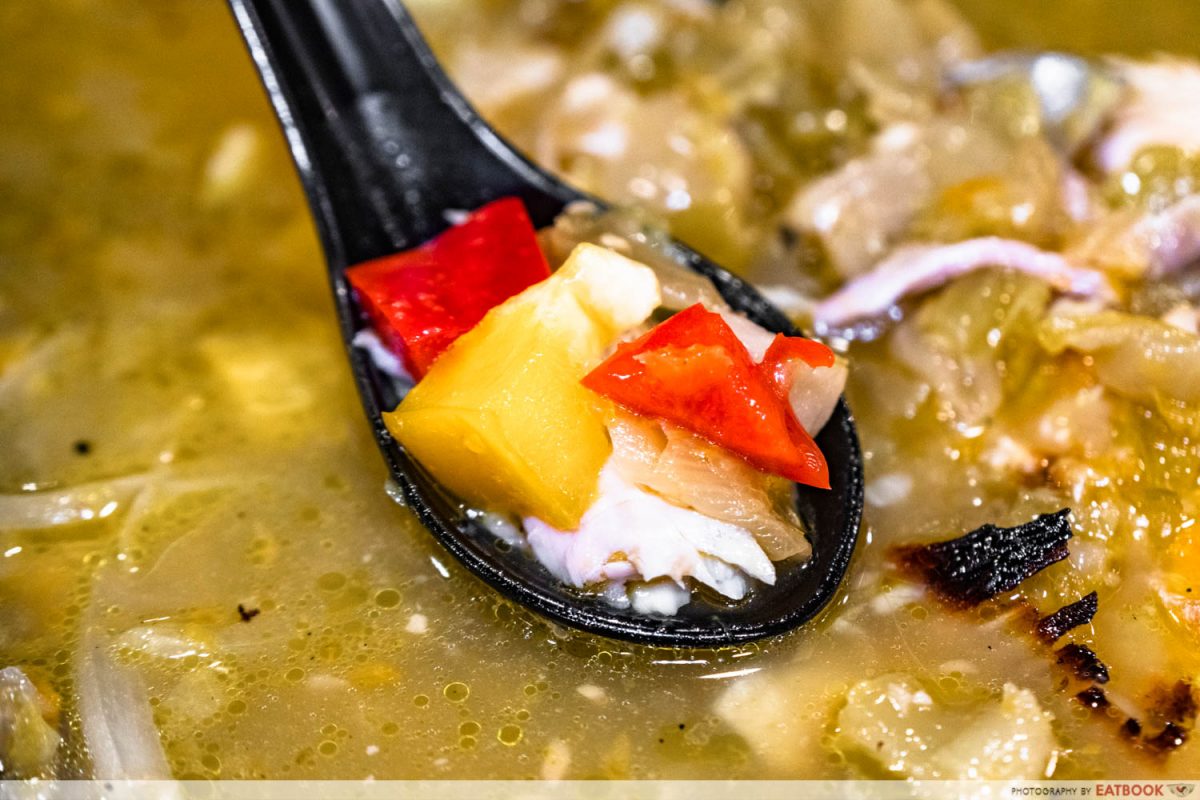 The golden colour of the sauce is attributed to the likes of pumpkin, peppers, and sauerkraut infused into it. Yet, it was also noticeably oily and overwhelmingly sour, so it's definitely an acquired taste especially for someone like me. The red and yellow peppers add a very faint sweetness, while the sauerkraut adds more suan-ness into the equation.
The stinging spice kinda hits you only after you taste it, with a more peppery kick afterwards. On a whim, I decided to add a separate portion of Sweet Potato Vermicelli ($0.70) and it was a decision I didn't regret. The slippery, chewy noodles brought texture and more importantly soaked up the different flavours of the sauce nicely.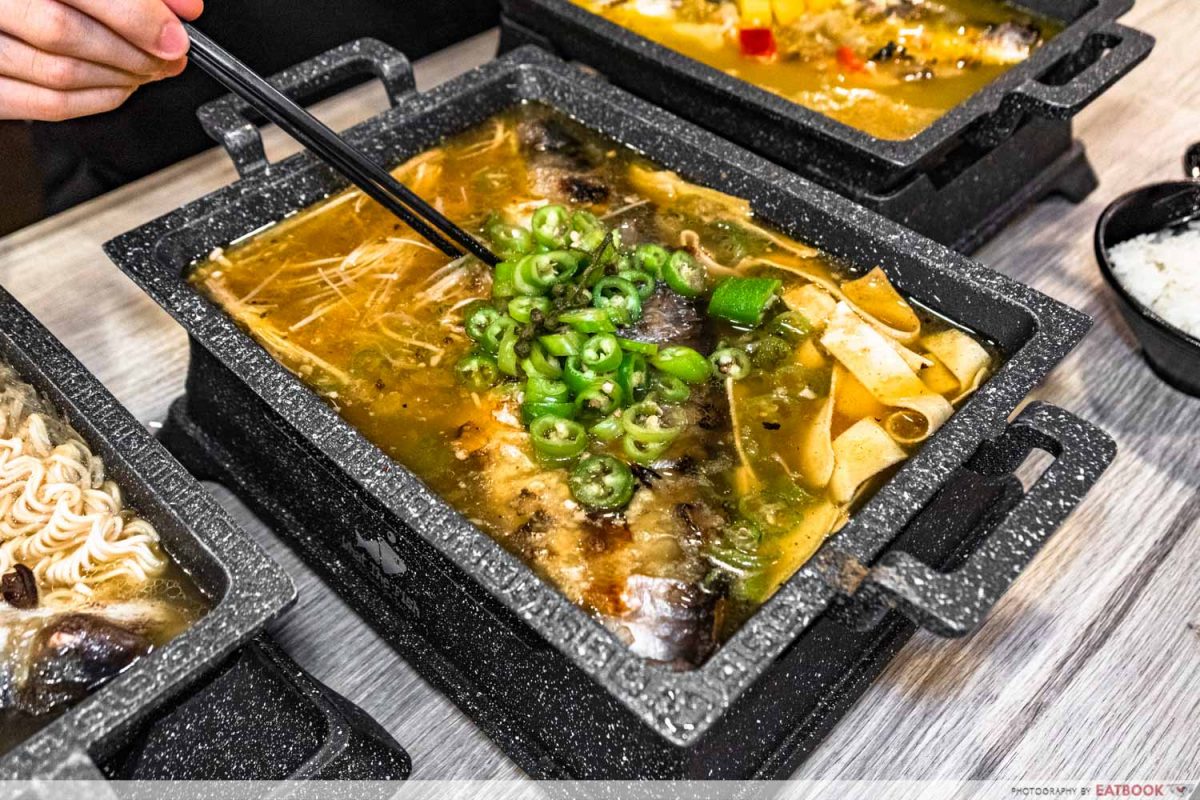 Pain has never looked any better, as proven by the menacing appearance of the Fresh Green Pepper Half Limbo Fish With Rice ($8.80). A mountain of cut green peppers sit atop your grilled fish, accompanied by another equally rich broth, all on a hot stone plate.  To zhng it up a lil more, I added Enoki Mushrooms ($0.70) and Beancurd Skin ($0.70) as well.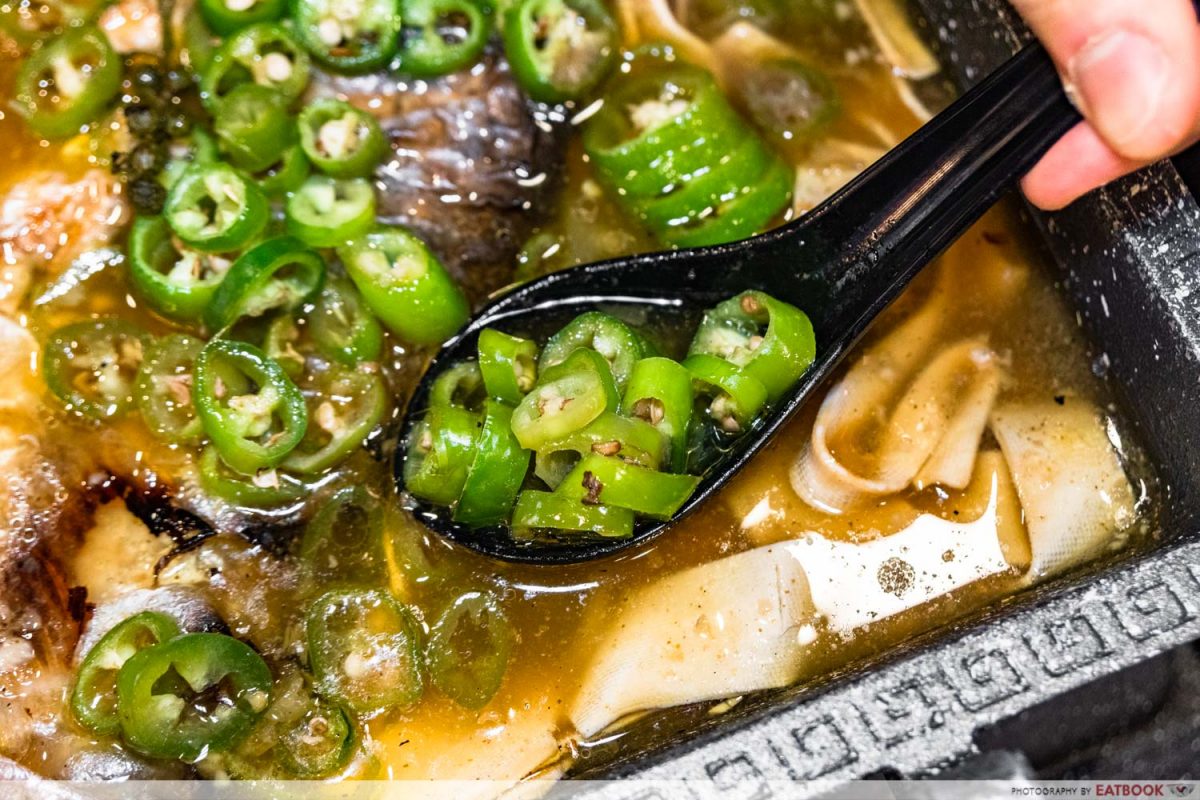 This particular broth was a bit more soupy, with an even savoury-spicy combination of flavours that was easier on the palate. The green peppers and a glimmer of Sichuan peppercorn brought that numbing sensation that many of us so crave for, balancing out the saltier soup without being overpowering.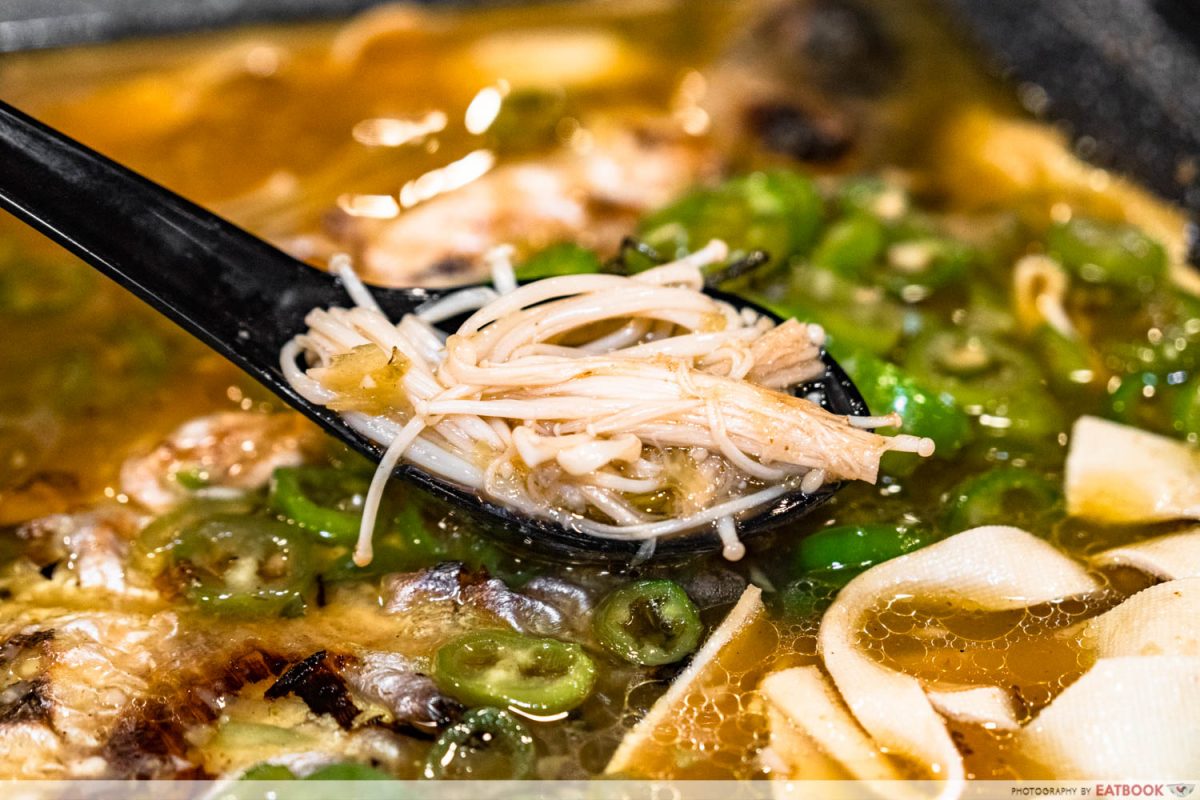 Similar to the previous dishes, the sauce was a tad too oily, as a huge grease pool of sorts formed on the broth's surface after a while of taking photos. Yet, I'd highly rate the mushrooms and beancurd skin as ideal accompaniments. Their thinness allows them to absorb the essence of the broth well.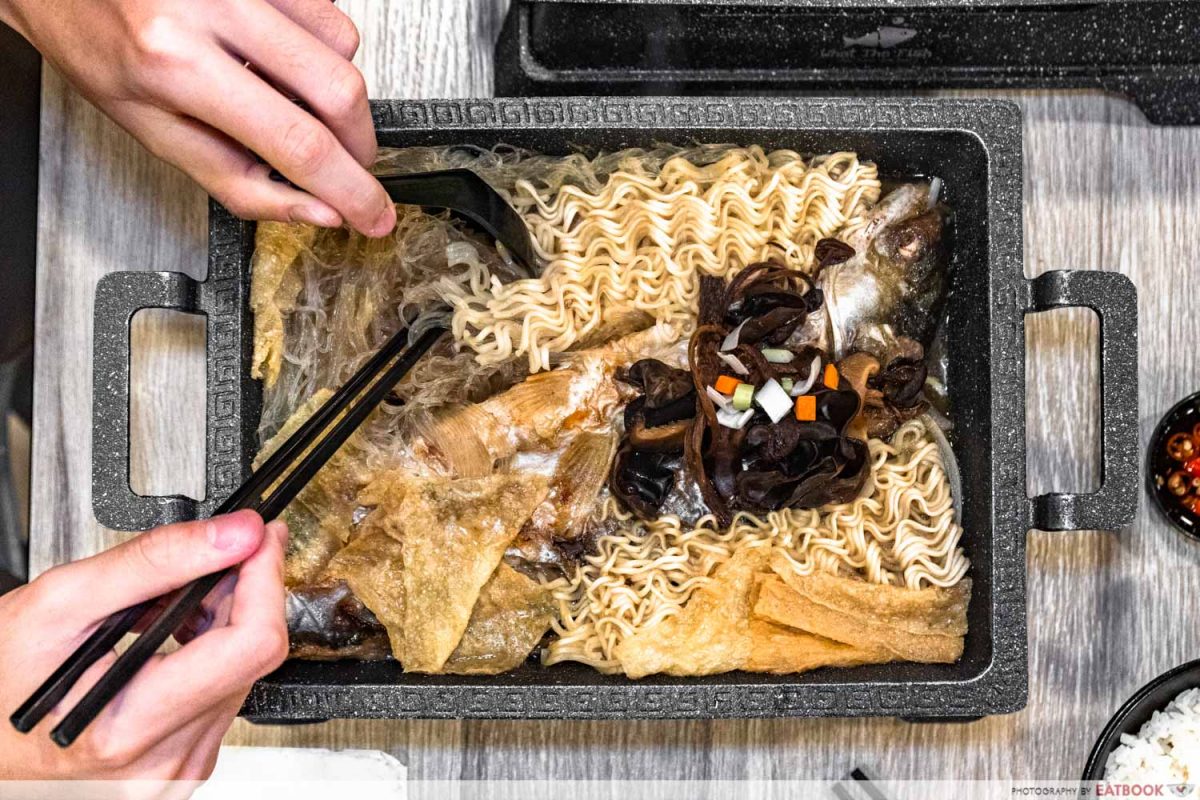 For my fellow weaklings, have no fear. There's also an aptly-named dish for people of our kind, the Tea Tree Chickadees Half Limbo Fish With Rice ($8.80). This particular one is specially dedicated to those who love to chicken out when forced to eat spicy food together with friends outside, myself totally not included.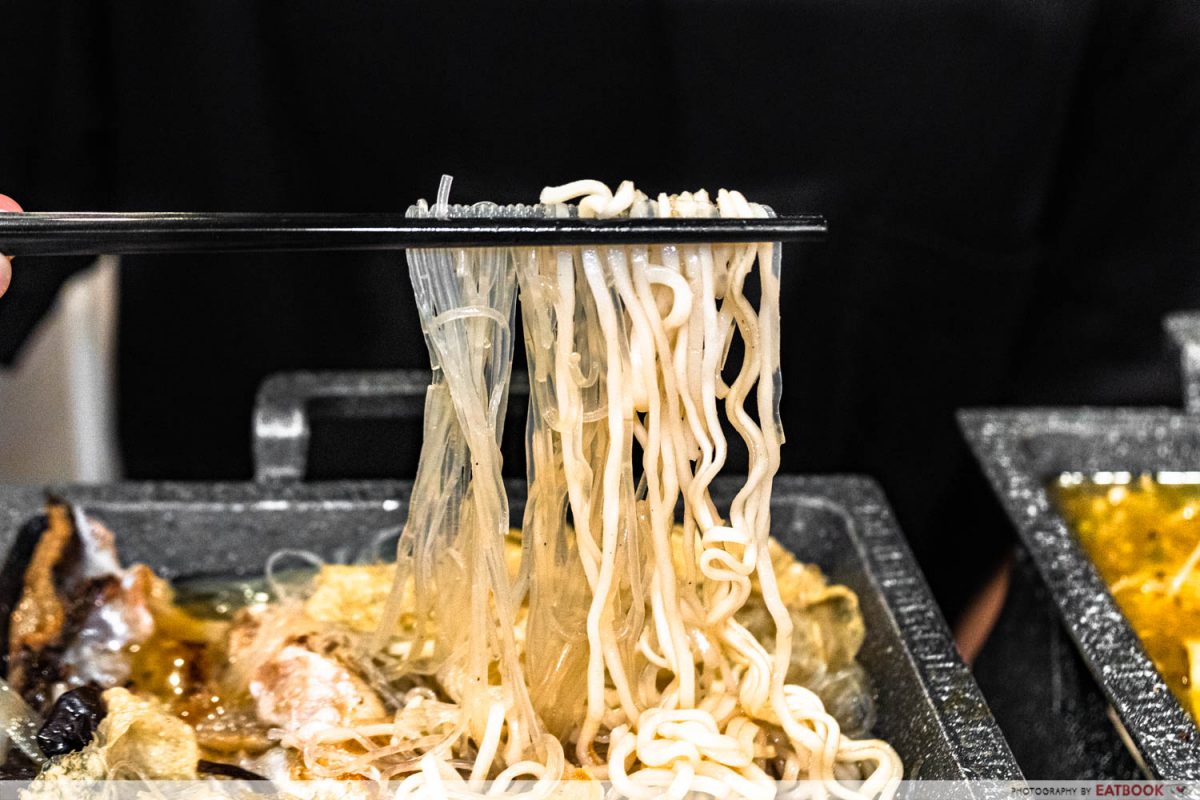 Craving a carb swap, I added on Instant Noodles ($1) and Glass Noodles ($1) to see how they fared with the grilled fish compared to white rice, together with Beancurd Skin ($0.70) for good measure.  My preferred noodle choice would be the glass noodles, as its' smoothness and neutral flavour complemented the rich broth better than rice and instant noodles. 
Unlike the previous flavours, I can't exactly pinpoint what the defining flavour of the sauce was, as I taste a bit of salty, savoury, and umami in every mouthful. Overall, I feel that the broth inched more towards the diluted and bland side.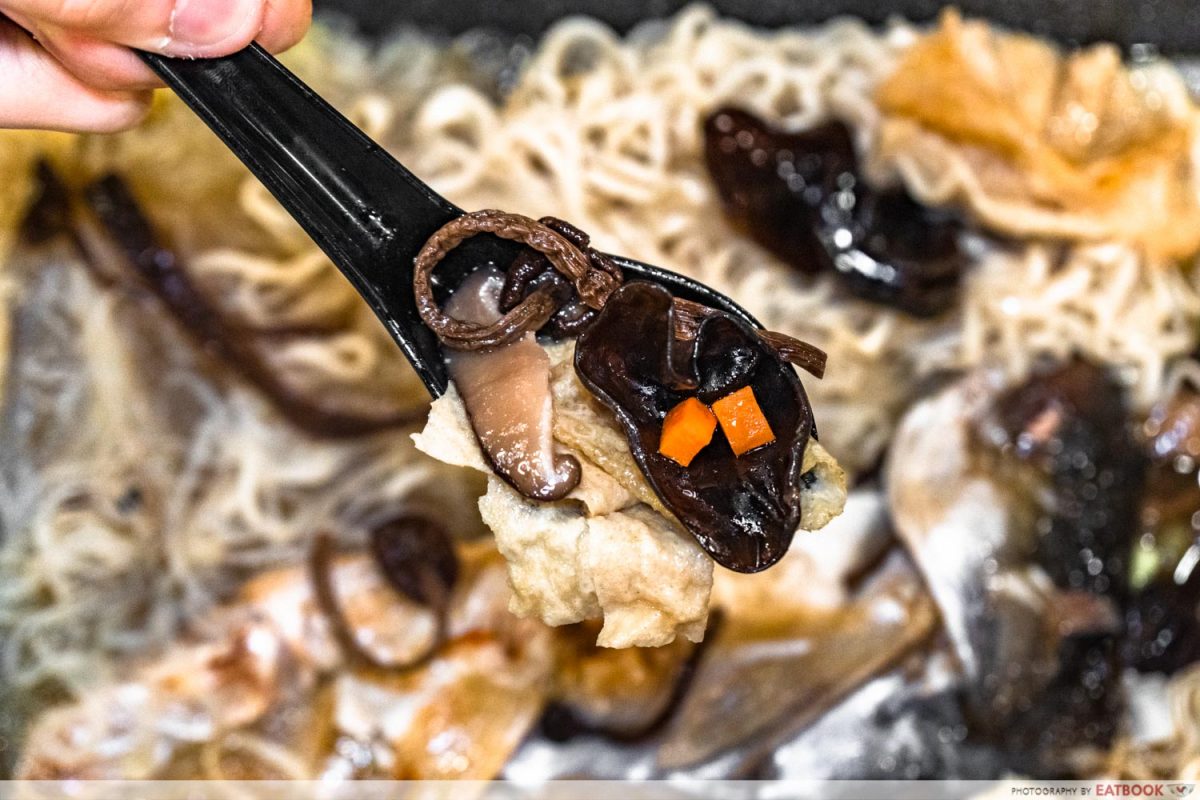 Fans of the only room in the world without walls can look forward to a mushroom galore, as I saw multiple types, including shiitake and wood ear mushrooms among others.
Da Shao Chong Qing Xiao Mian Review: Legit Chongqing-style Mala Beef Noodles At Boon Keng
Ambience at What The Fish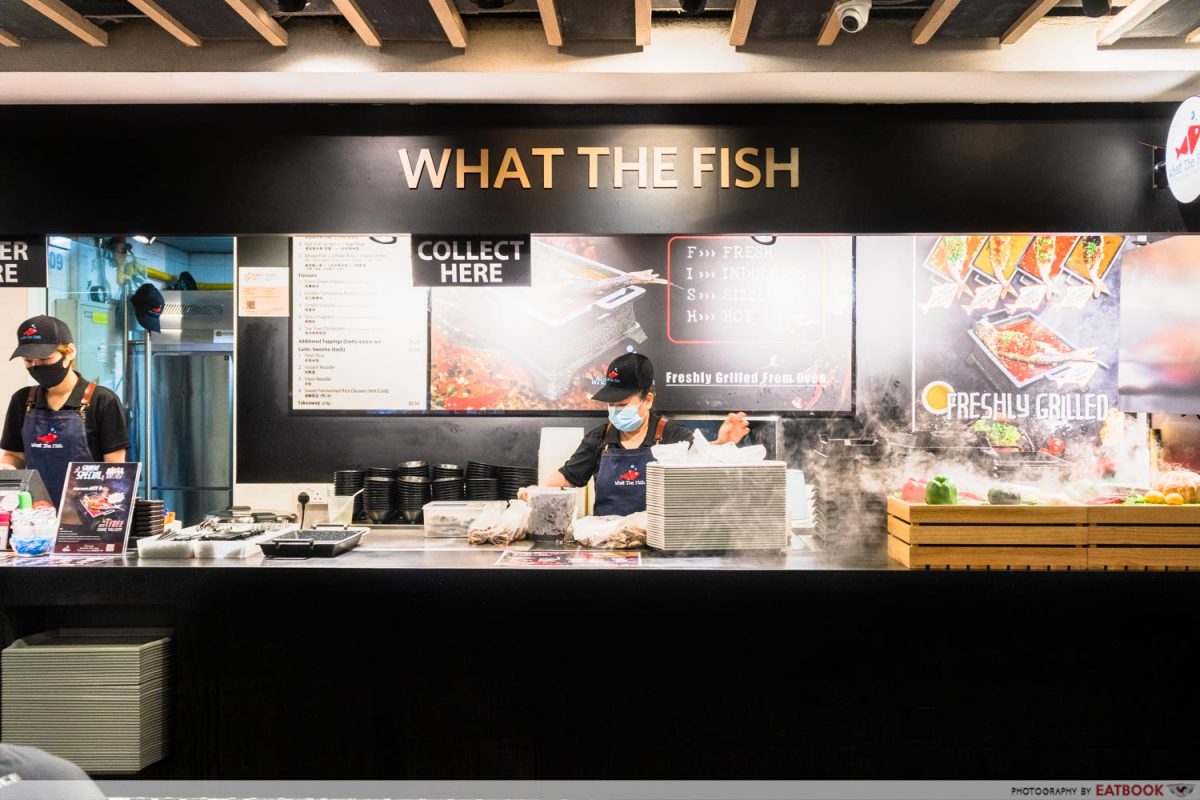 Situated in the mall literally next to Bishan MRT Station, accessibility really isn't an issue here. If you're the owner of What The Fish, I'd imagine you'll find it difficult to stand out in a food court with a whole range of delectable options at Junction 8. But, they manage to make it work, catering to the mostly office and school-going crowd looking for wallet-friendly Chinese delicacies. 
They can get pretty busy during peak hours, as I noticed a constant line of about two to three people waiting at noon. Not to worry about finding seats though, because I'm confident the entire food court seats minimally a hundred people.
The verdict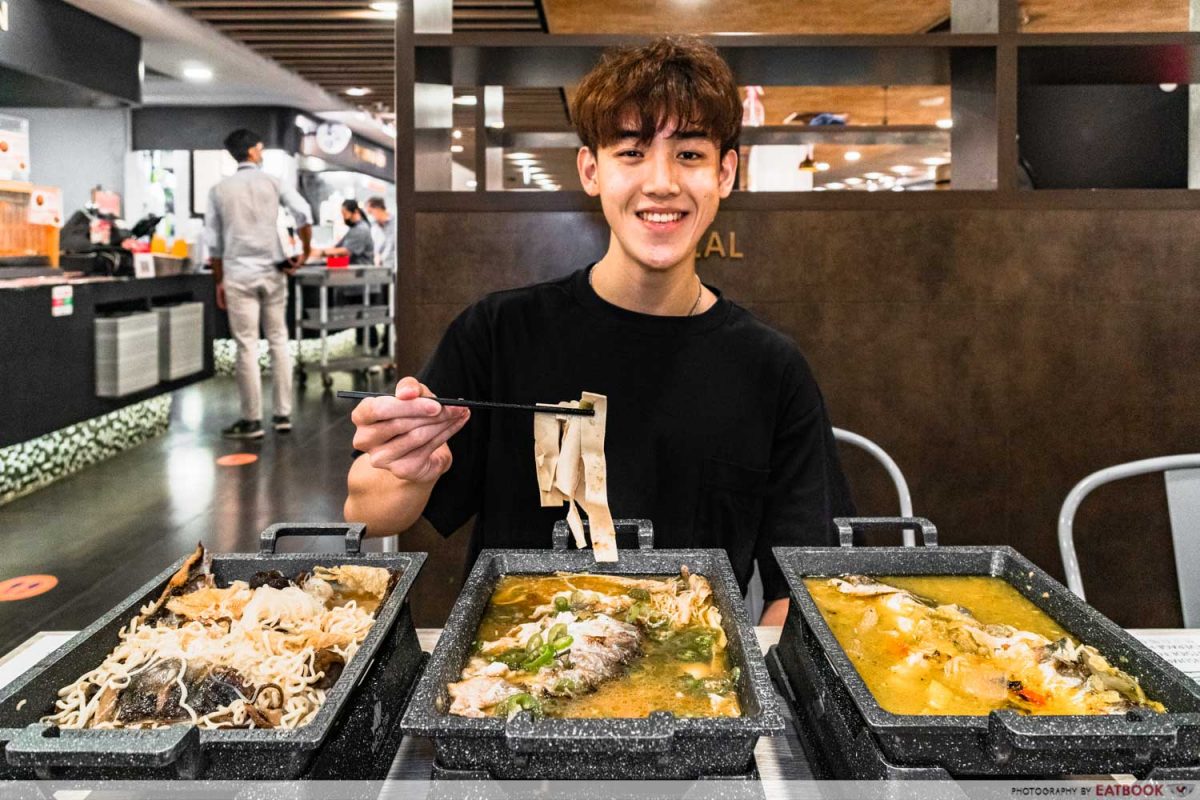 For my first experience with Chongqing grilled fish, I'd say this was a great place to start, not just because I got a bang for my buck. I used to think that such dishes are designed to purely numb my taste buds with their higher spiciness levels in general, but I realised they're really so much more than that. 
Their variety of flavours gave me a little taste of almost every flavour, with the Golden Tantalising Punch bringing the sour and bitter, Fresh Green Pepper with the spicy, and Tea Tree Chickadees providing the salty and savoury too. Not many places can offer such a multi-dimensional flavour profile for such affordable prices for their food, but What The Fish certainly can.
If you're looking for other great Chinese food options around, check out our Da Shao Chong Qing Xiao Mian review for Chongqing-style mala beef noodles at Boon Keng or our Chen's Mapo Tofu review for Michelin Bib Gourmand mapo tofu and more at Buona Vista.
Address: 9 Bishan Place, Stall 9, Food Junction, Singapore 579837
Opening hours: Daily 10.30am to 9.30pm
Tel: 9019 0226
Website
What The Fish is not a halal-certified stall.
Chen's Mapo Tofu Review: Michelin Bib Gourmand Mapo Tofu, Suan La Tang And Dan Dan Mian At The Star Vista
Photos taken by Chew Yi En.
This is an independent review by Eatbook.sg.
The post What The Fish Review: Chongqing Grilled Fish With Five Different Flavours From $8.80 In Bishan appeared first on EatBook.sg – New Singapore Restaurant and Street Food Ideas & Recommendations.