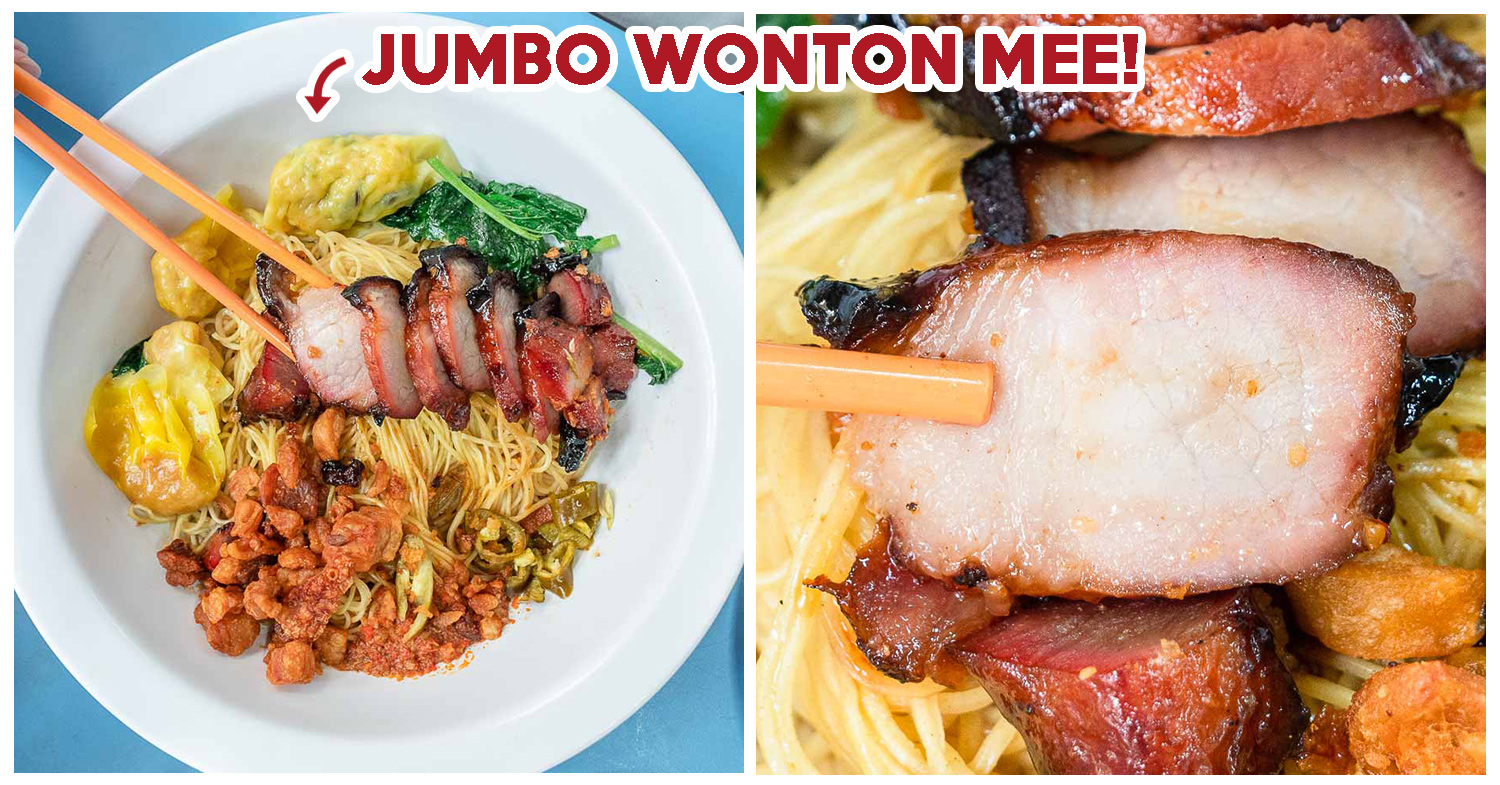 Wen Kang Ji in Golden Mile Food Centre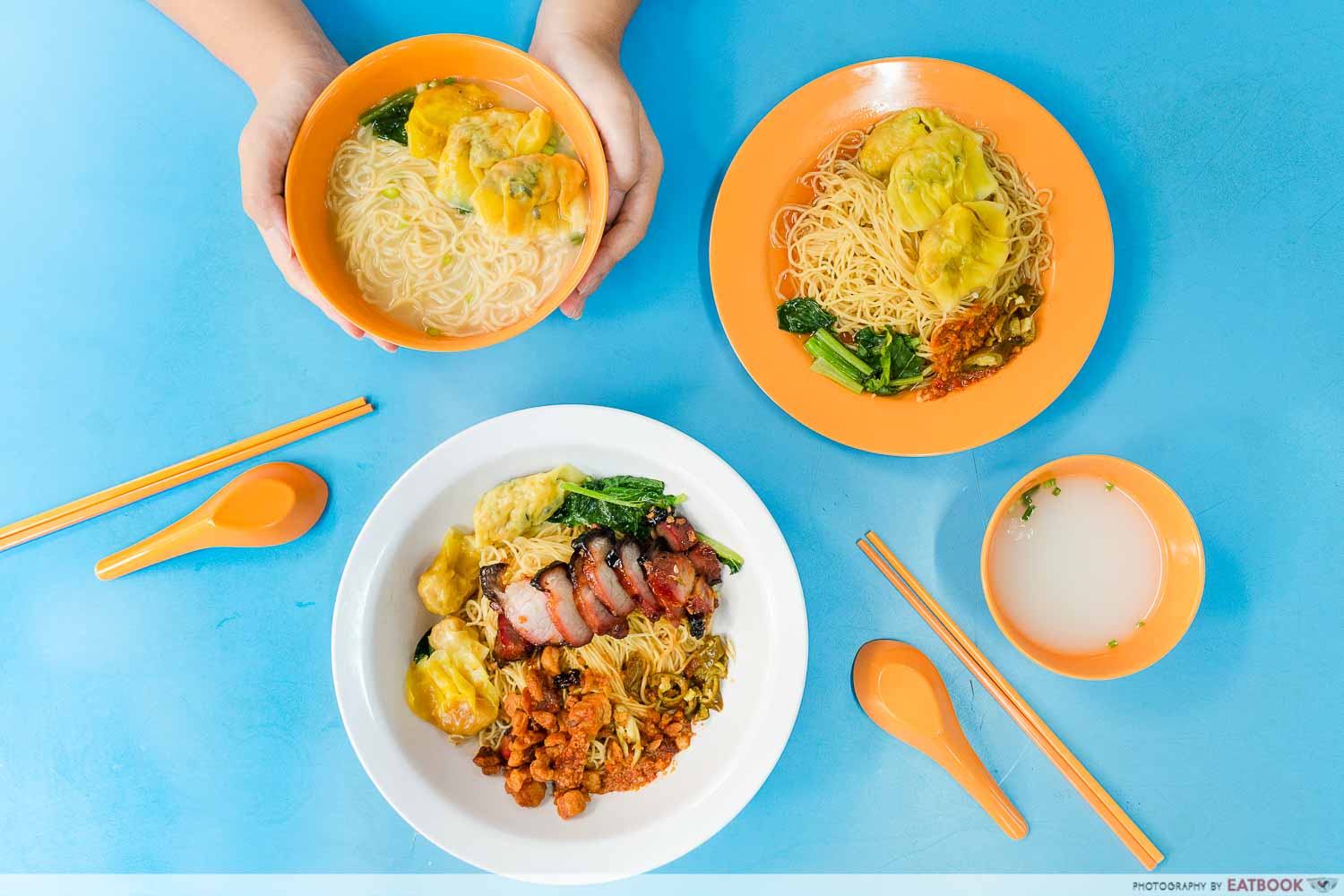 Golden Mile Food Centre is a treasure trove of legendary food stalls, with eateries such as 75 Ah Balling Peanut Soup and Youfu Fried Hokkien Prawn Mee under its name. This hawker centre has recently reopened after a three-month long-renovation, and with it arrived a new wonton mee stall—Wen Kang Ji.
A few weeks ago, I had come down to the food centre on a separate occasion and was surprised by the snaking queue outside this stall. It was imperative that I headed down again to try their offerings, this time with a colleague.
75 Ah Balling Peanut Soup Review: Third-Generation Hawkers Keeping Tang Yuan Tradition Alive
Food at Wen Kang Ji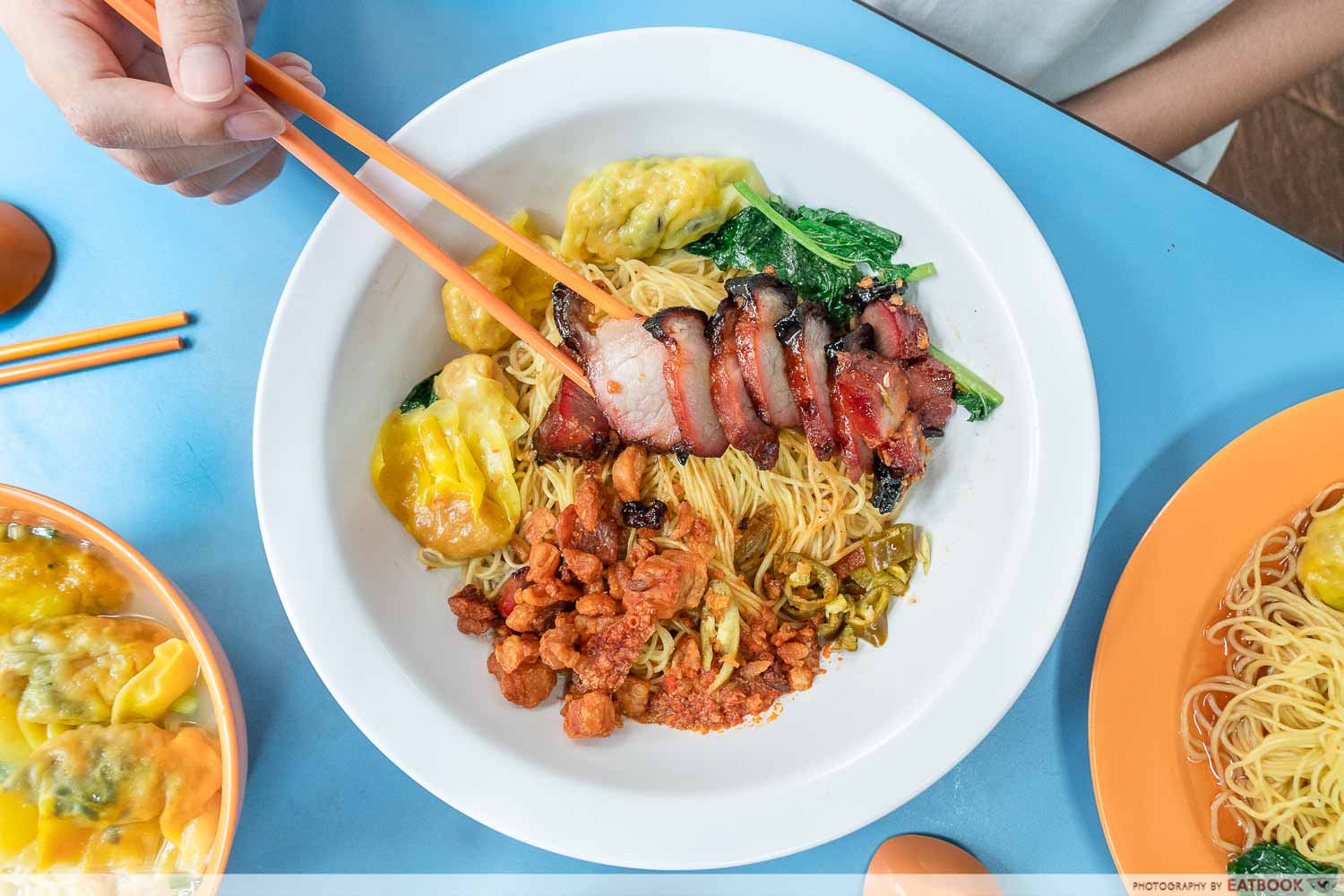 We started our meal with the Jumbo Wanton Mee ($7), a seriously large plate of noodles topped with veggies, wontons, char siew, and a heap of lard. There's also a smaller-sized option priced at $5, for those who aren't big eaters.
While I've always thought of wonton mee as a bland dish, the sauce here was rather flavourful, savoury with notes of soya sauce, and lard. There's also a light sweet-sourness from the green chillis on the side, which infused into the sauce over the course of our meal.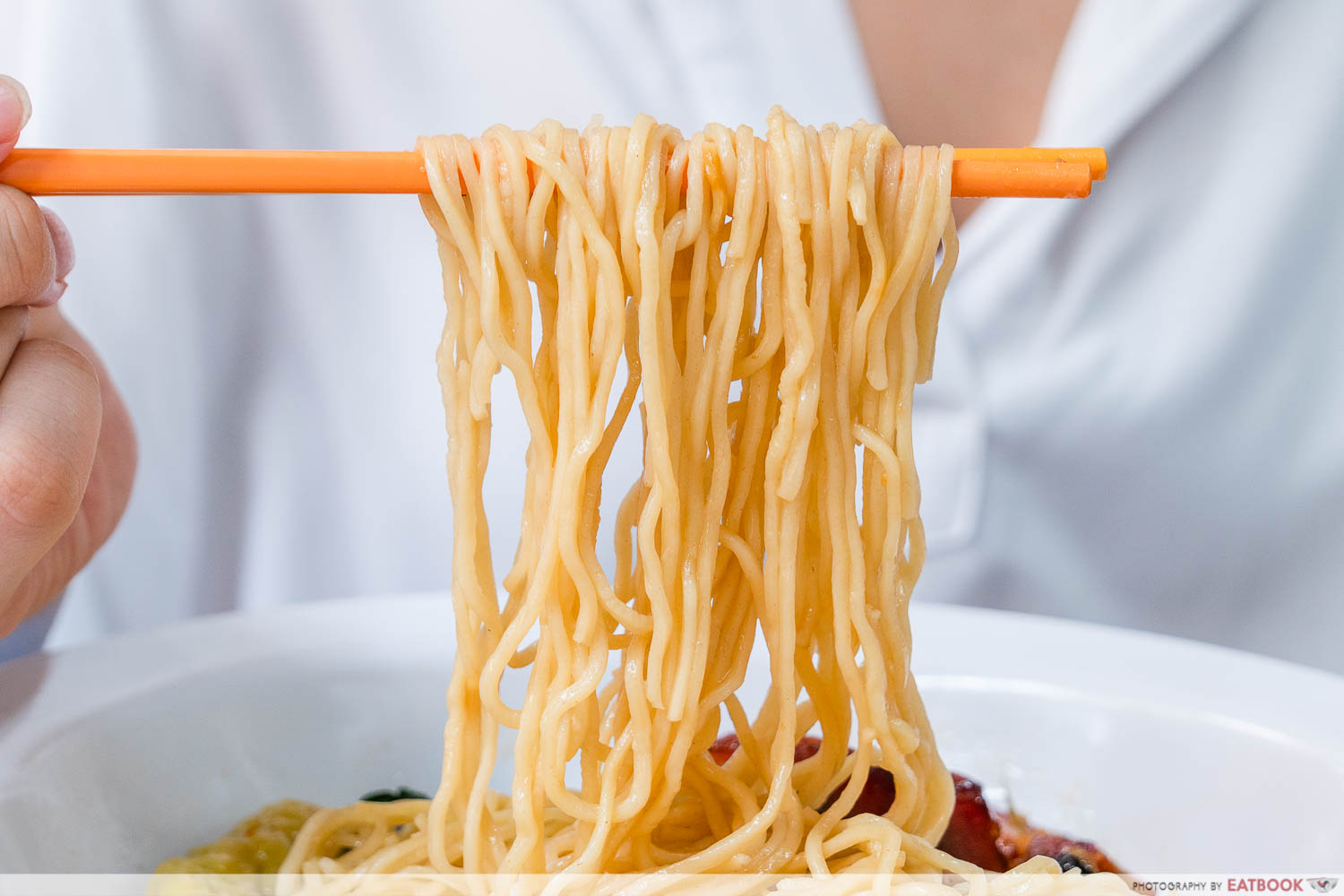 The noodles used at Wen Kang Ji are a hybrid between thin crystal noodles and slightly thicker ramen noodles—they felt more substantial, yet were just as delightfully QQ as the former. These kept a firm bite even after we had spent some time photographing the food, and held up well against the sauce.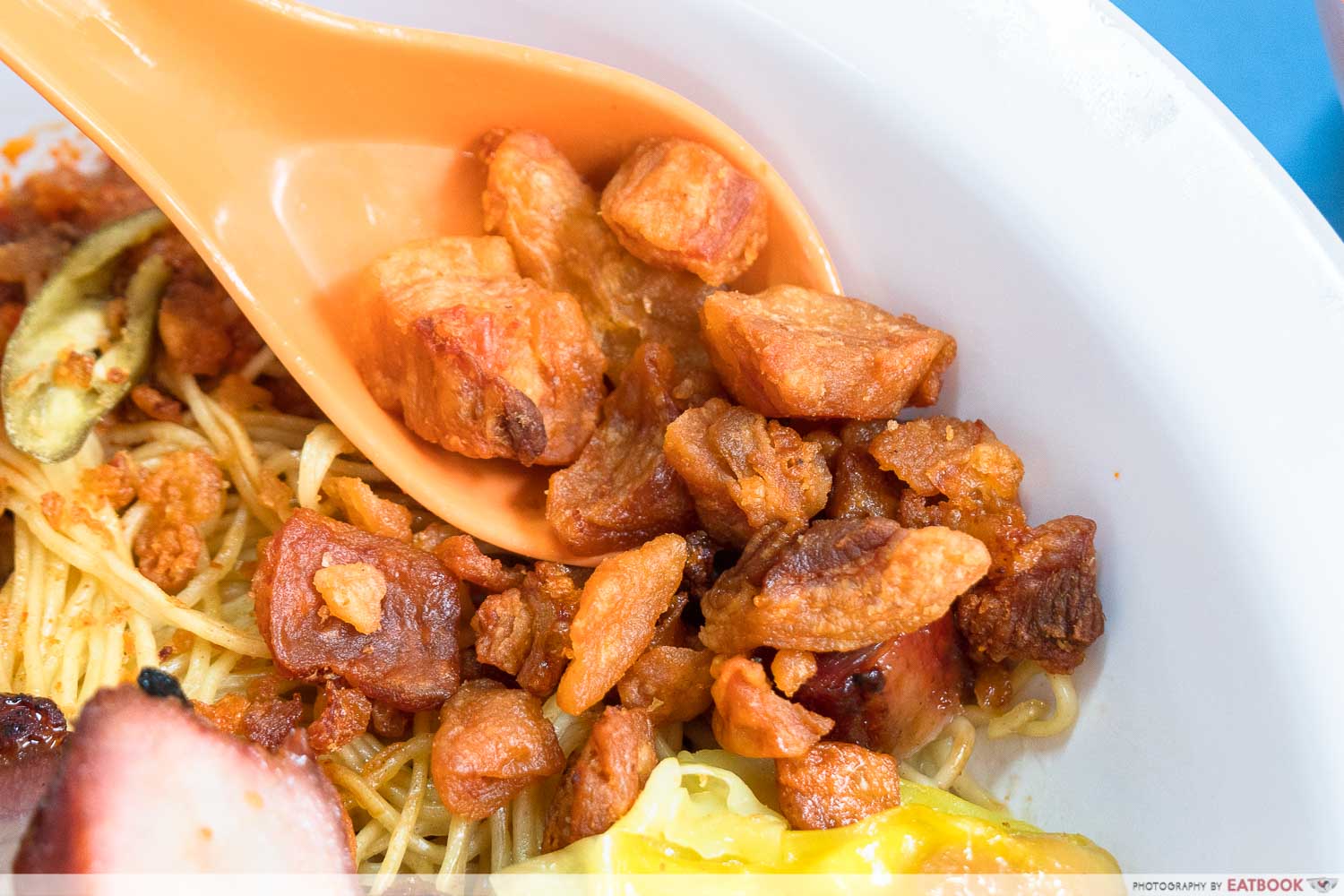 This plate of noodles also comes with a generous serving of deep-fried lard, and if that's not enough, you can always ask for more. These nuggets of lard were crisp and airy, punctuating each bite with fatty bursts.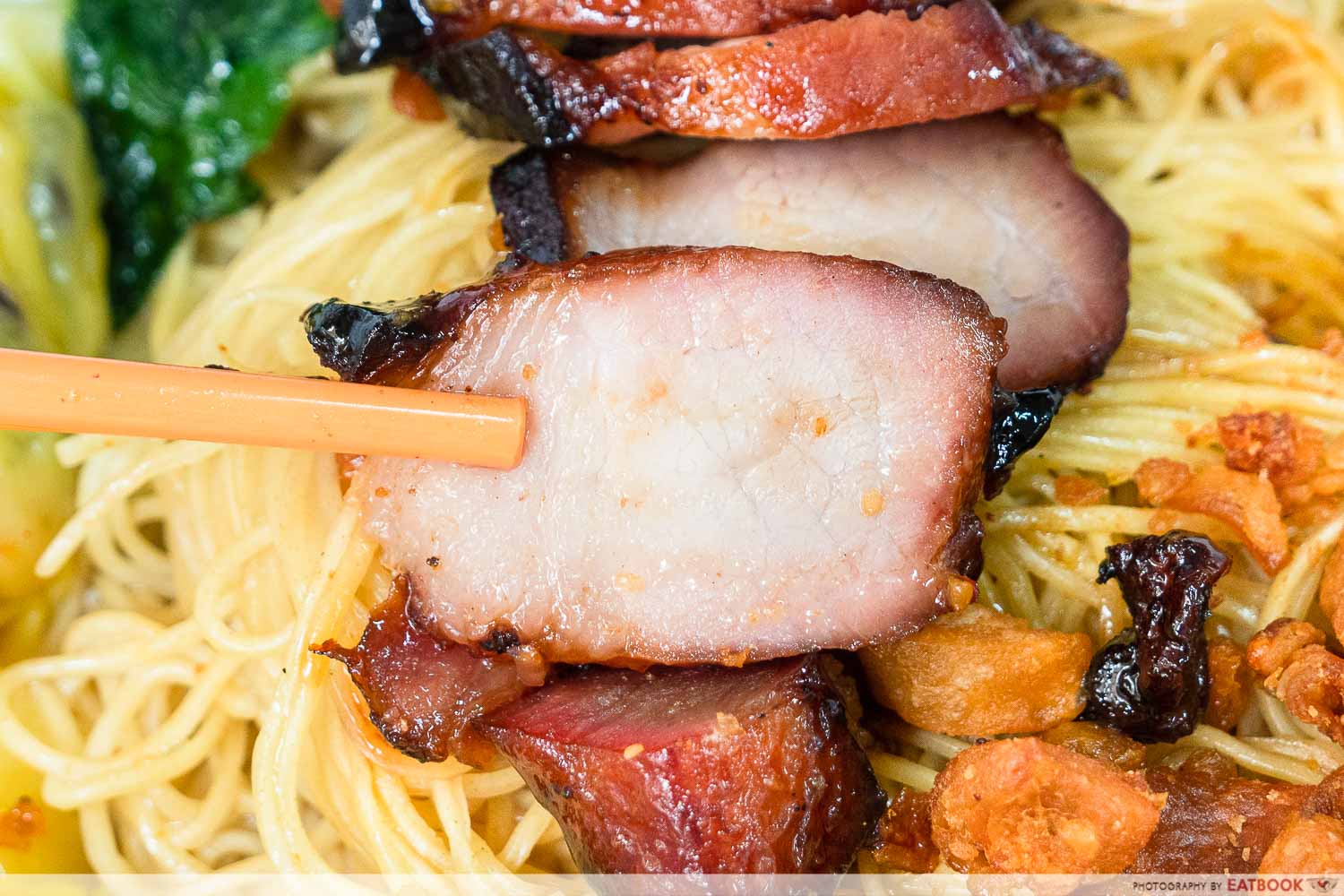 Believe it or not, I usually take my wonton mee without char siew. It's blasphemous, I know, but I've simply had far too many experiences with dry, lacklustre char siew in my wonton mee. 
I'm pleased to write that the char siew at Wen Kang Ji is excellent, and definitely not to be missed out on. Here, the meat was laced with fat, and well-caramelised on the exterior. Flavour-wise, it was tinged with a slight sweetness, and smokiness from the char.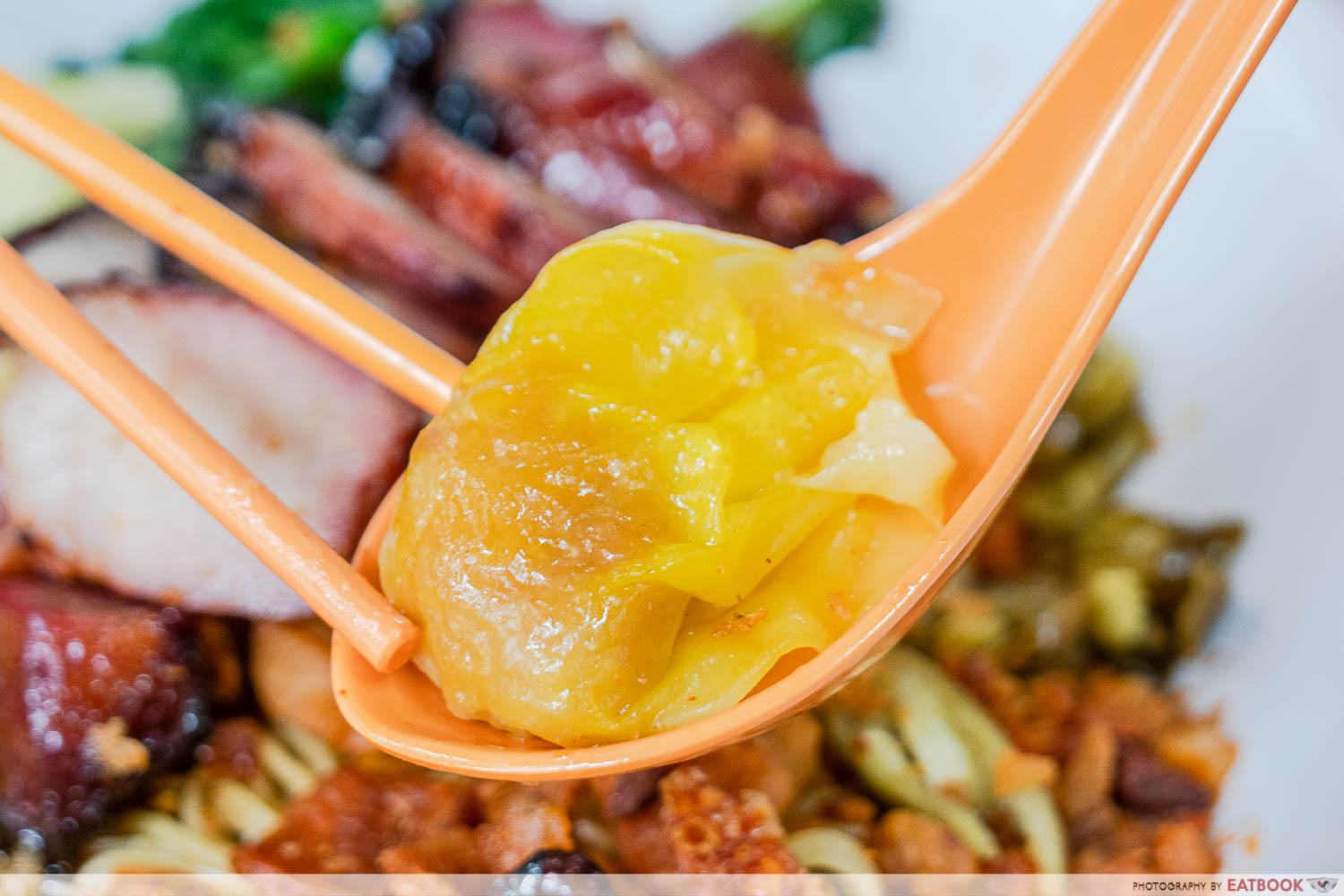 After the success of the noodles and char siew, I was disappointed by the wontons. These were a touch mushy, and could use more seasoning. However, it's a small gripe, considering how the other elements were all well done.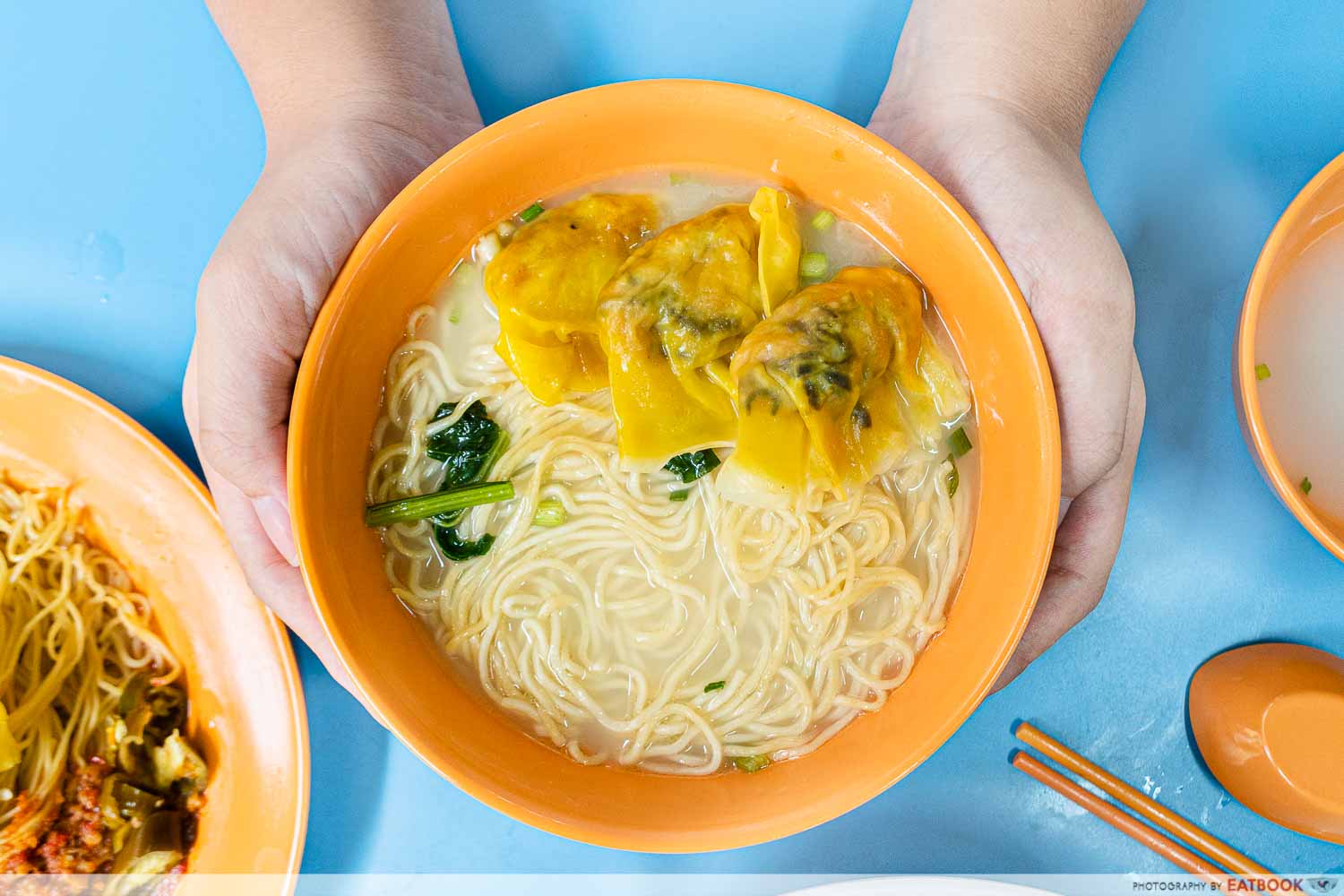 For something lighter on the palate, there's a Dumpling Noodle Soup ($4) available. It sees the same noodles steeped in a cloudy broth, alongside vegetable stems, and dumplings.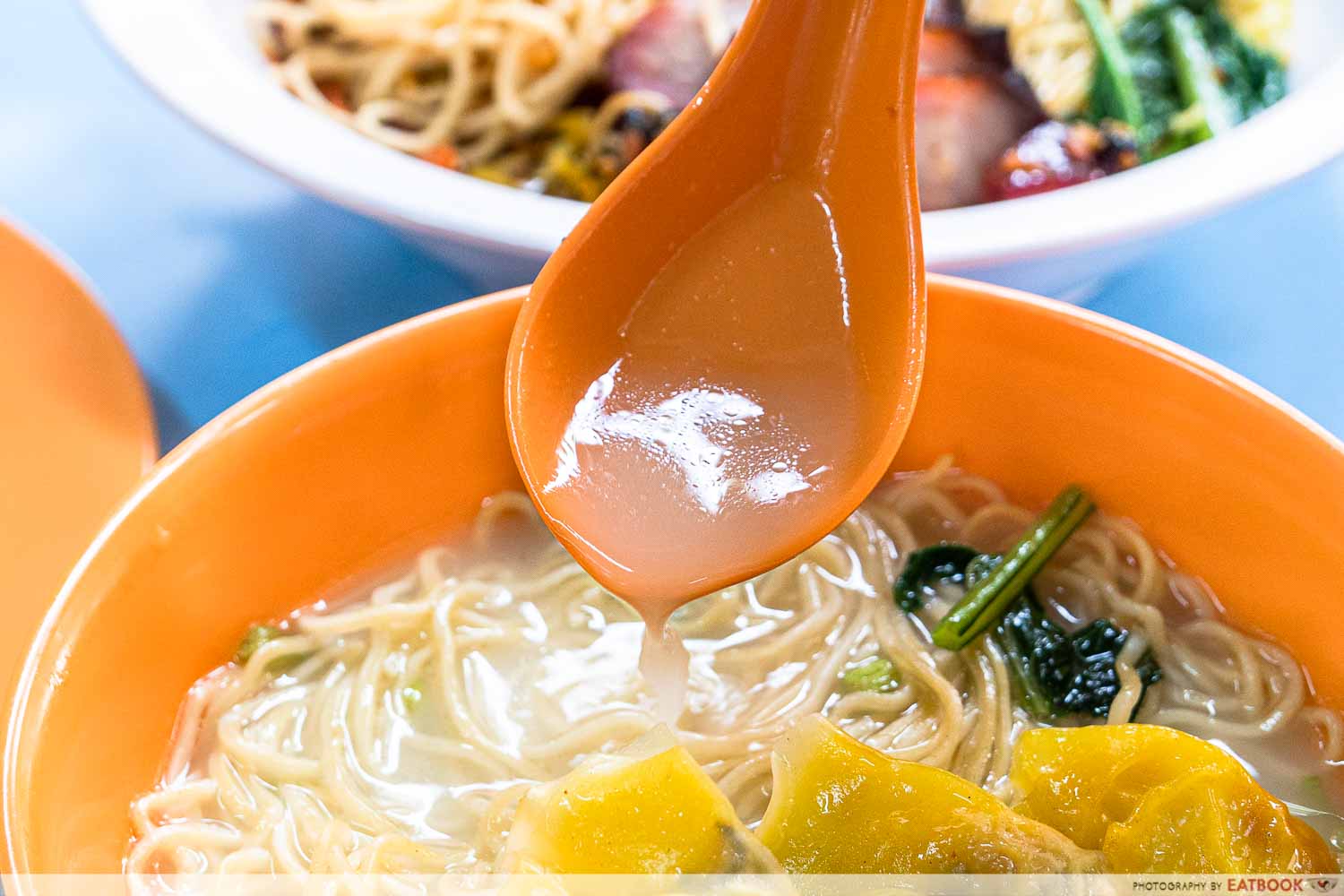 The broth felt rather light, sporting a clean sweetness from vegetable stems. I found it too bland for my liking, but I imagine it would sit well with those who prefer a lighter meal.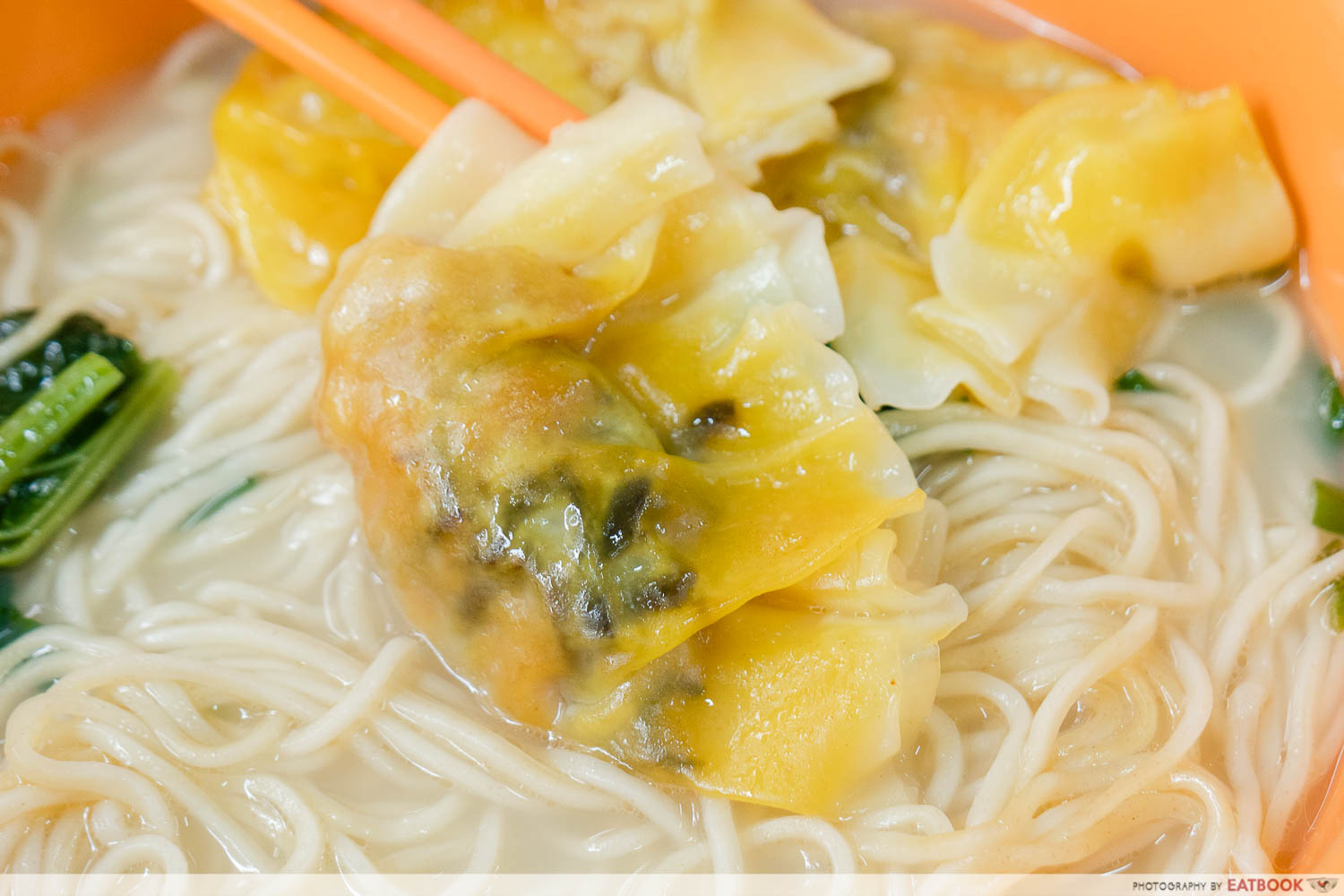 The dumplings in this bowl of noodles, otherwise known as sui kow, or shui jiao, come packed with minced meat, prawns, and slivers of mushroom. There was also a slight crunch from what I suspect to be water chestnuts.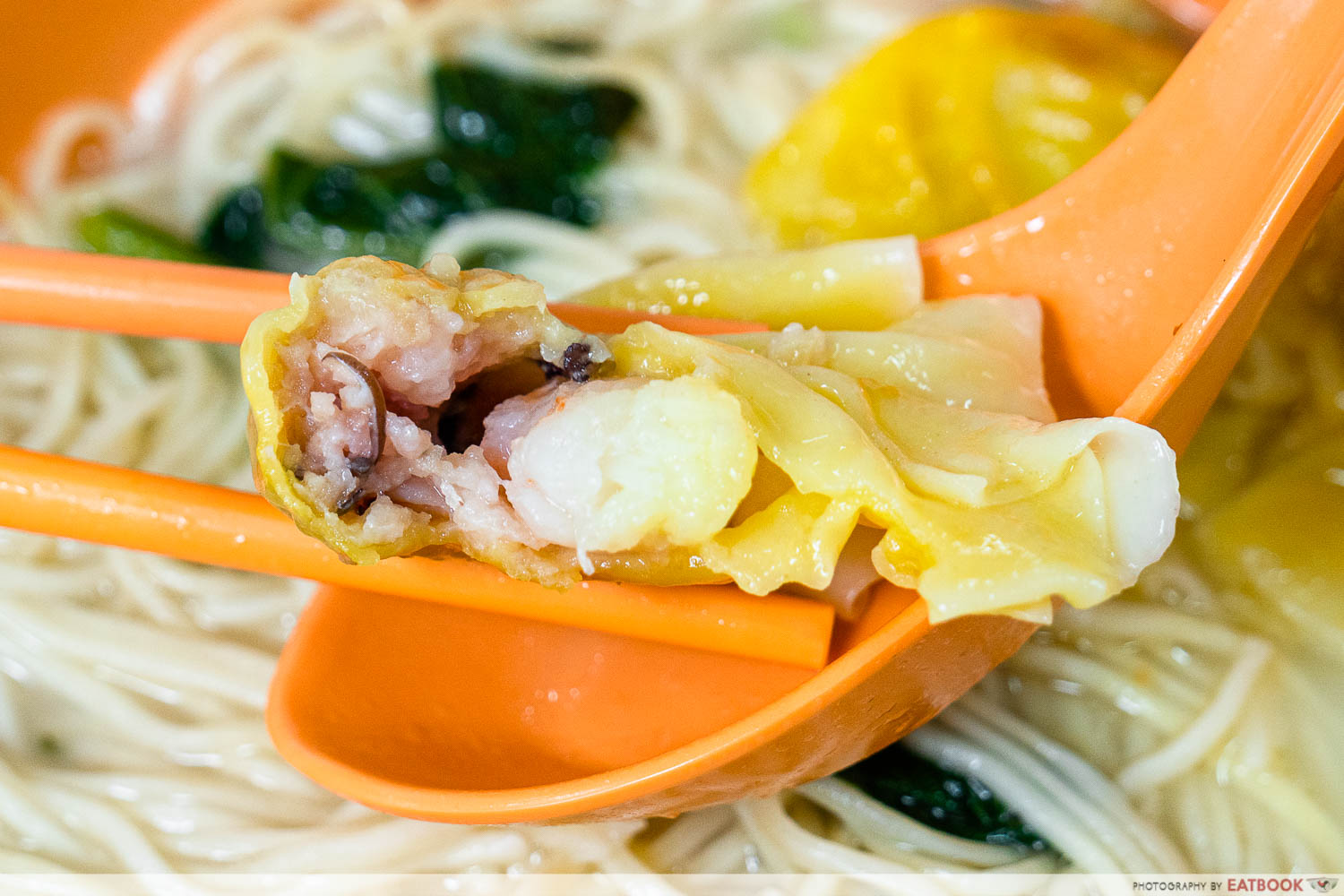 Texturally, these fared better than the wontons, though I would have also enjoyed them better with more seasoning.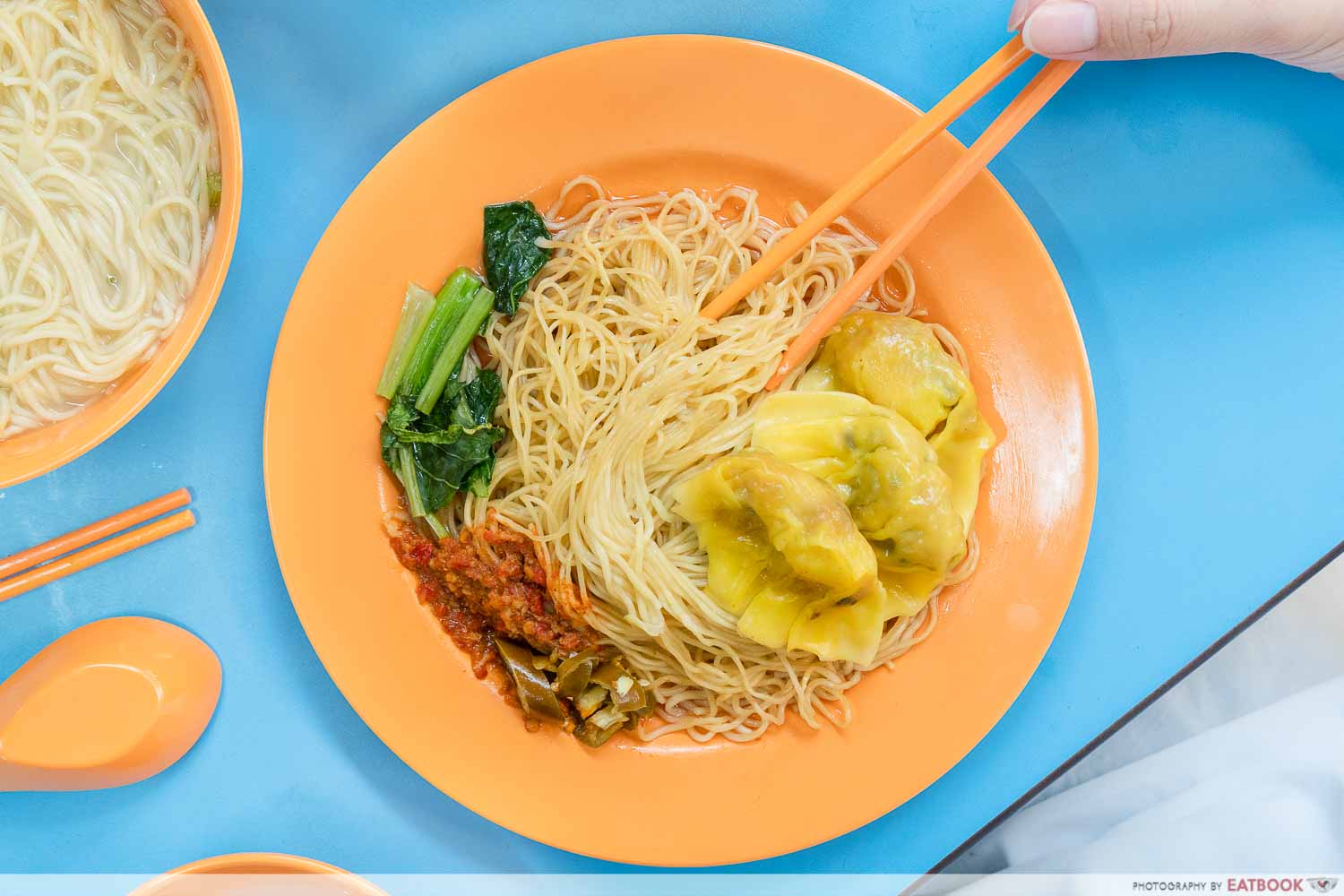 You can also opt for the dry version of these dumpling noodles, priced at $4. These come tossed in the same flavourful sauce, alongside boiled veggies, and three dumplings.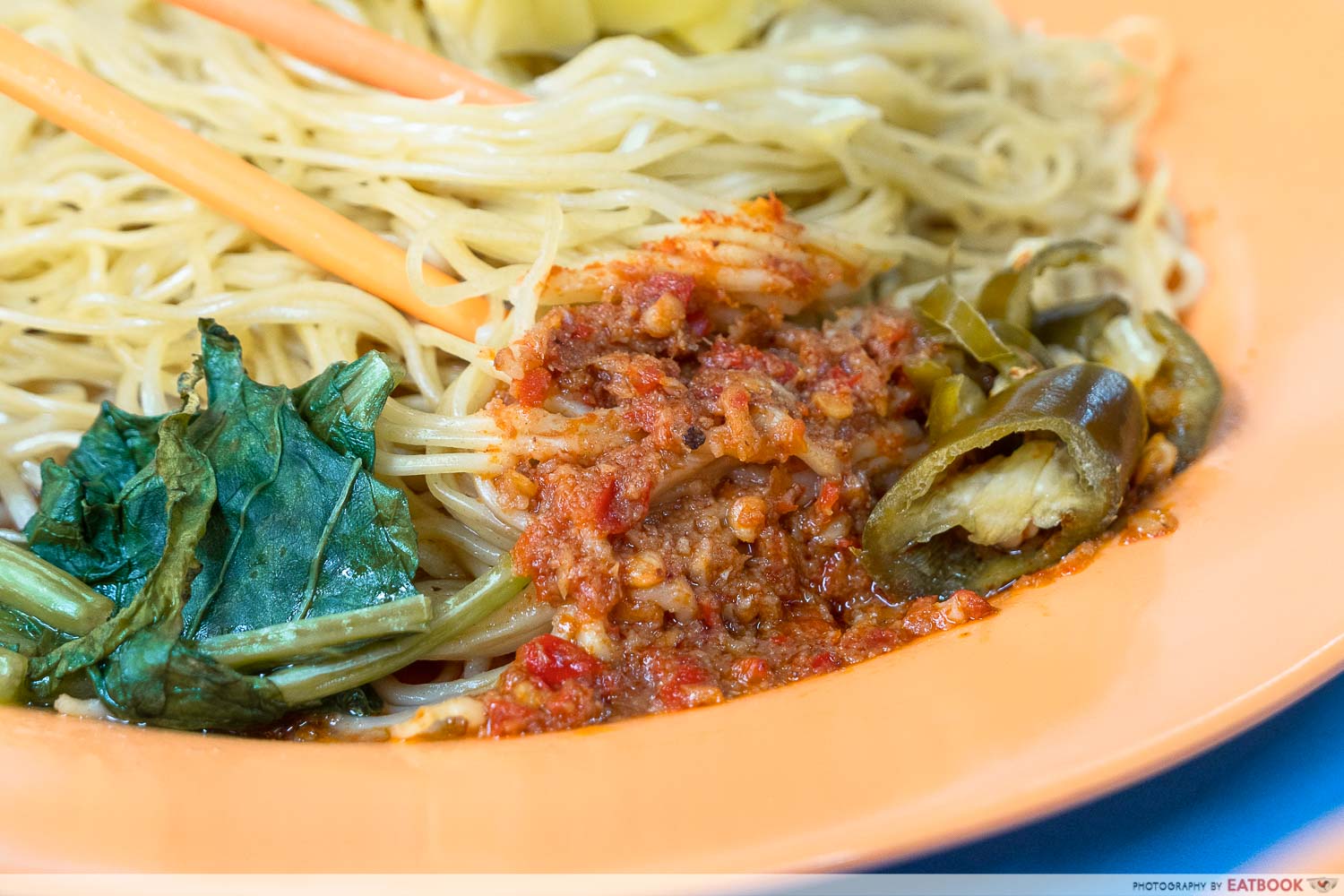 For this plate of noodles, I mixed in their signature chilli sauce, which was pretty remarkable in my books. This was packed with spice, and robust from the possible addition of dried shrimp.
Ambience at Wen Kang Ji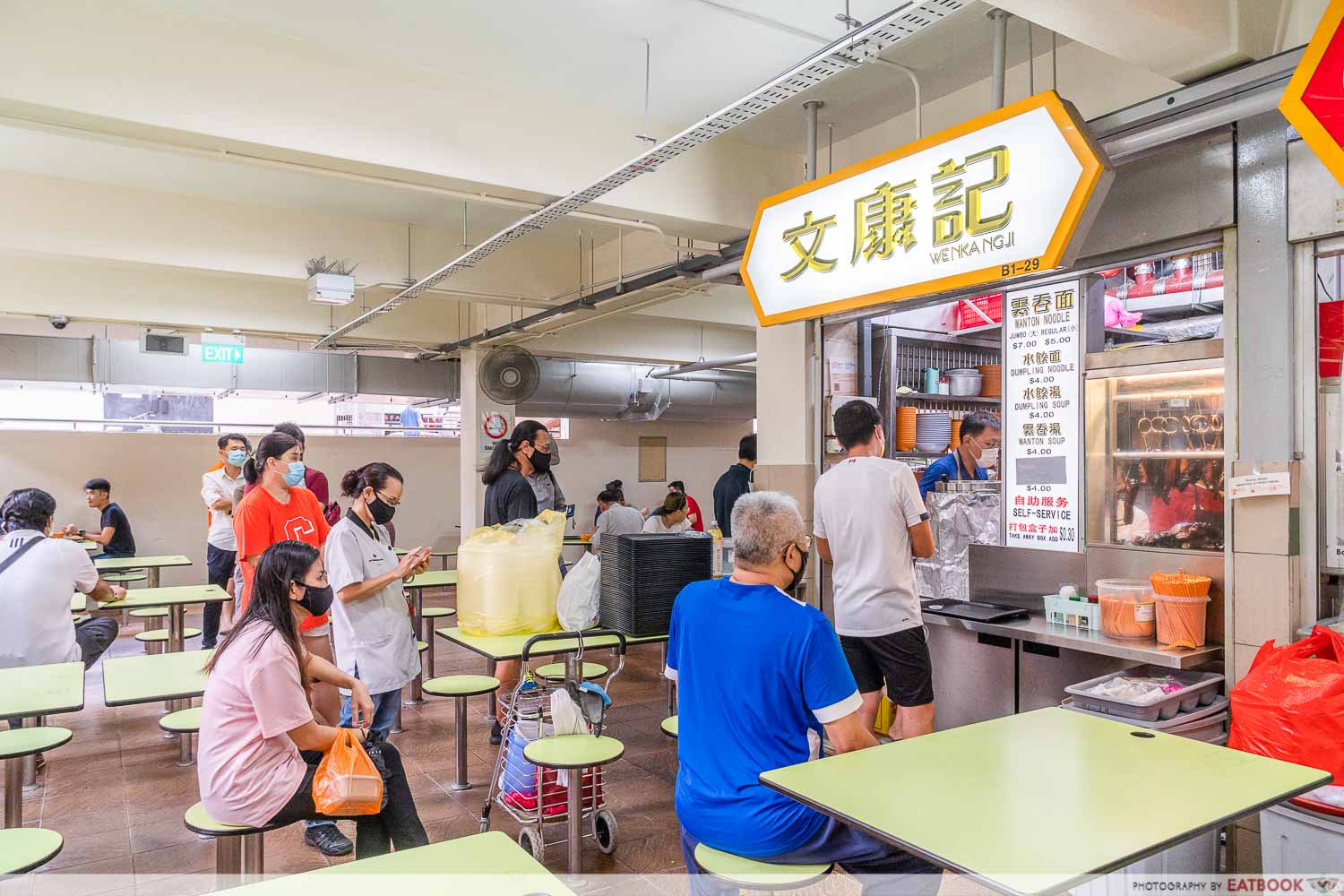 Golden Mile Food Centre hasn't changed much after its renovation. However, the space is now netted around the sides to keep birds from flying in. The hawker centre is also kept rather clean, though the seats inside feel quite clustered, so I recommend sitting in the outer aisles. 
Wen Kang Ji itself is located at a far corner of the hawker centre. During peak hours, the queue can stretch up to an hour, so do come prepared to wait.
The verdict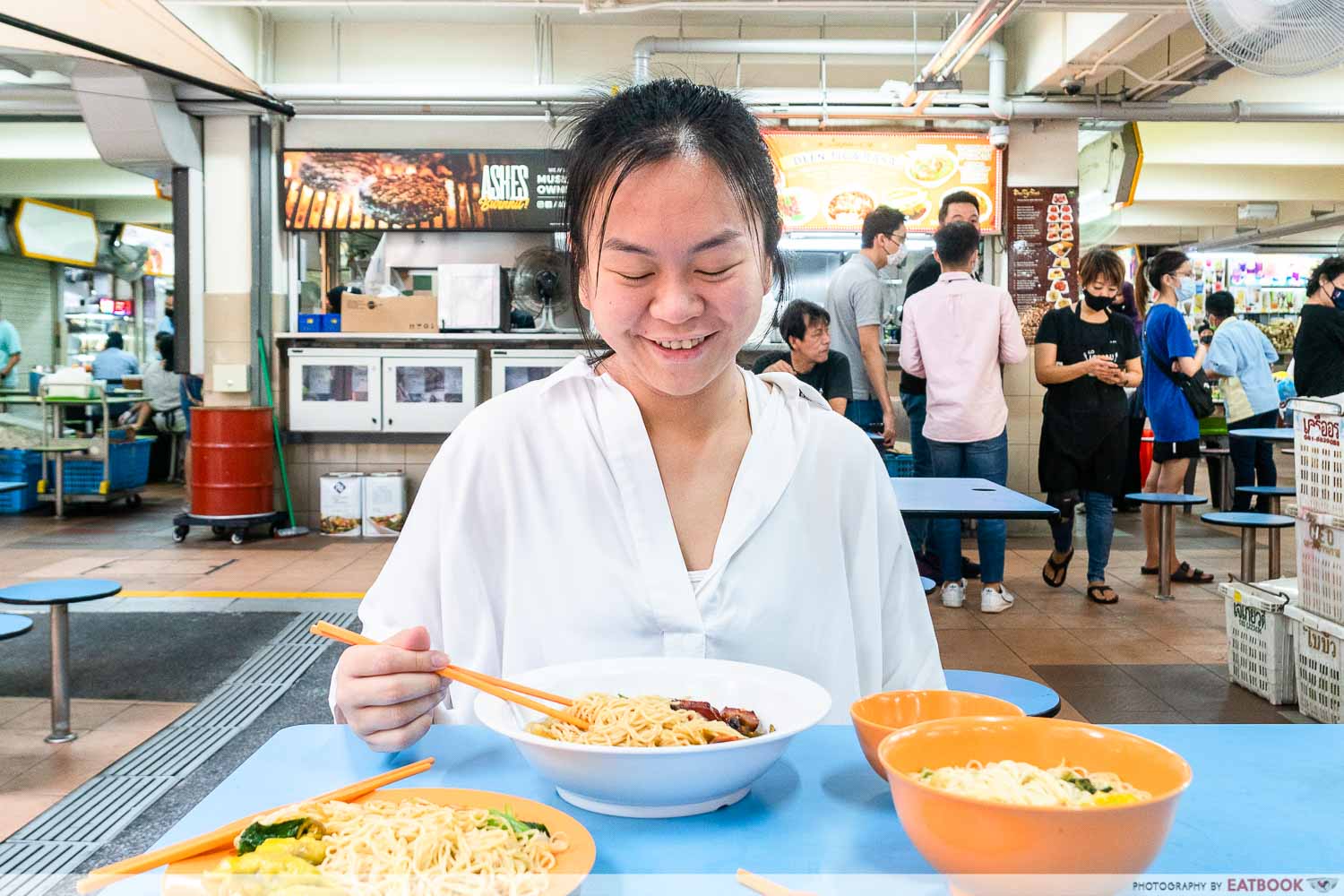 I later learned that Wen Kang Ji is often compared to Kok Kee Wanton Mee, and having had both, I feel that the former stands as a worthy competitor. All in all, they cook up a stellar bowl of wonton mee, with char siew that's better even than some roast meat stalls. With an improved dumpling recipe, I'll go so far as to say that they might rank as one of the best wanton mee stalls in Singapore in my books.
If you're looking for more food alternatives in the hawker centre, check out our Golden Mile Food Centre guide. Meanwhile, for more roast meat goodness, there's our Fu Shi Traditional Roasted review, for char siew and sio bak. 
Address: 505 Beach Road, #B1-29, Golden Mile Food Centre, Singapore 199583
Opening hours: Daily 10am to 4pm
Wen Kang Ji is not a halal-certified eatery.
13 Golden Mile Food Centre Stalls For Chilli Prawn Mee, Lava Baguettes And More
Photos taken by Syamira Rohaizad.
This is an independent review by Eatbook.sg.
The post Wen Kang Ji Review: XXL Wonton Mee And Delicious Char Siew In Golden Mile Food Centre appeared first on EatBook.sg – New Singapore Restaurant and Street Food Ideas & Recommendations.