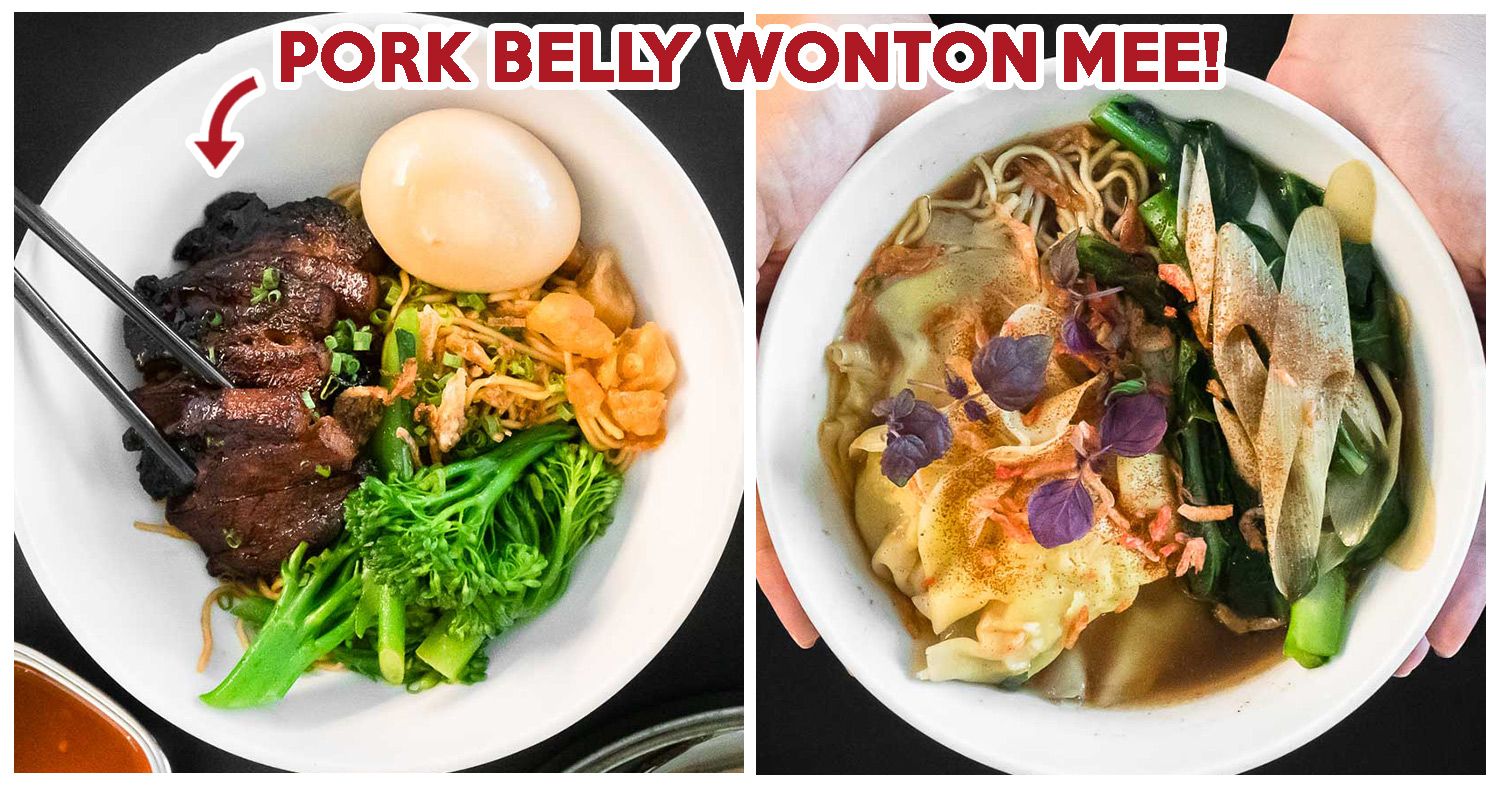 Wanton Seng's Eating House in Millenia Walk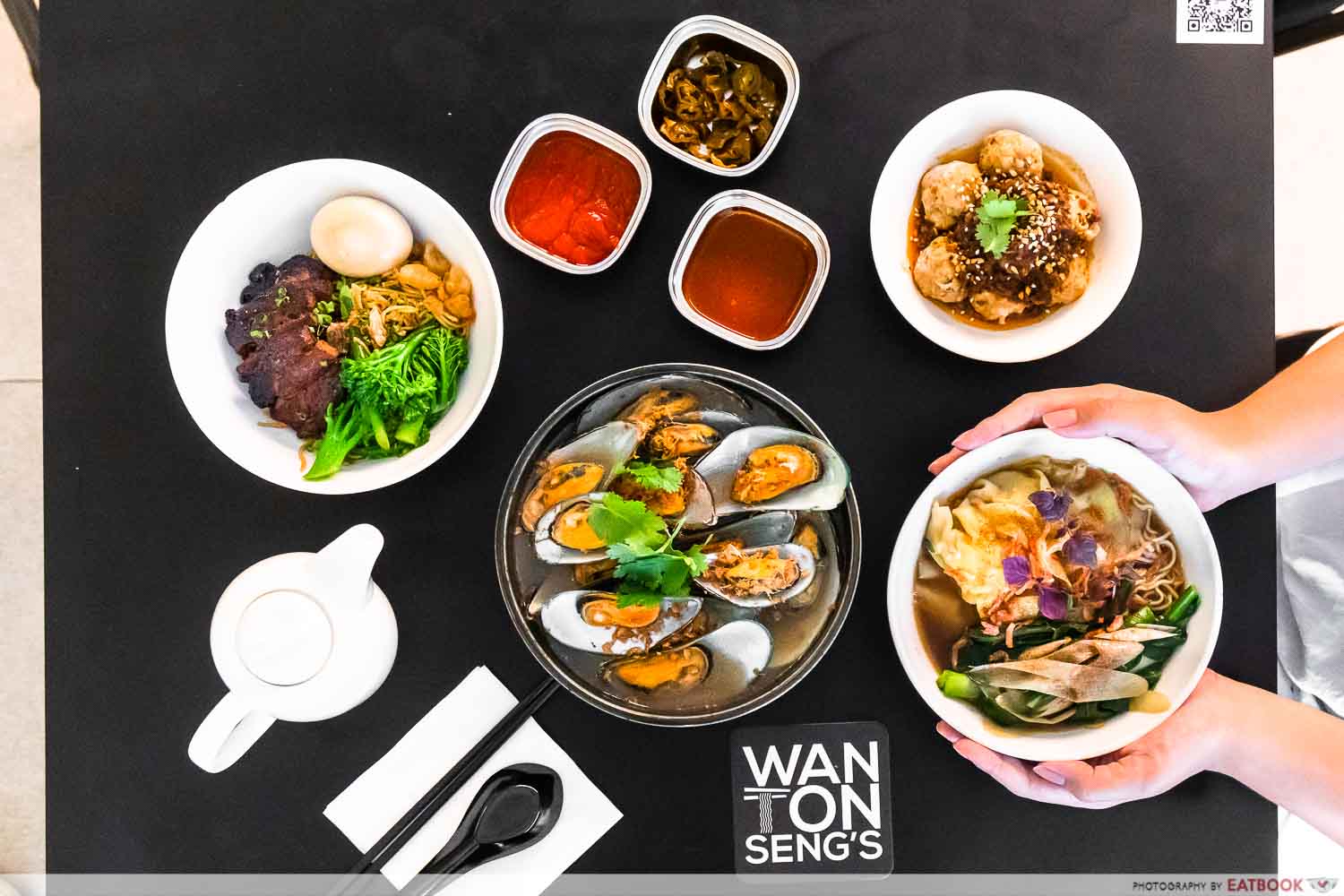 Wanton Seng's Eating House has its origins in the '60s, as a humble hawker stall at Dunman Food Centre. They then moved on to the now-defunct Wanton Seng's Noodle Bar, where they experimented with modernising wonton mee, to much fanfare along the streets of Amoy. The new Wanton Seng's Eating House at Millenia Walk incorporates this aspect of their previous noodle bar, along with other sharing items on their menu and a bar to boot, for a more holistic eating experience.
During this stay-home period, Wanton Seng's Eating House is also available for pick up and delivery, so you can enjoy their offerings in the comfort and safety of home.
Food at Wanton Seng's Eating House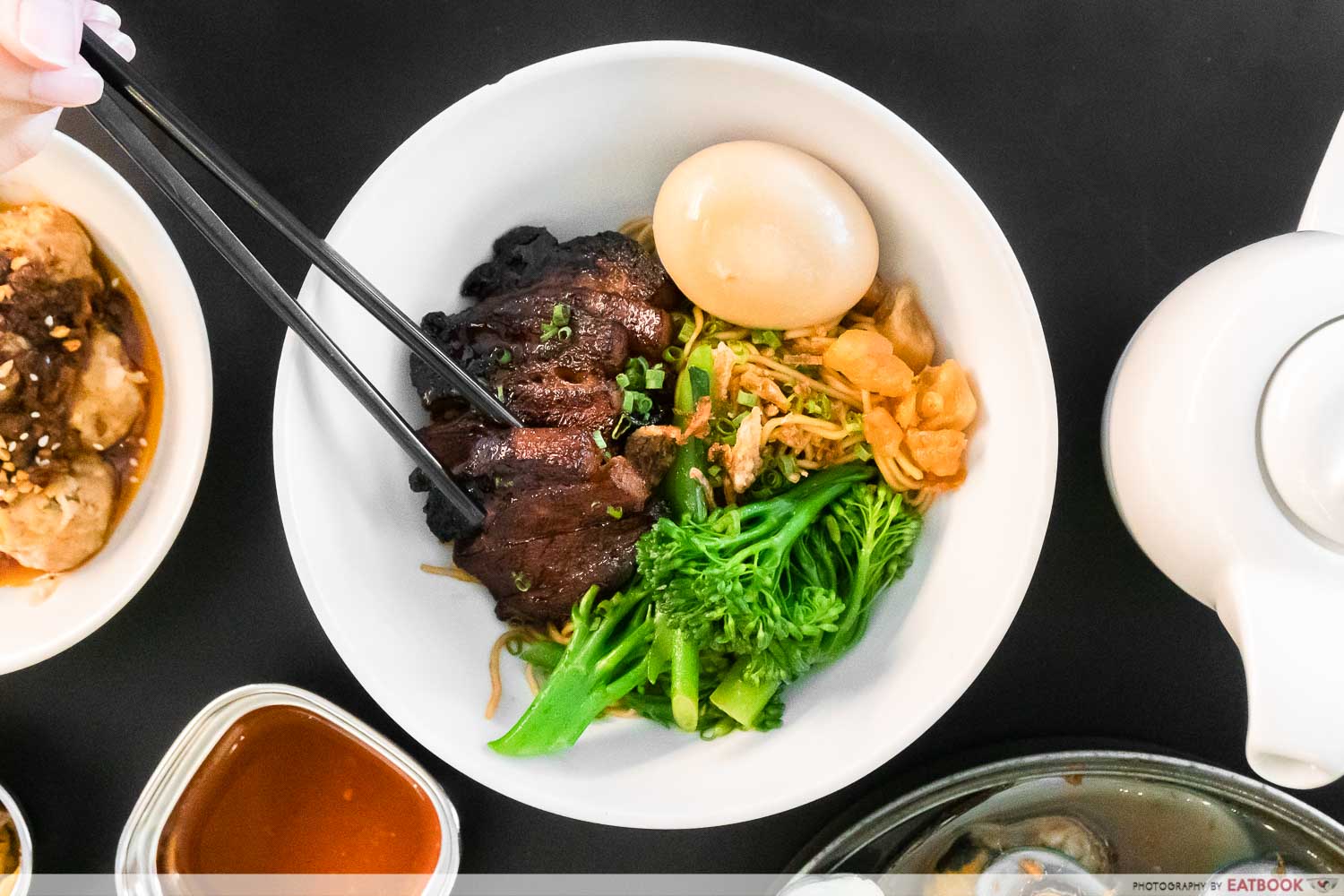 The first dish we tried on our visit was the Signature Char Siu Noodles ($12.80++), topped with flame seared pork belly, pork wontons, lard, broccolini, and a soft-centre egg, served with a pot of dashi broth.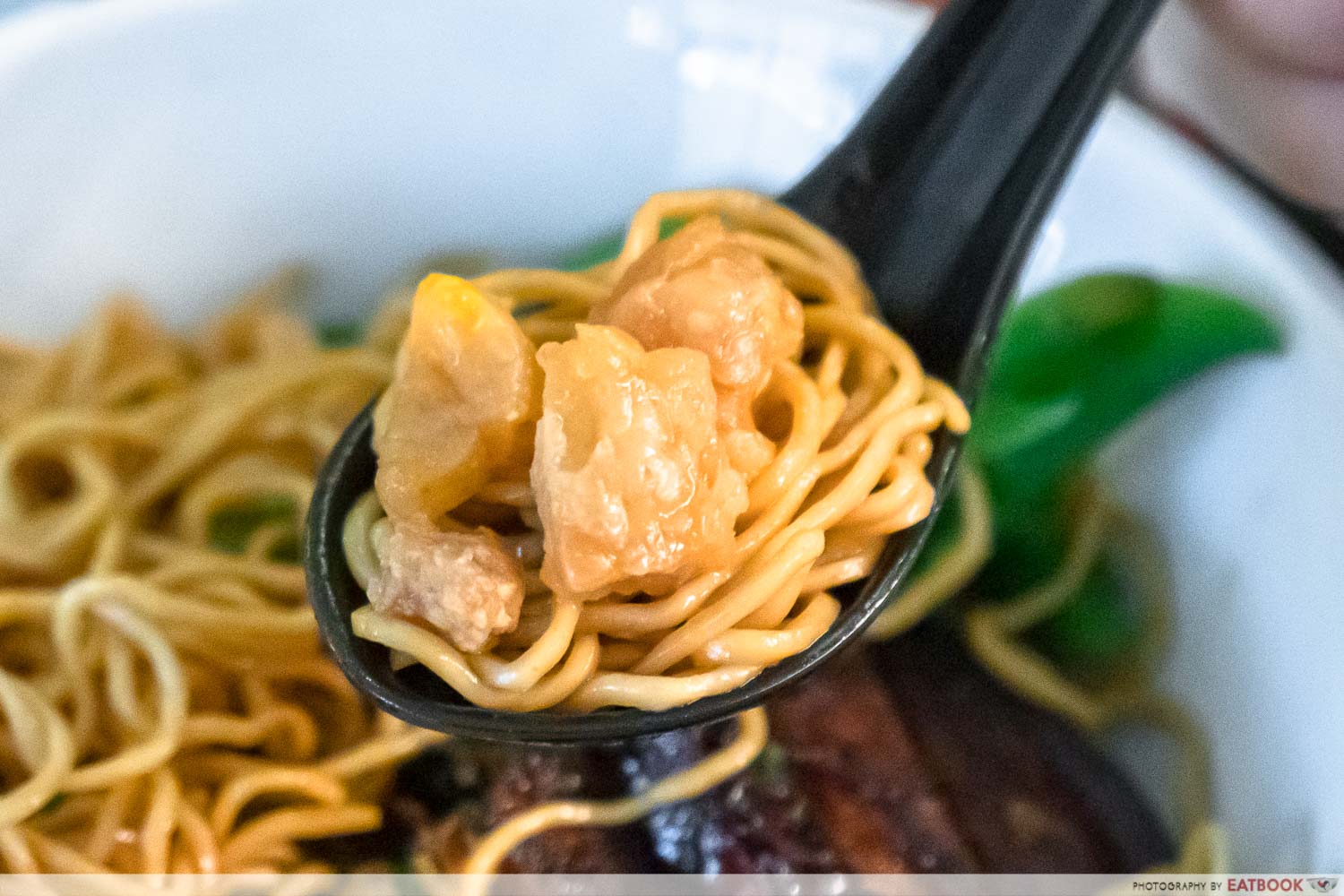 The noodles had a firm bite to them, reminiscent of the ones I'd previously had at Wen Kang Ji, though running slightly thinner in thickness. 
I especially loved the toppings of lard here, as they were light, crisp, and airy—bringing an umami burst with every mouthful. These also paired well with the savoury, slightly sweet dark sauce that the noodles were tossed in.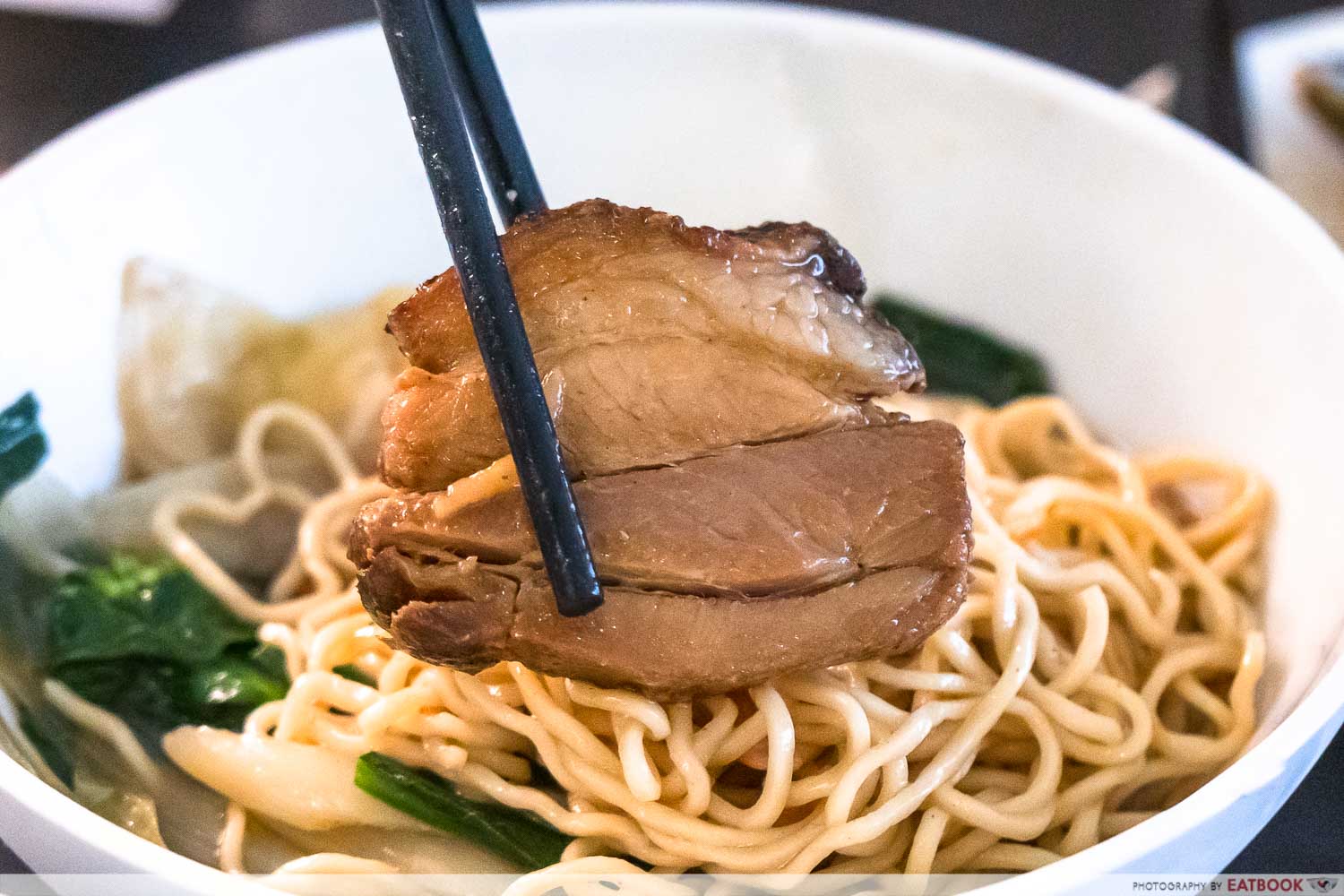 Unlike the reddish char siew that is typically seen in a bowl of wonton mee, Wanton Seng's Eating House takes the choice of protein here up a notch with its flame seared pork belly. Sadly for me, the meat was a tad dry for my liking. However, this was alleviated by the melty layer of fat on top. 
I also enjoyed the savoury-sweet flavour of the pork belly—possibly achieved with the use of shoyu, laced with a nice char from flame searing the meat.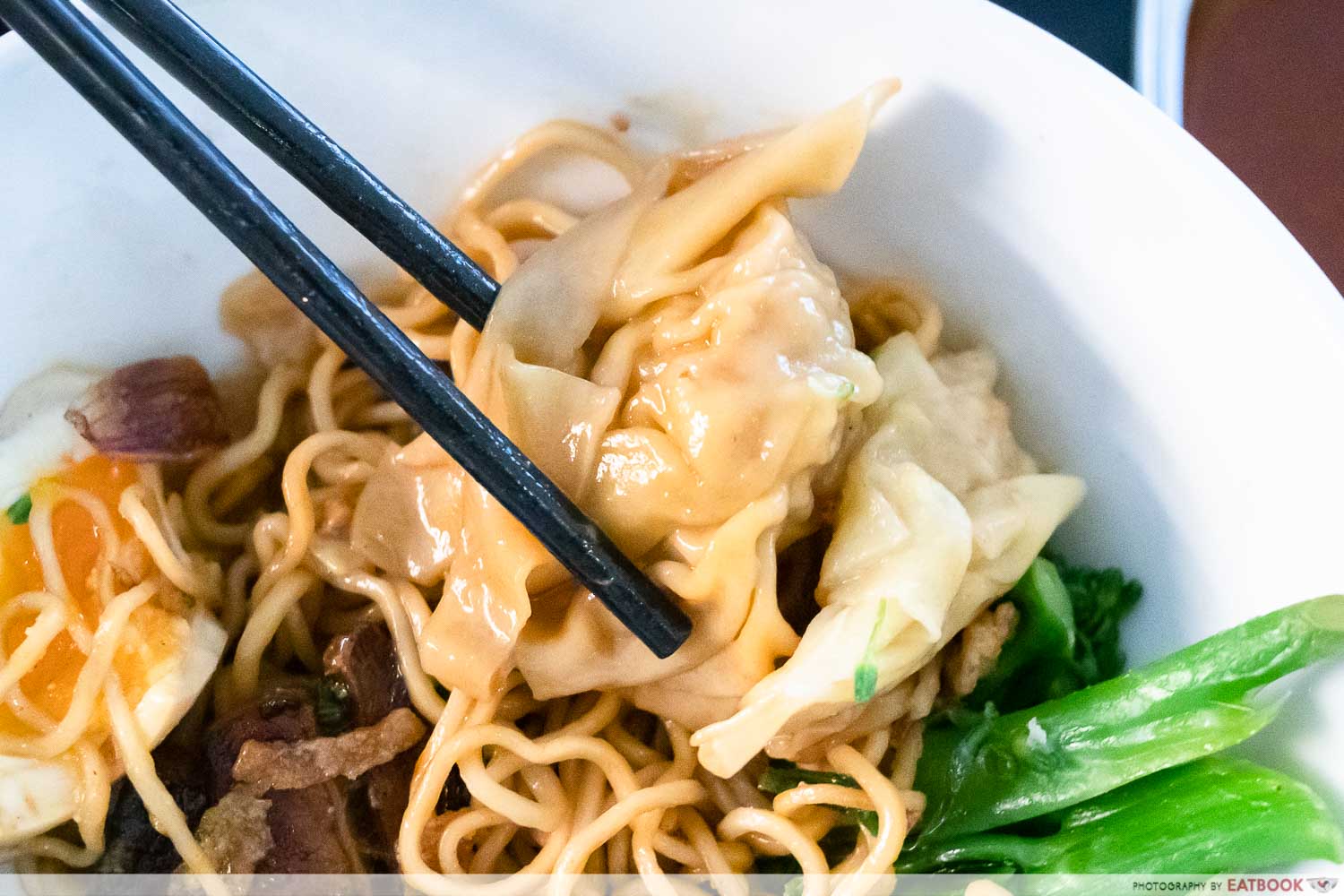 Here, the wontons were well-seasoned, encased in thin, silky wrappers that made these dangerously easy to slurp up.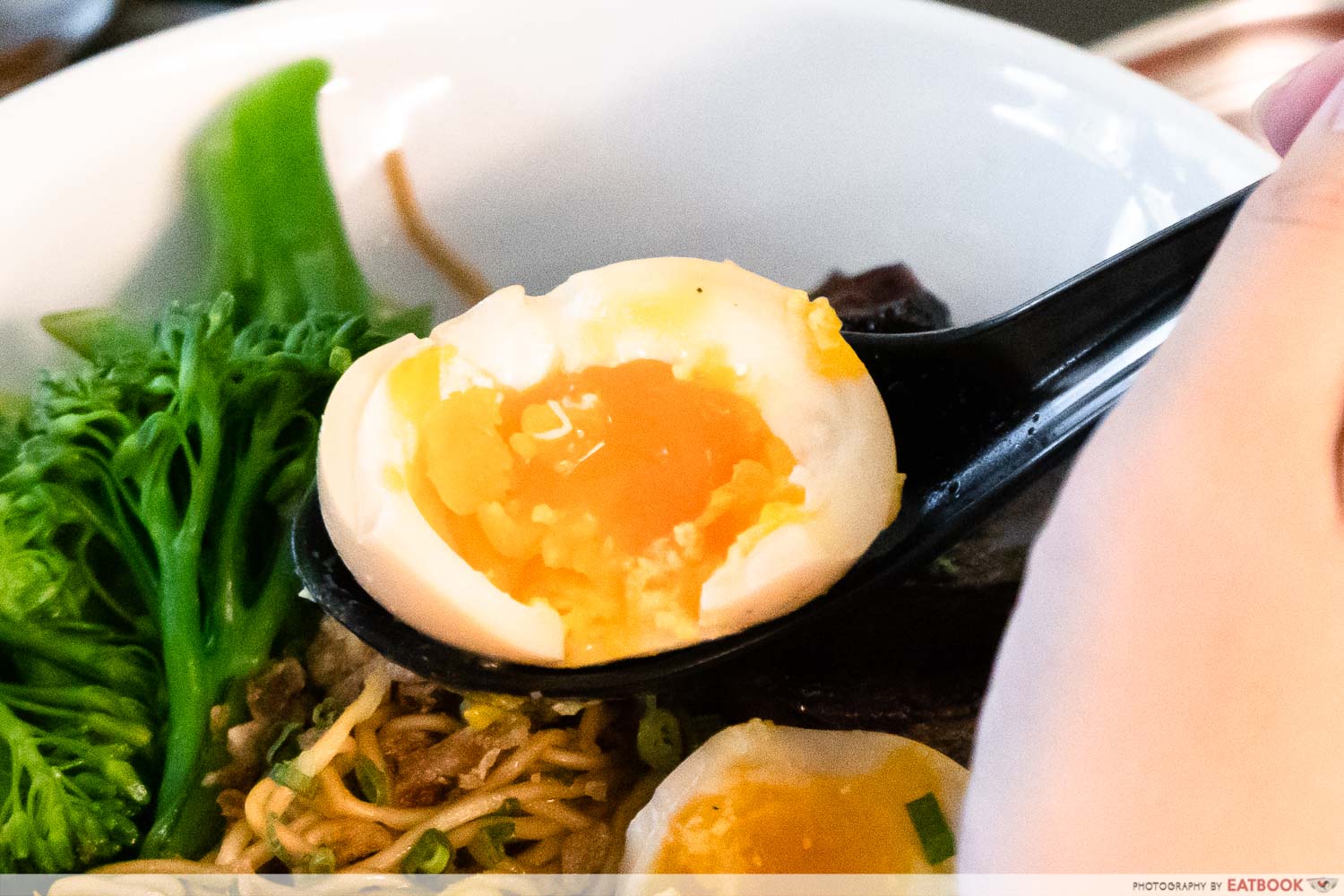 I also enjoyed the addition of the soft-centre egg, which was well-marinated, with a jammy yolk centre. This brightened up the bowl of wonton mee, and gave a sense of cohesiveness, when eaten together with the other ingredients.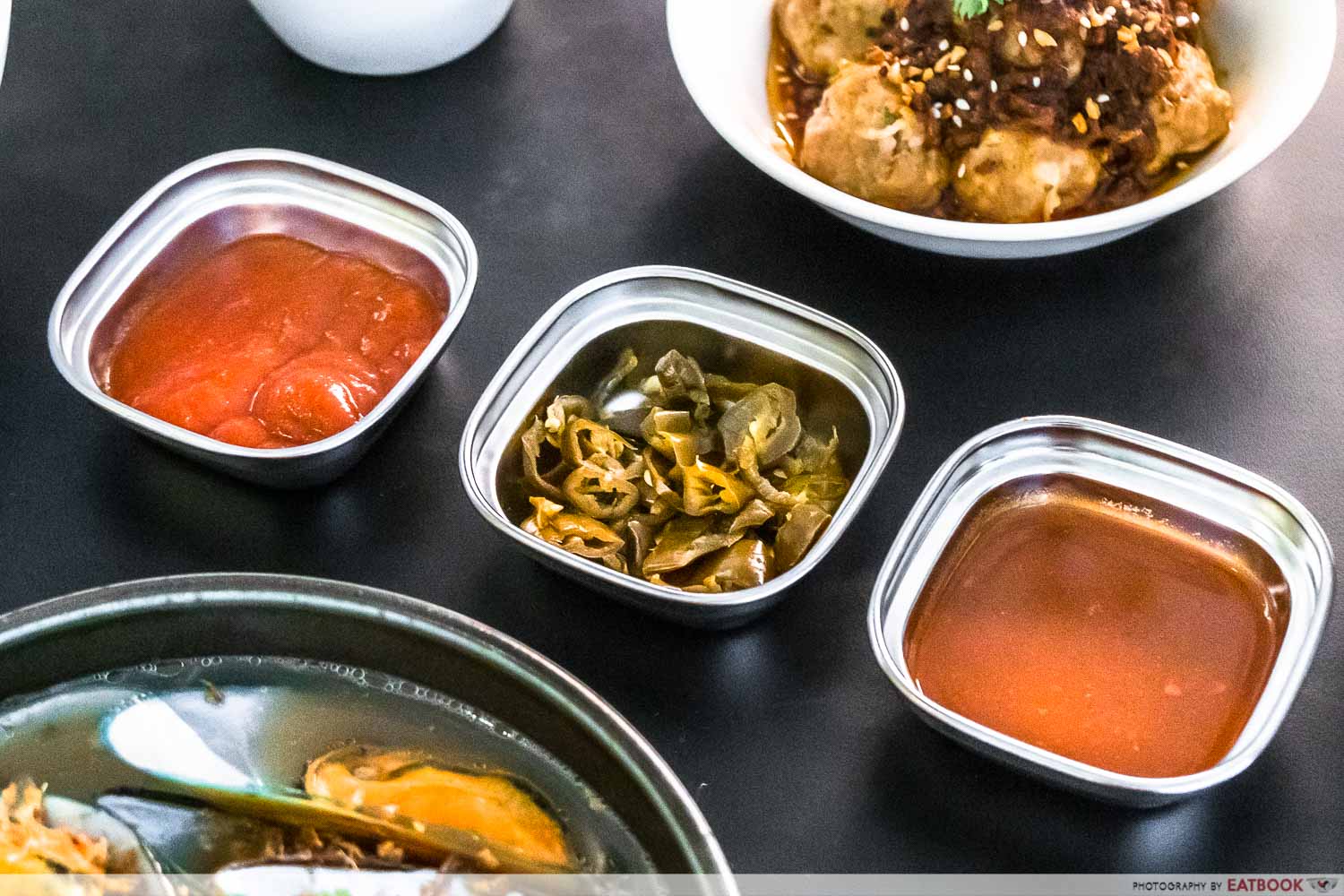 There are three condiments to pair your noodles with: a house-made chilli sauce, pickled green chillies, and a brand new, super spicy chilli sauce.
The house-made chilli sauce was thick, sweet, and slightly pungent. Meanwhile, the super spicy chilli sauce did not have much flavour to it, but left a tingling sensation in my mouth. All in all, my favourite of the lot had to be the pickled green chillies, a classic complement to the wonton mee.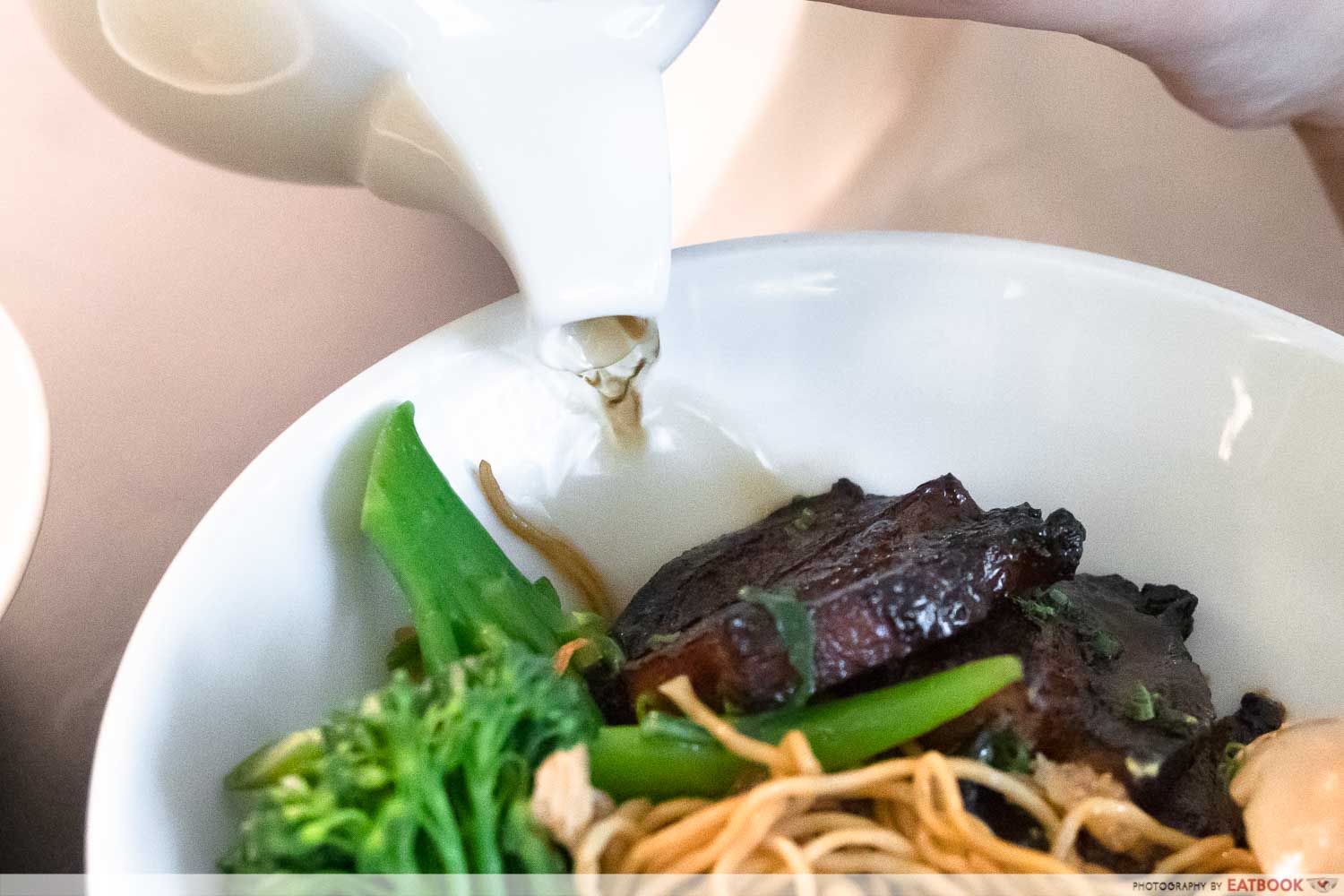 Every bowl of dry noodles at Wanton Seng's Eating House is served with a pot of broth, which you pour into your bowl when you're nearly done with the dish. A pork-based broth is usually served with lighter noodle dishes, while the Signature Char Siu Noodles is heavier on the palate, and thus served with a light dashi broth. 
This is simmered using only dashi and mushrooms, resulting in a sweet, woody broth that cleansed my palate nicely.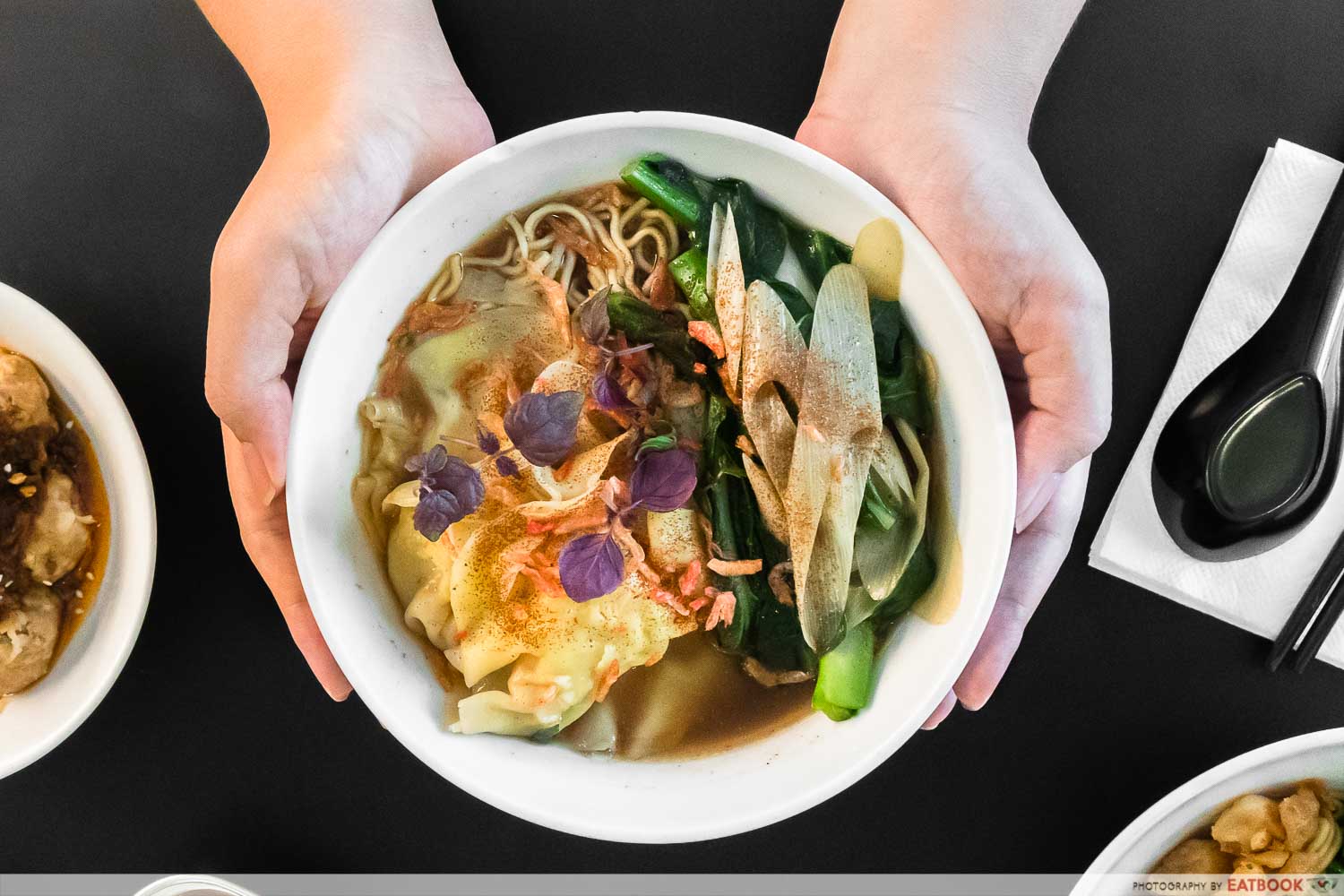 The next dish on our list was the Seafood HK Noodle Soup ($14.80++), served with tiger prawn wontons, sakura ebi, and a medley of vegetables.
I dug into this dish with an expectation that it would taste somewhat like our local prawn mee, aka hae mee. However, the seafood broth was surprisingly light, with a sweetness from vegetable stems. What gave it flavour were the sprinkles of sakura ebi, which punctuated each mouthful of soup with dashes of umami.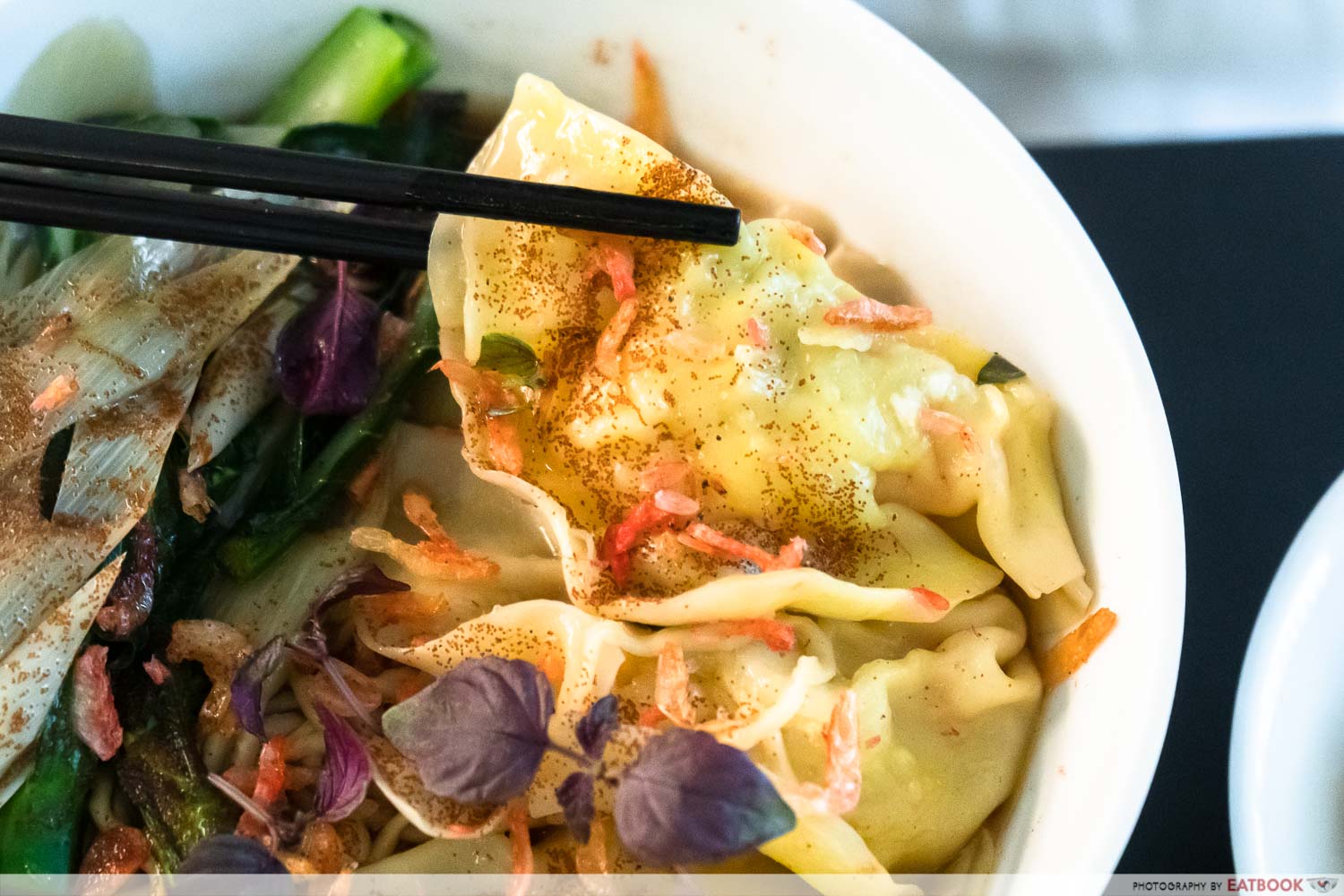 The tiger prawn wontons were fat and succulent, an indicator of the quality of seafood used. However, I felt that the restaurant could dial up the seasoning for these wontons.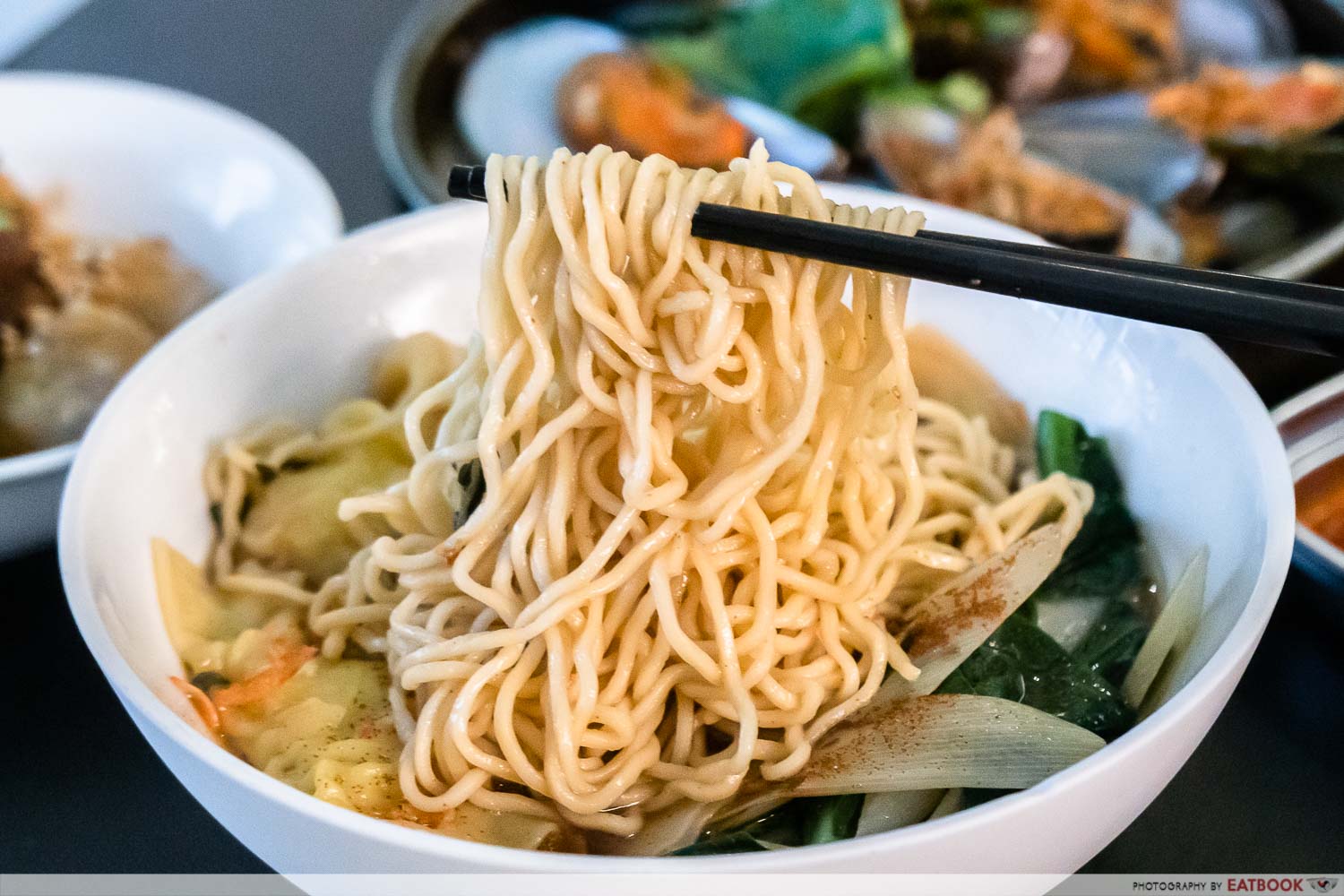 The noodles here are the same as the Signature Char Siu Noodles', and remained firm despite sitting in the broth.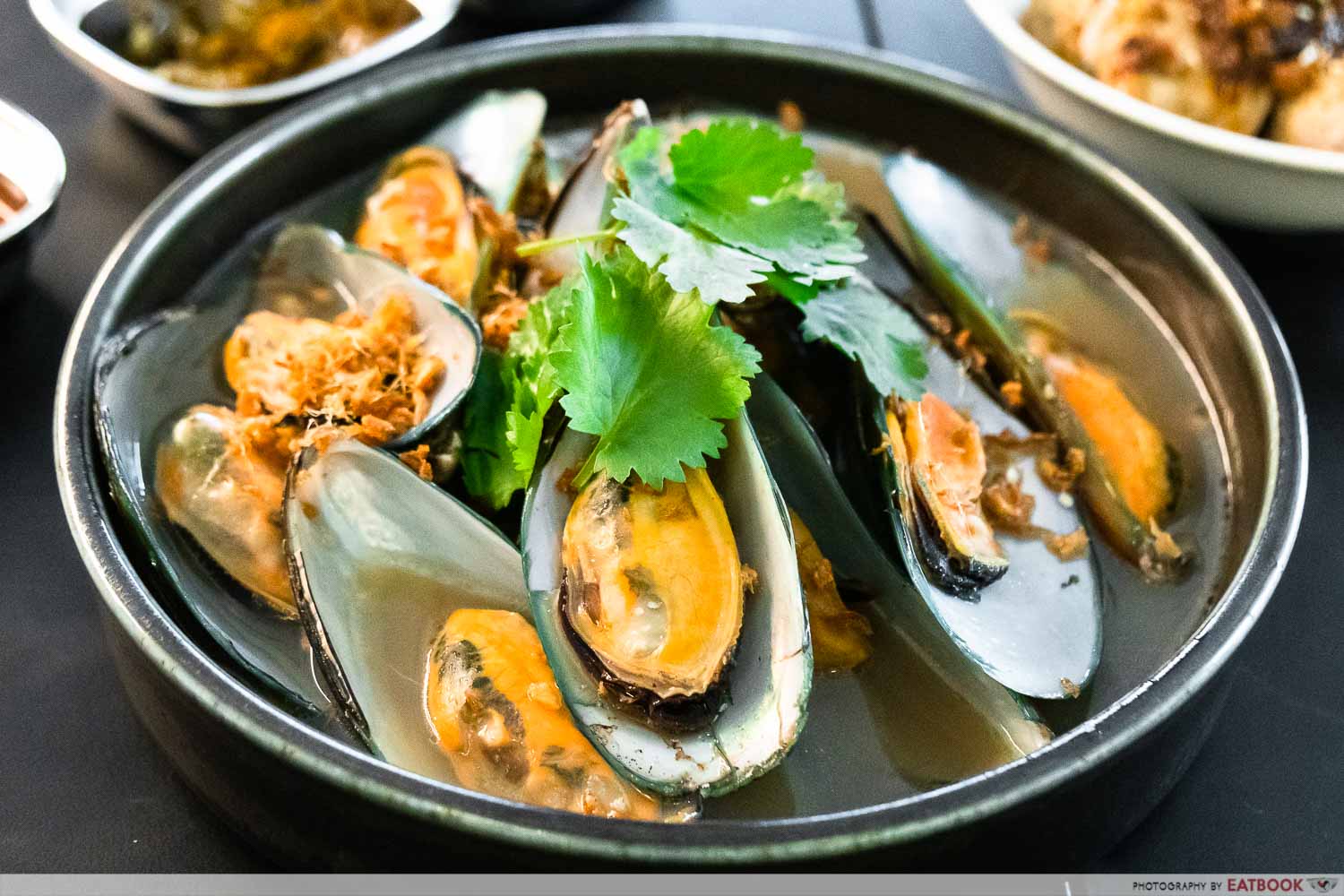 For sides to go along with our noodle mains, we tried the Ah Hua Kelong Mussels ($17++), which features locally farmed mussels from Ah Hua Kelong.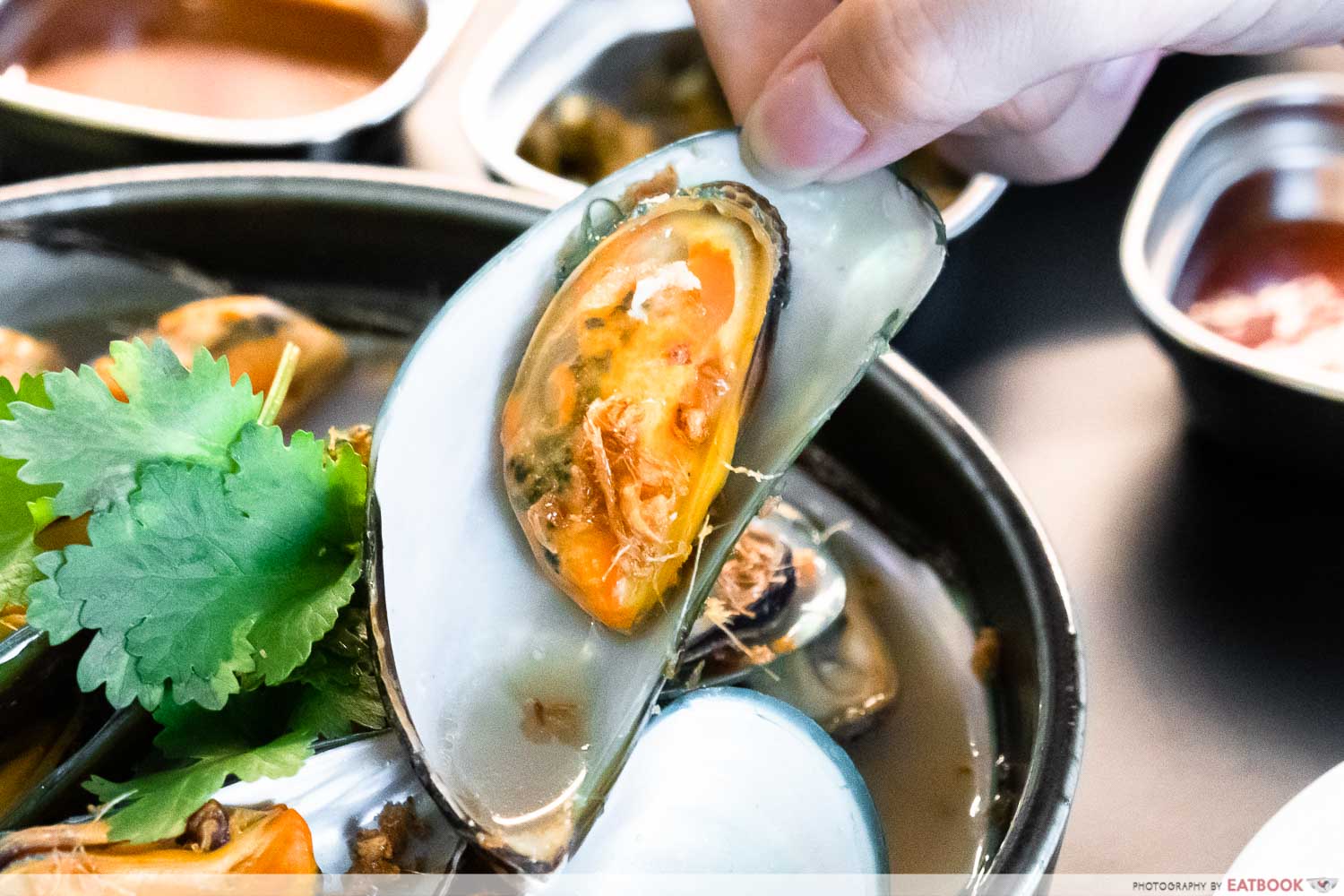 The mussels here were delightfully plump and juicy, rid of any sandiness that you typically find in ones that aren't well-cleaned.
The sauce underneath tasted garlicky and savoury-sweet, made with Jim Beam bourbon whisky, the booziness of which helped bring out the natural, sweet brine of the mussels.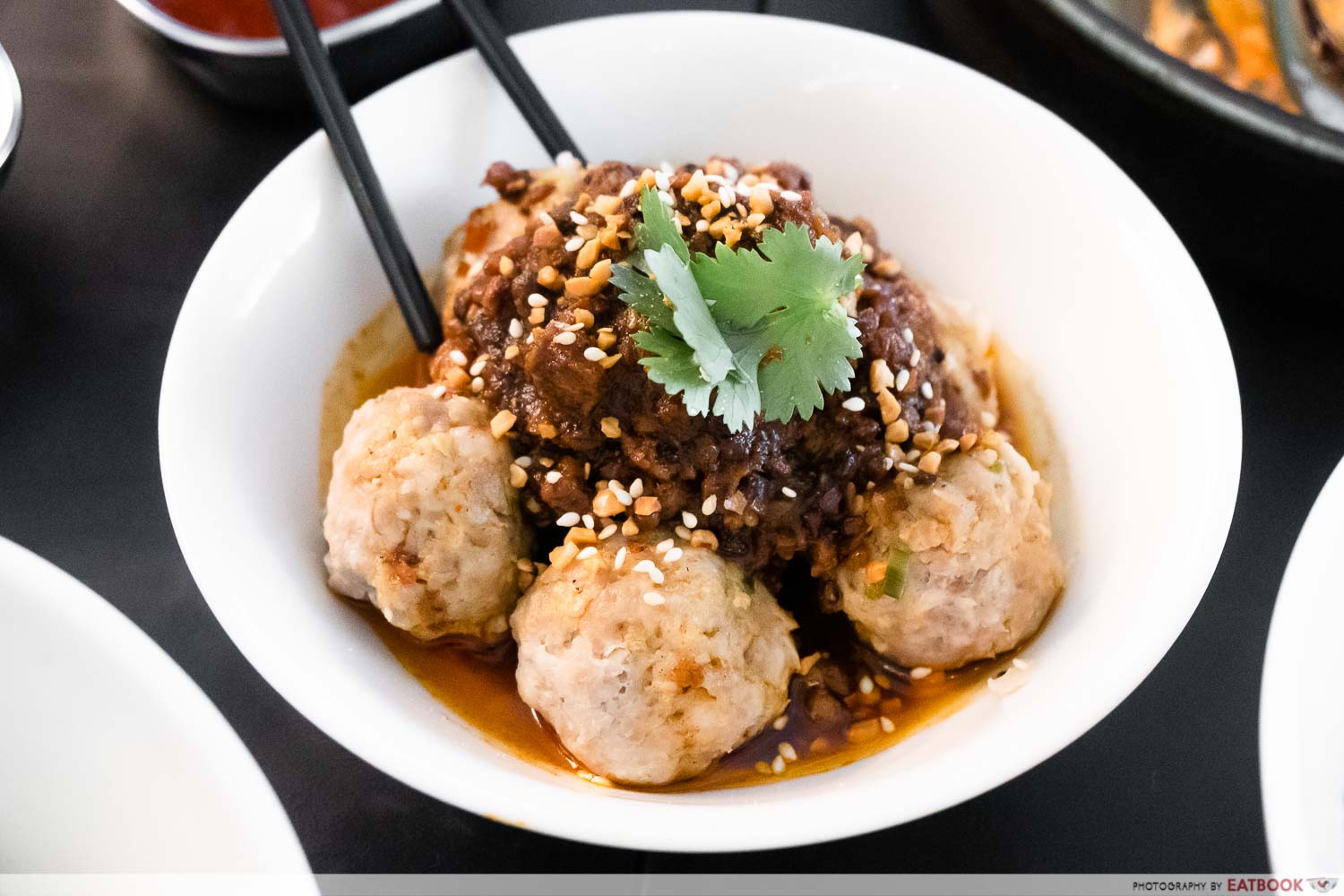 Our next and final side was the Mala Lion's Head Meatball ($10++), cooked in an XO mala sauce, and peppered generously with peanut bits and sesame seeds.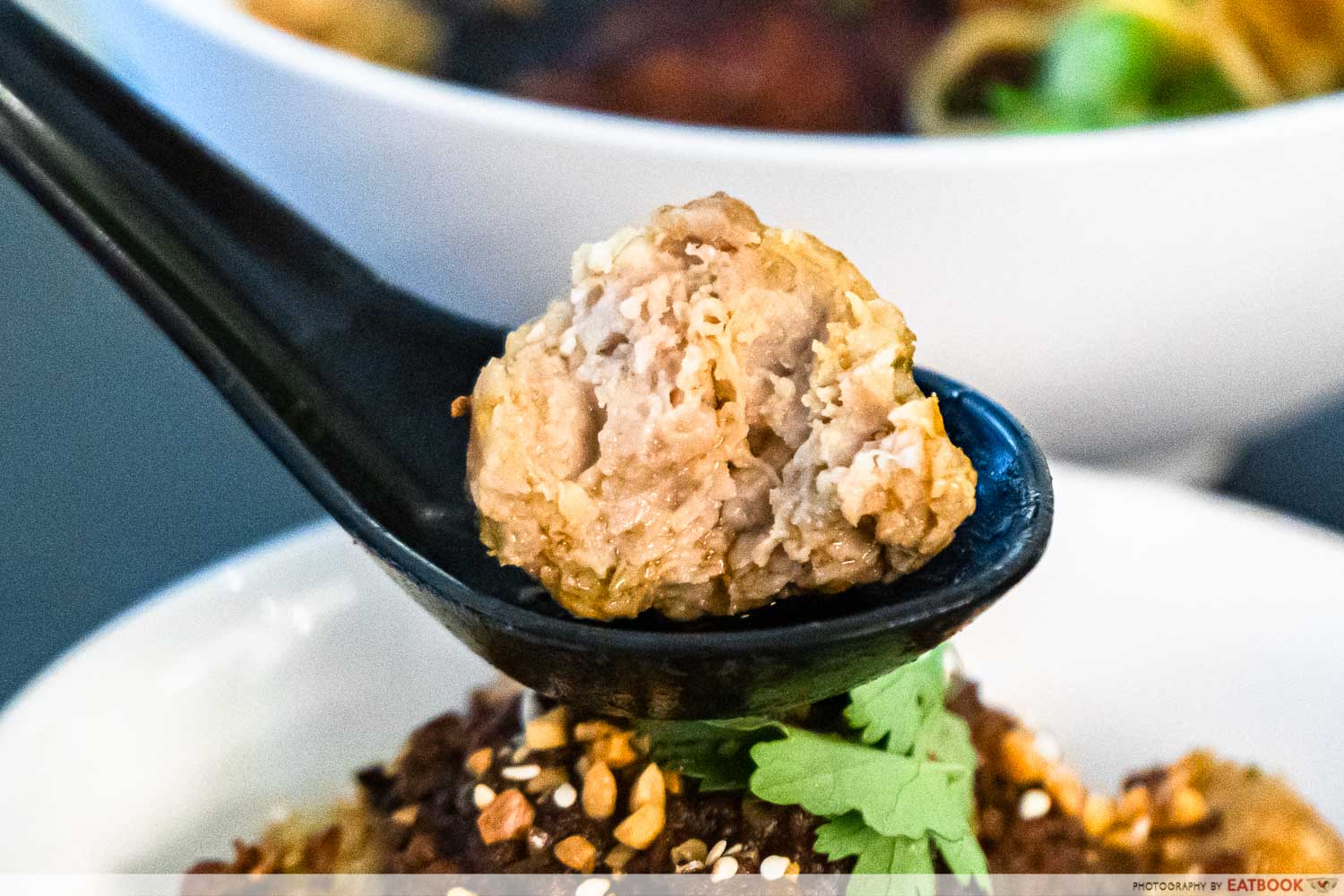 You get chunks of meat throughout the meatball, proof of its handmade nature. These pork balls absorbed the punchy mala sauce nicely, while the toppings of peanuts and sesame seeds helped cut through the heaviness of the meat. I also liked that the sauce wasn't just piquant, and had substance to it, made possible with the umami addition of cognac.
Ambience at Wanton Seng's Eating House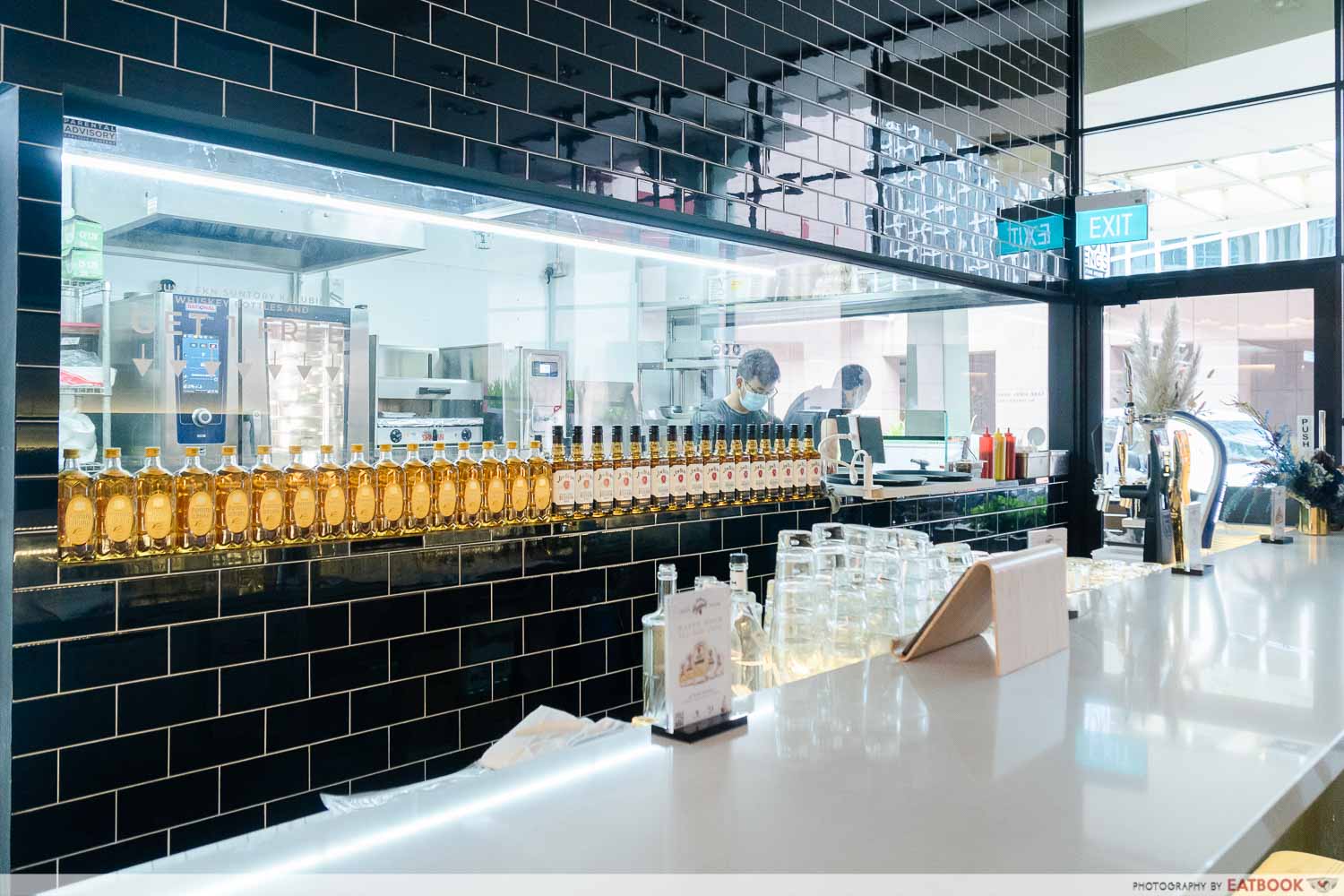 The ambience at Wanton Seng's Eating House is made exceptionally classy with its choice of dim lights and monochromatic finishings. There's also outdoor seating, for those who prefer more alfresco vibes.
The restaurant is conveniently located at Millenia Walk, only a two minute-walk away from Promenade MRT Station.
The verdict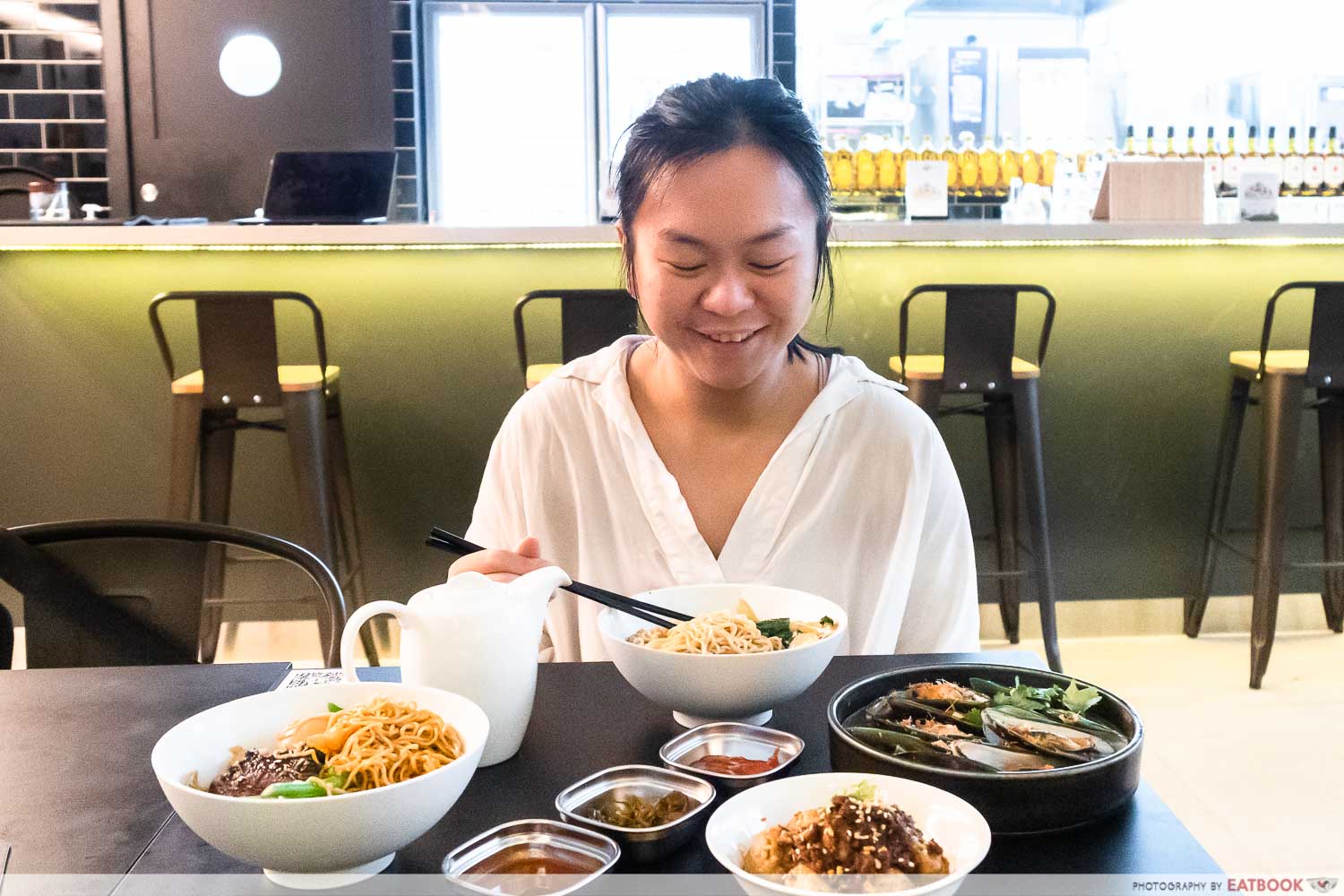 All in all, Wanton Seng's Eating House is a place where you can taste the thought that goes into each dish, from the clever use of sakura ebi in the Seafood HK Noodle Soup, to the addition of bourbon in the Ah Hua Kelong Mussels. I enjoyed the experimentation and modernisation behind their menu and for that, I'll definitely make a return in the future.
If you're looking for new eats that are available for delivery or takeaway, read our Big Mouth Eat review, with affordable Taiwanese bento sets, lu rou fan, and street snacks. There's also our Creation Cafe review, for Italian pasta at nett prices by an ex-hotel chef.
Address: 9 Raffles Boulevard, #01-11/12/13, Millenia Walk, Singapore 039596
Opening hours: Daily 11:30am to 10:30pm
Tel: 9772 2587
Website
Wanton Seng's Eating House is not a halal-certified eatery.
Big Mouth Eat Review: Affordable Taiwanese Bento Sets, Lu Rou Fan And Street Snacks At Clarke Quay
Photos taken by Syamira Rohaizad.
This was a media tasting at Wanton Seng's Eating House.
The post Wanton Seng's Eating House Review: Pork Belly Wonton Mee And Bourbon Mussels At Millenia Walk appeared first on EatBook.sg – New Singapore Restaurant and Street Food Ideas & Recommendations.