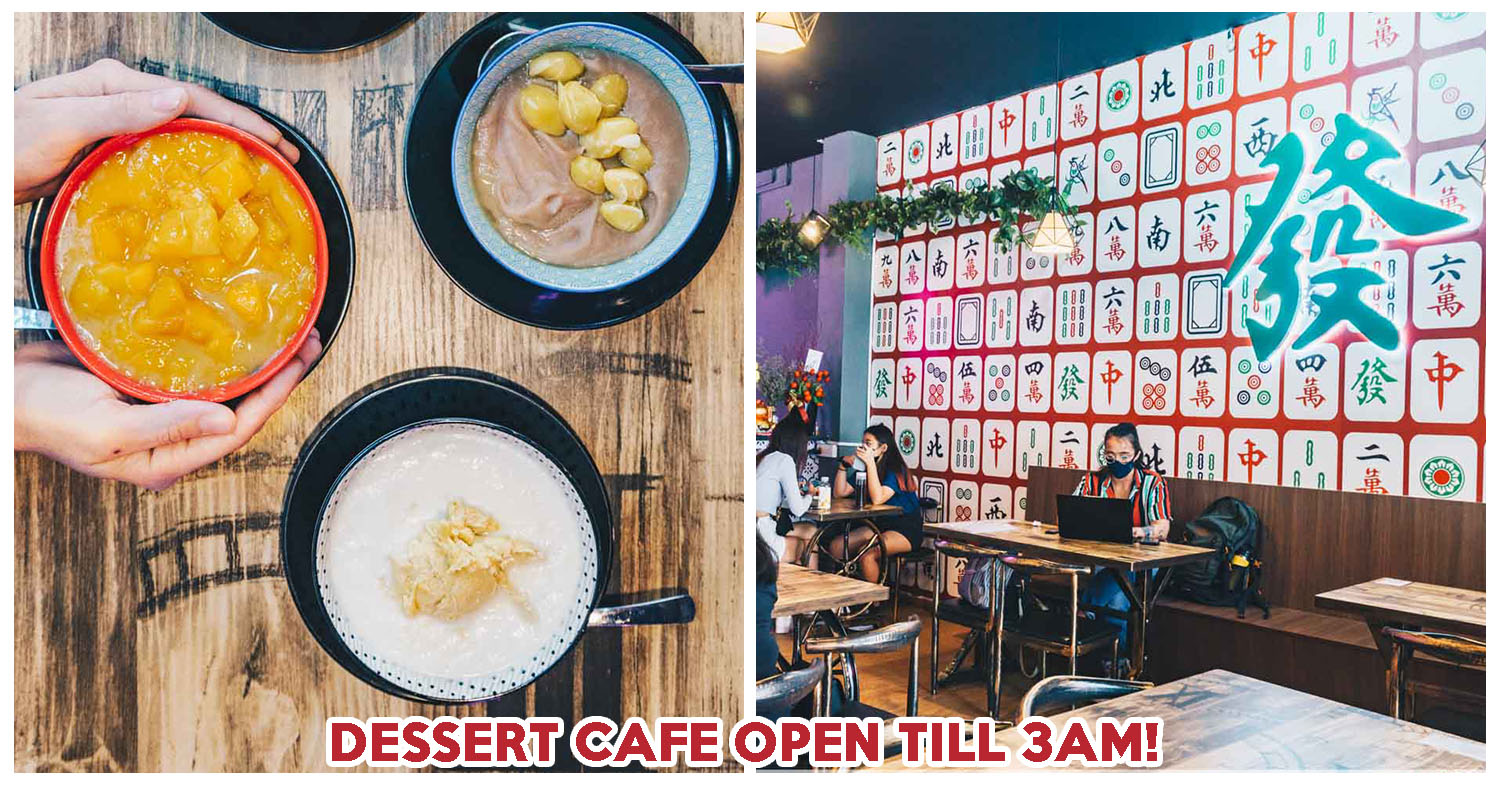 Tian Wang desserts in Jalan Besar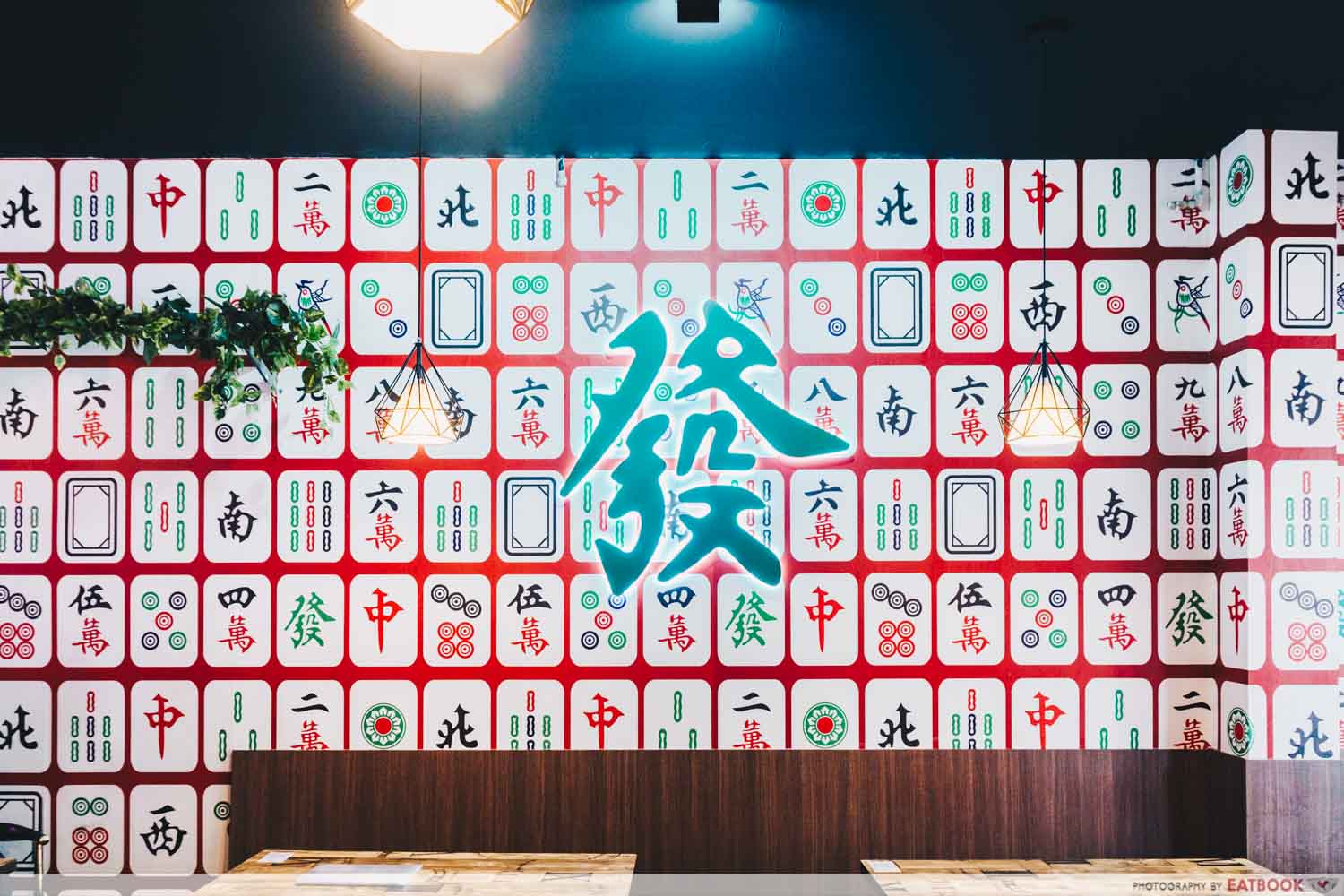 Like most Singaporeans, I have an ardent love for mahjong. I clearly did not have my fill of the game over Chinese New Year, as when I heard that there was a new mahjong-themed cafe known as Tian Wang Desserts opening in town, I zipped my way to Jalan Besar for a visit.
Food at Tian Wang Desserts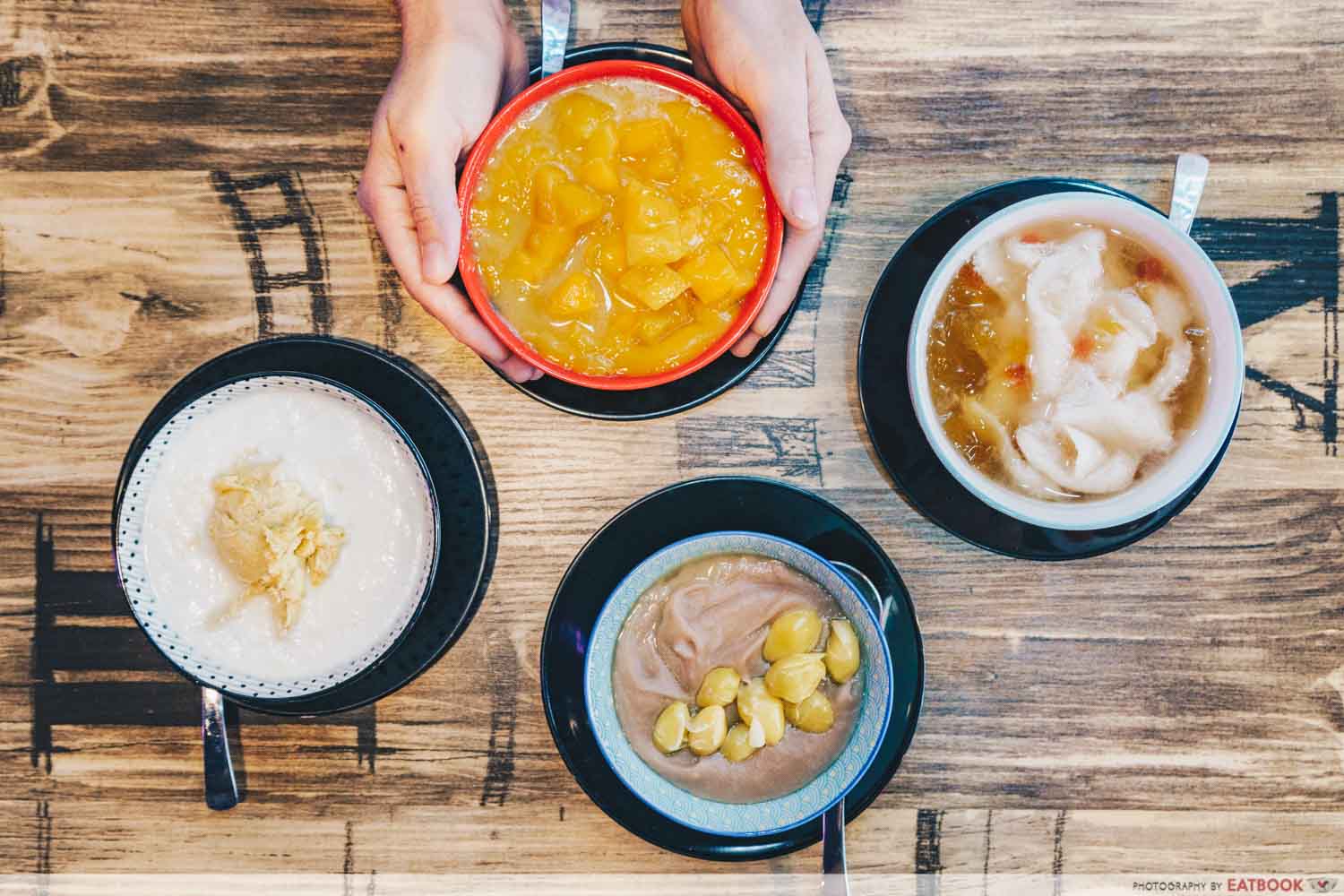 Tian Wang Desserts' mahjong theme ends at its striking mahjong tile wallpaper. Their true focus is an array of traditional Chinese desserts, all available till 3am daily. 
We picked out four highlights from the menu's hot and cold offerings. The MSW Durian Mousse ($9), Yam Paste With Pumpkin & Gingko ($4.80), Mango Pomelo Sago ($4.80), and Soursop Popping ($4.80).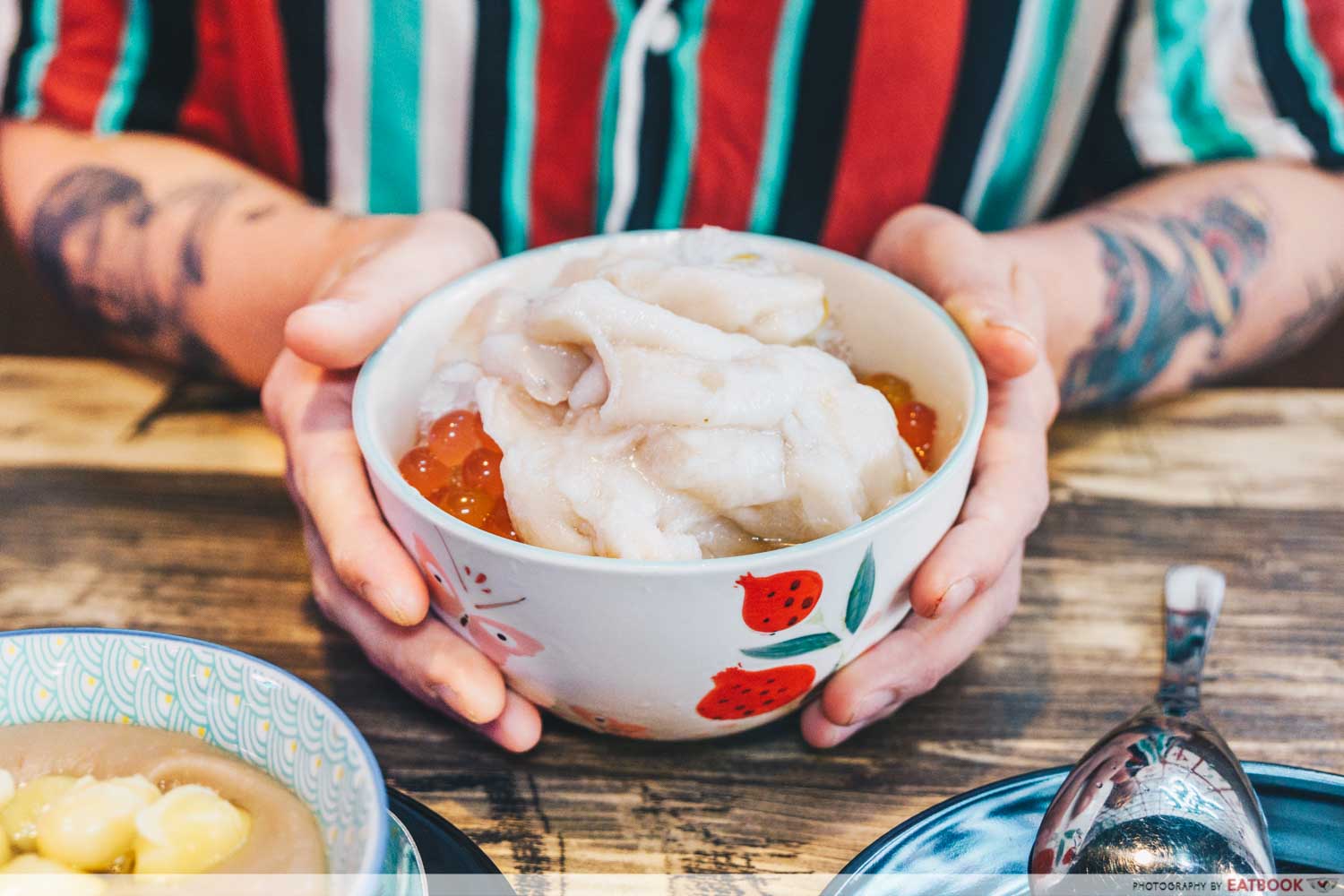 The Soursop Popping is part of their range of ai-yu jelly desserts topped with popping boba. Served with shaved ice, this was a refreshing bowl that perked me up from the warm weather outdoors, but it is very sweet.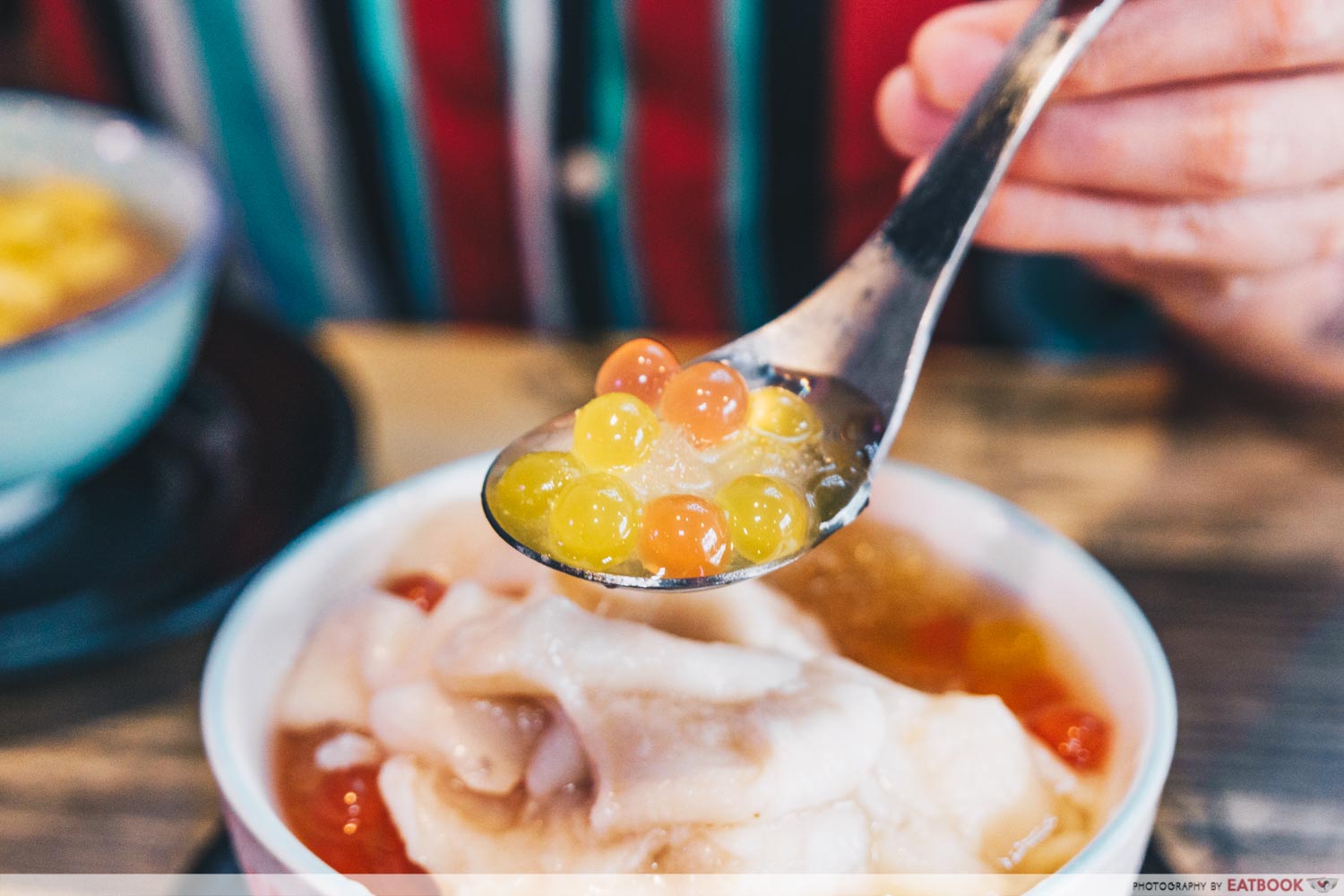 The sugariness only exacerbates when you bite into the boba balls, as each is filled with syrup.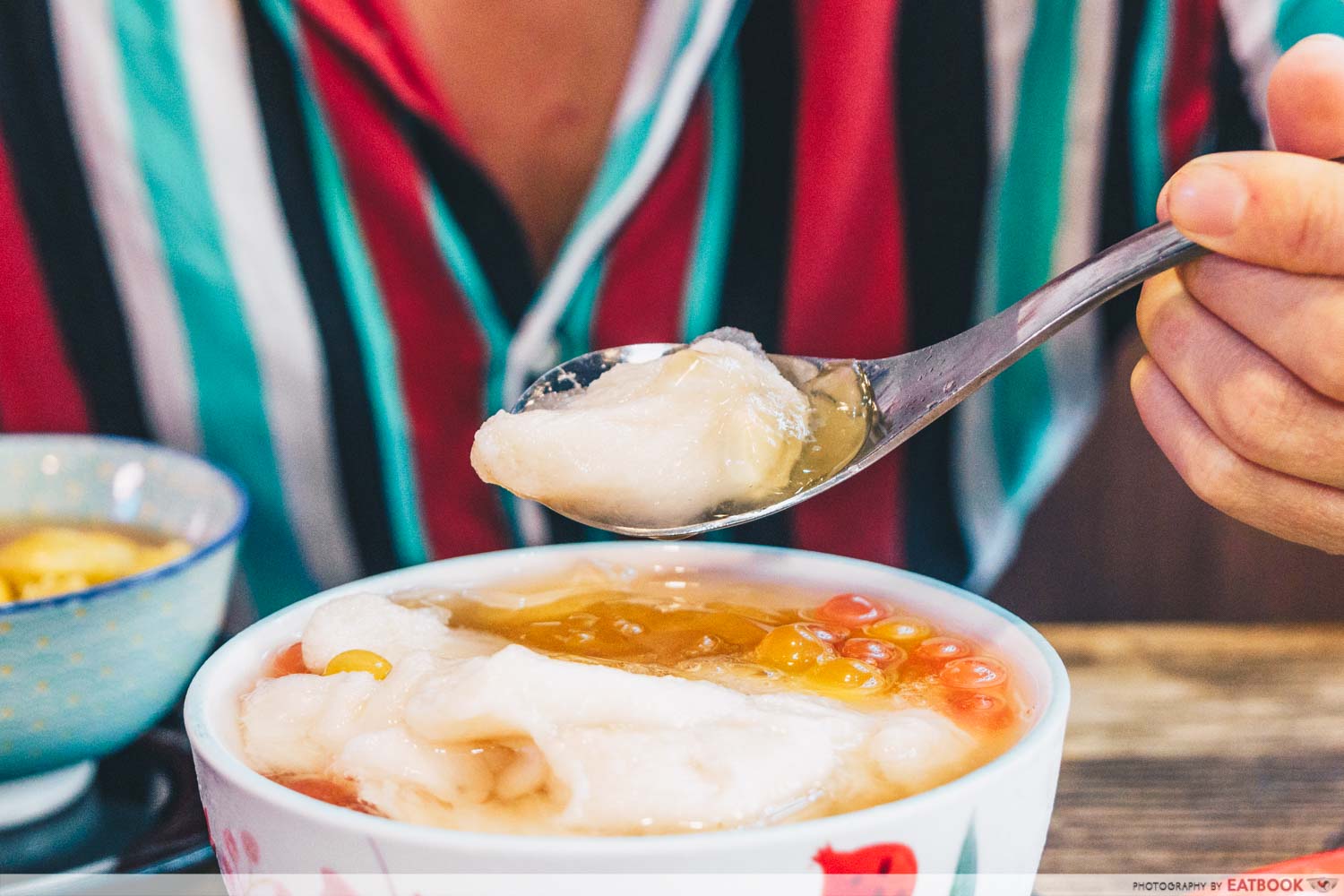 My favourite part was the generous serving of real soursop fruit, and the fact that the bowl is substantial enough that you can share this with a friend.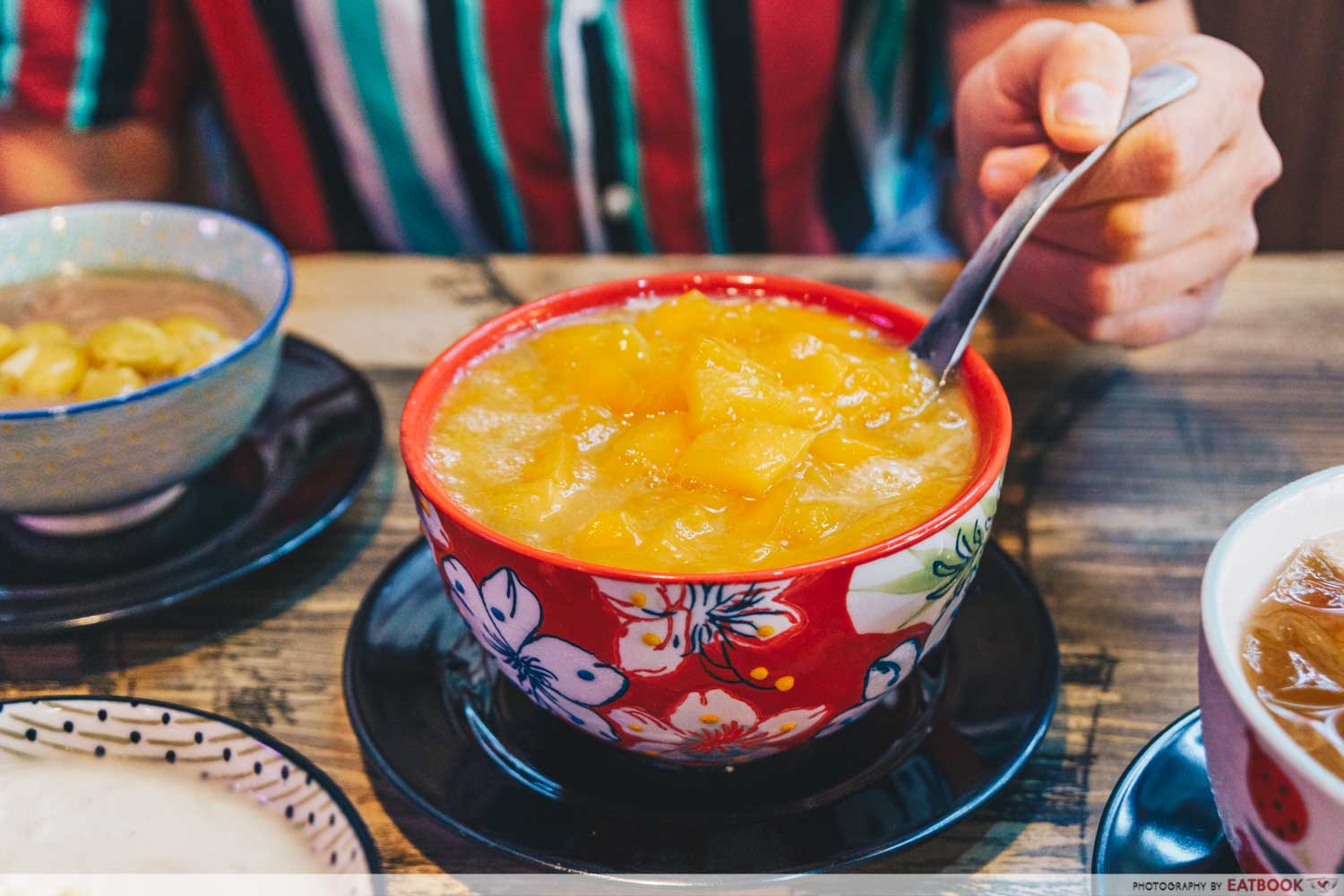 Mango pomelo sago is a personal must-order, as it offers a benchmark for how much care a dessert shop puts into their creations. Fresh mango was used here, along with fresh mango puree, which was a plus.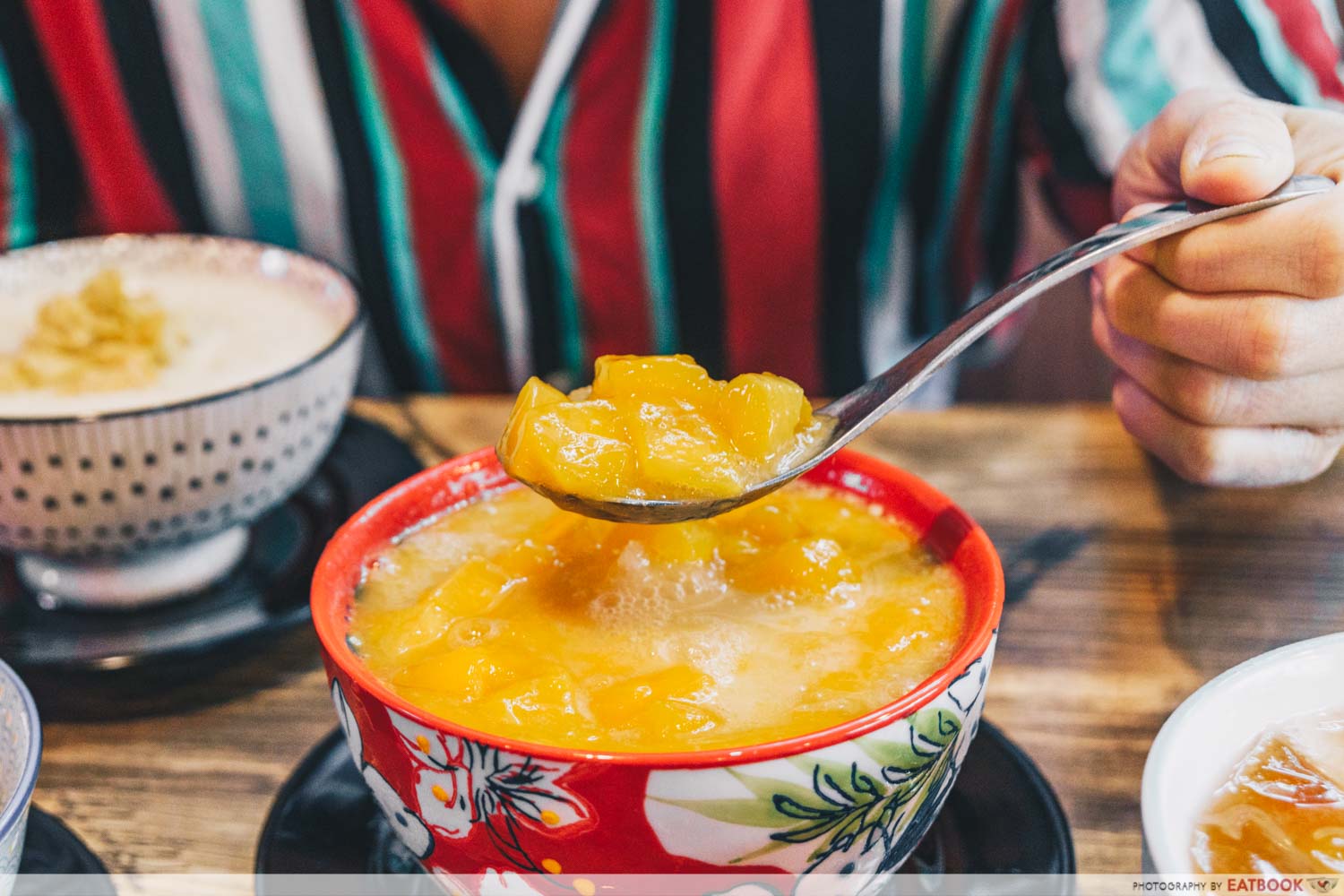 The fruit comes served on a bed of shaved ice, a smattering of sago, and some coconut milk. I would have preferred for more of the latter to make the dessert richer, and to cut through some of the sweetness of the mango.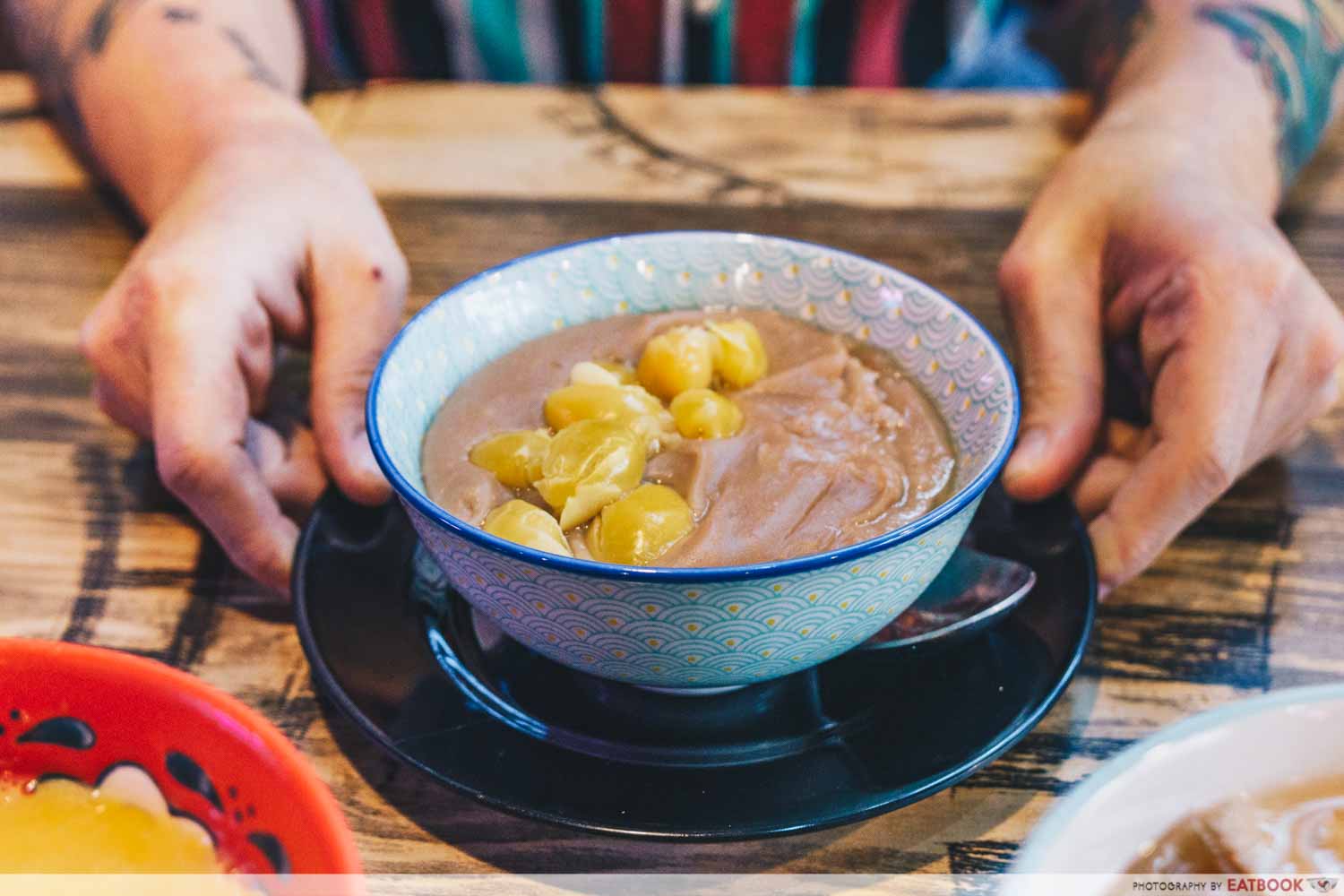 My favourite of what I ordered was the orh nee. While they were unfortunately out of pumpkin paste that day, the cafe did offer us more gingko nuts in its place.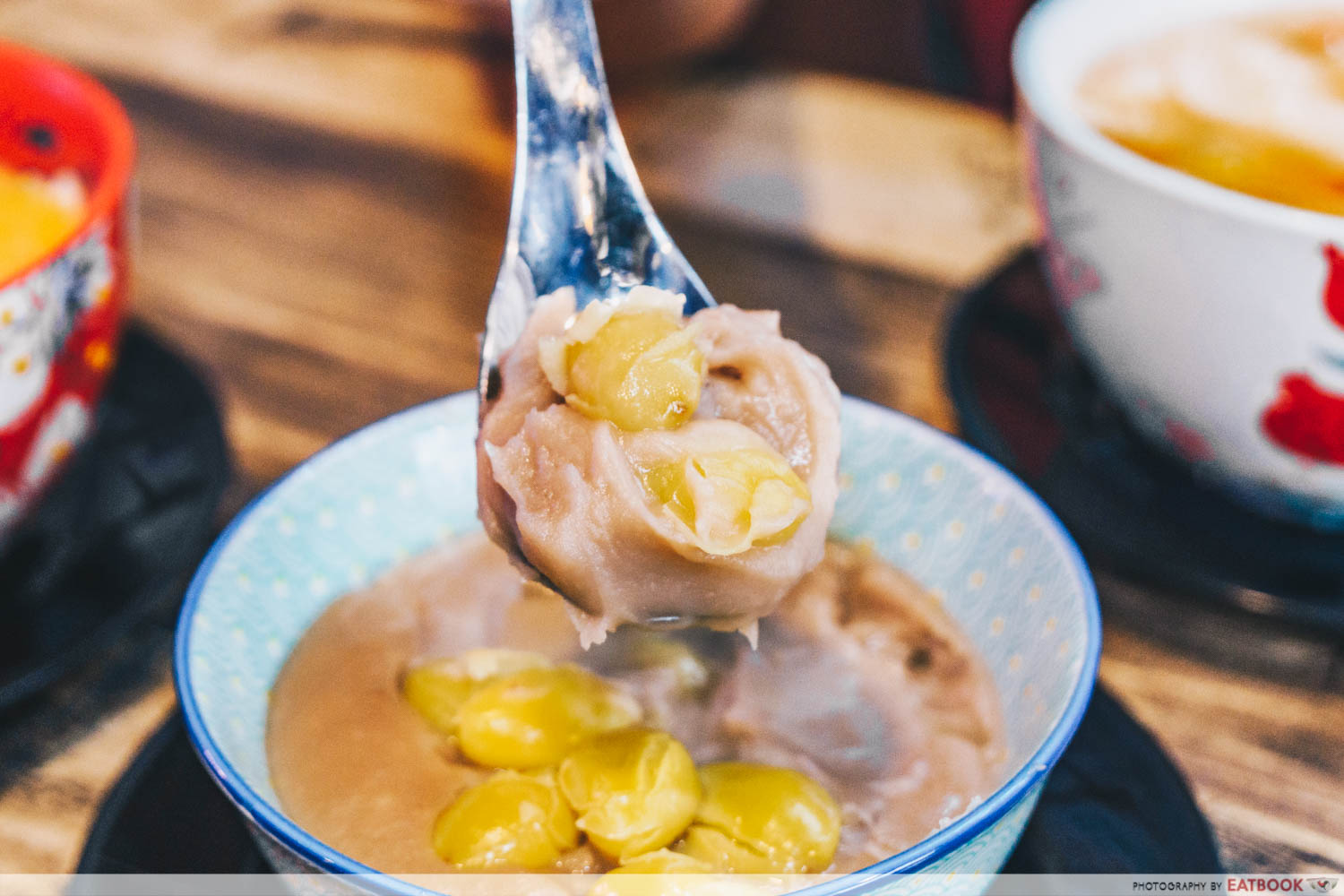 The earthy pearls of gingko brought a slight bitterness to the heady, rich orh nee. Every scoop was rib-stickingly creamy, but you'd definitely want to share this with a friend as it can get jelak.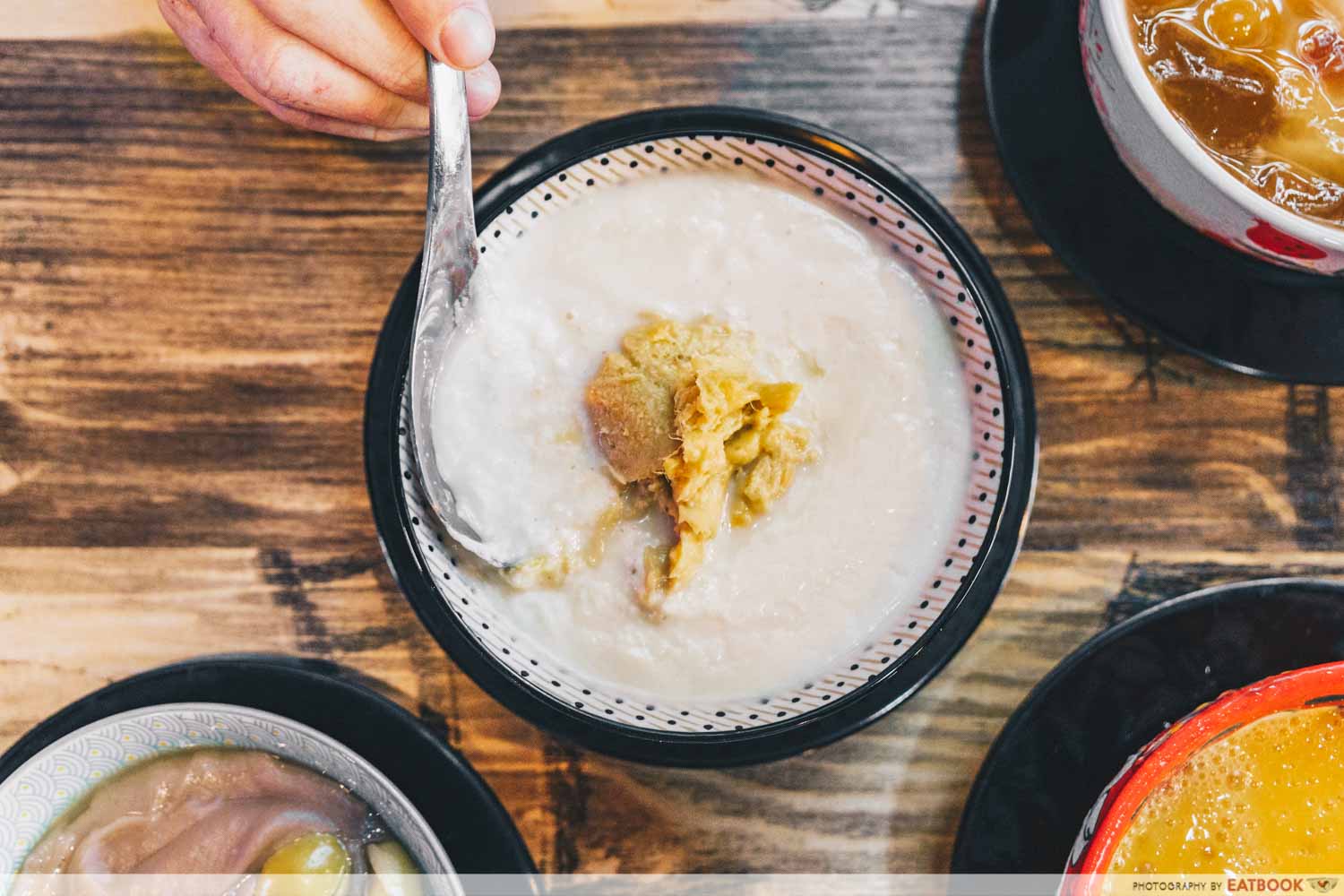 Tian Wang Desserts does have a fair selection of durian desserts. While their Durian Burbur Cha Cha ($5.80) was what I really wanted to try, unfortunately, it was out of stock. In its place, I got their durian mousse. You can choose between D24 (from $6), or their MSW (from $9), but either way, I felt like this wasn't the most value-for-money option.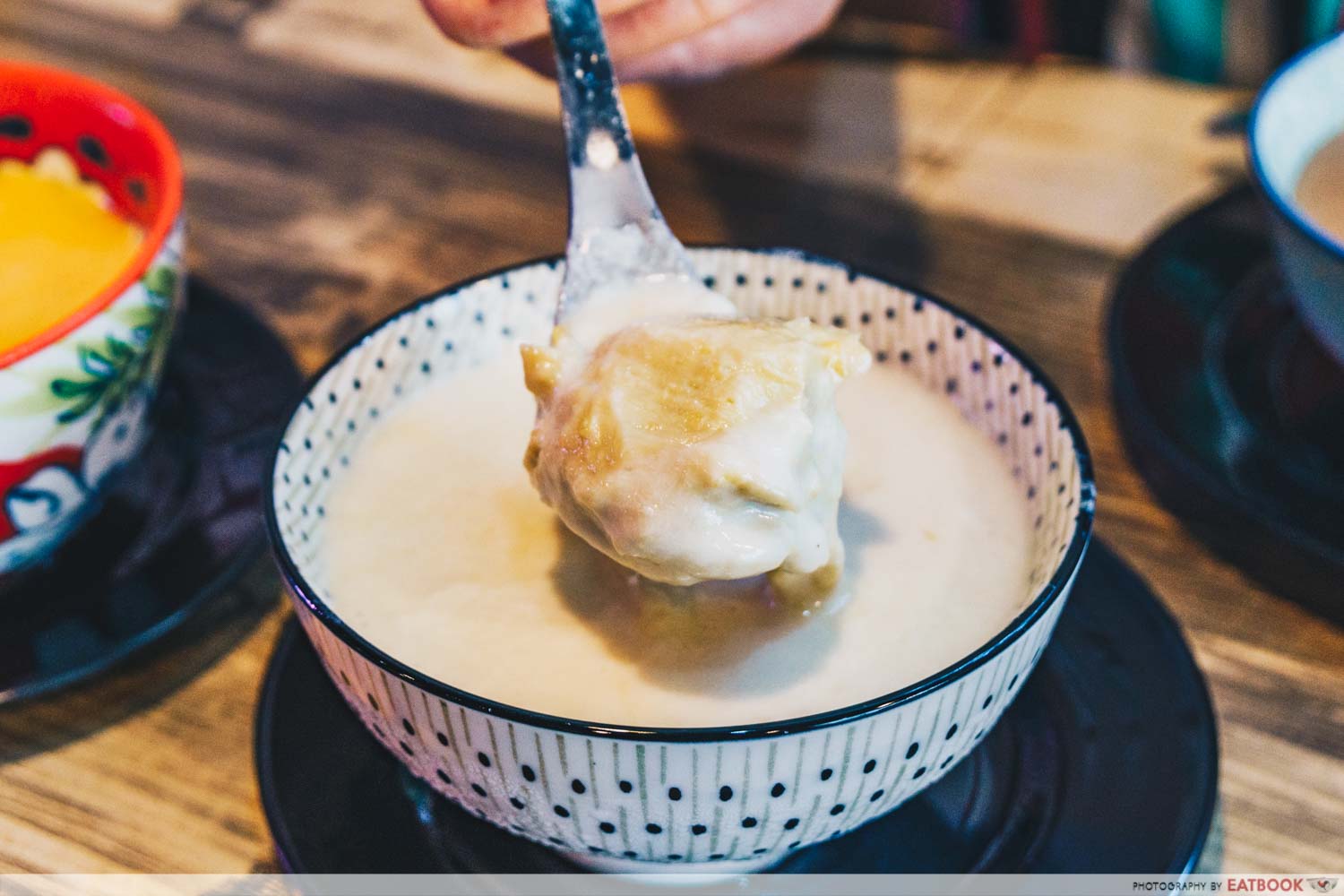 While durian mousse desserts tend to be dense, thoroughly indulgent serves of durian, the one here saw a thin durian "soup" topped by a heaping scoop of MSW pulp. As big durian dessert lovers, my dining companion and I felt a little disappointed when we dug in.
The pulp was rich, but the rest of the durian dessert was cloyingly sweet.
Sure, you get a fair amount of MSW pulp, but we felt that for $9 a bowl, we were better off eating the actual fruit. 
Ambience at Tian Wang Desserts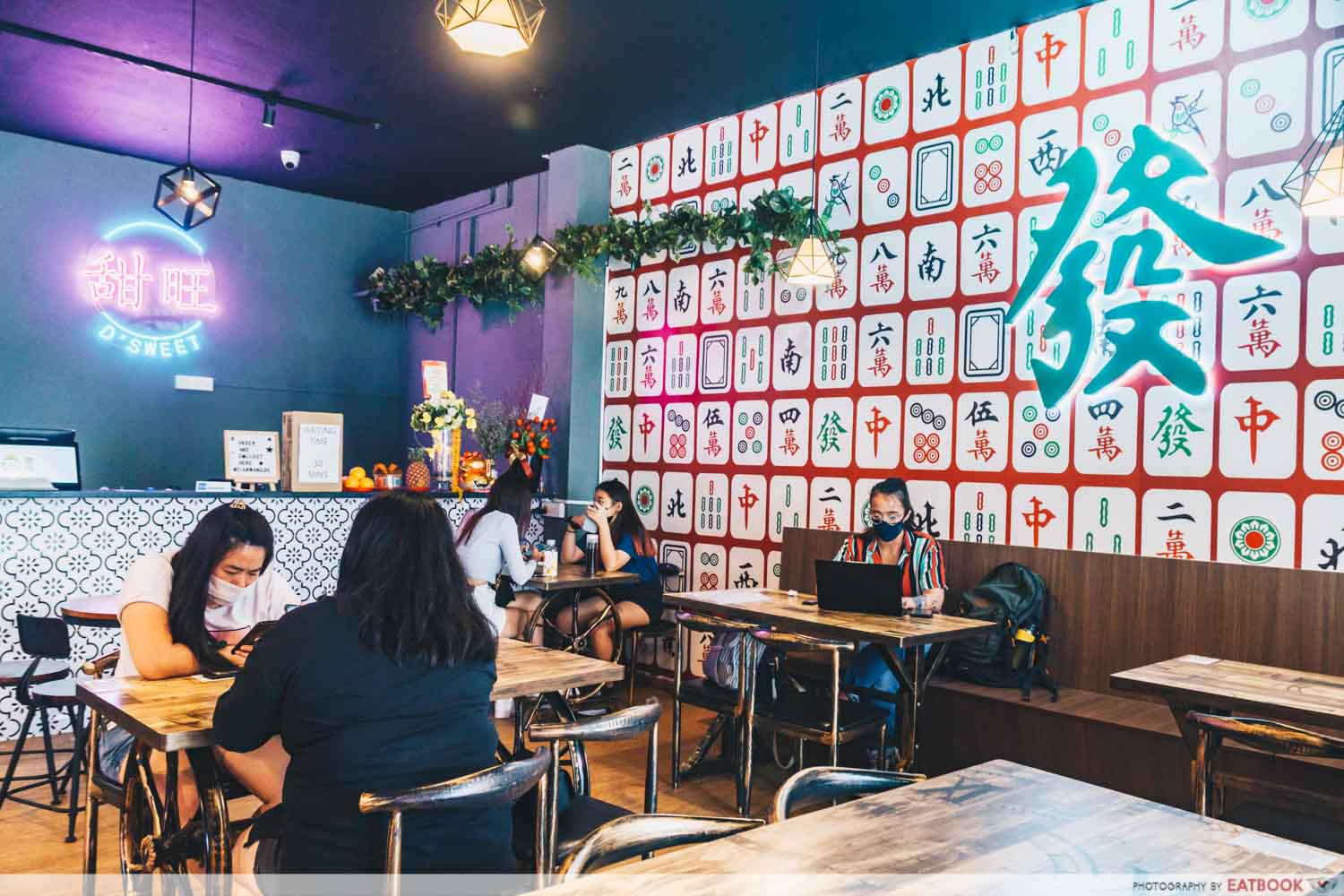 The dessert stall was quite packed when we arrived a little past 2:30pm, despite being only a few days old. Customers were busy snapping photos of the mahjong wallpaper, as well as the bright "huat" light in the middle, but apart from this feature, the mahjong theme fell a touch flat.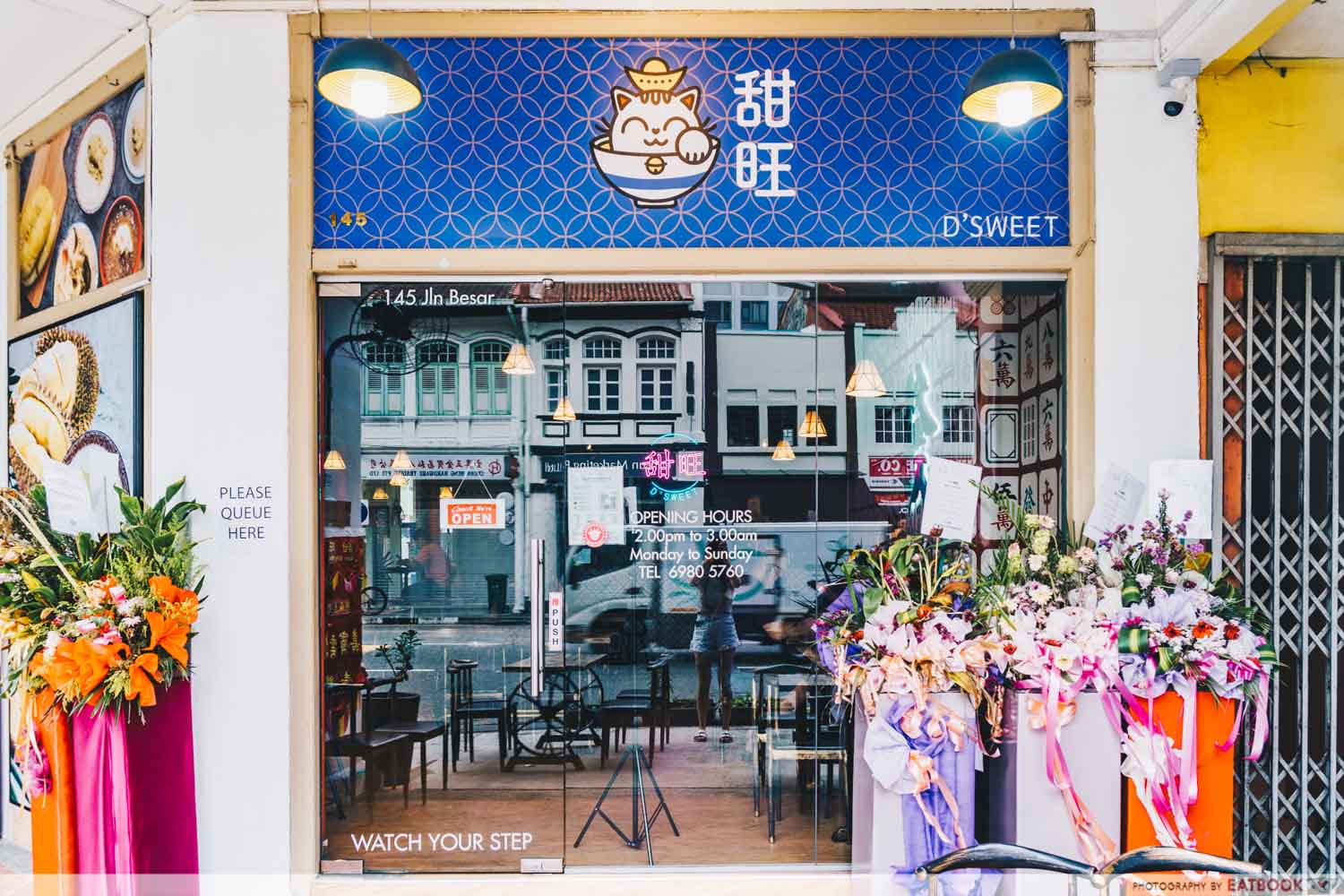 Located within a walkable distance from Jalan Besar MRT Station, Tian Wang Desserts does make for a great supper spot if you're craving something sweet, and not the keenest on the deluge of open-till-late ice cream and waffle cafes that have been popping up lately.
The verdict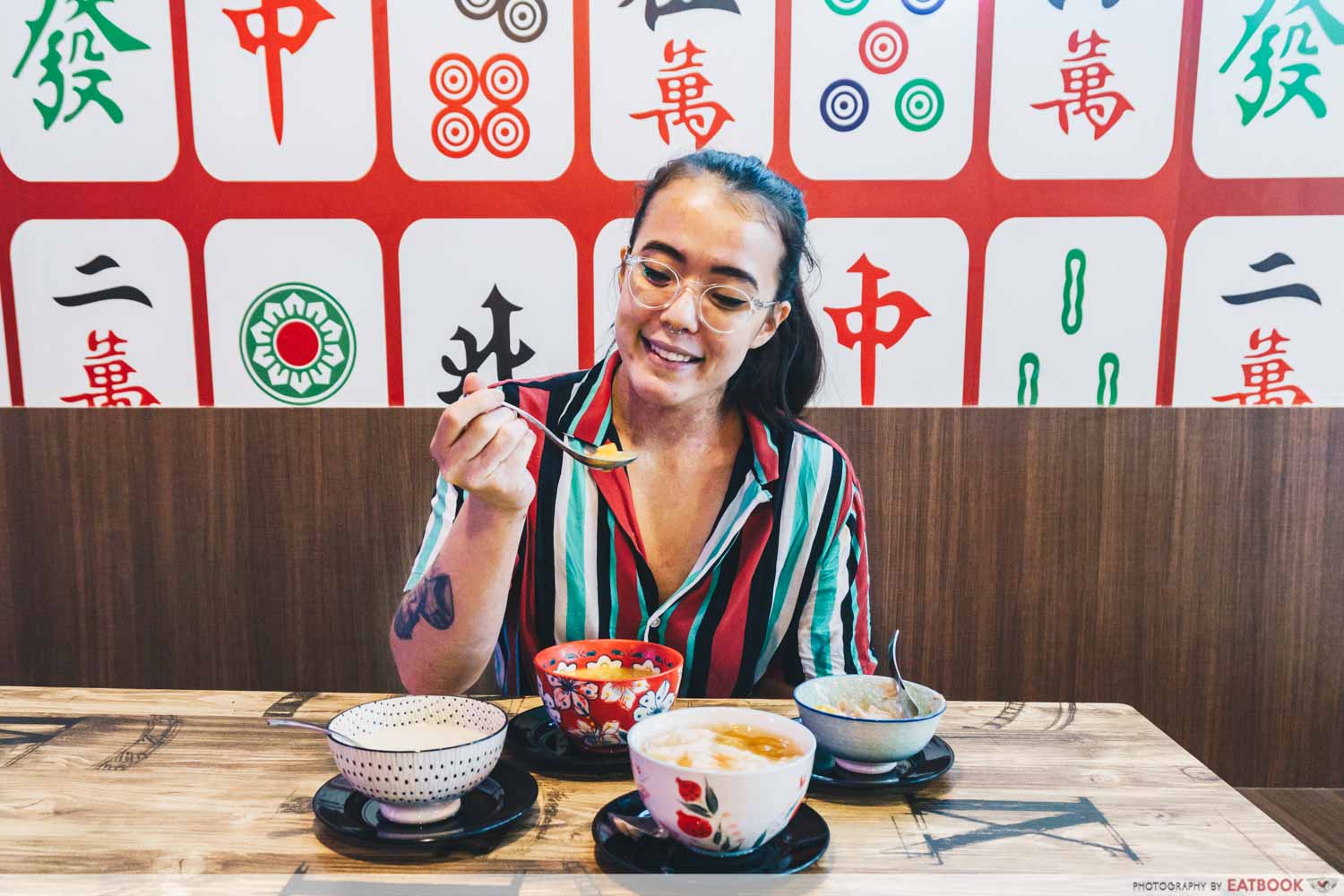 I do appreciate Tian Wang's location and its after-midnight opening hours, but this is not the place to go for nostalgic, nor hearty traditional desserts. It is, however, a relaxed place to unwind with friends over a round of desserts, and the fact that there's a feature wall to snap photos of makes it a plus.
For more bites around the area, check out our Berseh Food Centre food guide, or our For The People review, as we try out this new cafe in Bedneemer with a Muji showroom-esque interior. Otherwise, we have a guide to traditional desserts in Singapore for you to eat your way through.
Address: 145 Jalan Besar, Singapore 208863
Opening hours: Daily 12pm to 3pm
Website
7 Berseh Food Centre Stalls For Oyster Cake, Cheap Halal Mookata And More
Photos taken by Chew Yi En.
This is an independent review by Eatbook.sg.
The post Tian Wang Desserts Review: Mahjong-Themed Cafe With Orh Nee, MSW Mousse And More appeared first on EatBook.sg – New Singapore Restaurant and Street Food Ideas & Recommendations.