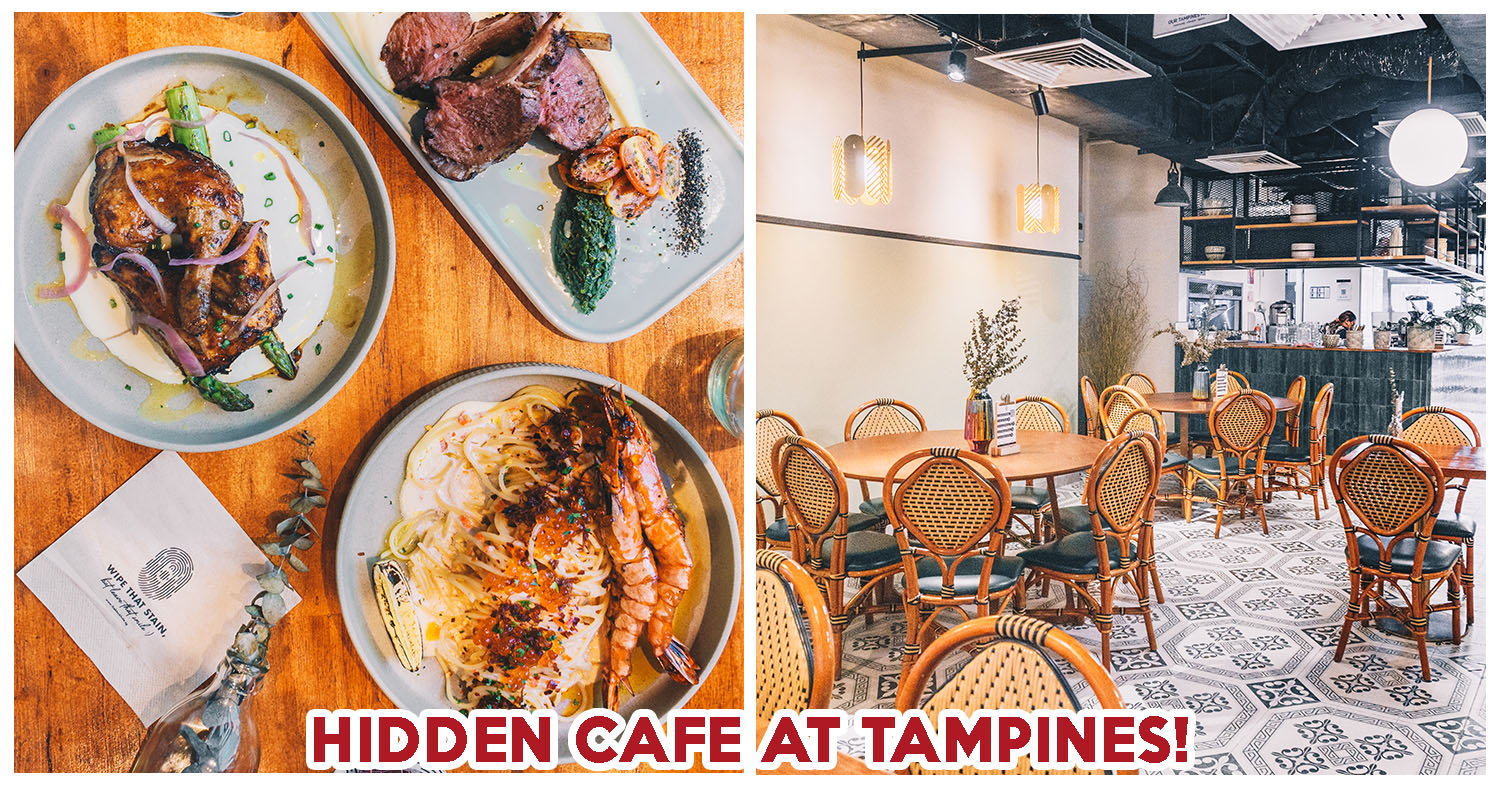 The Co-op at Tampines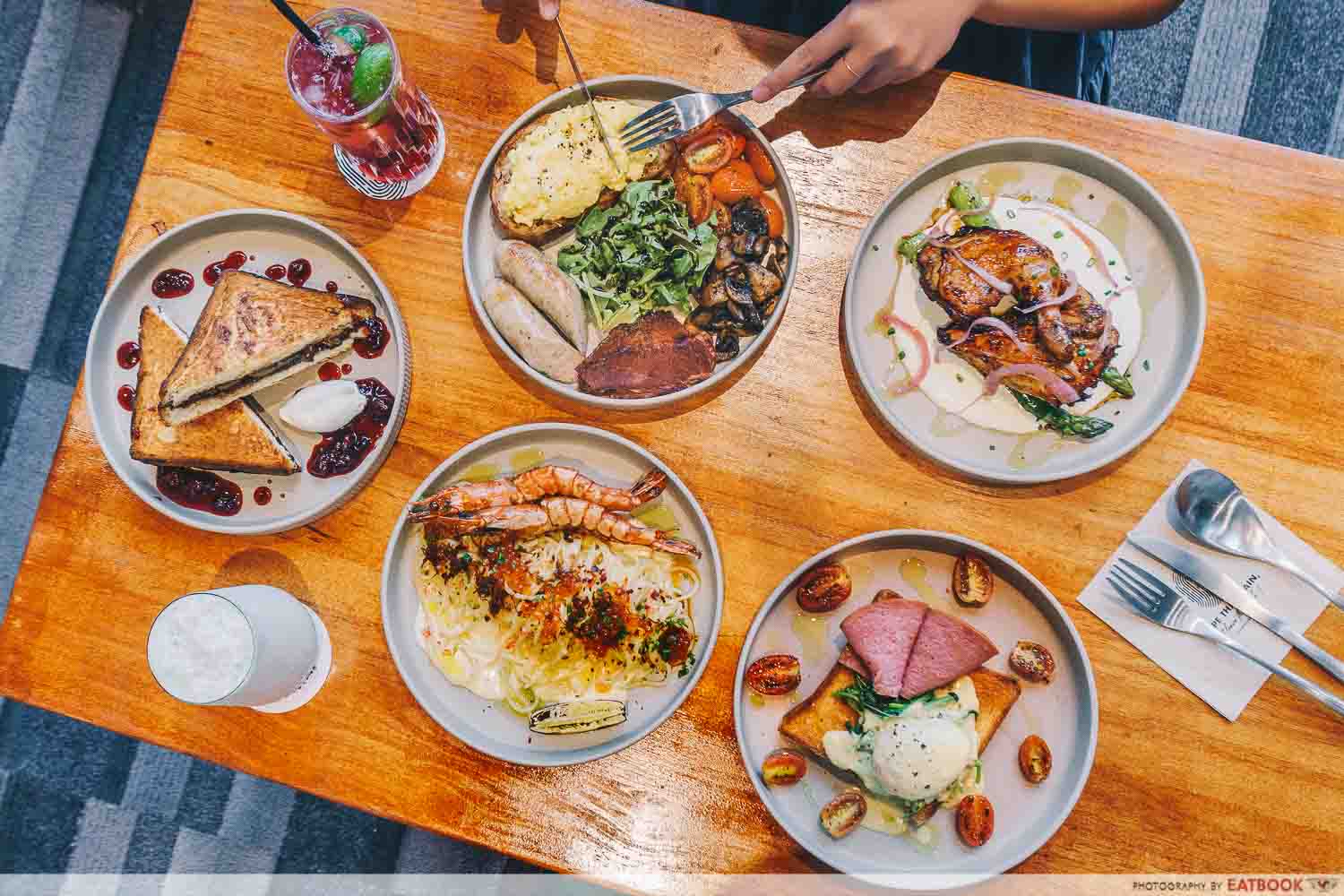 Though very late to the game, I've recently been enjoying TikToks featuring undiscovered and hidden cafe gems in Singapore with both good food and ambience. And located at Our Tampines Hub, The Co-op is one of such places that would probably do well on the trendy app as well.
Food at The Co-op
Despite being a cosy spot tucked away in the corner of the mall, The Co-op dishes out an extensive list of items on the menu. 
The highlight for me was their Spicy Umami Prawn Pasta ($20.90+). This alfredo pasta was indeed flanked with umami at every bite, thanks to the chef's clever addition of scallop paste and burst-in-your-mouth salmon roe atop. While creamy, sauce-laden pastas can sometimes be an overbearing dish, the use of bird's eye chilli and hot chilli flakes in the mix rid any chance of this one being too jelak.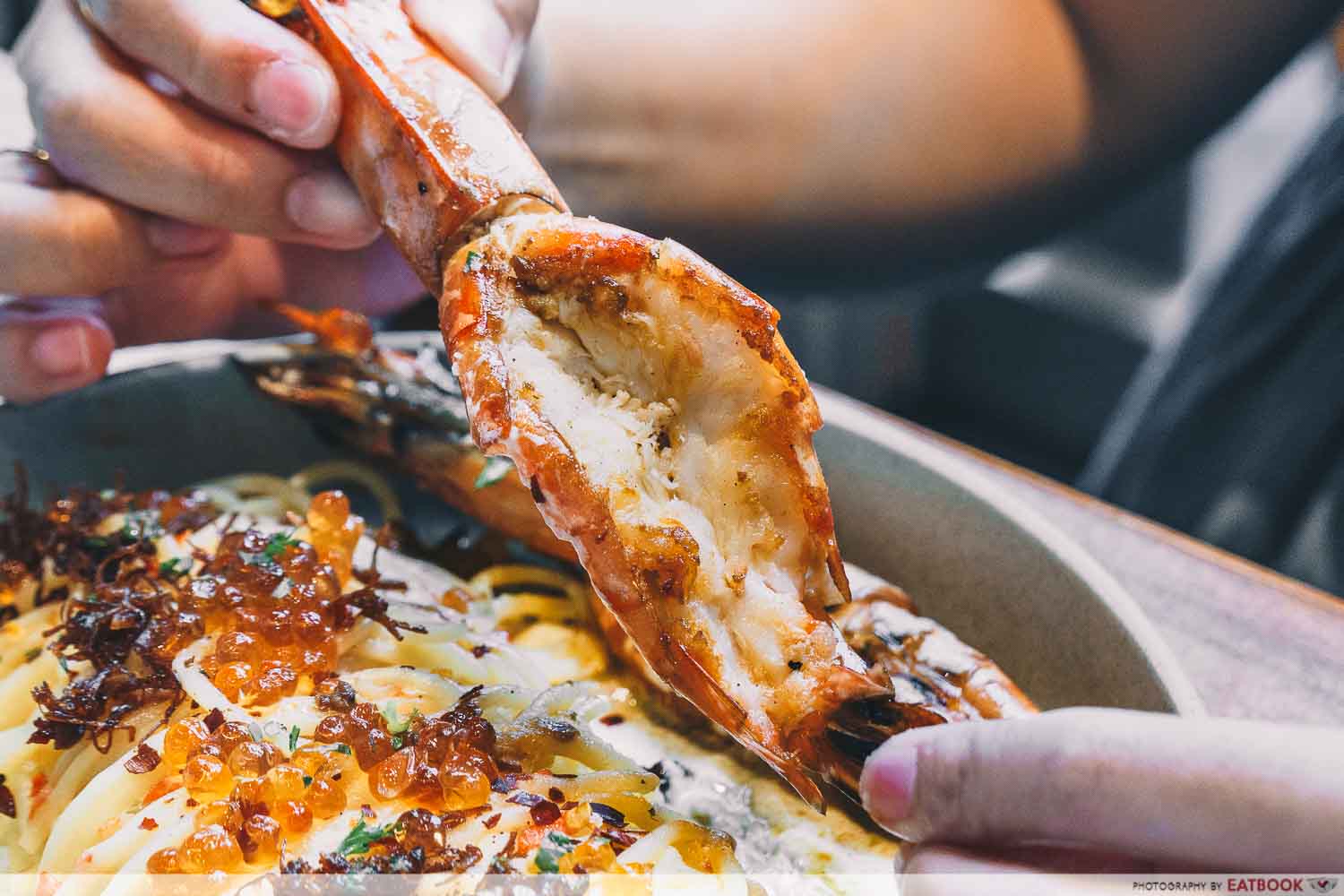 To add on to the seafoody flavours, there are also two grilled prawns served with the pasta. They were equally delicious, delivering both the sweet flavour of well-cooked prawns and a tinge of smokiness.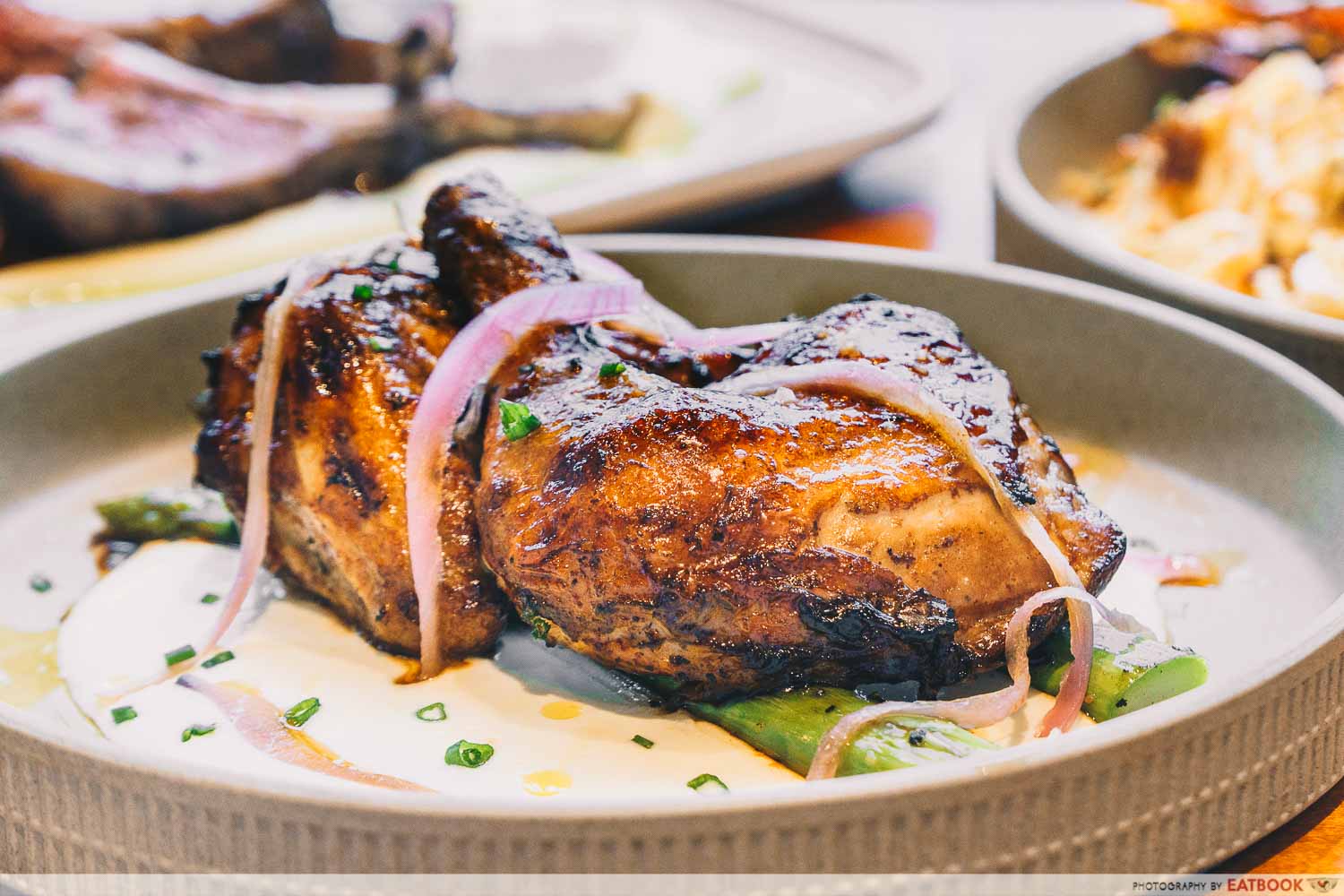 Another main to try is their Roasted Cajun Chicken ($19.90+), a half chicken plated with a rich white sauce and stalks of asparagus. It also features a whimsical confetti of pink pickled red onions and bits of finely chopped spring onions.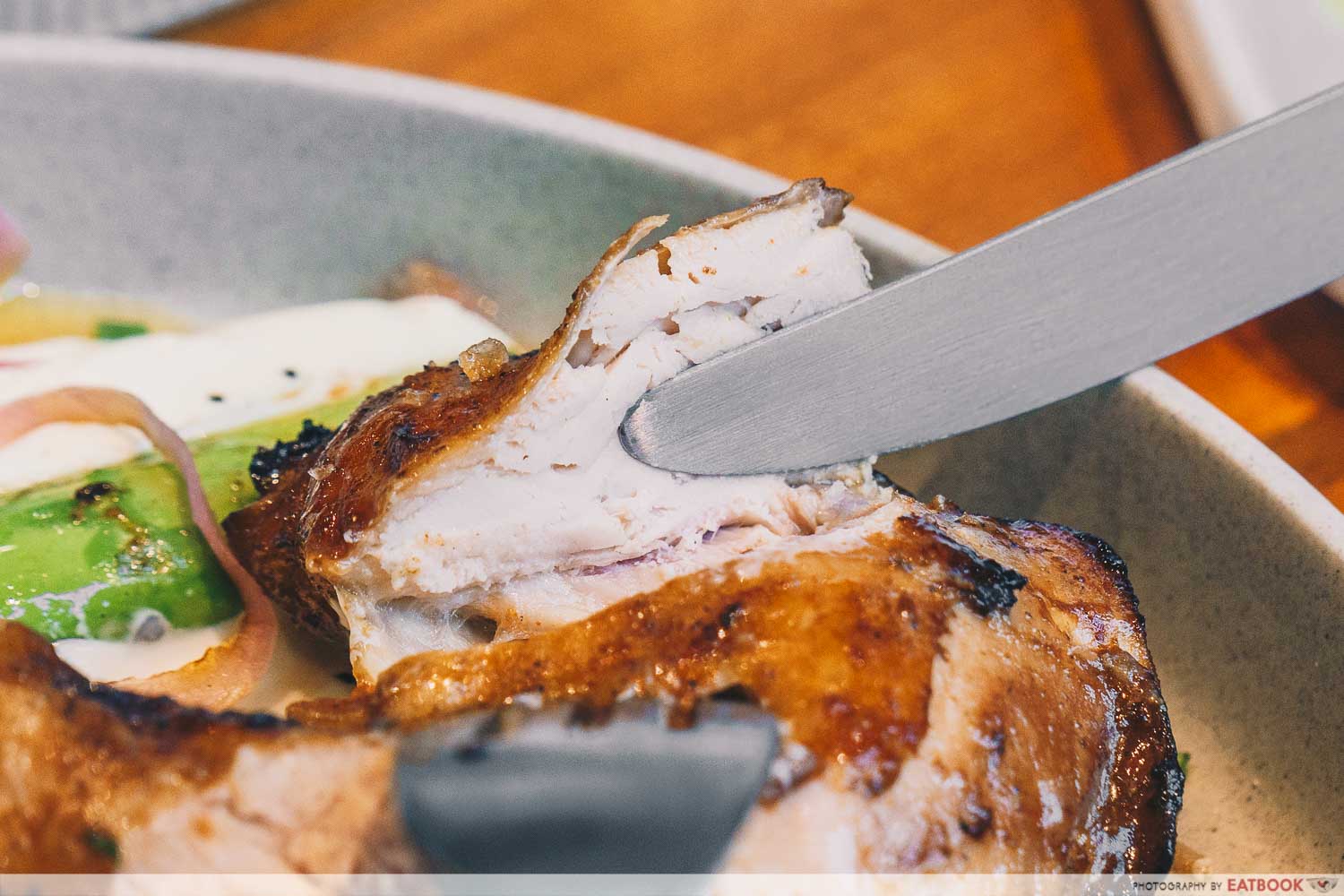 Tender and savoury was the chicken under its roasted skin. Portions were also hearty, even more so if you're saving space for other sides and desserts after. Similar to the previous pasta dish, there were also ingredients such as thick, juicy asparagus and pickled onions to reduce any flavour fatigue from the heavy cream-based sauce.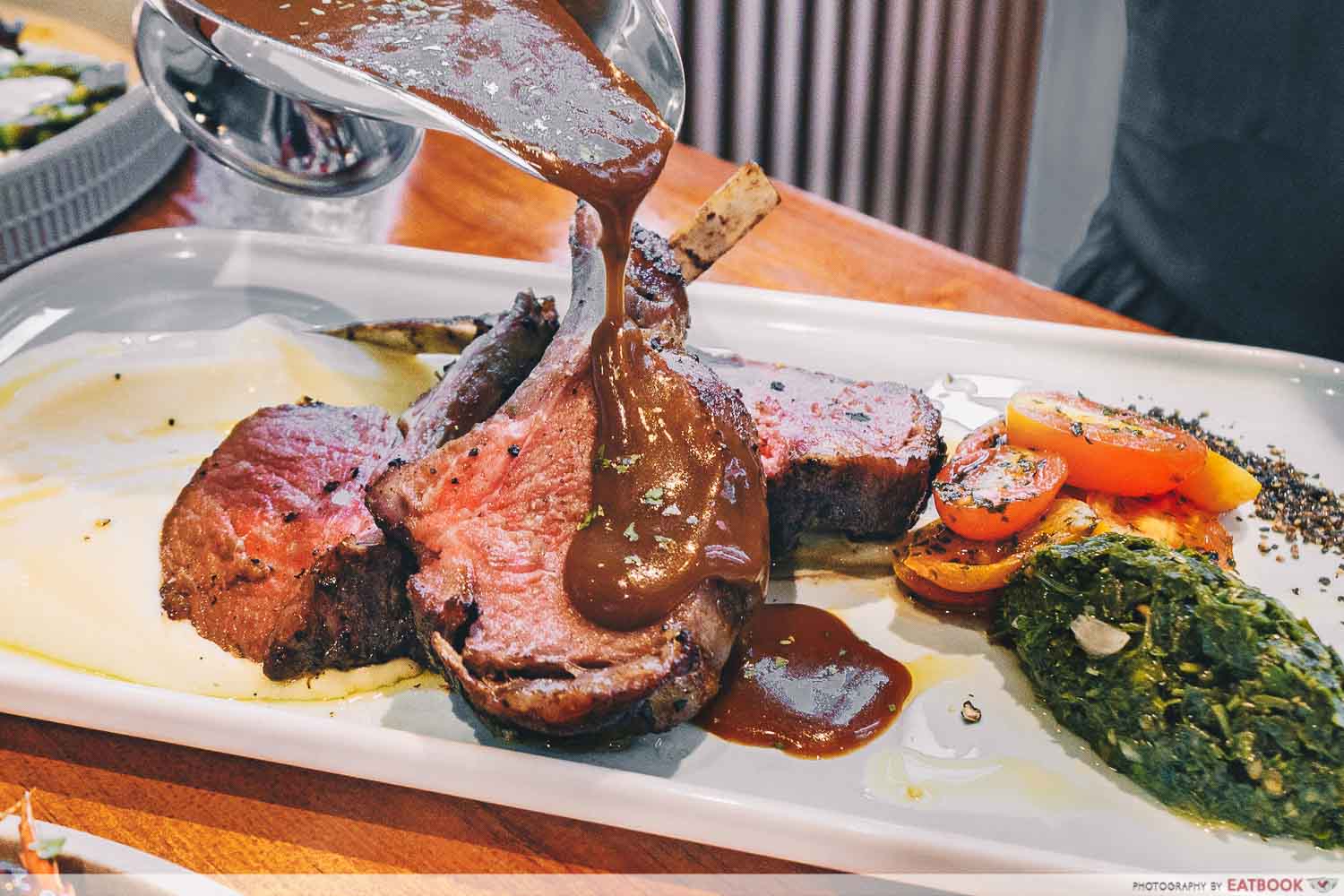 Lamb lovers can order their Rack of Lamb ($23.90+), which comes with mint chimichurri, cherry tomatoes, and a bed of garlic mash. The juicy chops are lightly seasoned, letting the meaty aroma stand out. That being said, I was hoping for a stronger punch from the garlic mash as it tasted more like regular mashed potatoes. Do ask for more gravy if you're a fan of stronger flavours!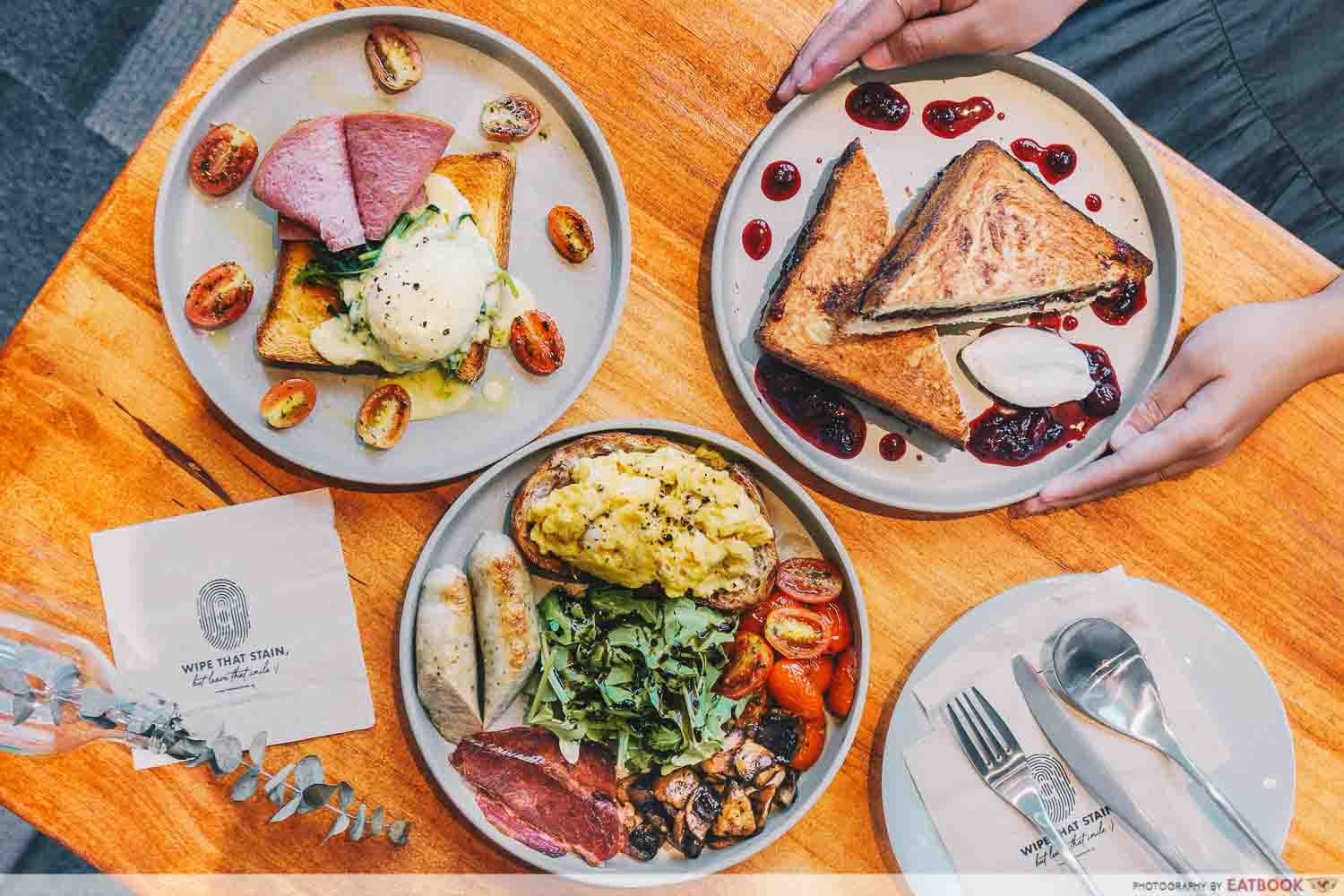 Catering for both early risers and late sleepers on Saturdays and Sundays, there is also a special brunch menu available from 9am to 3pm.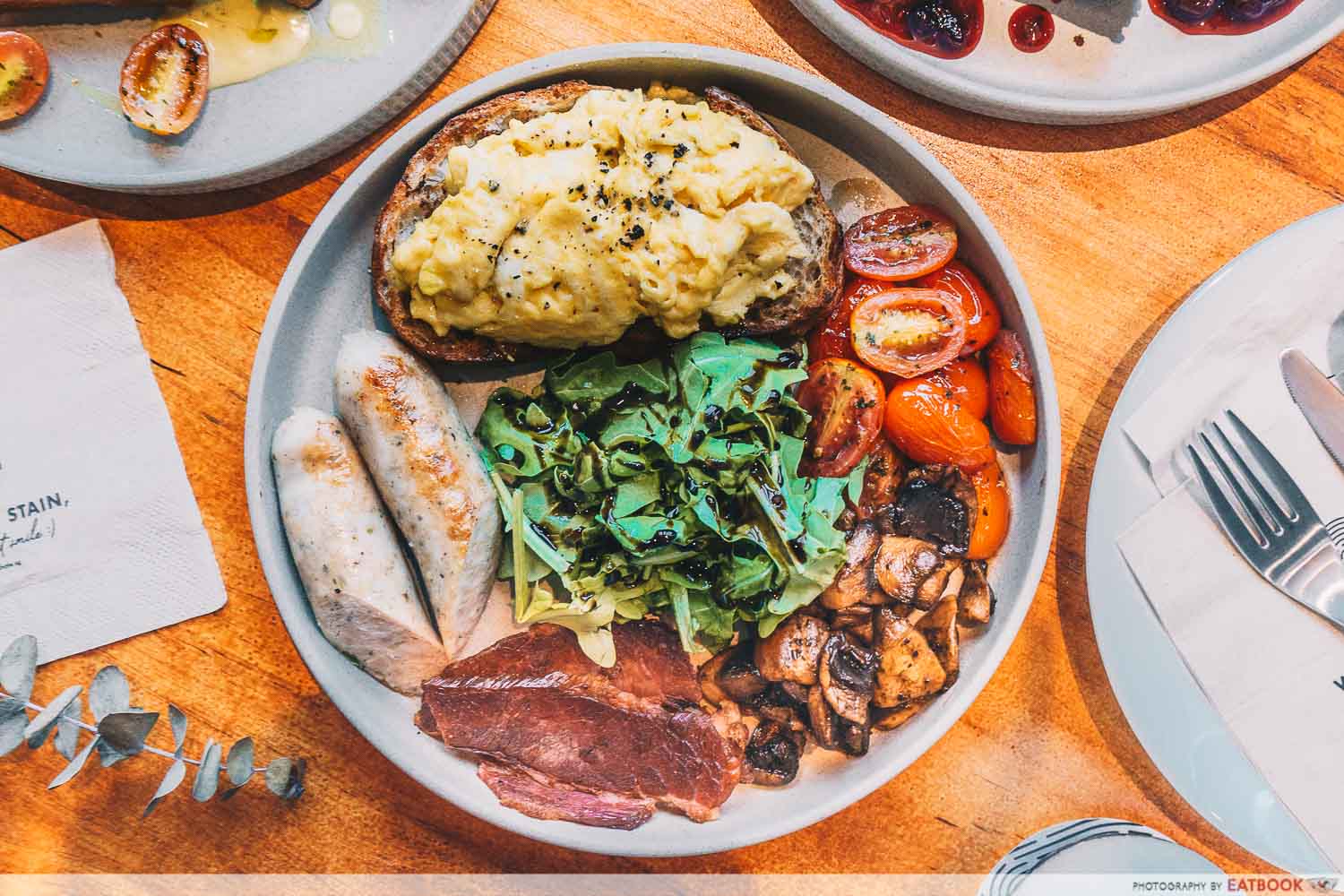 An order without much thought would be their Co-op Big Breakfast ($20.90+), to start a weekend brekkie on a hearty note. This all-in-one dish serves sausages, beef bacon, cherry tomatoes, confit mushrooms, arugula salad, olive oil sourdough toast, and your choice of eggs.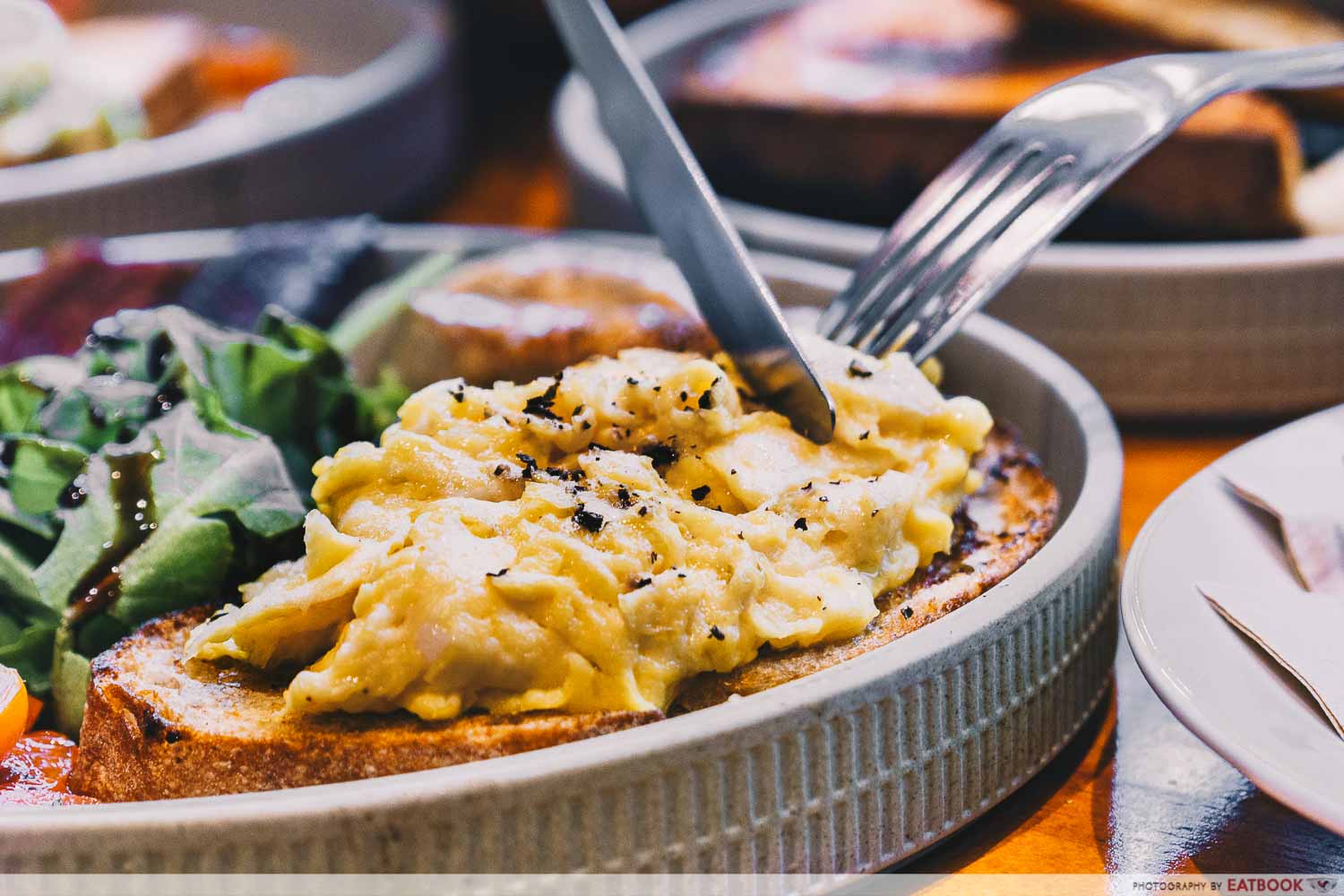 I went for my default choice of scrambled eggs, as when done right, these can actually be as soul-warming as a bowl of hot soup. Unfortunately it came overcooked and a tad dry. Getting the poached or sunny-side-up eggs might thus be a better idea instead. That being said, the other components of the dish were simple yet tastefully whipped up.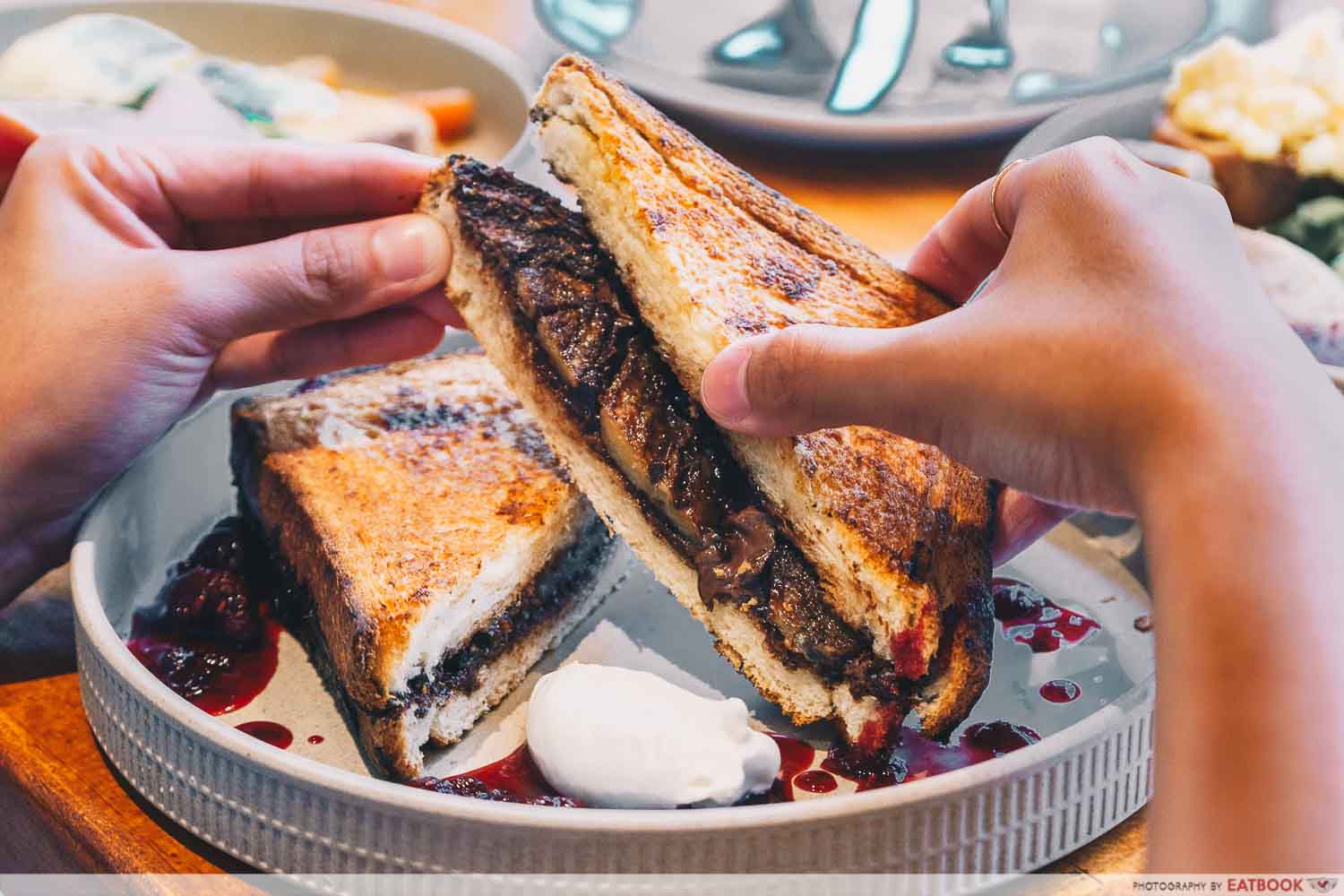 If you're looking for something sweet that's more interesting than the typical pancake or waffles option, try their Hazelnut Dolcello Toast ($15.90+). The unique toast resembles a love child of buttery brioche and flaky croissant, stuffed with sticky chocolate hazelnut spread and sliced bananas. It also comes with fresh berries and a quenelle of honeyed mascarpone cream.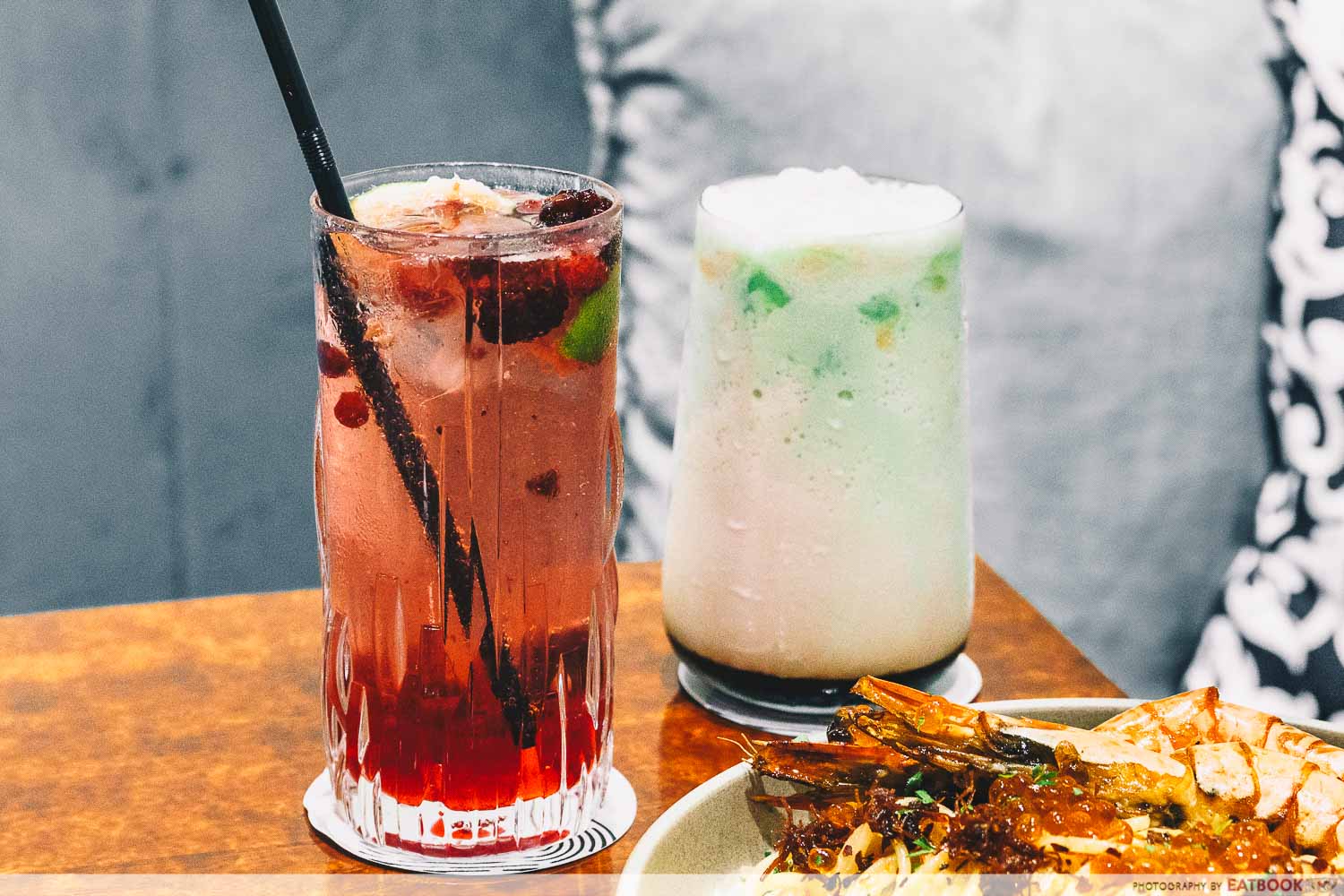 They also have a creative drinks menu showcasing cold-brewed teas, a Berry Mojito ($7.90+) mocktail, and a super sweet dessert-esque Cendol Colada ($7.90+), which is a milkshake with a vanilla ice cream base, flavoured with coconut and pandan, and finished with a gula melaka drizzle.
Ambience at The Co-op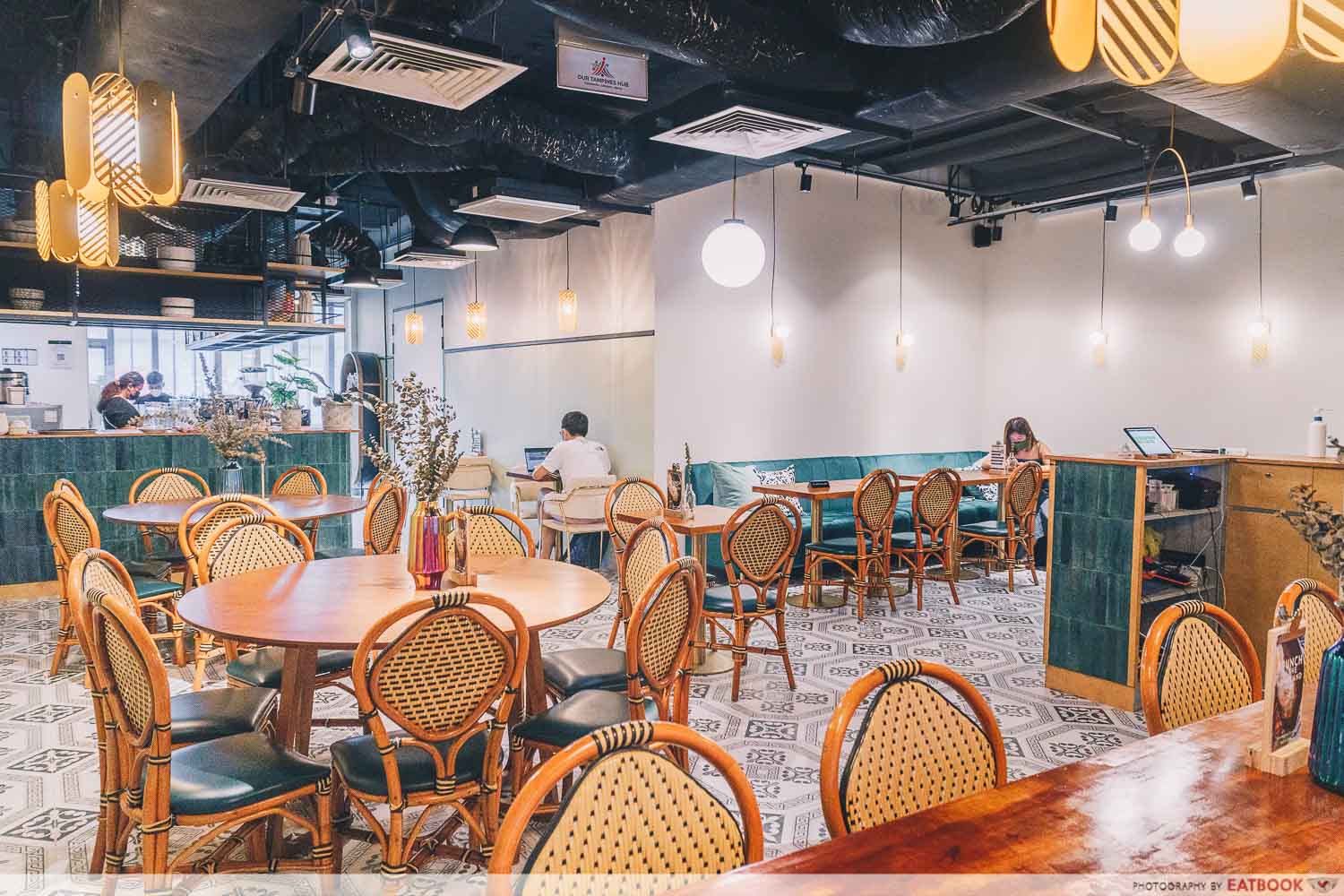 From the ceiling lights to the vintage tiled flooring, the ambience at The Co-op will bring you back to the colonial times. Thanks to the secluded location all the way up and at the corner of level three, the cafe also provides a quiet respite from the hustle and bustle of Our Tampines Hub. While there's free wifi and plenty of seats, The Co-op is also a great place to catch up on work—but do be mindful not to hog, especially during meal times.
The verdict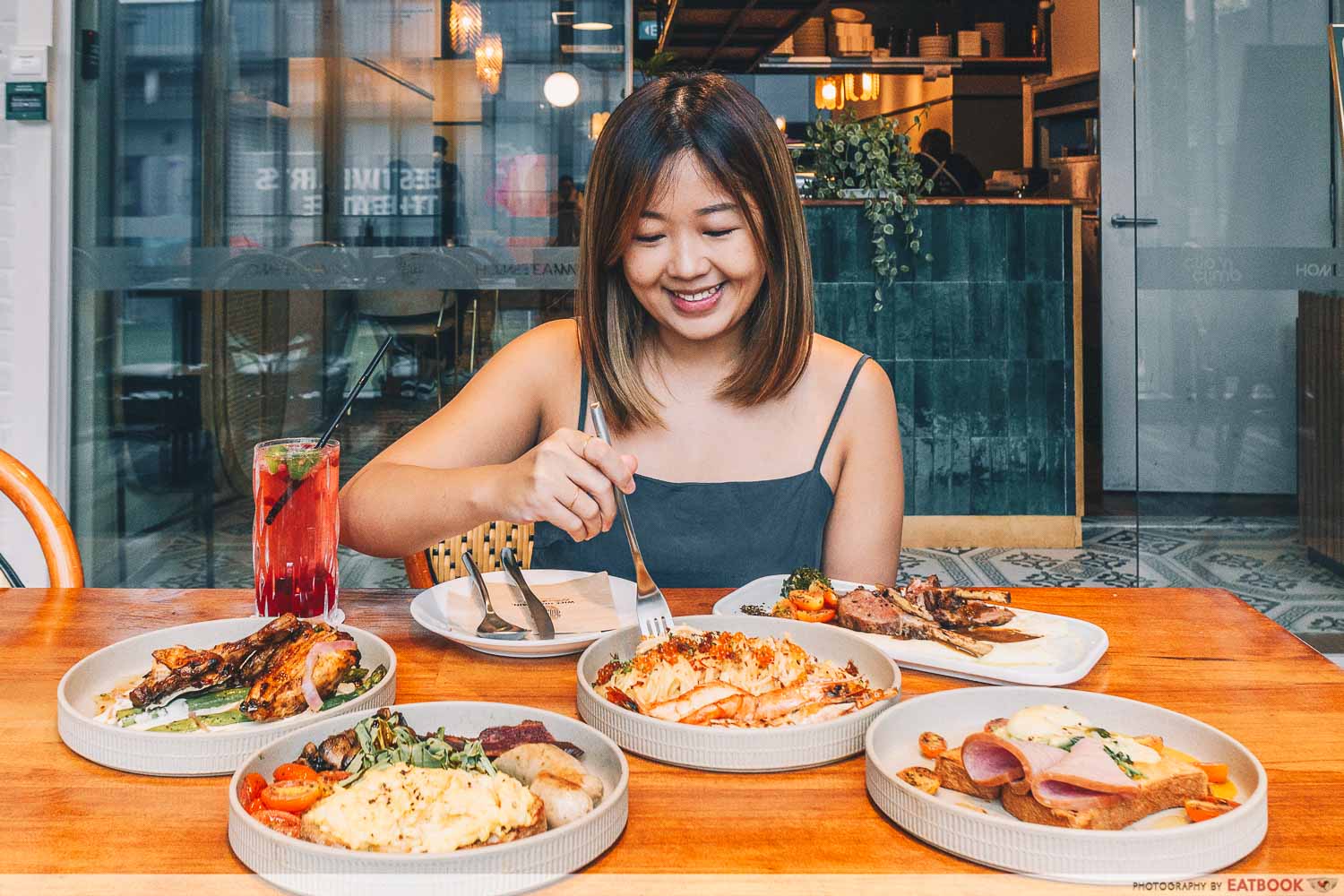 As much as I don't like the overused term 'hidden gem', The Co-op was indeed a pretty spot, concealed amongst the ocean of stores and activities at the lifestyle hub. The interior exudes sleek yet cosy vibes, the service staff are attentive and quick. The menus are also extensive and suitably chic for both dates and group lunches or dinners.
If you're looking for more halal-friendly cafes by The Black Hole Group, check out our Tipo Pasta Bar review for house-made fresh pasta with creamy alfredo sauce and more!
Address: 1 Tampines Walk, #03-04, HomeTeamNS Tampines, Our Tampines Hub, Singapore 528729
Opening hours: Daily 12pm to 10pm
Tel: 6214 9350
Website
The Co-op is a halal-certified eatery.
Photos taken by Nur Syamira.
This post is brought to you by The Black Hole Group.
The post The Co-op Review: Hidden Cafe With Colonial Vibes For Spicy Ikura Prawn Pasta, Chendol Milkshake And More appeared first on EatBook.sg – New Singapore Restaurant and Street Food Ideas & Recommendations.