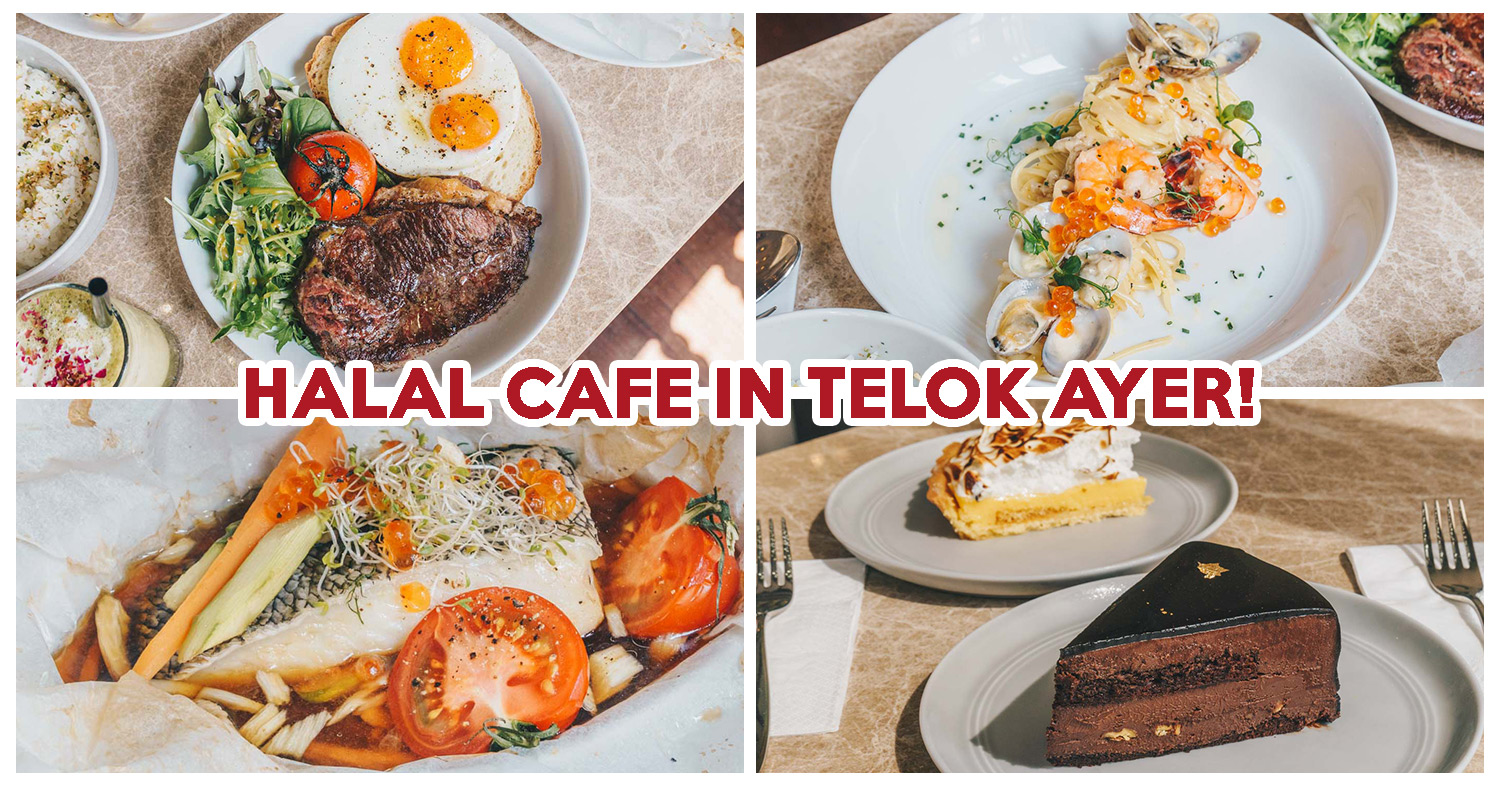 The Bravery in Telok Ayer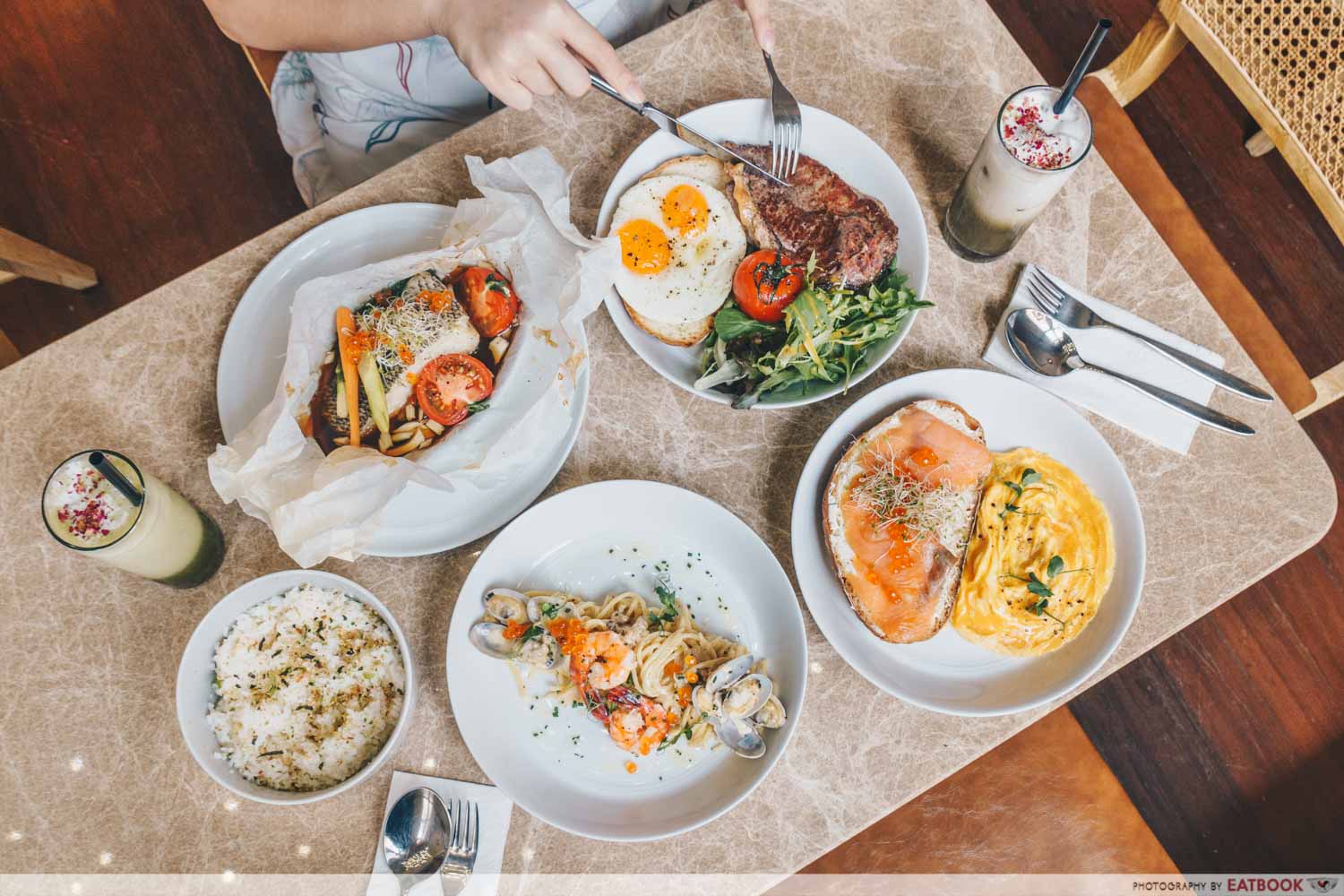 My experiences with The Bravery date back to several years ago, when I was still a student, digging into their banana ricotta pancakes at their old location in Lavender. Recently, this Muslim-owned cafe has relocated to a new home in Telok Ayer, with a slew of all-day eats and in-house bakes. Hearing about this news, I headed down with a colleague, eager to see what they'd bring to the table this time.
11 Telok Ayer Cafes Serving French Crepes And Fried Chicken Sandwiches For Brunch
Food at The Bravery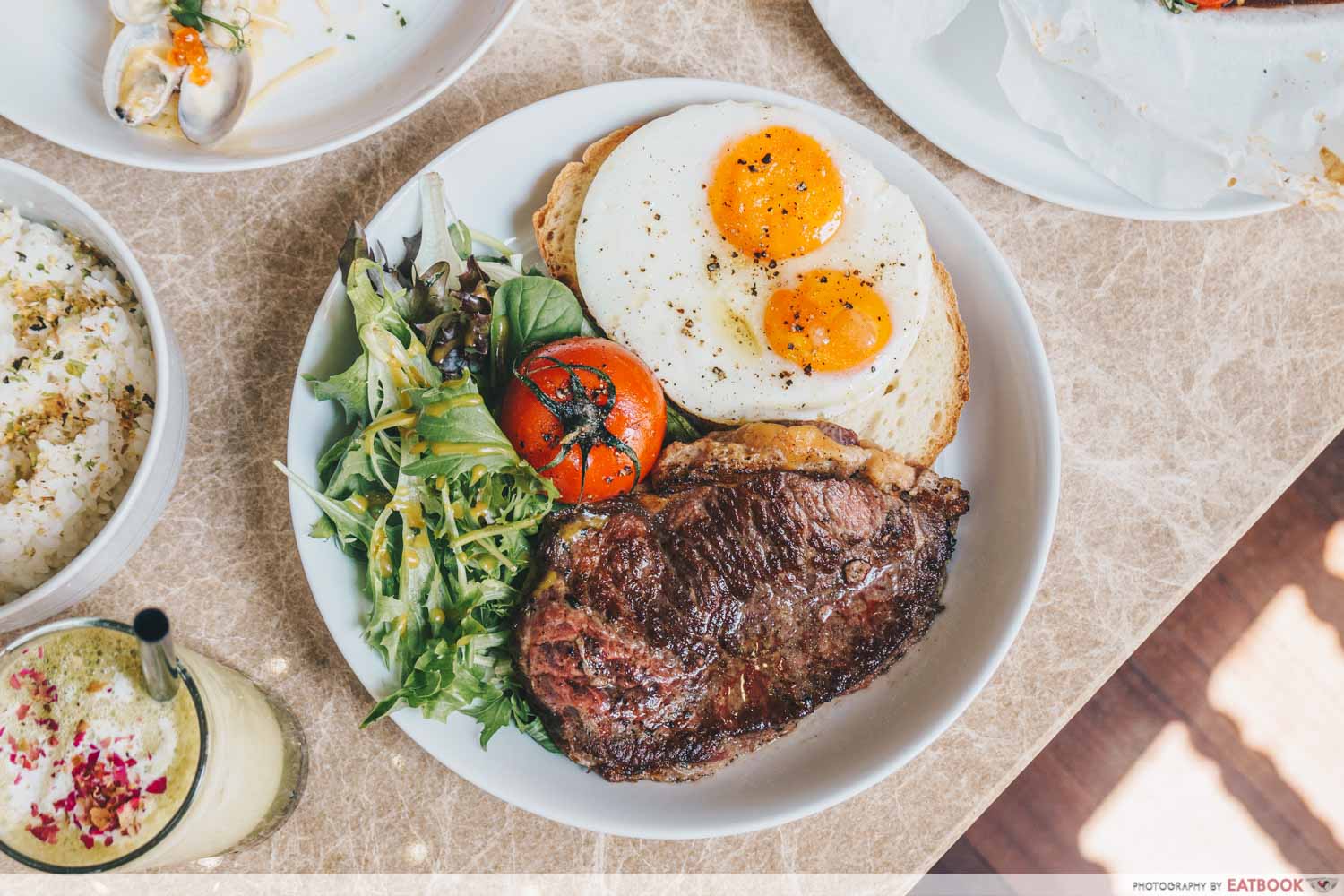 The Bravery has a breakfast menu, available all-day from Tuesdays to Thursdays, and until 3pm through Fridays to Sundays. We started our meal with one of the breakfast items—Steak & Eggs ($23+). This comes with a 200g grass-fed striploin, sourdough, sunny side-up eggs, and a side salad.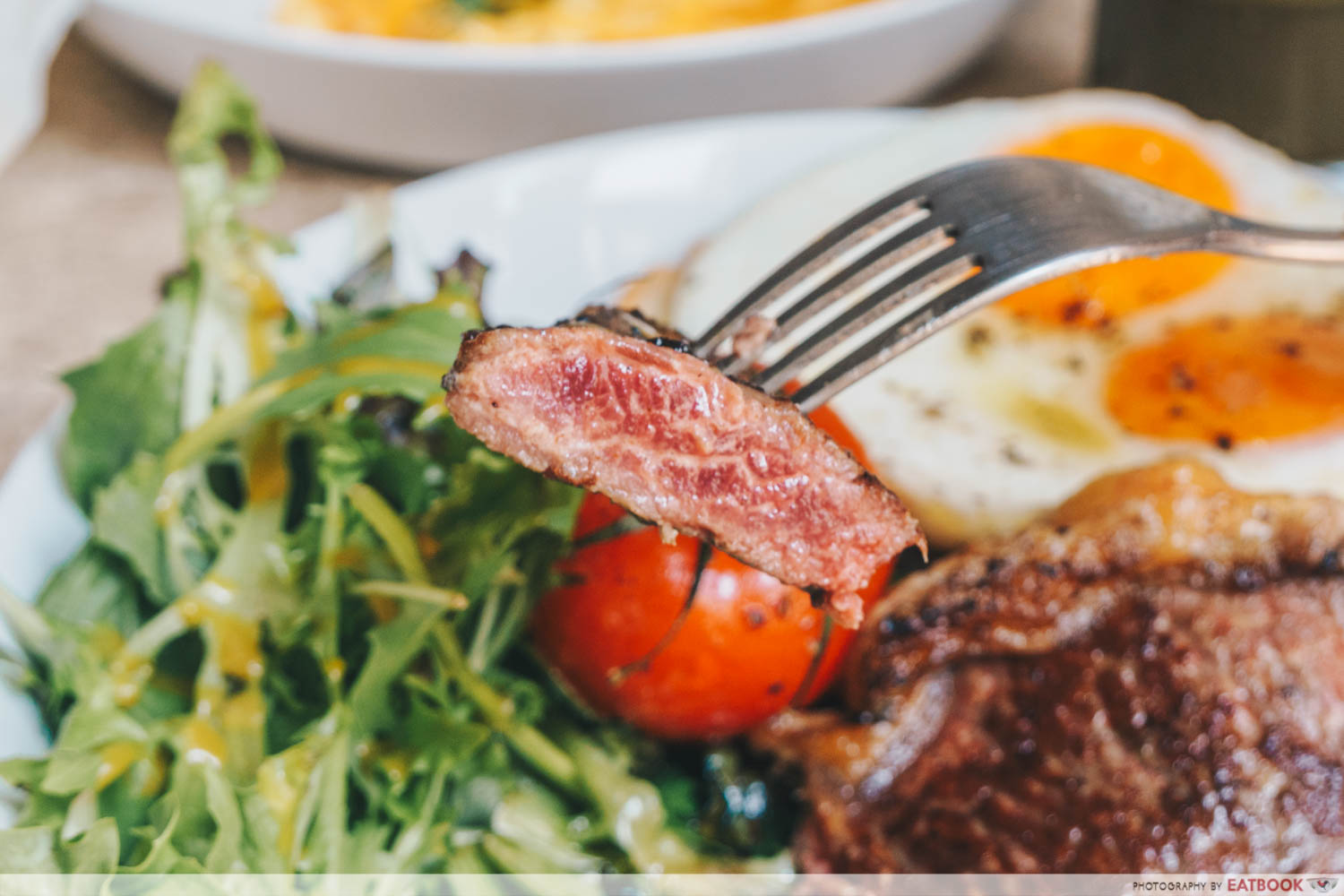 I had my reservations about the meat, as it appeared overcooked, lacking that true blood-red centre I associate a perfect medium rare with. To my surprise, it was juicy, tender, and slightly chewy in parts marbled with fat. The seasoning used here also helped bring out the butteriness of the beef.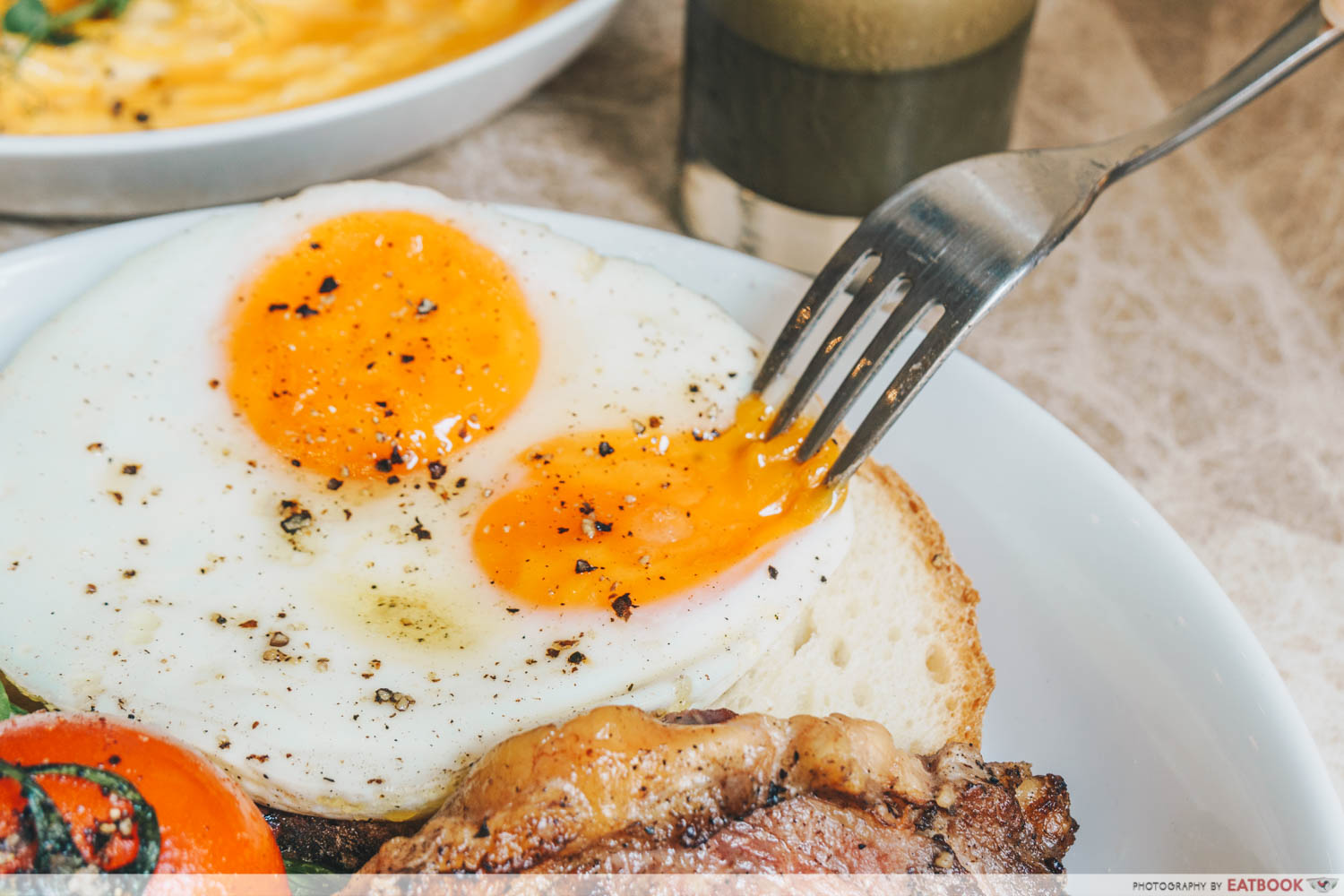 I liked that the eggs here were well-seasoned, a nice touch by the cafe. They were also cooked to the right doneness, with bright orange yolks that oozed and seeped into the sourdough underneath.
On the flipside, I'm not a fan of the house-made sourdough, as it was too chewy, with a crust I found too hard for my liking.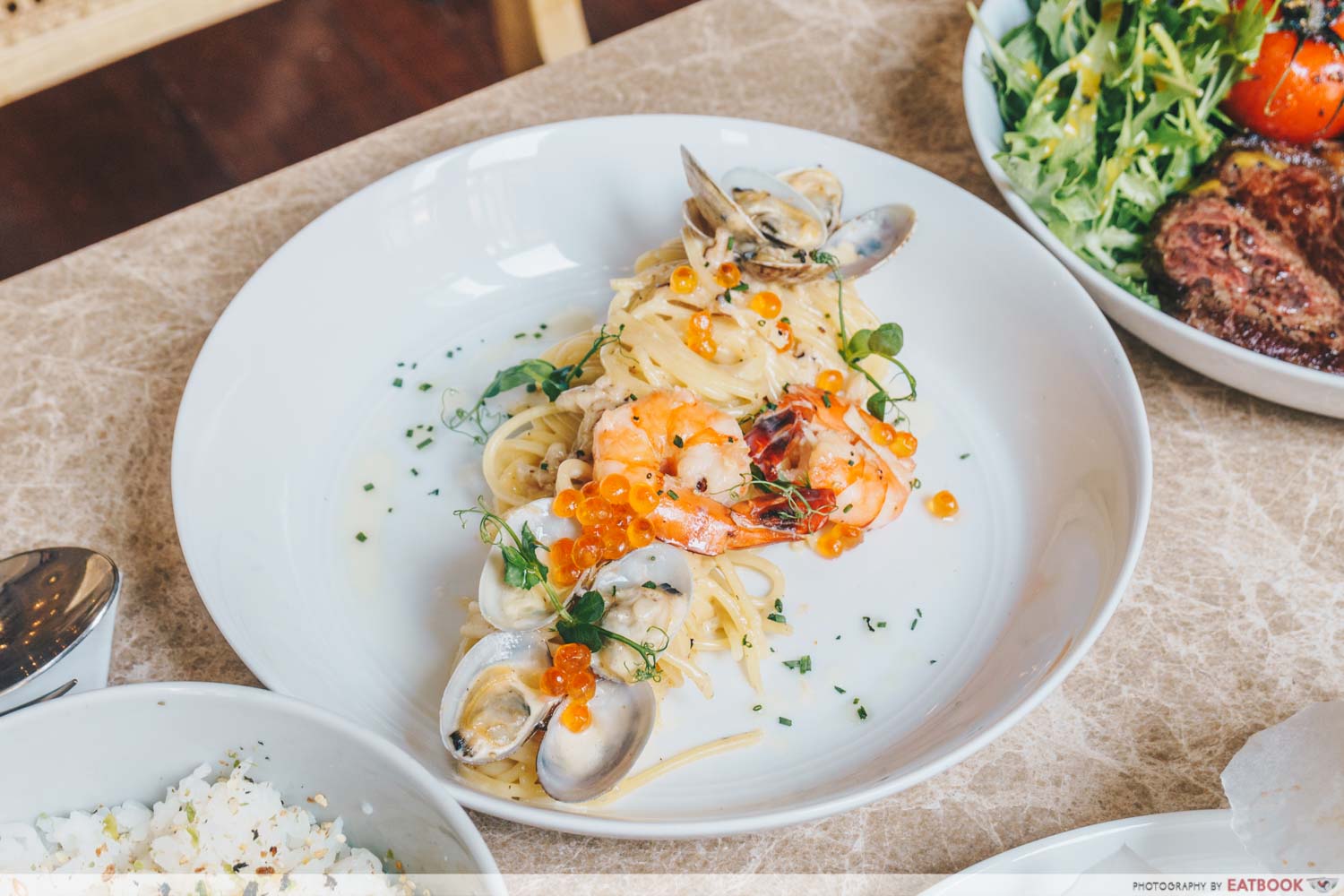 We moved on to their lunch menu, available from 11am until 6pm on Tuesdays to Thursdays, and 3pm on Fridays and the weekends. From this, we tried the Seafood Alfredo ($20+). Here, twirls of spaghetti are dressed in cream and crustacean oil, then topped with tiger prawns, clams, and ikura spheres.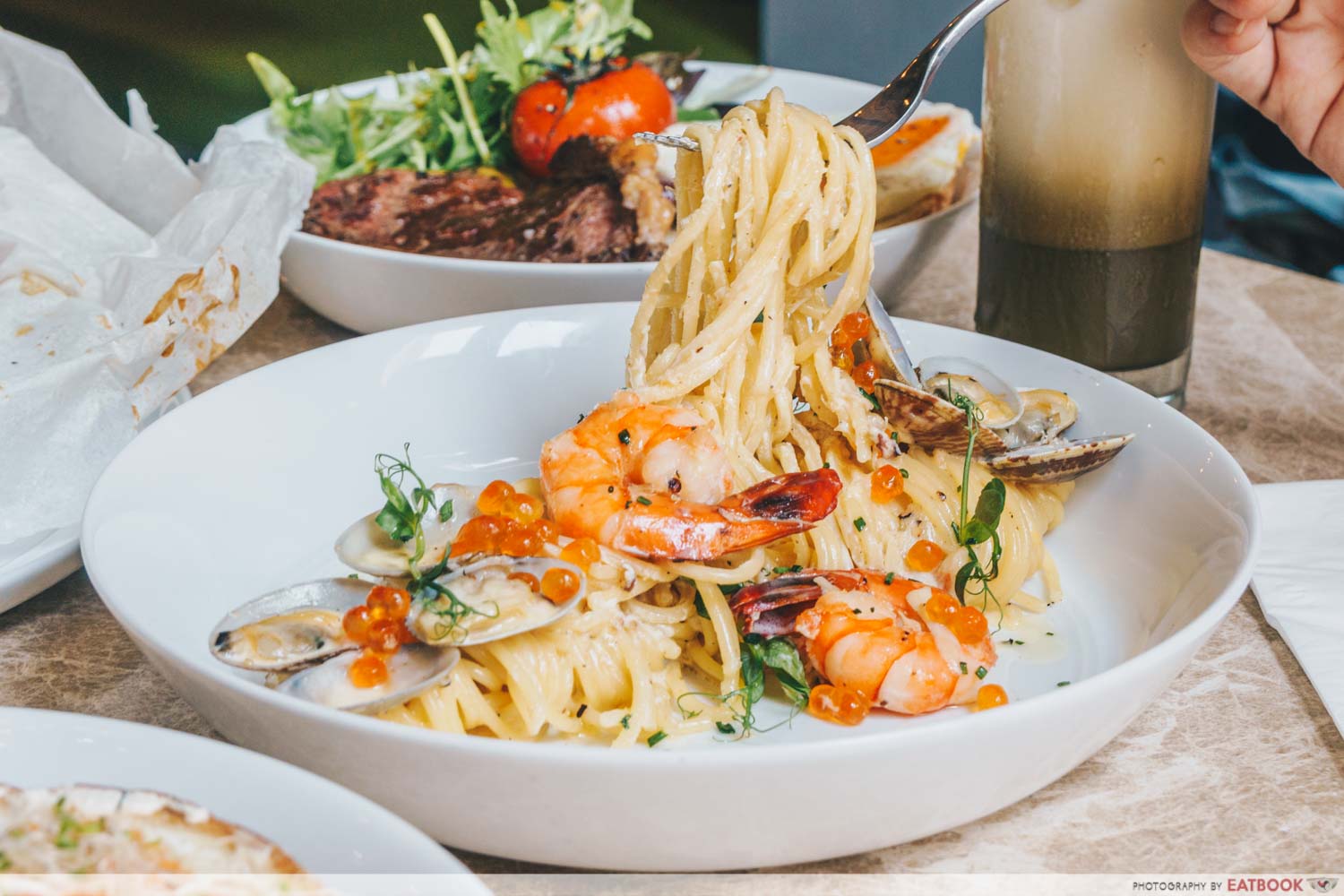 The cream was light, garlicky, and peppery, clinging to the al dente spaghetti with ease. While the flavour from crustacean oil was curiously absent, the quality of the seafood used more than made up for it, lending an umami note to the dish.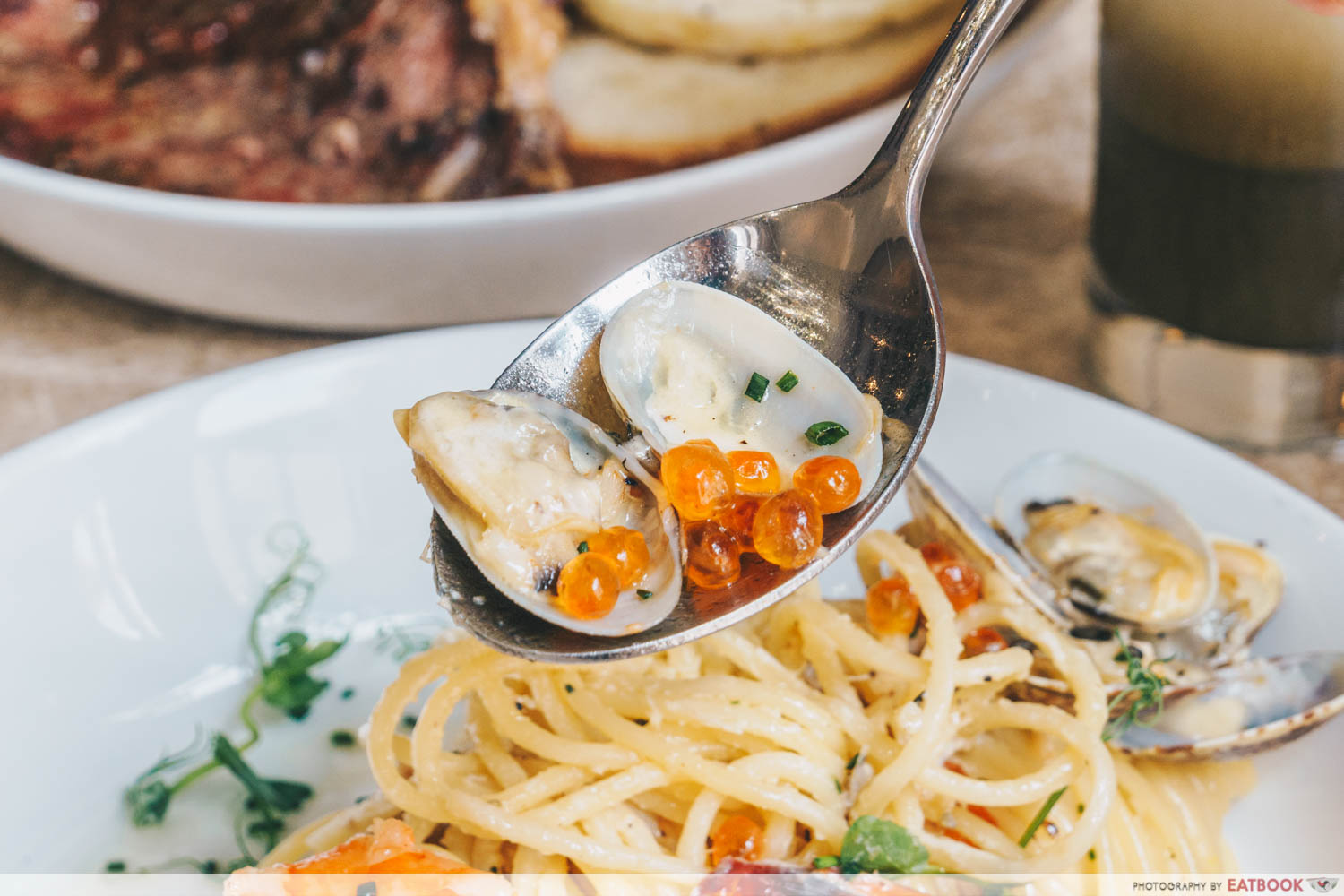 Every ingredient was fresh, from the succulent tiger prawns, and plump clams, to the ikura pearls that popped with sweet brine in my mouth.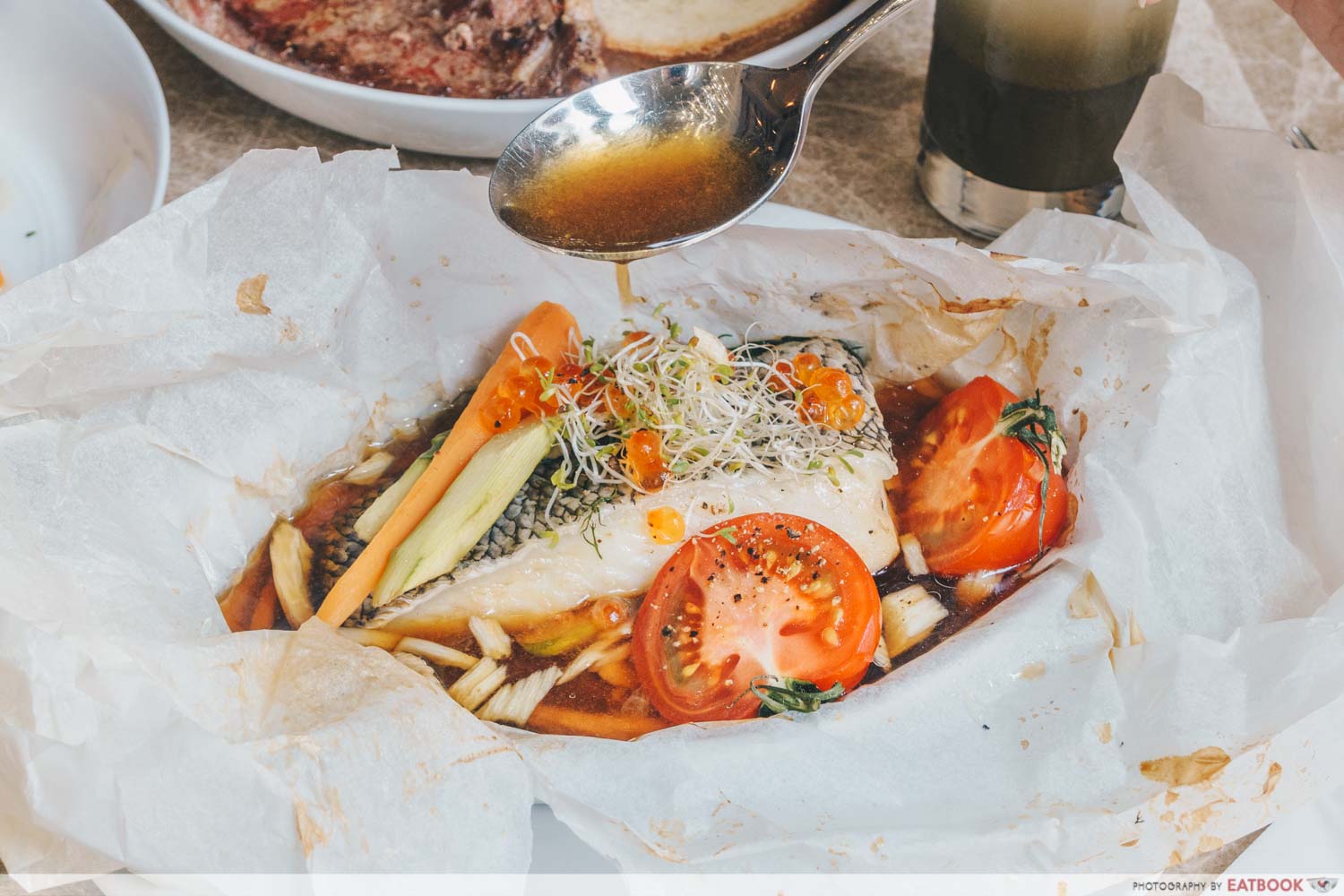 The last of our savouries was the Cod En Papilotte ($39+), reminiscent of a Canto-style fish dish, with cod fillet baked in a ginger soy broth, served with a vegetable medley and ikura pearls.
Here, the sprinkles of black pepper brought a piquant spark to the gingery broth. The fennel within also lent a mild earthiness to the otherwise light gravy.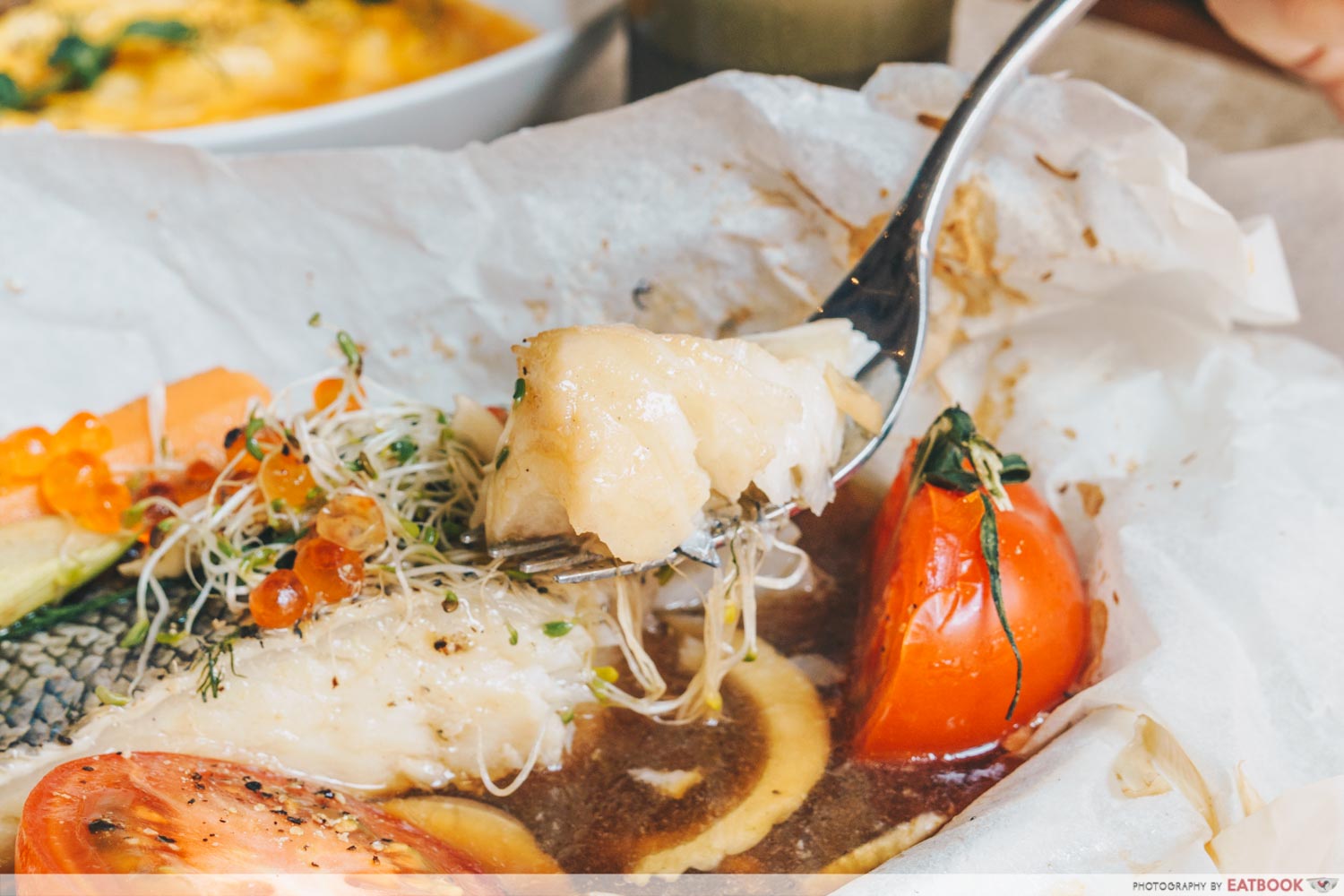 It was a delight to fork through the warm, buttery folds of the codfish—an indicator that it's cooked just right. The fish was fresh as well, sporting a natural sweetness, enhanced by the gingery, peppery notes of the broth.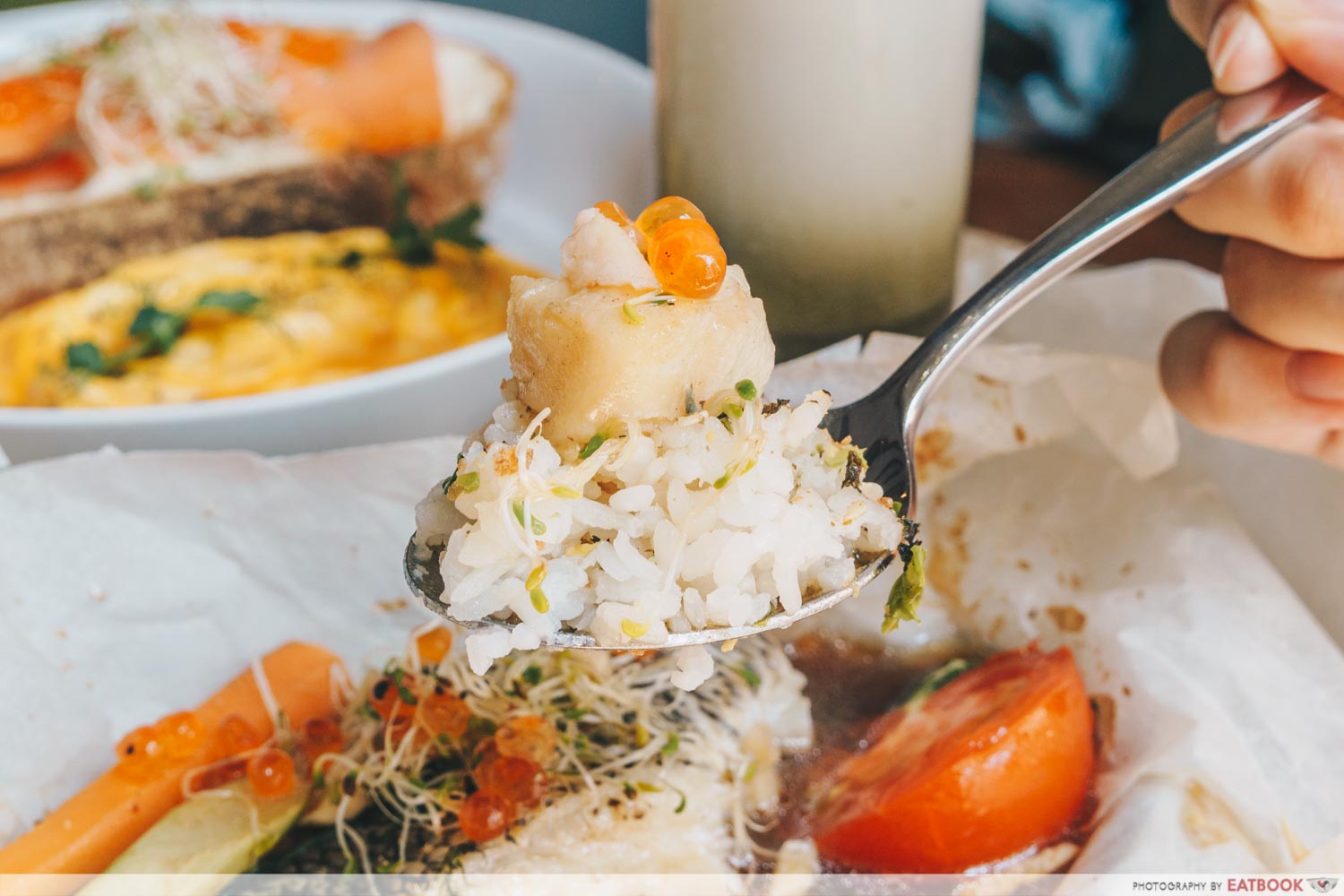 This codfish also comes with a bowl of furikake-topped rice, the perfect carb to soak up all that gravy. I thought that the furikake was a nice touch, as its saltiness paired well with the savoury-sweet flavours of the fish. If there's anything that'd keep me from ordering this dish again, it would be the hefty price tag.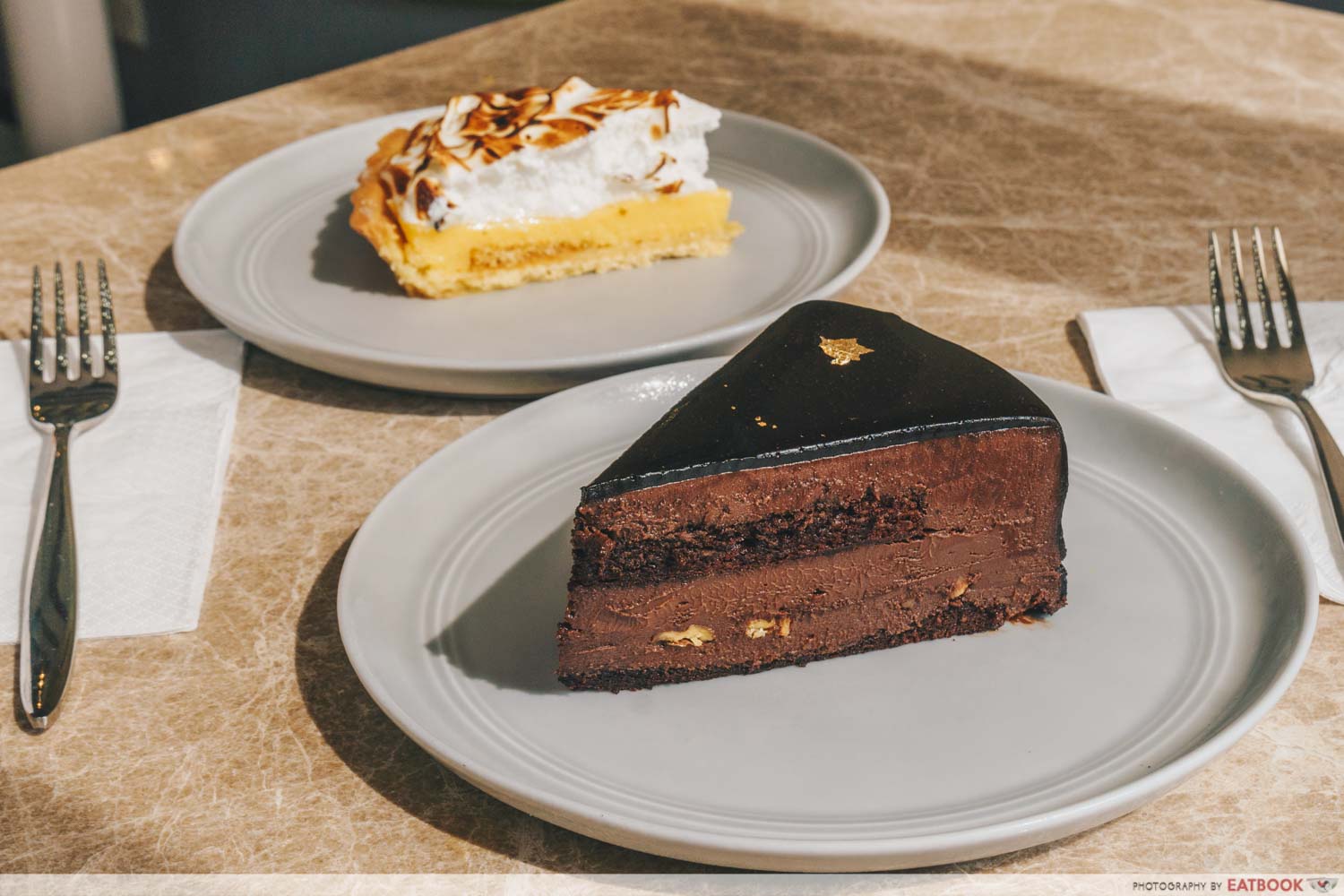 To complement the savouries, we tried a couple of their sweets, made at their in-house bakery. First up to bat was the Gateau Au Chocolat ($6.90+), layered with nuts, chocolate sponge, and chocolate mousse. This was decadent at first bite, but the rich cocoa flavour quickly gave out to a cloying sweetness. I liked the nuts peppered within though, as they provided some crunch.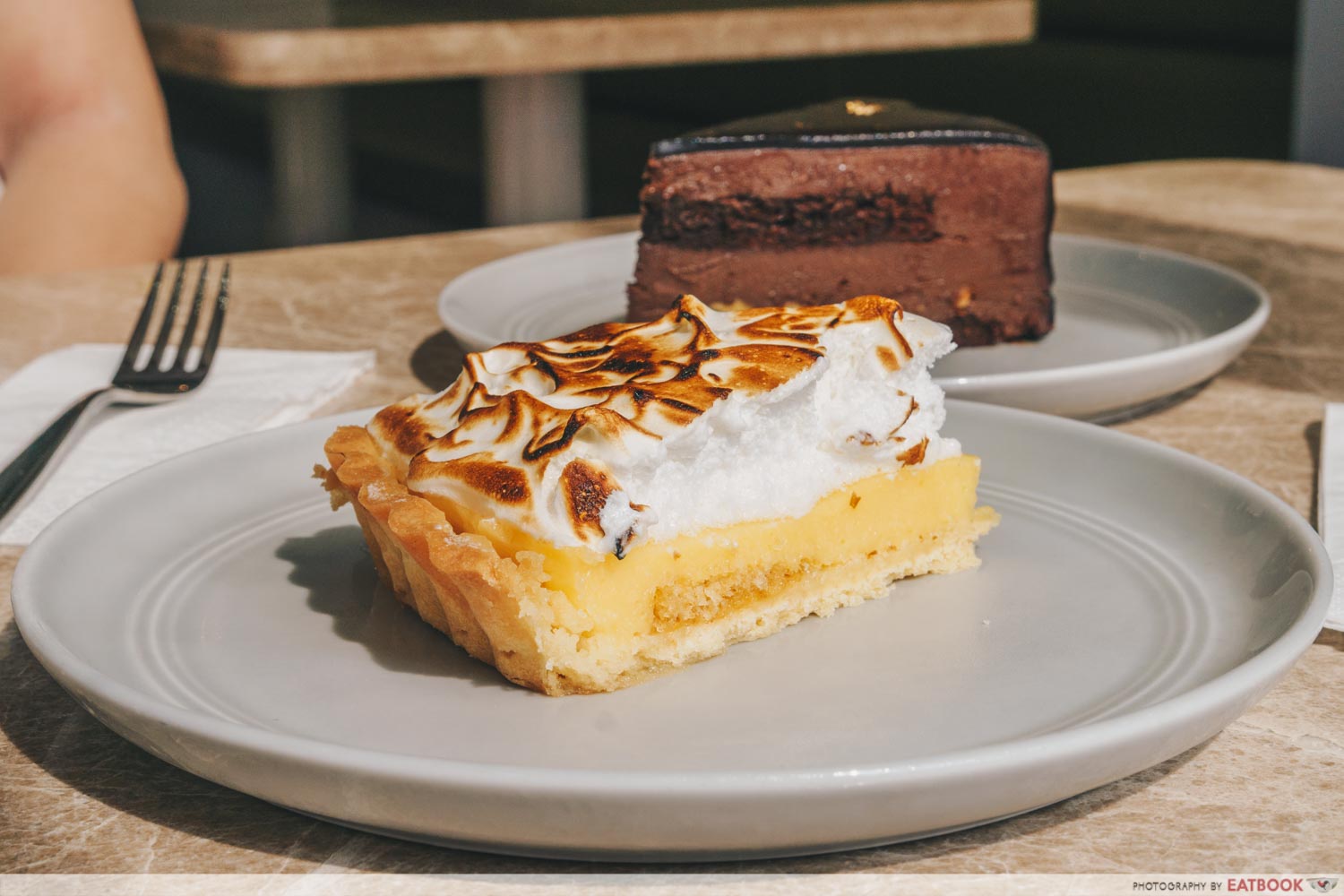 We finished off with their Lemon Meringue Pie ($6.90+), which sees lemon custard and torched meringue atop a tart base. Sadly for me, I didn't enjoy the texture of this meringue. It was a little too sweet for me, and I felt that there was too much of it. The custard fared better, as it was well-balanced in flavour, falling right between sweet and tart.
Fat Belly Social Steakhouse Review: Wagyu Steak, Uni Toasts, And Blue Cheesecake In Telok Ayer
Ambience at The Bravery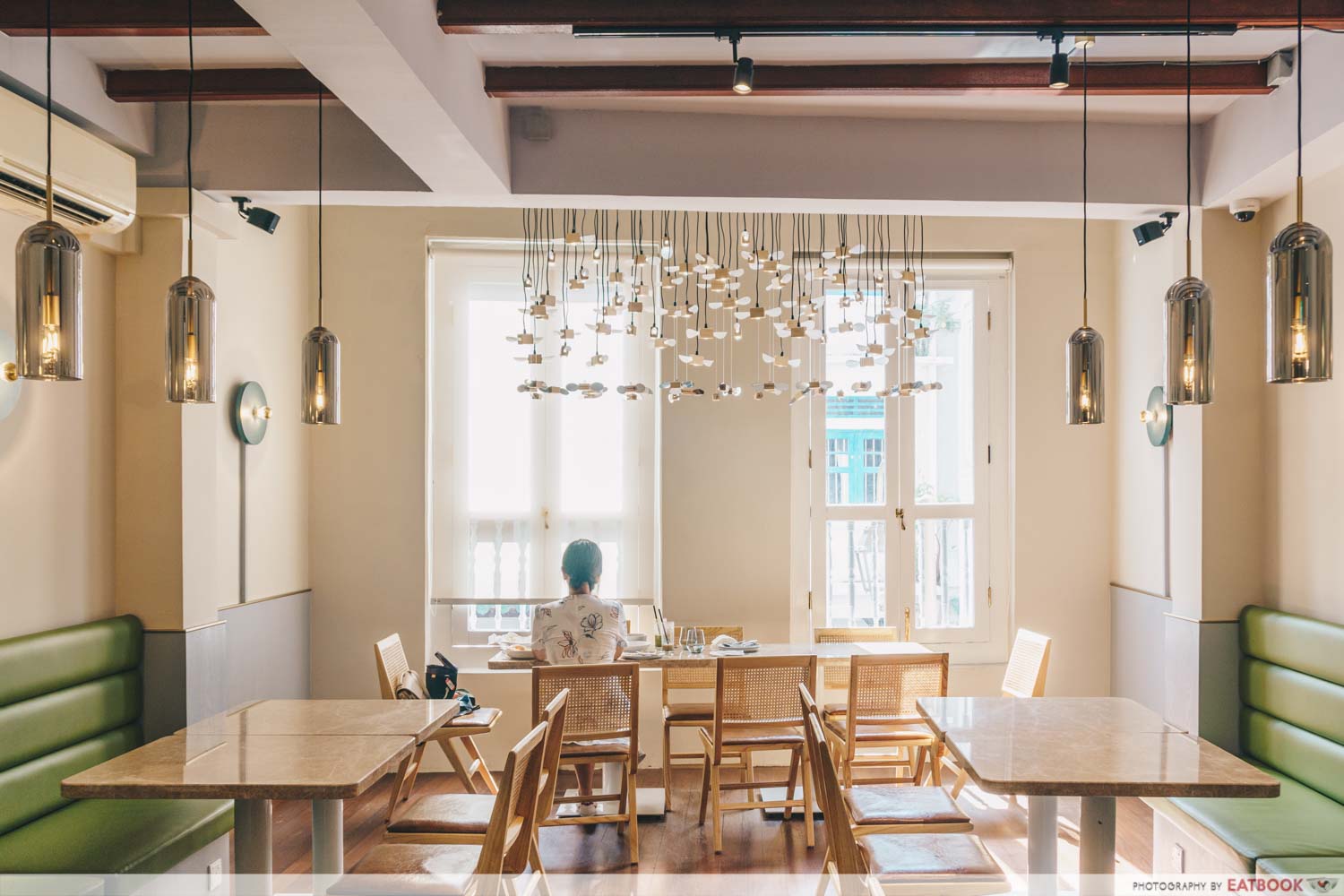 I absolutely adored the interiors of this light-flooded, two-storeyed cafe, with its palette of light wood, periwinkle purples, and emerald greens. They could afford to amp up the air-conditioning though, as the space felt rather stuffy, especially in the 2pm heat.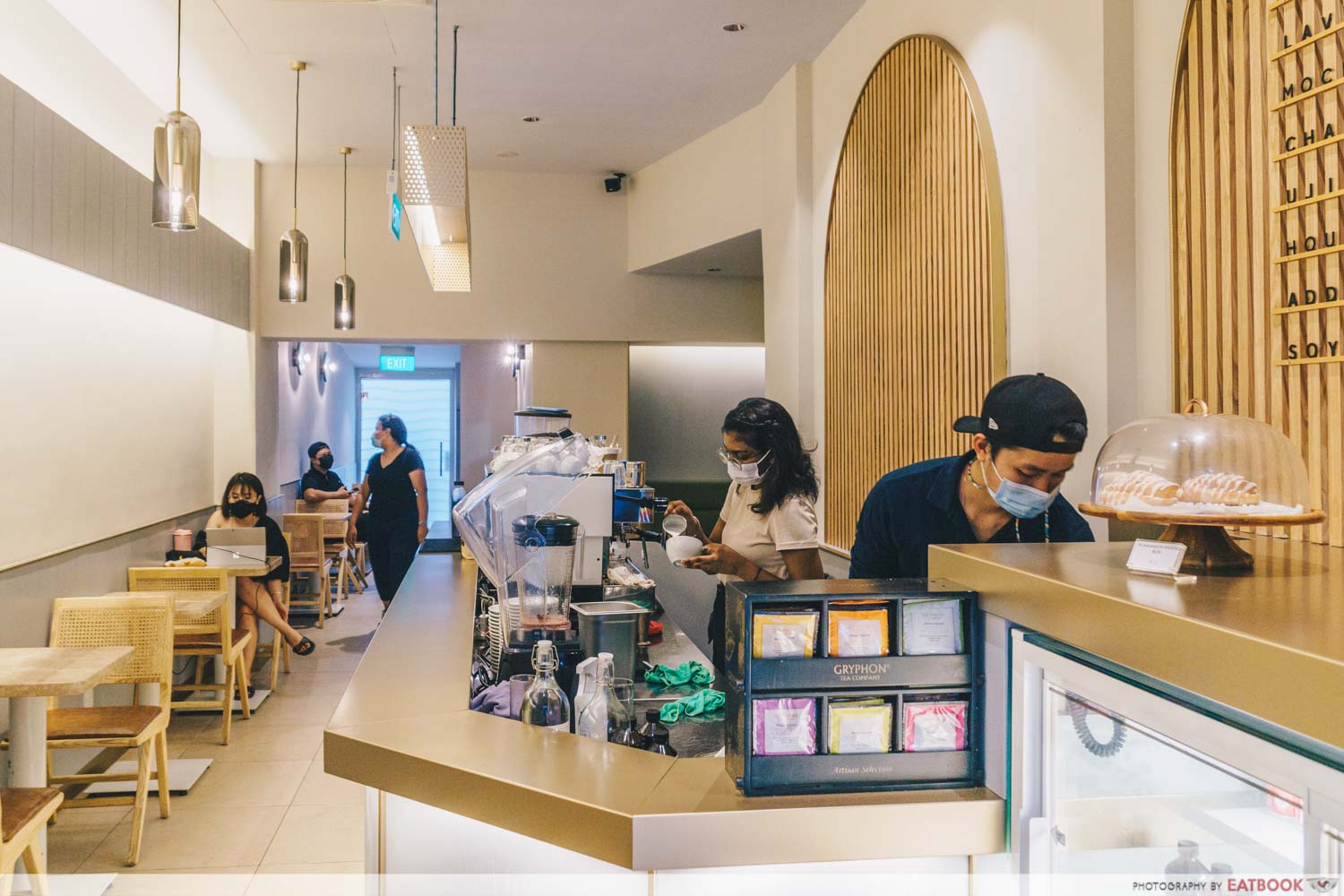 Location-wise, The Bravery is extremely convenient to get to, only taking a four minute-walk from Telok Ayer MRT Station.
French Fold Review: New Bistro Serves French Galettes And Crepes With Gelato In Telok Ayer
The verdict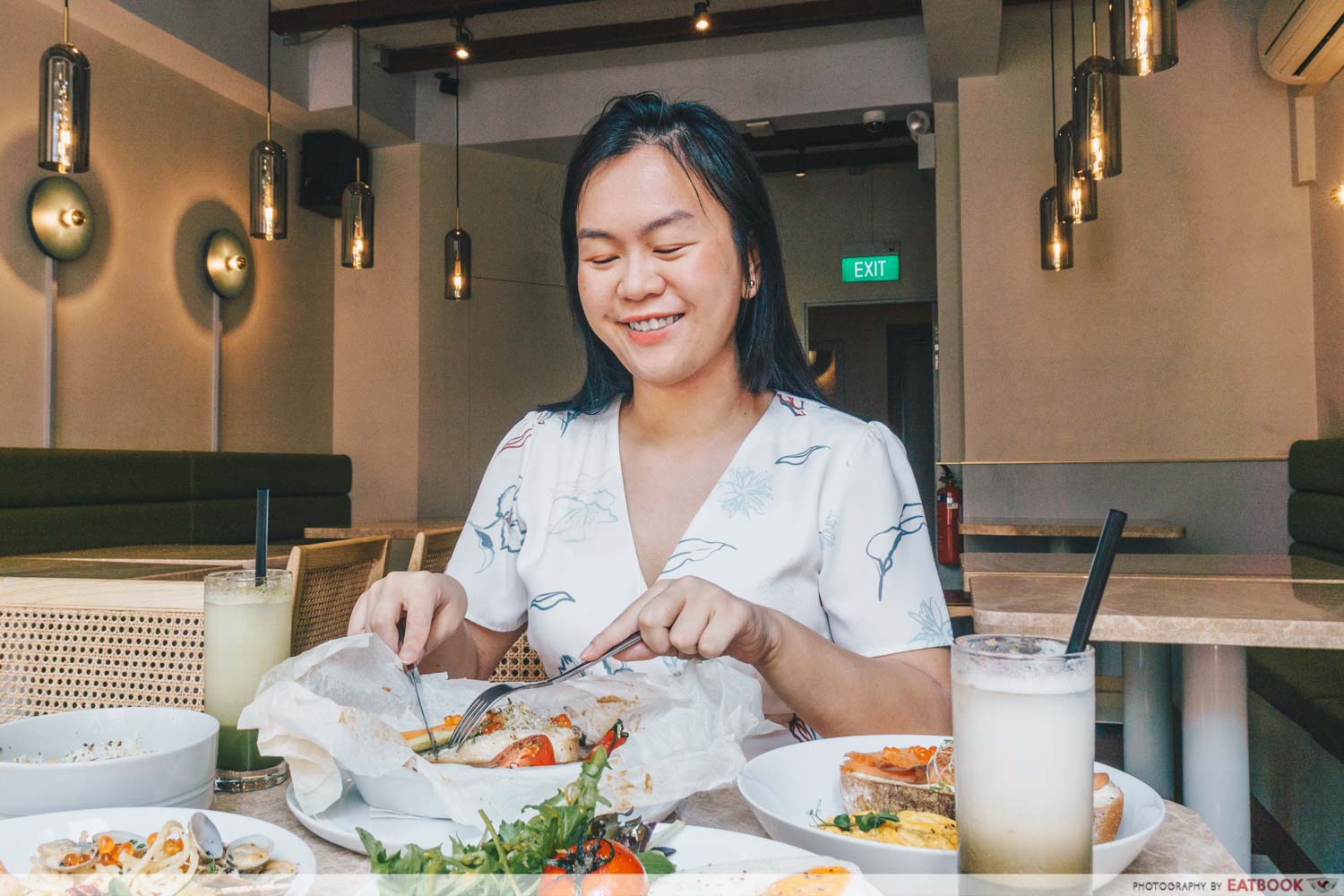 Desserts aside, the food at The Bravery largely exceeded my expectations, made better by their sunlight-dappled interiors and central location. I can definitely see myself coming back with a couple of gal pals, basking in the golden hour light, and just chilling over good eats. With that, if you're looking for a new cafe worth dining at, head down to The Bravery.
For more food options in the vicinity, read our Fat Belly Social Steakhouse review, with wagyu steak and oozy burnt cheesecakes. There's also our CARNE review, a burger bar by a chef with a World's Best Restaurant title to his name.
Address: 50 Amoy Street, Singapore 069876
Opening hours: Tue-Thur 8am to 6pm, Fri-Sun 8am to 9pm
Tel: 9388 2973
Website
The Bravery is not a halal-certified eatery, but is Muslim-owned.
CARNE Review: Burger Bar By Chef Behind World's Best Restaurant Now In Singapore
Photos taken by Gladys Ng.
This was a media tasting at The Bravery.
The post The Bravery Review: Muslim-Owned Cafe With Seafood Alfredo And Breakfast Steak appeared first on EatBook.sg – New Singapore Restaurant and Street Food Ideas & Recommendations.