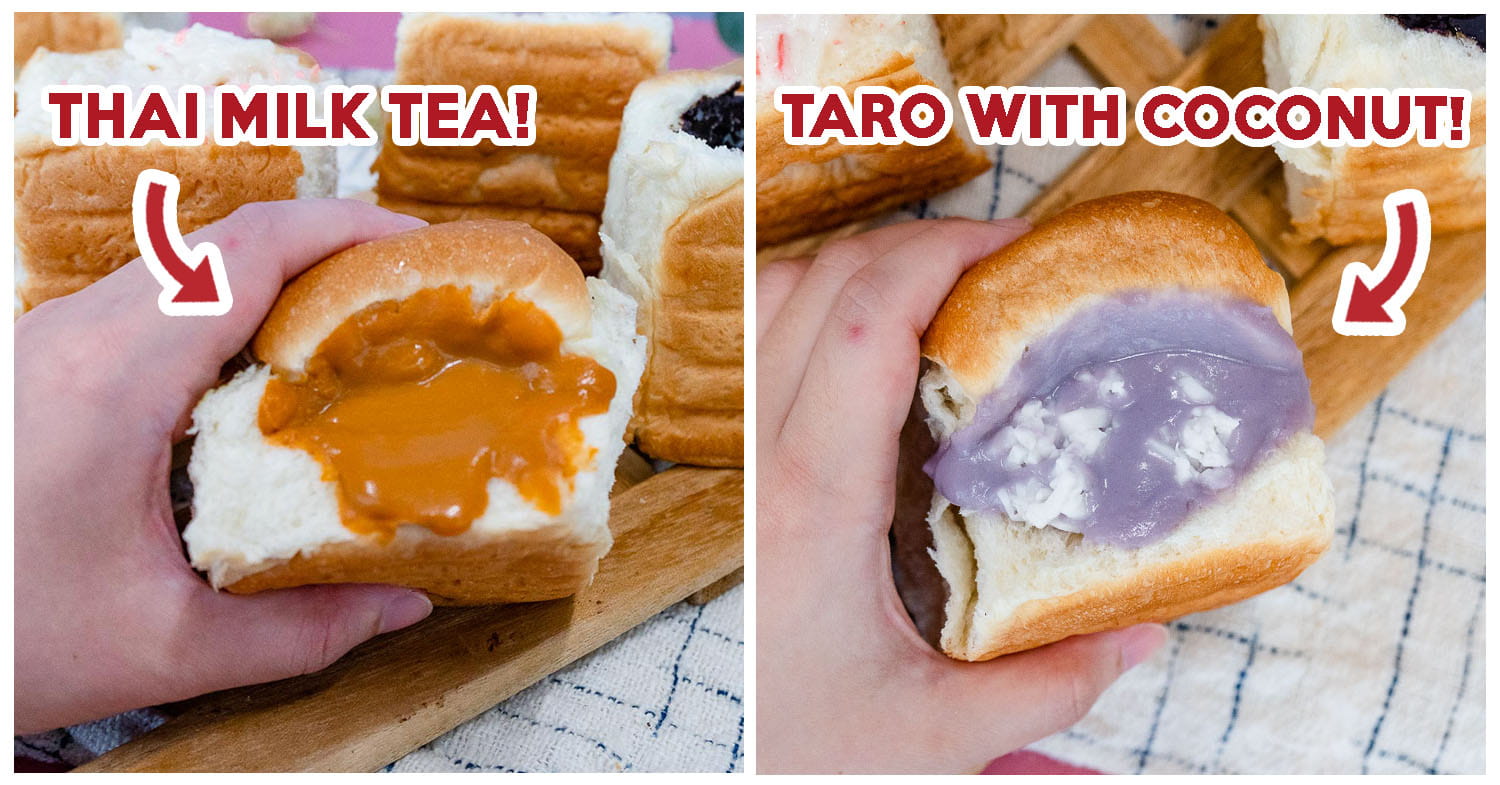 Tearuk Dessert Bar at Bukit Timah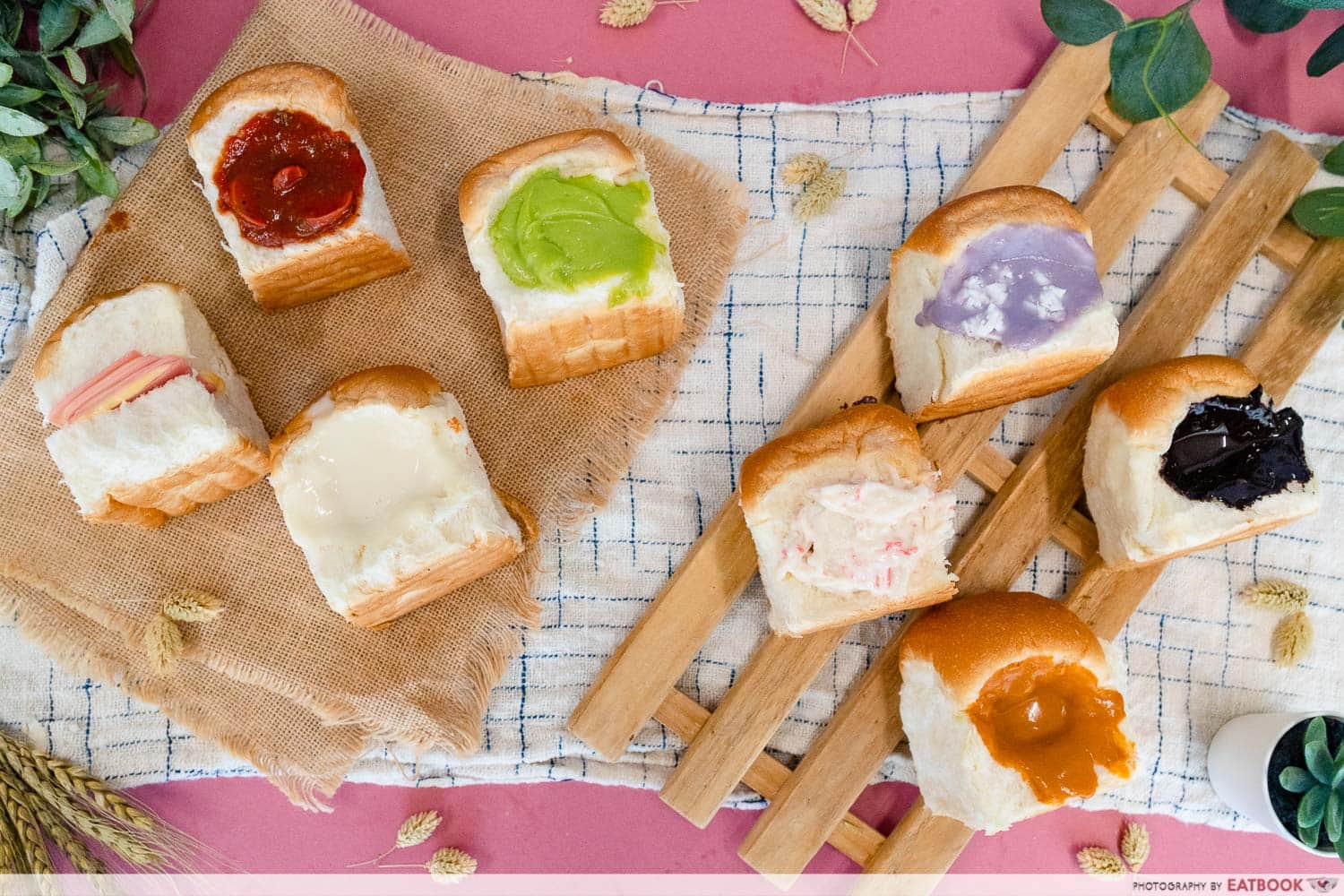 Amidst the recent hype of discovering new bakeries, we chanced upon the Thai-inspired Tearuk Dessert Bar. Their signature overflowing fillings in their Yaowarat buns reminded me of the filled doughnuts like Sourbombe Bakery's that are popular these days, but on a larger scale.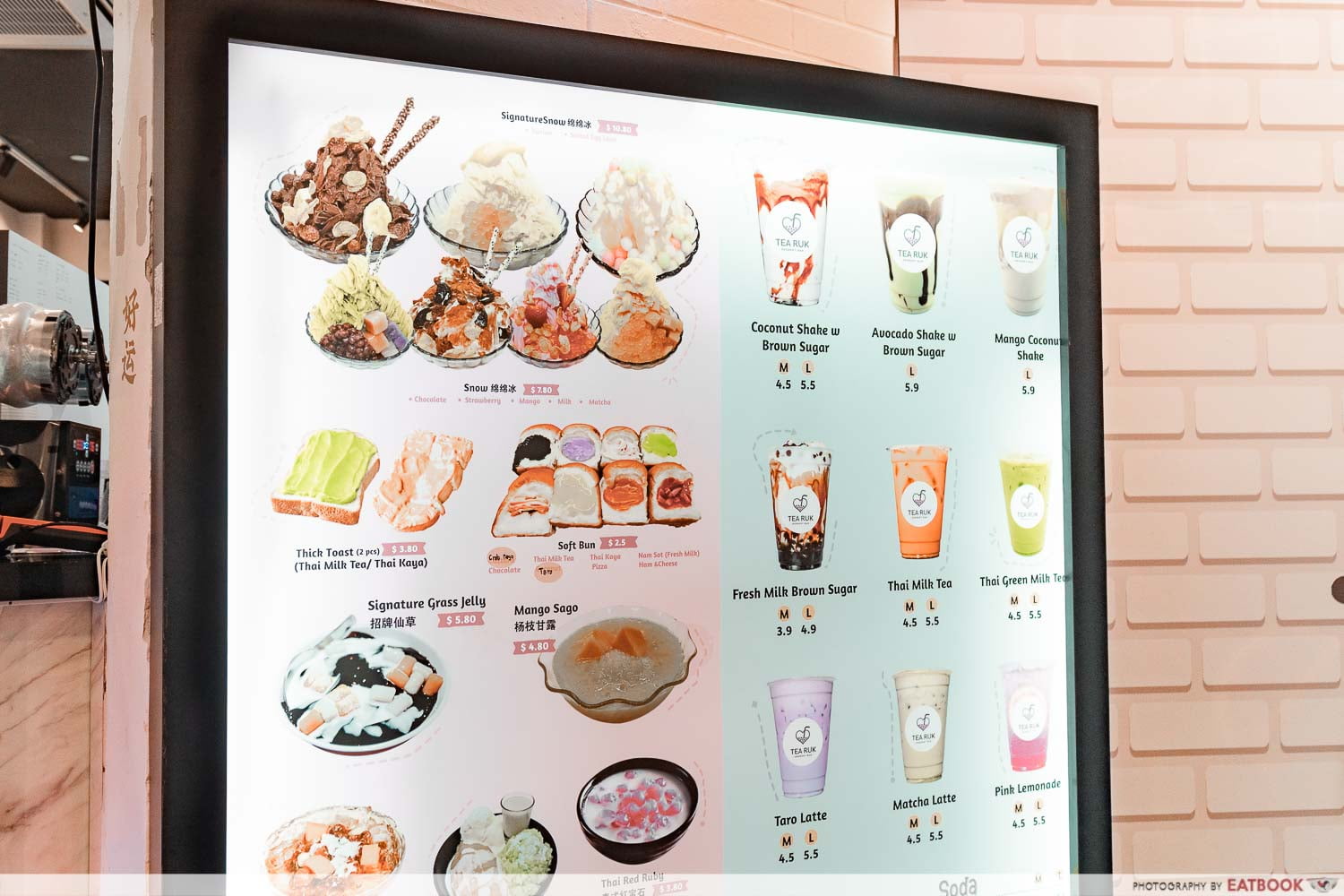 As a fan of variety, I was happy to find out that Tearuk Dessert Bar does not disappoint. They offer eight different flavours of Yaowarat buns, and even serve Thai-inspired drinks and desserts. 
CAF Clickafood Review: New Multi-Cuisine Cafe With Crab Meat Omelette Fried Rice And Army Stew
Food at Tearuk Dessert Bar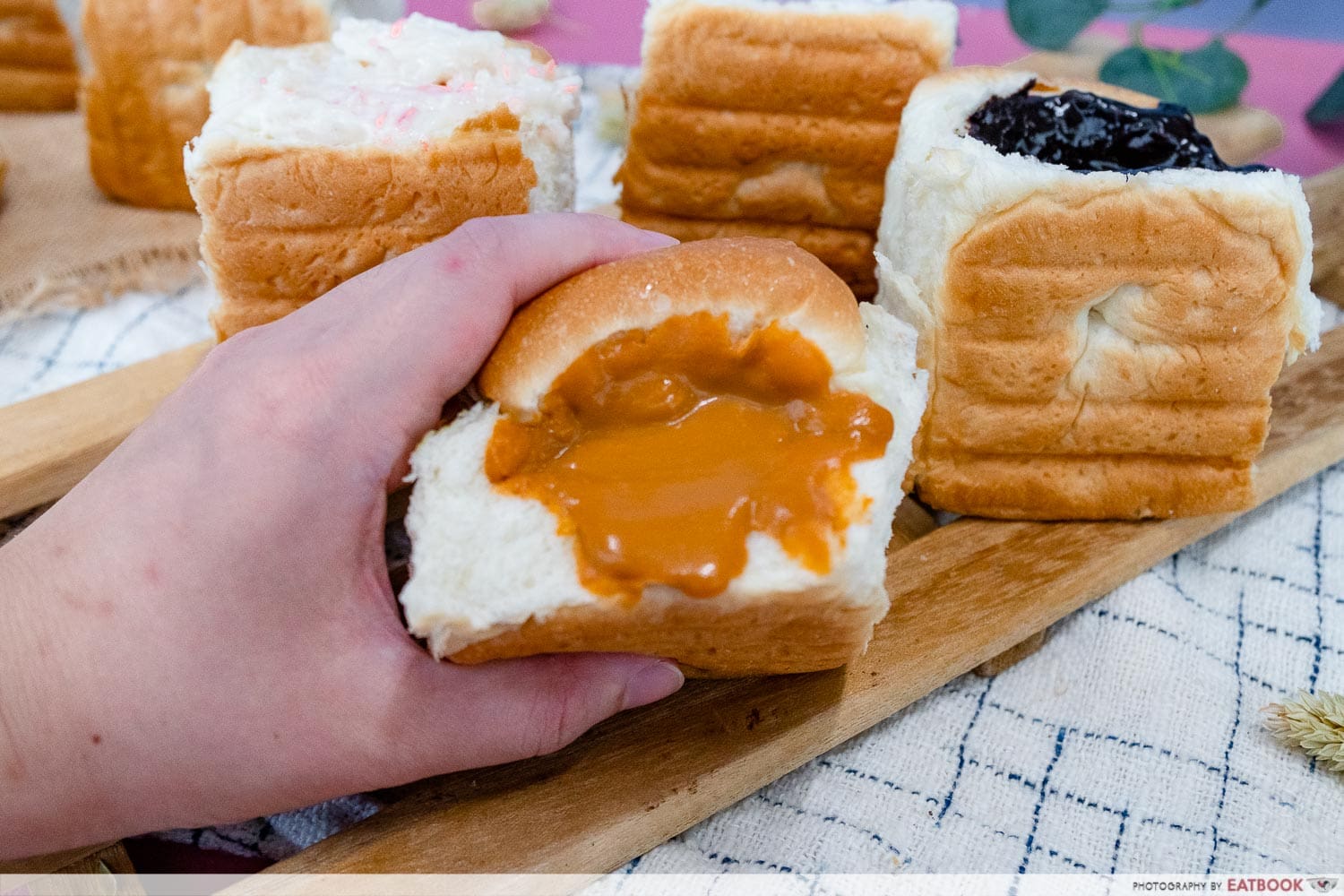 Since I love the milkiness and strong aroma of Thai milk tea, I gravitated towards their Thai Milk Tea Yaowarat Bun ($2.90) first. The filling was smooth and pleasantly sweet, but the signature tea taste was not as "gao" as its bright orangey colour suggested. Despite the lack of flavour, this picturesque bun is definitely 'gram-worthy.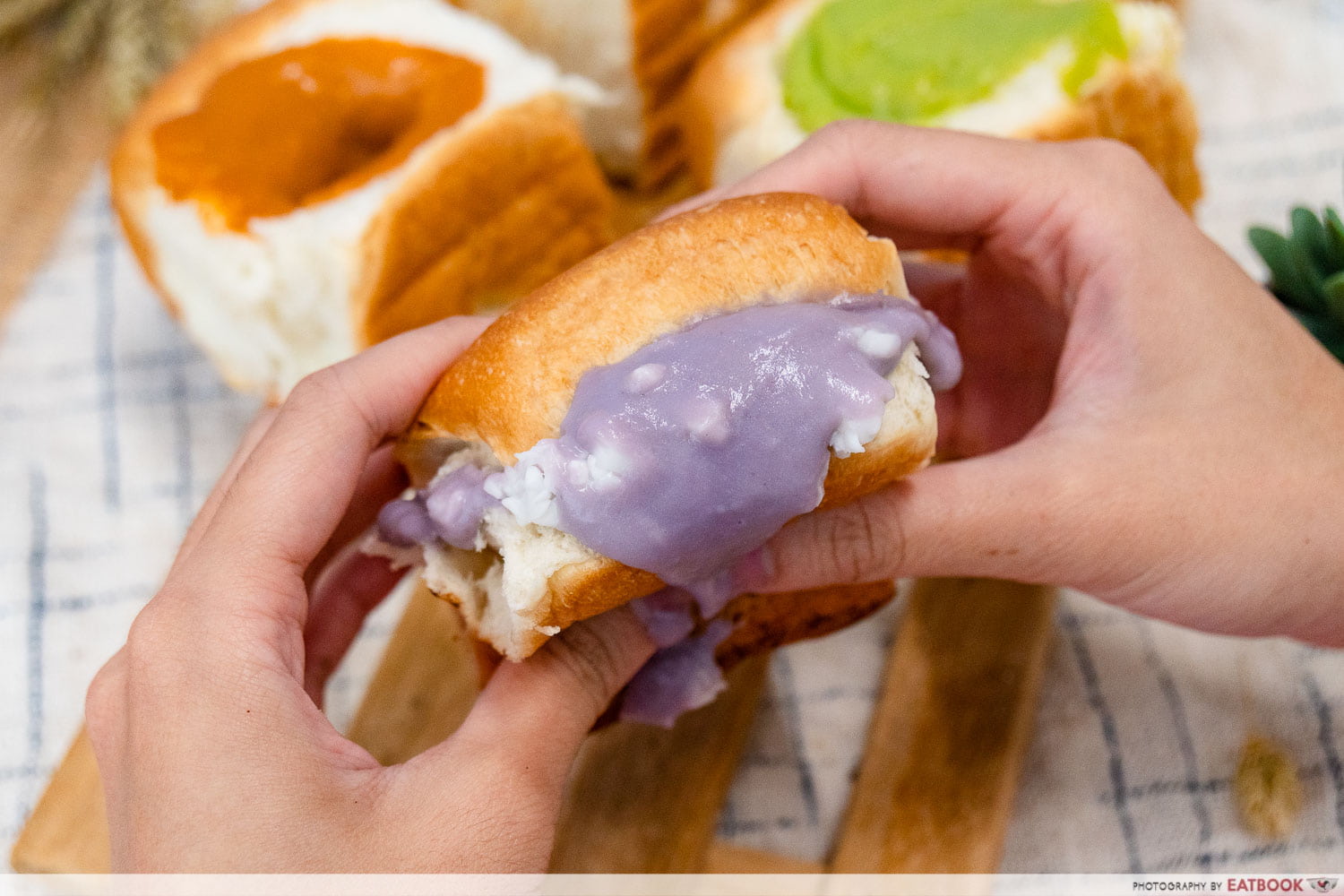 Enticed by the pretty lilac coloured filling, I was drawn to their Taro with Coconut Yaowarat Bun ($2.90) next. I enjoyed the slight crunch from the coconut shavings amidst the smooth taro, and the filling was overall light and palatable. Similar to the previous bun, I wished that the earthy taro flavour in this bun was more pronounced. 
Their Chocolate Yaowarat Bun ($2.90) reminded me of a molten chocolate lava cake. The chocolate filling was rich, runny, and not too sweet. There was even a slight hint of dark chocolate, which cut through the sweetness and made the bun less jelak. This bun was my personal favourite and I would return for this in a heartbeat.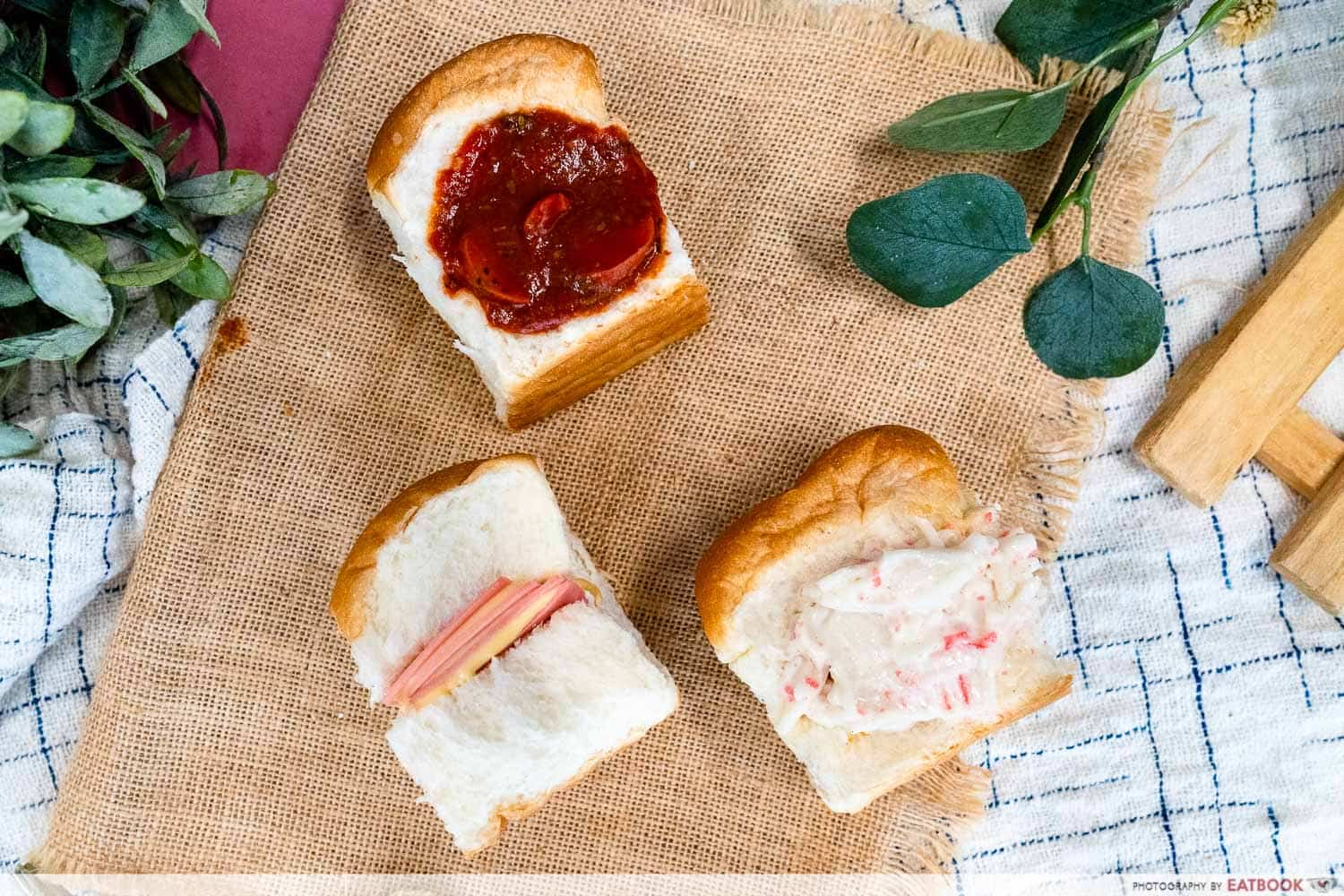 In case you do not have a sweet tooth, Tearuk Dessert Bar has got you covered. They offer savoury options such as Ham and Cheese ($2.90), Pizza ($2.90), and Crab Mayo ($2.90).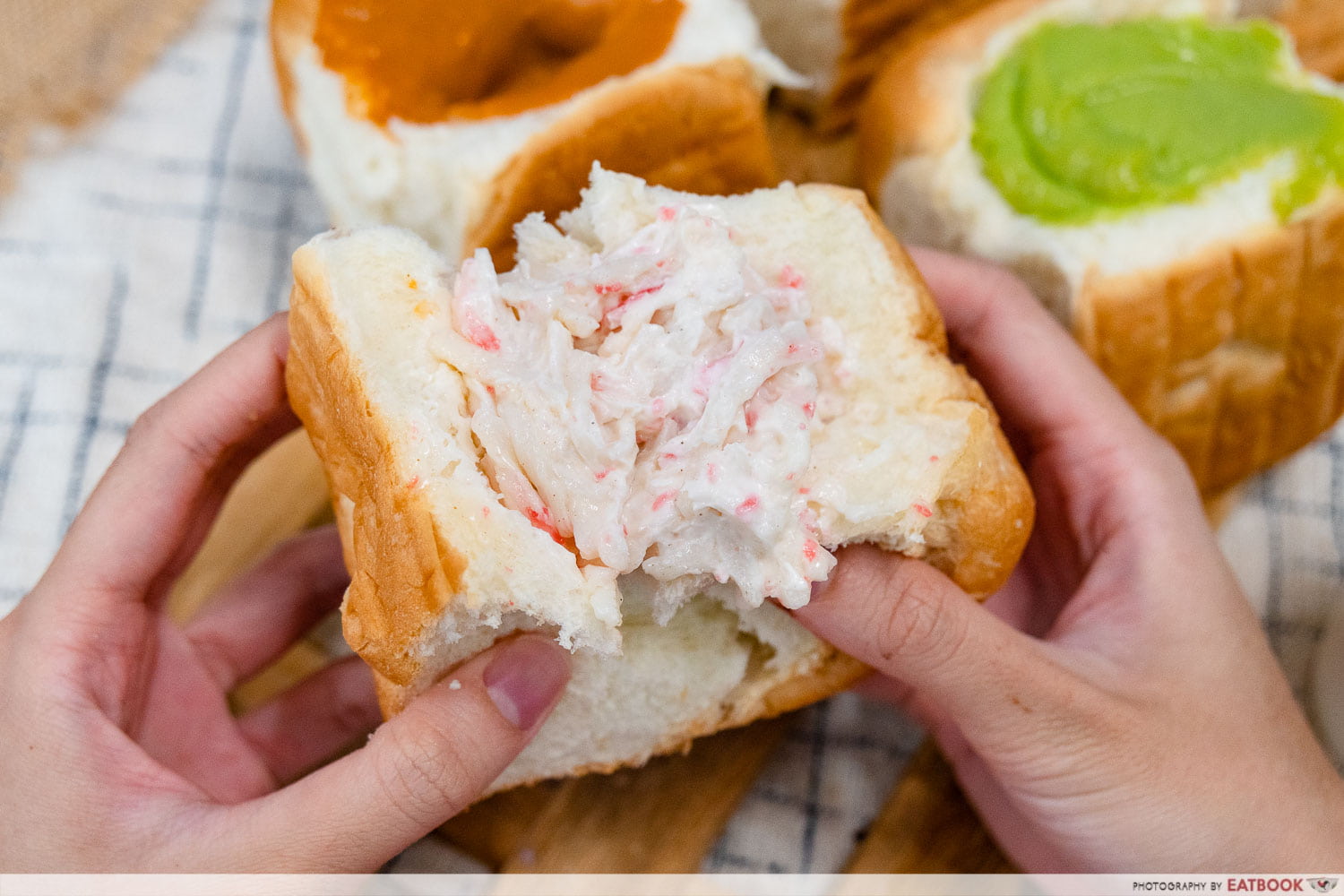 To take a break from the sweet flavours, I opted to try their Crab Mayo Yaowarat Bun as it seemed the most exotic. The bun was overflowing with large chunks of crab stick with mayonnaise. This bun was slightly underwhelming as I expected a stronger seafood kick from the crab. That being said, the creamy and rich mayonnaise in this bun will definitely appeal to all mayo lovers.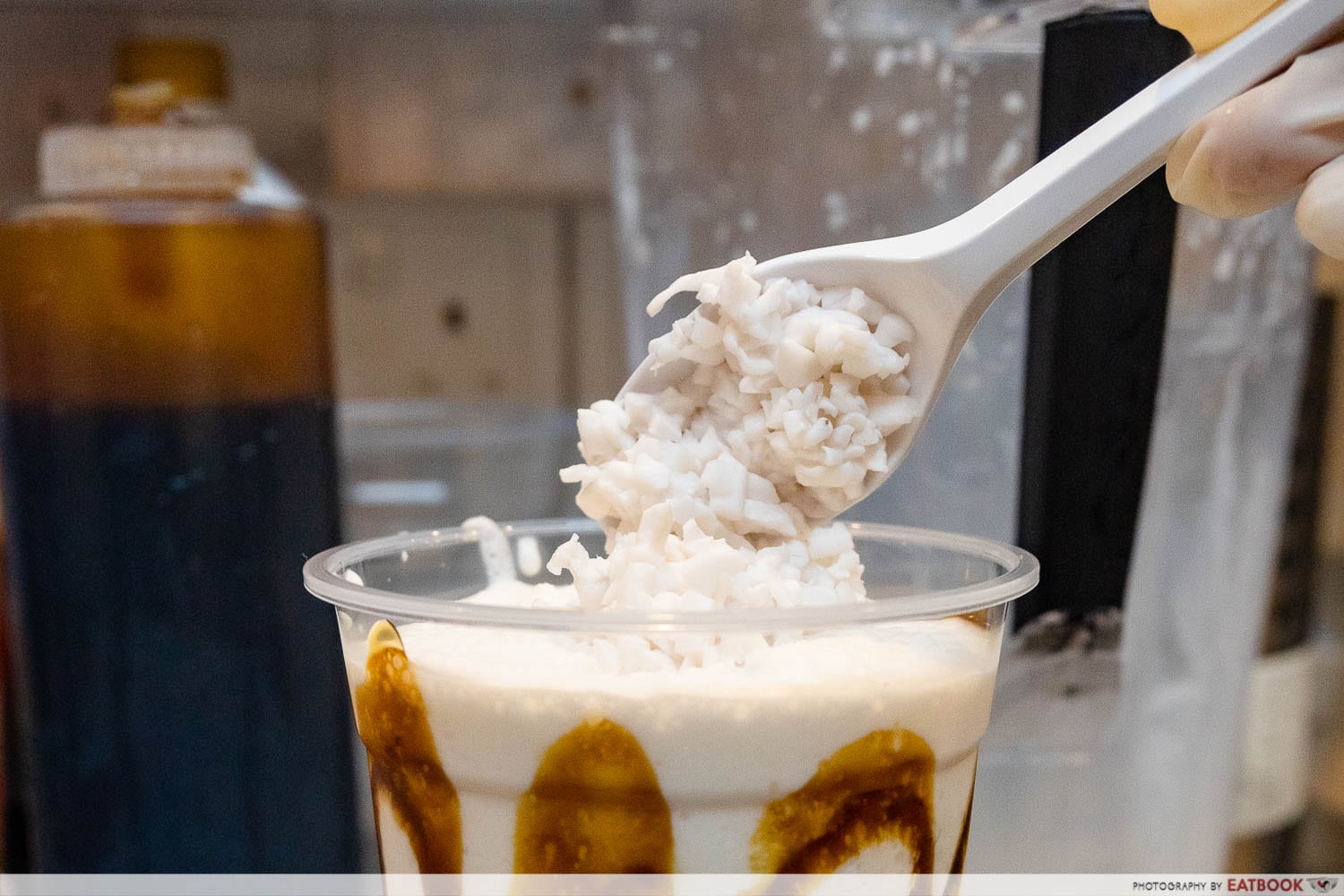 Finally, I ended off this Thai adventure with a Coconut Shake with Brown Sugar ($4.50). I enjoyed the crunch provided by the generous topping of fresh coconut meat shavings. However, the brown sugar syrup was slightly too intense. I would opt for less brown sugar syrup next time to ensure that the coconut flavour stands out the most. 
Flying Pig Review: $10 Thai Crab Meat Omelette Rice And More At Golden Mile Complex
Ambience at Tearuk Dessert Bar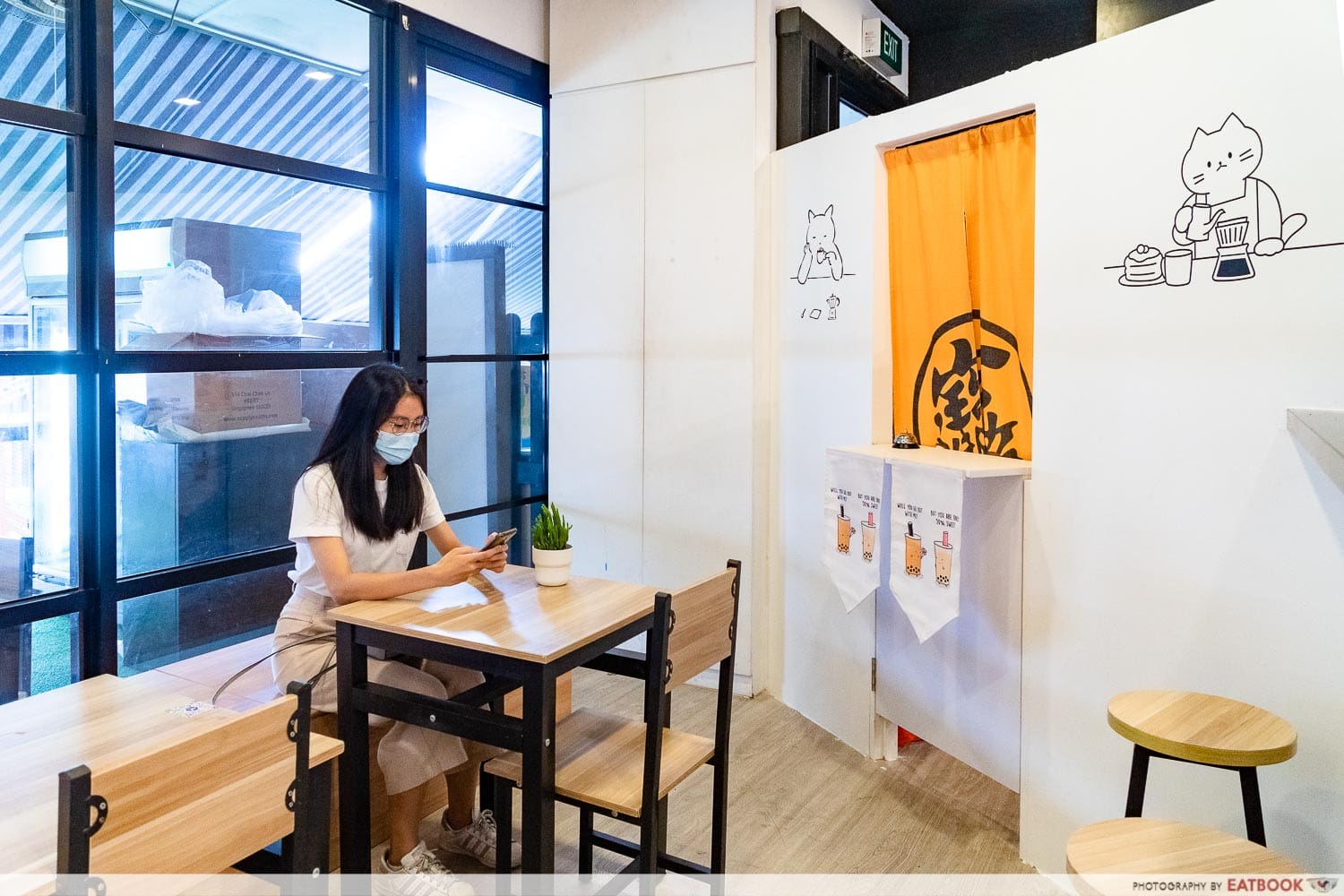 Tearuk Dessert Bar is located in The Grandstand, which is not the most accessible as the nearest MRT station, Sixth Avenue, is 1km away. 
While the storefront is narrow, step further into the cafe and you will find a seating area that houses four tables. The wooden furniture in the cafe creates a warm atmosphere, and the small area makes it extra cosy. The cafe is decorated with cute stickers, giving off a kawaii vibe that reminded me of Japan. 
The verdict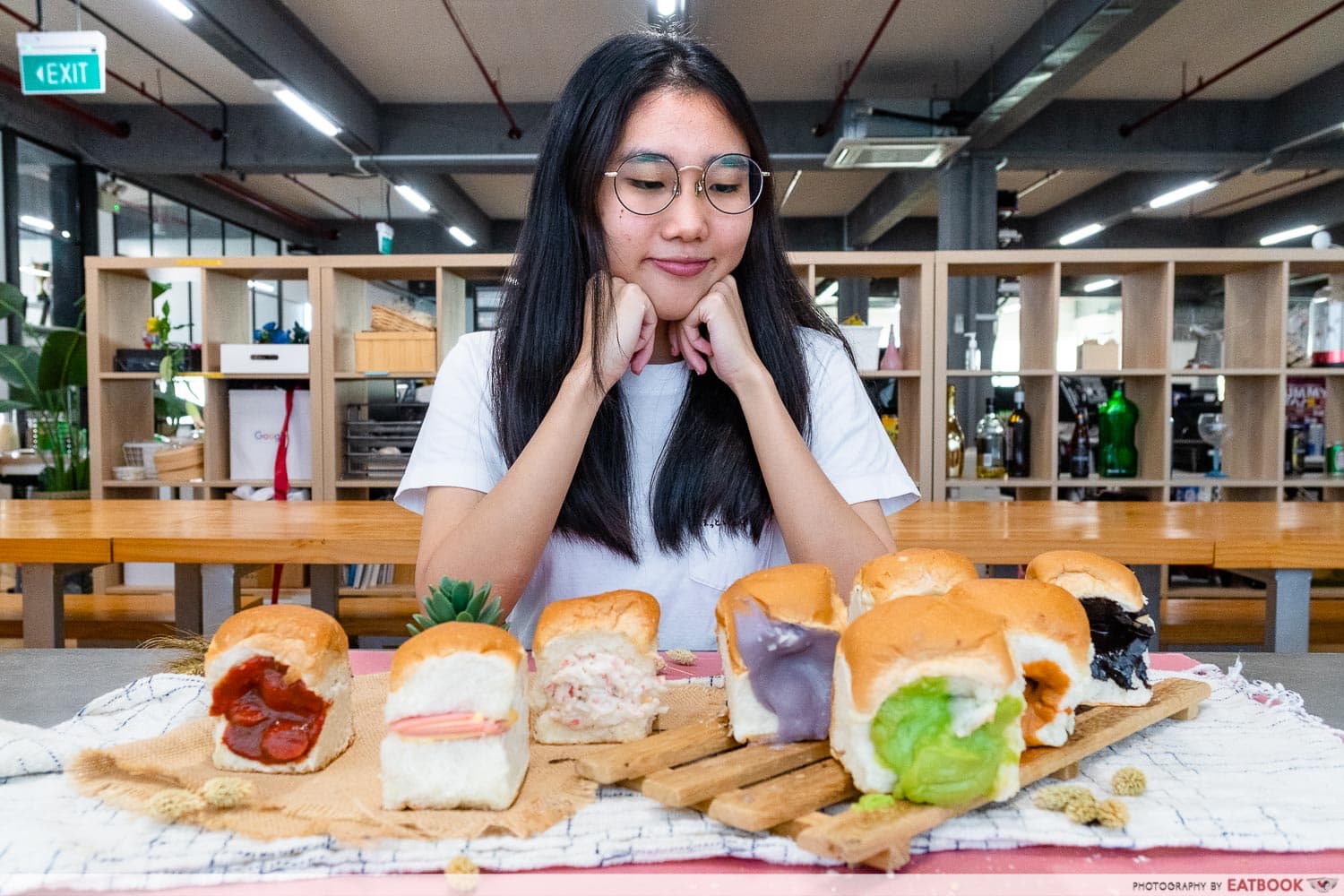 Despite the average buns, with the exception of the chocolate flavour, the staff at Tearuk Dessert Bar do an excellent job of making you feel comfortable and well taken care of. Though the prices are slightly steep in my opinion, I still recommend coming down to try their Yaowarat buns as they are a relatively new addition to the plethora of baked goods in Singapore. 
Grabbing a portion of shaved ice, dessert or an ice-cold shake would also be apt in our hot and sunny tropical environment. 
If you're looking for more food options at The Grandstand, check out our Kazan Steamboat review for a hotpot buffet at a cheap price. Alternatively, check out our list of affordable Thai food places to get your fix of basil pork rice, green curry and more. 
Address: 200 Turf Club Road, #01-10B, The Grandstand, Singapore 287994
Opening hours: Daily 11am to 7pm
Tel: 8786 5899
Website
Tearuk Dessert Bar is not a halal-certified eatery.
Photos taken by Lim Yu Hui.
This is an independent review by Eatbook.sg.
The post Tearuk Dessert Bar Review: Over-Filled Yaowarat Buns With Flavours Such As Thai Milk Tea, Taro, Crab Mayo And More appeared first on EatBook.sg – New Singapore Restaurant and Street Food Ideas & Recommendations.