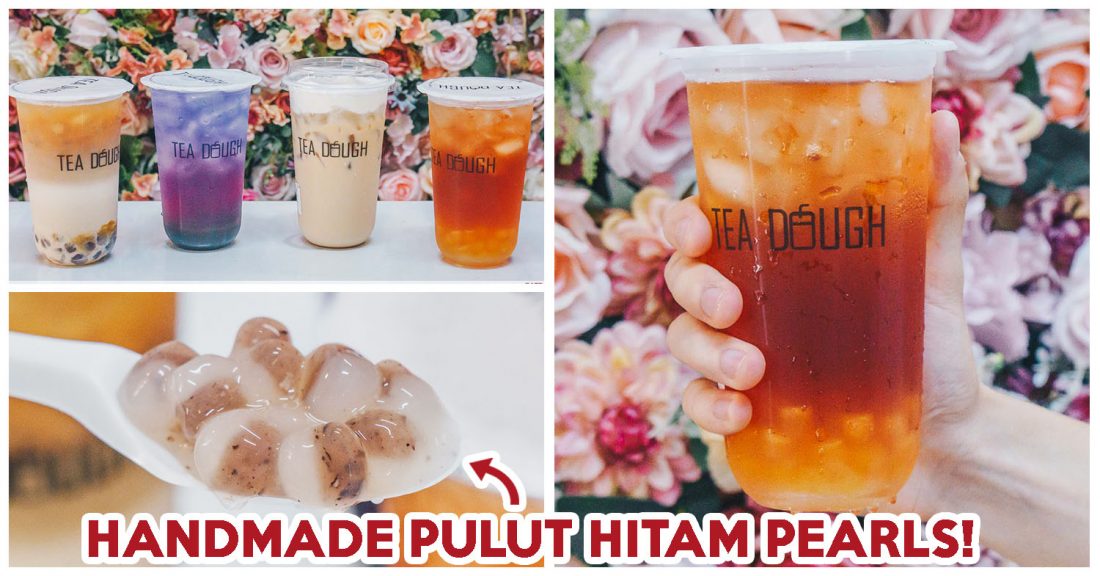 Tea Dough in Pioneer Mall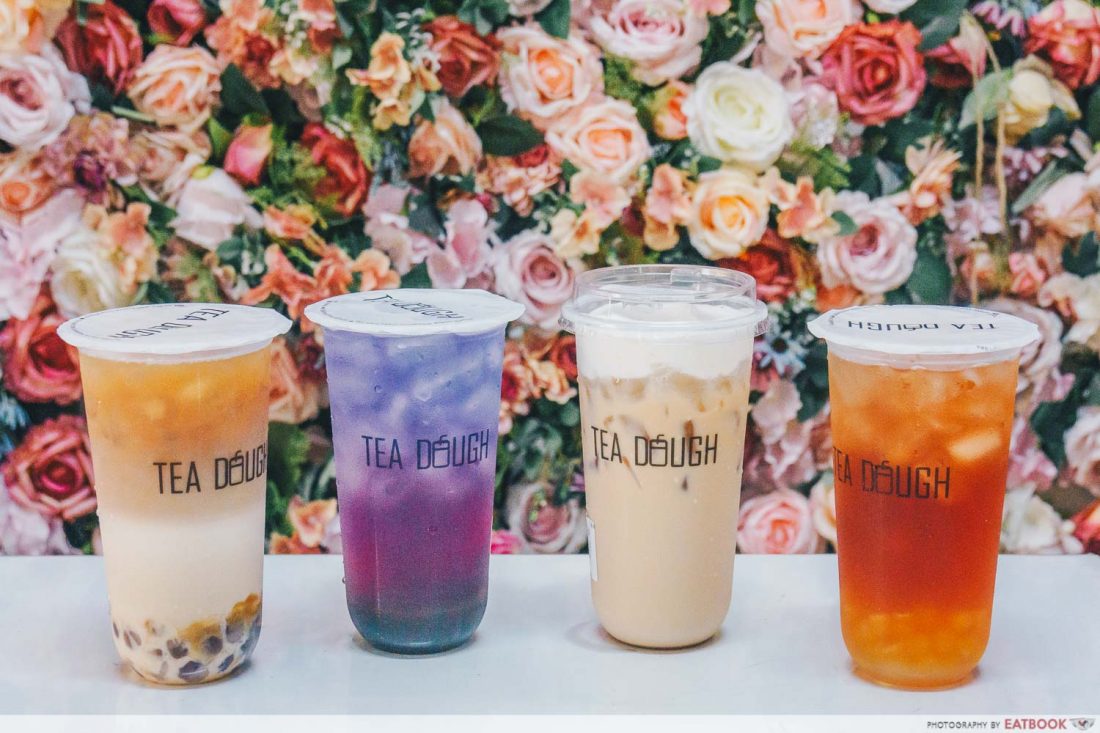 One of my hobbies happens to be sipping on a satisfying cup of bubble tea. Recently, I was delighted to discover the existence of Tea Dough, which isn't your typical bubble tea chain shop as every drink and boba pearl is made entirely from scratch here. 
Situated in Pioneer Mall, they have an extensive menu, ranging from black teas to milk tea lattes, together with unique toppings like coffee jelly and handmade mochi. Seizing this opportunity to #supportlocal, I knew I had to give them a go, with a balanced 50% sweetness for all our drinks ordered.
Rabbit & Fox Review: New Cafe With BBT And All-Day Brunch In Orchard
Drinks at Tea Dough

Hopping on the butterfly pea food trend, the Galaxy Lemon Tea ($3.20 for medium) is a refreshing mixture of their house-made lemon tea blend together with butterfly pea colouring. Upon mixing, there is an IG-worthy colour change from purplish-blue towards a more dark brown consistency that's very much like ice lemon tea. 

Ordering the drink at 50% sugar was the right choice as the drink wasn't overly sweet and the citrusy taste of the lemon gave balance to the bitter tea flavours, though the sourness was a little overpowering at times.
I'd say it's ideal to drink for a humid and sunny day, but not something I'd regularly come back for, just because I'd rather my usual drink of choice be milkier and richer.

The owner's insistence on keeping her creations innovative and different from the rest of the bubble tea stores has led to her using more premium ingredients in her drinks, as seen in the Sea Salt Caramel Milk Tea With Pulut Hitam Pearls ($6.20). 


The tea itself was satisfying because it had a distinct roasted taste that oddly reminded me a lot of Koko Krunch cereal in milk. Though the use of caramel brought a recognisable sugariness to the drink, the sea salt used helped to even it out, creating an enjoyable blend of flavours.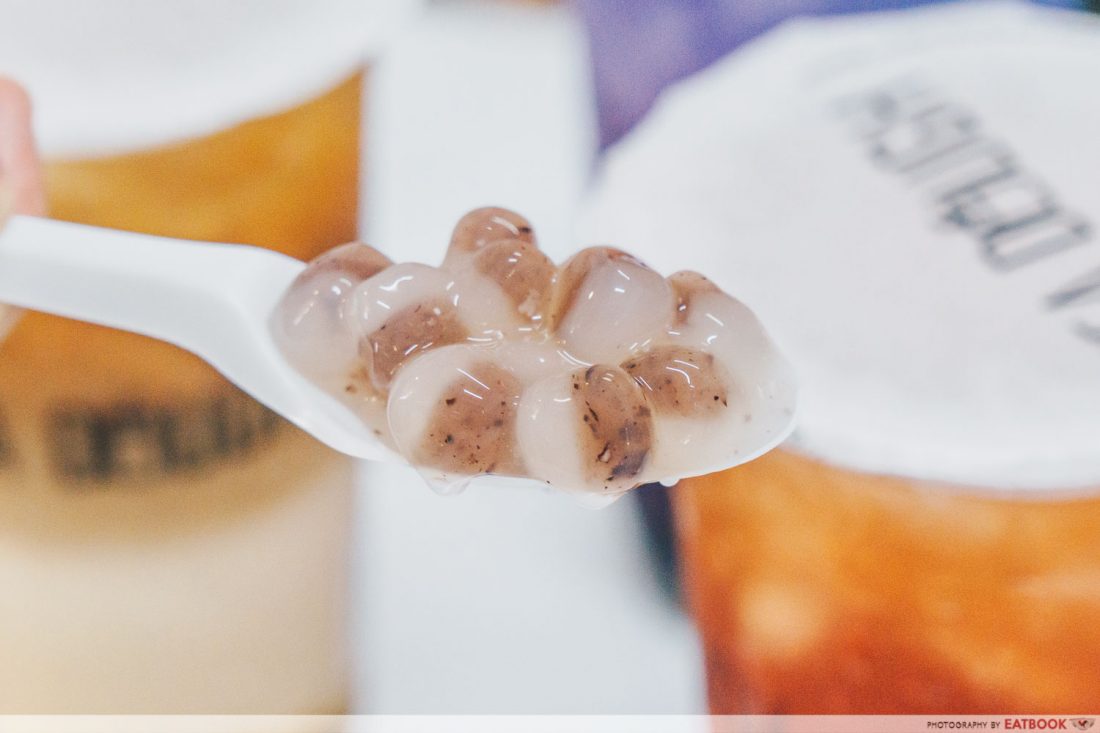 As a huge fan of Tian Yi Desserts' pulut hitam, the choice of dark purple pulut hitam pearls was clearly a no-brainer for me, and Tea Dough's version turned out chewy enough, with the discernible taste of pulut hitam. FYI, their pearl flavours are subject to change every week. Seeking to cater more to the heartlander crowd, the owner hopes to infuse mostly local flavours into her pearls, citing Pandan Kaya and Bubur Cha Cha as previous examples.

Reminding me of fruit teas found in high tea places, their Afternoon Tea With Passionfruit Konjac Pearls ($4) sure did make me feel more atas, albeit this being a colder version. This particular drink was aromatic and mildly astringent, without any bitter aftertaste. On its own, it was a brilliant thirst-quencher.

Compared to the ones found in your conventional BBT haunts, their konjac pearls were a lot softer and were a little sweeter, though I wish the fruity passionfruit taste could be more pronounced. 
This drink transported me to my primary school days, where I opted for konjac jelly instead of tapioca pearls in my Gong Cha milk tea so as to bluff myself that drinking it daily wouldn't make me fat. 

The Earl Grey Lavender Black Tea Latte With Sea Salt Foam ($6.30) evoked a sense of nostalgia of those times I was able to saunter around scenic lavender fields in Furano, Hokkaido. This especially fragrant drink was full of flowery notes, with a creaminess that wasn't cloying at all. 

I was a little sceptical of the sea salt foam at first, but the stall clearly proved me wrong as it added a dimension of saltiness that paired well with the tea blend, enough to highlight the other flavours. Honestly, if you ever decide to pop by, their sea salt foam is a must-try, especially well-paired with milkier drinks.
STEEPED Tea Bar Review: Aesthetic Tea Cafe At Bugis With Soursop Tea, Mango Latte And More
Ambience at Tea Dough

To be honest, if you happen to stay in an area that isn't the West, the pilgrimage to Tea Dough might really want to make you tidur ('tired" in Malay), particularly for Easties. A 15 to 20-minute bus ride from Pioneer MRT Station will get you here, as it is located right in the heartlands of Jurong West. 
Unfortunately, there also isn't really a seating area, as the shop is more of a grab-and-go kiosk, so don't bank on staying for too long. The interior is beautiful though, with an IG-worthy flowery backdrop, that took them about a whole week to set up. 
6 Purple Rice Yogurt Drink Stalls In Singapore To Try If You Love Yomie's Rice
The verdict

As one of the only locally-owned bubble tea shops that sell handmade pearls, Tea Dough is youthful and brings a lot of zest to a market that's often characterised as oversaturated and overhyped. I especially enjoyed their refreshing concoctions that aren't readily found elsewhere, specifically the Sea Salt Caramel Milk Tea With Pulut Hitam Pearls and the Earl Grey Lavender Black Tea Latte With Sea Salt Foam. 
I've always been a believer in supporting local businesses, so I'd urge anyone with an inclination to bubble tea to give theirs a go. I'm also looking at you, advocates for "West side is best side".
For more unique bubble tea shops around Singapore, check out our Jincha review for soju-infused bubble tea and other Korean-influenced flavours in Orchard or our BCC Tea Studio review for an underrated neighbourhood BBT shop selling IG-worthy teas at Bedok.
Address: 638 Jurong West Street 61, #01-04B, Pioneer Mall, Singapore 640638
Opening hours: Daily 10.30am to 8.30pm
Website
Tea Dough is not a halal-certified stall.
Jincha Review: New Stall Has Korean Soju Bubble Tea And Macchiato Milk Teas Near Somerset
Photos taken by Keith Kok.
This is an independent review by Eatbook.sg.
The post Tea Dough Review: Ex-Air Stewardess Sells Bubble Tea With Handmade Pearls In Boon Lay appeared first on EatBook.sg – New Singapore Restaurant and Street Food Ideas & Recommendations.