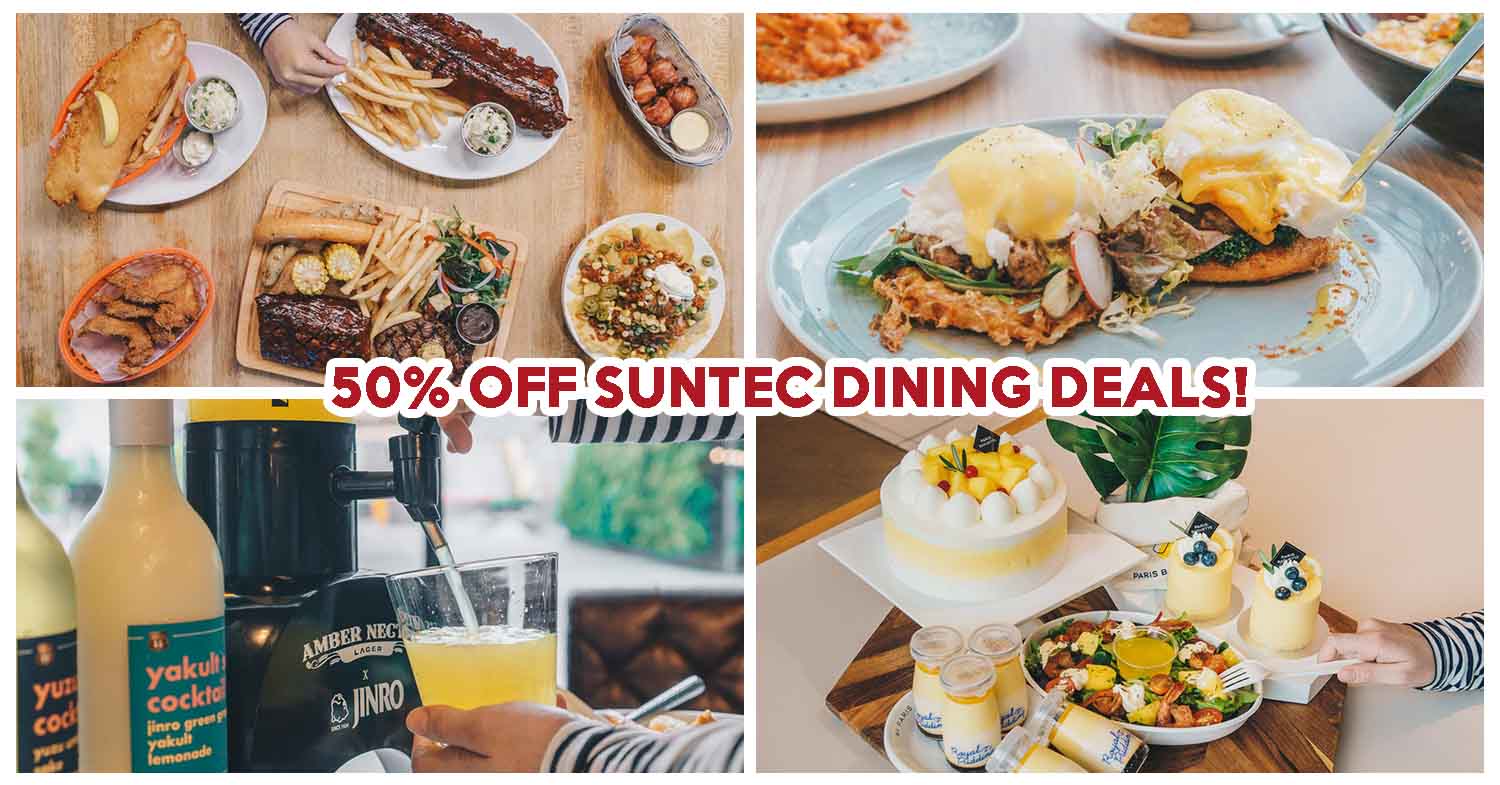 ---
Suntec City food deals
---
It's undeniable that Suntec City is one of the largest malls in the city centre, and with that comes a dizzying array of dining options. We've previously explored those in our Suntec City food guide, as well as our Suntec City Japanese food list, but here's some new dining lobang to share: apart from being spoilt for choice on what to eat on-site, visitors to Suntec City in the month of March can also look forward to affordable dining, with discounts of up to 50%. 
As part of the mall's Amazing 50% E-Voucher Sales exercise, customers can anticipate stretching their dollars with $20 dining e-vouchers being sold for just $10 on the Suntec+ app. Redeemable from Mondays to Fridays till 31 March 2021,  there are 11 different deals to choose from, which will be released in batches on 8 March and 15 March, respectively. 
To help you decide which deals to purchase, we've rounded up some of the qualifying restaurants and what you can expect to feast on with the half-priced vouchers.
Note that all e-vouchers mentioned below will be released on 8 March at 10am on the Suntec+ app under the tab "Flash Sale". These are limited to 100 quantities per deal.
---
1. Tim Ho Wan
---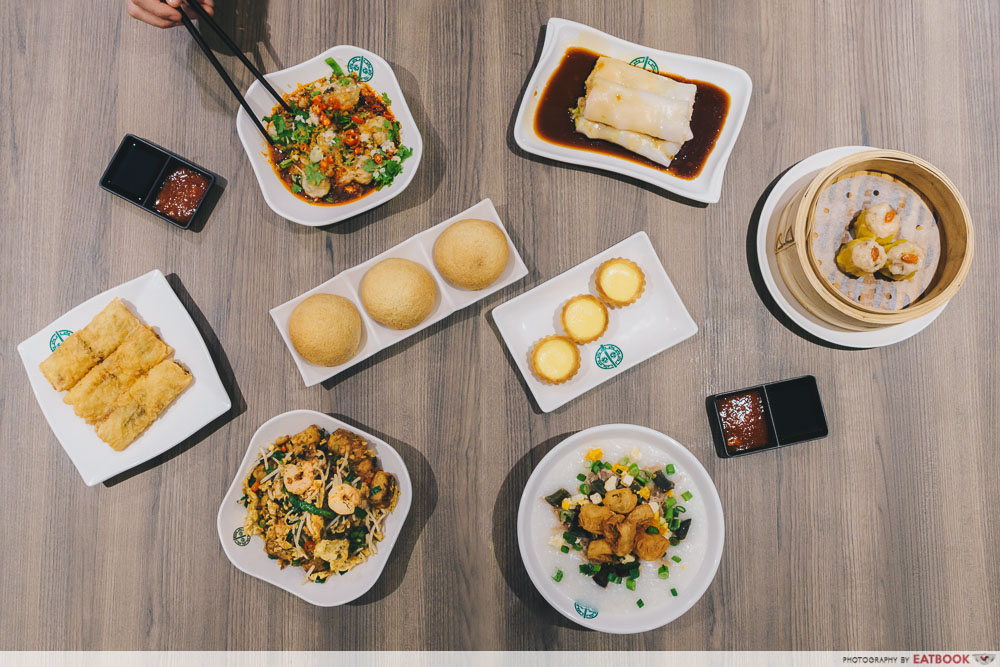 Get really affordable meal bundles with your $20 e-voucher at Tim Ho Wan, a perennial favourite for dim sum and cha chaan teng-style fare. You can mix and match different items and still keep to the budget.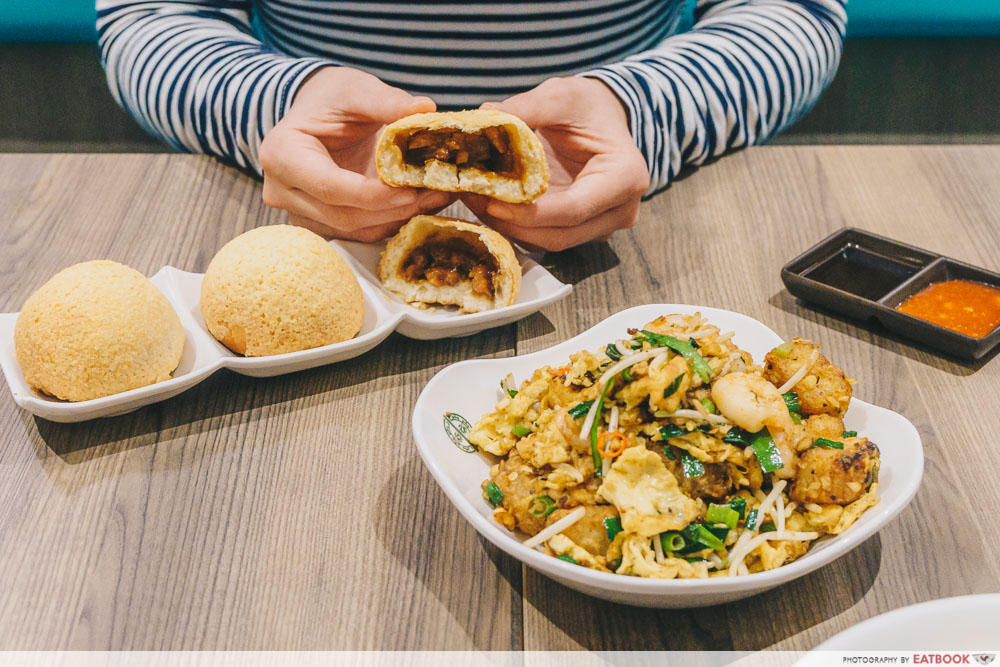 An easy combination to satisfy your post-shopping munchies would be to pair their iconic Baked BBQ Pork Buns ($7++) with their Fried Radish Cake with Shrimps ($10++). The char siew buns have a crumbly crust similar to polo bao, and come served in threes. The radish cakes are crisp, with chunks of sweet prawns and wok hei for flavour. Both are great for sharing with your shopping kakis.
For a full-on meal, you can get a bowl of their Pork Congee with Century & Salted Eggs ($6.80++), and enjoy it alongside dim sum bites such as the Pork & Shrimp Siew Dumplings ($5.50++), and Fried Beancurd Skin with Shrimp ($6.80++). The former is Tim Ho Wan's siew mai, a hot favourite amongst diners thanks to the use of juicy prawn rounds in the filling. In total, this combination will set you back $22.50++, though with the e-voucher, you're only forking out $2.50++ from your own wallet—a total steal.
Unit number: West Wing, #02-389
Opening hours: Mon-Fri 11:30am to 3pm, 5pm to 8:30pm, Sat-Sun 11am to 9pm
Website
---
2. Soup Restaurant
---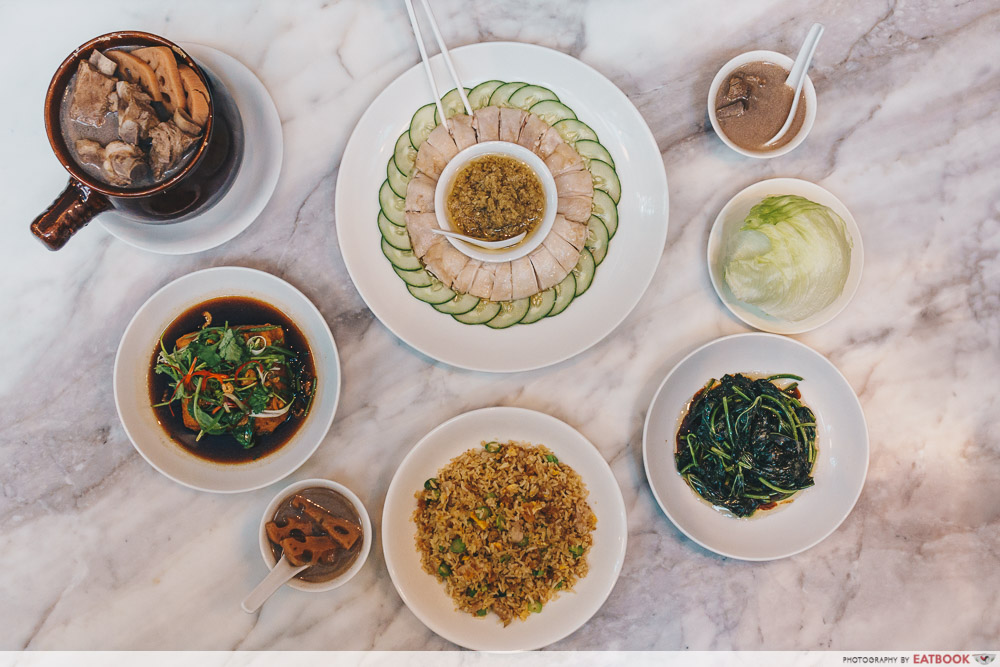 Soup Restaurant is a great choice for family dinners or special occasions, especially if you'd like to treat the fam to Chinese fare. Most of the dishes come at under $20, and one you cannot miss is the Samsui Ginger Chicken ($19.90++).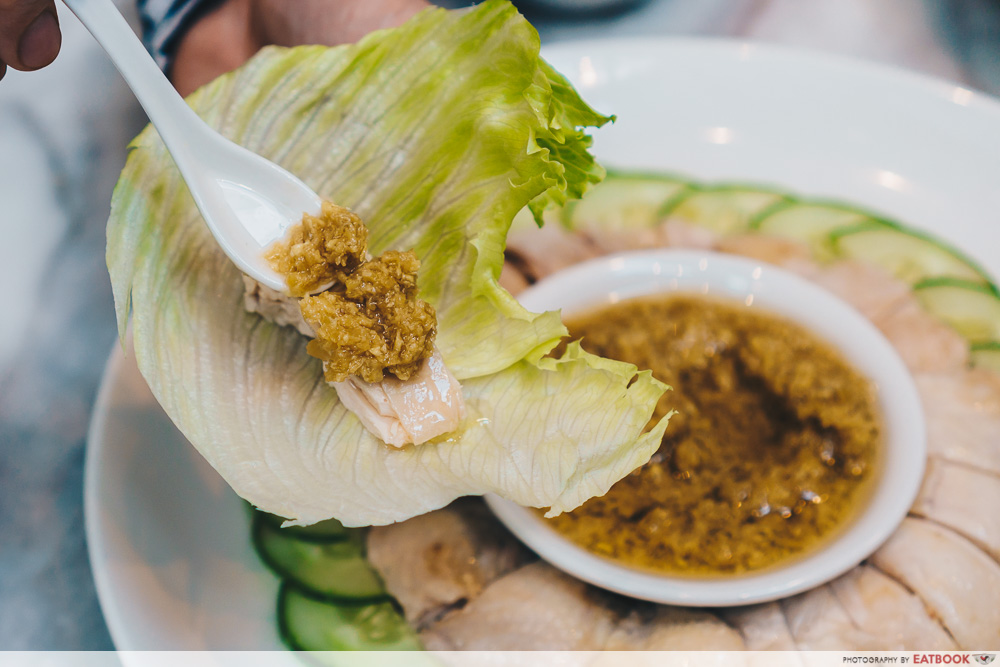 A platter of steamed chicken slices are served with a round of lettuce, and a ginger-sesame-oil sauce. Wrap the chicken in the lettuce leaves and top it with some of the piquant sauce to start off the meal. The punchy ginger plays off the juiciness of the chicken, while the lettuce leaves bring on the crunch.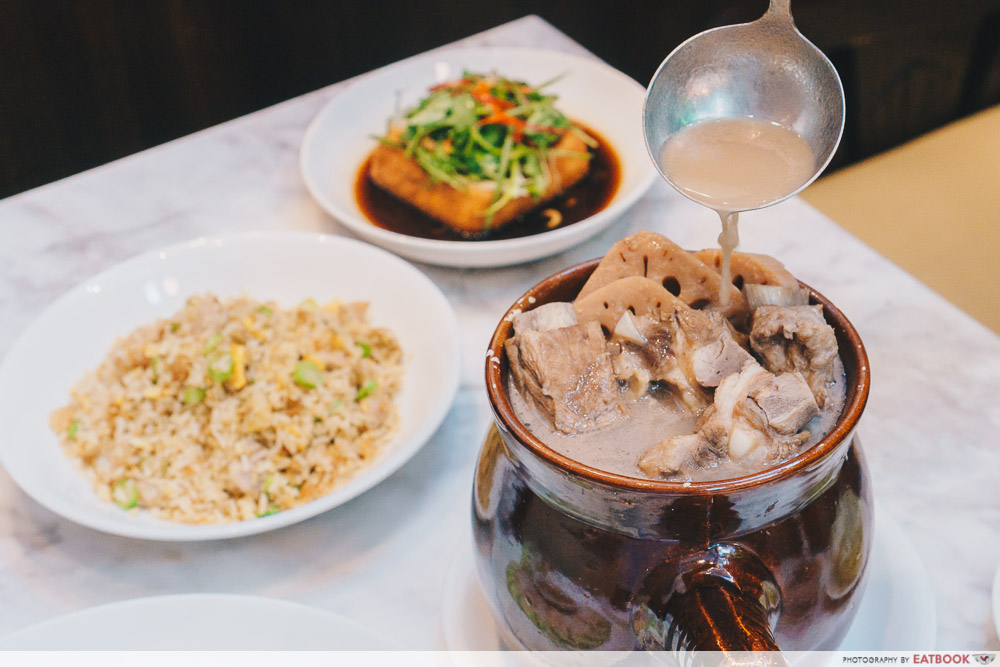 Other favourites include the Traditional Boiled Soup of the Day ($17.50++), of which we had a hearty pork ribs and lotus root brew. For carbs, the Ah Por Ginger Fried Rice ($13.50++) sees the same ginger sauce fried with rice, and a simple medley of chicken, egg, and vegetables. Fragrant from the double dose of ginger and wok hei, this fried rice is a comforting crowd pleaser.
Unit number: West Wing, #B1-127
Opening hours: Mon-Fri 11:30am to 2:30pm, 5:30pm to 10pm, Sat -Sun 11:30am to 10pm
Website
---
3. Morganfield's
---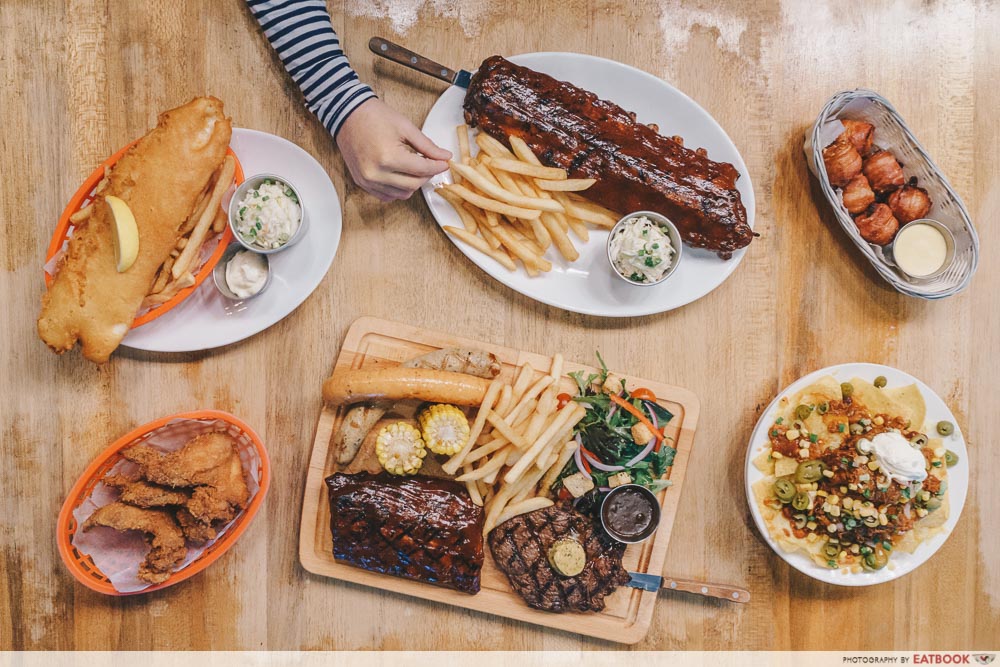 Those craving American-style barbecue can head down to Morganfield's, where baby back ribs, steak platters, sausages, and more line an extensive menu. Purchase the $20 e-voucher at $10 and get $20 off some of Morganfield's signature dishes.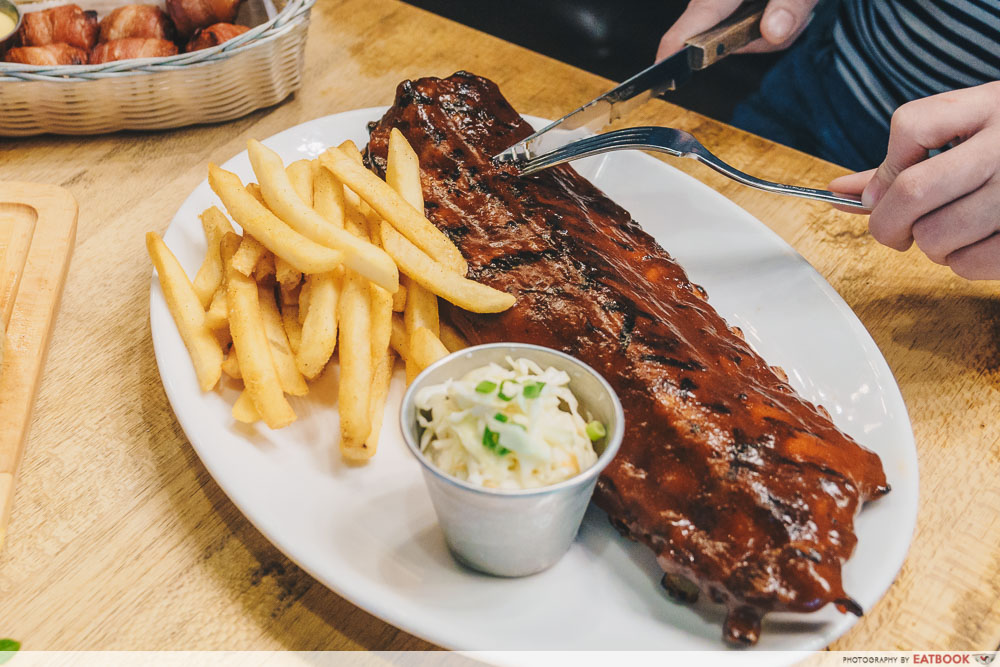 We highly recommend their Hickory BBQ Baby Back Ribs ($35.90++ for a full slab), where hearty pork ribs meet a sticky-sweet barbecue sauce to fall-off-the-bone-tender ends. Each order of a full rack of ribs also comes with fries and coleslaw. A portion is great for sharing too, so you can really stretch your dollar.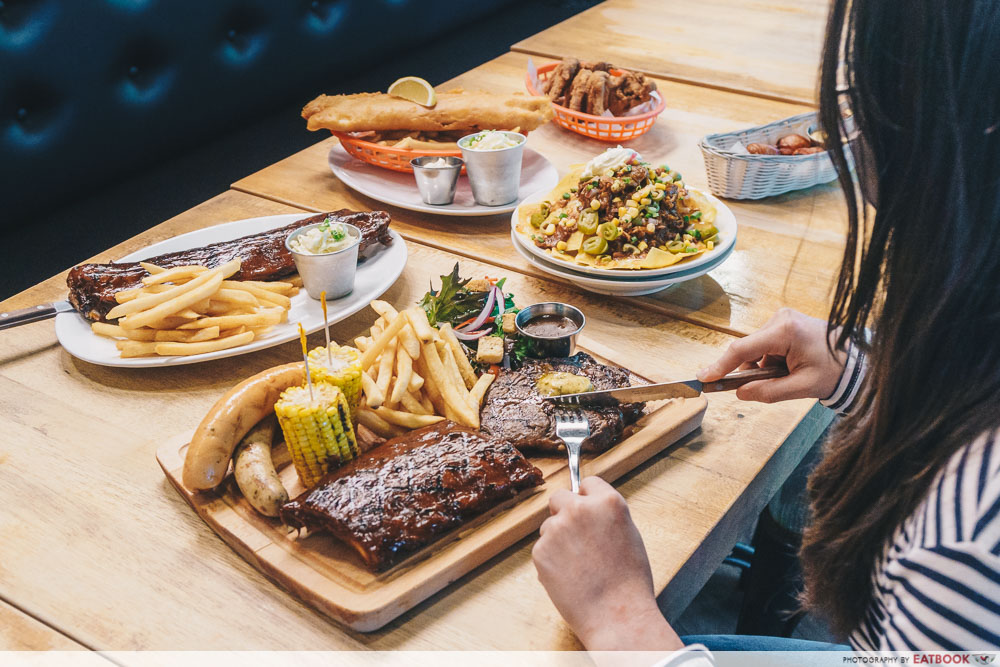 Those feeding a bigger crowd can opt for The Steakout ($68.90++). This huge platter easily feeds three to four, with a 300g ribeye steak, half a slab of their signature barbecued ribs, two grilled sausages, garden salad, corn on the cob, and fries. Alternatively, bites under $20 like their massively portioned Beer-Battered Fish Fillets ($19.90++) ensure you only pay GST and service charge off the base price to enjoy a full meal.
Unit number: East Wing, #01-645
Opening hours: Sun-Thurs 11am to 10pm, Fri-Sat 11am to 11pm
Website

---
4.
tcc – The Connoisseur Concerto
---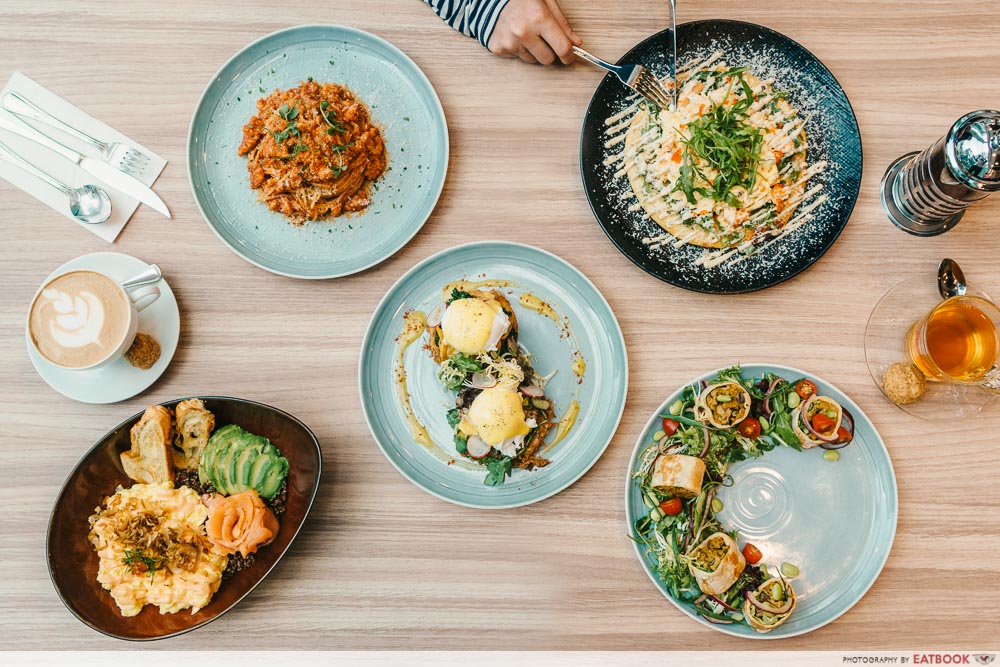 Those in the area looking for brunch options can look to tcc – The Connoisseur Concerto and their brand-new menu specials, and get $20 off with the deal e-voucher. Brunch staples like eggs benedict and pancakes get upgrades in the form of dishes such as Steak & Eggs Benedict ($19.80++) and Scrambled Egg & Salmon Pancake ($15.50++).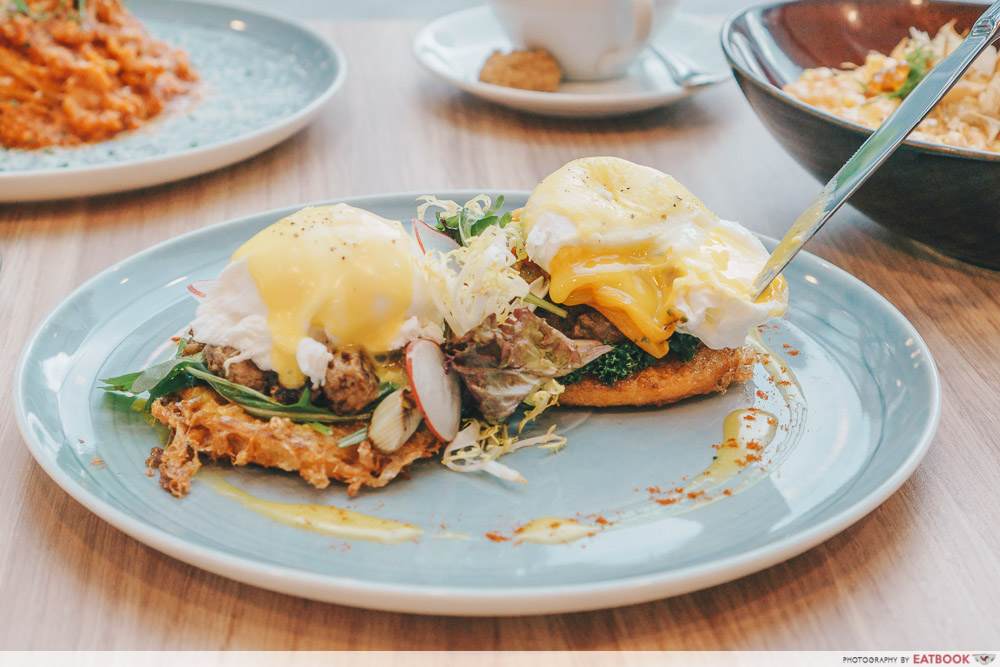 We heartily recommend the former if you're an eggs benedict fan. The dish sees petite wagyu hamburg steaks topping French toast-style English muffins, which are then crowned with two perfectly poached eggs. The wagyu and muffins made for a crispy and tender duet, while the molten yolk from the poached eggs bumped up the creaminess of the hollandaise sauce.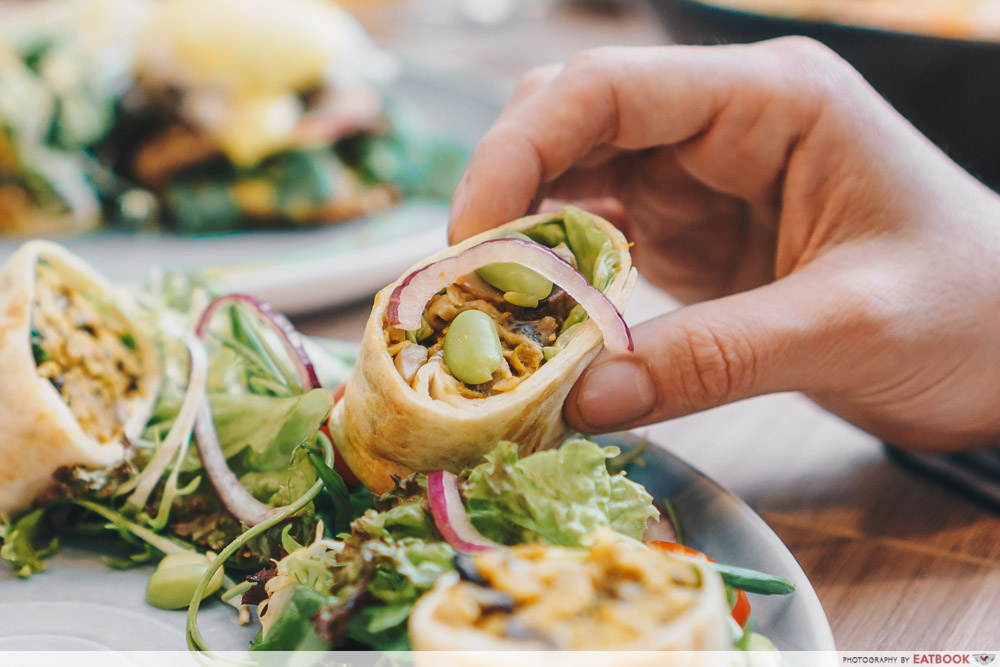 Plant-based dishes are also available, made with PHUTURE "meat". Of these, we tried the Hot Mustard PHUTURE Meat And Mushroom Wrap ($16++), with a distinct Mediterranean spice colouring each bite.
Unit number: East Wing,  #01-604
Opening hours: Daily 10am to 9pm
Website
---
5. Route 65 Bar + Kitchen
---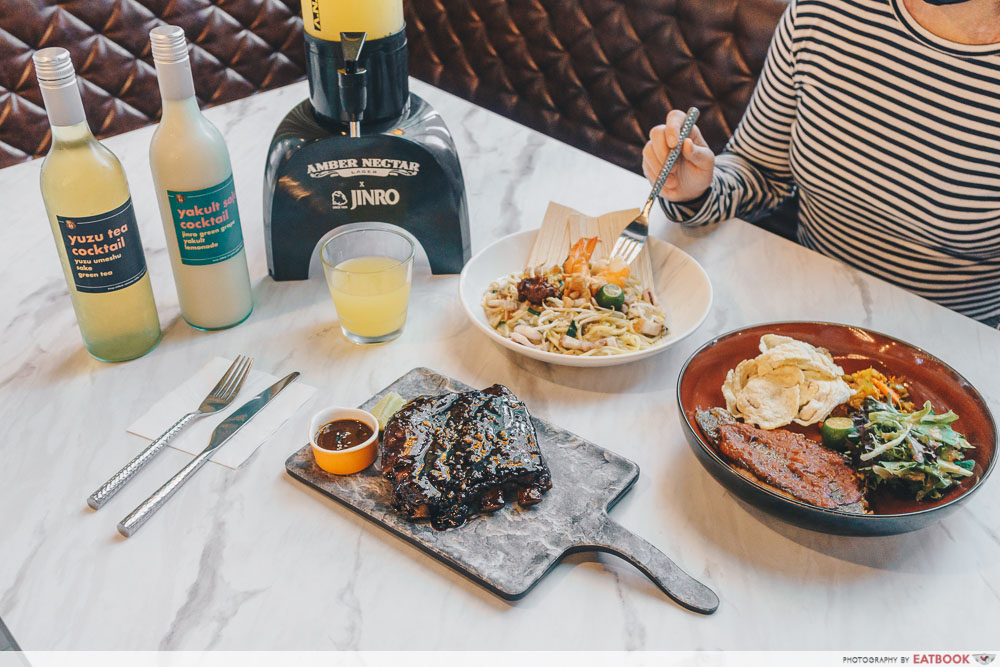 If you work in or near Suntec City, you have to make Route 65 Bar + Kitchen your after-hours haunt. The spacious gastro-bar has a healthy selection of Asian-fusion bites and drinks to help you unwind.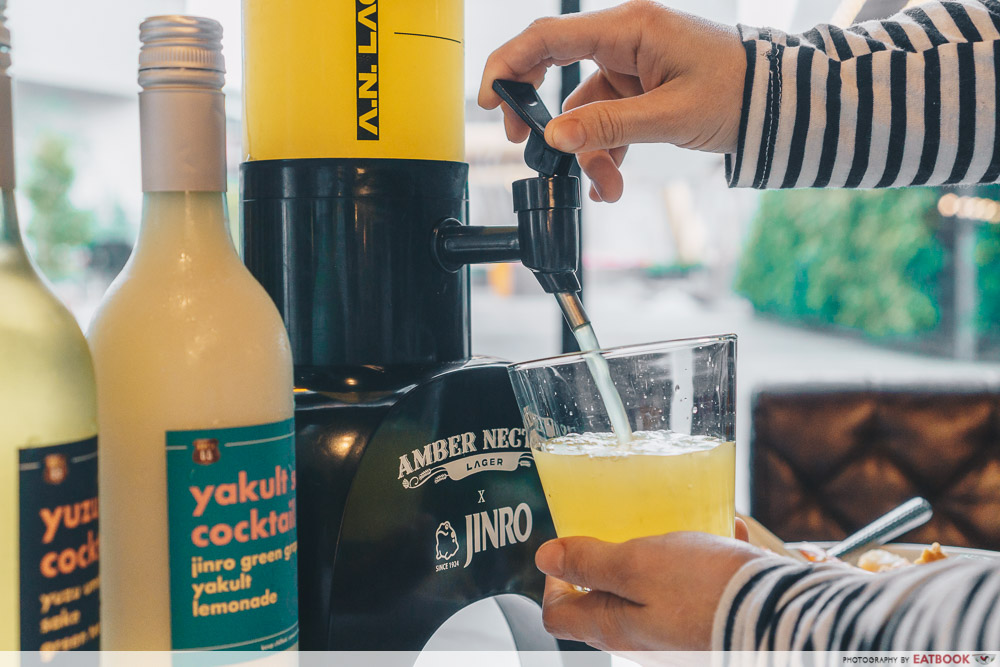 Favourites include their dangerously drinkable Soju Sangria ($55++), which comes with a full bottle of soju, citrus fruits and juices, or their housemade bottled cocktails. The Yakult Soju ($30++ for 750ml) and Yuzu Tea ($35++ for 750ml) cocktails are both made with soju as a base, though the thirst-quenching sweetness of each drink masks the alcoholic bite.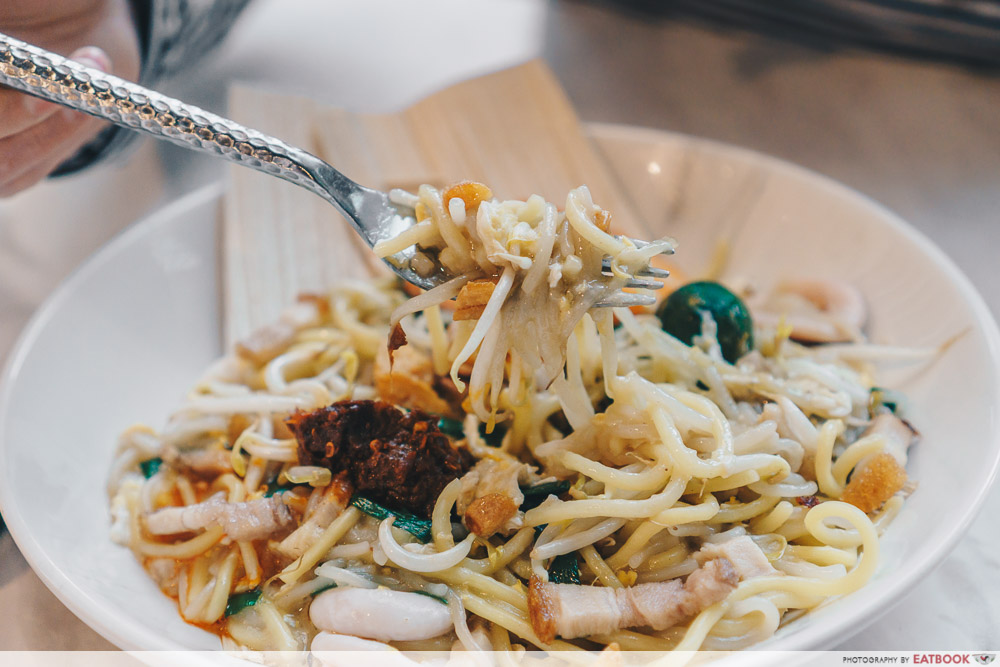 While the drinks are a highlight, be sure to line your stomach first with Route 65's food menu. Their Signature Hokkien Mee ($16++) is what they are best known for. Each serving comes with thick, whole prawns, pork belly slices, and wok hei noodles that mesh well with the sambal belacan made in-house. Otherwise, bites like the Sambal Sea Bass ($18++) and St Louis Pork Ribs (from $21++ for 500g) are also good for sharing. 
Sweeten the blow on your wallet at the end of the night with the $20 e-voucher deal too!
Unit number: North Wing, #01-434
Opening hours: Daily 11:30am to 10:30pm
Website
---
6. Paris Baguette
---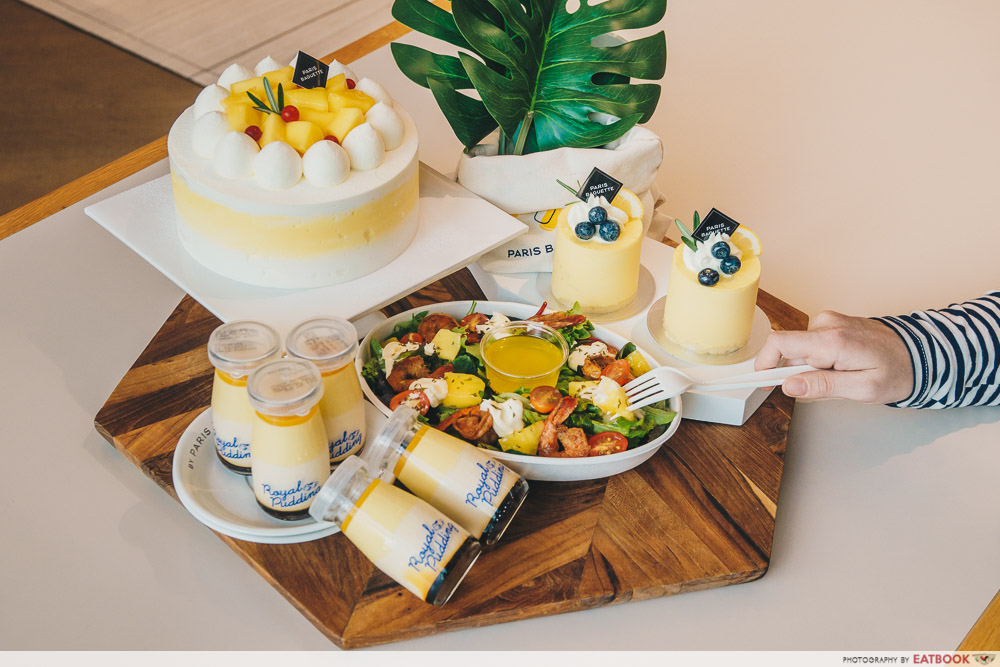 Paris Baguette's Suntec City outlet is a bright, cosy cafe to seek respite at, be it for a cup of coffee, dessert, or light bites. For the latter, the brand has launched a brand new Tropical Paradise Mango series, with four new menu items starring the fruit.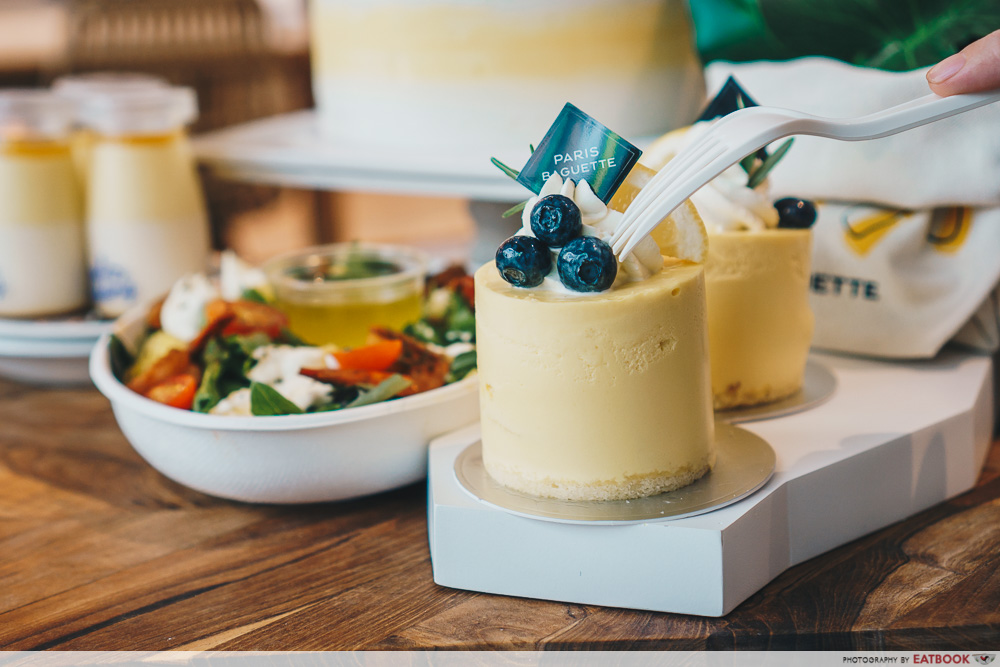 Use your $20 e-voucher on items like the Mango & Lemon Shortcake ($8.90), a delicate, layered mousse cake filled with lemon curd and a light sponge round. Their cult Royal Pudding gets a mango twist as well, so you definitely should try to get their hands on the Mango Royal Pudding ($4.80) when you visit—we hear it's sold out often.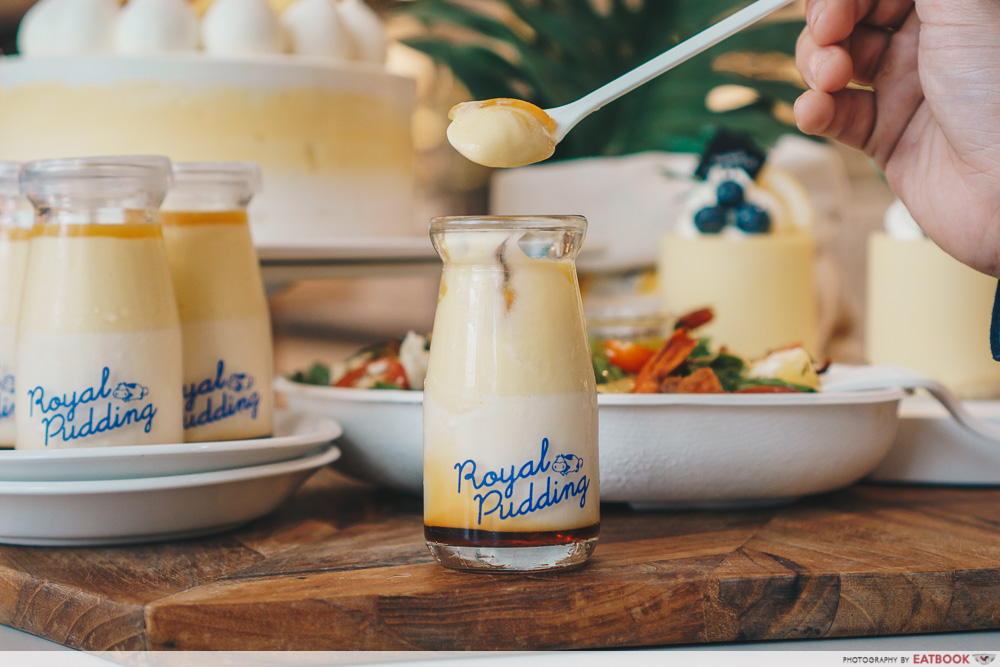 On the savoury front, the refreshing Mango & Shrimp Salad ($11) sees a bed of greens topped with paprika-spiced prawns that play off the juiciness of freshly cut mango cubes. Tossed with a lemon dressing and honey cream cheese, this is an easy choice for a quick meal. Alternatively, if you're celebrating a birthday, use your e-voucher to get your hands on the Fresh Mango Yoghurt Cream Cake ($52) with just a top-up of $32!
While the Tropical Paradise Mango items are seasonal and only available till 28 March, you can still use your Paris Baguette voucher for all other menu items, until 31 March.
Unit number: Fountain Court, #B1-165
Opening hours: Sun-Thurs 8am to 8pm, Fri-Sat 8am to 9:30pm
Website
---
Suntec City March food deals
---
Suntec City is a world unto its own when it comes to food, with options to satisfy literally every craving. Incentivise yourself to head down by purchasing any of their $20 dining e-vouchers for just $10 in the month of March, and save money while you're at it. 
Deals can be purchased on the Suntec+ app, which you can download on the App Store and Google Play Store. Apart from being a platform to purchase deals tied to over 360 merchants in Suntec City, the app also allows you to accumulate points while you spend, which you can eventually redeem for more e-vouchers, member's only deals, and birthday discounts. 
Photos taken by Pichan Cruz.
This post is brought to you by Suntec City.
The post Suntec City Has 50% Deals Off Tim Ho Wan, Soup Restaurant, Morganfields And More Till March 2021 appeared first on EatBook.sg – New Singapore Restaurant and Street Food Ideas & Recommendations.