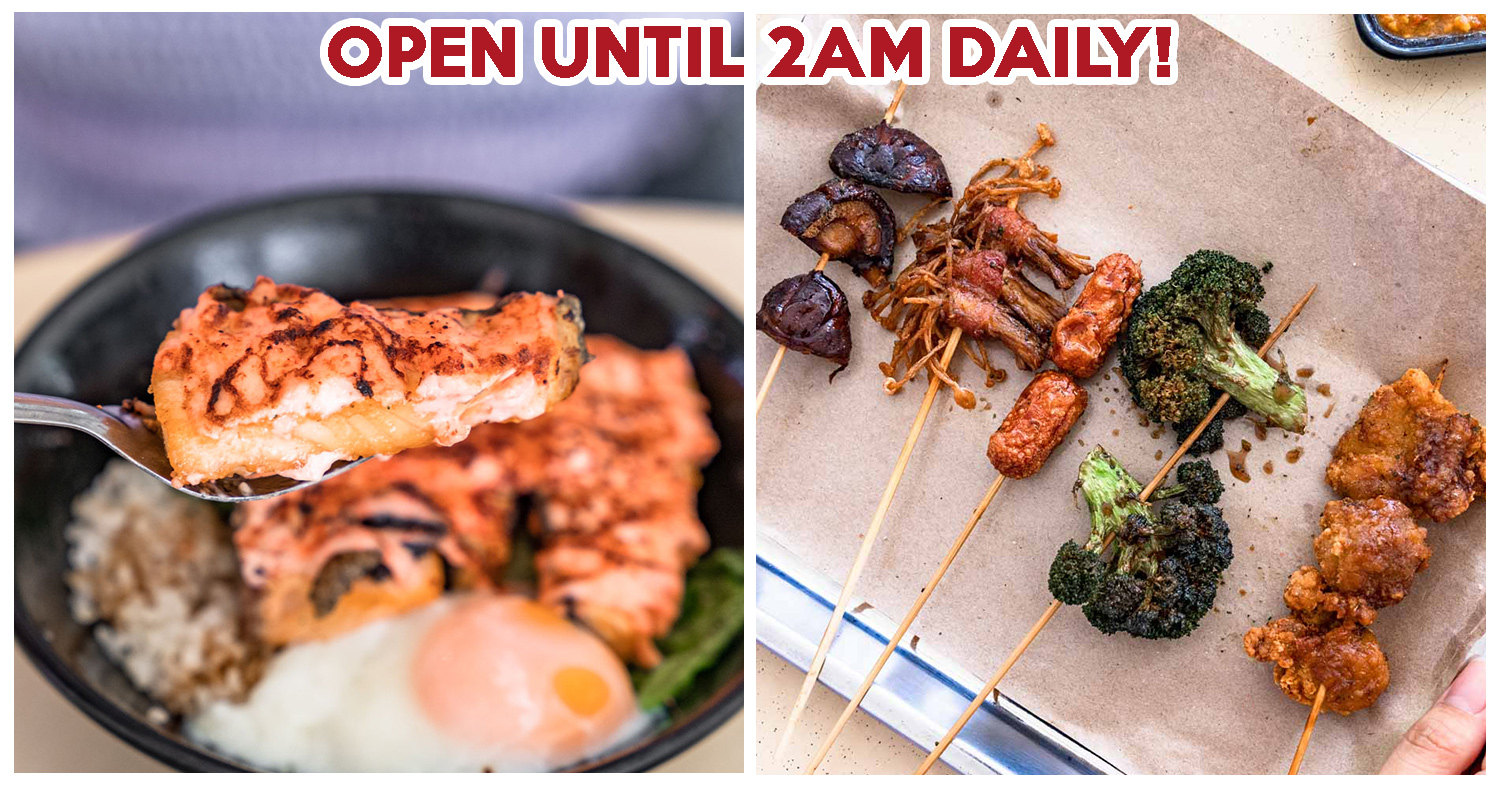 Sticks 'N' Bowls in Tampines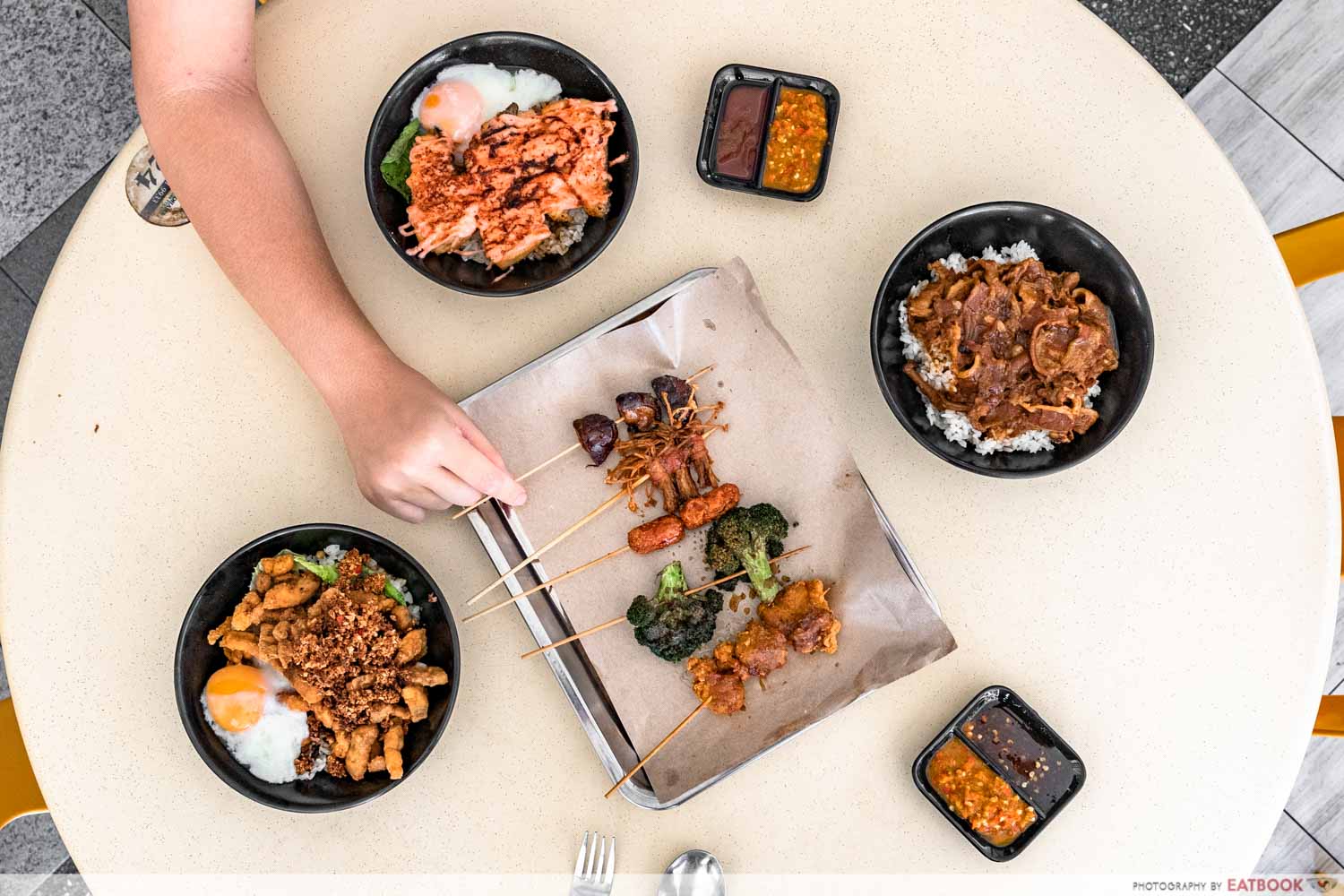 Let's be honest—surviving in the hawker industry isn't easy, with its long working hours, backbreaking work, and immense competition. That's why I'm always heartened by young hawkers who decide to join and toughen it out, such as the trio behind Sticks 'N' Bowls, a coffee shop stall in Tampines selling donburi and lok lok.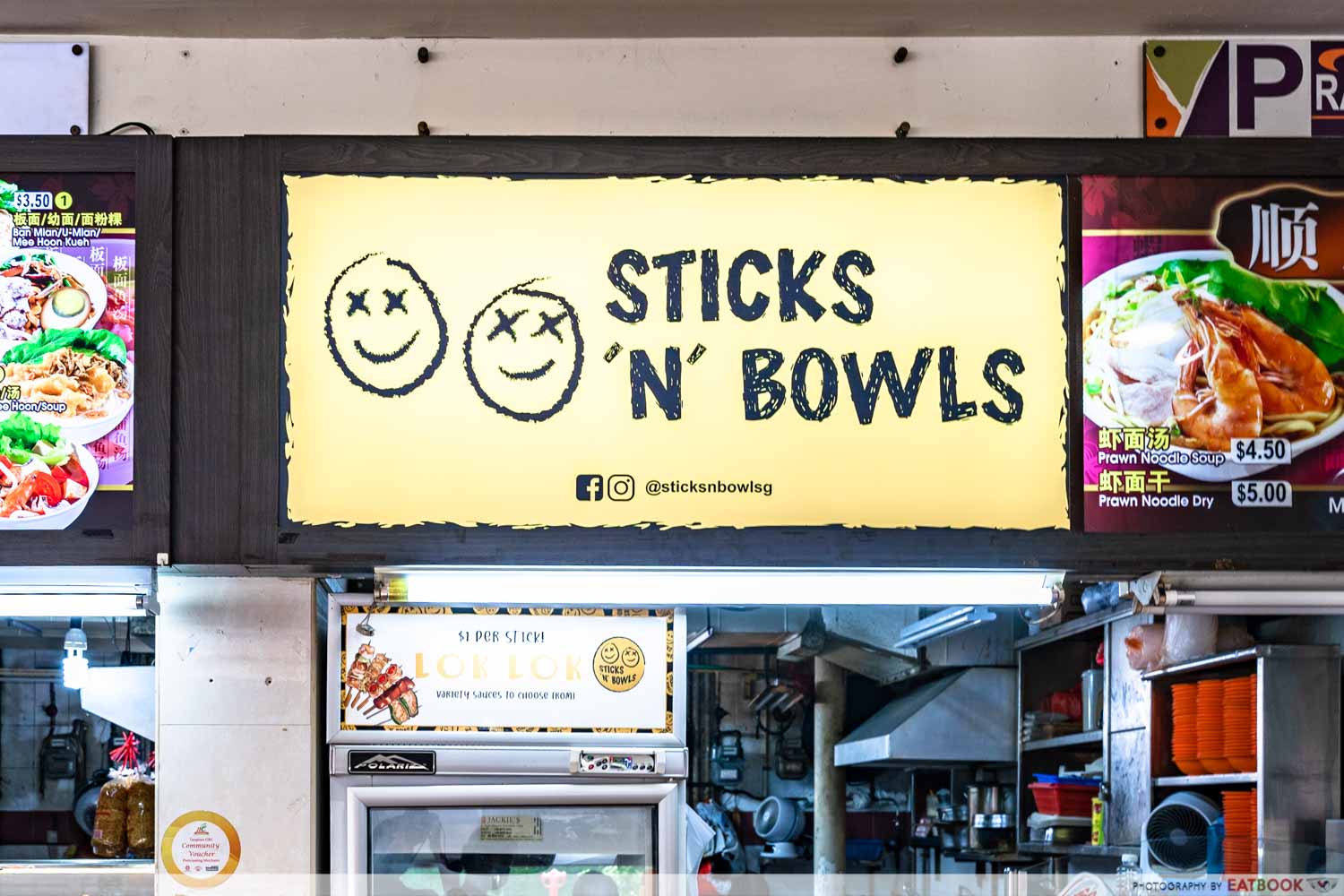 Sticks 'N' Bowls was started by Arnold, Nicky, and Raeann, all of whom are only in their early twenties. This new venture was a result of their unsuccessful job hunt during the circuit breaker, and their cravings for JB lok lok, which remains unavailable as we can't cross the border anytime soon. We spoke to Nicky, who has a strong passion for cooking, inspired by his hawker parents. Raeann, a culinary student, was later roped in to help with the donburi curation. Heartened by their story, I was eager to dig into the food.
10 Lok Lok Places In Singapore To Feel Like You're In JB, Including Free-Flow And Mala Skewers
Food at Sticks 'N' Bowls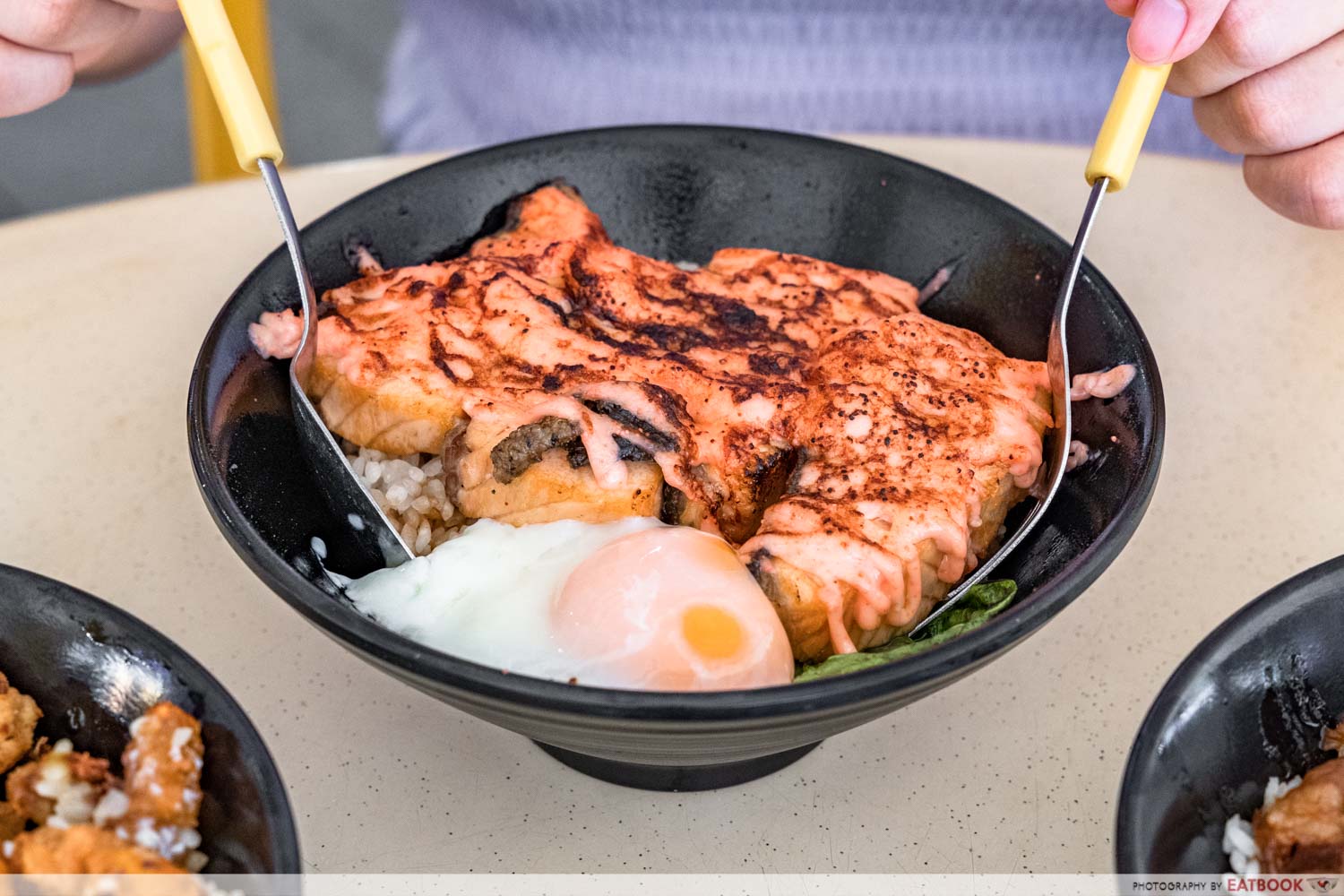 We started our meal with the Mentaiko Salmon Rice Bowl ($8.50), which gave us a bang for our buck, with three hearty slabs of fried salmon, slathered with mentaiko sauce, on a bowl of rice.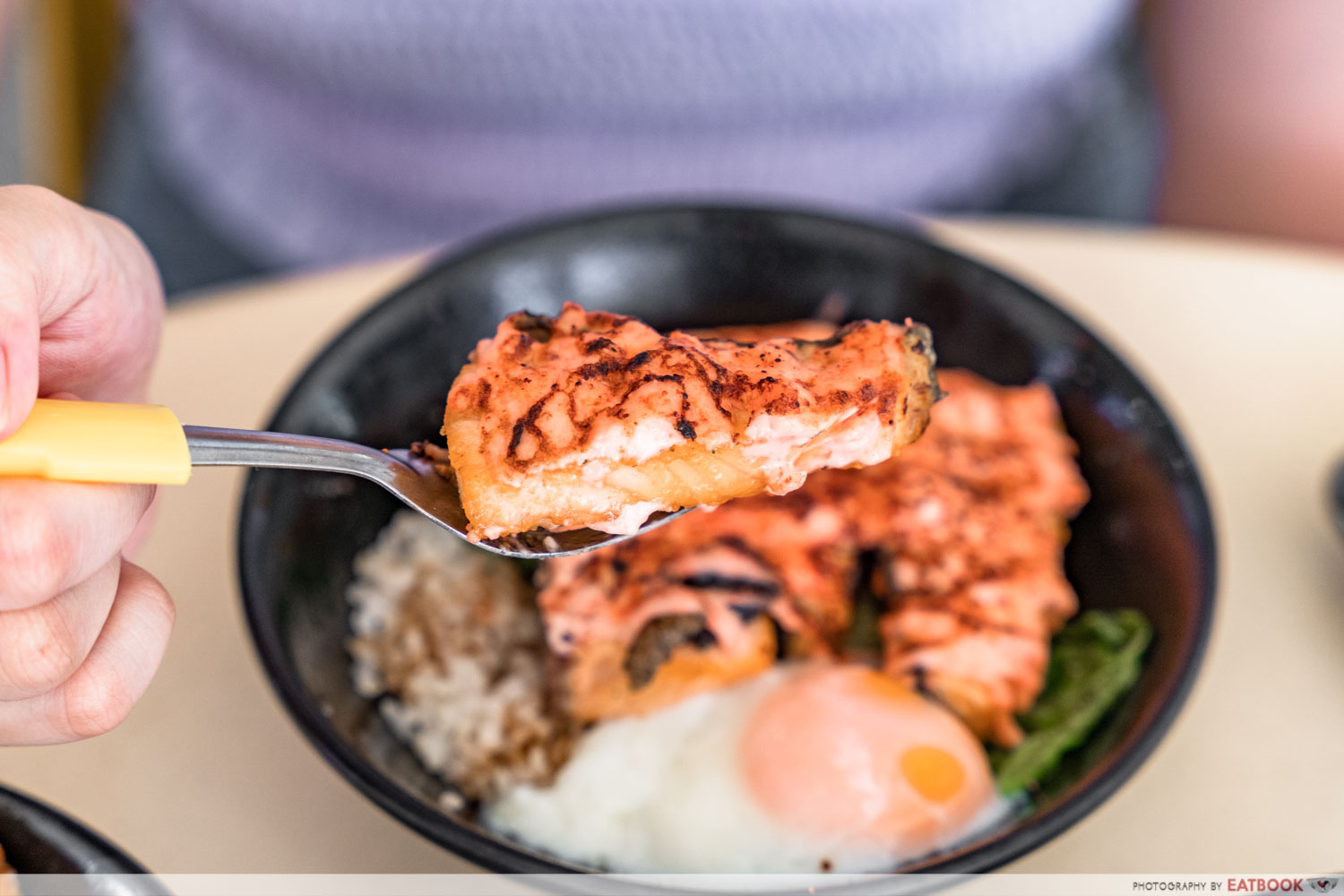 Where I would have preferred my fish to be melt-in-the-mouth, the salmon here was a touch overcooked. Still, the portion was generous, and I liked that it retained a crisp exterior. I also enjoyed the mentaiko sauce, which was creamy and umami, leaning towards the savoury side.
Meanwhile, I found the rice a tad undercooked, and hard to bite through. This was the case for all the rice bowls we tried that day, though it might have been a one-off situation.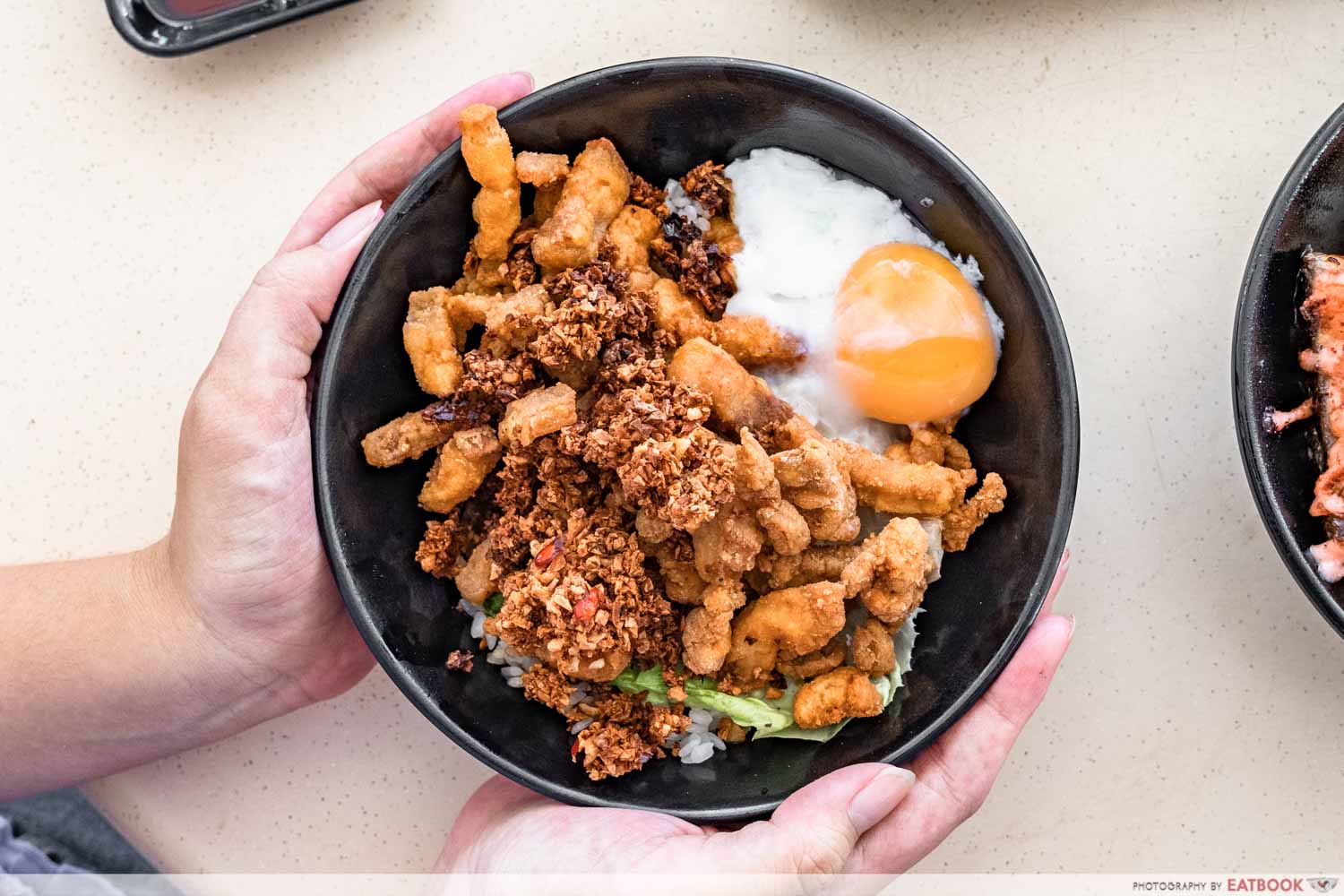 The next donburi on our list was the Garlic Pork Belly Rice Bowl ($5), which you can opt for in original or spicy. We chose the latter and topped up $1 for an onsen egg. This came with a heap of deep-fried pork belly and garlic chips, with visible chilli flakes thrown into the mix.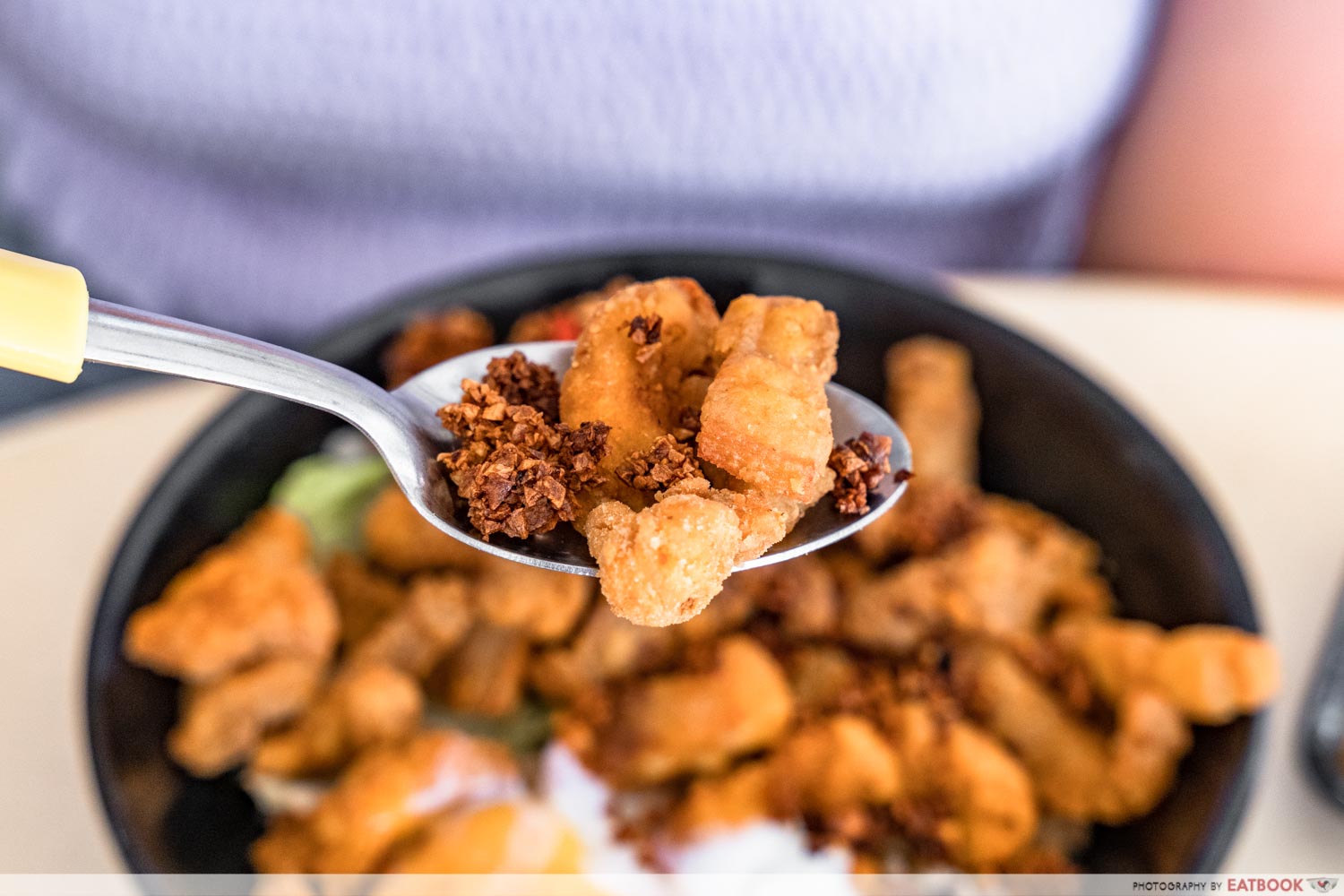 This rice bowl reminded me of a moo tod gratiem, the Thai crispy garlic pork dish. I especially enjoyed the fried garlic, which was immensely fragrant, flavouring the meat. While the pork belly was fried to a crisp, it was still satisfying to bite into, with chewy fat laced throughout the meat. However, I personally felt this dish lacked heat, in spite of the chilli flakes, but this can easily be remedied with more, according to your spice preference.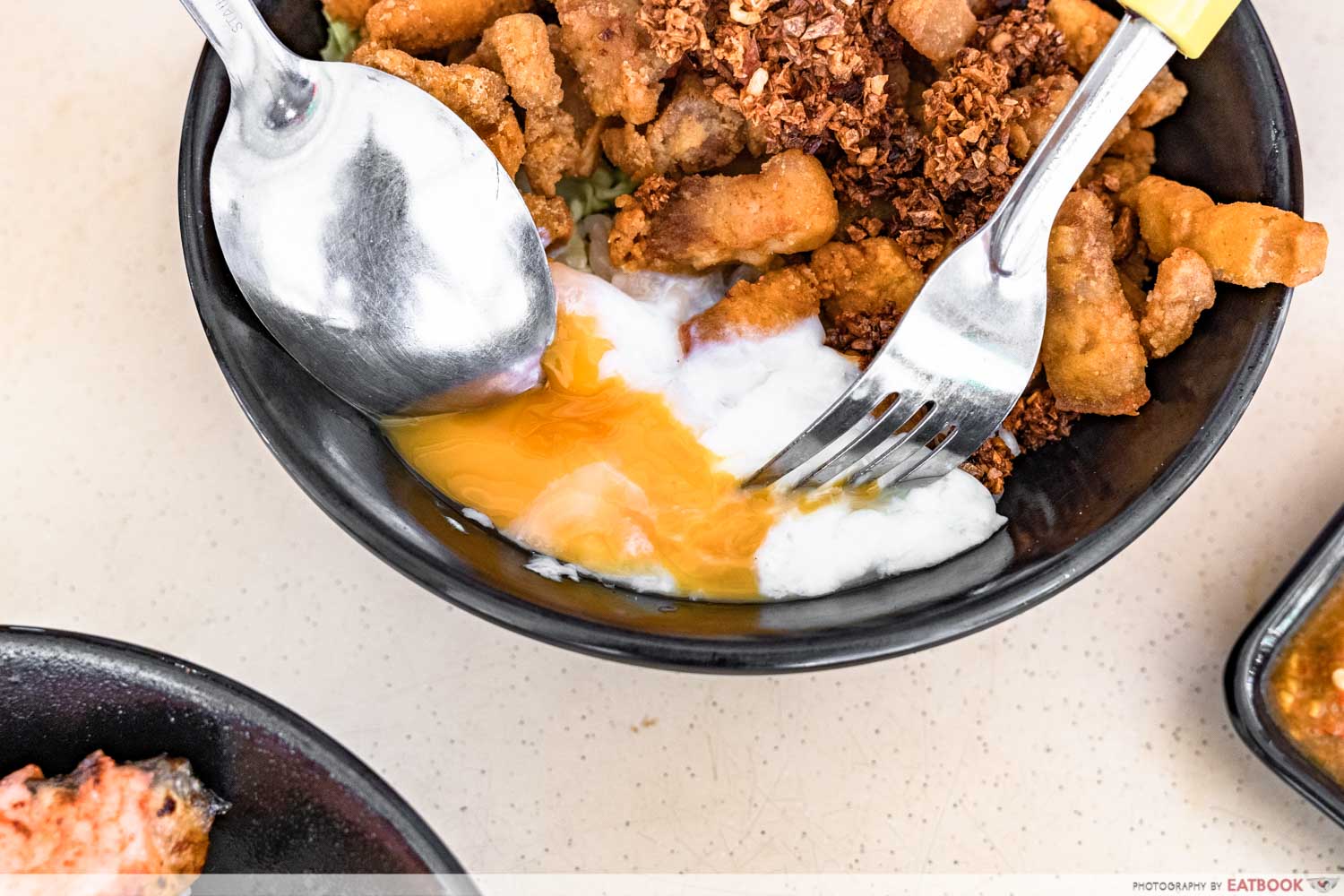 The addition of an oozy onsen egg gave the rice bowl a creamy finish, a textural contrast against the crispy pork.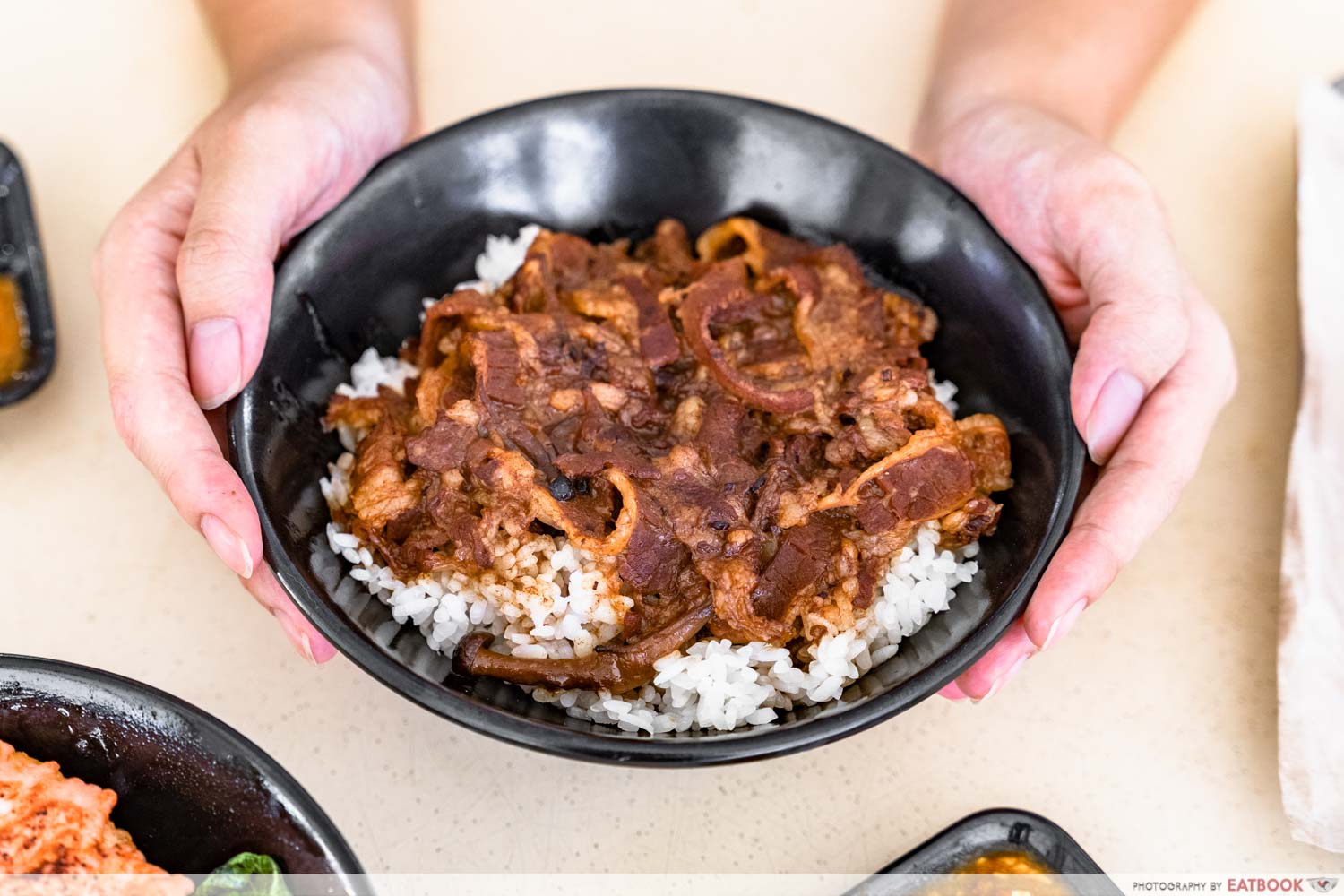 The last of our rice bowls was the Beef Shortplate With Mushroom Rice Bowl ($6), which came with a mountain of stir-fried beef short plate and shimeji mushrooms.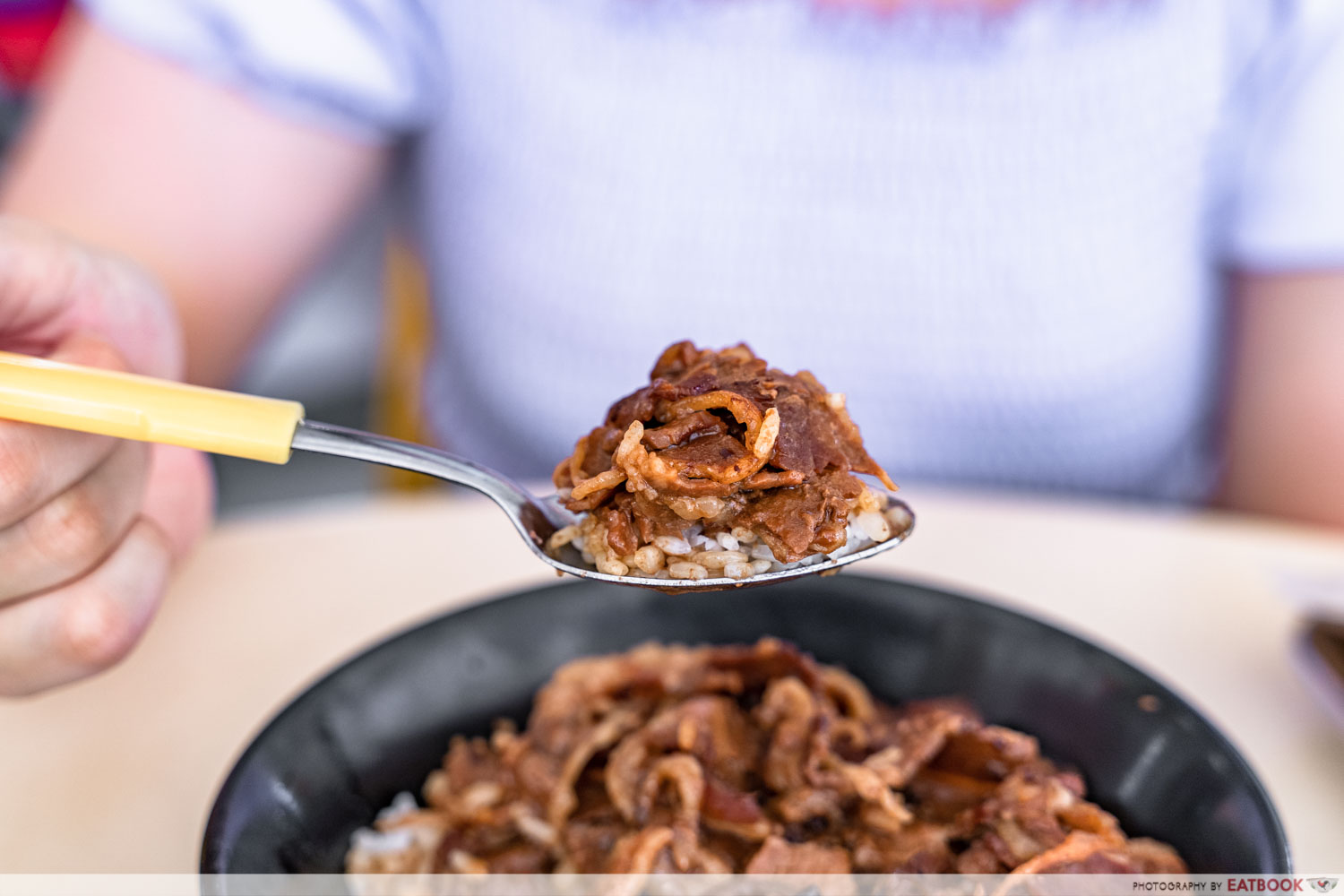 This dish was essentially a gyudon, with short plate cooked in a familiar-tasting, savoury-sweet sauce. The beef fell between tender and chewy, and I liked that it wasn't too tough. On the other hand, the mushrooms were few and far between, and I would have preferred more to distract from the heap of meat.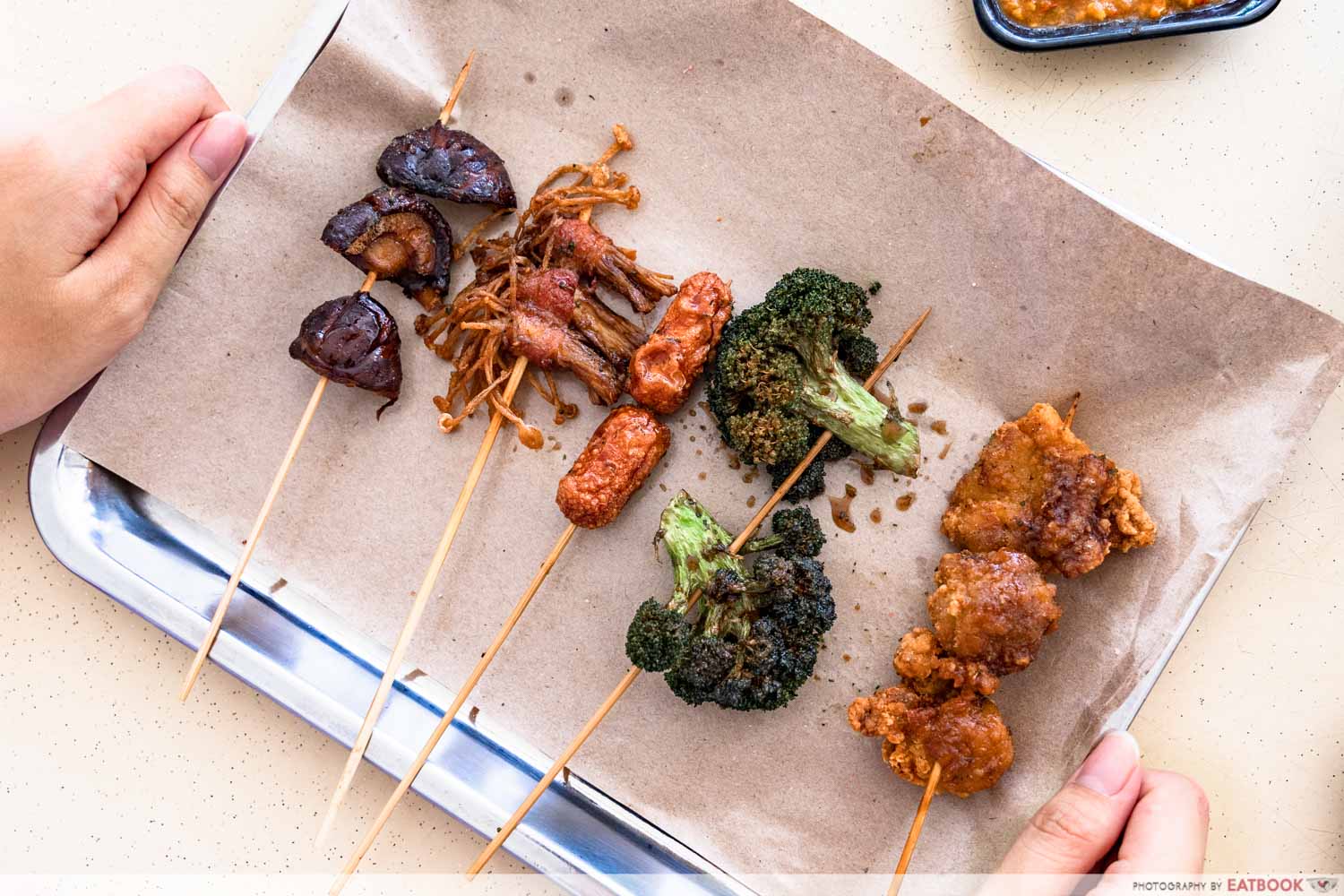 We had to finish with an assortment of Lok Lok ($1 per stick), a tribute to the times when we could hop over to JB without batting an eyelid. For the lok lok, I chose a mishmash of processed items and vegetables. These were generally well-fried, and coated in an addictive seasoning. I liked that they weren't too greasy as well, a gripe I personally have with most lok lok stalls. 
If you'd like more flavour in your lok lok, there is a trio of sauces to dip into—their house-made chilli sauce, a Thai chilli sauce, and a peanut sauce.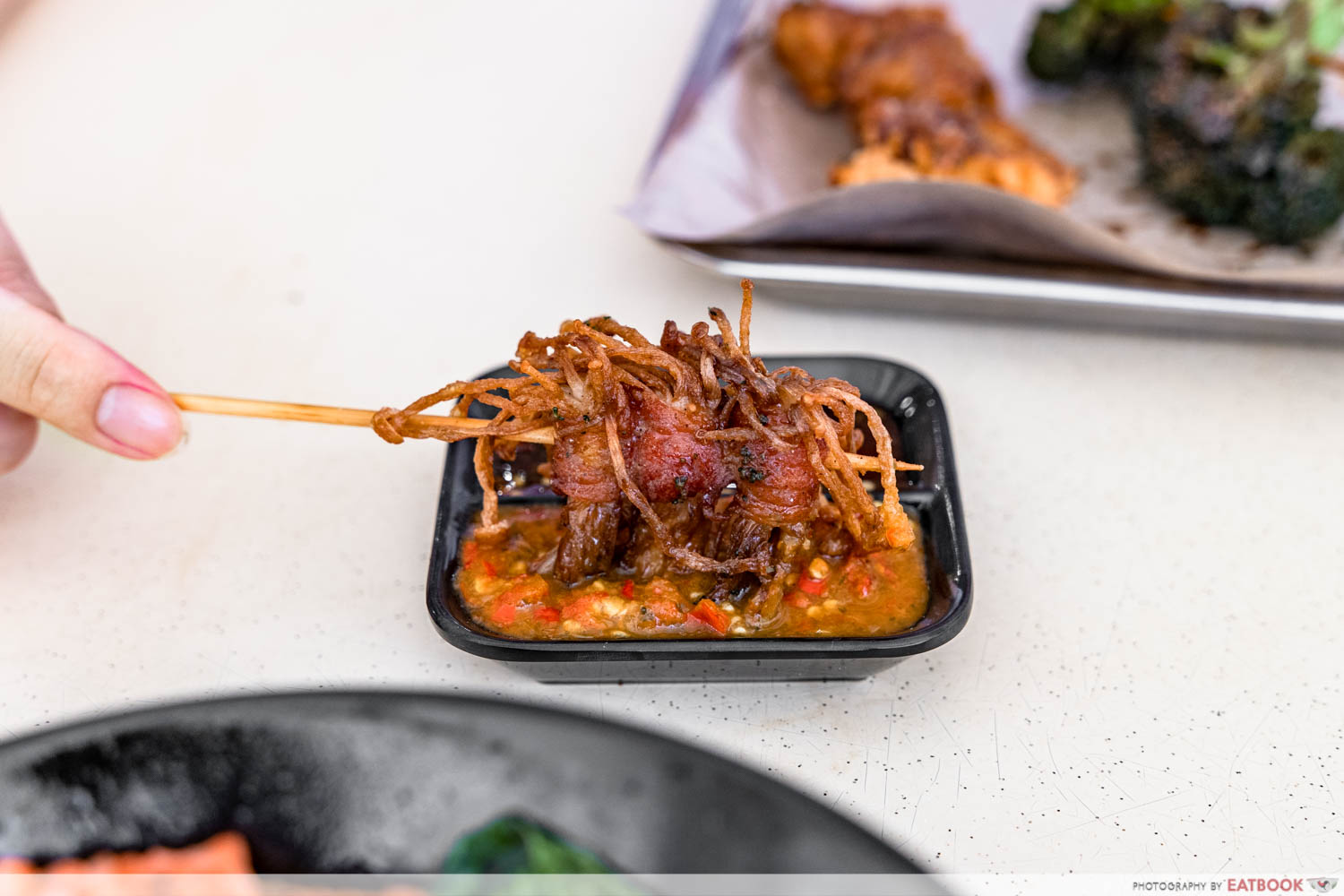 My favourite of the three was definitely their house-made chilli sauce, packed with a fermented savouriness from what I suspect to be shrimp paste. It was also rather spicy, leaving a tingling sensation in my mouth. This chilli sauce brought out the natural earthy flavours of enoki mushrooms, and cut through the saltiness of bacon.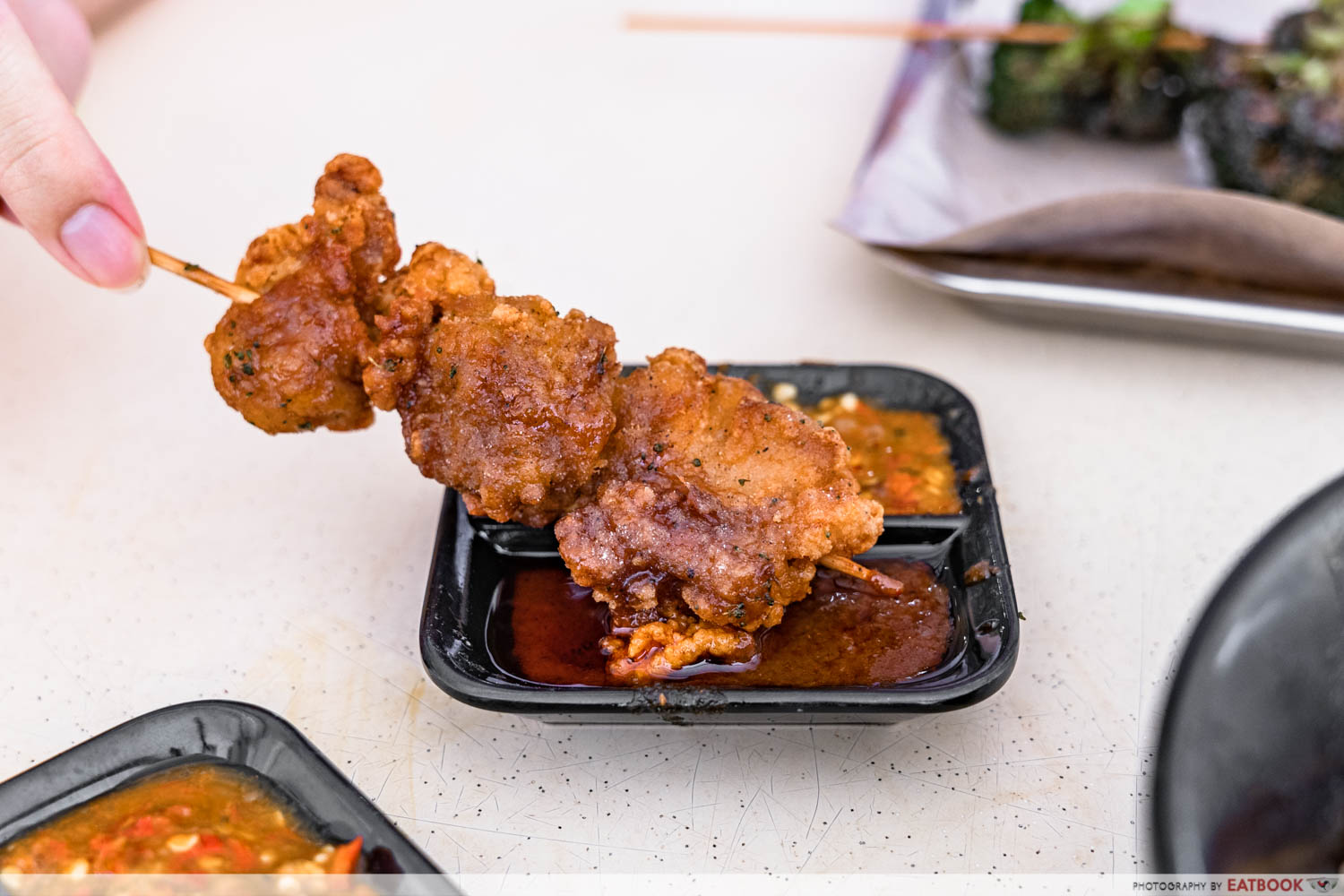 I enjoyed the peanut sauce as well, which was nutty and not overly sweet. It paired well with our choice of fried chicken.
Mentai-Ya Review: Mentaiko Don Stall In Bukit Panjang Sold 10,000 Bowls In Their First Week
Ambience at Sticks 'N' Bowls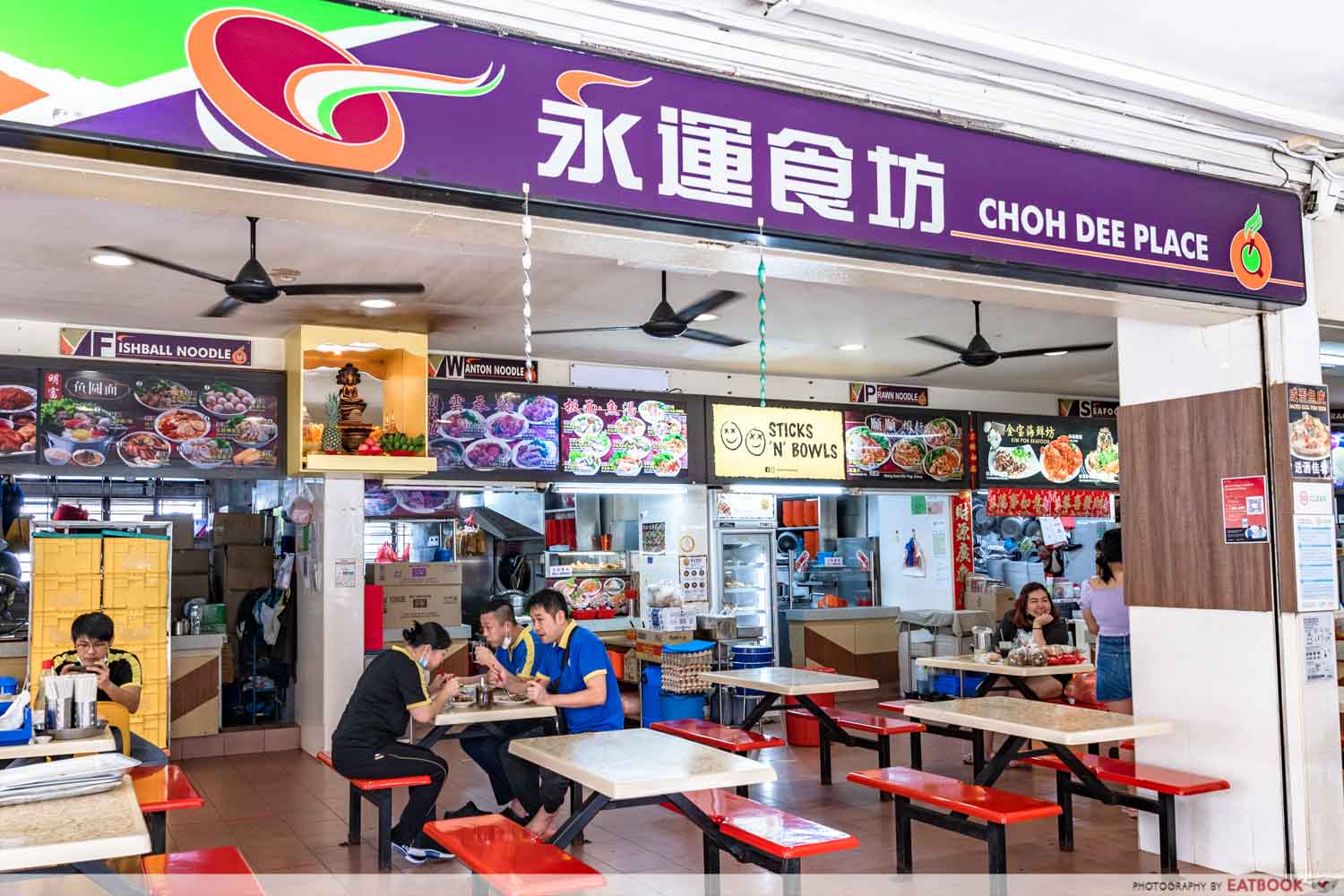 Sticks 'N' Bowls is located at a coffee shop named Choh Dee Place, tucked within a HDB estate in Tampines. This estate is clustered with numerous coffee shops, such that we struggled to locate this particular coffee shop. It's also rather ulu, requiring a 15-minute bus ride from Tampines MRT Station. Ambience-wise, I found the place bright and airy, with tables well spaced apart.
20 Tampines Hawker Food You'll Want To Travel Across Singapore For
The verdict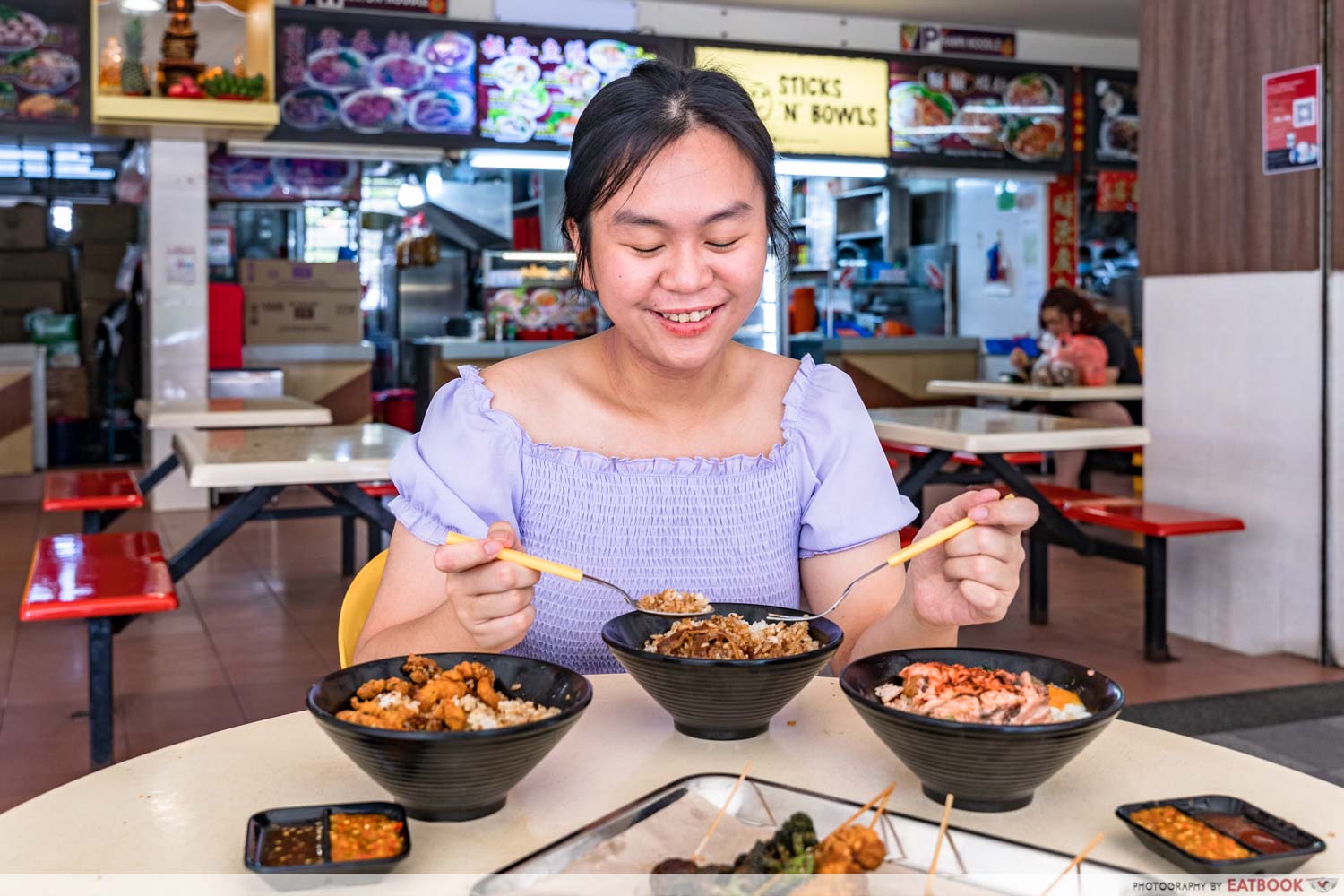 All in all, I feel that Sticks 'N' Bowls gives you the novelty of eating lok lok and donburi in a coffee shop, at a fraction of the prices you pay in restaurants. This is made better by their late opening hours, making a fuss-free supper spot in the neighbourhood. While their food has room for improvement, this stall brims with so much potential, indicated by the youthfulness of the stall owners themselves. I'm excited to see how far they'll grow, and with that, I'll return for another garlic pork belly rice bowl if I'm in the area.
For more food options in Tampines, check out our Puffs And Peaks review, an online store turned physical bakery with delicious taro doughnuts. There's also our review of The Co-op, a colonial-style cafe with ikura prawn pasta and chendol milkshake. 
Address: 824 Tampines Street 81, #01-38, Singapore 520824
Opening hours: Daily 12pm to 2am
Website
Sticks 'N' Bowls is not a halal-certified eatery.
Puffs And Peaks Review: Bakery With Taro Brioche Donuts, Brookies And Matcha Cookies In Tampines
Photos taken by Chew Yi En.
This is an independent review by Eatbook.sg.
The post Sticks 'N' Bowls Review: $1 Lok Lok And Mentaiko Salmon Don In Tampines Coffee Shop appeared first on EatBook.sg – New Singapore Restaurant and Street Food Ideas & Recommendations.