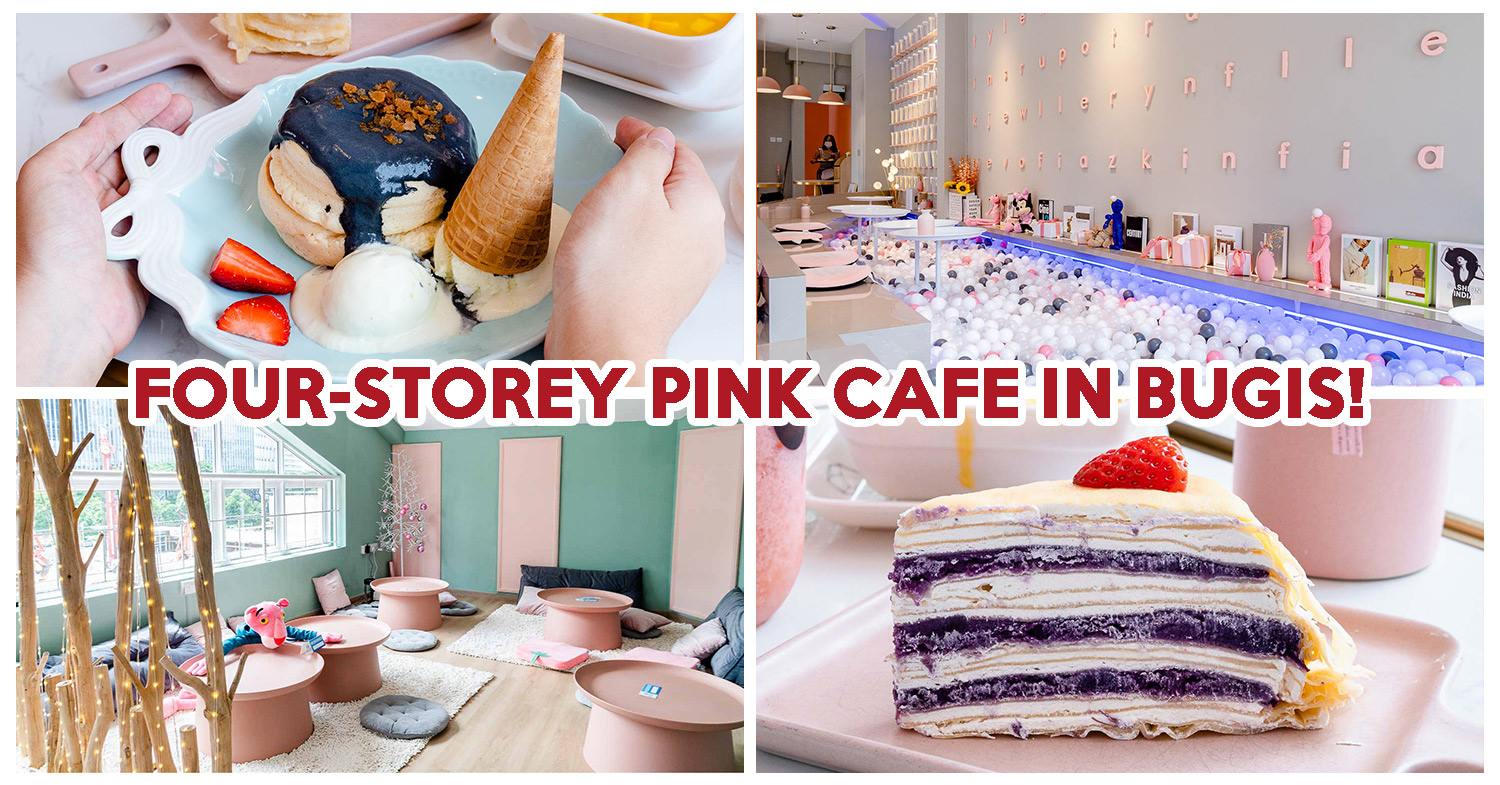 Smile Dessert in Bugis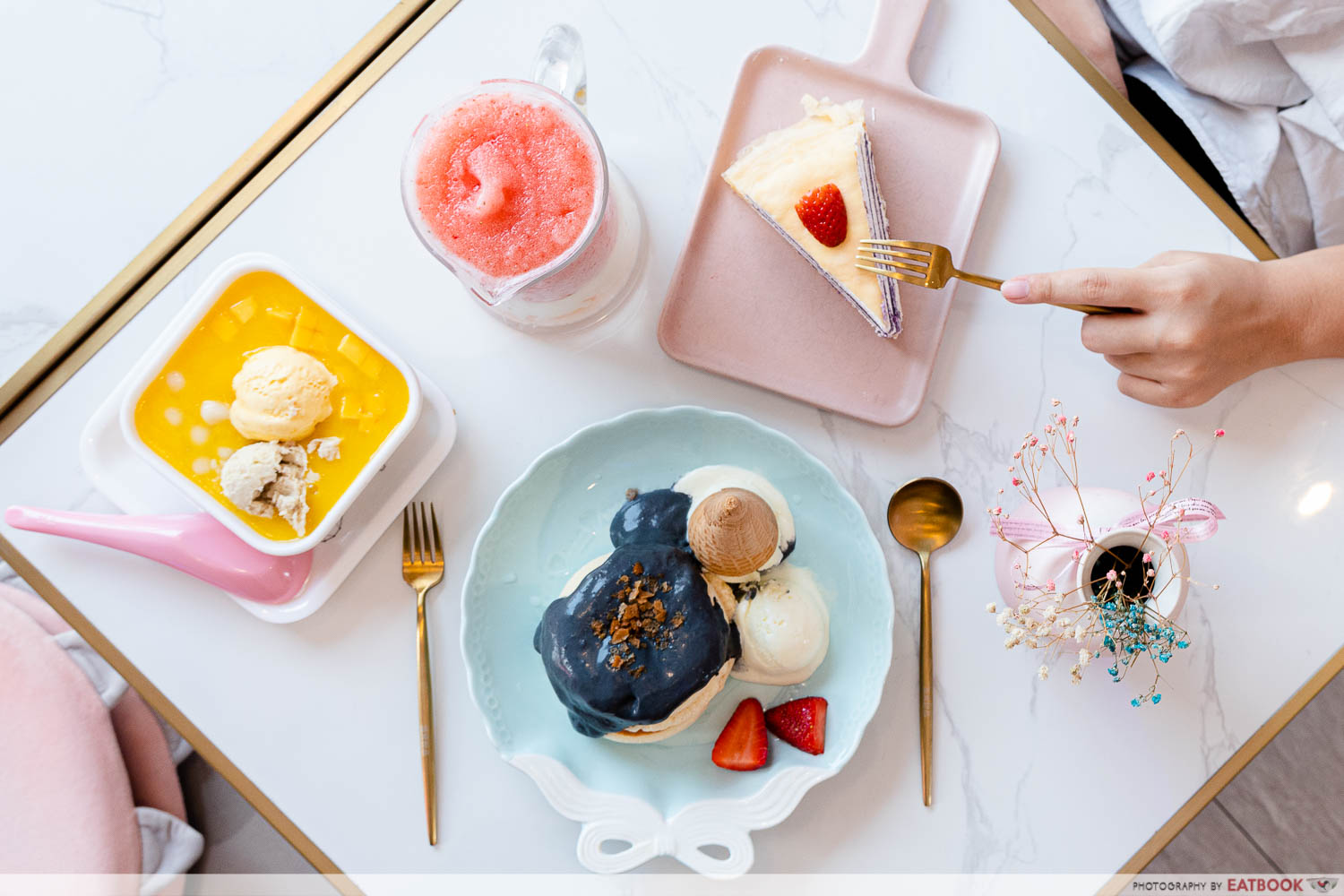 In recent times, pink-themed cafes such as A Beautiful Day and Prairie by Craftsmen have popped up, with the newest Smile Dessert adding to the list. This four-storey dessert cafe is located in Bugis, taking over the space where the now-defunct bingsu store, Nunsongyee Korean Dessert Cafe, used to reside.
A Beautiful Day Review: Pink Cafe With Bandung Souffle Pancakes And Red Velvet Latte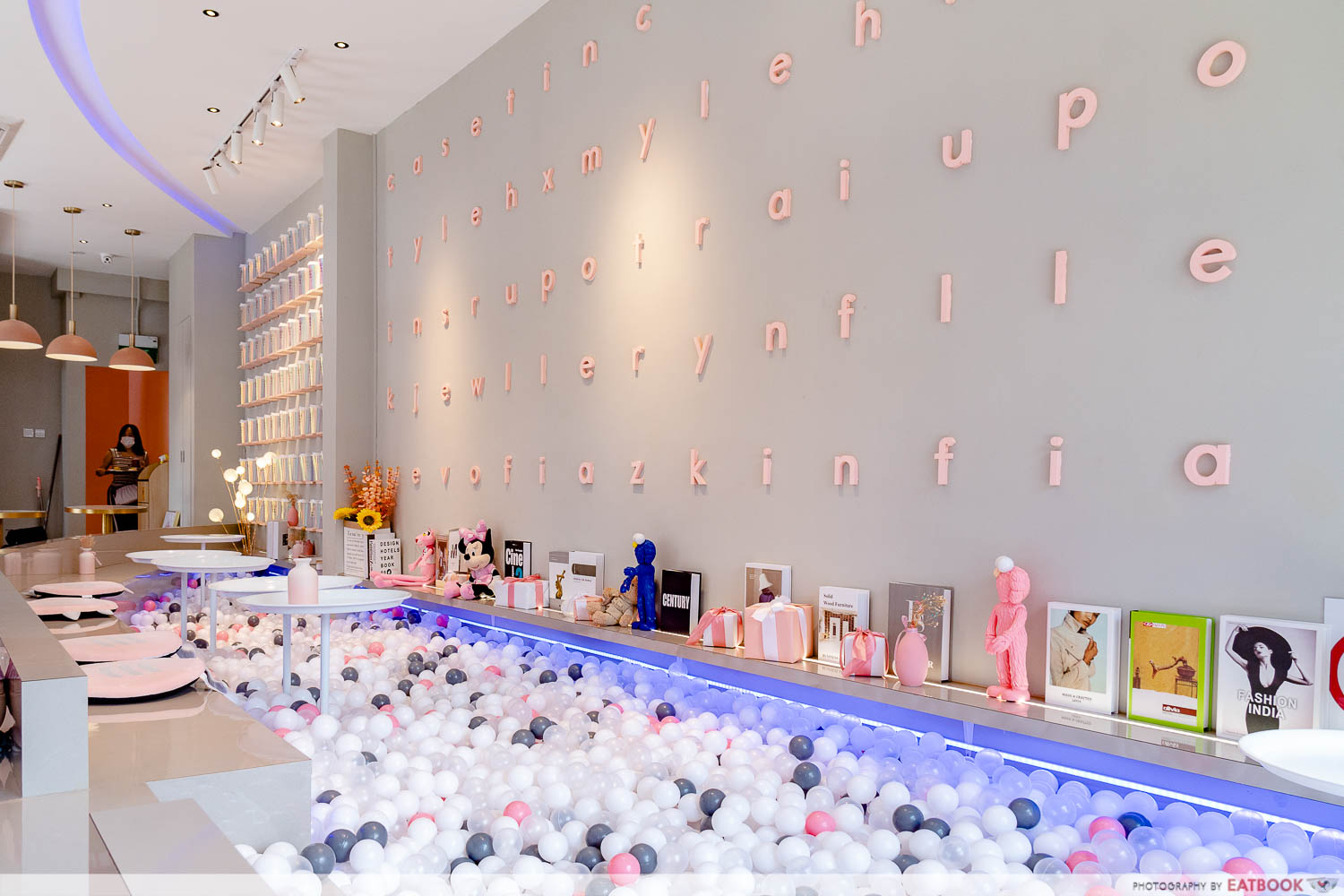 When I first chanced upon this place on Instagram, I was drawn to its beautiful, pink interiors as well as playful fixtures, such as the ball pit pictured above, and its themed toilets that are a different colour on every floor. It's no wonder that I headed down to this dessert cafe eagerly, with a colleague in tow.
While they usually operate till 3am, due to P2HA, Smile Dessert is currently open for takeaways from 11:30am to 11:30pm.
Food at Smile Dessert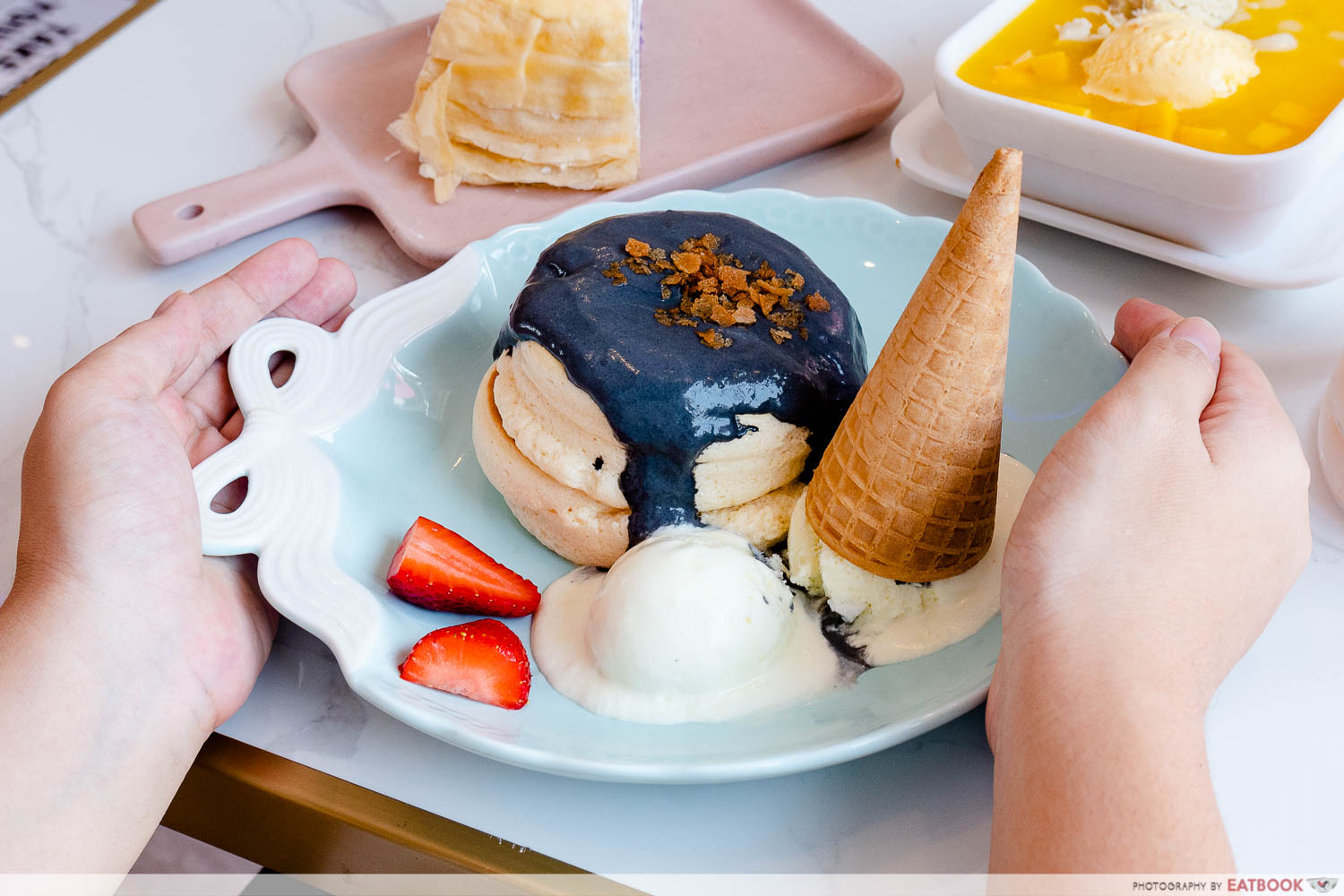 We started our round of sweets with the Black Swan Souffle ($15.90), a beautifully plated dish of souffle pancakes, topped with black sesame cream and brown sugar shavings, alongside an upside-down vanilla ice cream cone.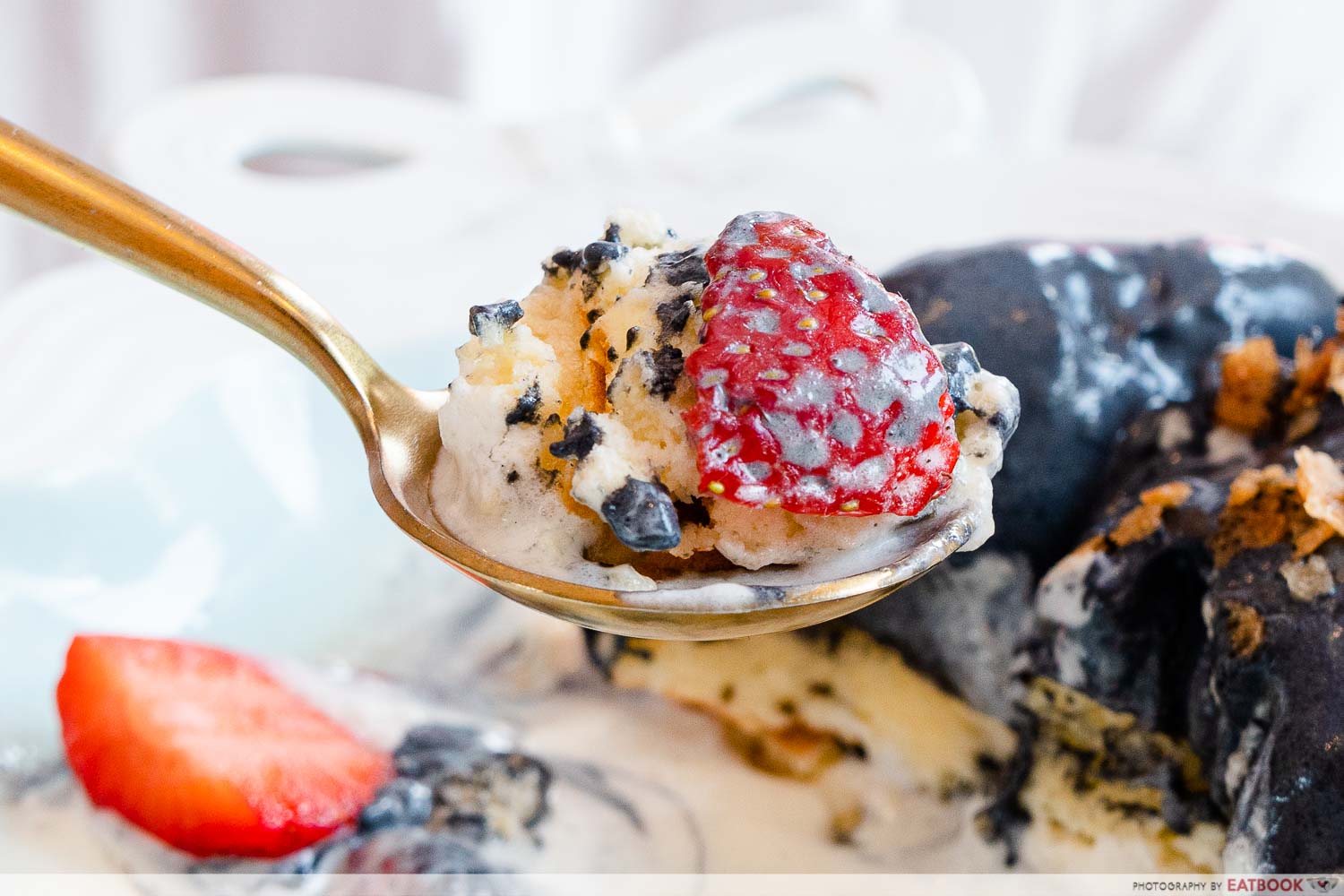 The souffle pancakes were incredibly moist. They were so soft, they looked as though they might topple over any moment with just a touch of the fork. These were also slightly eggier than the ones I'm used to eating, though their slight butteriness helped to balance it out.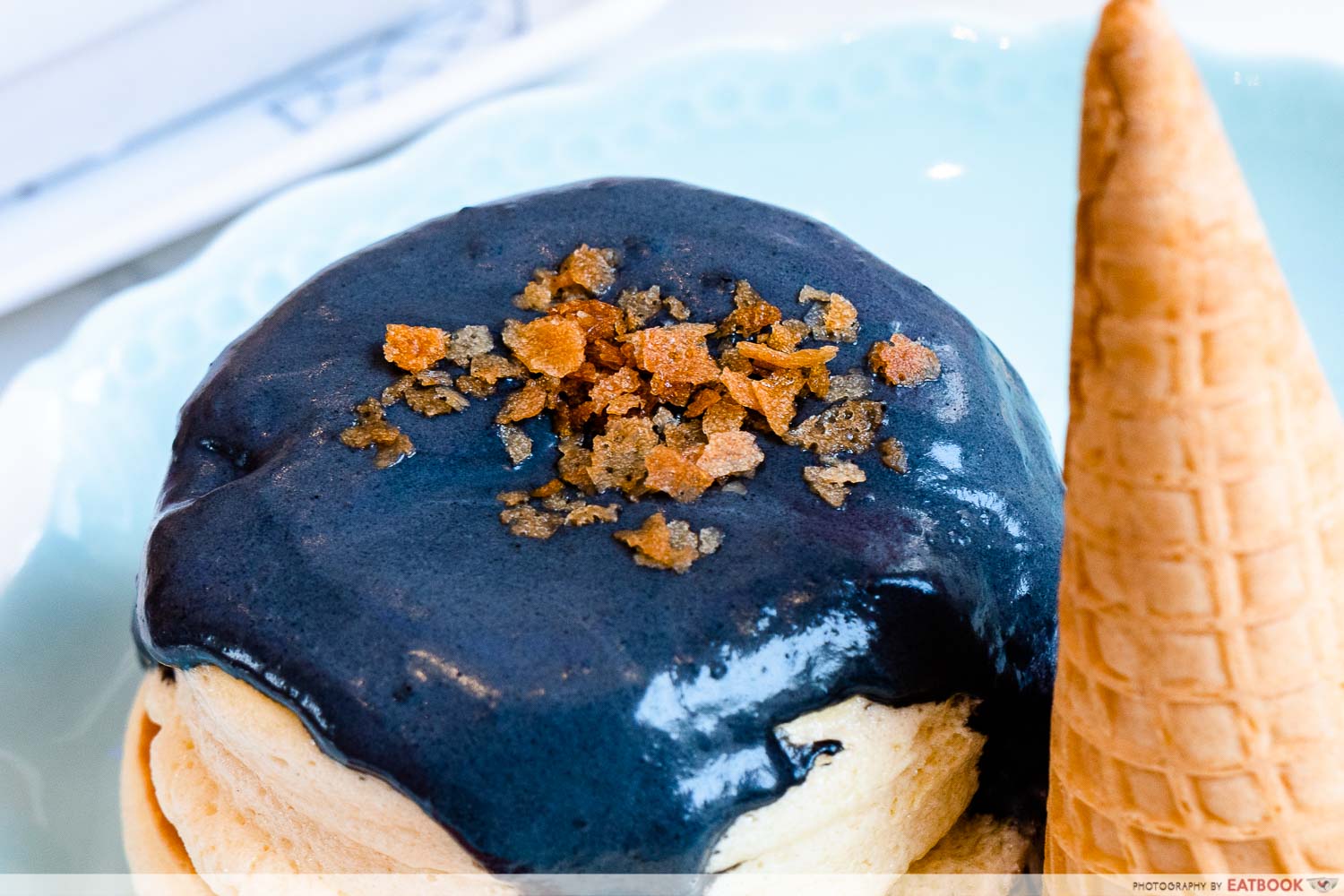 Meanwhile, the black-coloured cream had a richness that reminded me of chocolate, with nutty notes from the black sesame. However, its sweetness got cloying quickly, missing that gritty bitterness of a traditional black sesame cream dessert, which would have helped even out the flavours.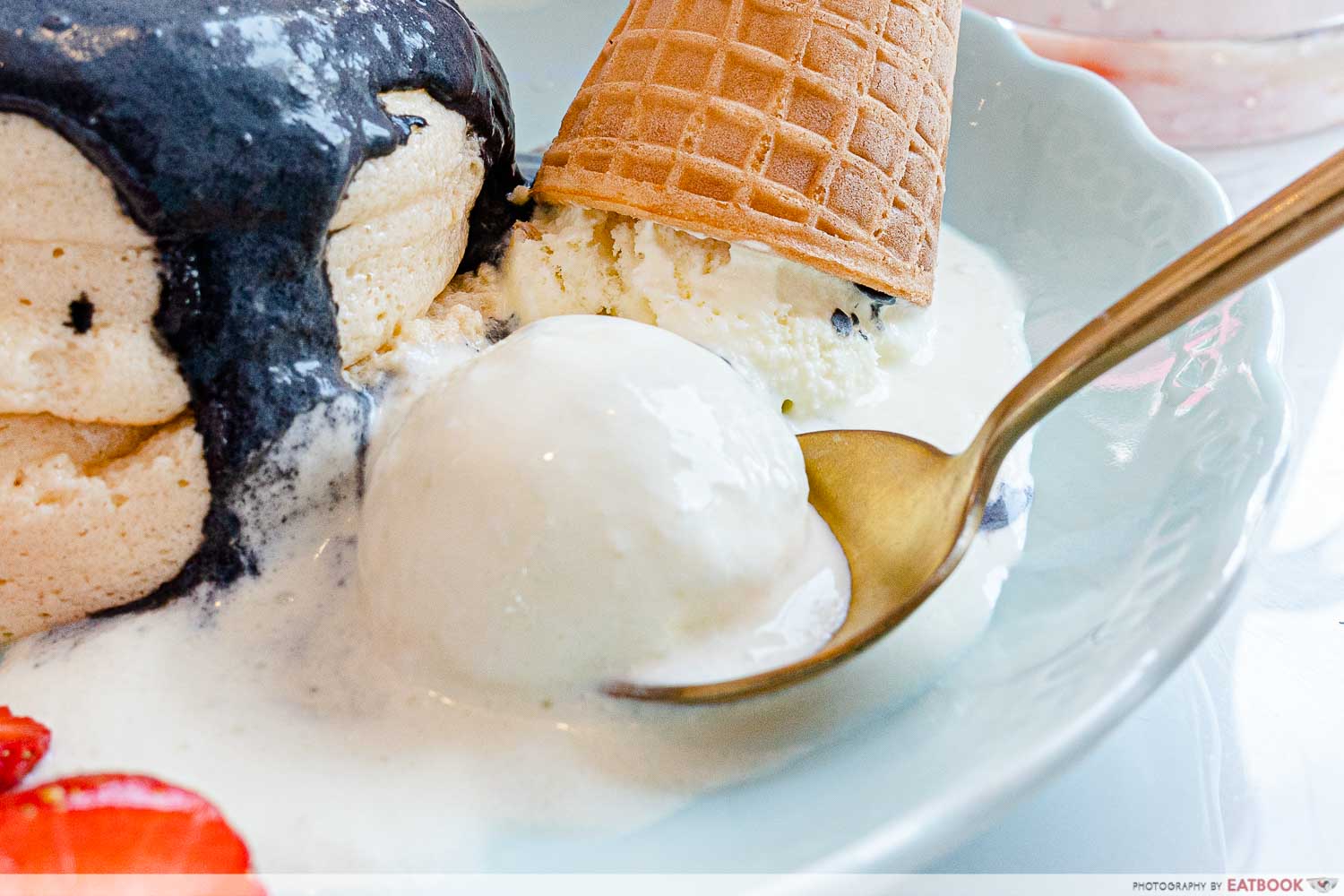 While I appreciated the aesthetics of the upside-down cone, I wished they had used vanilla bean ice cream instead.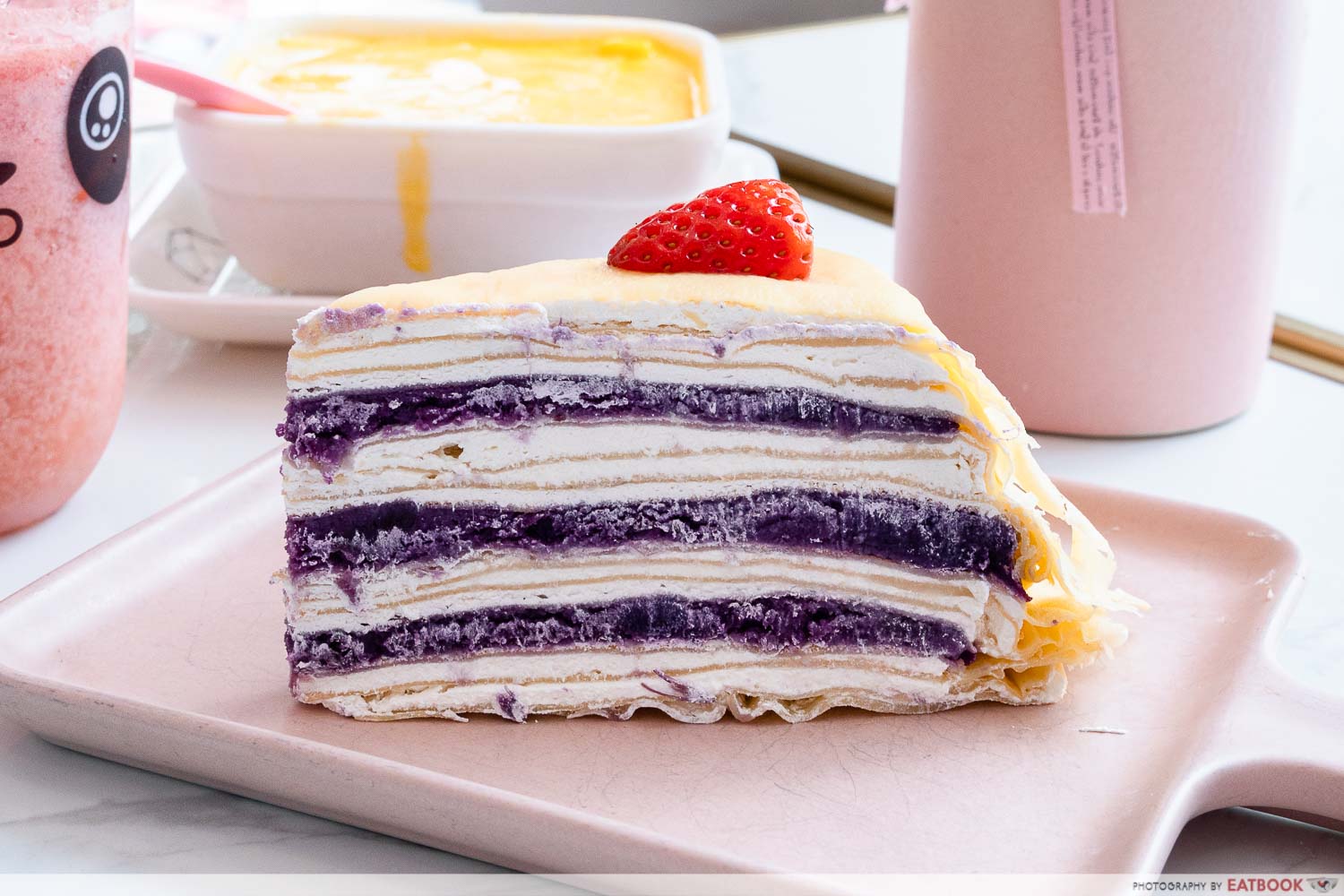 The second dessert on our list was the Multi-Layer Sweet Potato Cake ($6.90), layered with crepes, cream, and purple-hued sweet potato.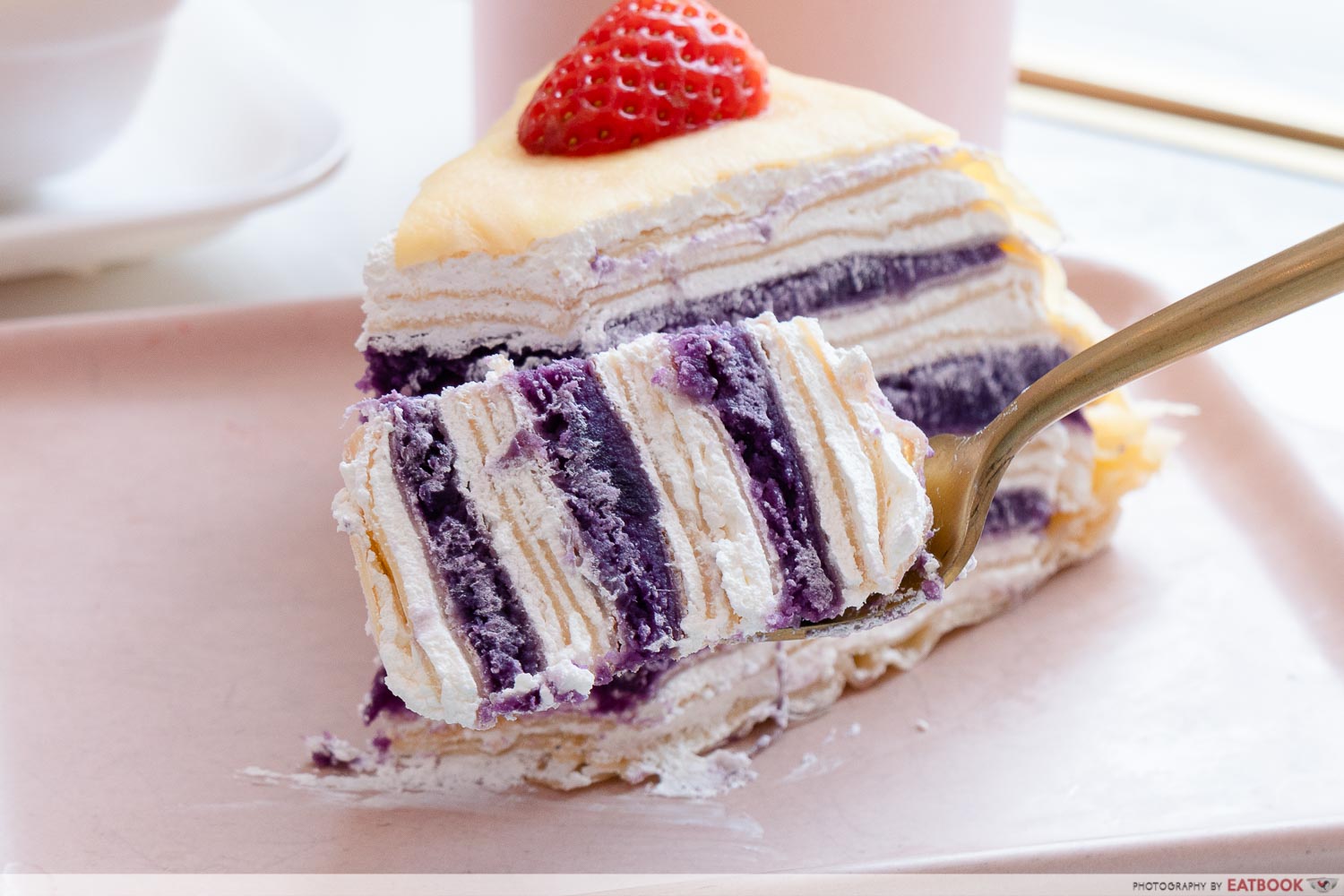 I felt that they could dial down on the cream, but I liked that the sweet potato wasn't overly sweet, and retained an earthiness which made this cake feel less jelak.
On the textural front, the crepe layers felt a tad doughy, contrasting poorly against the smoothness of mashed sweet potato.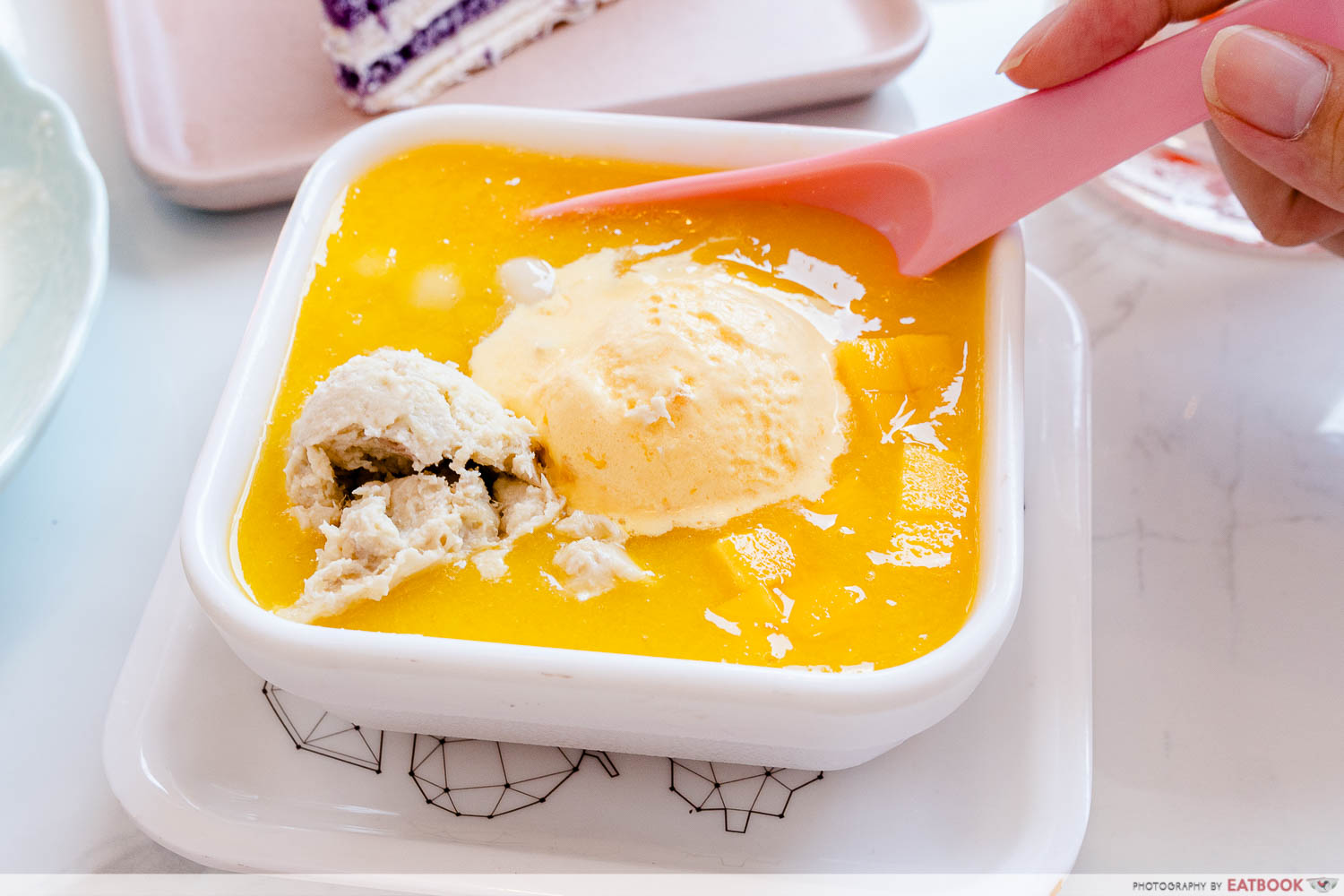 For something along the traditional dessert route, we had the Mango Ice With Rice Ball ($6.90) and topped up $3 for an additional dollop of durian puree. This came with rice balls, and mango chunks. These were interspersed within mango ice, then topped with a scoop of mango ice cream.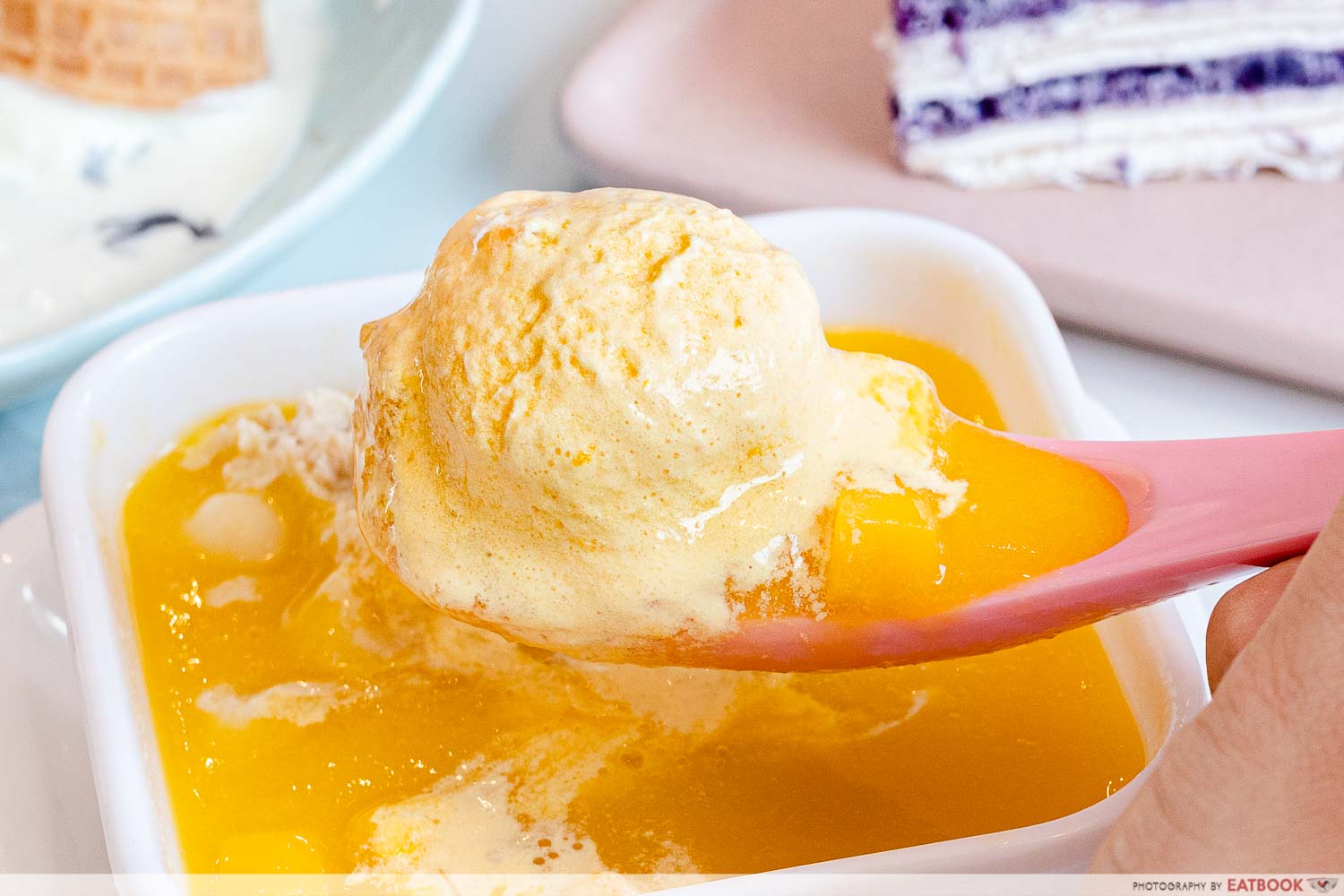 The mango ice cream tended towards the milkier end of the spectrum, which complemented the icy dessert with its creamy finish.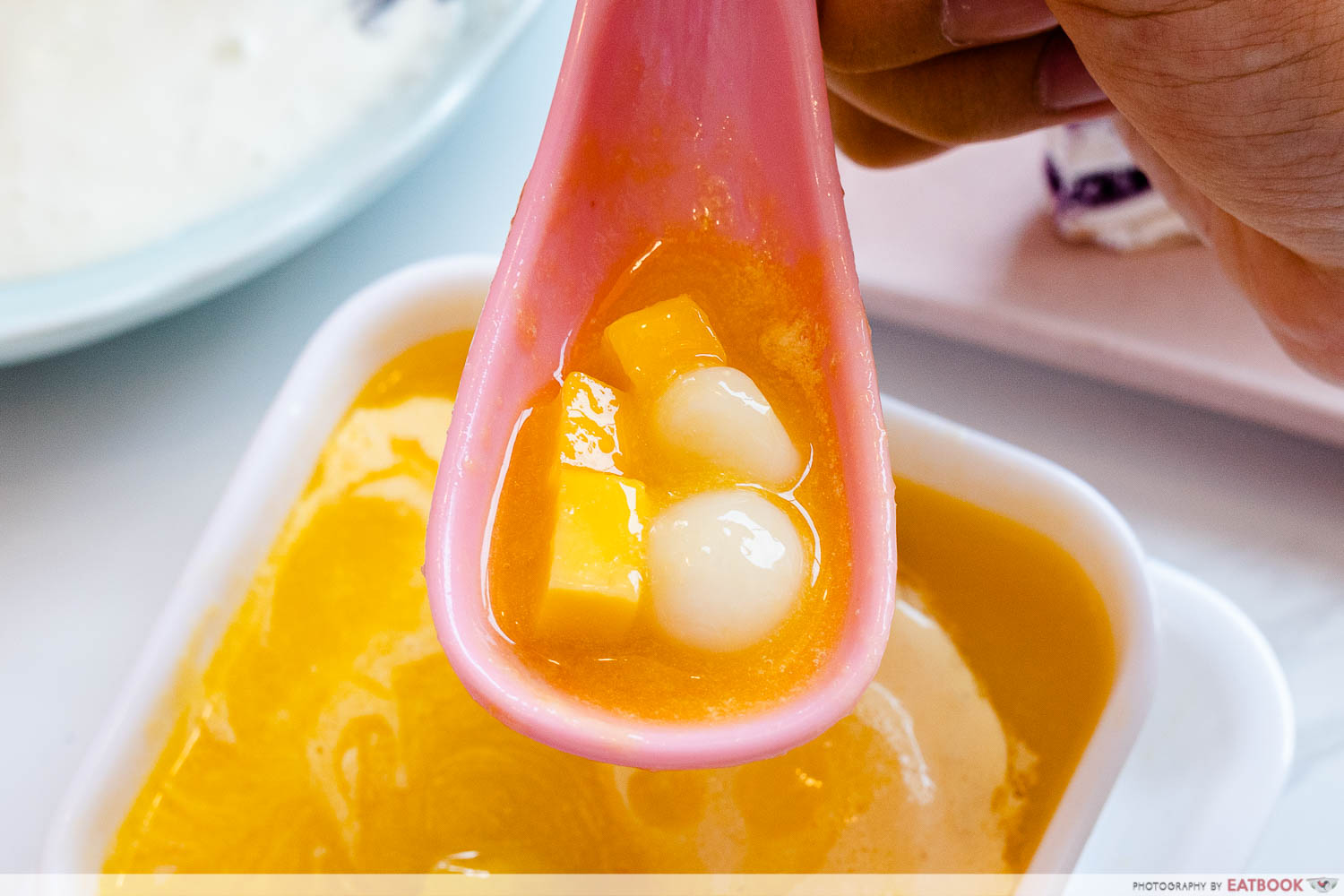 The mango chunks were slightly tart, which I actually enjoyed, as they brought a sourish element to the sweet dessert. Meanwhile, the chewy rice balls provided some textural variation, though I see how some might feel like these tang yuan-esque morsels are out of place here.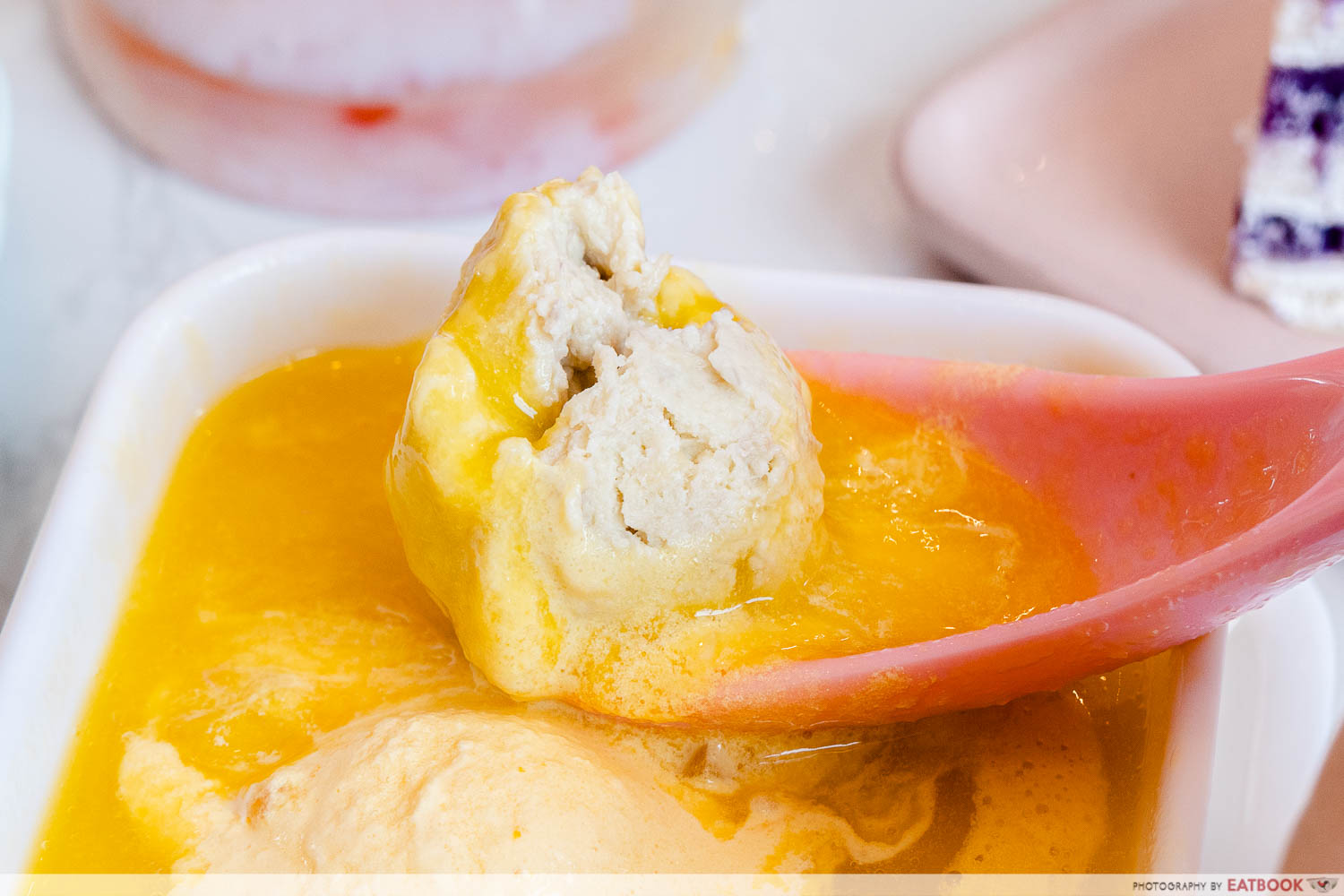 On its own, the durian puree was a joy to eat, as it was rich, and bittersweet. However, I didn't find that it paired well with the zesty, fruity flavours of the mango ice, so I recommend skipping it when you order this dessert.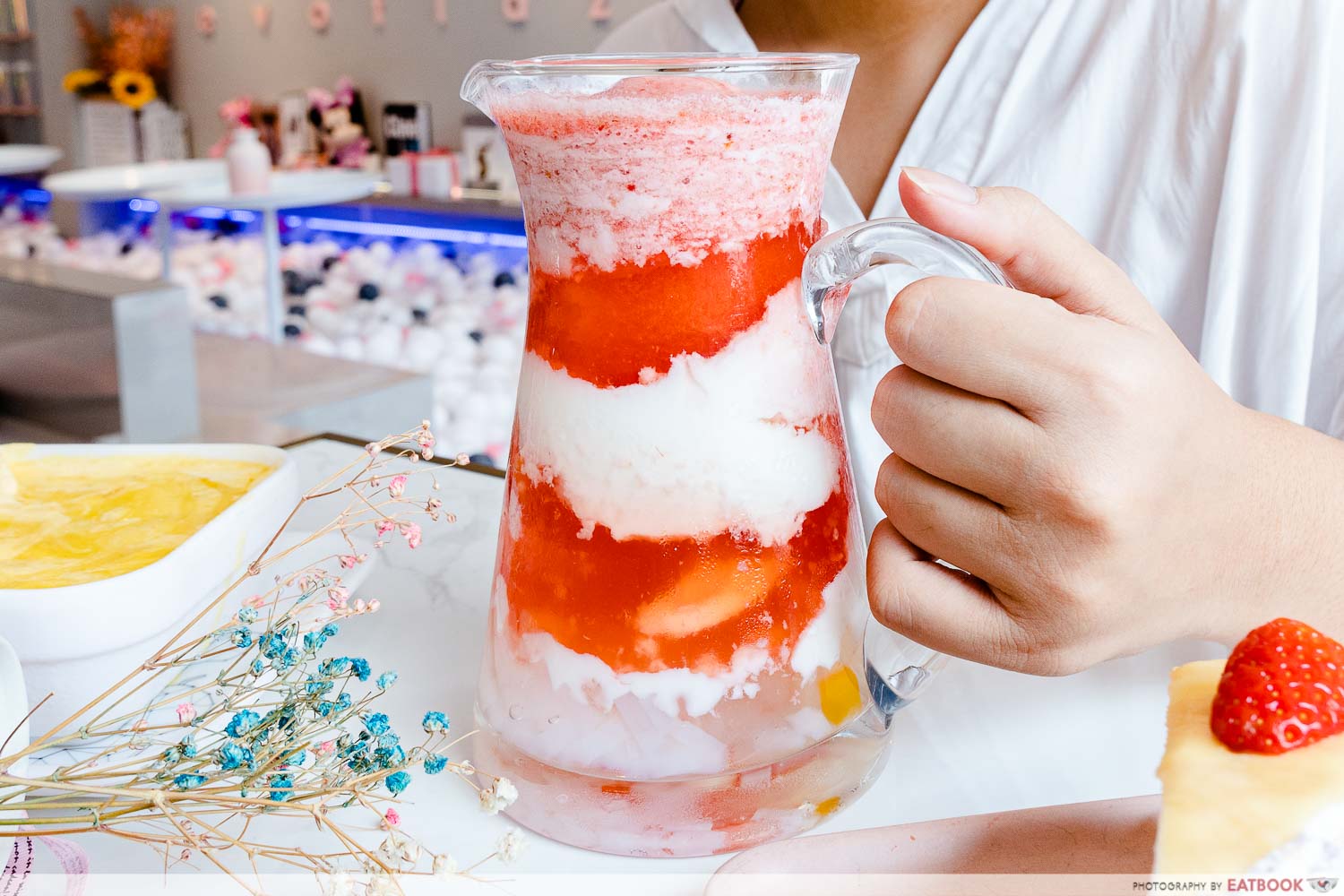 To wash everything down, we had the Yogurt Strawberry Smoothie ($7.90), made with strawberries, syrup, yoghurt, and jellies, served in a large jug.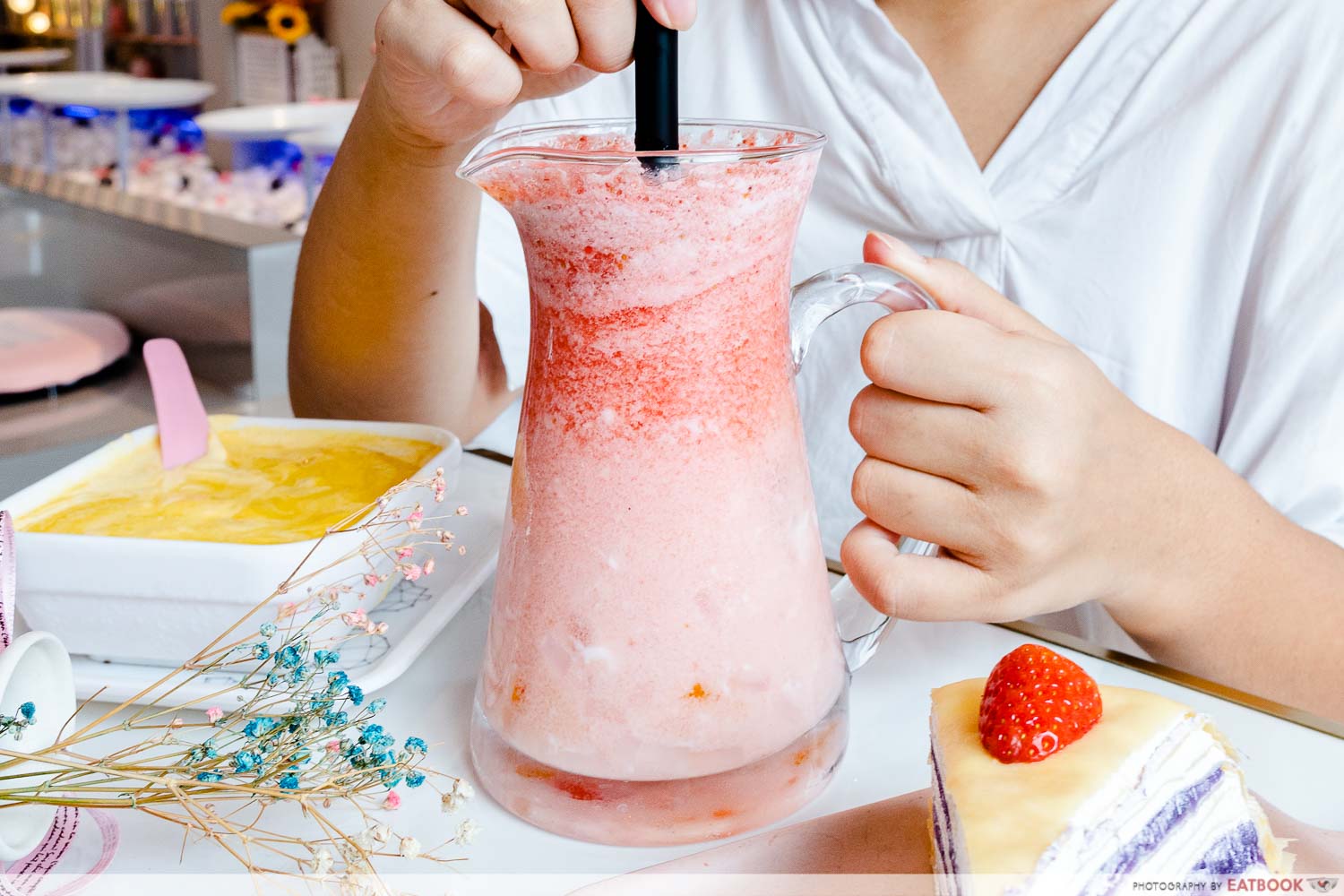 This drink sported a thick consistency, made refreshing with its icy finish. The yoghurt brought a zing, which helped to quell the candied sweetness of the strawberry syrup. Meanwhile, the jellies within were hard to slurp up with a straw, but their wobbly texture added personality to the smoothie.
Nirvana Dessert Cafe Review: Affordable Souffle Pancakes And Hong Kong Shaved Ice In Bugis
Ambience at Smile Dessert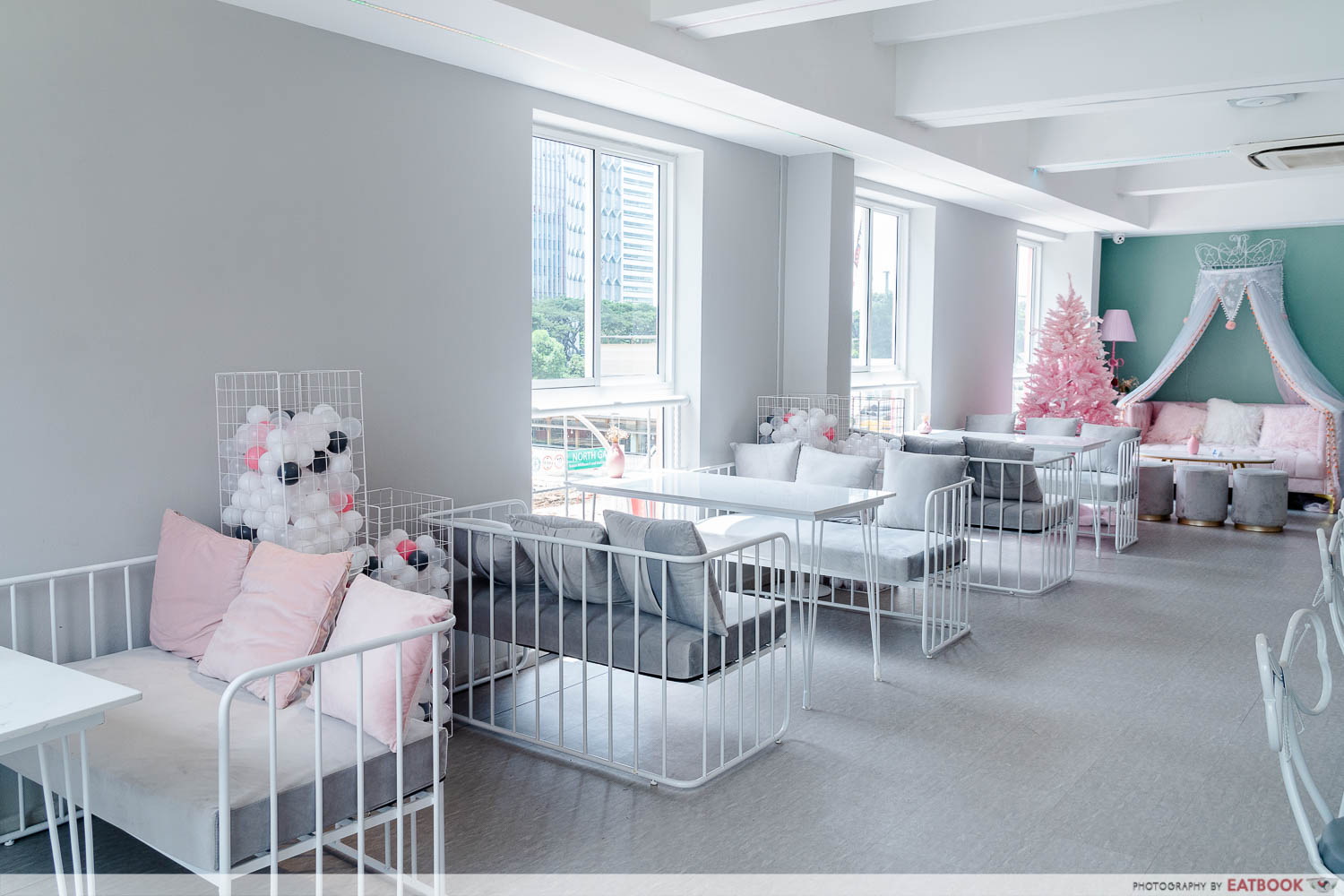 I'm not exaggerating when I say that Smile Dessert is the prettiest cafe I've been to. It managed to awe us at every floor too, its pink theme bringing a sense of cohesiveness throughout the four differently designed levels. For example, the third floor is decked in shades of industrial grey and mint green, finished with pink cushions and a pink decorated tree.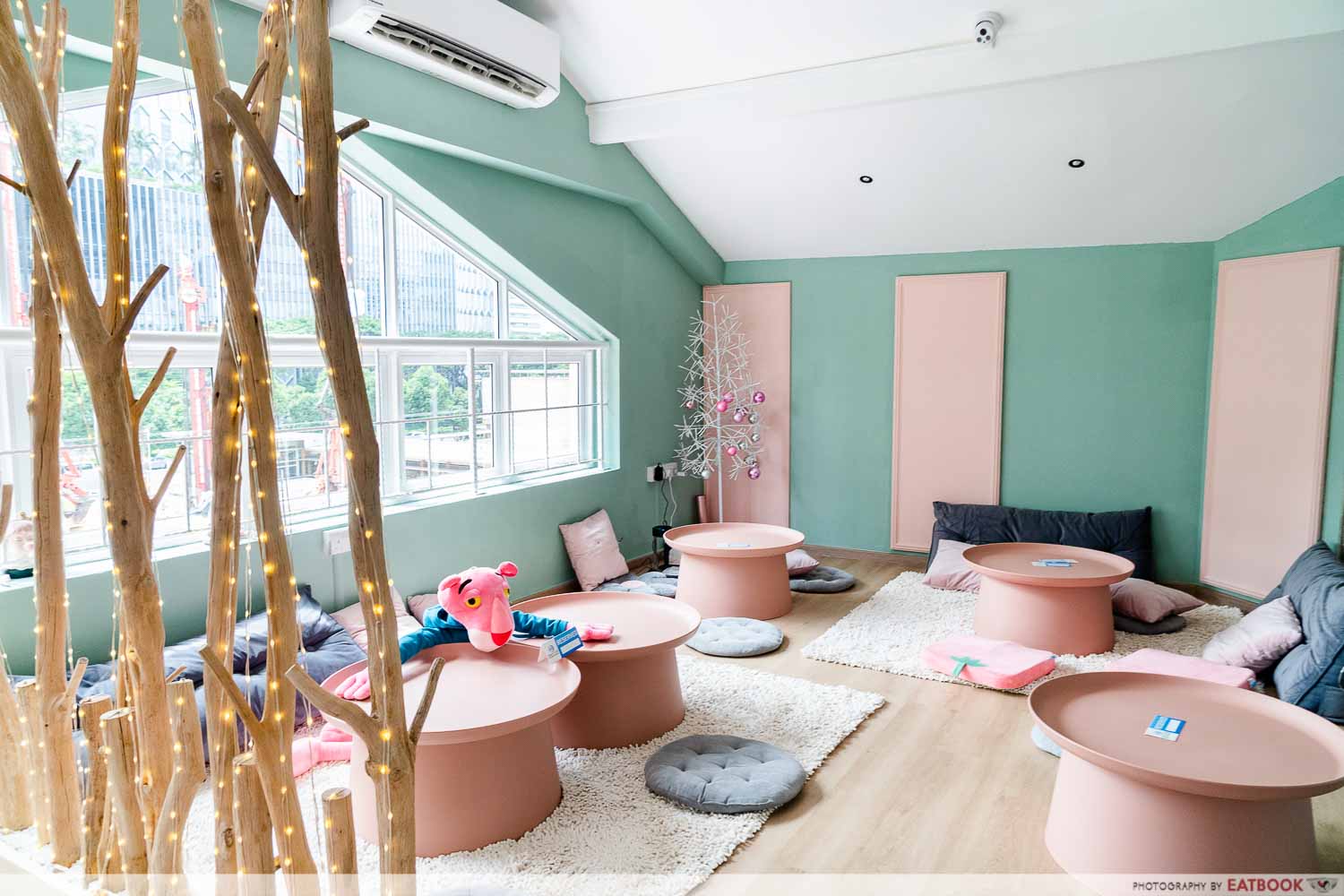 The uppermost floor definitely has to be my favourite, decked in rugs, plushies, low tables, and floor cushions—exuding the ultimate sleepover vibes.
Location-wise, Smile Dessert is very convenient to get to, taking only a minute to walk from Bugis MRT Station.
Homeground Coffee Roasters Review: Cafe With Milk Tea Souffle Pancakes And Hei Mee Pasta In Katong
The verdict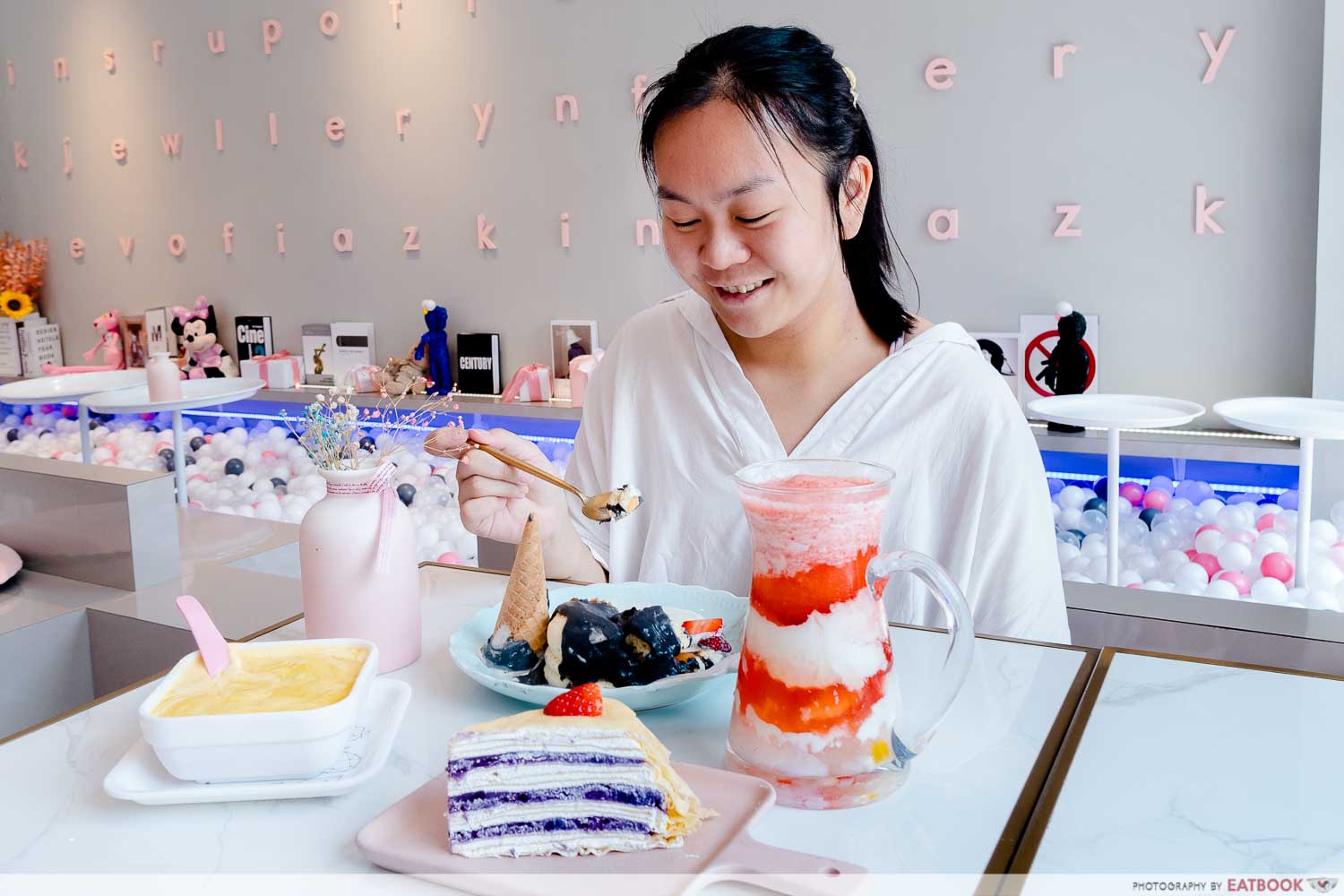 All in all, Smile Dessert is the kind of cafe you visit for its aesthetics, and not its food. The space makes for IG-worthy material at every spot, and for that, I would look beyond the quality of their desserts, which could use more improvement. With that being said, do head down to this cafe when PH2A is over, if you'd like to revitalise your IG feed. Otherwise, they have many other dessert selections, which make for a decent takeaway treat if you're in the area.
If you're looking for new cafes to dine at, check out our Anther by Glasshouse review, a hidden balcony cafe with cinnamon roll and croissants. There's also our CAF Clickafood review, a multi-cuisine concept with crab meat omelette fried rice and army stew.
Address: 534 North Bridge Road, #01-01, Singapore 188749
Opening hours: Daily 11:30am to 11:30pm
Tel: 6232 7801
Website
Smile Dessert is not a halal-certified eatery.
Anther By Glasshouse Review: Hidden Balcony Cafe With Cinnamon Roll And French Pastries
Photos taken by Syamira Rohaizad.
This is an independent review by Eatbook.sg.
The post Smile Dessert Review: Pink Cafe With Black Sesame Souffle Pancakes And Sweet Potato Crepe Cake appeared first on EatBook.sg – New Singapore Restaurant and Street Food Ideas & Recommendations.