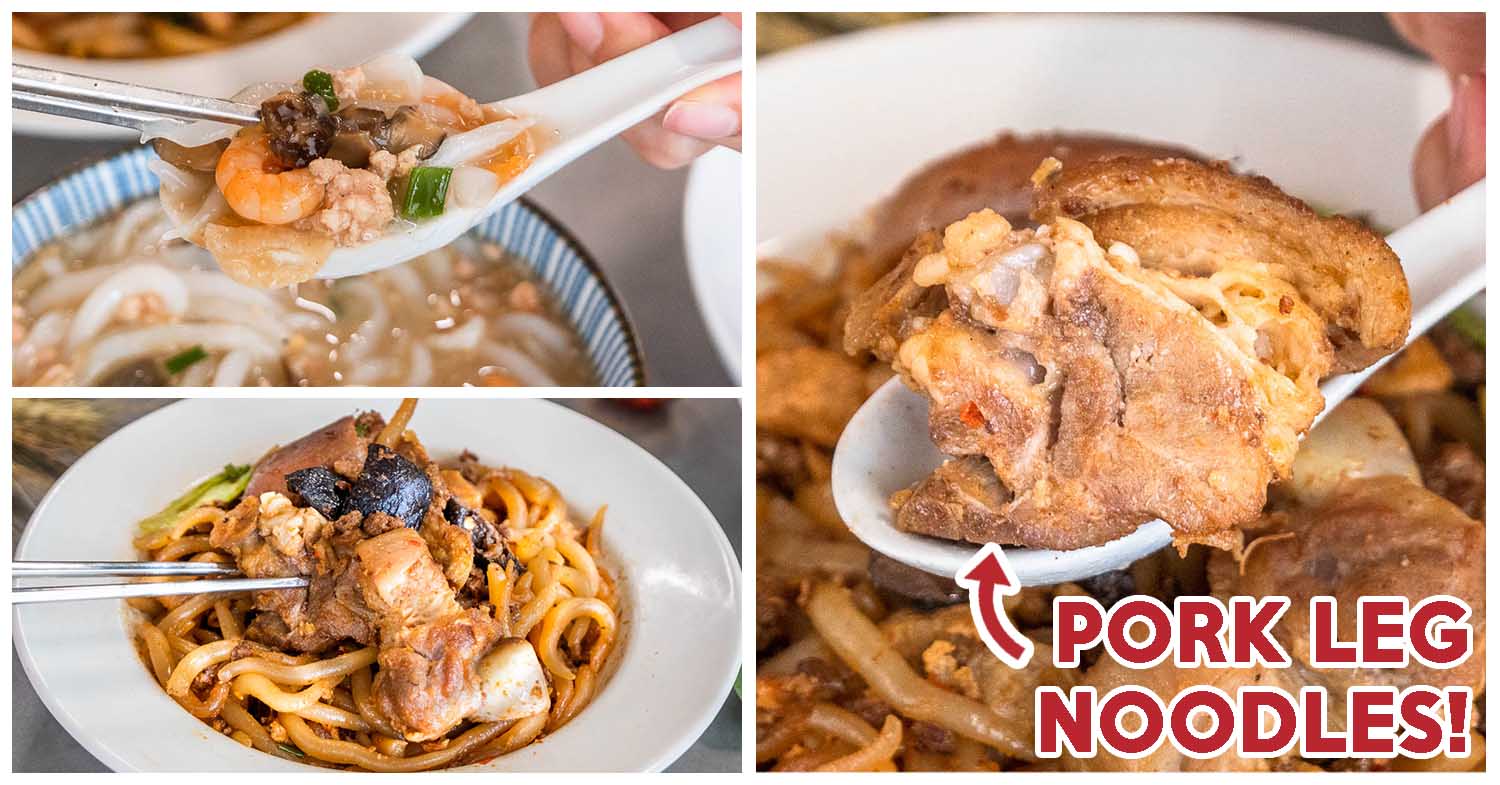 Shu Heng Bi Tai Mak in Ang Mo Kio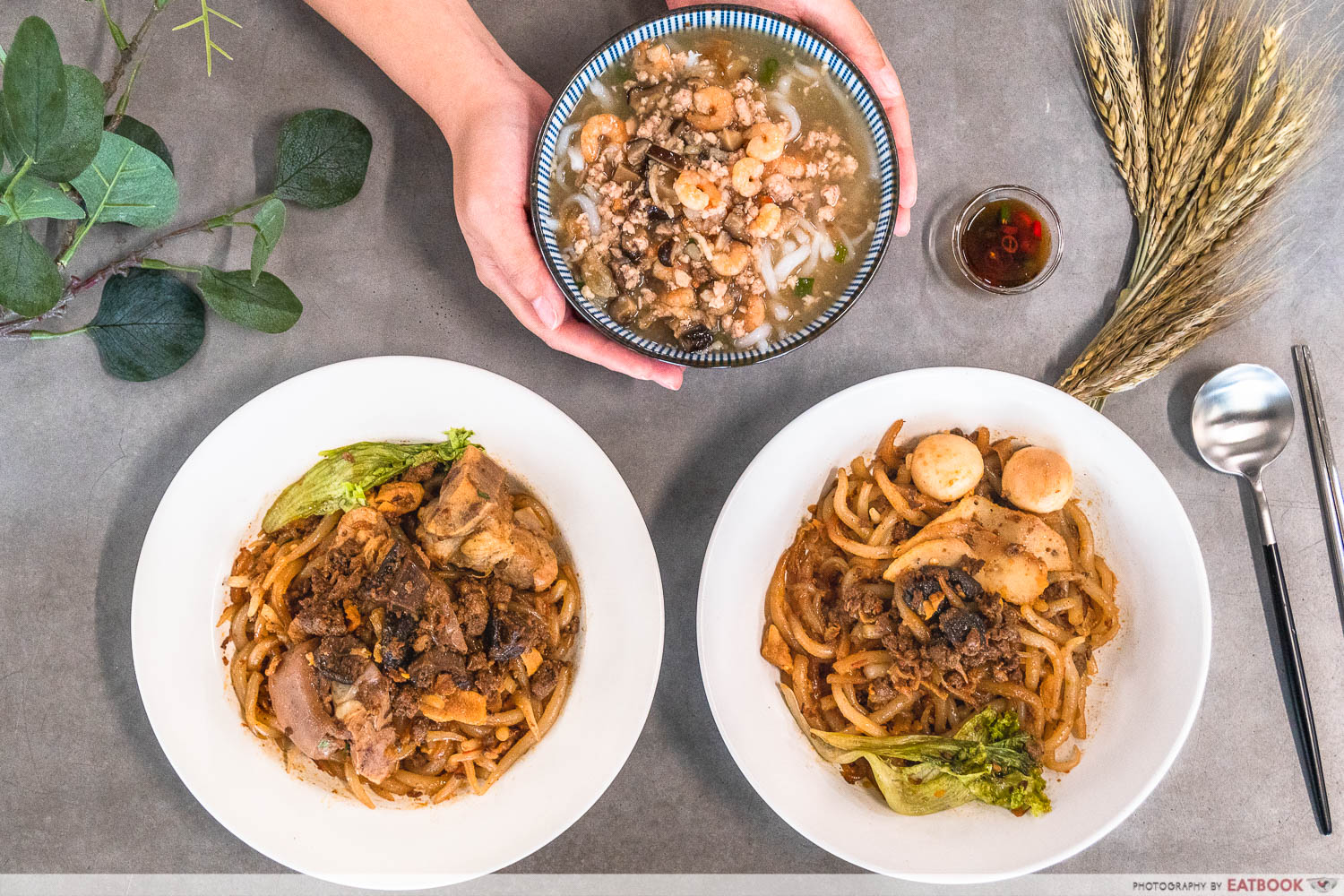 Whether you call it mee tai mak, 老鼠粉 (láo shŭ fĕn) AKA mouse noodles, or silver needle noodles, these rice noodles are often a love-it-or-hate-it thing. I love it, so when I first saw Shu Heng Bi Tai Mak pop up on my Instagram feed, I knew I had to try it.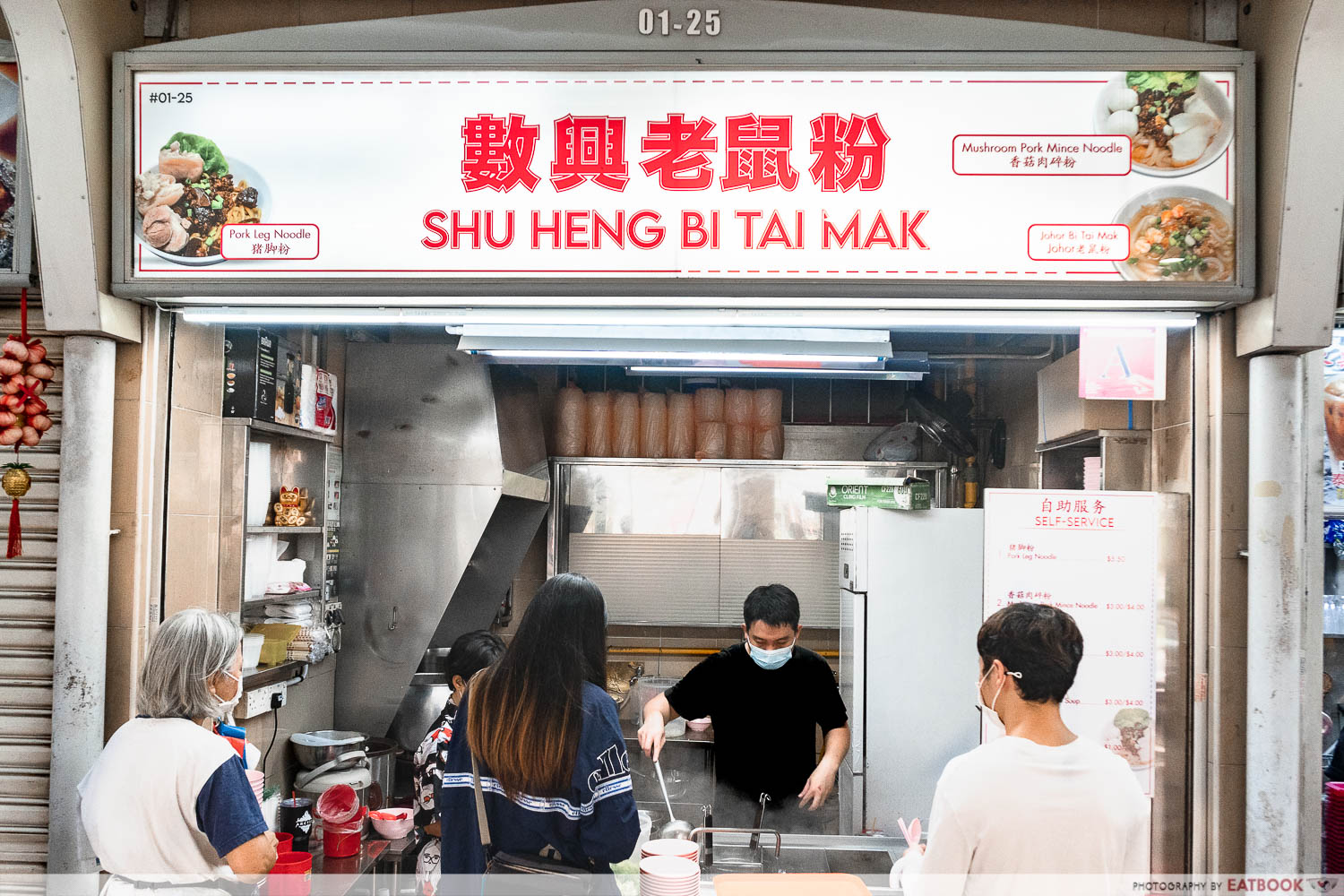 They're only open till noon each day, or earlier if they're sold out, so getting there early is paramount. Be prepared to wait, too, because they take pains to prepare each bowl—so the queue here does get pretty long.
Food at Shu Heng Bi Tai Mak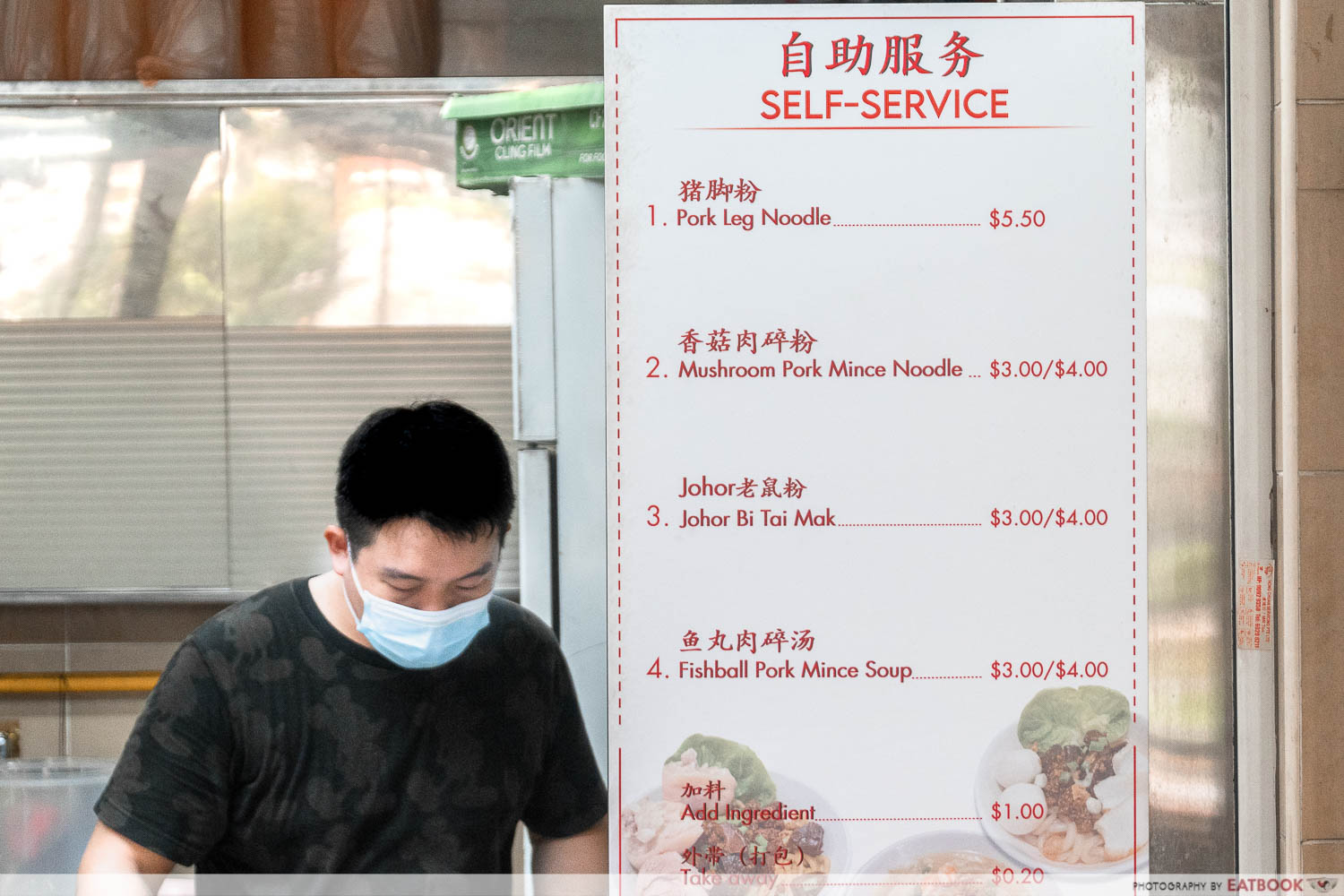 The menu at Shu Heng Bi Tai Mak only has four items on the menu, one of which is Fishball Pork Mince Soup ($3/$4). I'd consider that more of a side than a main, so really, there are only three dishes to consider.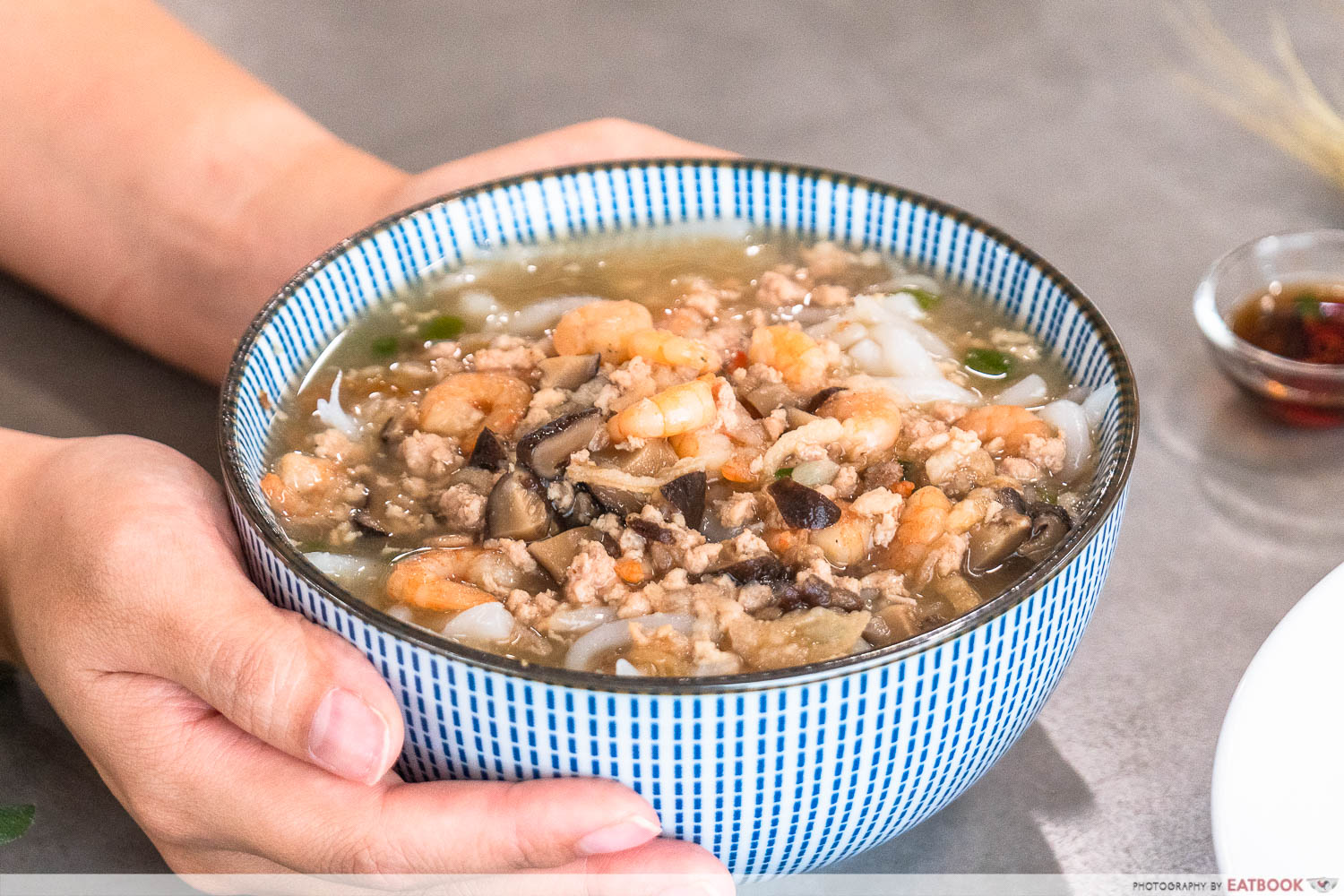 First up, the Johor Bi Tai Mak ($3/$4)—the star dish at Shu Heng Bi Tai Mak—was an unexpected surprise. I would never have pegged bi tai mak as a noodle that goes well with soup, considering the thickness of each strand and its corresponding plain, rice-y taste, which I don't like.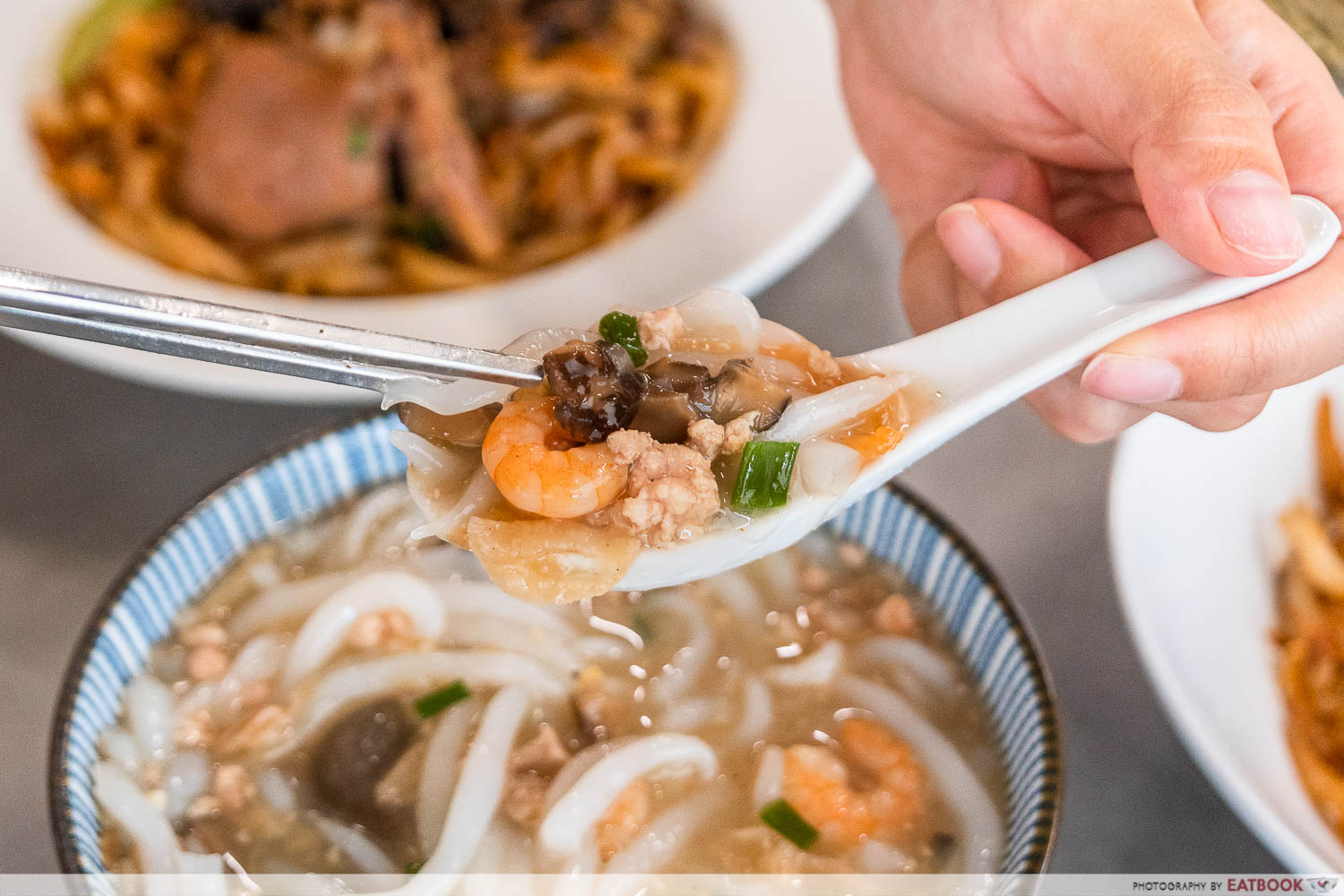 Here, the bi tai mak is cooked in a thickened, gravy-like broth that clings to the rice noodles. If you leave it to sit, as we did while shooting the dish, it tastes even better. A combination of hei bee, the marinated minced pork, mushrooms, fried shallots, and what I think is fried garlic, brought layers of umami to the broth. I enjoyed the generous serves of ingredients that came with this, but would have liked it better if they had used bigger, heartier prawns, or simply went without the shrimps.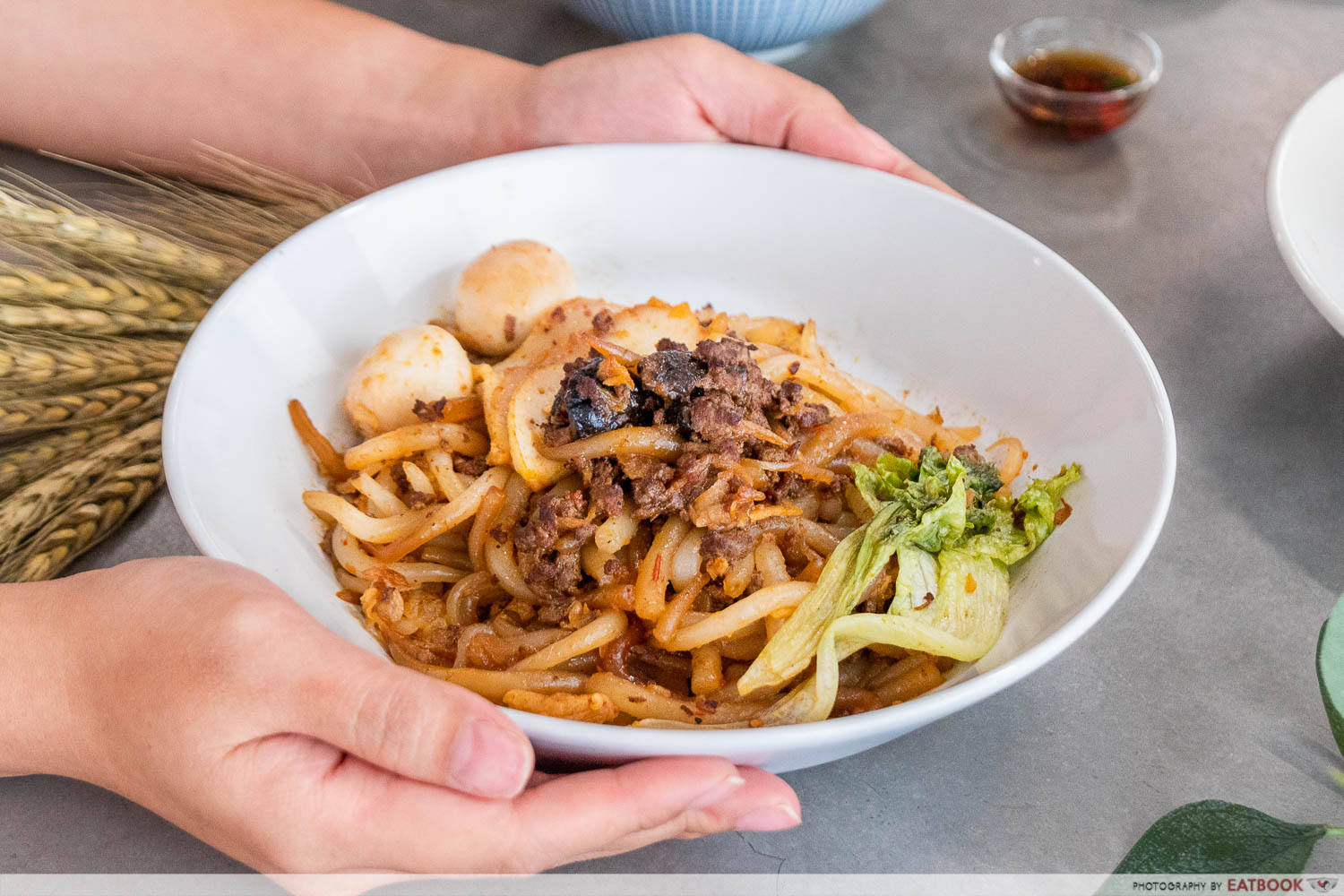 For something less novel, go for the Mushroom Pork Mince Noodle ($3/$4). It's a fail-safe option that you can choose to have with other noodles such as mee pok or mee kia as well, if you really don't like mee tai mak.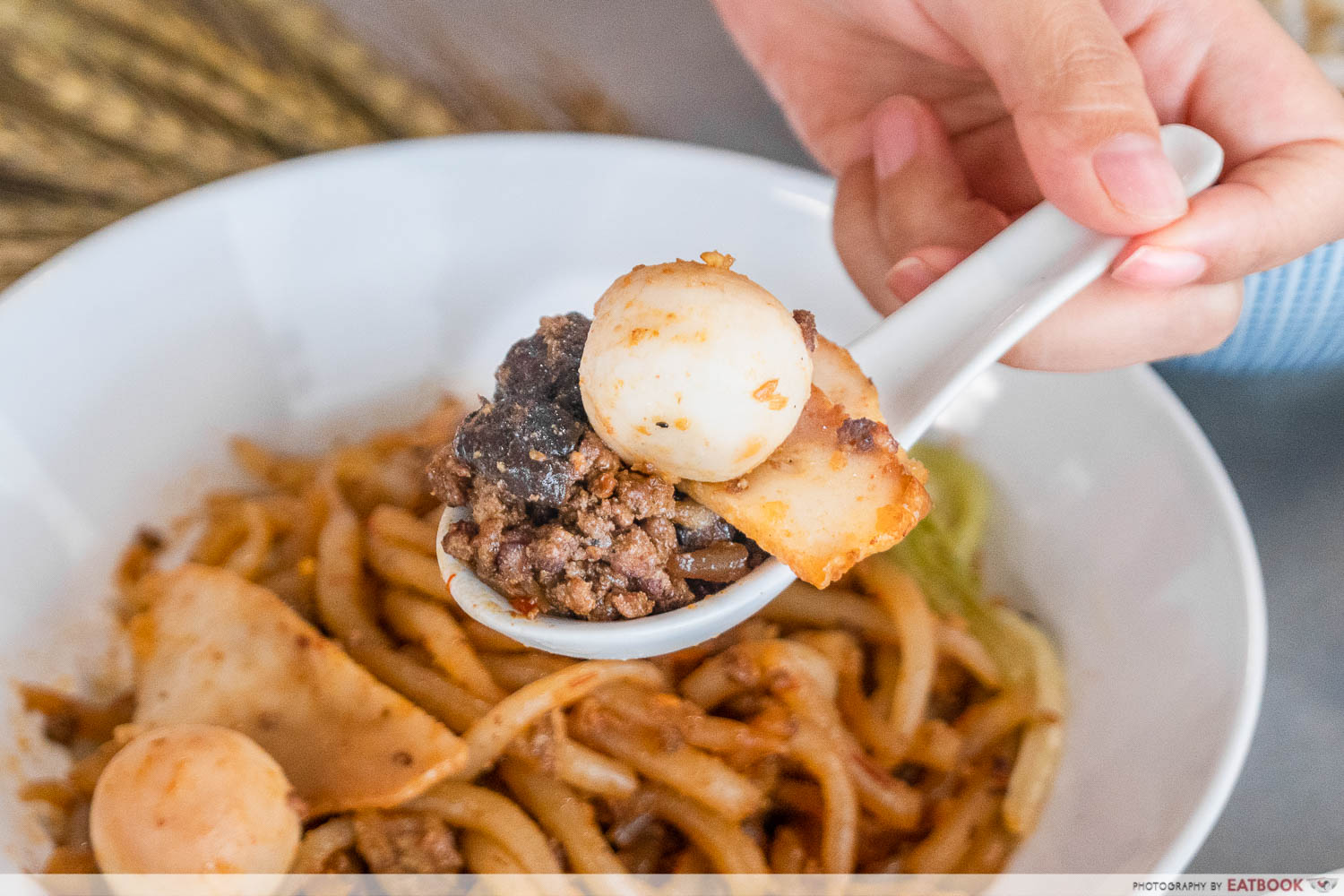 It comes with the usual BCM suspects of fishballs, fishcake, tasty minced pork, and braised mushrooms. Again, I strongly suggest letting it sit in the sauce mix before you have at it. We ordered this with chilli, and the strong, punchy flavours were truly addictive. My colleagues found the taste of vinegar a little too sharp, however, so you could ask them to dial back on that.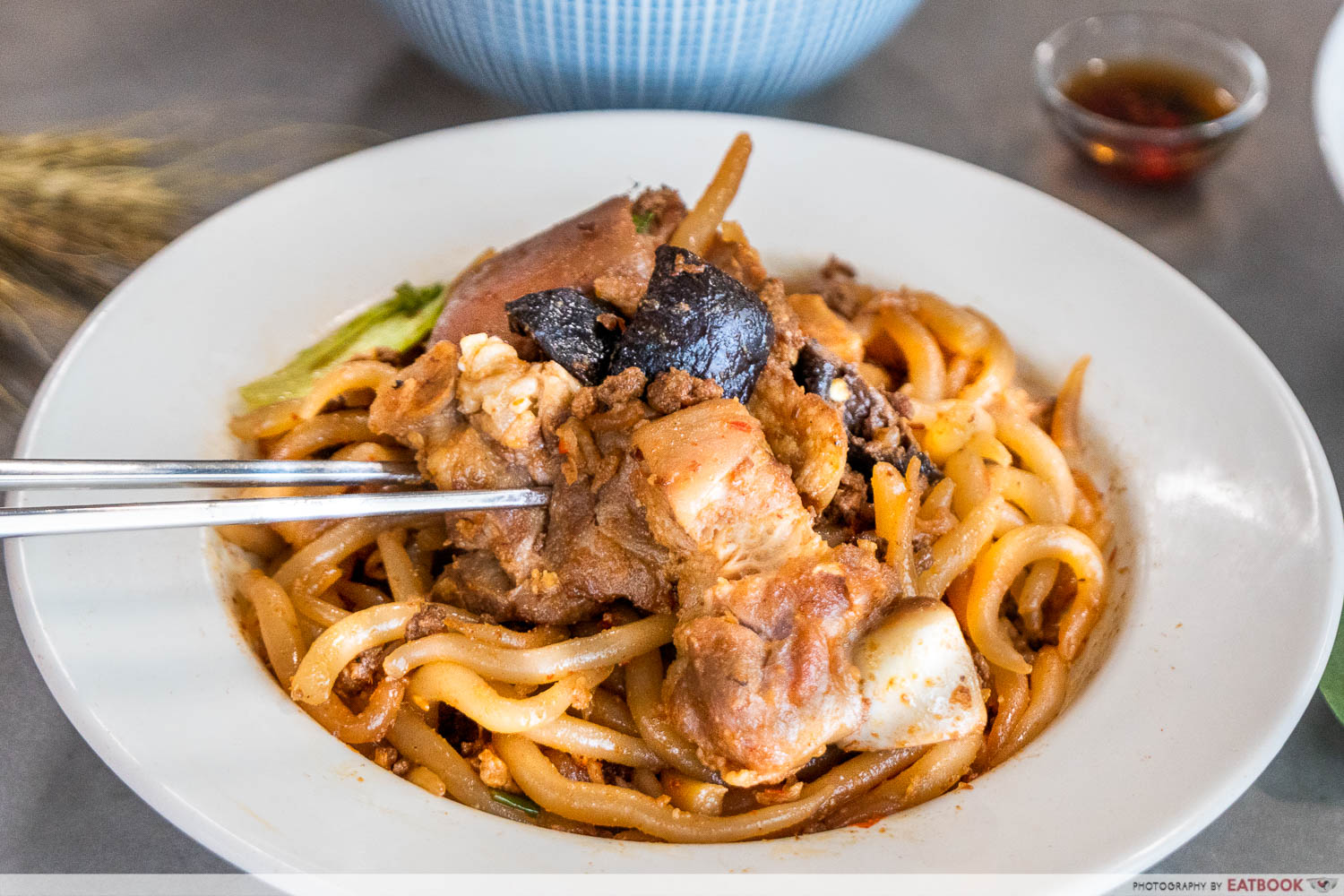 My least favourite of the three dishes I ordered was the Pork Leg Noodle ($5.50), which I also ordered with mee tai mak since it's the speciality at Shu Heng Bi Tai Mak. It looked appetising enough, with several wobbly, gelatinous hunks of bone-in pork leg, and braised mushrooms.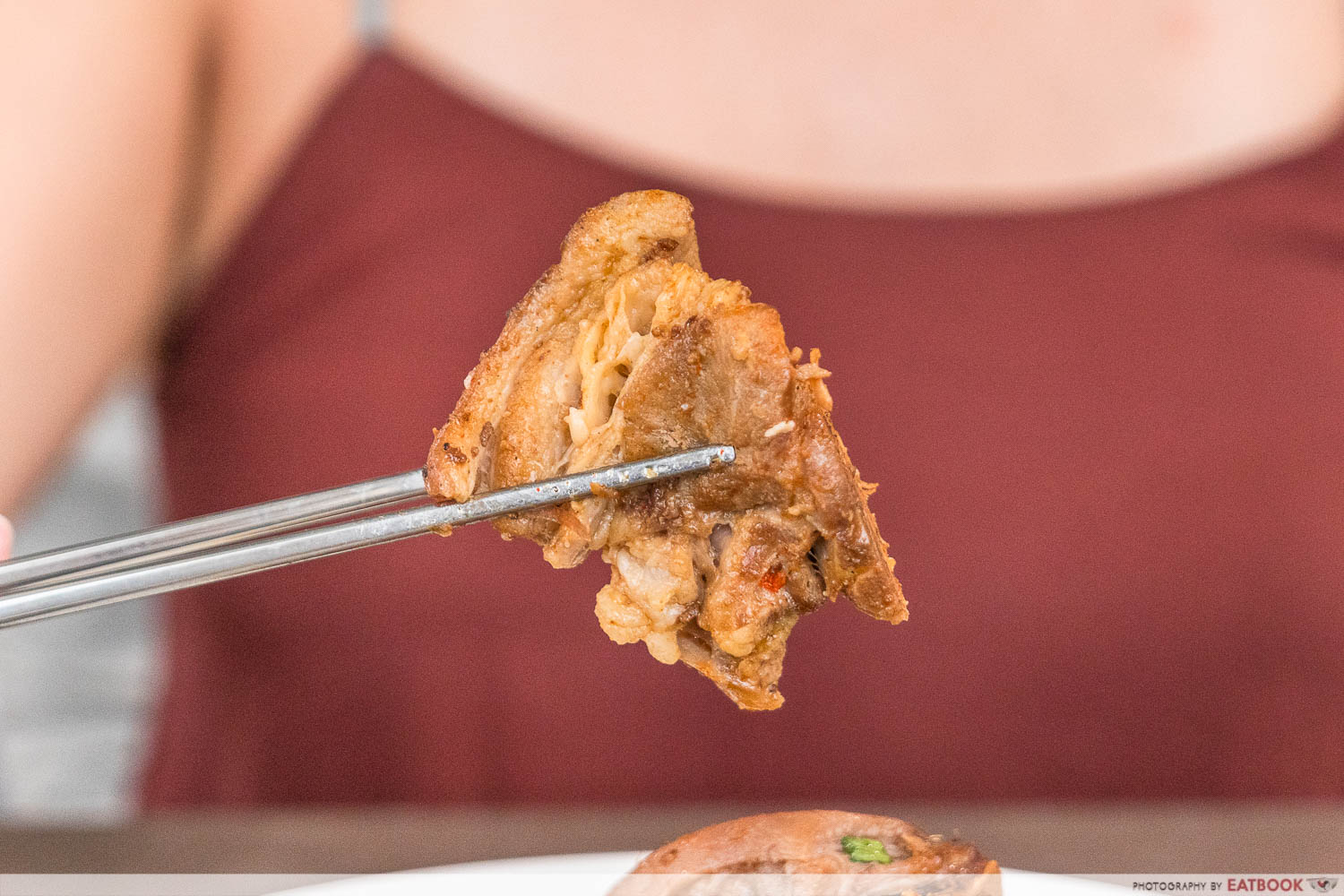 I expect this dish would be a hit with older folk who love the pork skin and layers of fat that make the meat here more tender than leaner cuts of meat. However, I personally found the meat and noodles here overwhelmingly porky, and hard to swallow. Contrarily, my colleagues described the dish as flavourful and hearty.
Jin Xi Lai Mui Siong Minced Meat Noodle Review: 50-Year-Old BCM Stall With Pork Liver Soup
Ambience at Shu Heng Bi Tai Mak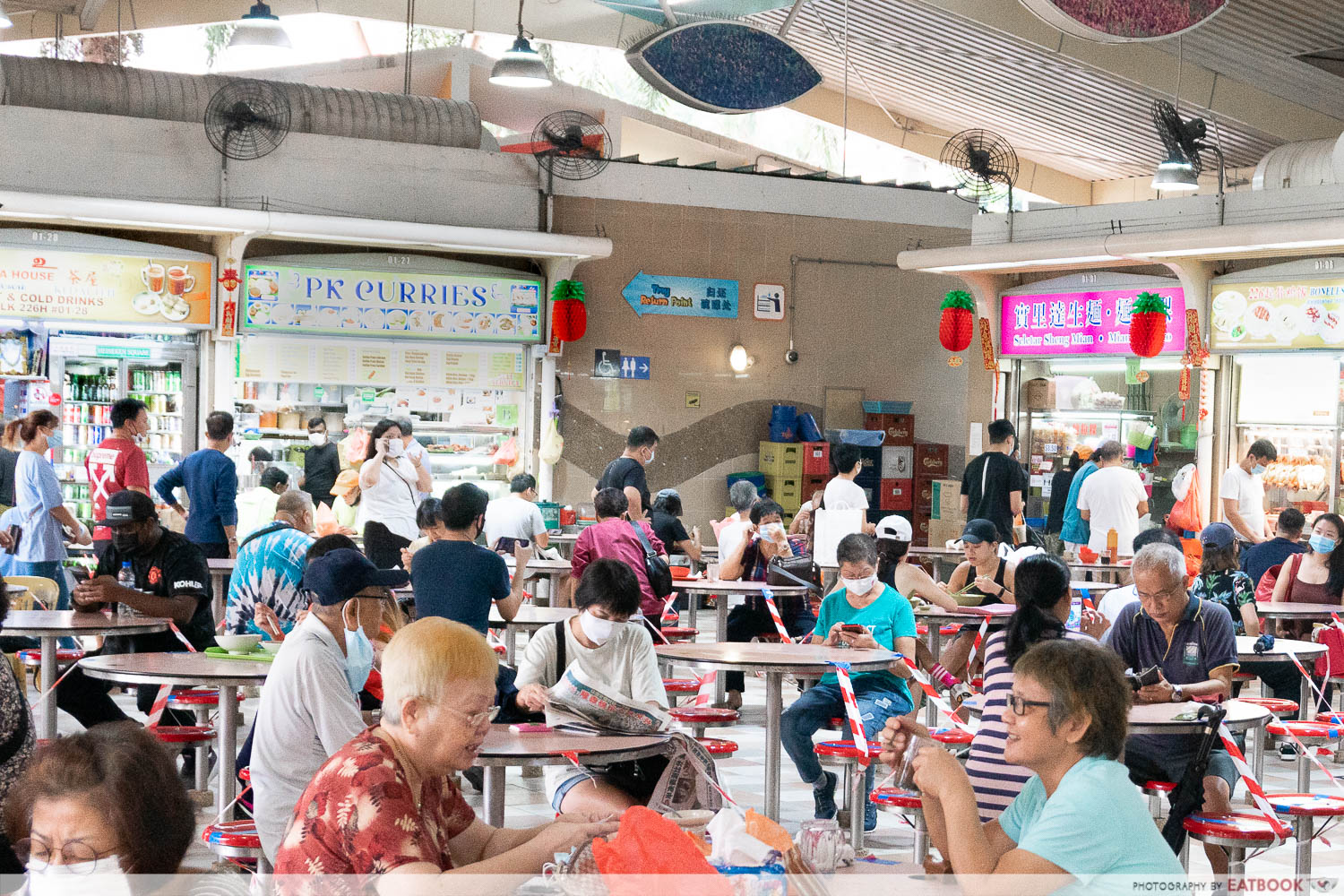 Kebun Baru Market and Hawker Centre is almost 20 minutes by bus from Bishan MRT Station, Yio Chu Kang MRT Station or Ang Mo Kio MRT Station, so it's rather inconvenient to get to if you don't live around the area. While the hawker centre is well-ventilated, with high ceilings and plenty of fans, it isn't the cleanest, and I found myself swatting houseflies away ever so often.
The verdict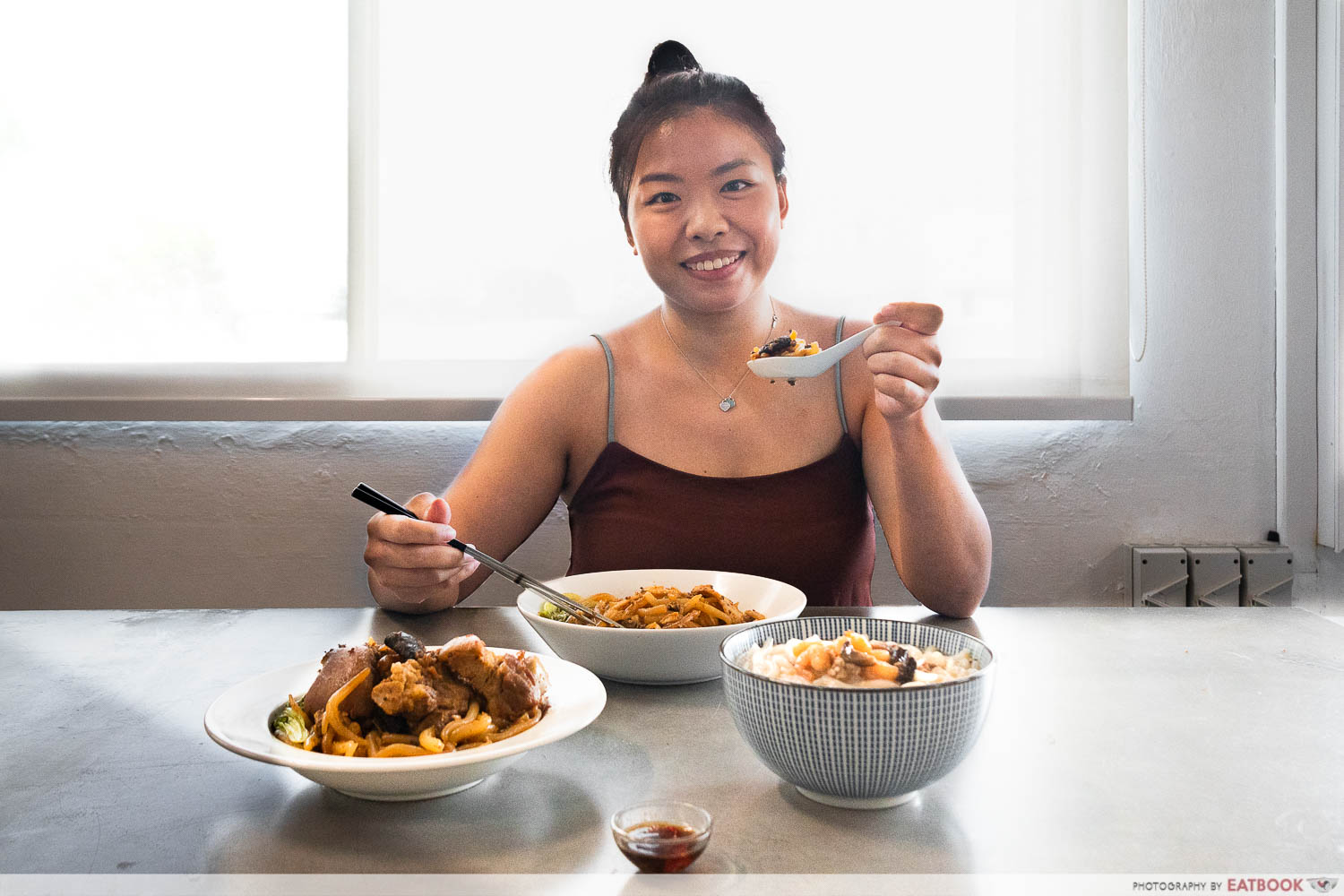 If not for the fact that I don't live near Ang Mo Kio, I could actually see myself coming back for the Johor Bi Tai Mak and Mushroom Pork Mince Bi Tai Mak over and again. I'd definitely recommend going for the dabao option, because it's only then that the thick rice noodles have the opportunity to soak up all that tastiness.
For other BCM options, consider heading to Jin Xi Lai (Mui Siong) Minced Meat Noodle, where the most popular item on the menu is bowls of pork liver soup. Alternatively, Chun Seng Noodle House pairs lor bak with noodles!
Chun Seng Noodle House Review: Bak Chor Mee With 100-Year-Old Braised Pork Recipe In ABC Brickworks
Address: 226H Ang Mo Kio Street 22, #01-25, Kebun Bahru Market and Hawker Centre, Singapore 568226
Opening hours: Wed-Mon 7am to 12pm
Shu Heng Bi Tai Mak is not a halal-certified eatery
Photos taken by Emily Teu.
This was an independent review by Eatbook.sg
The post Shu Heng Bi Tai Mak Review: Johor-Style Bi Tai Mak In Ang Mo Kio Sells Out By 12pm appeared first on EatBook.sg – New Singapore Restaurant and Street Food Ideas & Recommendations.