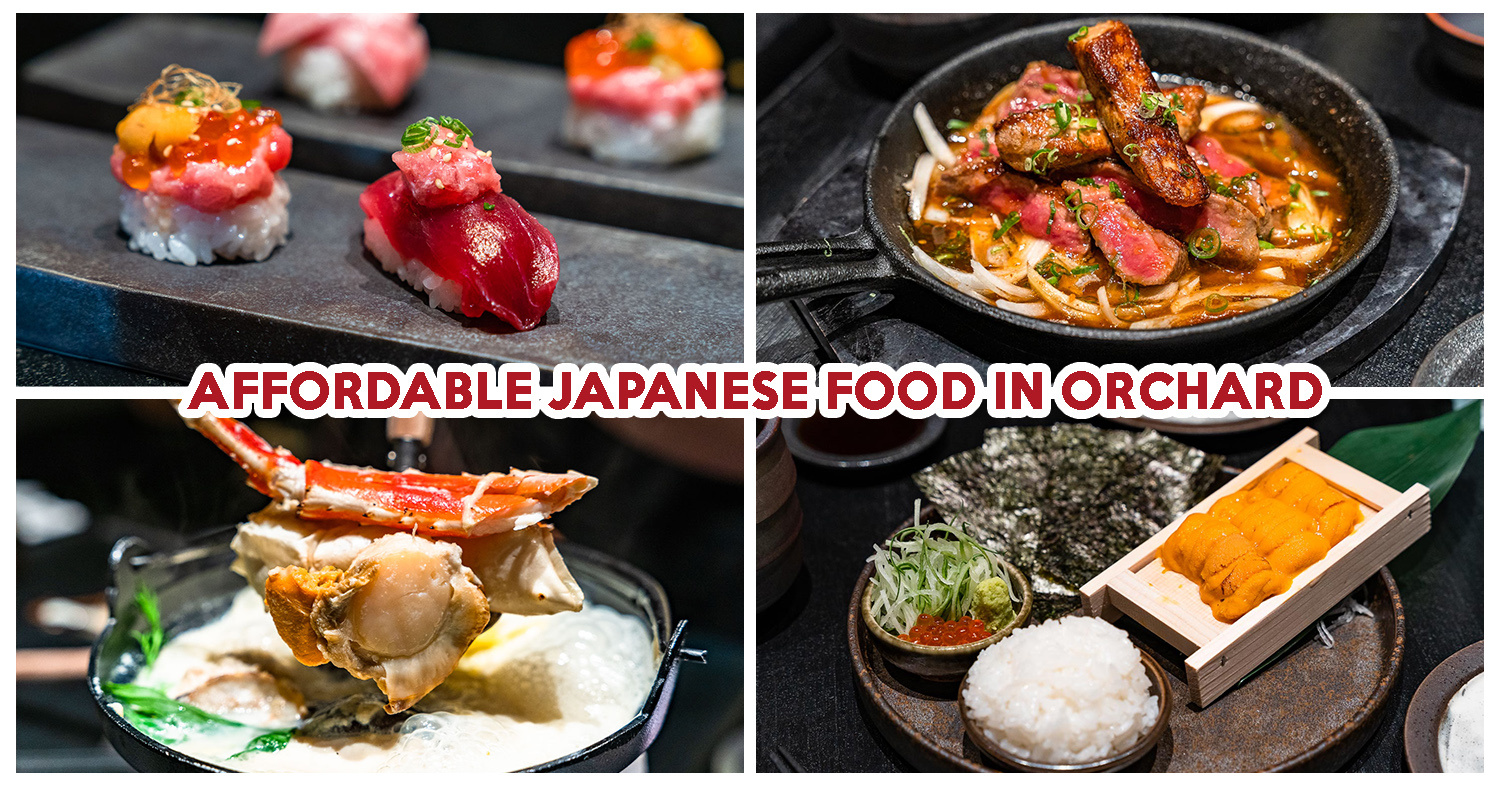 Sen-ryo Japanese food in ION Orchard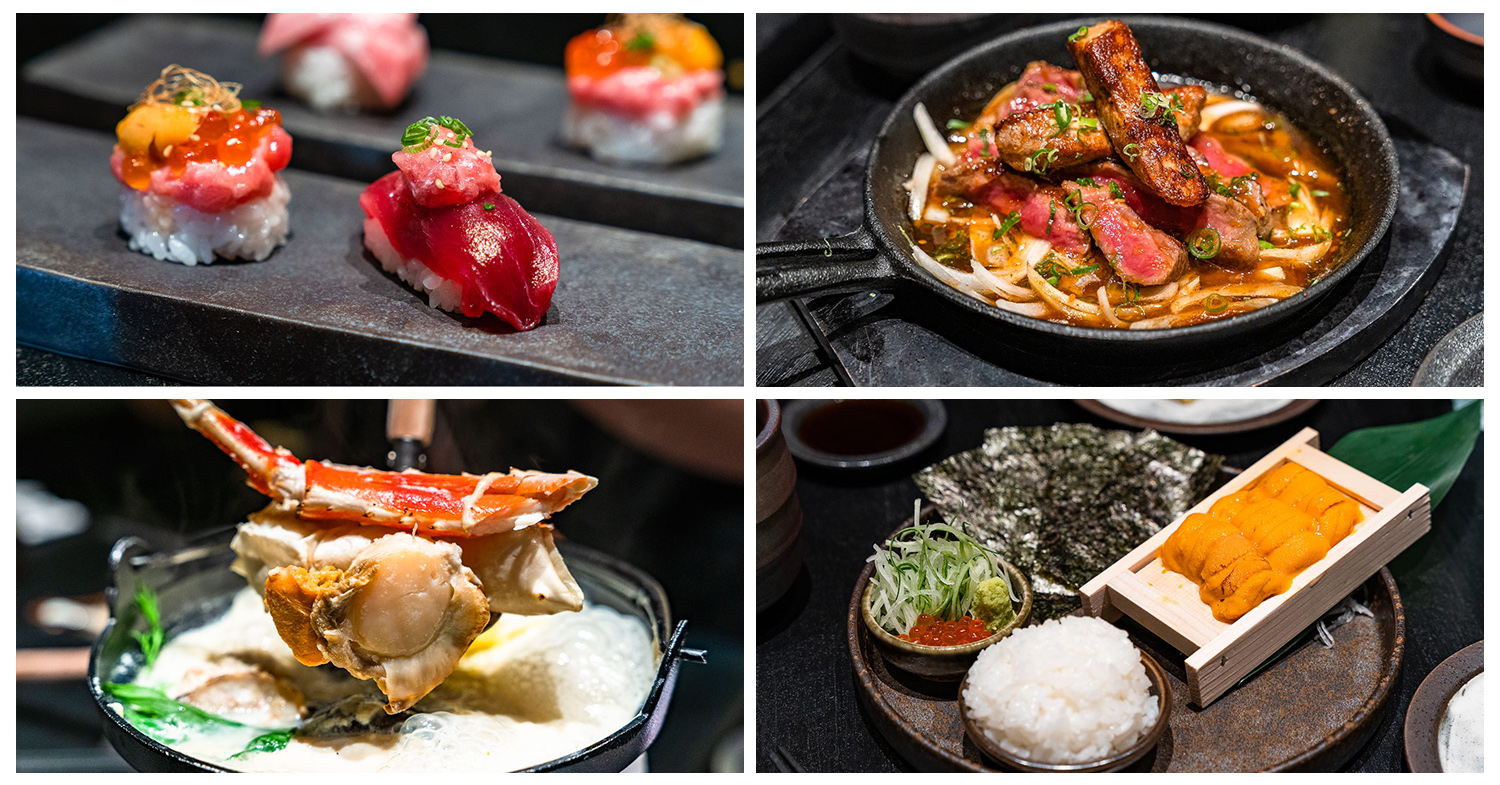 When we arrived at Sen-ryo, the maître d was patiently taking calls to fend off more reservations. "Sorry, we're fully booked with a waiting list," became his mantra for the duration of the call. Barely open for more than a month in ION Orchard, Sen-ryo's doorstep is already well-worn thanks to the number of diners clamouring to enjoy the affordable, yet luxurious fare from this popular Japanese chain.
Ironically, Sen-ryo's claim to fame isn't from its Japanese flagship in Tochigo, which has been around since 1999. Instead, all credit goes to its expansion to Hong Kong, and the 13 outlets the brand has in the city. Its ION Orchard outpost is its first opening in Singapore, franchised by the group behind Genki Sushi and Yakiniku Like.
Yakiniku Like Review: Popular Japanese Yakiniku Restaurant For Solo Diners Opens In Singapore
Food at Sen-ryo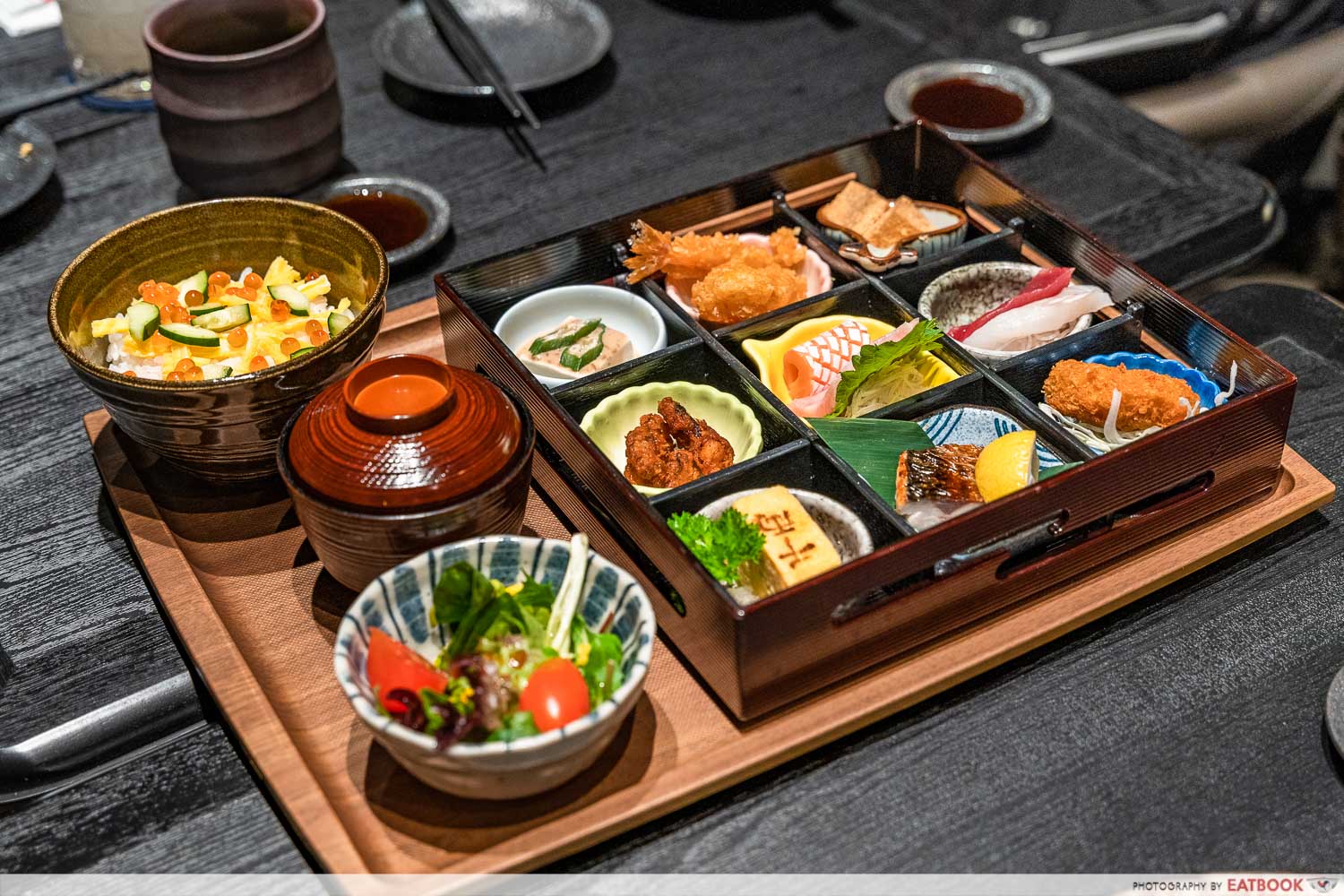 Sen-ryo is most affordable over lunch, where you can get sets that start from just $15.80++. If you want to experience the best of what the restaurant offers, though, then opt for the Sen-ryo Premium Bento ($23.80++), where you get a bento tray of nine premium assorted items, as well as a side of miso soup, and rice. On the tray, you get shatteringly crisp ebi fry in a maki, tender unagi, and even a selection of sashimi, which includes decadent, fatty otoro and salmon belly. In terms of value and taste, this rainbow of a bento is hard to beat.
If you prefer a spread on the table, though, start by ordering some bites from the sushi and appetiser portion of the menu. We highly recommend going big and getting their signature Sen-ryo Sushi ($8.80++). A disc of sushi rice is topped with fatty minced otoro, a lobe of uni, and ikura pearls.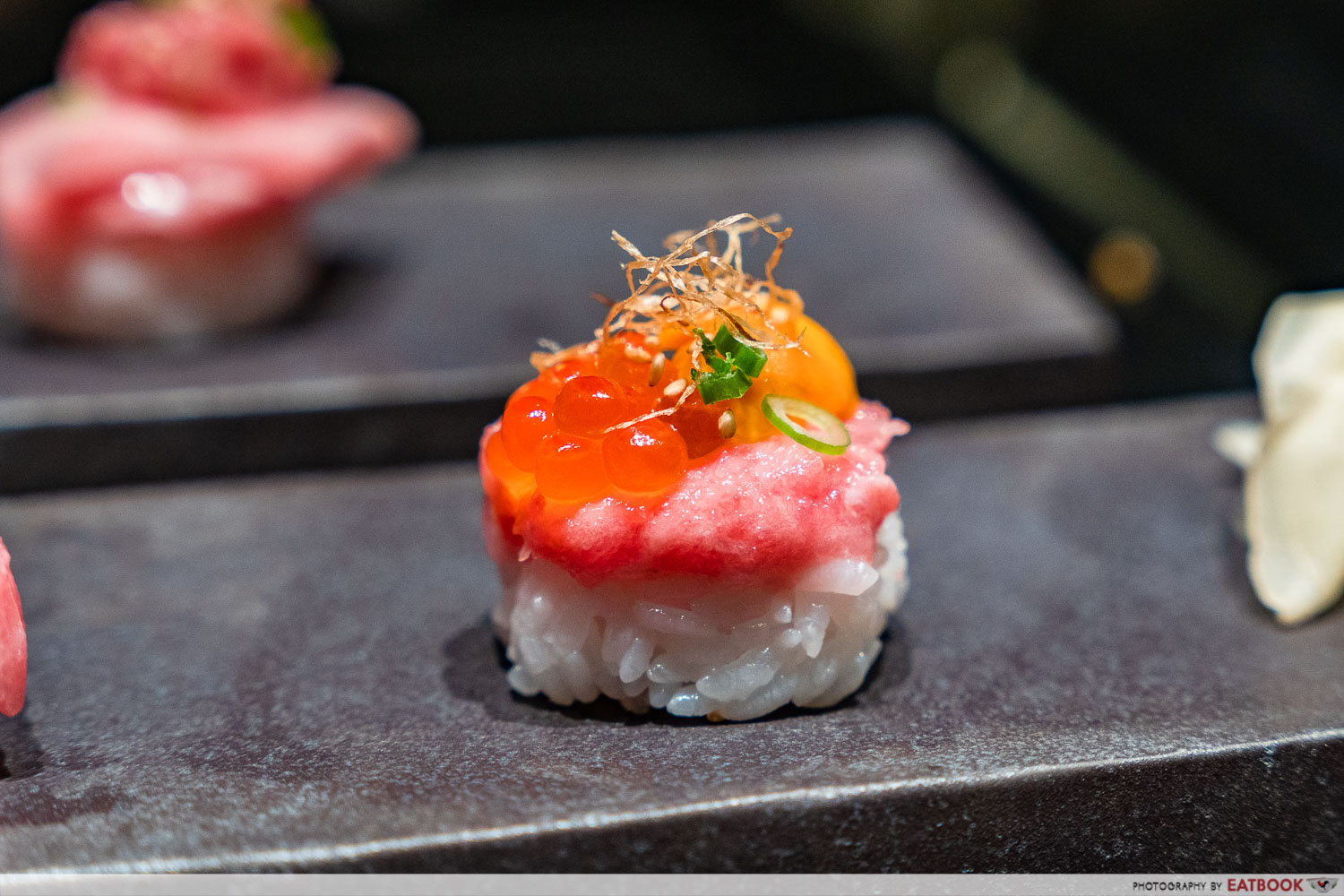 Creamy and full of brine, this sushi is a straight up treat of all the most indulgent Japanese ingredients.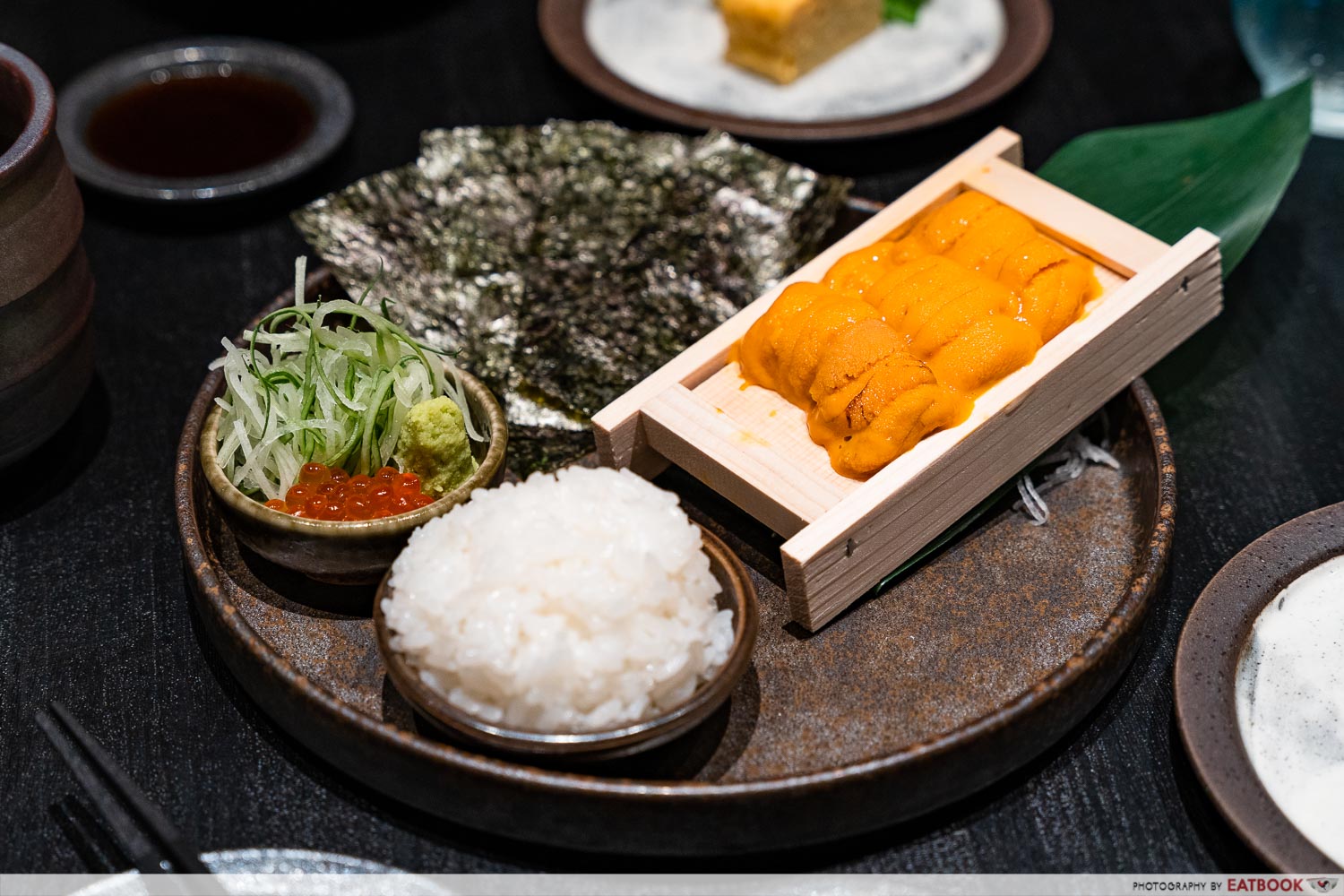 On the subject of decadence, there is the Sen-ryo DIY Hokkaido Uni ($58++), a make-your-own maki roll kit, with ikura pearls, fresh cucumber, and, of course, air-flown Hokkaido uni lobes to top the rice.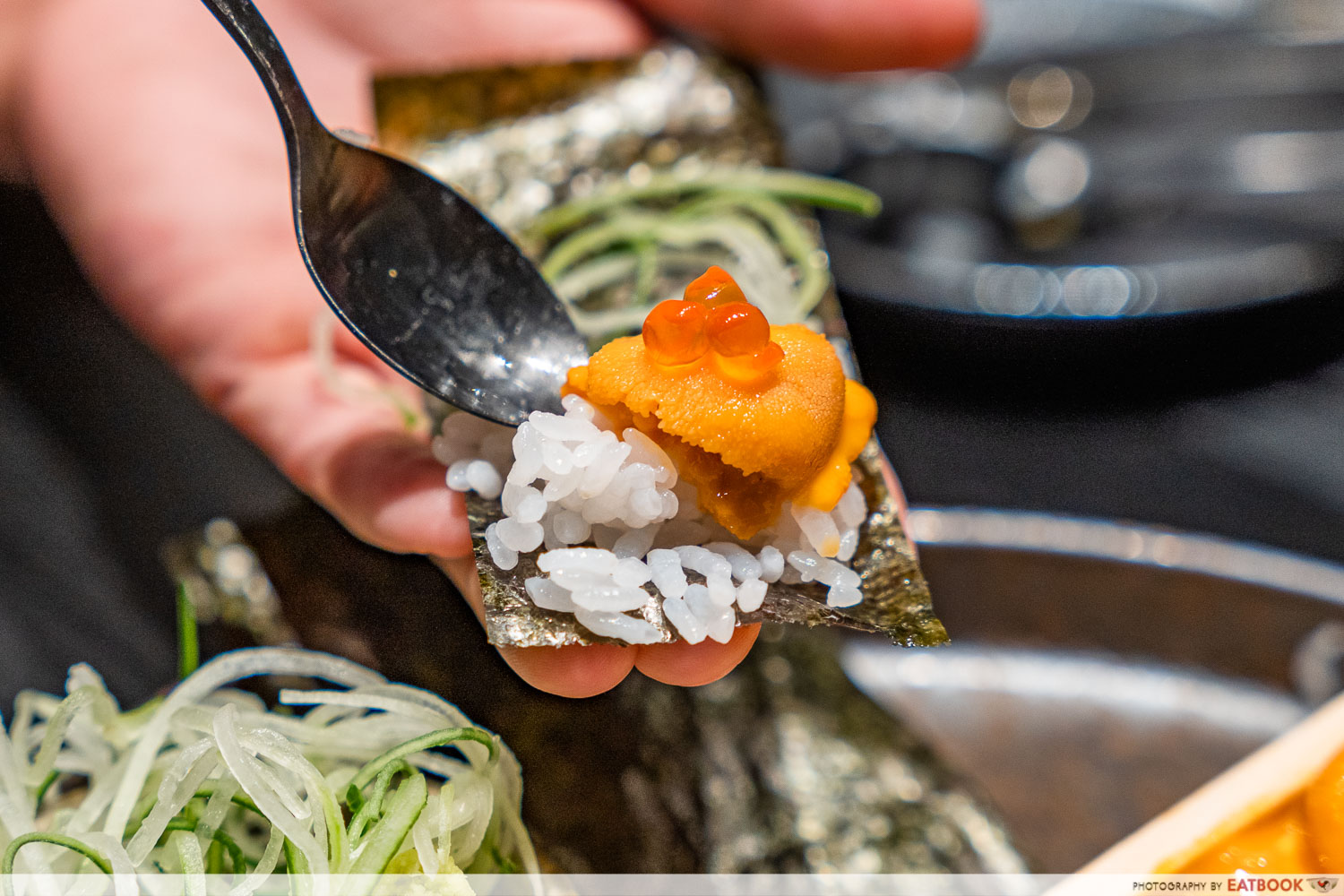 Each order comes with a tray of uni that generously feeds two, so you don't have to fight with your dining companion over who gets the final piece.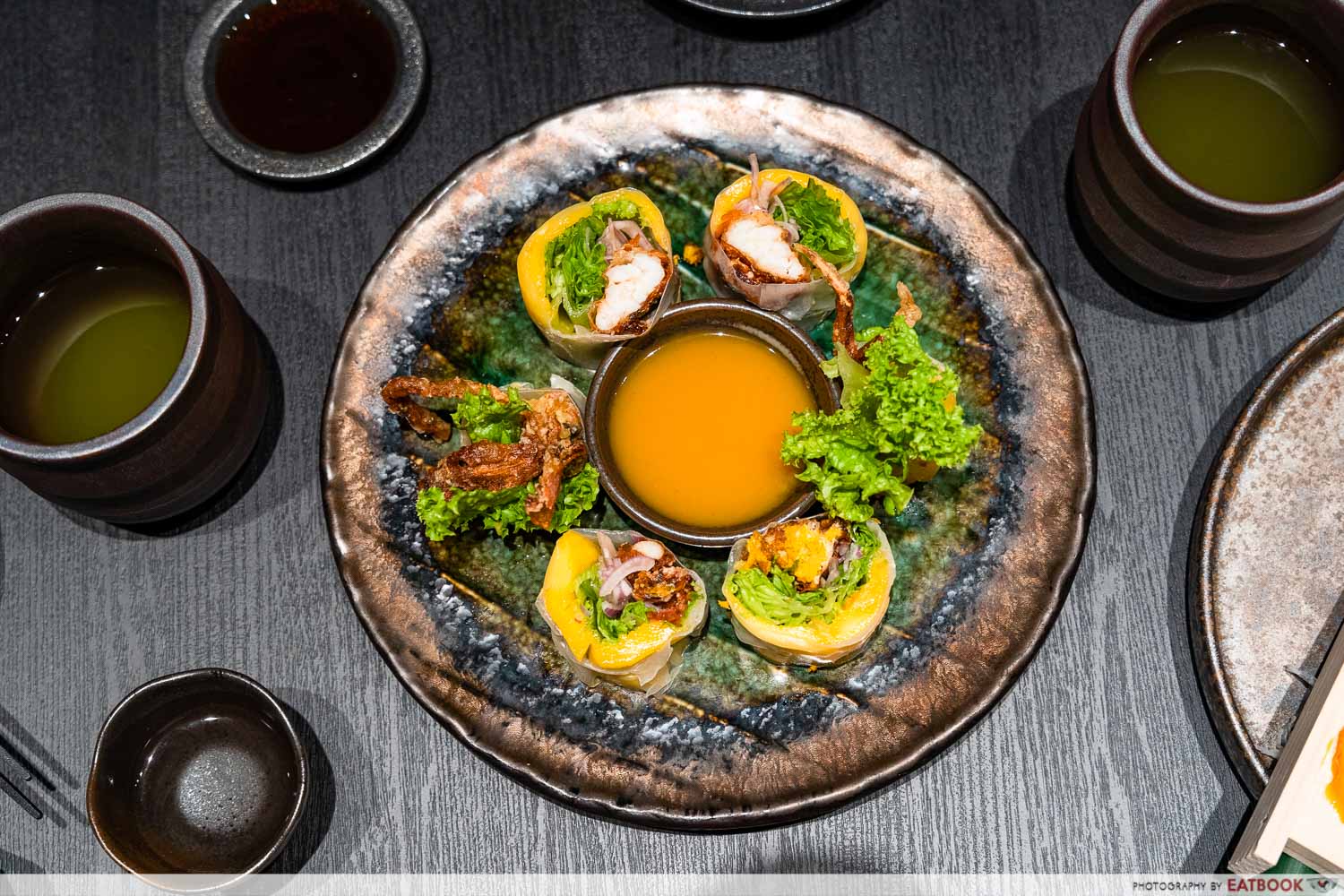 Complete the appetisers with the Soft Shell Crab and Mango Haru Nami Maki ($16.80++), a Singapore exclusive.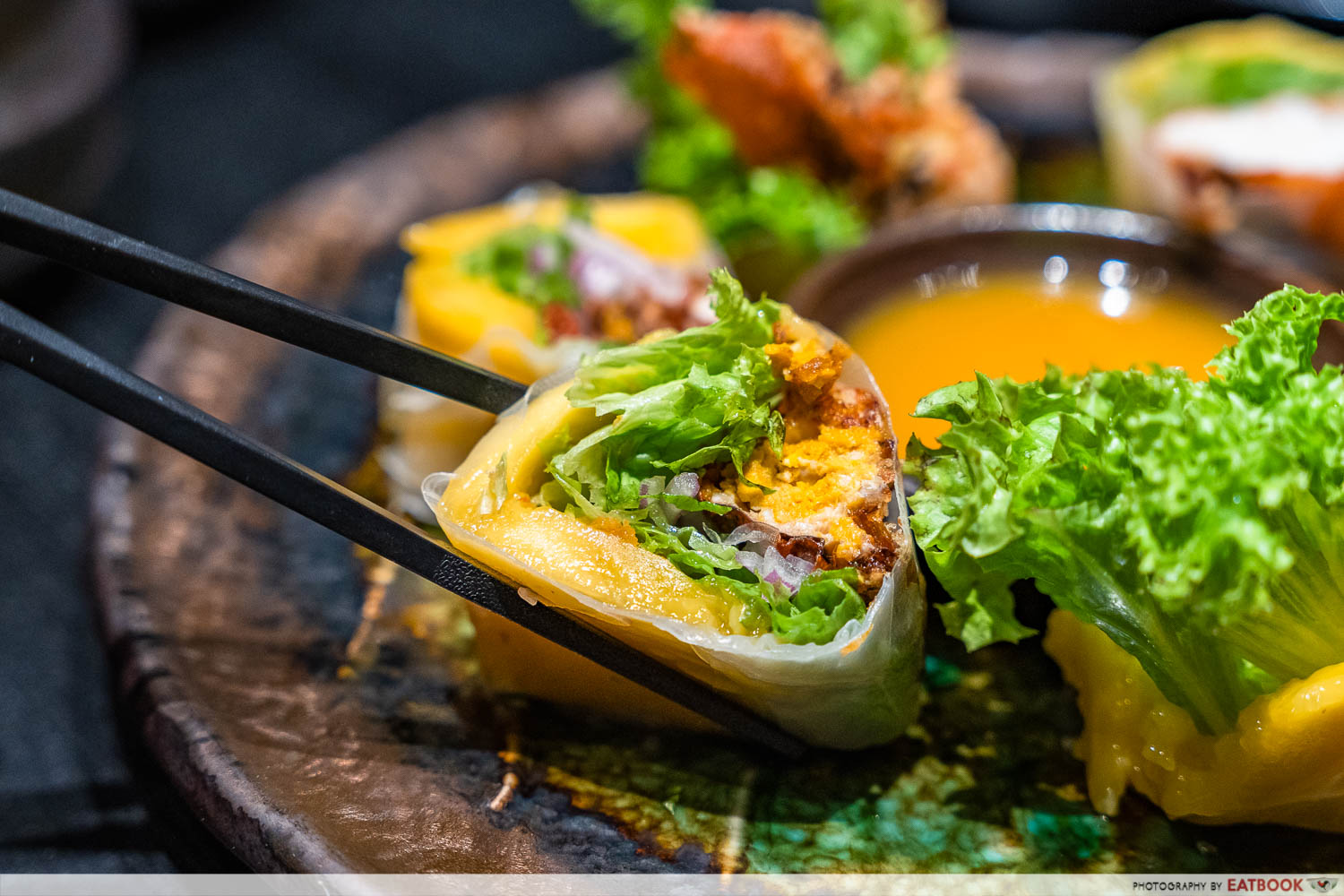 These maki rolls combine crispy soft shell crab pieces with succulent mango for a tropical kick—a moreish refresher for the palate amidst all the richness of raw sashimi.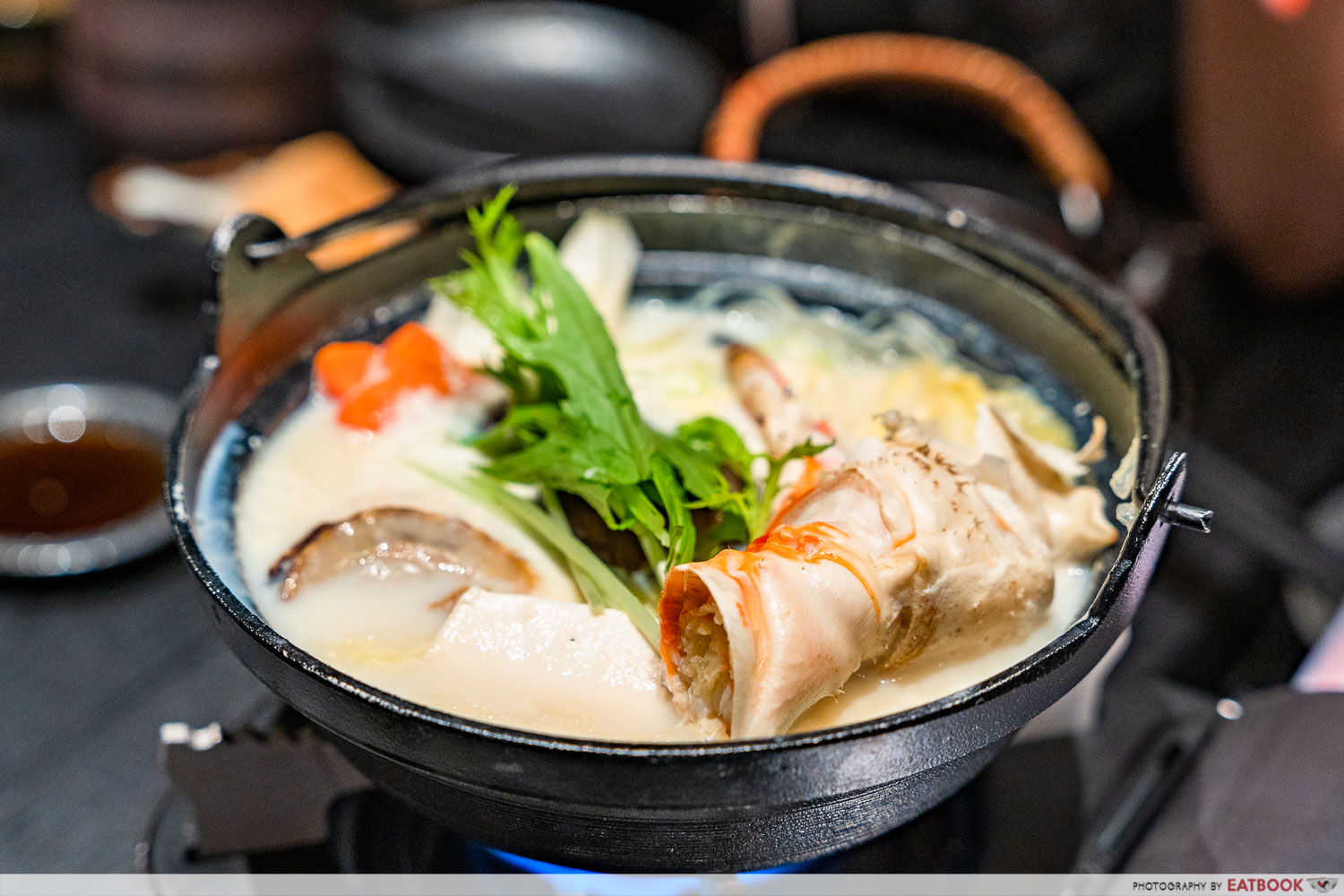 Another Singapore exclusive that is a Sen-ryo must-have is the Kaisen Soy Nabe ($32++), a nabemono hotpot filled with king snow crab leg, a milky broth made from Japanese soya beans, scallops, vegetables, and QQ kuzukiri noodles.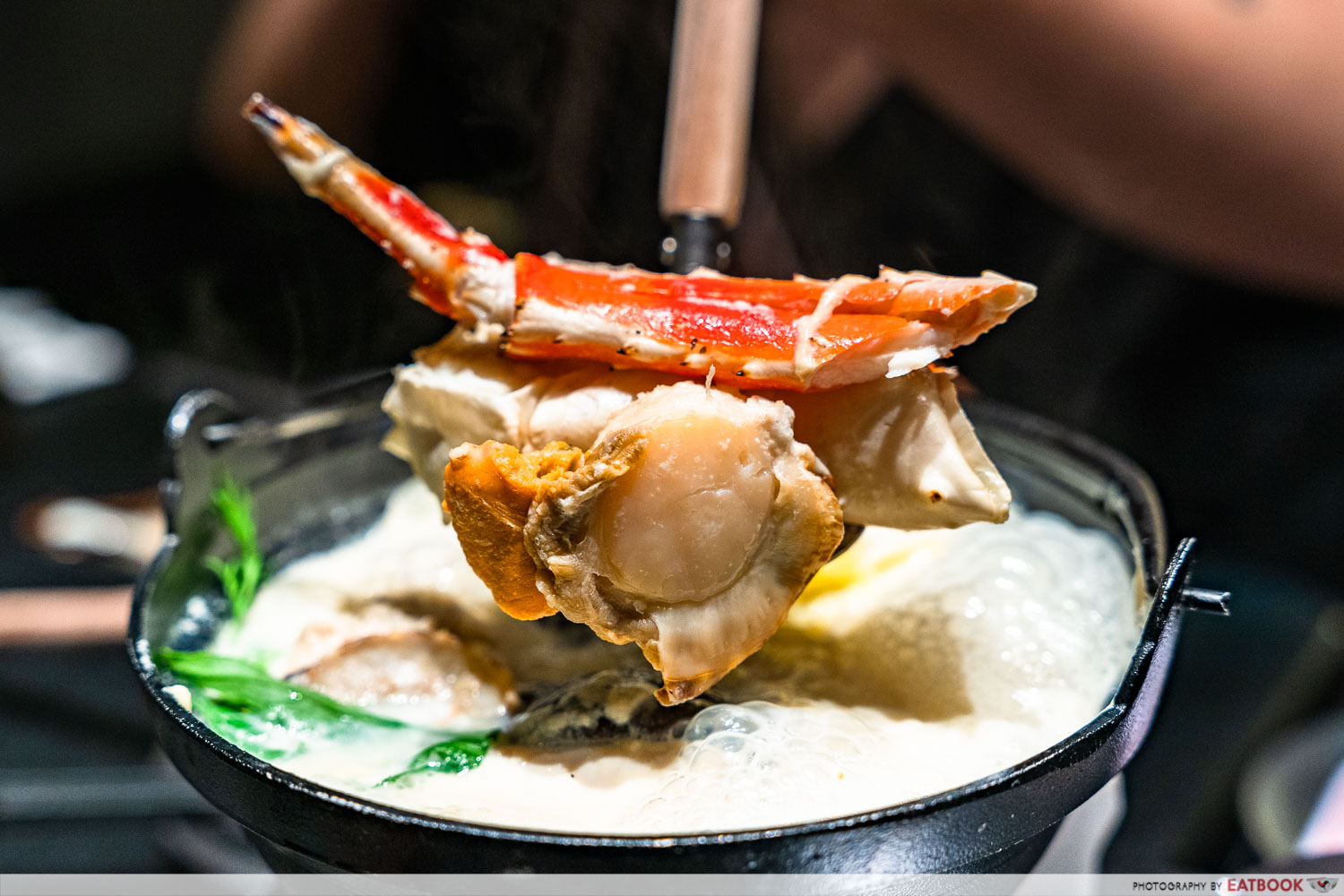 The simmering broth is soul-warming, imbued with the sweetness of crab and soy, with the kuzukiri noodles offering a chewiness we couldn't get enough of. For those who don't know, kuzukiri noodles are a Japanese speciality, made with arrowroot flour, with a mouthfeel akin to the Chinese sweet potato noodles we love.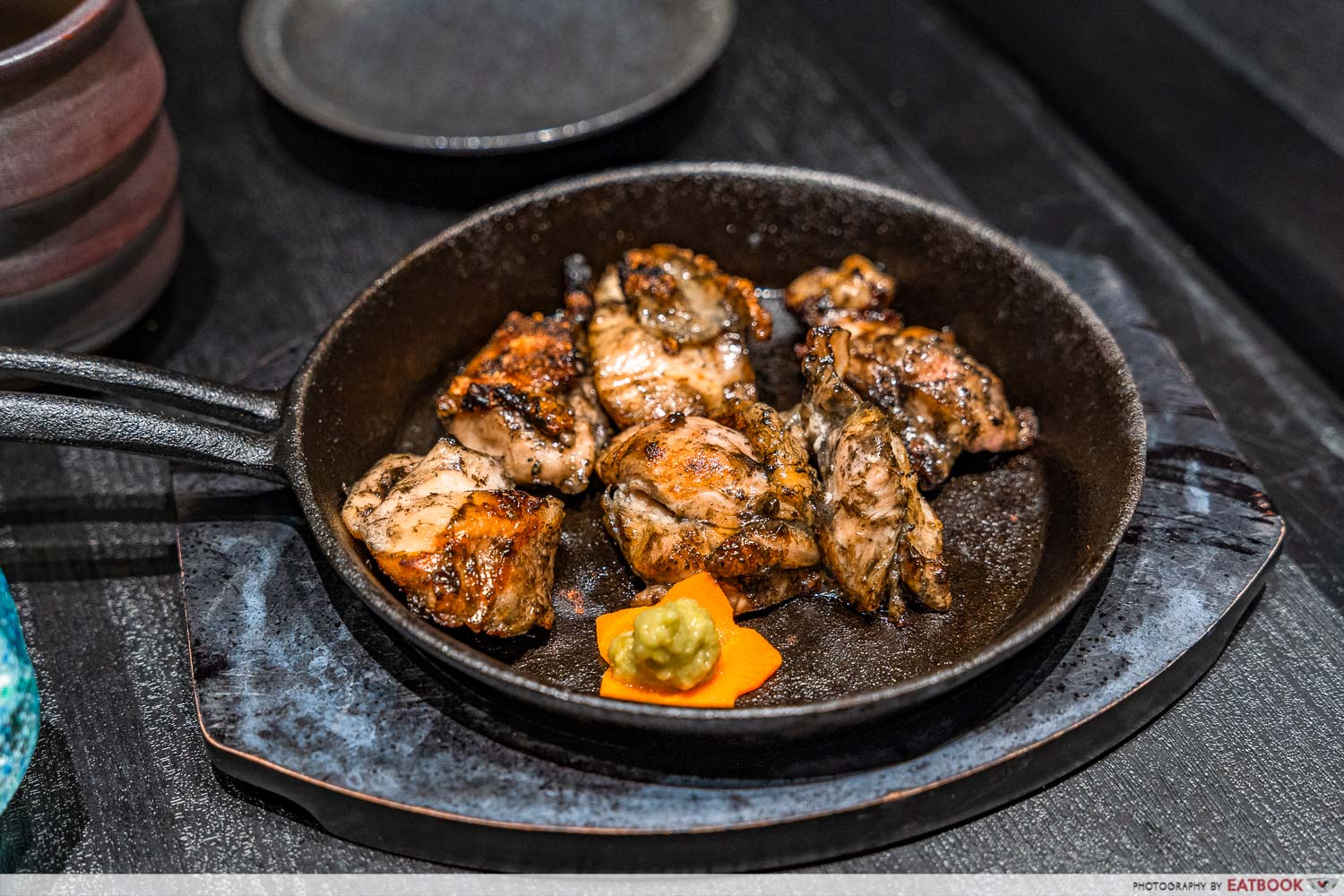 Those not big on seafood can go hard on the meat offerings on the menu here. Try the Grilled Chicken Thigh in Charcoal Style Sauce ($7.80++), where a hotplate is packed with tender chicken pieces grilled in a sweet-and-salty sumiyaki sauce. The high heat chars each chicken round so you get an extra smoky bite every time.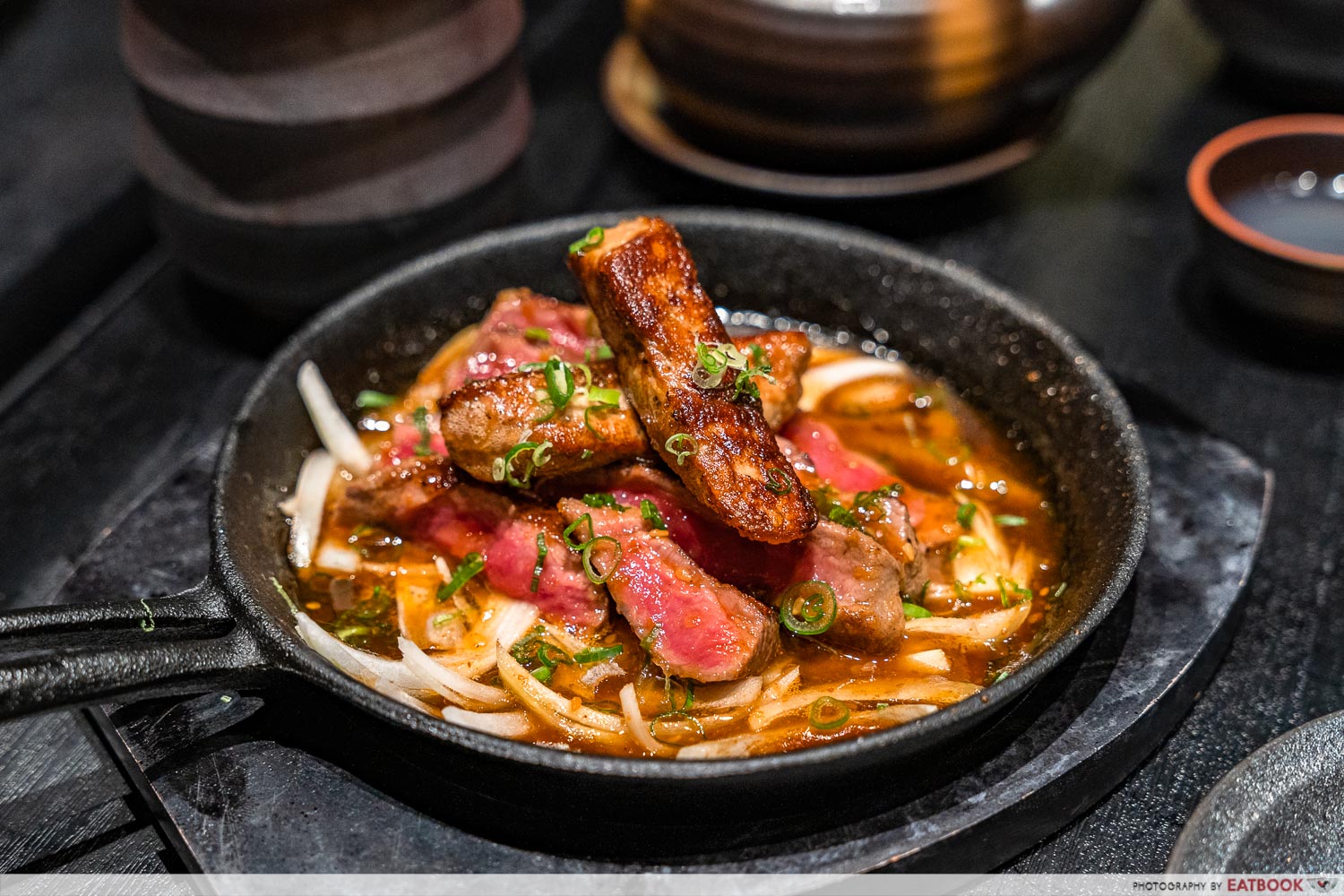 The Grilled US Beef Tenderloin and Foie Gras ($28++) is a double whammy of happiness.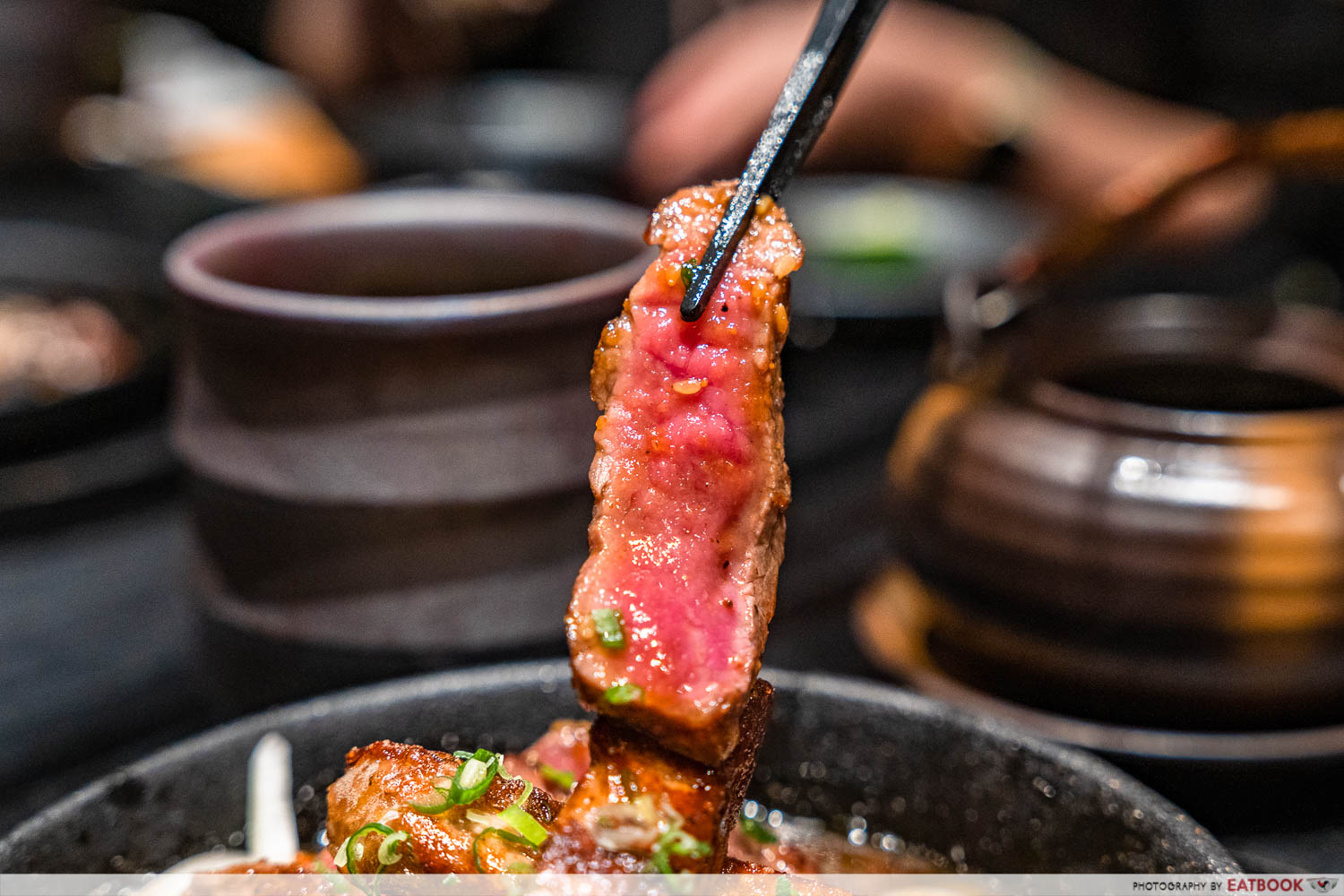 Medium-rare slices of tenderloin shared space with creamy cubes of grilled foie gras, dissolving on the tongue with the merest chew.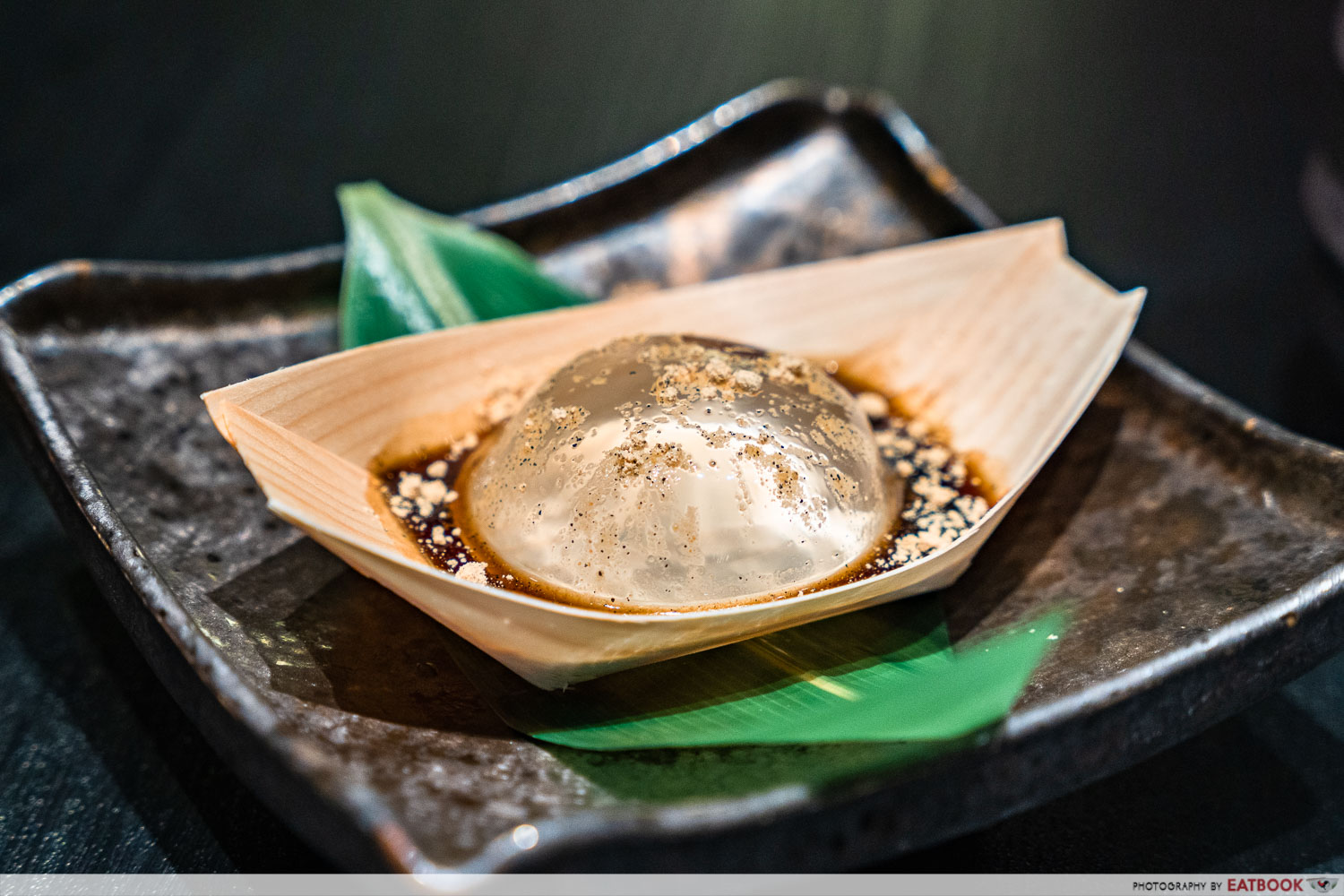 Desserts are also available to finish the meal on a sweet high. The Mizu Warabi Mochi ($5.80++) harks back to the viral raindrop cake of years past, complete with nutty kinako powder and black sugar syrup for flavour. 
Ambience at Sen-ryo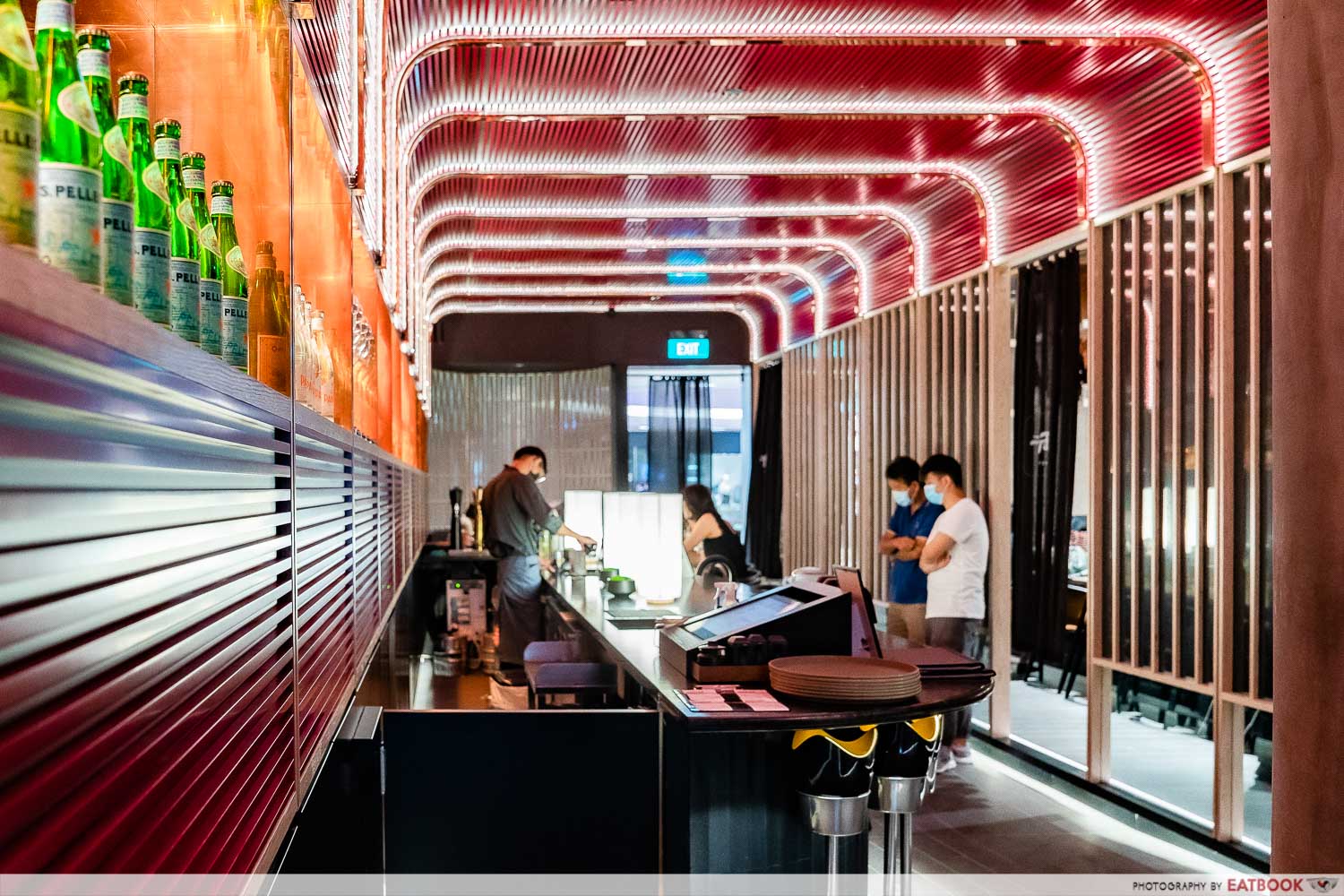 The spacious restaurant is divided into different spaces. First, a neon-lit sake bar, ideal for drinks before or after your meal. Choose to dine with a view when you sit by the grill or sushi bar, where you can watch the chefs at work, or in any of the cosy, secluded private nooks or rooms.
ION Orchard Food Guide: 20 Places For Matcha Parfaits, High Tea, Truffle Ramen And More
The verdict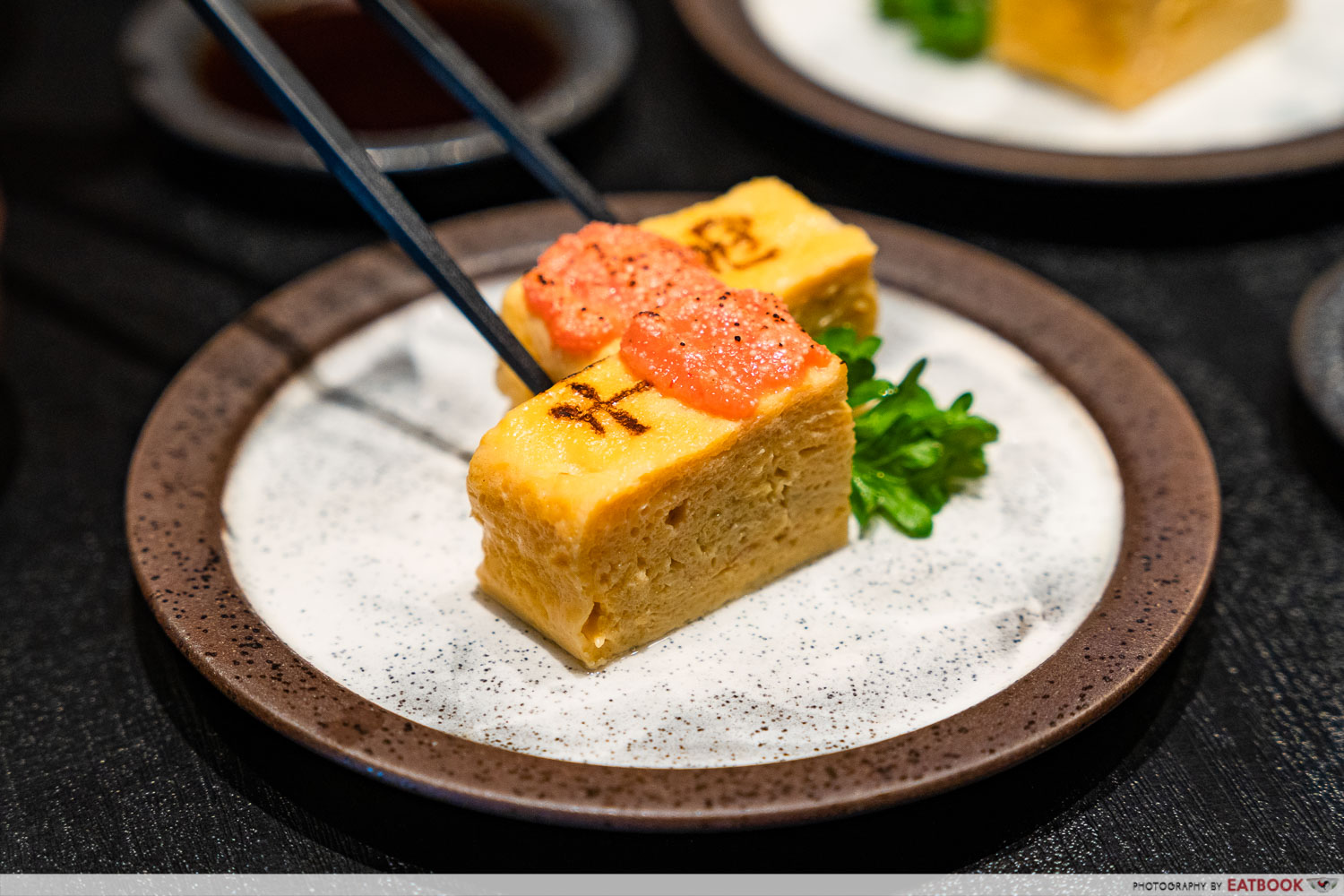 Sen-ryo wins big on several fronts. Its central location, sleek interior, and affordable menu are big plus points for people seeking out date night dinner spots, or special occasion restaurants that won't break the bank. What really sealed the deal for us, though, is the quality of food you can get for the price here. For the same amount of money you'd spend at most higher-end Japanese chain restaurants, you can feast on a meal befitting a king here. Safe to say, we'll be back.
For more in the area, check out our ION Orchard food guide. Otherwise, check out our list of affordable Japanese food places in Singapore.
Address: 2 Orchard Turn, #03-14, ION Orchard, Singapore 238801
Opening hours: Daily 11am to 10pm
Tel: 6974 6782
Website
Sen-ryo is not a halal-certified eatery.
15 Cheap Japanese Food Joints Under $10 For Halal Beef Bowls And Kopitiam Yakiniku
Photos taken by John Lery Villanueva.
This was a media tasting at Sen-ryo.
The post Sen-ryo Review: Famous Japanese Restaurant In ION, With Luxe Bentos From Just $15.80++ appeared first on EatBook.sg – New Singapore Restaurant and Street Food Ideas & Recommendations.