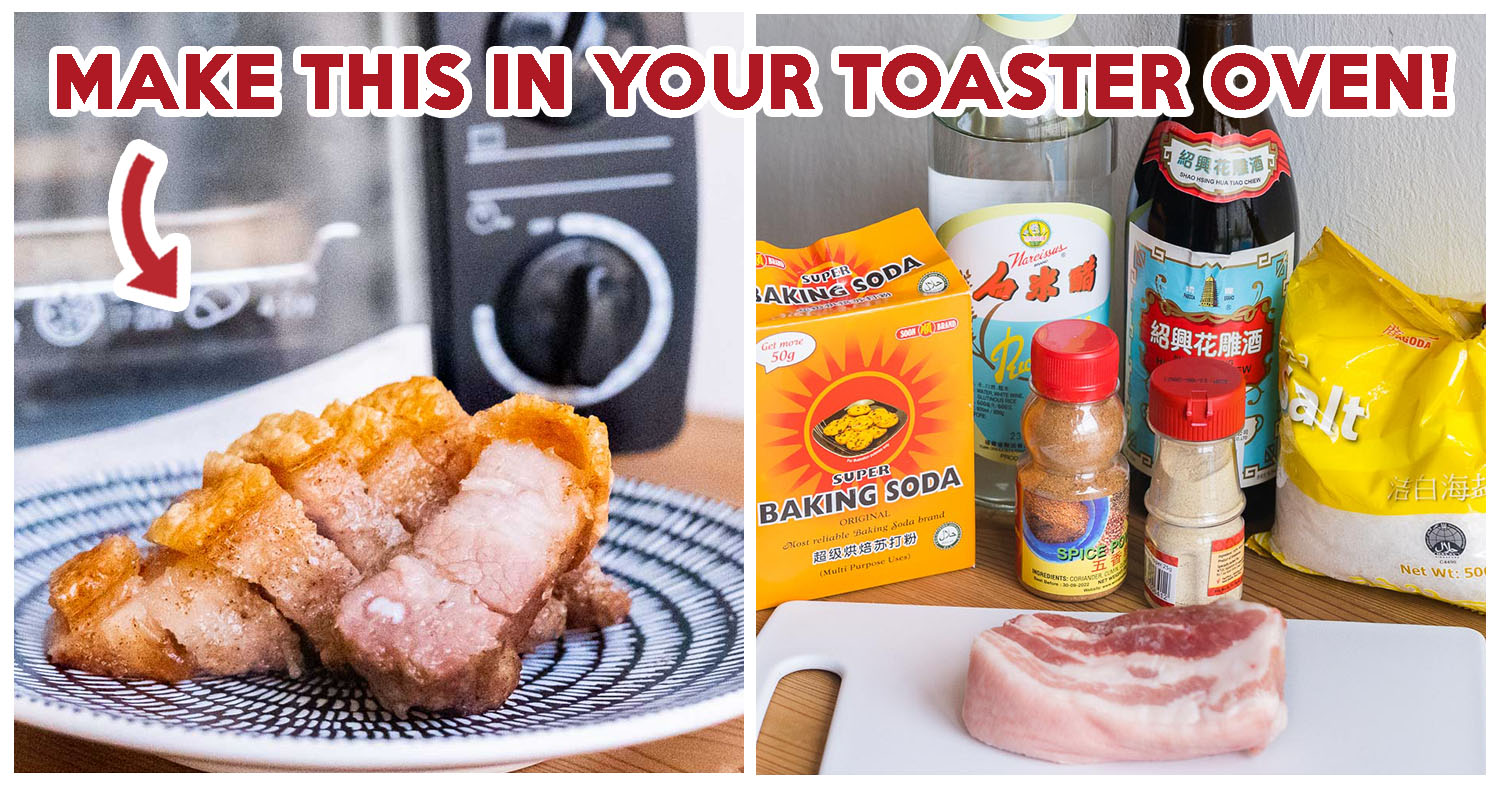 Air fryer or toaster oven-roasted pork recipe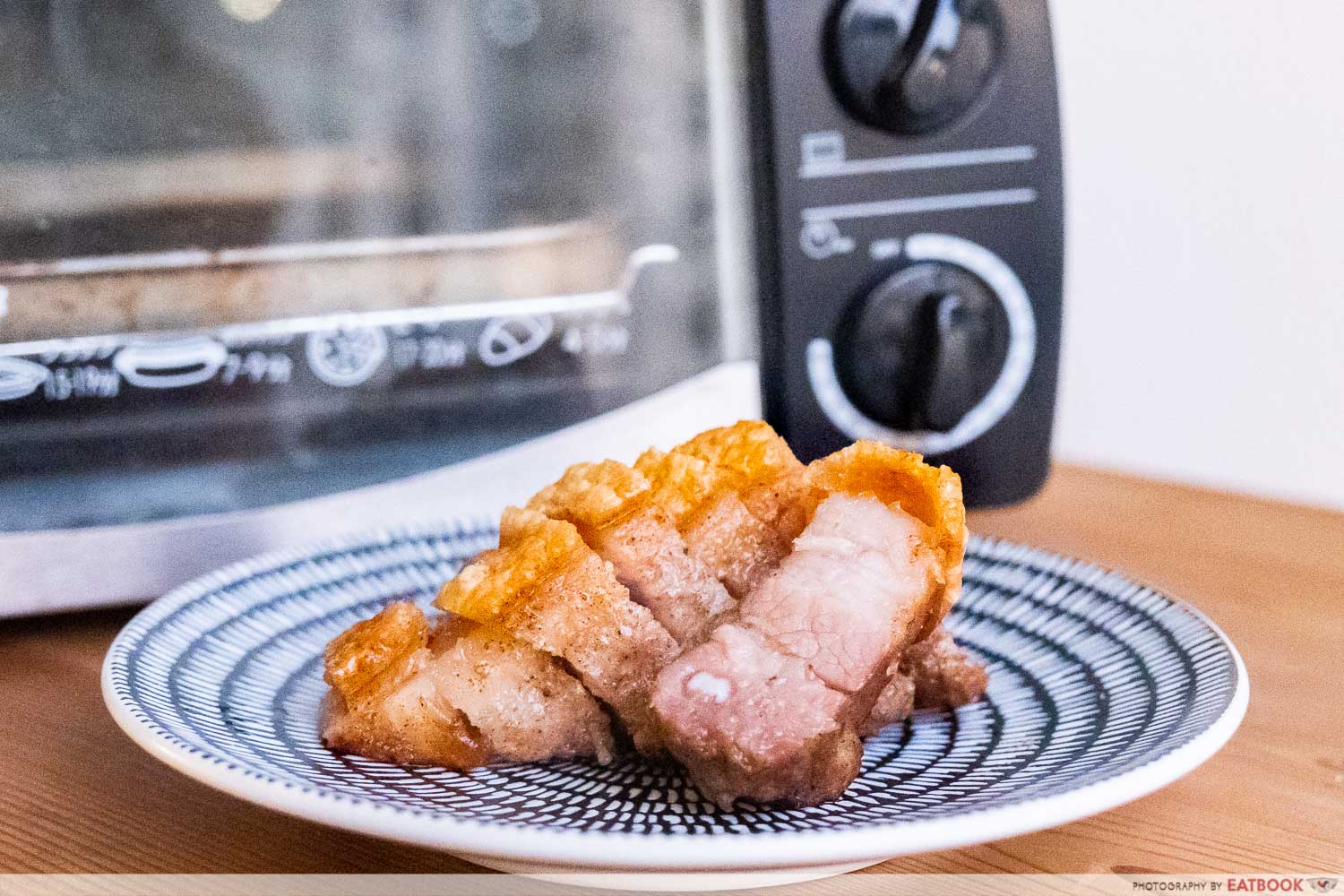 Ever since coming up with the crazy coriander butter cake recipe, we've been inspired to introduce other interesting yet super simple recipes. Roast pork immediately came into mind, as before working from home became a norm, lunch for me meant a daily plate of roast pork rice from the hawker centre near the office.
This requires everyday pantry ingredients, as well as common kitchen equipment ranging from an oven, air fryer, and even toaster oven.
Three kinds of people will enjoy attempting this easy and straightforward roast pork recipe: 
Roast pork lovers.

Those who don't want to leave home to dapao from the hawker centre.

Anyone who doesn't believe they can make restaurant-quality roast pork with an ASMR-worthy crackling at home.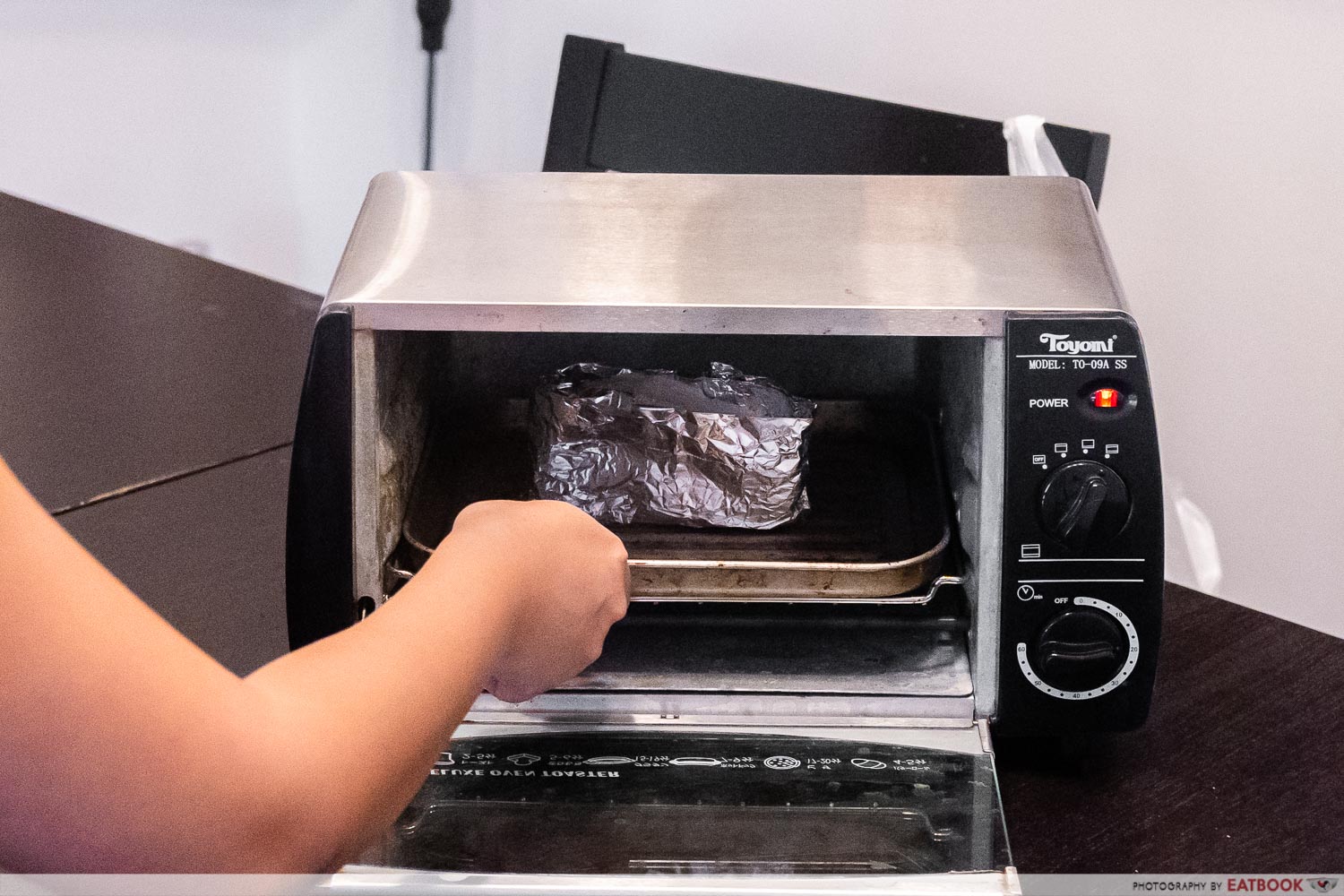 If you are one of them, and are armed with at least a toaster oven at home, head down to the bottom of the article for the full recipe!
---
The process
---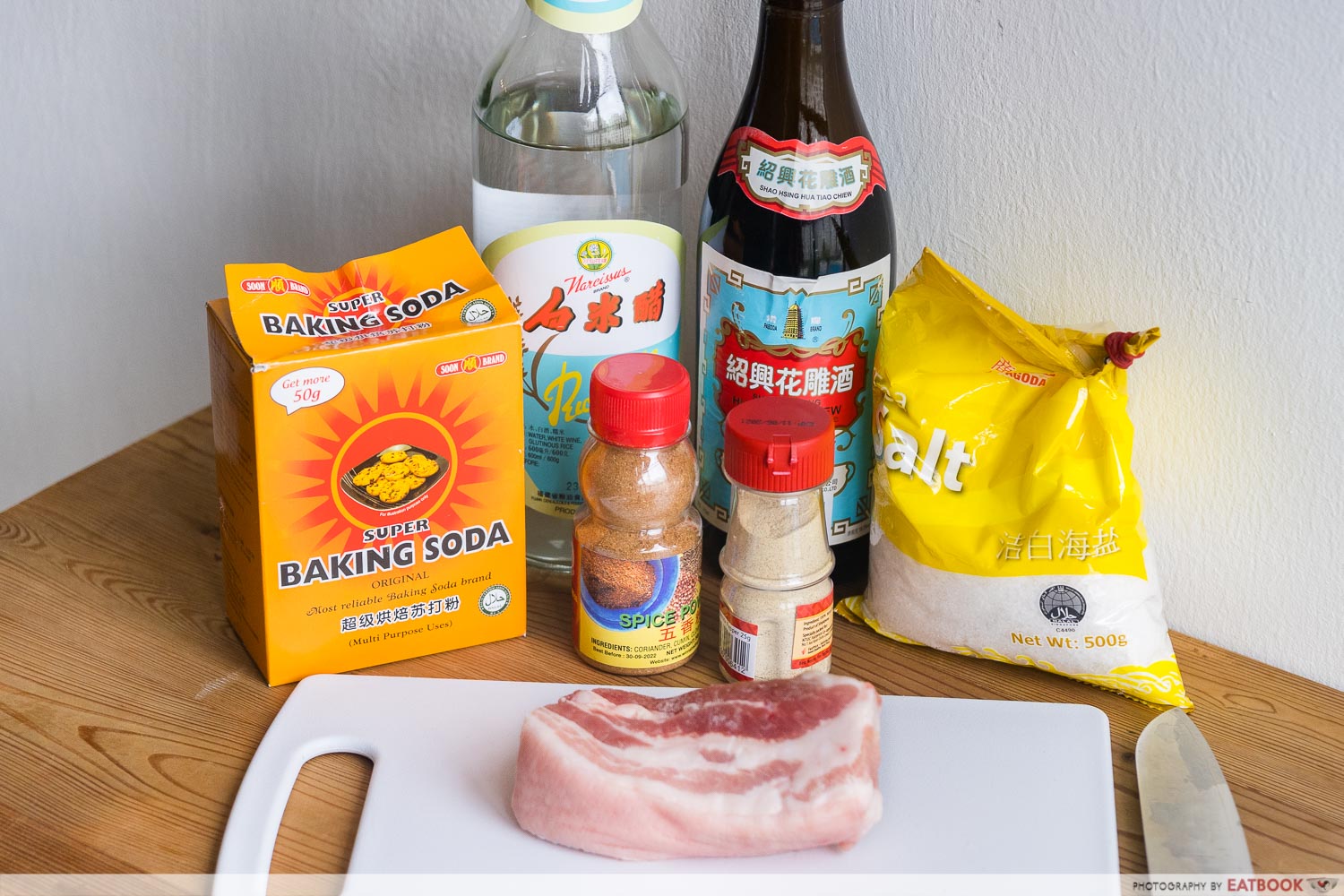 It is definitely easy to simply make your way to the closest hawker centre for a mediocre plate of roast pork rice. However, there's a much higher sense of satisfaction when you whip up a very good serving of roast pork from scratch all by yourself.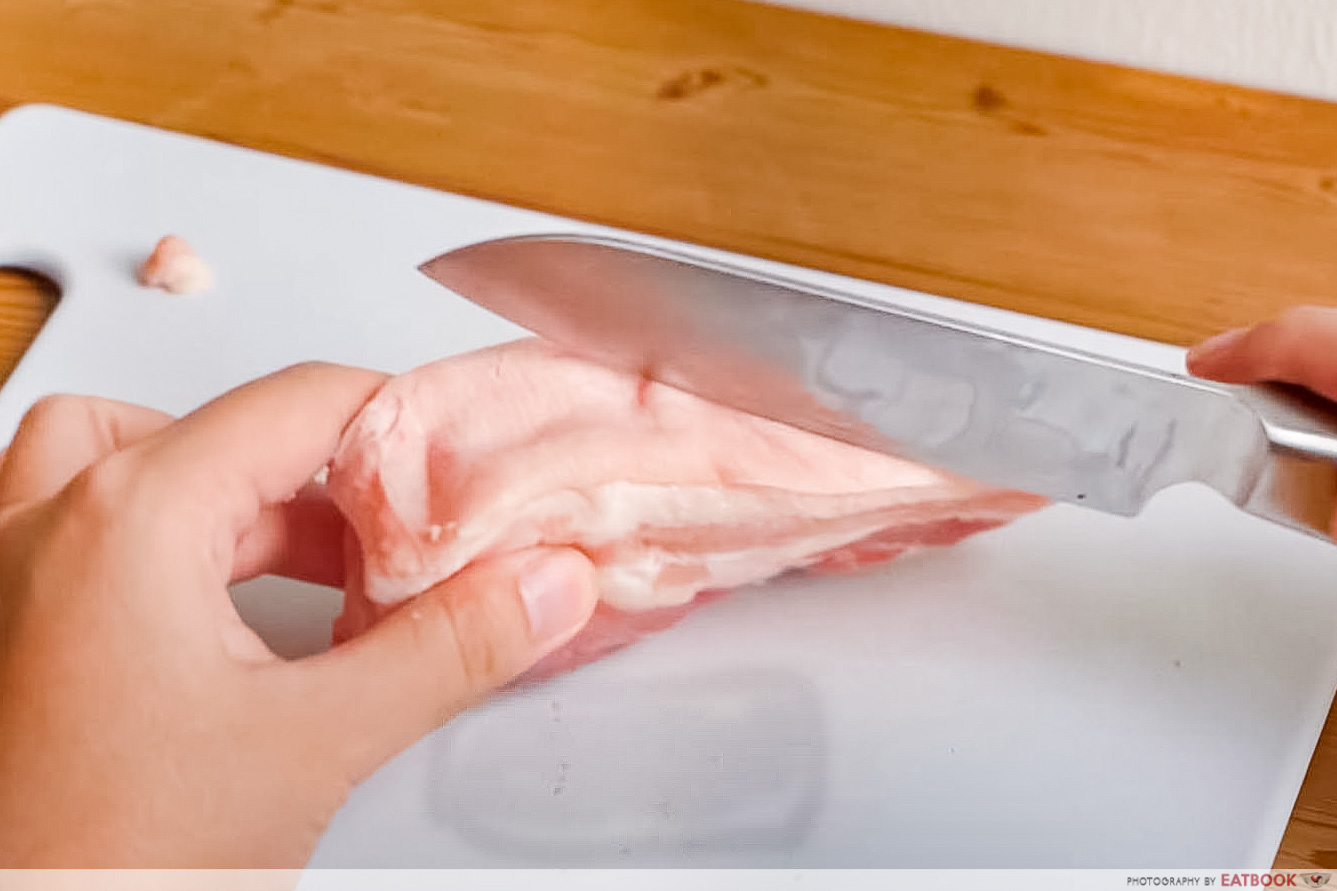 Start by scoring the skin of your fatty pork belly either with a knife or a needle meat tenderizer. This step is essential for creating holes to trap more salt, which would end up giving you a wonderfully crunchy crackling instead of a super hard one. Be careful not to not to go too deep, as any rendered fat might cause your crackling to lose its texture.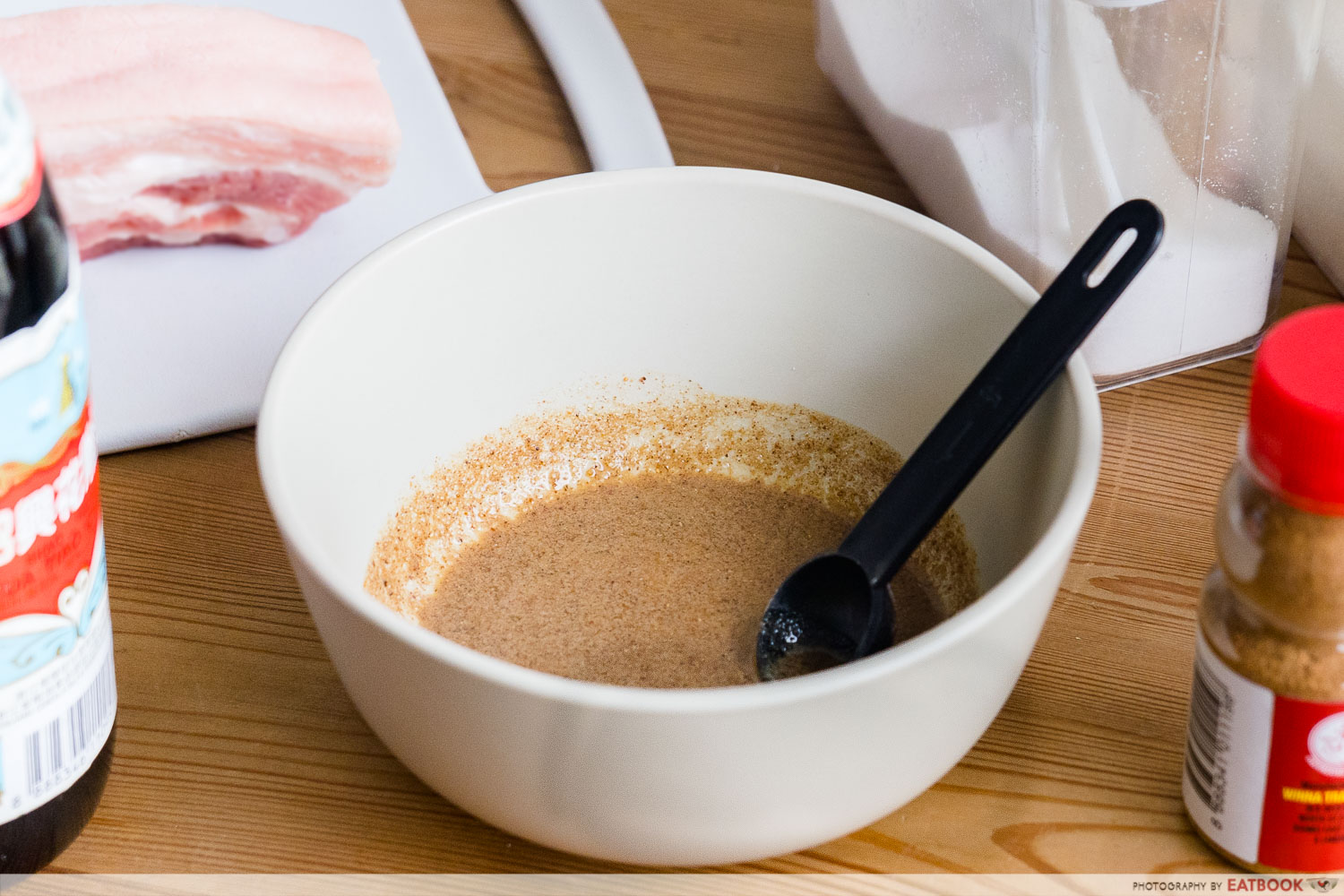 For the marinade, mix shaoxing wine, salt, sugar, five-spice powder, and white pepper, and rub it all over the pork belly—excluding the skin on top. You can technically use any herbs and spices you have at home, or even caraway seeds for a more German-influenced roast pork.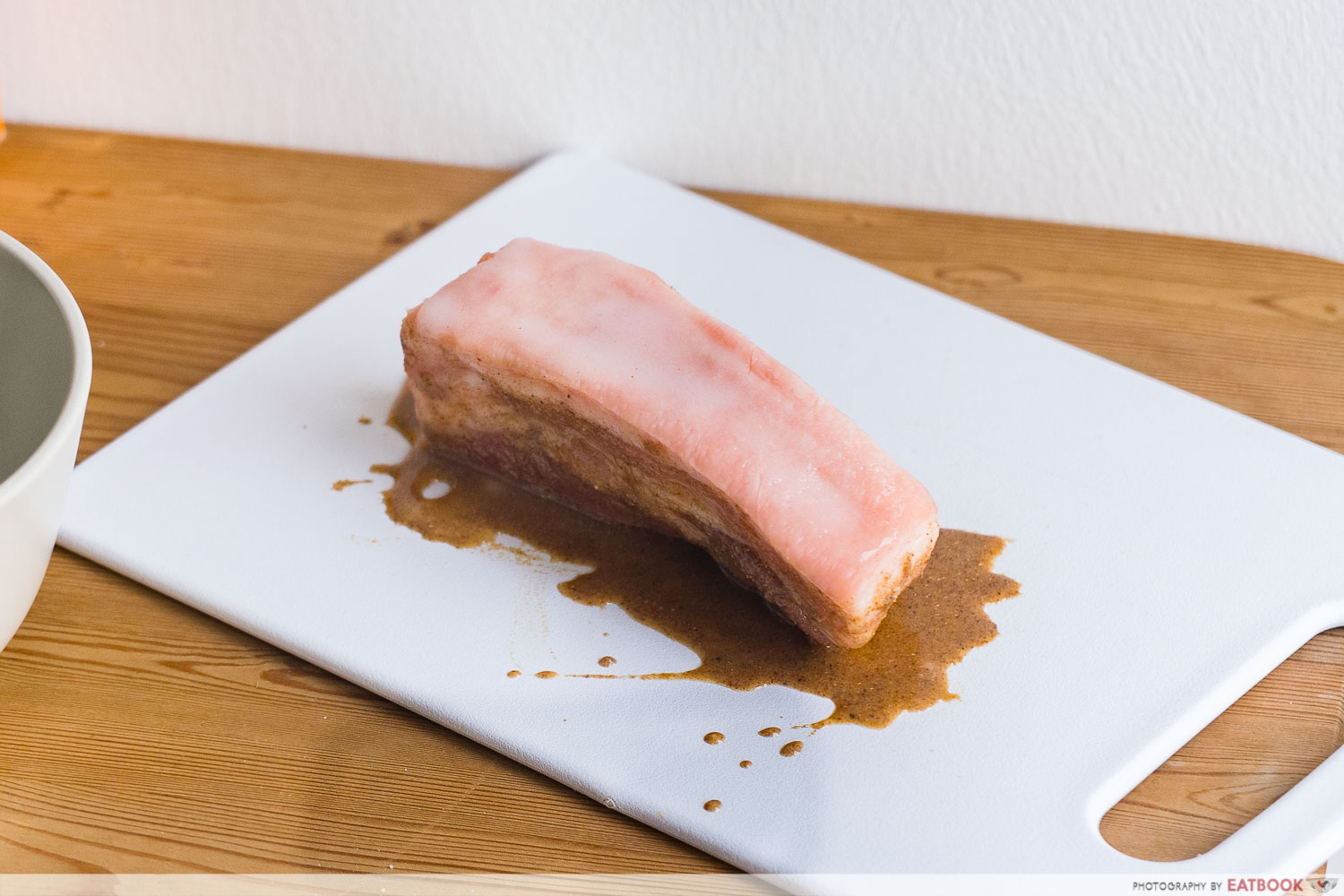 Extra crispy skin requires low moisture. To achieve the textural characteristics of Chinese roast pork, we need to dehydrate the top layer as much as possible. 
First, mix rice vinegar, salt, and baking soda, and rub the paste onto the skin, making sure to work it into the cuts as well.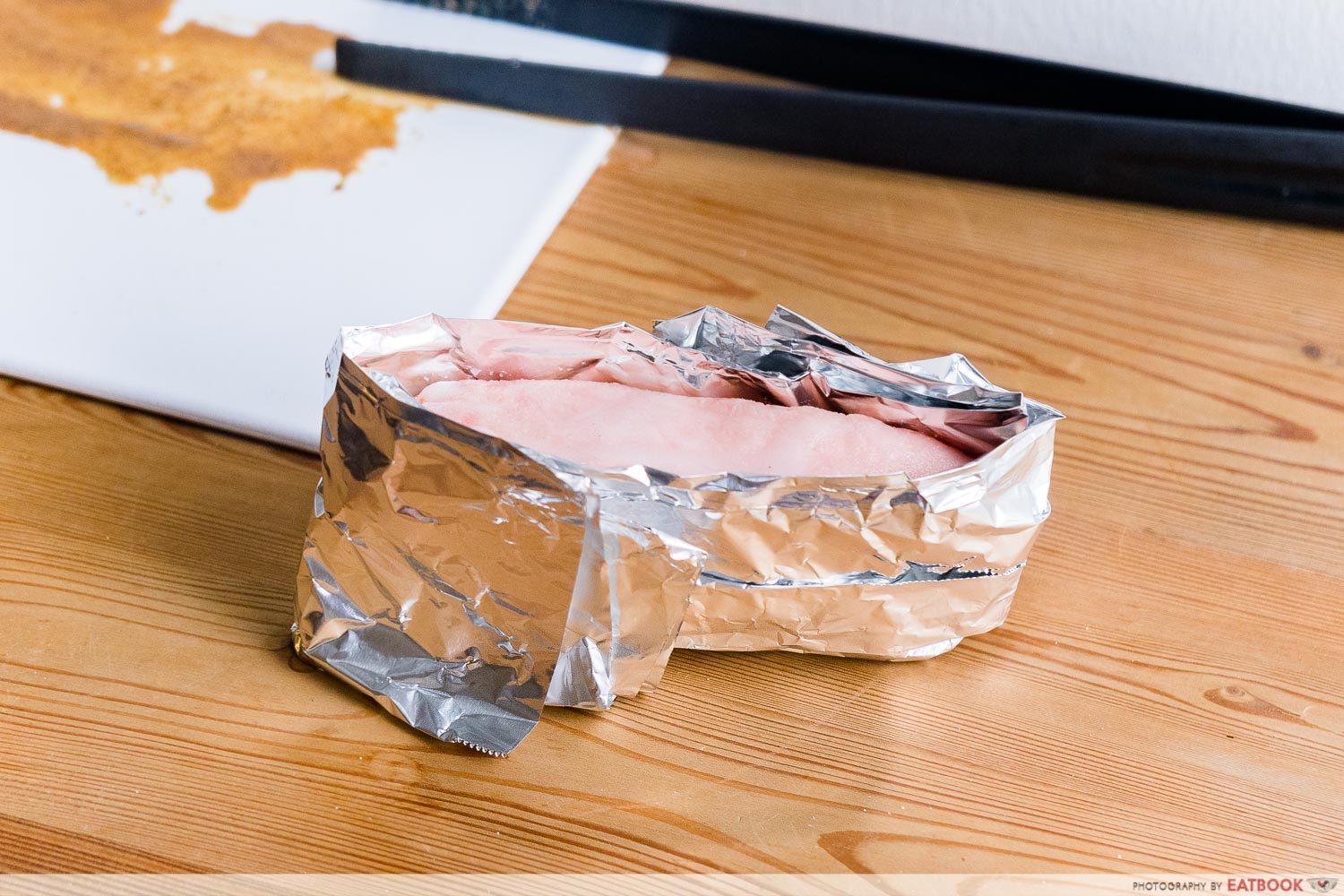 Next, wrap aluminum foil around the pork belly, making sure to leave about an inch of leeway above the meat. This foil boat would ensure that any moisture or juices will be retained as the meat is being cooked later. 
Easy 3-Course Meal Recipe Under $10 Per Person With Laksa Linguine, Chawanmushi And More
Pop it uncovered into the refrigerator for at least four hours, but preferably overnight, to marinate. The low humidity of the cool air will also help in dehydrating the skin, giving it an opportunity to blister under the heat of the toaster oven or air fryer.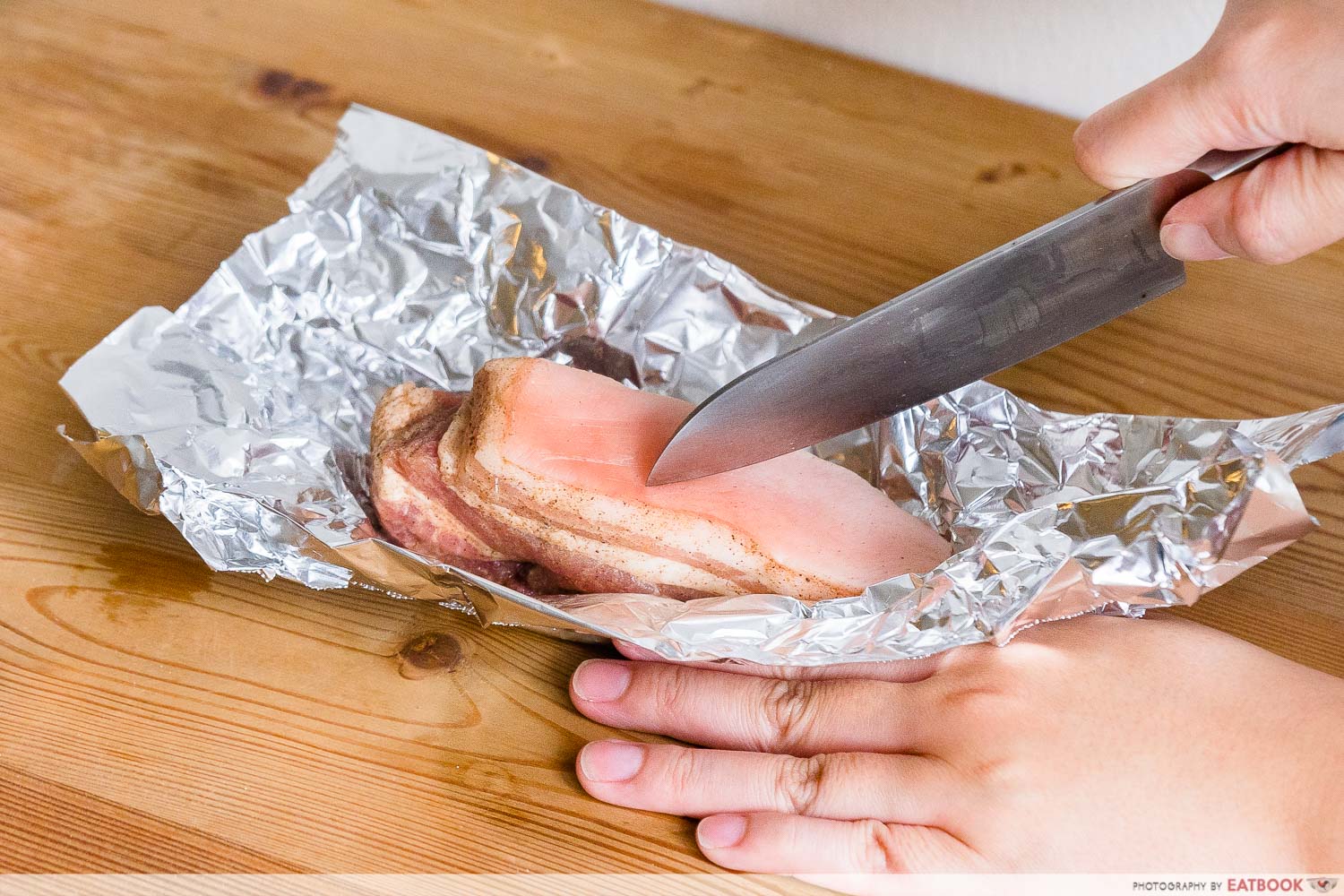 The longer the pork belly rests in the refrigerator, the more time the skin has to dehydrate—thus the more ASMR-worthy the crunch of the crackling will be. After removing it from the refrigerator, score the skin further once more.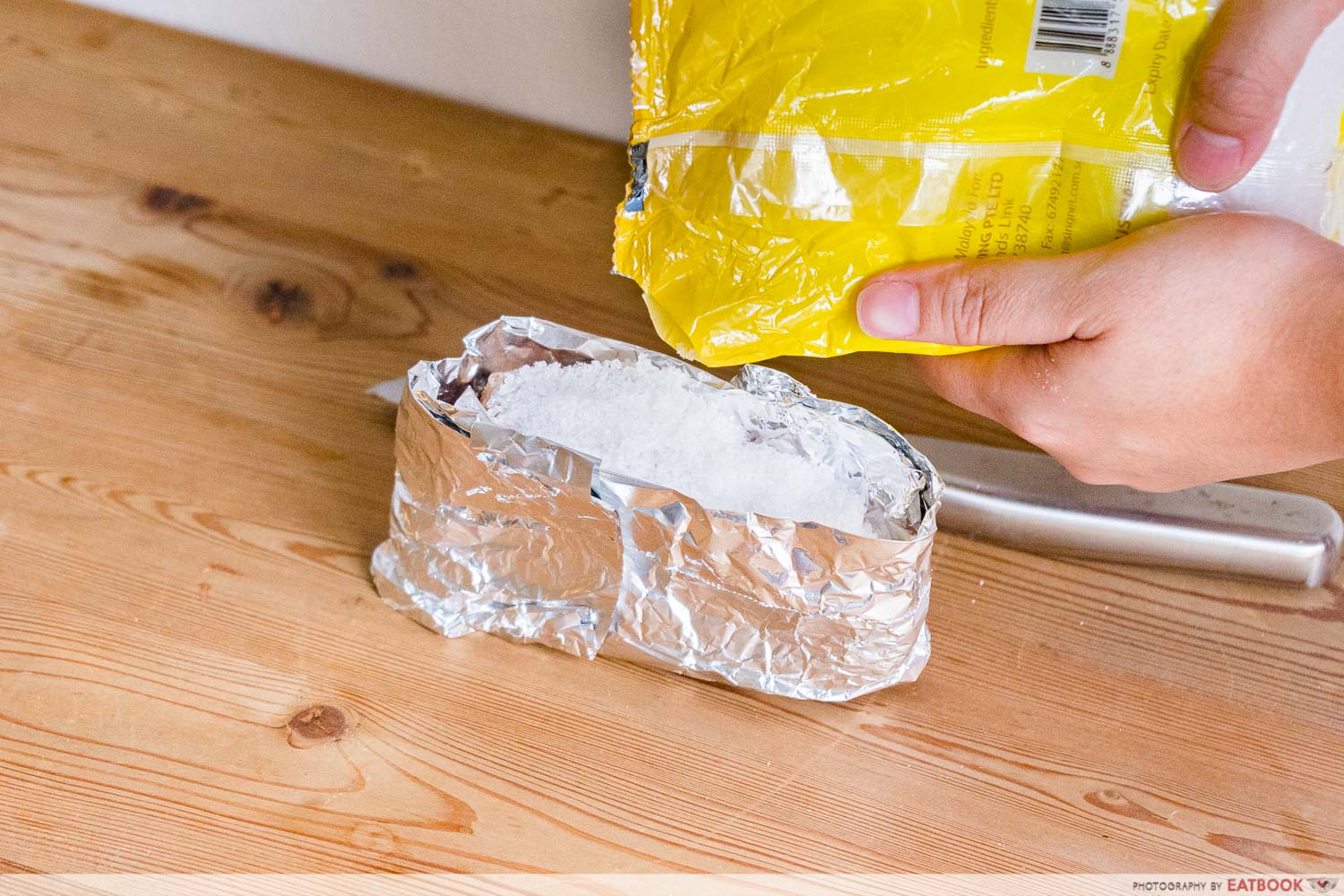 Pour a thick layer of salt on the skin to prepare it for a salt bake. The salt will, again, draw out more moisture from the skin. Preheat your toaster oven, or air fryer, at 180°C, and pop the pork belly in for 30 minutes. You can also bake it in the oven for 60 minutes at 180°C.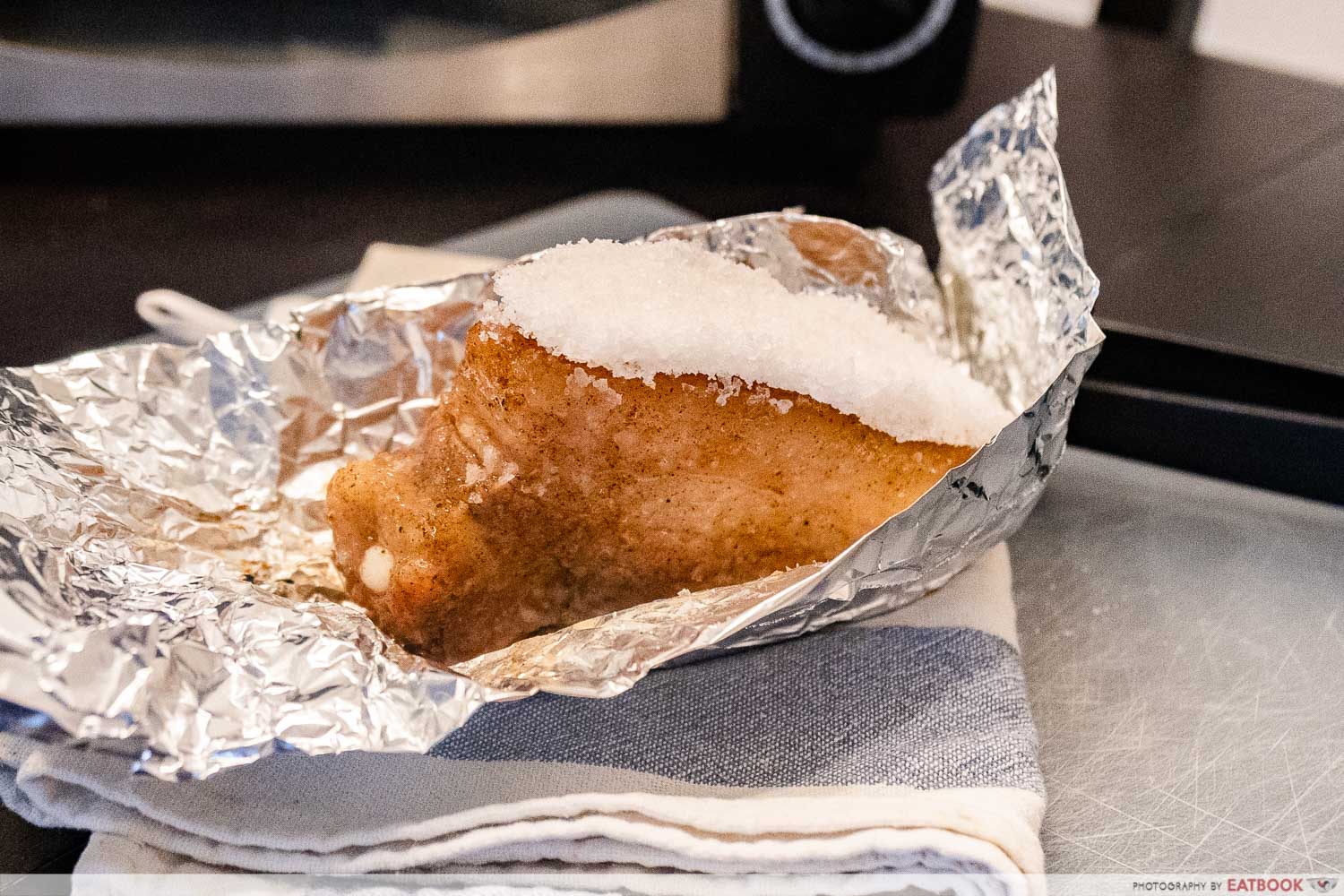 With a spoon, remove the layer of salt from the skin when the pork is well cooked. Remember to scrape thoroughly, even down the sides of the meat, or your roast pork might end up being too salty!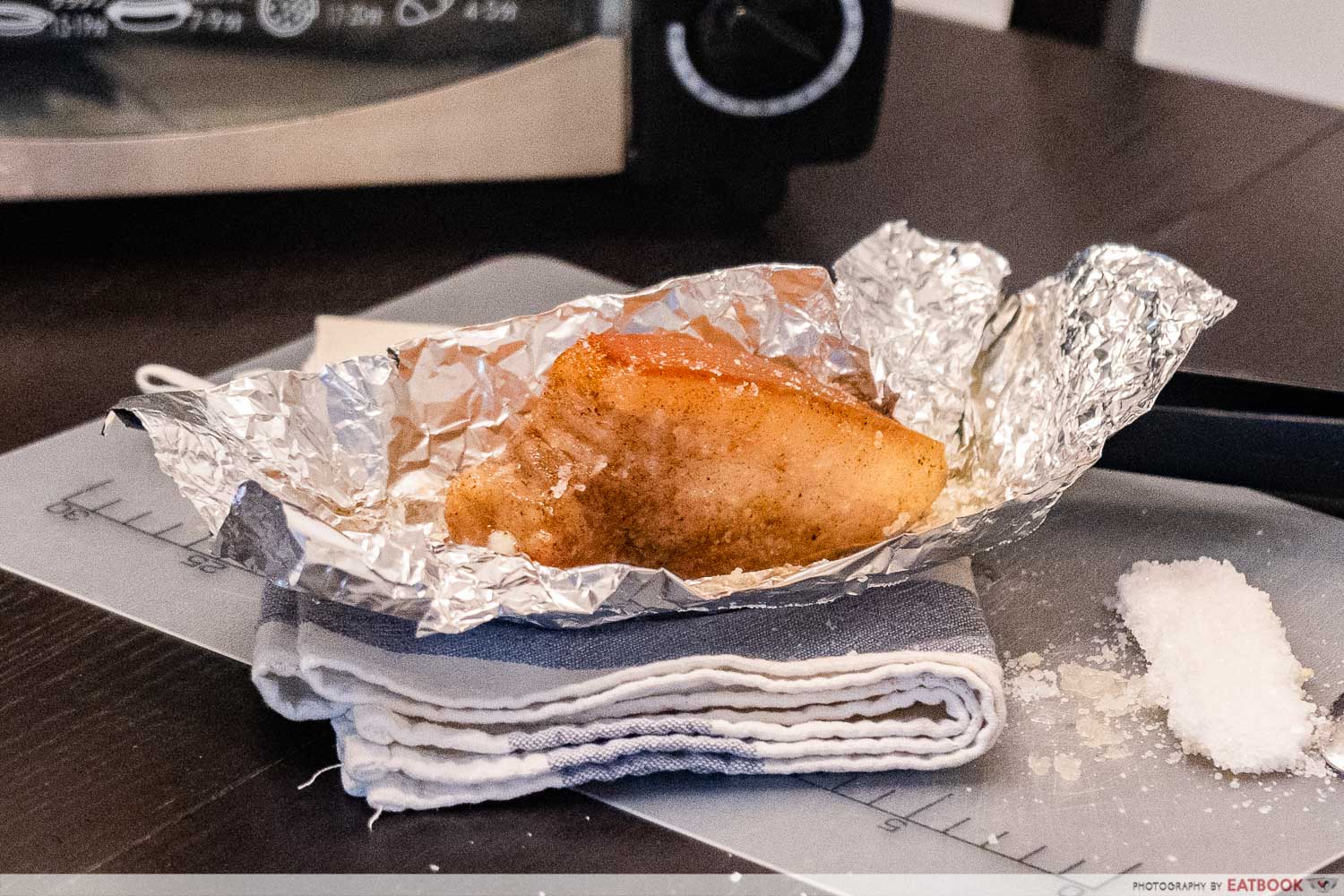 Place the pork back into the toaster oven or air fryer for another 15 minutes without the foil. This time, it allows the heat to blast the skin, turning it from a gummy layer into an aerated and crunchy crackling.
For those using an oven, use the grilling or broiling option instead.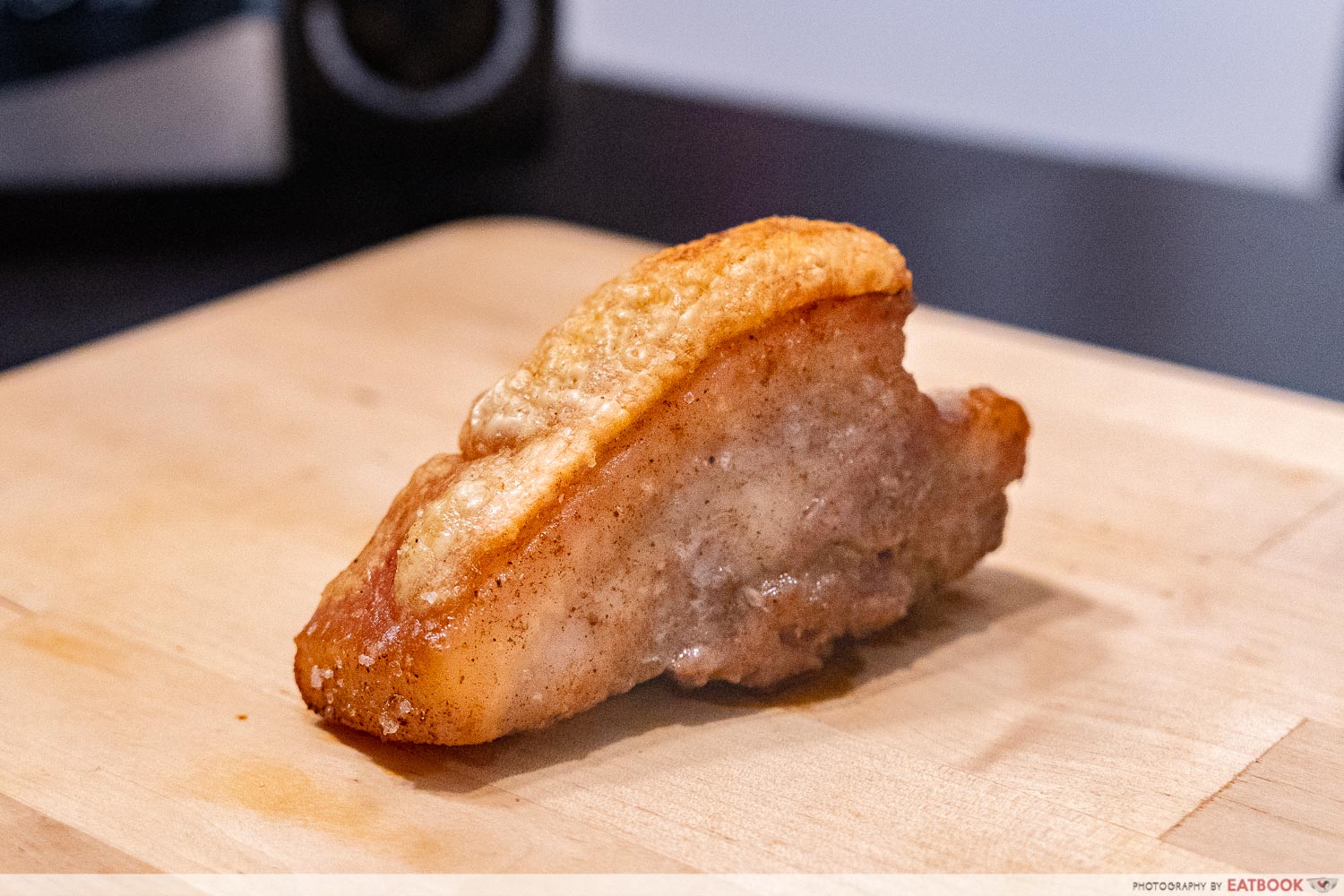 You would know that the pork belly is ready for an ASMR session when the skin has blossomed into a beautiful and bubbled crackling. Positioning your handphone close to the pork, start recording a video and run your knife from one end to the other, as you relish in the ASMR sounds created by the crackling.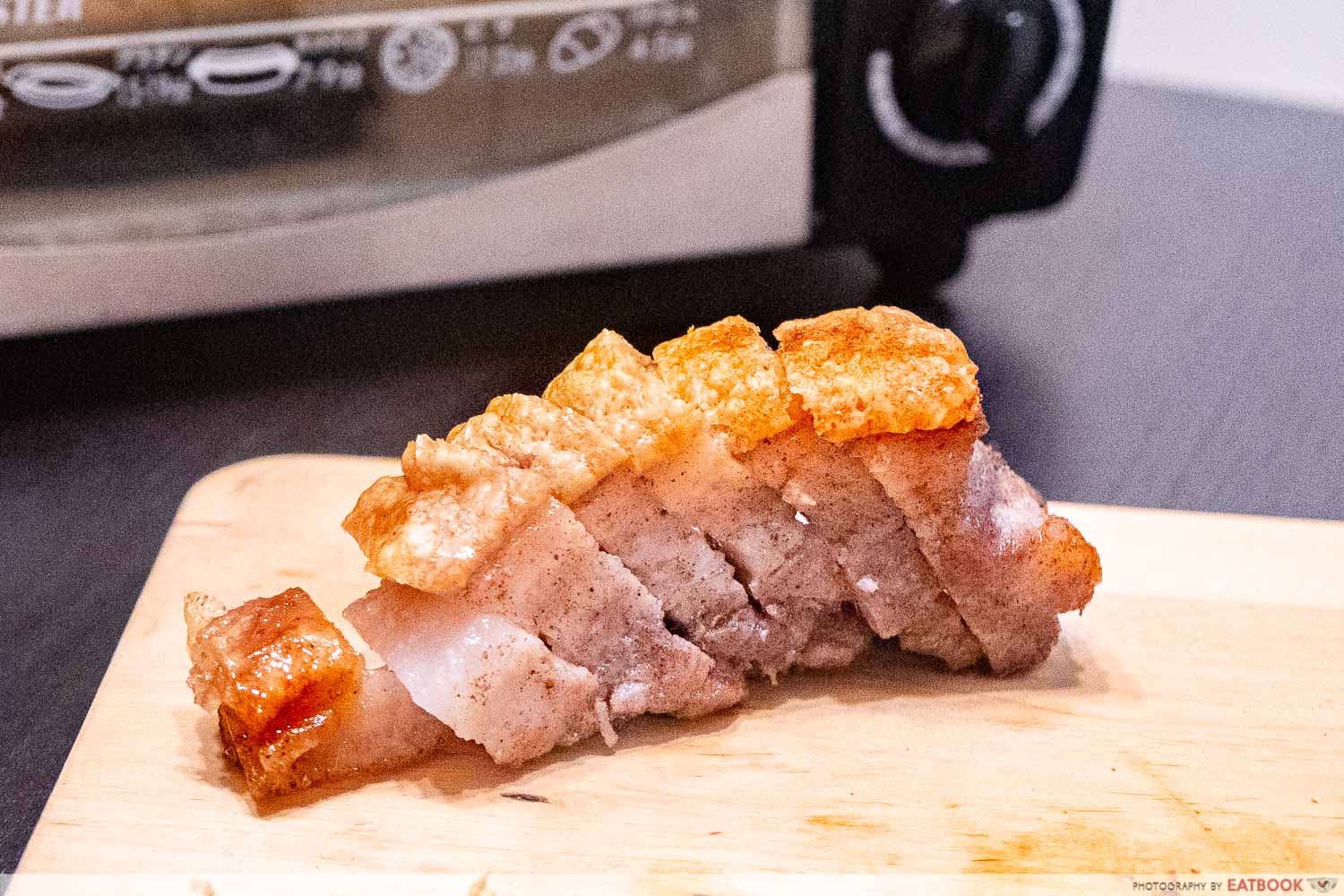 Lay the roast pork sideways on the chopping board for easy slicing, and serve immediately on a bed of white jasmine rice!
For those itching to level up their skills in the kitchen, check out our Dalgona Bandung recipe for a fancy, locally inspired drink, or flex hard with this easy 3-course meal recipe with a budget of under $10 per person.
You can also follow us on TikTok for some easy #foodtok recipes, or watch the roast pork recipe on YouTube.
---
Air Fryer or Toaster Oven Roast Pork Recipe
---
Yield: Serves 2
Cooking time: 45 minutes
Ingredients:
400g pork belly
1 tbsp shaoxing wine
1 tsp five spice powder
1 tsp white pepper
1 tsp salt
1 tsp sugar

1 tbsp rice vinegar
1 tsp salt
1 tsp baking soda
Sea salt to salt bake

Directions:
Score the pork belly skin as much as you can with a knife or a meat tenderiser. Be careful not to go too deep as any rendered fat might cause your crackling to lose its crunch.

Combine shaoxing wine, five spice powder, white pepper, salt, and sugar. Massage the mixture all over the meat, avoiding the skin.

Combine rice vinegar, salt, and baking soda, and rub them into the skin.

Wrap the meat with aluminium foil, leaving the skin exposed.

Place it in the fridge uncovered for at least four hours, but preferably overnight.

Remove from the fridge and make more cuts onto the skin.

Preheat your toaster oven or air fryer (at 180°C) and pop the pork belly in for 30 minutes. 

Remove the layer of salt, scrape down any remnants at the sides, and cook for another 15 minutes without the foil. 

The roast pork is ready when the skin has crackled up. Lay it sideways and slice to your desired thickness. Serve immediately.
Dalgona Bandung Recipe: IG-Worthy Rose Drink Inspired By The Viral Korean Latte
Photos taken by Chiara Ang and edited by Keith Kok.
The post Roast Pork Recipe: Easy Air Fryer Or Toaster Oven Recipe For An ASMR-worthy Crackling appeared first on EatBook.sg – New Singapore Restaurant and Street Food Ideas & Recommendations.