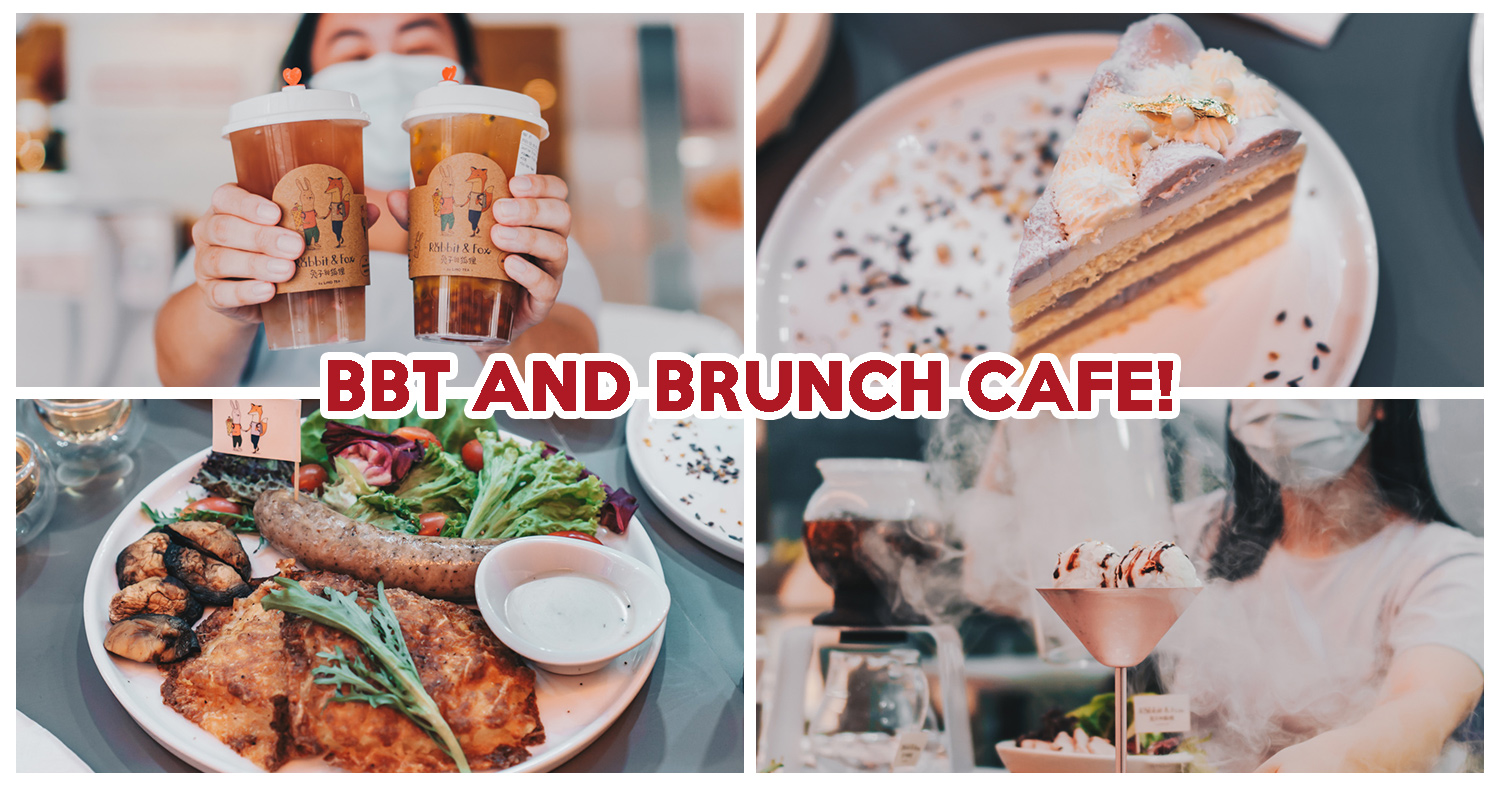 Rabbit & Fox in Orchard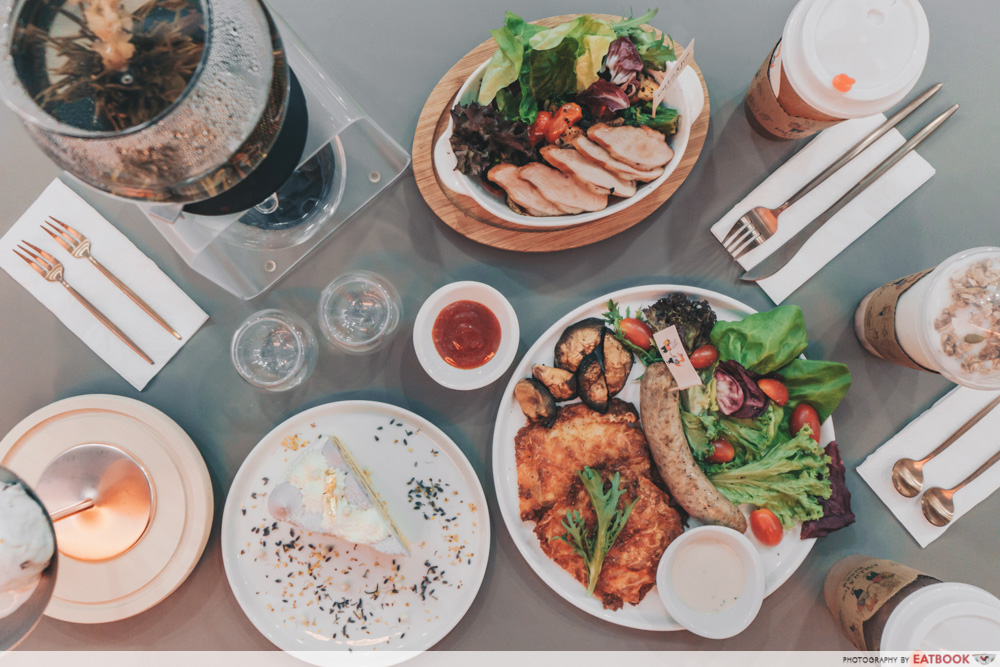 We Singaporeans love drinking bubble tea and cafe-hopping. Put these together in one space and you get Rabbit & Fox, where you can find DIY BBT in a cafe setting, alongside brunch fare, and gorgeous desserts. 
I'm always on the lookout for inexpensive places to dine in Orchard, and this cafe has surprised me with its affordable menu. On a slow weekday afternoon, my colleague and I entered the store with eager bellies, fuelled by our love for BBT.
Food at Rabbit & Fox
The menu at Rabbit & Fox emphasises tea-based beverages, alongside salads, all-day brunch food, and desserts.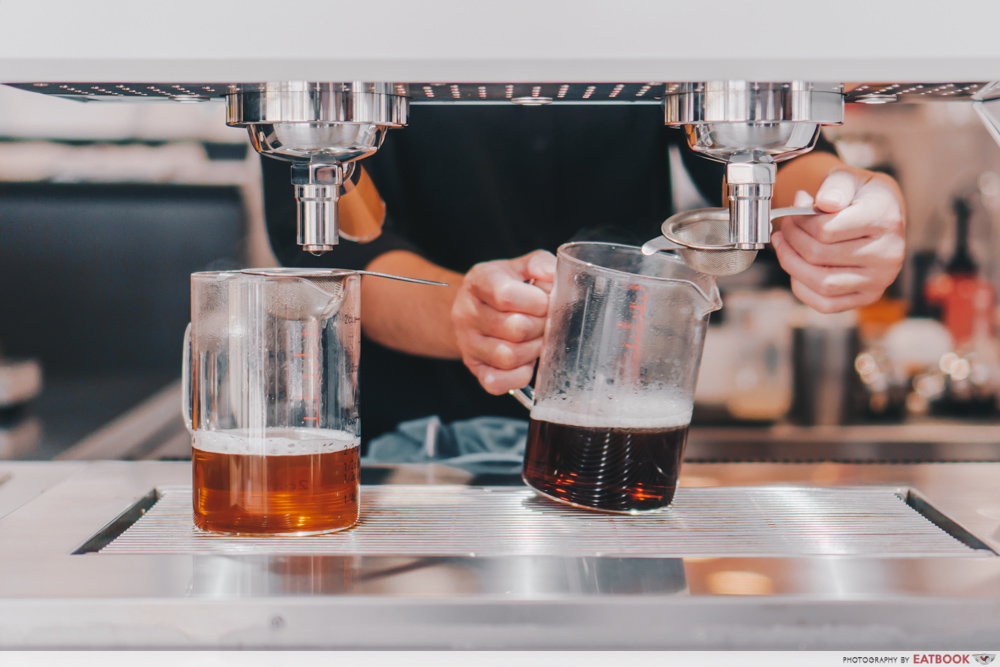 While most cafes offer espresso-based coffees as their staple, Rabbit & Fox has customisable Teapresso (from $3.60) bubble teas. These are brewed to order with this specially indented tea machine, which regulates temperature, pressure, water flow, and brewing time to extract maximum flavour from the fresh tea leaves.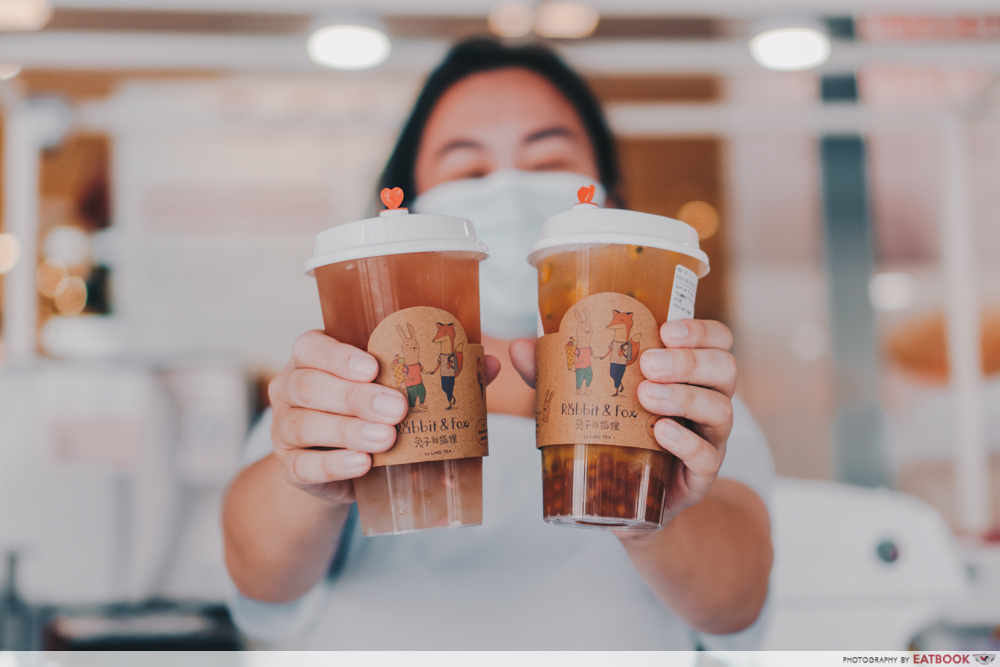 After months of R&D, the team narrowed down five tea bases for their Teapresso series—assam black, jasmine green, huangjin gui, roasted oolong, and osmanthus oolong teas. You can pair your chosen tea with up to 10 of their mixes, which includes fresh milk and manuka honey, and finish the drink with their selection of toppings.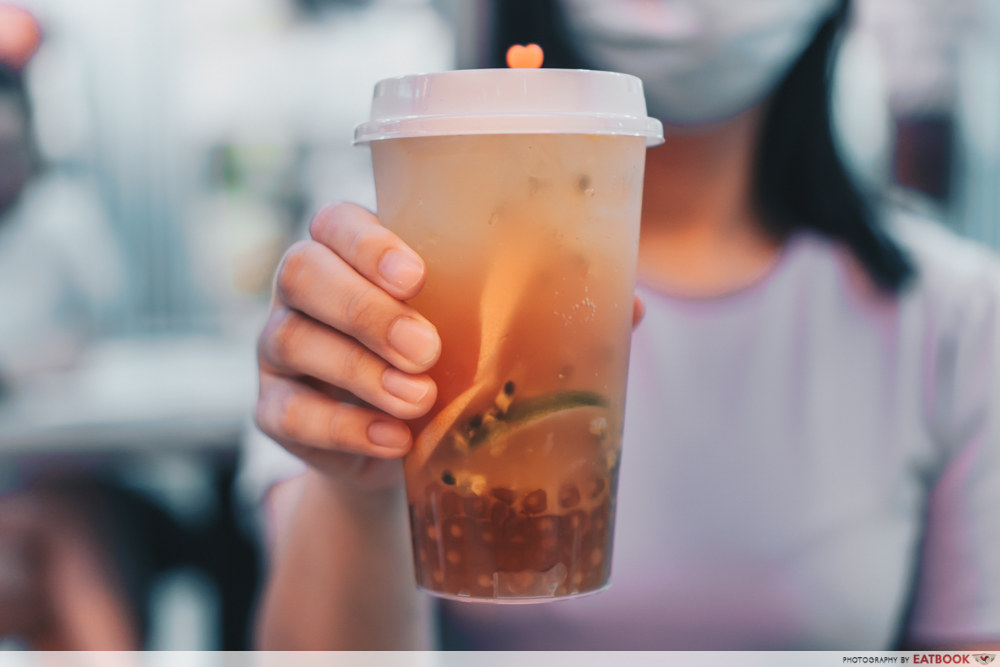 In need of something refreshing, I went for the Jasmine Green Tea And Summer Fruit Juice With Golden Pearl ($6.60). This drink was made with passionfruit and pomelo pulp, as well as slices of grapefruit and lime that added pops of colour.
The drink tasted complex and well-balanced. There were bitter notes from the pomelo, while the passionfruit brought some zest. These were underscored by the tart fruit juice, lightly sweetened with peach syrup. If you're wondering where the jasmine green tea comes in, its floral aroma hits you at the end, and lingers after. 
Their signature golden pearls were delightfully chewy, and lent a sweetness of their own. The passionfruit seeds also provided crunch, creating a party of textures in my mouth.
If you're here with a group of friends, consider their Flower Tea ($7.40) series. These arrive in a two-tiered contraption, with a brewing pot above and a serving pot below. It's an interactive experience, where you get to dispense the tea by flicking the grey switch at the side. The set up also comes with a timer, which tells you when the tea is ready for consumption.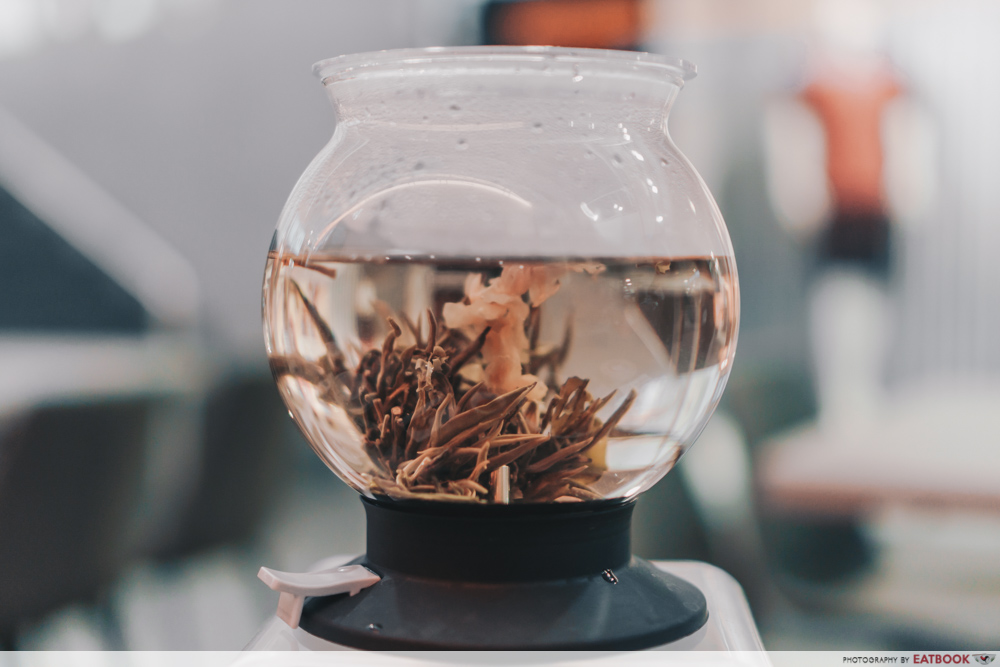 Their Five Golden Flowers tea came highly recommended, made from pu erh tea leaves and jasmine flower. The jasmine flower within unfolded as the tea brewed, a beautiful sight to behold.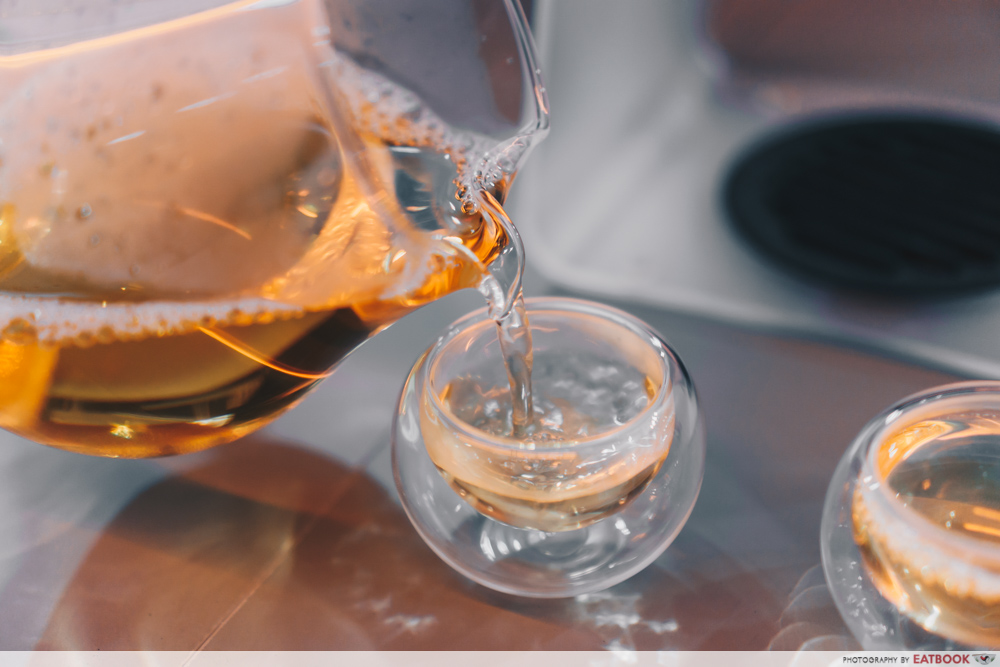 This pot of tea sported a profound jasmine fragrance, tinged slightly with an earthiness from the pu erh. I imagine it to be the perfect palate refresher, between bites of their food selections. It was our absolute favourite, so much that we refilled and finished two pots.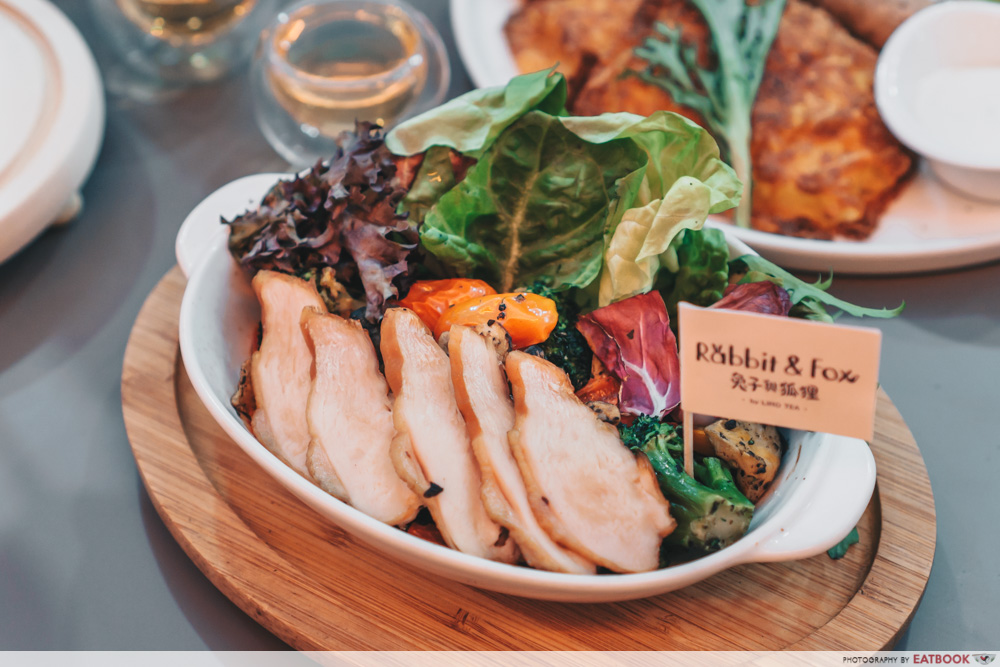 To whet our appetites, we started with the Rabbit's Salad ($9.90), and topped it with smoked chicken for an additional $3. This salad is served warm, with a mix of raw greens and roasted vegetables, dressed in truffle sauce.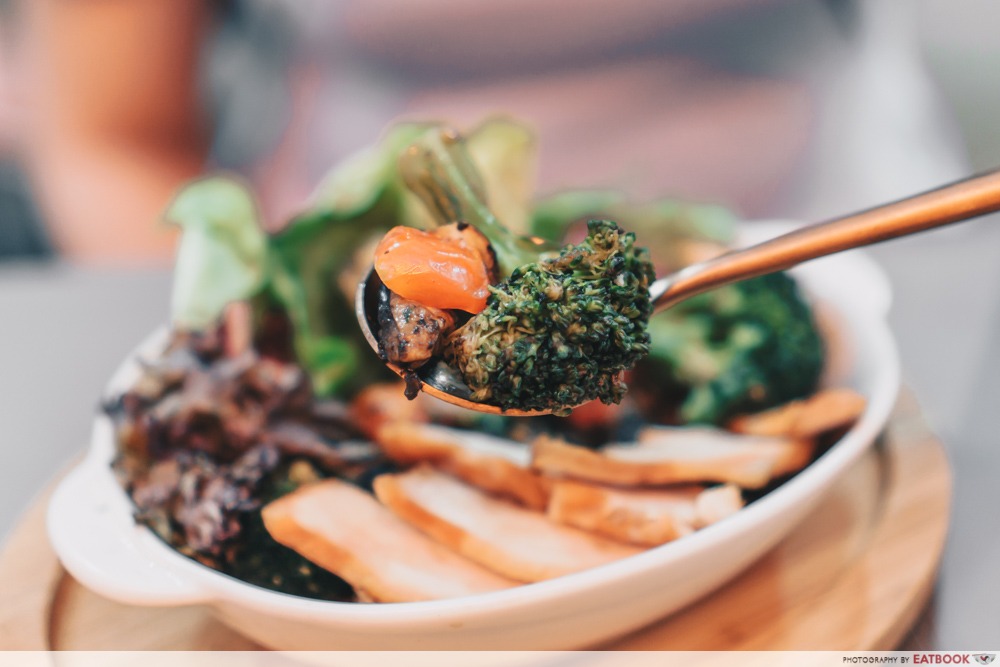 The roasted vegetables comprised broccoli, mushrooms, and tomatoes. I liked how they were not limp from roasting, and kept their bite. The truffle sauce was subtle, enhancing the smoky flavour of the vegetables without overpowering them.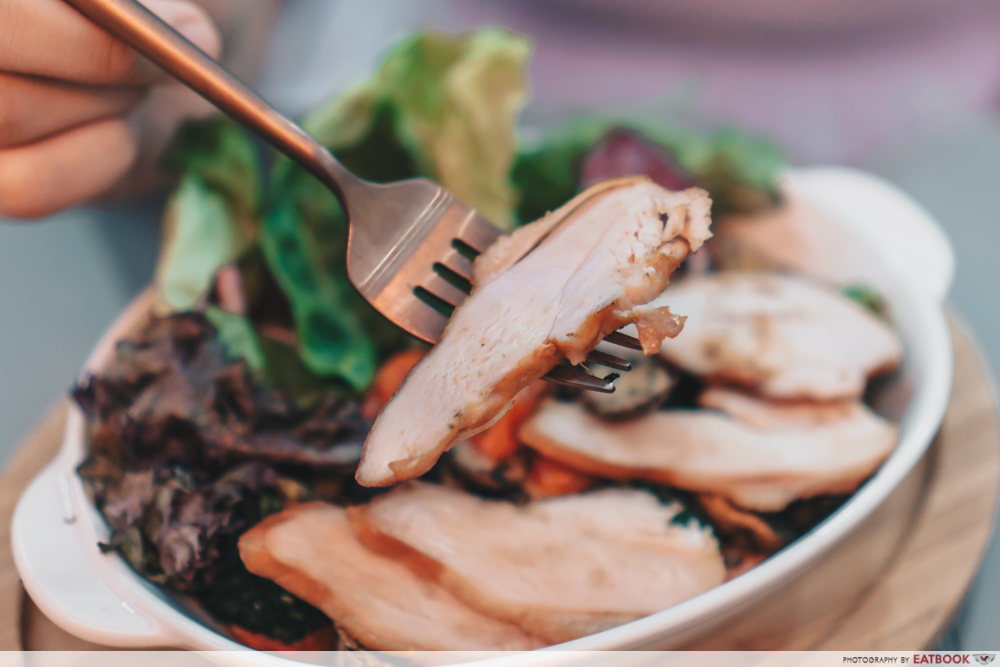 Sadly for me, the smoked chicken was a touch dry. Otherwise, it added a nice protein element to the dish.
On their all-day brunch menu is the Pork Bratwurst Rosti ($15.90), which called out to the carb-lover in me. Two pieces of cheese-crusted rosti sat on the plate, alongside a hefty pork sausage, grilled mushrooms, cherry tomato salad, and Caesar sauce.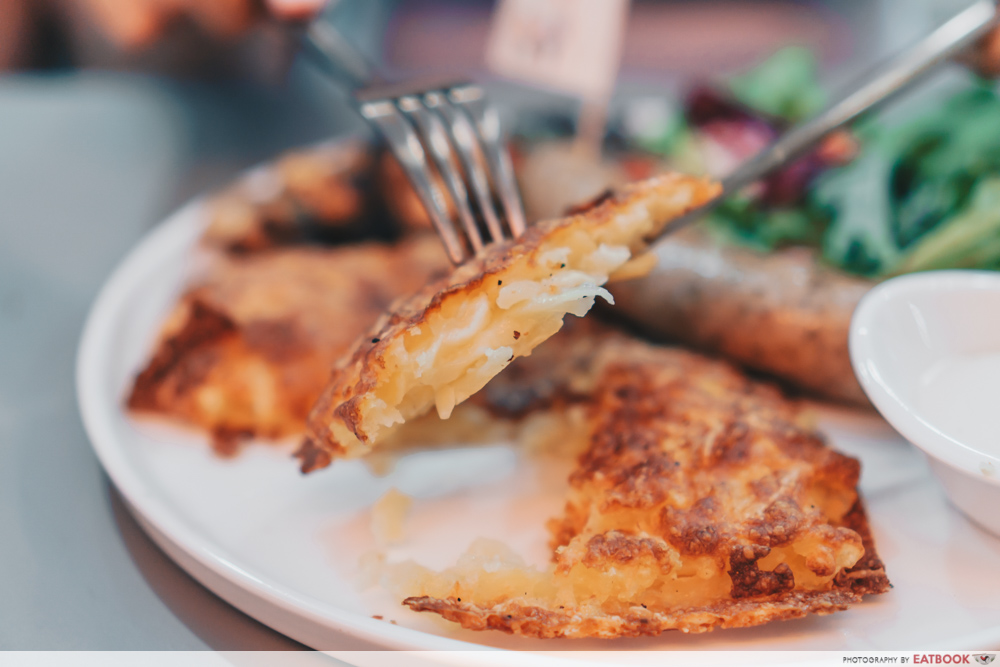 At first glance, the rosti looked dry. However, biting into it, the crispy exterior gave way to tender shredded potatoes. It didn't taste too greasy either, probably because this was baked and not deep-fried. Meanwhile, the cheese crust brought a savouriness to the rosti.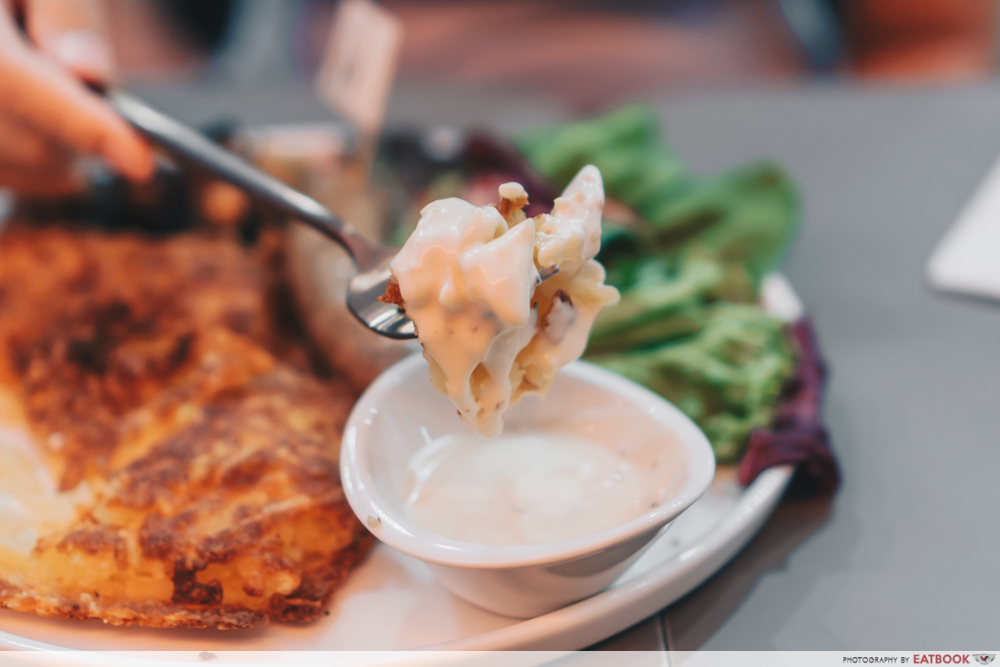 I recommend dipping the rosti into their Caesar sauce, which tanginess cut through any greasiness.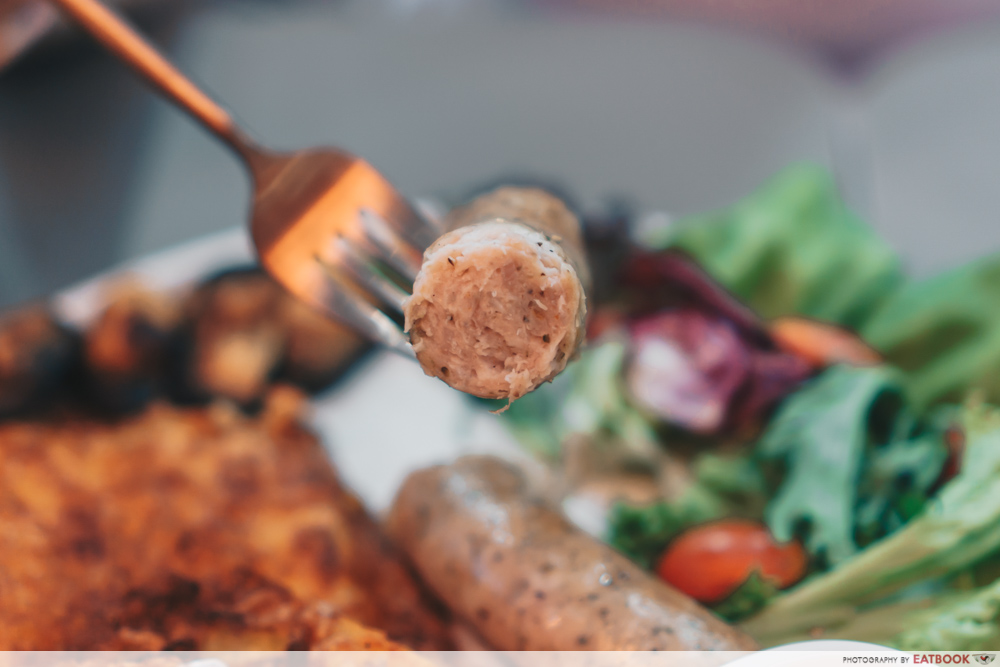 I was also pleasantly surprised by the sausage, which was juicy with hints of spice.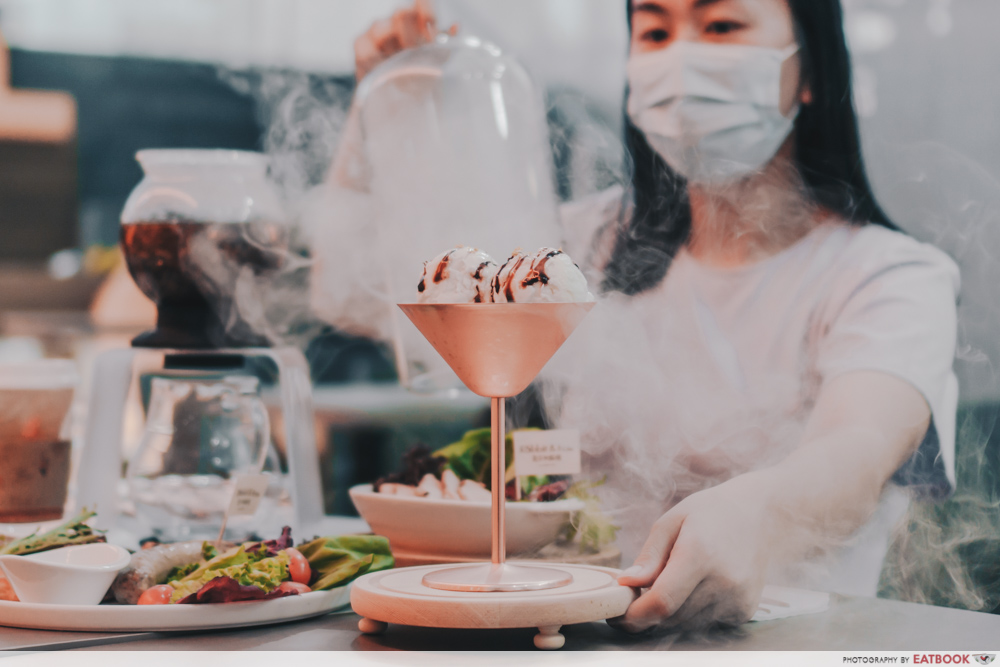 To round off our meal, we had to get the Tropical Blossom Sundae ($9.90), comprising three scoops of coconut and cheese ice cream, topped with osmanthus petals and chocolate sauce. This IG-worthy dessert was served under a glass dome, and billowed with applewood smoke when I lifted it open.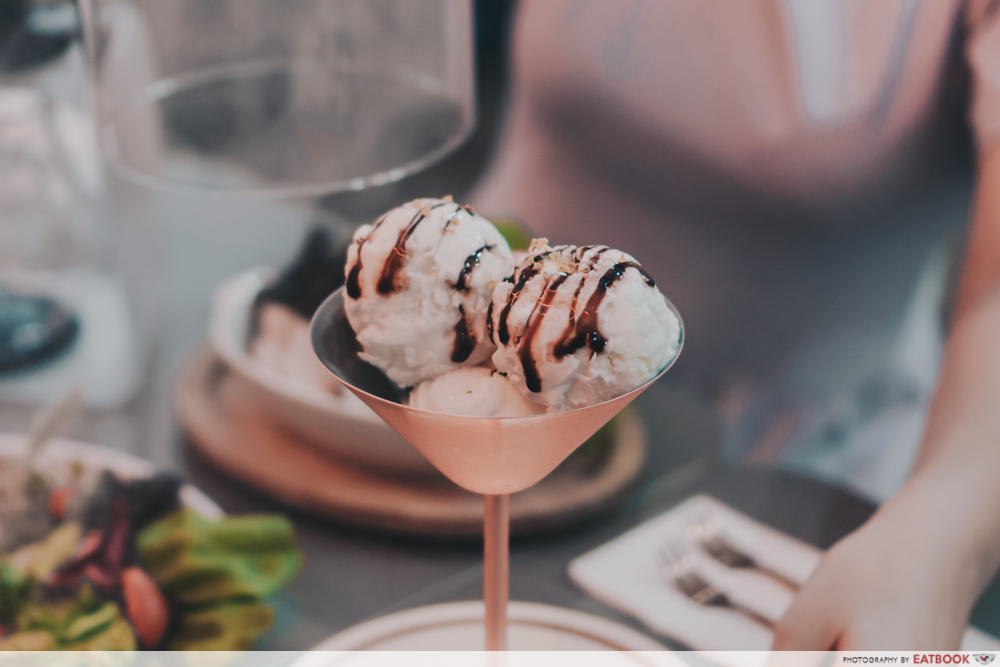 The coconut ice cream was pleasantly creamy, interspersed with nutty coconut flesh. I could really taste the applewood smoke here, which paired well with the ice cream. Floral notes from the osmanthus balanced the dessert, while the chocolate sauce I felt it could do without.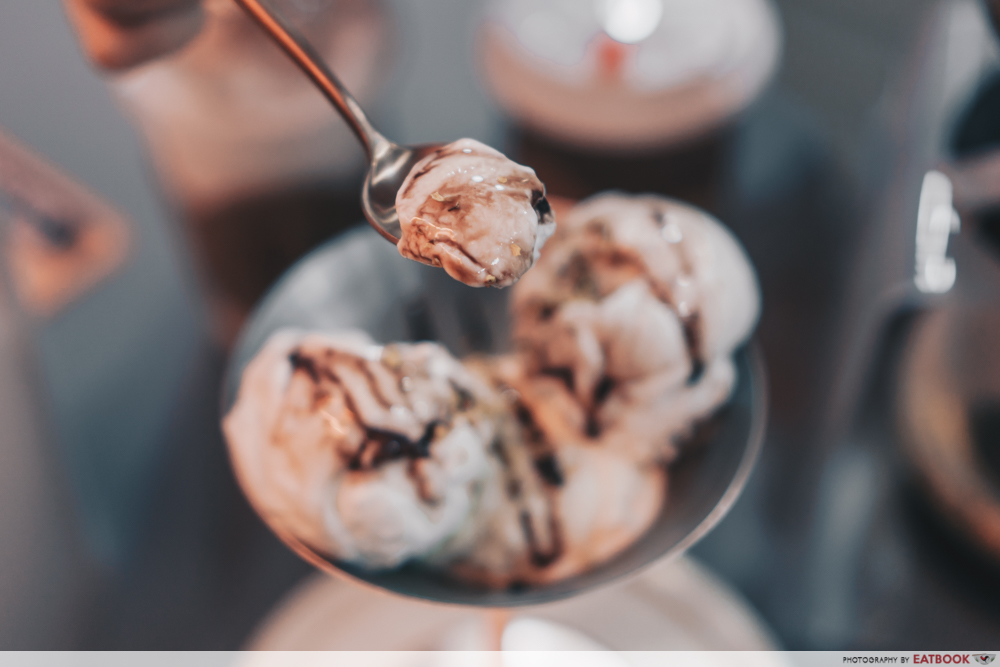 If you're a fan of cheese foam topping on your BBT, you'll surely enjoy their house-made cheese ice cream. My dining companion belonged to this camp and couldn't stop raving about it. On the other hand, I found the texture too icy for my liking. Still, I appreciated its savoury-sweet profile, which contrasted against the other elements in the cup.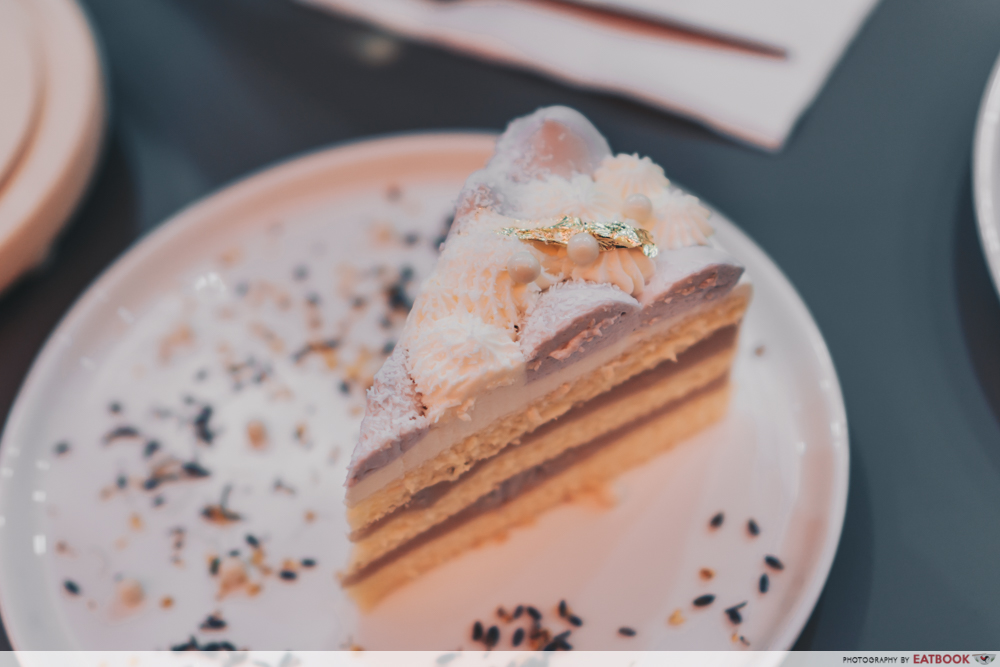 Rabbit & Fox also has cakes from LUNA Patisserie in their dessert selection, including the famous Orh-Nee Cake ($8.90) that is stacked with layers of sponge and velvety orh nee. These are good to pair with the cafe's extensive range of teas.
Ambience at Rabbit & Fox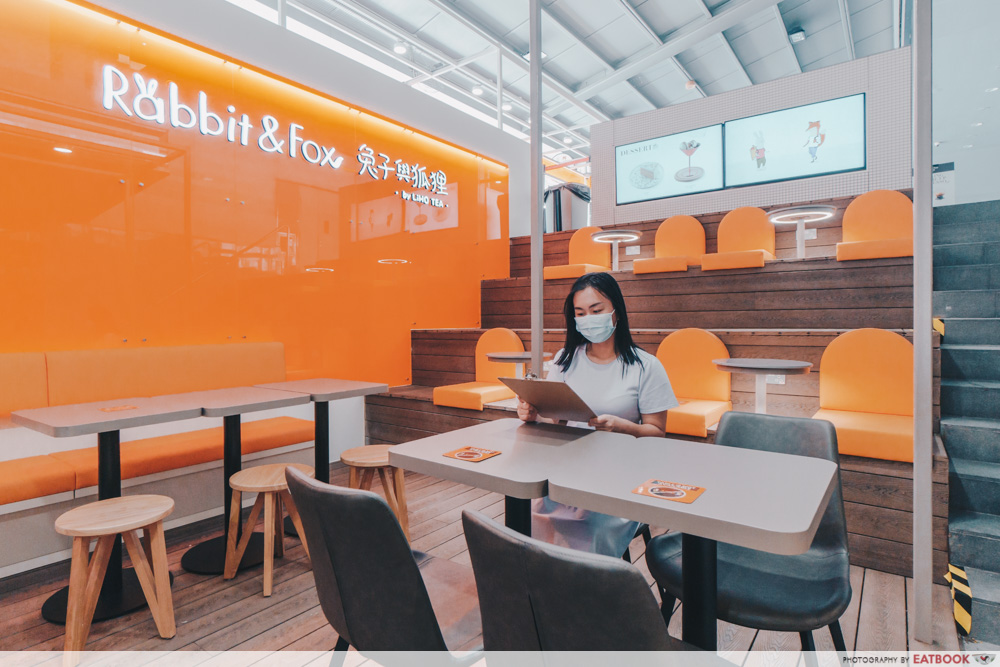 Rabbit & Fox is a two-level outdoor cafe, decked in vibrant shades of orange. The upper level feels more alfresco, with sunlight streaming through. Meanwhile, the lower level is sheltered, providing a quiet space for those looking to get away from the bustle of town. This cafe also acts as a workspace, with multiple charging points, essential in this era of remote working. 
What's more, Rabbit & Fox is located right in the heart of our shopping district, immensely accessible with a two-minute walk from Somerset MRT Station. You can stop here for a meal break between shopping, or simply while your afternoon away over a cup of tea.
The Verdict
Rabbit & Fox impressed me with its versatility as a brunch hangout, workspace, and tea-time pit stop, with considerate touches like the charging points. Prices here are also very reasonable for its location in Orchard, where nothing goes over $16 nett.
I particularly enjoyed their tea-based beverages, as the quality of the teas here are levels above those you can find at the average BBT store, while remaining affordable. Though their food selections are kept simple, the dishes are well-executed, with some making for IG-worthy material. With that being said, I definitely see myself coming back to chill over another pot of flower tea, Otherwise, if you're stuck at home, Rabbit & Fox is also available for delivery on Grabfood and Foodpanda!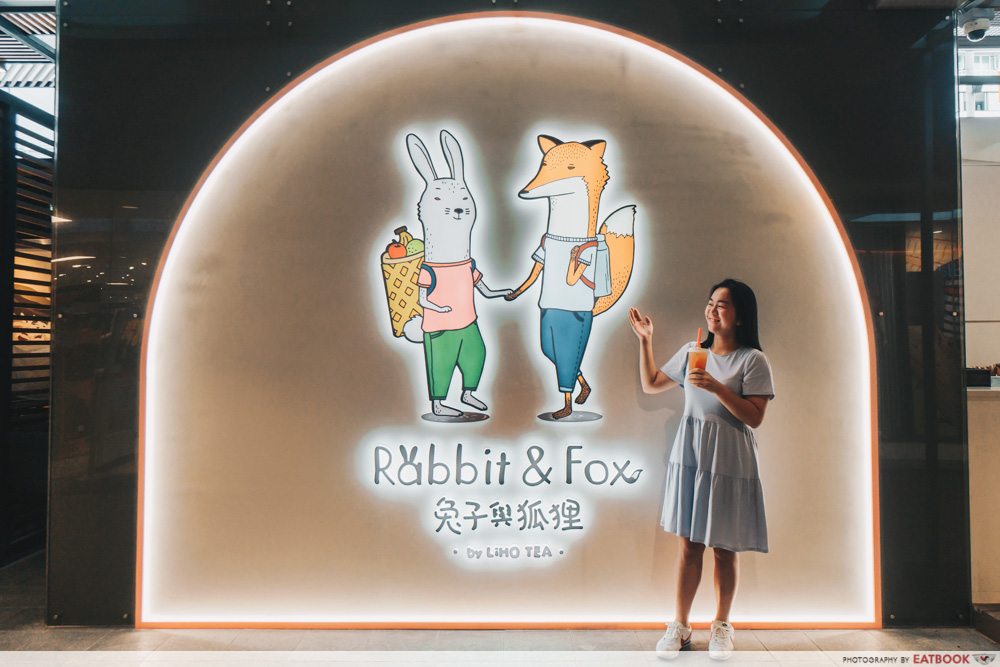 From now till 16th March, Rabbit & Fox is offering a 1-for-1 Teapresso promotion for Rabbit & Fox and Eatbook followers! All you have to do is find this photo wall, take a picture with it, and upload it onto Instagram, tagging @rabbitandfoxsg and @eatbooksg. Flash the post when you're placing your order to enjoy this offer.
Address: 160 Orchard Road, #K-02/03, OG Orchard Point, Singapore 238842
Opening hours: Sun-Thur 9am to 9pm, Fri-Sat 9am to 10pm
Website
Rabbit & Fox is not a halal-certified eatery.
Photos taken by Chan Huiwen.
This post is brought to you by Rabbit & Fox.
The post Rabbit & Fox Review: New Cafe With BBT And All-Day Brunch In Orchard appeared first on EatBook.sg – New Singapore Restaurant and Street Food Ideas & Recommendations.