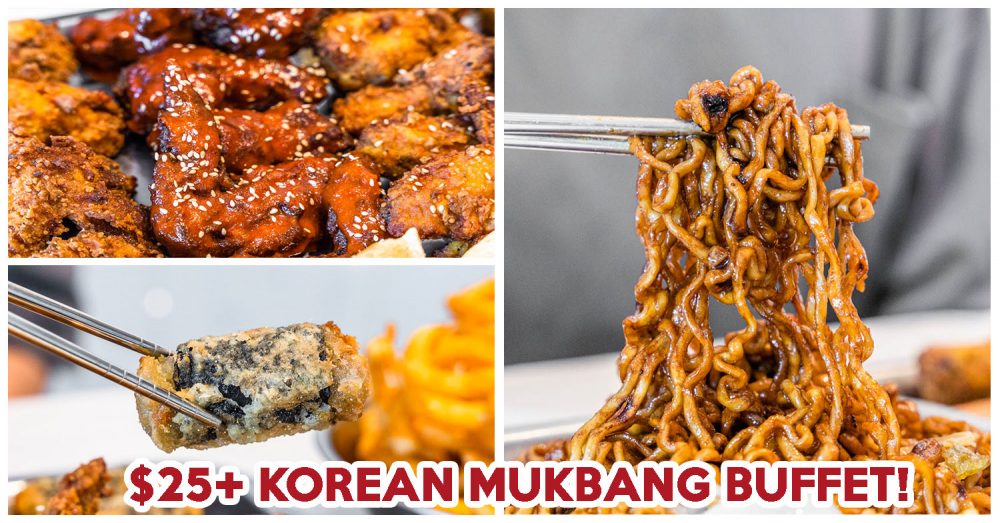 Pint And Dine at Kensington Square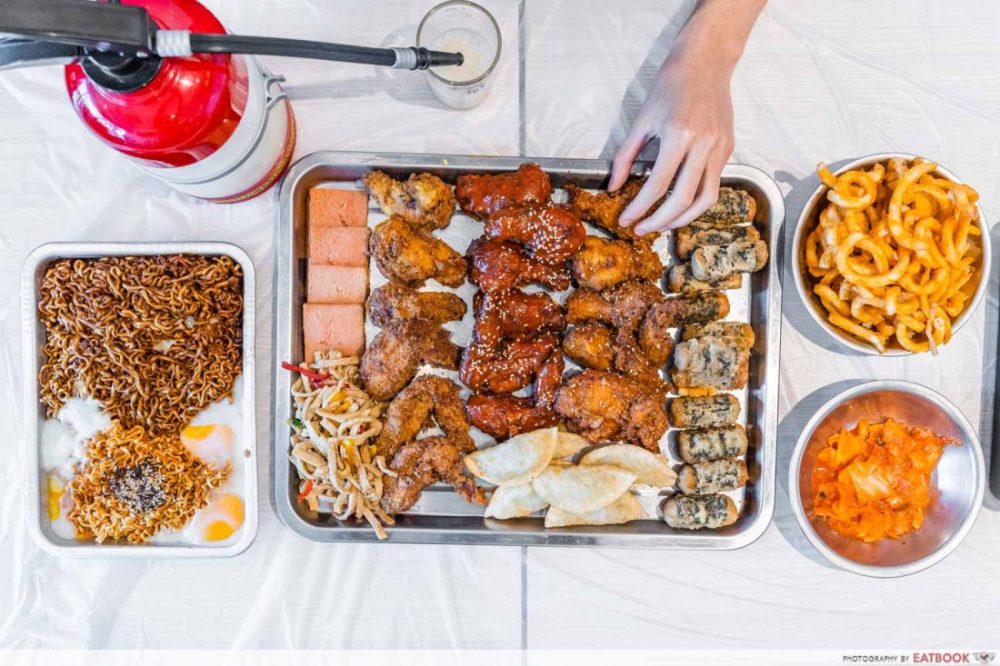 I've always admired those mukbang eaters who seem to be rolling in cash just by streaming themselves gorging on copious amounts of food. Luckily, I got my chance to somewhat live out my ASMR mukbang fantasies in Pint And Dine, home to a Korean food mukbang buffet for $25+ at Kensington Square in Tai Seng.
Apart from their trendy buffet menu, they actually specialise in Korean-Western fusion food, serving pastas and rice bowls too. Keen to stretch my stomach's capacity, I willingly took on their Korean mukbang buffet head-on, unwavered by the possible stomach upset that might follow.
Chir Cafe + Bar Review: New IG-Worthy Korean Cafe With Cheese-Drenched Burger, Croffles And More
Food at Pint And Dine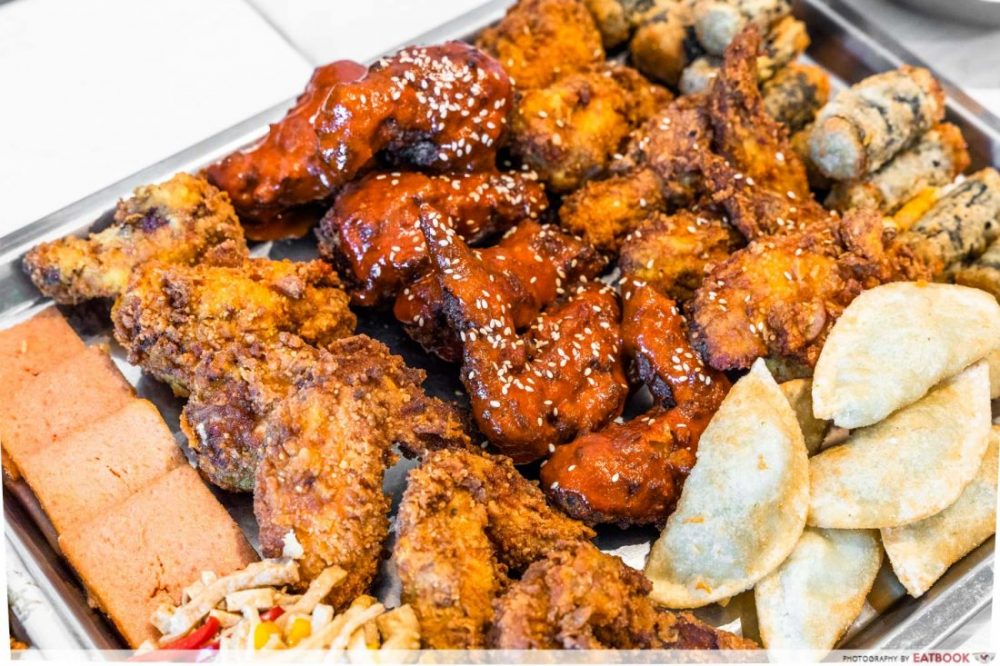 The popular K-Drama, Crash Landing On You, made me a simp for tantalising Korean fried chicken, so I knew I had to dive into their version first. With their buffet, you get to be the judge of all three of their fried chicken flavours, which are the Original, Soy Garlic, and Yangnyeom.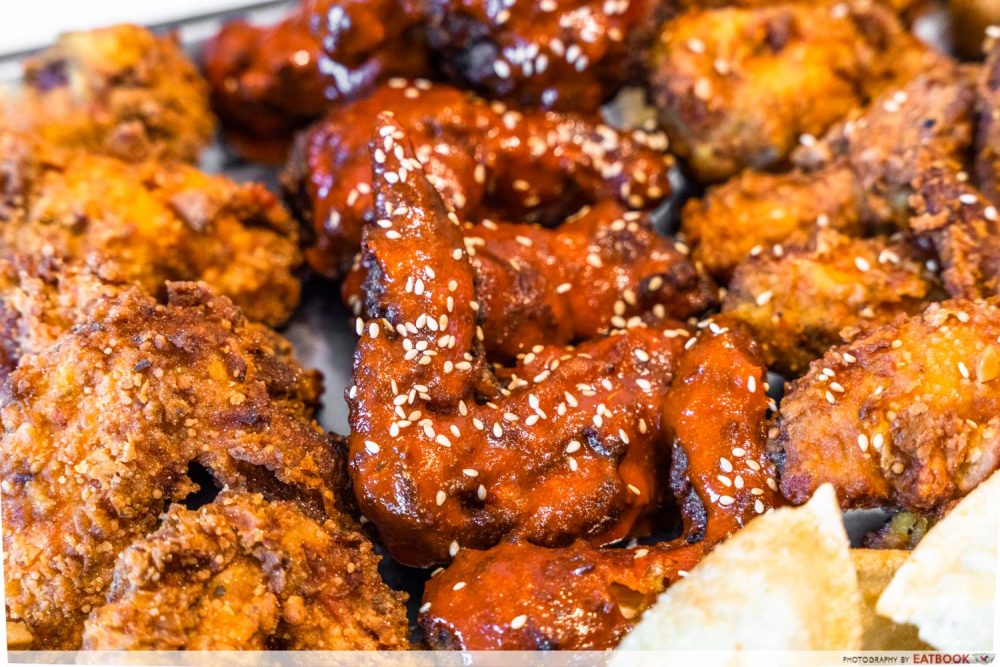 Their Yangnyeom chicken happens to be the most visually striking, with a darkish-red sauce coating reminiscent of American buffalo wild wings. Taste-wise, it was also the most memorable among the three, as the marinade was sticky and fiery, with a stinging sensation. Though I would've preferred a little more sweetness to balance out the spiciness, I'd imagine this would be a treat for you capsaicinophiles.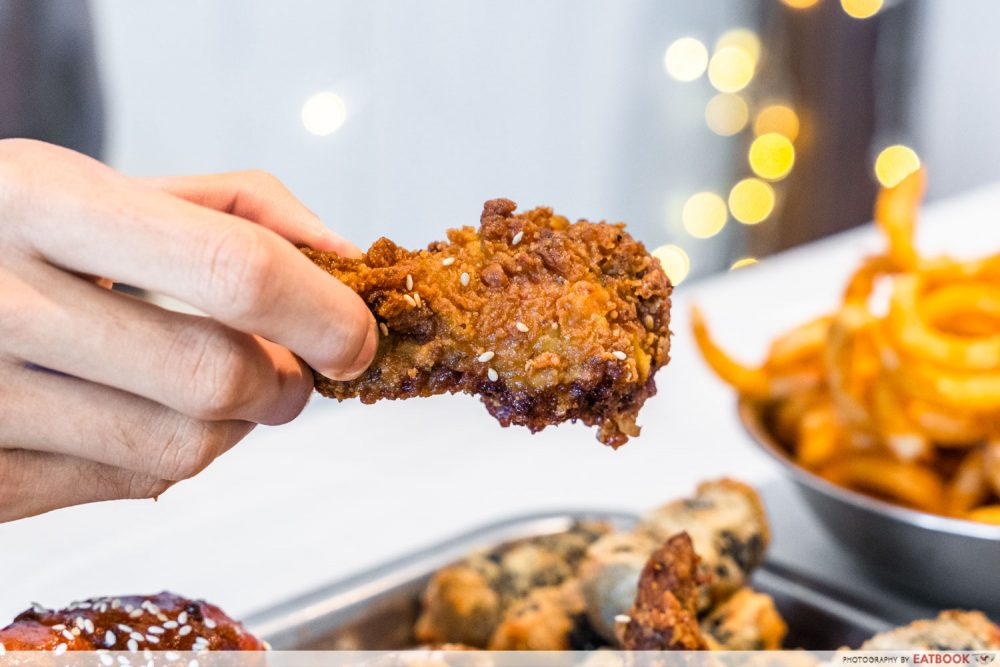 The Soy Garlic chicken offered a sweet-savoury combination that was a little more underwhelming than I expected. As with the other choices, the chicken meat was tender and juicy, absorbing the sweet, salty, and garlicky flavours of the marinade well enough. 
However, the sauce just didn't have that oomph I desired, as the soy garlic taste was just too subtle, while the marinade dried up rather quickly, causing the wings to be quite bland.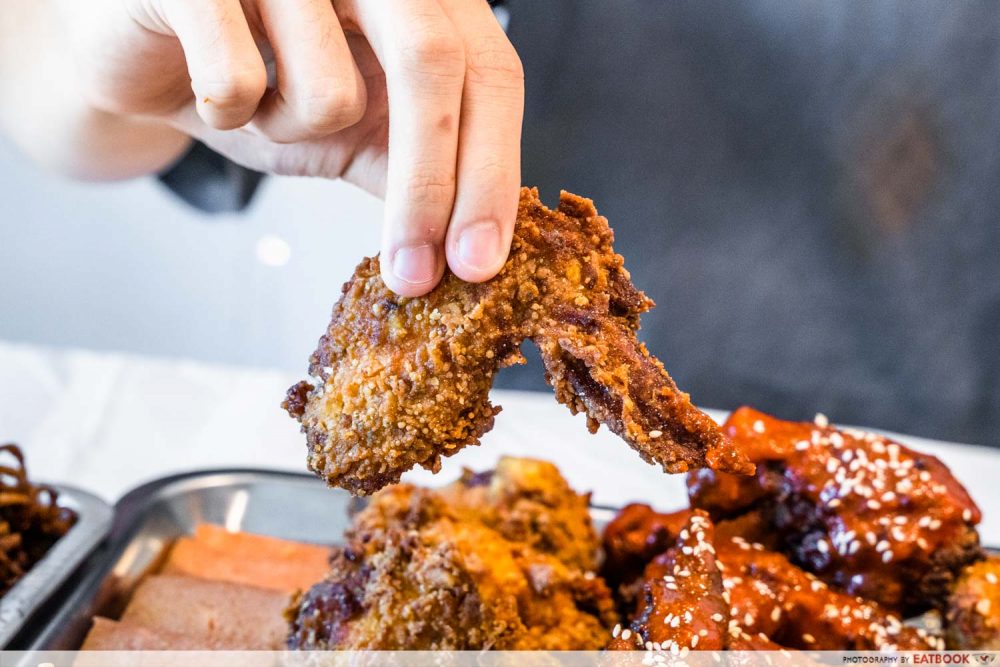 It was really their Original fried chicken that allowed me to appreciate the chicken skin in its entirety, in search of that ASMR crunch. The skin remained crispy even after quite some time of taking photos.
I particularly liked how it wasn't overly oily and greasy, making the sometimes messy dining experience more pleasant. My only gripe would be that the seasoning used was a bit too mild and one-dimensional, resulting in the chicken tasting predominantly salty.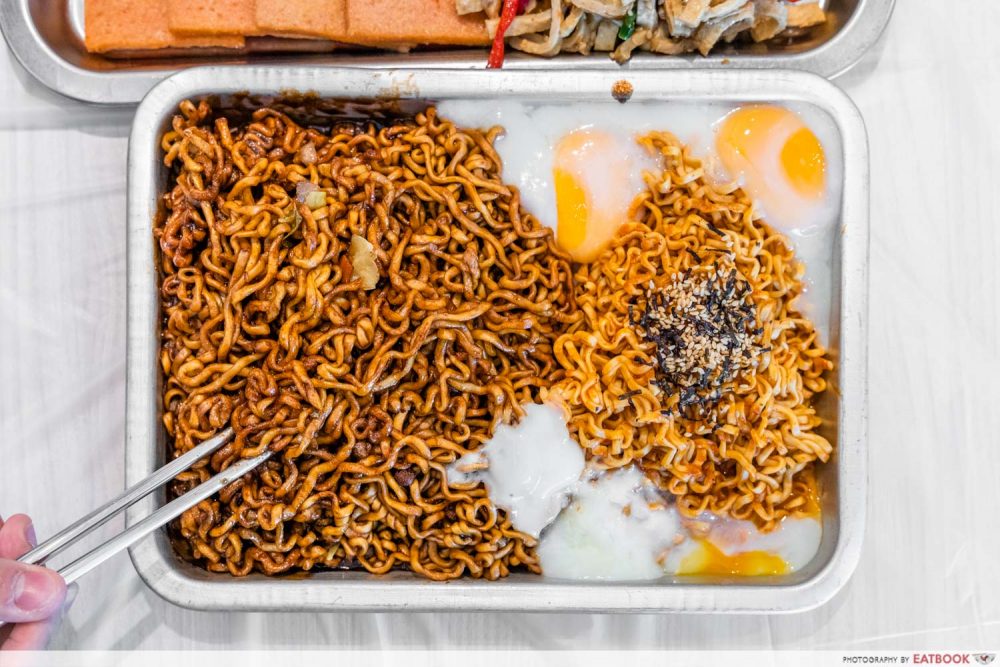 Those who wished that their Korean instant ramyeon portions were larger will be delighted to find out they can literally eat their heart out over here, with unlimited servings of Samyang Spicy Noodles, Chapagetti, and even Nongshim Shin Ramyun. Their noodles come topped with soft-boiled eggs for extra good measure.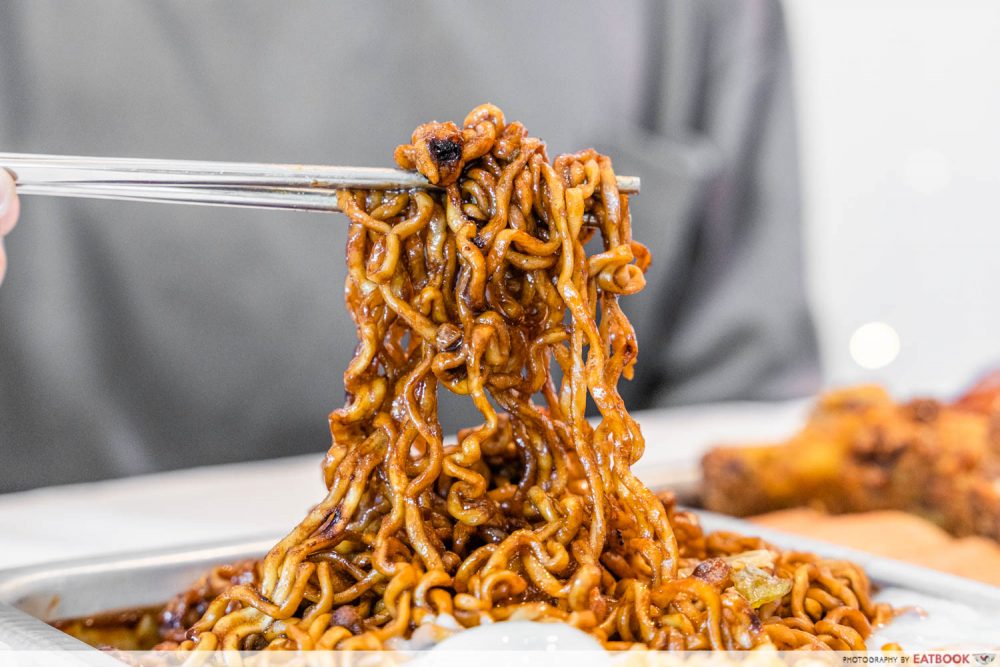 Popularised by the whole steak ram-don craze due to the Oscar-winning Korean movie, Parasite, their Chapagetti actually tasted more like Korean jjajangmyeon, though it misses vital ingredients like onions and diced pork to elevate its flavour profile. 
The creamy soft-boiled eggs really helped to cushion the blow from the Samyang Spicy Noodles, which was made a lot more bearable for a straight weakling like myself. That being said, I could definitely feel the numbing sensation from the spice. After a while, I found myself taking constant sips of Yakult Soju out of desperation, as sweat trickled down my forehead endlessly.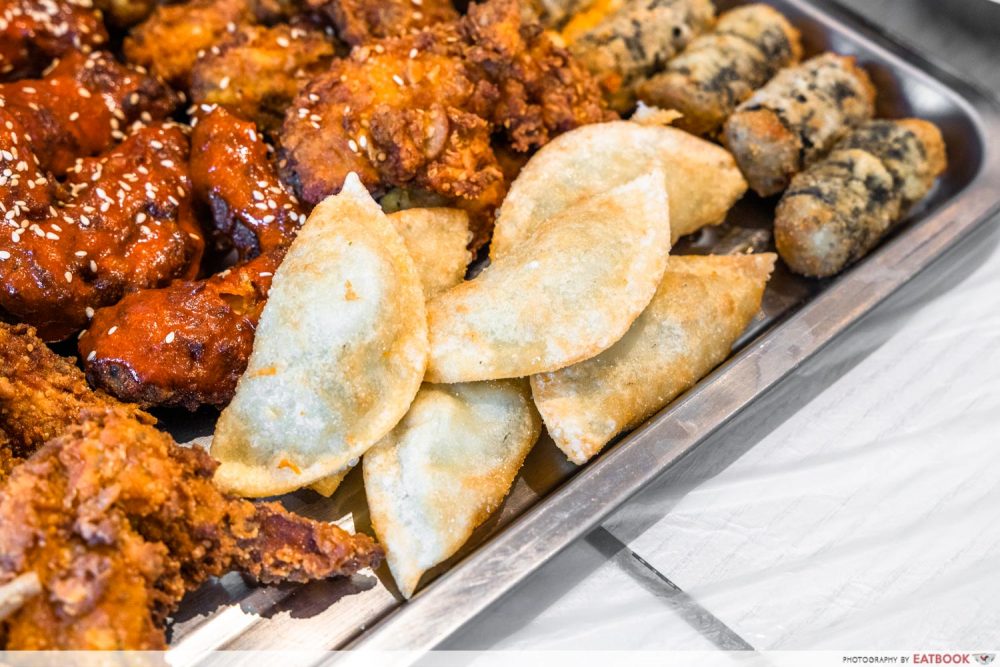 I had pretty high expectations for their Fried Mandu Dumplings. I especially liked the balanced ratio of meat to vegetables, with the greens adding a nice crunch. 
The pan-fried dumpling skin was crispy, yet not overly greasy and oily, so it doesn't get jelak. Yet, I do wish they provided some sort of a dipping sauce to go along with it, like those vinegar-soy ones that go with guo tie.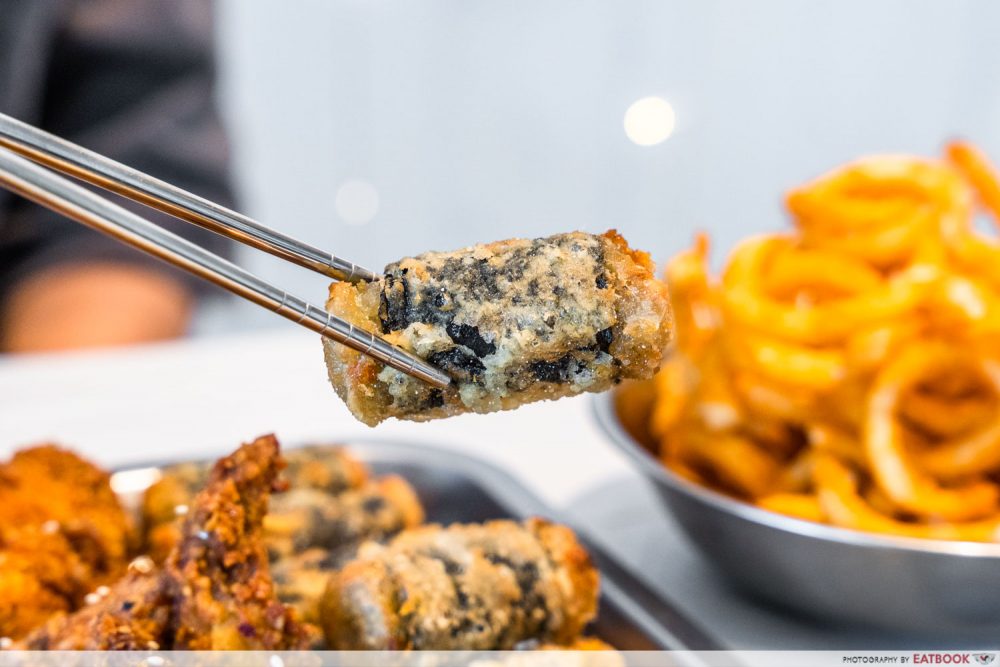 A fond reminder of my favourite fried seaweed chicken in my primary school tuckshop, the Gimmari (fried seaweed noodle rolls) is a carb-lover's dream, as these are essentially glass noodles wrapped in seaweed, and subsequently deep-fried. Again, perhaps a tteokbokki dipping sauce would have spiced up the experience even more.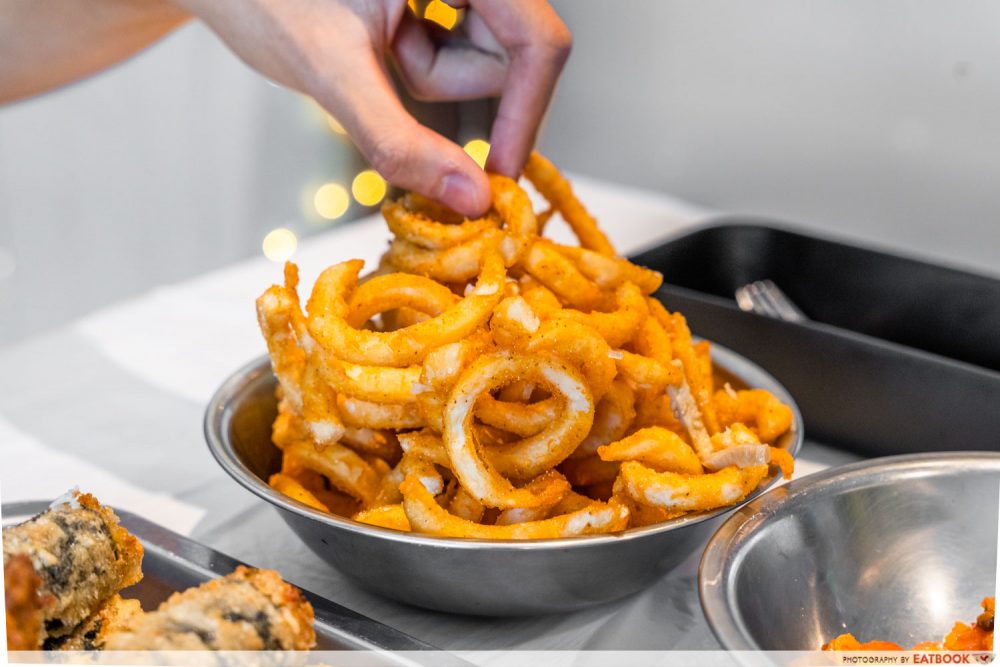 If you're one of those complainers about the short-lived nature of McDonald's Twister Fries, complain no more with Pint And Dine's free-flow Twister Fries that do the job equally well in my opinion.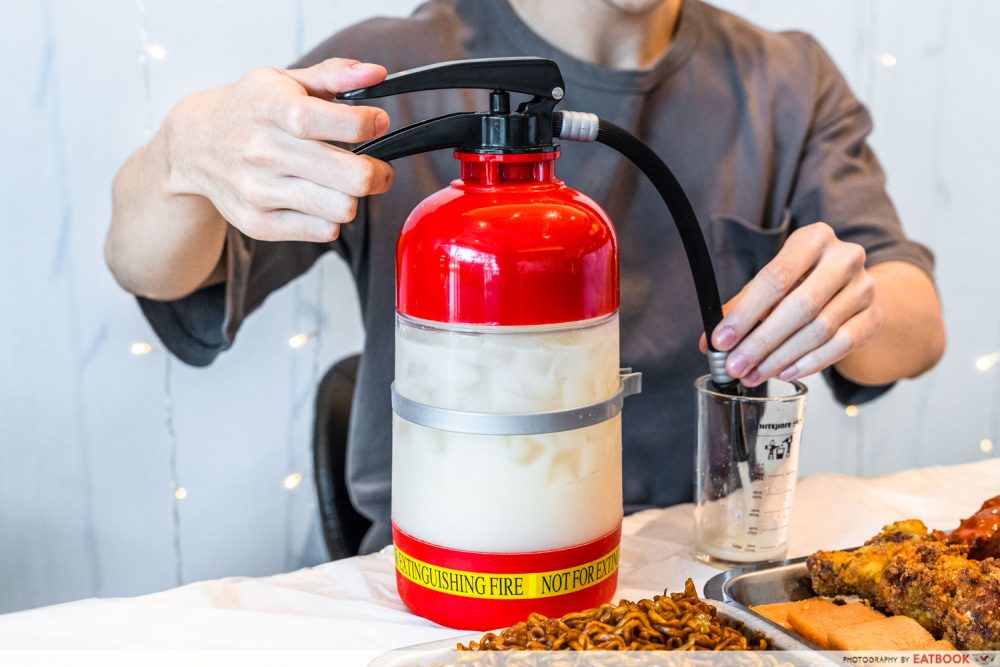 As a possible thirst-quencher for your mukbang session, add on their Yakult Soju Tower ($28+) that gives you 1.5 litres of original Yakult mixed with green grape soju, served in their cute little fire extinguisher towers.
Hanjip Korean Grill House Review: Korean BBQ With USDA Prime Ribeye And Wagyu Platters In Clarke Quay
Ambience at Pint And Dine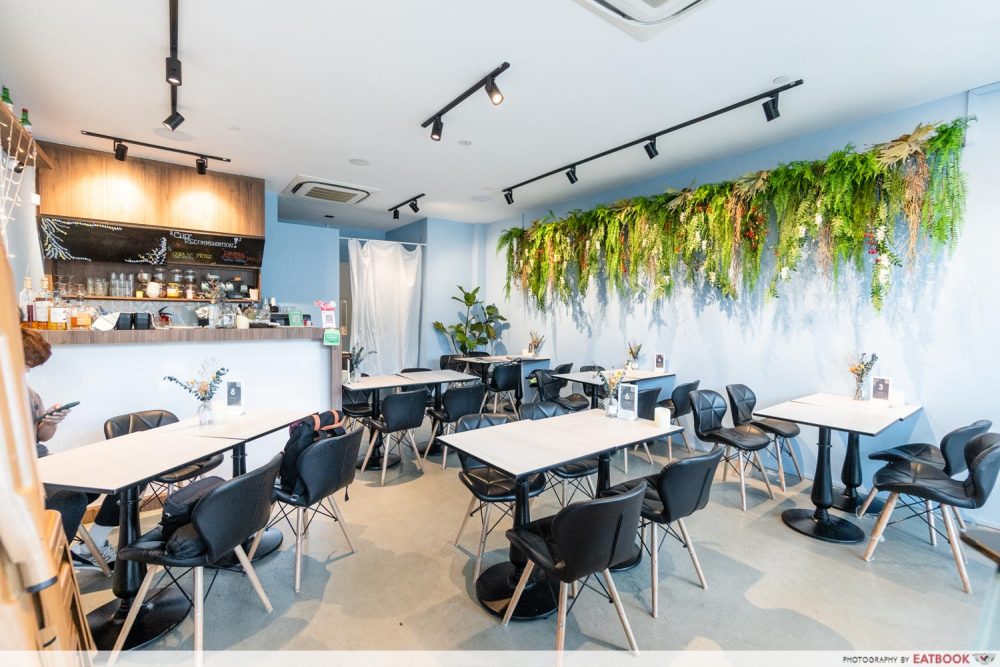 Despite being hidden outside a mall surrounded by residential estates, Pint And Dine is accessible via a 10 to 15-minute bus ride from Bartley and Tai Seng MRT Stations. However, the journey made here is worth it as you get to dine in a rather laidback setting. With a pastel blue backdrop decked with hanging botany and cushioned seats, it really do be one of those places you can look forward to unwinding with friends and family at.
Annyeong Chicken Review: Korean Hawker Stall Has Legit Jjajangmyeon, Fried Chicken And More From $6
The verdict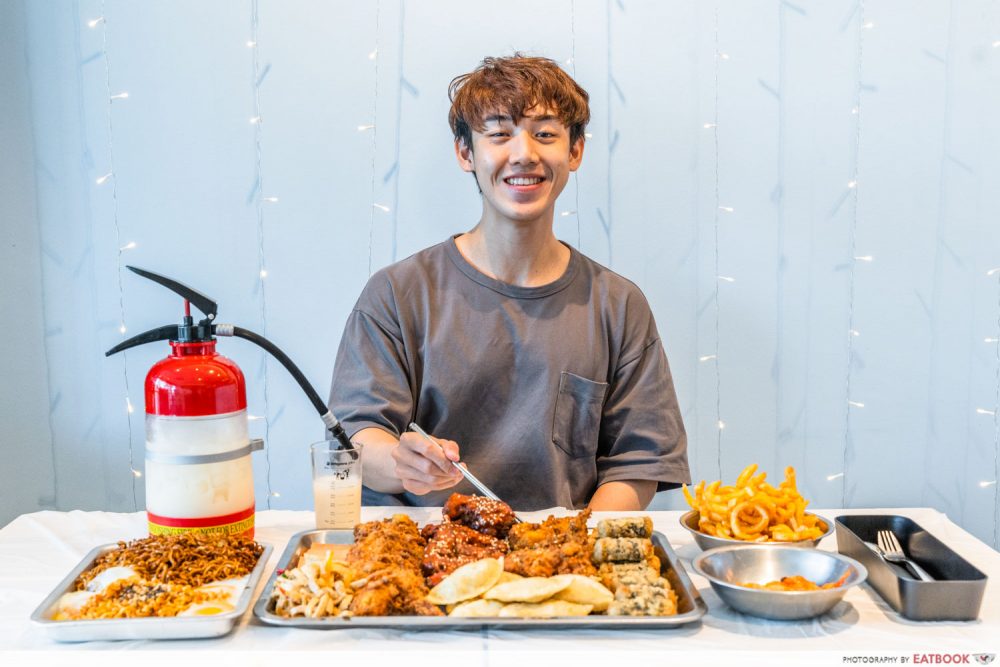 In order to appease my inner fat kid, I'd definitely return to Pint And Dine for their mukbang buffet, probably jio-ing a larger group of friends to all share the fun as there's something for everyone here. I especially liked the Soy Garlic Chicken, Mandu, and Gimmari in particular. I do hope that they'll slowly add more non-fried dishes to balance out their buffet a little better, as it can get overwhelmingly rich and rather cloying overall.
That being said, I'll be sure to be back to try out their Korean fusion mains in the near future, just after I recover from my food coma from stuffing myself silly at their buffet.
If you're looking for more Korean food around, check out our Chir Cafe + Bar review for IG-worthy cheese-drenched burgers and bulgogi cream pastas at Holland Village. Alternatively, read our guide to Korean cafes in Singapore to transport you straight to the cafe-hopping crazy parts of Seoul.
Address: 2 Jalan Lokam, #01-48, Kensington Square, Singapore 537846
Opening hours: Tue-Fri 12pm to 10:30pm, Sat-Sun 11am to 10:30pm
Tel: 8891 5928
Website
Pint And Dine is not a halal-certified eatery.
Photos taken by John Lery Villanueva.
This was a media tasting at Pint And Dine.
The post Pint And Dine Review: Korean Mukbang Buffet With Free-Flow Korean Fried Chicken, Samyang And More At Tai Seng appeared first on EatBook.sg – New Singapore Restaurant and Street Food Ideas & Recommendations.