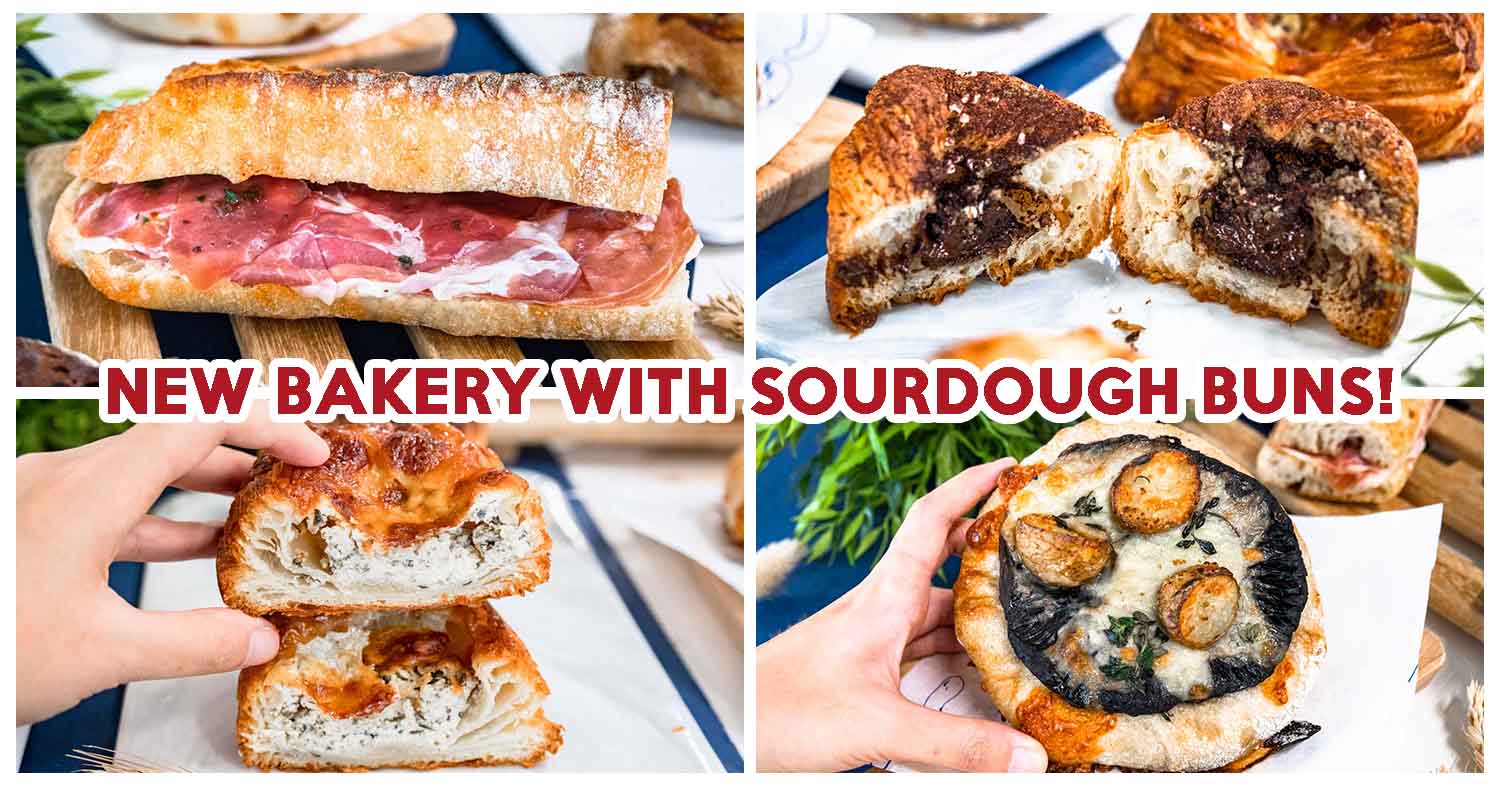 PICKLE Bakery at Everton Park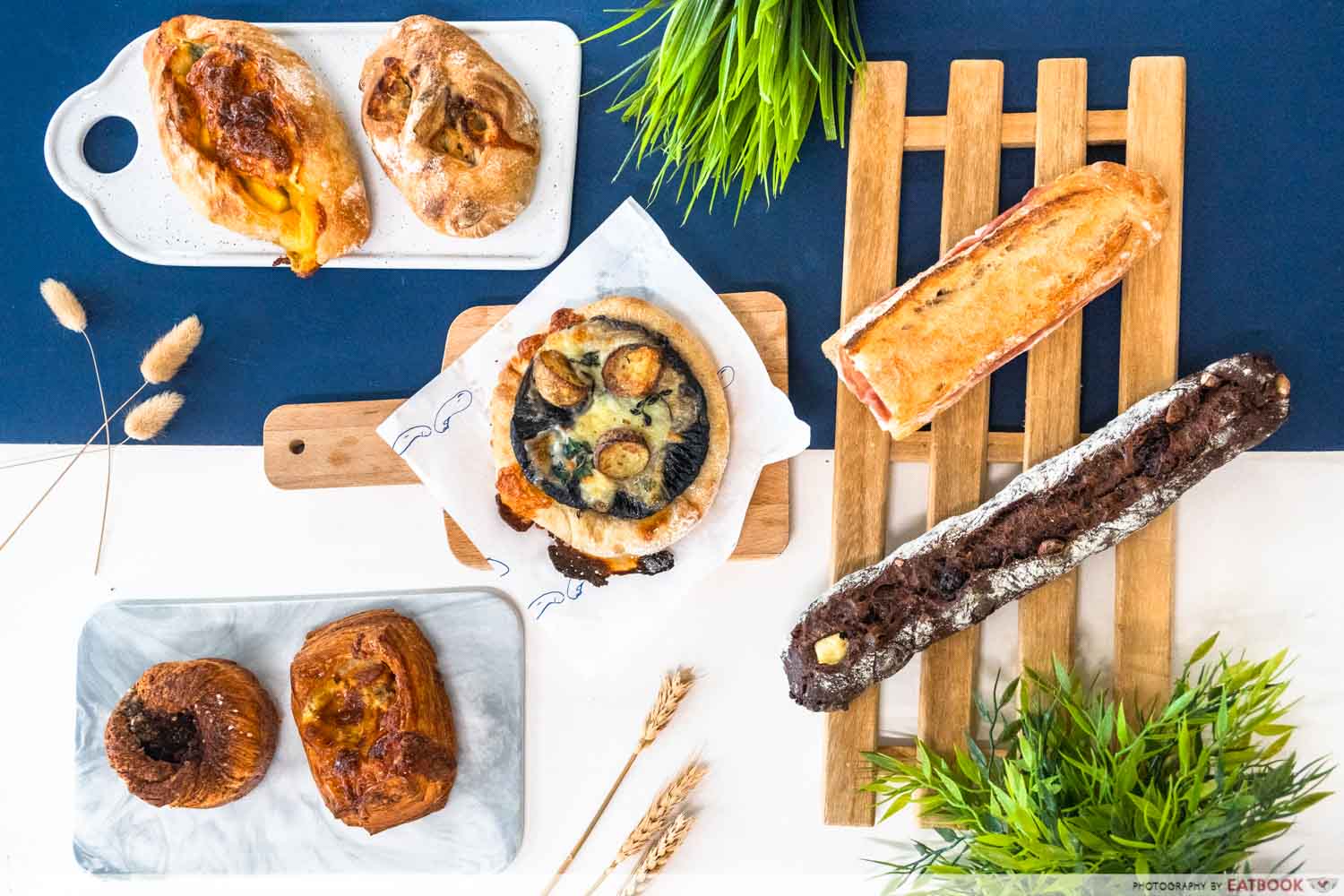 I'm glad more and more fellow Singaporeans are discovering a love for artisanal bakes, because it's thanks to them, that cosy little bakeries producing these artisanal bakes are popping up all over our little island. Hopping into this pool is PICKLE Bakery, a takeout-only bakery in Everton Park, situated near Outram Park.
Run by two friends, Jaslyn, and Elizabeth, or Jas and Liz for short, PICKLE Bakery is the culmination of their experiences in the breadmaking industry abroad—Jas has spent time in Korea and Japan, while Liz has worked the baking scene in Paris. Besides using specific blends of quality flour in their bakes, everything is done in-house, from the pickling, to fermentation, and sprouting.
Food at PICKLE Bakery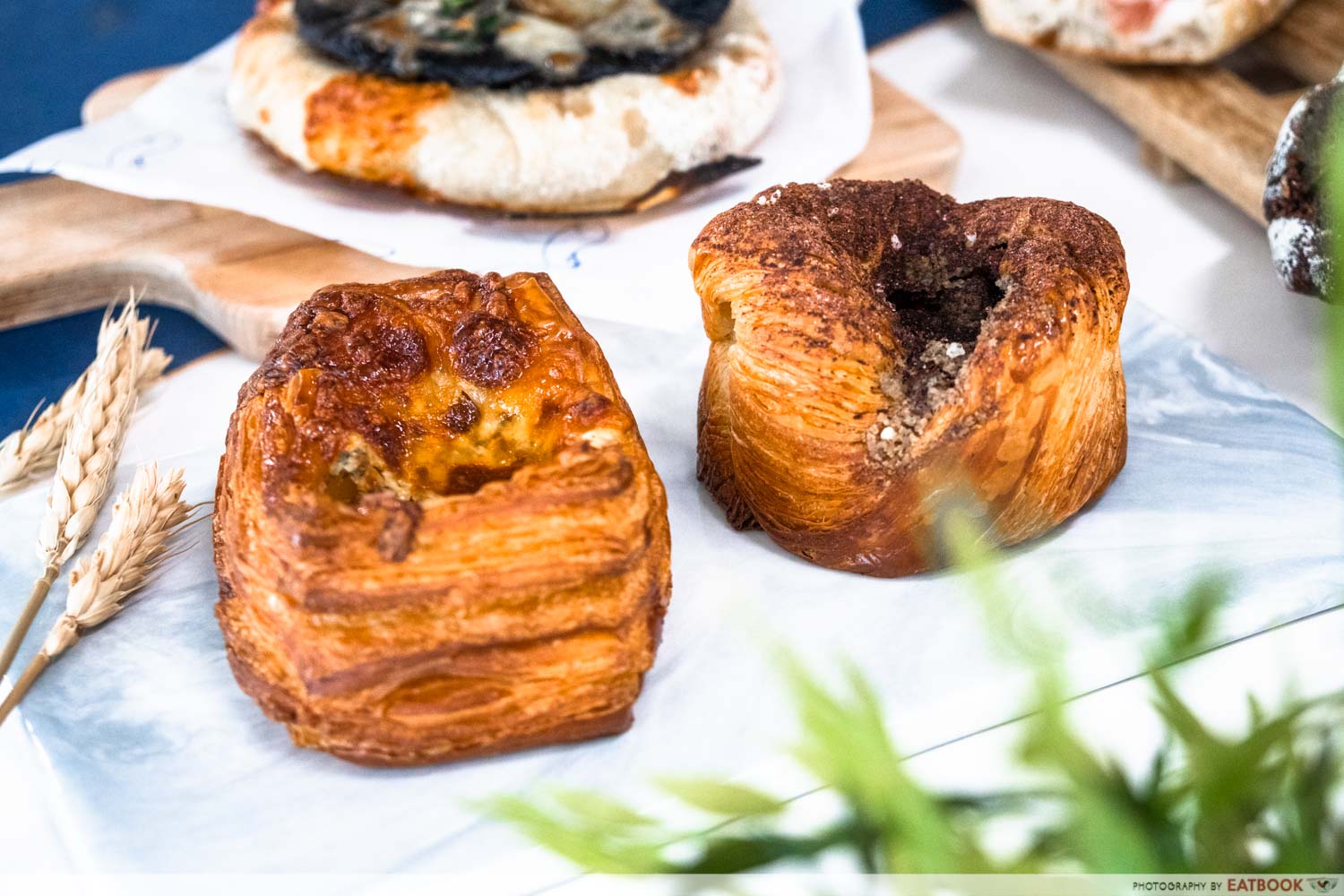 The individual bakes at PICKLE Bakery can be grouped in three broad categories: viennoisseries, baps, aka sandwiches, and sourdough buns. Other than these, you do have your full sourdough loaves as well, although we didn't try these.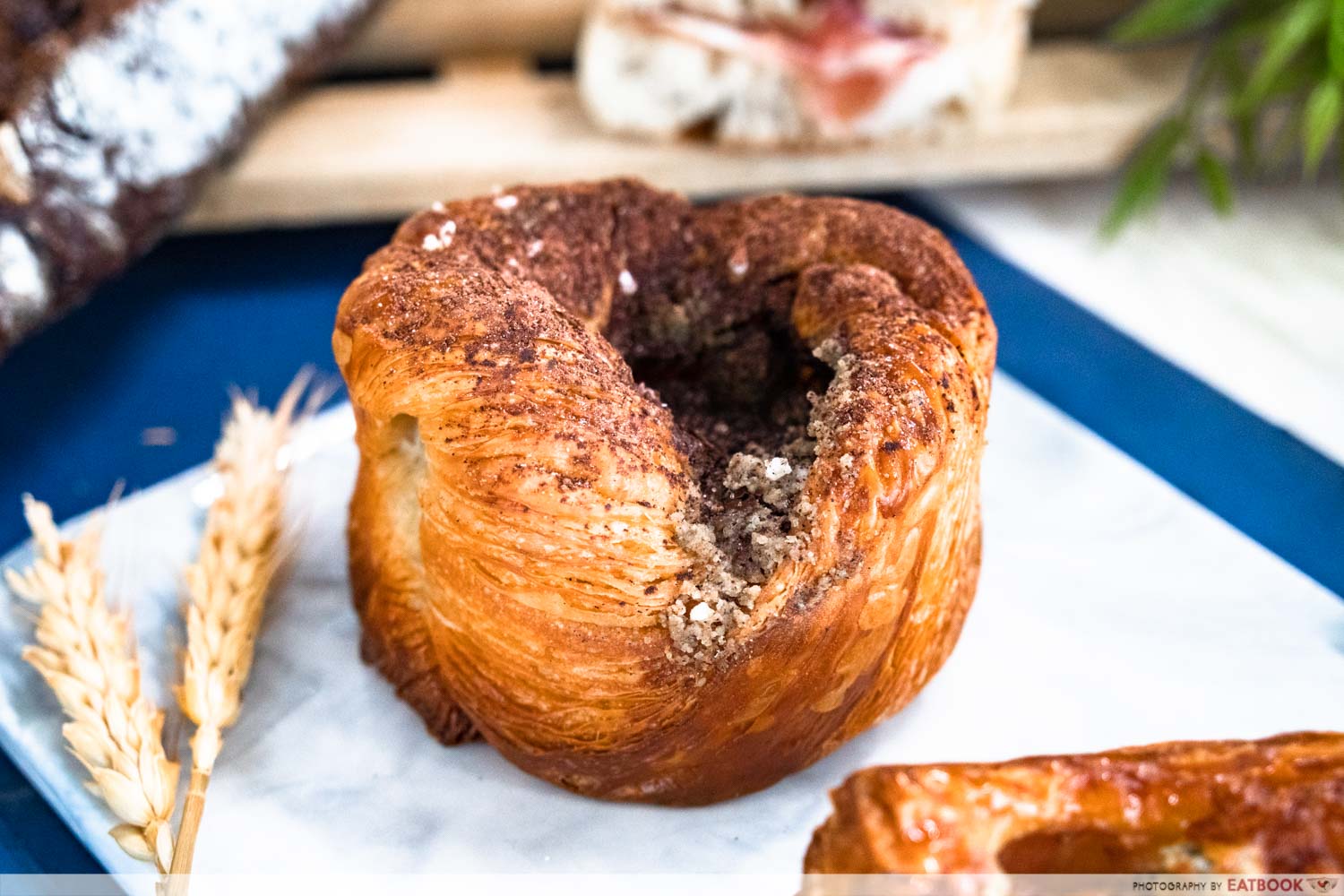 A signature here is the Chocraunt ($7)—their take on the classic pain au chocolat. It reminds us of a cruffin, but more substantial in size, featuring layers of flaky, laminated pastry enwrapping a centre of molten couverture chocolate. Derived from the French word croquant, which means crisp, or crunch, I'd say the Chocraunt did live up to its namesake.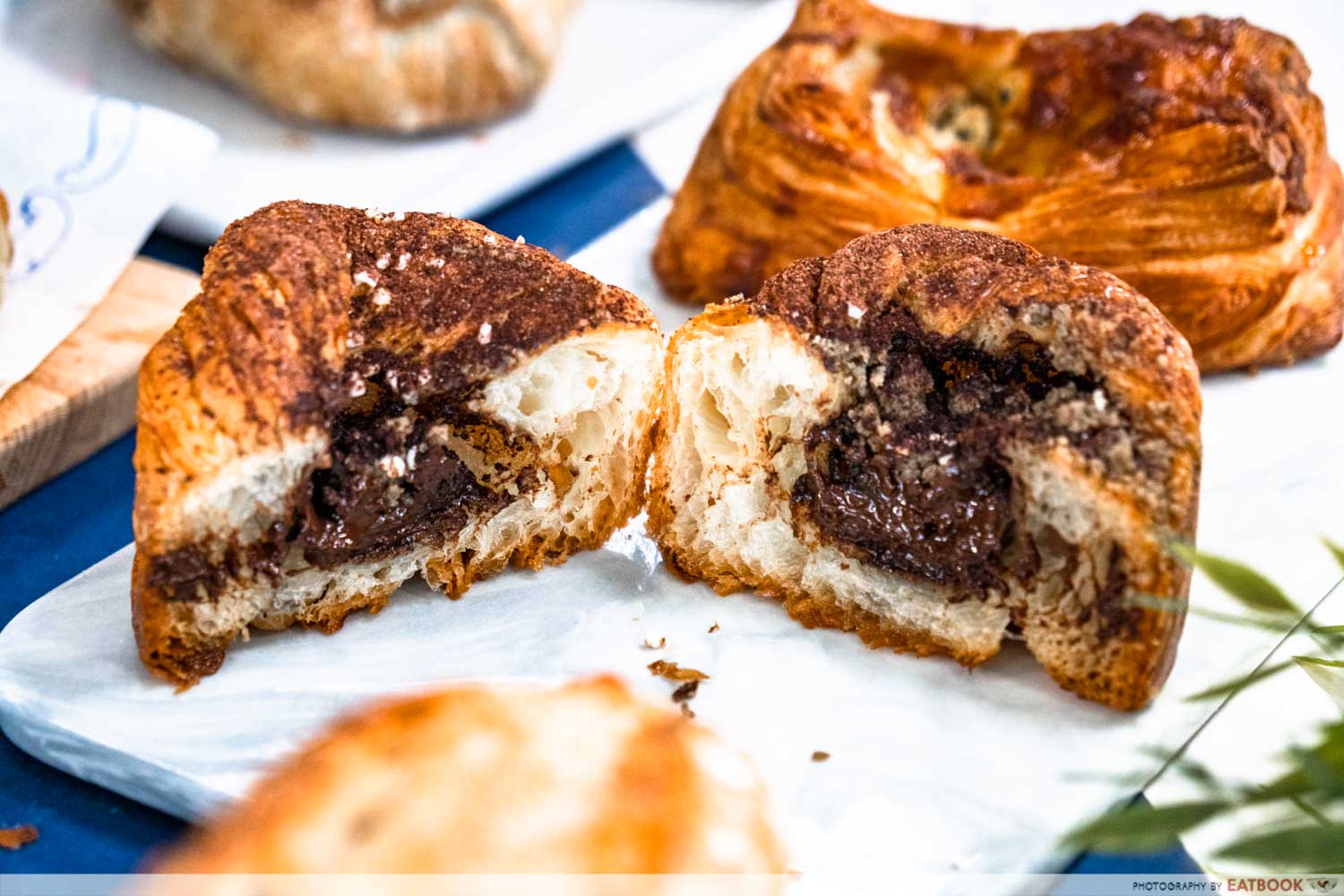 I liked that this shape allowed for a more even distribution of the chocolate core. What I enjoyed even more was the buckwheat crumble, whose earthy nuttiness elevated the taste of the chocolate. It's finished with a dusting of cocoa powder with sugar nibs, both of which rounded out the flavours with notes of bitter, and sweet.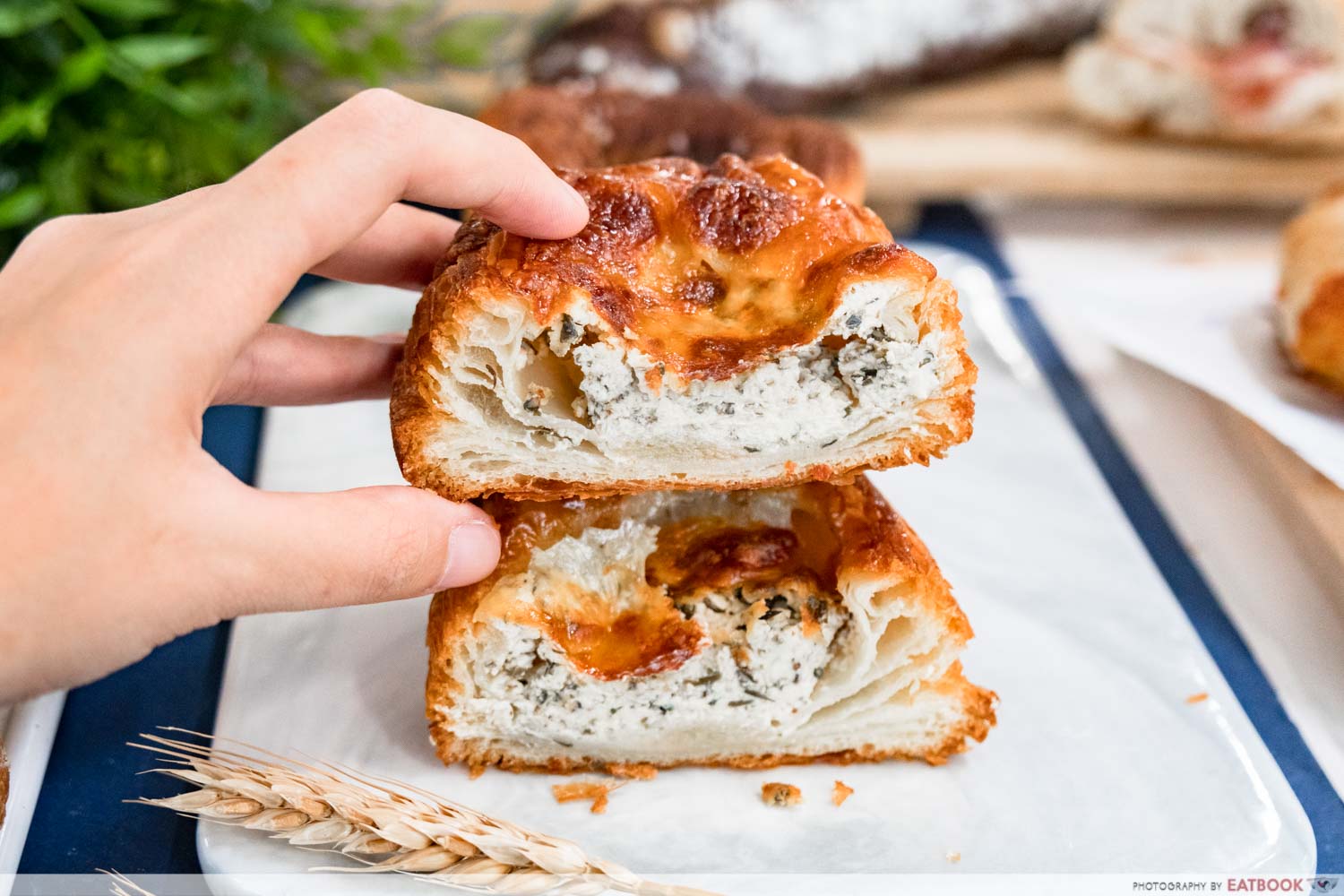 On the other hand, the Spanish Herb, Paprika, Creamed Cheese & Olives ($6.50) featured a unique, creamy centre that was a textural contrast to the layers of pastry. As with the Chocraunt, there was a generous amount of the savoury, herbaceous filling. It's like a quiche for one, in viennoisserie form.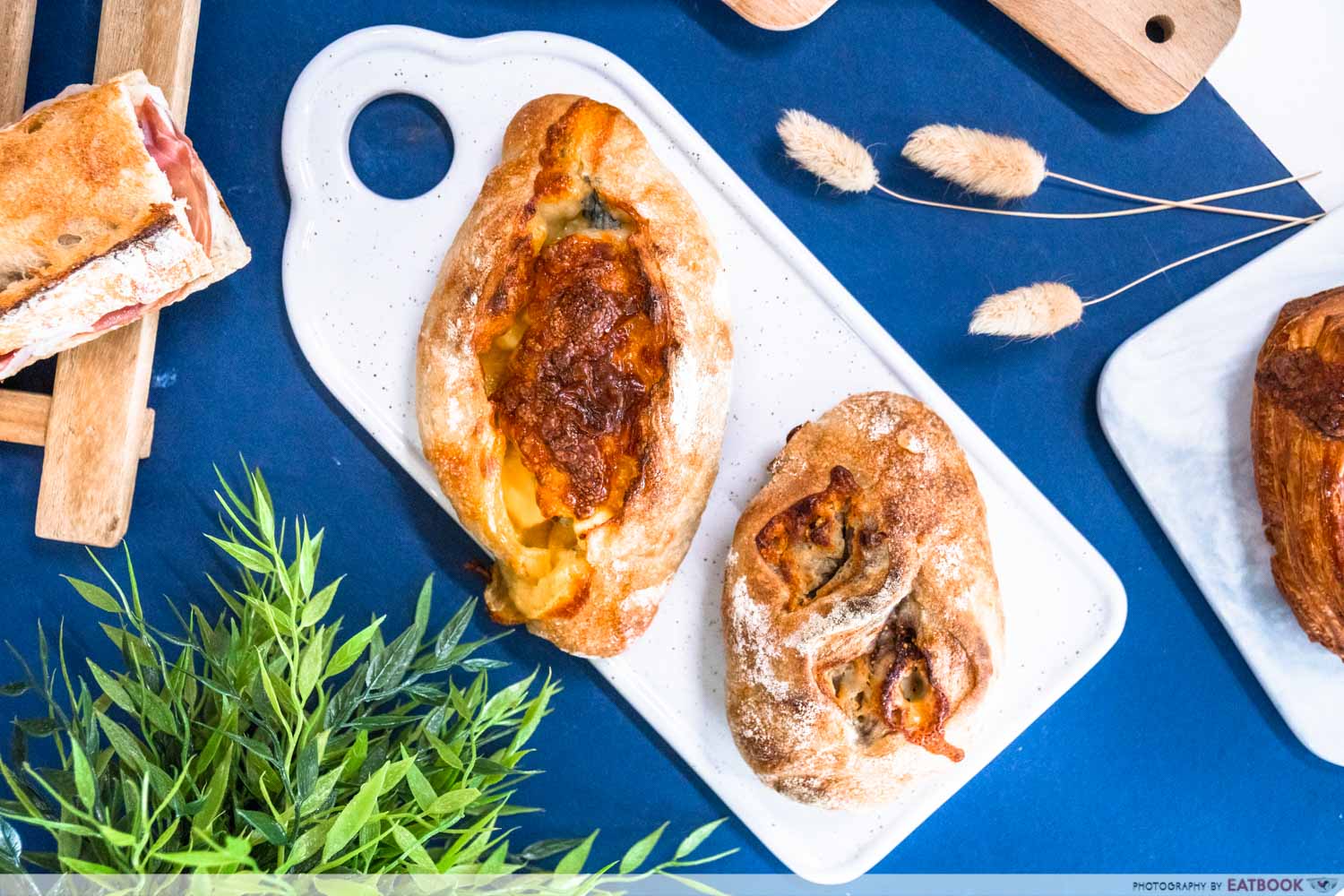 Of the sourdough buns, we chose three: the Figs, Blue Cheese, Walnuts ($5.50), 4 Cheese ($6), and Double Chocolate Macadamia Cream Cheese ($6.50).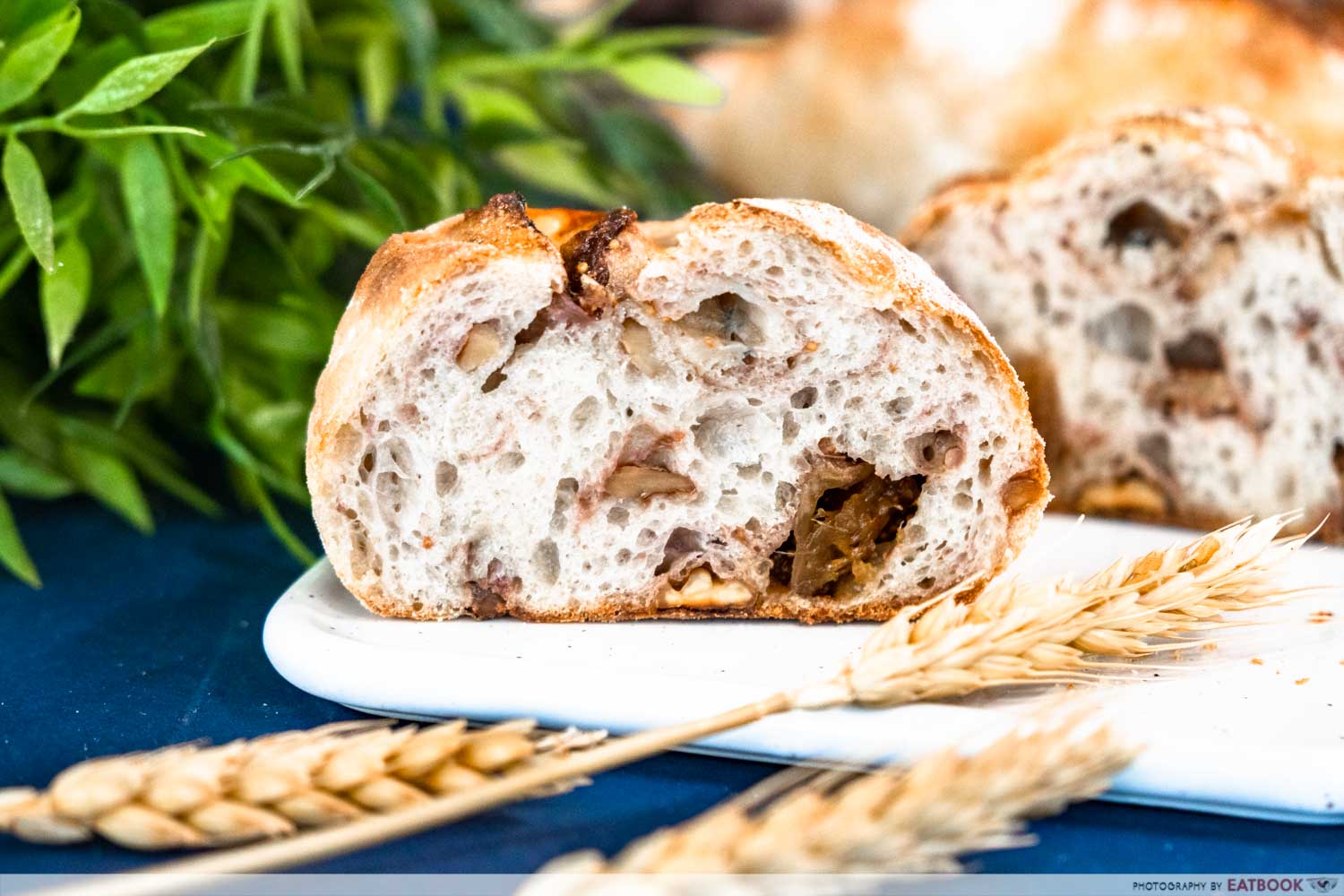 If you're after a soft bun, go for the Figs, Blue Cheese, Walnuts sourdough bun. This was surprisingly cushy soft, without the harder, crustier exterior that's commonly associated with Western-style bakes. Evenly dotted with the bitterness of walnuts, lightly sweet with figs, complemented with dollops of creamy blue cheese, I could eat this daily with slabs of cold butter, or even plain.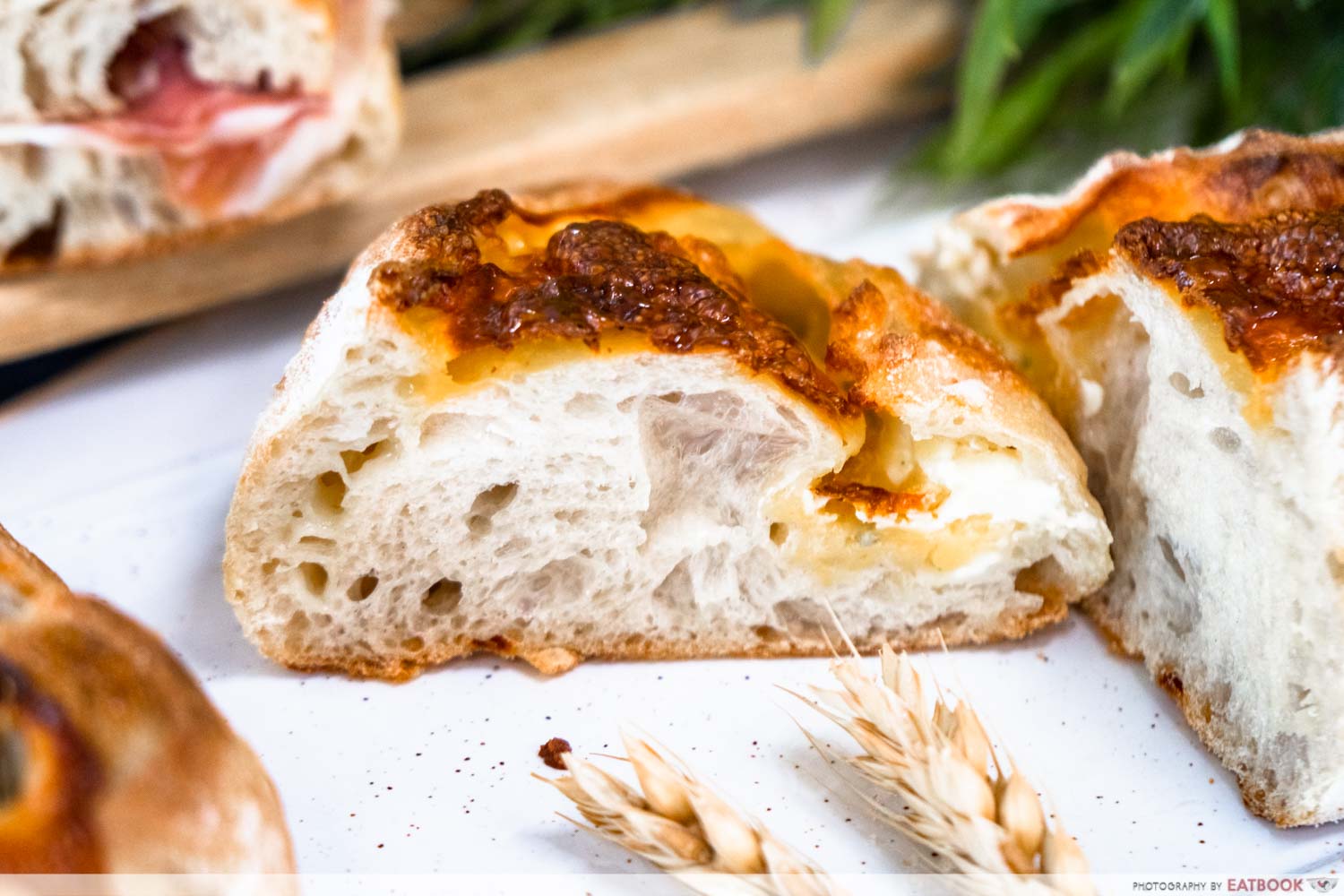 If you haven't noticed, I do like my cheeses, so the 4 Cheese was an obvious choice. This is a crustier bun, with a topping of melted, browned cheese. The cheeses here are mozzarella, cheddar, blue cheese, and cream cheese, so it's a mix of mild and pungent, creamy, and melty, although you shouldn't let the idea of blue cheese put you off. It's also finished with a lick of honey, a pleasant addition that balances out the savouriness of the cheese, and light sourness of the bun.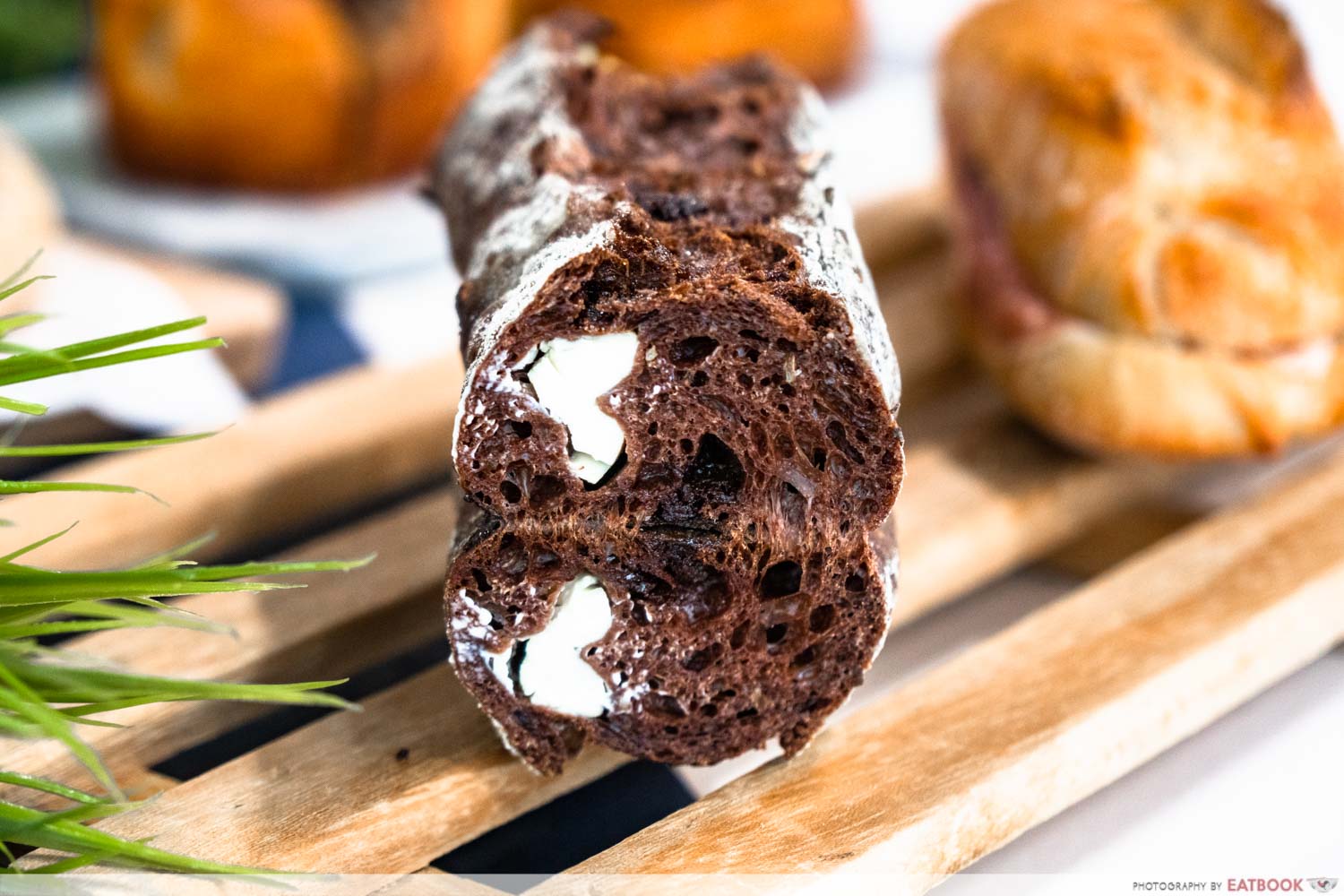 After the slew of hits, the Double Chocolate Macadamia Cream Cheese baton came across a little plain, after the funkiness of our previous bites of the blue cheese buns, and herbed cream cheese. The chocolate bread with chocolate chips, and cream cheese, has us thinking this will probably prove a favourite with kids. We found this a little hard, although it could be due to us having left it out a while.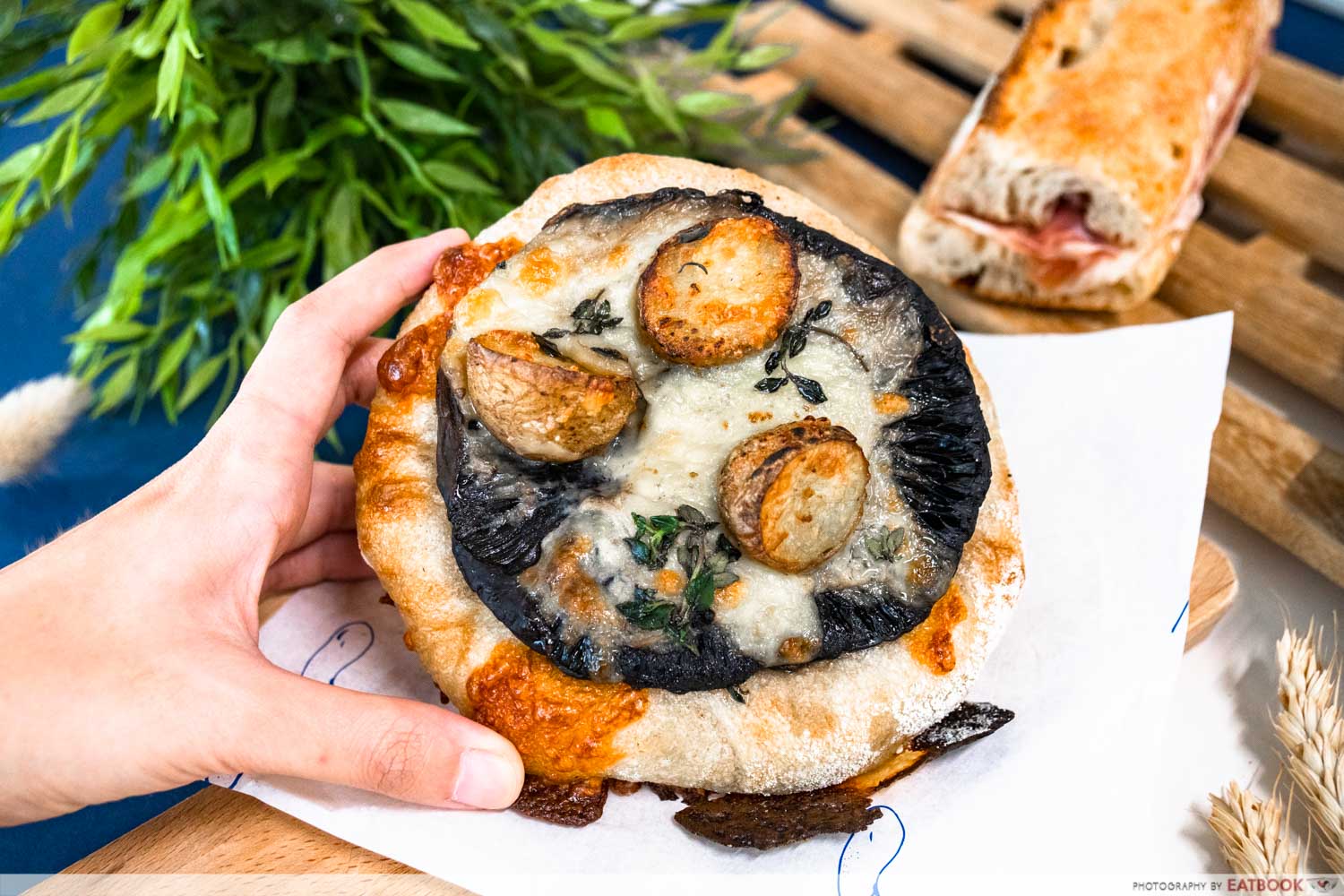 The Portobello Mushroom, Potato, Bechemel Sauce Tartine ($11) is an open faced sandwich that is topped with a whole, chonky shroom that celebrates the earthy, juicy fungi steak.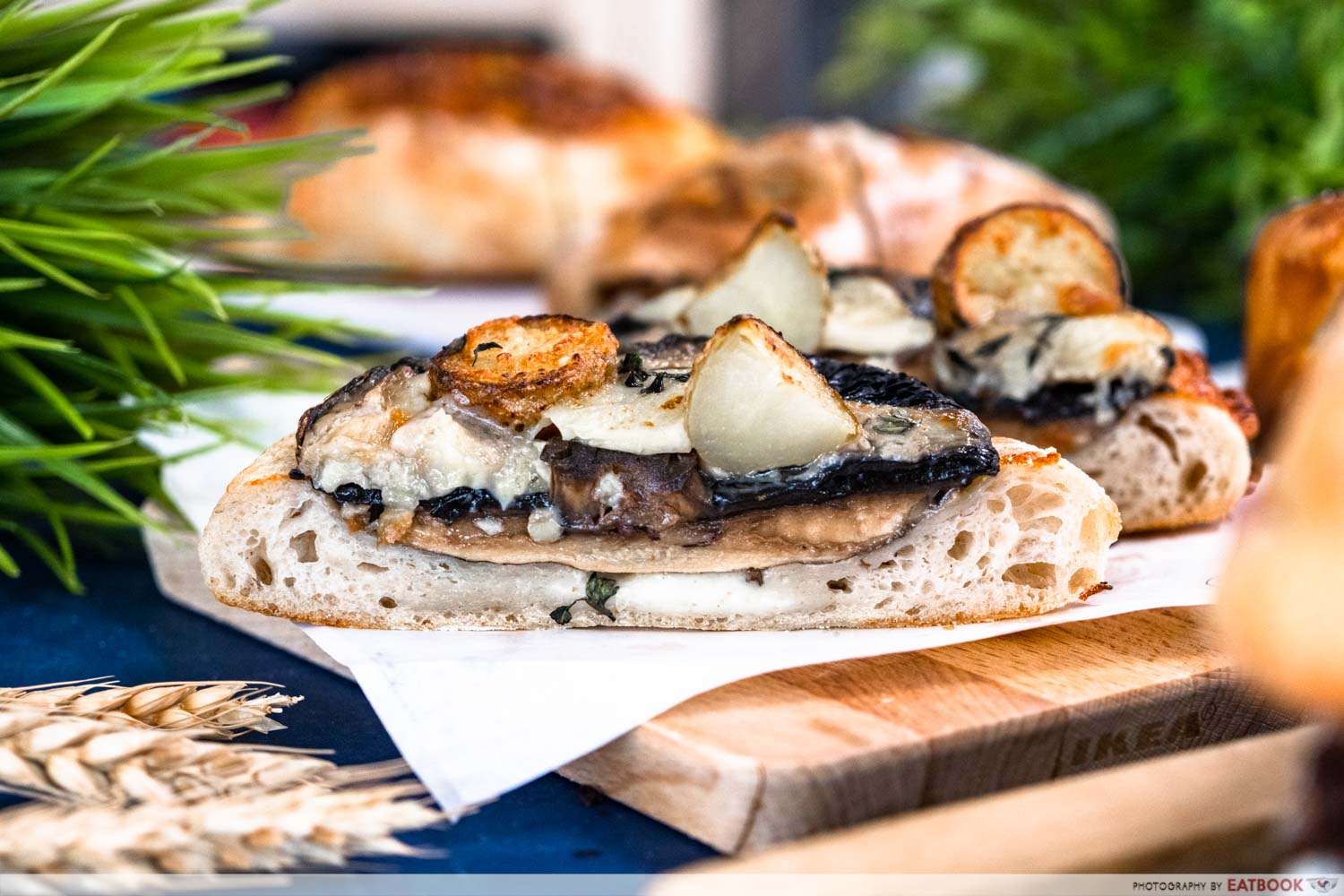 If you're thinking it's just a mushroom on bread, think again, because the portobello mushrooms that PICKLE uses are seriously hefty and thick, while the roasted potatoes are flavourful in their own right.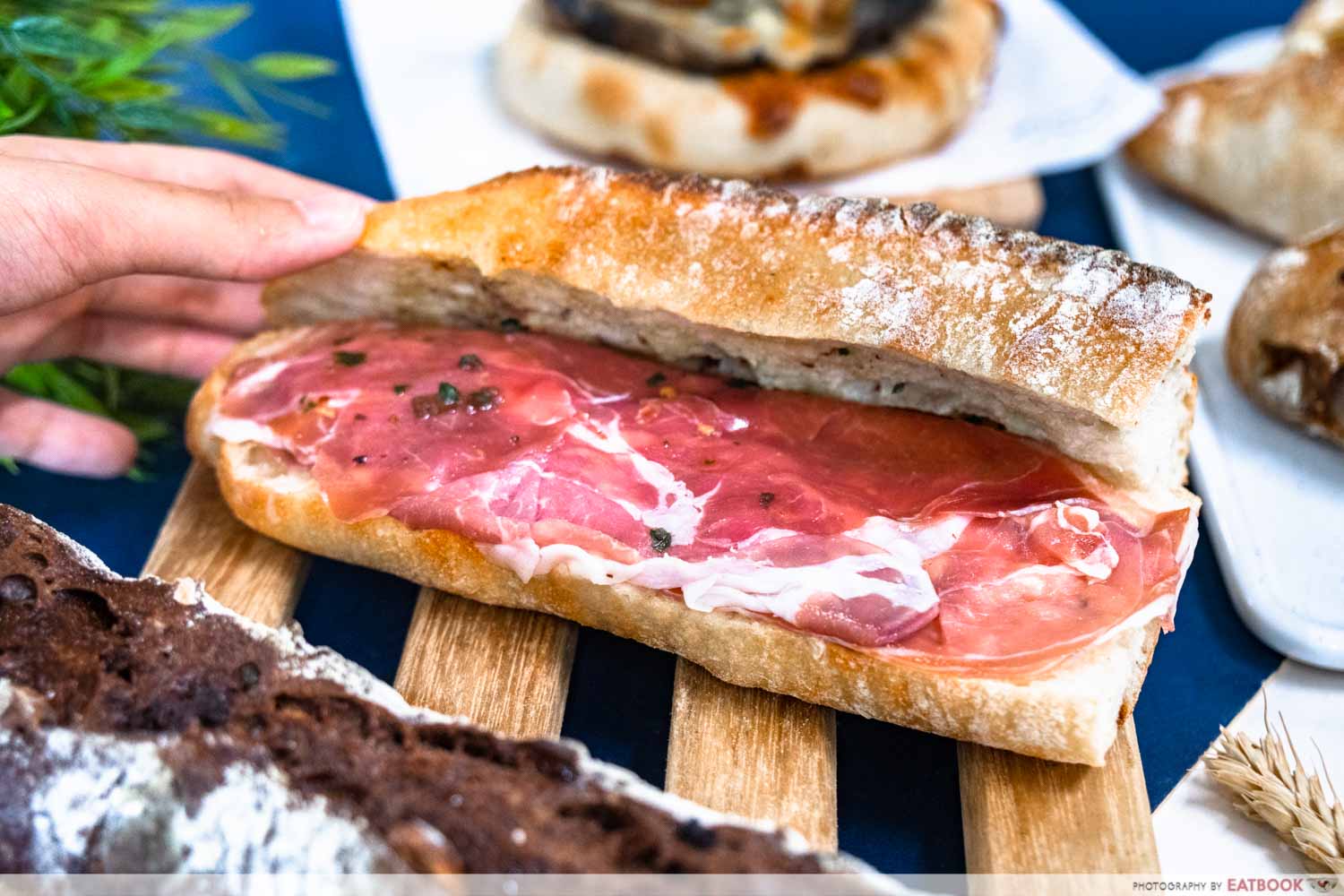 Rounding off our selection was the Parma Ham, Burrata, Olive Relish Baguette ($14), showcasing their house-made sourdough baguette with a classic pairing of cheese and ham. I wish there were more of the filling, in the same way that their pastries were, but that's just a personal preference as I do prefer my sandwiches loaded.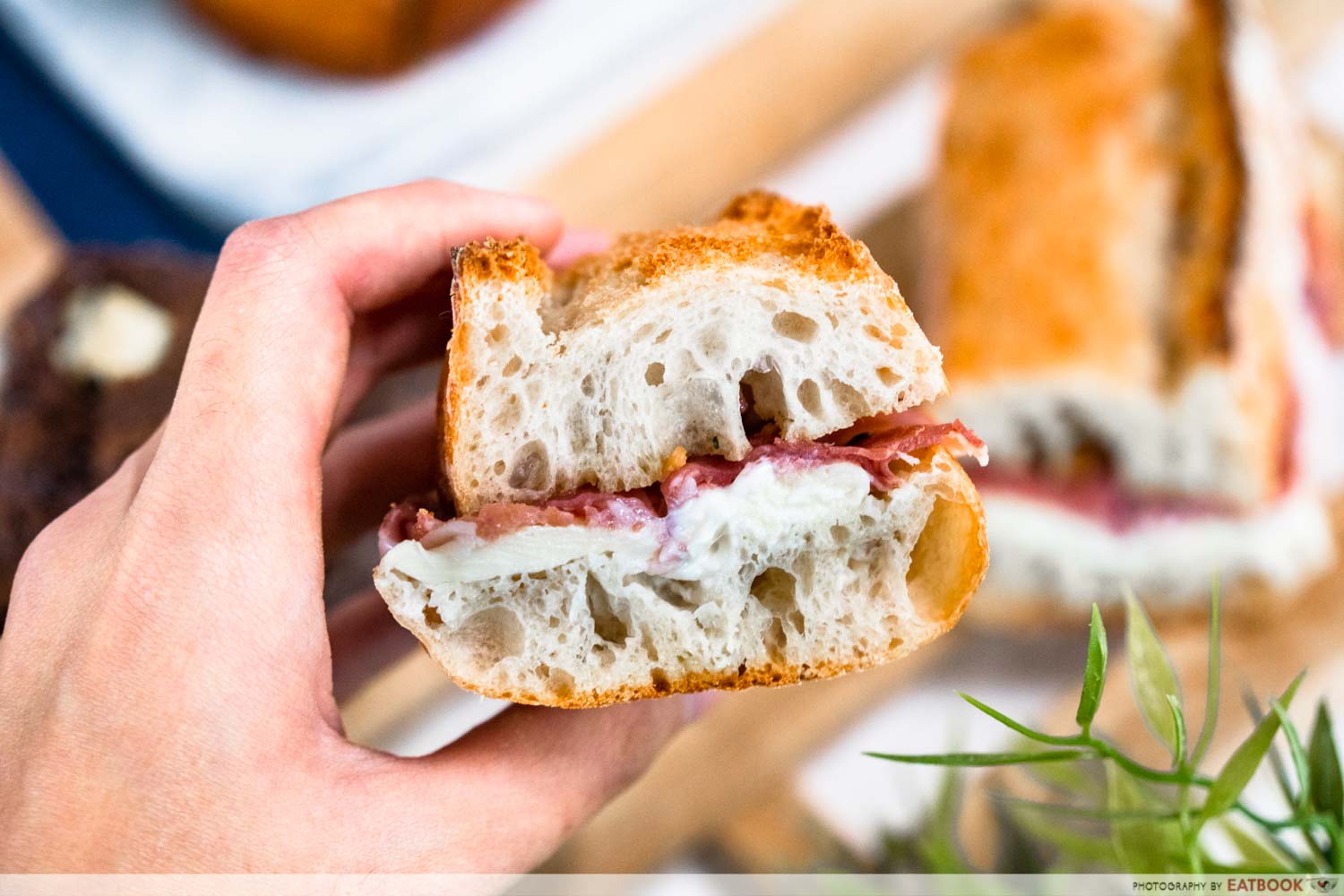 Otherwise, it's tough to go wrong with creamy burrata and parma, although the house-made olive relish does deserve special mention for tying the two together harmoniously with the baguette.
Ambience at PICKLE Bakery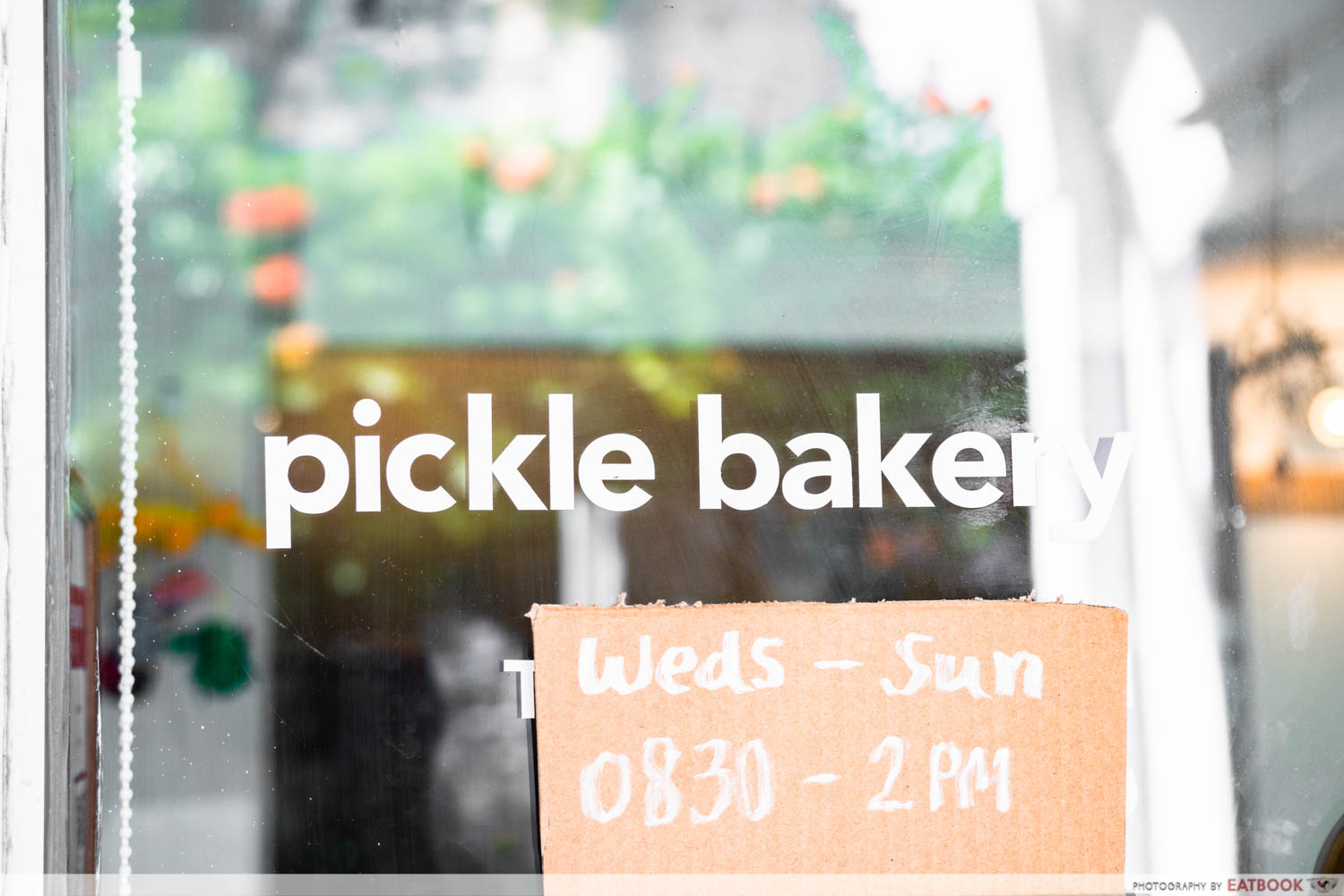 PICKLE Bakery is a six-minute walk from Outram Park MRT Station, and 13-minute walk from Chinatown MRT Station. Being a takeout-only bakery, there aren't any seats for customers. Jas shared that some of their regulars used to bring their own seats before P2HA was implemented, so here's an idea for when dining-in resumes.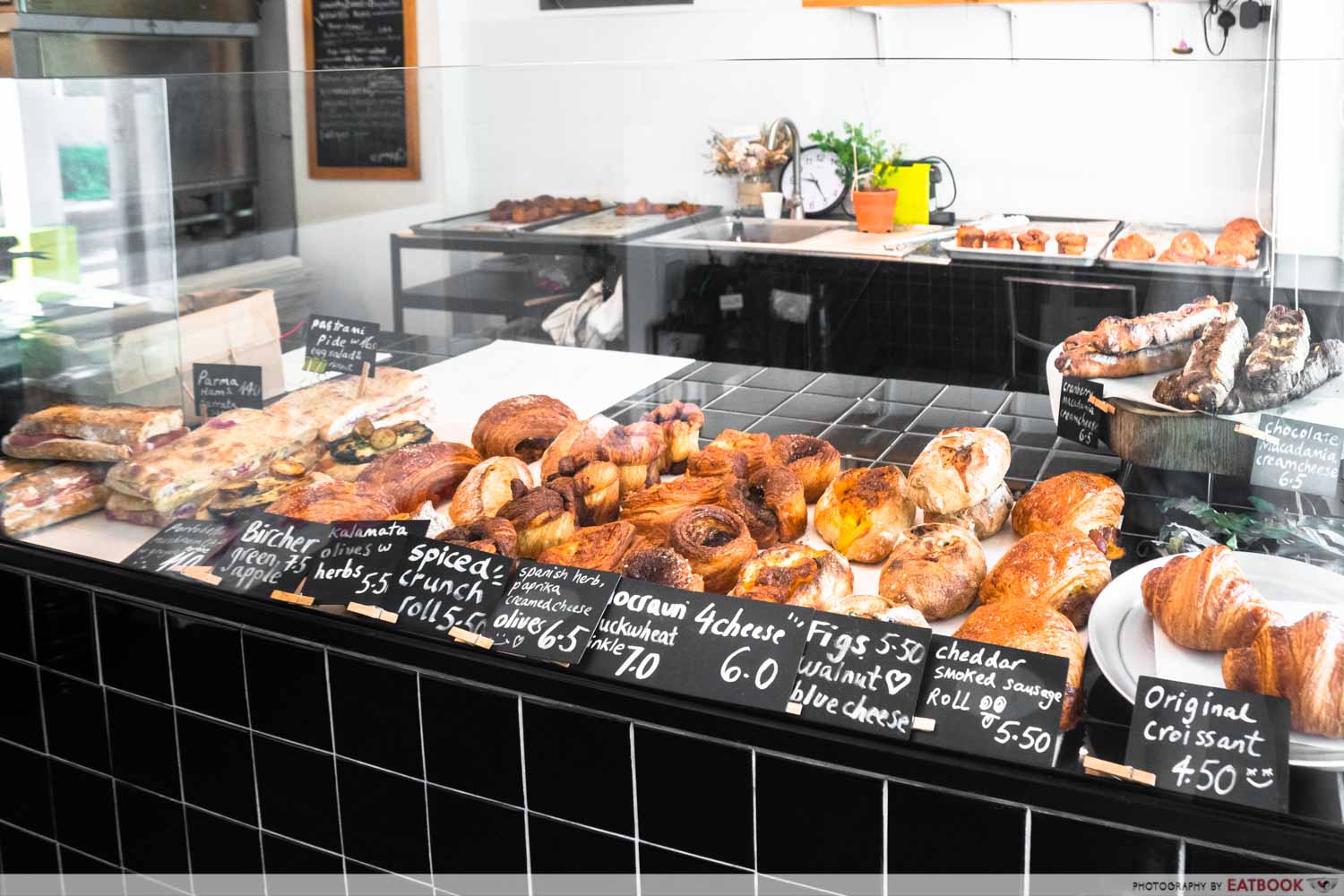 The bakes for the day are laid out on the open counter each morning, in rows upon rows of shades of brown, fronted by handwritten labels, and a panel of glass. It's rustic, more so with the hand-doodled chalkboard menus, and no frills, but it's homey, and intimate, like walking into a friend's shop to get your favourite bakes.
20 Bread Delivery Services In Singapore Including Rainbow Bread, Mochi Buns And More
The verdict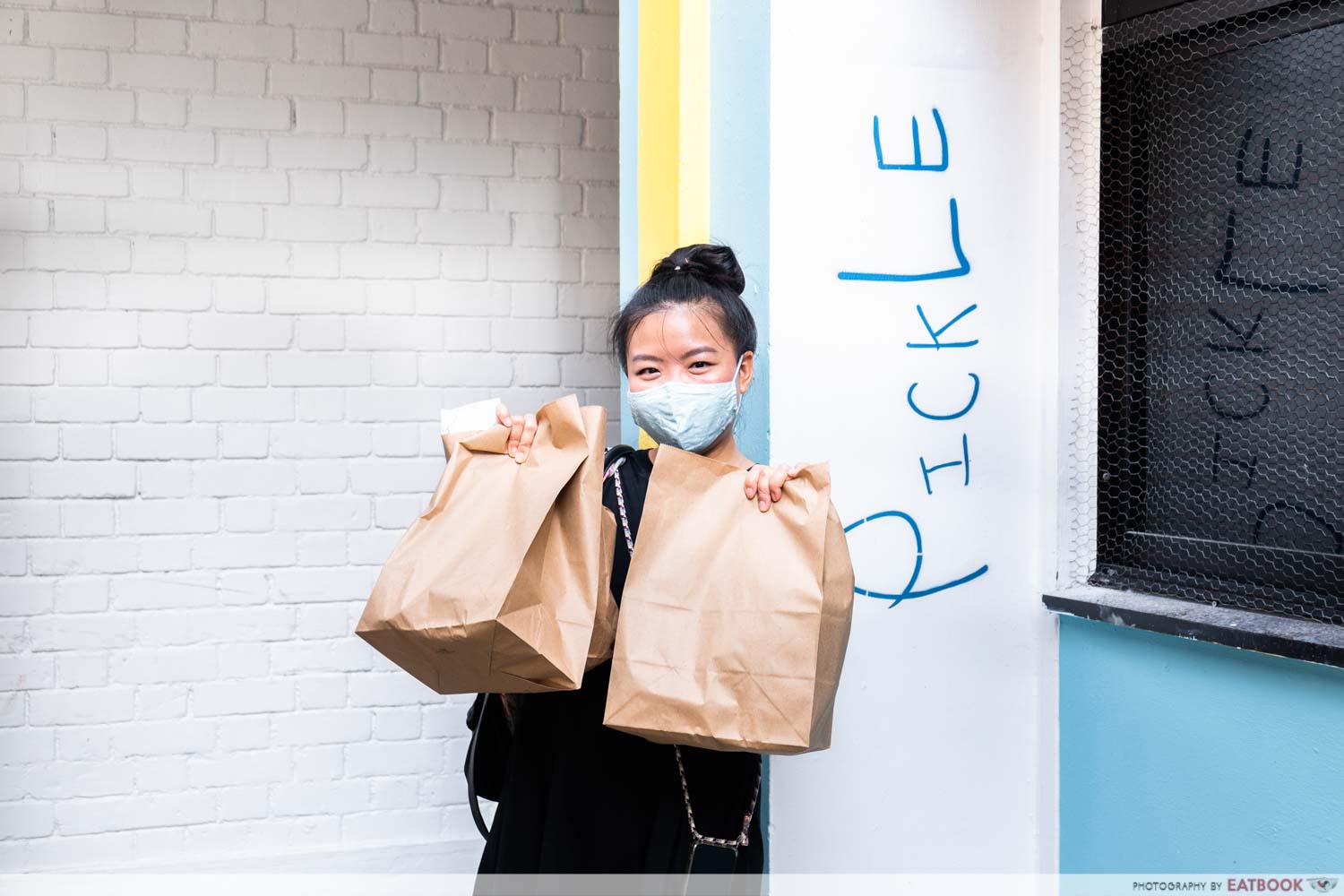 Limited opening hours aside, PICKLE Bakery has definitely joined my list of go-to bread shops. I wish they were open more hours in a day, so I wouldn't have to crawl out of bed in the mornings to get their bakes, but it is a two-person operation after all. We enjoyed the breads thoroughly, although ingredients such as blue cheese may be a little polarising for some.
In light of P2HA, PICKLE Bakery has implemented a delivery and pre-ordering service that you can access through their Instagram page, or their website. Check in for their weekly menu, which you can screengrab off either of the platforms. Fill it in with your order, and WhatsApp it to 8322 9500 between 2pm and 4pm, at least two to three days ahead. Island-wide delivery is available at $15, or you can opt for self-collection between 10am and 2pm.
If you're stuck at home, and need your artisanal bakes, check out our list of bread delivery options. Alternatively, get your fill of loaded sandwiches delivered to your home.
Address: 2 Everton Park, #01-61, Singapore 081002
Opening hours: Wed-Sun 8:30am to 2pm
Tel: 8322 9500 (WhatsApp only)
Website
PICKLE Bakery is not a halal-certified eatery
16 Sandwich Stalls With Delivery Including Tonkatsu And Grilled Cheese Sandwiches
Photos taken by Chew Yi En.
This was an independent review by Eatbook.
The post PICKLE Bakery Review: Buckwheat Chocraunts, Burrata Sandwiches And More At Everton Park appeared first on EatBook.sg – New Singapore Restaurant and Street Food Ideas & Recommendations.