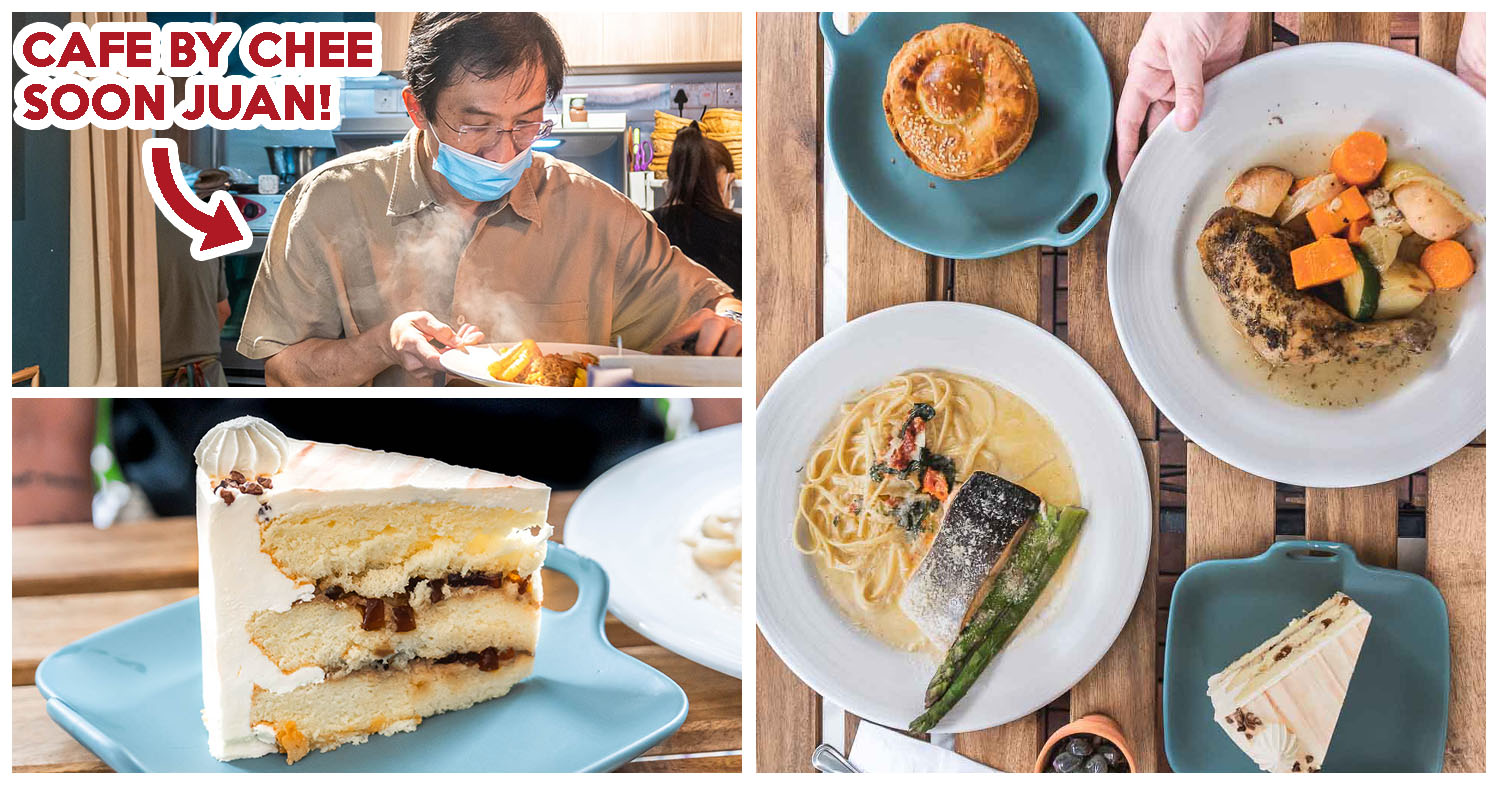 Orange & Teal Chee Soon Juan cafe review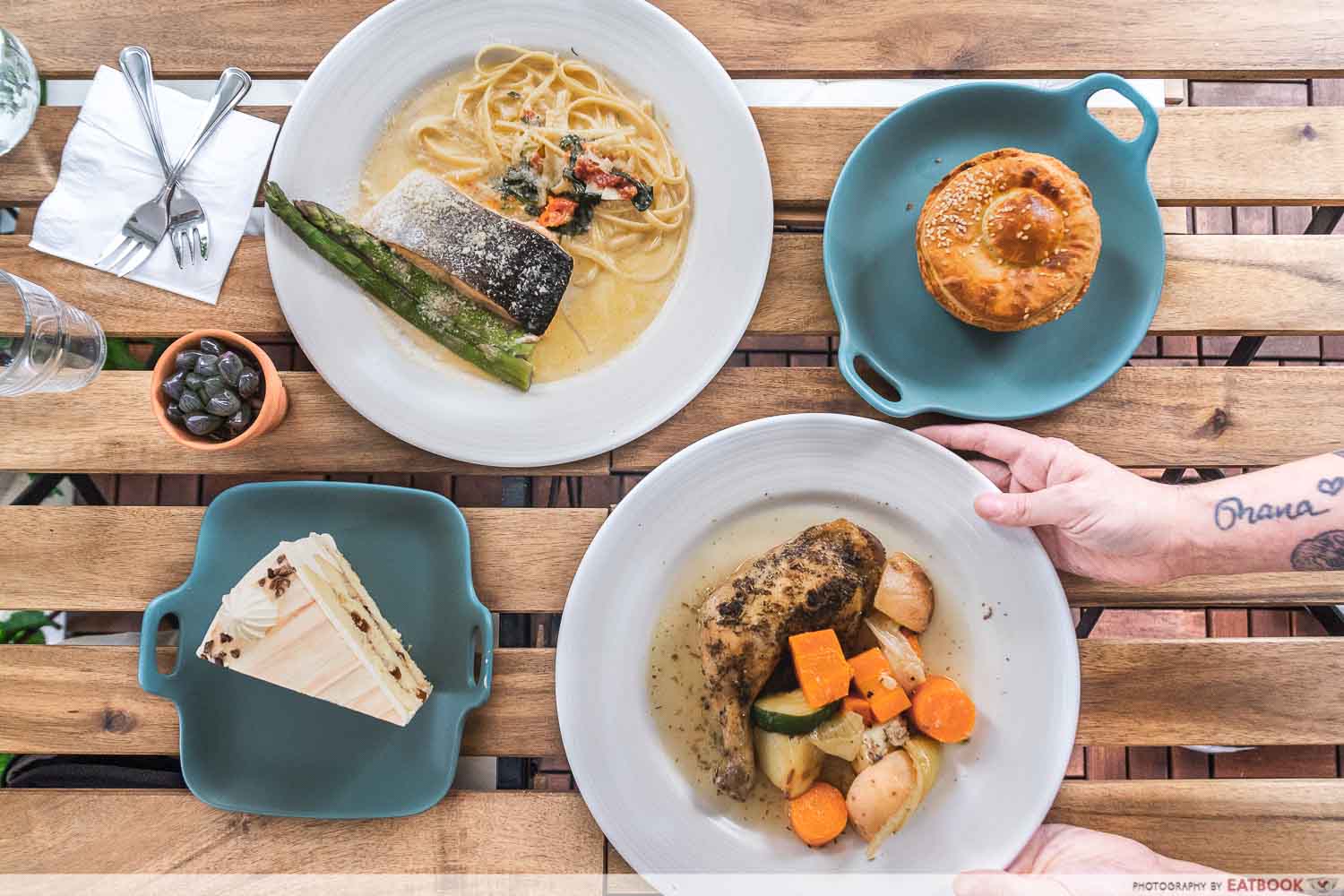 Dr Chee Soon Juan is one of the most recognised names and faces in local politics. The man has weathered election campaigns, wrote numerous books about his political efforts, and chaired a political party. Now, though, he seems to be embracing a different scene in the form of Orange & Teal, his very first cafe venture located in Rochester Mall.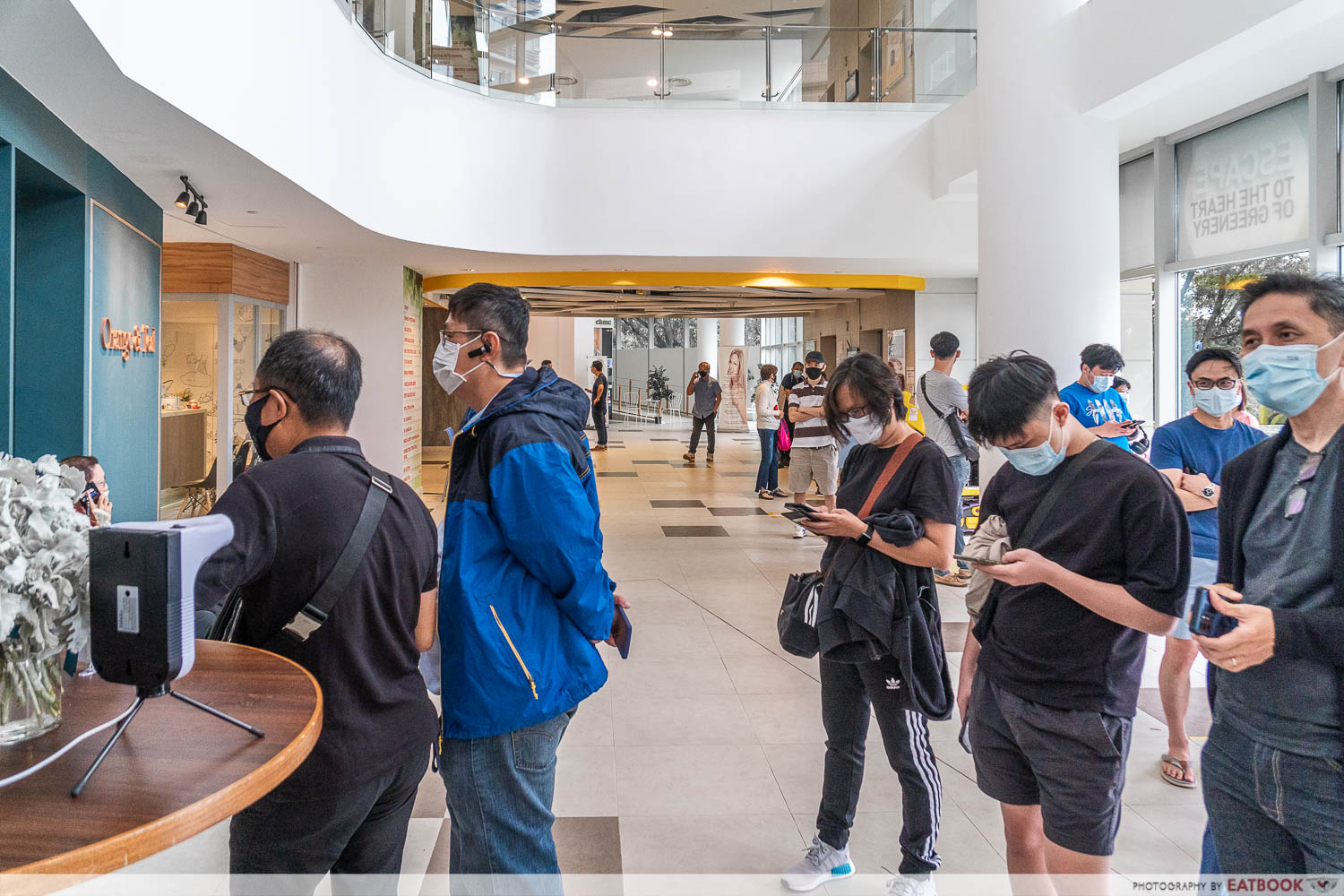 When it opened two weeks ago, the cafe was met with long queues—an overwhelming reception which has managed to last till today. Upon our arrival at lunchtime, a snaking queue had formed outside the outlet, which Dr Chee carefully attended to, offering seats to elderly patrons, and checking in on those waiting patiently. There's no doubt that most of the diners were there because they knew of Dr Chee, and wanted to see how a politician would fare with his hat in the F&B ring.
Food at Orange & Teal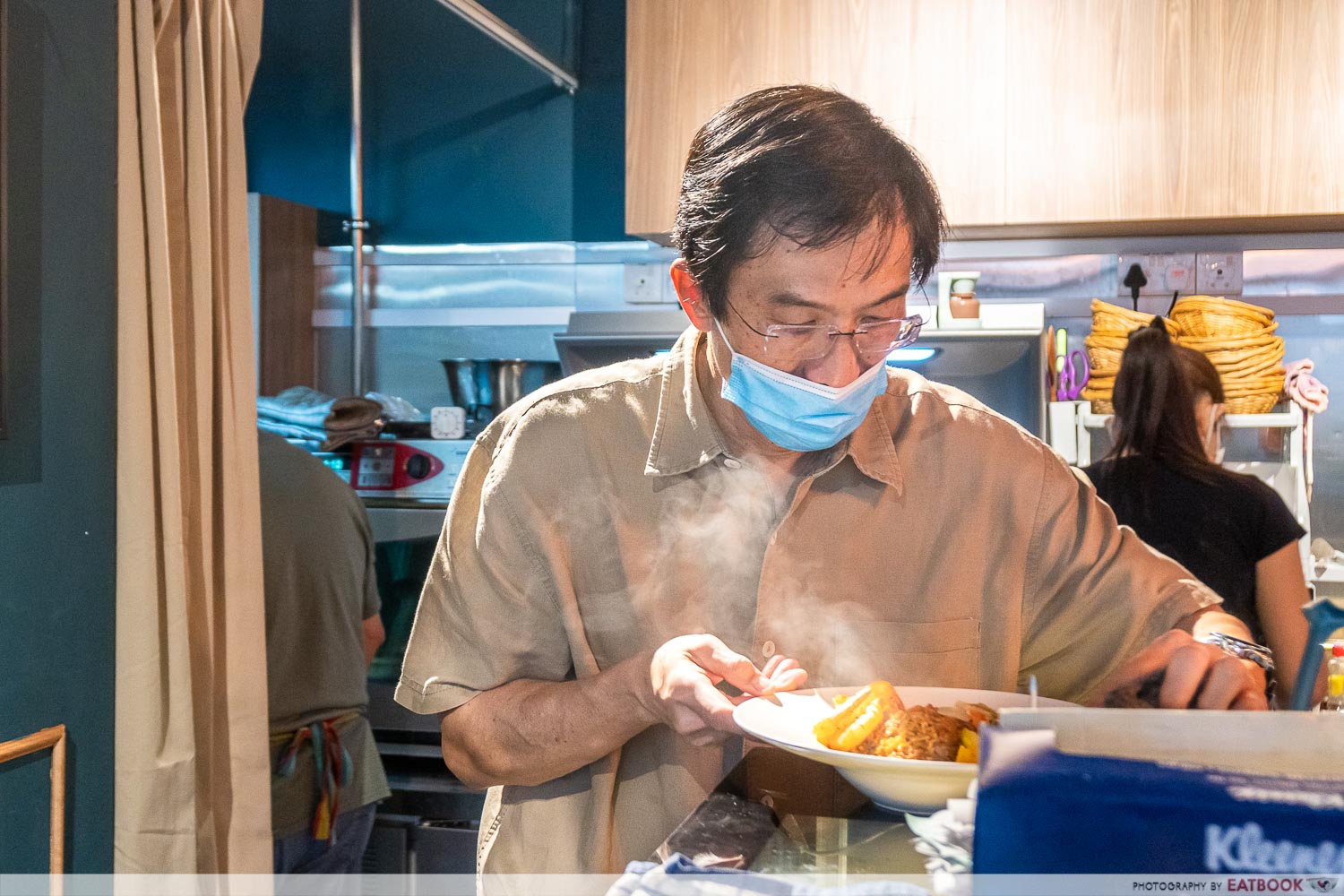 Lunchtime mains are served from 11:30am onwards. The daily menu comprises a handful of homely staples, including pastries, small bites, and cakes.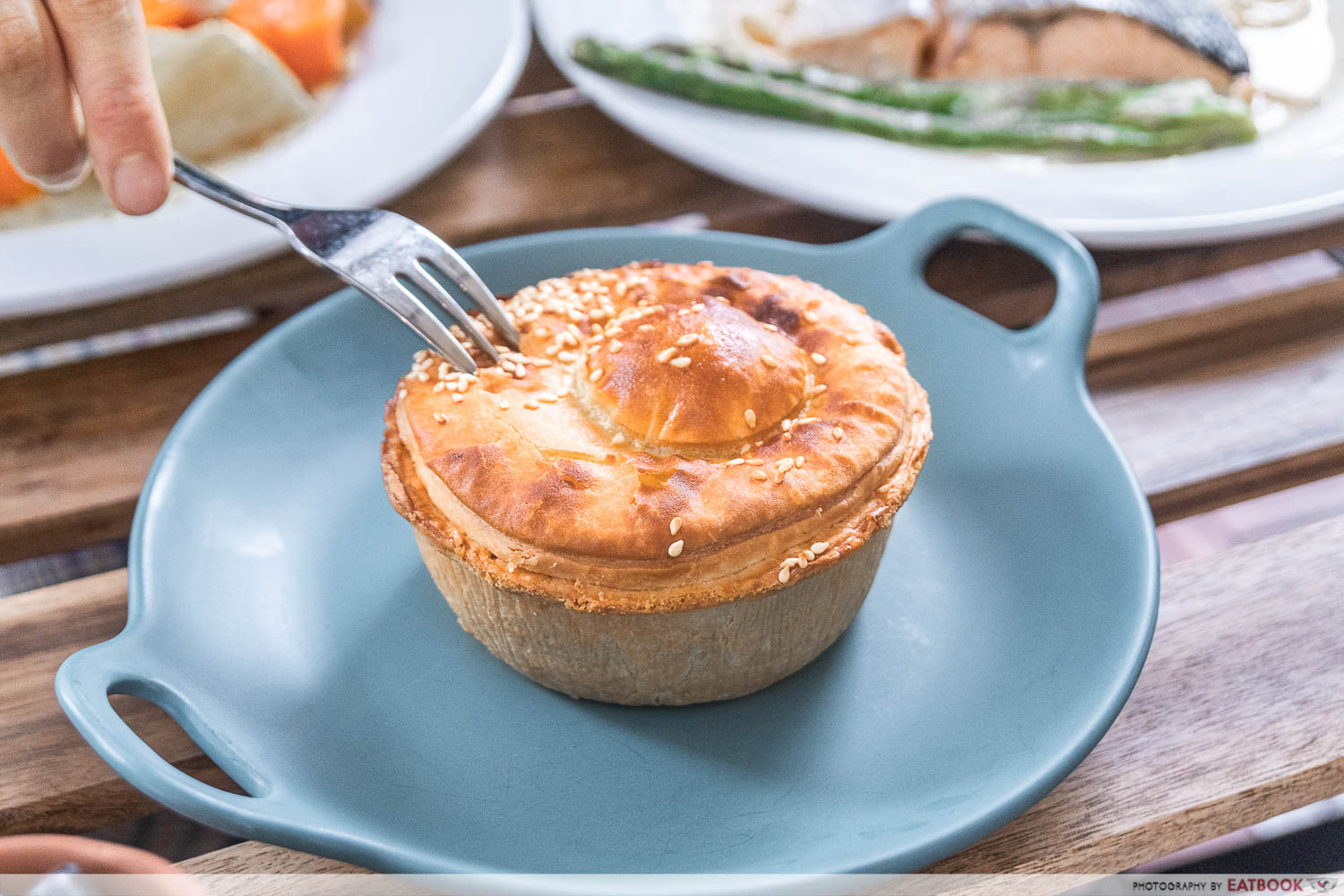 To start, we ordered the Beef Pie ($5.80), which arrived golden brown, warm, and inviting.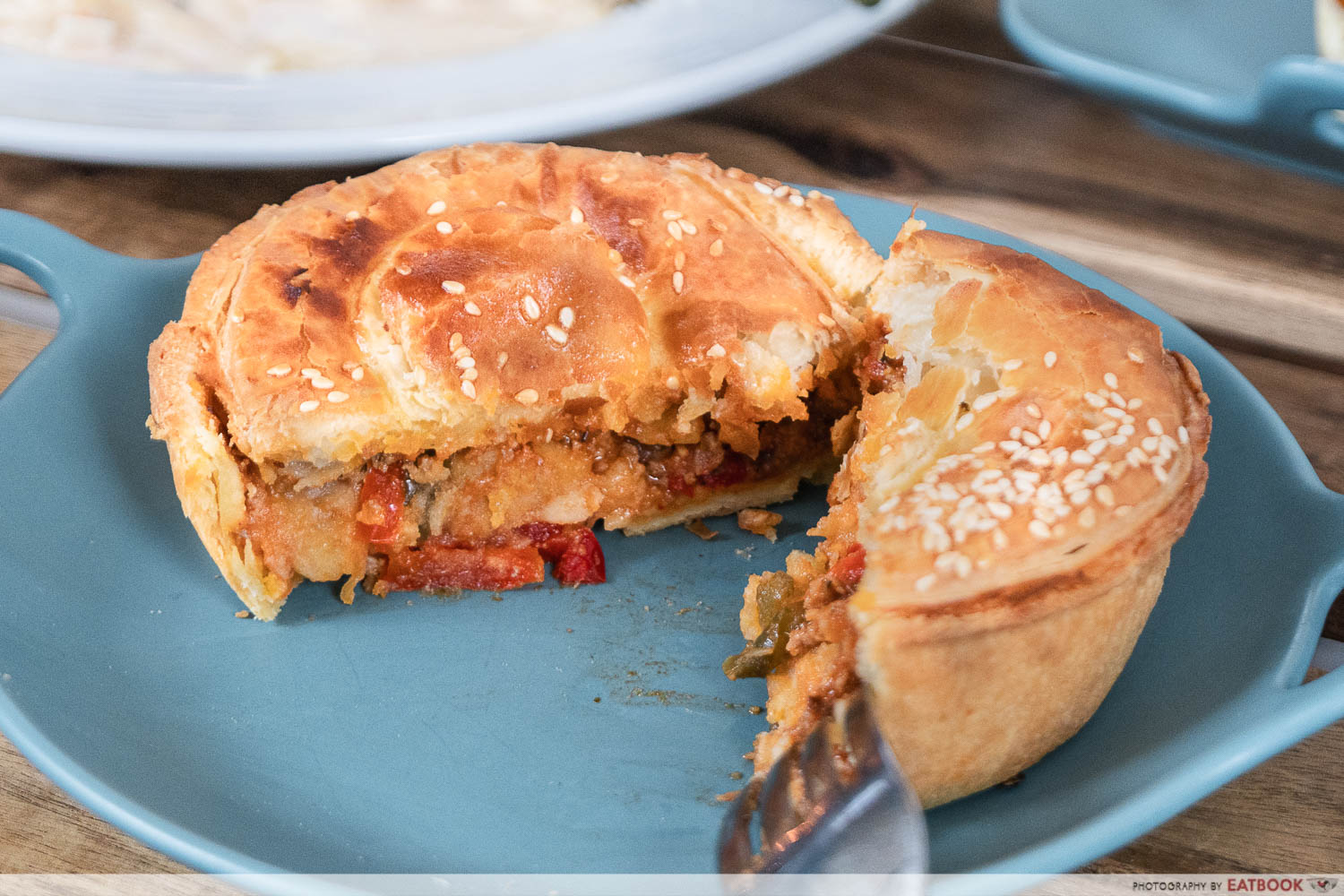 Cutting into the flaky pastry revealed a filling of pulled beef, capsicum, tomatoes, and potato cubes. While the pastry was a win, we found the filling to be a tad too heavy-handed with the roasted capsicum.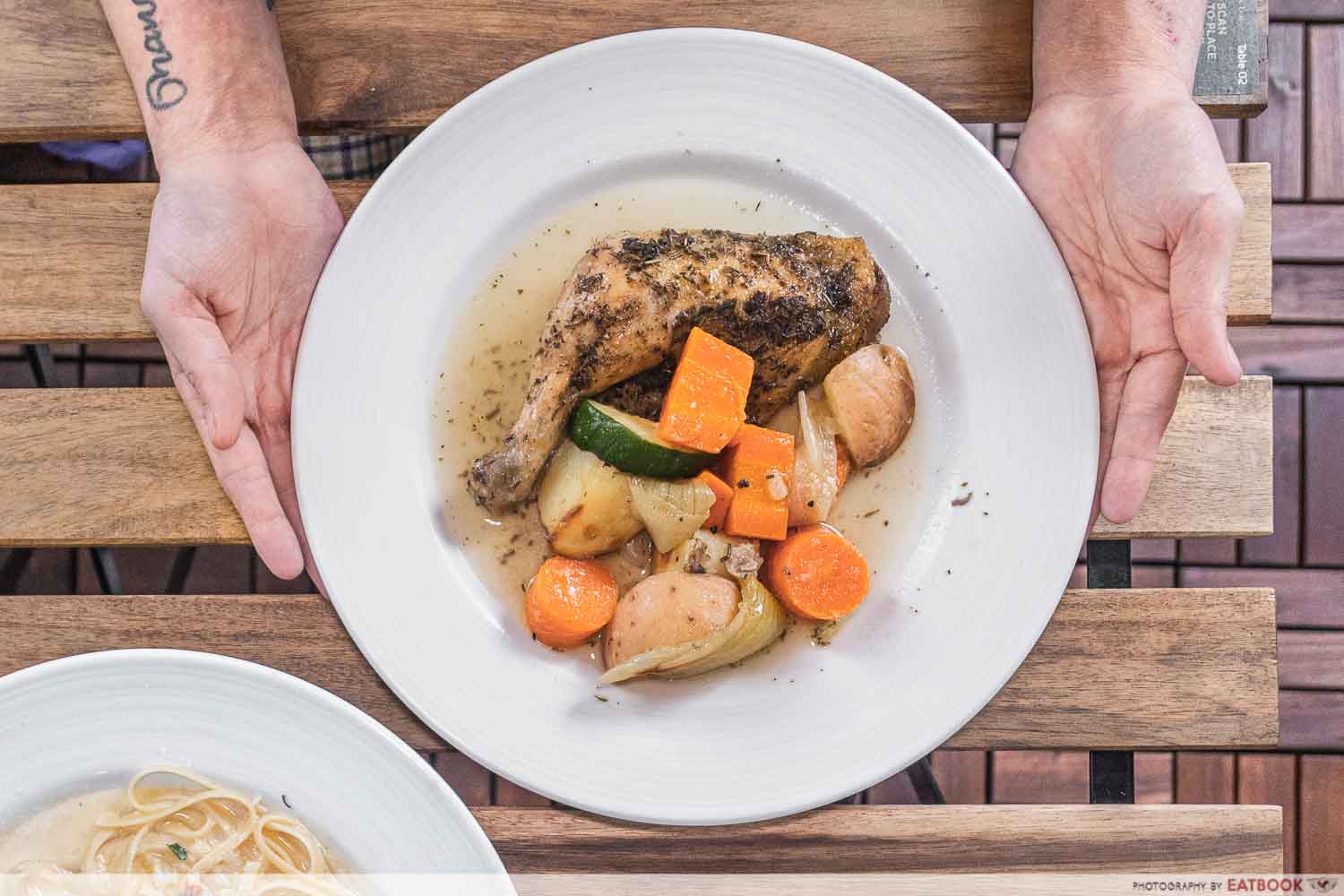 On to mains, the two most popular were the Poulet Roti ($12.90), and the Creamy Butter Tuscan Salmon ($20.80). The former came with an oven-roasted chicken leg, seasoned well with the usual bouquet garni blend. A medley of roasted root vegetables accompanied the chicken, similarly basted in the meat's juices. The dish is a simple, fuss-free affair—easy to order and enjoy when you don't know what to go for on the menu.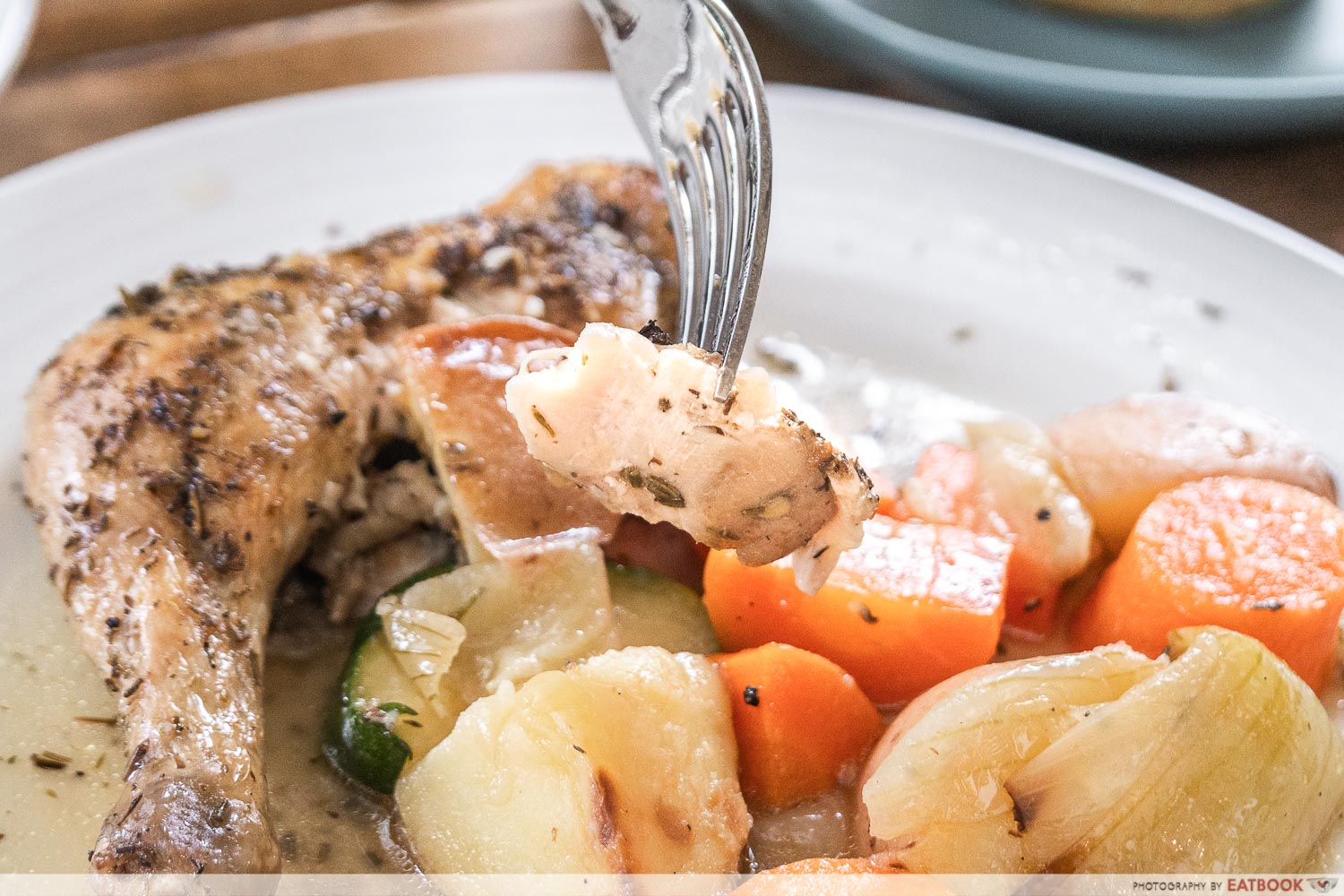 While the seasoning was a plus, we found the chicken just a touch dry, and the skin a bit too gummy. Typically, French-style roast chicken stars a bird with crisp, golden-brown skin, and that was lacking here.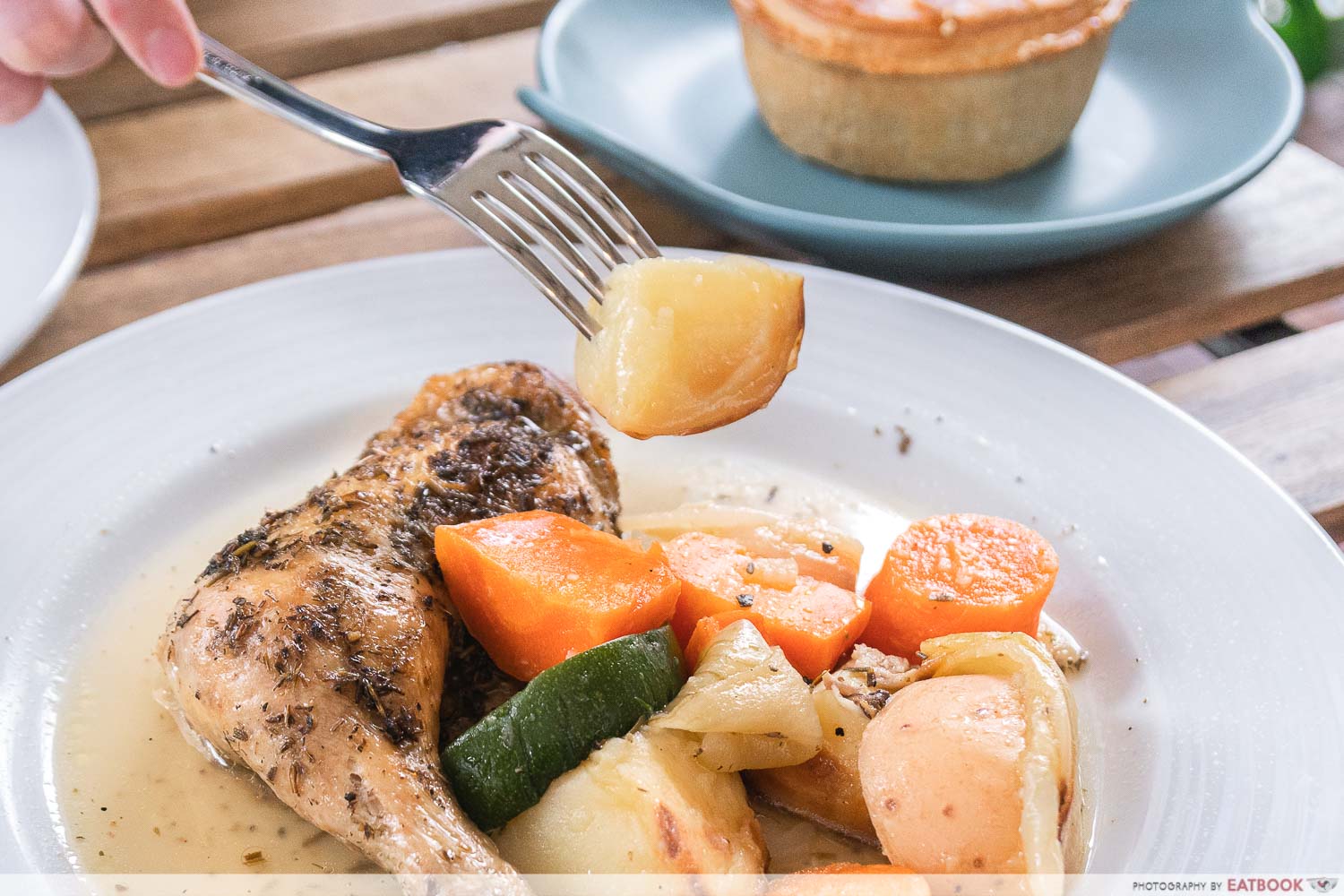 The vegetable medley was soft and tender, though, sopping up the chicken jus nicely.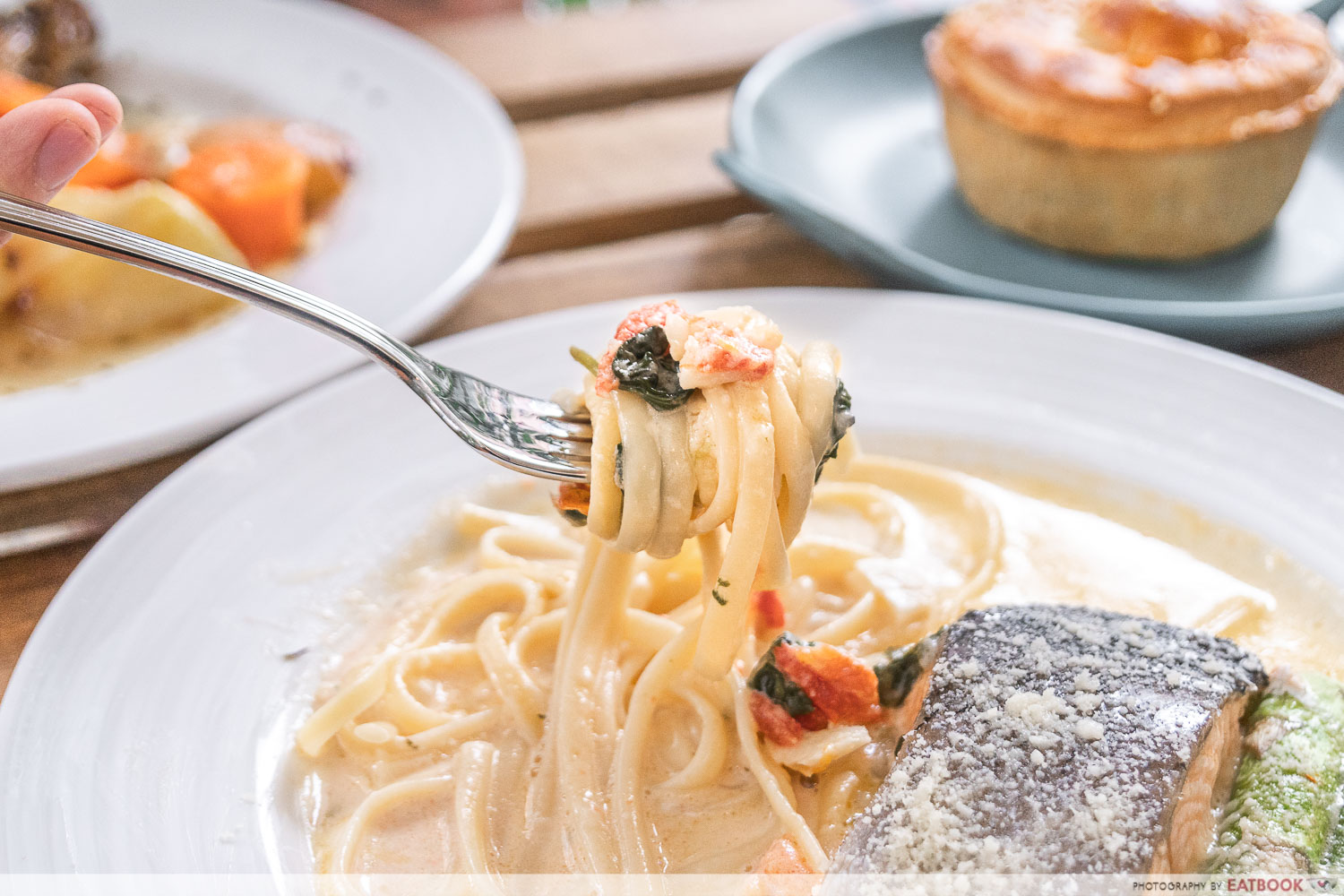 The Creamy Butter Tuscan Salmon, as it name suggests, is served with a poached salmon fillet, accompanied by linguini in butter sauce, as well as a couple stalks of asparagus.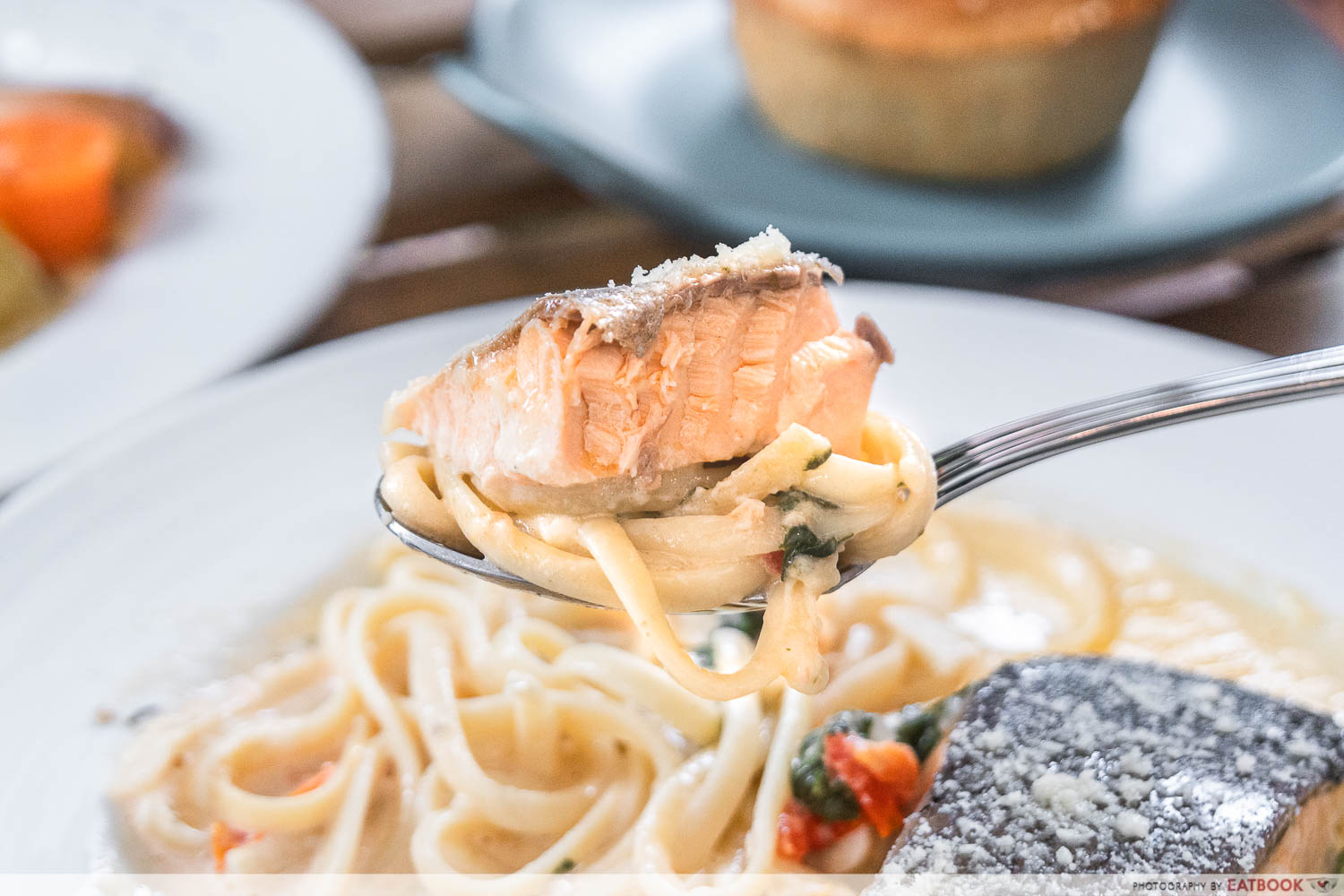 The salmon was cooked well, blush pink and still firm on the fork, but we did wish the skin were crisp for textural contrast. The butter sauce was thin, but savoury, though it could do with a little bit more oomph from garlic or cheese.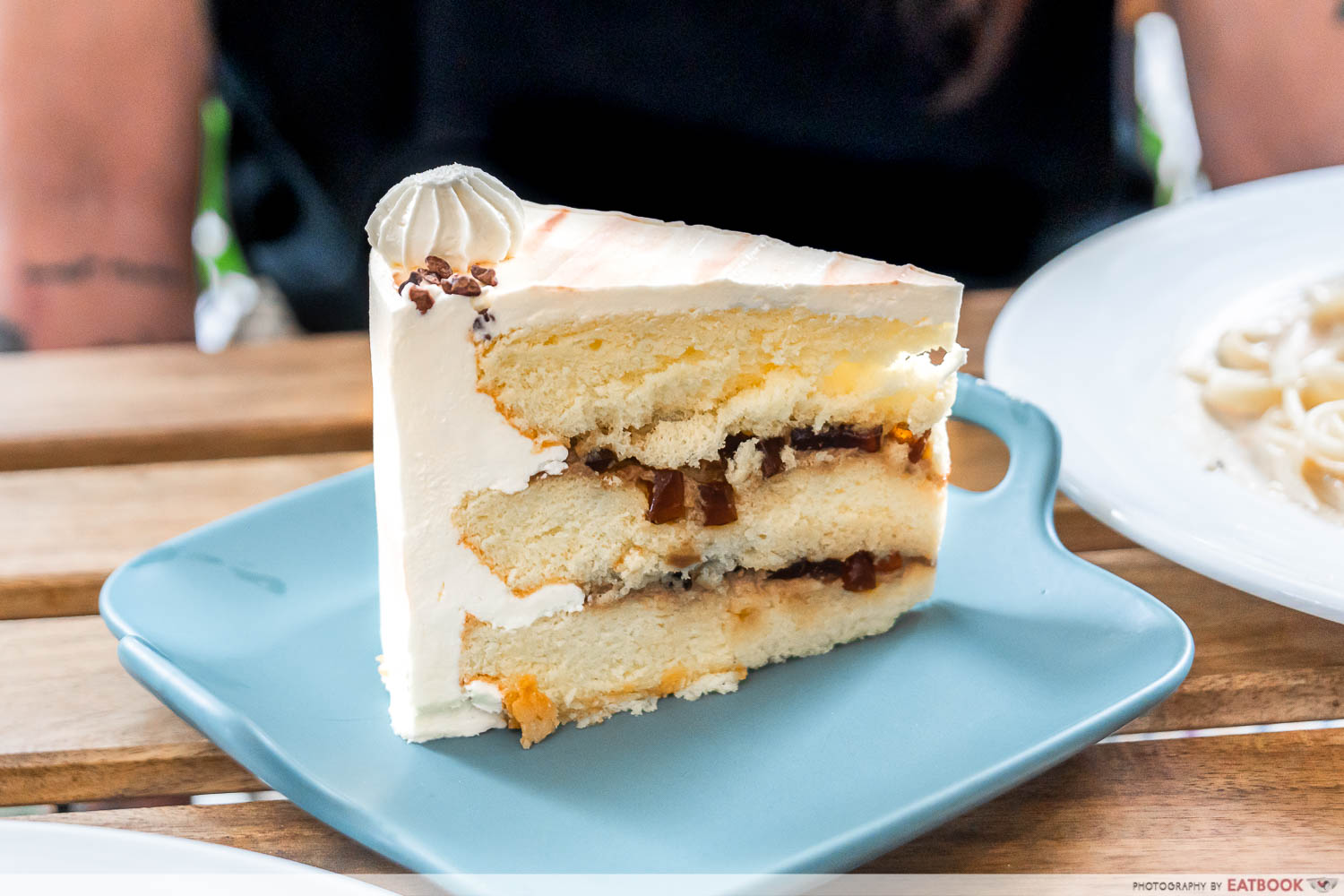 On the savoury front, while the dishes were hit-and-miss, we have to commend the homeliness of the dishes across the board here. This was further driven home by dessert, to which we ordered the Okinawa Milk Tea Cake ($5.60).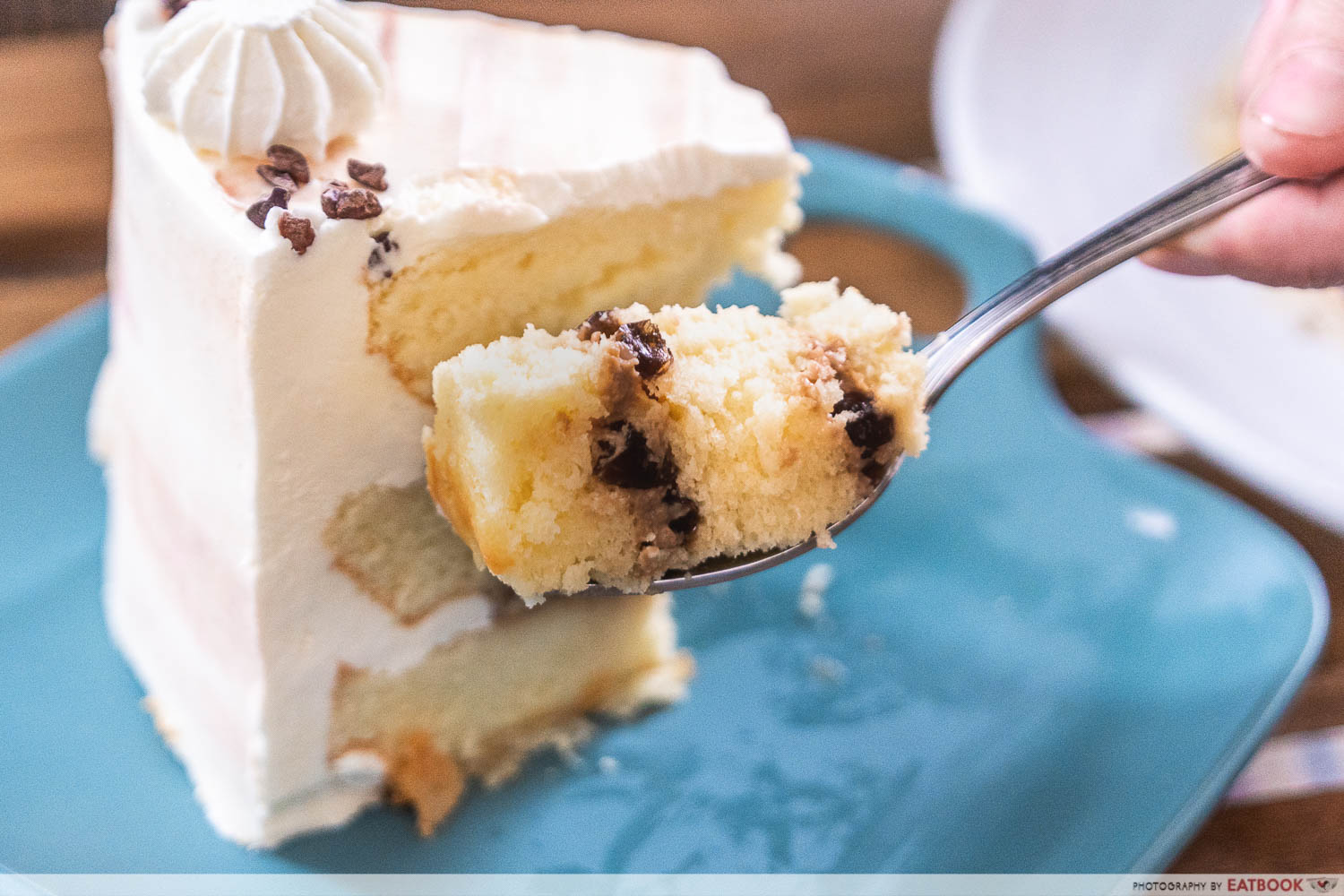 A fluffy egg sponge is layered with brown sugar milk tea cream, and studded with tea jelly for texture. While we yearned for more milk tea cream between layers, the soft, pillowy sponge was a big win, ensuring that the cake was moist from the first crumb to the last.
Ambience at Orange & Teal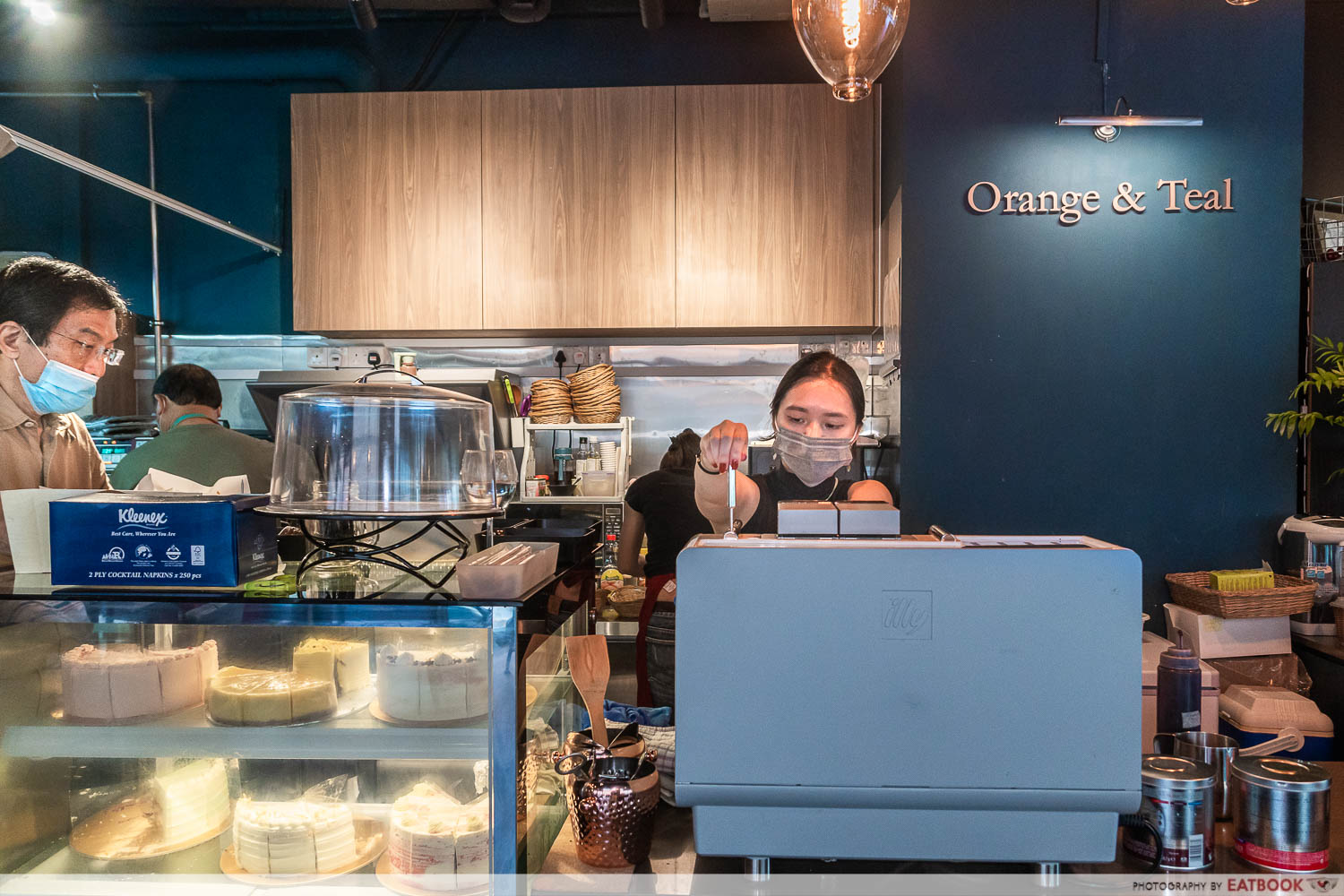 If you sit inside the cafe, you'll be surrounded by decor reminiscent of an old school library, with stately armchairs, crowded bookshelves, and mood lighting. If you don't mind sitting outside the cafe, there are two al fresco garden-style tables set up. These are sheltered and air-conditioned, but we do foresee it getting quite sunny in the middle of the day.
Located a five-minute walk from Buona Vista MRT Station, Orange & Teal is convenient enough if you live in the West, or are coming in from town.
The verdict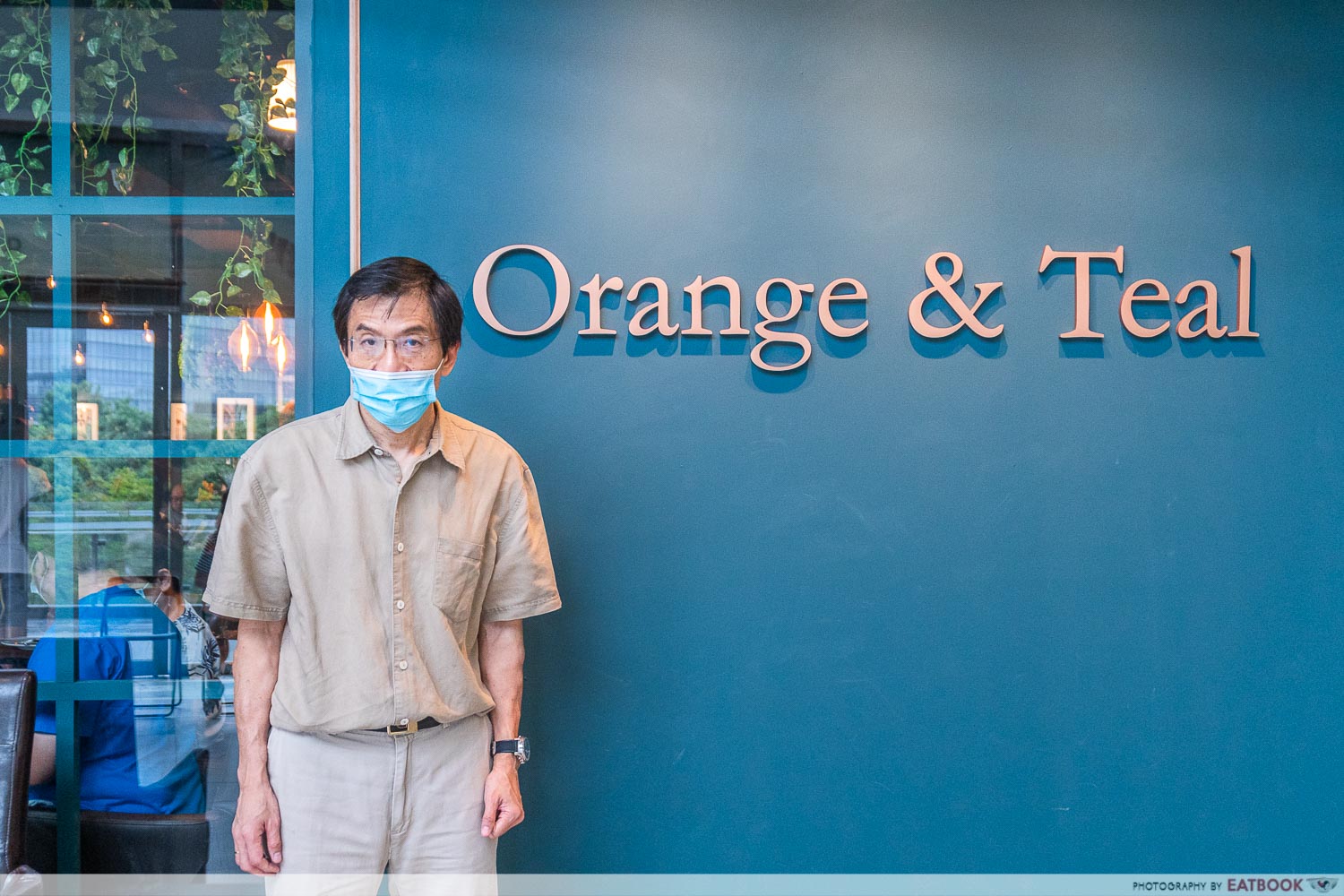 Though the food we tried was hit-or-miss, what Orange & Teal really excels at is their ability to make diners feel comfortable and taken care of. Service was very prompt in spite of the crowd, and Dr Chee and his staff would check in on diners periodically to ensure everything was going fine. To top it off, the nett prices and the pay-as-you-wish model for their service charge makes the experience here a lot more wallet-friendly than your average cafe.
For more food in the area, check out our one-North food guide, as well as our Buona Vista food guide for more bites.
Address: 35 Rochester Drive, #02-12, Rochester Mall, Singapore 138639
Opening hours: Sun, Tue-Thurs 11am to 9pm, Fri-Sat 11am to 10pm
Tel: 6993 1006
Website
Orange & Teal is not a halal-certified eatery.
10 One-north Food Places That Prove It's Way More Than A Science Hub
Photos taken by Emily Teu.
This is an independent review by Eatbook.
The post Orange & Teal Review: Chee Soon Juan's Cafe Serves Beef Pie And Okinawa Milk Tea Cake In Rochester appeared first on EatBook.sg – New Singapore Restaurant and Street Food Ideas & Recommendations.