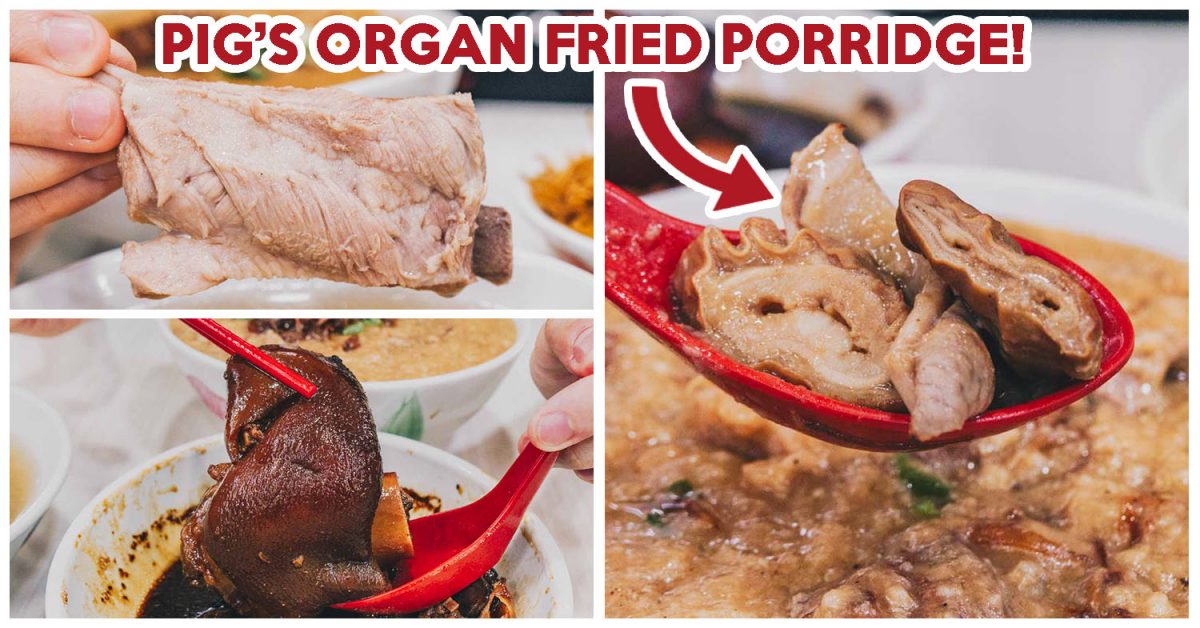 Old World bak kut teh and fried porridge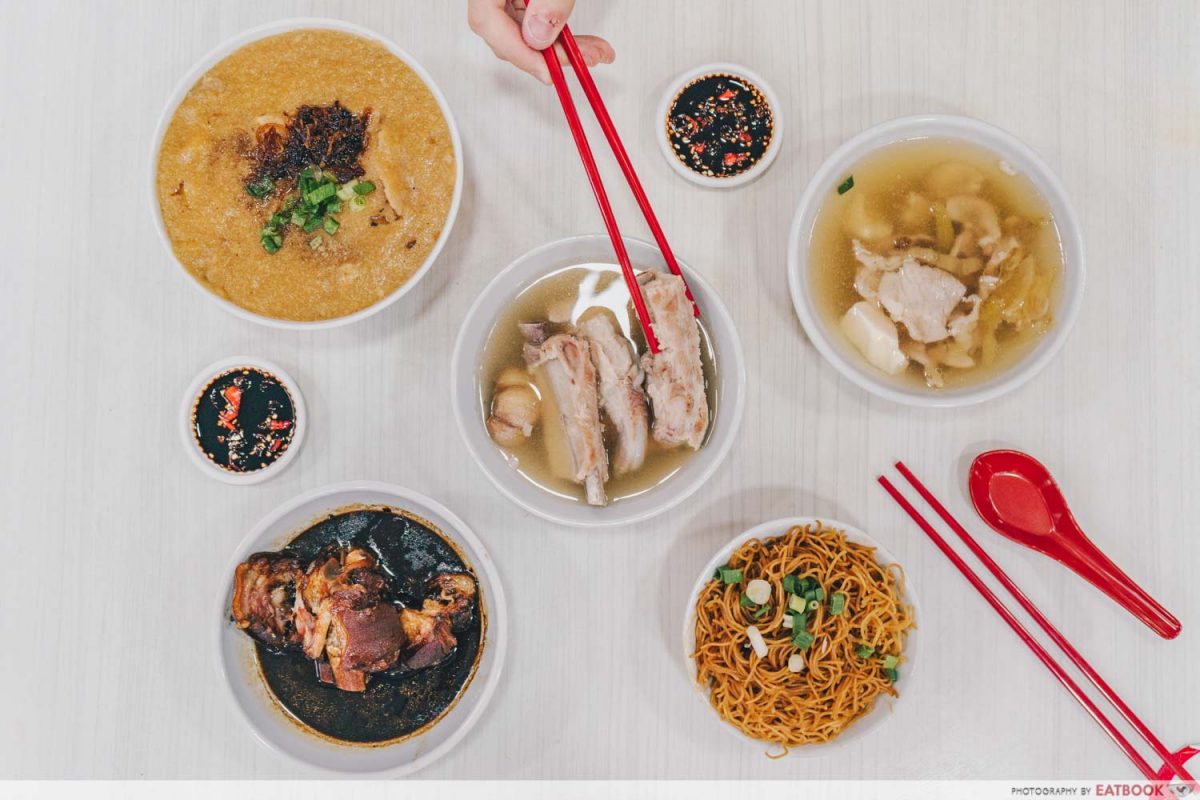 Yishun, also known as Singapore's version of the Twilight Zone, is no stranger to unfortunate events that only seem to happen in that end of the country. Yet, what's fortunate is their abundance of food options around, with a real hawker gem found in Old World Bakuteh. Aside from their traditional bak kut teh, this Yishun stall has fried porridge and dry mee sua is unique and raved about a lot online. 
Situated conveniently in a kopitiam near the MRT station, the stall was founded in 2019. Their success with the local BKT-loving crowd gave them the means to expand into outlets at Tampines and Bedok. As such, I knew I had to make my once-in-a-lifetime pilgrimage to the North to see what the hype is about, together with a dining companion.
12 Bak Kut Teh in Singapore To Try, Including Dry Klang BKT, 80-Year-Old Hokkien BKT And More
Food at Old World Bakuteh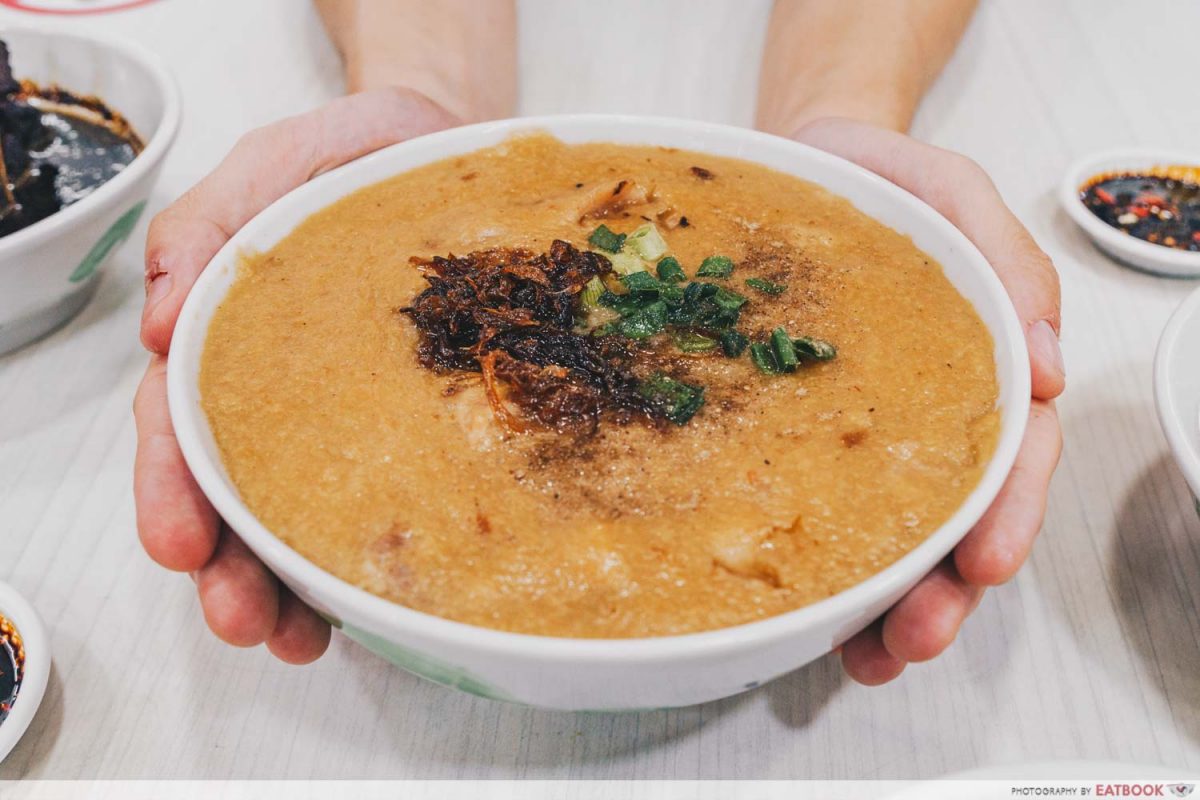 A huge fan of pig's organ soup myself, their Mixed Pig's Organ Fried Porridge ($5) was the first thing that caught my eye on their extensive menu. Partly because it's such a rare commodity to find locally, I was especially curious as to how their fried rendition of a traditionally boiled porridge would turn out to be.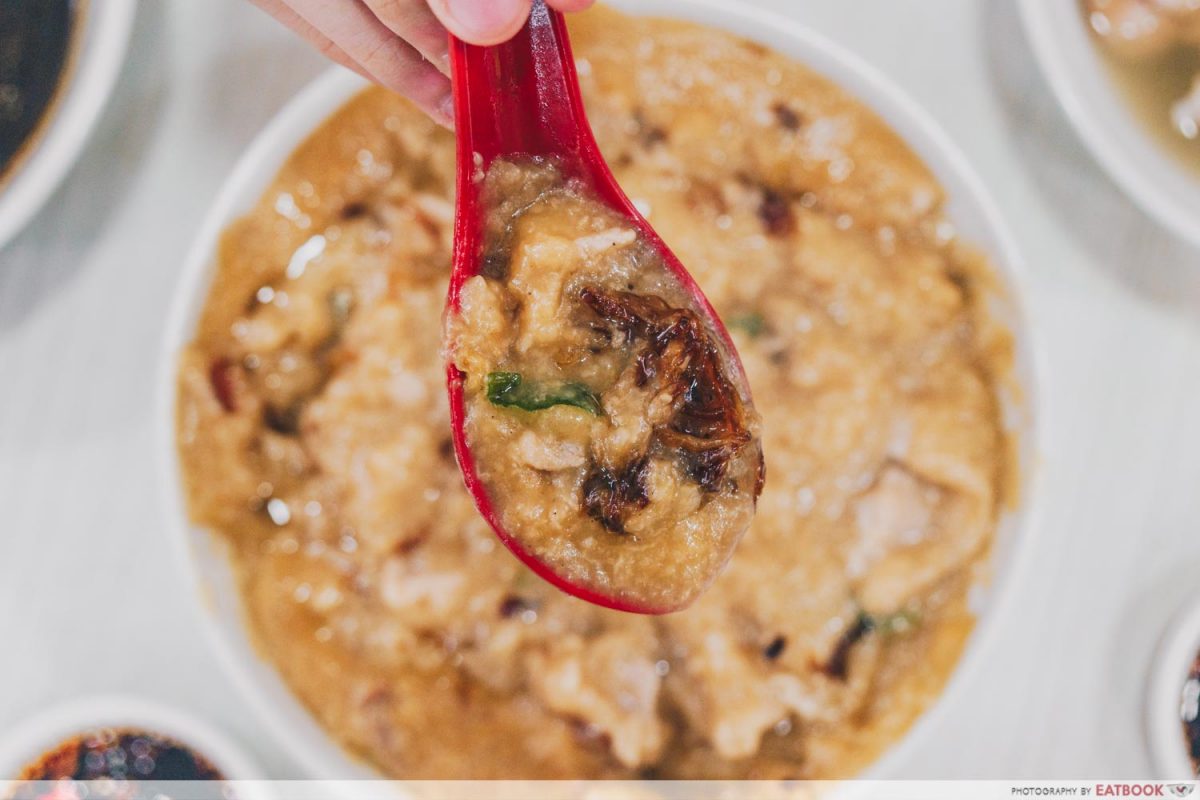 The savoury mixture consisted of offal such as pig's stomach and small and large intestine, as well as sliced pork, and a sprinkle of fried beancurd cubes. It is cooked beforehand in dark soy sauce, giving it a slightly sweet aftertaste too. The thick porridge was balanced, expertly fried to add a subtle smokiness that really screamed wok hei.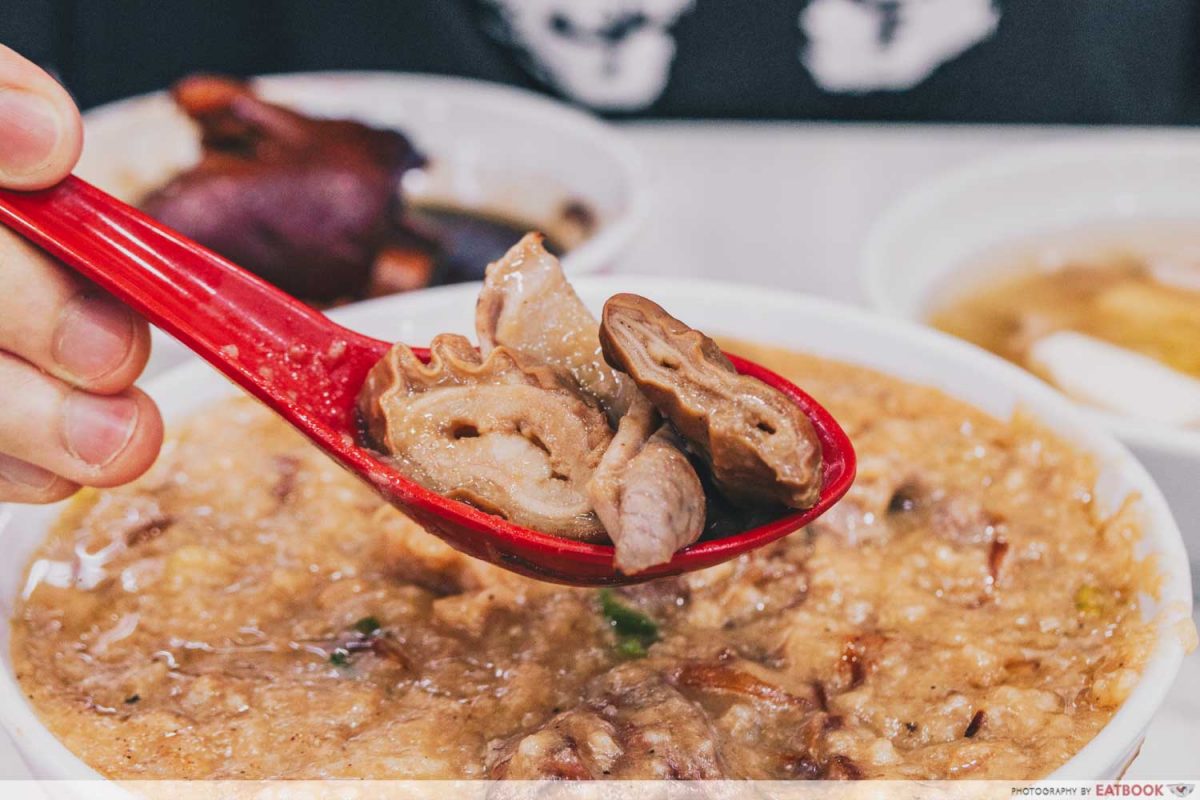 All credit to them, the pig's organs were prepared immaculately and chewy just the way I liked them. But, I couldn't help but notice how the porridge tends to clump up and harden over a period of time. Its taste can also get rather jelak after a while too.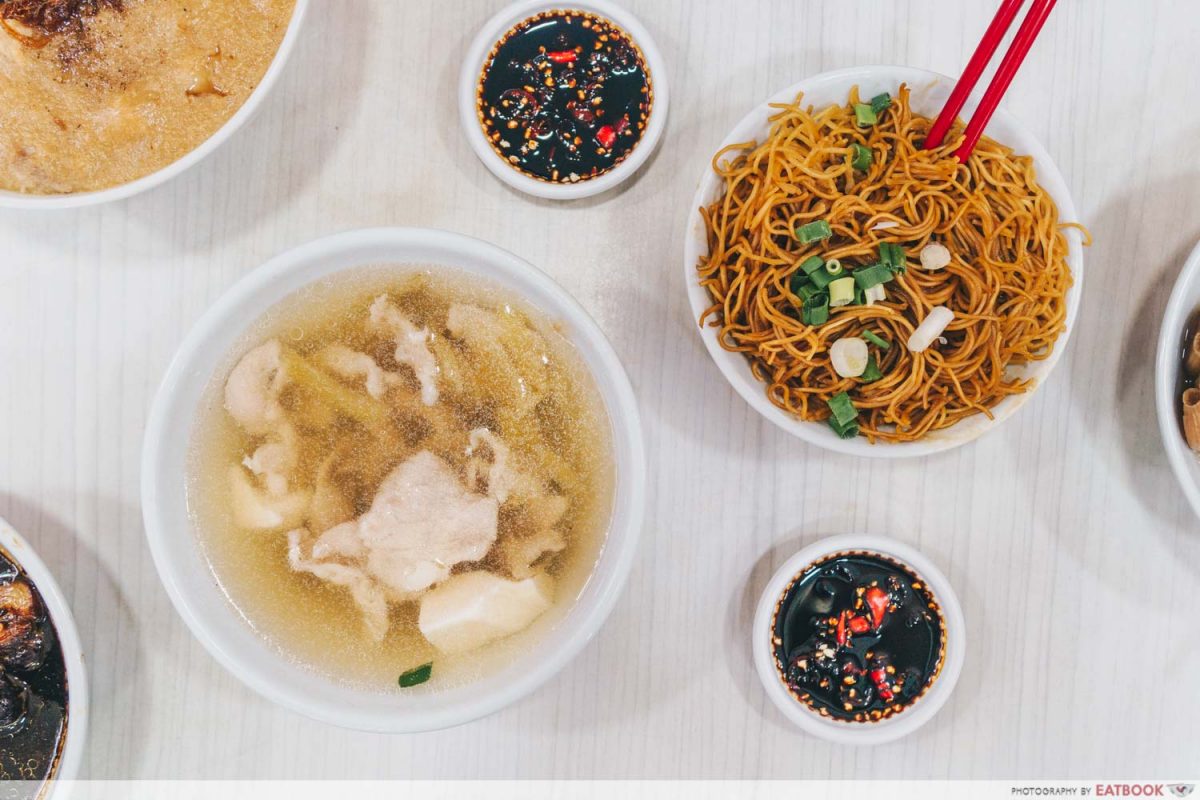 Being a sucker for my grandma's mee sua soup, their Sliced Pork Soup With Dry Mee Sua ($4) piqued my interest too. The soup was essentially the bak kut teh broth, with the addition of sliced pork, salted vegetables, and tofu cubes making for a hearty combination. In all honesty, their version really reminded me of a comforting Japanese tonjiru soup.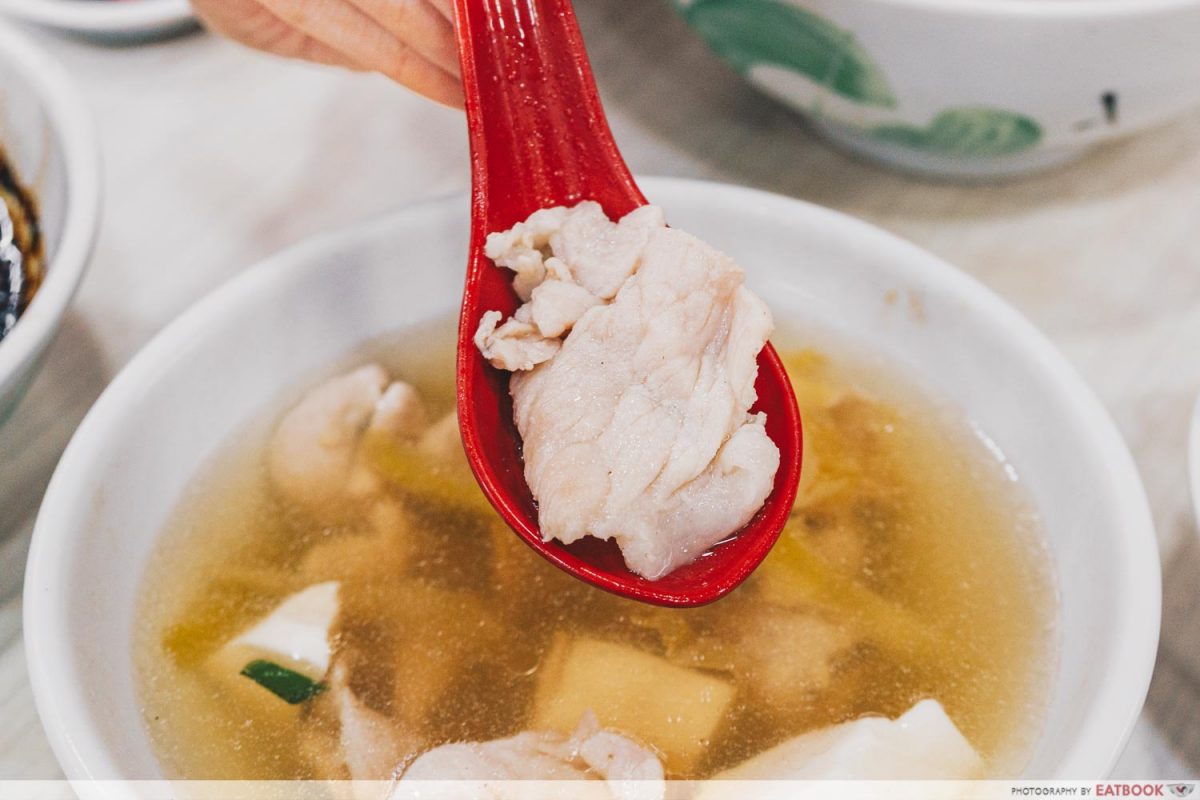 What surprised me was how tender the pork slices turned out to be, as I expected a leaner cut of pork to be used, and for it to be tougher than it was.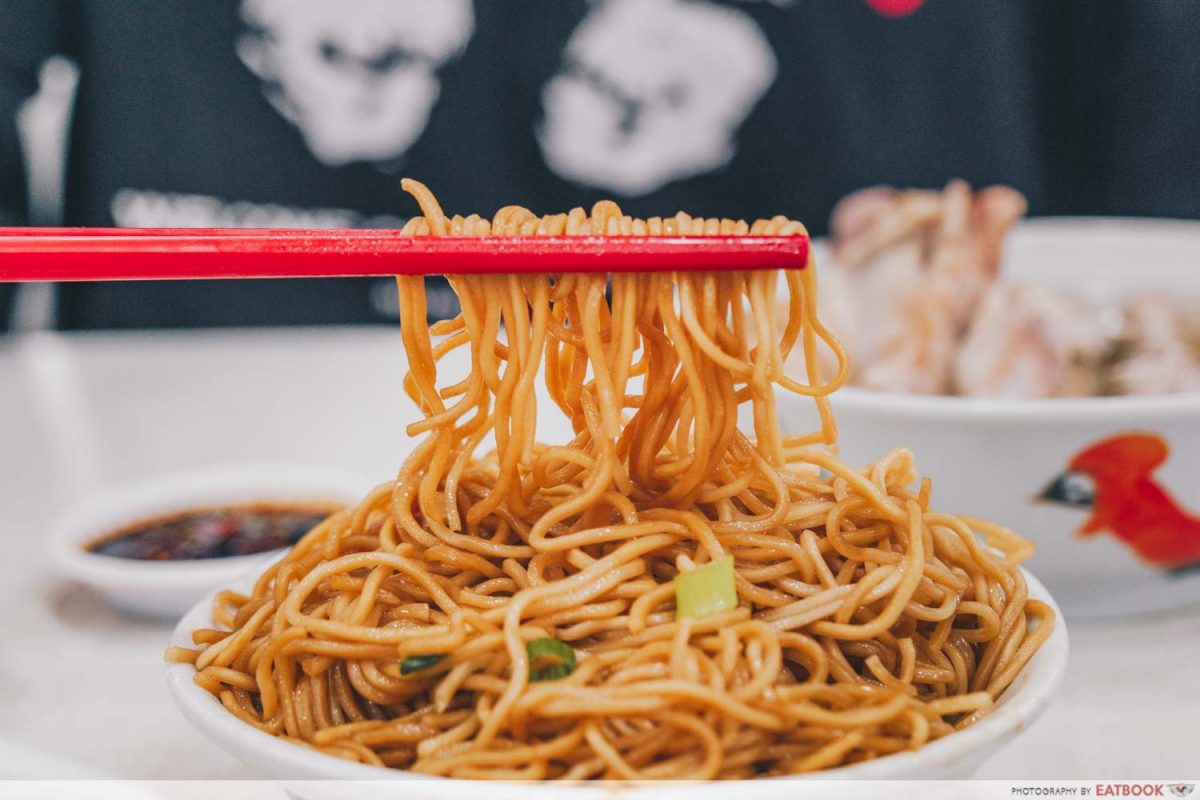 The dry mee sua was a true winner for me, thin like mee kia, yet lacking any blandness. Tossed in a mix of oyster and soy sauce, the QQ noodles weren't overly chewy and had a slightly sweet aftertaste too, going well with the pork slices. 
For those looking for a richer version of their mee sua, head down to their Tampines branch to enjoy their special Sliced Pork Braised Mee Sua only available at that outlet.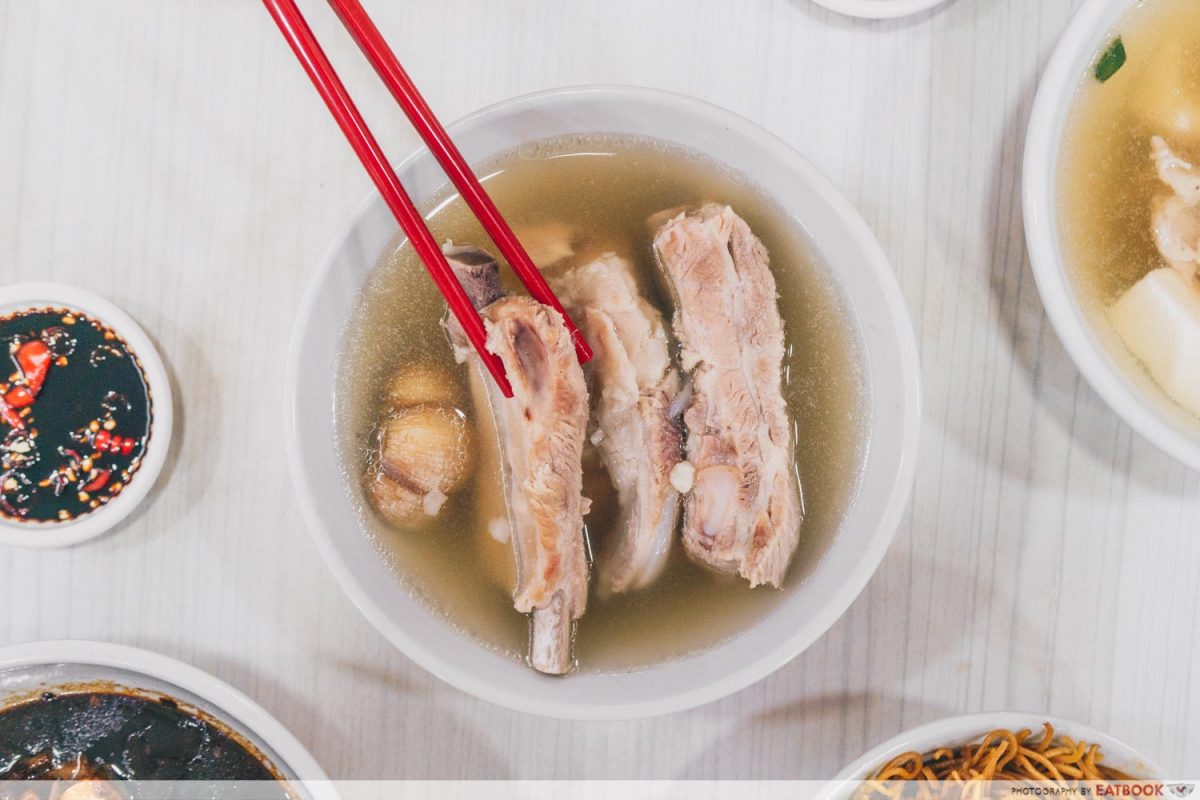 That being said, a true assessment of any bak kut teh stall is the quality of their bak kut, so we had to try the Pork Ribs Soup ($6) too. The owner chose to go down the traditional Teochew path, making their signature a clear and peppery soup with a light spicy kick, unlike their dry and herbaceous counterparts from Klang.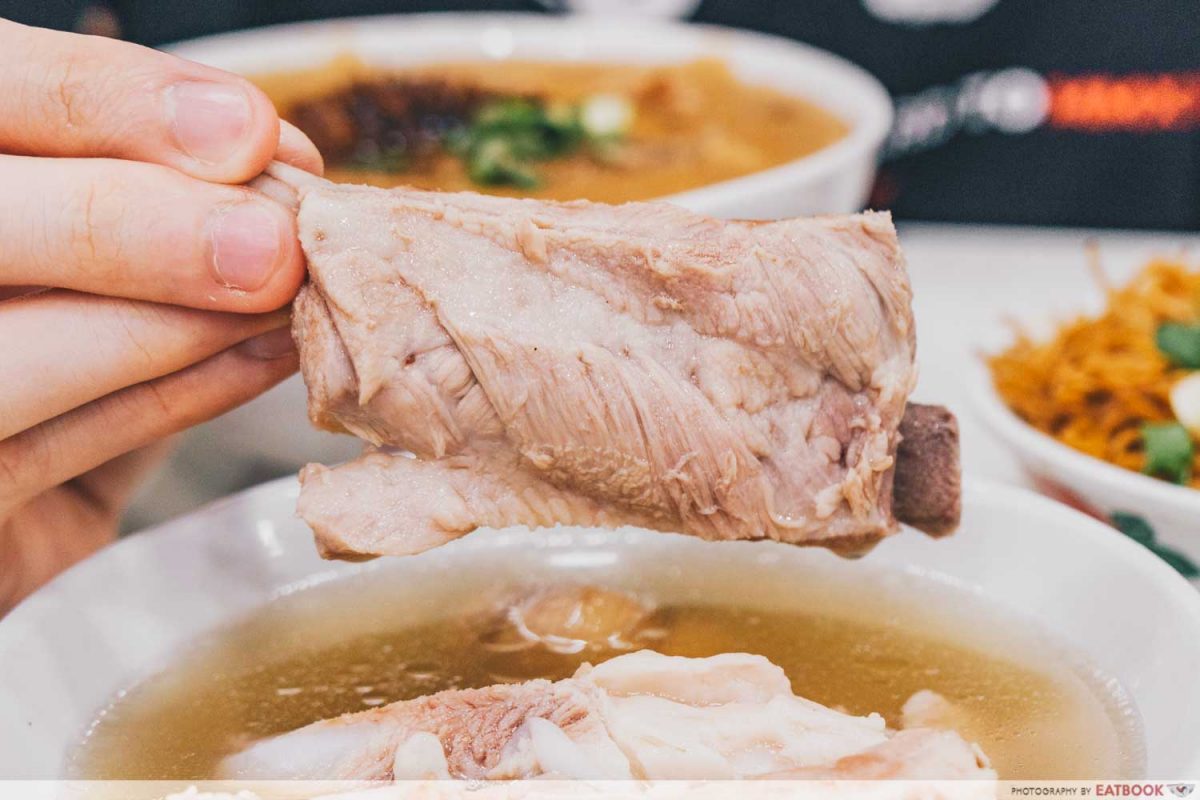 The fragrant broth was light and comforting, coming with three succulent pork ribs and a garlic bulb for good measure. The meat-to-bone ratio was pretty good, soft enough for me to easily bite through, with a visceral layer of fat to accompany the ribs.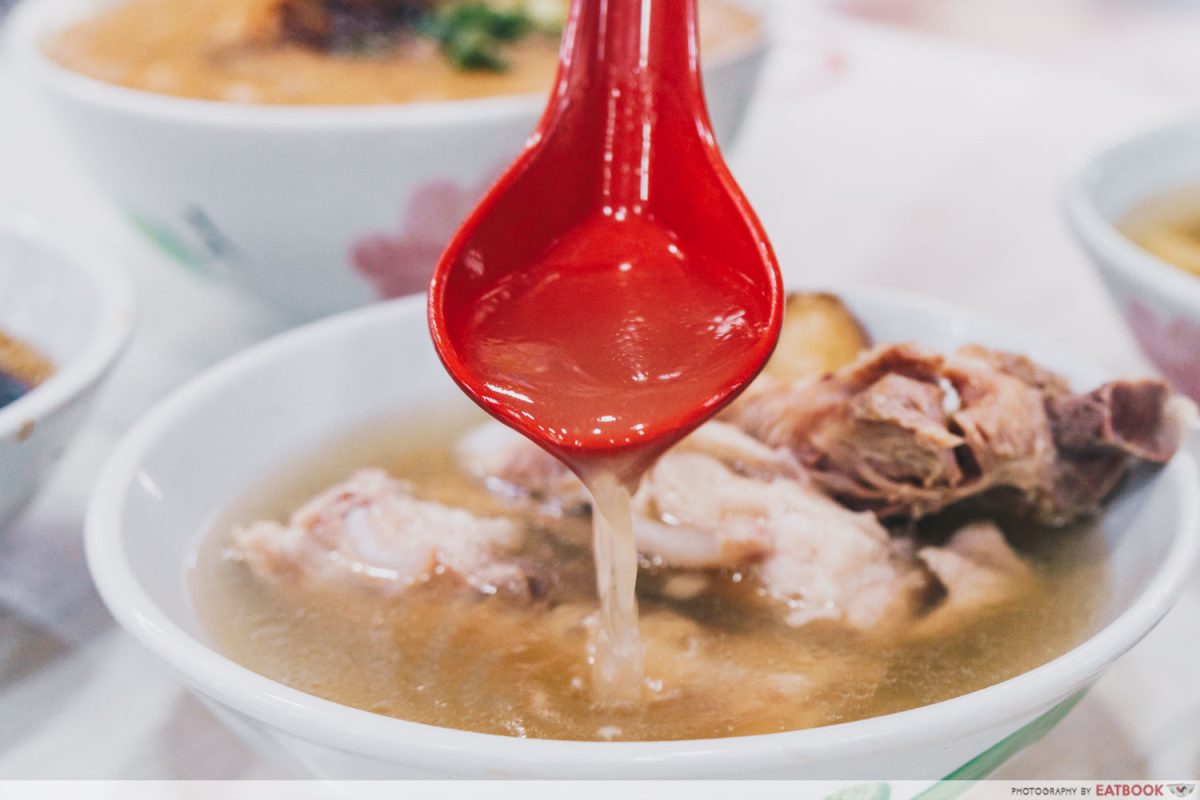 Another staple accompaniment when I feast on bak kut teh would be Braised Pig's Trotters ($5). Old World's version made my inner chubby kid squeal in delight.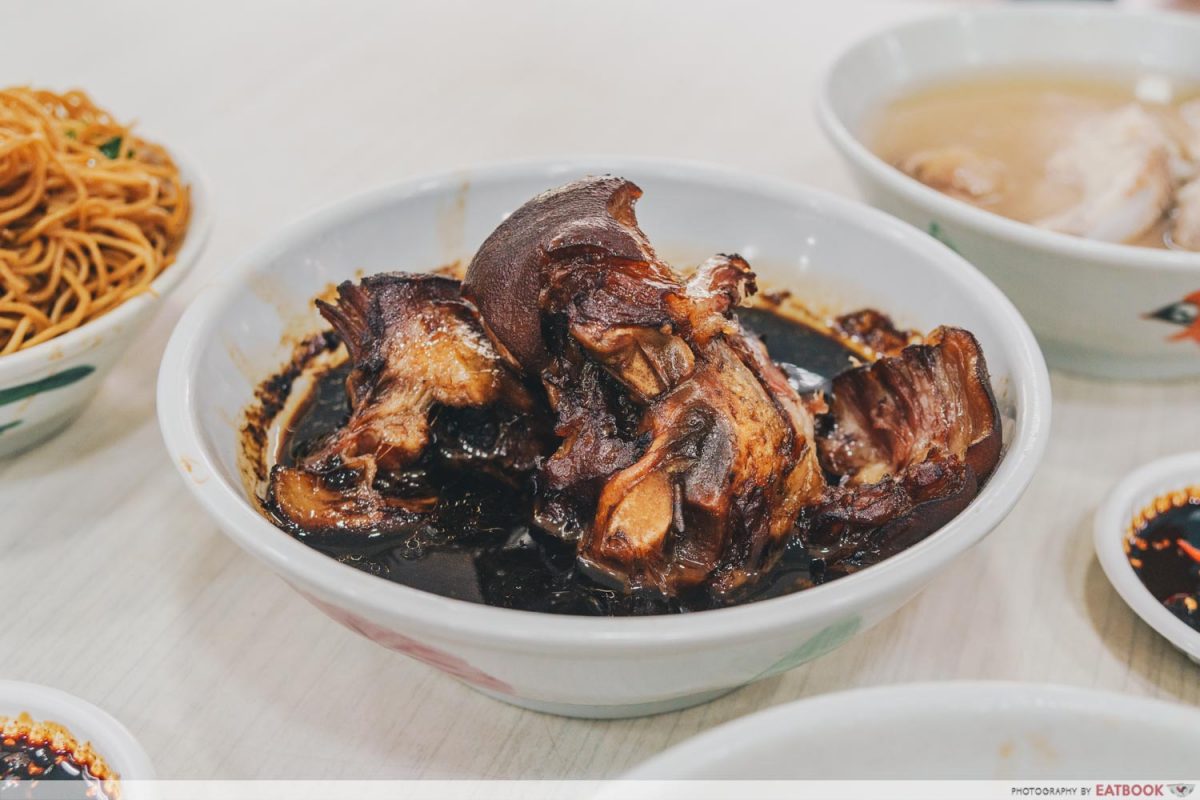 I especially loved the larger portion of gelatinous fatty pig skin in comparison to the meat, though the fat overload might be off-putting to some. Despite feeling that the sweeter flavour of the sauce overpowered the savoury, it otherwise made for a really decent dish altogether.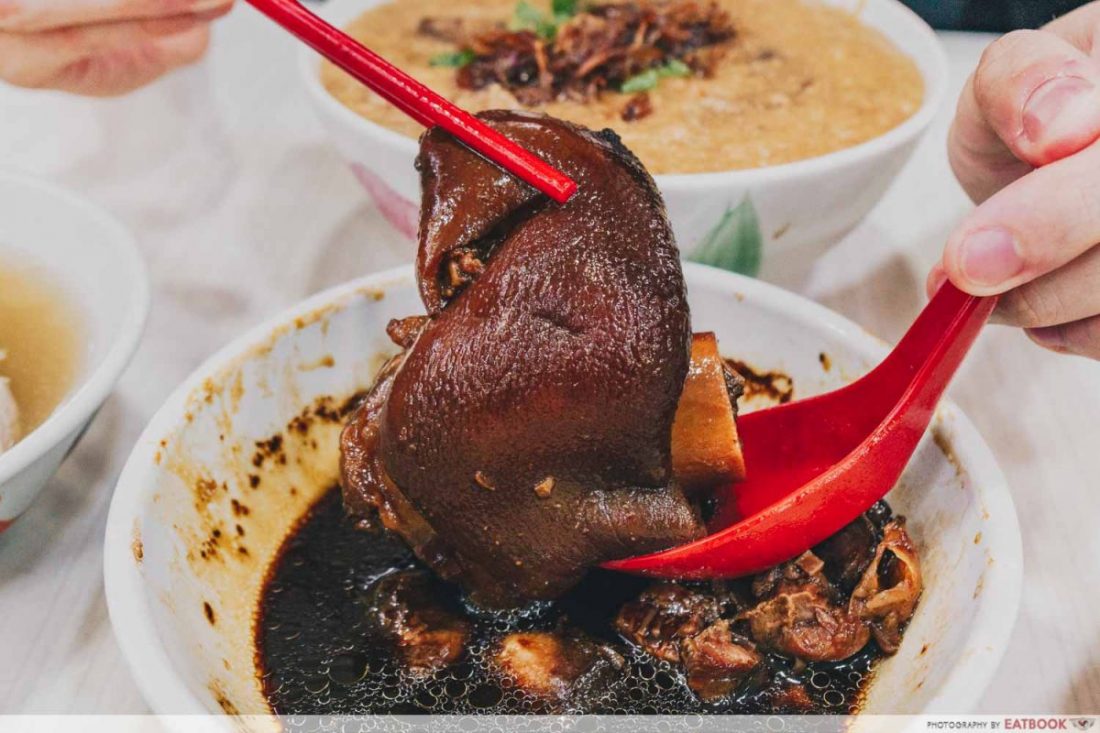 6 Yishun Park Hawker Centre Food That Are Cheap, Good, And IG-Worthy
Ambience at Old World Bakuteh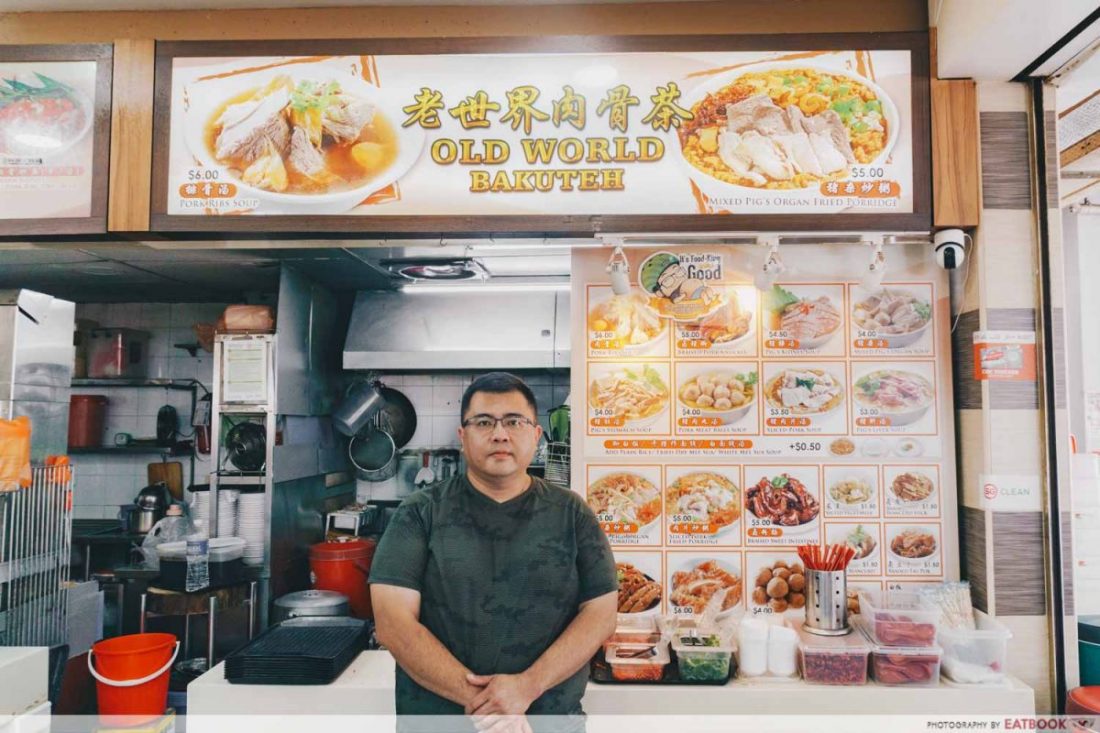 Old World Bakuteh is very accessible, located in Hiap Hoe Eating House, which is a short five-minute walk from Yishun MRT Station. The kopitiam comfortably seats about 50 to 100 people, so there really shouldn't be a problem finding tables around.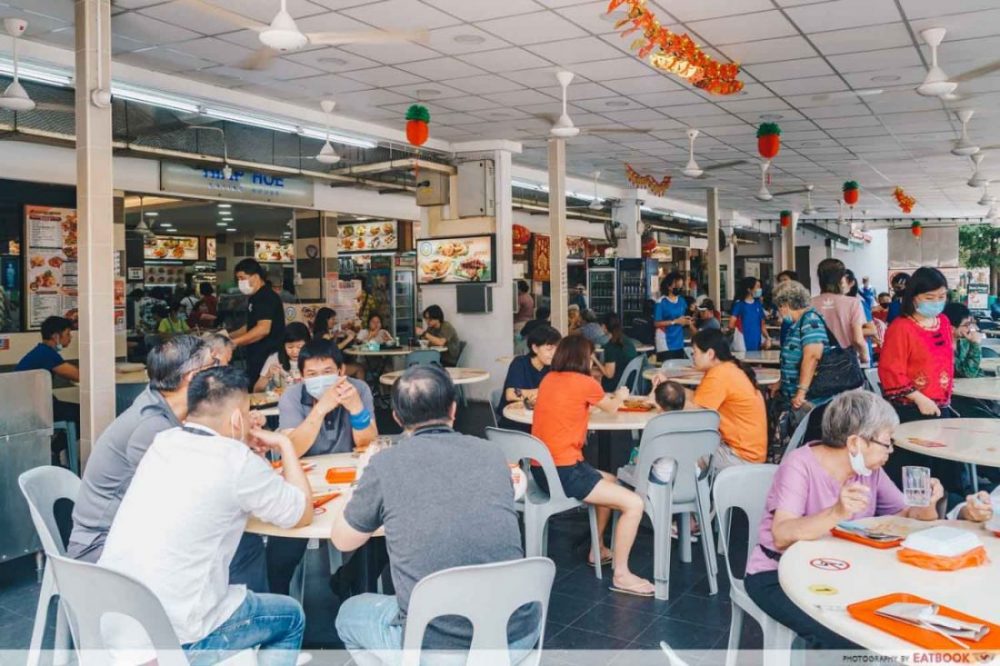 Due to their rising prominence mainly because of social media, they start attracting lines around lunchtime, usually with about six to eight people waiting at its peak. We'd recommend arriving earlier and nearer to their opening times to enjoy a no-frills experience without having to queue.
The verdict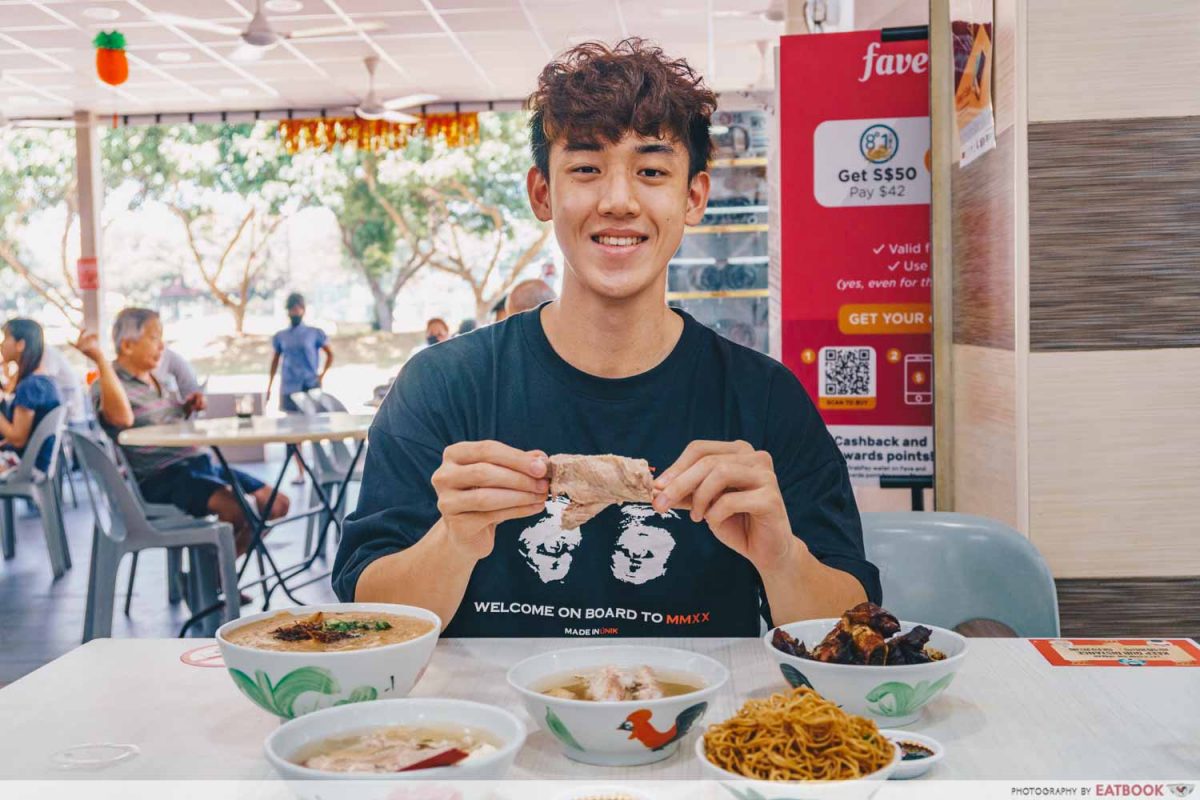 Old World's bak kut teh really ticks all the boxes when it comes to providing uniqueness, quality, and value-for-money—traits essential to a sustainably successful hawker business. 
Their comforting fried porridge is their star player, a specialty not readily available around and definitely worth a return for. Another game changer is their dry mee sua, a refreshing alternative to eating your bak kut teh with white rice. Coupled with a rock solid bak kut teh recipe, it's only up from here for Old World Bakuteh.
If you're looking for other food options around the Yishun area, check out our Bismi Briyani review for XXL lamb shank and chicken briyani platters at Yishun Park Hawker Centre. Otherwise, read our Hideki review for $4 Japanese cai png also located in Yishun Park Hawker Centre.
Address: 747 Yishun Street 72, Hiap Hoe Eating House, Singapore 760747
Opening hours: Tue-Sun 10:15am to 8:30pm
Tel: 9388 5288
Website
Old World Bakuteh is not a halal-certified eatery.
Bismi Briyani Review: XXL Briyani Platter With Lamb Shank, Lamb Chop, Chicken And More At Yishun
Photos taken by Chew Yi En.
This is an independent review by Eatbook.sg.
The post Old World Bakuteh Review: Teochew Bak Kut Teh With Fried Porridge And Dry Mee Sua At Yishun appeared first on EatBook.sg – New Singapore Restaurant and Street Food Ideas & Recommendations.