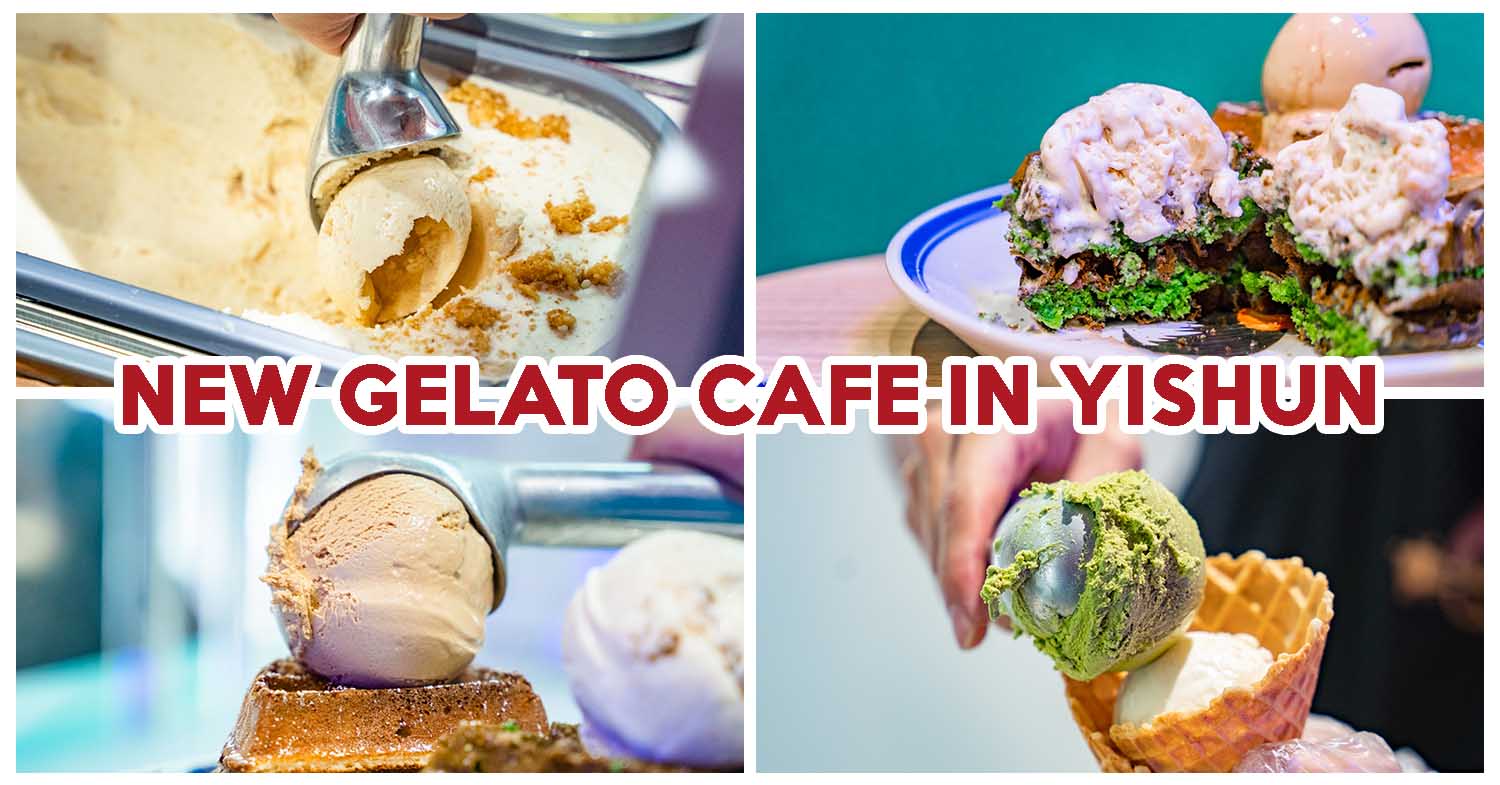 No Horse Run gelato in Yishun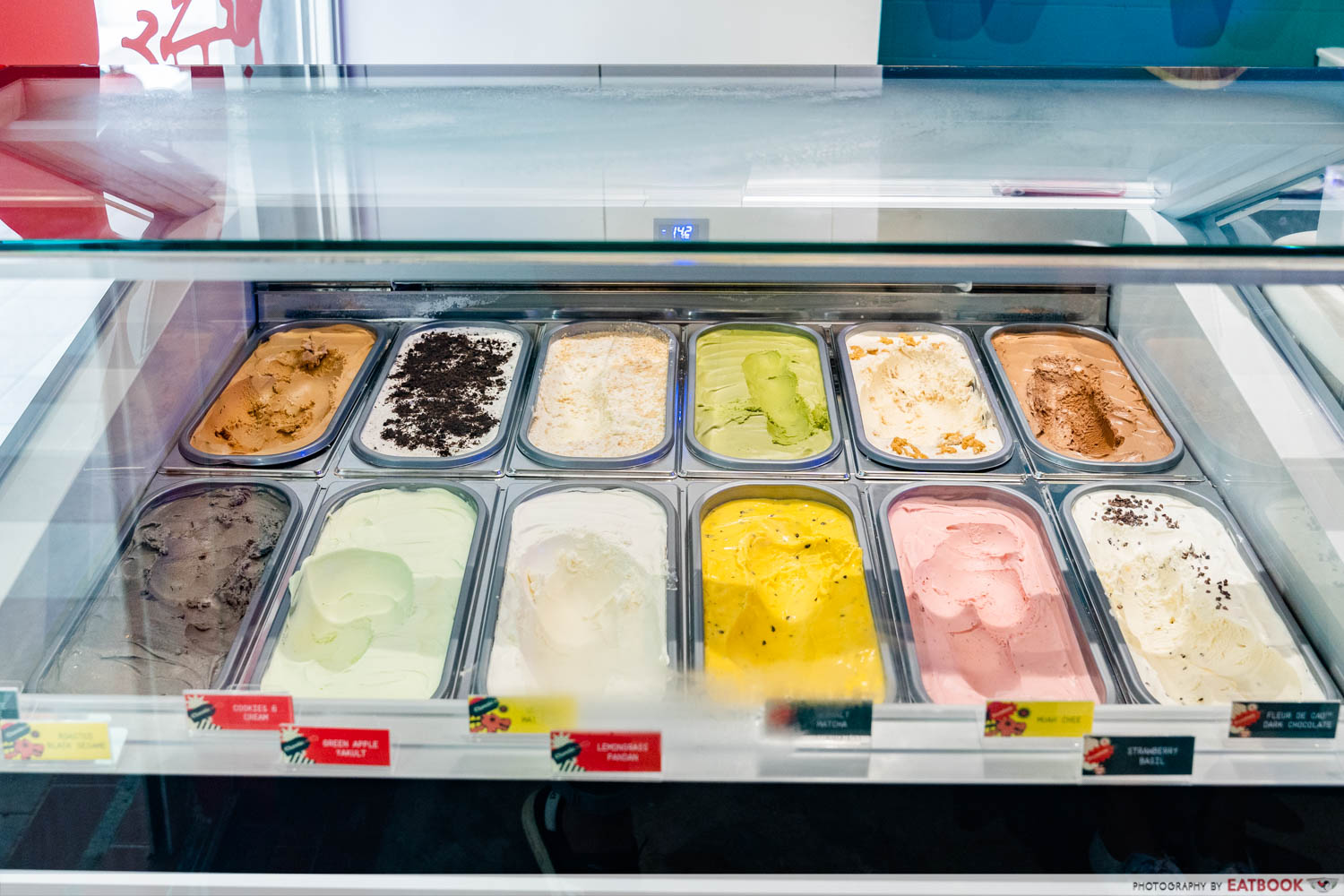 Gelato, and ice cream, shops are springing up aplenty in recent times, and No Horse Run in Yishun is just the latest in this slew of openings. The lovechild of a pair of uni mates, the name is translated from the Hokkien phrase "bo beh zao". It's a term commonly used in horseracing, and representative of how they hope to edge out the competition with No Horse Run's unique, locally inspired flavours.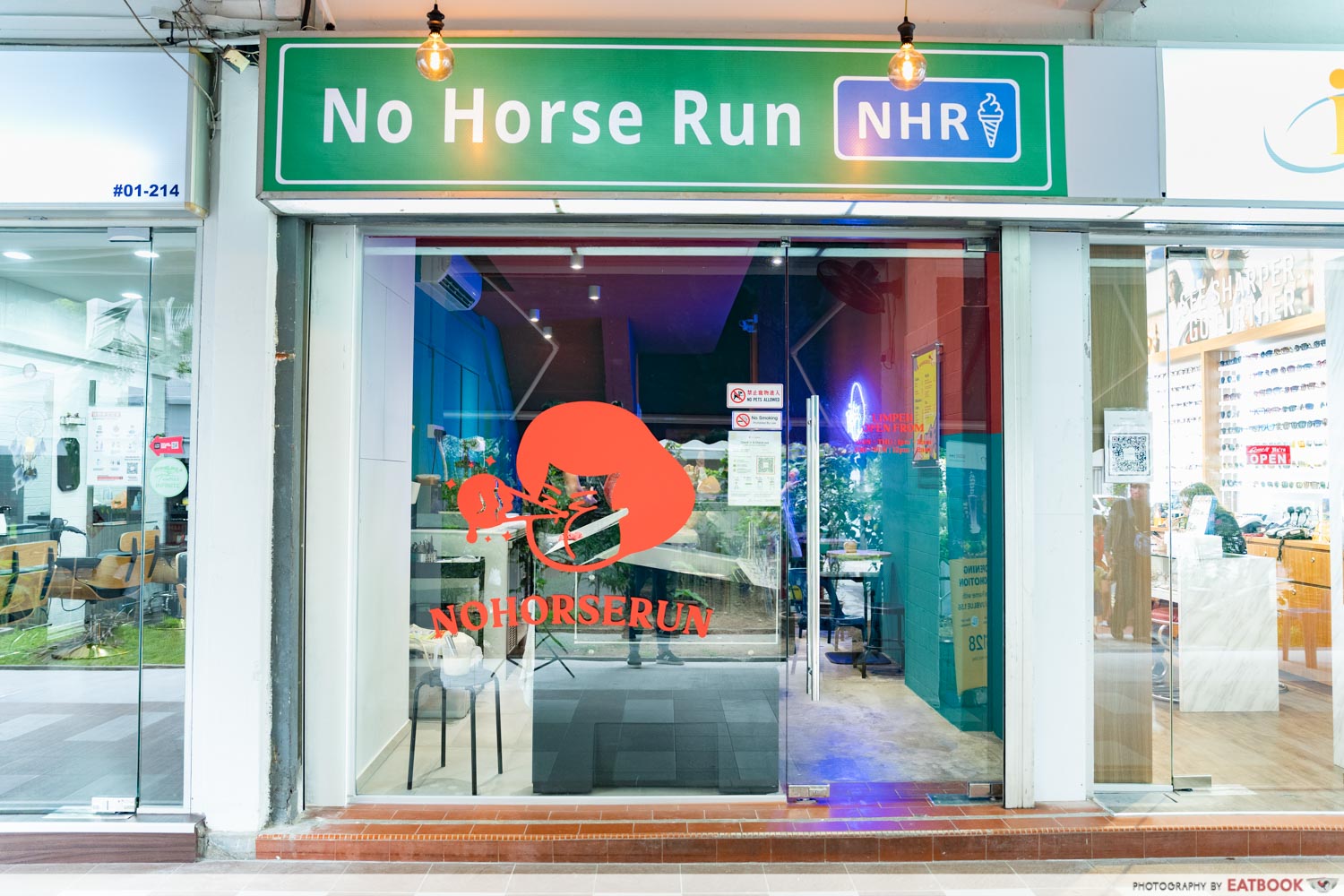 I was intrigued when I saw the flavours on offer: Smoked Milk, Burnt White Chocolate, and Mai Pian cereal gelato were too interesting to pass over, so I headed to Yishun, far off my beaten track, to sample No Horse Run's wares with a friend.
Overrun SG: Ice Cream Cafe Near Arab Street Has XXL Gelato In Flavours Such As Honeydew Sago, Ondeh-Ondeh And More
Food at No Horse Run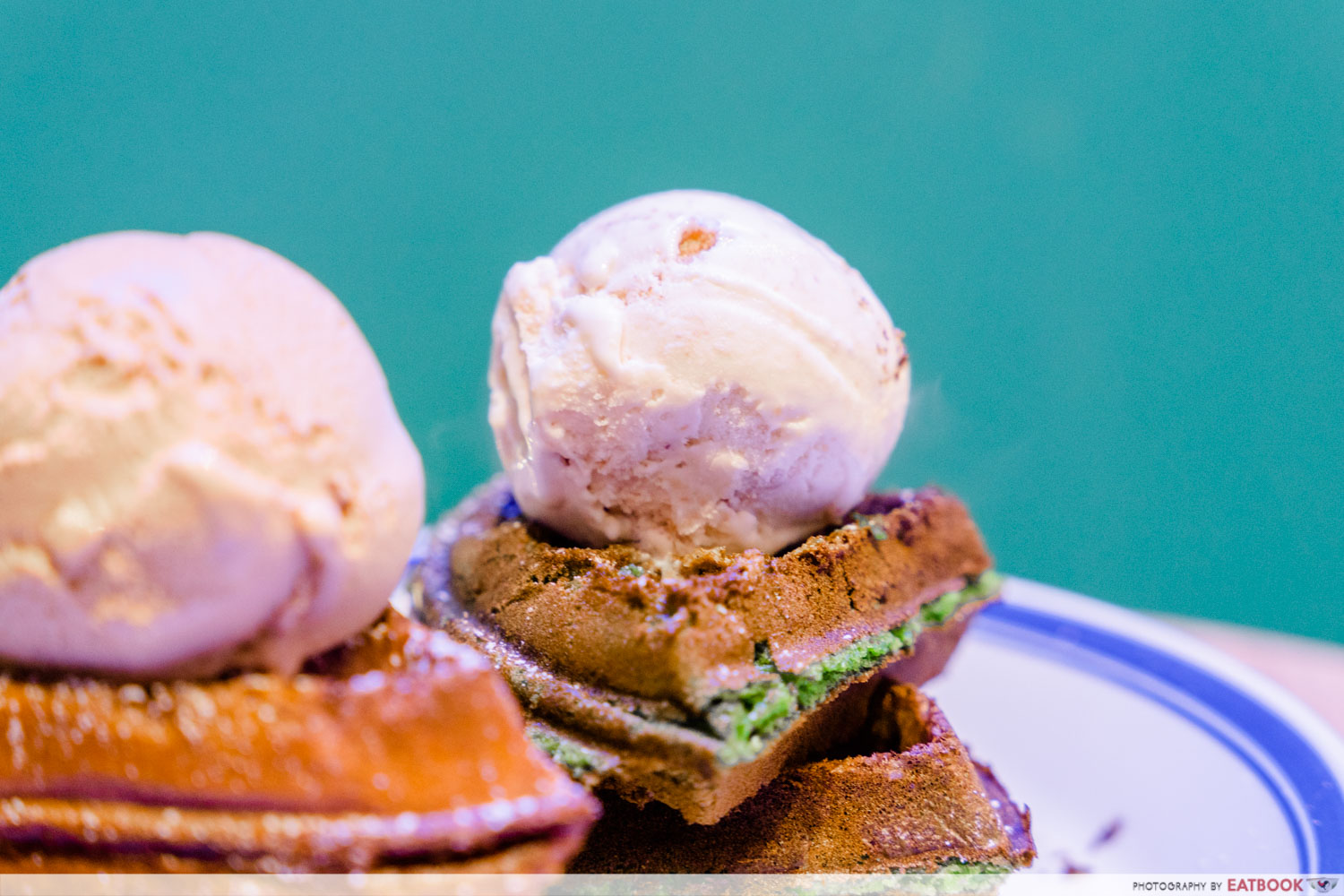 Waffles and gelato are one of those food matches made in heaven. At No Horse Run, the airy, light, and crisp waffles come in two variations: Buttermilk ($5.50), and Pandan Gula Melaka ($6.50).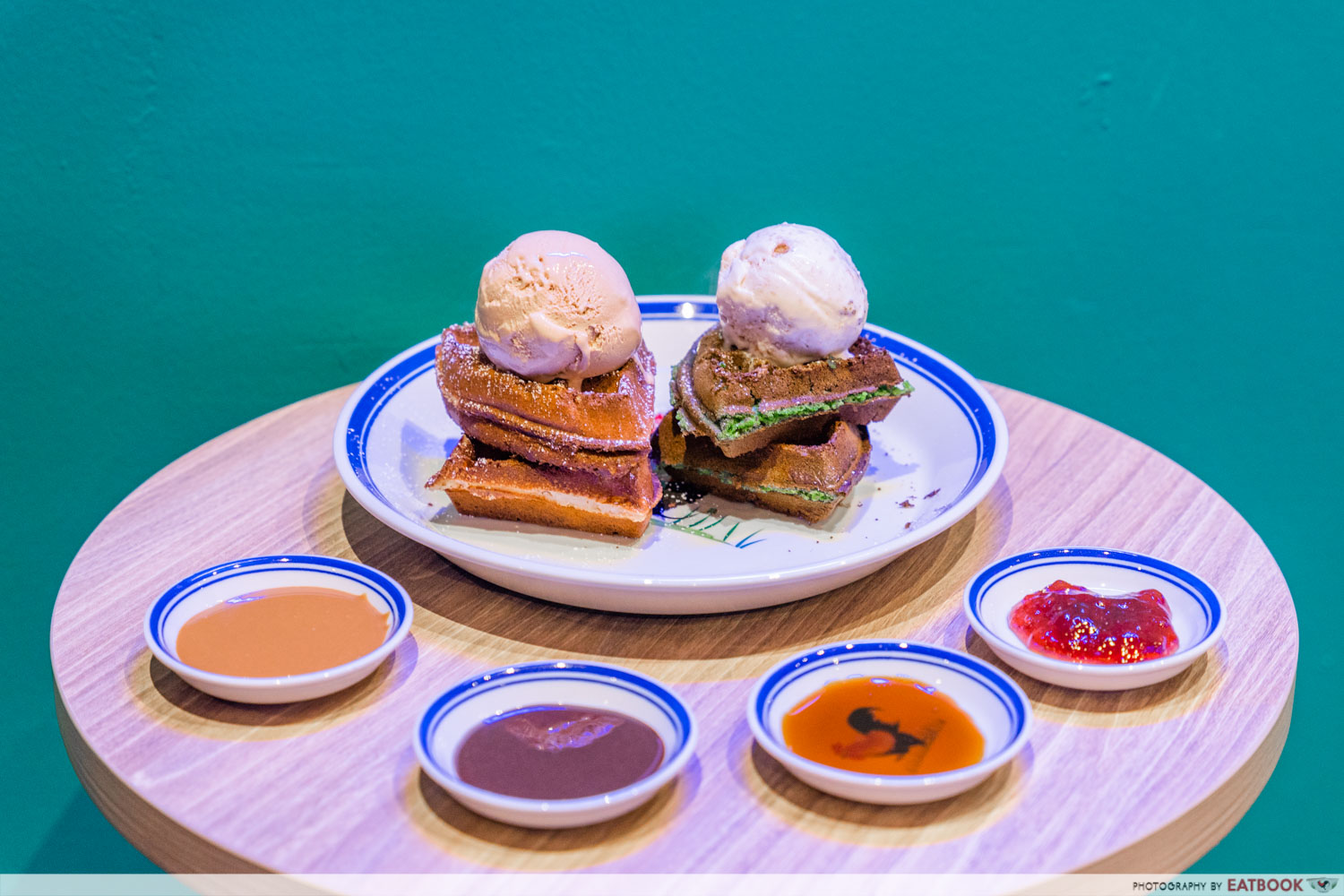 Each order of waffles comes with one of their four house-made sauces, of which you can pick from Classic Maple Syrup, Childhood Milo, House-Made Jam, and Caramelised Cookies.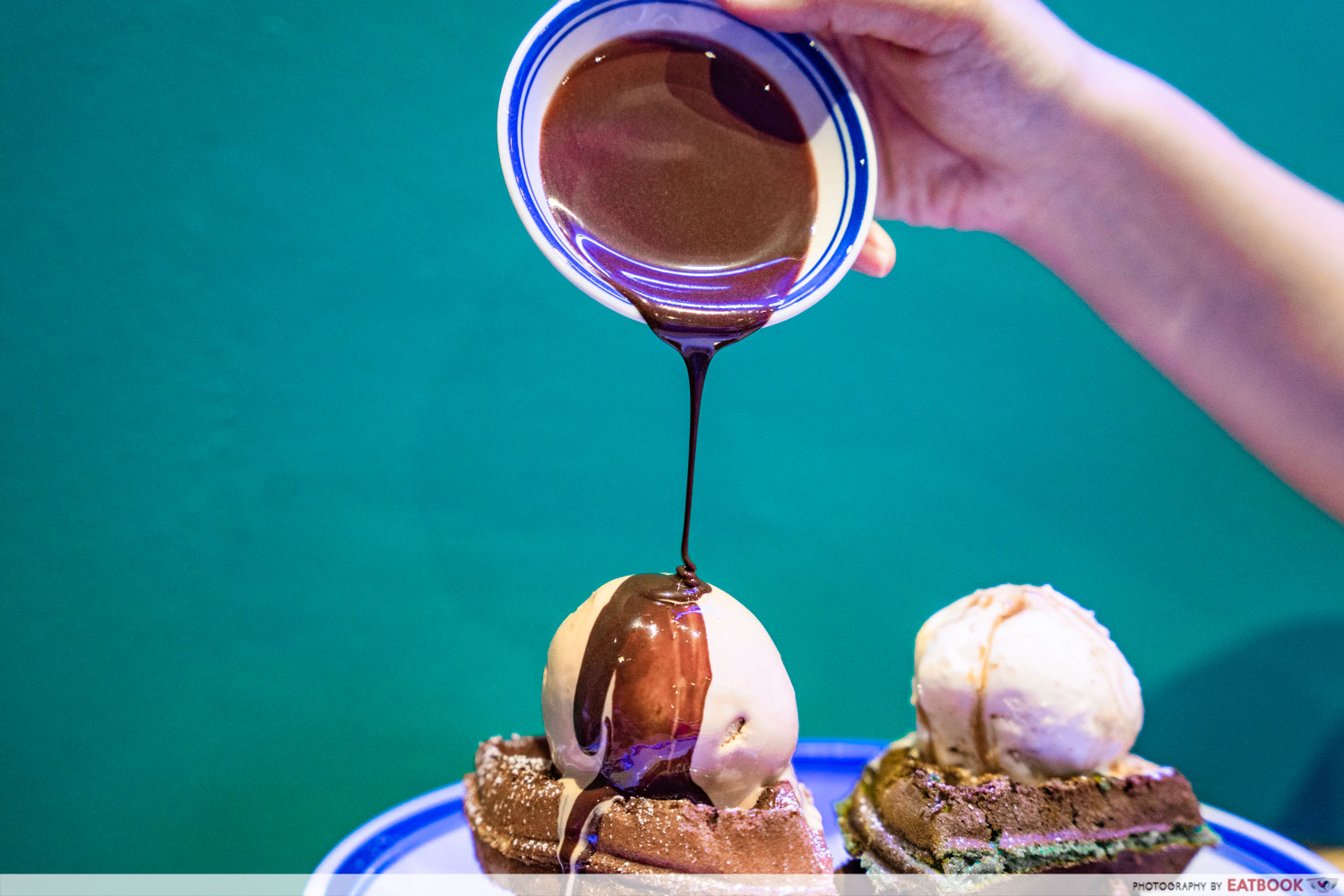 You can always top up an extra $1 a sauce, if you are after variety. The Childhood Milo is a super-gao Milo drizzle, which adds a malty, chocolate edge to your dessert, while Caramelised Cookies is really a Speculoos cream that's rather addictive.
Otherwise, the House-Made Jam is painstakingly cooked in-house with an assortment of berries. It's sweet, with a tart touch that's appetising against the sweeter gelato.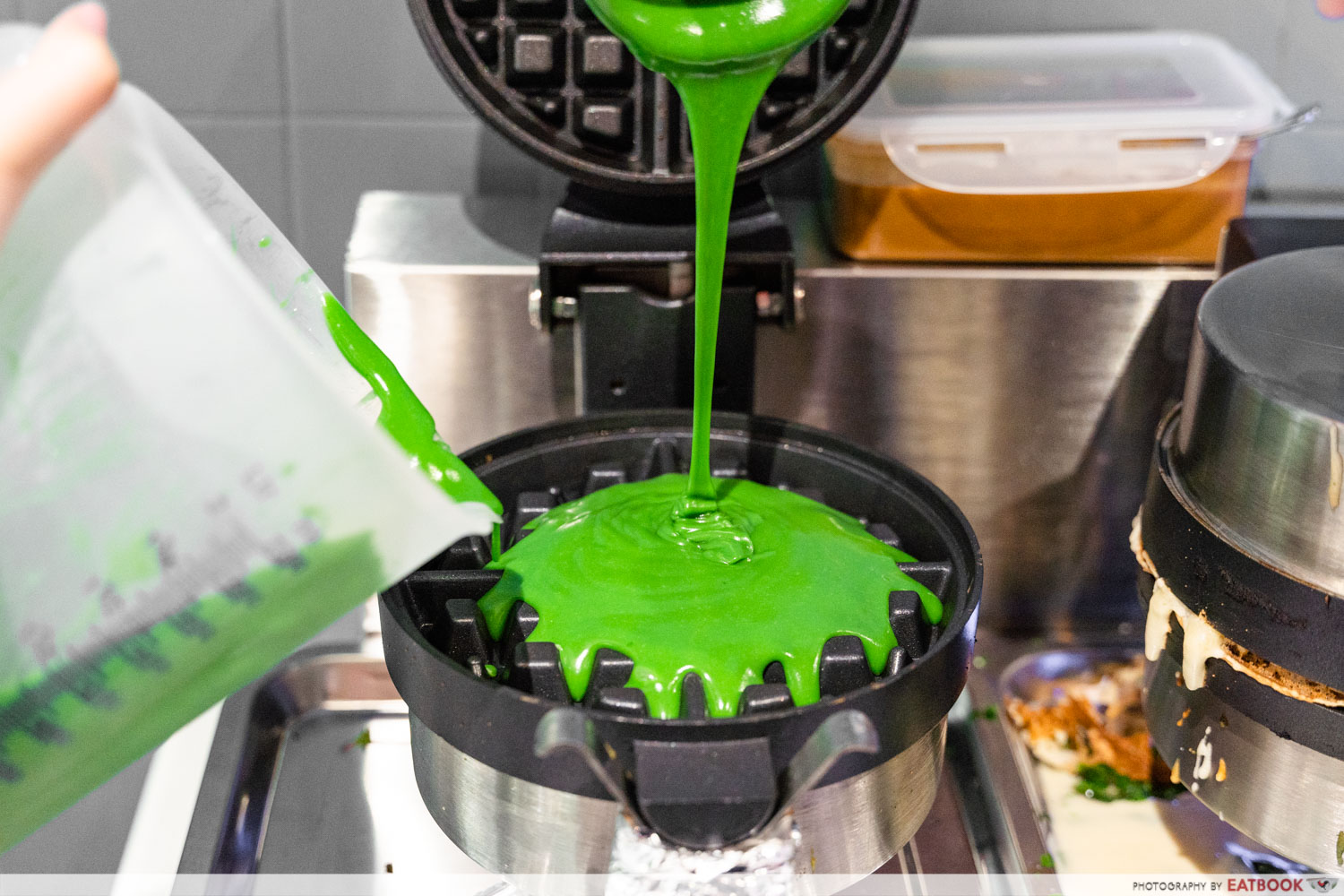 If you've walked past old school bakeries and been arrested by the heady scent of pandan waffles, the Pandan Gula Melaka Waffles at No Horse Run are precisely that, with a serious upgrade. The formulation of this recipe has taken the team here countless tries, using pure, concentrated pandan extract that they make themselves, its colour and taste intensified with gula melaka, and coconut milk.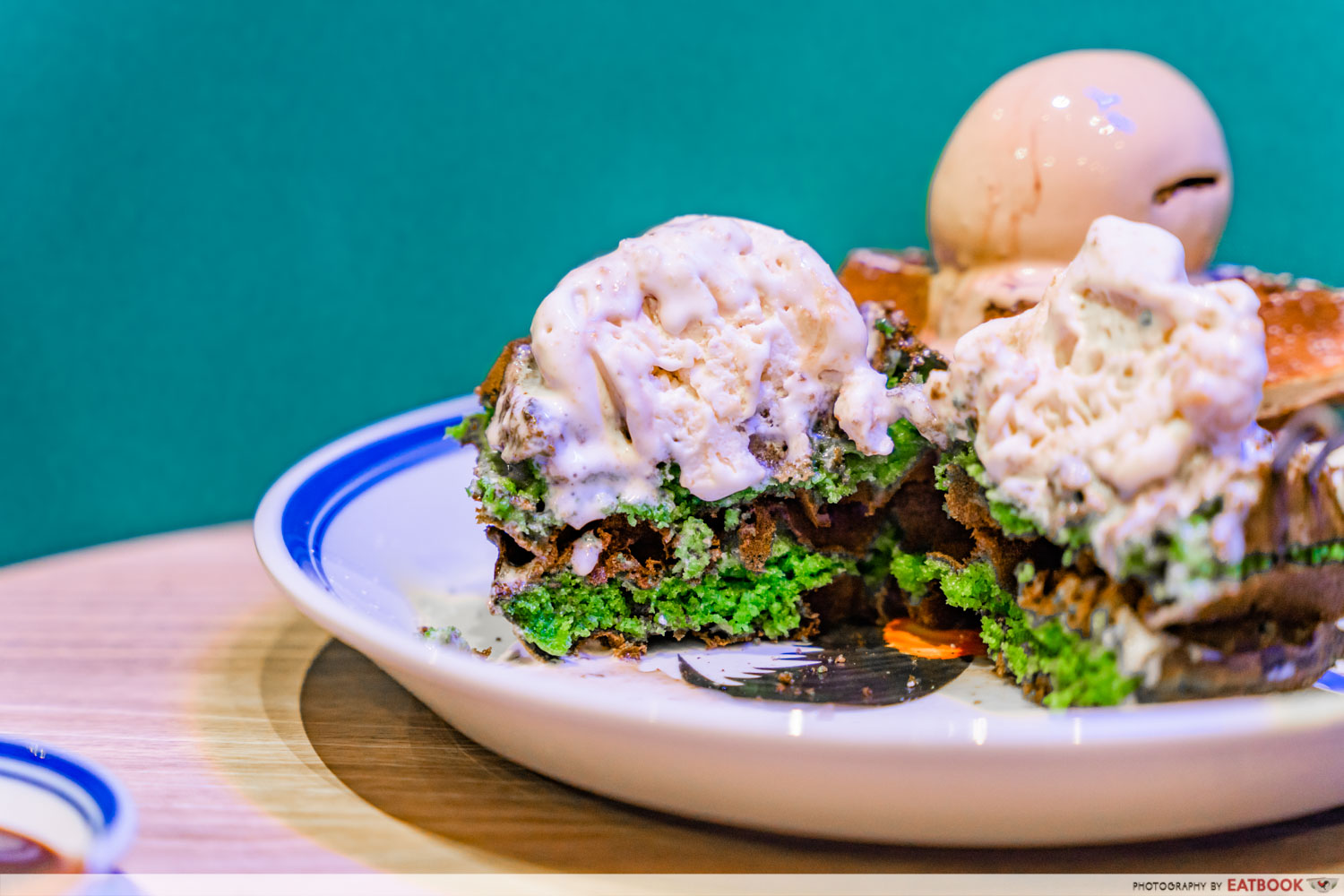 At first glance, I thought the waffles would be stodgy within, despite the delightful crackle as I sliced through. Surprisingly, they weren't, with a punchy, intensely aromatic lightness in the mouth.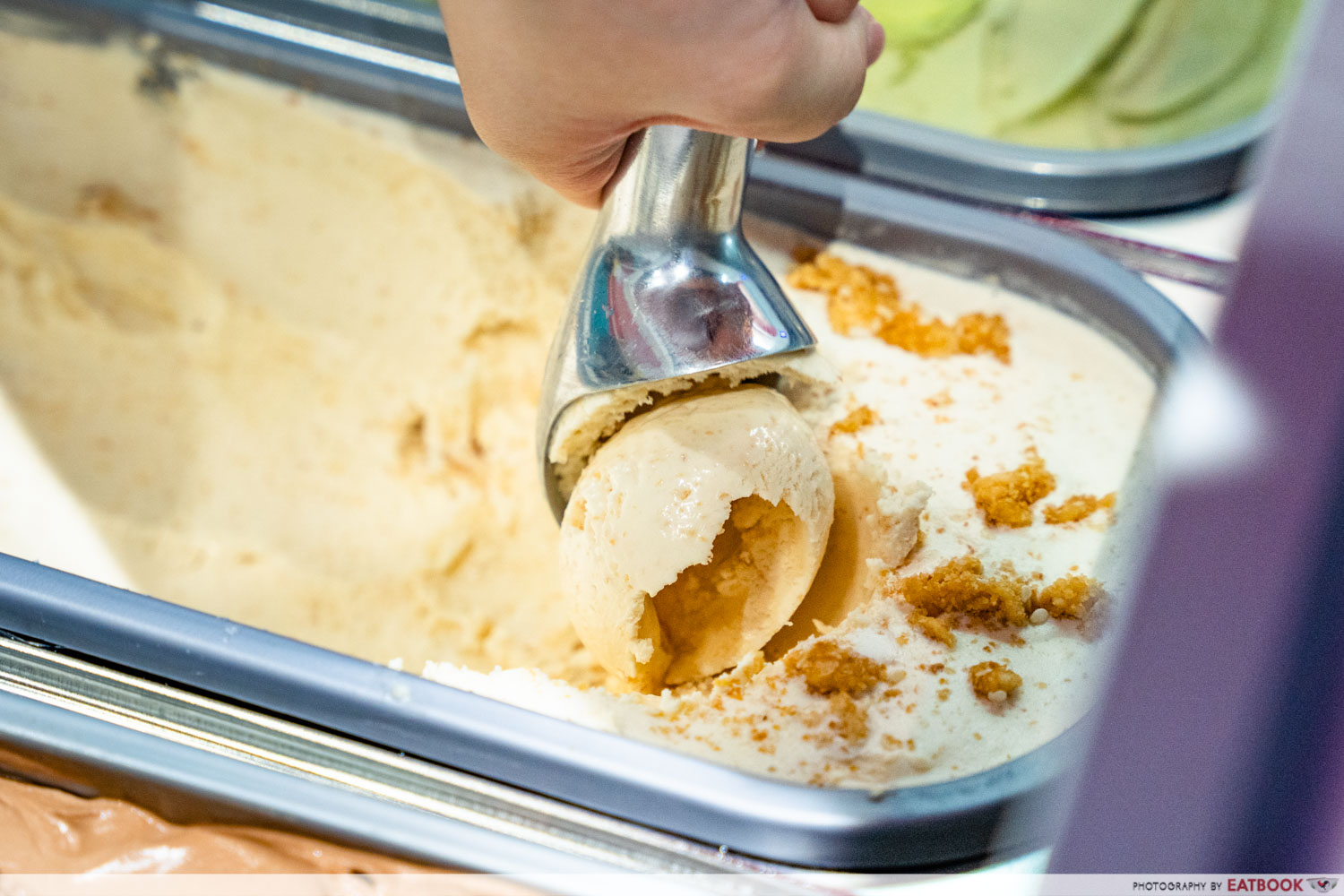 We had a scoop of Muah Chee ($5) gelato, another local flavour, to go with the Pandan Gula Melaka Waffles. This is another labour of love, requiring first the making of actual muah chee, before it's churned into gelato. What this results in is a sticky, muah chee-esque chewy gelato, with crunchy peanut bits, which my dining companion exclaimed over, and declared his favourite.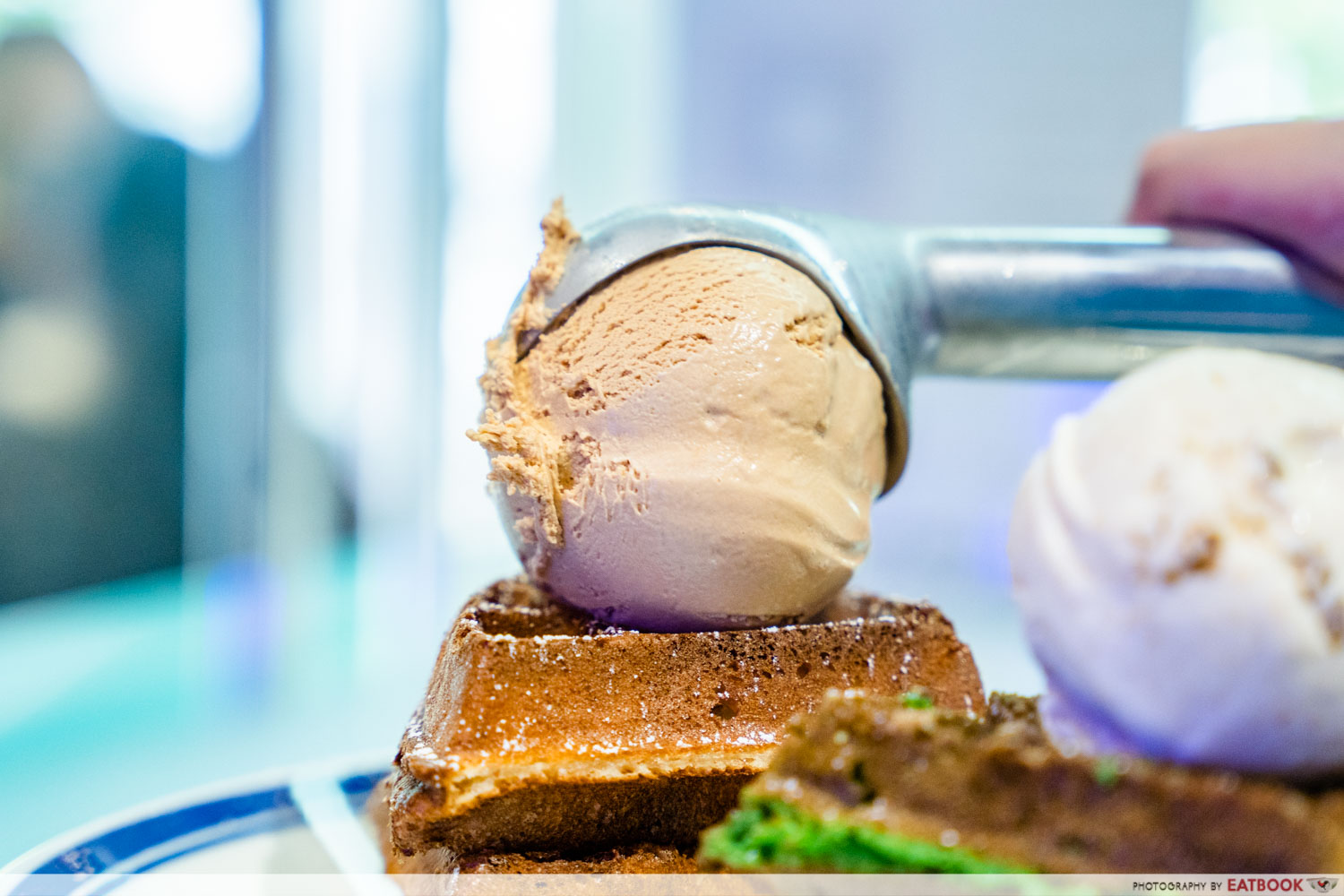 On the other hand, the Burnt White Chocolate ($5), another premium flavour, was a tad perplexing for both of us. We were told that couverture Cacao Barry white chocolate is slowly, repeatedly heated, till it "burns", before it gets made into this gelato. You won't get your regular milky taste of white chocolate here, that's for sure, but a caramel-like flavour.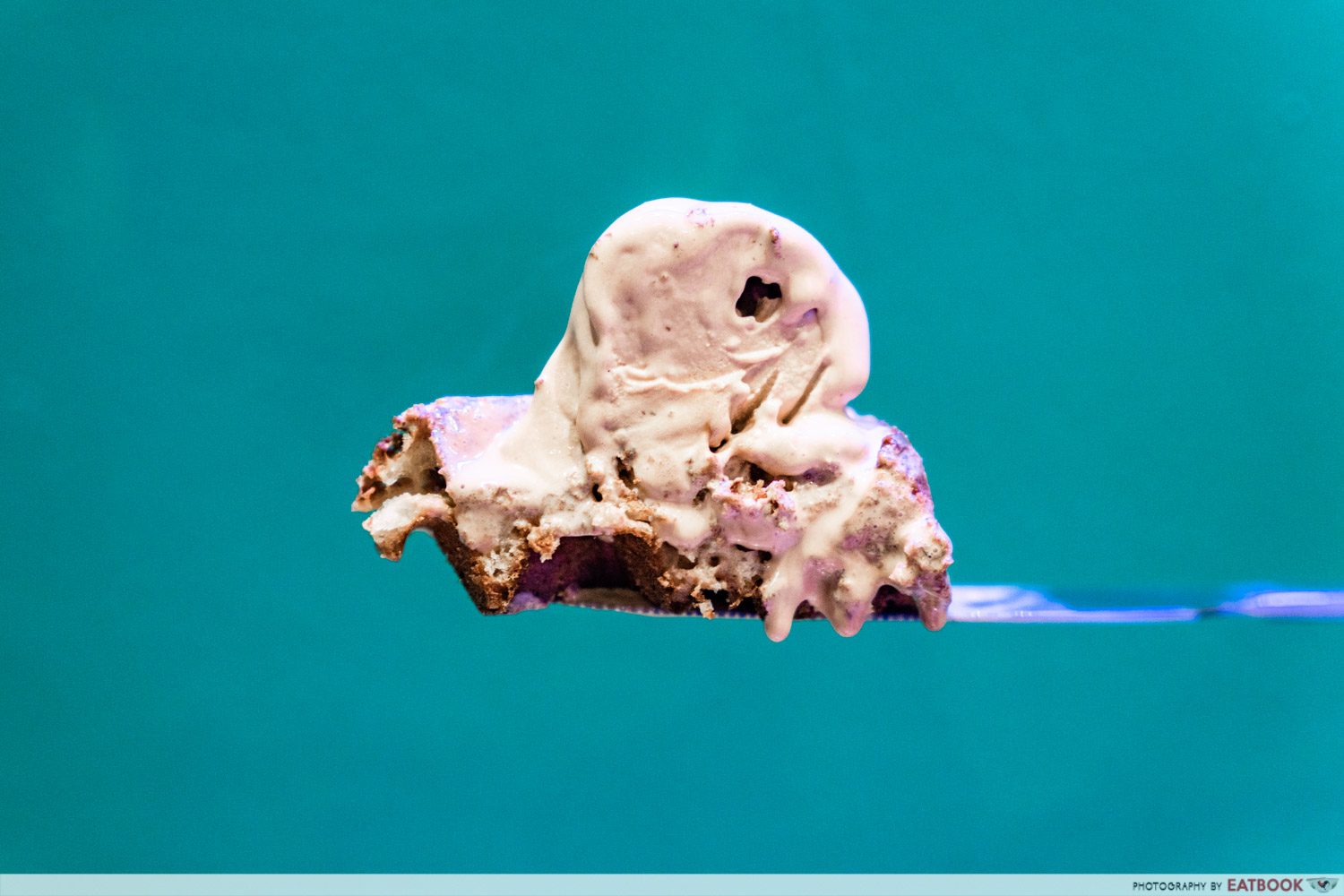 What I couldn't stop helping myself to were the Buttermilk Waffles. Like their Shrek-hued counterpart, they were light, without being cakey or dense, even after they'd taken a soaking with semi-melted gelato. I can foresee them being a little too light for some, though.
A Premium flavour that my dining companion and I were drawn to, and enjoyed, was Smoked Milk With Cacao Nibs ($5). I was semi-wary taking my initial mouthful, because smoked foods are occasionally overwhelmingly smoky tasting. This, though, left a subtle, lingering smokiness, lightly scenting the milky gelato, with the bitter crunch of cacao nibs cutting through.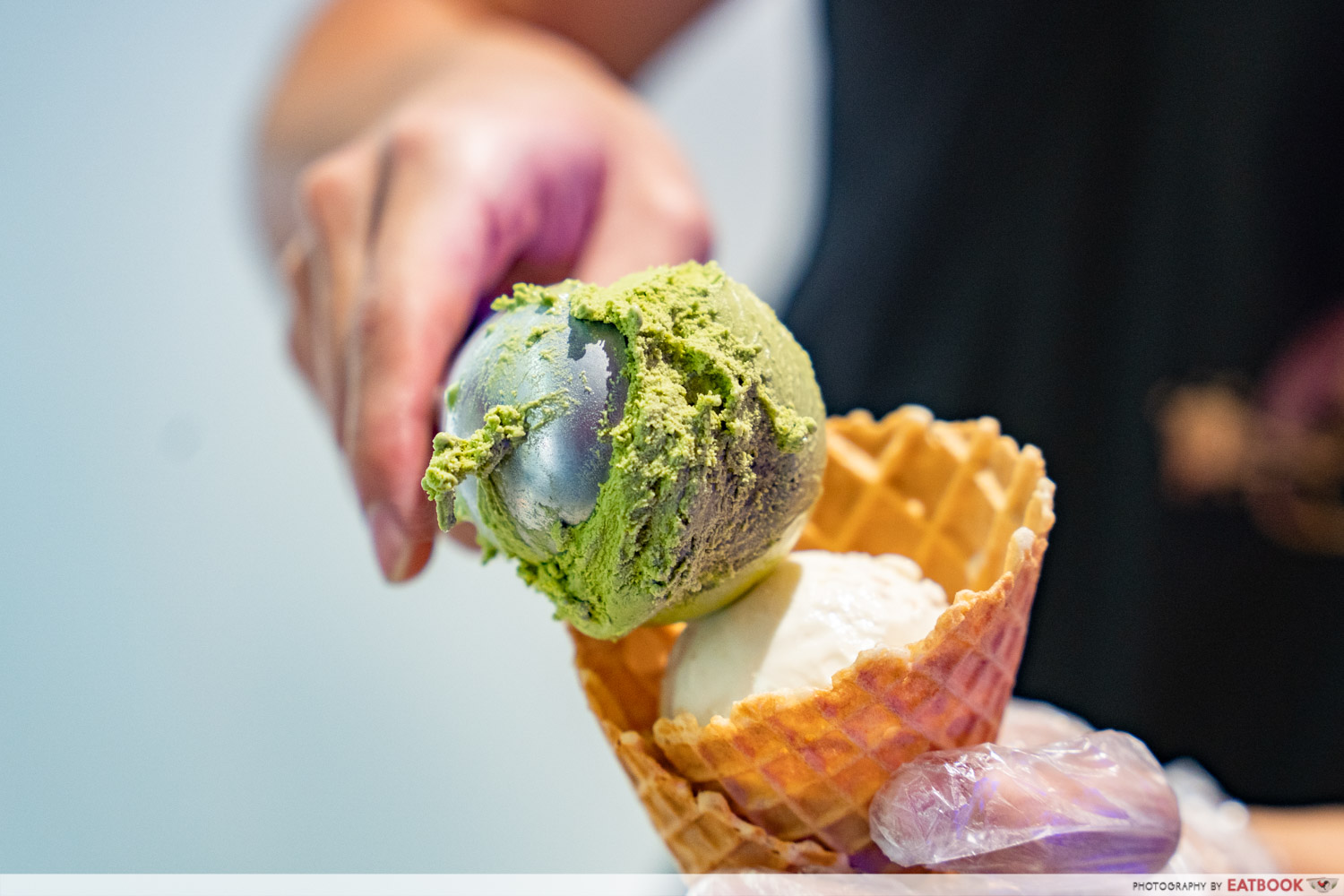 My personal favourites of this trip were the Seasalt Matcha ($5), and Cereal Mai Pian ($5). The former is lushly bitter with Uji matcha, accented with Himalayan pink salt; the latter, complete with chewy cereal bits, a nostalgic flashback to 6am mornings before school when my mum would make me a cup of cereal drink to kickstart the day.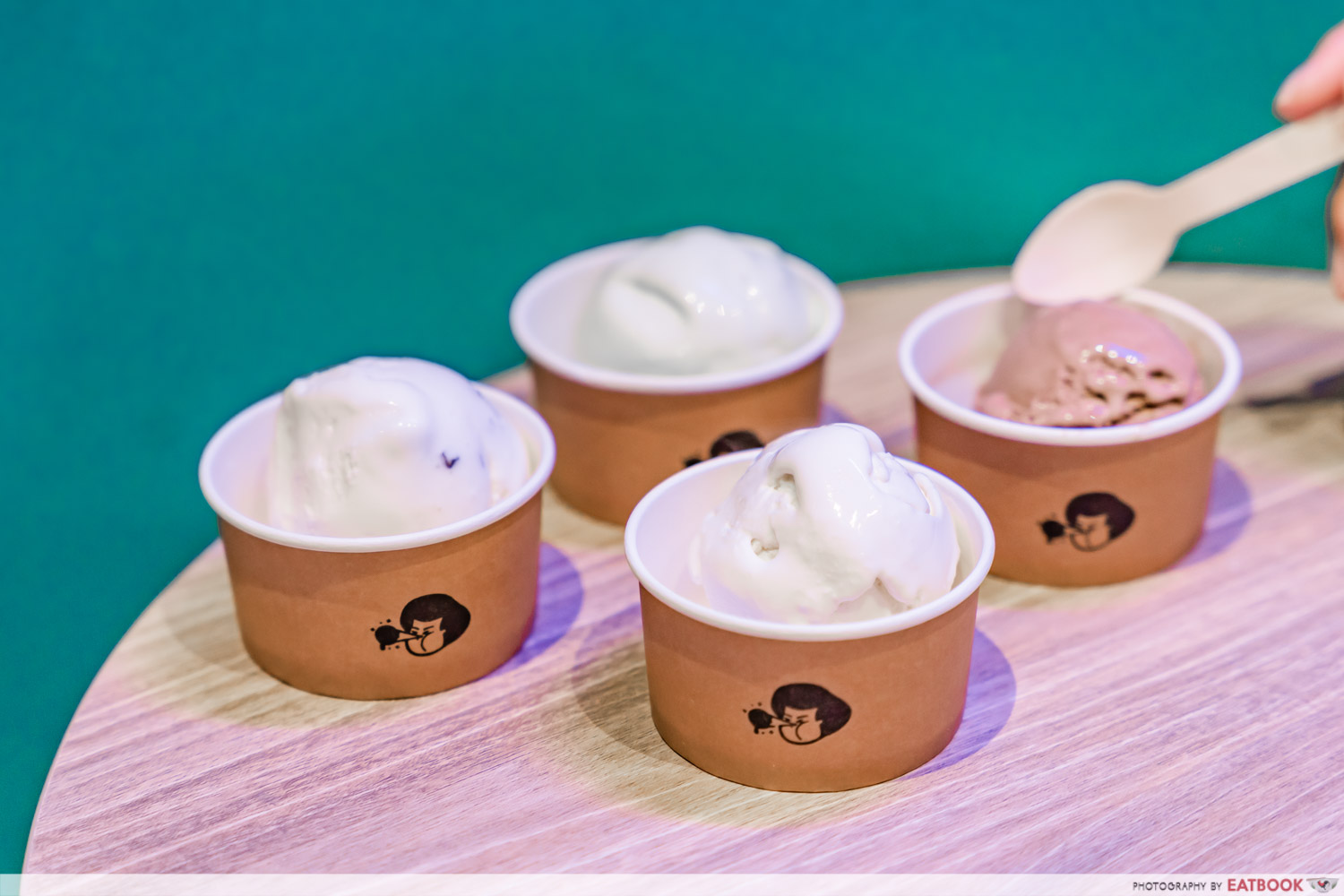 There will always be 12 flavours available at No Horse Run, some of which will be rotated seasonally. It's a considerate nod to the classics, by having flavours such as Fleur de Cao Dark Chocolate ($5), although we found this less chocolatey than we would have liked, probably owing to the fruity notes of this particular couverture chocolate.
Amidst their more innovative flavours, Cookies And Cream ($4.20), is another kid-friendly option. We really liked the Green Apple Yakult ($4.20), which deceptively tastes like froyo. There are also fruity, strikingly coloured Mango Passionfruit ($5), and Strawberry Basil ($5) if you're after something more tropical.
Icebar Review: Neon Cafe Open Till 2am With Waffles And Gelato Such As Speculoos And Apple Strudel
Ambience at No Horse Run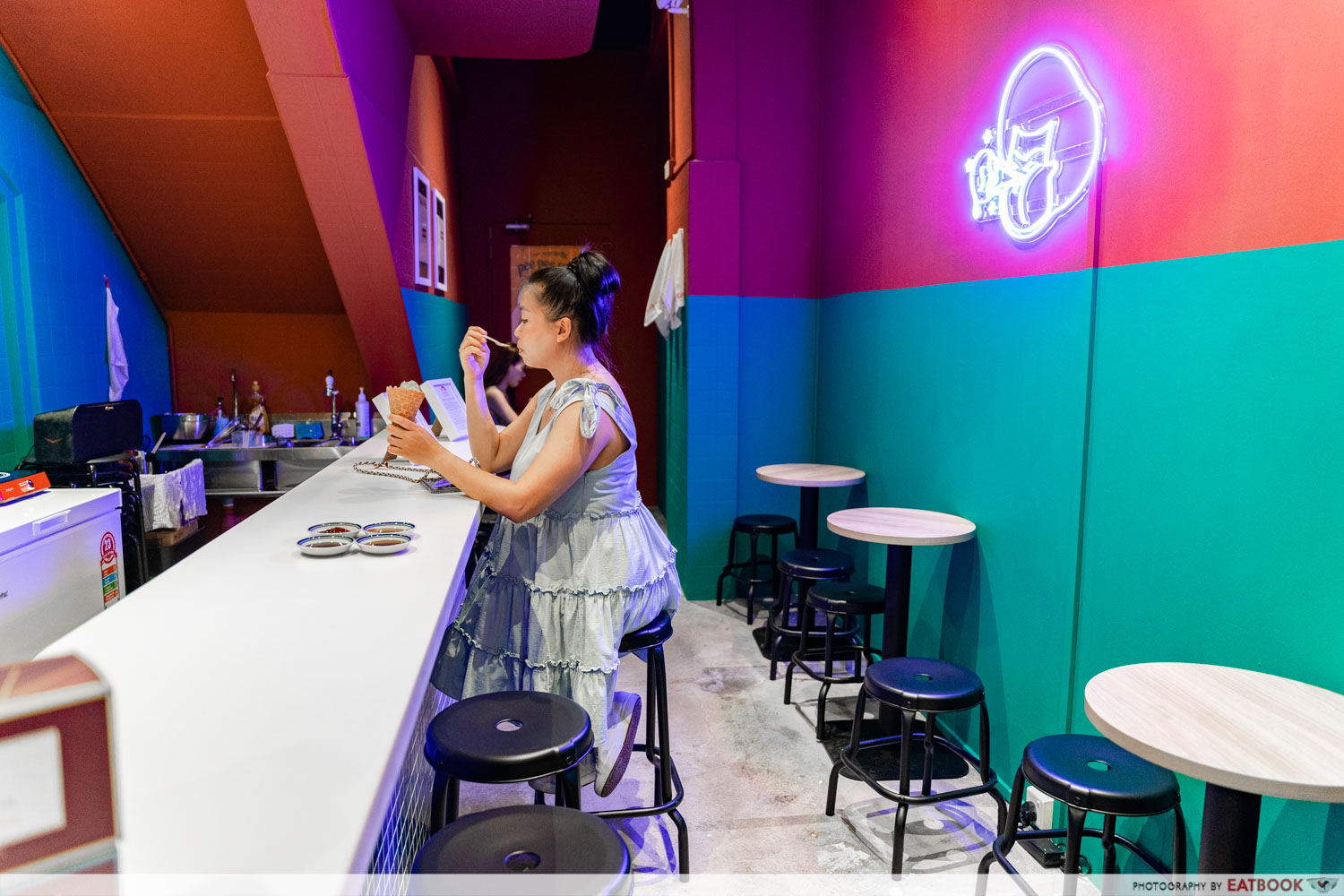 No Horse Run is a five-minute walk from Yishun MRT Station, although that part of Singapore isn't, admittedly, centrally located. The vivid colours of the gelateria's narrow shop space remind me of that landmark dragon playground in Toa Payoh.
The air condition isn't the strongest, and the indoor seats will only be able to seat 13, but tables and seats along the common space outside the shop will soon increase the seating capacity.
Burnt Cones Review: New Clementi Cafe Open Till 12am For Waffles And Gelato Such As Yam And Pistachio
The verdict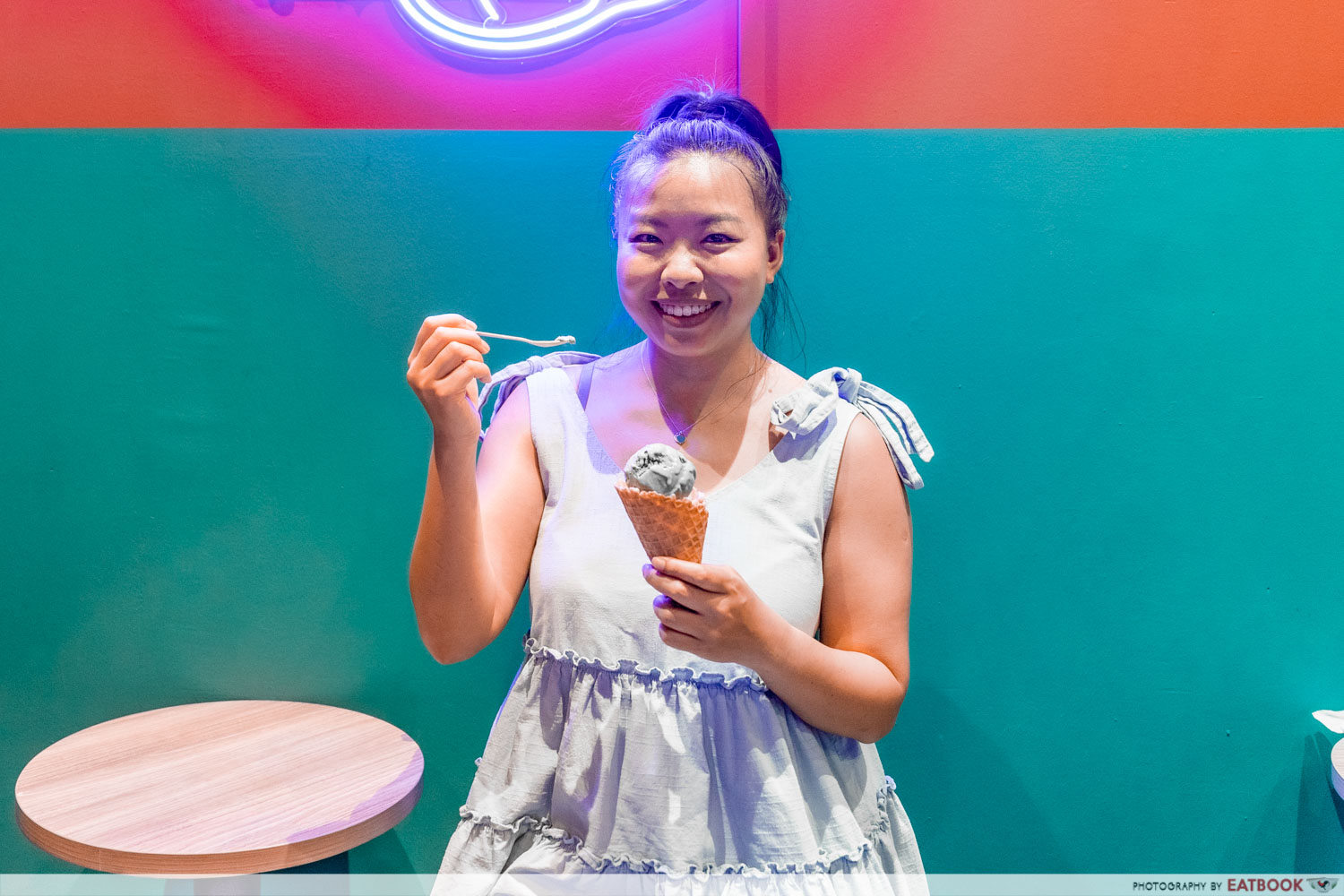 No Horse Run holds its own, amongst the stiff competition in the ice cream-gelato scene in Singapore. I wish they also made the cones in-house, because I'm not enticed to have it when it's been outsourced. Yishun is also really out of the way for me, but I would definitely swing by if I were in the area, and recommend No Horse Run to my North-dwelling friends, especially since it's open till 2am daily.
Although I did think that the Fleur de Cao Dark Chocolate could have been richer, and more intense, and the Burnt White Chocolate is a little confounding, credit should be given where it's due. The gelatos at No Horse Run are well crafted, smooth and creamy, with inspired flavours. For a virgin foray into the highly competitive world of F&B, the team behind No Horse Run have done well for themselves, with room for improvement.
Read our Icebar review, where gelato flavours include Stroopwafel, and Apple Strudel, or visit Overrun in Bugis for ice cream in flavours such as Ondeh-Ondeh, and Melon!
Address: 160 Yishun Street 11, #01-216, Singapore 760160
Opening hours: Mon-Thurs 1pm to 2am, Fri-Sun 12pm to 2am
Tel: 8511 3276
Website
Bloom Artisan Review: Gelato Cafe With Sourdough Waffles And Unique Flavours Such As Wheatmilk In Yishun
Photos taken by John Lery Villanueva.
This was a media tasting at No Horse Run.
The post No Horse Run Review: Smoked Milk, Muah Chee, And Cereal Mai Pian Gelato In Yishun Open Till 2am appeared first on EatBook.sg – New Singapore Restaurant and Street Food Ideas & Recommendations.