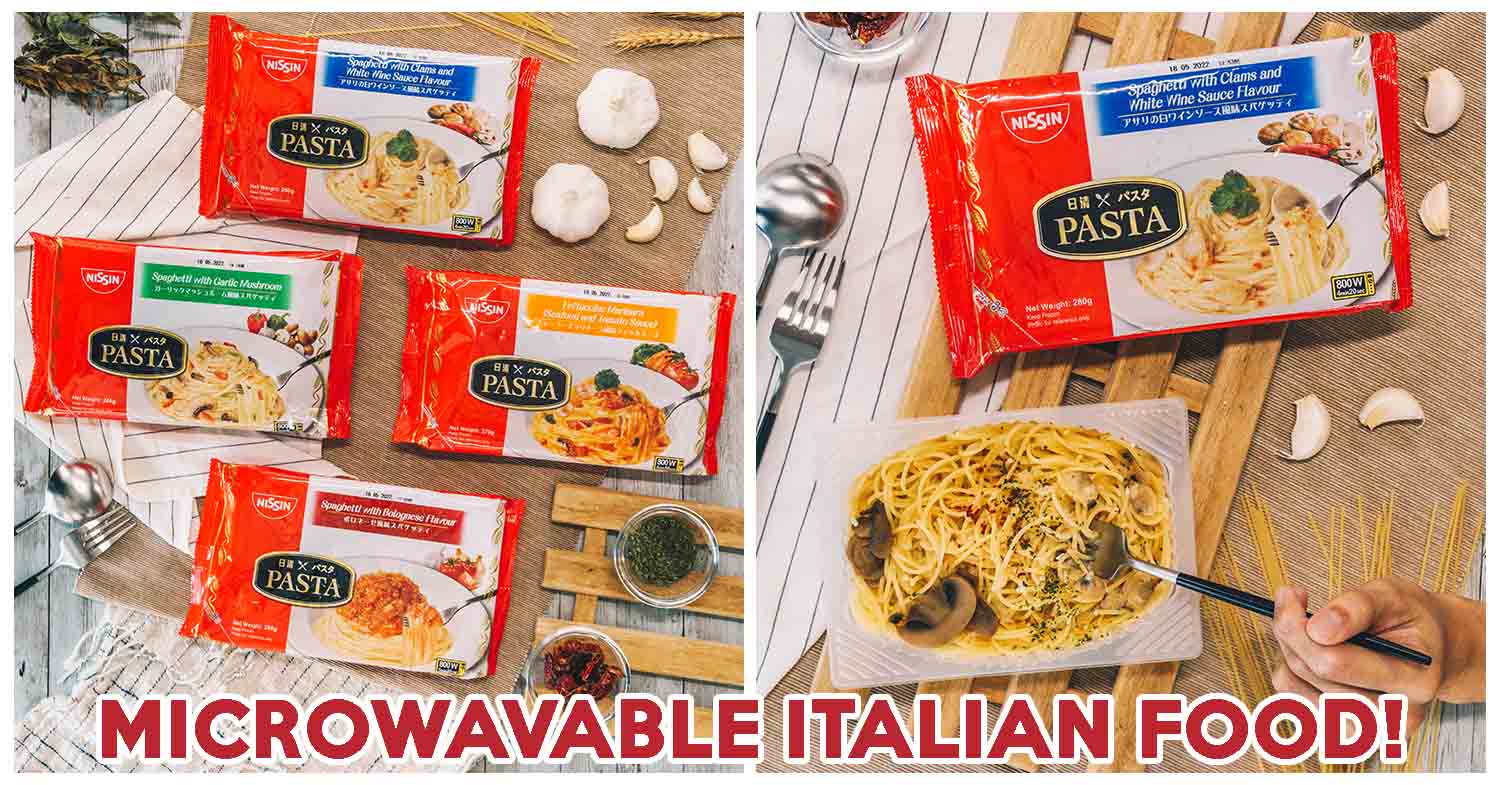 Nissin frozen pasta
It's easy to skip meals when you're caught up in the hustle and bustle of the day. We've all fallen on trusty cup noodles and other convenient foods to get us through the busiest of times, but Nissin has now introduced a game-changing range of four ready-to-eat, frozen pasta, ready in just six minutes or less.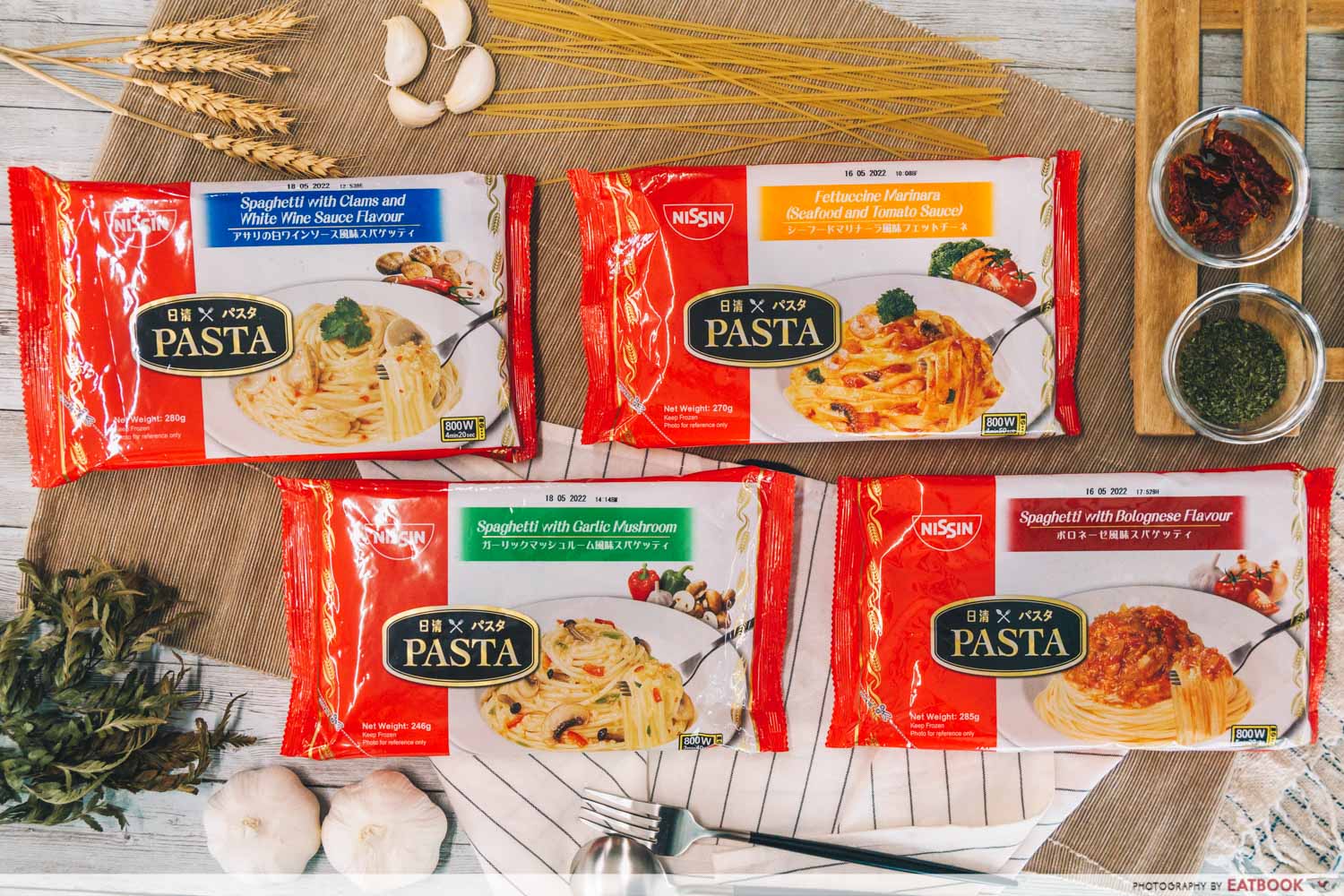 Available at selected FairPrice, Prime,  Don Don Donki, and Cheers marts, Shell petrol stations, as well as online platforms such as Redmart, and FairPrice Online, these handy packets of Italian meals are ready with just a quick turn in the microwave. Keep an eye out at major supermarkets, where they'll also be stocked soon.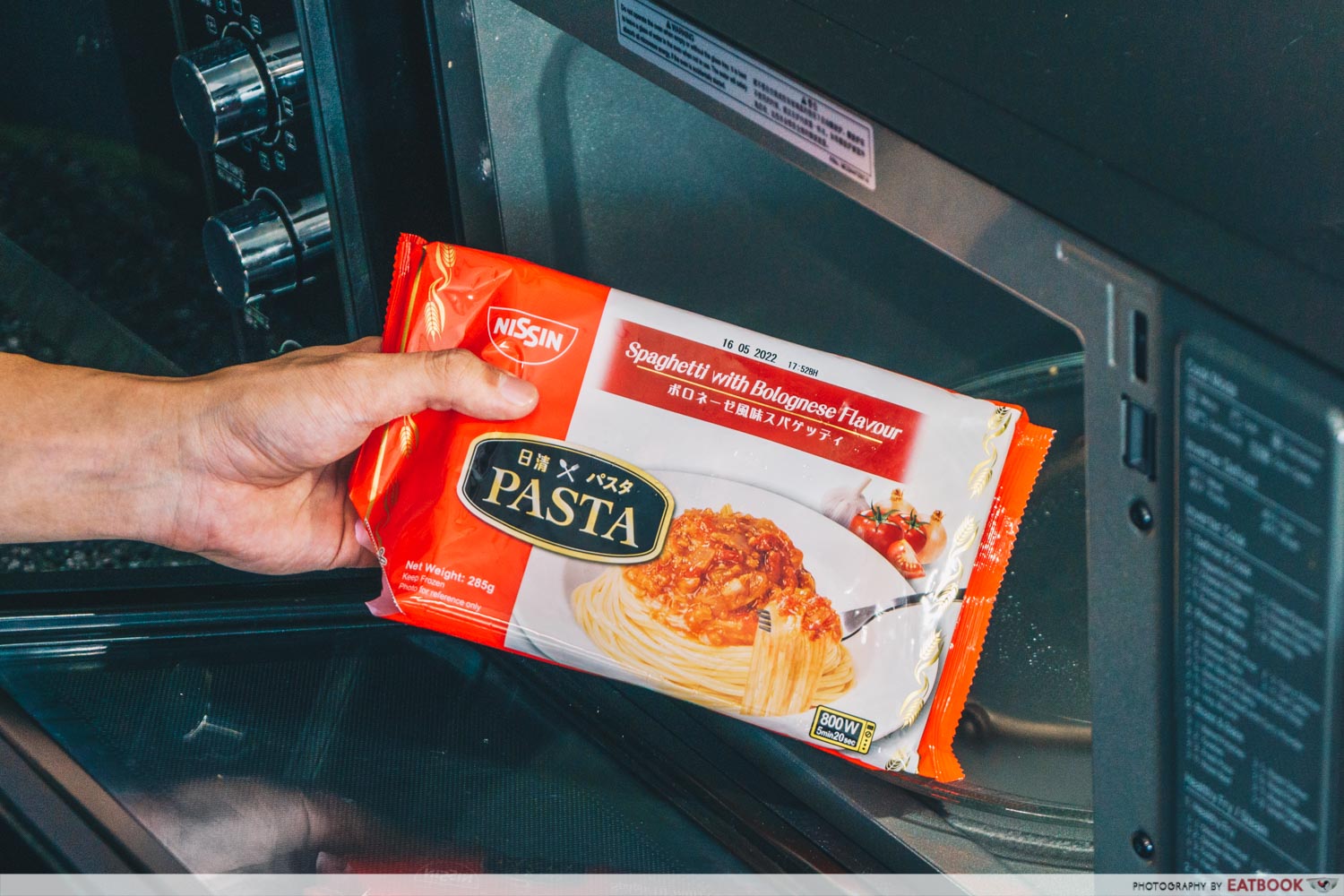 Simply cut a corner off the packet, place the whole package in the microwave, and let it cook for the duration as stated on each package. Be careful when you handle it at this point, as it's rather hot.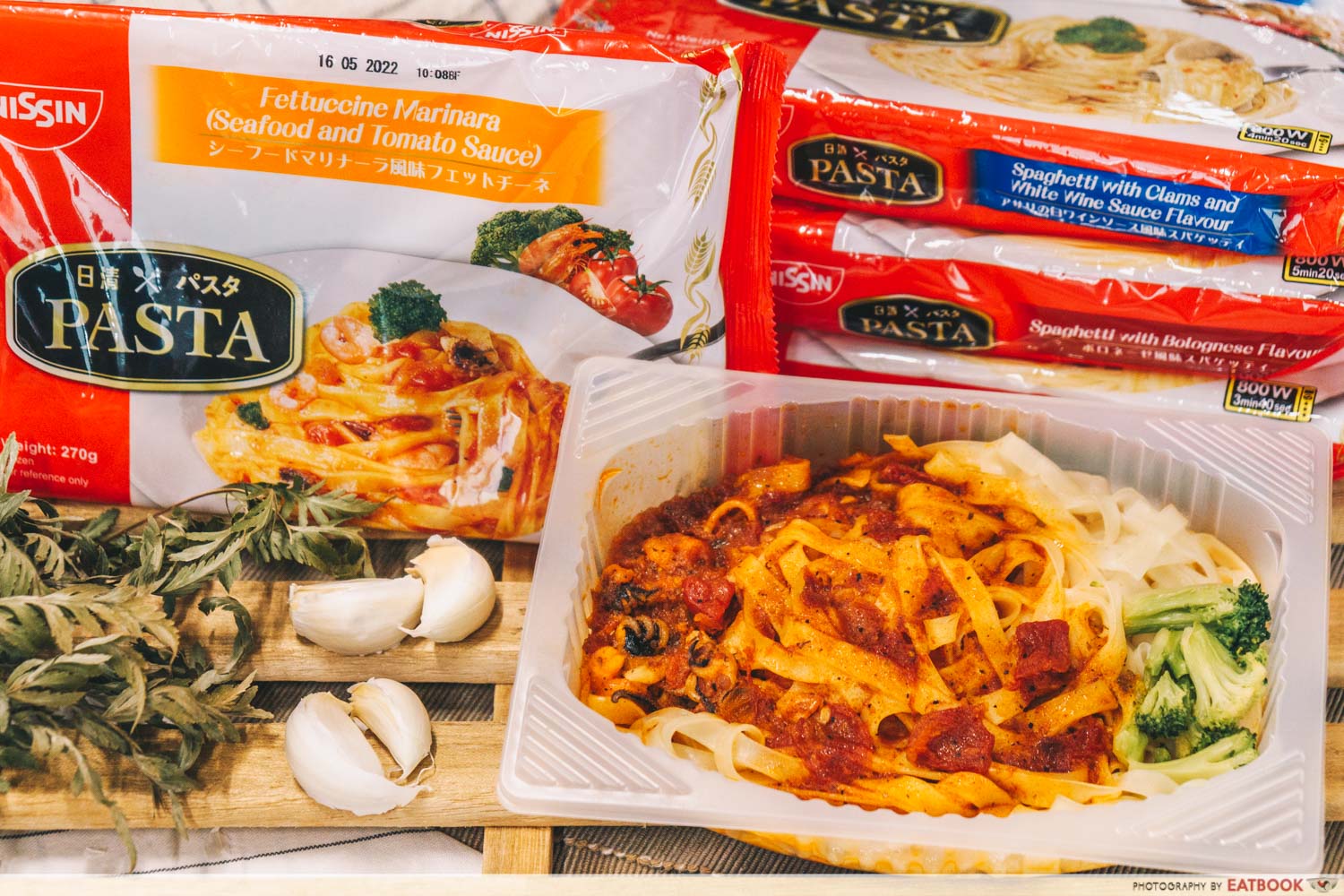 These single portions of pasta are priced below $6 each, and come in four assorted flavours: Fettuccine Marinara, Spaghetti With Clams And White Wine Sauce Flavour, Spaghetti With Bolognese Flavour, and Spaghetti With Garlic Mushroom.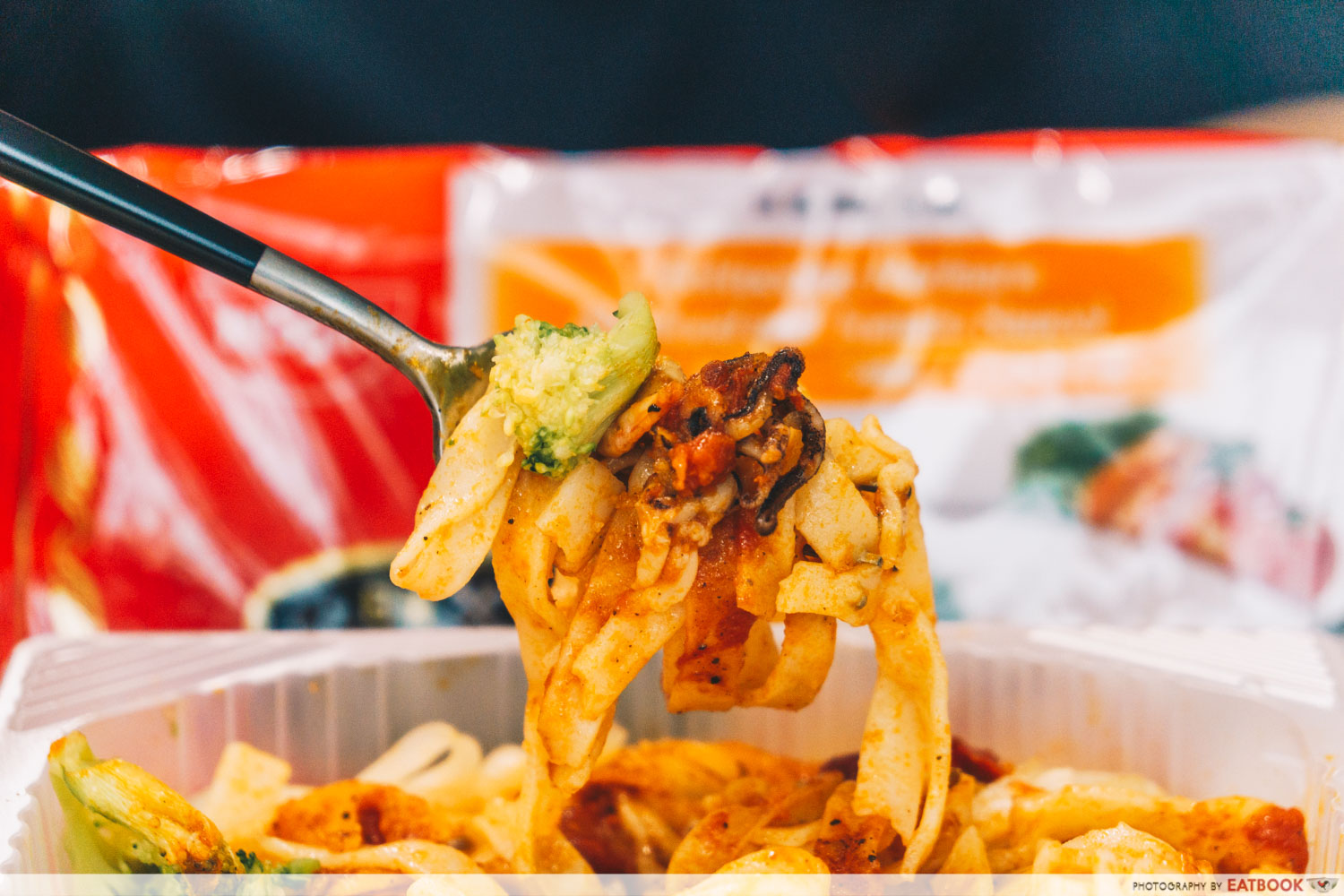 Fettuccine Marinara is a classic seafood pasta in a lightly spicy tomato sauce, paired with a thick, mee pok-like fettuccine. This pasta is a perfect vehicle for the tangy, rich sauce that clings to each strand, with touches of briny notes from the assorted seafood, such as mussels. It's even got florets of broccoli to balance out the meal with some greens.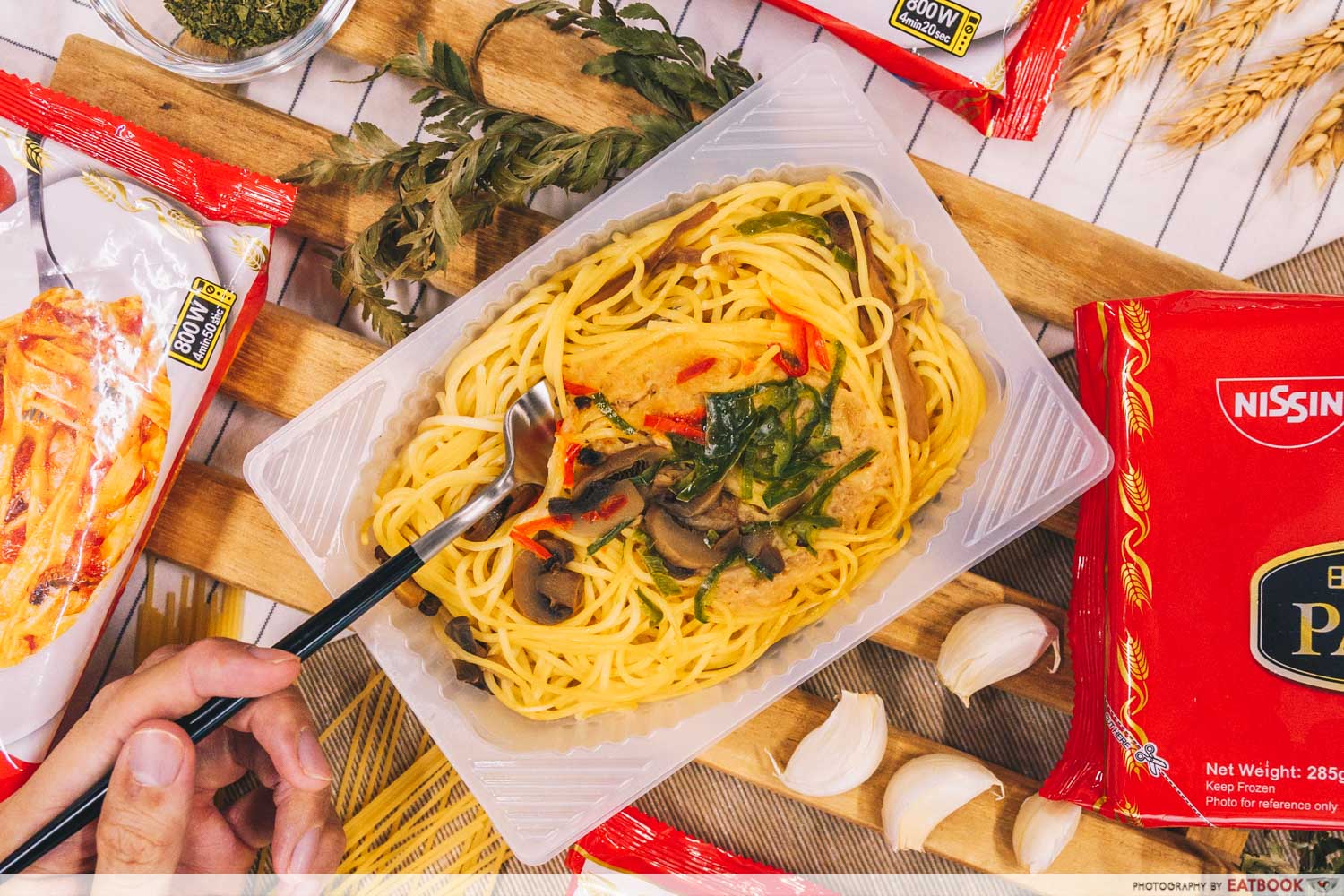 On the other hand, Spaghetti With Garlic And Mushroom offers something cleaner-tasting, more along the lines of your typical aglio olio. If you're Camp Garlic, you'll appreciate how heavy-handed Nissin has been with the garlic sauce.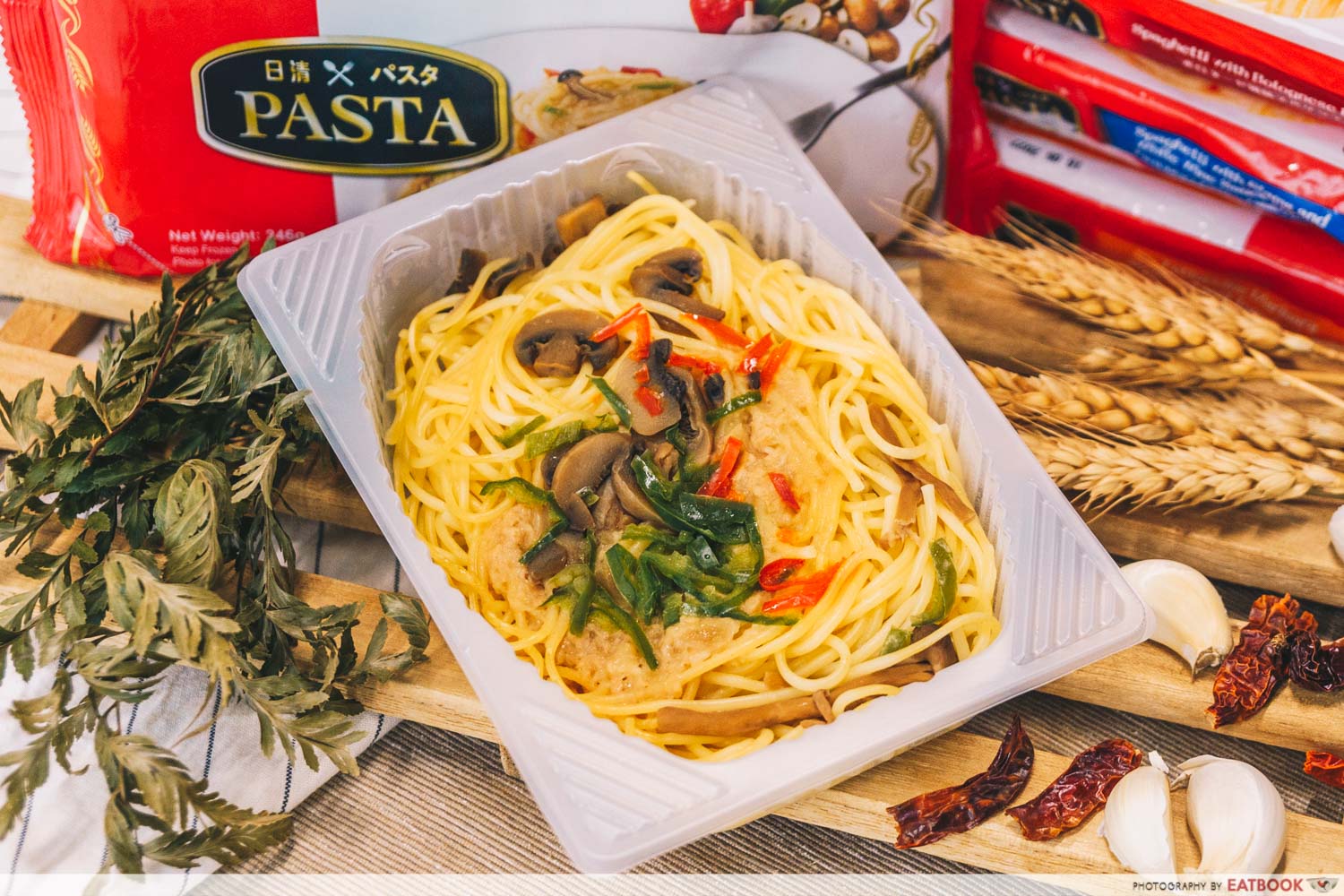 Again, this pasta has elements that go towards your daily intake of greens, with slices of green and red capsicum that add colour to the otherwise plain-looking spaghetti. Our only gripe was wishing there was more of the sauce to go with the noodles.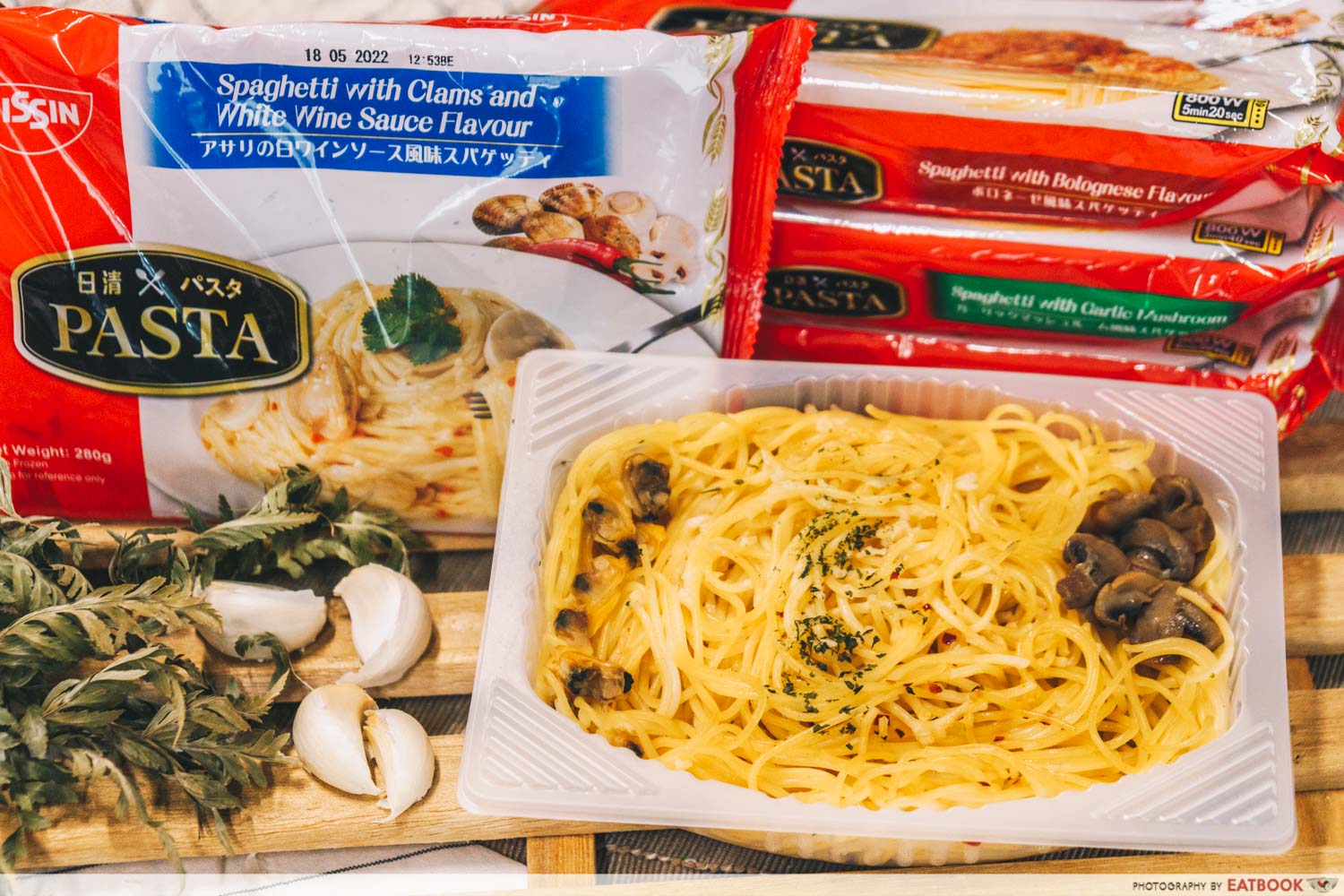 Spaghetti Alle Vongole lovers will be pleased to know there's an option for you, too! The Spaghetti With Clams And White Wine Sauce Flavour is another non-tomato based pasta, laced with clams and button mushrooms.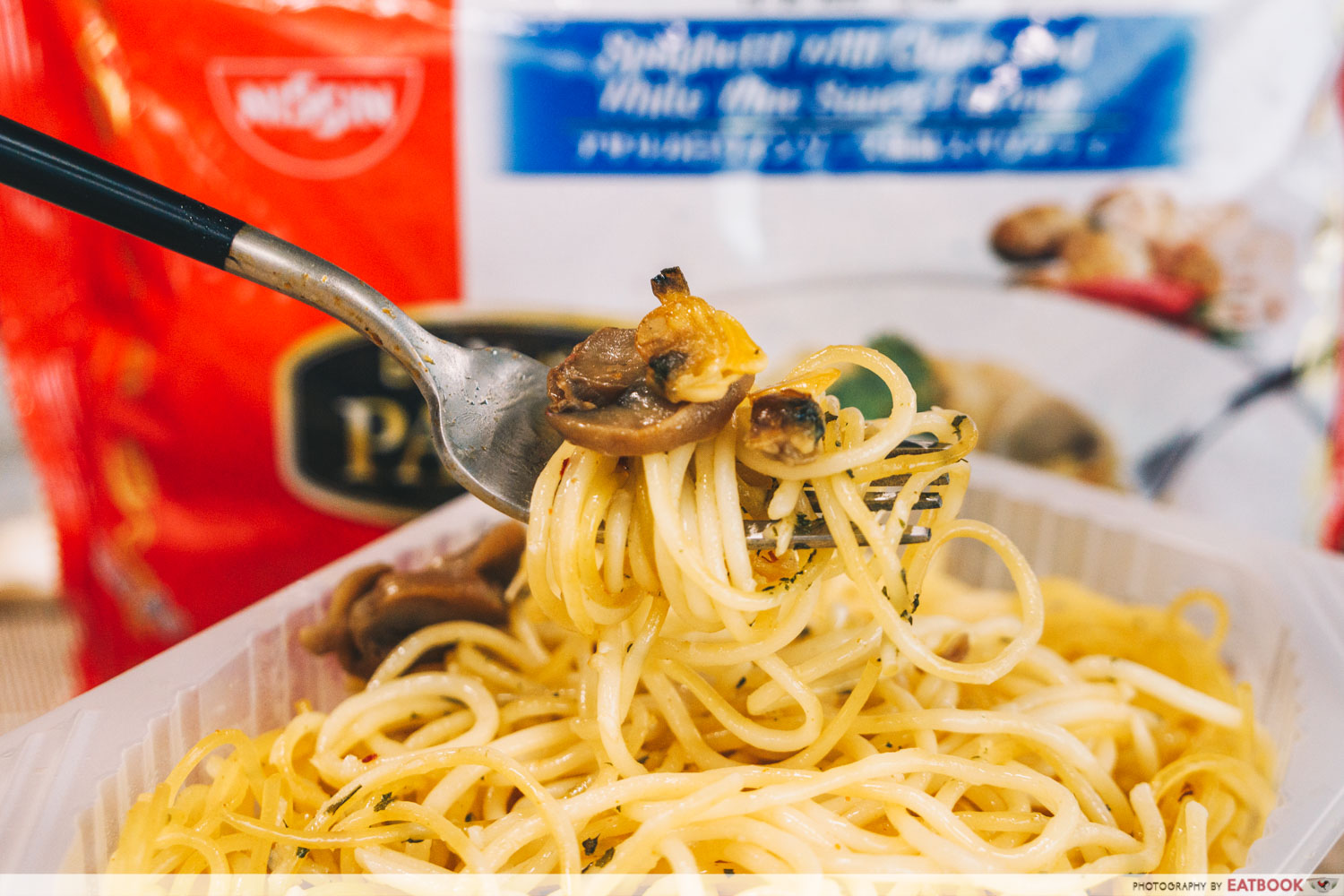 It's mildly sweet from the addition of white wine, which accentuates the natural, seafood-y taste of fresh clams.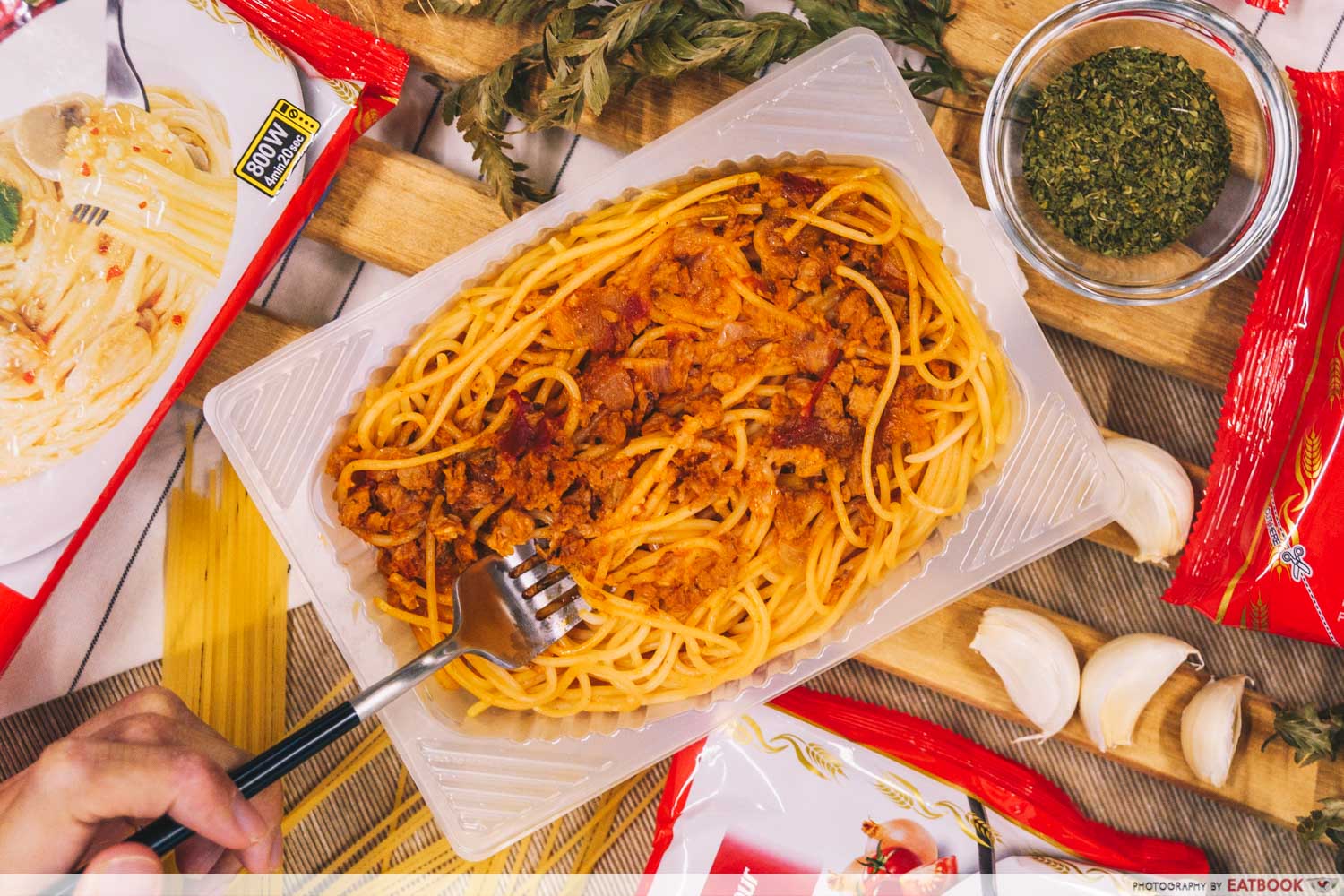 Our team had a clear favourite in the Spaghetti With Bolognese, loving how the tomato-based "meat" sauce was appetising and satisfying all at once. The biggest surprise of all was finding out that the "meat" in this is actually soy-based.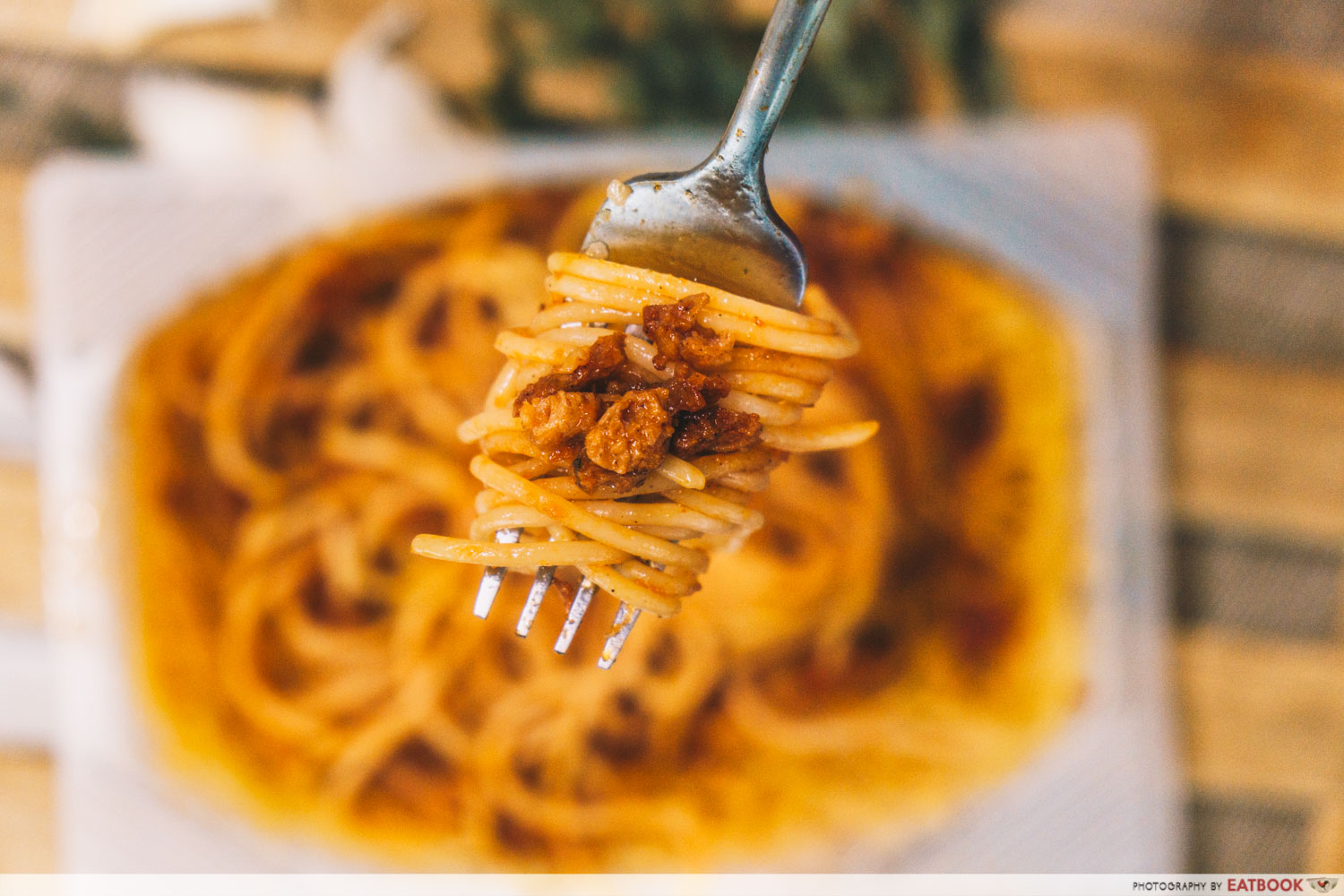 The ratio of pasta to "meat" sauce here was just right, with generous lashings of the plant-based "meat" enriching the tomato sauce. It stood on the fine line between being sweet, or sour; you'd never guess this was a microwaved meal.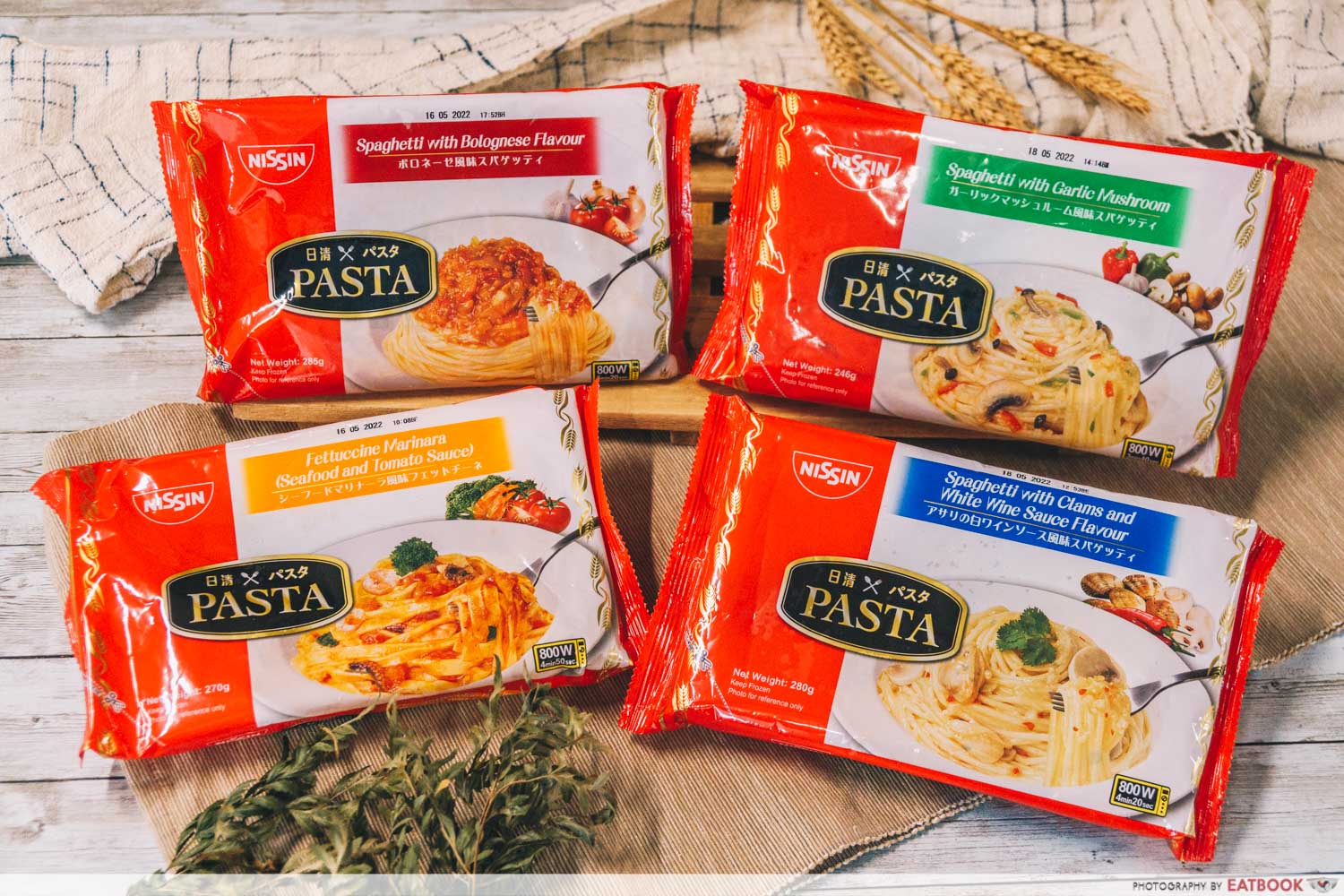 Skip the pre-made sandwiches the next time you're on the lookout for convenience food, and give these Nissin frozen pasta packets a shot. It's six minutes to a quick desk meal, and you will barely even need to wash up after!
Photos taken by John Low.
This post was brought to you by Nissin.
The post Nissin Has New Frozen Pasta, Get Atas Italian Food Under 6 Minutes appeared first on EatBook.sg – New Singapore Restaurant and Street Food Ideas & Recommendations.