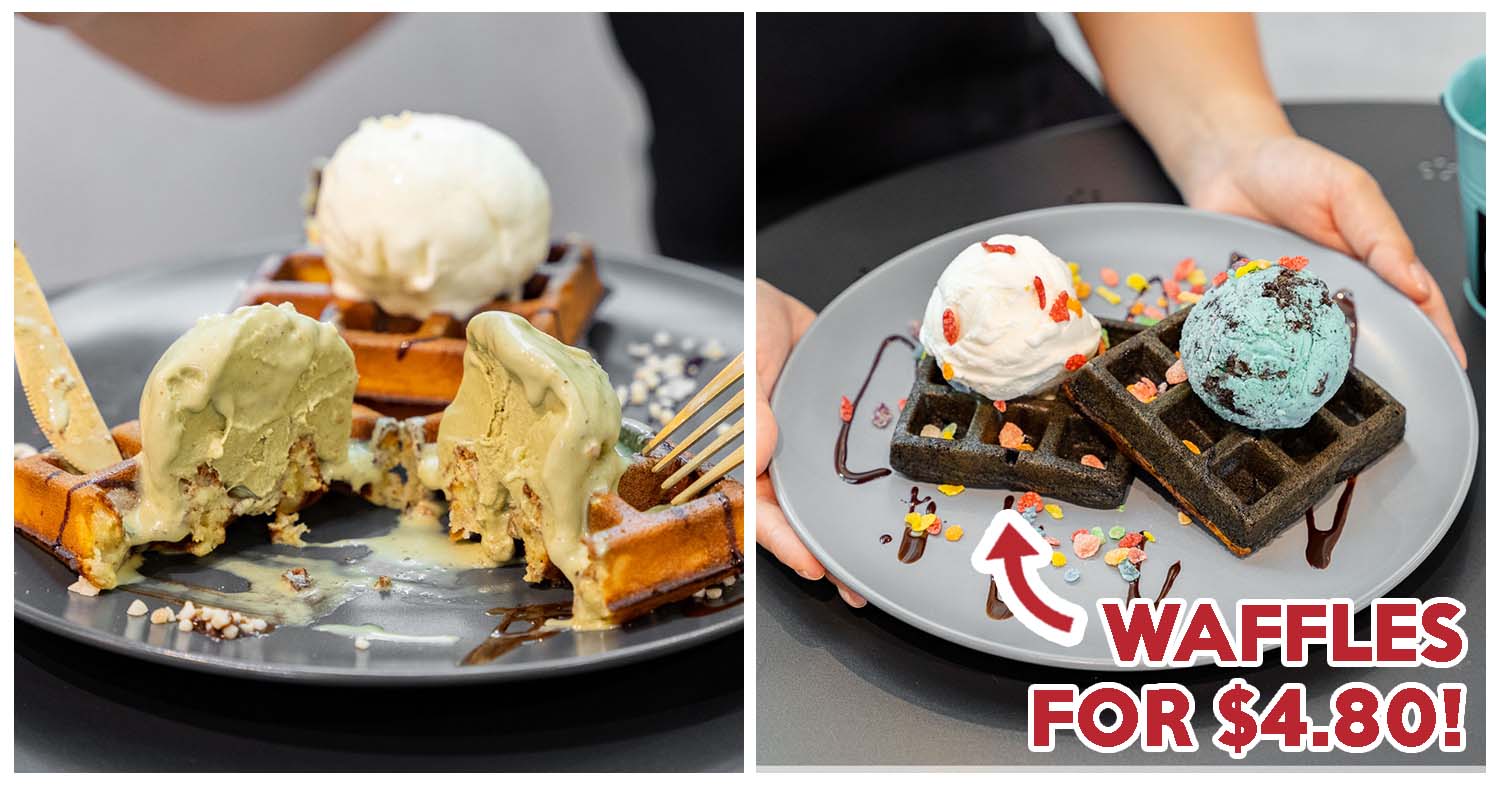 Naked Ice Cream in Kovan
Yaowarat Thai Kway Chap, Ng Kuan Chilli Pan Mee, and Punggol Nasi Lemak used to be the only places I'd think of heading to, if I was in the Kovan area after dark. Now, I can add Naked Ice Cream to that list, a recent addition that's open till 2am daily. 
The brightly lit shop stands out from its neighbours, with its dessert offerings, all priced under $10, differentiating itself from the peers in the 'hood. Keen to scout out the new kid on the block, I paid them a visit with my colleague to sample their sweets.
Food at Naked Ice Cream
The menu at Naked Ice Cream is simple─ice cream, in a cone, cup, or on waffles, and drinks, of which there's tea, coffee, water, or house special fizzies.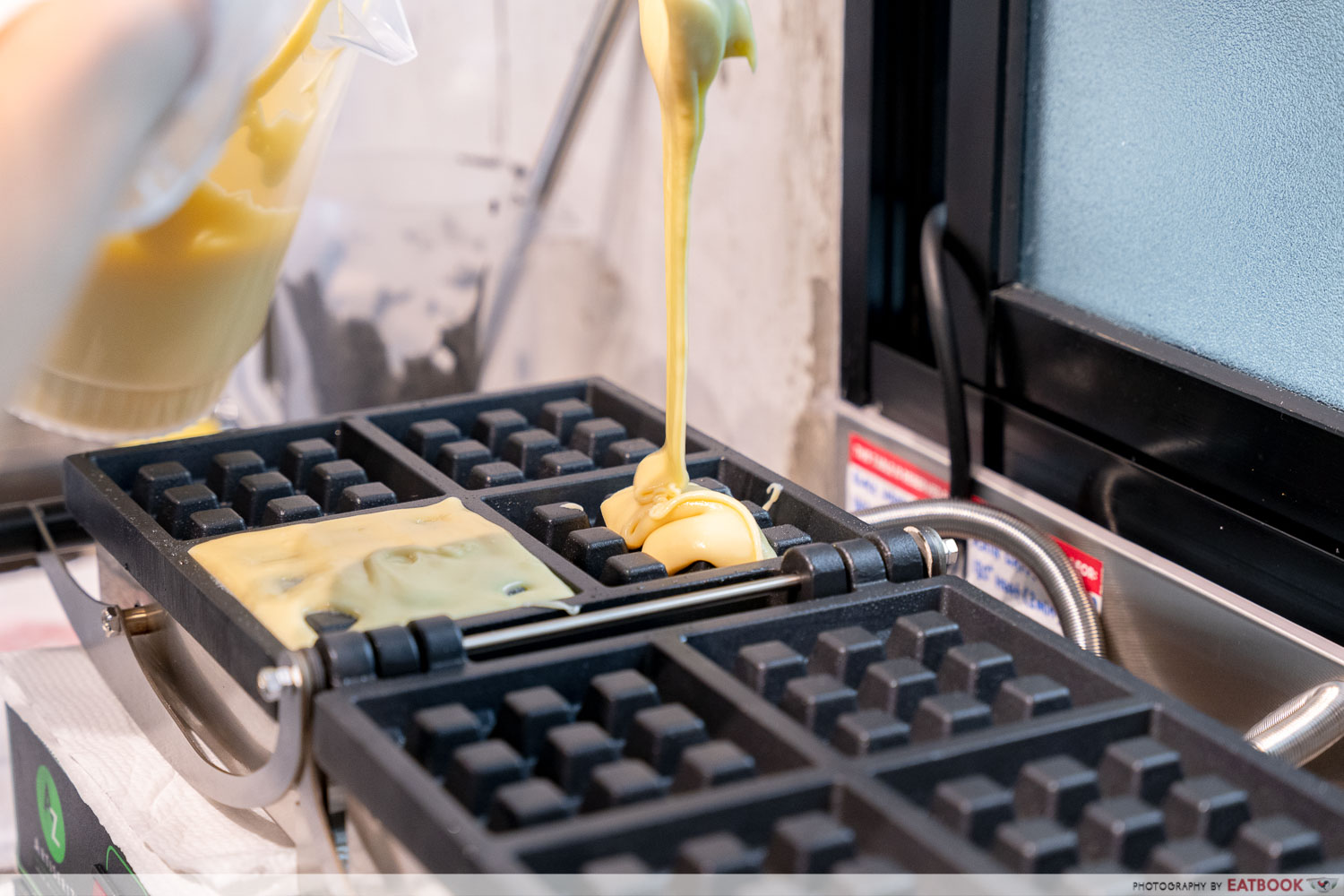 If you're going for waffles and ice cream, pick from house-made Plain Waffle ($3.80), or Charcoal Waffle ($4.80). The Plain Waffle is a touch savoury, and the Charcoal tends towards the sweet, but it's mostly an aesthetic-driven choice that you can make, based on your selection of ice cream, and toppings ($1).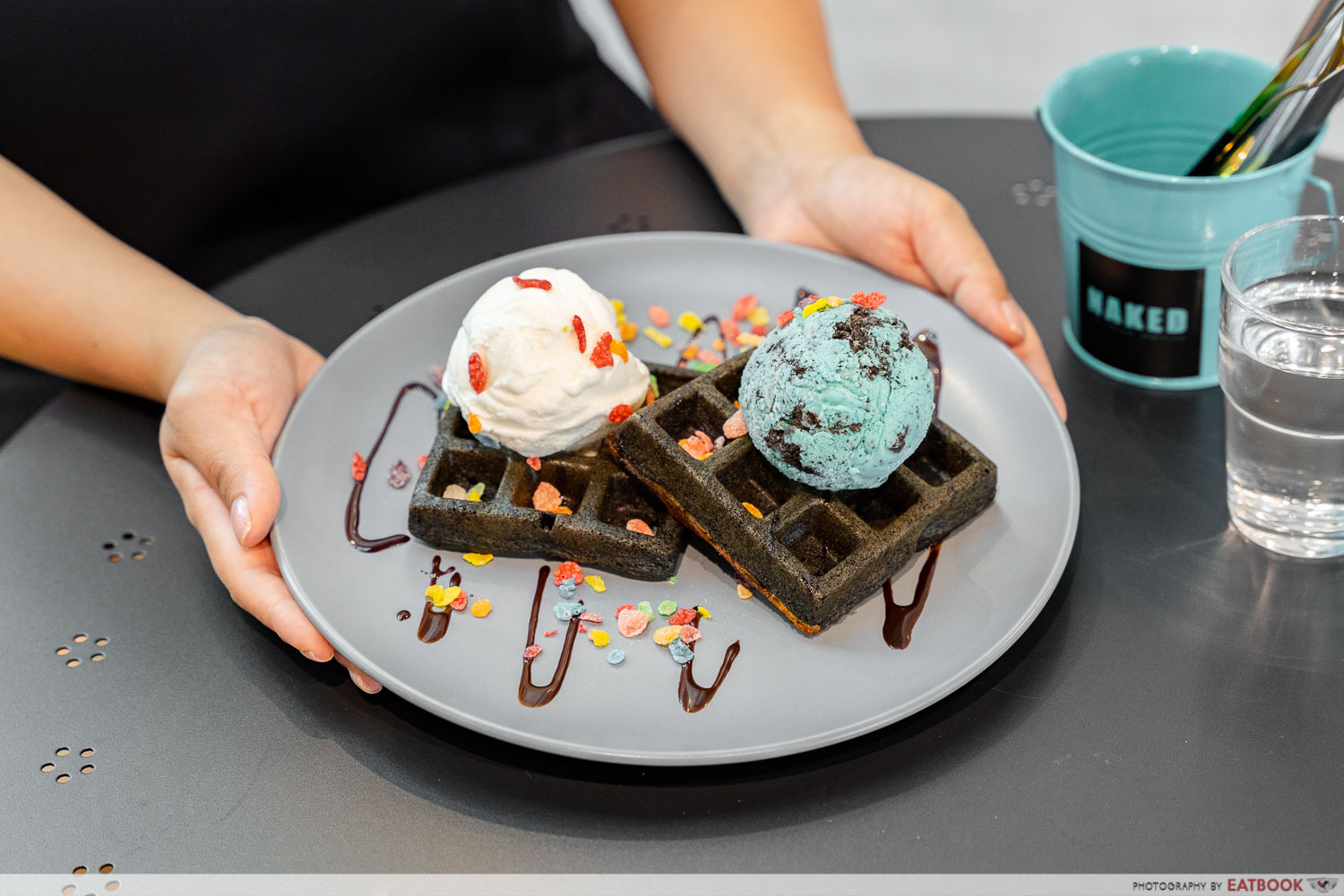 Each order of waffles comes with two squares, freshly made to order. We opted for Hokkaido Milk, a premium flavour that's priced at $4.80 for a single scoop, and $8.80 for a double. Cookies Monster ($3.80/$6.80), their take on the classic cookies and cream, was the second flavour that we picked, its bright aqua hue sharply contrasting against the black waffles. 
For that extra pop of colour, Fruity Pebbles was our choice of topping. There are a total of six to choose from, such as Mini Marshmallows, Choco Chips, and Oreo Crunch. Do note that only chocolate sauce is available to go with your waffles here, something I hope they'll remedy as they go along.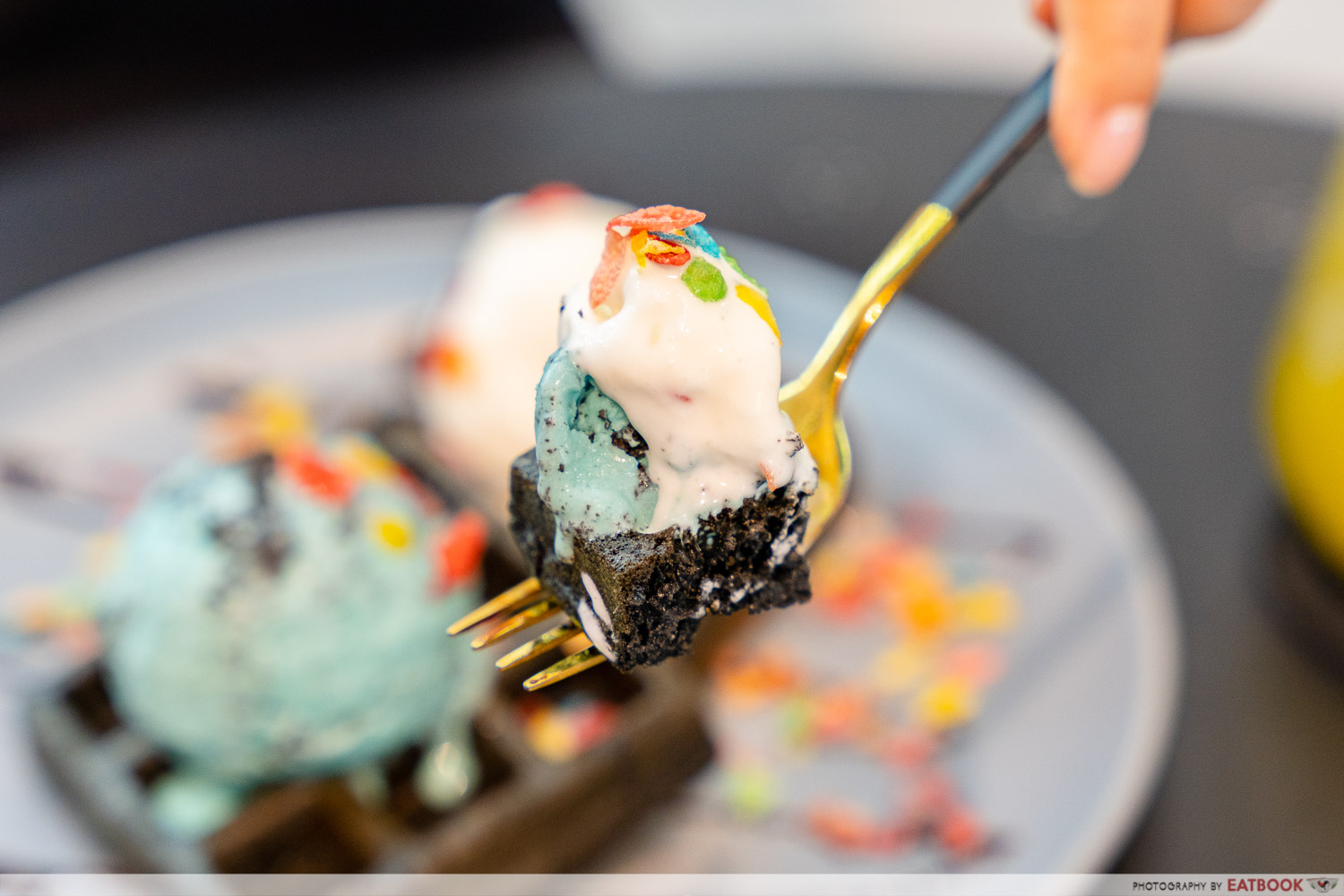 I'd expected the Hokkaido Milk ice cream to be smooth and luxuriously milky, but the version here was not as rich. Cookies Monster, flecked with a combination of fine, and coarse cookie crumbs, fared better. I expect it would be a hit with kids, especially with the colourful Fruity Pebbles. 
If you're Team Crispy Waffles, you'll be pleased to know that Naked Ice Cream does theirs exactly so. I like mine crusty outside, and fluffy on the inside, so these were a little too firm for my liking. They are a good vehicle for the ice cream, though.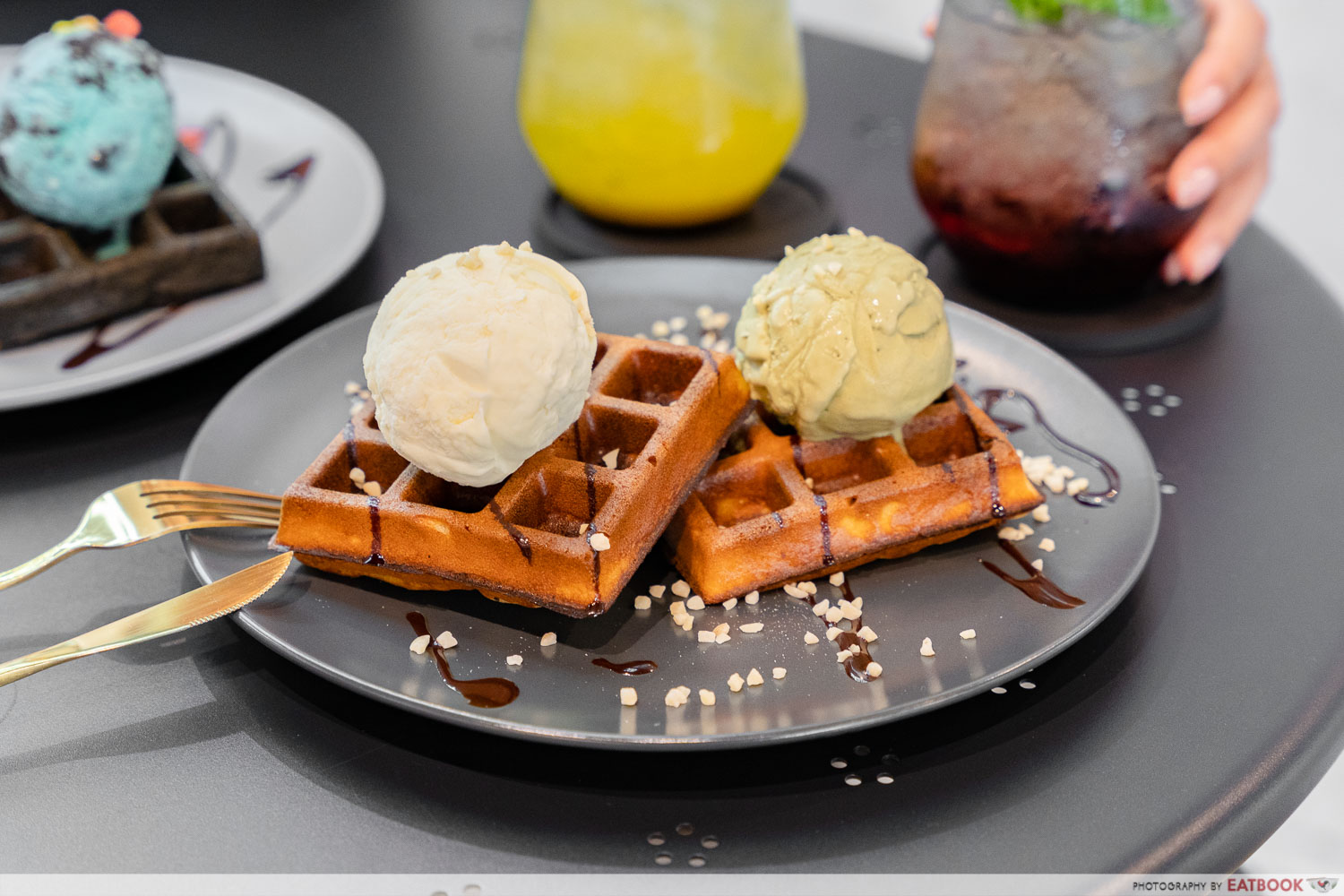 Next up, we moved on to the Plain Waffles, pairing these with Pistachio ($4.80/$8.80), and Mao Shan Wang Durian ($4.80/$8.80) scoops, and Almond Nuts as toppings. As with the Charcoal Waffles, these were baked to a solid crisp.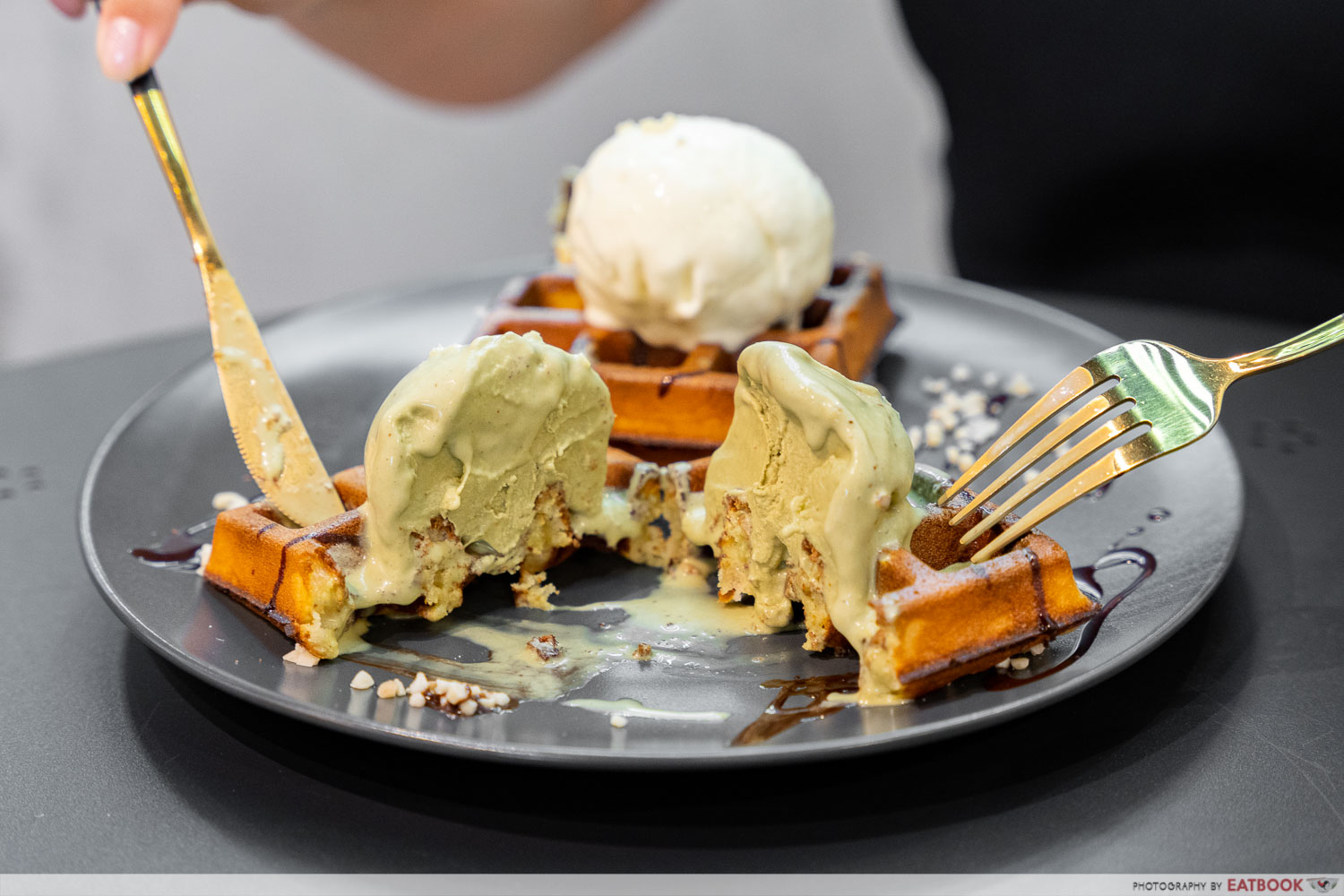 We enjoyed the Mao Shan Wang Durian ice cream, being the durian fans we are, although it's definitely more sweet than bitter, with the occasional piece of MSW pulp. The Pistachio ice cream, though, left a little bit of an artificial aftertaste in the mouth, which might not be noticeable unless you were looking out for it.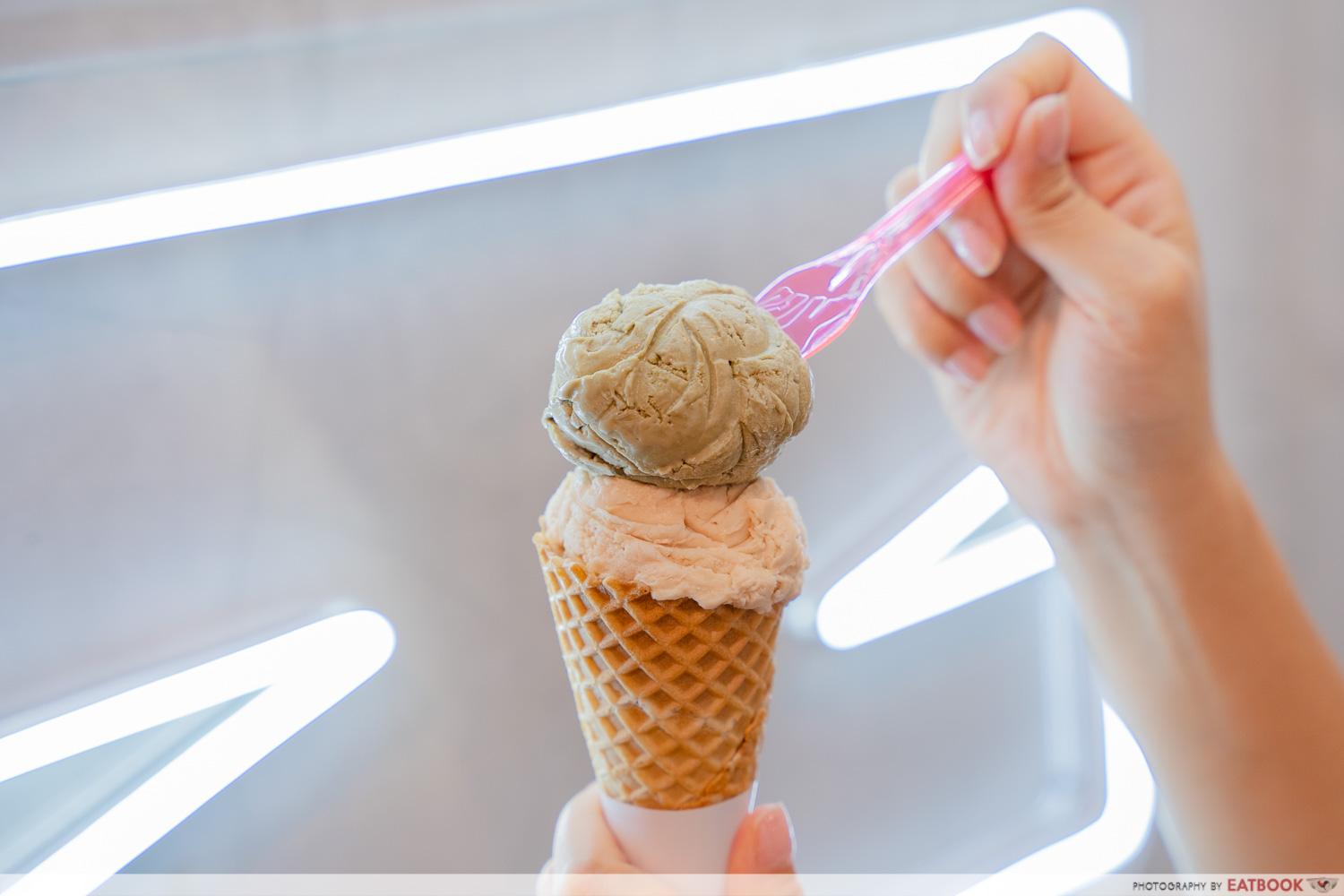 My personal top ice cream picks at Naked Ice Cream would have to be the Hojicha Green Tea ($3.80/$6.80), and Earl Grey Tea ($3.80/$6.80), which we had on a cone ($1). The former boasted toasty notes, although my dining companion found it a little too bitter; the latter was lightly fragrant with the fruity bergamot of earl grey.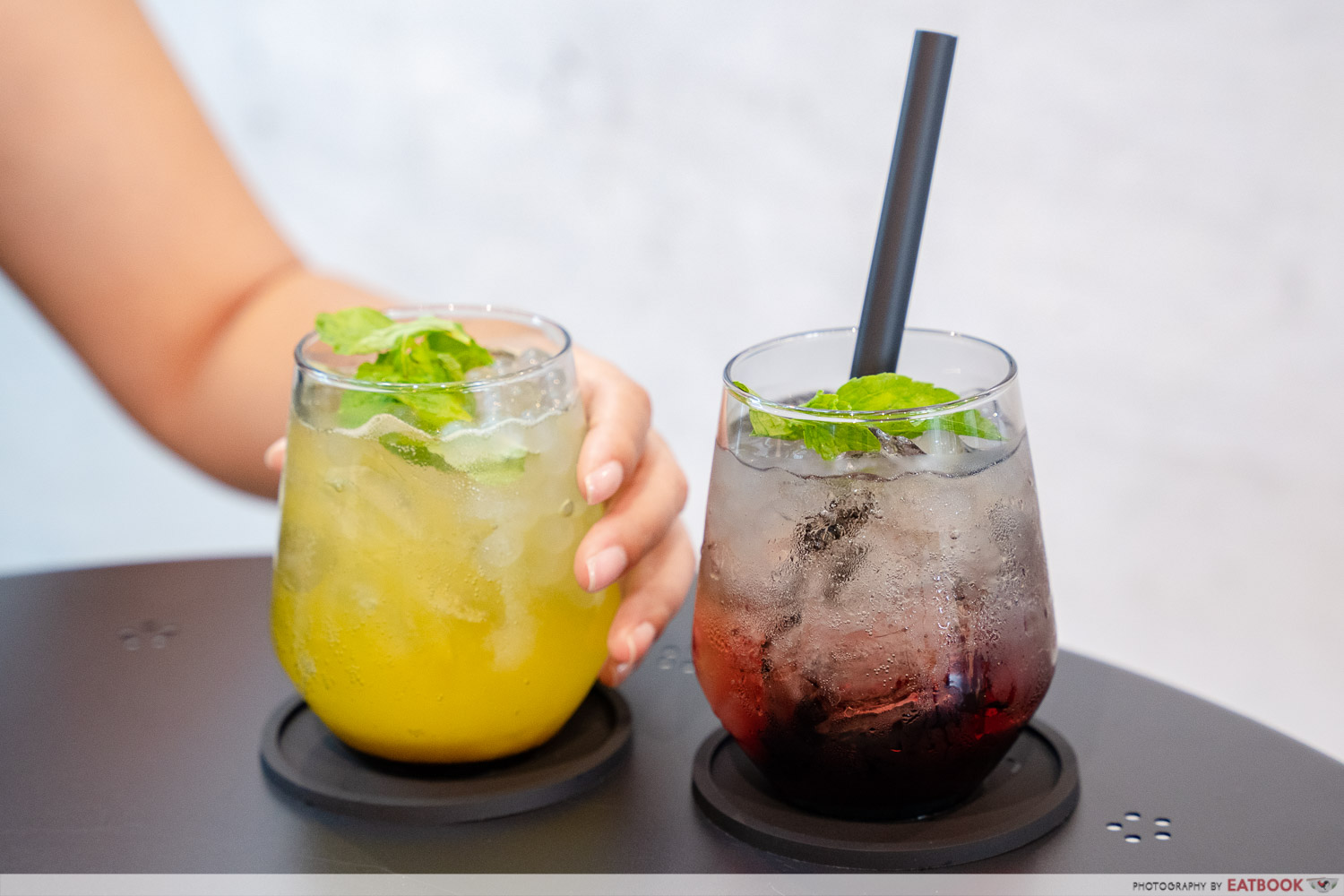 Drinks wise, we went for their house-made Fizzy Ribena with Lychee Pop ($5.80), and Fizzy Tropical with Lychee Pop ($5.80). I'm a huge Ribena fan, but this drink, while the right colour, didn't taste like the cordial I'm accustomed to. The popping lychee bubbles are great fun, though, which we found went well with Tropical, the taste of which is reminiscent of fruit punch.
Ambience at Naked Ice Cream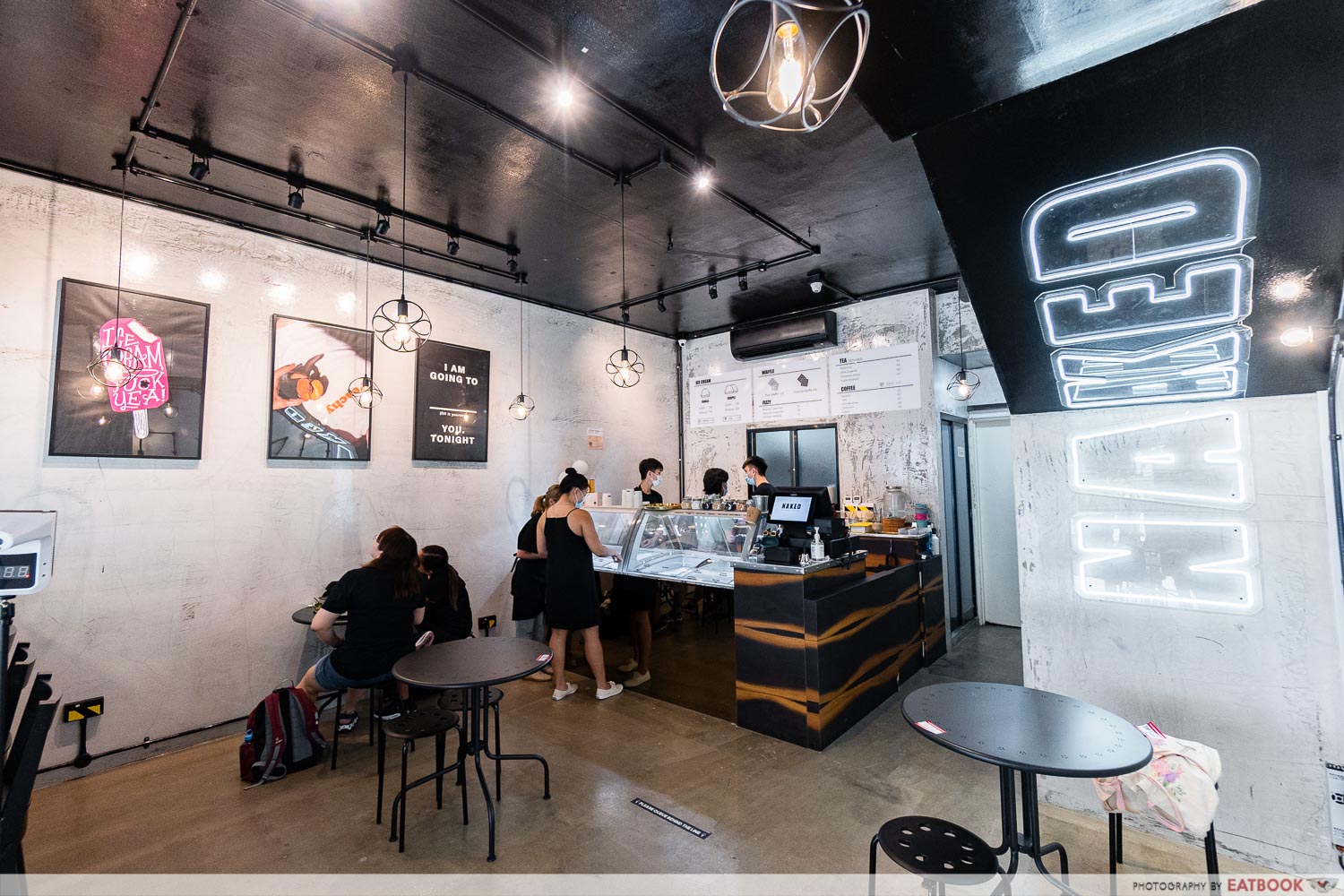 The ice cream bar is a short three-minute walk from Kovan MRT Station, although you might want to note that the walk there isn't sheltered, a fact we realised belatedly when we were marooned thanks to a prolonged afternoon storm. The interior is done up in raw, unfinished grey and black, with exposed pipes, risque posters, and neon signages adding to the vibes of the place.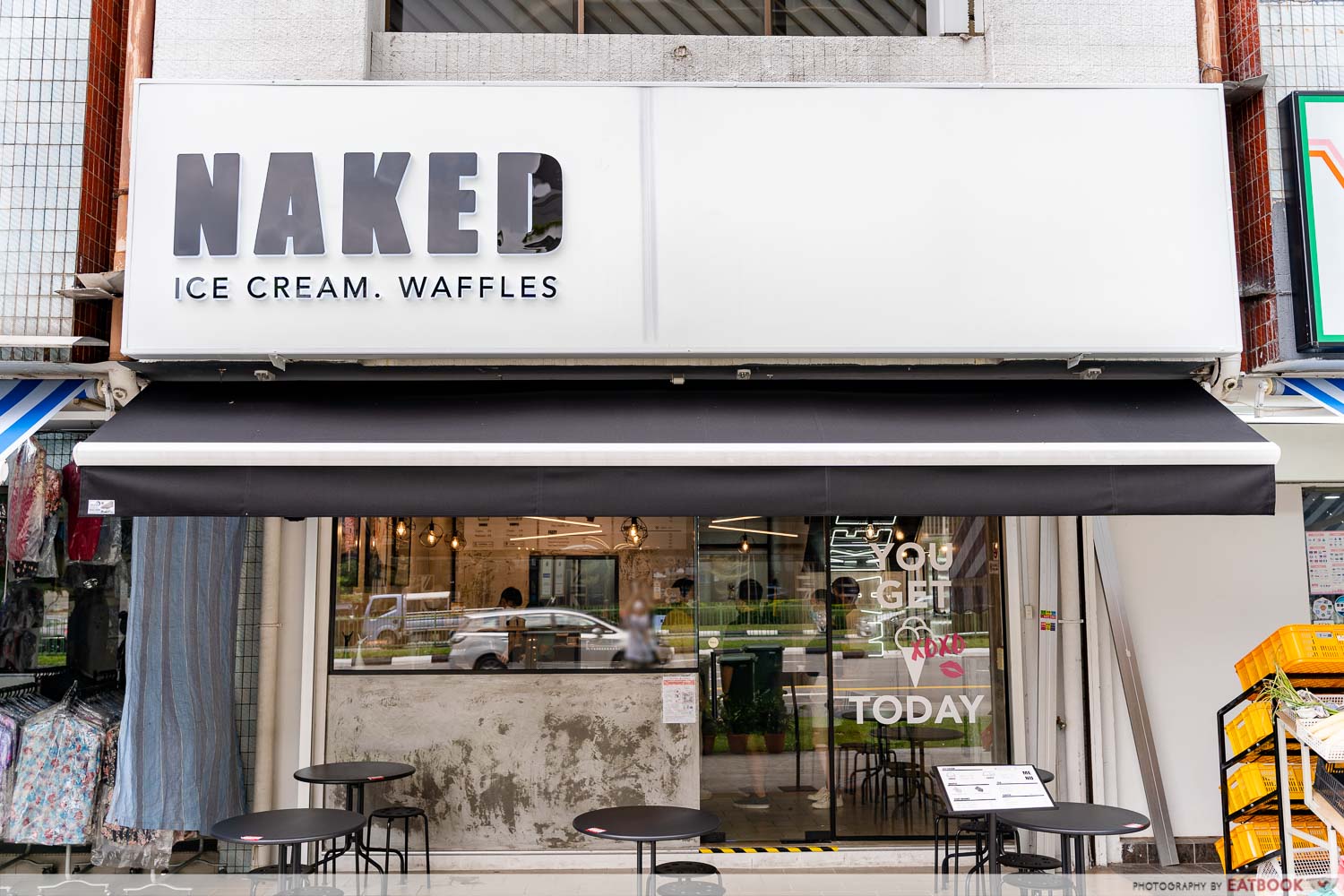 Indoor, and outdoor, tables are available. There are also road-facing window seats available, perfect if you're spending a chill afternoon on your own.
The verdict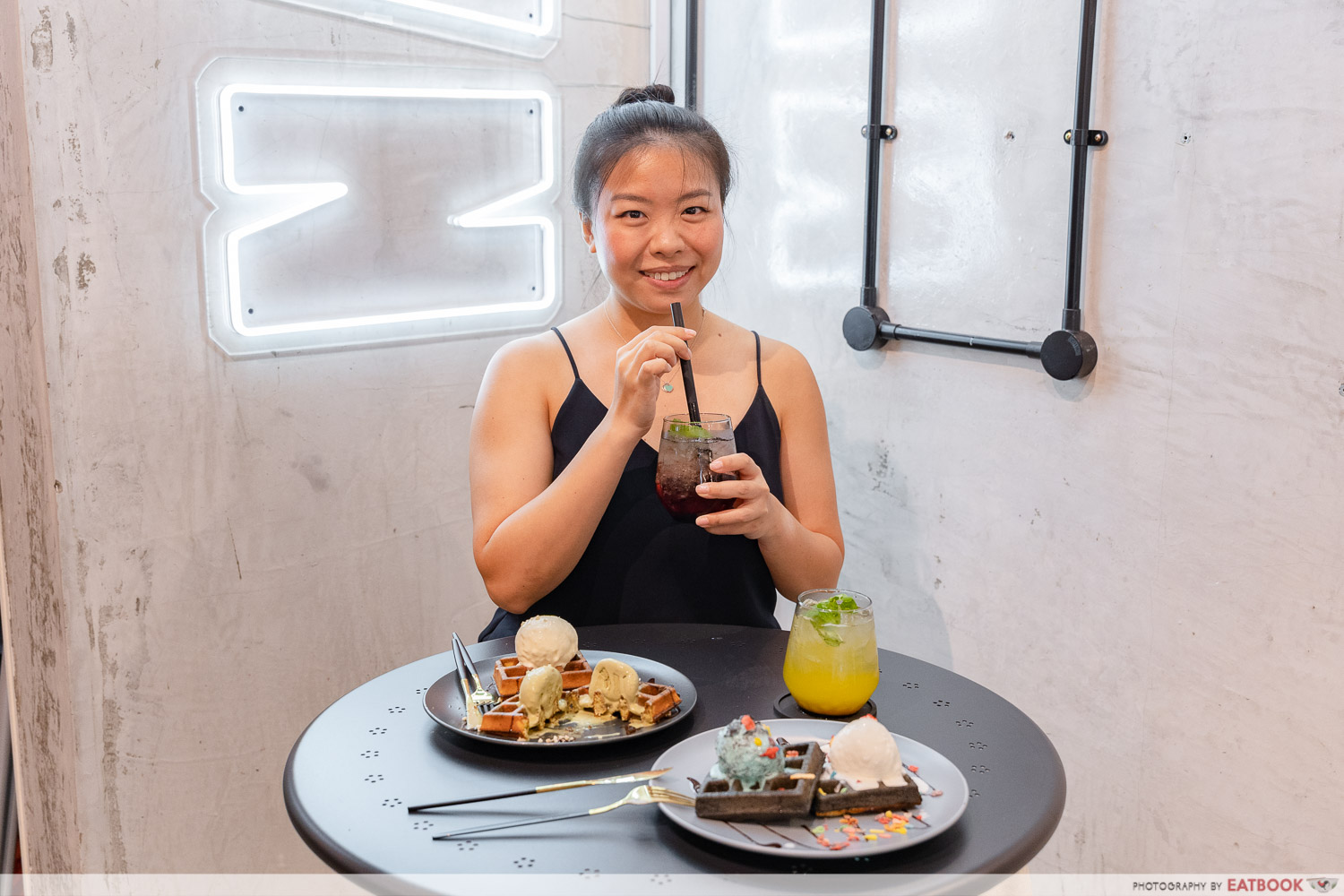 I've got to give it to Naked Ice Cream for keeping prices decently low, which together with their late night opening hours makes them a great new addition to the supper options in the area. The selections here are serviceable, especially for late night cravings, and more importantly, wallet-friendly.
Address: 957 Upper Serangoon Road, Singapore 534717
Opening hours: Daily 2pm to 2am
Website
Naked Ice Cream is not halal-certified, but uses no pork or lard
Photos taken by Keith Kok.
This post is brought to you by Naked Ice Cream.
The post Naked Ice Cream Review: New Cafe In Serangoon Has Waffles And Ice Cream, Open Till 2am appeared first on EatBook.sg – New Singapore Restaurant and Street Food Ideas & Recommendations.