Mr Mee Hoon Kueh at Serangoon Gardens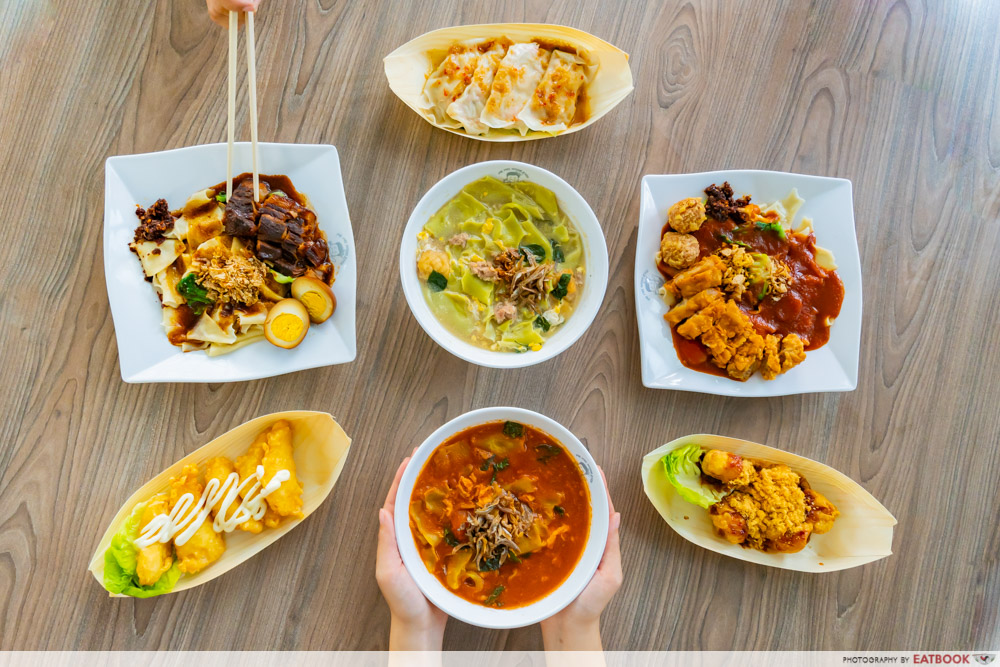 Serangoon Garden Market & Food Centre recently underwent a three-month-long renovation, and its reopening saw the launch of Mr Mee Hoon Kueh, a new stall in the food centre. It's not often that you find handmade noodles served with anything outside of the classic anchovy broth, KL chilli pan mee style, or even in tom yum soup, so we were fascinated when we heard of what Mr Mee Hoon Kueh offers.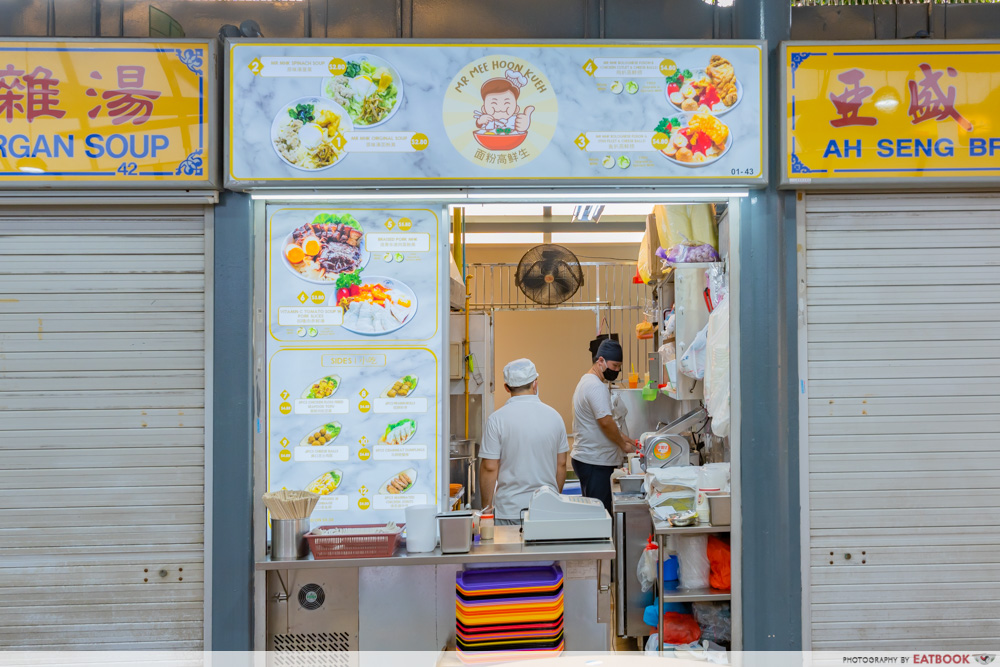 The brightly lit stall stands out with modern typography, a cute logo, and a marbled background on their signage, especially since they stand between stalls with much more traditional offerings, and which are also closed after the lunch crowd.
Marsiling Handmade Mee Hoon Kueh Review: Handmade Ban Mian With Generous Portions Near Woodlands
Food at Mr Mee Hoon Kueh
Before we moved on to their more adventurous options, we started with the basic Mr MHK Spinach Soup ($2.80). Contrary to the name of this bowl, it's not loaded with spinach. Rather, the MHK is zhnged-up with the addition of spinach, giving the noodle a jadeite colour, and some of the benefits of the leafy green, supposedly.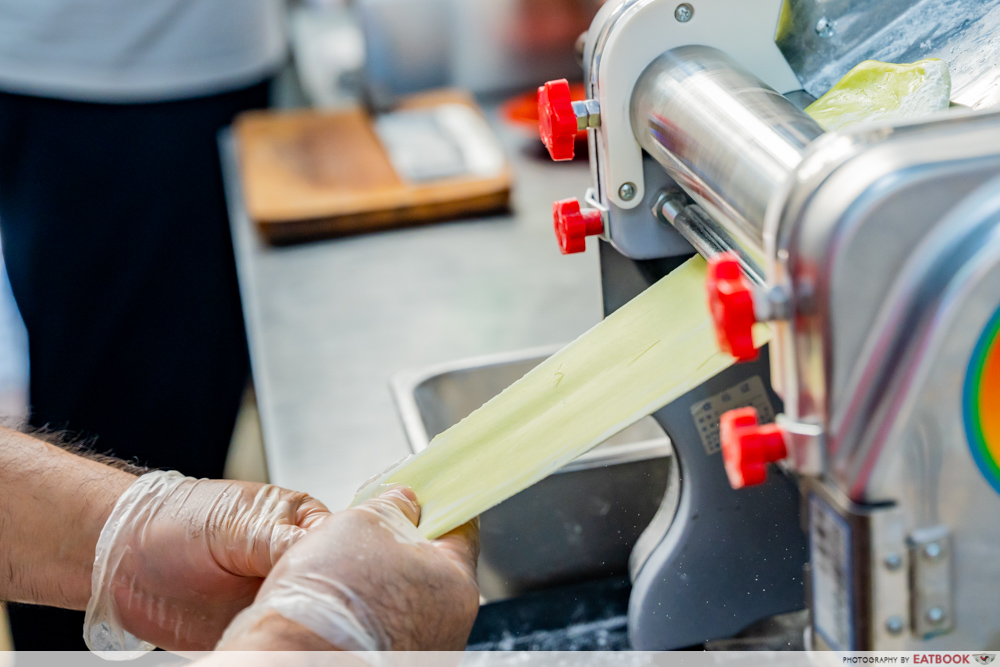 If you're concerned that it will taste green, don't worry, because there is no noticeable flavour of the vegetable.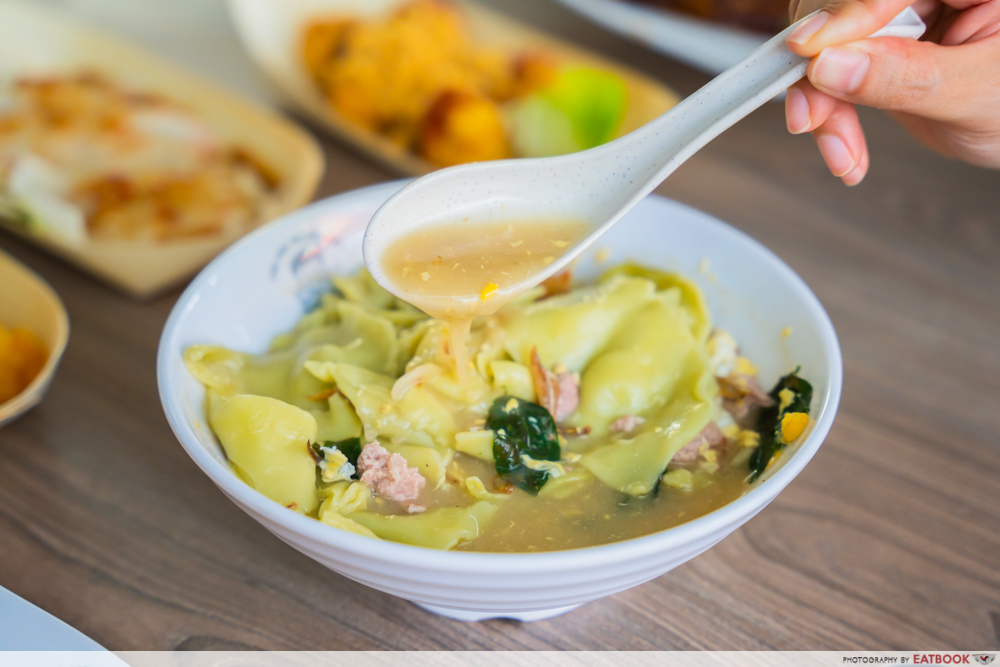 If you aren't convinced, go instead for the Mr MHK Original Soup ($2.80). Both of these bowls come with the same anchovy-based broth, lightly sweet and umami from the use of the dried fish, accented with the usual fixings of egg, minced meat bits, greens, ikan bilis, and more.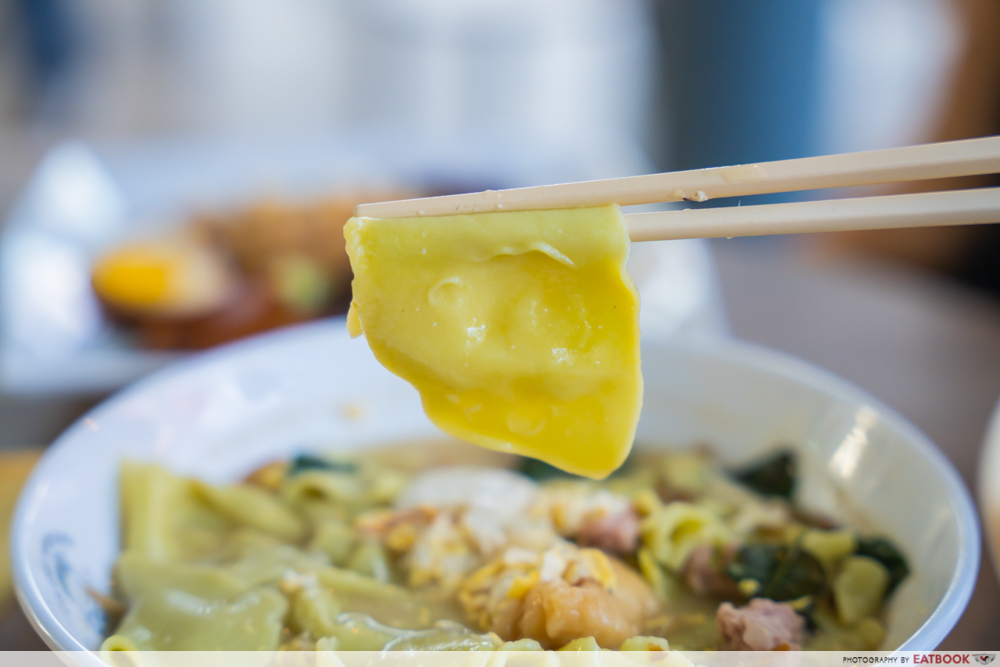 Prepared and cooked to order, the MHK here was smooth, silky, not too thick, and with just the right amount of bite. It also stood up well to sitting in the soup.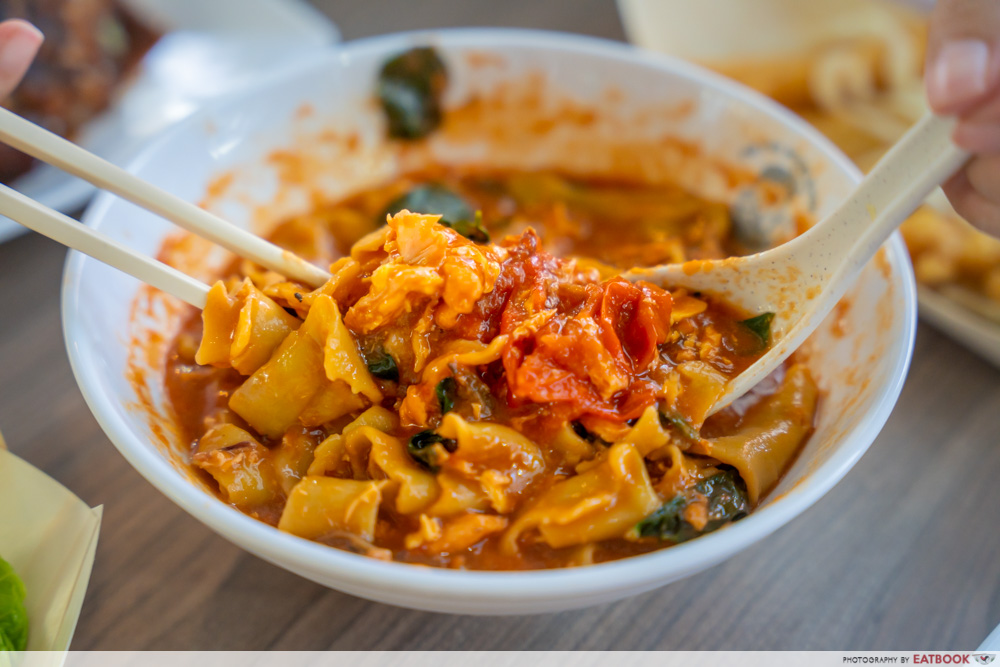 The other soupy bowl of MHK that I enjoyed was their Vitamin C Tomato Soup With Pork Slices ($3.80), whose broth is said to be inspired by that of HaiDiLao's ever-popular tomato soup base. The flavours are nicely balanced, without being too sweet nor acidic. I also liked that the soup wasn't too thin, so that it coated every piece of noodle adequately.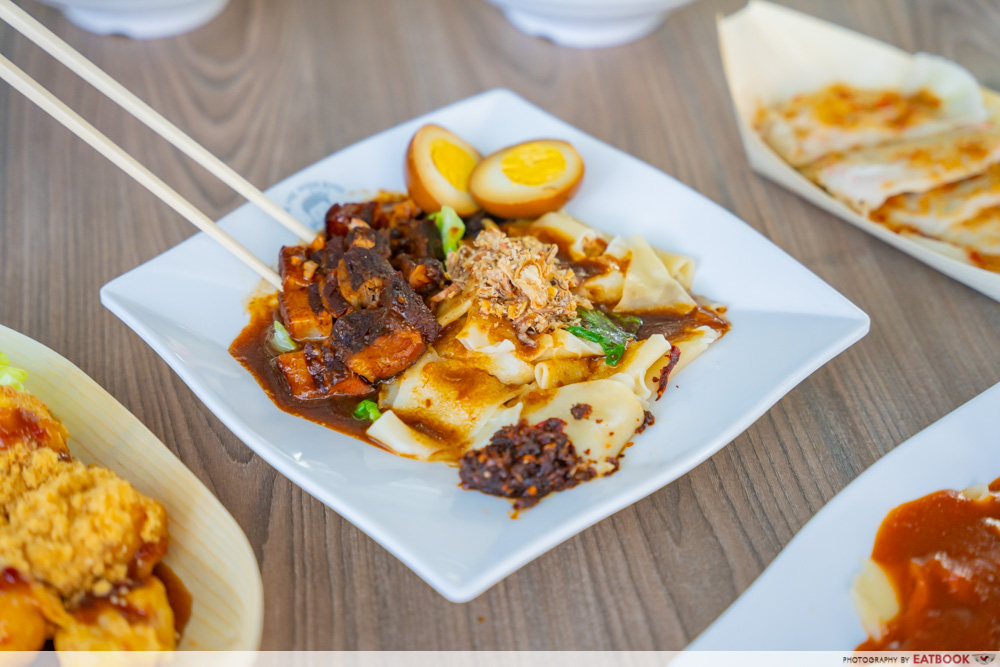 The house-made crispy chilli in the Braised Pork MHK ($5.80) makes this dish. I'd recommend asking for extras of this, because it elevates the savoury gravy with a punchy kick.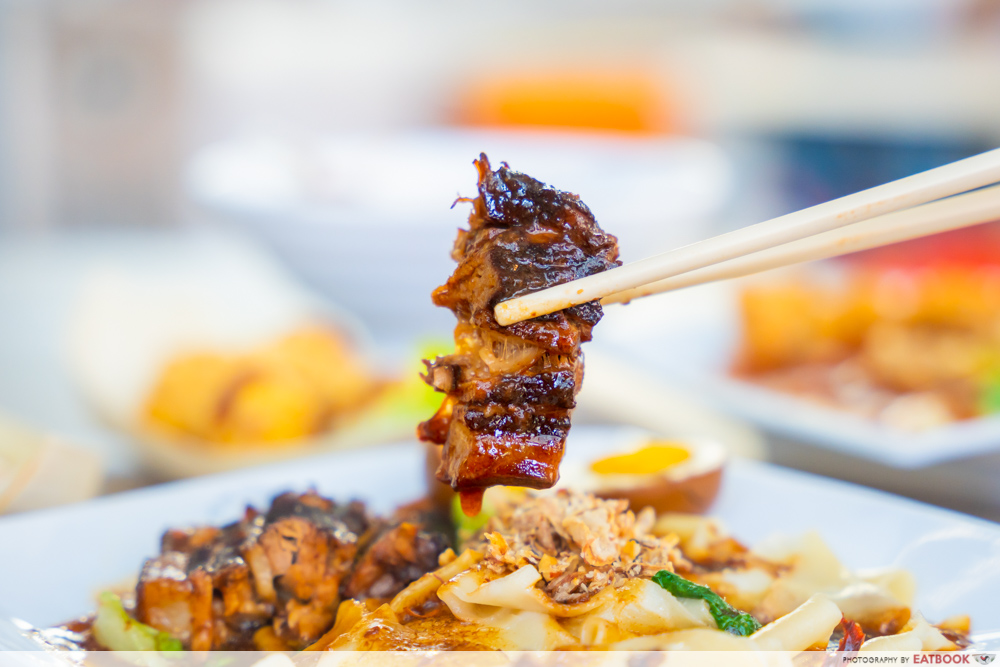 Each piece of lor bak that we had was nicely layered with fat and meat that was braised to meltingly tender ends. There was also plenty of it to be had with the noodles, which makes it well worth the price.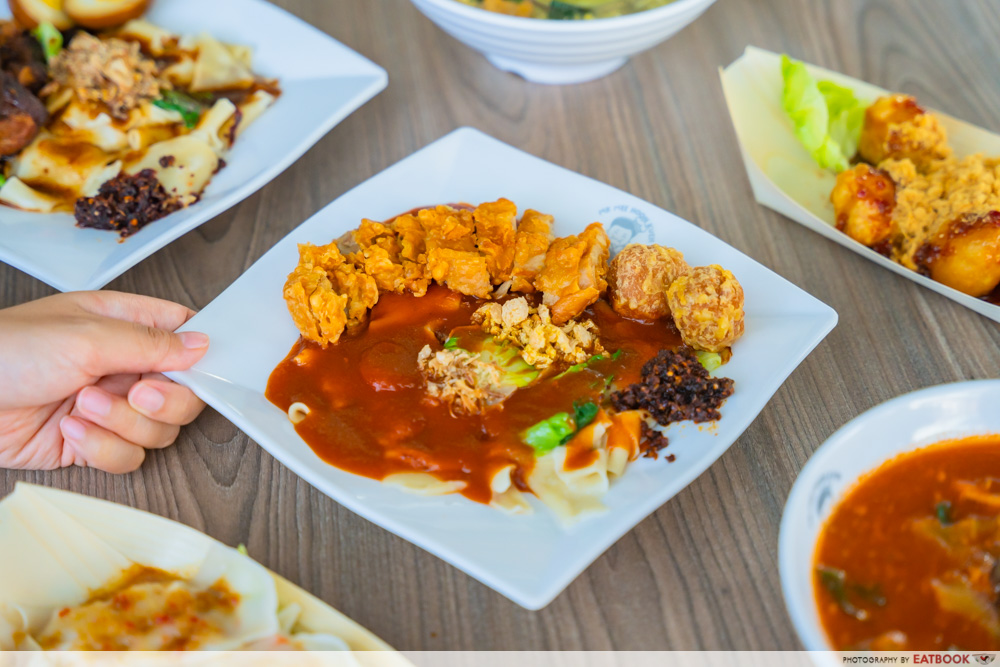 While I had been excited by the idea of bolognese with MHK, the Mr MHK Bolognese Fusion B ($4.80) wasn't what I expected. Rather than a rich, bodied, meat sauce, the mee hoon kueh here was simply slathered with a red sauce that looked and tasted somewhat like ketchup—rather sweet and somewhat tangy.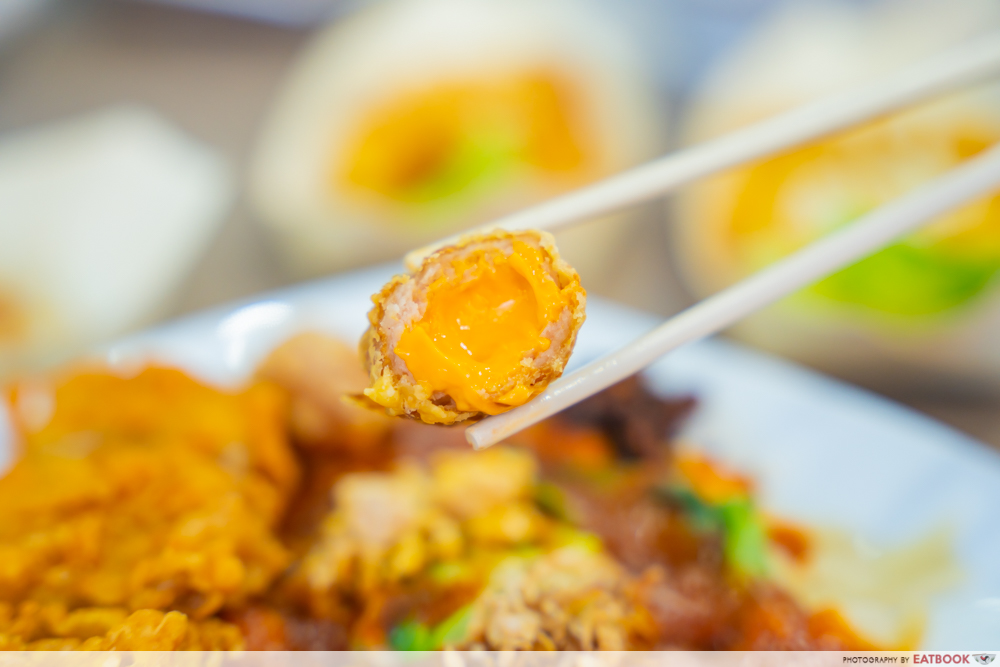 The saving grace of the dish were its accompanying chicken cutlet, and cheese balls, the latter of which sported an oozing, toothsome cheese centre. If you like, there's the option to swap out the chicken cutlet for a fish version.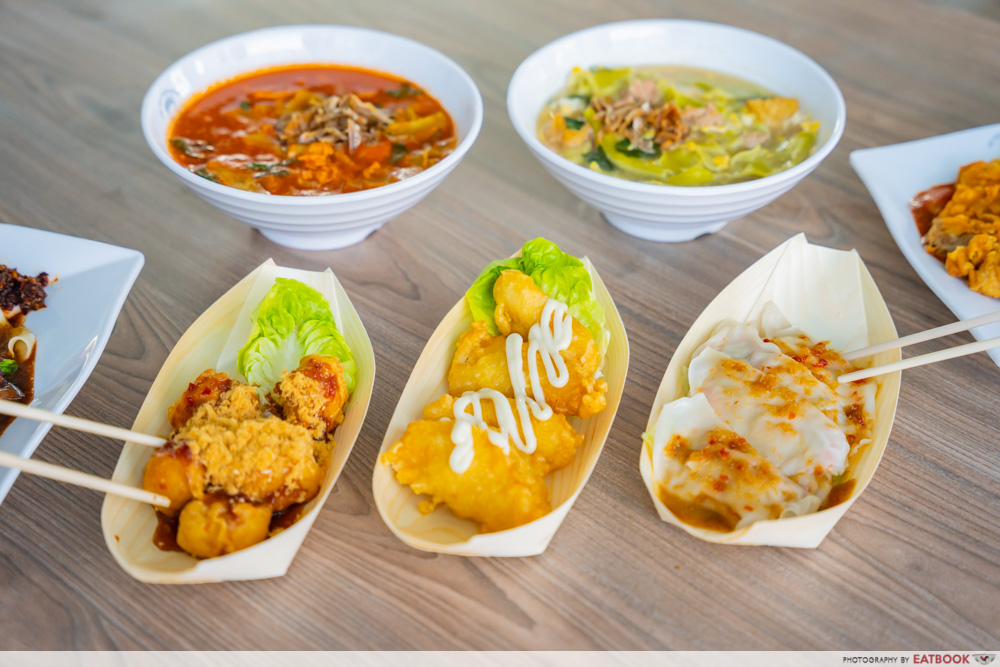 Apart from the MHK mains, Mr Mee Hoon Kueh also has a selection of reasonably priced sides, including 5pcs Chicken Floss Fried Seafood Tofu ($4.80), 4pcs Crabmeat Dumplings ($4.80), 5pcs Fish Fingers with Mayonnaise ($4), which you can have alongside your noodles if you're still feeling peckish.
15 Ban Mian In Singapore Including Masterchef Ban Mian, $2 Ban Mian And More
Ambience at Mr Mee Hoon Kueh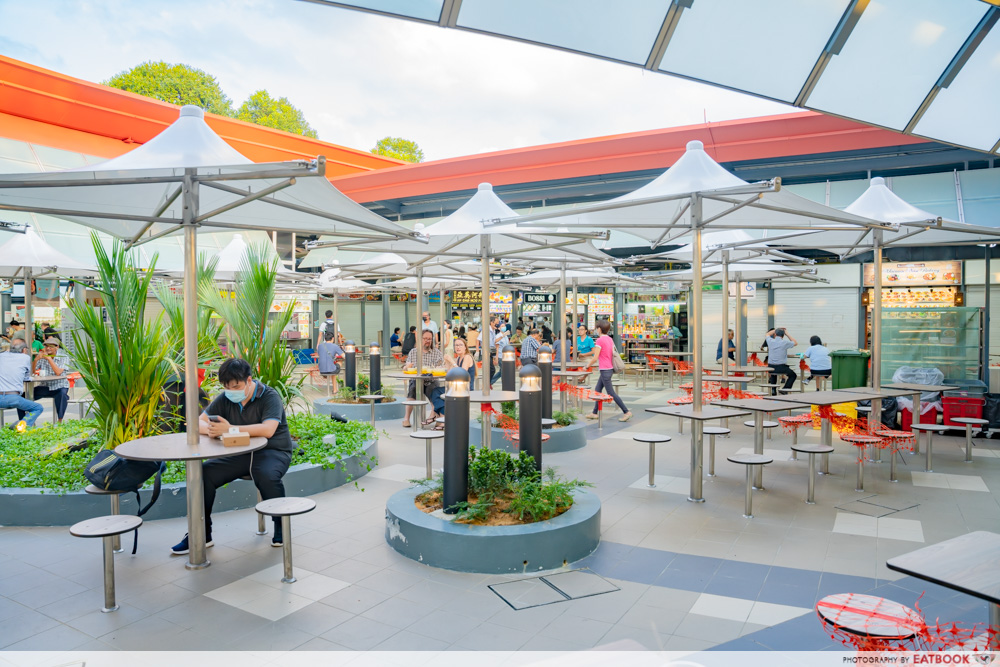 Serangoon Garden Market & Food Centre is relatively quiet come evening, as majority of the stalls here only operate up till lunch. As such, you can be assured of a peaceful evening out if you dine at Mr Mee Hoon Kueh at dinner. Being just newly refurbished this year, the food centre is clean and spacious. Its wide-open design, with a central open-air area, makes for a breezy, relaxing sort of dining environment too.
Getting here requires that you walk 2km, or hop on a 14-minute bus journey, from Lorong Chuan MRT Station. Alternatively, Serangoon MRT Station is approximately 20 minutes away by bus.
15 Serangoon Garden Market Food Stalls That Deserve As Much Attention As Chomp Chomp
The verdict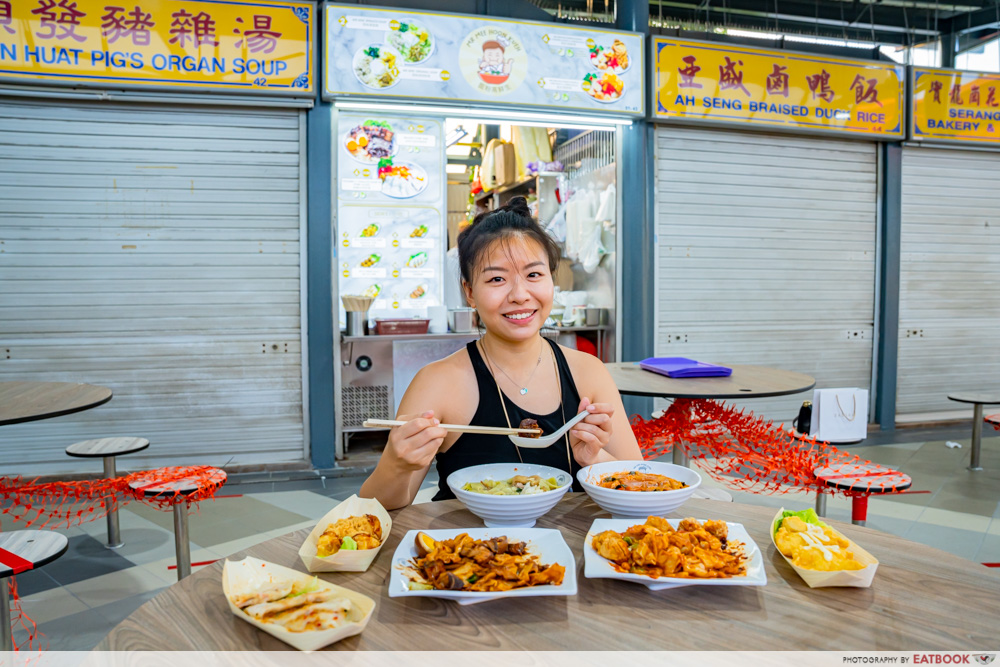 Handmade noodles are always a comforting fix, and Mr Mee Hoon Kueh's wallet-friendly offerings are just that. The classic bowl of MHK aside, innovating and coming up with modern, fusion options keep dining interesting for all of us, so kudos to Mr Mee Hoon Kueh for that.
Perhaps because it was a Friday evening after a long week, it was the bowls of soupy MHK here that I preferred, simply because they were comforting and familiar. However, I always enjoy a good bolognese, so if Mr Mee Hoon Kueh refreshes theirs, it could be a winner too.
For more handmade noodle options, here are 15 ban mian stalls to check out! Otherwise, you could also try the Seafood Cheese Bee Hoon at Nic & Tom Eatery, which is also in Serangoon Gardens.
Address: 49A Serangoon Garden Way, #01-43, Serangoon Garden Market & Food Centre, Singapore 555945
Opening hours: Daily 10am to 8pm
Website
Mr Mee Hoon Kueh is not a halal-certified eatery
Nic & Tom Eatery Review: Seafood Cheese Bee Hoon, Pork Trotter Rice And More From $1.90 At Serangoon
Photos taken by Zhou Jin Quan.
This was a media tasting at Mr Mee Hoon Kueh. 
The post Mr Mee Hoon Kueh Review: Lor Bak And Bolognese Handmade Noodles At Serangoon Gardens appeared first on EatBook.sg – New Singapore Restaurant and Street Food Ideas & Recommendations.