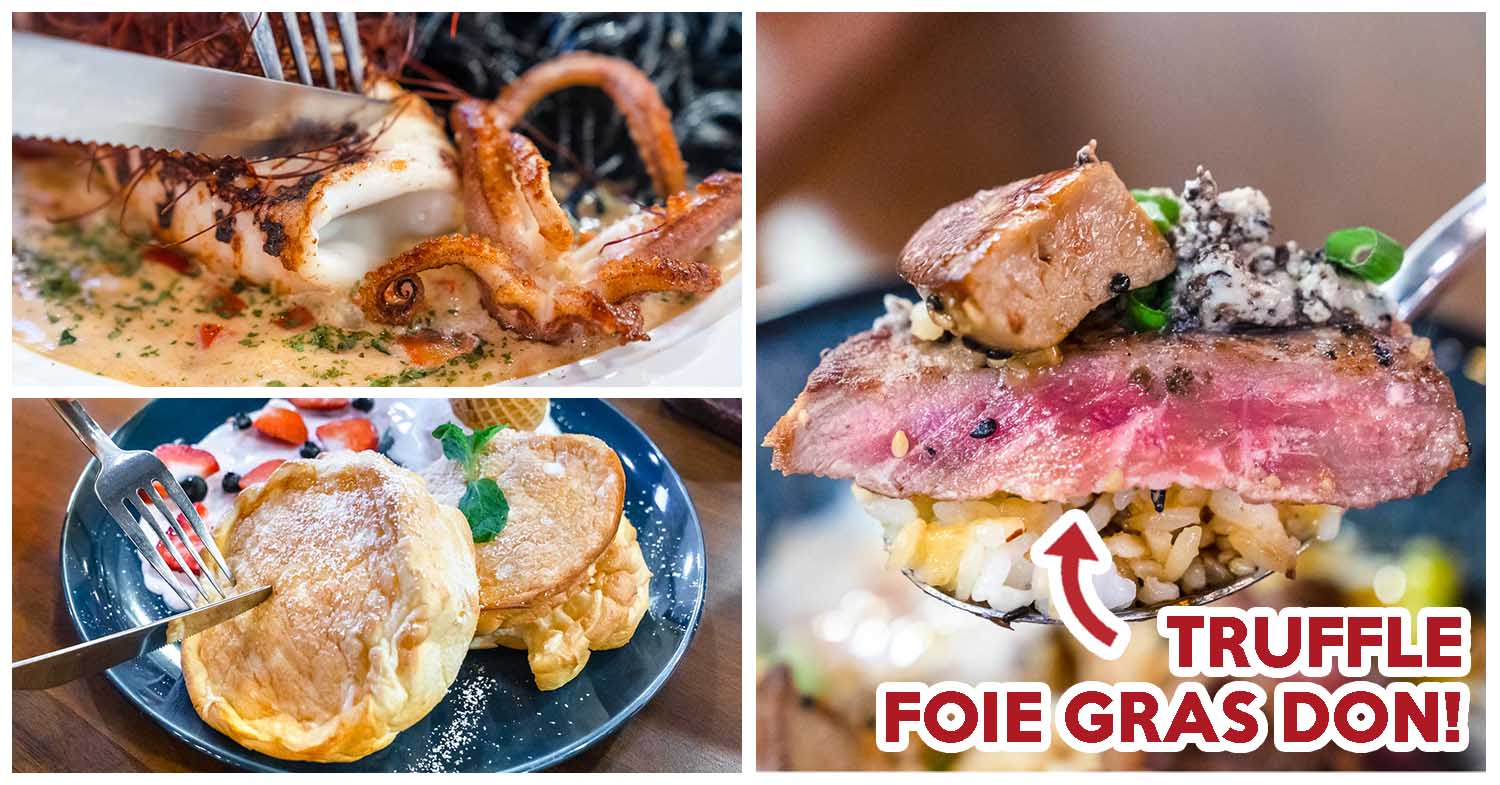 New menu items at Miam Miam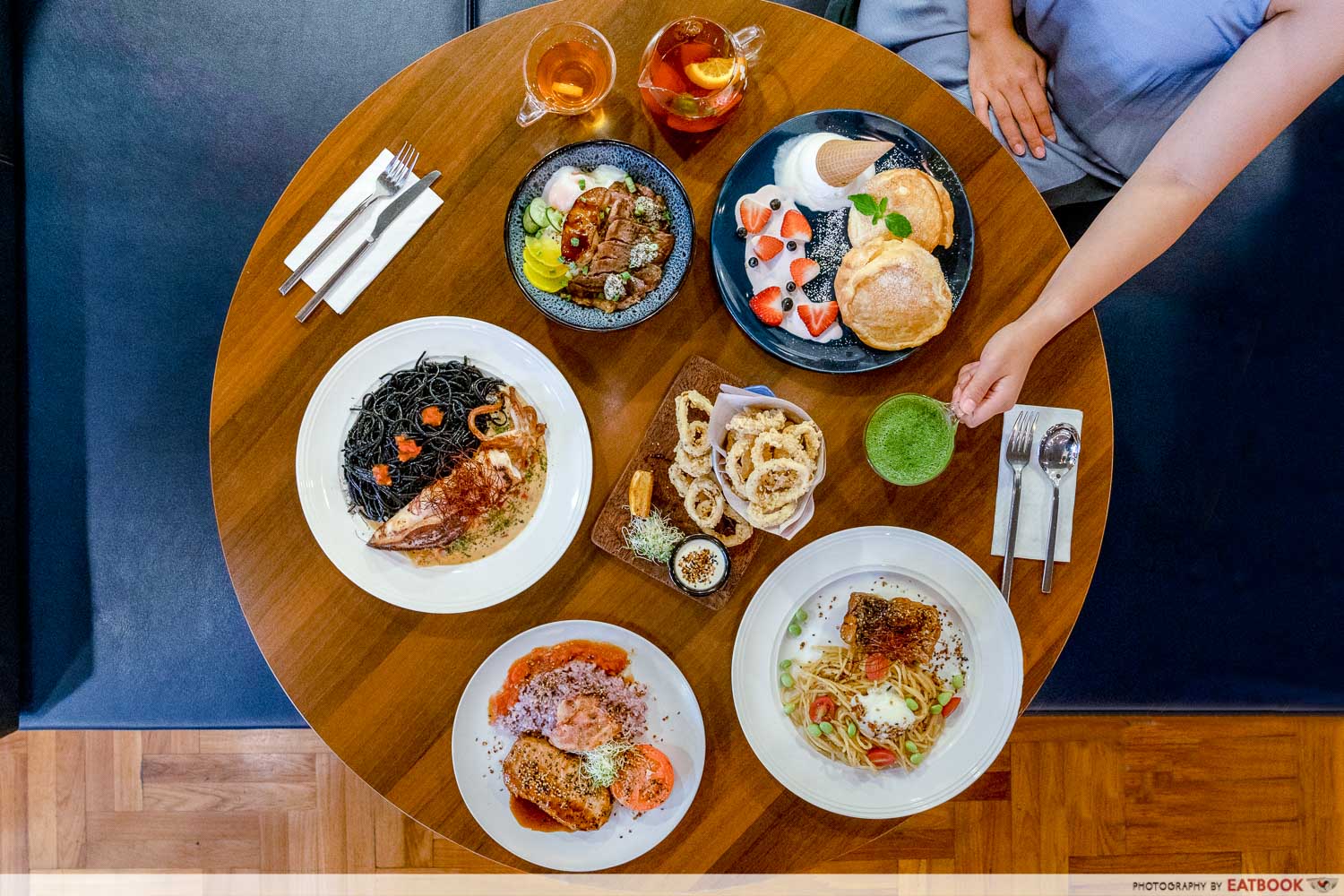 French cooking, and Japanese fare, separately, are two cuisines that I enjoy, especially in their classic forms. Yōshoku, or a Western-influenced Japanese style of cooking, is not usually my choice when I dine out. That was, until I visited Miam Miam French Japanese Cafe Kitchen at Bugis Junction, a yōshoku dining concept that's been around for a while, but whose menu saw new additions which I had the opportunity to try.
Food at Miam Miam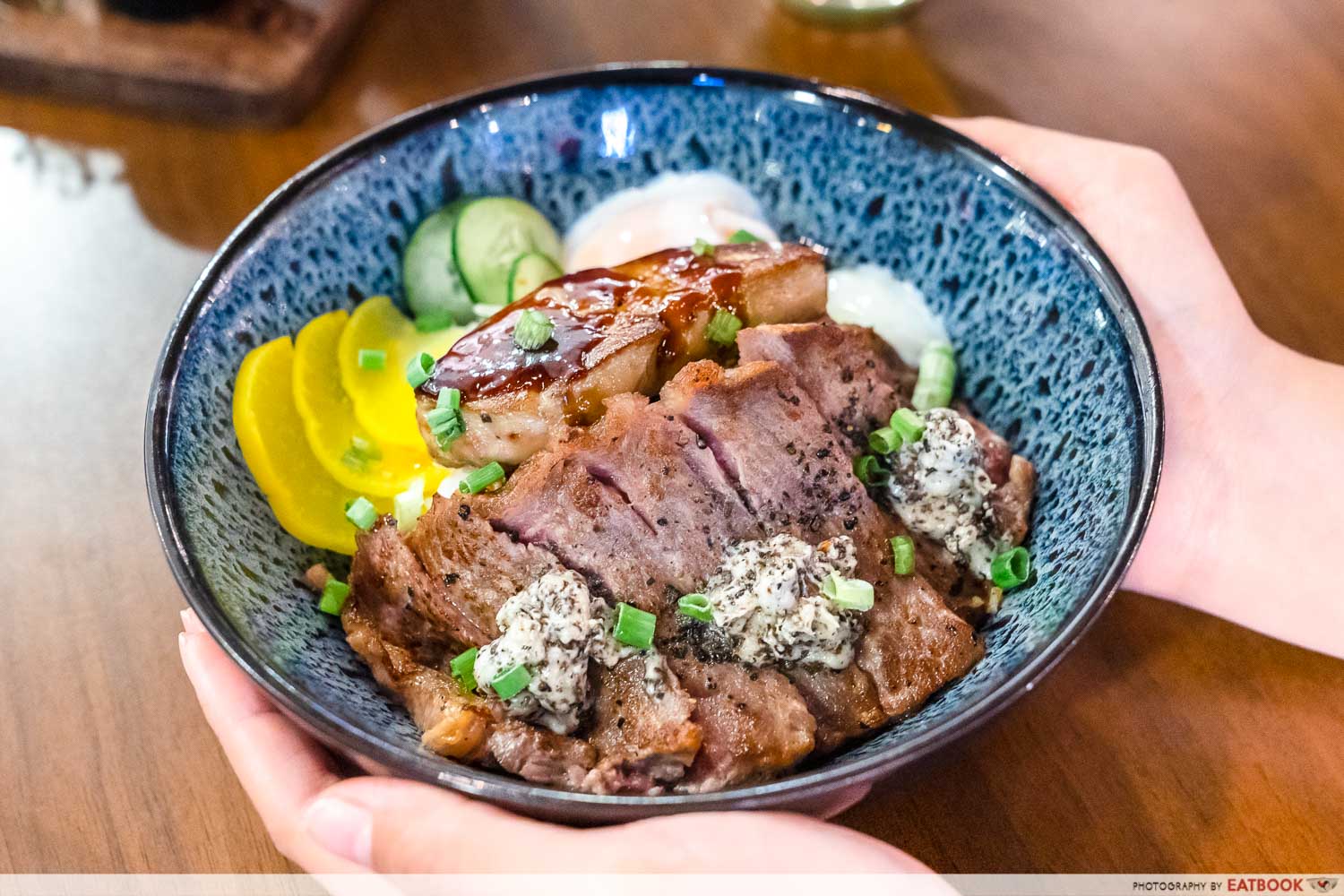 The Tender Striploin Foie Gras Donburi with Butter Truffle Paste ($33.90++) caught my eye with the addition of a decently thick slab of goose liver. If you're not a fan of the French delicacy, there's the option to go without foie gras, priced at $26.90++.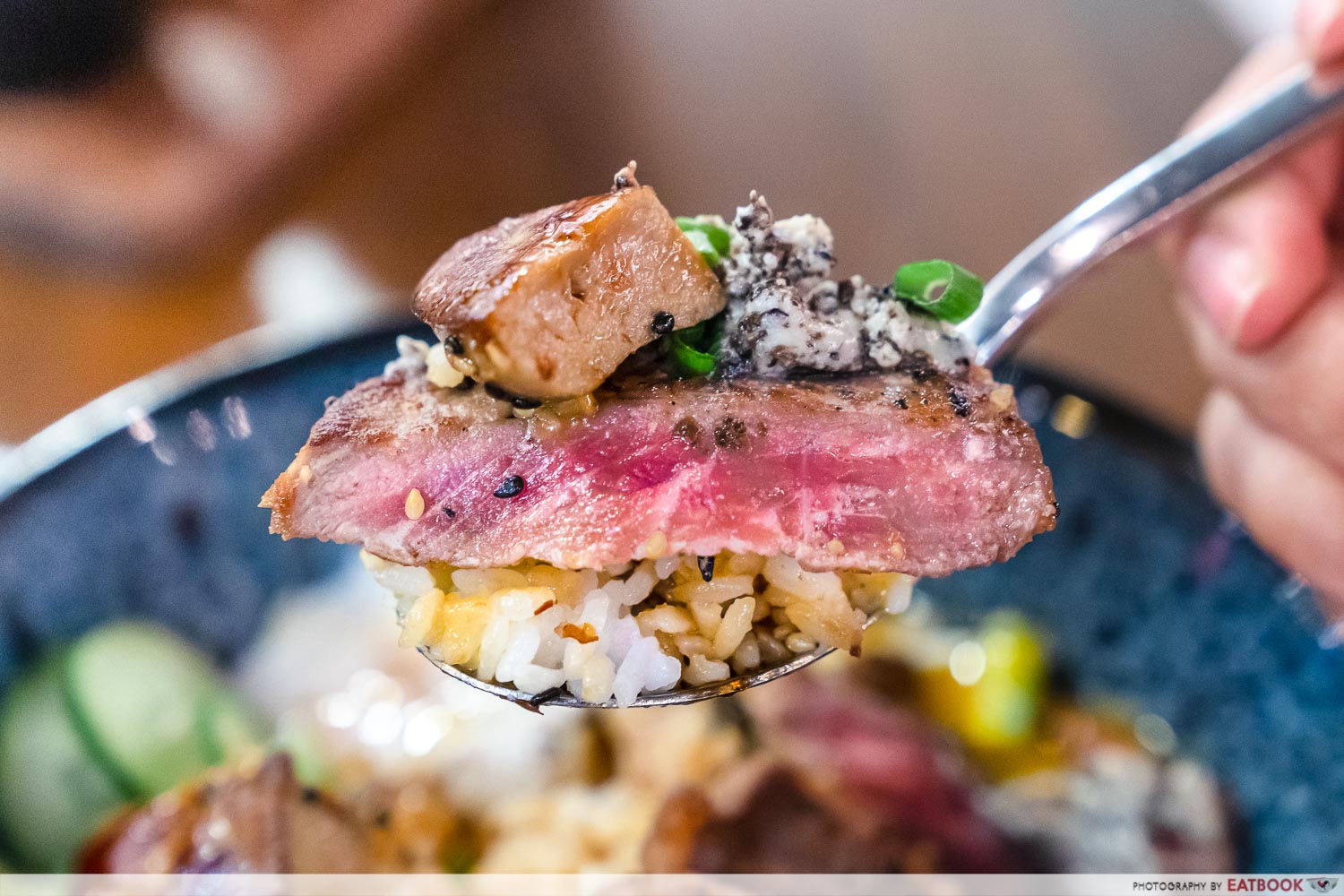 It was decadence in a bowl━truffle, foie gras, and medium-rare beef━tied together with an onsen egg, over rice that's dressed with a shoyu gravy, and furikake. Slices of pickled radish on the side help to cut through the richness, if you happen to find yourself feeling jelak while nomming your way through this bowl.
The next main of Creamy Miso Squid with Squid Ink Pasta ($26.90++) left me wondering why I'd not given yōshoku more thought before this encounter. This plate came with a whole squid, seared to slightly charred ends, laid in a bed of the dish's namesake creamy miso butter. The miso lent notes of umami to the cream, a harmonising of French and Japanese flavours.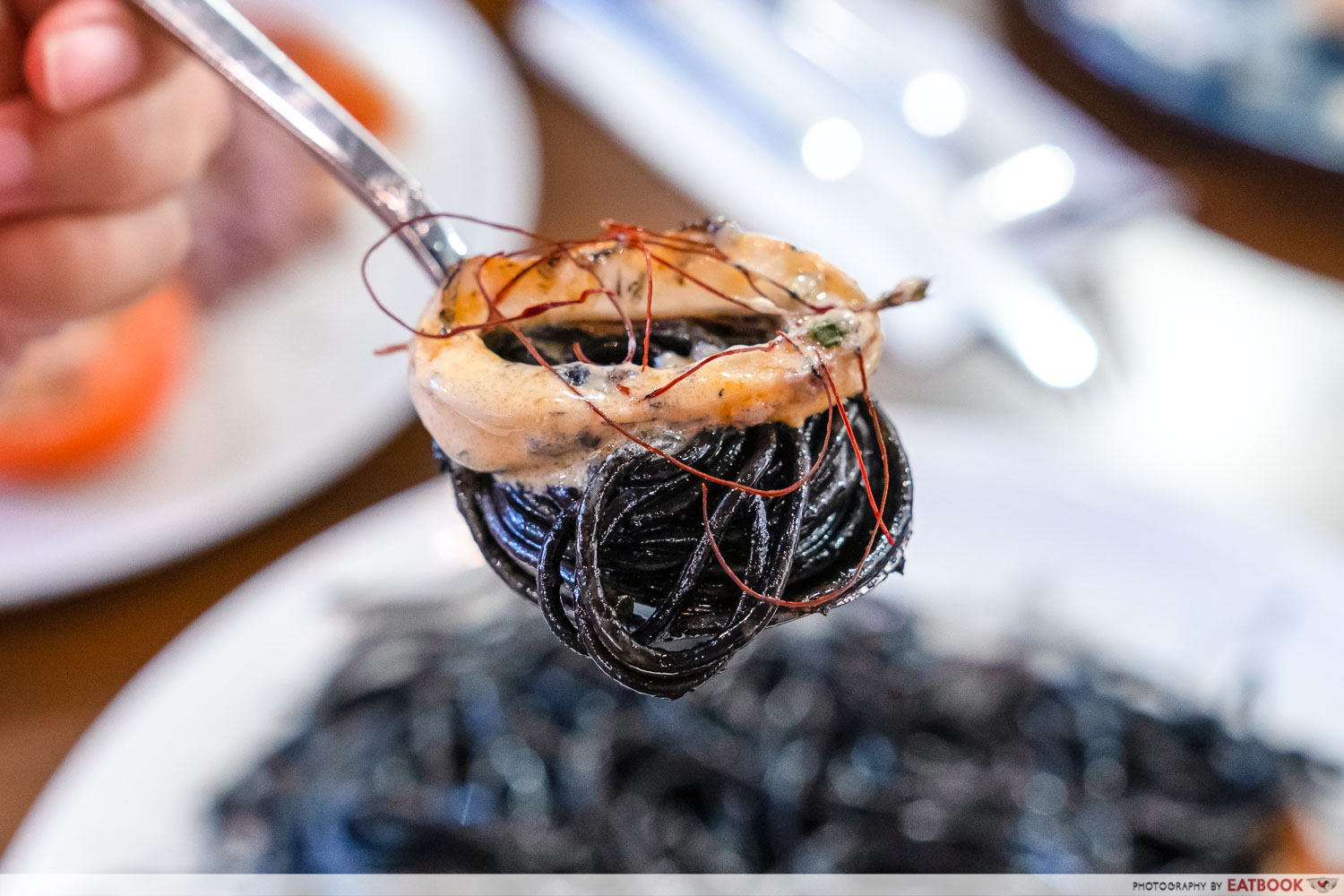 The dish is topped with itokiri togarashi━strings of shredded, dried chilli━adding streaks of colour to the tender squid, and al dente squid ink aglio olio.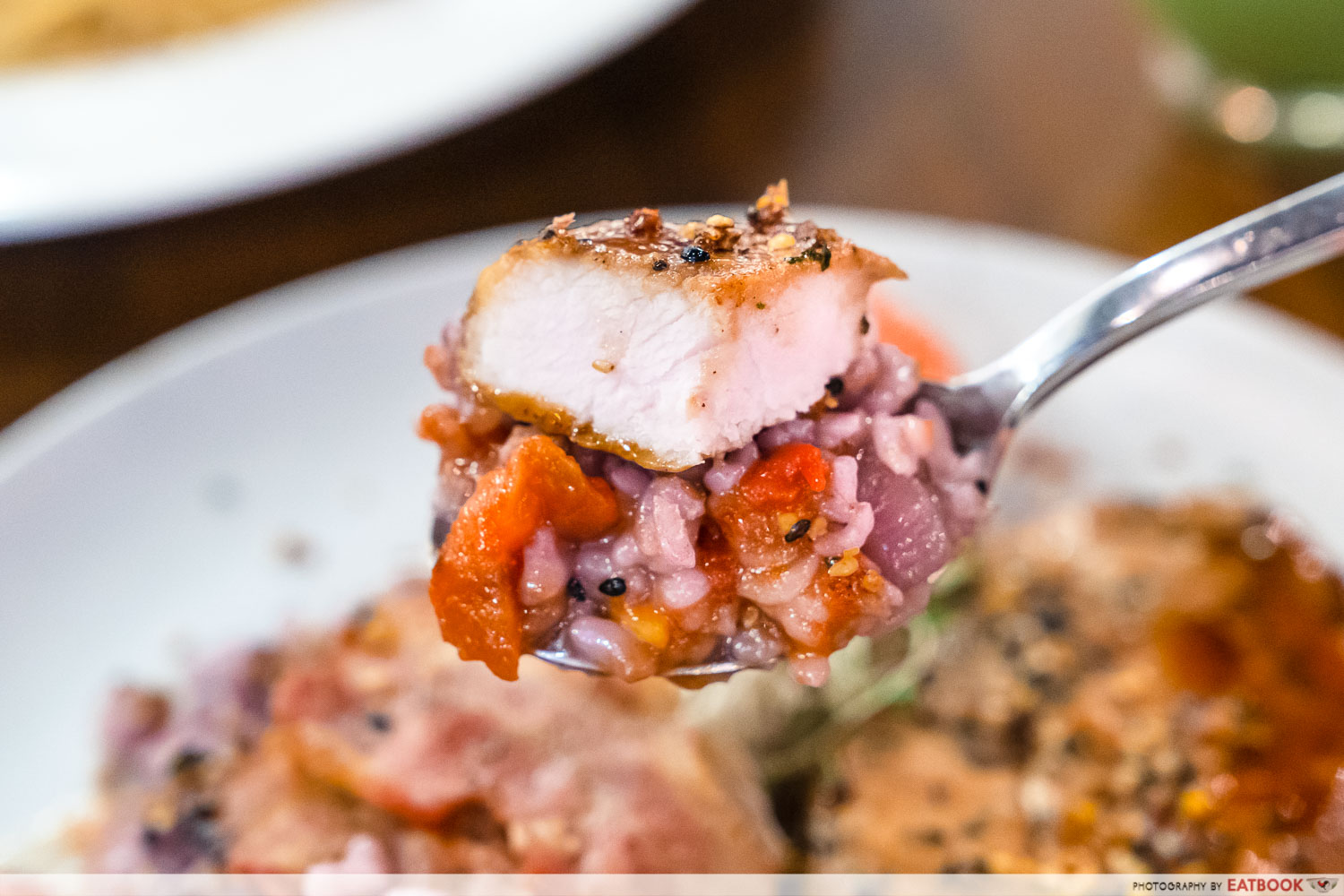 Coming after the squid ink pasta, the Teriyaki Pork Chop with Vin-rouge Risotto ($25.90++) was a little lacklustre, mostly because my dining companion and I were a little fazed by the tanginess of the red wine French onion risotto.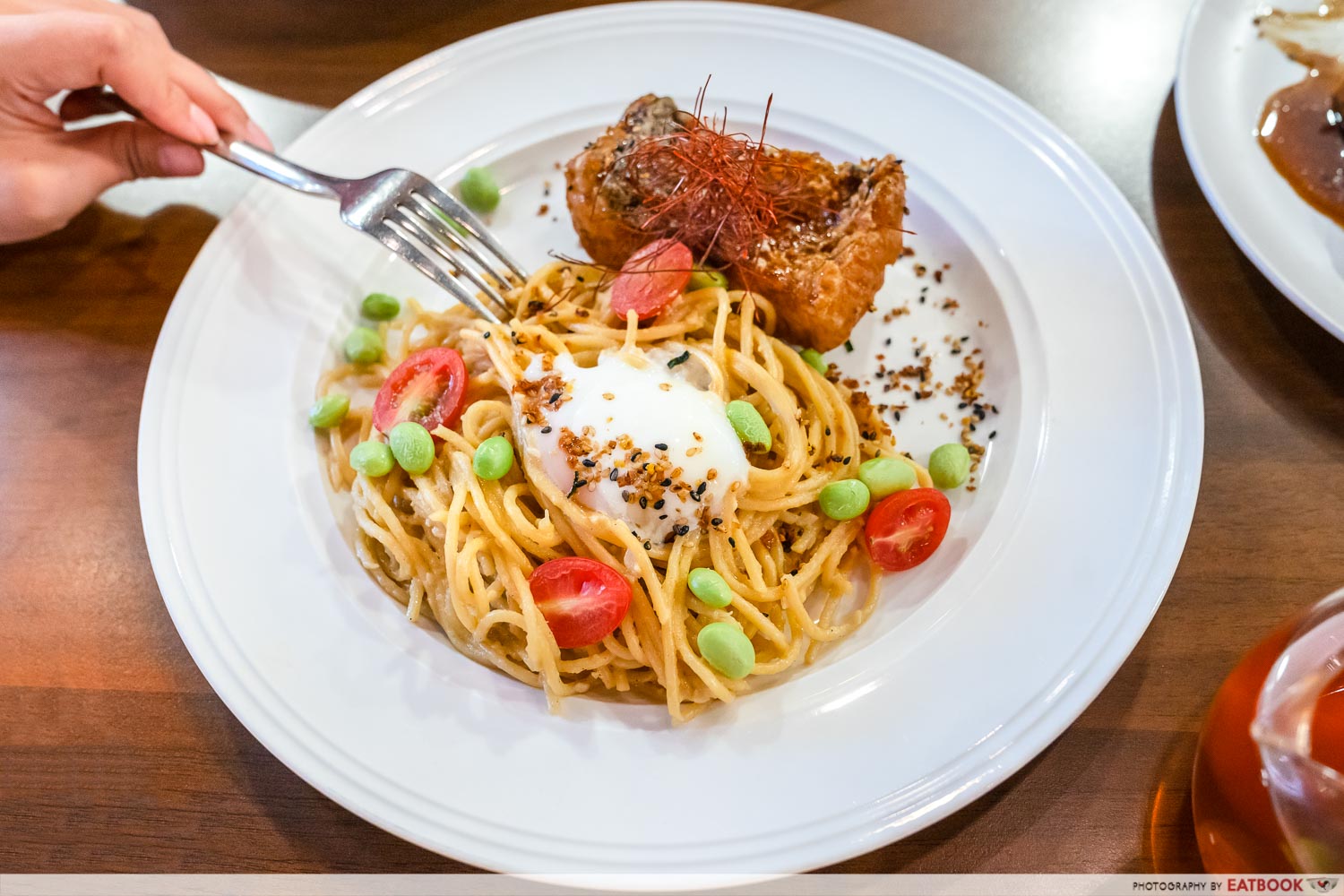 If you're after something cleaner in flavours, the Teriyaki Barramundi Pasta ($25.90++) is just the dish for you, where spaghetti is tossed with a light sauce of French butter and Japanese shoyu, enriched with an onsen egg. Edamame and cherry tomatoes brighten the palate here, too!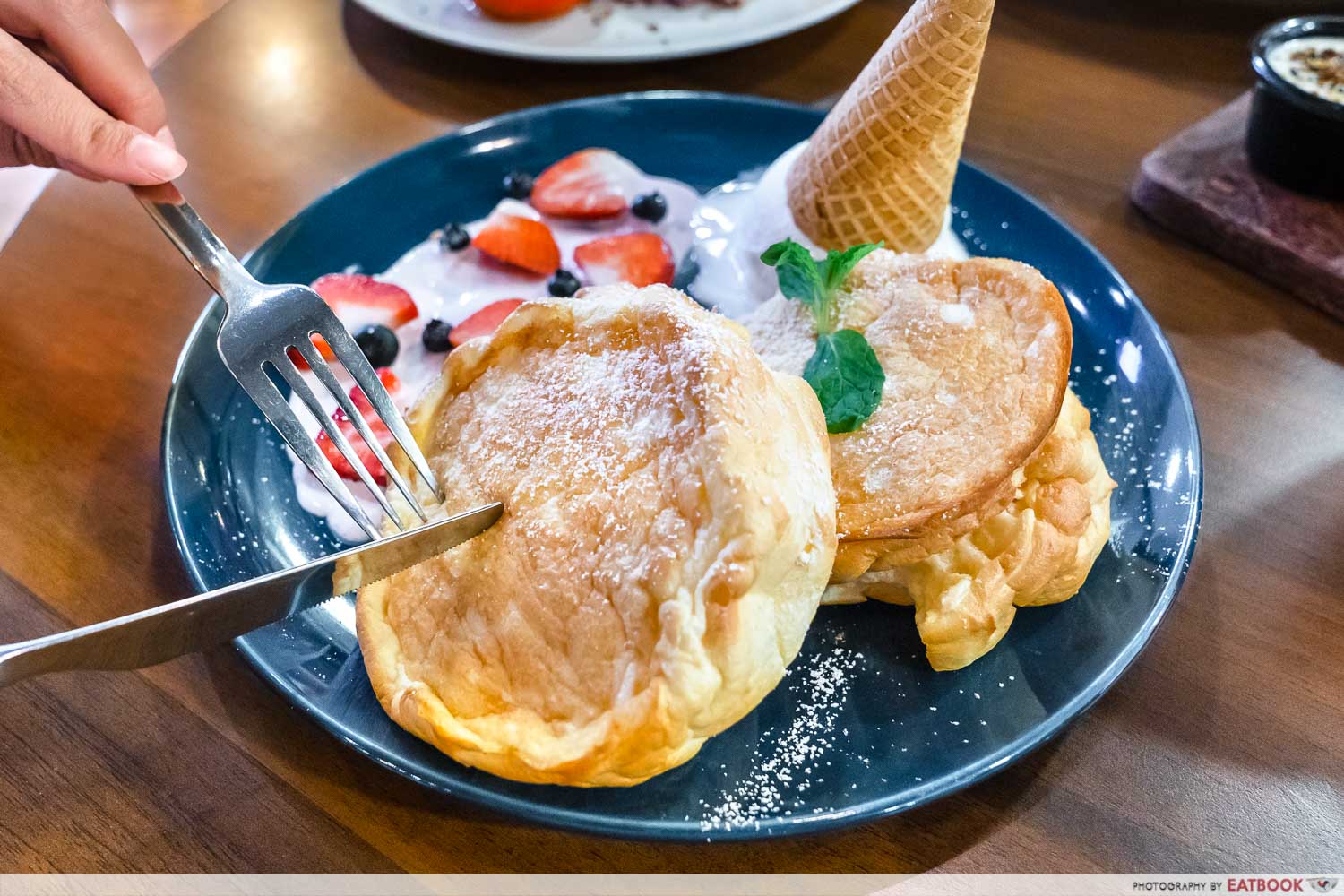 I've had my share of souffle pancakes, but the Berry Loving Fuwa Fuwa Pancake ($15.80++) at Miam Miam is one such pancake that lives up to its name. Loosely translated, 'fuwa fuwa' is airy, fluffy, and soft━and these were precisely that. I enjoyed the egginess of these pancakes, but I can see how some might not like it.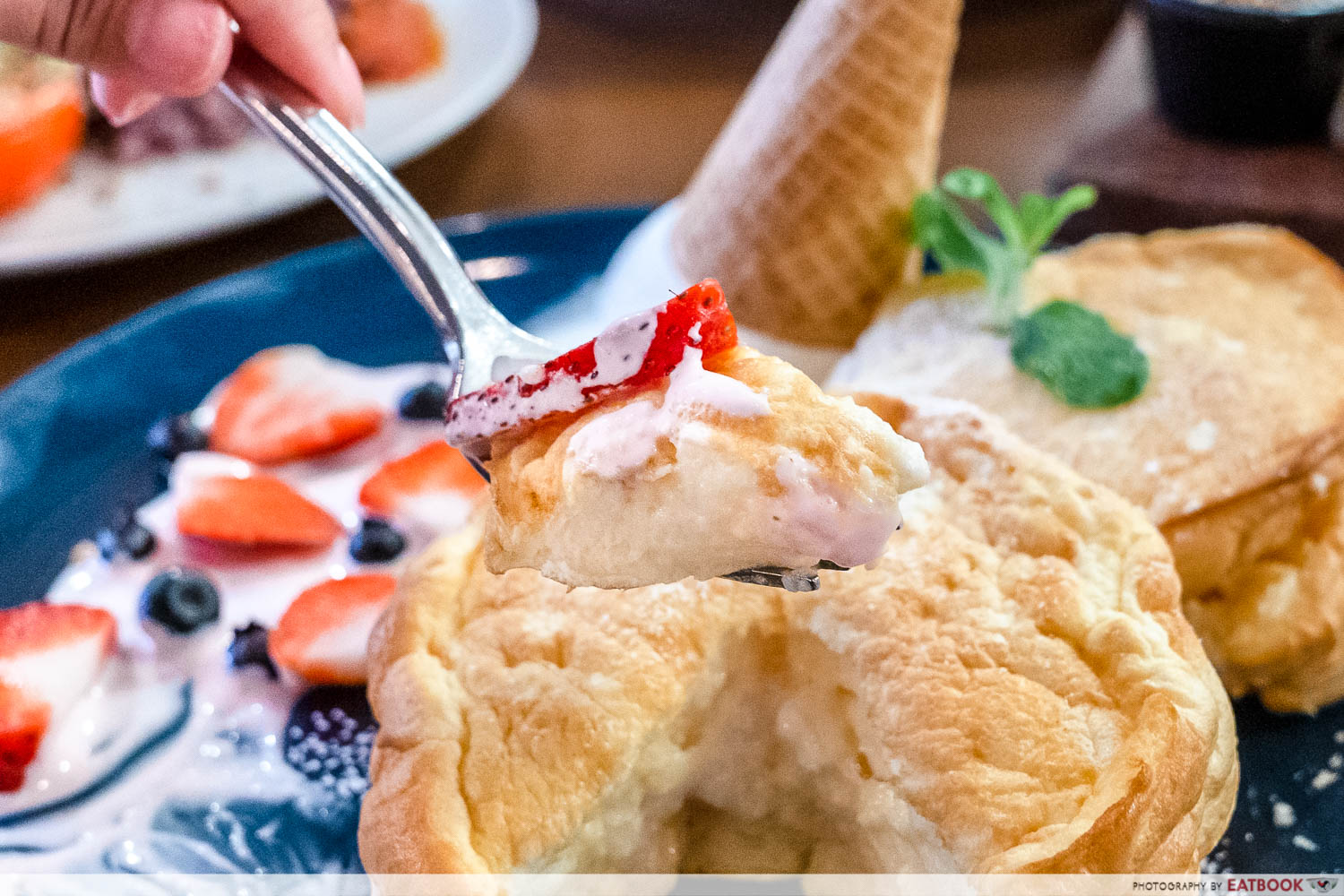 It comes with a scoop of Hokkaido milk gelato, strawberry cream, and fresh berries, although I would happily have these pancakes without condiments. There are two other variations: Tiramisu Fuwa Fuwa Pancake ($15.80++), and Choco Fuwa Fuwa Pancake ($15.80++), if you prefer not to have fruit.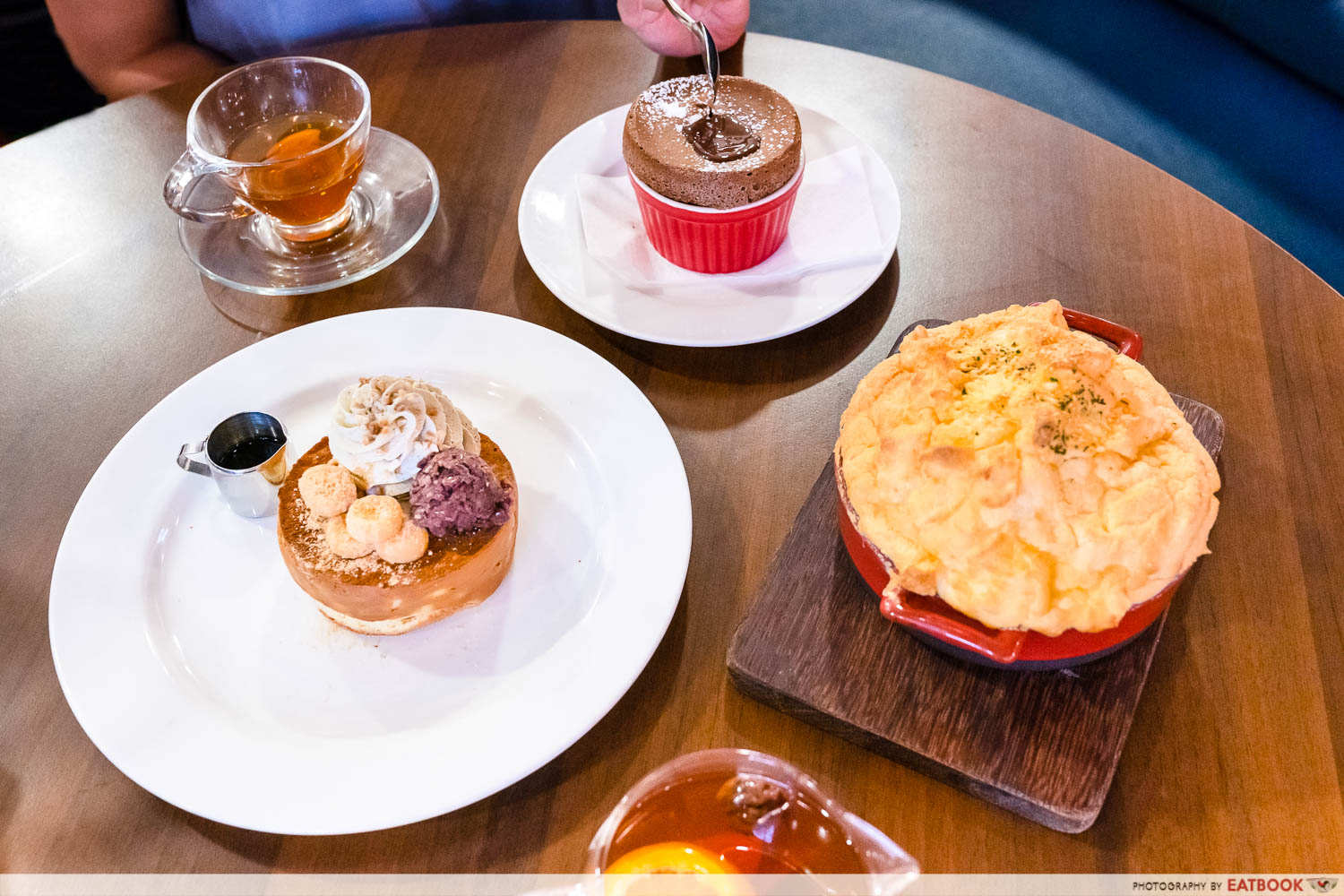 Other than the new menu items, Miam Miam's classic signatures, including Houjicha Pancake ($13.80++), Valrhona Chocolate Souffle ($13.80++), and Souffle De Nuage ($17.90++). 
If the Fuwa Fuwa pancakes are too jiggly for you, consider the Houjicha Pancake, which has more body. Alternatively, if you dig fuwa fuwa, but don't like sweets, go for the Souffle De Nuage. This has a base of tomato fried rice with bacon, topped with a cheese-laden fuwa fuwa topping.
Ambience at Miam Miam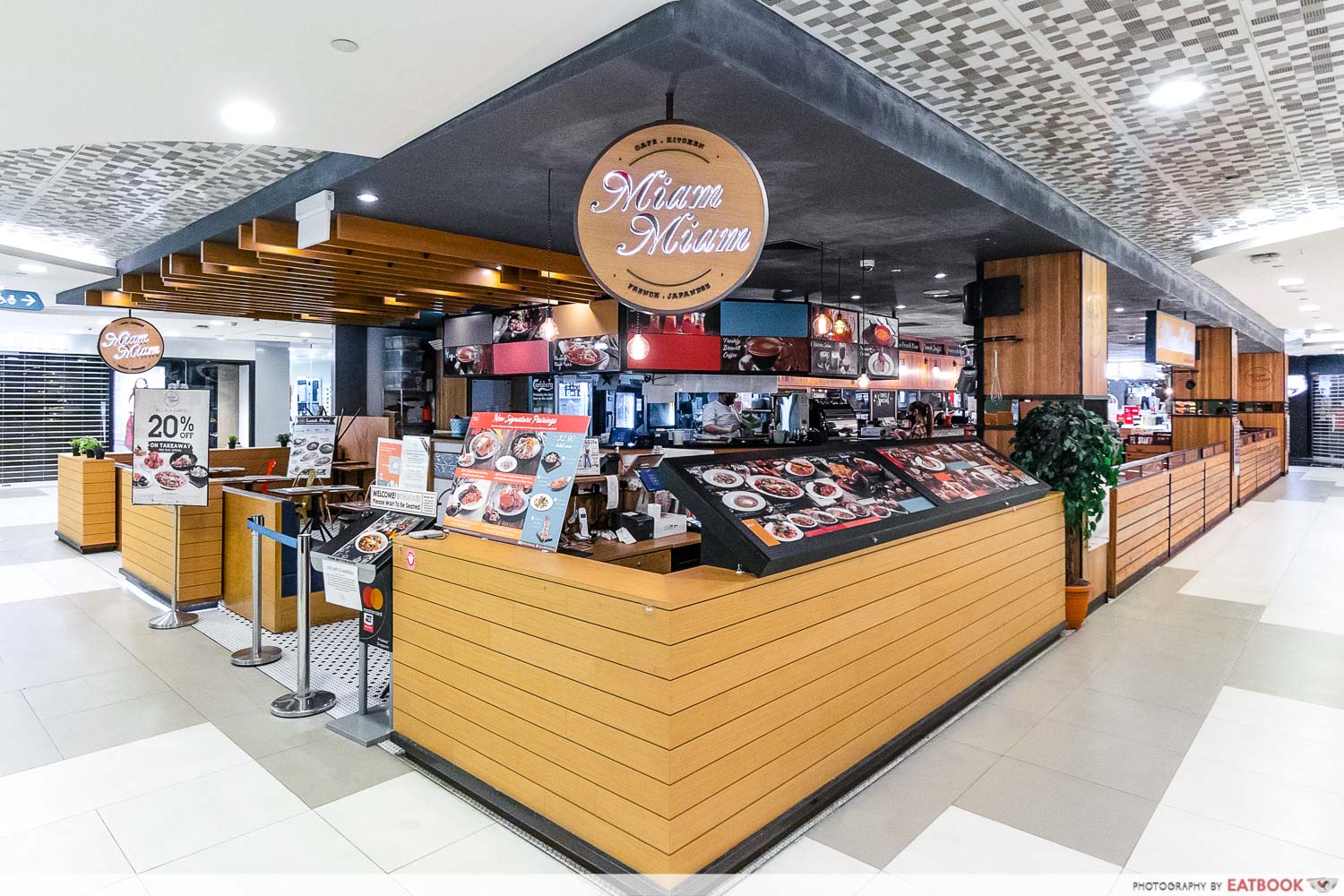 Situated on the second floor of Bugis Junction, Miam Miam is easily accessible via Bugis MRT Station. The shortest way to the cafe from the station is to take the escalator through BHG, which gets you literally to Miam Miam's doorstep.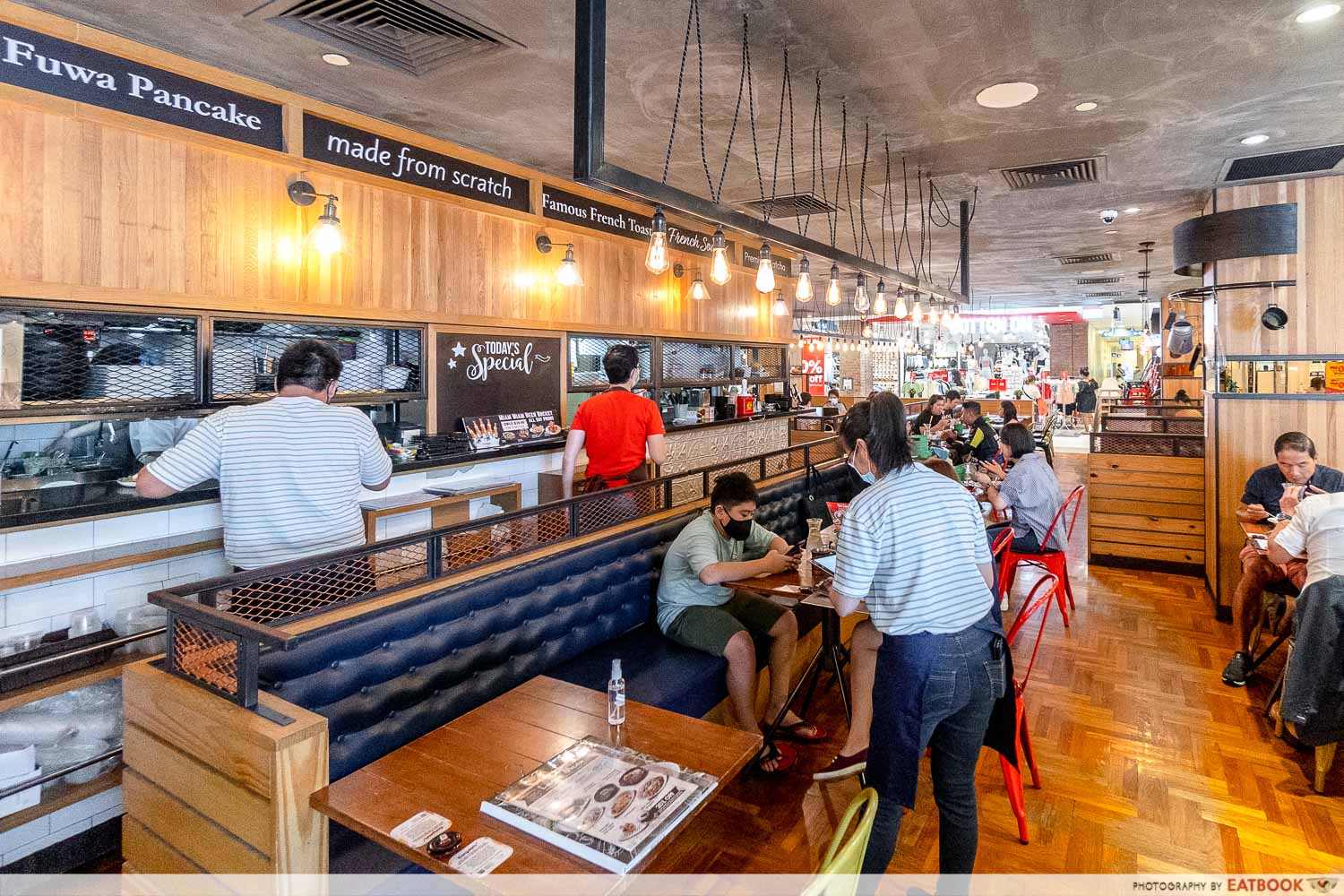 While the space can seat a good number of diners, it feels spacious thanks to the open concept. The space also comes across homey and welcoming, thanks to the wooden finishings and warm lights. There are a small number of round-tabled booths at the back of the restaurant, which would be great for small parties looking to have a cosy meal.
The verdict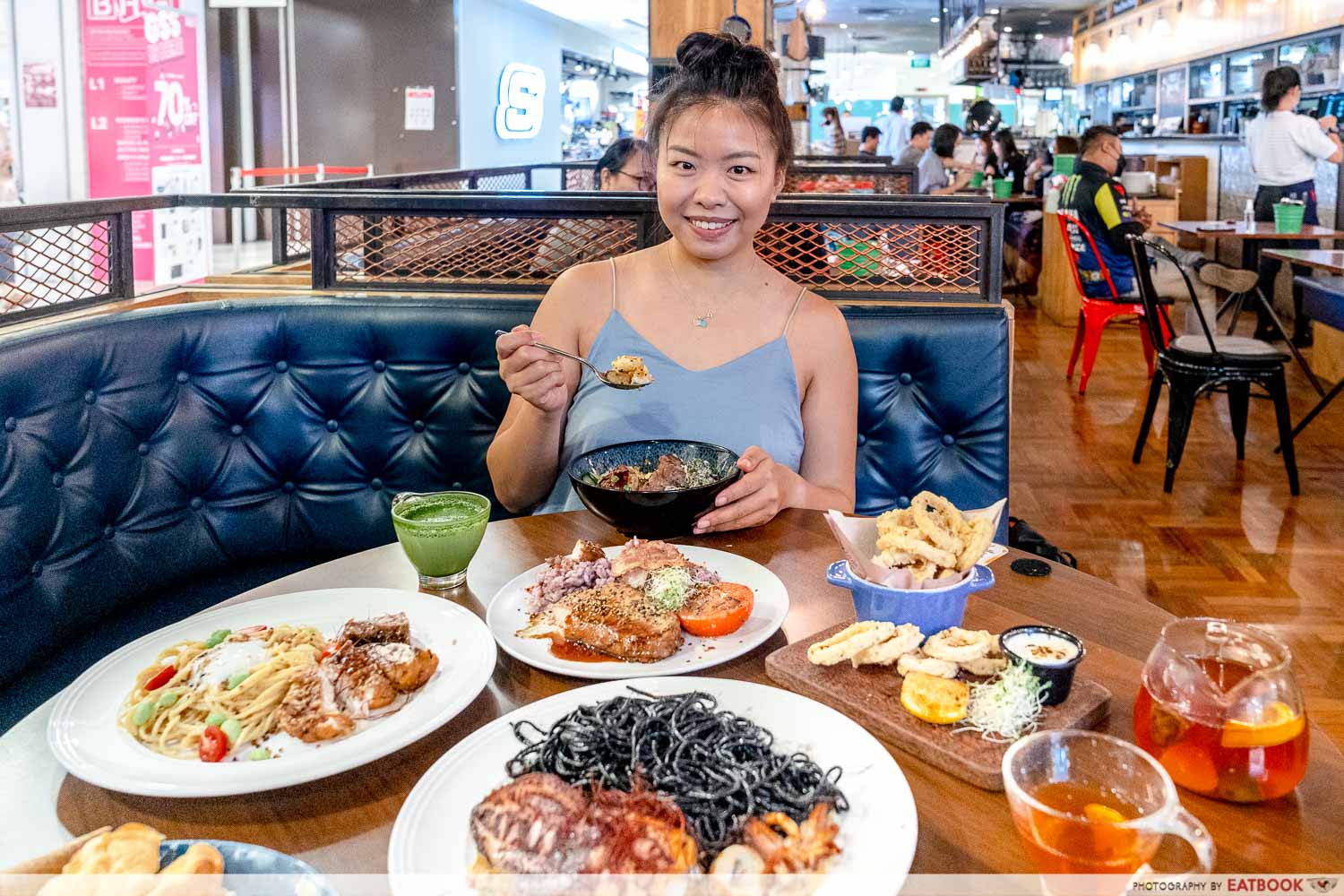 If I blocked out everything beyond the perimeter of Miam Miam's shop space, I could well imagine myself in Japan. I may have liked some dishes more than others, but there's enough to warrant me returning for more of their French-Japanese fare. Portion sizes here are generous enough that you can share comfortably, too, which justifies the slightly elevated prices of the mains. 
From now until 31 August 2021, get a regular salad, small bite, or gelato creation, usually priced at $9.90++, at just $2.90++ when you order any of the signature pairings at Miam Miam. One of these sets is the Creamy Miso Squid with Squid Ink Pasta, and Matcha Souffle ($11.80++). Another set you could consider is the Teriyaki Barramundi Pasta with any Fuwa Fuwa Pancake. If you dine here on weekdays between 2:30pm and 5pm, you can also enjoy a 1-for-1 promotion on coffee, tea, and matcha drinks! Terms and conditions apply.
Address: 200 Victoria Street, #02-14, Bugis Junction, Singapore 188021
Opening hours: Sun-Thurs 11am to 9pm, Fri-Sat 11am to 9:30pm
Tel: 6837 0301
Website
Miam Miam French Japanese Cafe Kitchen is not a halal-certified eatery
Photos taken by Melvin Mak.
This post was brought to you by Miam Miam.
The post Miam Miam Review: French Japanese Cafe With Truffle Striploin Foie Gras Donburi And Souffle Pancakes appeared first on EatBook.sg – New Singapore Restaurant and Street Food Ideas & Recommendations.