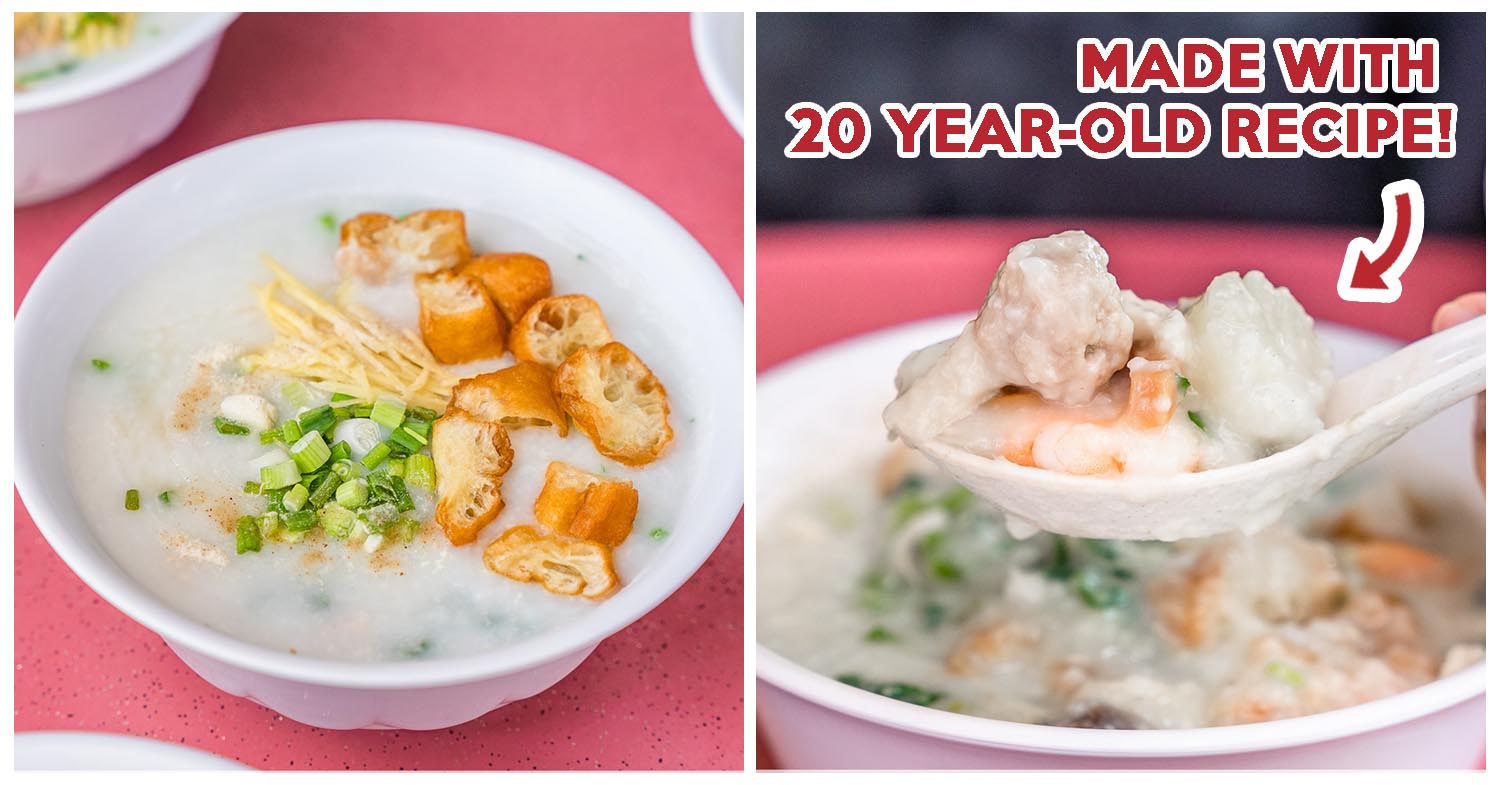 Mei Jie Porridge in West Coast
My favourite jook─you may also call it congee, or porridge─ is silky, thick, Cantonese-style porridge. Congee, for me, is never simply rice cooked in water, and I've spent a good many years trying to figure out what Imperial Treasure, and Crystal Jade, add into theirs. When my colleague told me about Mei Jie Porridge in West Coast, which purportedly made old school Hong Kong-style jook at a fraction of the prices, I had to pay them a visit.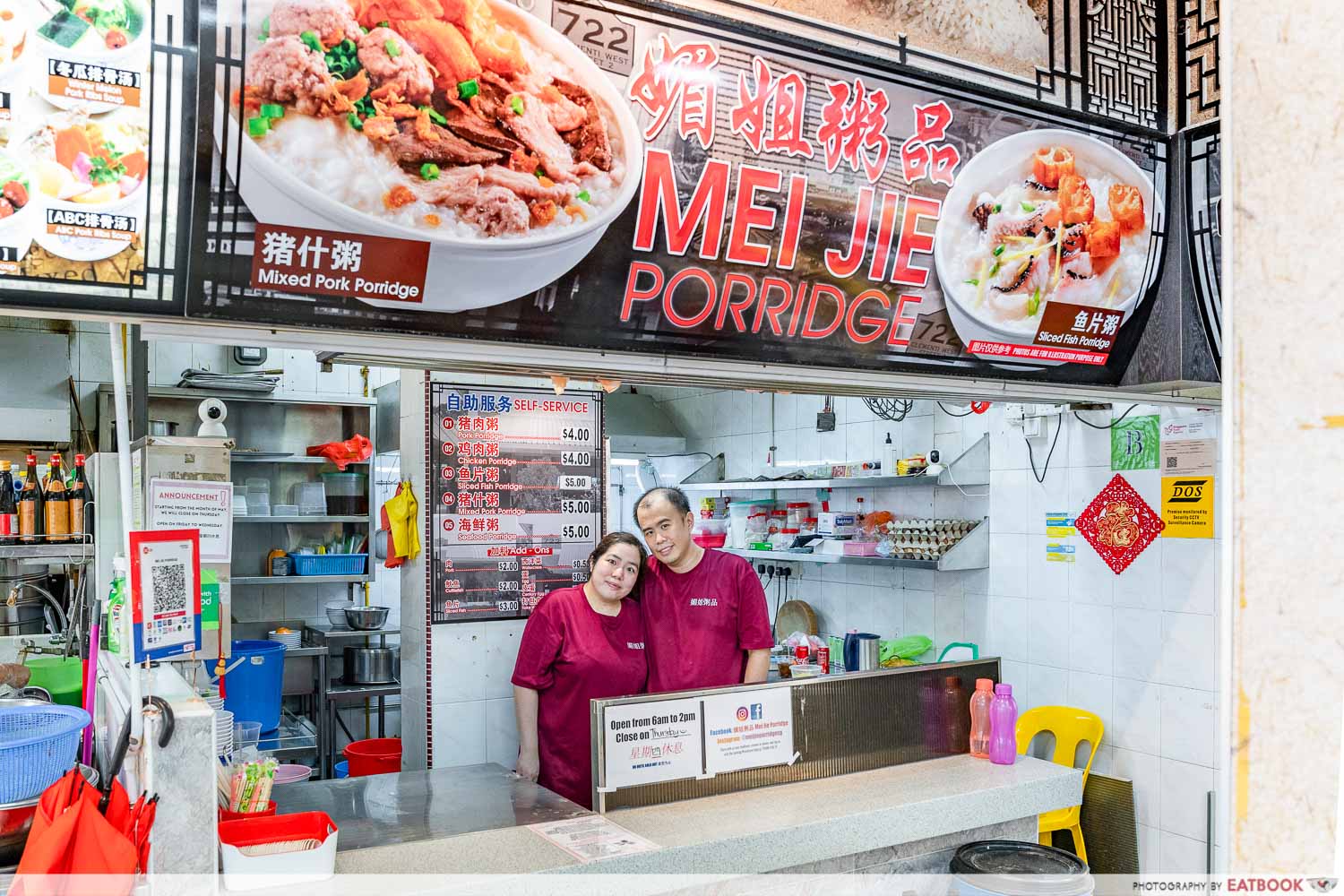 I was intrigued when I arrived, and saw a young couple manning the stall. The story goes that Ivan's aunt, the OG Mei Jie, had been making and selling Cantonese porridge around the West Coast region for a good 20 years, but had recently thought of retiring. This spurred Ivan and his wife, Yun, who love her porridge, to learn her craft, giving up their corporate jobs to set up the stall as it is today, remembering their aunt by naming the stall after her.
Johore Road Boon Kee Pork Porridge Review: Traditional Hainanese Porridge Stall Open For Nearly 70 Years
Food at Mei Jie Porridge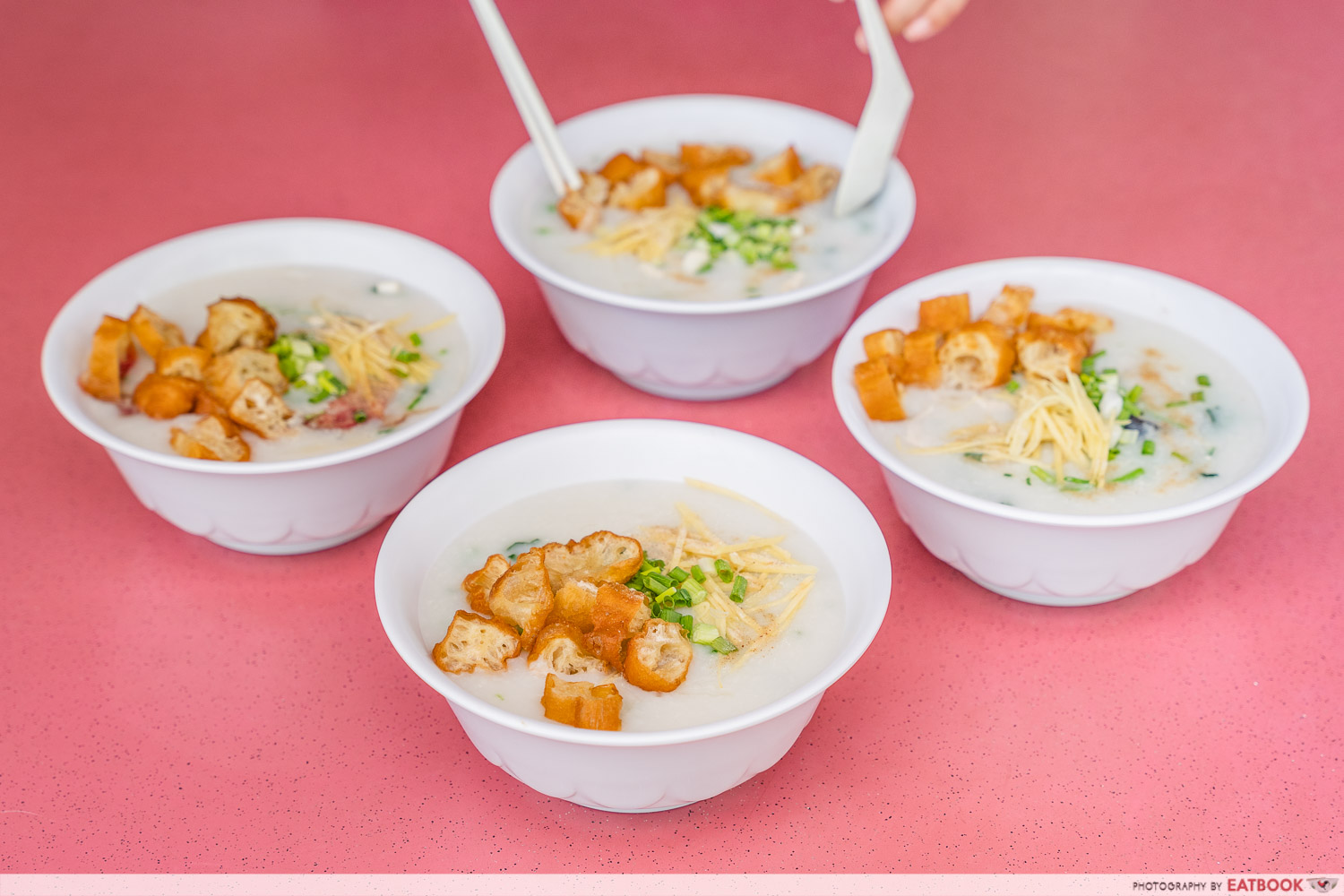 Each day at this porridge stall starts before 3am, when the couple heads in to begin the painstaking process of preparing their ingredients, mostly procured fresh from the neighbouring market, and stirring their pot of congee. It takes at least two hours for them to hand-stir the vat into the thick, silky consistency that comes about from breaking down every grain of rice.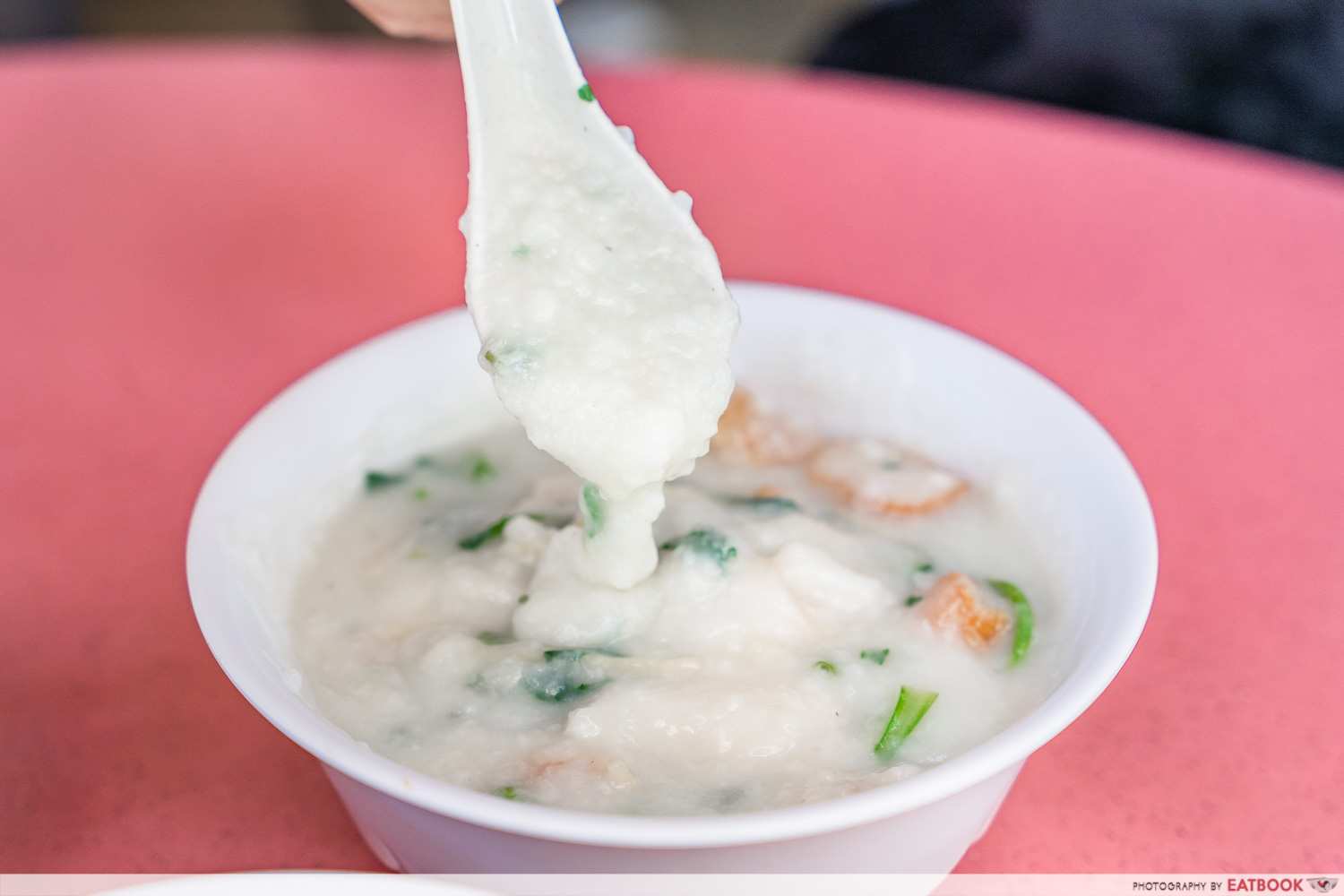 I asked Yun what goes into making their master pot of porridge, in a bid to understand what makes it unique. "Pork lard, beancurd skins, and hours of hand-stirring," she quipped. The addition of beancurd skin echoed what my sage aunts in Hong Kong once told me, and it seems lard does make everything better after all. You can't taste these distinctly in the congee, but they do come together to produce a remarkable bowl of not-just-rice-and-water.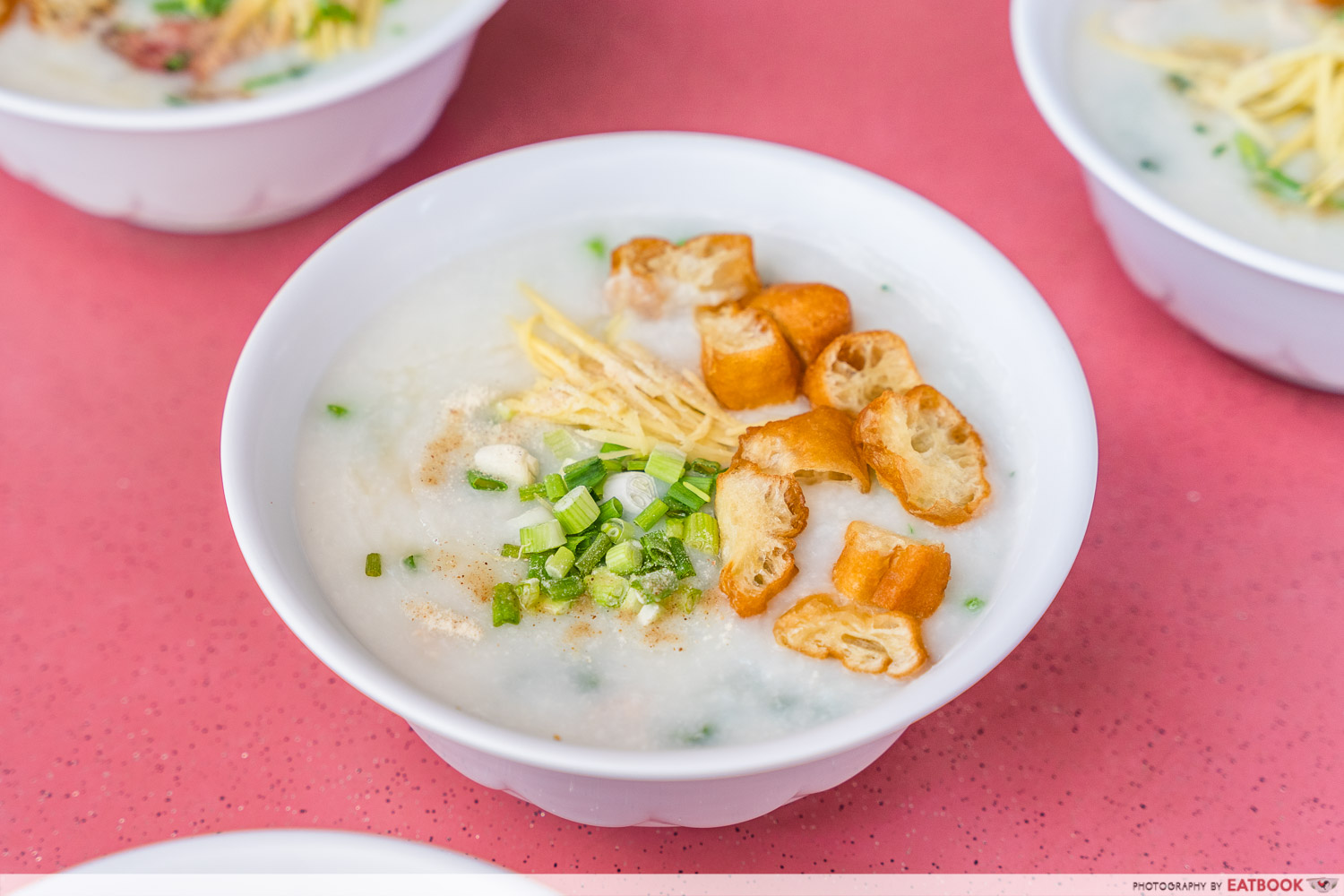 "The porridge is tasty enough on its own, so customers don't have to add extra seasonings or sauce," Yun also told me. She finishes each bowl with a quick drizzle of sesame oil, a healthy dash of pepper, julienned fresh ginger, and scallions. Other than that, and the lightly seasoned ingredients of your choice, the flavourings that go into the congee are subtle, but evident.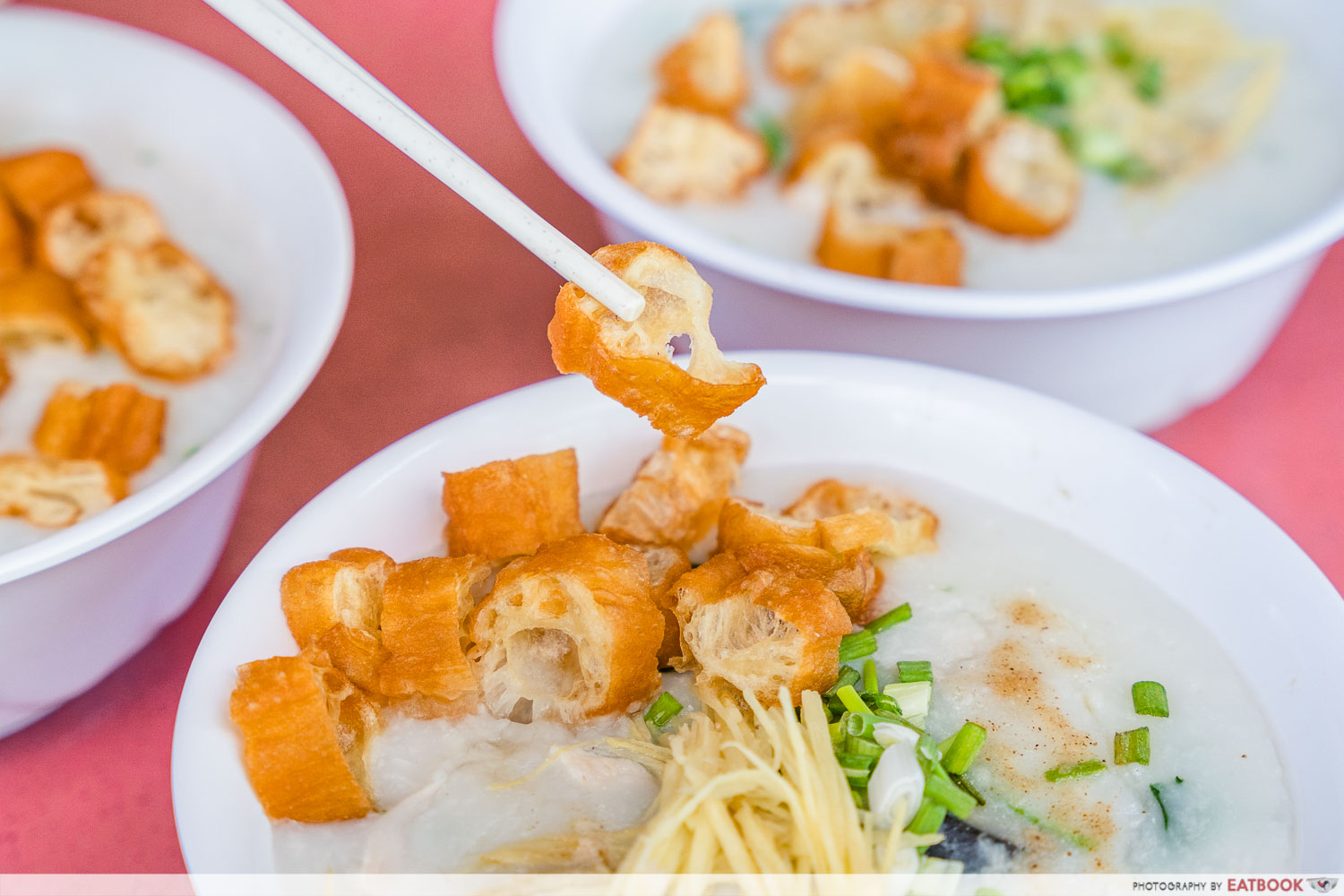 The youtiao, which they don't make, was specially selected because it's fried in sesame oil. This provided that extra touch of nuttiness to the bowl, and held up well without being overly soggy even after they'd been mixed into the congee, although I wish they could be crisped up a little and warmed to order.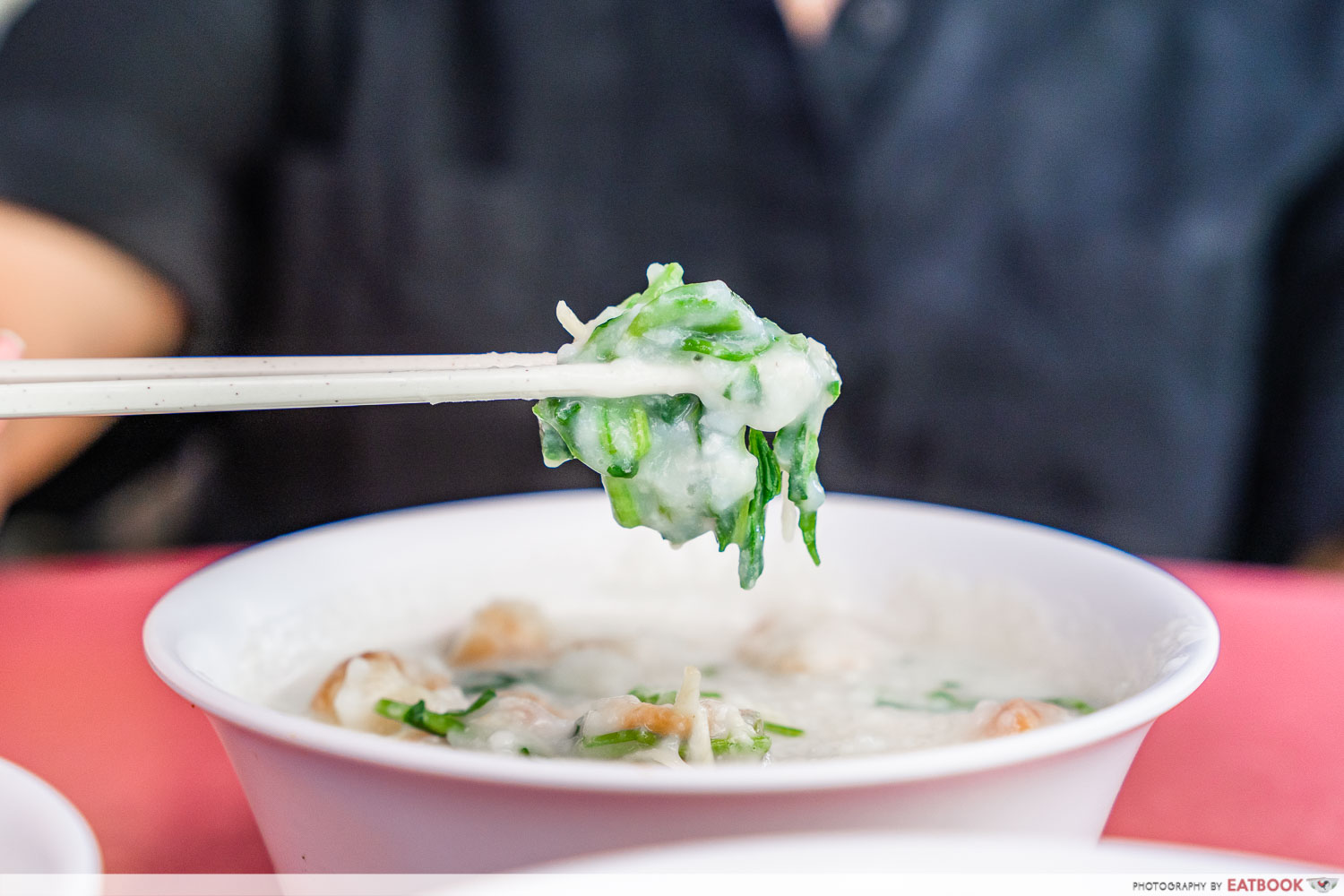 What's unique about the porridge here is the addition of fresh watercress in every bowl. The antioxidant- and vitamin-rich vegetable is more commonly seen in traditional soups, so I was surprised to see it added here. It detracts from the gao-ness of the savoury porridge, while adding that fresh crunch. I appreciated that it retained its fresh, green hue, without tasting raw and undercooked, or wilted and yellow.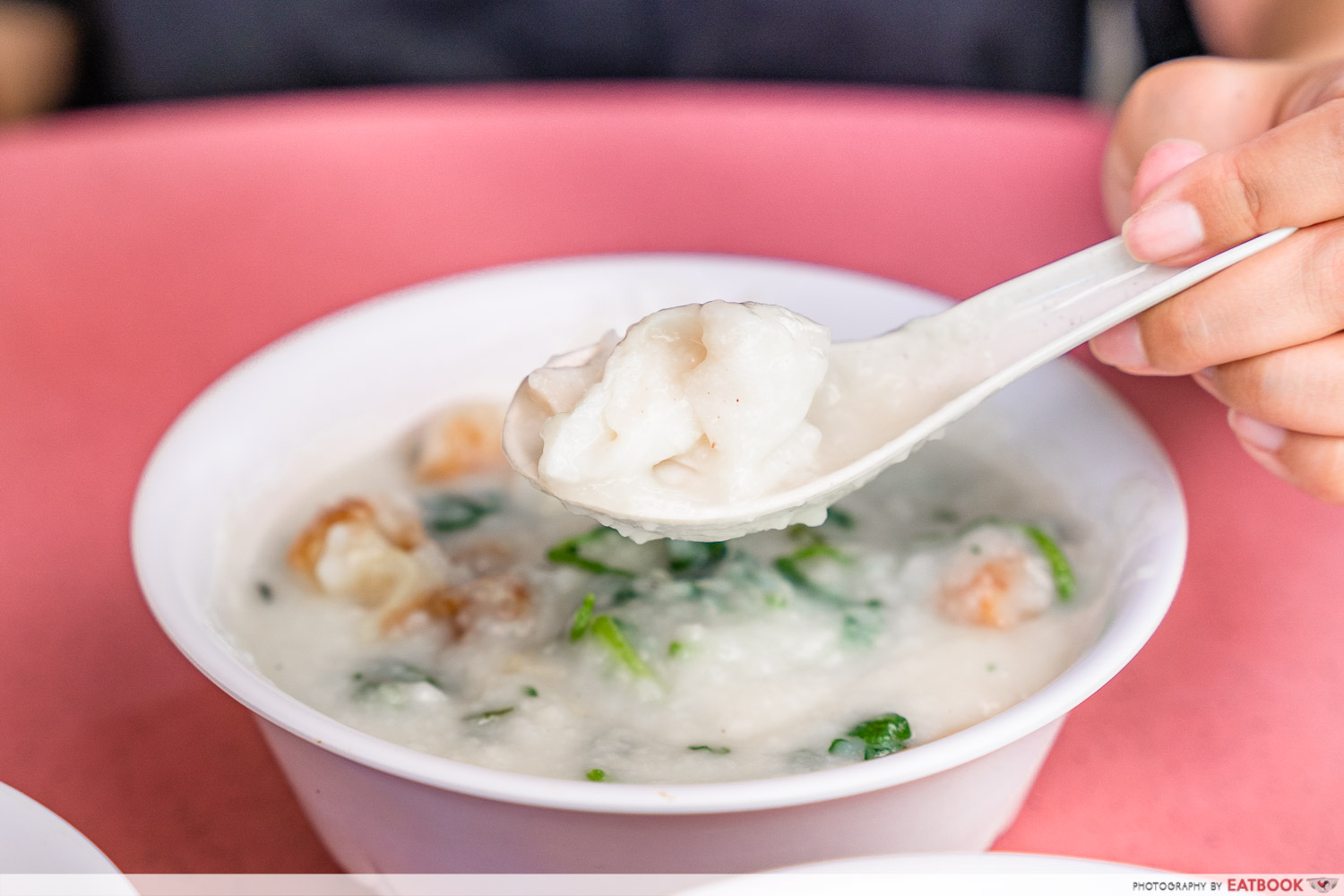 I rarely order Fish Porridge ($5) because I don't like having to remove pieces of fish skin and bones, and more often than not, the fish has a fishy taste. At Mei Jie Porridge, only fresh ikan haruan, or snakehead fish, is used. This is one fish porridge that I'd return for, because the fish was smooth and sweet, accentuated by just the slightest bit of seasonings, with no hint of fishiness, bones, or skin at all.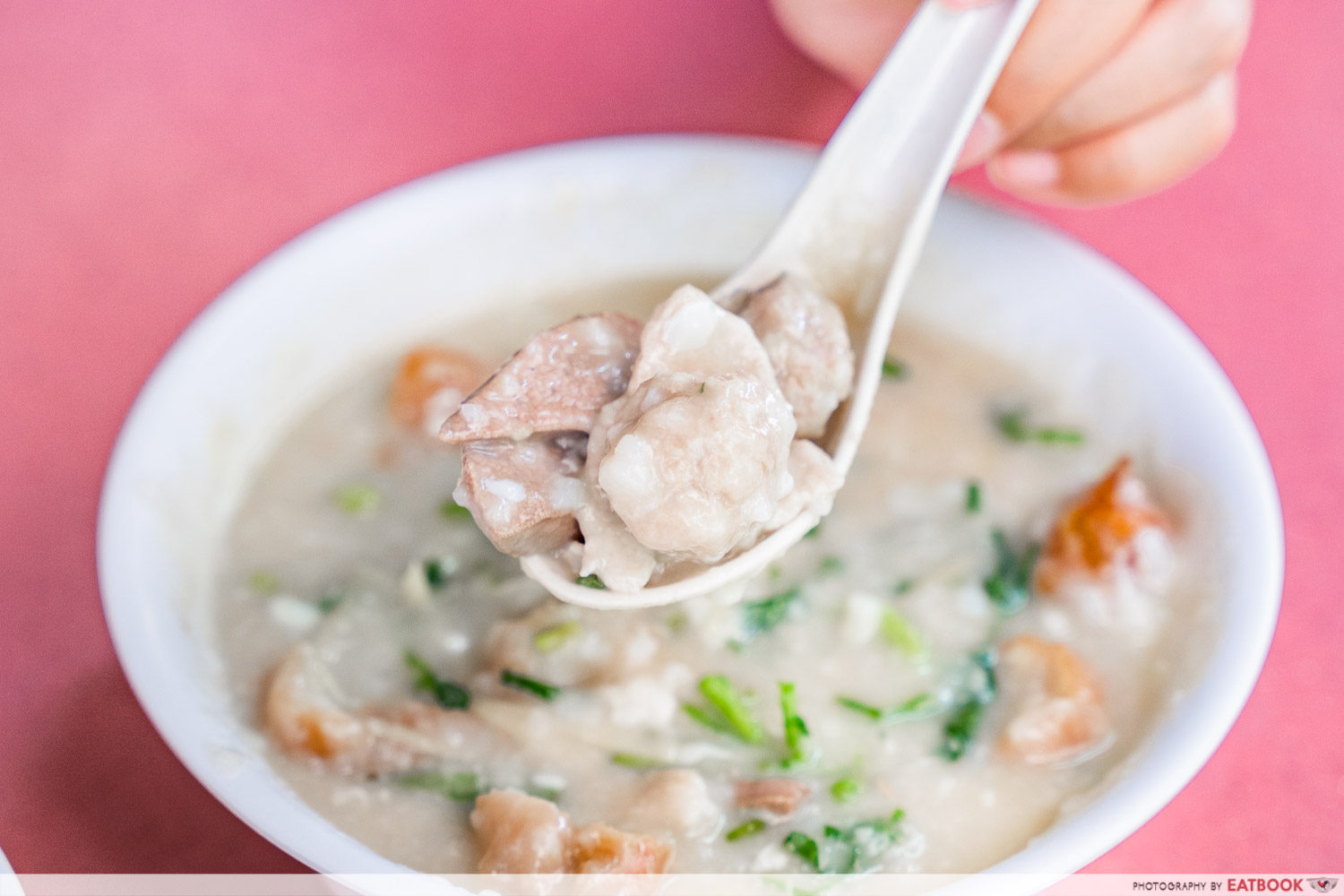 Next, the Mixed Pork Porridge ($5) came with assorted pork ingredients: meatballs, sliced meat, minced pork, and pork liver. Yun and Ivan handmake the meatballs every morning, and they're daintily sized so they fit just right in each mouthful of porridge. While I'm not the biggest fan of liver, this was evidently fresh, and not overcooked to chewy ends. We also topped up $0.50 for an egg in this, which I recommend breaking into the hot jook, adding extra richness, and a creamy yellow colour.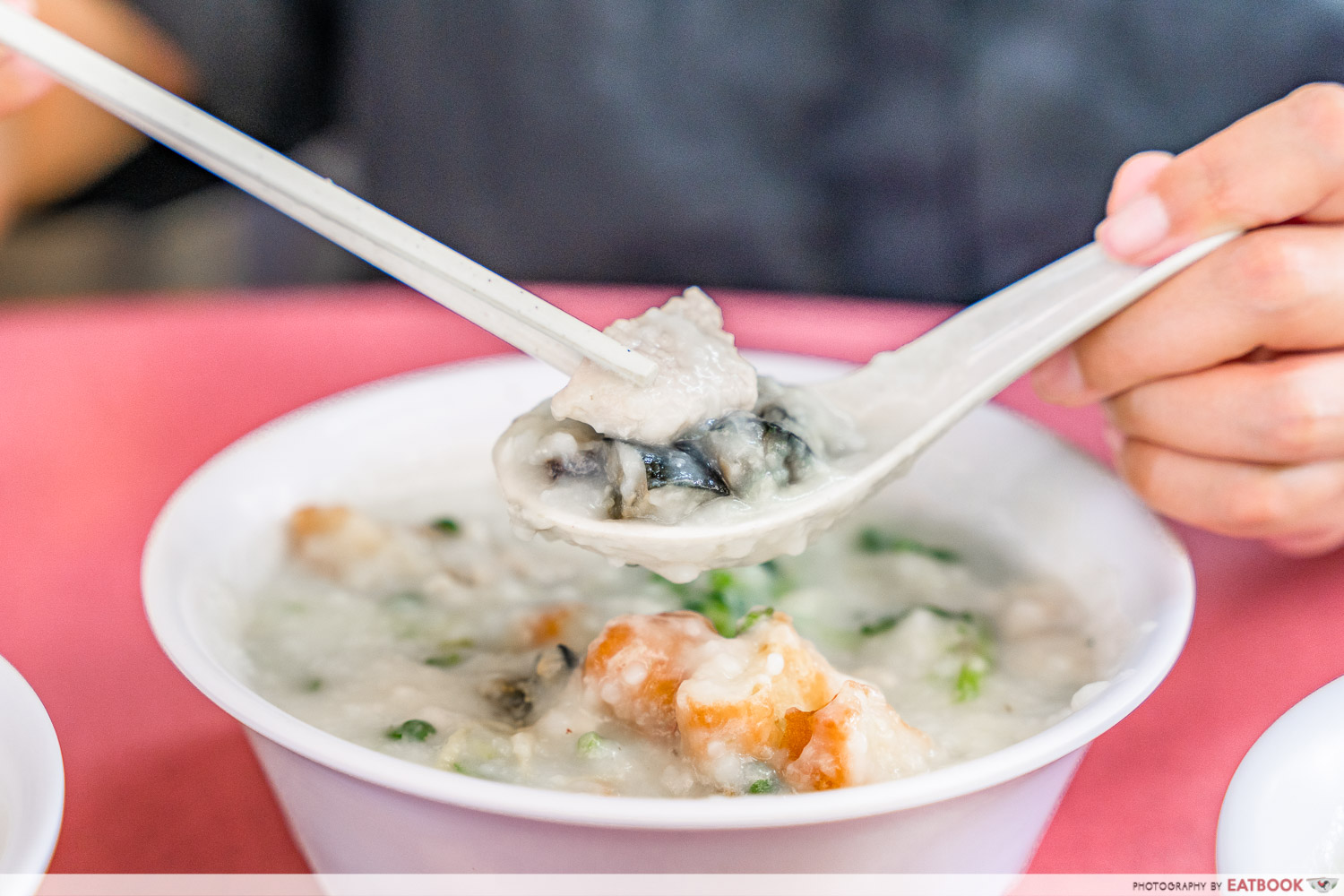 A classic Cantonese-style porridge is century egg pork porridge, but this isn't immediately available on the menu here. Instead, you could order Century Egg Porridge ($3.50) and add on lean pork slices ($1/$2), or get Pork Slices Porridge ($4), and top up $1 for the century egg. As in their other congee options, the pork slices here were tender and not overcooked, and presented in convenient, bite-sized pieces.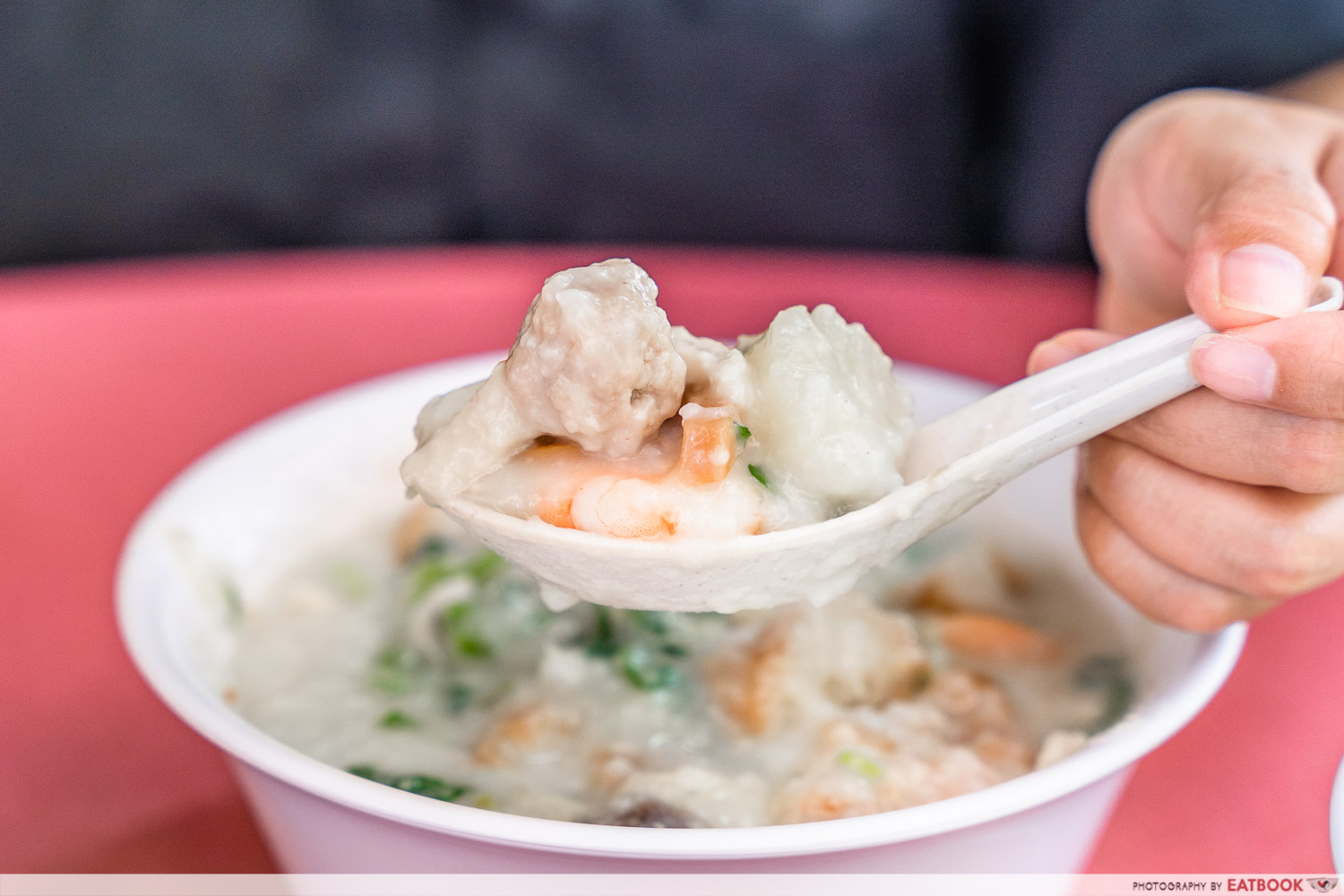 The Premium Porridge ($8) is the most expensive item on the menu here, filled with ingredients such as prawns, scallops, cuttlefish, fish, pork balls, pork slices, chicken, and century egg. Besides the prawns, scallops, and century eggs, everything else is obtained fresh each morning from the market. With no heavy flavours to hide behind, the quality of the produce is key, and you can taste the sweetness of it all, combined.
Johore Road Boon Kee Pork Porridge Review: Traditional Hainanese Porridge Stall Open For Nearly 70 Years
I do wish the piece of scallop were bigger and fleshier, but that is a minor complaint. This bowl of porridge may seem pricey, but every bowl of congee here is almost as much ingredients as it is porridge, so it does balance out.
Ambience at Mei Jie Porridge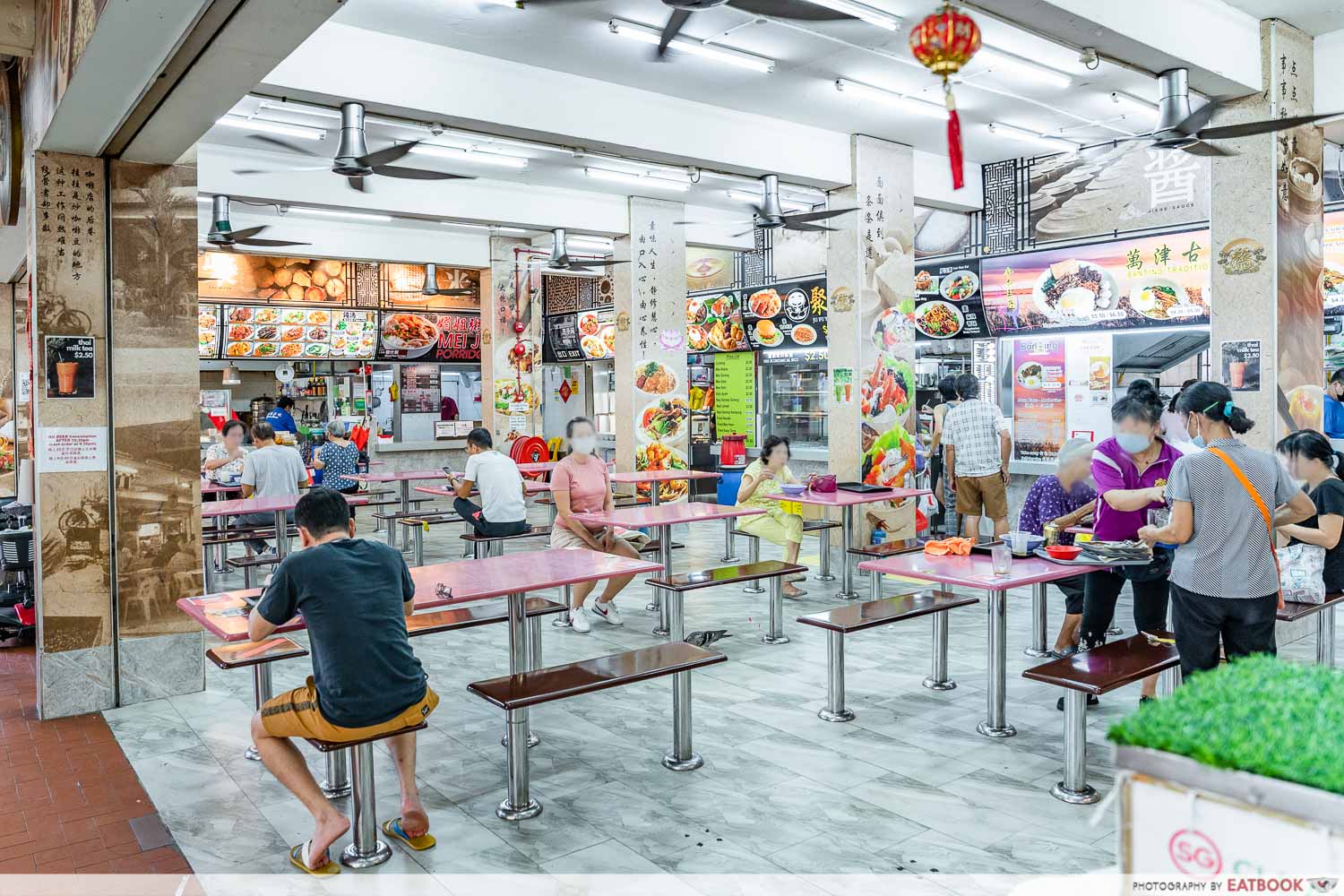 Mei Jie Porridge is located in a food court approximately 15 minutes away by bus from Clementi MRT Station. The interior of the food court is well-lit and spacious, with plenty of ceiling fans to ventilate the place. The place gets quite crowded during lunch, but there are lots of tables in the common areas immediately outside. One quibble we had was that there were many houseflies when we were seated outside.
The verdict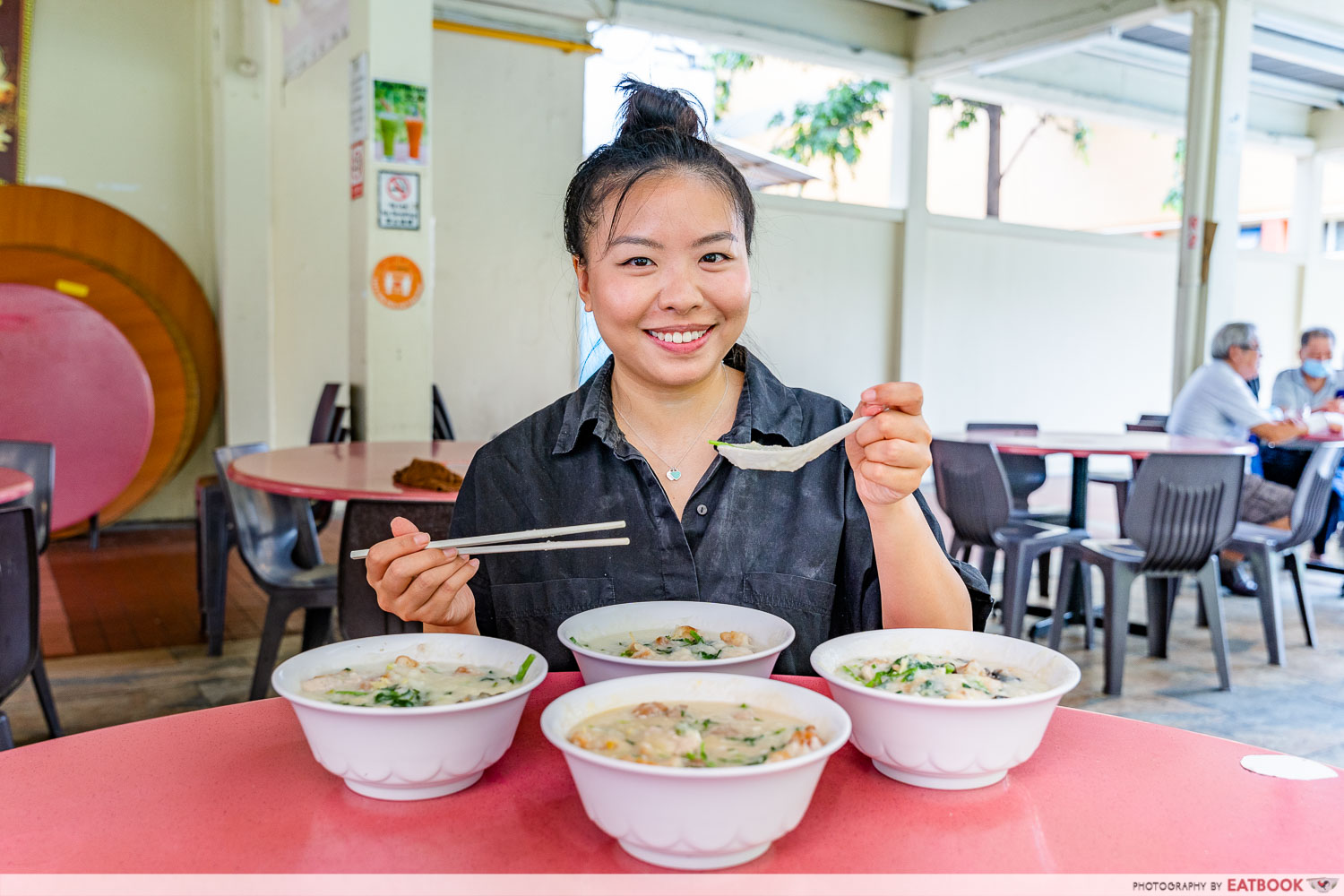 Luckily for me, West Coast isn't too far out of the way, and Mei Jie Porridge is available on GrabFood, so I can see myself getting the congee from here often. Unfortunately, it's rather inaccessible if you aren't driving, or live in the vicinity. The stall is also only open till 2pm, although you do have to consider that this is almost a 12-hour shift for the couple, if you factor in cleaning up. They were sold out for the day, a few bowls after I'd ordered at 12pm, so it's advisable to come early.
However, it still stands to say that these comforting bowls stand out for the generous, quality ingredients used, and the taste and texture of the congee. Praise goes to Yun and Ivan, who take care of everything themselves, for keeping the legacy of this porridge alive─the hawker life is not easy, and it takes grit to uphold the heritage of a disappearing trade.
9 Teochew Porridge Supper Spots That Open Till 12AM Or Later For Affordable Feasts
If you prefer the watery consistency of Teochew porridge, check out our list of Teochew porridge supper spots. For more porridge options, here are 10 porridge stalls in Singapore, or our latest review of Johore Road Boon Kee Porridge!
Address: 722 Clementi West Street 2, #01-150, Singapore 120722
Opening hours: Tue-Sun 6am to 2pm
Website
Mei Jie Porridge is not a halal-certified eatery
10 Porridge Stalls In Singapore For HK-Style Congee, Congee Hot Pot And More
Photos taken by John Lery Villanueva.
This was an independent review by Eatbook.
10 Porridge Stalls In Singapore For HK-Style Congee, Congee Hot Pot And More
The post Mei Jie Porridge Review: Young Couple Makes Old School Cantonese Porridge From $3.50 In West Coast appeared first on EatBook.sg – New Singapore Restaurant and Street Food Ideas & Recommendations.