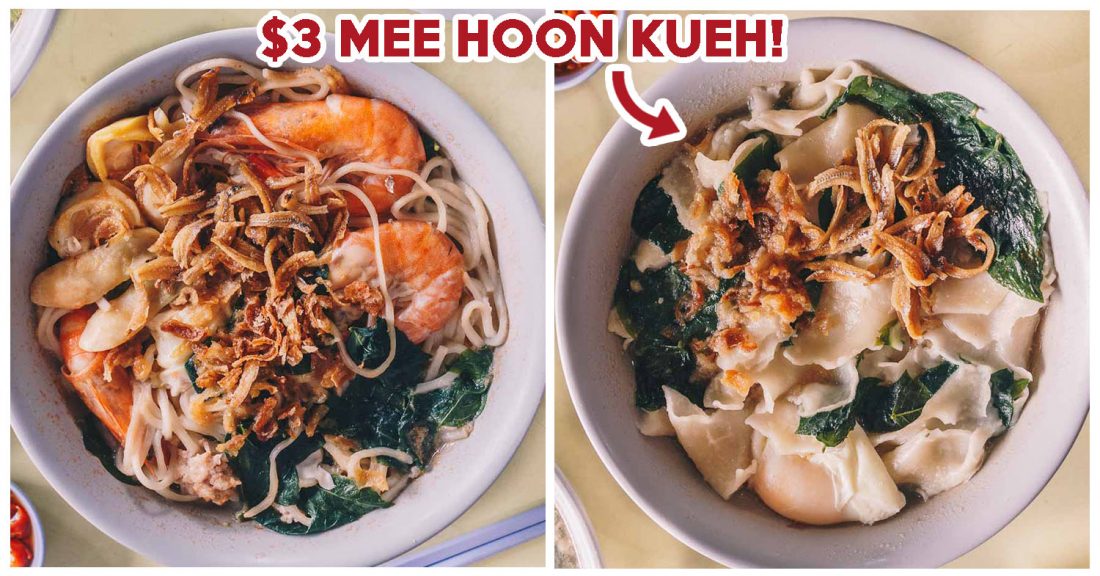 Mee hoon kueh in Marsiling Lane Food Centre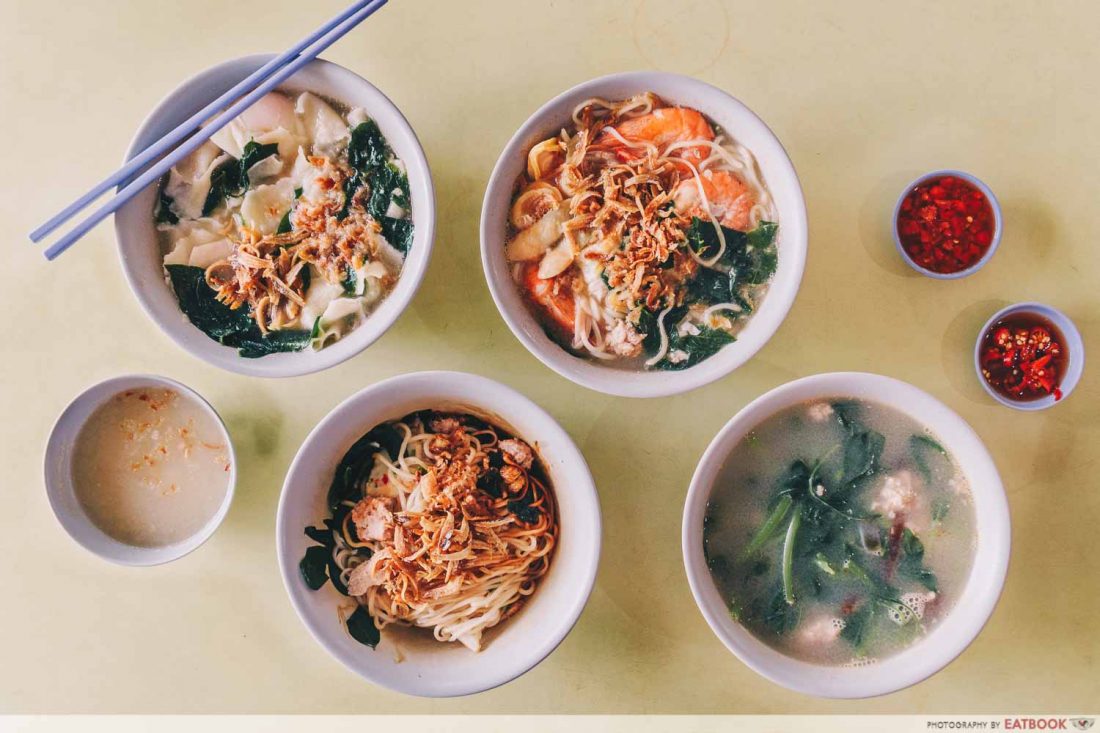 Woodlands deserves a lot more credit for its food, rather than just the fact that it houses the checkpoint to Malaysia, with one such food enclave in Marsiling Lane Food Centre. Besides just their namesake, Marsiling Handmade Mee Hoon Kueh also specialises in ban mian, sliced fish, and seafood soup too. I was curious to find out if one of the cheapest mee hoon kueh around Singapore would have an edge in taste over its competitors, so I had to drop by together with a dining companion.
L32 Handmade Noodles Review: Handmade Seafood Ban Mian With Long Queues At Geylang
Food at Marsiling Handmade Mee Hoon Kueh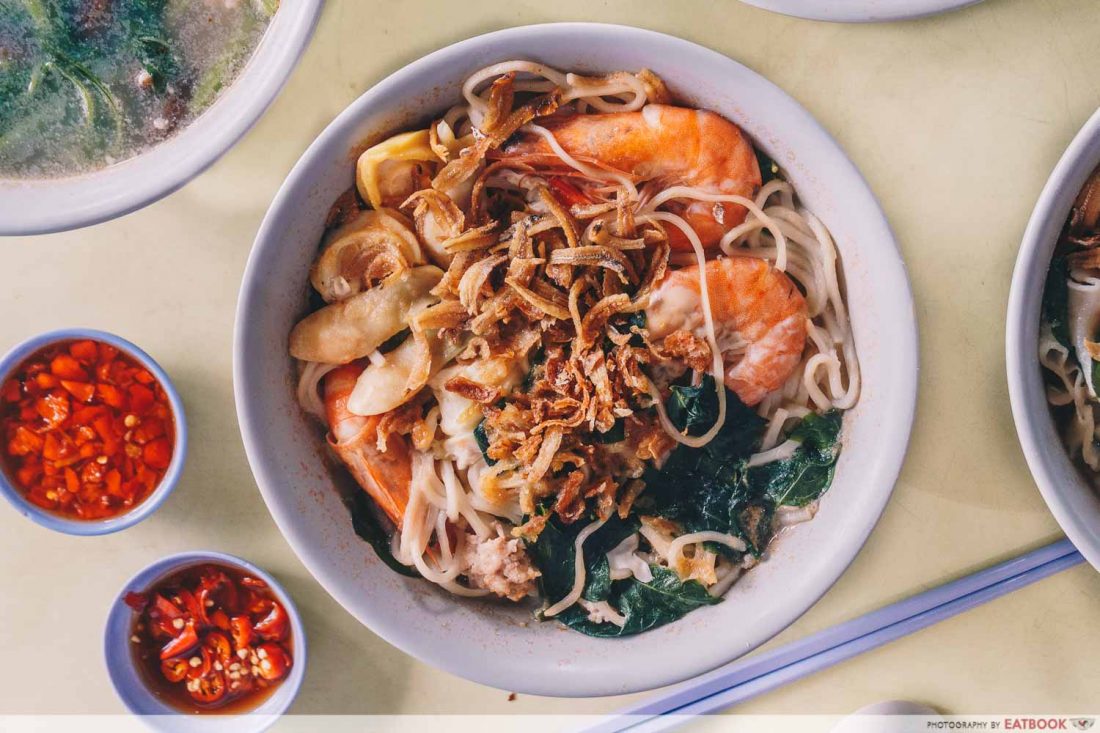 I'm a sucker for all things seafood, so I knew I had to bring on the Seafood Abalone Noodles ($6.80) first. For its price, they're pretty generous with the ingredients, with four razor clams, three decently large prawns, and two baby abalones per bowl.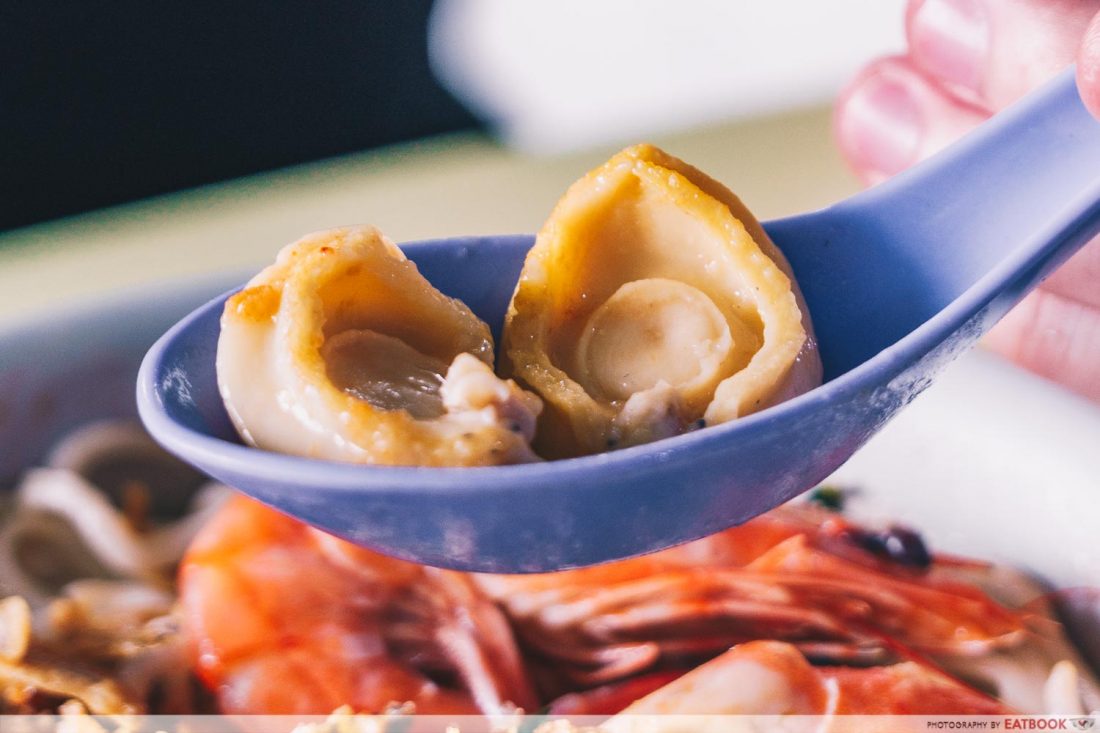 The sweet razor clams were juicy enough, while the fresh prawns lacked an unpleasant briny taste, though my lazy side wishes they were deshelled. The baby abalone was chewy, with a noticeable saltiness that reminds you of the sea. Nowadays, $6.80 might not necessarily get you as large a portion of liao as you do get here, so this is a treat particularly for those with voracious appetites.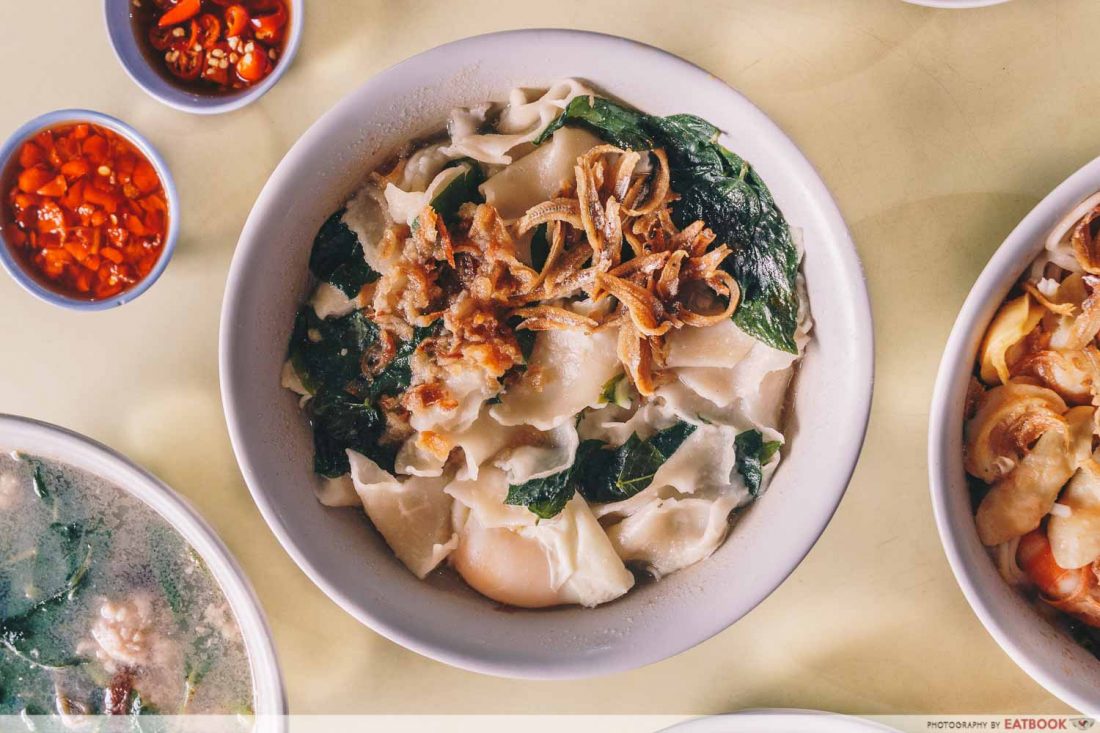 Their star attraction, the Mee Hoon Kueh ($3) was a little underwhelming, but it definitely got the job done. The thicker and larger pieces of noodle were smooth and QQ enough, absorbing the savoury broth well.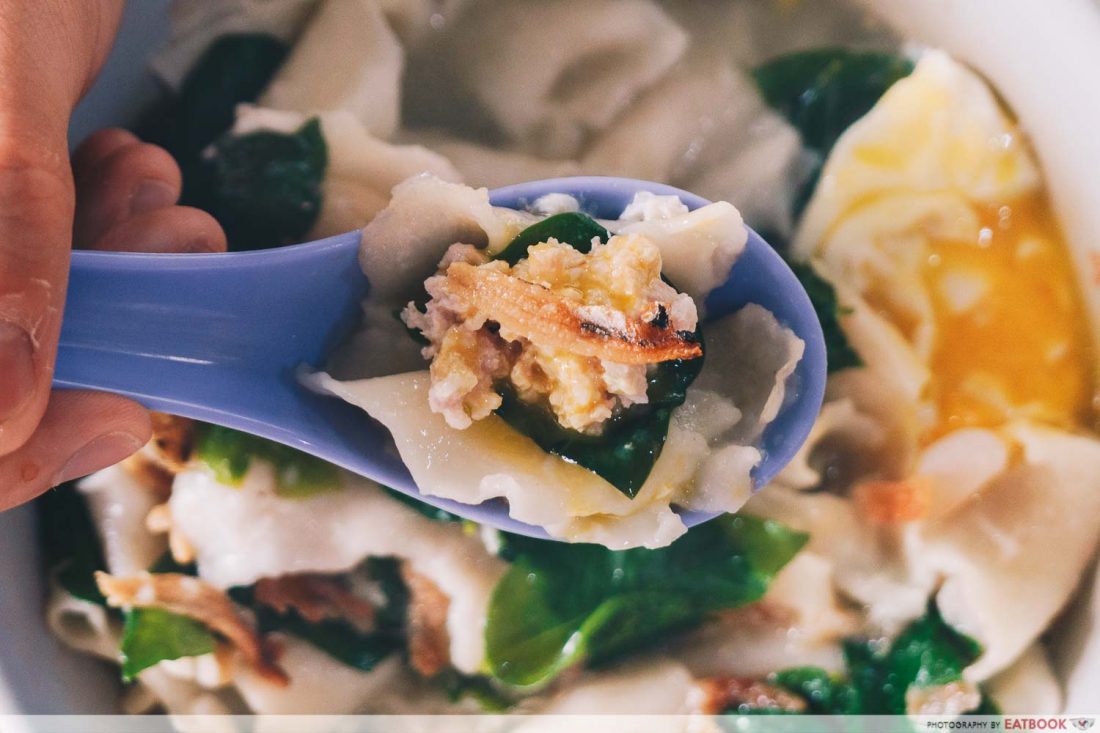 You also get their standard ban mian toppings of minced pork, fried anchovies, runny egg, and spinach to go along too. My gripe with this is, on its own, the soup can be a bit too watery and bland, missing that bit of slurp-worthy umami flavour that I like.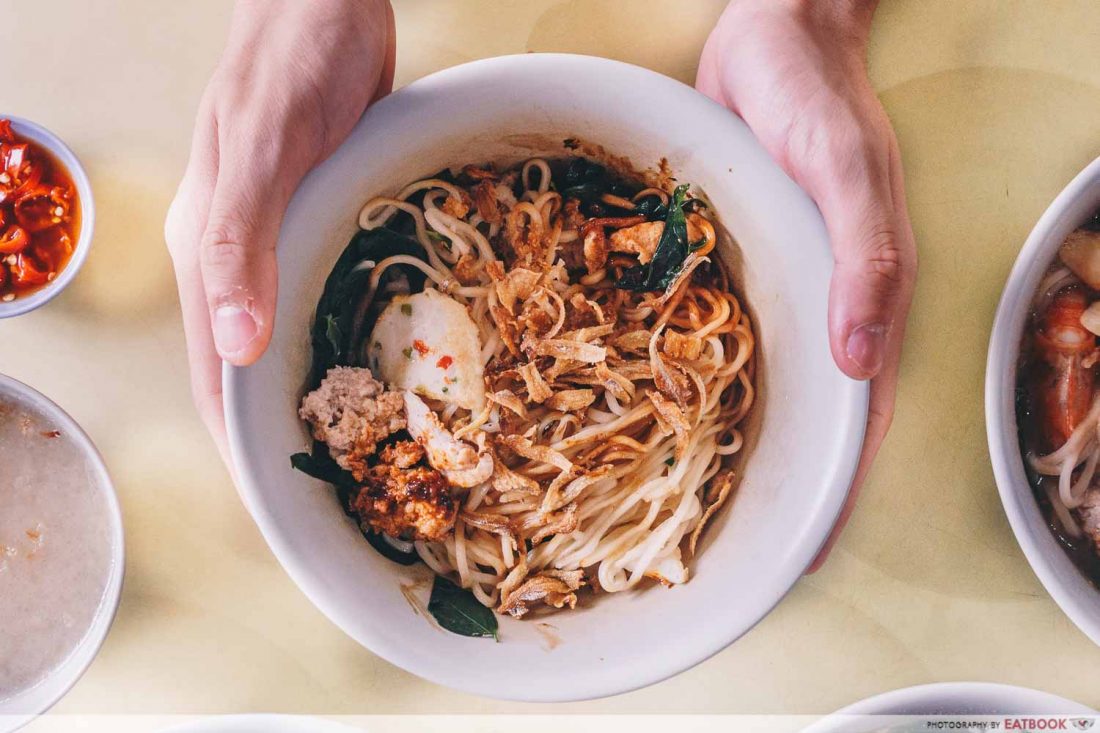 All personal preferences aside, I'd still recommend their Dry You Mian ($3), especially for spice lovers. The thin and delightfully eggy noodles mixed in a darker sauce came served with bigger chunks of minced pork, pork slices, fishcake, and a generous dose of fried shallots too.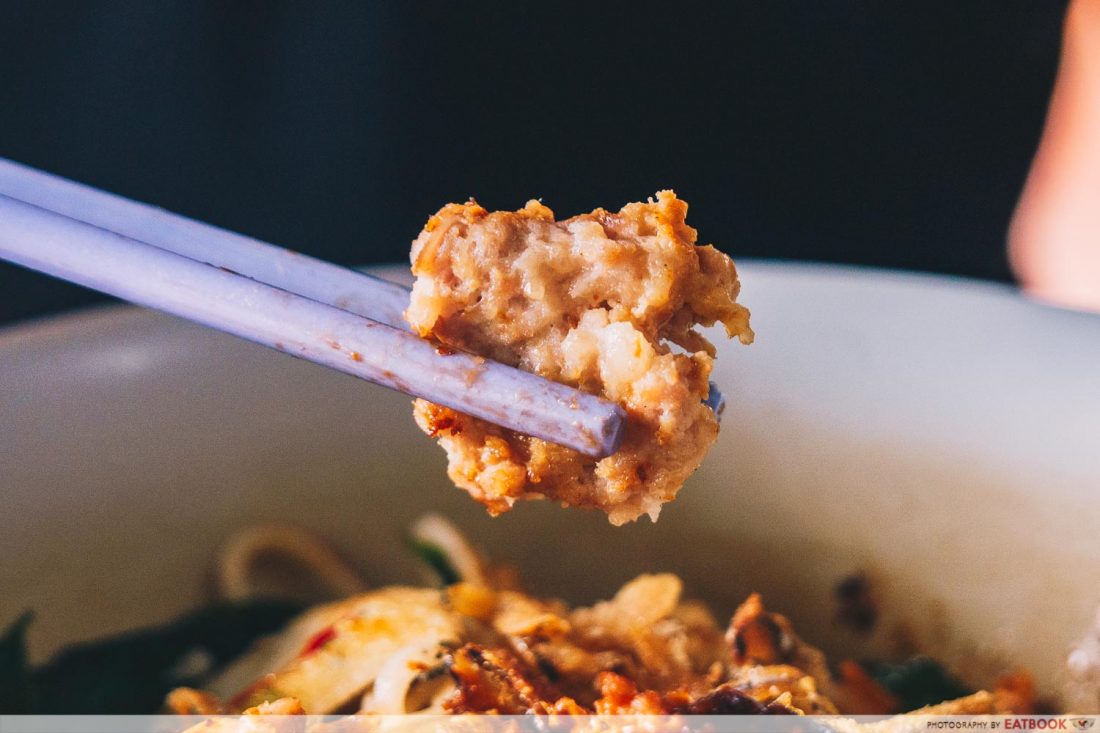 Their minced meat was well-seasoned and tender, while the pork slices were not as tough as I expected. The chilli sauce has hints of belacan and adds quite some kick, which blends well with the sweeter, darker sauce. I do wish the noodles didn't dry up and clump so fast though, as it became harder than expected after a while of sitting.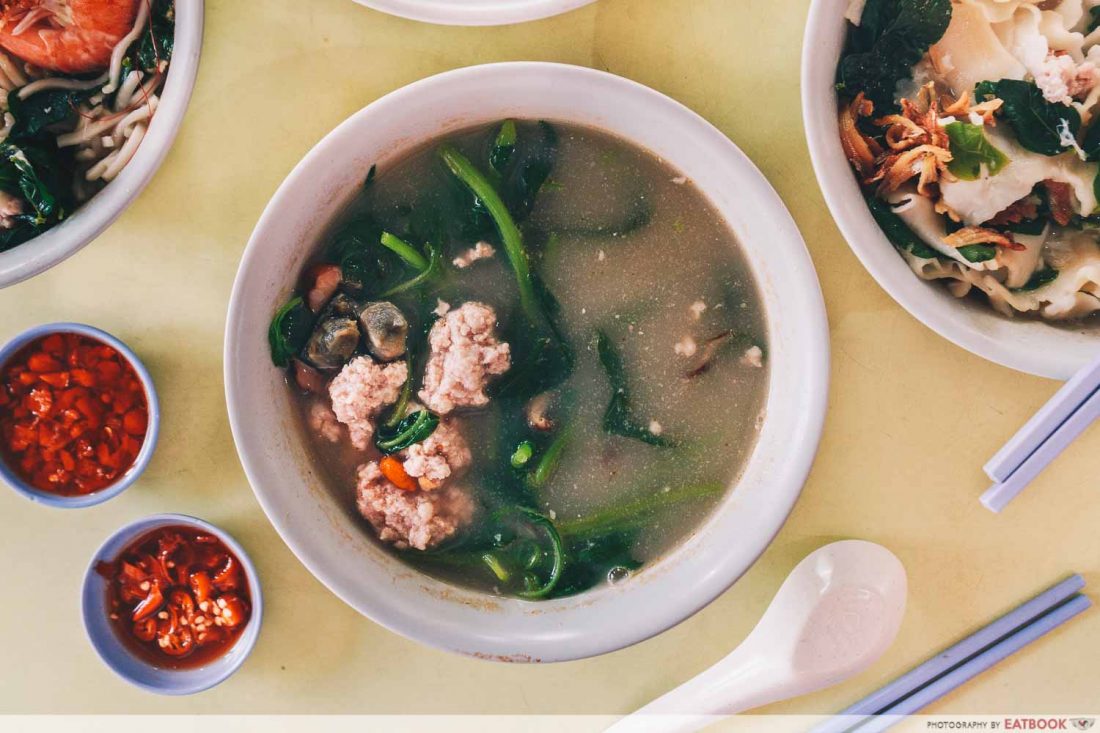 The Spinach, Century And Salted Egg Soup ($3.50) might be a lighter alternative or accompaniment to your rather heavy-going bowl of noodles. The leafy spinach is crunchy in texture and adds contrast to the heavier flavours of the soup, with a mild sweetness too.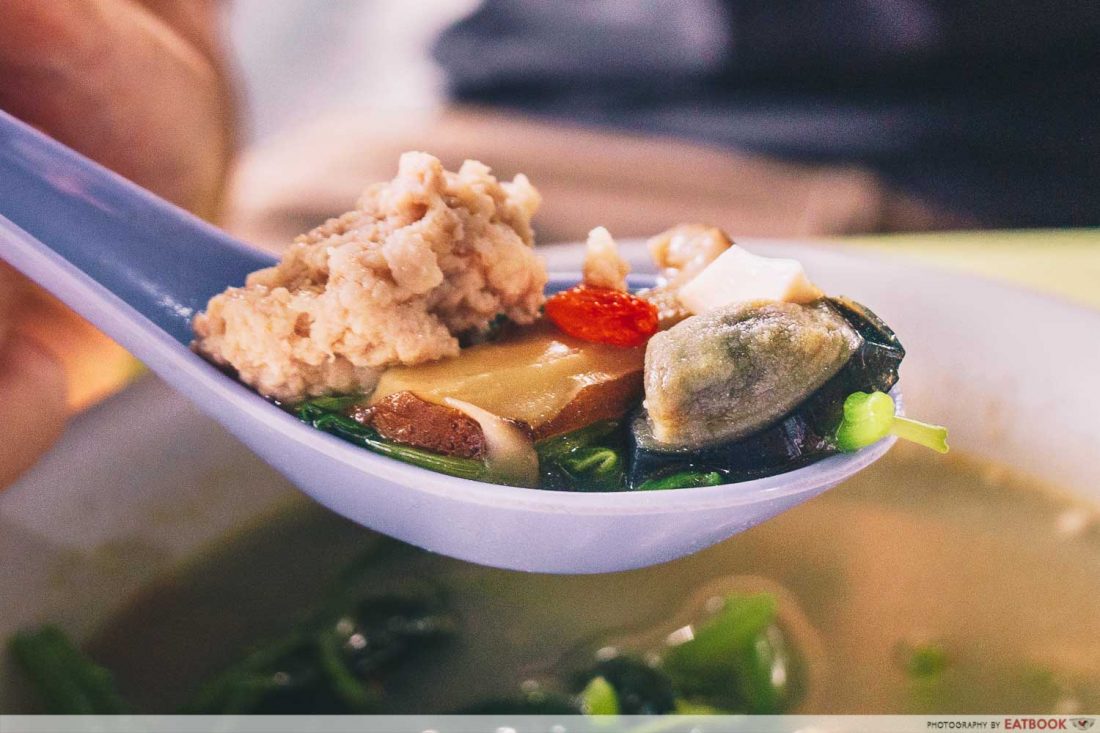 The salted egg added depth with its sharp and rich salty taste, complemented well by the robust flavours of the century egg. The presence of earthy red dates gave the soup a nutritional boost. Yet, I also wish they were a little more generous with their serving of eggs and dates so I wouldn't have to play hide and seek so much to find them.
Mian Zhuang Review: Young Couple Sells QQ Ban Mian Made From Family Recipes In Chinatown
Ambience at Marsiling Handmade Mee Hoon Kueh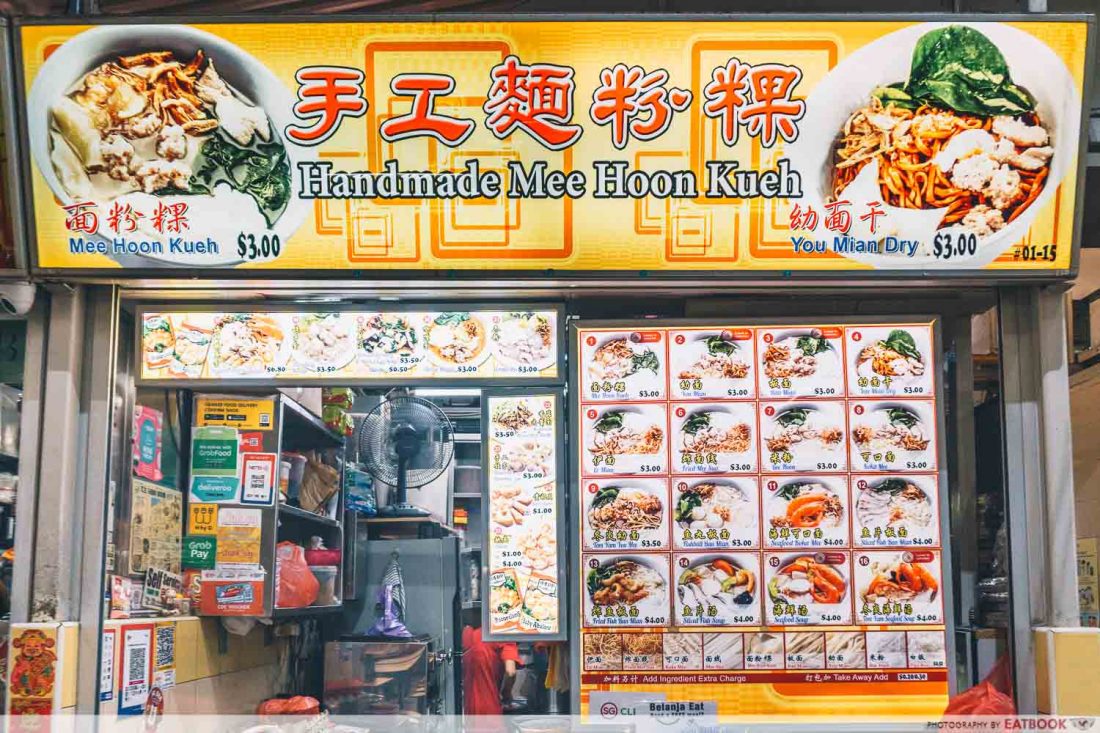 I wouldn't exactly say Marsiling Handmade Mee Hoon Kueh is very accessible unless you're coming directly from Johor Bahru through Woodlands. A 15 to 20-minute bus ride from Marsiling MRT Station would take you here, as this stall isn't considered very near to civilization to most.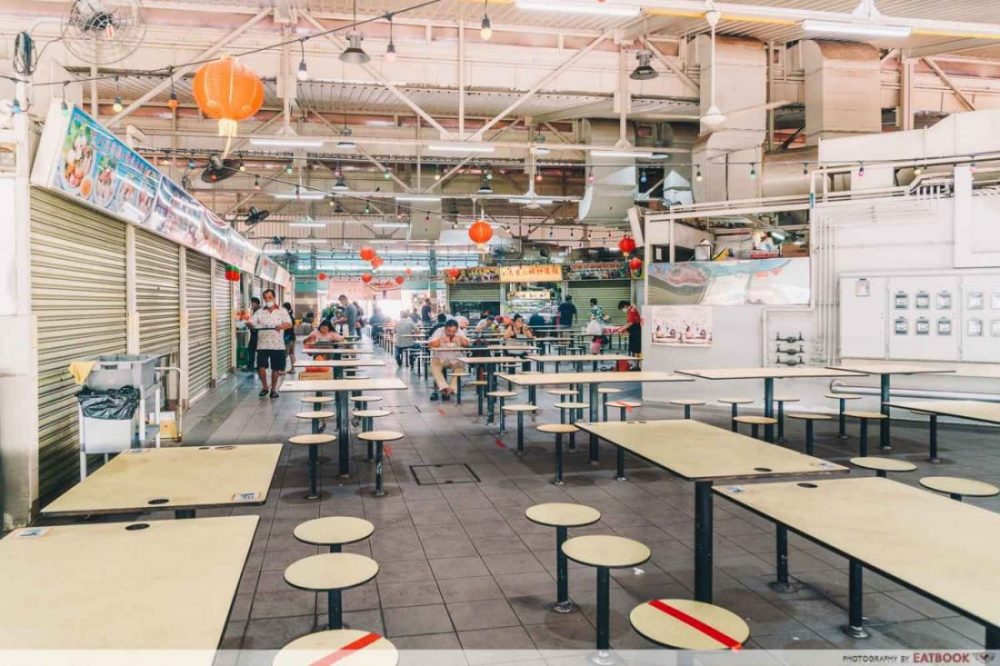 They definitely make up for their inaccessibility with efficient service and short waiting times, as despite the peak lunchtime hours, we only waited less than 10 minutes to get our bowls. The food centre itself is quite spacious, though we recommend sitting at the outer tables facing the main road if you're slightly claustrophobic as inside seating can still be a bit cramped.
The verdict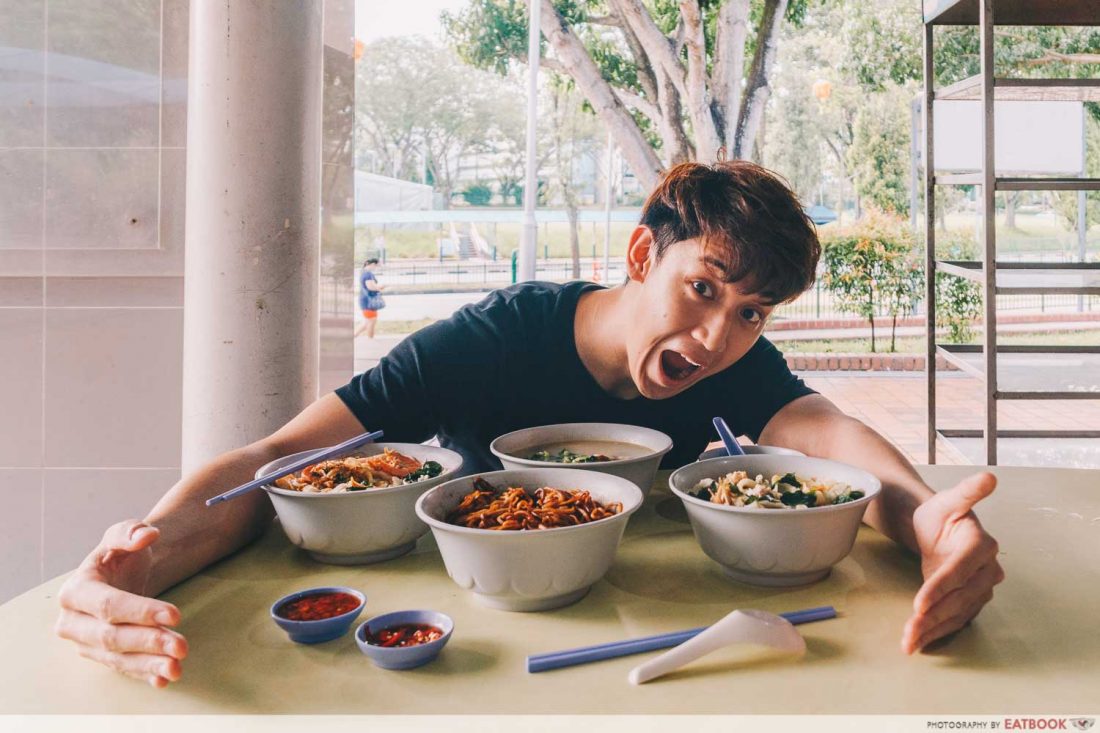 Residents of Woodlands and those willing to travel for wallet-friendly hawker fare, I'd recommend giving Marsiling Handmade Mee Hoon Kueh a go, especially since they've been proven a crowd favourite in the area. 
Unfortunately, it's just simply not exceptional enough for me to return repeatedly, despite enjoying the Seafood Abalone Noodles in particular. Compared to other mee hoon kueh specialists like Jiak Song, this stall just doesn't match up as well and is made less attractive by its rather far off location.
If you're looking for more quality ban mian stalls, check out our L32 Handmade Noodles review for seafood ban mian worth queuing for in Geylang. Alternatively, read our Mian Zhuang review for QQ ban mian sold by a young couple in Hong Lim Food Centre.
Address: Block 20 Marsiling Lane, #01-15, Marsiling Lane Food Centre, Singapore 730020
Opening hours: Daily 2.30am to 8.30pm
Tel: 9824 3511
Website
Marsiling Handmade Mee Hoon Kueh is not a halal-certified eatery.
Jiak Song Mee Hoon Kway Review: Delicious Handmade Mee Hoon Kueh By Ex-MasterChef Finalist
Photos taken by Nur Syamira.
This is an independent review by Eatbook.sg.
The post Marsiling Handmade Mee Hoon Kueh Review: Handmade Ban Mian With Generous Portions Near Woodlands appeared first on EatBook.sg – New Singapore Restaurant and Street Food Ideas & Recommendations.