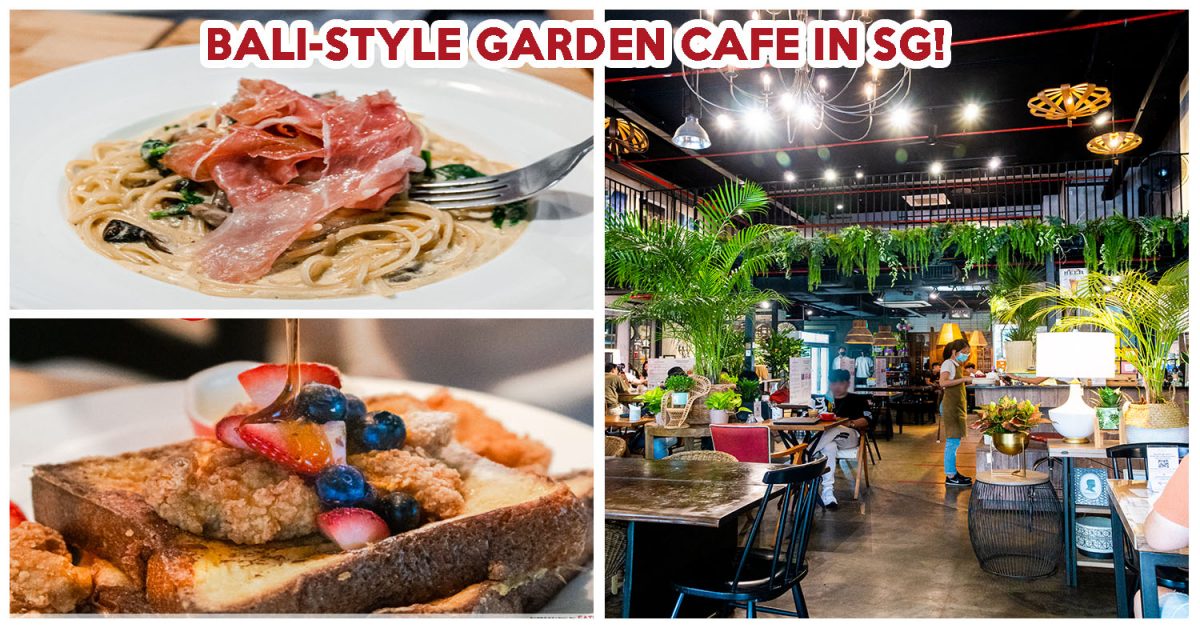 Knots Cafe And Living along Paya Lebar Road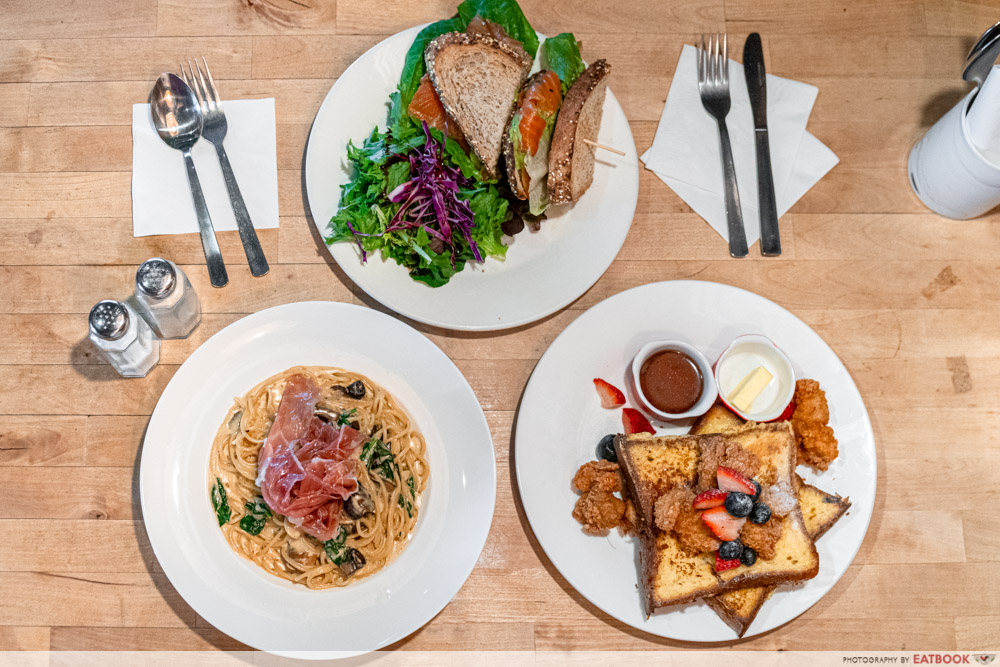 Whenever I find my stomach in knots, I realise my go-to source of relief would usually be in food, with dining in a relaxing cafe being one of my guilty pleasures. When it comes to "chill vibes", Knots Cafe And Living surely spoils the market, as it's essentially a cafe embedded within a furniture shop that also happens to sell plants. 
Located around the MacPherson area, the cafe serves mostly brunch food, pizza, desserts together with a slew of mains. Seeing how this particular cafe exudes the same youthful energy as those found in Bali, I wanted to determine if their food could be as good a selling point as their unique garden-like ambience.
10 Gorgeous Restaurants In Parks, Including Pet-Friendly Cafes For Your Next Weekend Out
Food at Knots Cafe And Living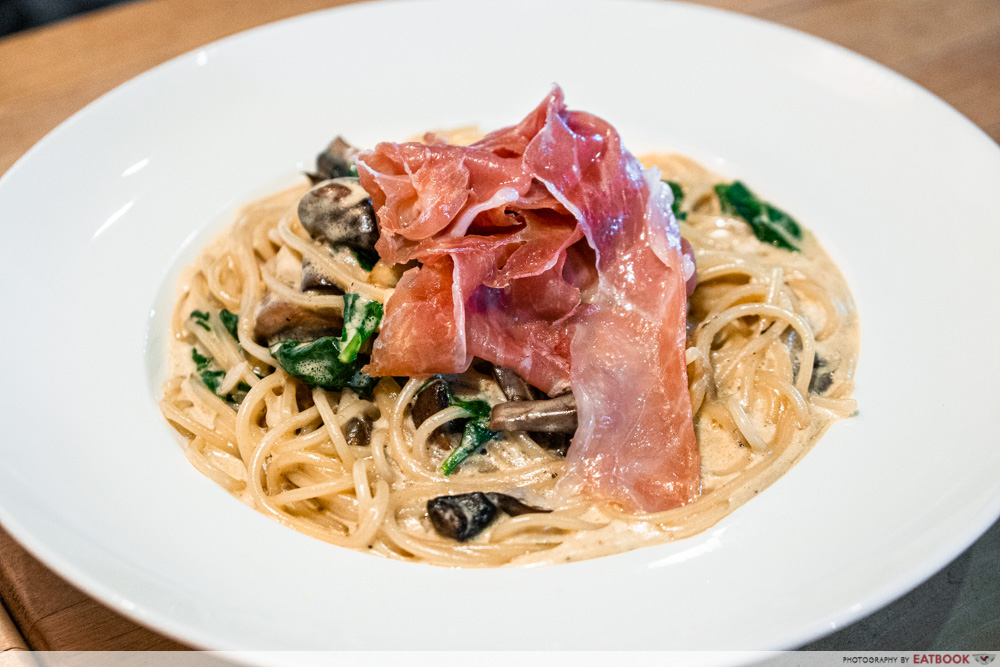 Fortunately, I'm all aboard the truffle hype train, so I had to start with the Truffle Parma Spaghetti ($21.50).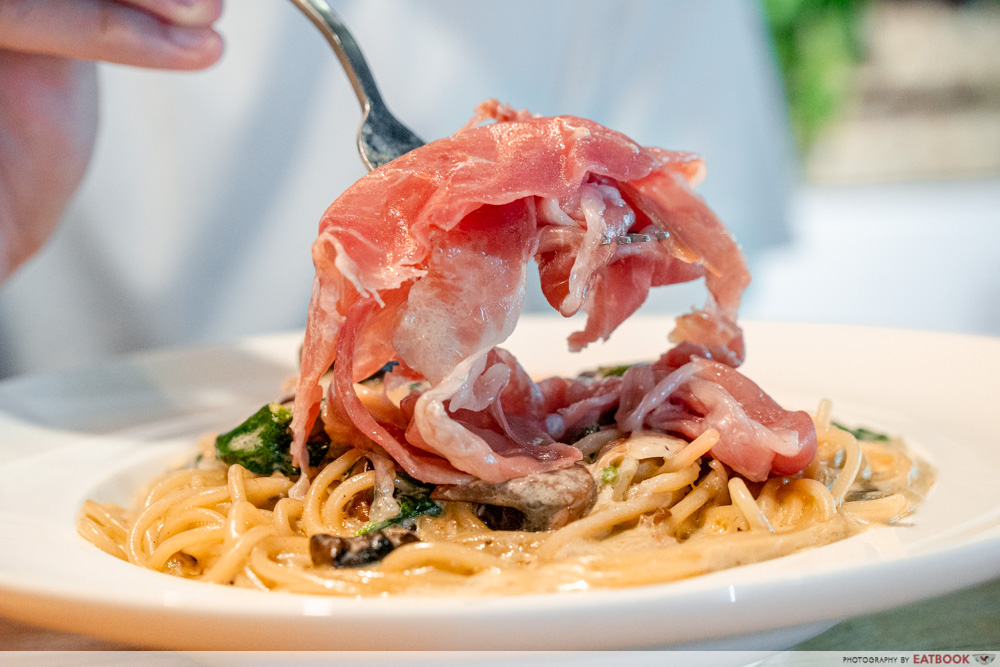 A mini mountain of prosciutto parma ham sits atop a bed of pasta, drenched in an aromatic truffle-infused cream sauce. The parma ham had a smoother consistency than I expected, with a pleasant sweet-salty balance. 
Apart from the ham, the pasta is laced with button mushrooms and baby spinach. The juiciness of the mushrooms and the softness of spinach complemented the robust pasta well. Other than a faint scent of truffle oil, there was no presence of actual truffles, which kinda disappointed me.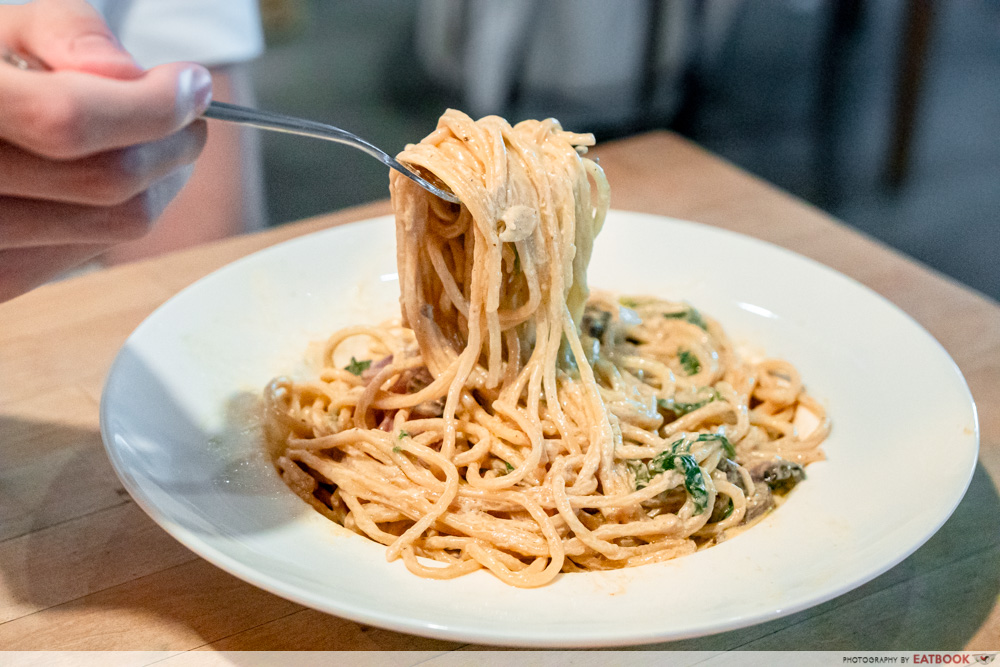 My biggest issue with the dish would be the excessive oiliness of the sauce, which contributed to making it more jelak than it had to be. After a while of taking photos, the sauce settled with a huge visible puddle of oil. As such, each spoonful of pasta became more dehydrating, so I kept having to take constant sips of water to wash it down.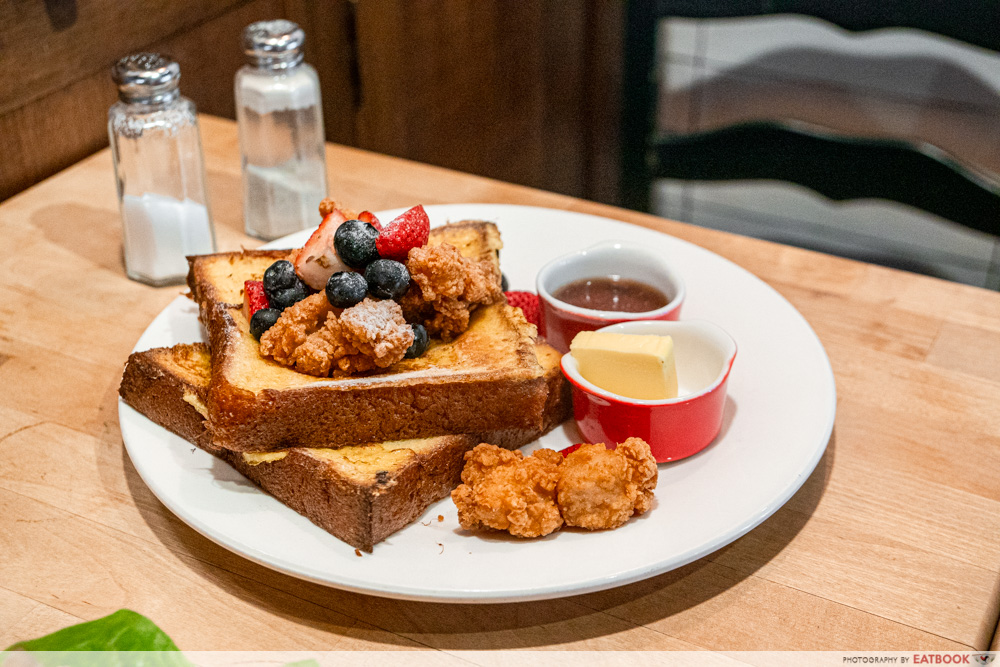 When it comes to cafe food, I'd imagine one staple would be French Toast ($15.90). Their version is spiced up a little more by combining both sweet and savoury in their ingredients. In addition to pan-fried brioche toast, the plate comprises a selection of mixed fruits, and even popcorn chicken, topped with a smoked strawberry maple syrup, butter, and peppered with their in-house "snow powder".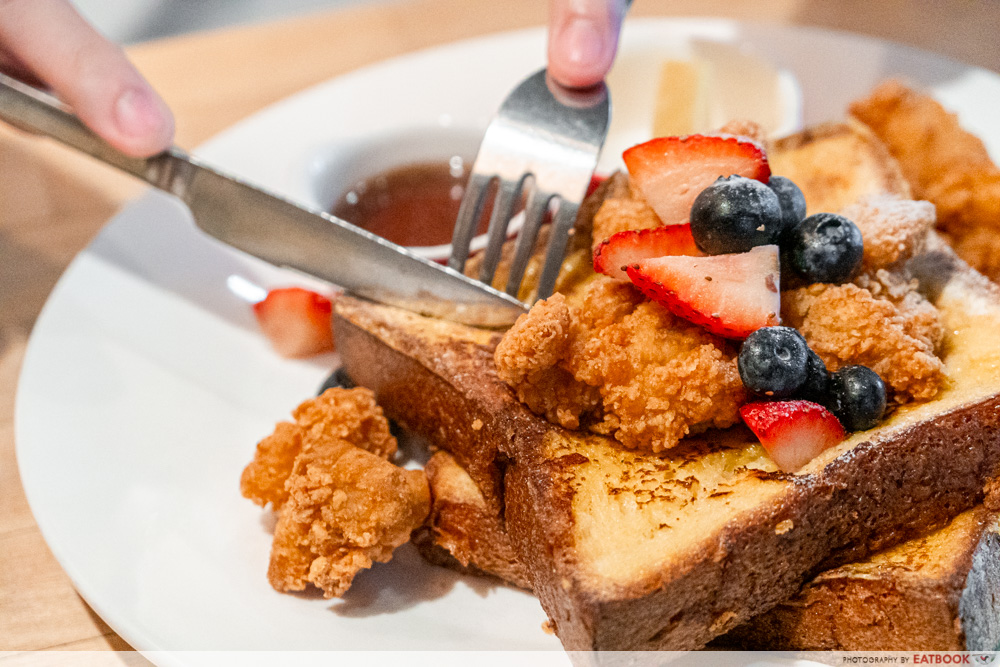 Going back to the fundamentals, the toast itself was decently crispy on the outside, yet its interior just wasn't as soft and fluffy as I'd imagined it to be. The toast wasn't overpoweringly eggy and had a slight sweetness when eaten on its own.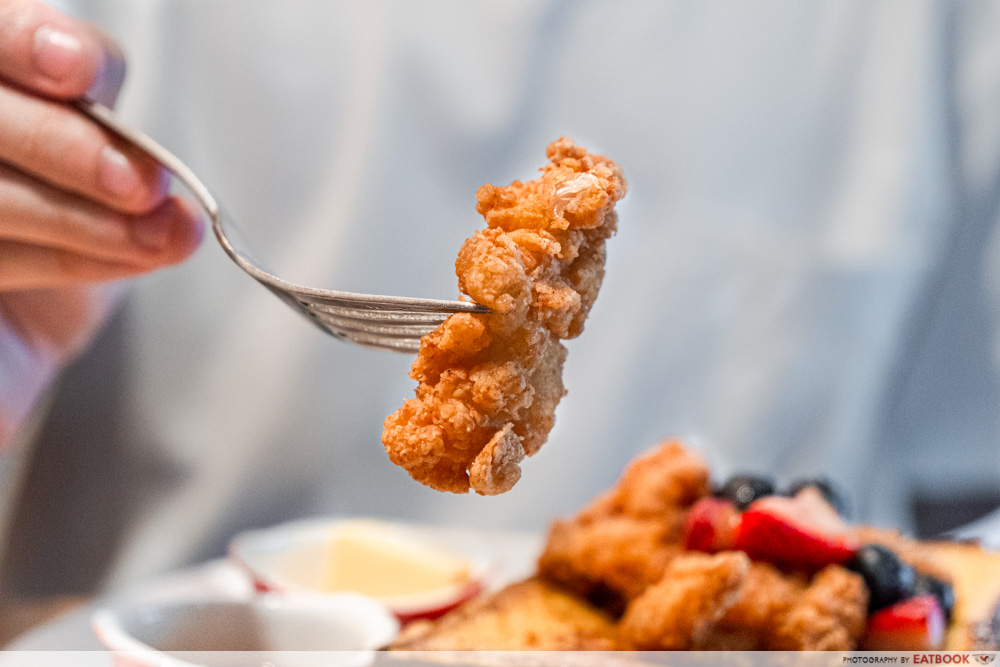 Additionally, there wasn't anything special about their fried popcorn chicken. In fact, I'd even go as far as to say that it highly reminds me of those that can be found at the frozen section of any supermarket. That being said, their strawberries and blueberries were fresh and introduced zest to the dish.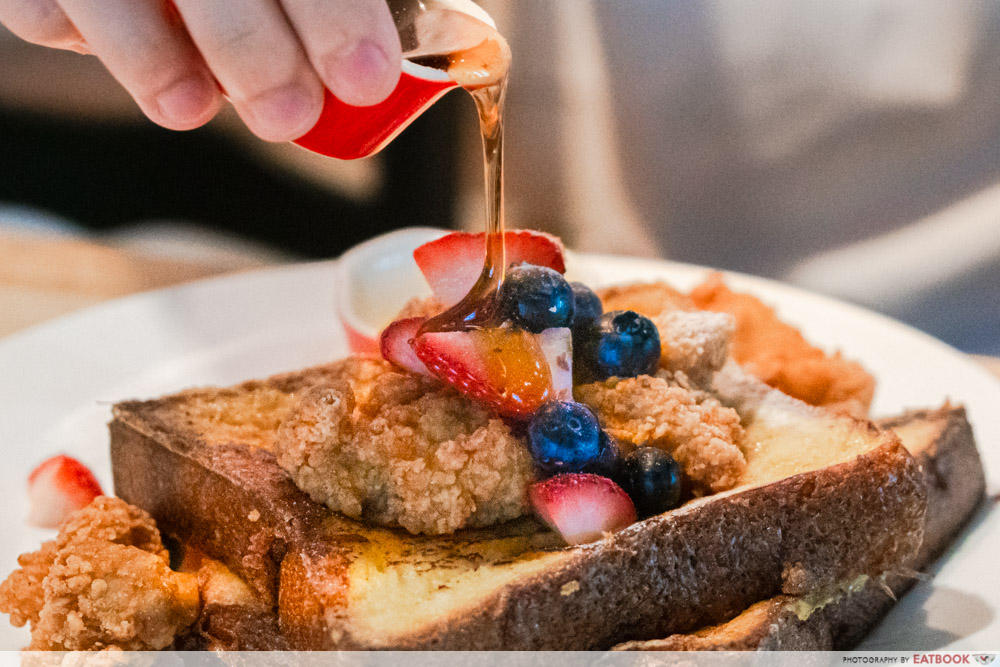 But, I do wish that the strawberry essence and smokiness in their maple syrup could be more pronounced so that the sugariness of the syrup could be less predominant.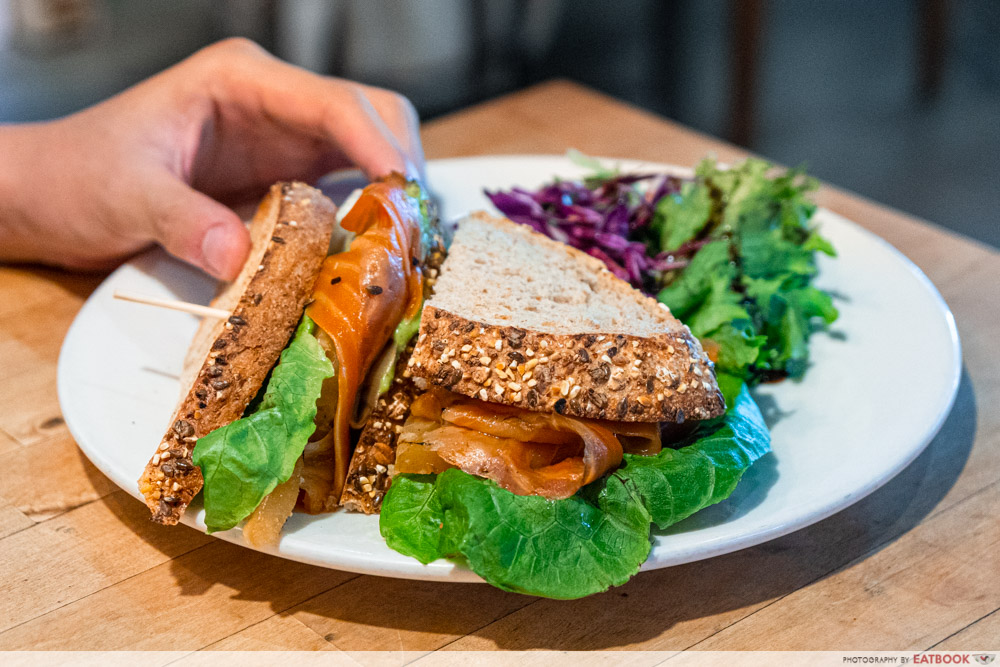 To start your day right, opt for the Smoked Salmon Sandwich ($15.90), featuring Norwegian smoked salmon with guacamole spread on multi-grain bread. The portion of salmon was substantial enough to justify its price. The fish wasn't too smoky and oily, allowing me to savour its freshness and fattiness.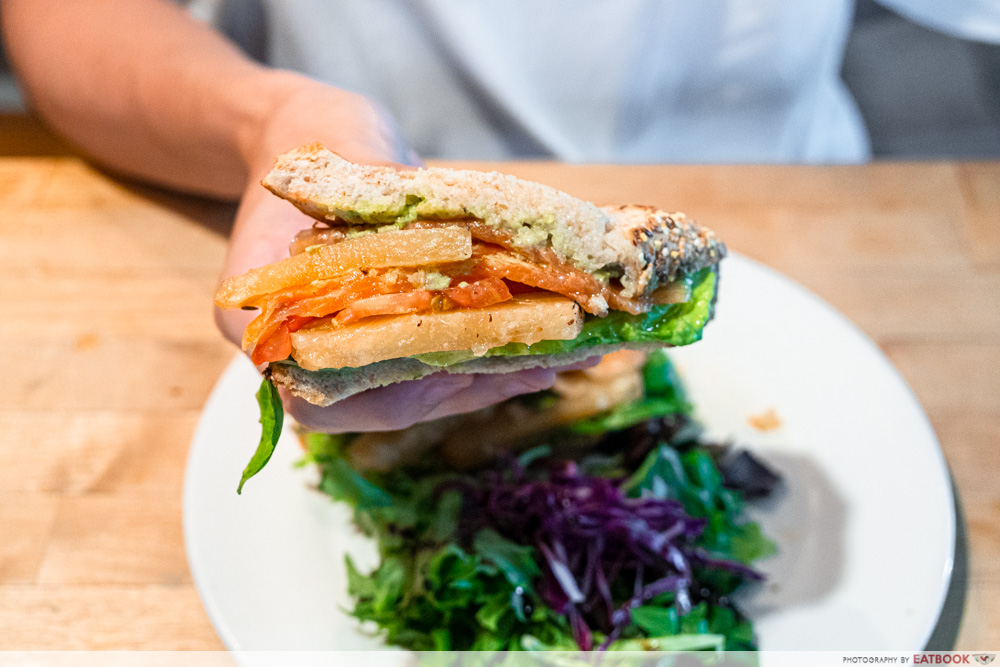 Ideal for the health-conscious, the sandwich comes with a slice of caramelised pineapple, lettuce, tomatoes, and a side of fresh greens to top it off. The guacamole adds creaminess, pairing well with the salmon, though I'd imagine it can be too rich for some. 
I was surprised at how well the pineapple went with the rest of the ingredients, as it can seem rather out of place in the sandwich initially. However, the pineapple's sugariness added depth, mellowing down the salmon's saltiness. 
Though nutritious, the toasted multi-grain bread was rather dry and hardened fast.
12 Quiet Cafes In Singapore For All Your Studying And Remote Working Needs
Ambience at Knots Cafe And Living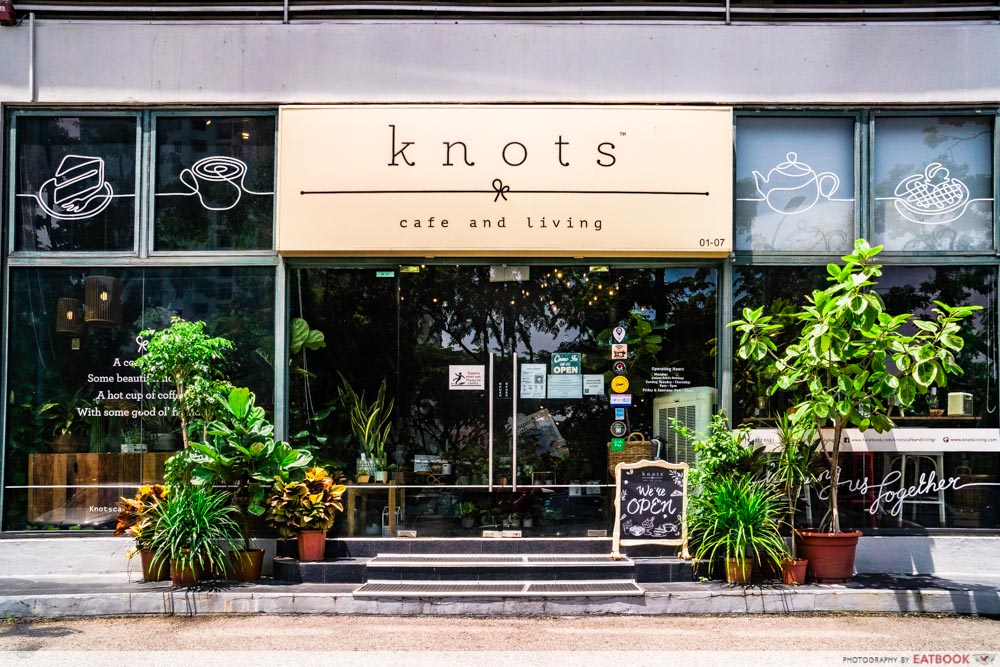 About a five minute walk from MacPherson MRT Station, Knots Cafe And Living is pretty convenient. The cafe itself seats about 100 people, with wooden tables surrounded by lush greenery and a rustic backdrop. It's already a hit with the office crowd around, as it's practically packed to the brim during lunchtime, so do make your reservations in advance or prepare to come early to chope your seats.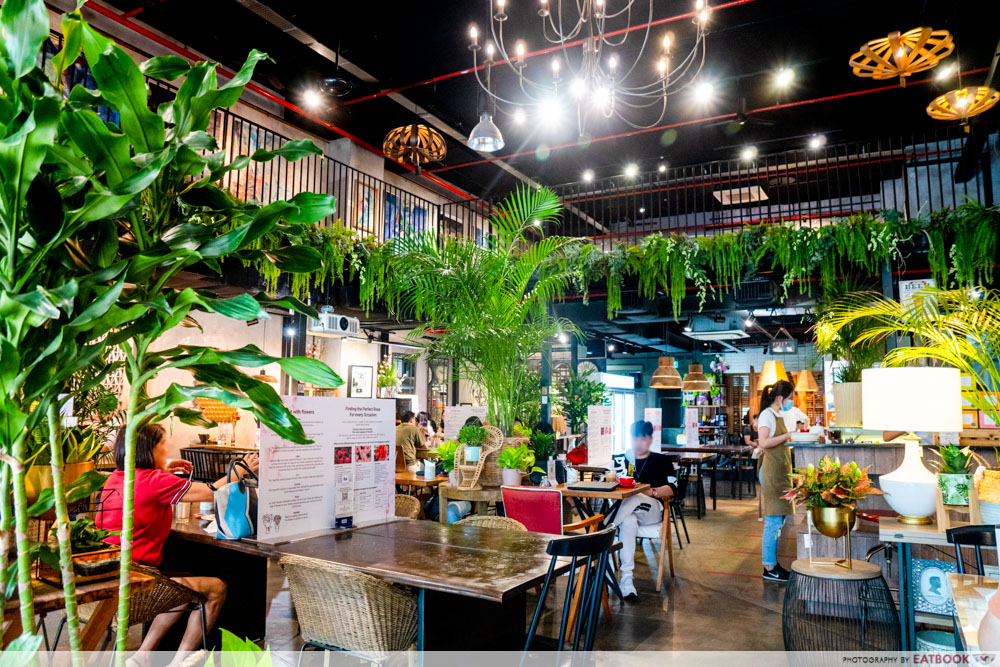 Due to the cafe being owned by the people behind Xpressflower.com, the presence of a wide variety of plants and flowers adds colour and vibrancy to the rather minimalistic atmosphere, giving the place a relaxing, Bali-esque vibe.
The Bravery Review: Muslim-Owned Cafe With Seafood Alfredo And Breakfast Steak
The verdict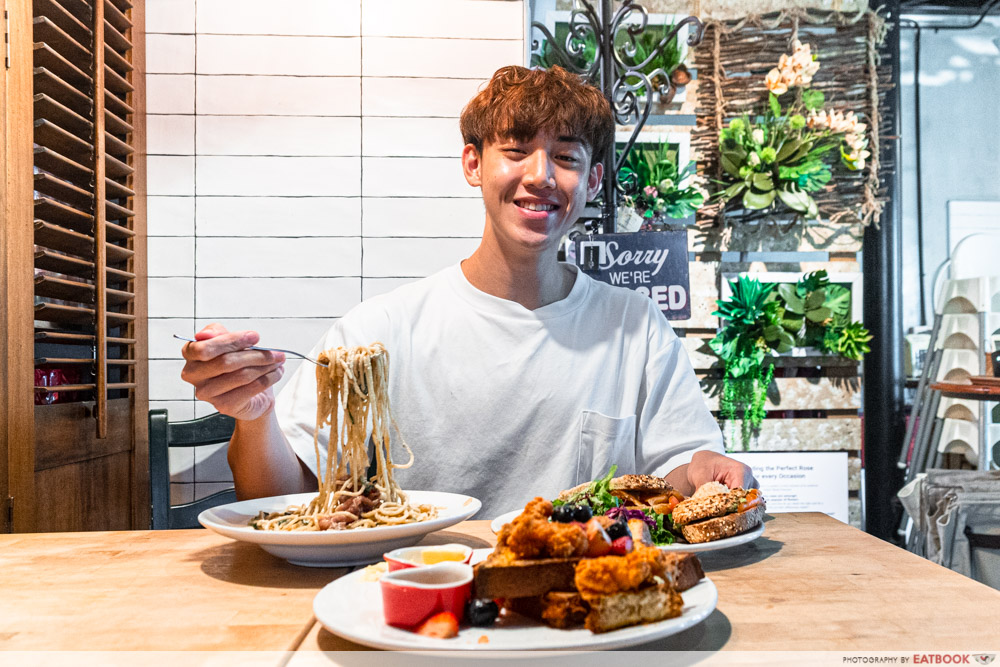 If you're someone who goes to cafes for the "vibes", it's highly likely that Knots Cafe And Living will be right up your alley. I think that their ambience would have to be one of the more aesthetically pleasing ones around, as I truly feel like I'm dining in somewhere like Canggu rather than a cafe. 
However, their menu is rather, for a lack of a better word, basic, with dishes like the French Toast and Smoked Salmon Sandwich being common features on brunch menus around. But, I'd imagine its IG-worthiness could be a real selling point for many of my fellow Gen-Zs. 
For more cafes to check out, read our A Beautiful Day review, where we visit an all-pink cafe in Changi. Otherwise, there's also our Rachelrax Cakes review, where we try IG-worthy desserts such as a galaxy dome cake and an orh nee tart.
Address: 160 Paya Lebar Road, #01-07, Singapore 409022
Opening hours: Mon 10am to 9pm, Tue-Thurs, Sun 9am to 9pm, Fri-Sat 9am to 10pm
Tel: 6817 0383
Website
Knots Cafe And Living is not a halal-certified eatery.
A Beautiful Day Review: Pink Cafe With Bandung Souffle Pancakes And Red Velvet Latte
Photos taken by Ian Sim.
This is an independent review by Eatbook.sg.
The post Knots Cafe And Living Review: Popular Cafe With Bali Vibes Serves Brunch In MacPherson appeared first on EatBook.sg – New Singapore Restaurant and Street Food Ideas & Recommendations.