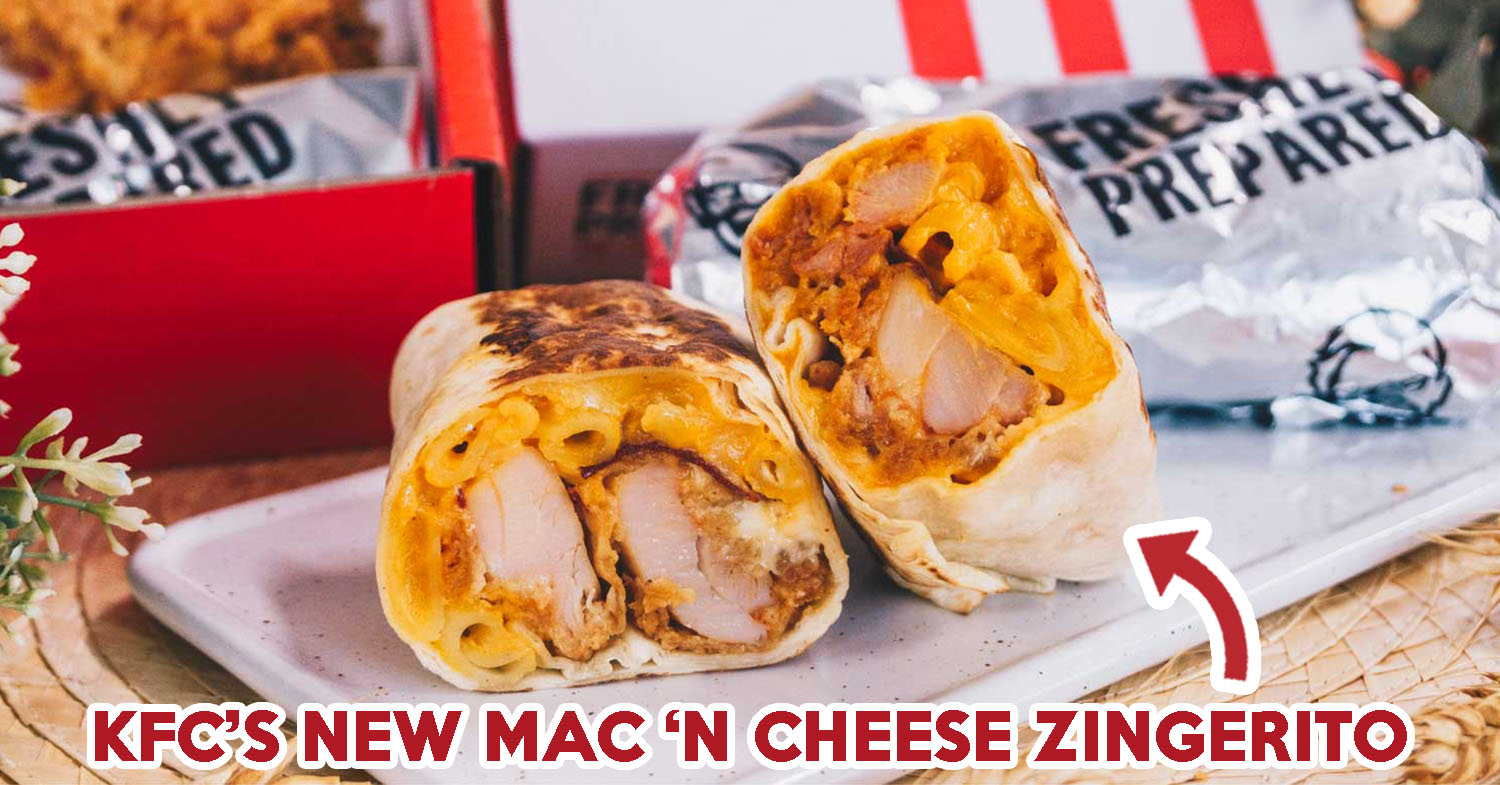 KFC's new Mac 'N Cheese Zingerito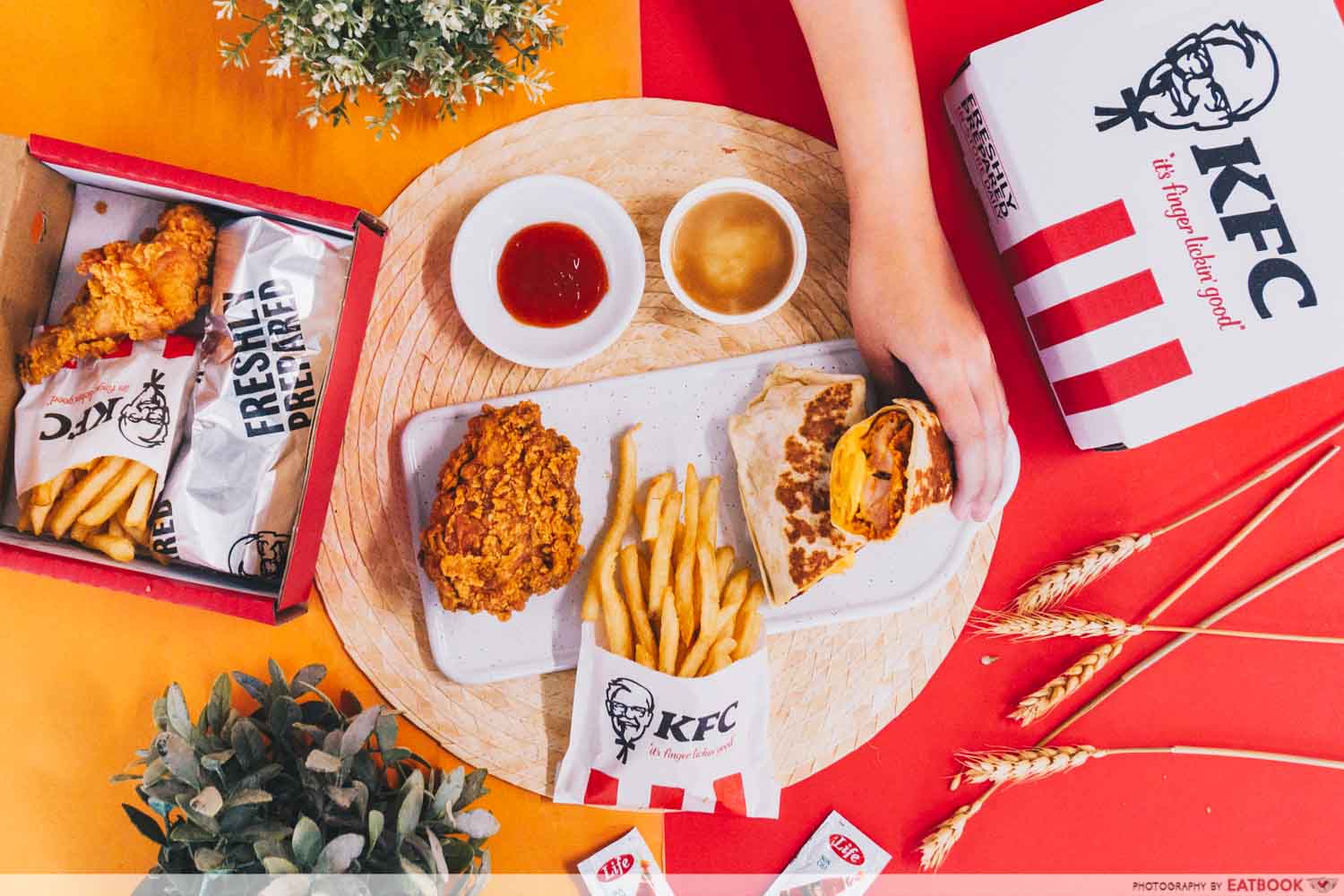 Now, this is a new item on KFC's menu I am very excited about: their Mac 'N Cheese Zingerito (from $5.90), a.k.a. a spicy, cheesy, carb-loaded chicken burrito. We've all grown up with KFC's rendition of Mexican food with their Bandito Pocket, BBQ Meltz, Kentaco and more, and these spin-offs happen to be my go-tos since I was young.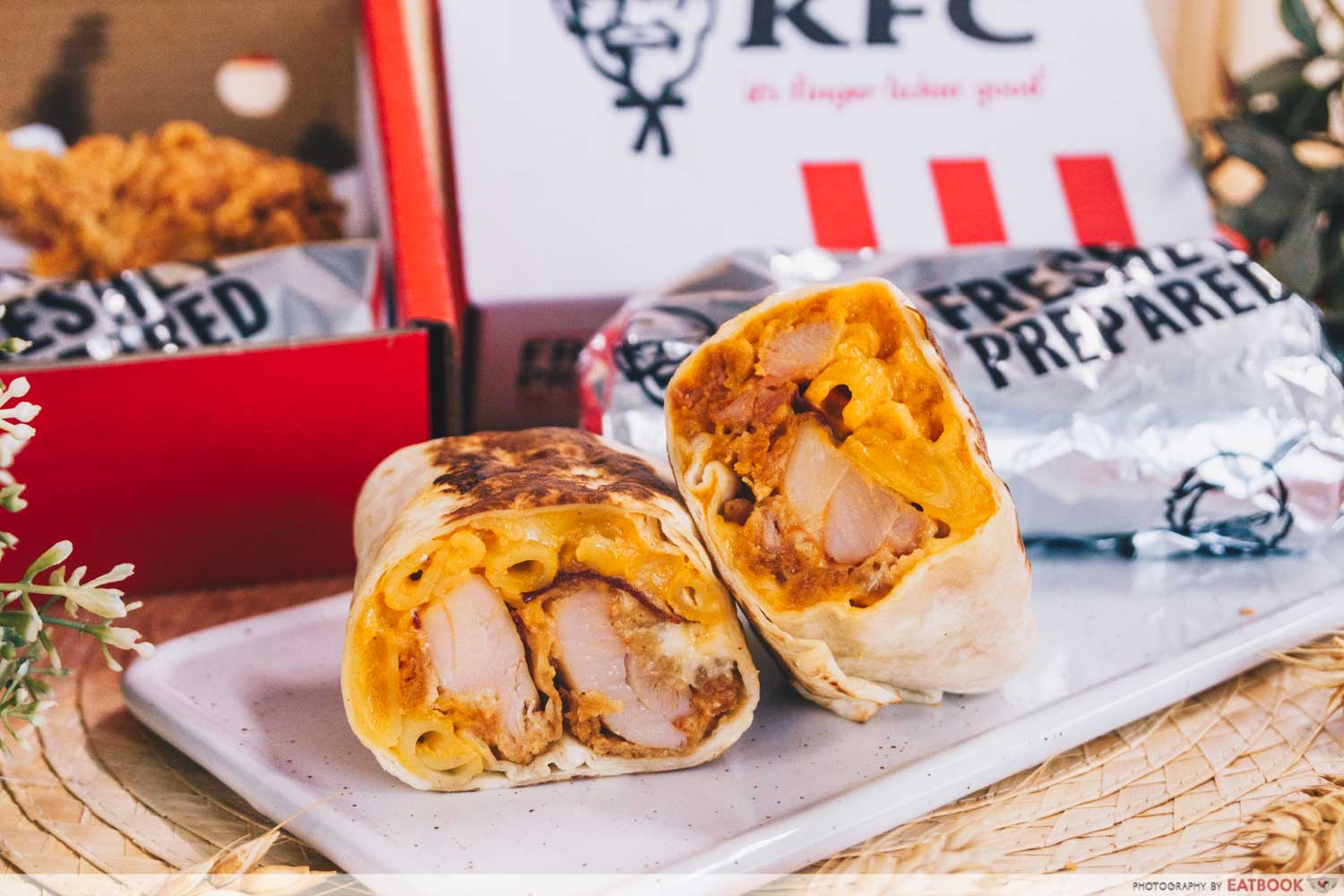 If your every visit to the fast-food joint involves an order of their Cheese Fries ($4.40), you'd be delighted to find the interesting addition of warm, cheesy, Mac 'N Cheese oozing out when you take a bite into this Zingerito, KFC's Signature Zinger in the form of a burrito. 
This is not without a kick of heat from the tender Zinger fillet, which is well-marinated with mouth-watering spices, followed by a generous serving of a creamy mayo-based sauce to quell the zing. A sliver of crisped turkey bacon is also added to furnish a tinge of smokey char in each bite. The entire tortilla wrap was also toasted for good measure, delivering a hearty meal in a convenient grab-and-go.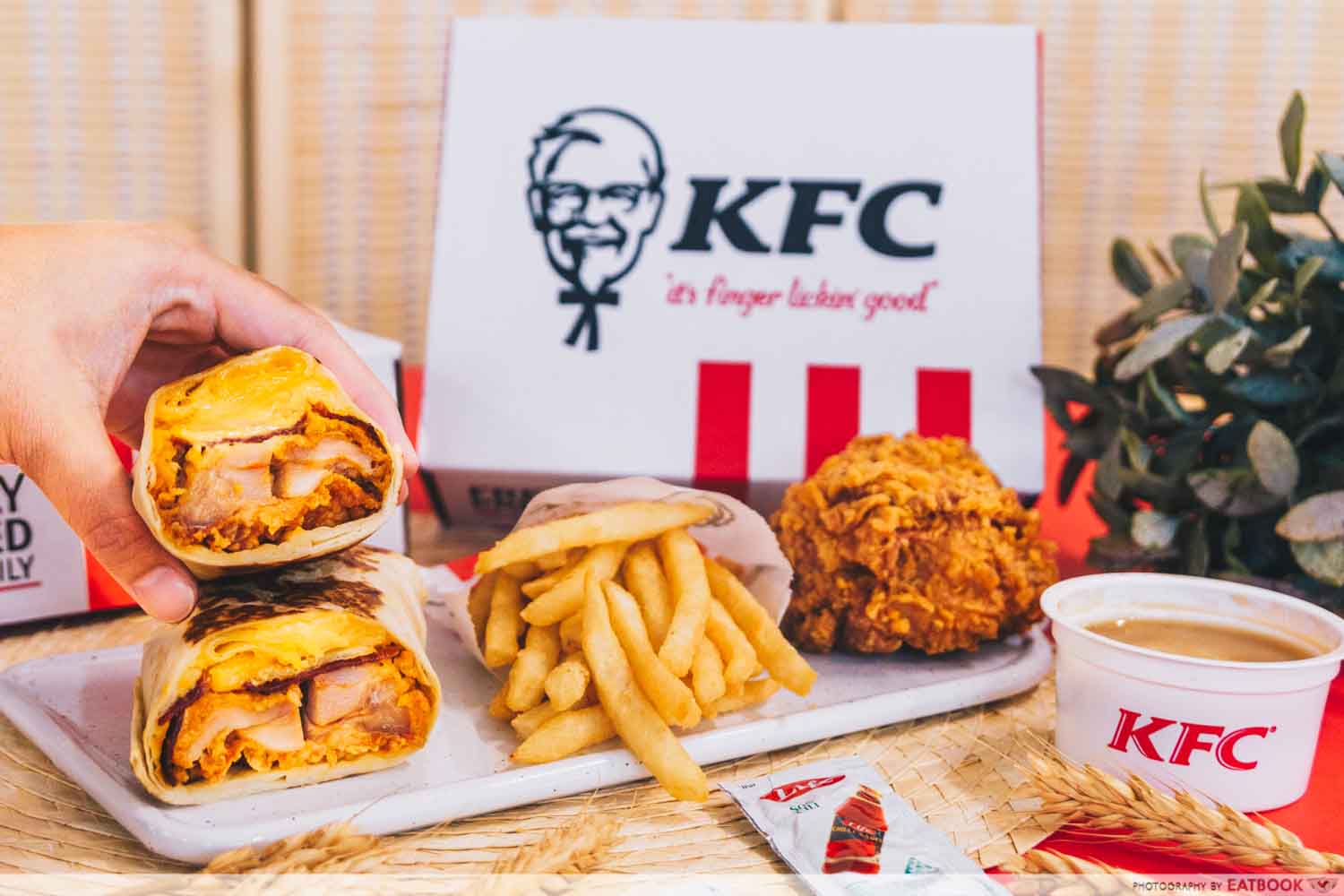 Available for dine-in and takeaway, the KFC Mac 'N Cheese Zingerito is priced at $5.90 a la carte, or $7.95 for a meal with medium fries and a regular Pepsi Black. If you're looking to make some gains, there's also the KFC Mac 'N Cheese Zingerito Box for $9.95, which comes with a chicken, regular whipped potato, fries, and Pepsi Black. FYI, the Mac 'N Cheese Zingerito is also available for delivery!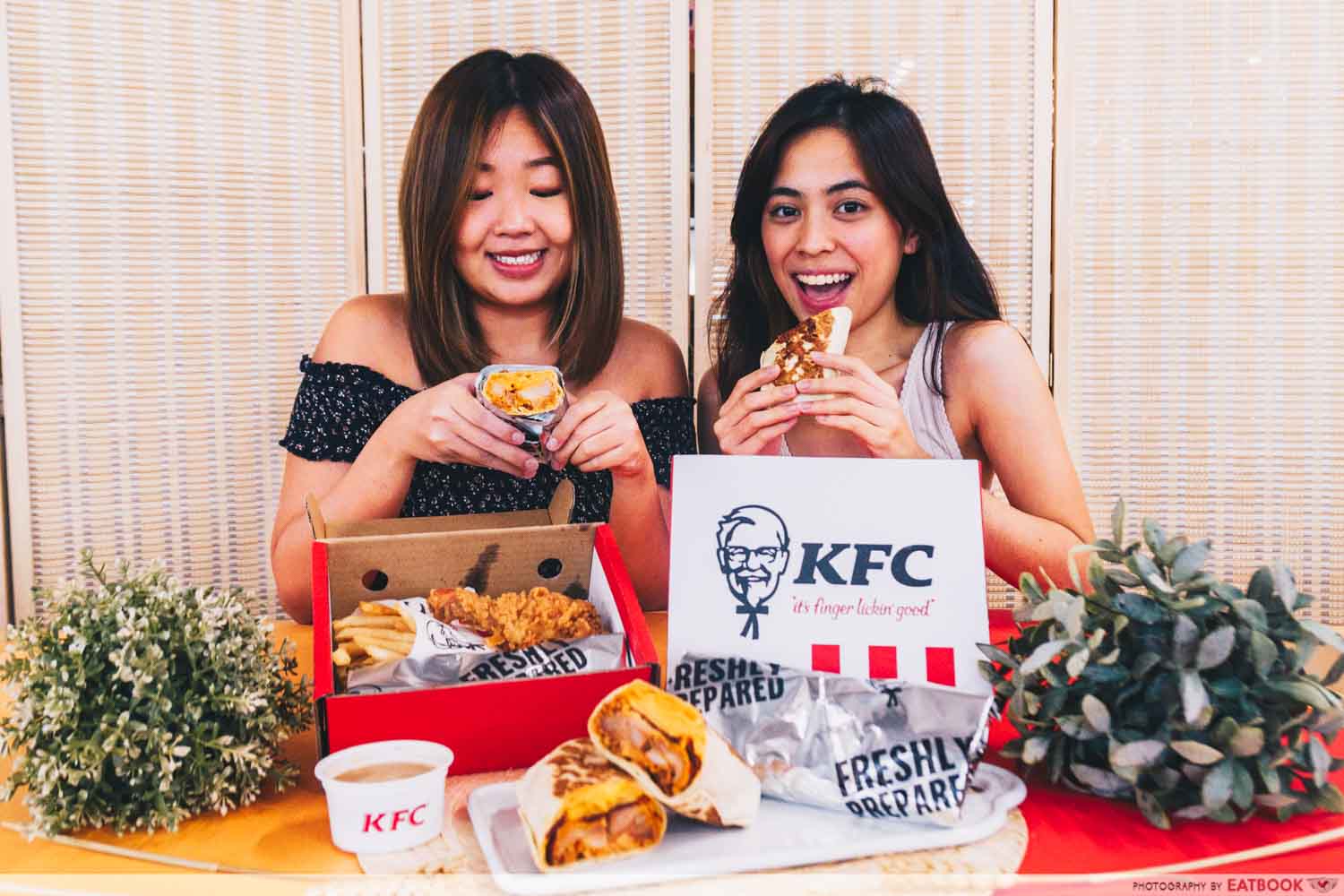 Loaded with Mac 'N Cheese, this spicy chicken burrito might seem to be an indulgence, but it is one I'm willing to hit the gym an extra hour for. The hodgepodge of flavours is utterly intriguing, and the spice makes it all the more moreish. 
Cheese lovers, fried chicken lovers, and burrito lovers alike, give the new KFC Mac 'N Cheese Zingerito a try at all KFC restaurants now! Take note that the Zingerito at North Point City, Rivervale Plaza, and Yew Tee Point outlets will only be available from 18 March 2021. Stay clear of outlets at Singapore Polytechnic, Singapore Zoo, and Changi Business Park—the Zingerito would not be available at these places.
For those looking for new nosh to try out, read our Crolo review for their croffles and Milo Dinosaur croissants, or our Annyeong Chicken review for more fried chicken in Clementi.
Photos taken by Chew Yi En.
This post is brought to you by KFC.
The post KFC's New Mac 'N Cheese Zingerito Features Spicy Fried Chicken And Creamy Mac 'N Cheese In A Burrito appeared first on EatBook.sg – New Singapore Restaurant and Street Food Ideas & Recommendations.