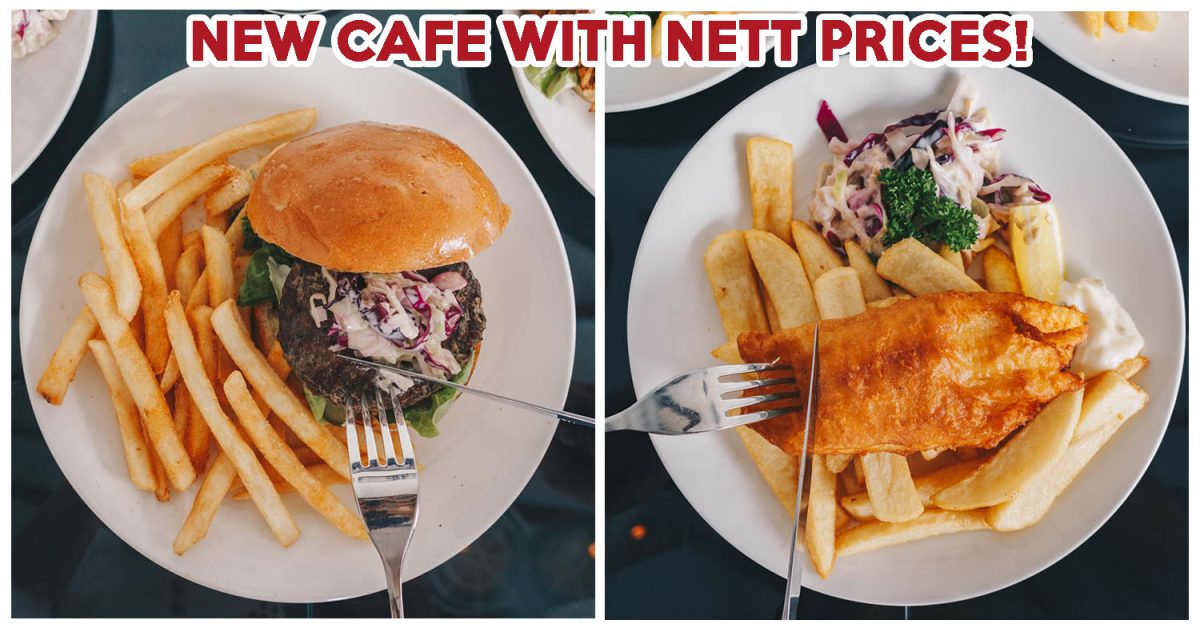 JOMO at Holland Village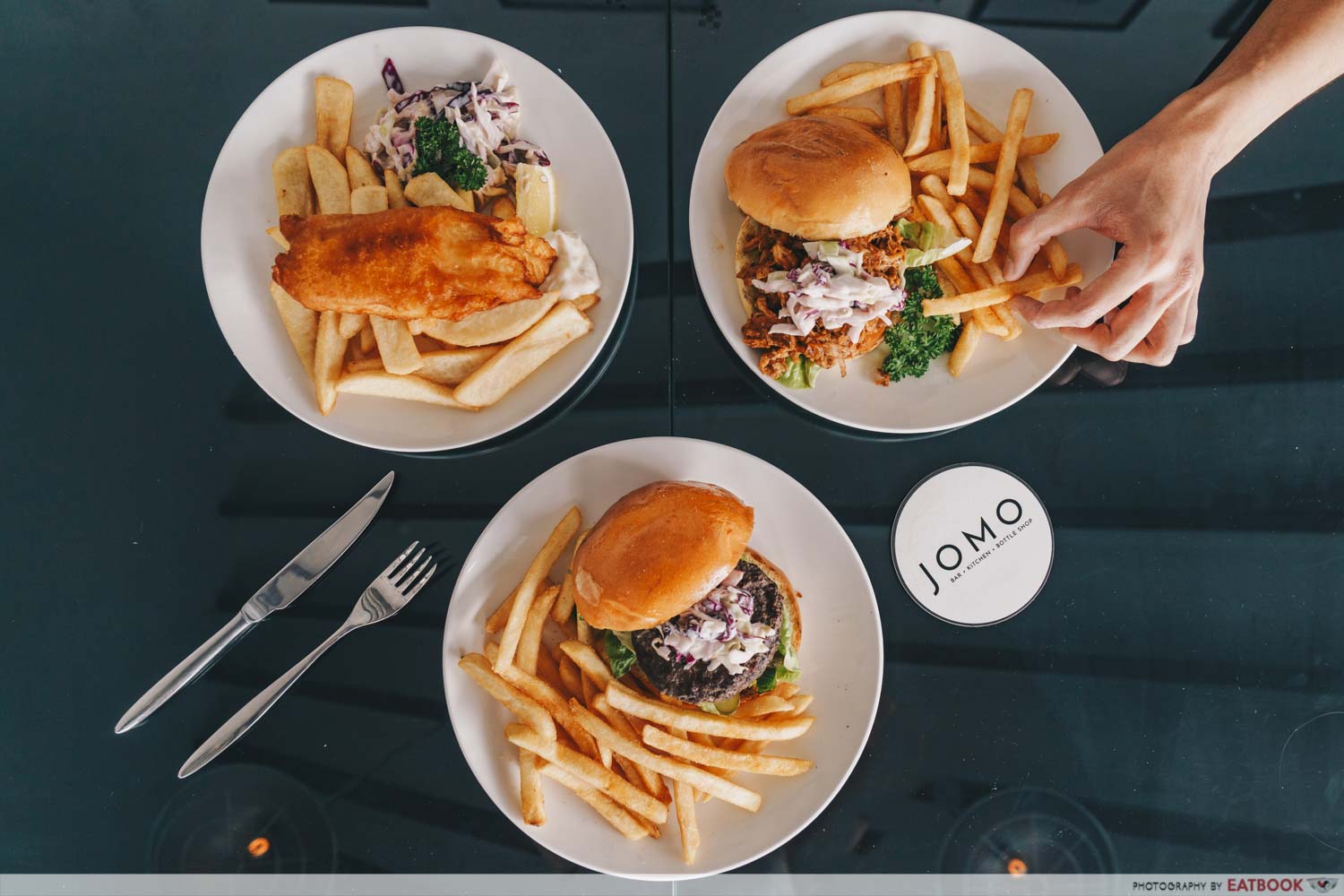 Having become a temporary resident of Holland Village since entering university, I can safely say that bars there are a dime in a dozen. New bars such as JOMO have big shoes to fill, and I quickly headed down to see how they rank up against the likes of Chir Cafe + Bar nearby.
What intrigued me about JOMO wasn't just the cheap beer prices, but their unique bar bites and mains that are reasonably priced as well.
Food At JOMO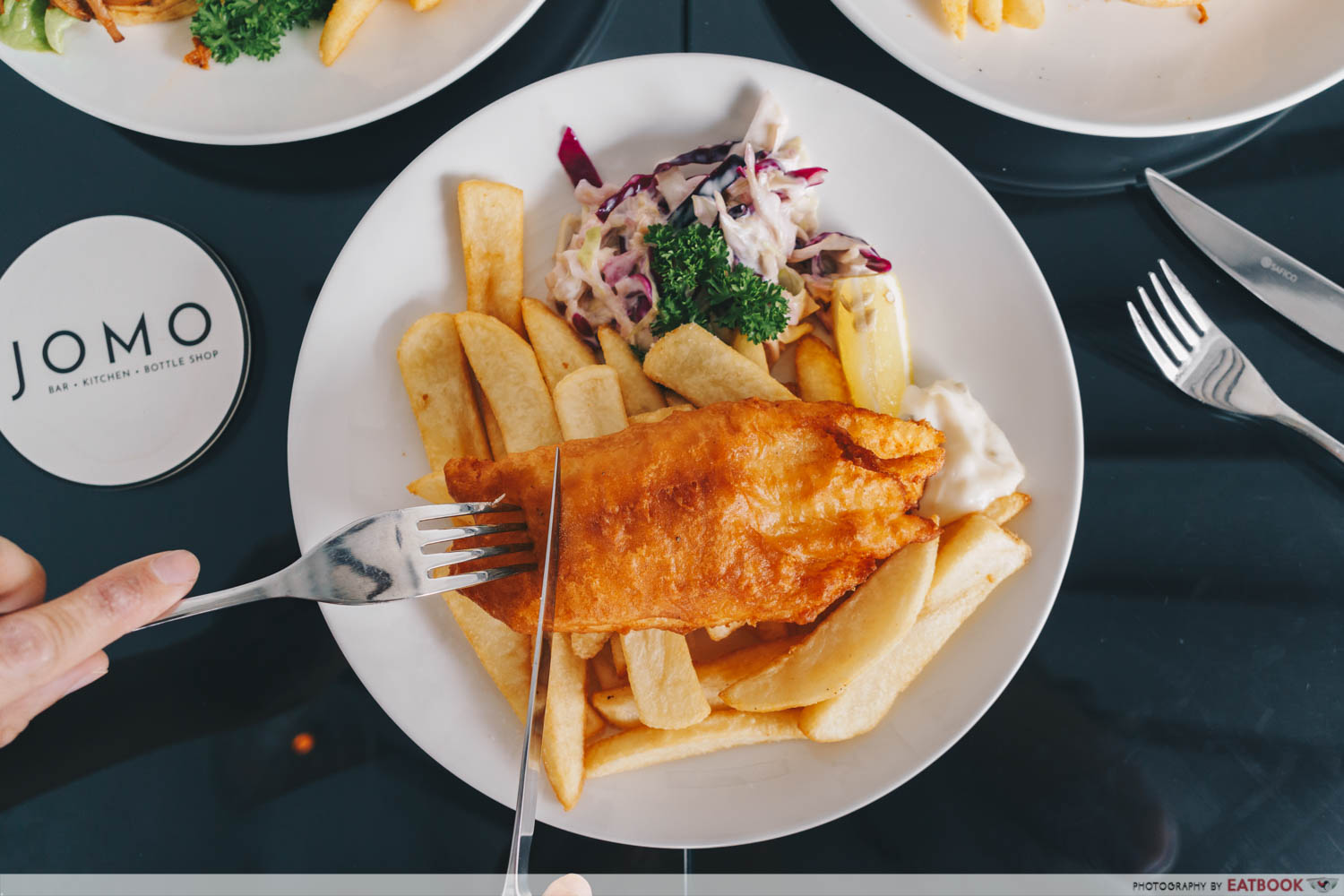 This three months old cafe serves Western cuisine with some Australian influences. 
First up was their Beer Battered Fish and Chips ($16). Using beer instead of water supposedly makes the batter crispier and lighter. And this is evidently true as the batter was indeed airy. However, it did leave a slight bitter aftertaste, which might be due to the type of beer used.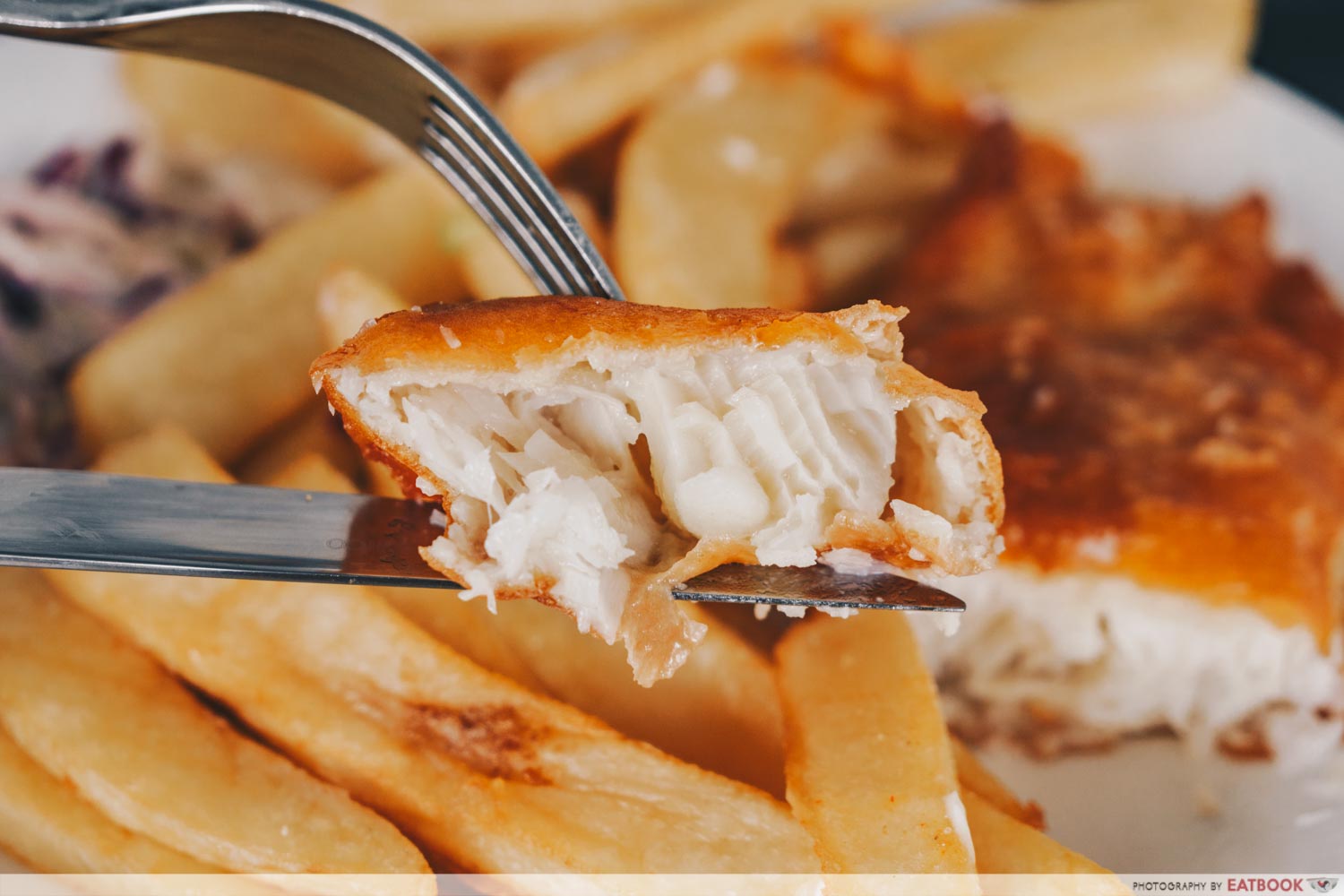 The interior was a thick succulent fish fillet that did not disintegrate when held up. The meat was moist despite how well fried the exterior was. Do eat it quickly, as the dish doesn't hold up well after a wait, and will turn into a mushy and fishy mess instead.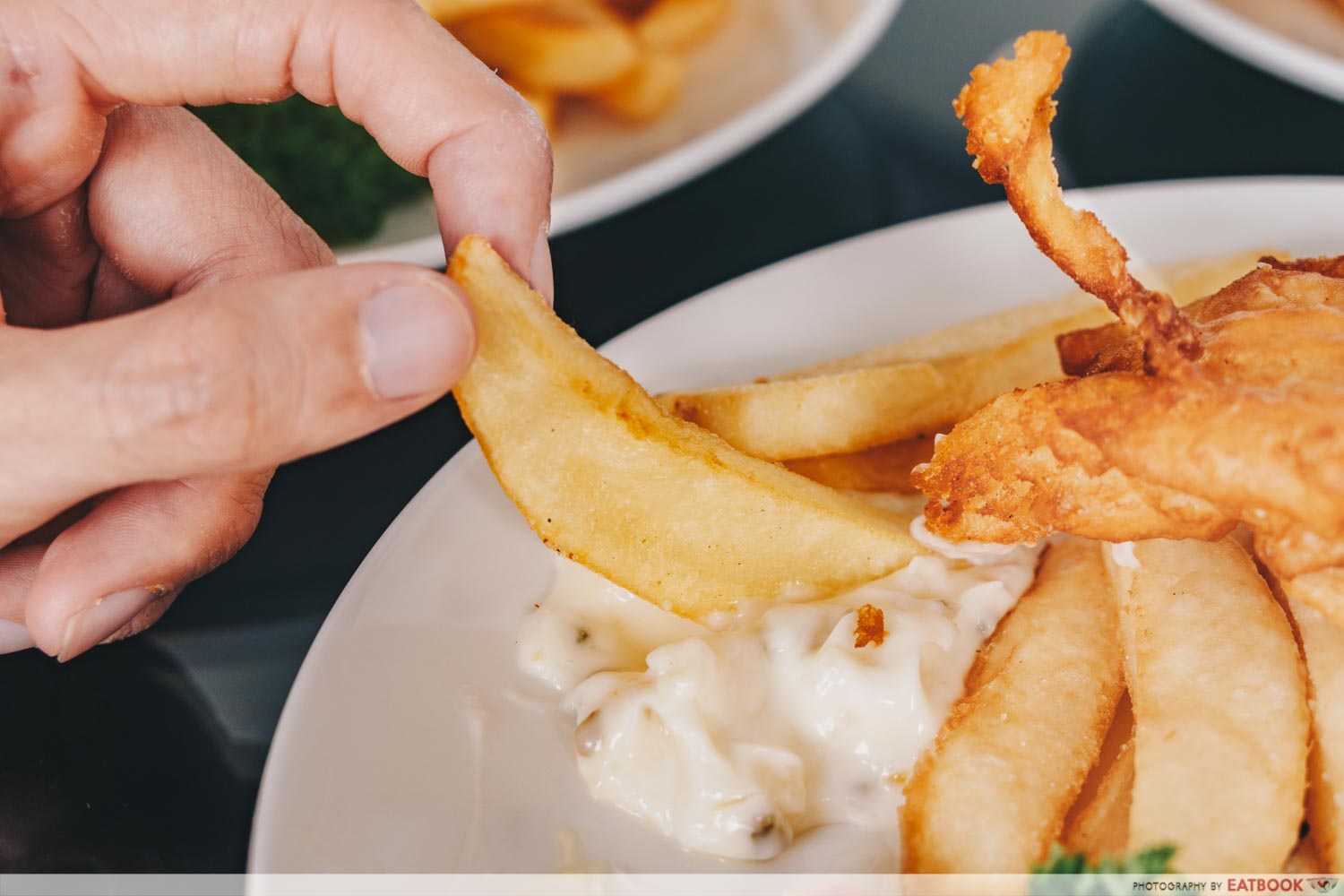 The steak-style fries got quite soggy by the time I worked through the pile. Thankfully, there were three sauces provided—barbecue, tomato, chilli sauce, to keep the feast of fries exciting.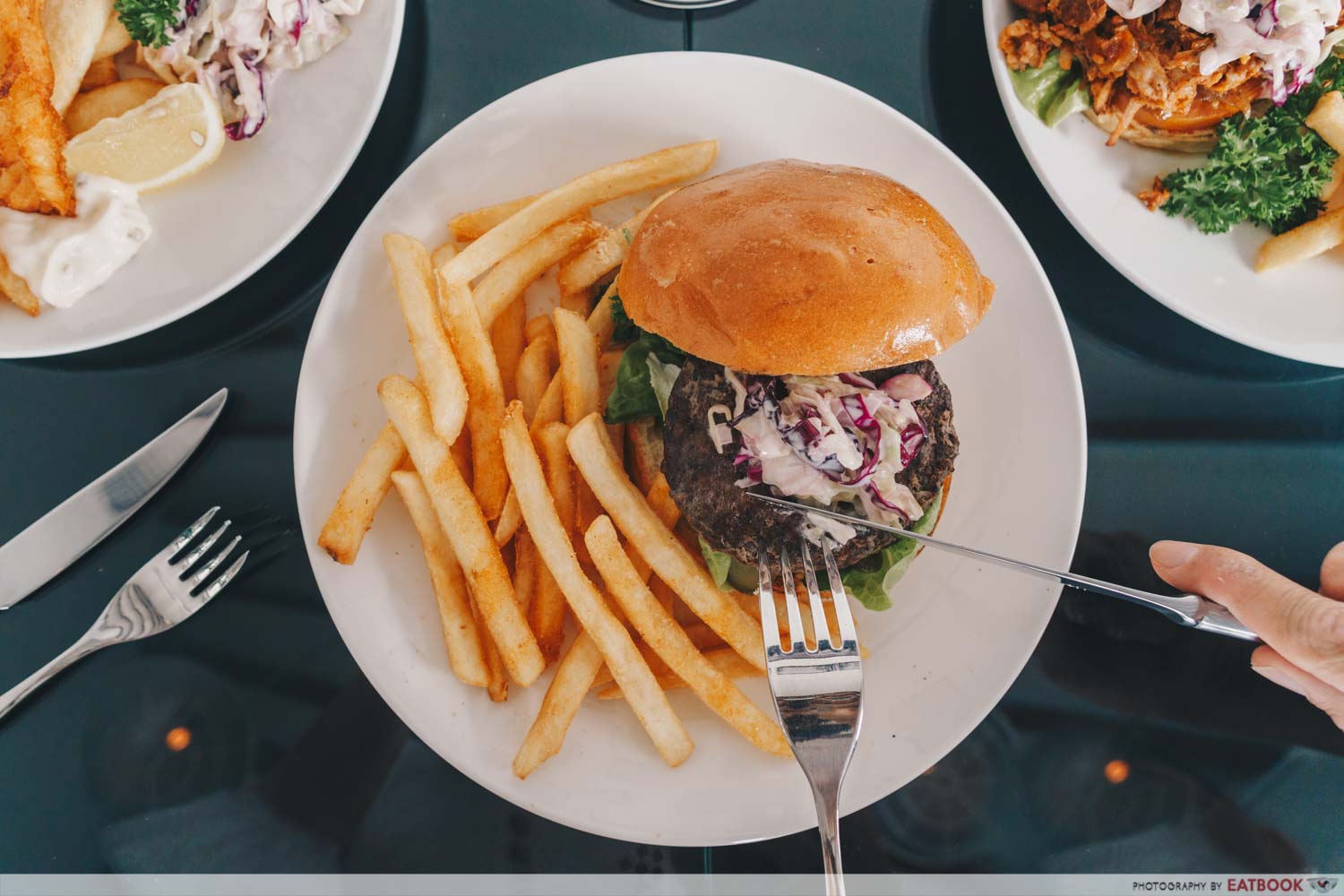 Next, the Dry Aged Aussie Angus Beef ($14) lured me in with its affordable price point, considering that most mains at the surrounding restaurants go beyond that.
Dry ageing creates a richer flavour and also tenderises the beef in the process. It seemed that only the former was achieved, as biting into the patty proved futile—and I resorted to cutting it with my knife instead as it was a tad hard. That being said, I would have to give credit to the beefiness that was pronounced, but not too gamey.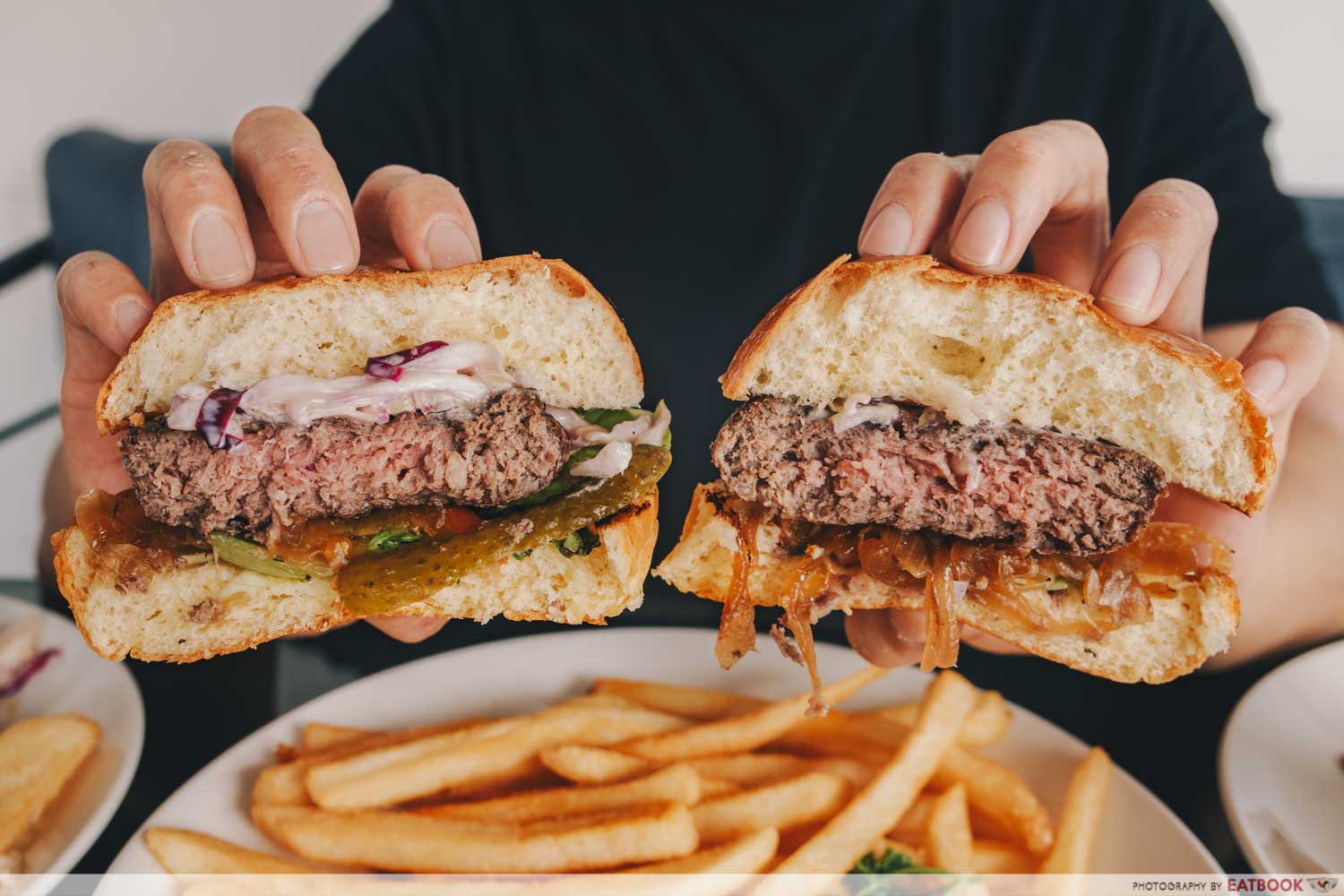 The onions and pickles in the burger bore strong flavours that sadly overshadowed the beef patty when eaten together.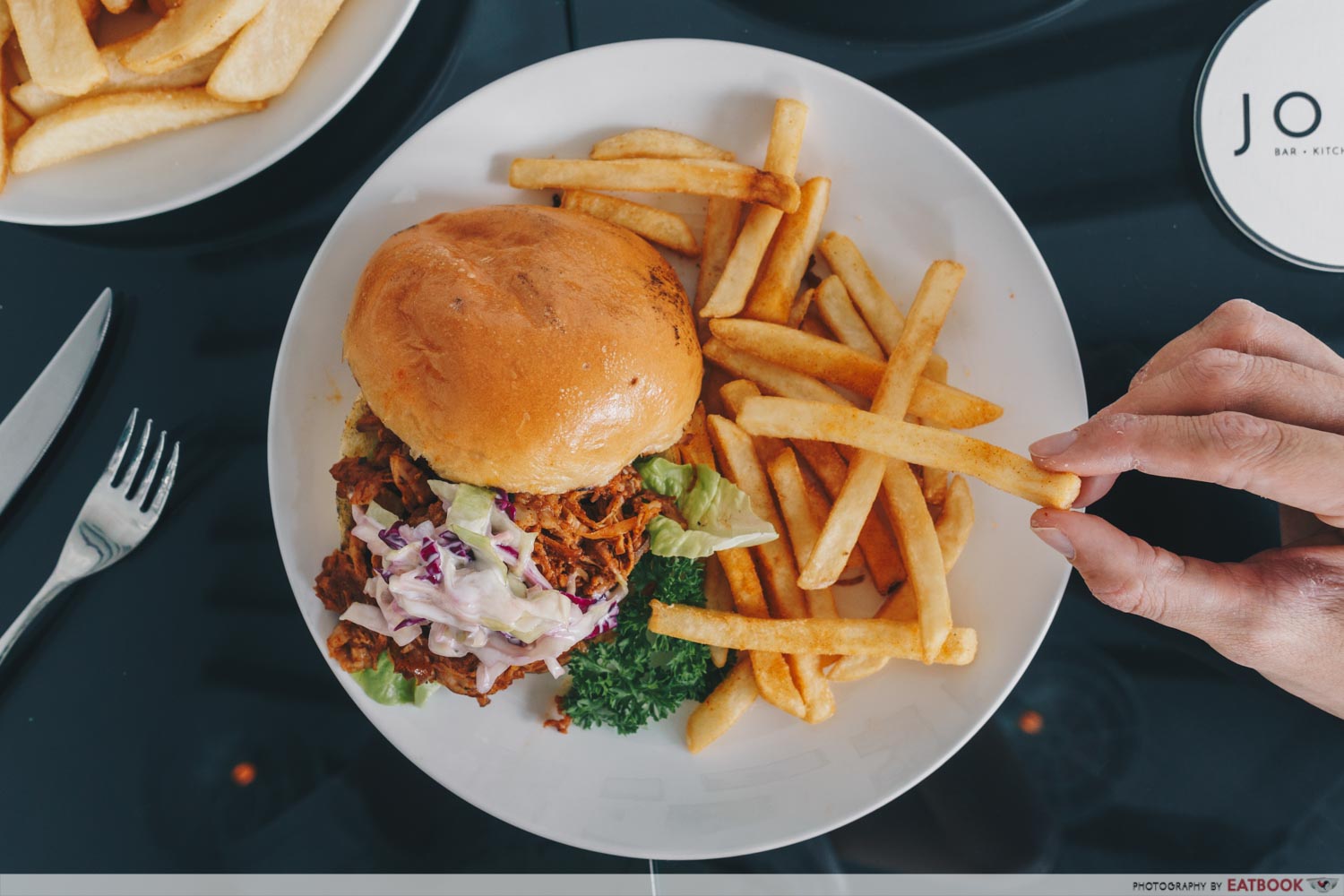 We also tried the Pulled Pork Burger ($14), which was overflowing with meat. Being "pulled" meant that the pork came in long, tender strips.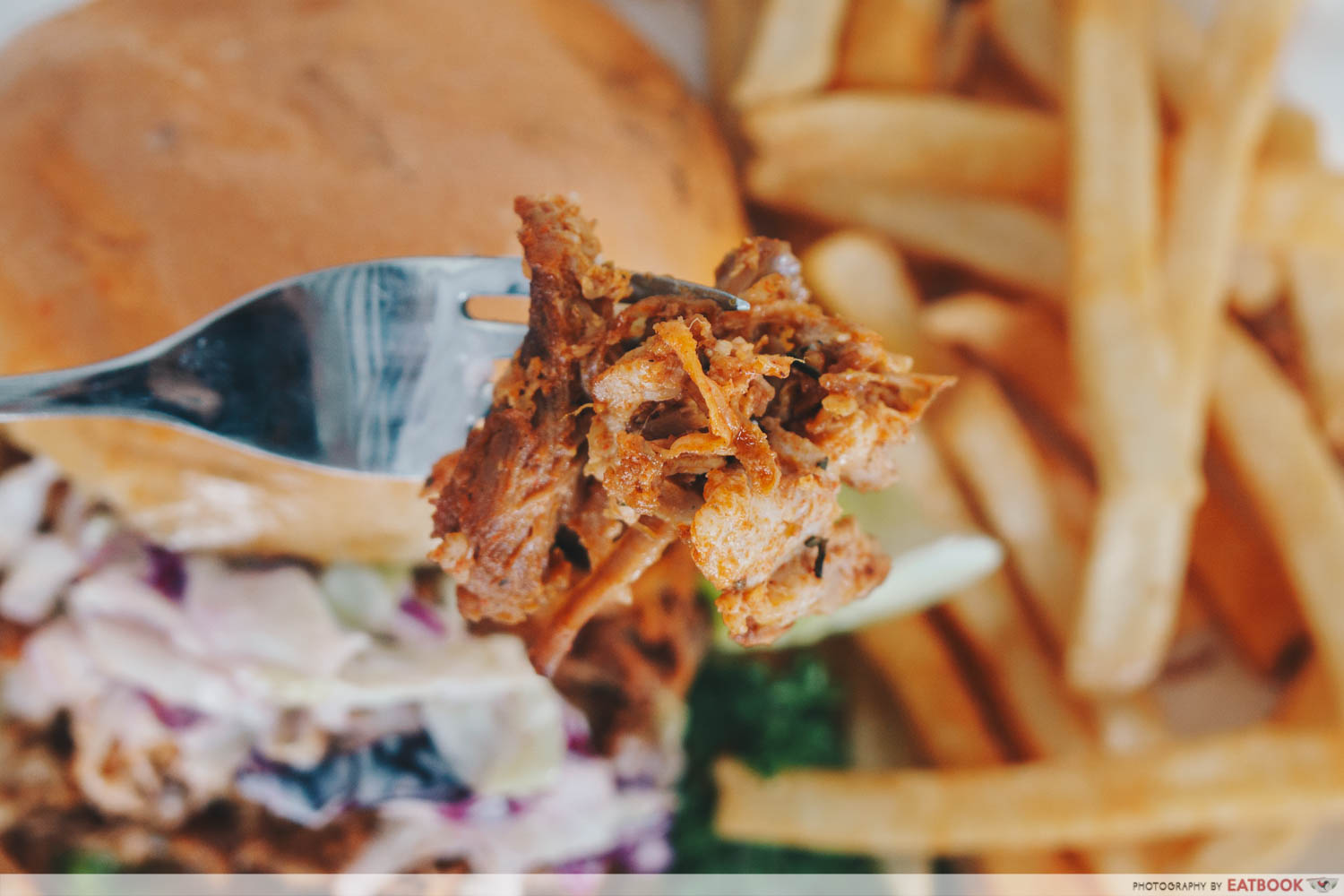 While tasty and mouth-watering on the first bite, the savoury pork was a tad salty, making me reach for a glass of water at intervals. I'm all for generous portions, but the satisfaction from eating it diminishes due to how salty it got. I would recommend sharing it with somebody else.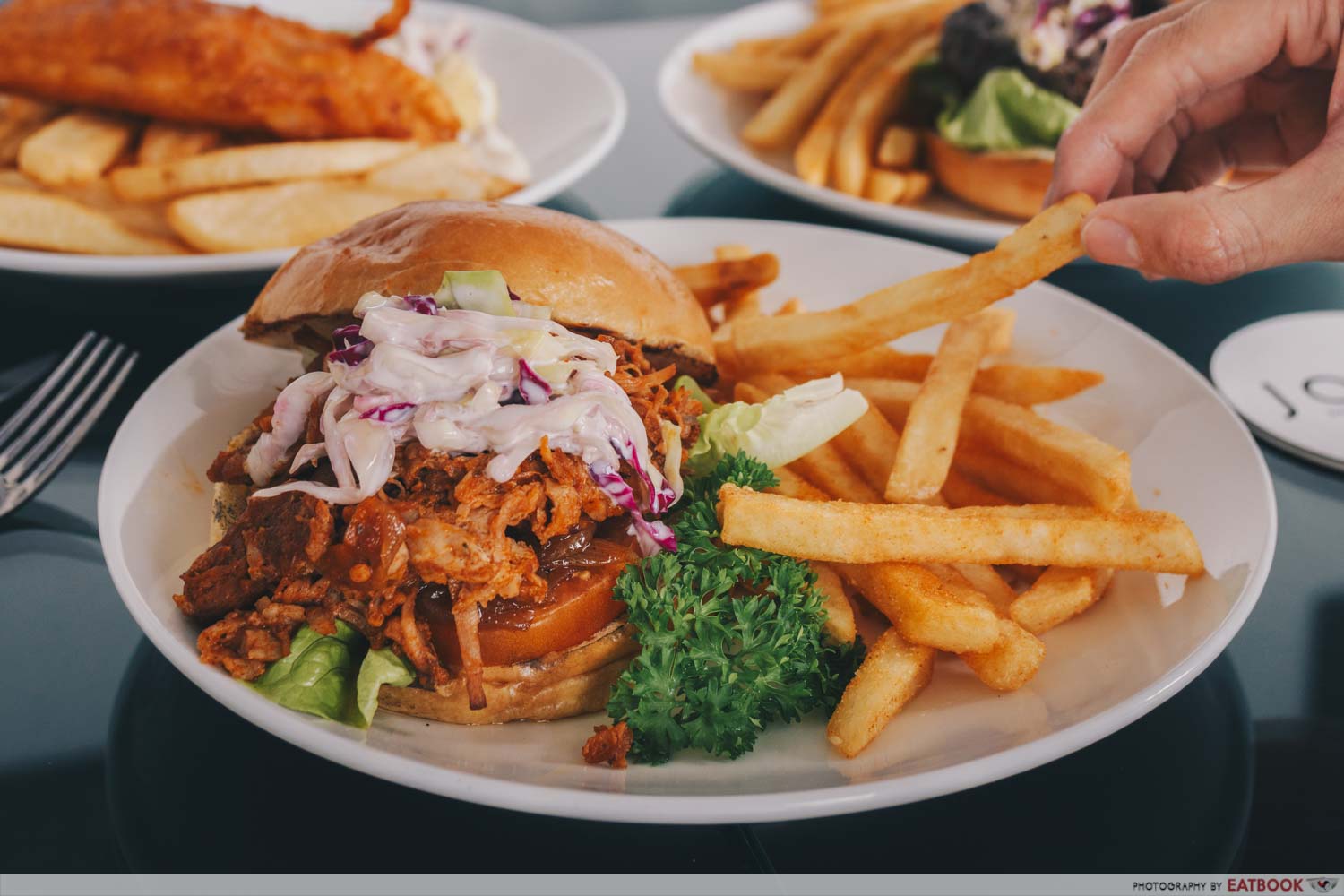 I was particularly curious about their Chicken Salt Fries, which is served with most of their mains. The owner explained that chicken salt is a unique seasoning for many Australian dishes, and these addictive fries are a common snack down under. 
The first thing that occurred to me was how much they tasted like instant noodle seasoning. The umami kick was real, and the addiction was justified. It was hard to stop myself from finishing them. 
Ambience at JOMO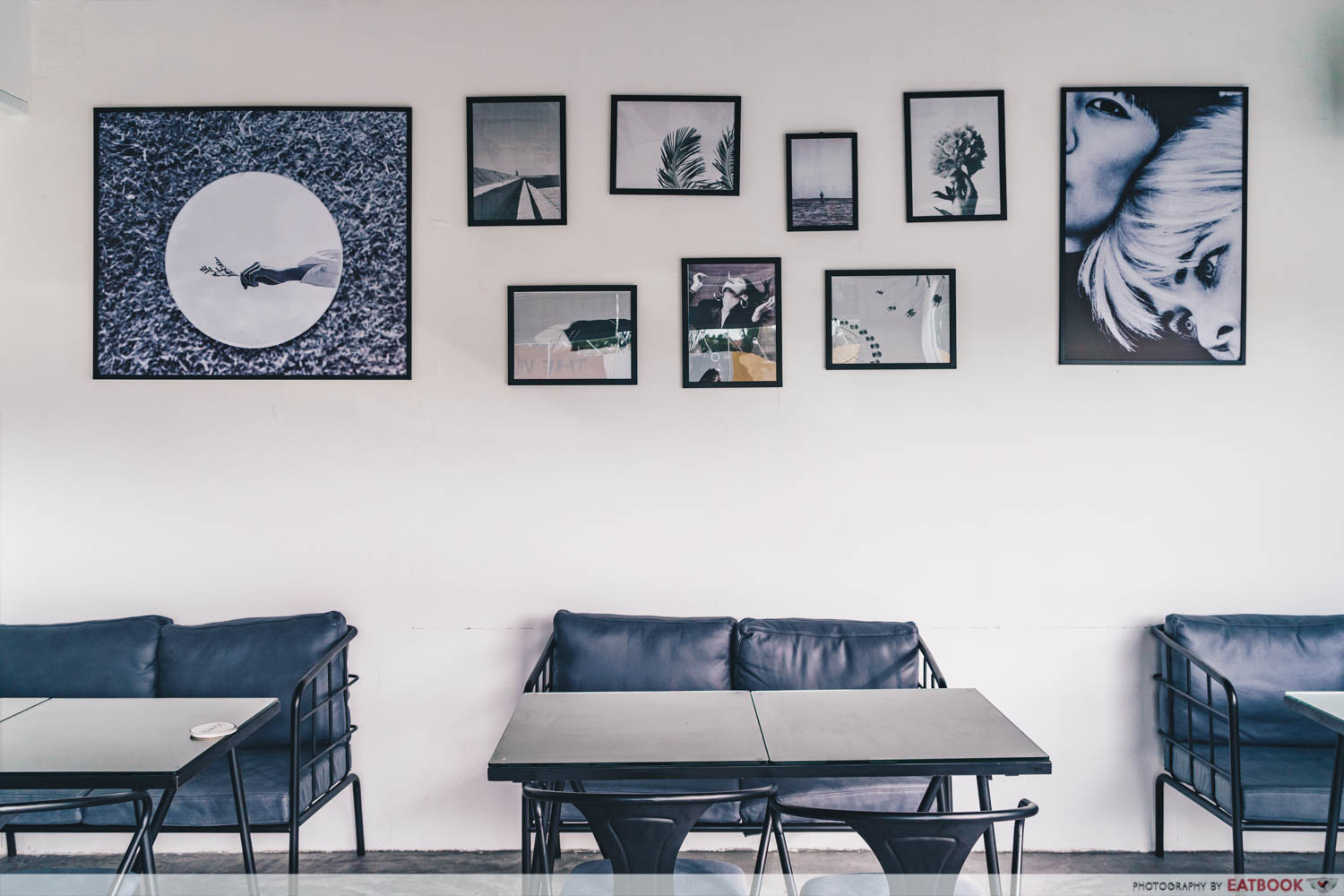 Despite being tucked at the corner of Lorong Mambong, JOMO is still only a five-minute walk from Holland Village MRT Station. It is thus a little wonder that an afternoon drinking crowd already found their way here when I arrived. 
The verdict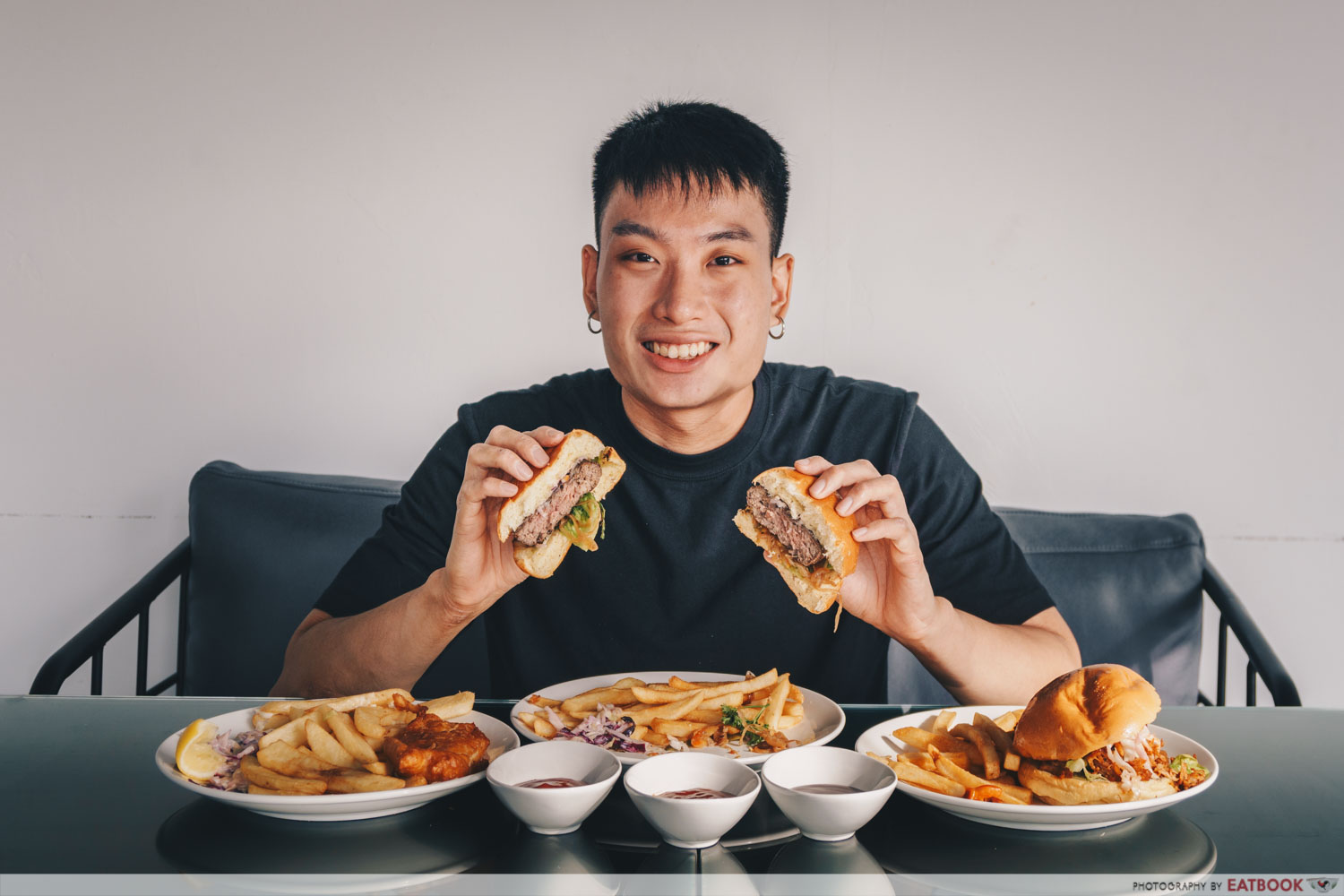 It does seem that JOMO's focus is in the alcohol business—evident from how the first floor was a bar connected to a bottle shop. As some dishes were overly seasoned, a drink or two might have helped to quell the intense flavours. With credit given, their dishes are reasonably portioned and competitively priced. I do see myself coming back to this place, but it would definitely be for a pint during happy hour. 
For other places in Holland Village to dine at, check out our Holland Village food guide for duck ramen, bagels and more.
Address: 48 Lorong Mambong, Singapore 277699
Opening hours: Mon-Sat 3pm to 10pm, Sun 11am to 6pm
Tel: 9800 3787
Website
JOMO is not a halal-certified eatery.
Holland Village Food Guide: 16 Places For Duck Ramen, Bagels And More
Photos taken by Chew Yi En
This is an independent review by Eatbook.sg.
The post JOMO Review: New Holland Village Cafe For Chicken Salt Fries, Pulled Pork Burger And More appeared first on EatBook.sg – New Singapore Restaurant and Street Food Ideas & Recommendations.