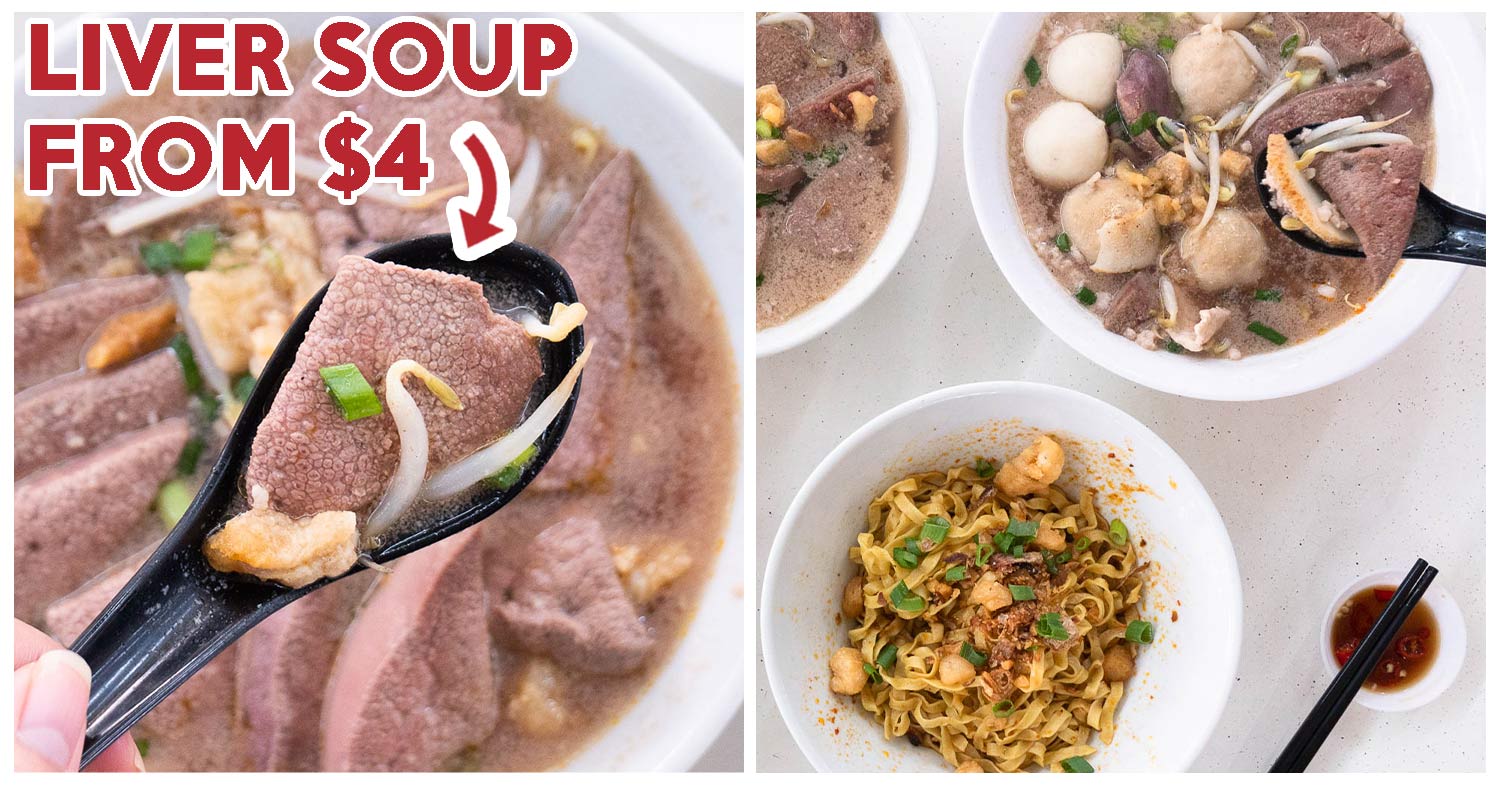 Jin Xi Lai (Mui Siong) Minced Meat Noodle in Jalan Besar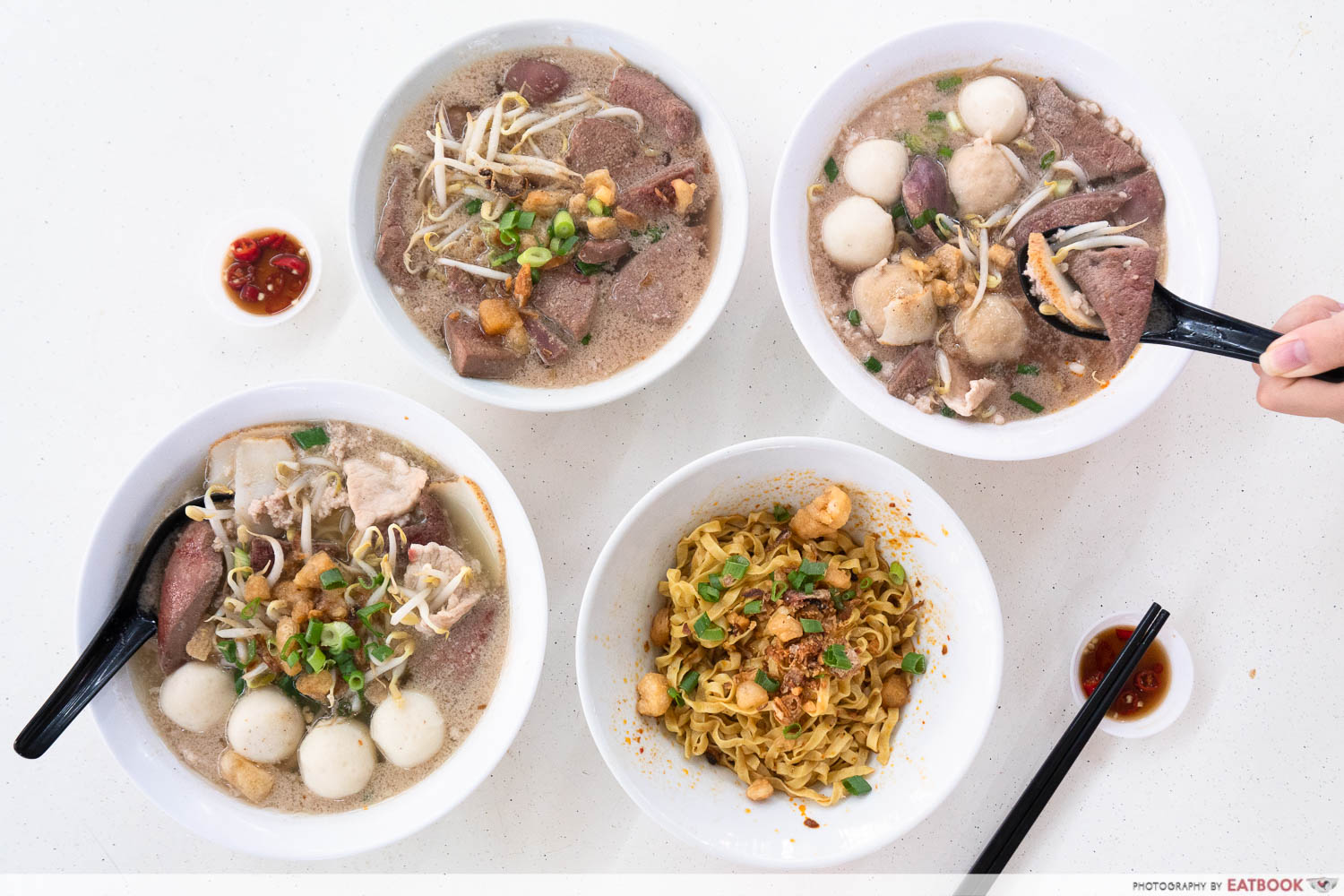 Jalan Besar is well-known for its colourful murals, hipster cafes, and of course, for being the go-to spot if you're looking to fulfill your midnight dim sum cravings. Little did I know that Jin Xi Lai (Mui Siong) Minced Meat Noodle, situated within a humble coffee shop just a stone's throw away from Jalan Besar MRT Station, boasts a BCM recipe that's more than 50 years old. They're said to be so popular, they sell out really early every day, so I had to come by and give them a try.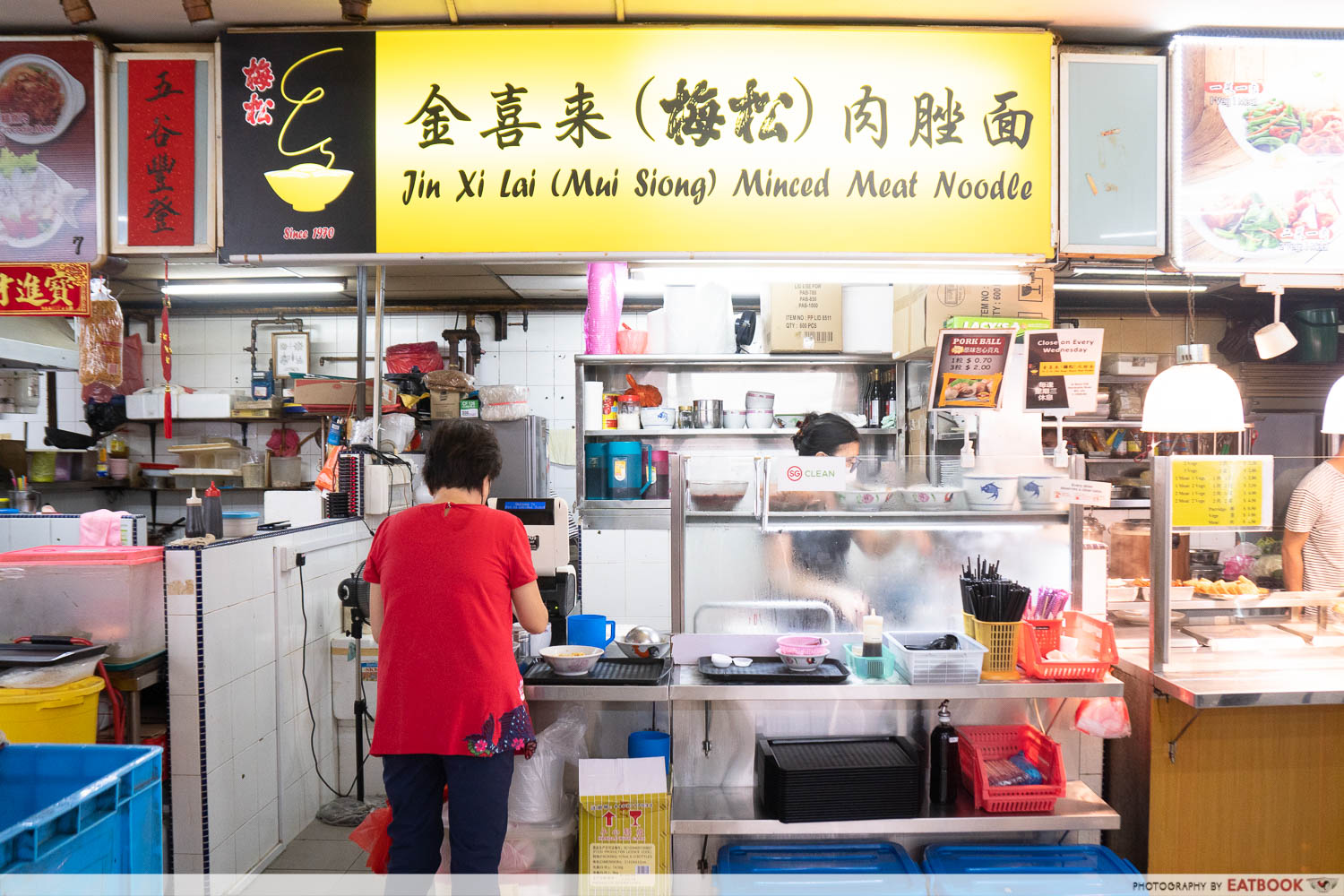 Jin Xi Lai has a brightly lit, yellow signboard which is hard to miss. There is no menu on display, which to me, is a true testament to how well-known their signature dishes are. I ordered a bowl of bak chor mee with my usual fixings, and added a portion of their famous pork liver soup on the side.  
Food at Jin Xi Lai (Mui Siong) Minced Meat Noodle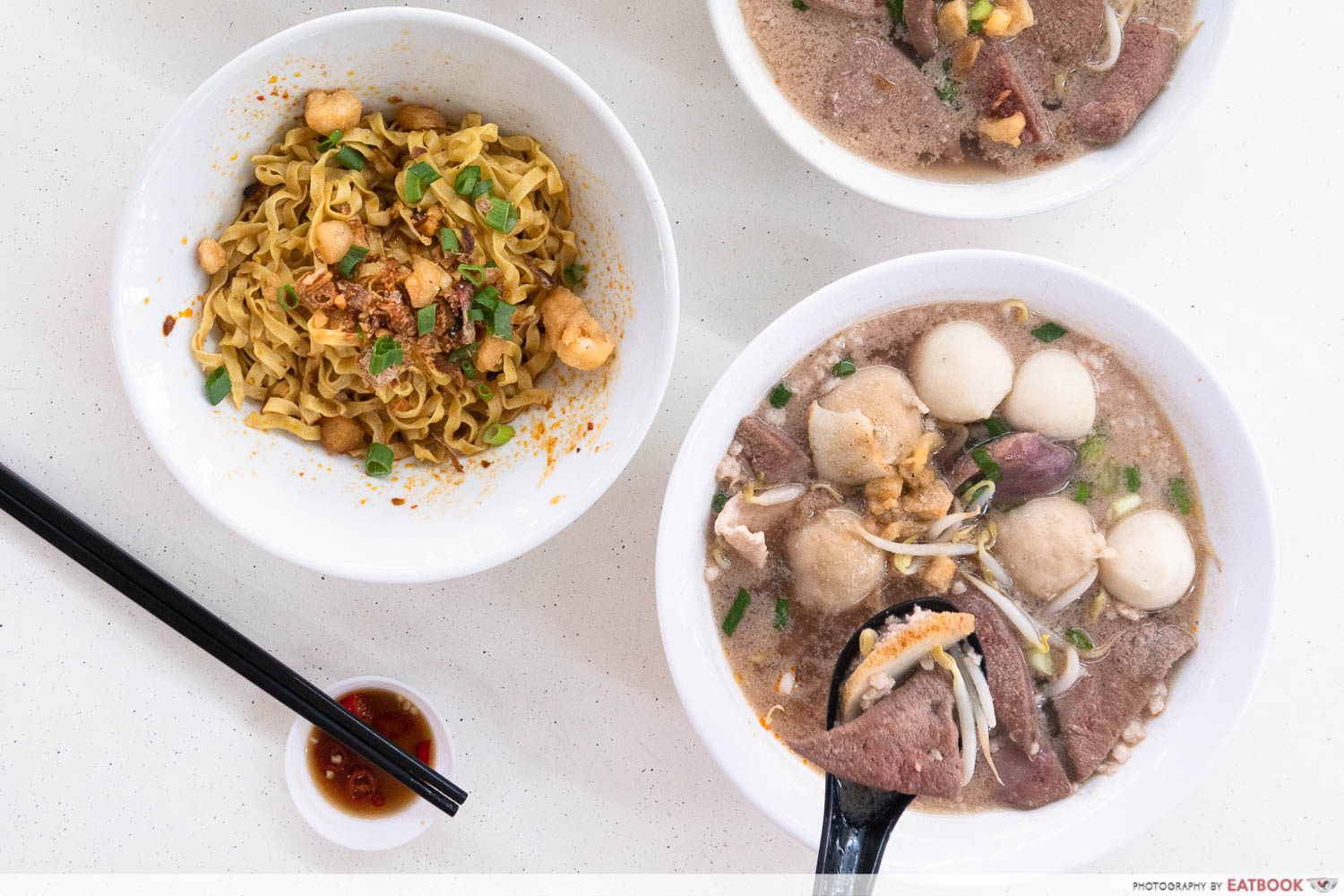 I started my meal with a bowl of dry bak chor mee ($4/$5/$6). My mee pok came well-tossed in their fragrant, flavourful, house-made sauce, topped off with a generous serving of pork lard. The other ingredients came separately in a huge bowl of soup, filled to the brim with fishballs, fishcakes, sliced pork and liver. To sample everything they had available, I added a portion of pork balls ($2) and liver ($1).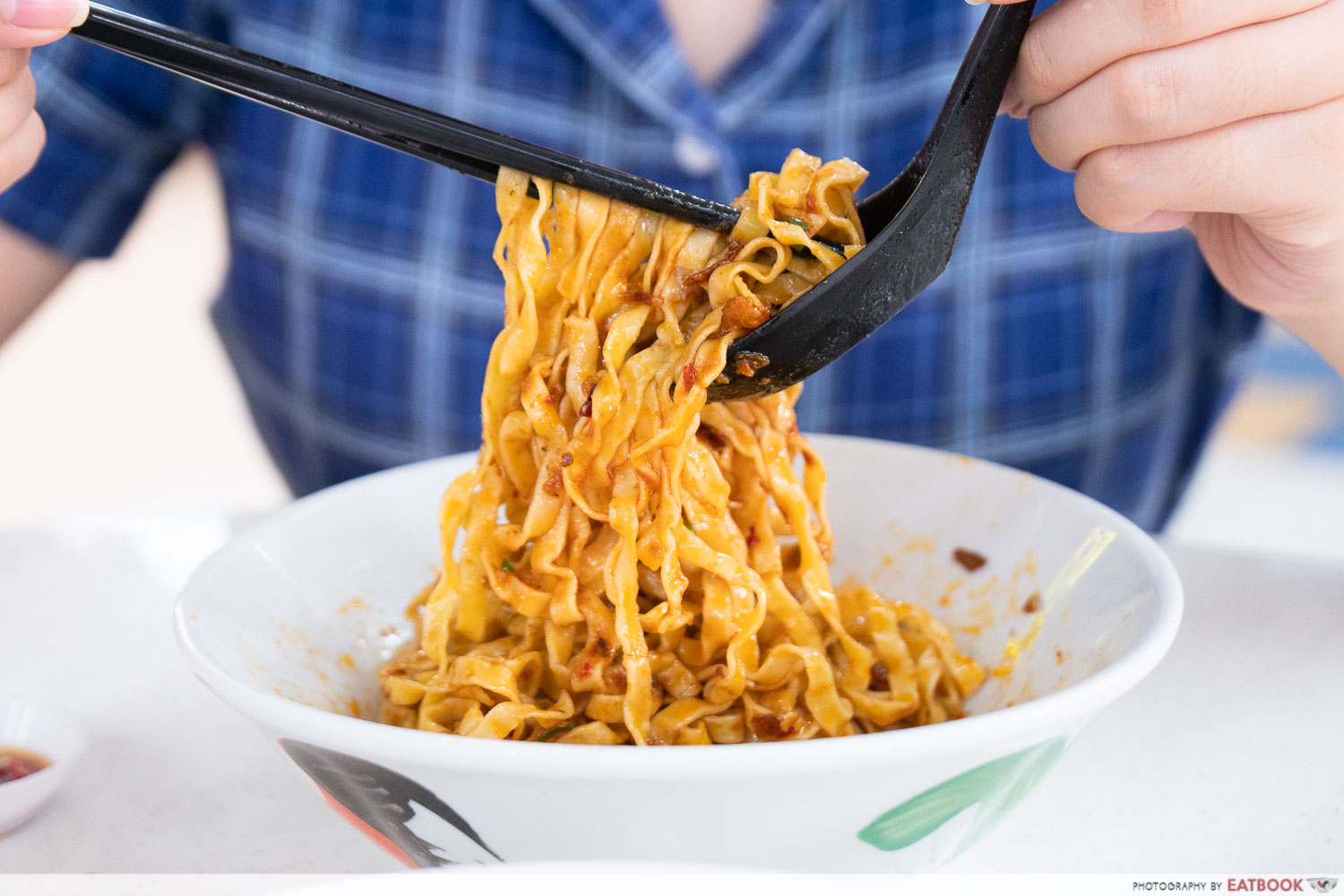 Don't underestimate the unassuming specks of chilli bits on the al dente noodles, because every bite definitely packed a punch. I'm pretty weak in my tolerance for spice, and these noodles sent me reaching out for a cup of water to douse the heat. Although there was a distinct kick from the heat, I would have preferred a stronger splash of vinegar to add more acidity to the sauce. I suppose you could ask for 加醋 (jiā cù), or extra vinegar, when you order.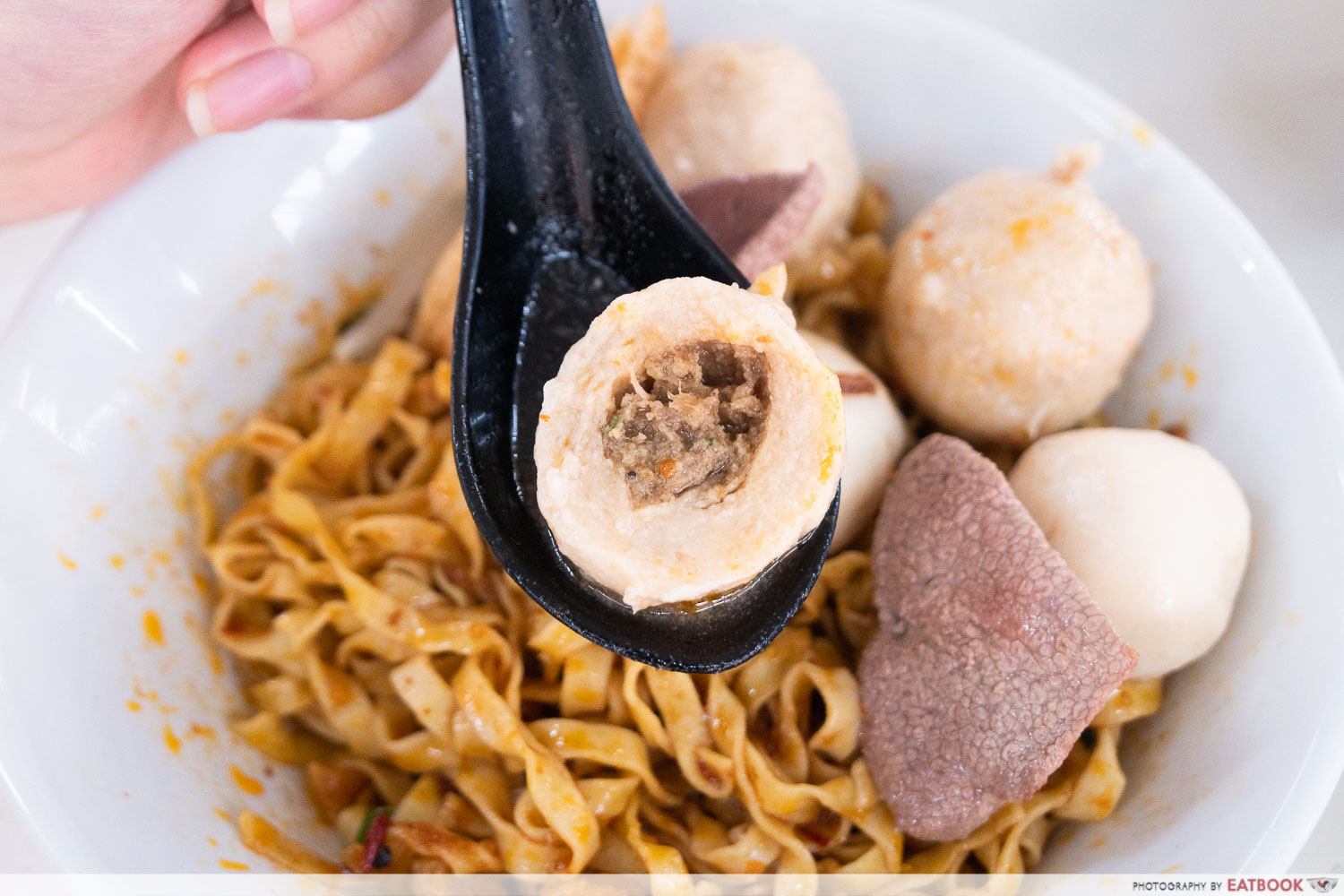 A bite of the firm and chewy pork balls revealed a piping hot centre, filled with soft, juicy minced meat, reminiscent of my all-time favourite, Fuzhou fishballs. Although it was a top up of $2 for three pork balls, I would still highly recommend this unique add on to zhng-up your dish. 
However, the slightly overcooked pork slices were a minor disappointment as they were a tad too dry and hard to chew. Given the successful execution of the other components in this bowl, though, I still finished it all with gusto.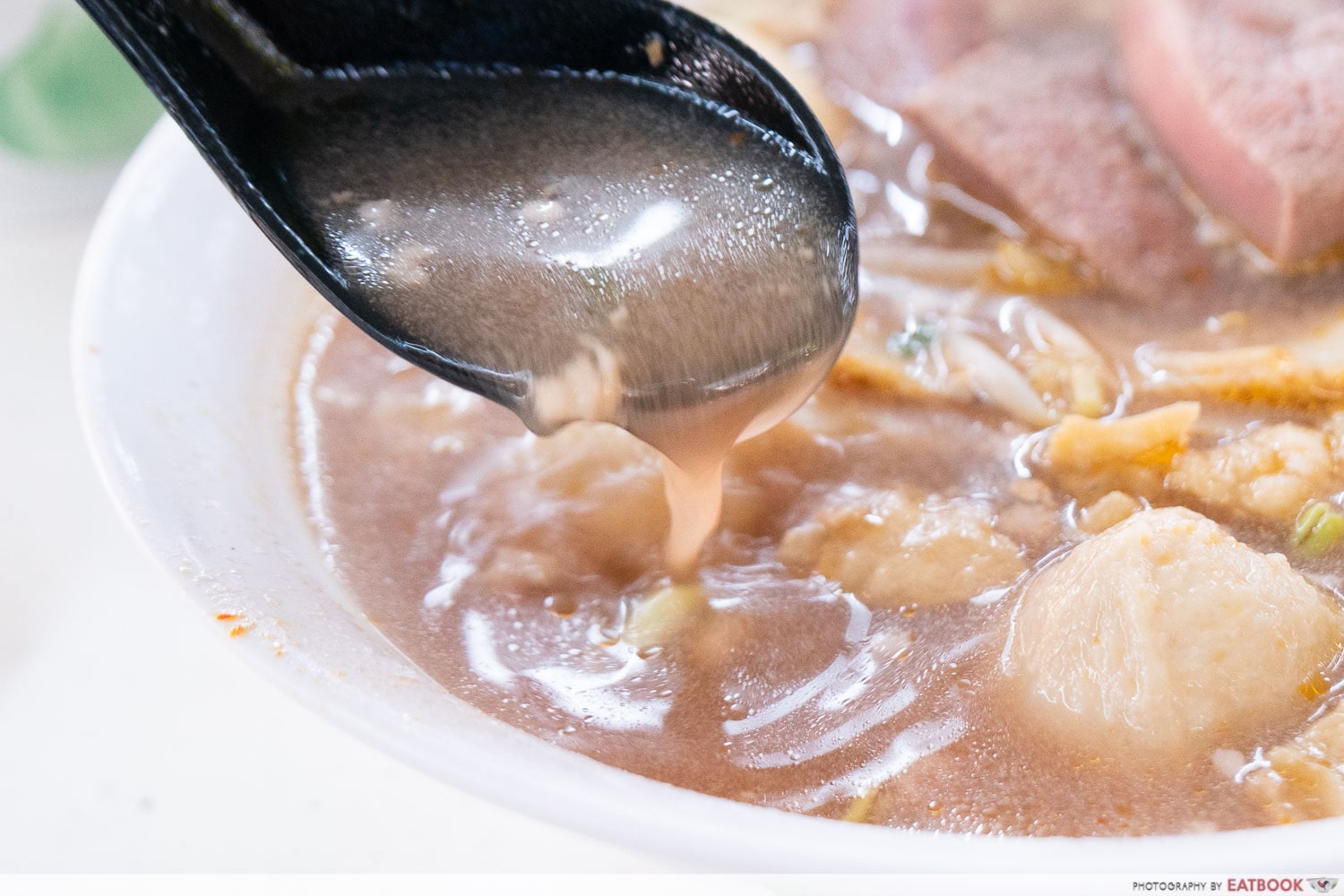 Unlike other renditions of bak chor mee soup that I've had, which are usually rich and porky, Jin Xi Lai's version hits differently. I was caught off guard by the flavours in the soup, as I couldn't quite put a finger on its prominent earthy, fresh taste. I was surprised to later learn that the soup is primarily boiled with a base of tau ghey, AKA bean sprouts. It's no wonder the seemingly concentrated soup boasted a light, palate-refreshing taste, which ended with a hint of sweetness. It was truly comforting to the soul.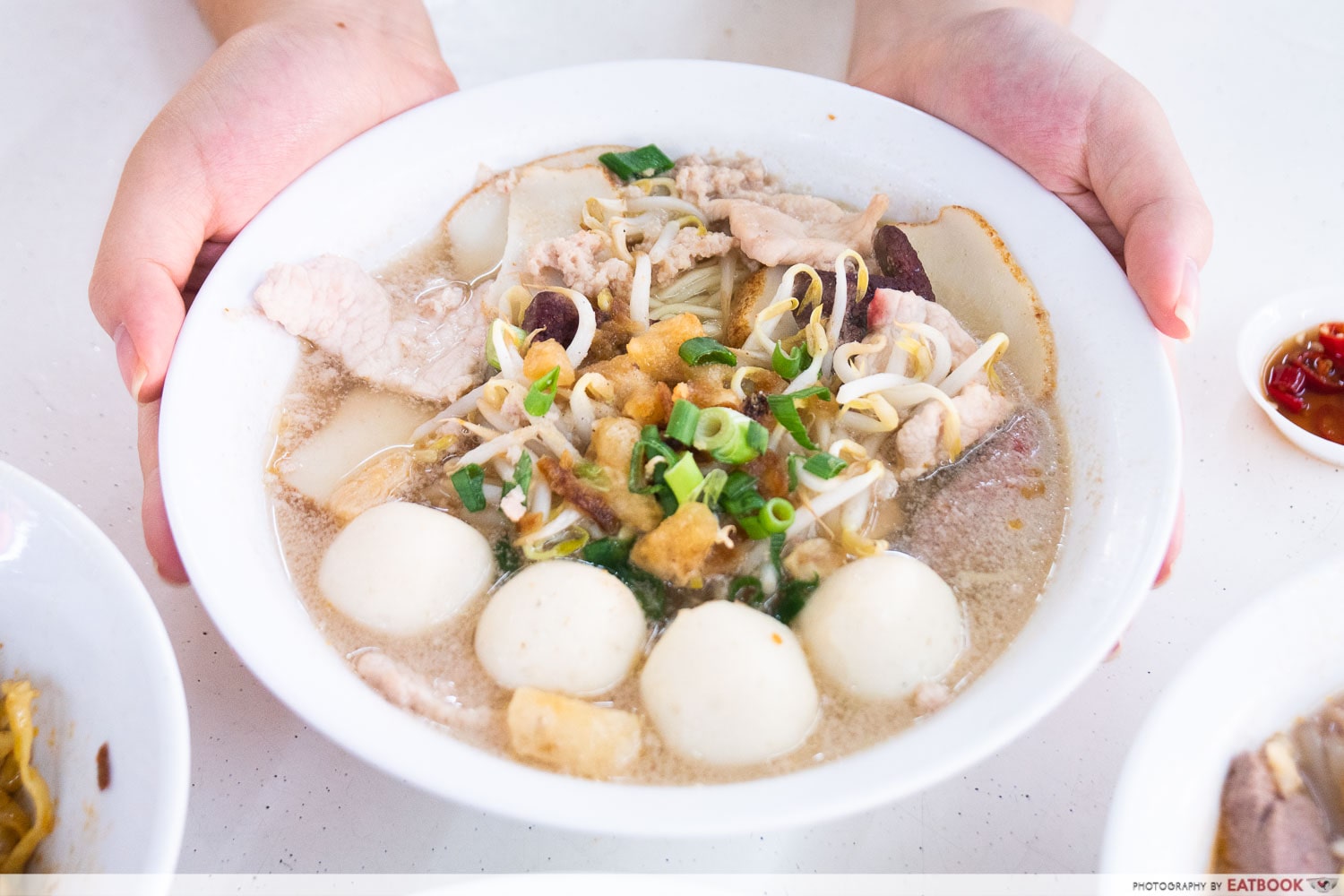 If you are looking for something warm on a cold, rainy day, Jin Xi Lai also offers their bak chor mee in soup too. I went for the $5 option just to see the difference in serving size. It came with the same ingredients, but evidently in more generous portions. Good news for those with a bigger appetite, as the additional $1 made an obvious difference!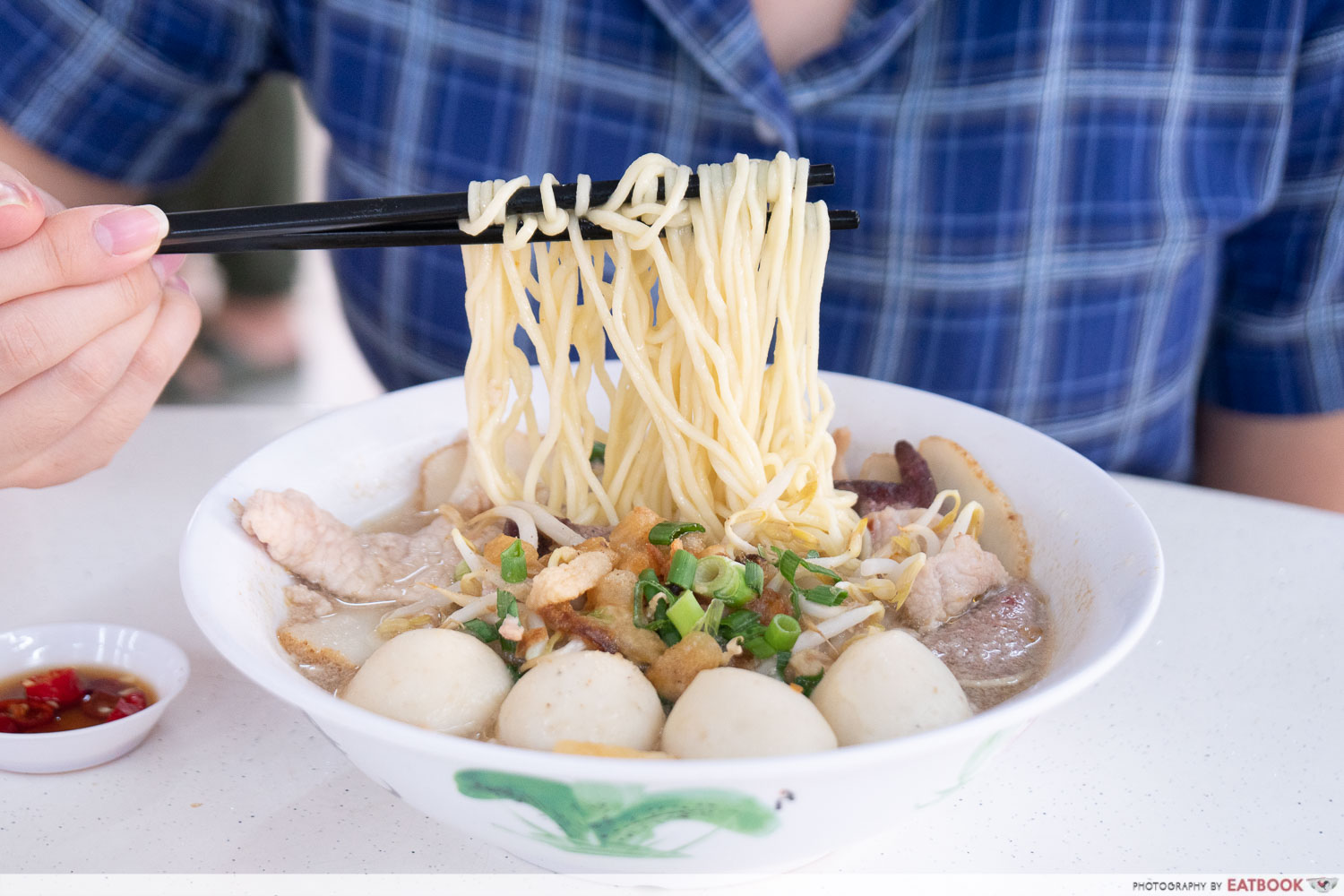 Compared to the saucy bowl of dry bak chor mee, the soup version was slightly bland as the thin mee kia did not carry the flavours of the soup very well. The noodles were also on the softer side, but still complemented the other ingredients in this dish. As this was much lighter on the stomach, I can foresee myself craving this bowl when I'm feeling under the weather, or on a cold day.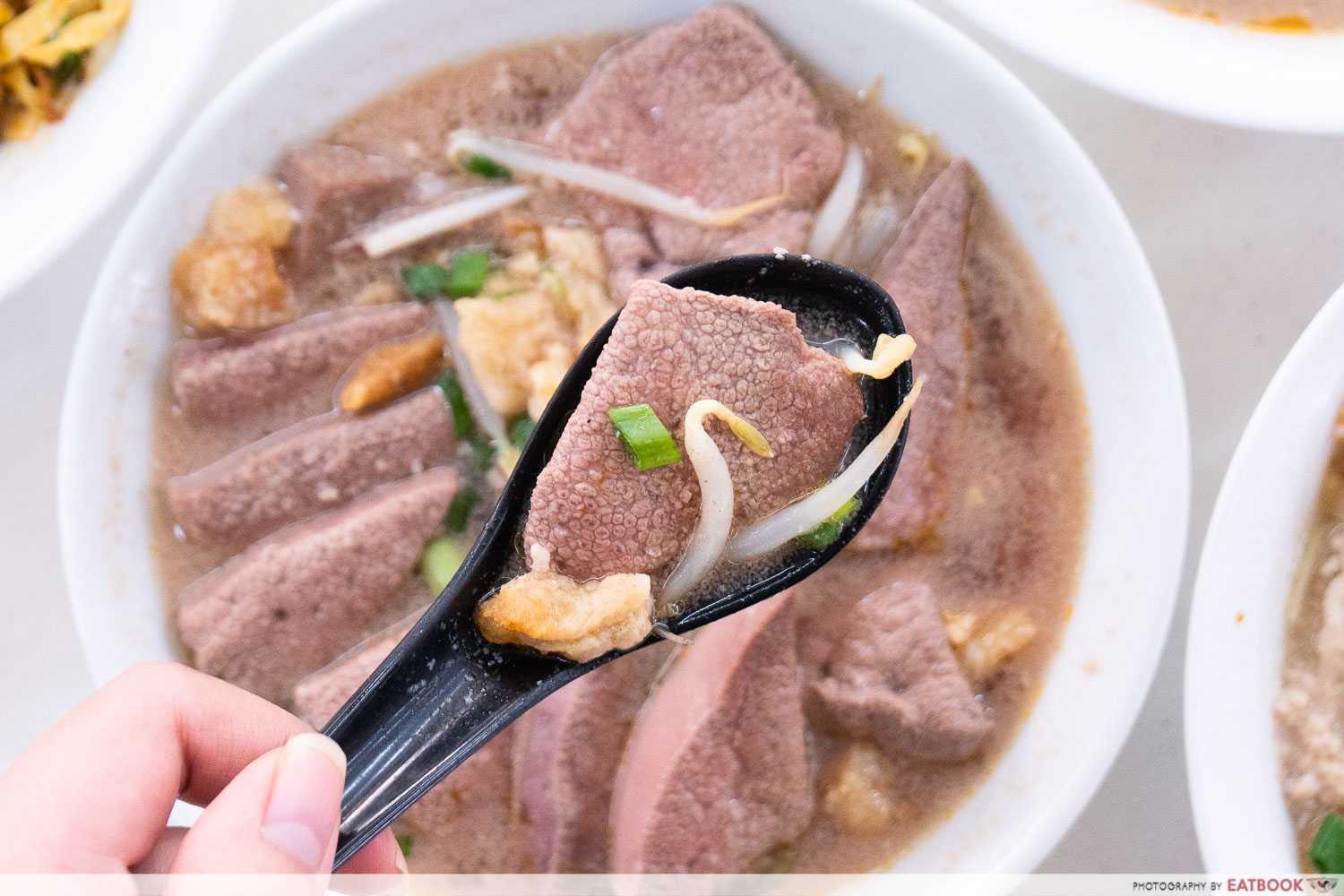 I've never been much of a liver person, but in a matter of two short weeks, I've had Ah Ma Chi Mian's Specialty Pork Liver, tossed in a toothsome chilli mix, and this bowl of liver soup ($4/$5/$6) at Jin Xi Lai. 
Relative to the dry, chilli-tossed liver at Ah Ma Chi Mian, the liver here was sliced thicker. The perfectly cooked slabs were slightly firm and crunchy on the outside, but soft and melty on the inside.
Although they were still pink, there was no gamey or metallic taste present. If you despise a raw-looking liver, have the liver sit slightly longer in the soup, or request for fully cooked liver when you place your order. I would recommend the former as it gives a robust depth to the soup, giving it a strong meaty, umami flavour. 
Chun Seng Noodle House Review: Bak Chor Mee With 100-Year-Old Braised Pork Recipe In ABC Brickworks
Ambience at Jin Xi Lai (Mui Siong) Minced Meat Noodle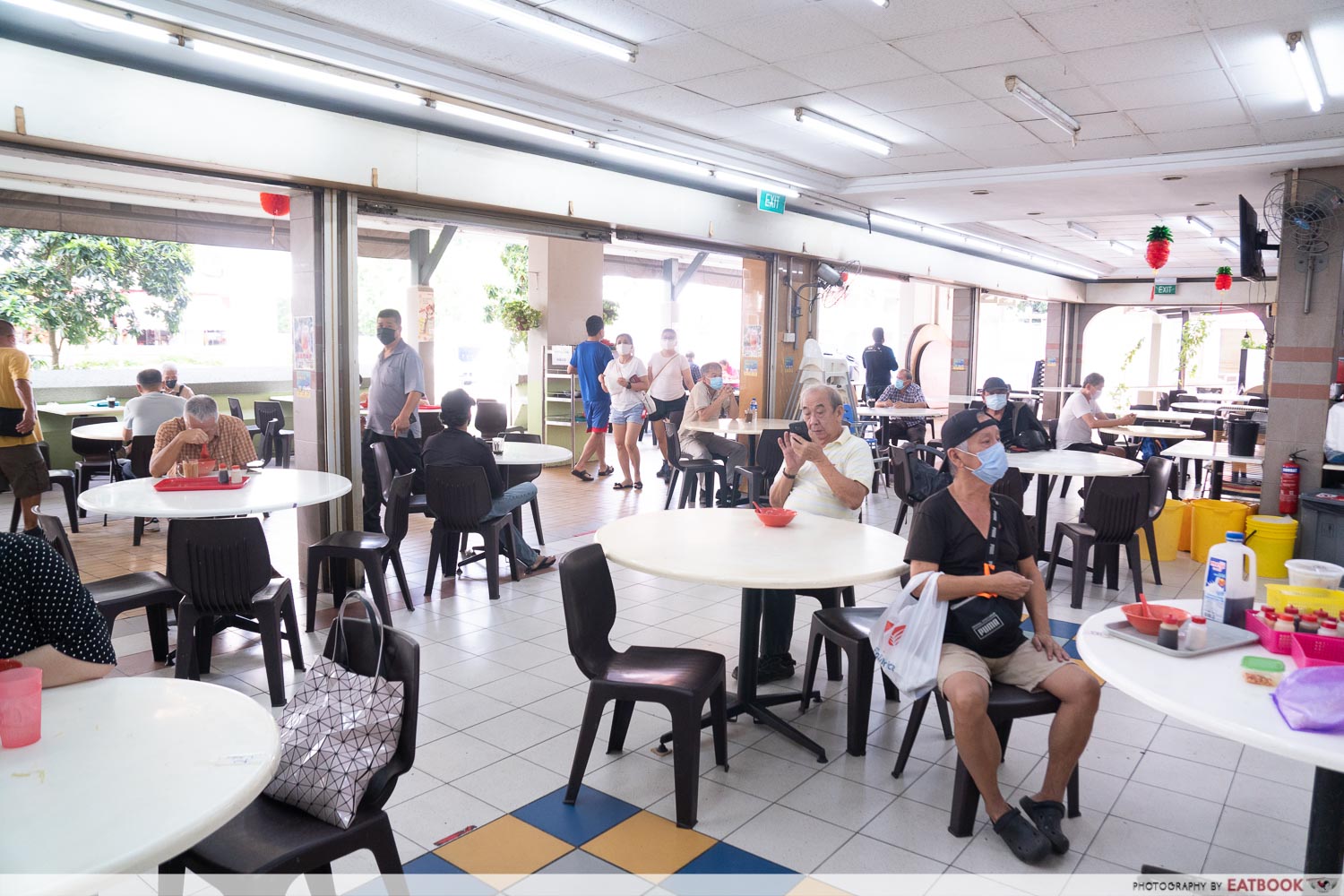 Jin Xi Lai, located within Yi He Eating House, is only a two-minute walk from Jalan Besar MRT Station. 
Even with only three stalls operating early in the morning, the coffee shop was already bustling with patrons, enjoying their morning cup of coffee. The area was brightly lit and well-ventilated, with plenty of ceiling fans that kept me cool during the meal. 
The verdict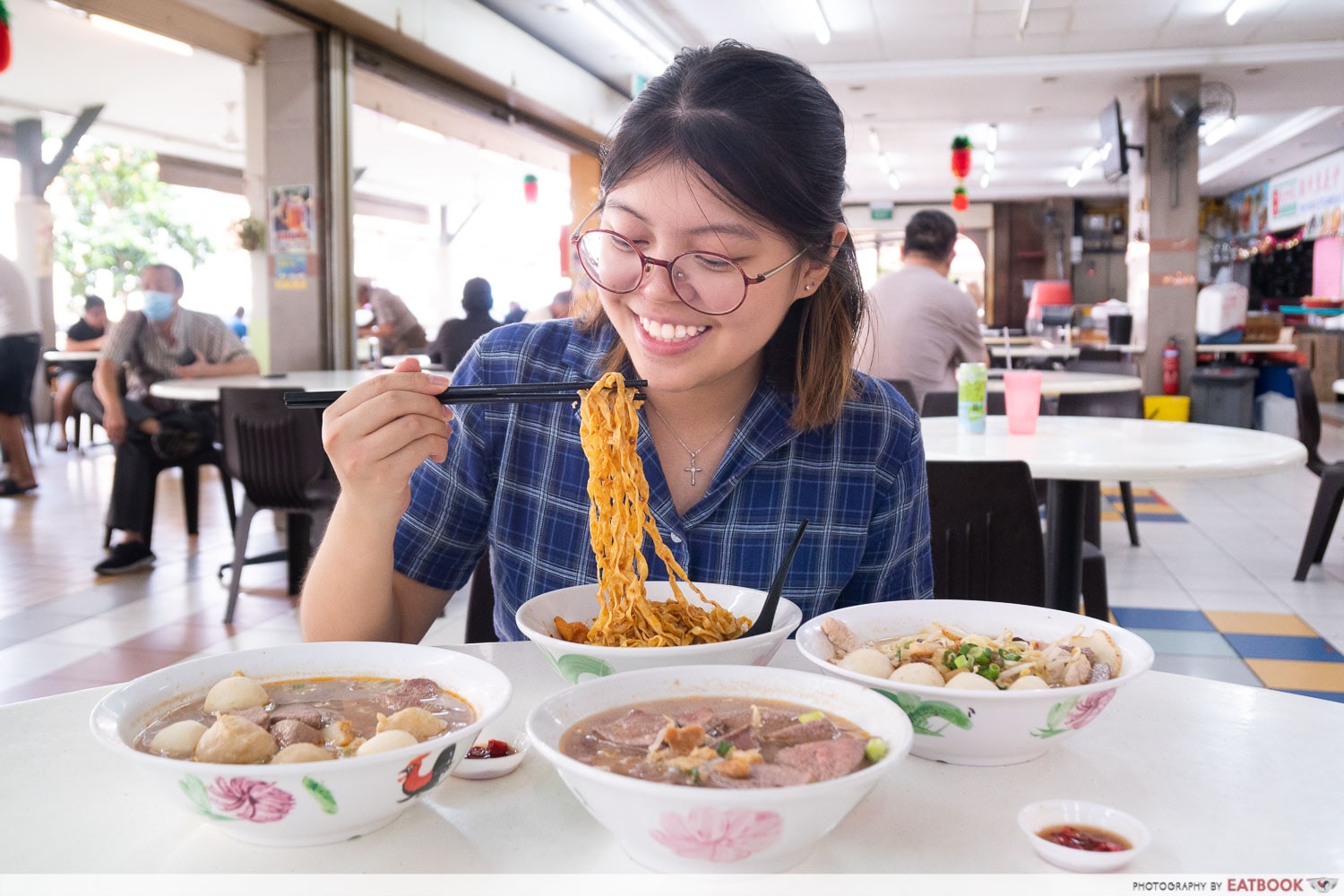 If you are an avid fan of liver, I would recommend adding Jin Xi Lai's poached liver soup to your list of liver dishes to try. Although the liver was cooked to perfection, my favourite part of the dish would have to be the soup itself. I still marvel at how the addition of liver was able to magically transform the light and earthy soup to something filled with umami flavour.
Their BCM was executed well, but I felt it was rather run-of-the-mill. However, in terms of quality and quantity, this is one of the most value-for-money BCM I've tried. 
For more bak chor mee options, read our review on Chun Seng Noodle House, which serves their bak chor mee with lor bak. Alternatively, you can read our review on Johor Road Boon Kee Pork Porridge, that is also located in Yi He Eating House.  
Address: 638 Veerasamy Road, Yi He Eating House, Singapore 200638
Opening hours: Thurs-Tue 7:30am to 2:30pm
Website | Full list of outlets
Jin Xi Lai (Mui Song) Minced Meat Noodle is not a halal-certified eatery. 
Johor Road Boon Kee Pork Porridge Review: Traditional Hainanese Porridge Stall Open For Nearly 70 Years
Photos taken by Lim Yu Hui.
This is an independent review by Eatbook.sg.
The post Jin Xi Lai Mui Siong Minced Meat Noodle Review: 50-Year-Old BCM Stall With Pork Liver Soup appeared first on EatBook.sg – New Singapore Restaurant and Street Food Ideas & Recommendations.