Jefri The Original Botak Chicken Rice in Bedok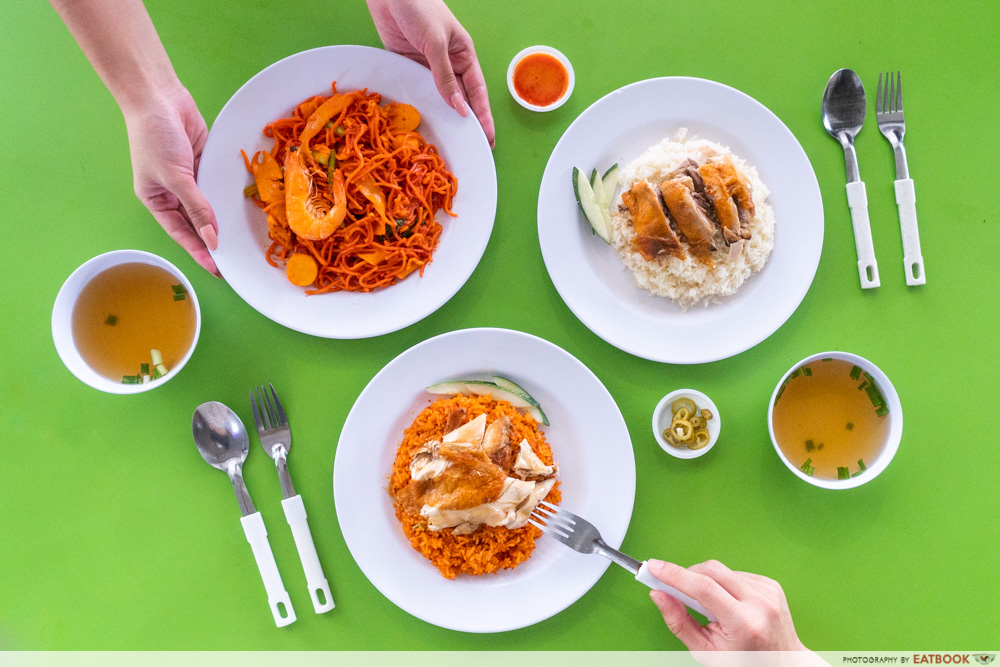 Chicken rice is one of Singapore's great hawker foods, so much so it's widely considered to be one of our national dishes. It's also one of my favourite local foods, in particular, the rice-half of chicken rice—I've had three plates of rice with no chicken on occasion—so when I heard of the orange chicken rice at Jefri The Original Botak Chicken Rice in Bedok, I knew I had to have some.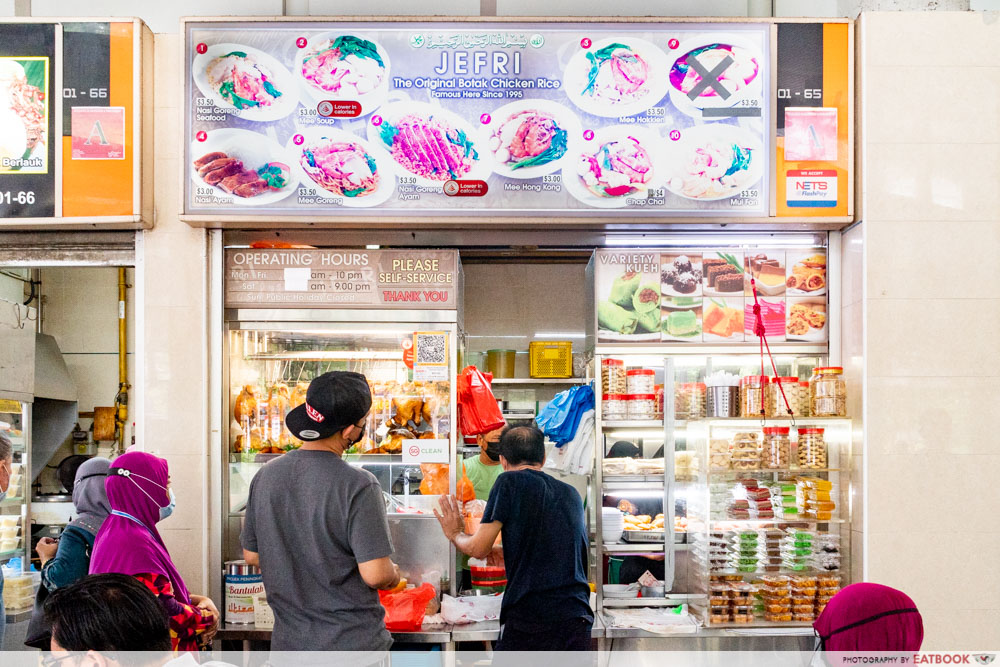 I'm not sure why it's called Botak Chicken Rice, but it's been said that the chicken rice here is one of, if not the best, halal chicken rice options around. I got there at 11:30am, which is when they're supposed to start for the day, but the lights weren't on, though there were a couple other would-be customers loitering around. Less than 10 minutes later, after I'd hunted down my colleagues and a table, the stall had sprung to life, and a snaking queue had formed.
10 Best Chicken Rice In Singapore Ranked, Including Tian Tian And Boon Tong Kee
Food at Jefri The Original Botak Chicken Rice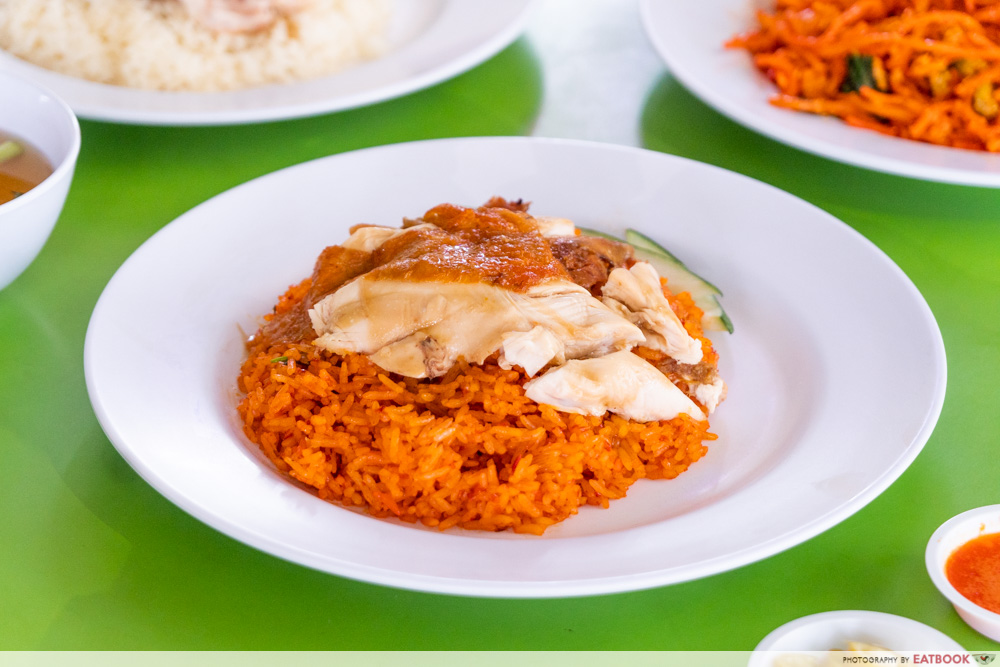 Priced at just $3.50, the Nasi Ayam Goreng comes in a decent portion of rice, meat, a negligible few thin slices of cucumber, and a bowl of clear soup on the side. At first look, the unconventional orange stands in stark contrast to the white plate, against the lime green table.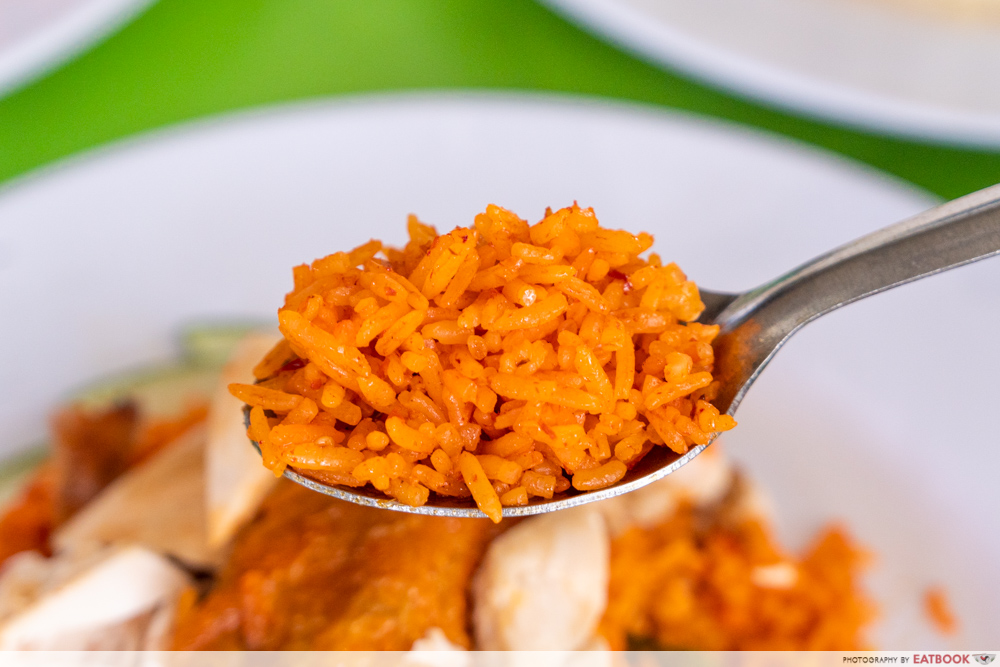 The almost garish colour comes from frying the chicken rice in a house-made mix of sambal and tomato paste, which is a pretty genius idea. It was slightly sweet with a kick of spice, with underlying notes of chicken rice—although I wished this taste was more prominent. Eating this, I was somewhat reminded of ayam masak merah, a dish of chicken in spicy tomato sauce.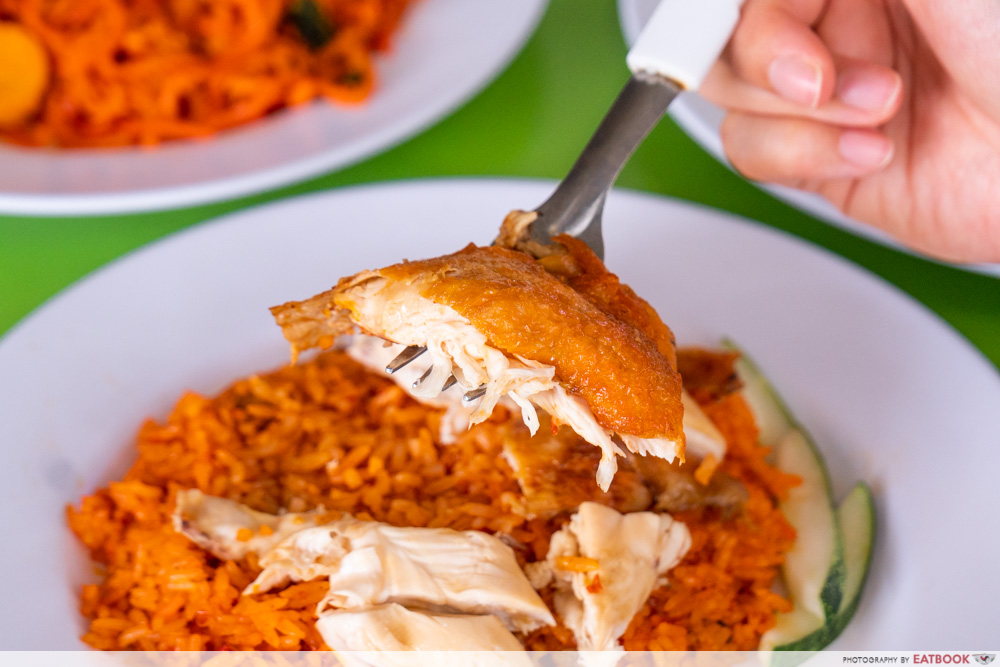 Where the rice was an interesting change from the regular plate of chicken rice, the chicken breast that we got was lacklustre, tending on the dry stringy side, without much flavour. The chicken is deep-fried, rather than roasted, but you won't be getting any crispy skin, because it's doused in a ladle of unremarkable gravy to serve.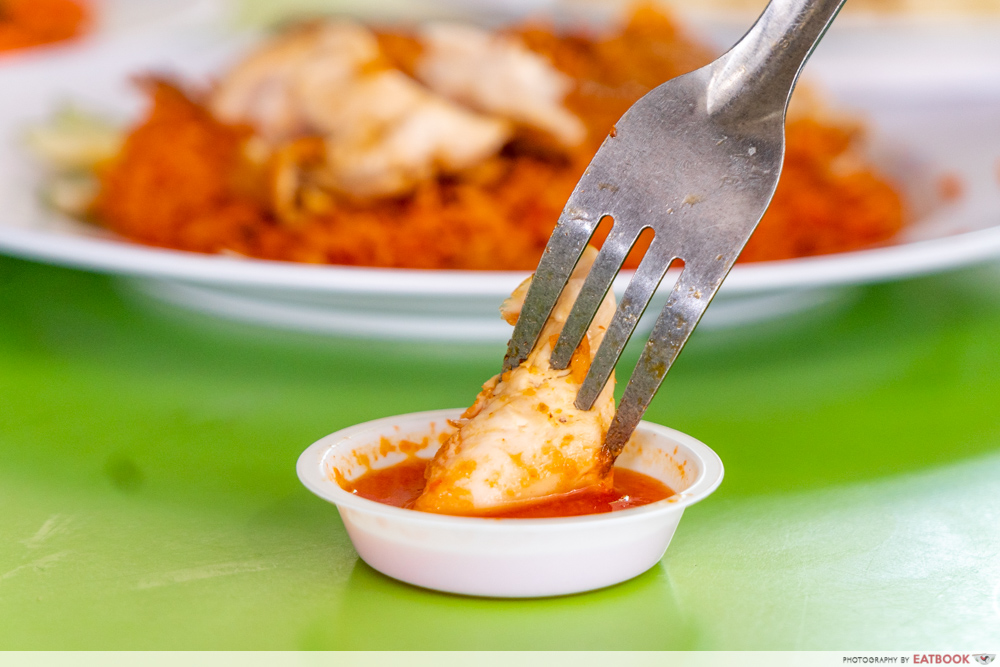 To liven up the chicken meat, there's a chilli dip which you can get on the side. This, though thin, had a bright flavour that could come from lime juice.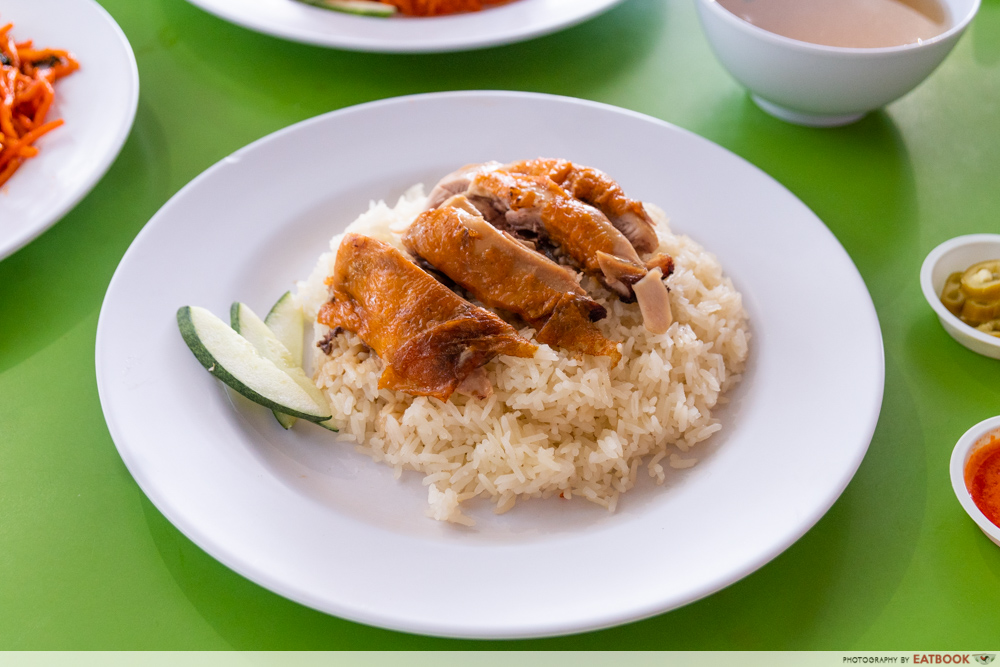 After having the goreng, or fried, chicken rice, it was only right that we also try their Nasi Ayam ($3). What's nice about both the rice options is that they're not greasy, and are decently fluffy, with the grains of rice remaining distinct, although this one could do with a teensy bit more cooking time.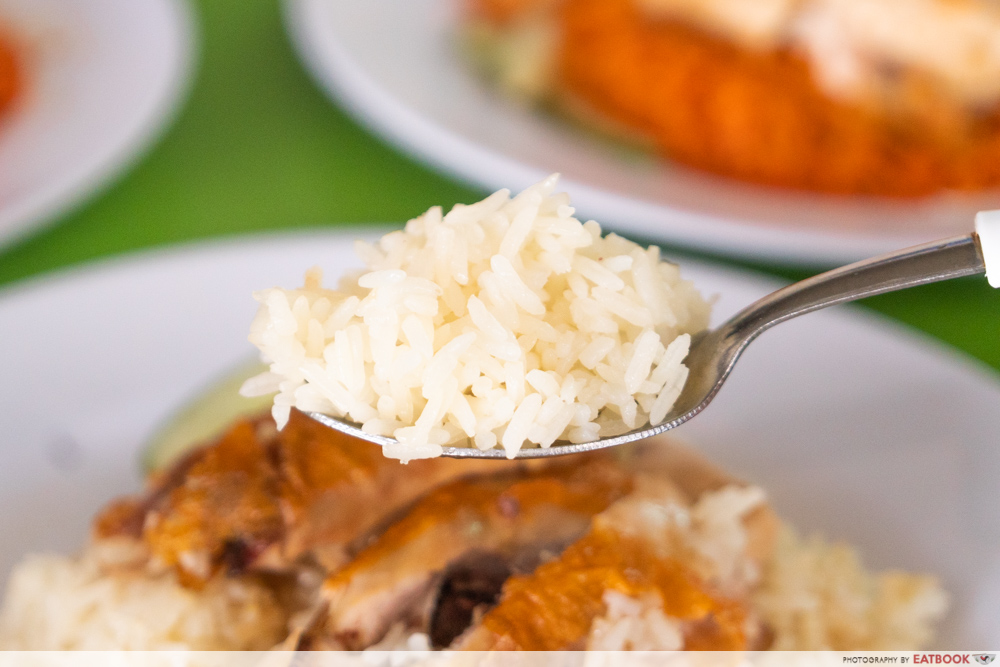 Perhaps the lack of glistening on the rice grains should have been warning enough, because this plate of chicken rice did not have the strong, punchy fragrance that I attribute to good chicken rice. If your palate runs toward clean flavours, you'll like this more than I did.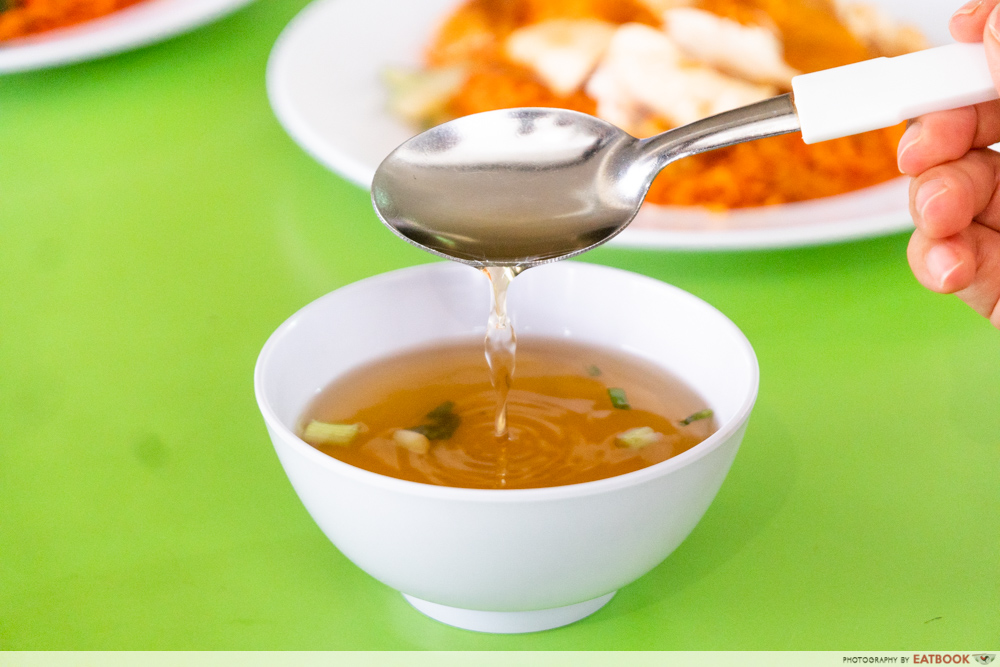 Similarly, the bowl of clear soup that comes with the chicken rice was very, very light on flavour.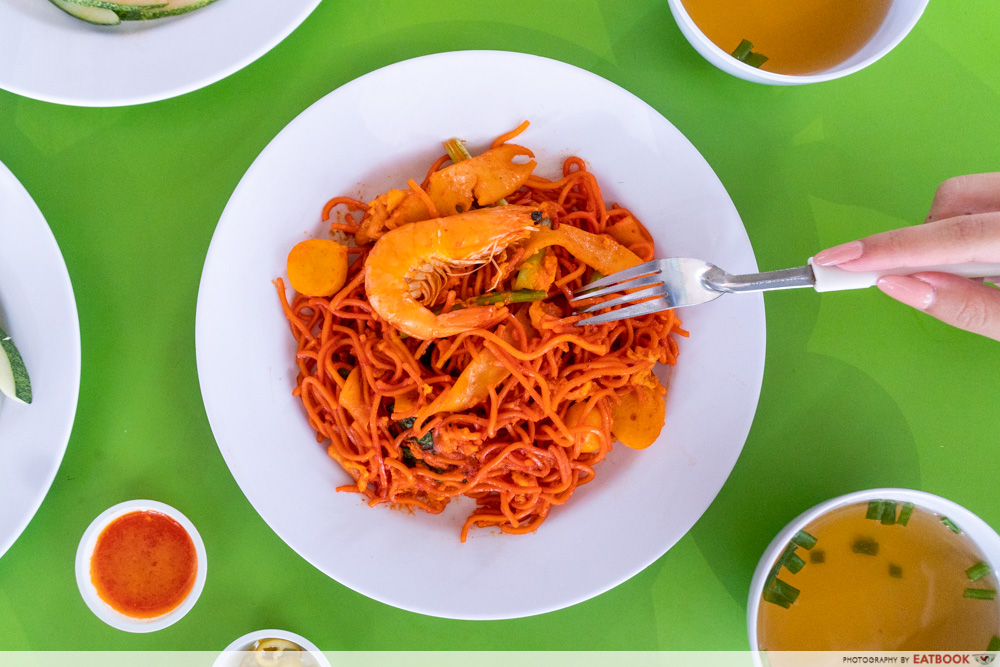 To round off our meal, we also tried the Mee Goreng ($3.50), which came in an even more blinding shade of orange. It's basically fried yellow egg noodles with some vegetables and chicken pieces, eggs, a prawn, fishcakes, and halved fishballs.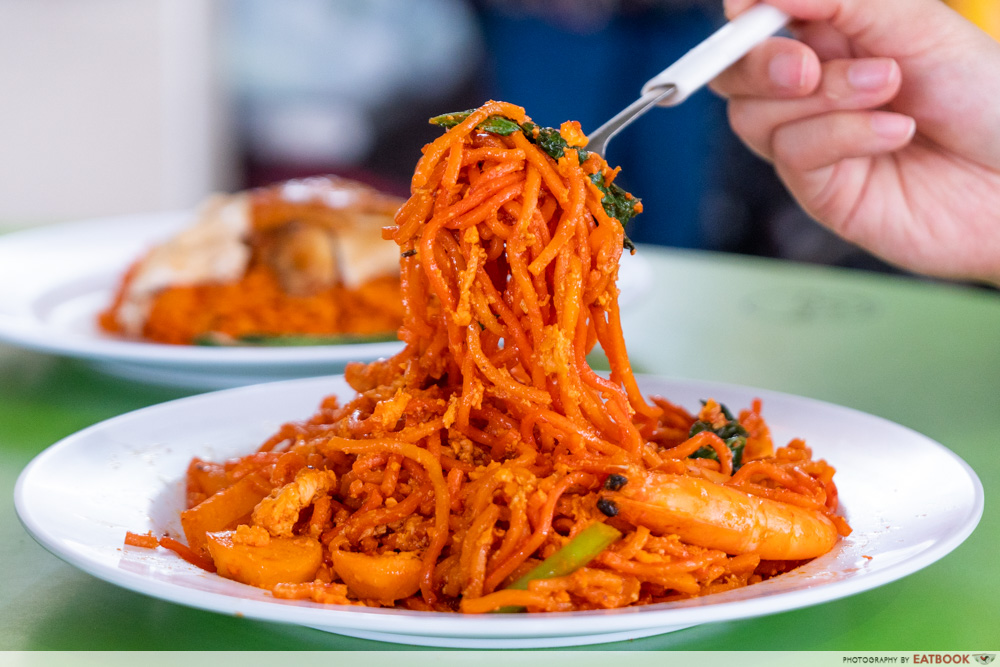 Appearances are definitely deceiving because for all its fiery reddish-orange looks, this plate of Mee Goreng tasted anything but. In fact, this was the most tasteless of the three dishes we tried, neither sweet, spicy, tangy, or anything in between, which left all of us rather stumped.
Bedok Food Guide: 26 Places Serving Satay Bee Hoon, Wagyu Don And More
Ambience at Jefri The Original Botak Chicken Rice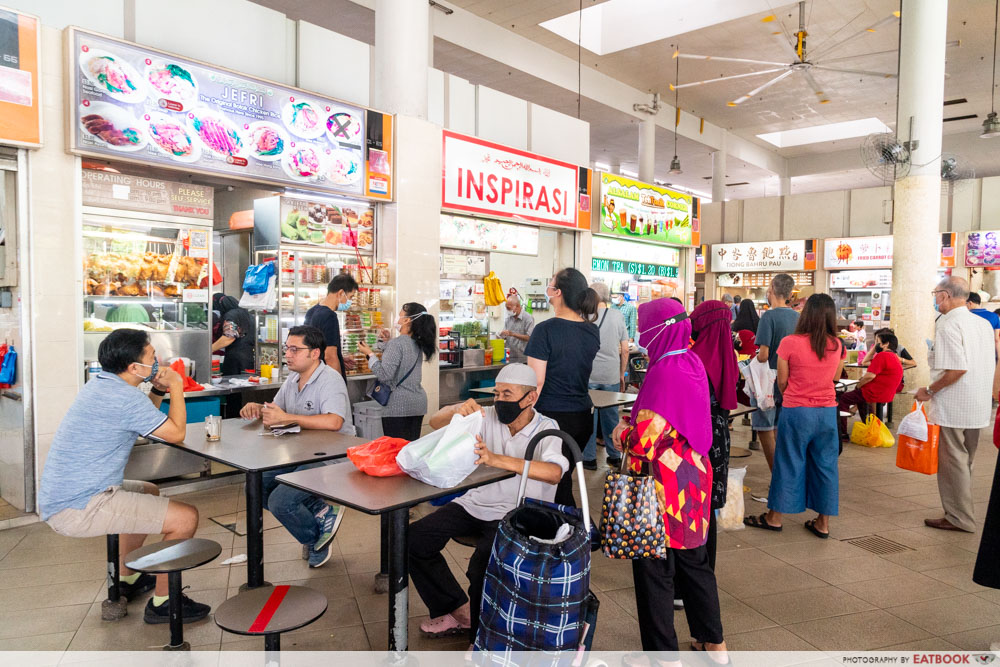 Bedok Interchange Hawker Centre is located right across from Bedok MRT Station, and, as its name suggests, is linked to the bus interchange. It's got more than 70 stalls, and 1,000 seats that are spaciously distributed across its sprawling compound.
The hawker centre is relatively new, having been rebuilt in 2014. It's pretty clean, and was very windy when we were there, with plenty of fans helping with the ventilation. It gets quite crowded at the lunch hour, but the high ceilings and skylights makes it feel less cramped.
The verdict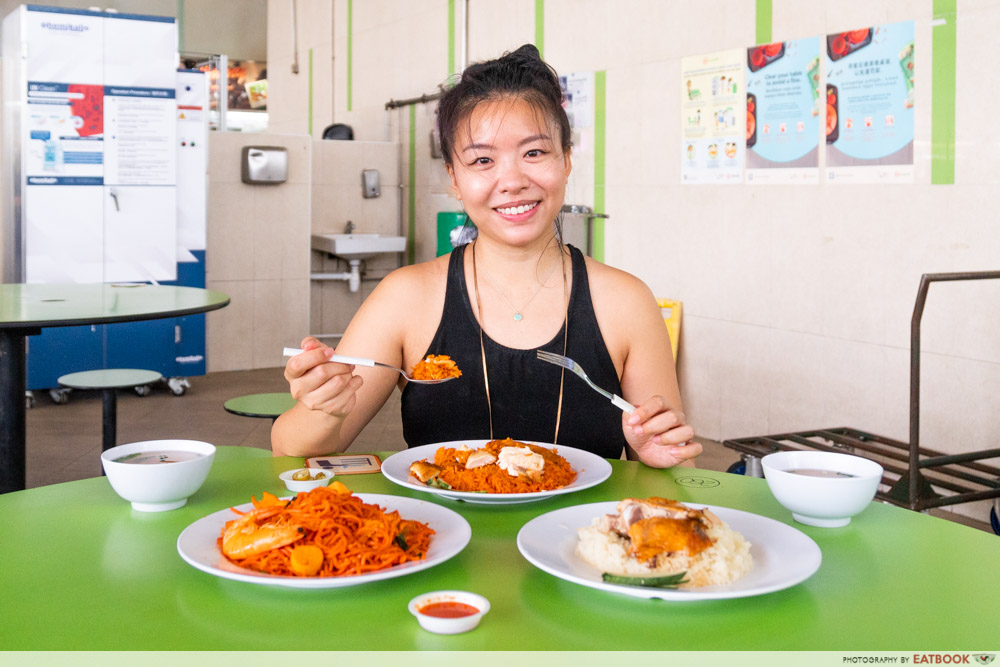 The novelty of the brightly-coloured rice aside, I didn't quite enjoy most of what I ordered here. I'm inspired to fry my chicken rice at home with sambal and tomato sauce now, but I wouldn't come back to have this again.
However, it has to be said that the offerings here are pretty affordable, with nothing on the menu costing more than $4. Location-wise, they're also very accessible, which I'd also give them credit for.
If you are looking for dining options in the area, here's a Bedok food guide that you can refer to. Just around the corner from Bedok Interchange Hawker Centre, Tai Wah Pork Noodle is also opening this August, bringing their famous BCM to the East!
Address: 207 New Upper Changi Road, #01-07, Bedok Interchange Hawker Centre, Singapore 460207
Opening hours: Mon-Fri 11:30am to 10pm
Website
Jefri The Original Botak Chicken Rice is not a halal-certified eatery, but is Muslim-owned
Famous Tai Wah Pork Noodle To Open New Outlet In Bedok With Cheaper Menu
Photos taken by Milim Tay.
This was an independent review by Eatbook.SG 
The post Jefri The Original Botak Chicken Rice Review: Muslim-Owned Orange Chicken Rice With 26-Year History In Bedok appeared first on EatBook.sg – New Singapore Restaurant and Street Food Ideas & Recommendations.