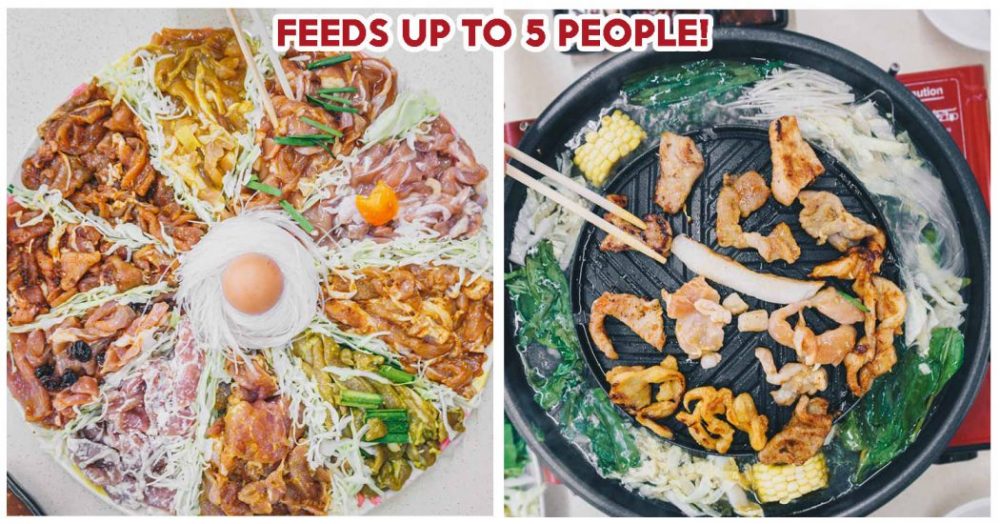 XXL mookata platter in Yishun Mall

Some might dislike the barbeque smell that always seems to linger after eating mookata, but I don't mind it because I get my share of Thai barbecue and steamboat in one meal. What's even better is that mookata stalls these days are coming up with extra-large mookata servings to give you more bang for your buck, such as Ja Kin Mukata's version. 
Situated within the depths of Yishun Ring Road, their expertise lies in mookata, while also serving other Thai dishes as well. Capitalising on the opportunity to eat to my heart's content in mookata, I was willing to make that one hour commute all the way to Yishun to fill myself up.
Ipoh Curry Chee Cheong Fun Review: Curry Mee And Chee Cheong Fun With Roast Meats In Yishun
Food at Ja Kin Mukata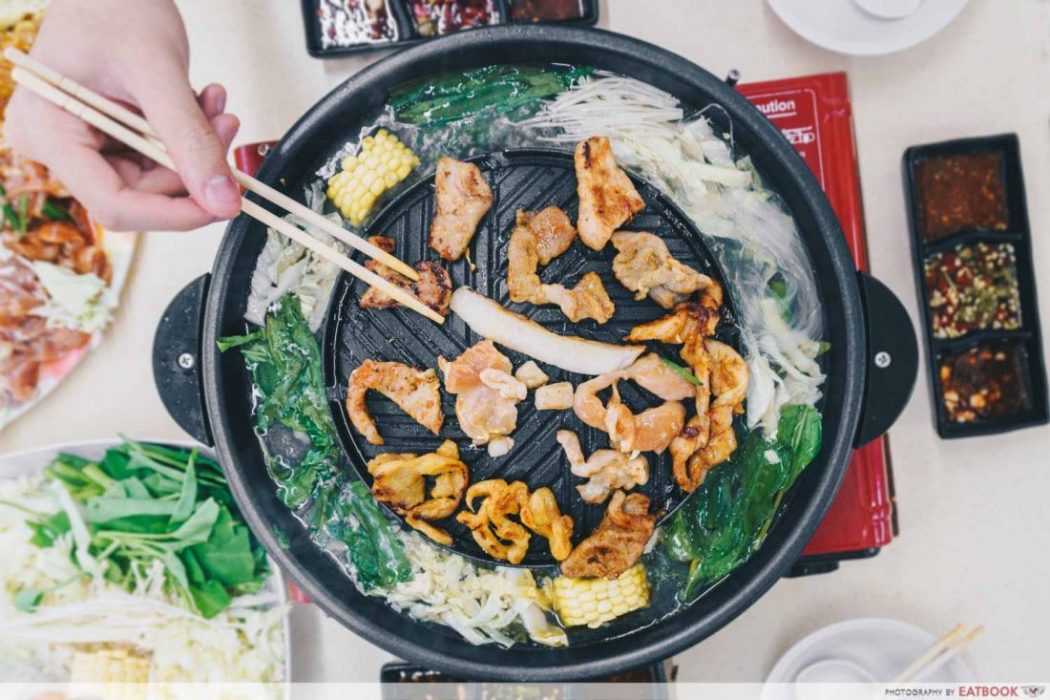 The absolute show-stopper, XXL Mookata Platter ($53.80) is a sight to behold. Ideal for groups of four to five, the plate is decked with 10 various flavours of chicken or pork of your choice, accompanied by a smaller vegetable platter consisting of corn, enoki mushrooms, Chinese cabbage, spinach, raw egg, and rice vermicelli noodles.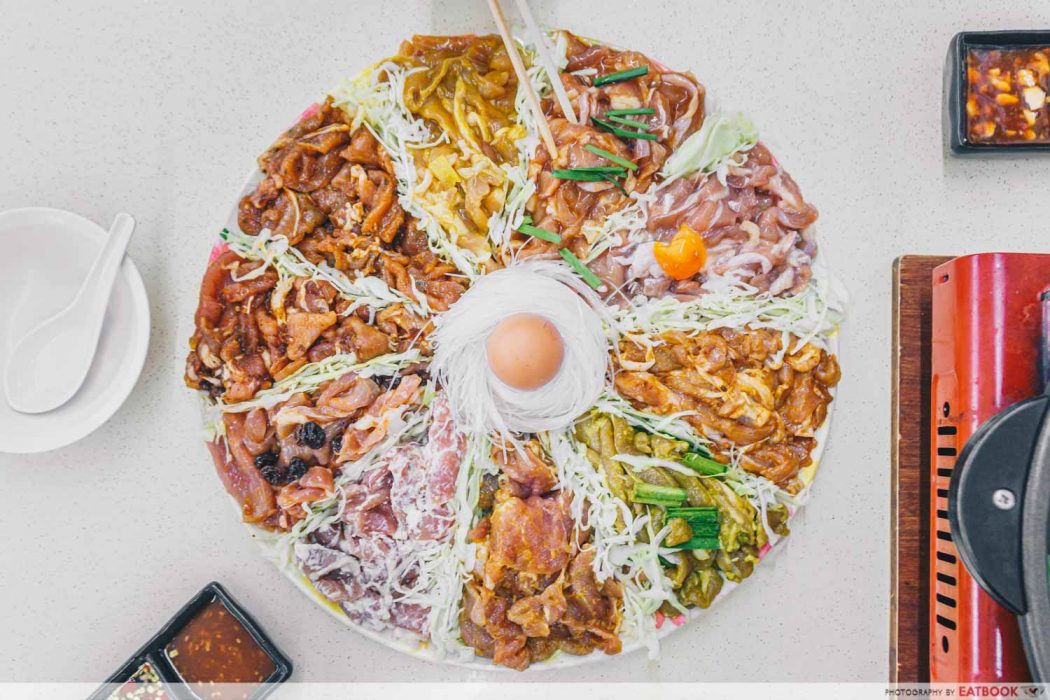 We opted to have the best of all worlds, choosing Pandan, Laksa, Salted Egg, Pad Thai, and Pineapple as our chicken flavours. For pork, we were drawn to the Butter, Tomato, Tom Yam, Mala, and Thai Curry, as they were the most interesting and unconventional for us.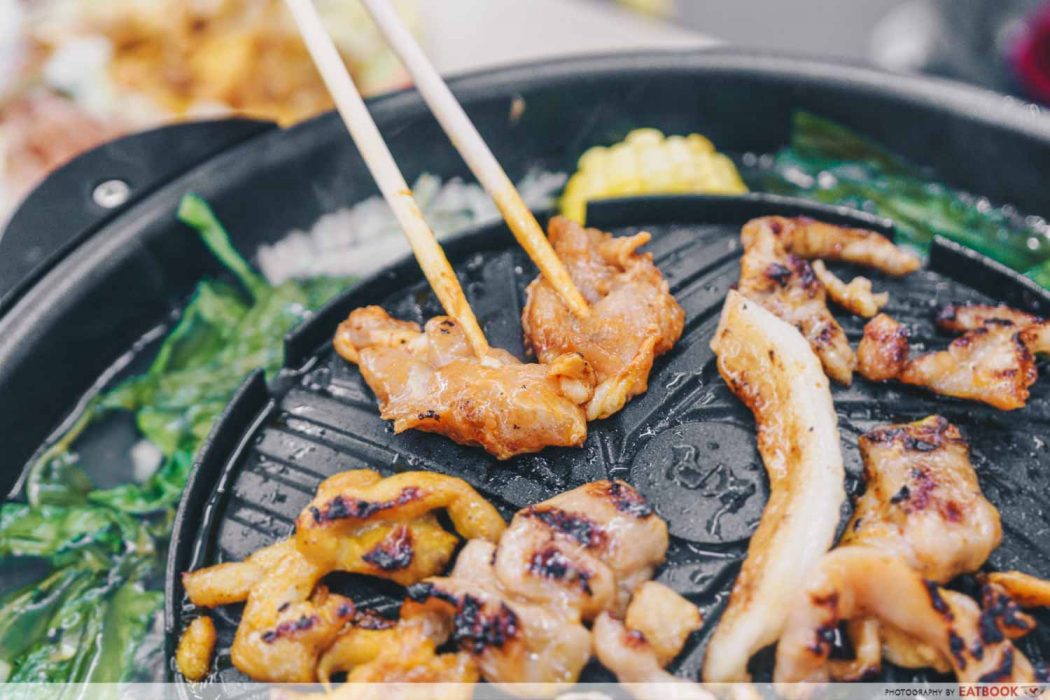 If you're more of a local food kinda person, check out the Laksa Chicken for a reminder of another of Yishun's famous delights, 928 Yishun Laksa. The chicken meat was tender, becoming juicy when grilled. Yet, I was rather underwhelmed by the lack of that coconutty, creamy laksa essence, resulting in the meat being slightly tasteless.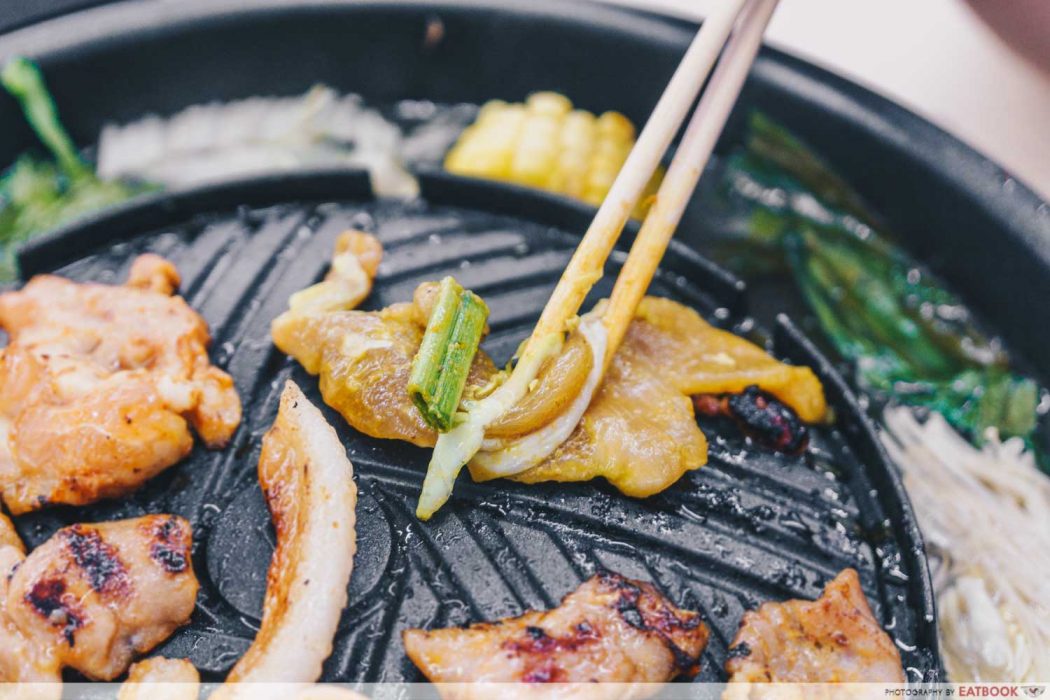 My curiosity was piqued when I saw Pandan Chicken on their menu. This unexpected pairing turned out better than I expected, with the slightly sweet marinade giving off hints of satay sauce. The grassy flavour wasn't overpowering and had a recognisable aroma, though I felt that the pandan taste just wasn't strong enough.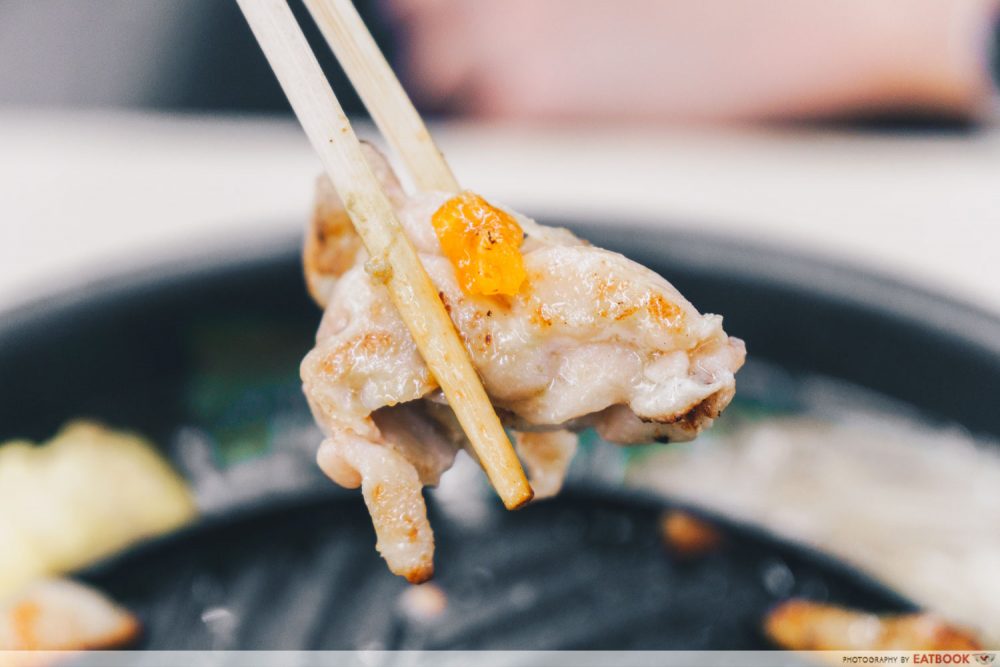 For those who are on the salted egg yolk on everything hype train, we'd recommend the Salted Egg Chicken. Their chicken meat is marinated in a house-made salted egg that wasn't overly rich and overpowering. Taste-wise, there was a pleasant balance of sweet and savoury flavours that screamed umami.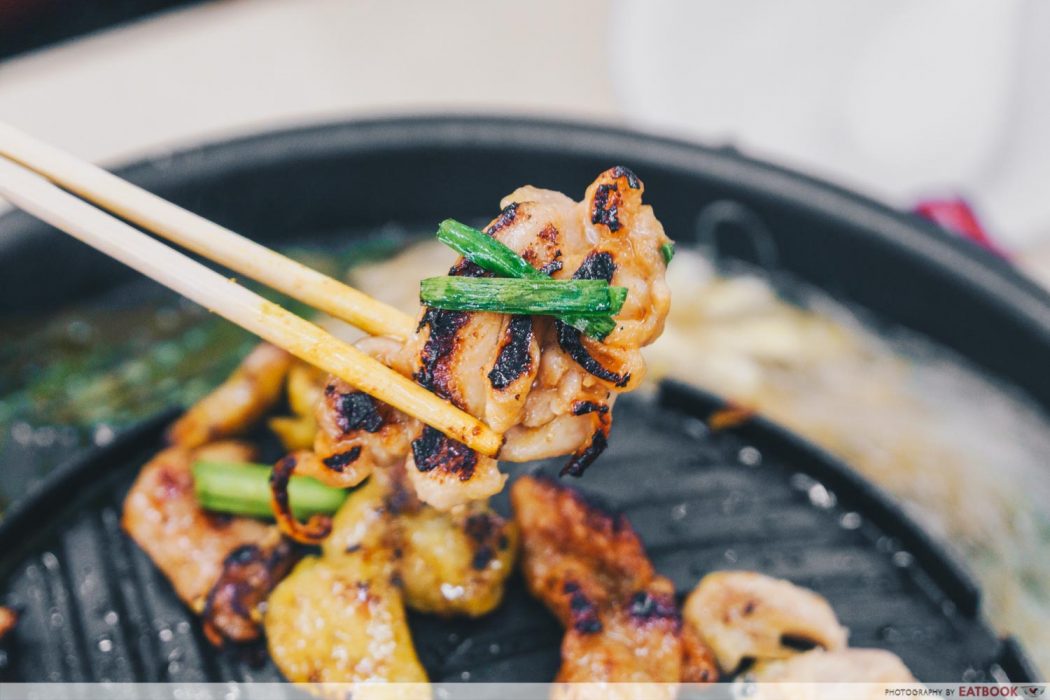 You also get your chance to savour an entire Thai dish in a piece of Pad Thai Chicken, which arrives garnished with pandan leaves as well. Though sweet from the palm sugar used in the cooking process, the meat just lacked the tamarind's sourness that usually adds so much depth to the dish. As such, I was a little underwhelmed by the one-dimensional taste of the chicken, uncharacteristic of pad thai.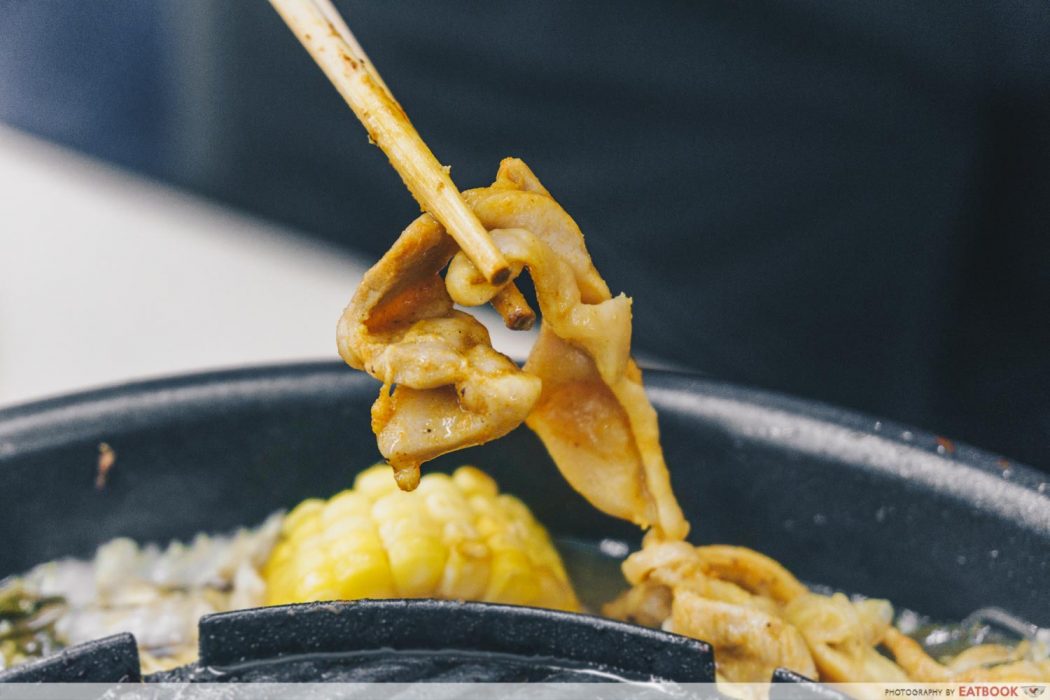 Spongebob Squarepants would be proud of their Pineapple Chicken, an unconventional combination that would more likely be a pizza topping than anything. To my surprise, actual bits of pineapple added a dash of fruitiness that was refreshing.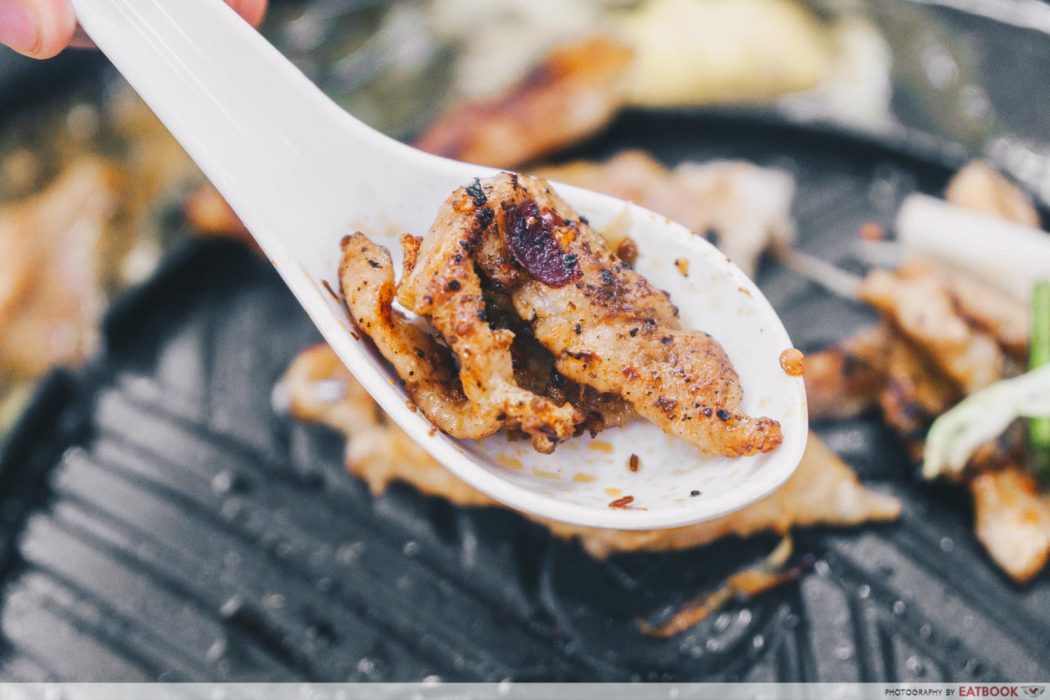 A unanimous favourite is the Mala Pork, for those who aren't sick of the ma la xiang guo food trend already permeating society. Their mala seasoning isn't gimmicky, with noticeable, small dried chillies sitting atop the pork, though I wish they included Sichuan peppercorn too. One of the more flavourful meats, the fiery and piquant taste of mala was present, but it would have been perfect if the numbing sensation followed after too.
Prepare yourself for creaminess overload in their interesting Butter Pork, if it's up your alley. Personally, I wasn't a huge fan of it just because I'd rather let my dairy and mookata stay mutually exclusive.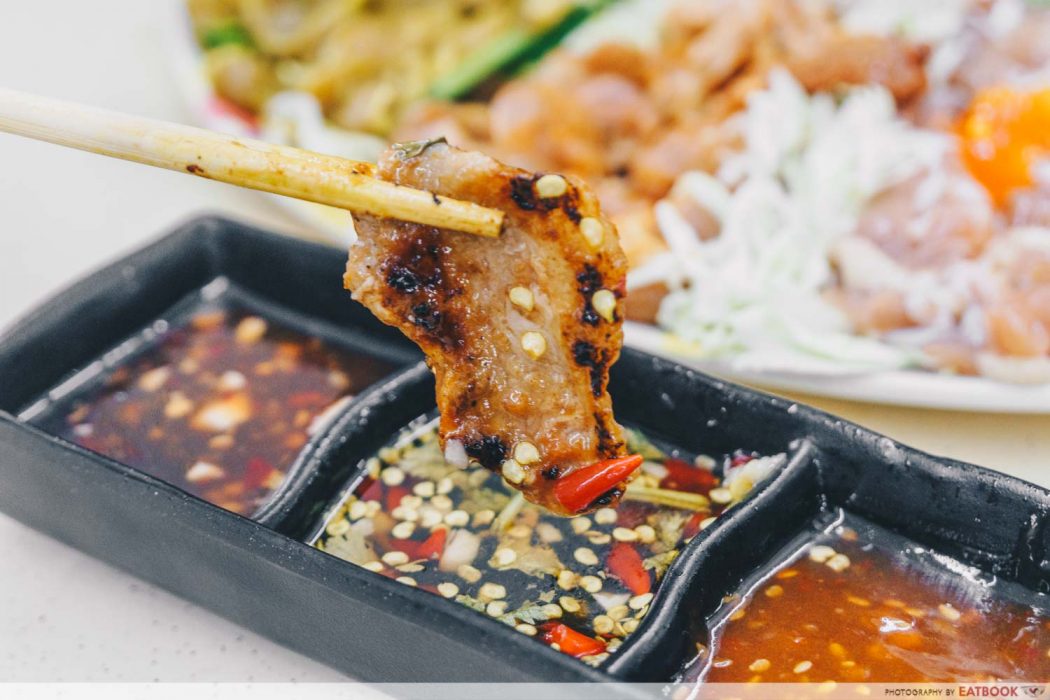 The Tomato Pork's marinade tasted like those used in Haidilao or Beauty In A Pot's tomato soup base, sweet with a slight tartness, without being too cloying.
I certainly expected better from the Tom Yam Pork, considering how the stall also has other traditional Thai dishes for sale. Unfortunately, both distinctively spicy and sour flavours were largely masked, with the meat tasting rather bland.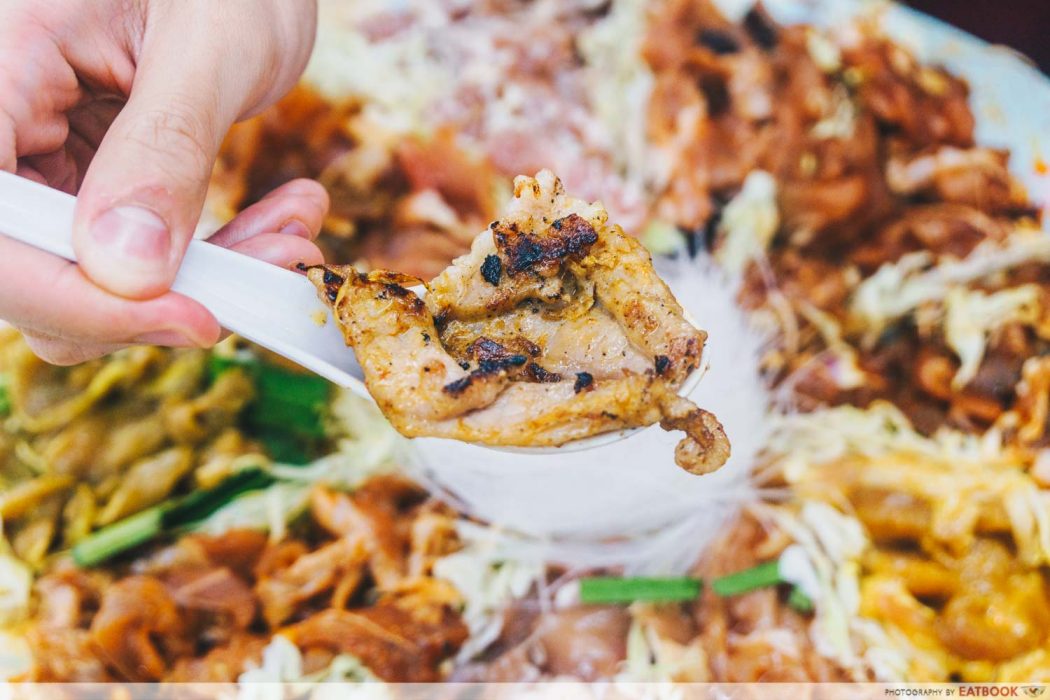 I preferred the Thai Curry Pork, modelled most after the more aromatic and less stinging Thai yellow curry, rather than other variations like massaman and green curries. 
Soi Candy Review: Northern Thai Noodle Bar With Pork Stew And Tempura Kangkong In Tanjong Pagar
Ambience at Ja Kin Mukata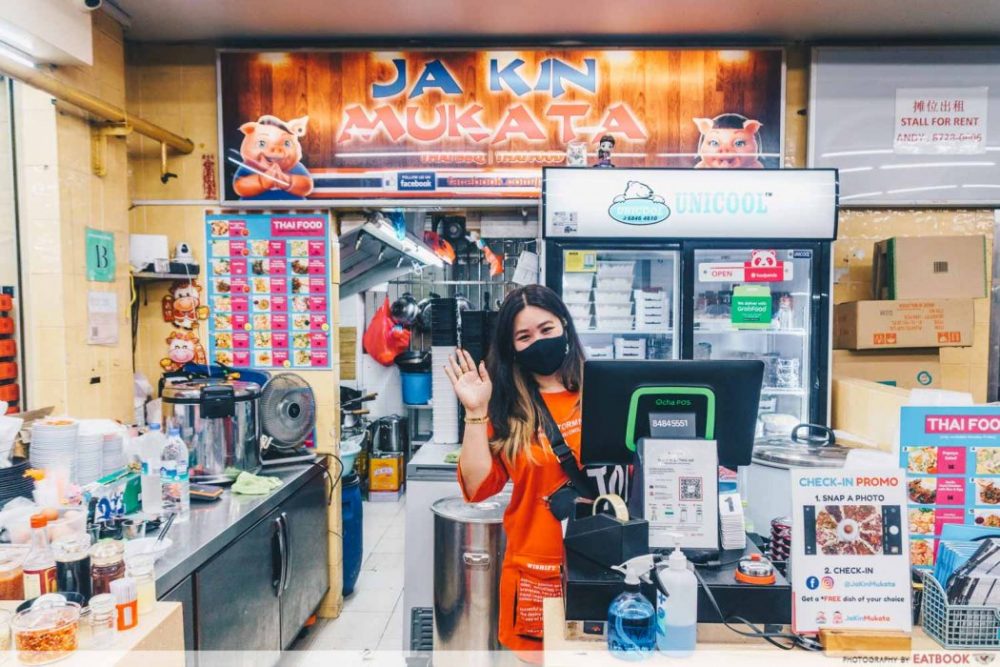 Situated in a quaint kopitiam facing the main road, Ja Kin Mukata is tucked away from the more "happening" areas in Yishun, ideal for those looking to savour more laid-back vibes. Located in Yishun Mall, the stall is about a 15 to 20 minutes bus ride from Yishun MRT Station. 
The coffeeshop seats about 40 to 50, with both indoor and outdoor dining options. It can get pretty busy during lunch and dinner timings, so be sure to be prepared to wait a while. Their service staff are really friendly and approachable, certainly making your experience just that bit more pleasant.
Old World Bakuteh Review: Teochew Bak Kut Teh With Fried Porridge And Dry Mee Sua At Yishun
The verdict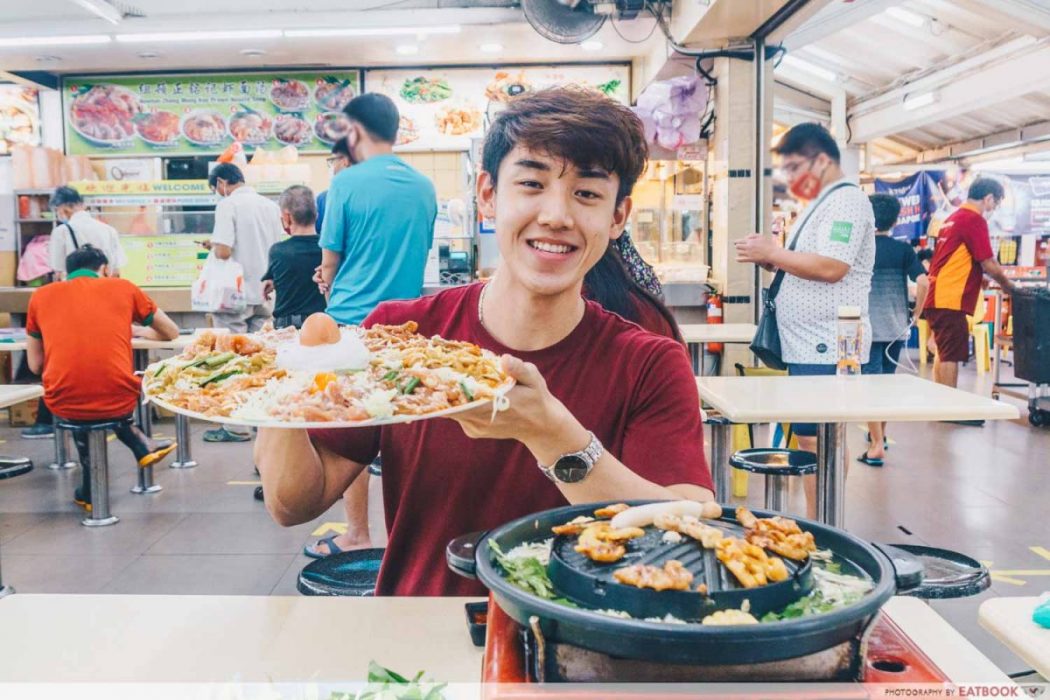 With the current trend of XXL platters sprouting out left right centre around Singapore, it's honestly a great option for group activities or family bonding, since we're kinda limited by not being able to travel. Ja Kin Mukata's XXL platter is definitely more affordable shared between more people, with its customizability being its strong suit so you don't have to fight over your meat flavours. Jio your friends and don't say we bojio!
If you're looking for more mookata places around, check out our guide to cheap mookata places around Singapore. Alternatively, if you prefer other forms of Thai food, read our guide to affordable Thai food below $10 in Singapore.
Address: 414 Yishun Ring Road, #01-1871, Singapore 760414
Opening hours: Daily 5pm to 11pm
Tel: 8484 5551
Website
Ja Kin Mukata is not a halal-certified eatery.
10 Affordable Thai Food Places With Mains Below $10 For Your Next Squad Outing
Photos taken by Keith Kok.
This is an independent review by Eatbook.sg.
The post Ja Kin Mukata Review: XXL Mookata Platter With 10 Different Meat Flavours In Yishun appeared first on EatBook.sg – New Singapore Restaurant and Street Food Ideas & Recommendations.