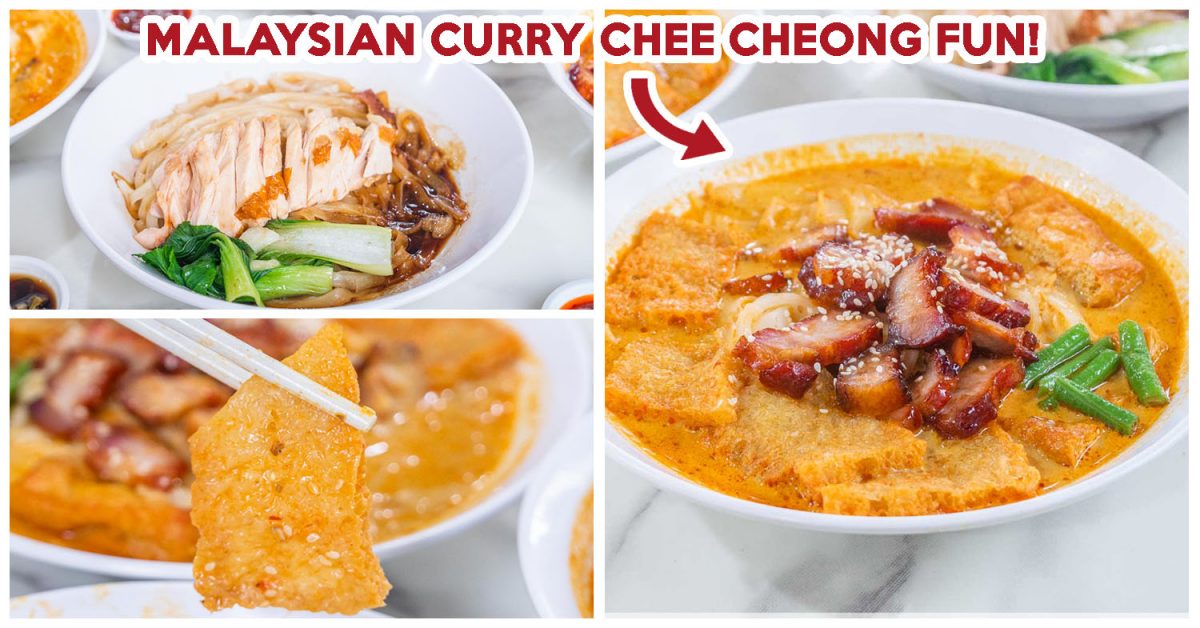 Ipoh Curry Chee Cheong Fun in A'Posh BizHub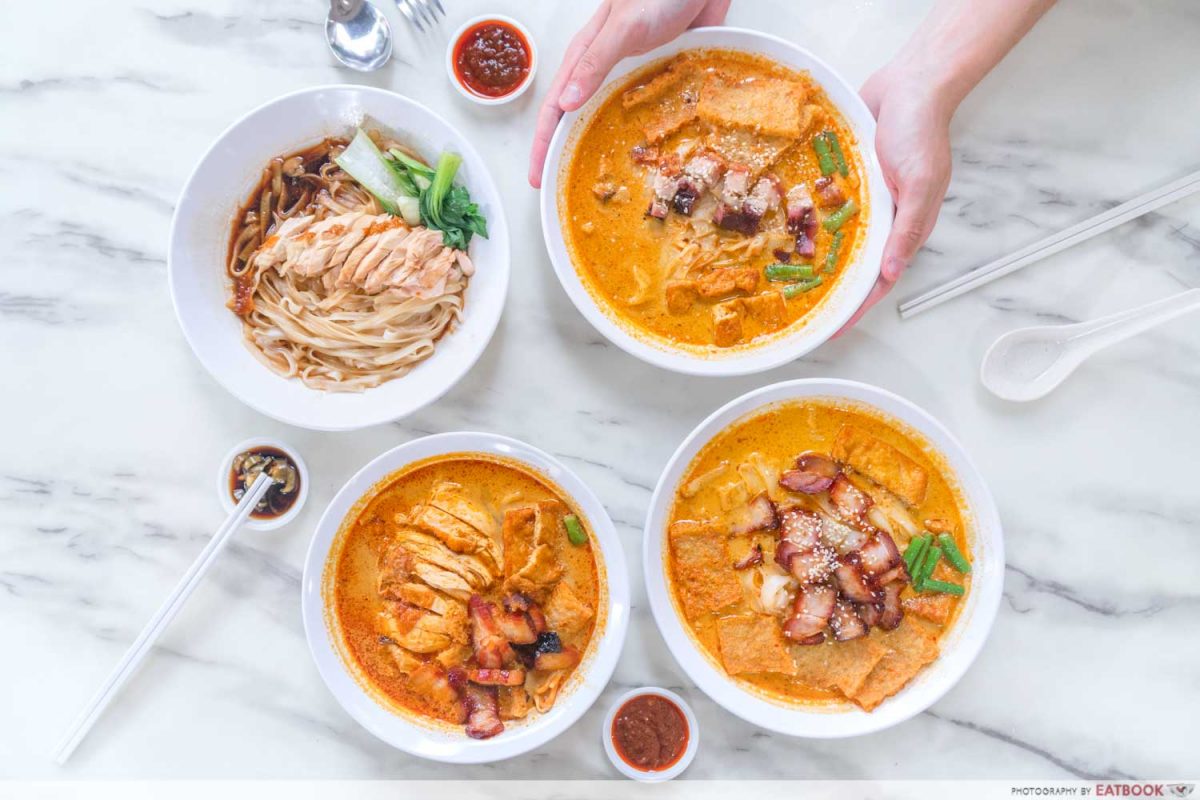 Having familial ties to the city of Kuantan myself, I sometimes wish I had a stronger affinity with Malaysian culture. I guess one way of paying homage to my roots would be to promote quality Malaysian eateries right here in Singapore. Situated in an unassuming industrial canteen in Yishun, Ipoh Curry Chee Cheong Fun is an eatery serving Malaysian-style curry chee cheong fun. The stall might be slightly difficult to locate, but more difficult to forget after.
Their whole schtick centres around curry chee cheong fun dishes served with char siew and sio bak, while also having local delights such as curry mee and Ipoh hor fun. They are open all day, mostly catering to the office lunch crowd that constantly swarms the staff canteen. 
Happy Congee Review: Handmade Mala Chee Cheong Fun And Abalone Congee At Bendemeer
Food at Ipoh Curry Chee Cheong Fun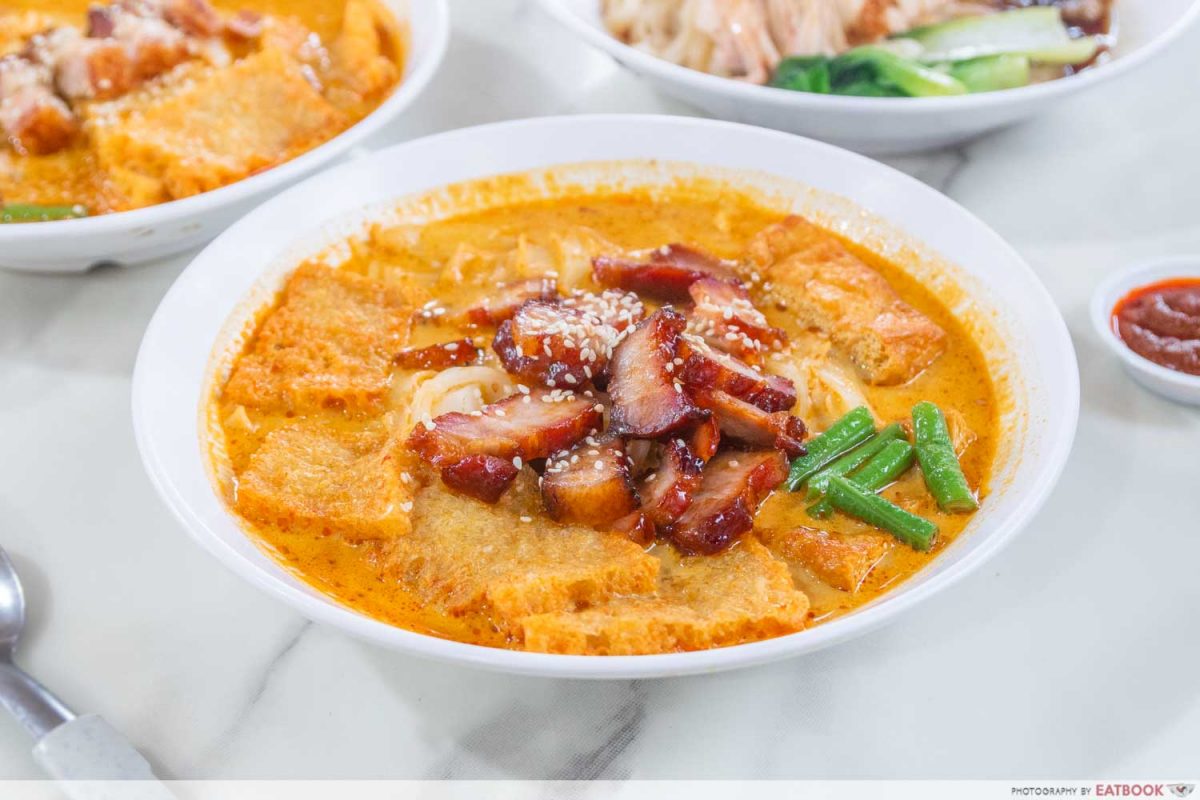 Despite sounding like a fusion between multiple hawker delicacies, the Ipoh Curry Char Siew Chee Cheong Fun ($4.50) manages to make it work. In Ipoh, chee cheong fun traditionally comes in both dry and wet options, and isn't ingredient-filled like their Cantonese counterparts. Their version is really soft, thin, and falls apart easily, reminding me more of kway teow instead. The chee cheong fun absorbs the curry zhup well, packing each mouthful with flavour.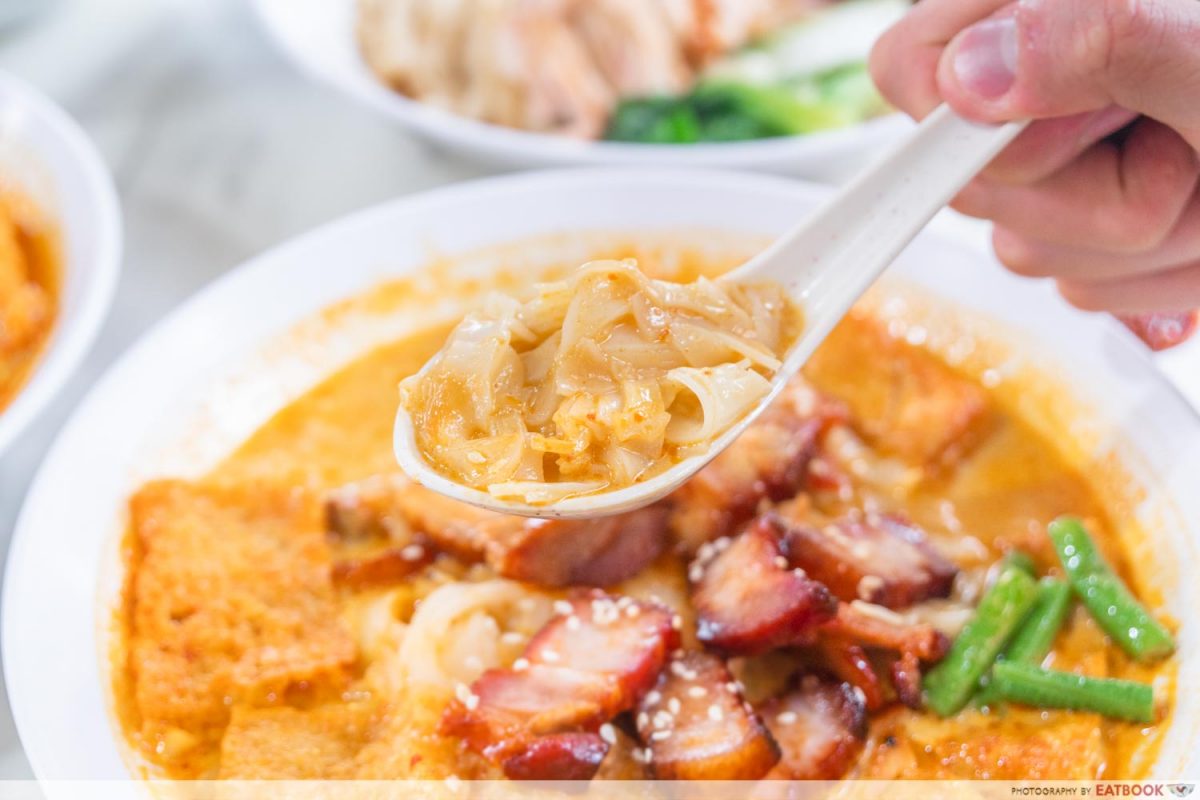 Their style of curry is creamier than usual, with an unmissable fragrance created by numerous spices. Ideal for spice weaklings like myself, the curry leans towards the mild and sweet side, albeit lacking the spicy kick that some crave.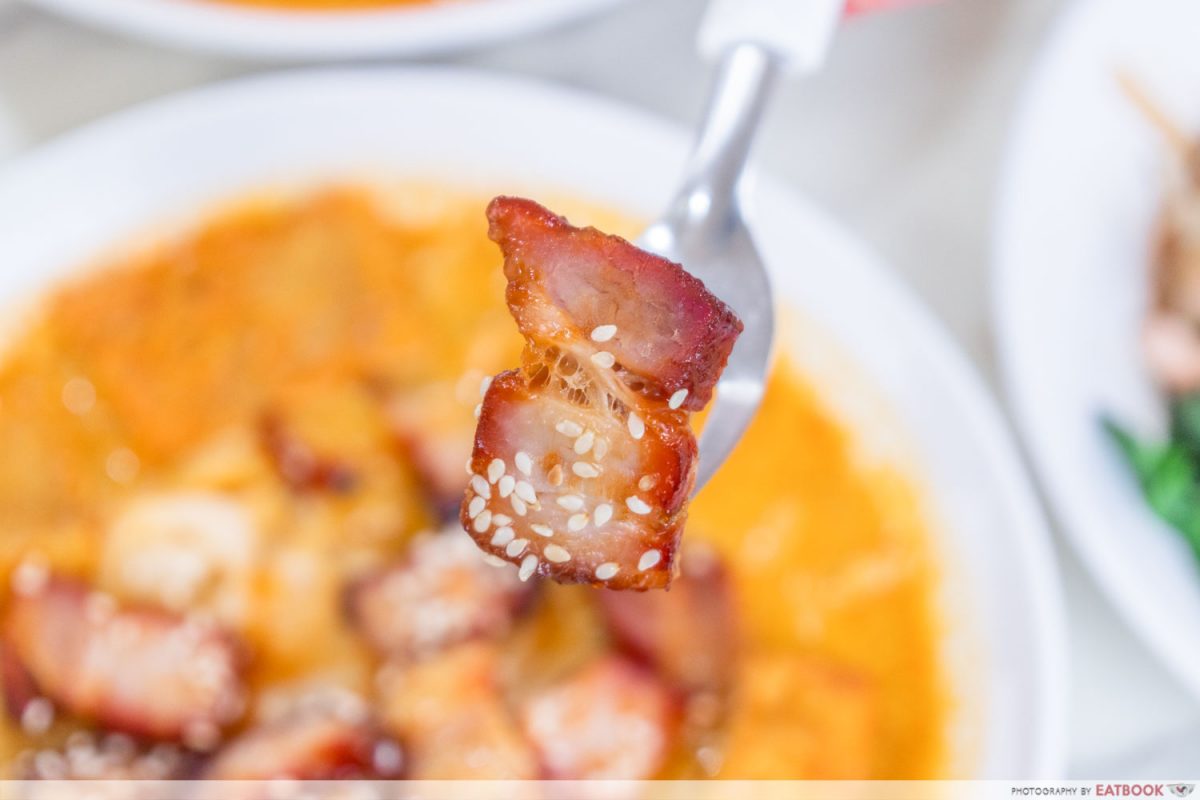 Their char siew is pretty legit, with sizeable chunks of roasted meat accompanied by nicely charred ends. When eaten together with the curry chee cheong fun, it created a balance of sweet and savoury that was quite shiok.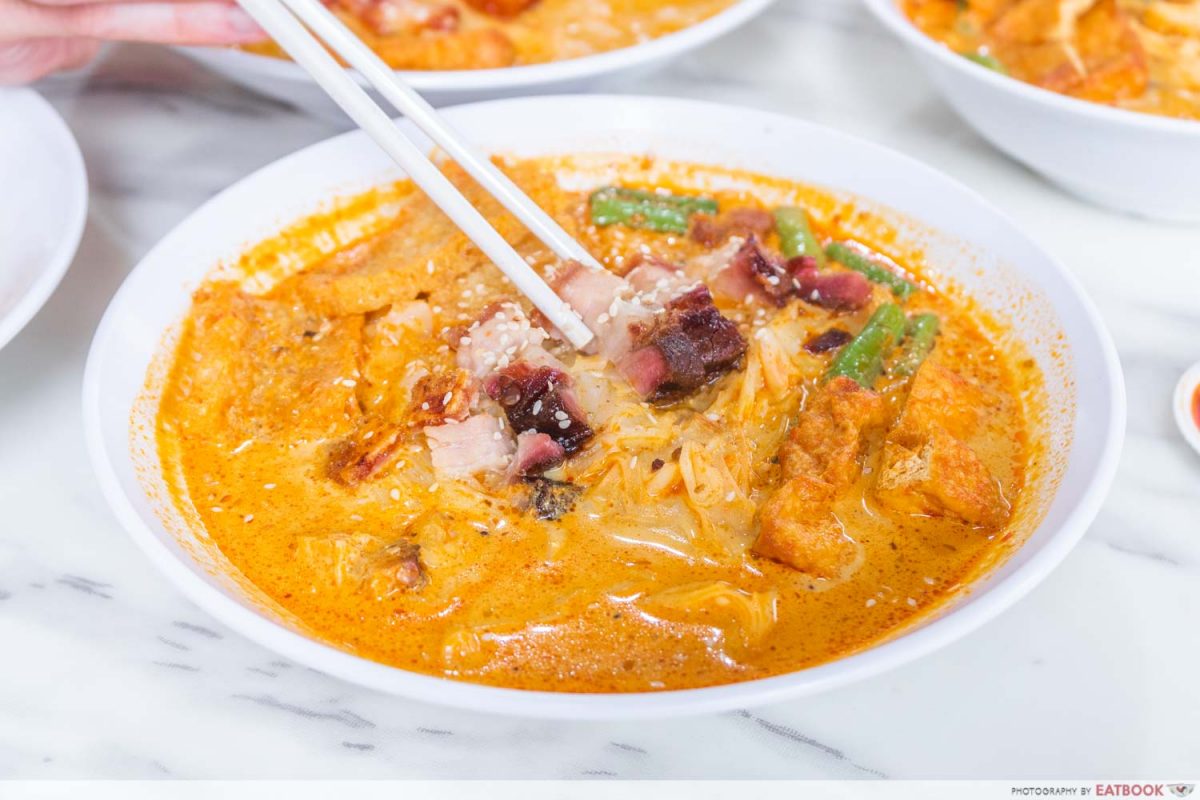 Those looking for an extra texture can opt for the Ipoh Curry Roasted Meat Chee Cheong Fun ($4.50), with sio bak instead. Just like the char siew version, this comes with fresh green beans, fried tau pok, and pig skin all drenched in the housemade curry. Out of all the toppings, I'd return for the pig skin over anything all day, because it brings an additional sponginess that soaks up the rich curry flavours the best.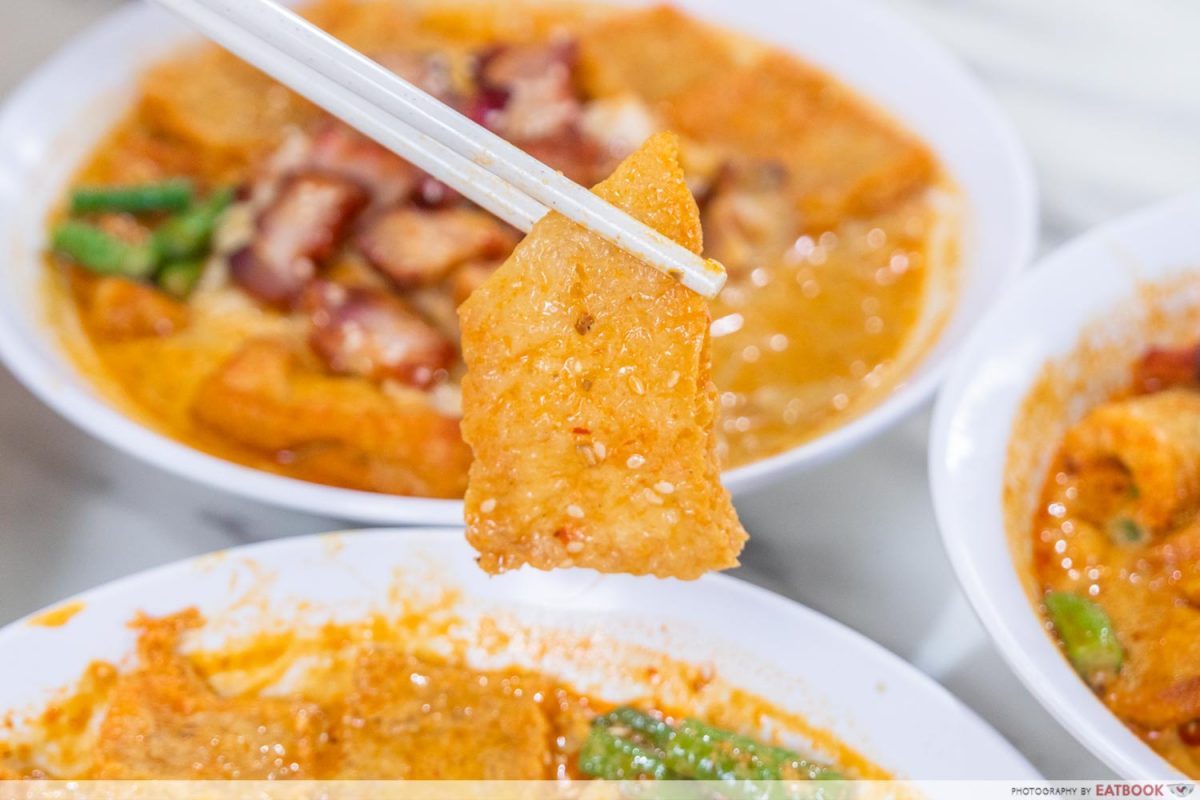 Their sio bak was slightly underwhelming, a bit too tough for my liking. The relatively stingier portion of meat didn't help either. Luckily, their housemade chilli was a saving grace, with its slightly sweeter notes complementing the saltier roast pork well.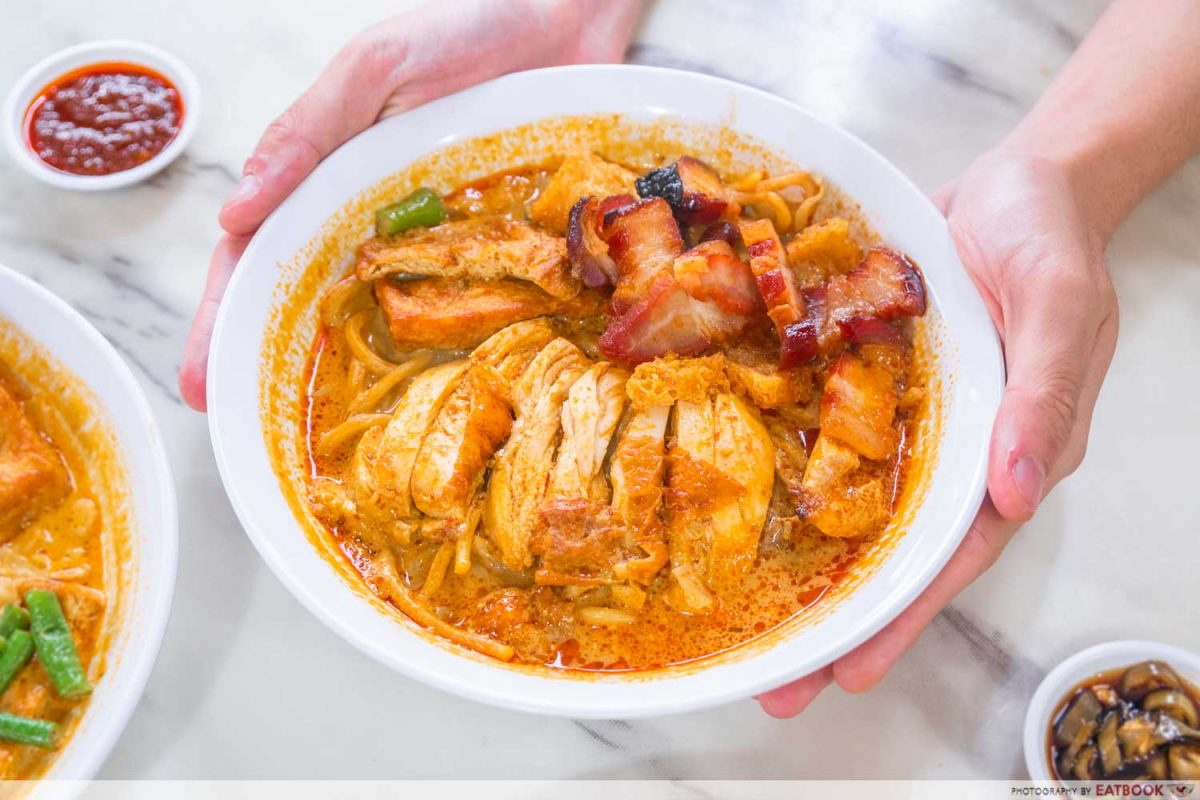 Having set the perennial favourite Heng Kee Curry Chicken noodles as the standard, I wanted to see how the Chicken Curry And Char Siew Noodles ($5) matched up. My noodle choice was purely yellow mee, as I expected it to soak up the viscous curry gravy the best, but it ended up being more jelak than I thought.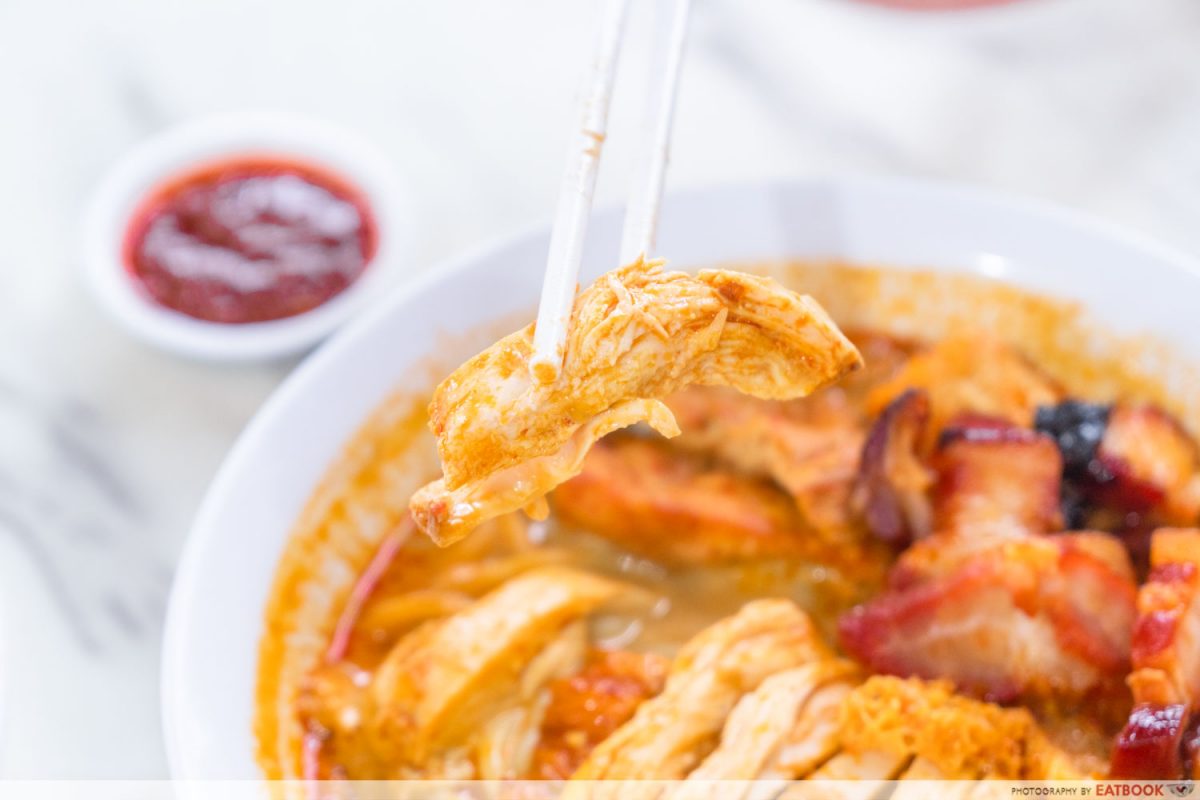 The bowl was decked with generous pieces of chicken breast meat, caramelised char siew, green beans, tau pok, and beansprouts too. One downside would be their chicken breast, which was a bit overcooked in my opinion. Although the inclusion of char siew was refreshing, it just didn't hit for me, as I'd ideally have my curry mee more on the savoury side.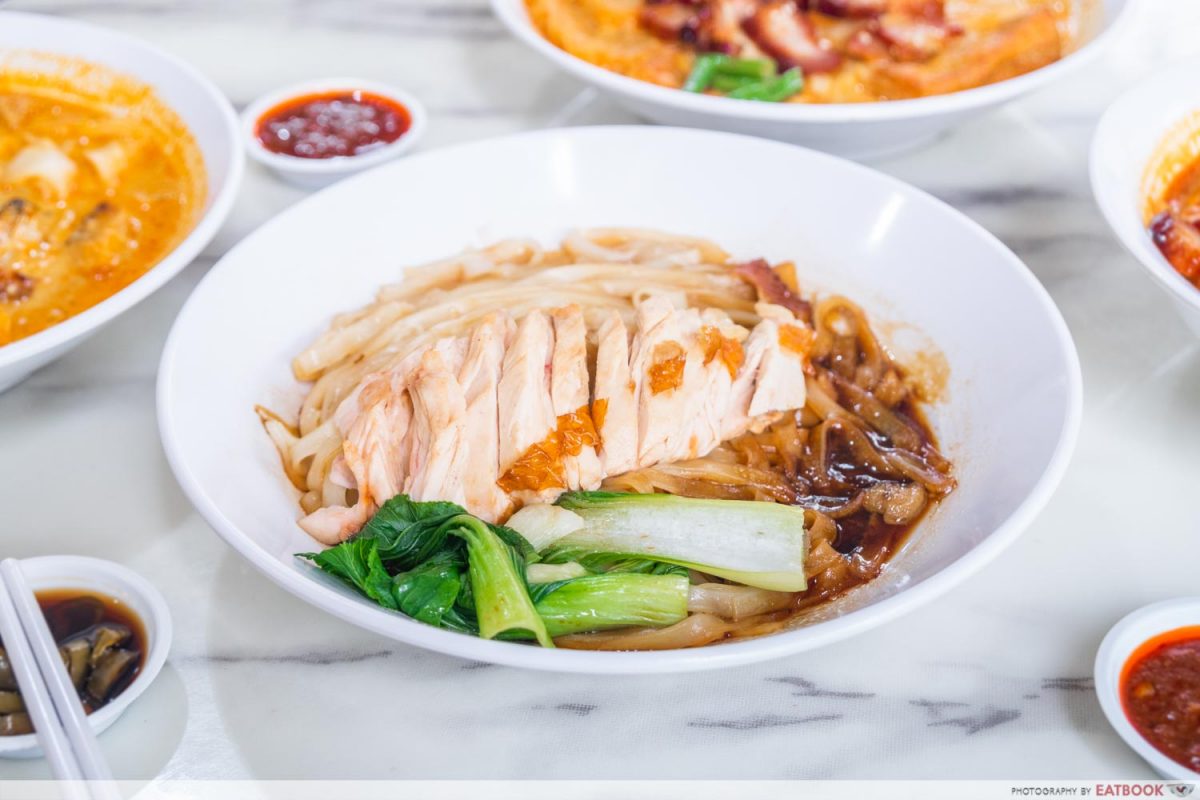 For a true classic, go for the Ipoh Hor Fun ($3.50). Thinly sliced shredded chicken pieces lie atop a bed of silky hor fun, coupled with choy sum and a light-tasting brown sauce. Though not exceptional, the dish was passable, with the gravy not overly gao and lighter on the palate, mixing well with their smooth hor fun and the other ingredients.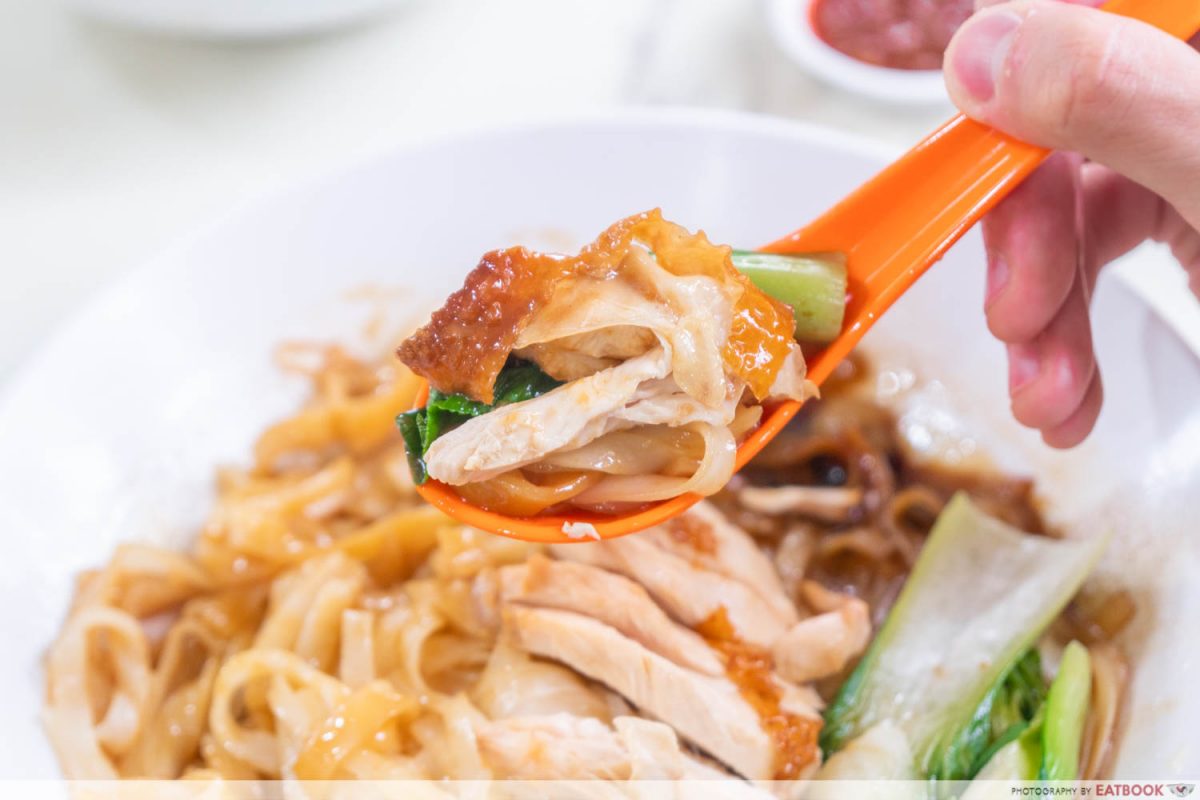 That being said, the dish was a little too one-dimensional for my liking, as I found myself constantly adding pickled green chillies to inject a bit more intensity of flavour.
Pin Wei Chee Cheong Fun Review: Third-Generation Hawker Selling Handmade Rice Rolls Near Farrer Park
Ambience at Ipoh Curry Chee Cheong Fun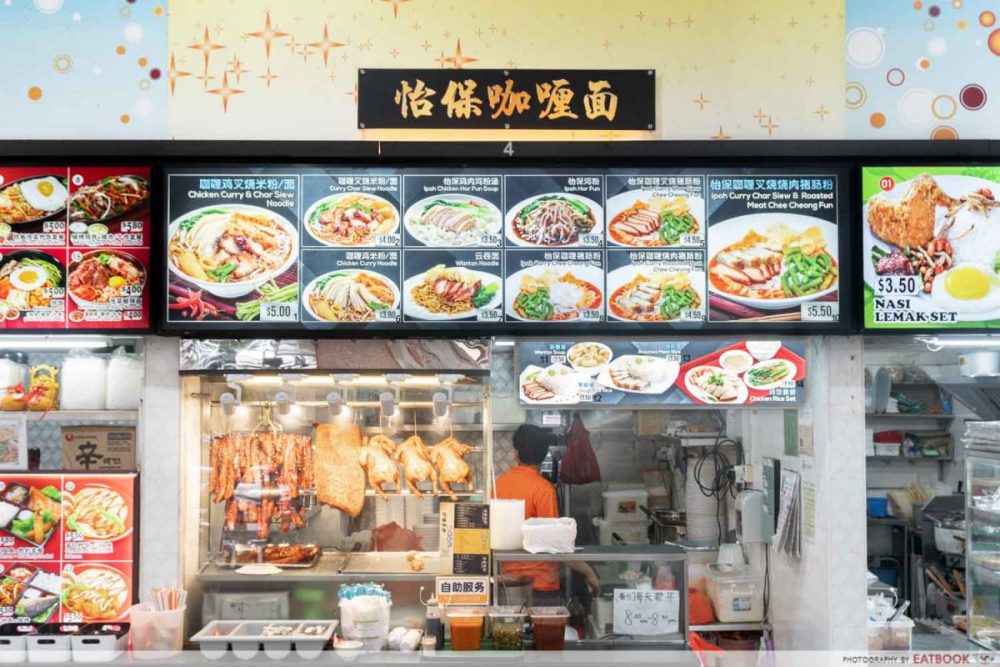 Unless you stay in the North, this stall isn't readily accessible for all, as it is located within the industrial area of Yishun, about a 15 to 20 minutes bus ride away from Yishun MRT Station. But, the canteen itself is roomy and seats about 100 people, so there's really no shortage of space.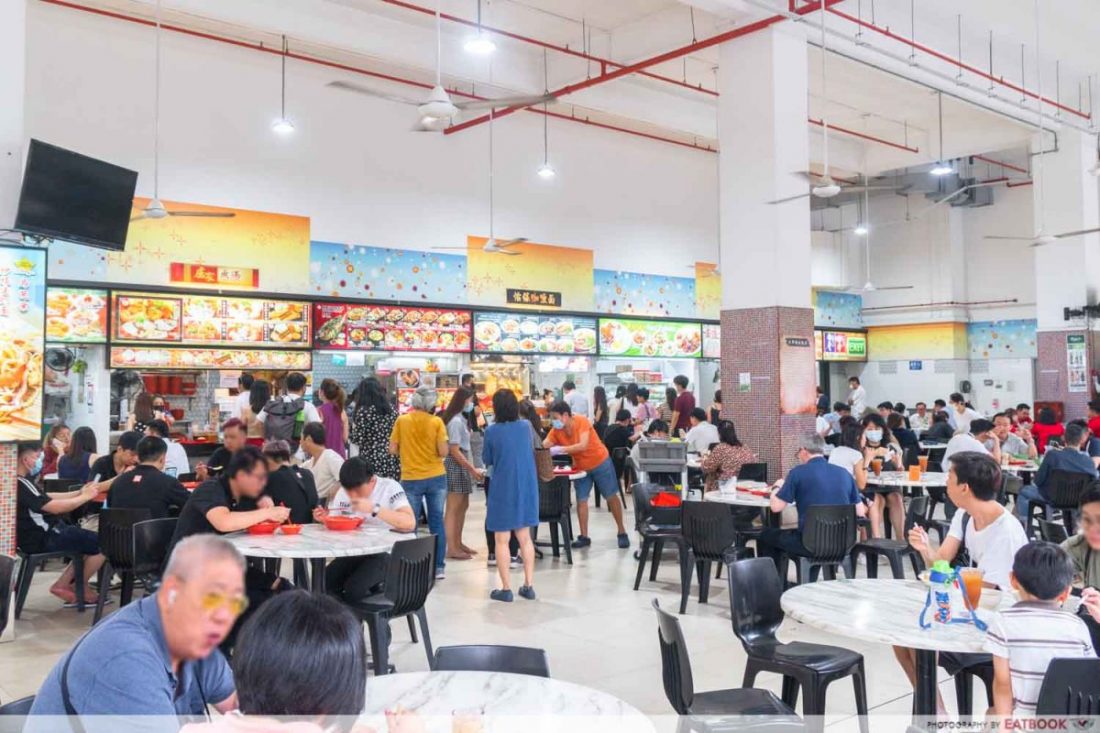 With many ceiling fans spaced out evenly around, the area is conducive and well-ventilated enough for a short respite from the scorching heat. Tables aren't so closely packed together, with more than ample room for people to move around as well.
3 Legit Kolo Mee Stalls In Singapore To Satisfy Your Sarawakian Food Cravings
The verdict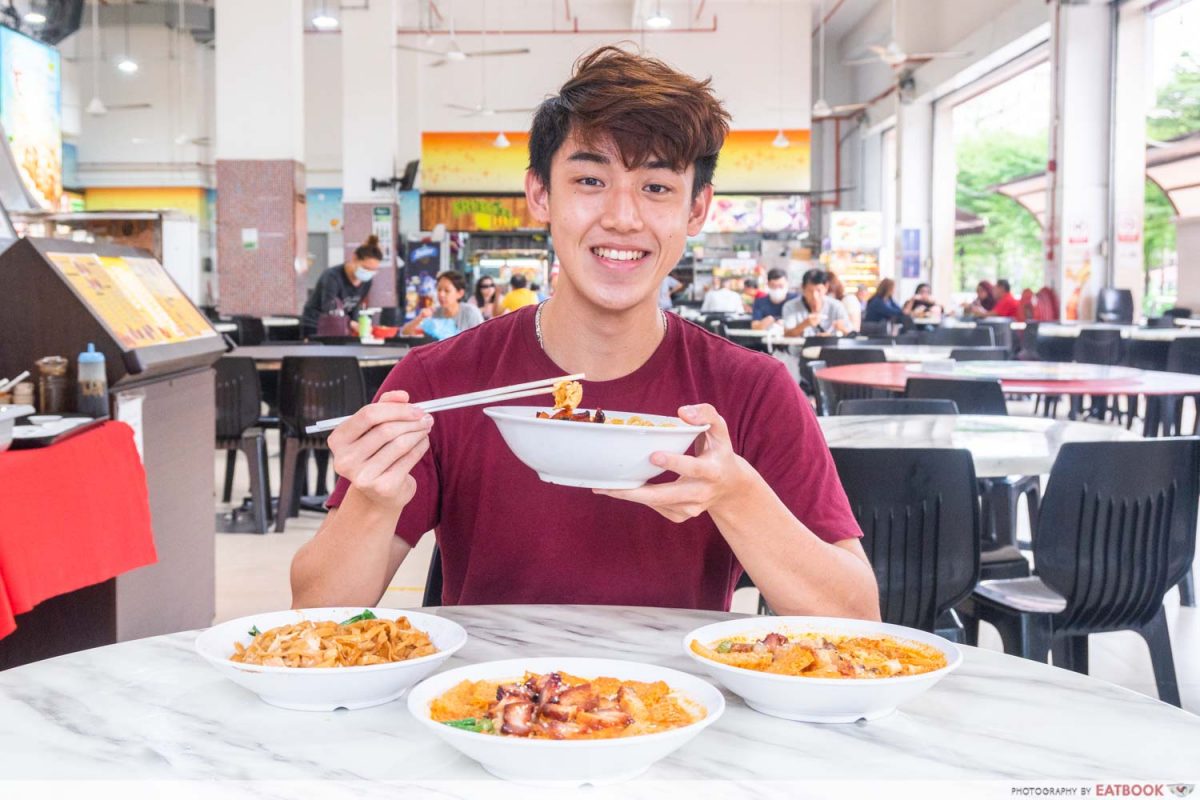 Ipoh Curry Chee Cheong Fun adds to the ever-growing list of authentically Malaysian eateries popping up around Singapore, ever so important for those who might be homesick and unable to travel back across the Causeway for just that little taste of home. 
That being said, we'd recommend coming only to try their OG curry chee cheong fun recipe because it's also not commonly found elsewhere. In all honesty, there are better versions of Ipoh hor fun and curry noodles out there, although they already have pretty decent ones over here. Reserve this stall for one of your more adventurous food escapades, or if you just happen to be in the area.
If you're looking for more Ipoh-style eateries around, check out our Q Hor Fun review for herbal Ipoh hor fun by a young chef at Telok Ayer. If not, read our Mun's Seafood Pao Fan review for mixed Ipoh pork noodles and scallop pao fan around Ghim Moh.
Address: 1 Yishun Industrial Street 1, Staff Canteen Stall 10, Singapore 768160
Opening hours: Daily 8am to 8.30pm
Ipoh Curry Chee Cheong Fun is not a halal-certified eatery.
Mun's Seafood Pao Fan Review: Ex-Hotel Chef Serves Affordable Pao Fan At Ghim Moh
Photos taken by Keith Kok.
This is an independent review by Eatbook.sg.
The post Ipoh Curry Chee Cheong Fun Review: Curry Mee And Chee Cheong Fun With Roast Meats In Yishun appeared first on EatBook.sg – New Singapore Restaurant and Street Food Ideas & Recommendations.