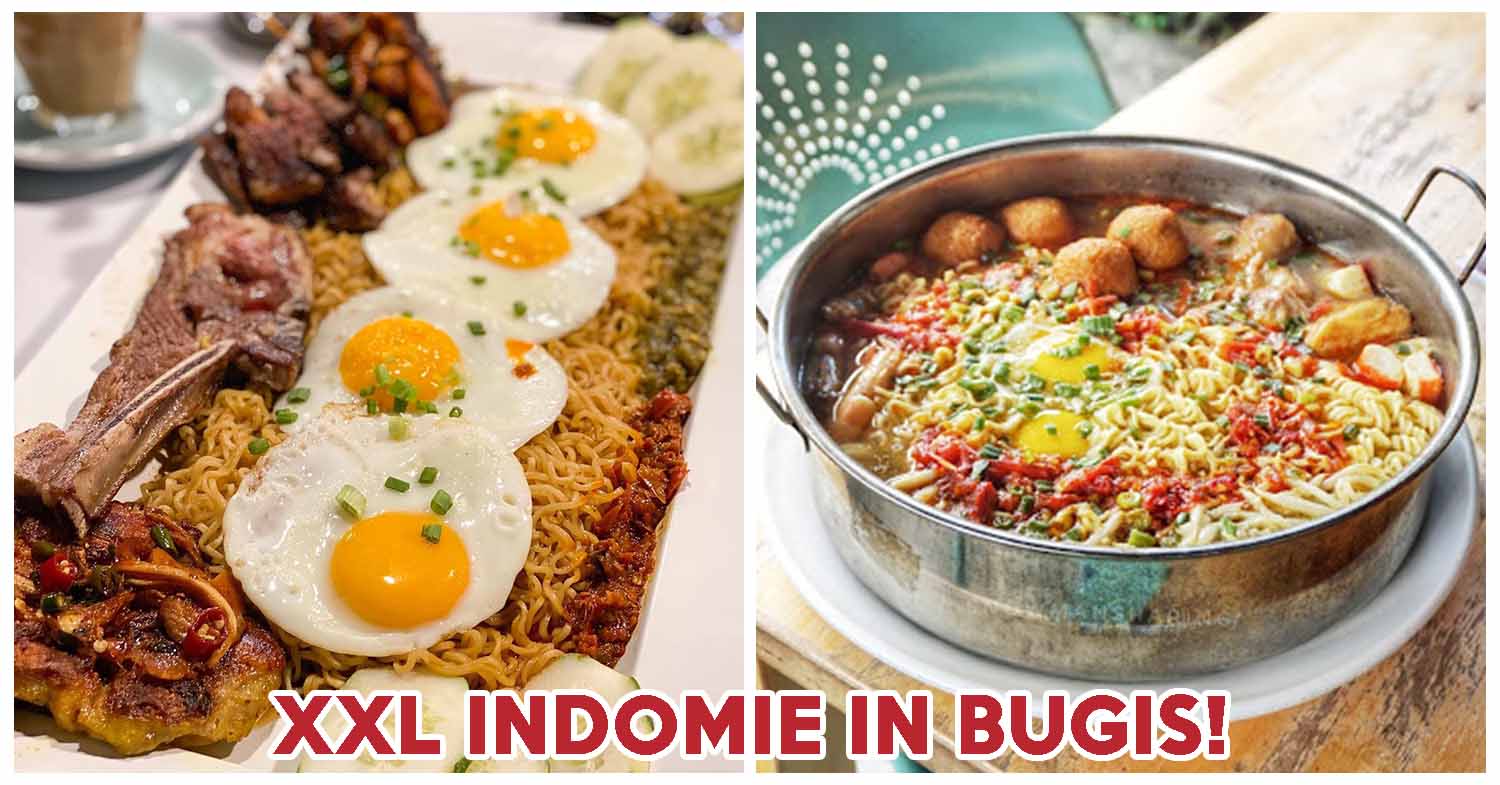 XXL IndoMie platter at IndoBowl
IndoMie fans, you're in for a treat. IndoBowl, a speciality halal IndoMie cafe near Bugis, has XXL-sized IndoMie Mumbo Jumbo platters that feed three to four, perfect for Iftar meals this Ramadan.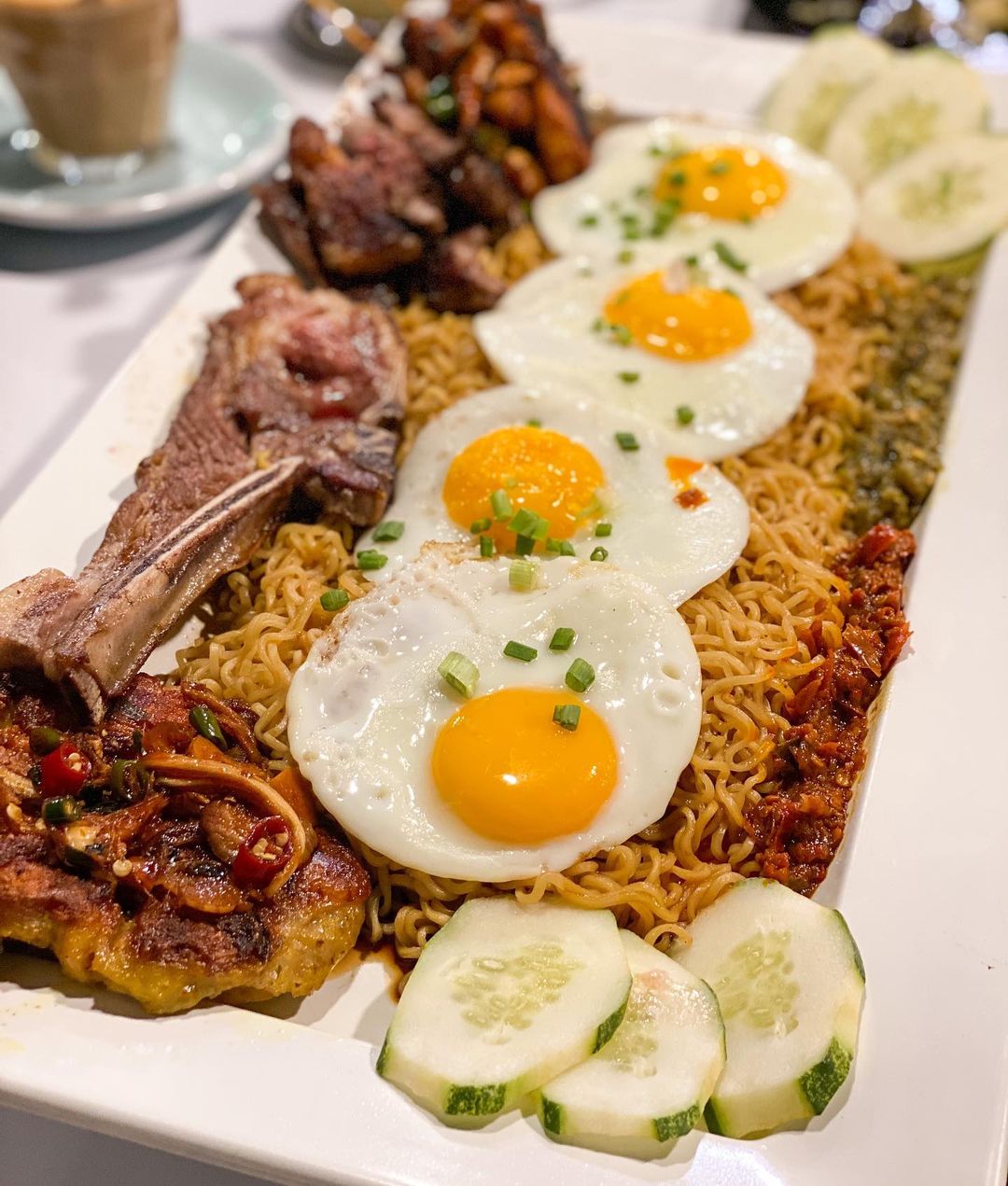 Image credit: @jiamtaorotee
IndoBowl only landed in Singapore back in 2019, but they've been around a couple more years than that, starting out first as a stall in Petaling Jaya, serving homestyle Indonesian fare made with family recipes passed down for more than 60 years.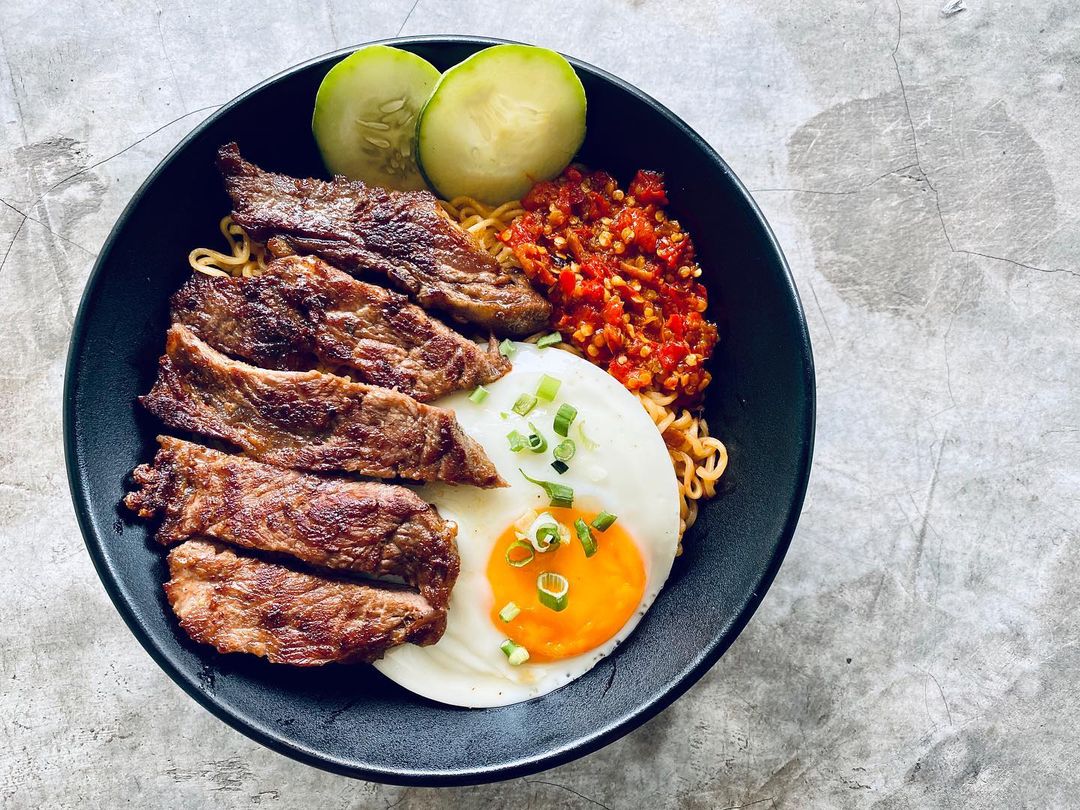 Image credit: @robxlim
The IndoMie-centric menu at Indobowl sees bowls of IndoMie topped with assorted ingredients, from Ayam Bakar ($9.90), served with their signature house-made Sambal Belado, or Sambal Ijo, to Sate Ayam ($9.80), and even Lamb Chop ($16.90).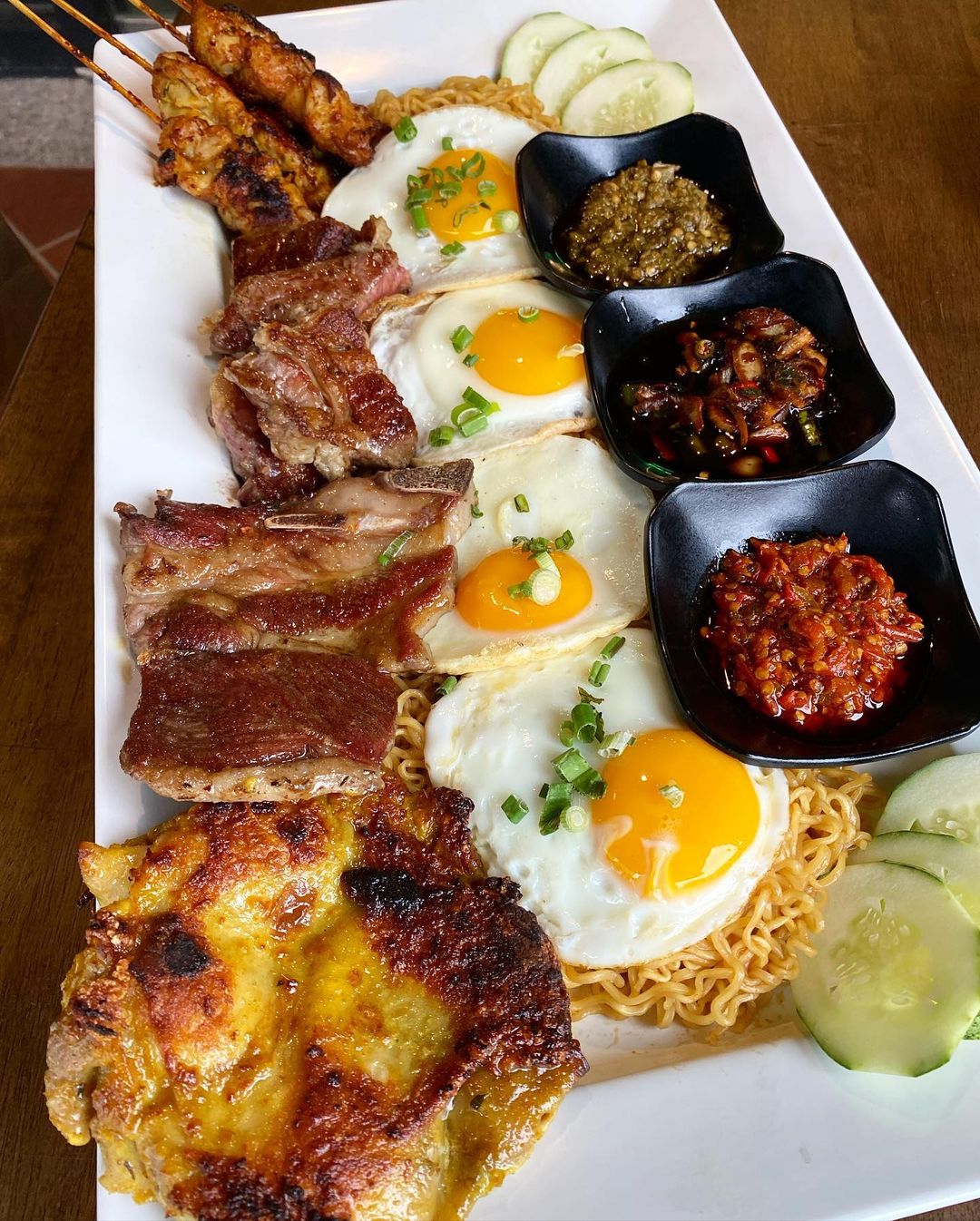 Image credit: @thehungryceo
The real highlight, though, is the IndoMie Mumbo Jumbo ($49.90), a sharing feast that's as extra as it sounds. It's a massive platter of the famed mie goreng, which comes with the full works: Sate Ayam Madura, ribeye steaks, lamb chops, Ayam Bakar Madura, sunny side-ups, and the duo of house sambals.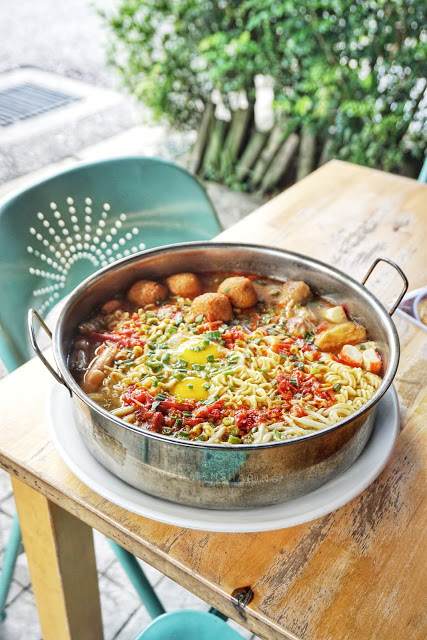 Image credit: @snowmansharing
Alternatively, if the soto life chose you, there's also a IndoMie Soto Seafood Jumbo ($34.90), good for two to three, that's made with IndoMie's Soto Flavour soup noodles. To this soup-based noodles, IndoBowl adds squid, prawns, fish balls, crab sticks, eggs, and chicken chop.
Mee Bagus Review: Halal Spicy Volcano Ramen, Seafood Laksa And Mee Ayam In Clementi
Besides IndoMie, IndoBowl also does Nasi Goreng versions of its mie bowls, in case you visit with friends who prefer not to indulge in instant noodles.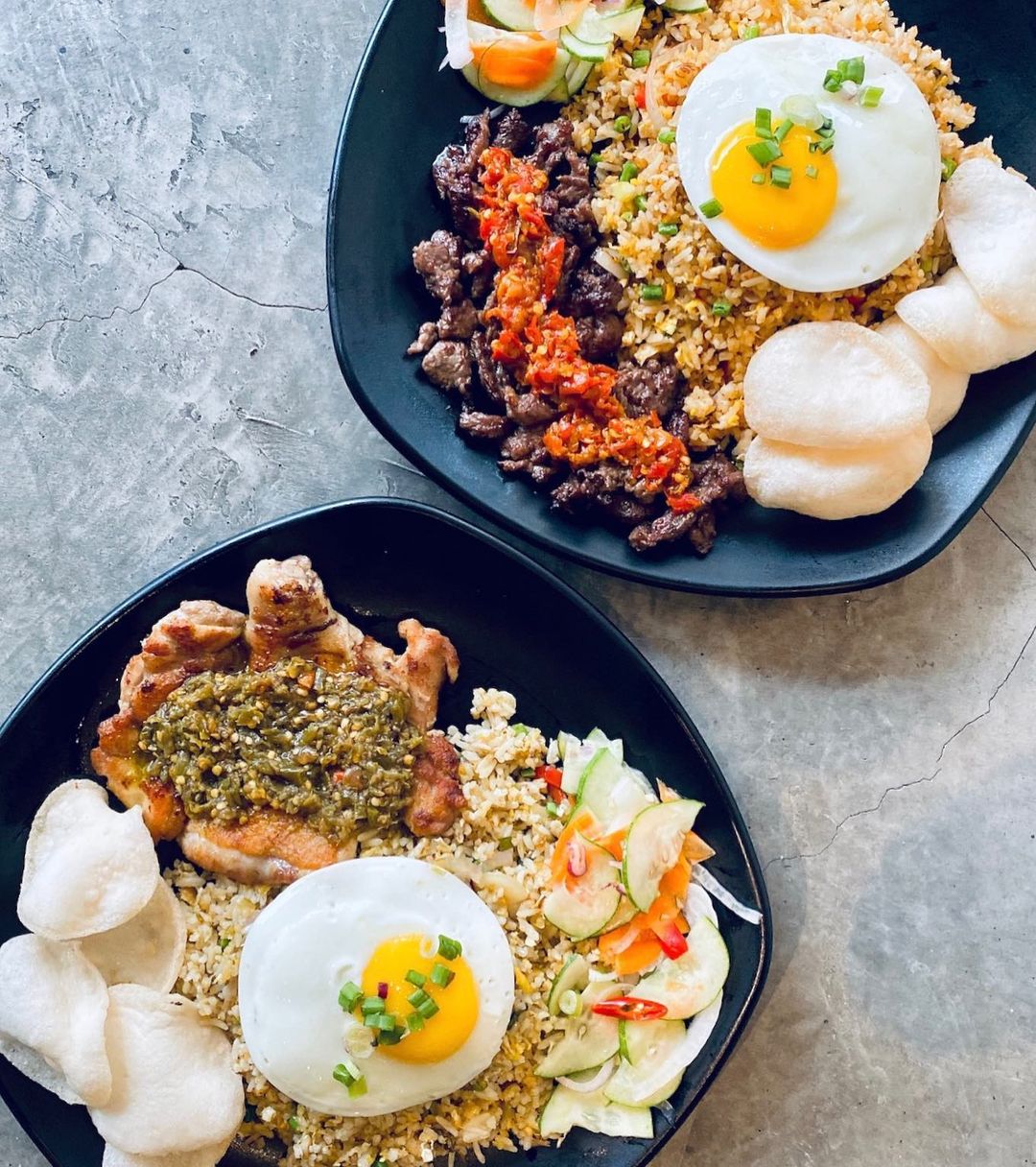 Image credit: @robxlim
If you've missed the Balinese villa life, coming out of the pool to platters of IndoMie goodness, jio your friends down to IndoBowl to relive those memories, since borders are not likely to open anytime soon.
For other halal eats, try Mee Bagus in Clementi, for halal bak chor mee, or head to Birdhaus by Project Warung for IndoMie geprek!
Address: 39 Sultan Gate. Singapore 198487
Opening hours: Daily 12pm to 4pm (last order at 3:15pm), 5pm to 10pm (last order at 9:15pm)
Tel: 6291 7152
Website
IndoBowl is a halal-certified eatery.
Birdhaus By Project Warung Review: Fried Chicken With Sambal And Indomie By Burgs Founders In Bukit Merah
The post IndoBowl Has XXL IndoMie Platter With Steak, Lamb Chop, Ayam Bakar And More appeared first on EatBook.sg – New Singapore Restaurant and Street Food Ideas & Recommendations.