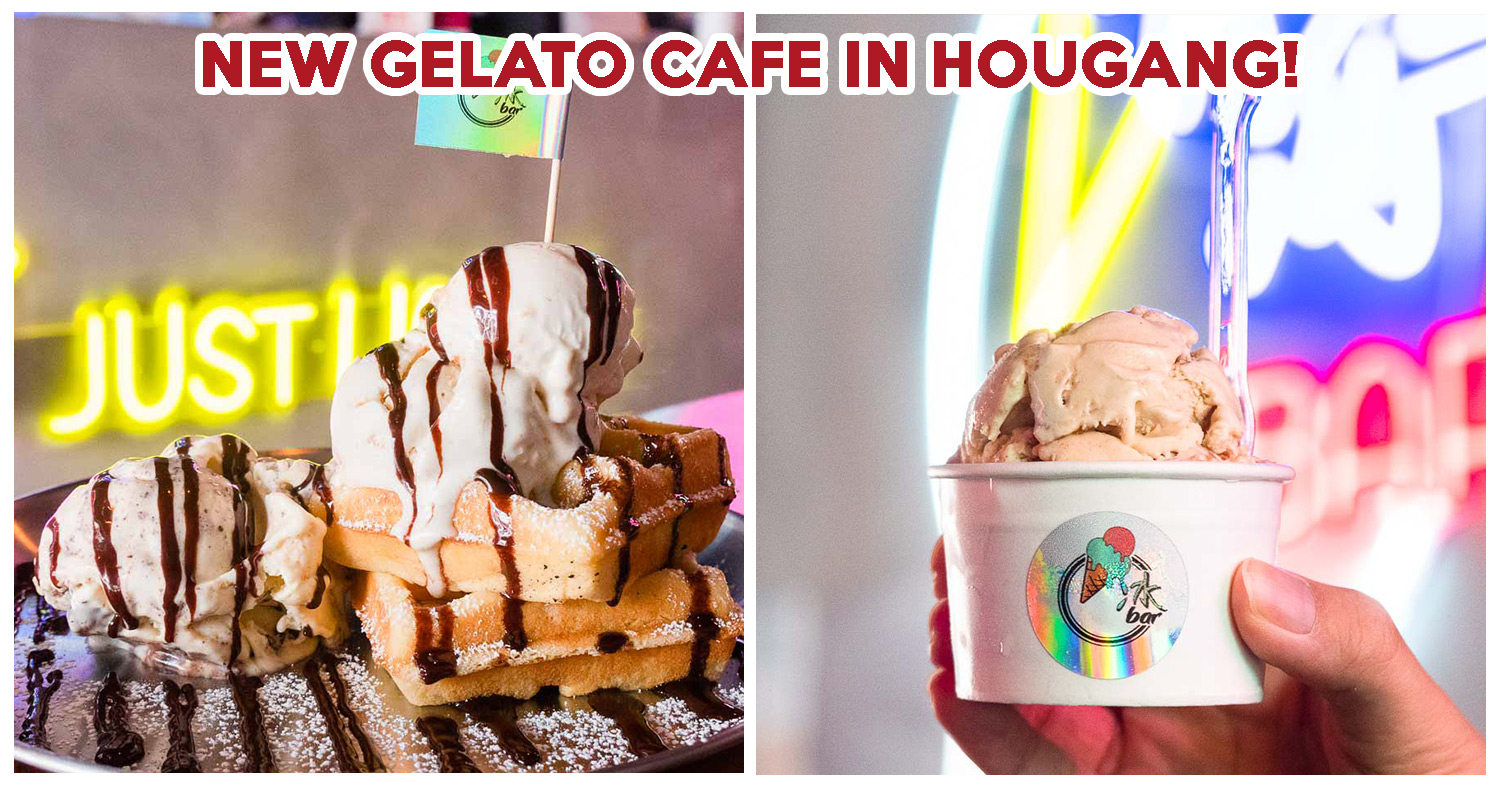 Icebar in Hougang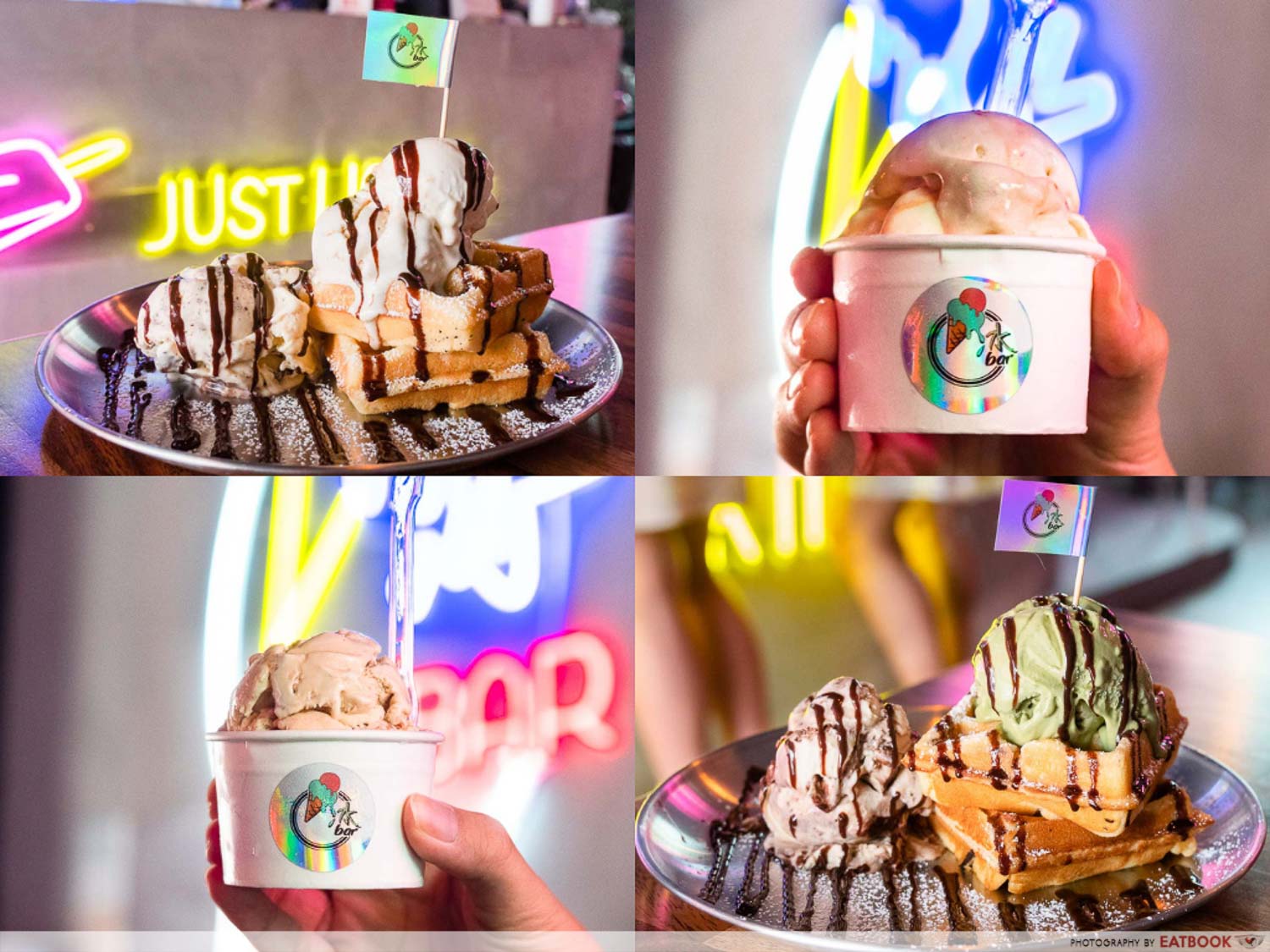 Singapore's ice cream and gelato scene is rather saturated, with new contenders cropping up on the regular, such as Burnt Cones and Pints & Cones. This comes as both good and bad news to me—there's a plethora of options, but it also becomes harder to impress. With that in mind, my colleague and I zipped down to Icebar, eager to see how this new gelato cafe-bar in Hougang Green Shopping Mall, fared against others of its kind.
Burnt Cones Review: New Clementi Cafe Open Till 12am For Waffles And Gelato Such As Yam And Pistachio
Food at Icebar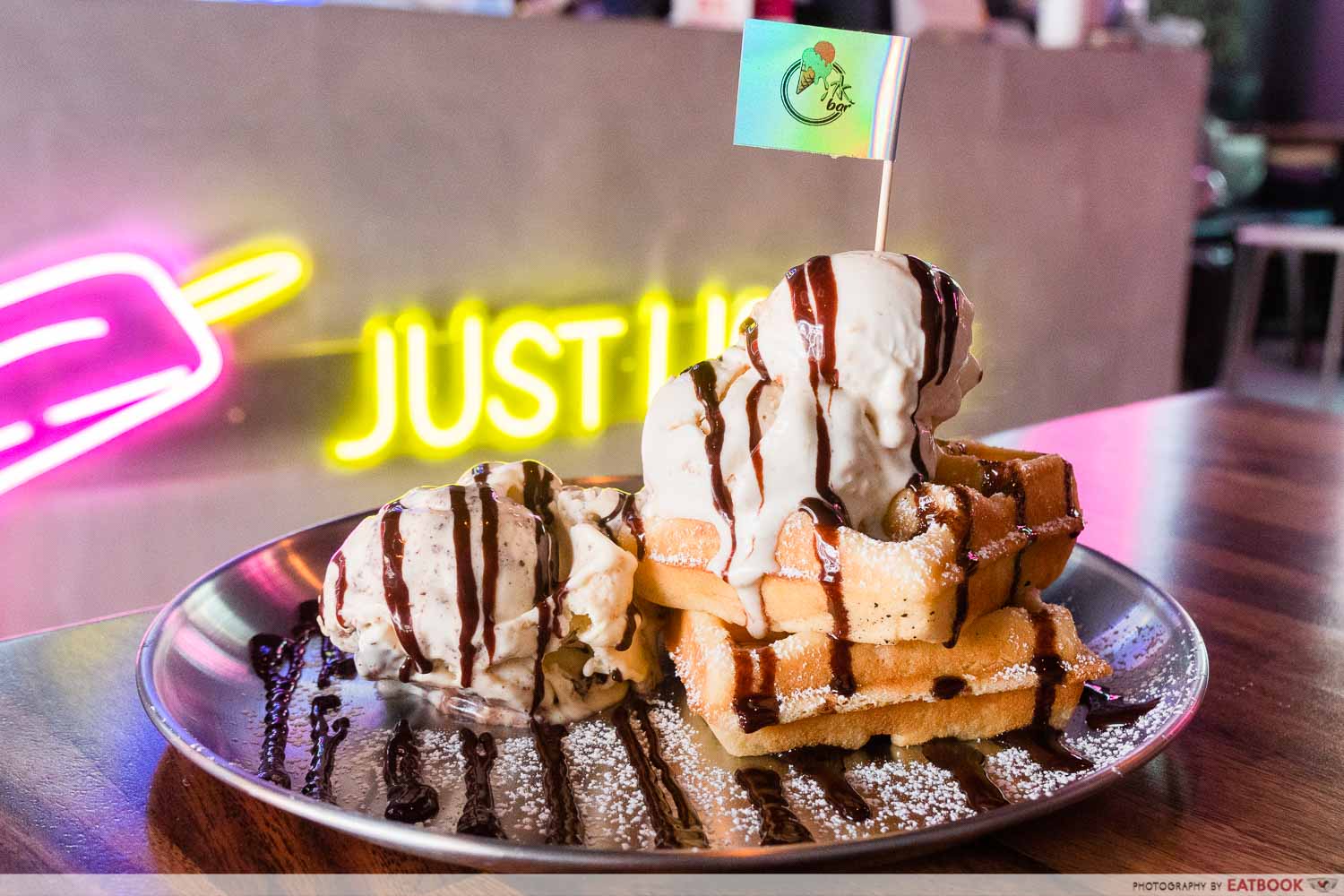 We started our sweets frenzy with the Waffles With Double Scoop ($12.60), topped with Honeycomb Snickers and Speculoos gelato. As the latter is a premium flavour, we had to top up $1. At first glance, this dessert looked like a messy affair, drizzled generously with chocolate sauce.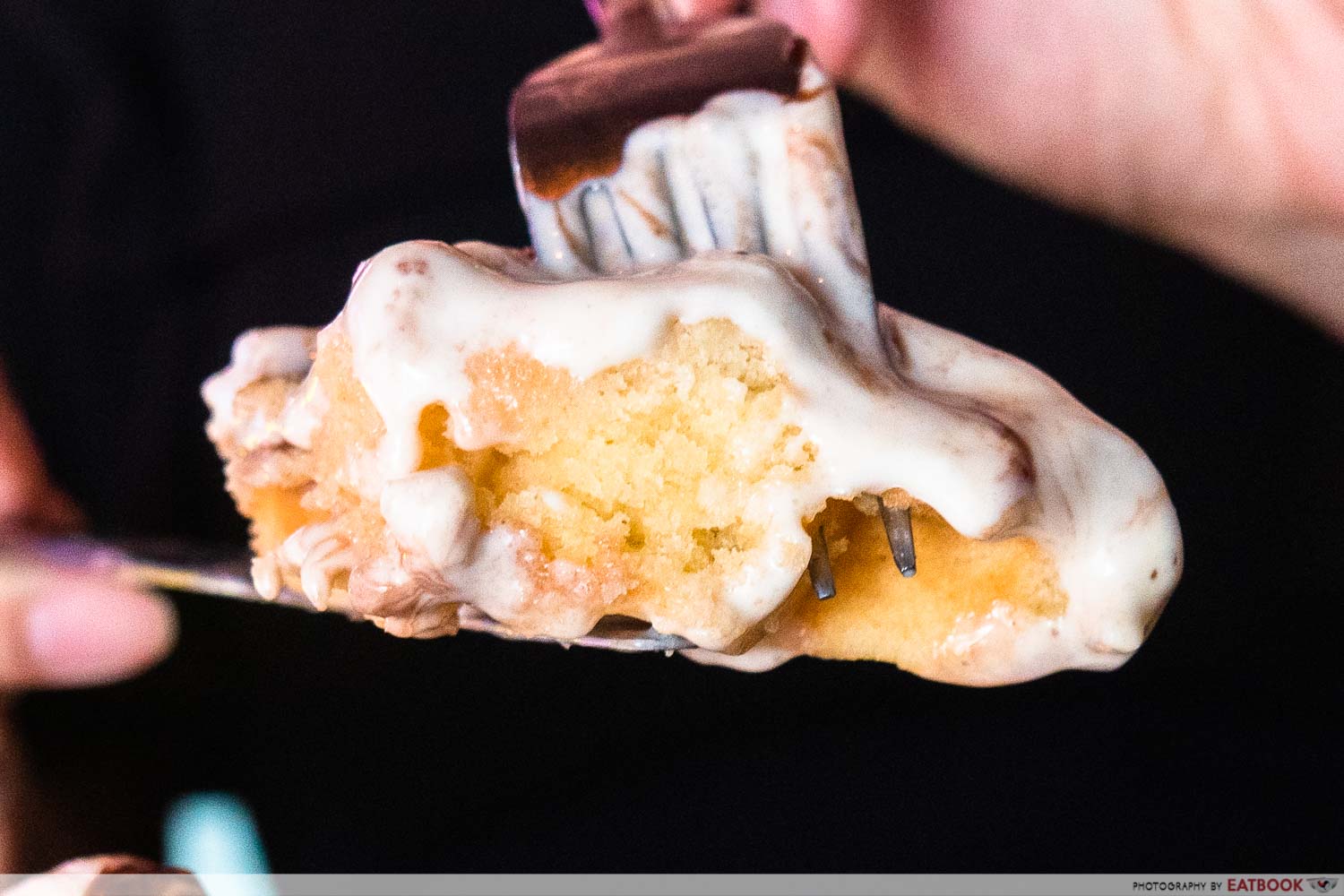 My ideal waffles are crispy on the outside, and fluffy within. Sadly for me, Icebar's version tasted cakey throughout, with just a slight crispiness on the exterior. Although I expected a buttery fragrance, these waffles sported a nutty sweetness that threw me off. They also turned soggy quickly, soaking up the melted gelato and chocolate sauce.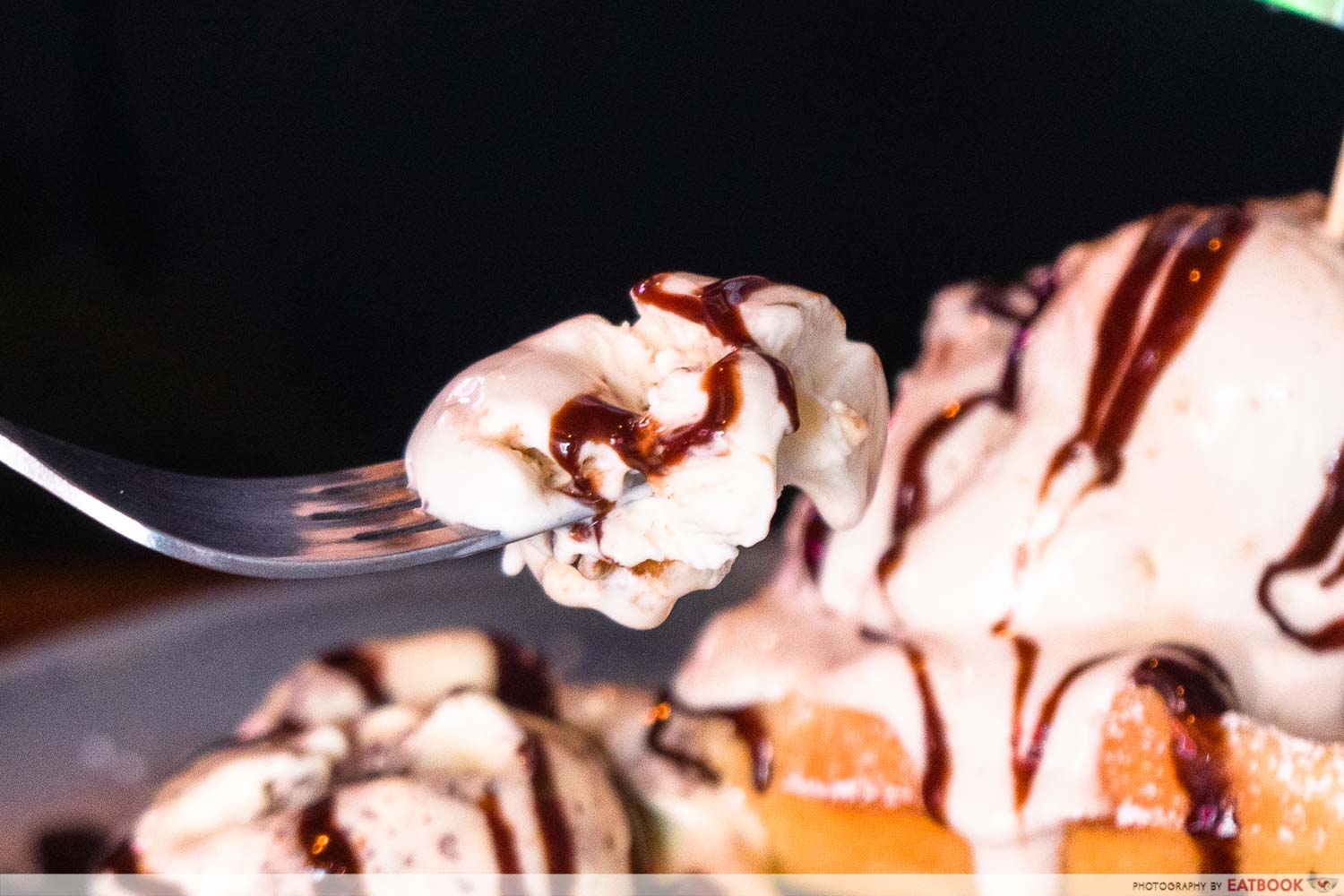 The disappointment continued when I took my first bite of the Honeycomb Snickers gelato, as I couldn't discern any honeyed fragrance. It was also missing the caramel notes, and crunchy peanuts found in a Snickers bar.
This scoop of gelato merely came with a vanilla base that's flecked with cookie crumbs. If I hadn't ordered Honeycomb Snickers myself, I would have honestly thought this was Cookies And Cream instead. Texture-wise, the gelato was a little more sticky than I would have liked. However, the grittiness of the cookie crumbs did liven up the texture.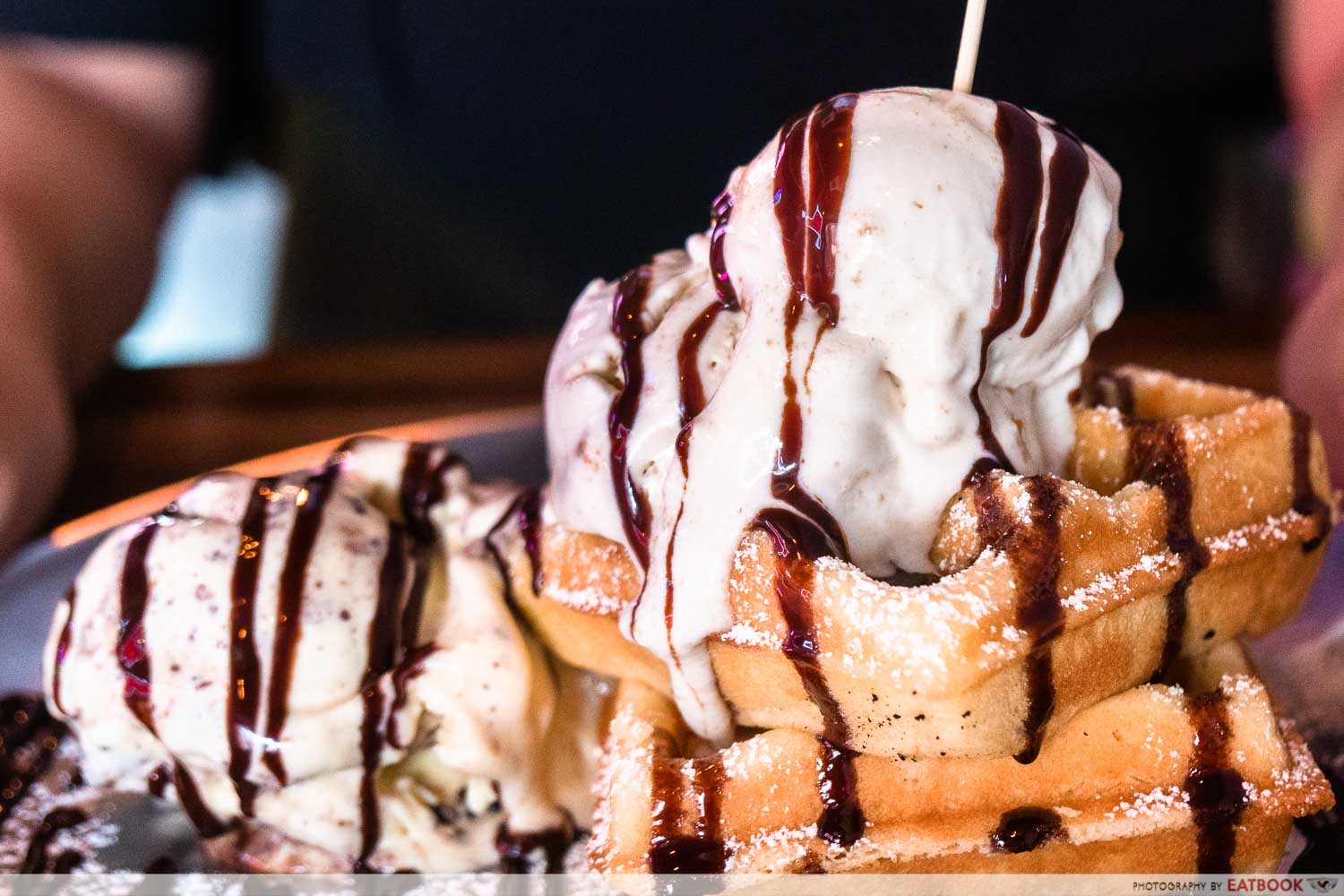 The Speculoos gelato fared better, as it managed to retain a slight saltiness from the cookie butter. However, I would have preferred a more pronounced Speculoos flavour, which could possibly be achieved with a little more cinnamon. There were also caramelised cookie chunks within, which provided some crunch.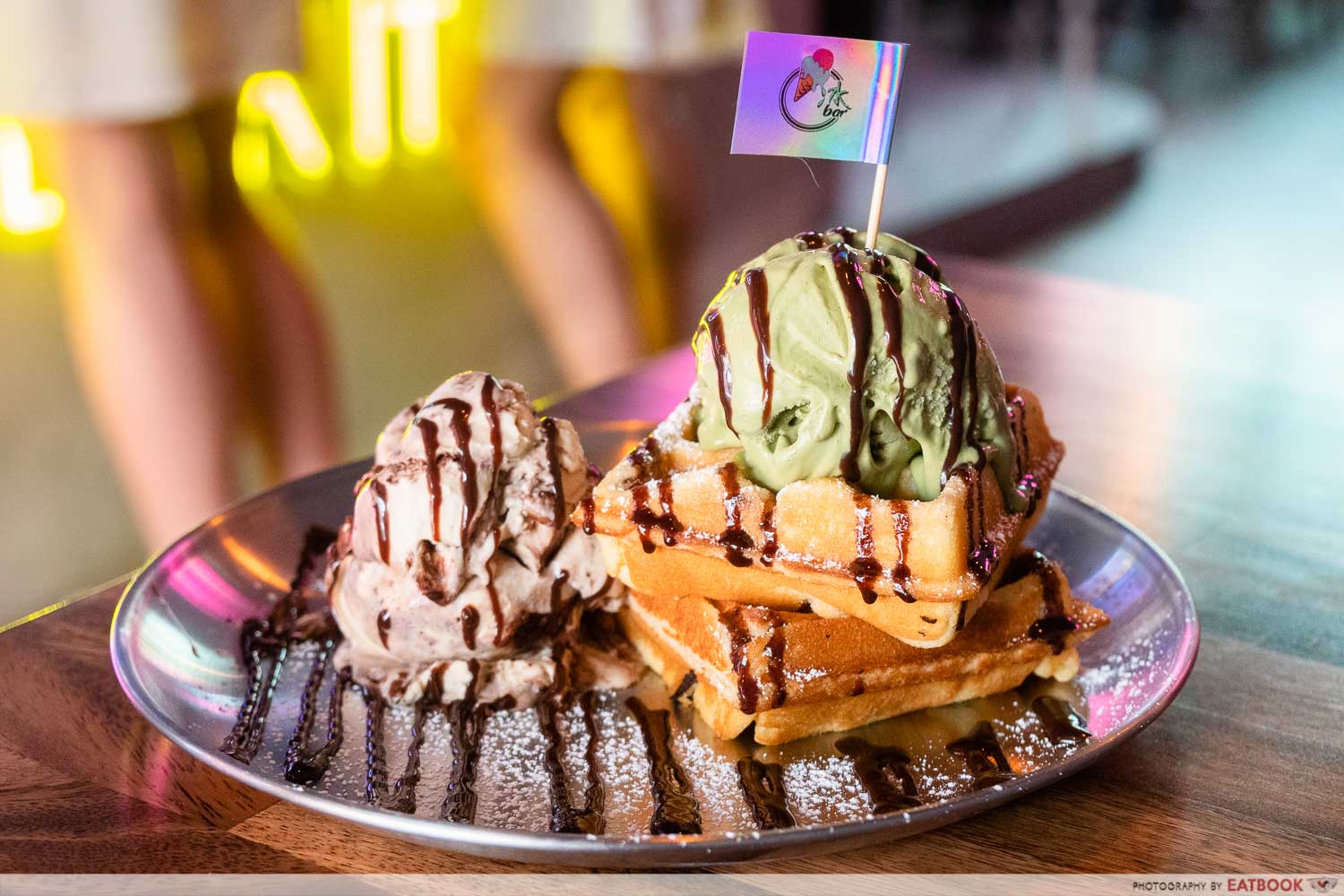 For our second waffle, we chose the Tiramisu and Uji Matcha gelato flavours. While the mascarpone was evident in the former, they could afford to amp up the espresso. As this scoop tasted rather sweet, more bitterness from coffee would have helped balance the gelato.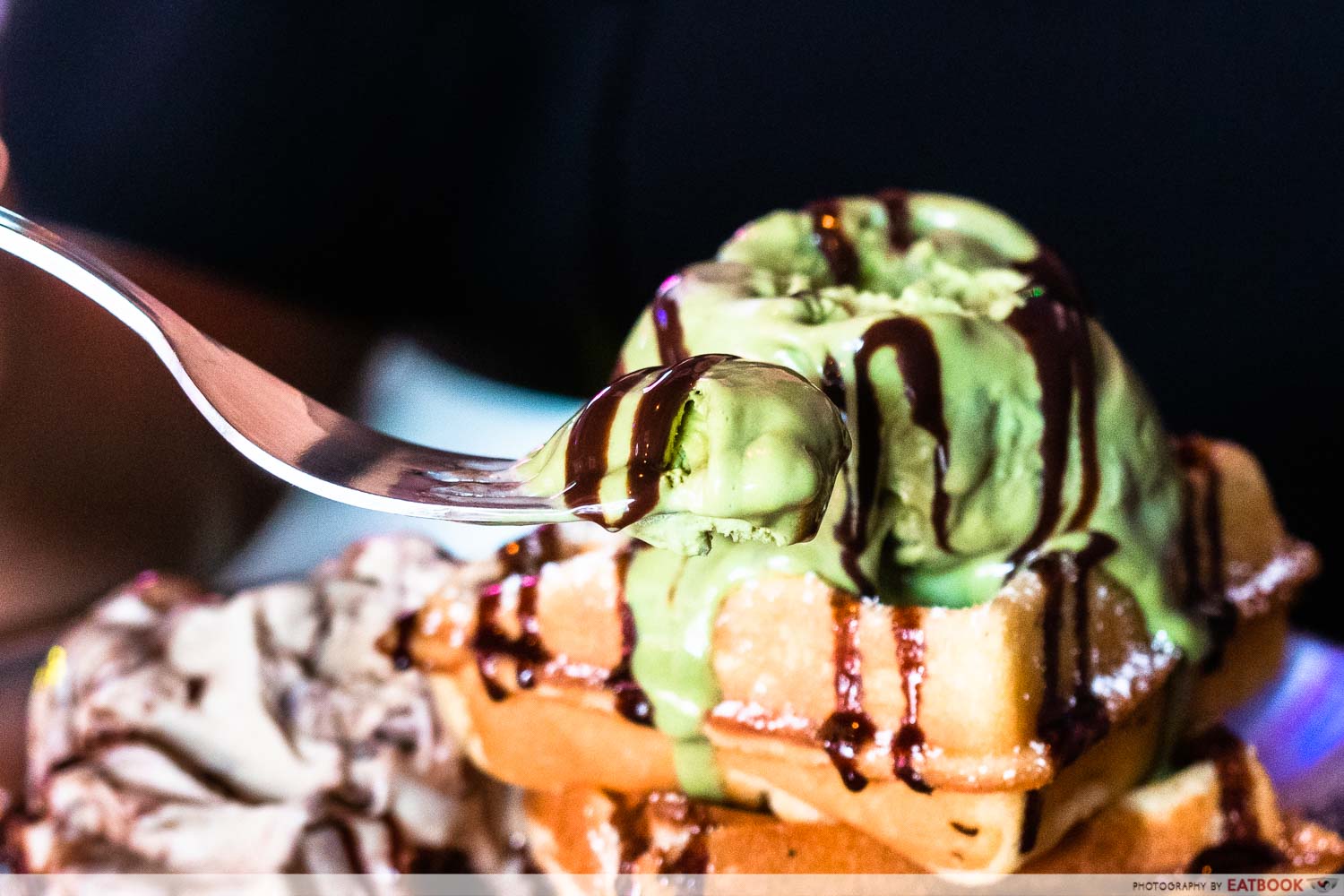 As for the Uji Matcha, I could taste the earthy bitterness of green tea powder. However, it was quickly overshadowed by an artificial sweetness. The matcha used here didn't feel premium as a result.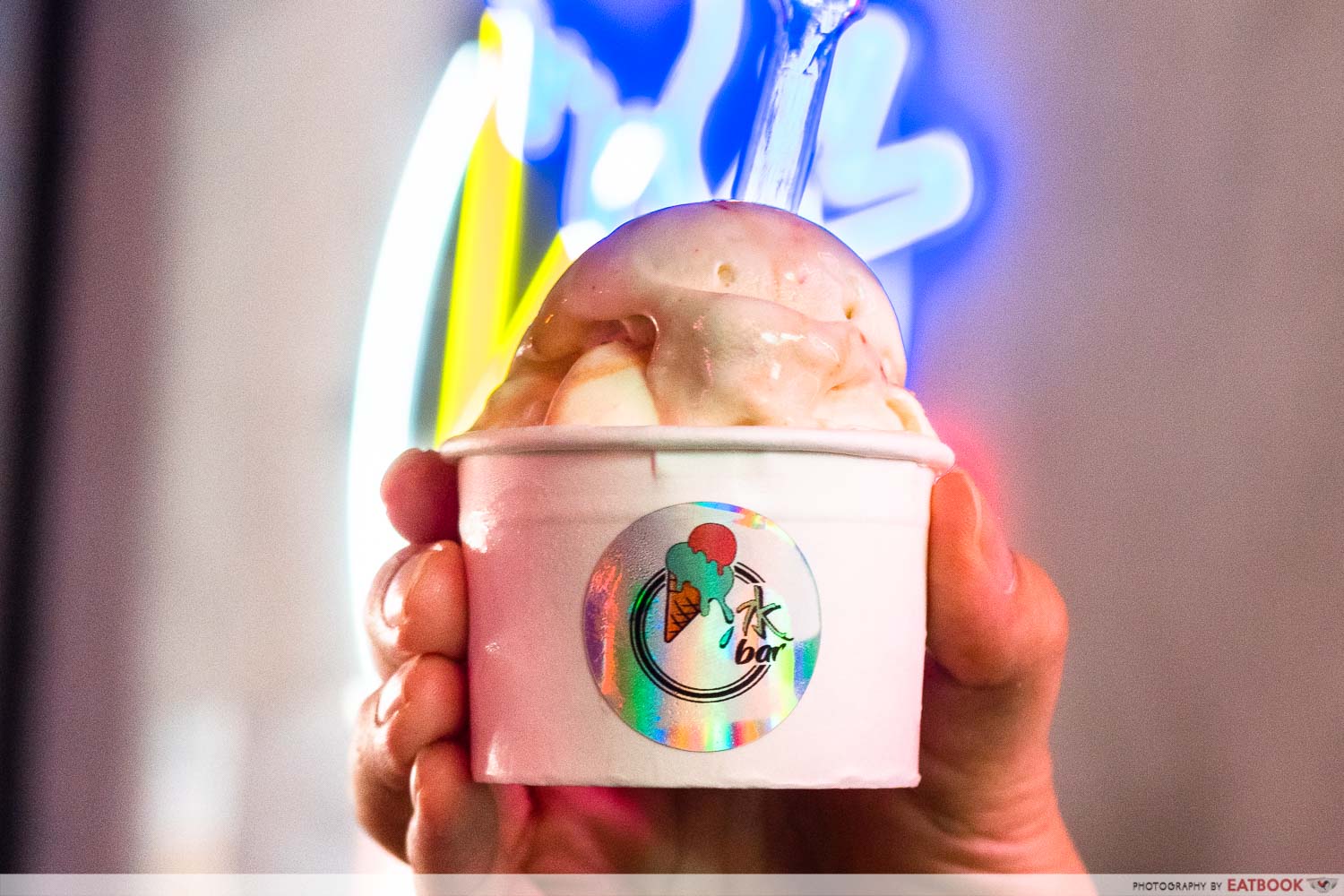 Being an ardent fan of Birds of Paradise's white chrysanthemum gelato, I was stoked to try Icebar's White Chrysanthemum With Navel Orange ($3.90). This came with a white chrysanthemum base, speckled with candied navel orange bits.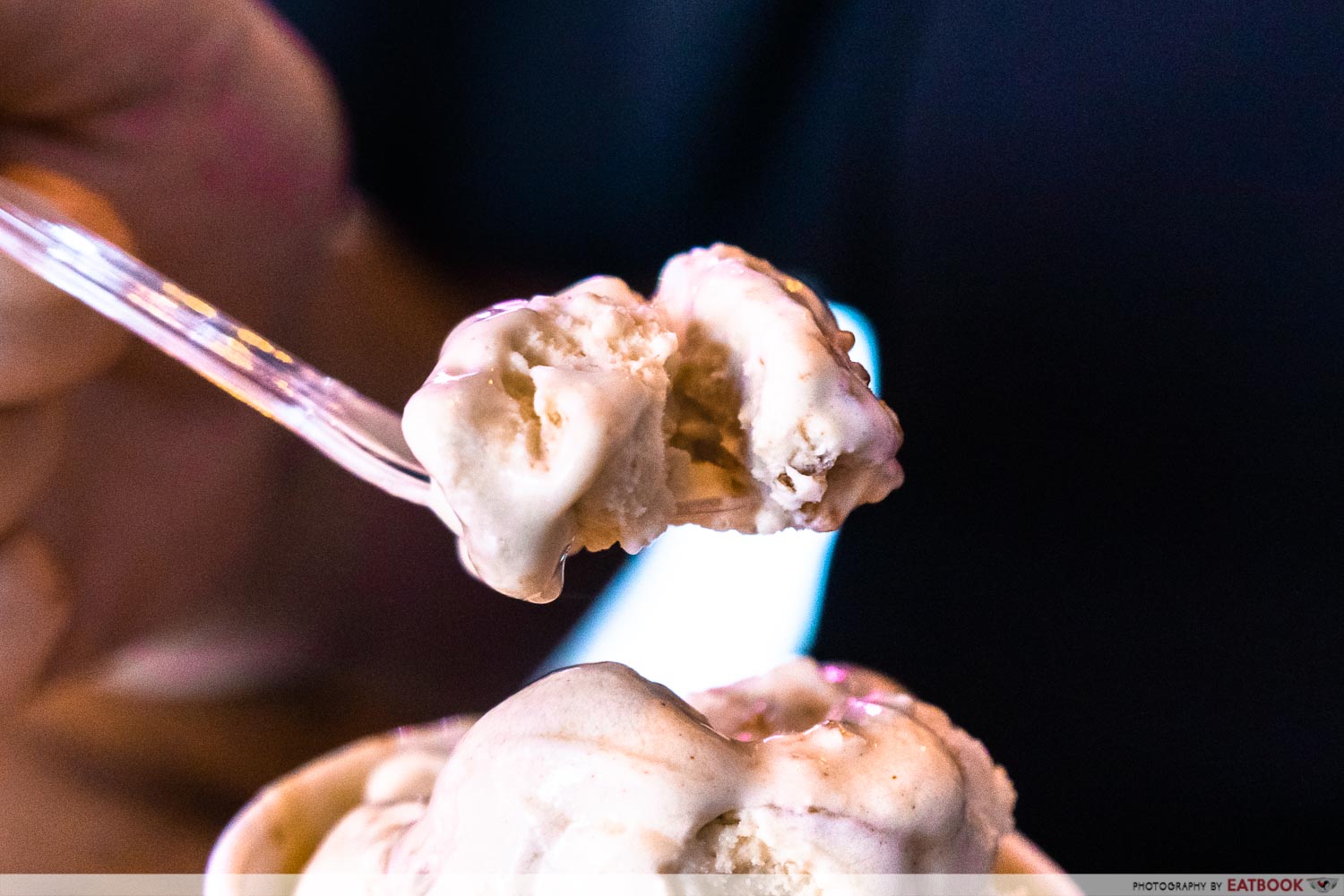 I enjoyed the floral notes of white chrysanthemum in this scoop of gelato. Meanwhile, the navel orange brought a sweetness which tasted somewhat medicinal. I feel like this addition is an acquired flavour that might not agree with everyone. It would have complemented the chrysanthemum, if only the base didn't already taste so sweet on its own.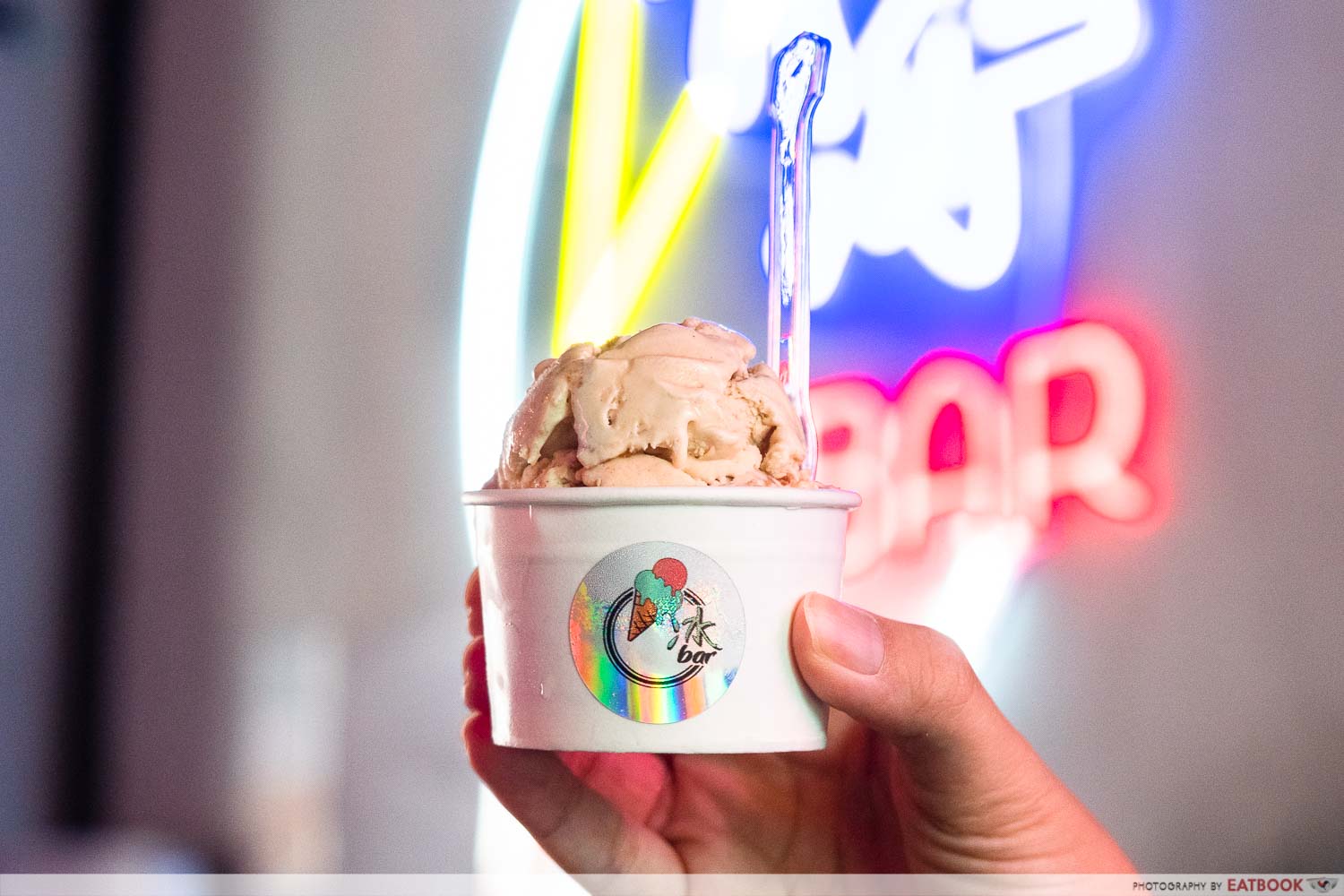 Our last scoop of gelato was the Apple Strudel ($3.90), which I felt was the most well-rounded flavour of all our picks that day.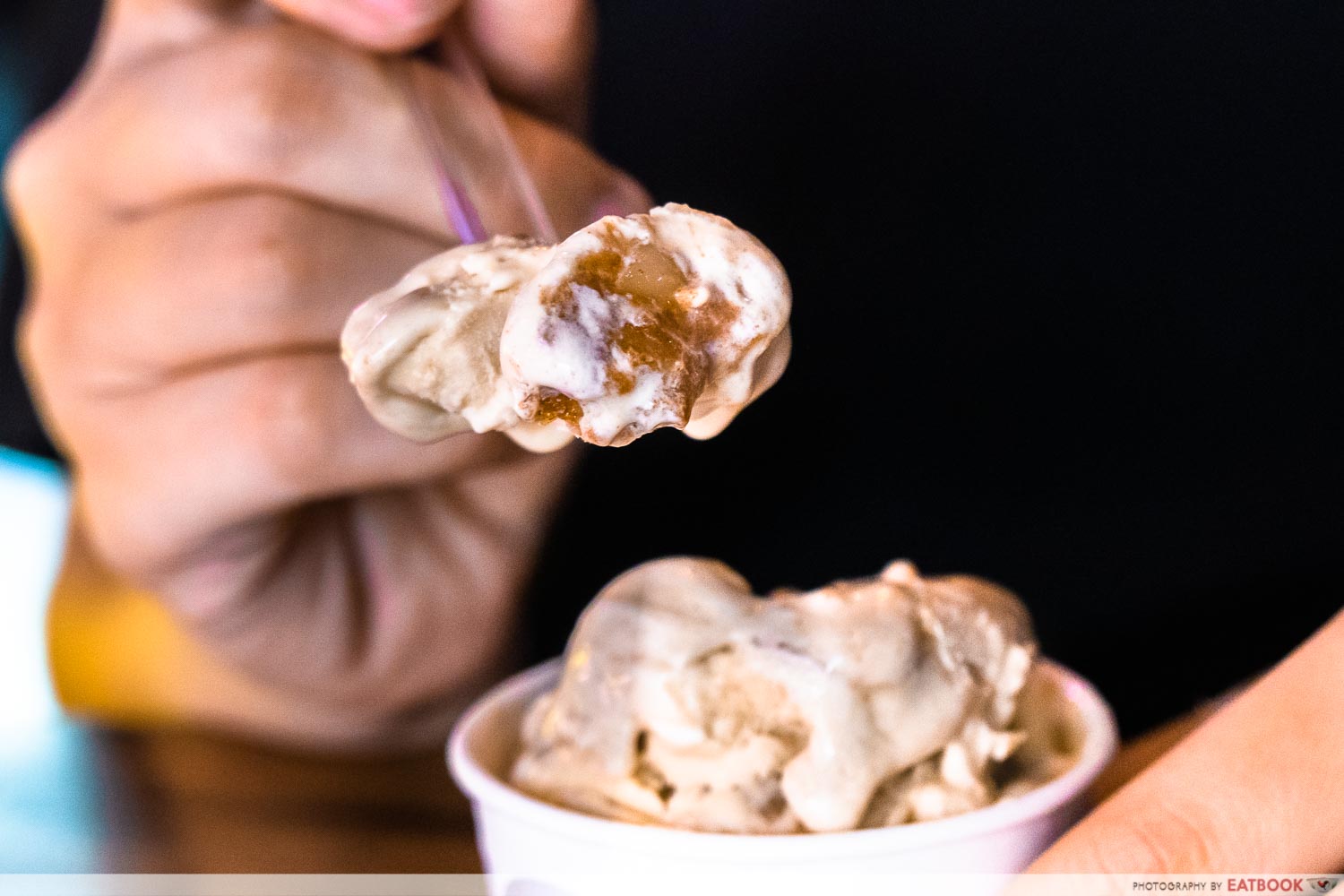 You get a good mix of both sweet and sour from the stewed apple chunks in this scoop, with a strong cinnamon spice laced throughout the gelato. I found that this replicated the apple strudel dessert rather successfully.
Ambience at Icebar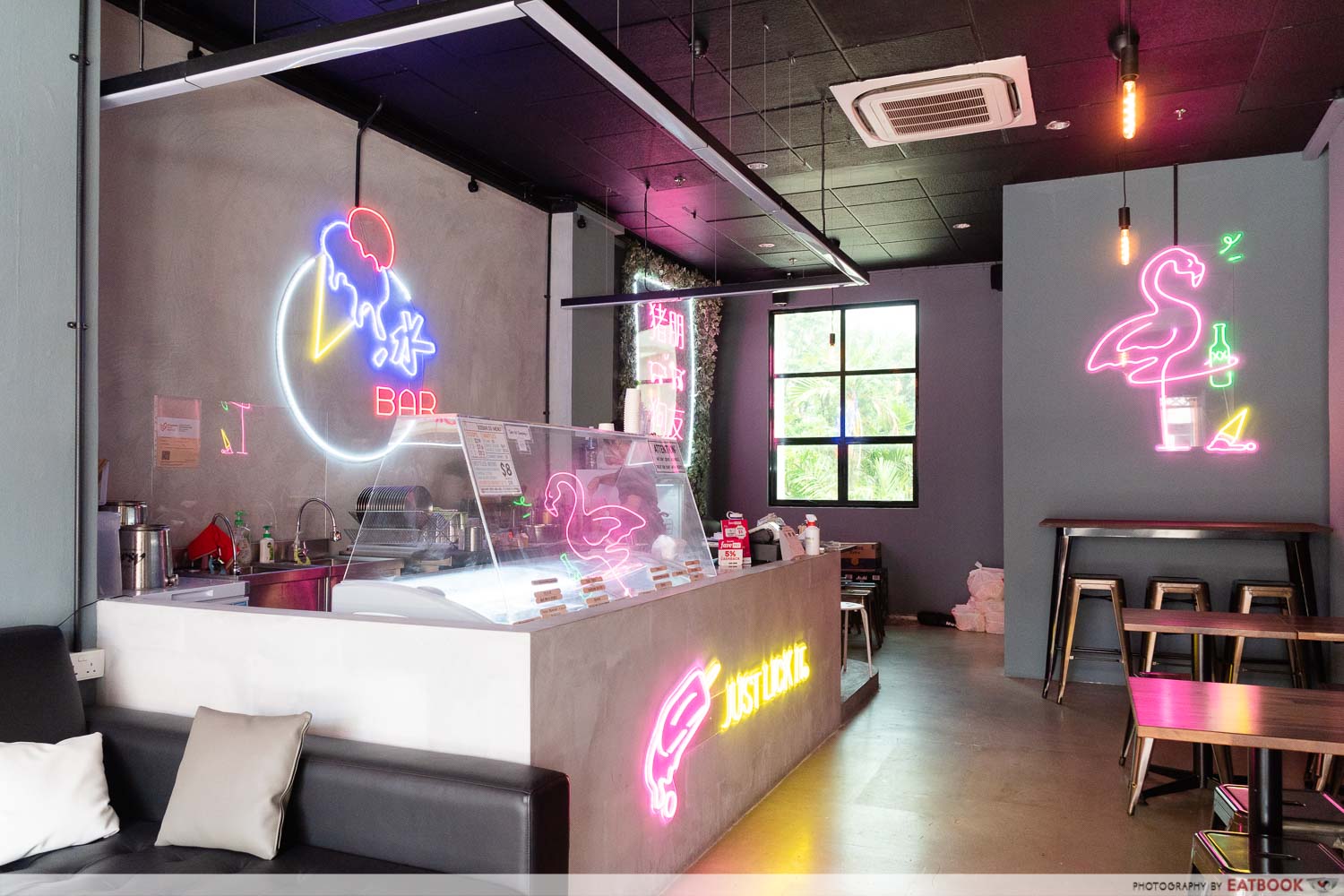 Situated within Hougang Green Shopping Mall, Icebar is sandwiched between Hougang MRT Station and Buangkok MRT Station, accessible via a 10-minute bus ride from each. This gelato parlour is decked in quirky neon murals, primed for the 'gram. I also enjoyed the choice of music here, which consisted of TikTok hits that enhanced the cafe-bar's youthful vibe.
If you're feeling boozy, Icebar has a selection of beers available, which includes the likes of Hoegaarden and Corona Extra. What's more, they're open till late—even up till 2am on Fridays and the weekend, making it a great supper spot for those living in the neighbourhood.
The verdict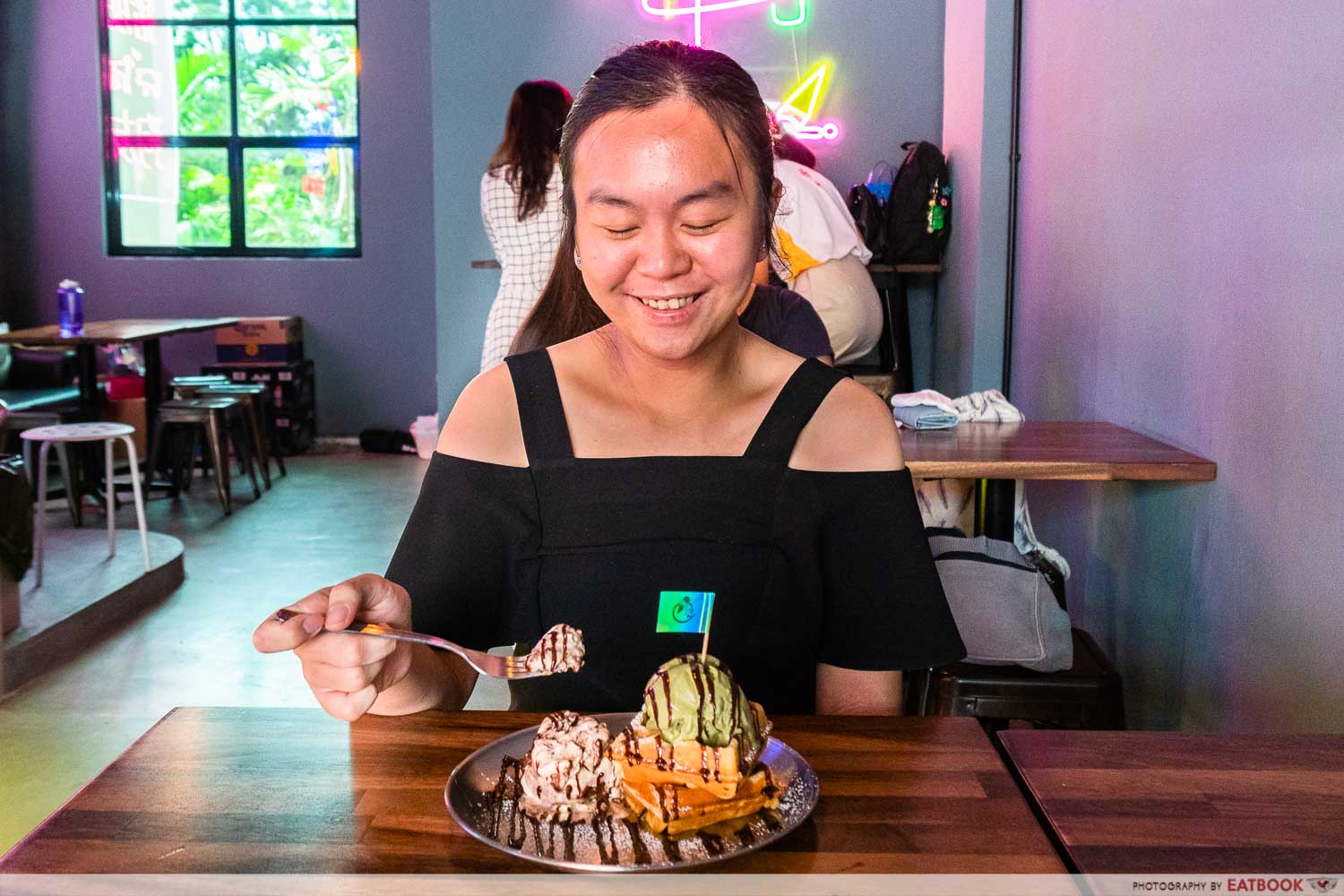 Apart from the IG-worthy ambience and popping background music, I was mostly disappointed by the offerings at Icebar. Their waffles felt too cakey, the gelato tasted artificially sweet, and the flavours weren't as nuanced as I would've liked. This could boil down to the ingredients being used, easily resolved with a change of suppliers. It still makes a decent dessert spot to chill, especially if you're in the area and a midnight gelato craving hits. 
For more sweet treats, check out our 628 Min Jiang Kueh review, with IG-worthy orh nee, green tea, and coconut pancakes to choose from. There's also Tien Tien Yoghurt, a famed yoghurt smoothie store from JB that's opening their first outlet in Holland Village.
Address: 21 Hougang Street 51, #02-14, Hougang Green Shopping Mall, Singapore 538719
Opening hours: Tue-Thur 12pm to 11pm, Fri-Sun 12pm to 2am
Tel: 6926 3446
Website
Icebar is not a halal-certified eatery.
682 Min Jiang Kueh Review: IG-Worthy Min Jiang Kueh With Orh Nee, Green Tea, And Coconut Fillings
Photos taken by Syamira Rohaizad.
This is an independent review by Eatbook.sg.
The post Icebar Review: Neon Cafe Open Till 2am With Waffles And Gelato Such As Speculoos And Apple Strudel appeared first on EatBook.sg – New Singapore Restaurant and Street Food Ideas & Recommendations.