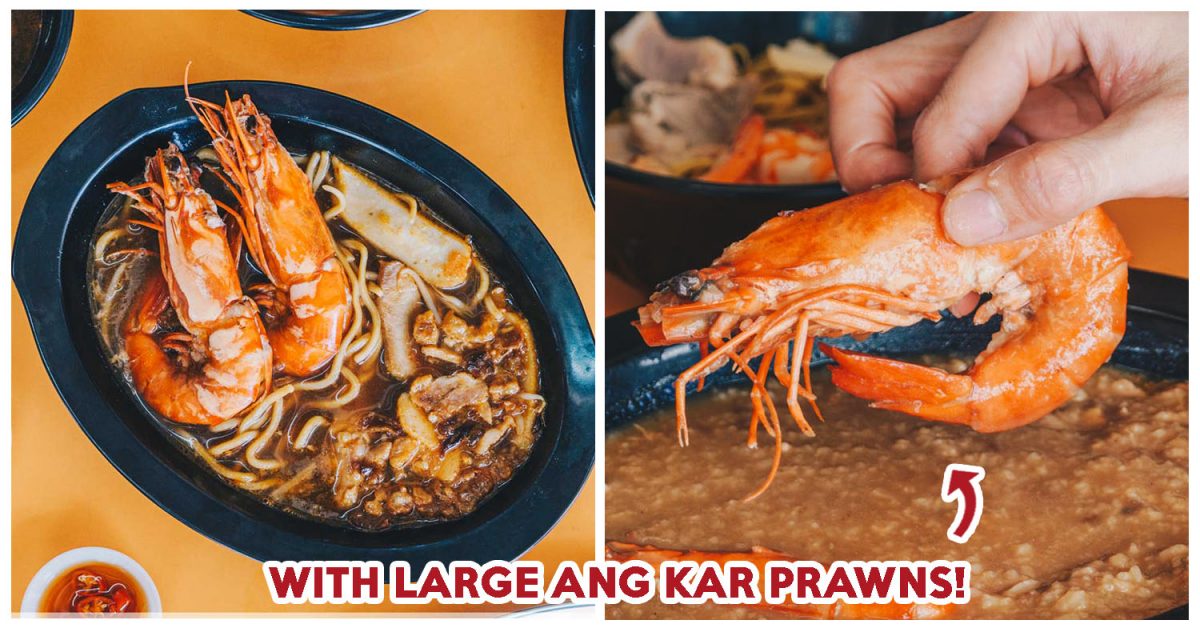 HeyMe at Upper Boon Keng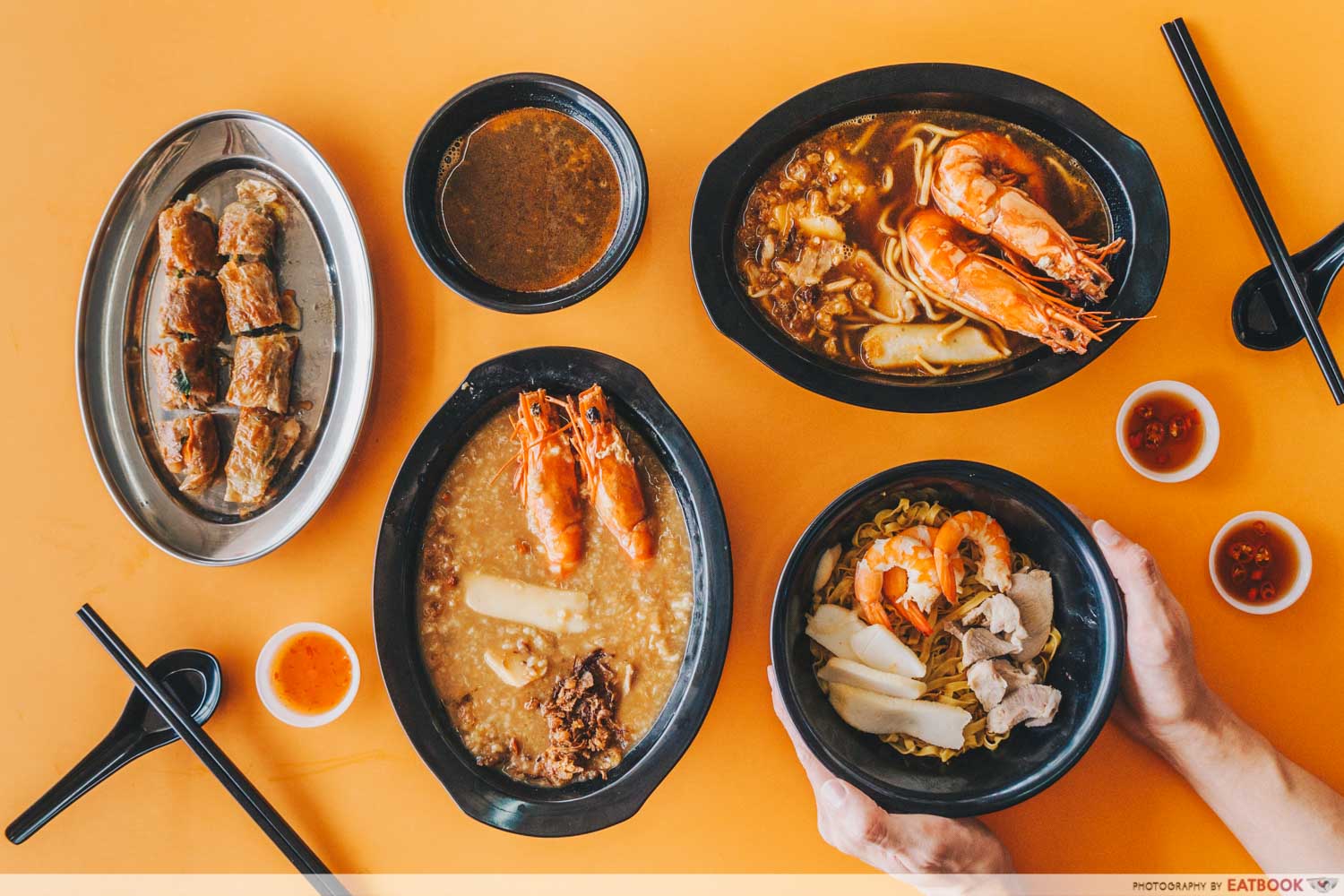 A verbal pun on hae mee—the Hokkien word for prawn noodles—HeyMe is a prawn mee stall that carries on the trend of cheeky naming conventions as seen with Gimee Face and Hosay Mee Pok.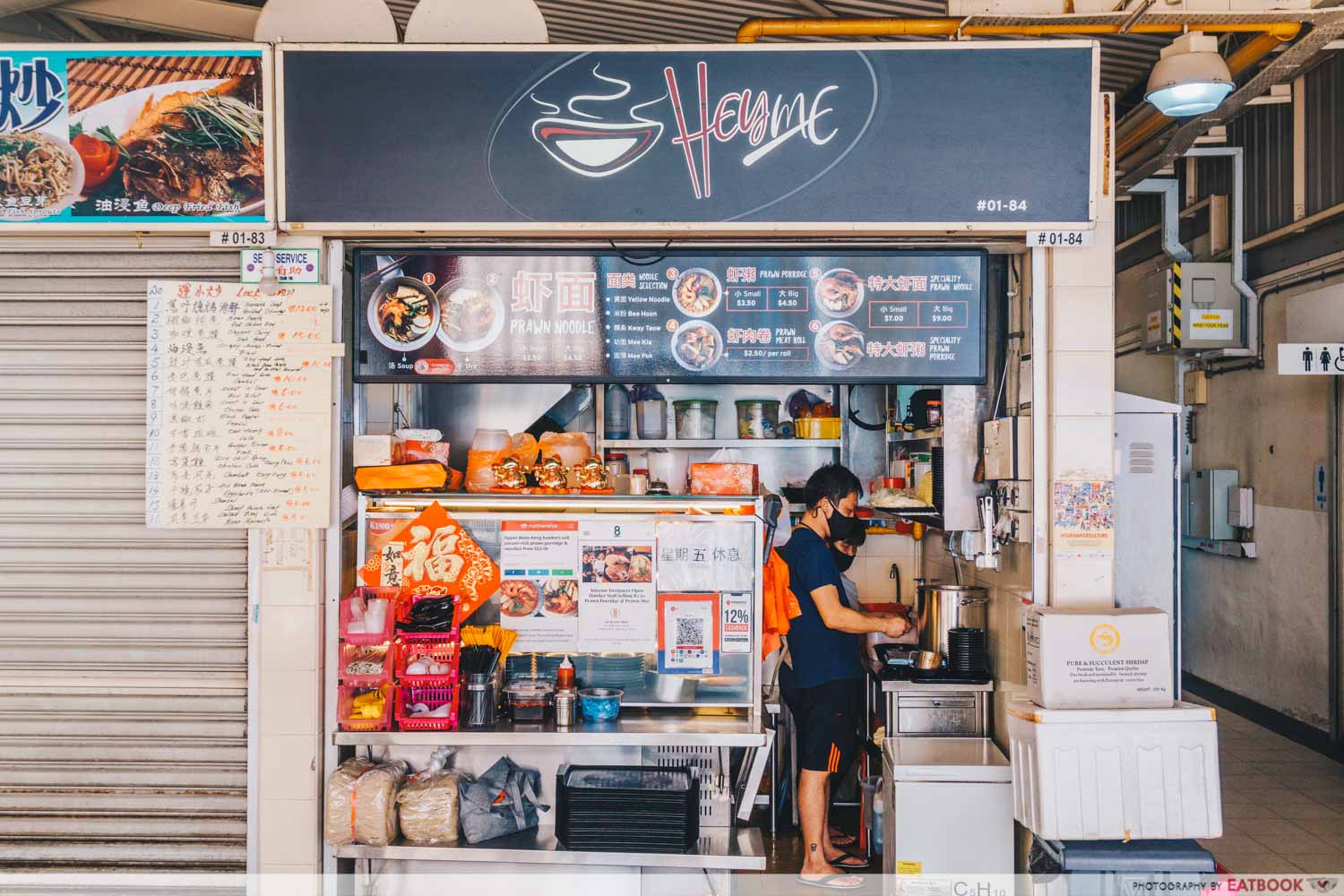 Interior designers by training, the stall owners took their love for the dish to the next level and ventured into the hawker business at Upper Boon Keng Market and Food Centre, selling not just prawn noodles, but also prawn porridge and rolls.
Food at HeyMe
Their Specialty Prawn Porridge ($7) roughly resembled the flavours of Chinese herbal chicken soup. Arriving to the table was a bowl with porridge of a solid dark hue, topped with two large ang kar prawns. The dish screamed intense flavours.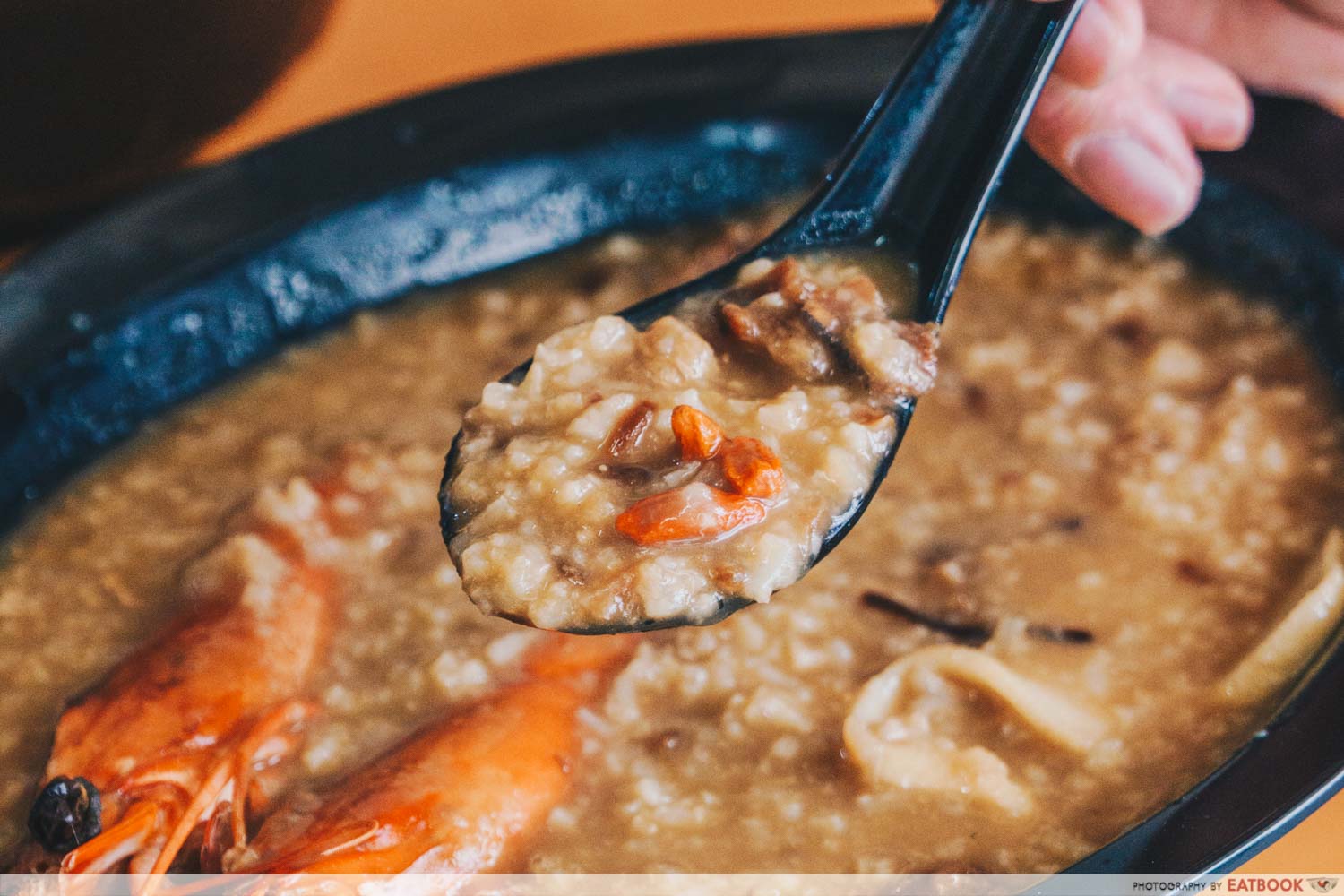 The bright red goji berries in the porridge cured any potential for jelakness with its burst of bitter and sweet flavours that contrasted well with the broth.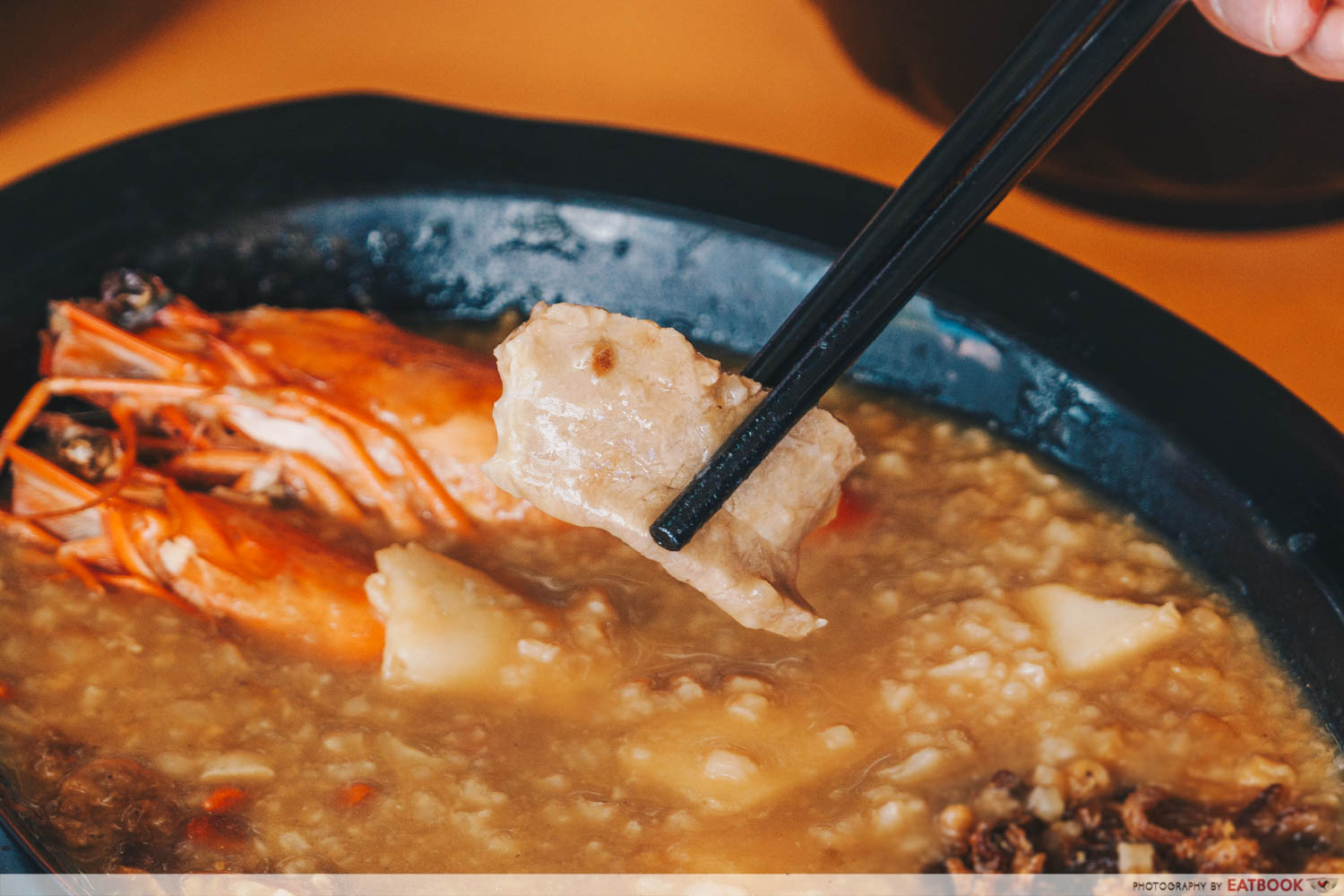 The bite-sized pork slices were likely to have been overcooked as they were tough and devoid of flavours. Aside from the ingredients, the unique porridge broth is a new thing for me and I believe it's worth a try.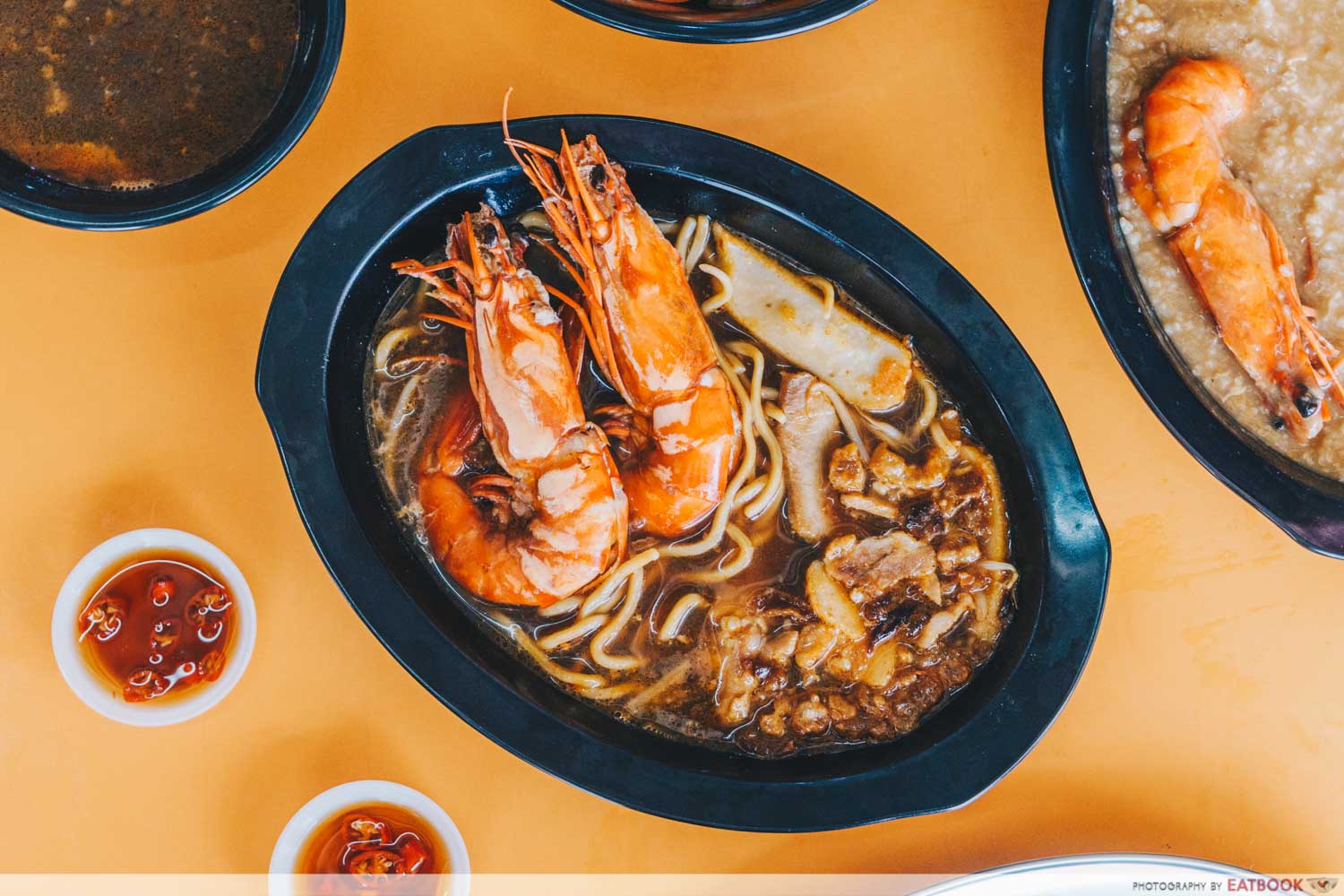 I went for their Specialty Prawn Noodle ($7), which is a zhnged-up version of their regular prawn noodles. This comes with two palm-sized ang kar prawns instead.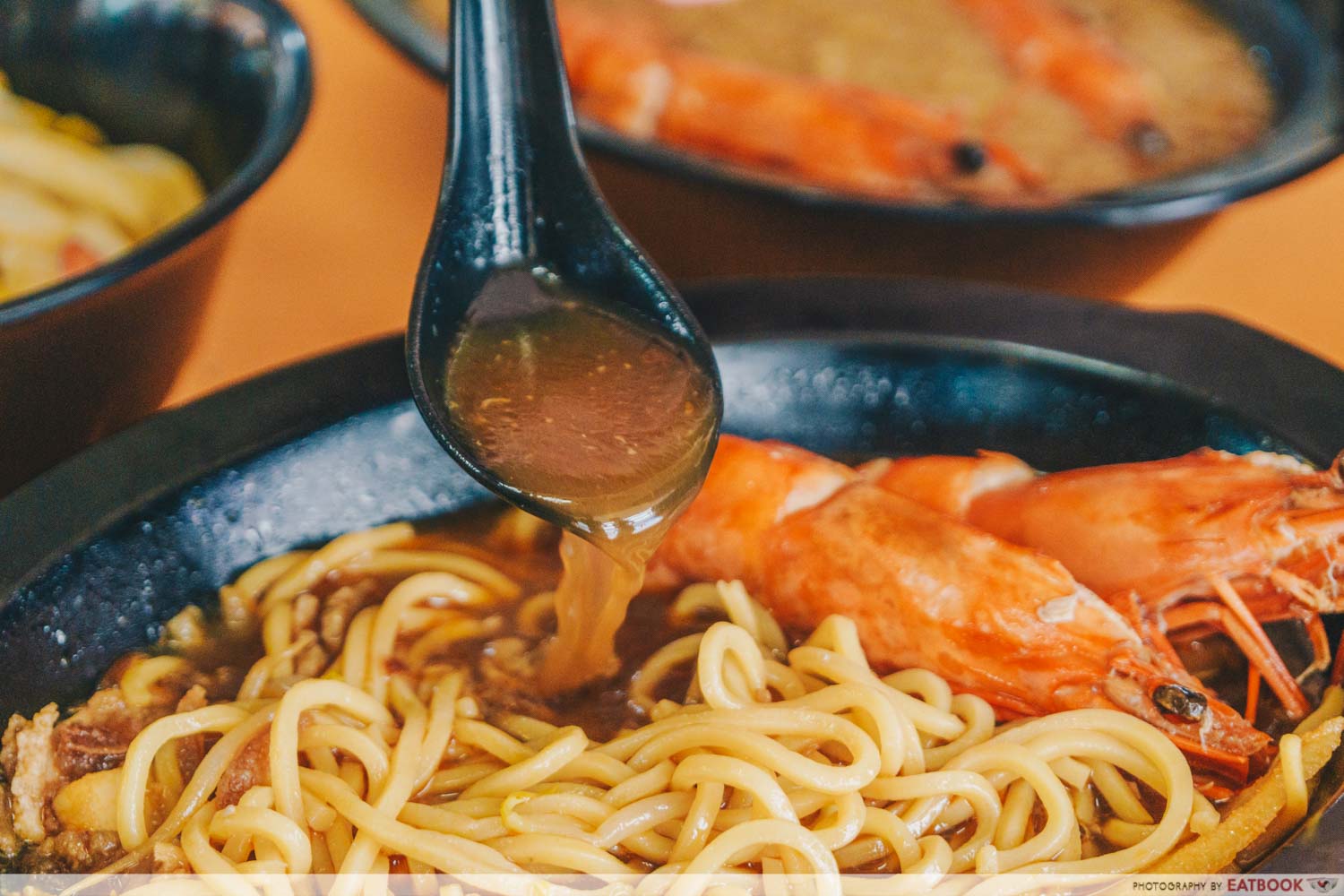 I believe the bedrock of a solid bowl of prawn noodles is a flavourful broth. This one, in particular, had an unmistakable briny sweetness from the crustaceans that made it flavourful and sweet. 
The broth at this shop is prepared daily with prawn heads, pork bones, and various other ingredients that the owner does not wish to divulge.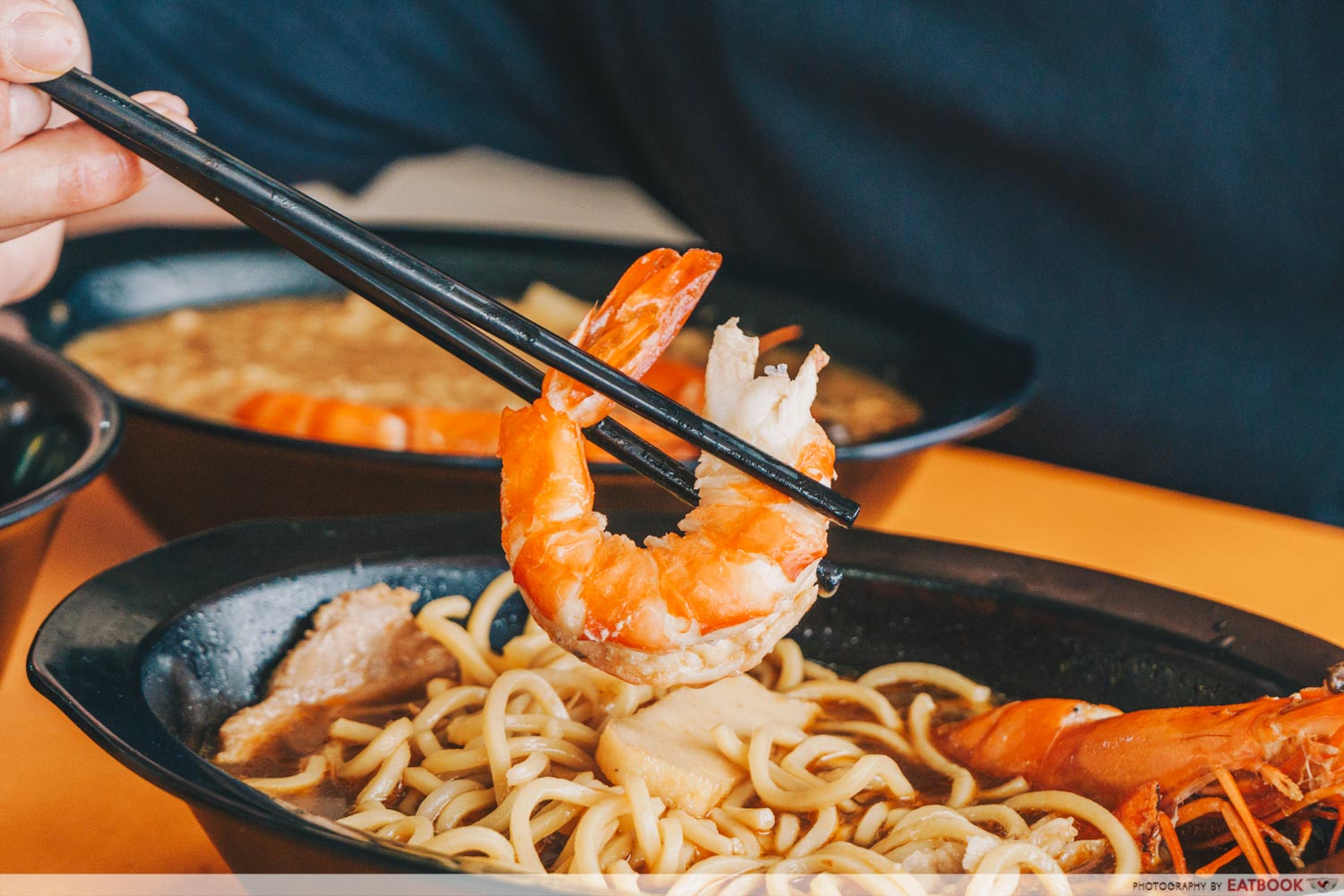 I marvelled at the meaty tail ends, which ang kar prawns are particularly known for. I was expecting a substantial bite but was disappointed to bite into slightly mushy prawns that felt overcooked.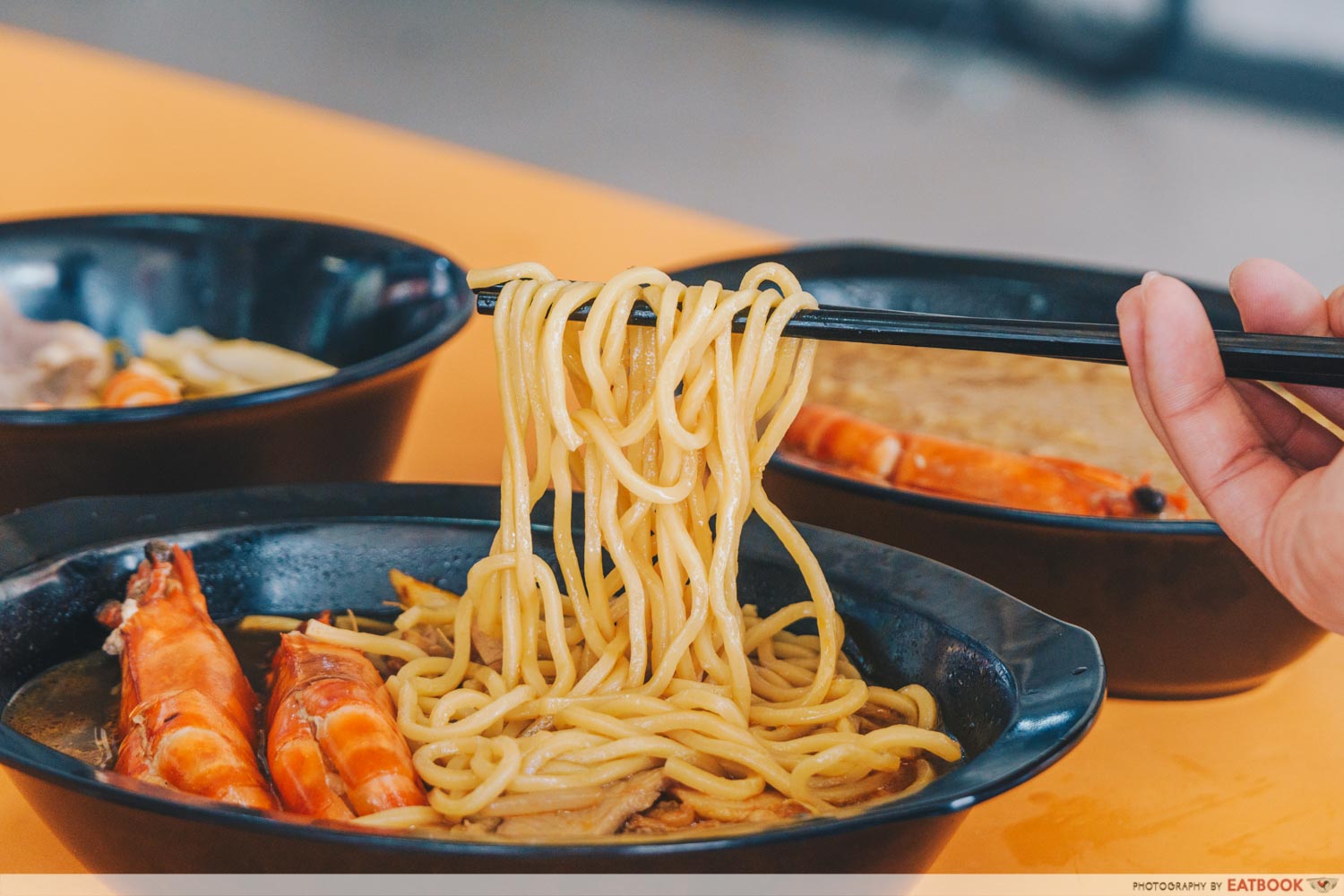 I gleefully slurped on the yellow noodles, which did not bear the bitter taste that these are commonly associated with. It absorbed the sweet flavours of the broth well without compromising on texture.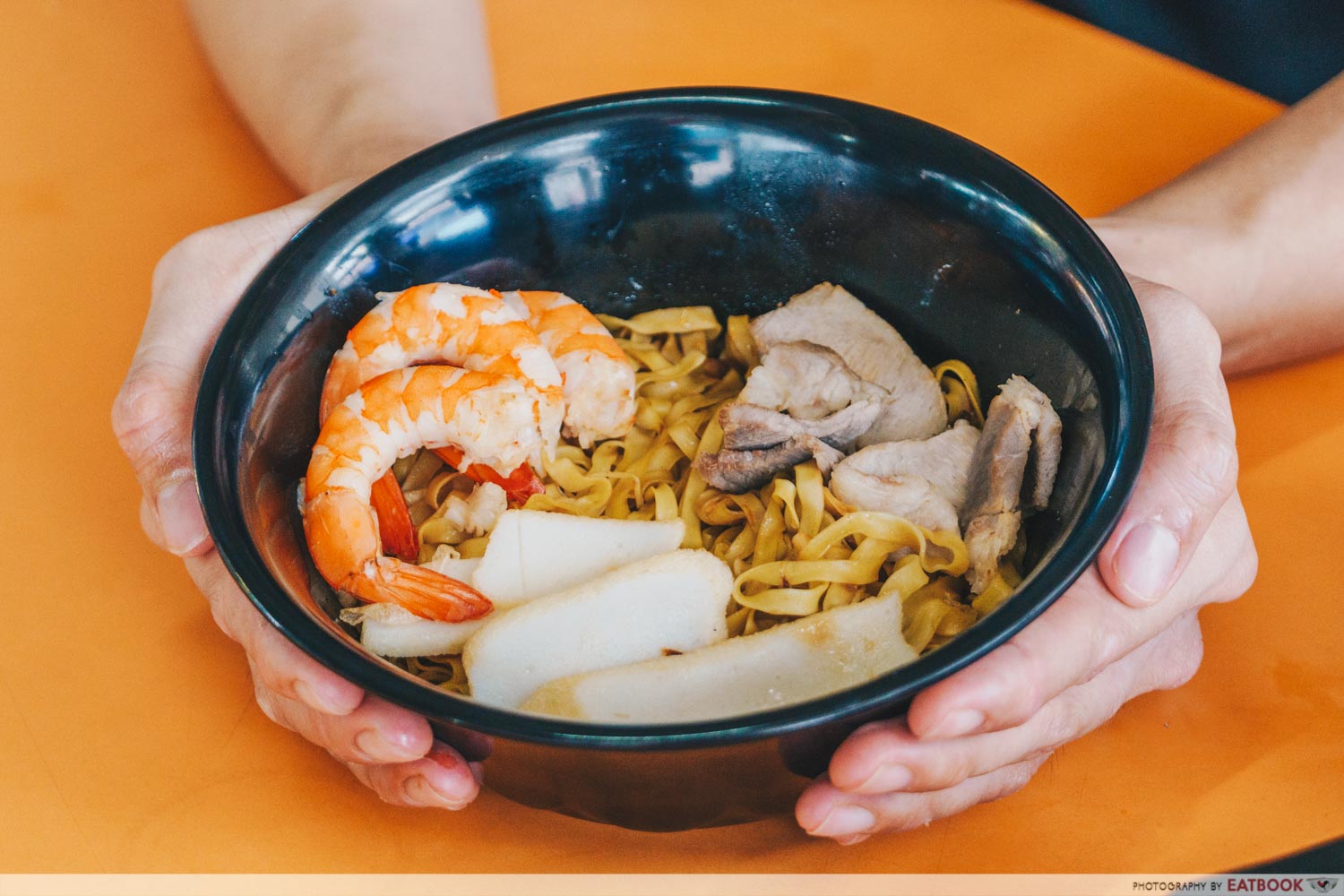 I ordered their Prawn Noodle ($4.50) with my favourite dry mee pok tossed in sauce.
The bowl came with three regular-sized prawns, slices of fish cakes, and slices of pork.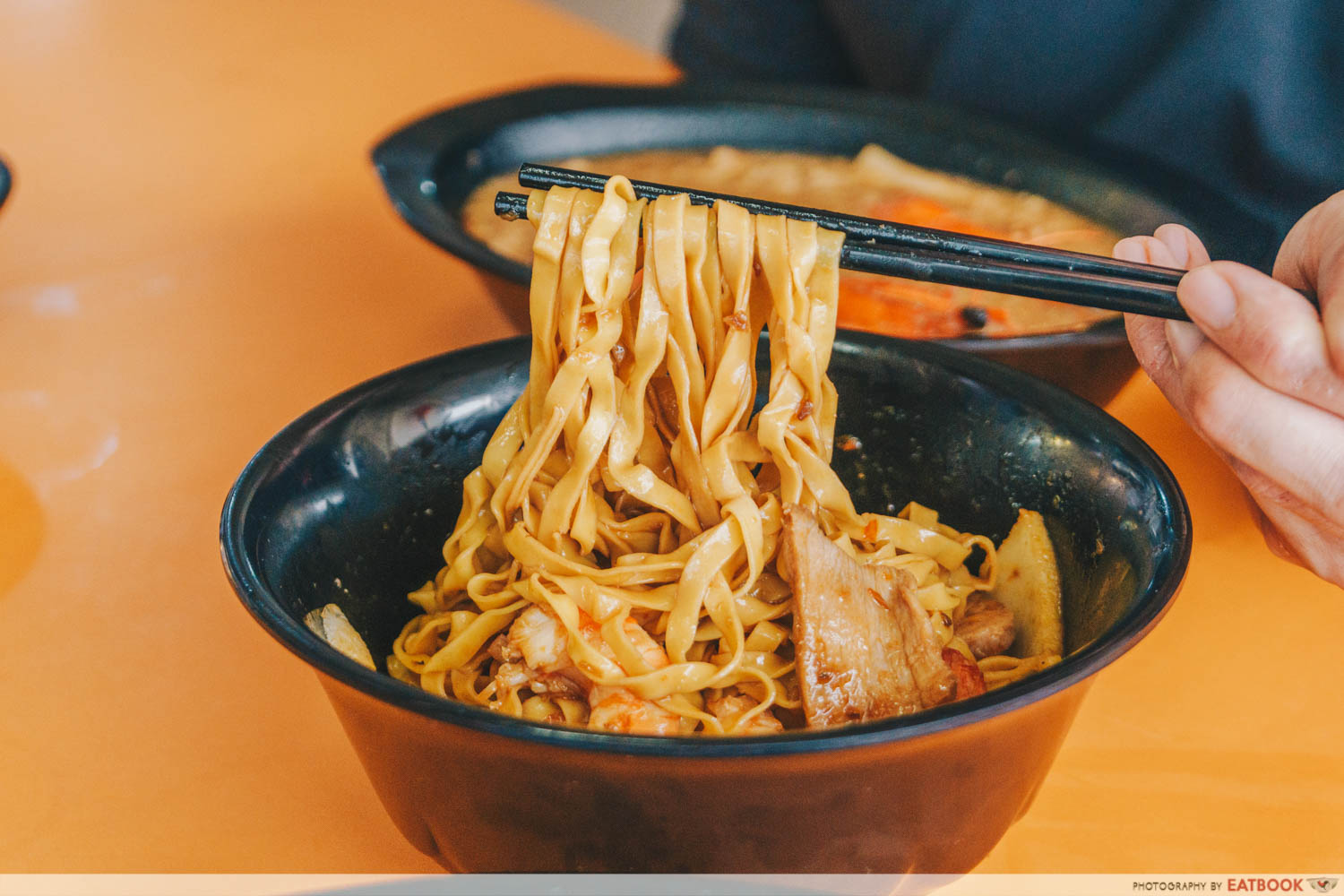 The noodles had slightly bitter and alkaline flavours, contrasting a sauce that tasted like prawn soup without any sweetness. I would have preferred the regular savoury sauce.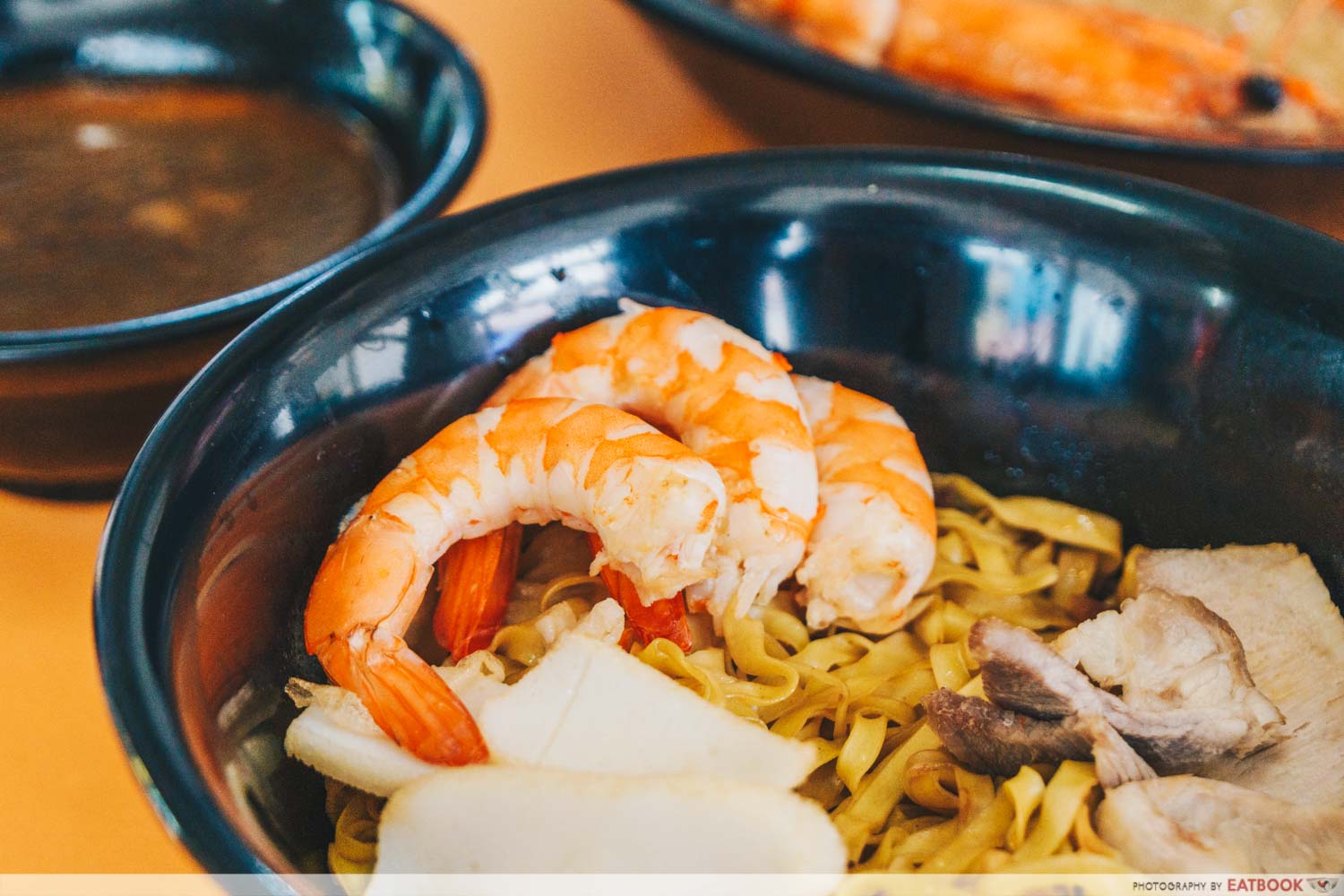 Just like the larger prawns, the regular-sized prawns had naturally sweet flavours but were not as crunchy as I would have liked.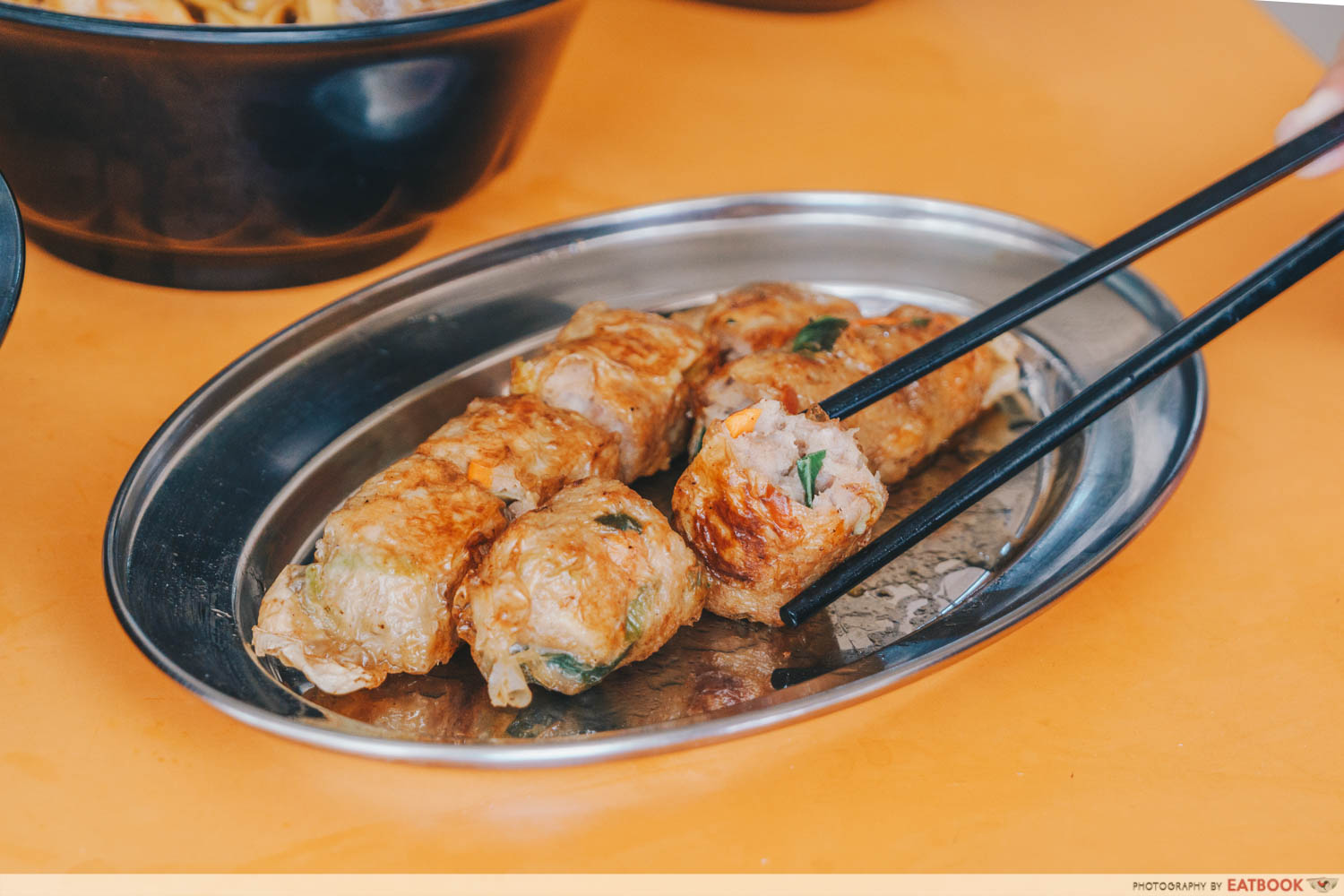 For some sides to share, we got two portions of the Prawn Meat Roll ($2.50 each). The rolls were deep-fried till golden brown and served densely packed with prawn meat chunks and other ingredients. Water chestnuts were a nice touch and gave a different sort of crunch, and brought freshness to the rolls.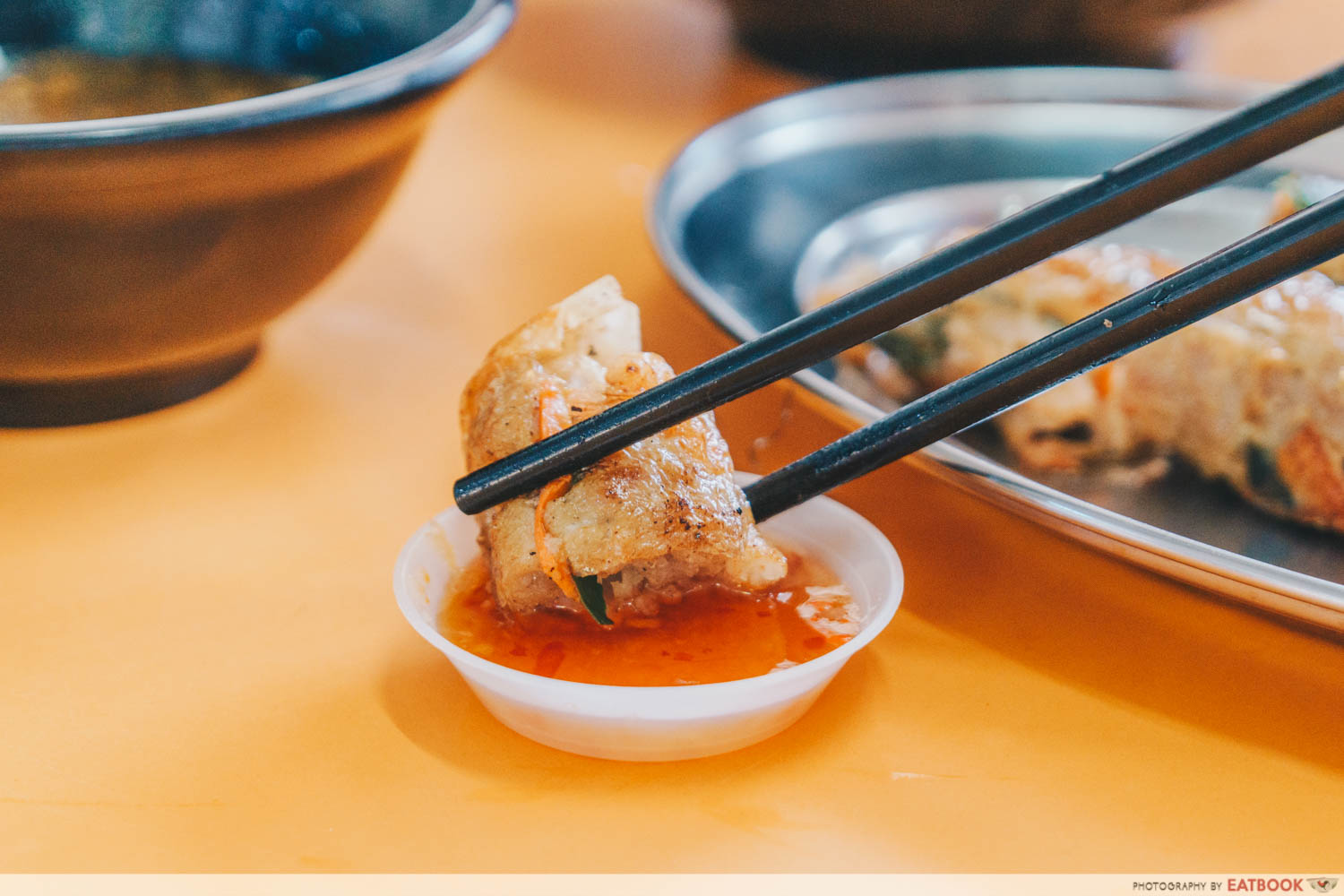 There was a sweet chilli sauce provided to counter the oiliness of the dish. Overall, though, the light savoury flavours of the rolls came across as too mild when eaten in conjunction with the stronger tasting mains.
Ambience at HeyMe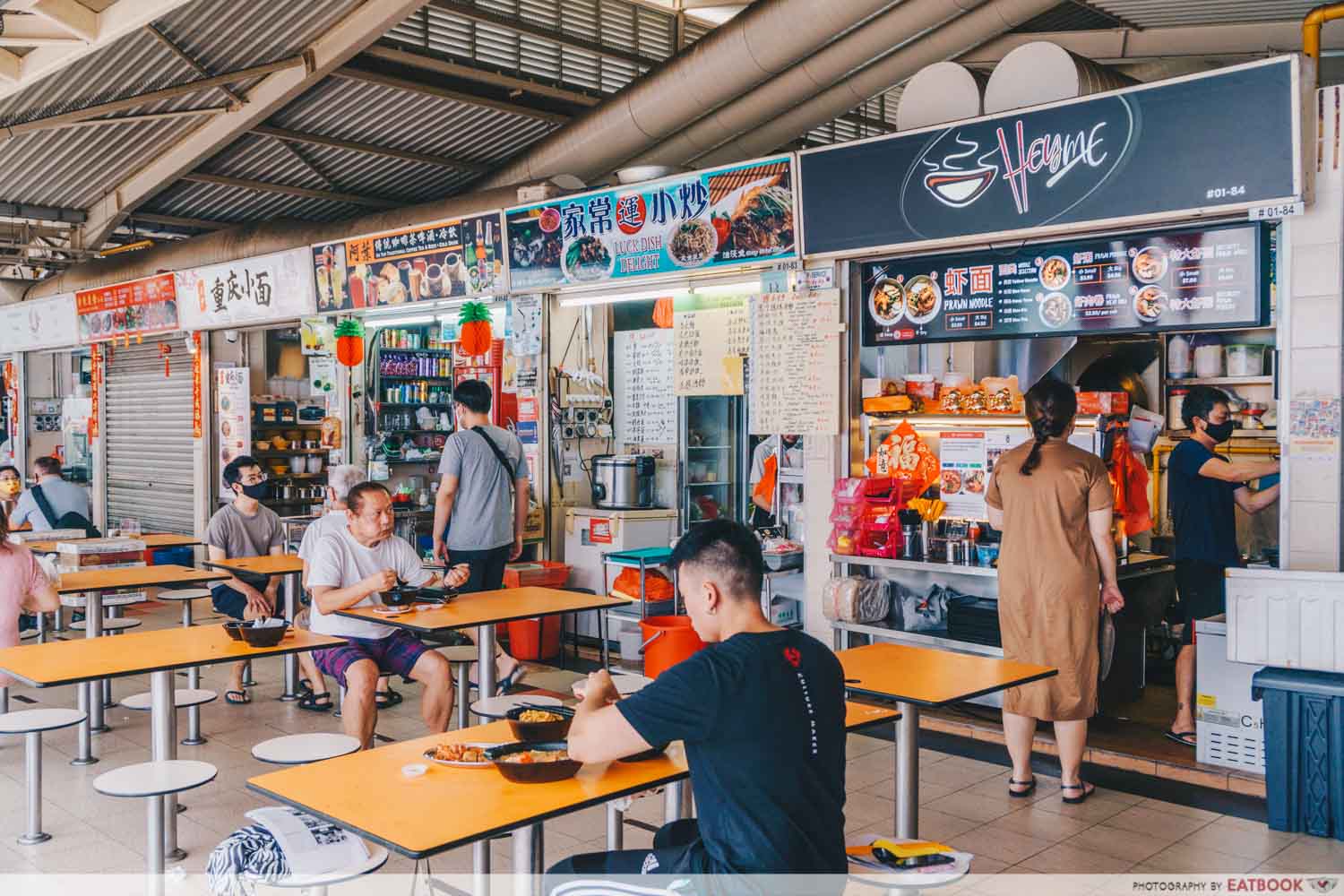 Located at a six-minute walk from Kallang MRT Station, HeyMe is tucked at the far corner of Upper Boon Keng Market and Food Centre. The hawker centre itself can get quite crowded from breakfast through lunch hours.
The verdict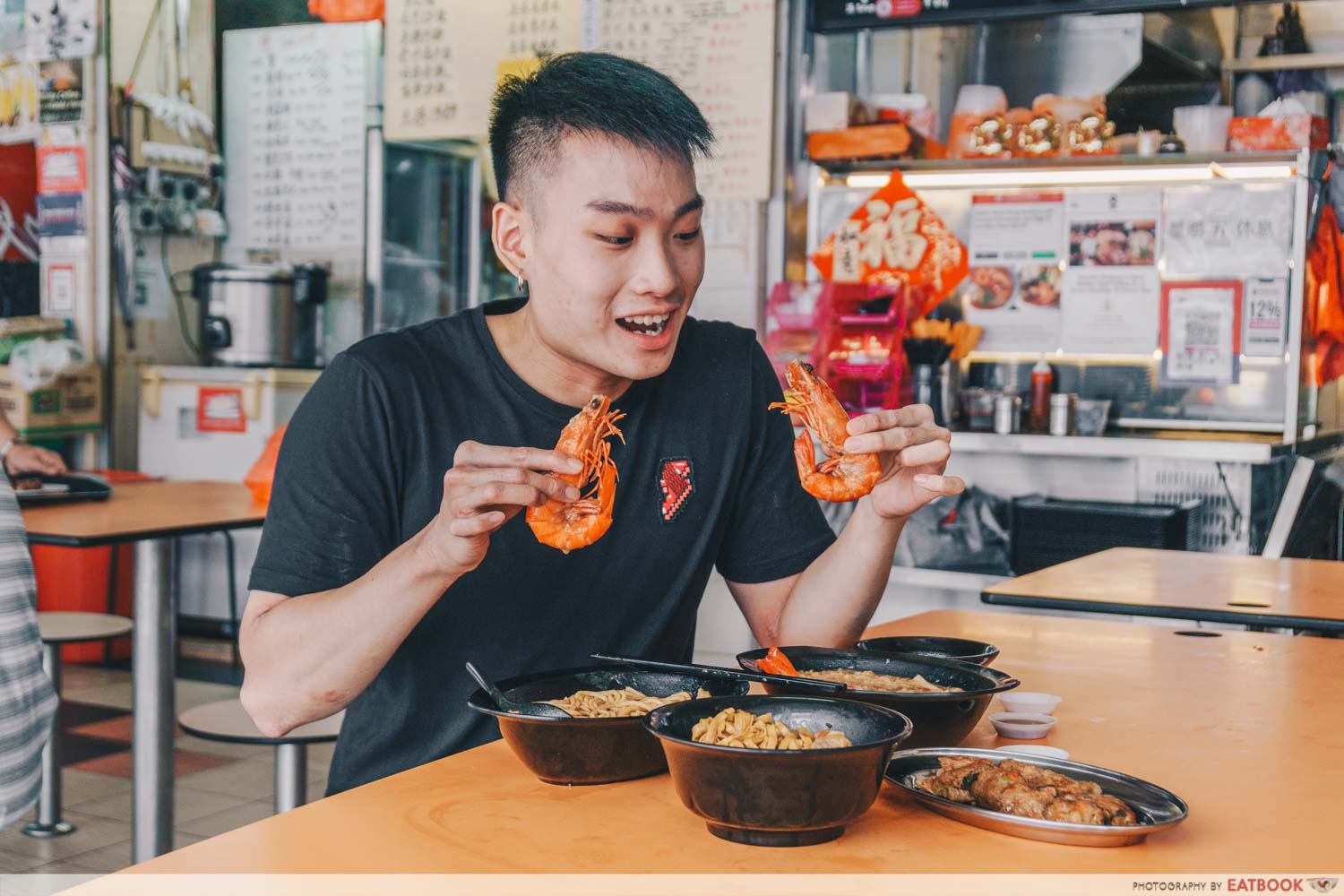 I do see myself coming back here for their bowl of prawn porridge, which, in a good way, did not taste like any other porridge I have tried. Their prawn noodles had a well-prepared broth but the mushier prawns did not do it justice when I arrived.
If prawn noodles are your thing, check out our review of One Prawn Noodles, or for other food around the area, check out our Bendemeer food guide. 
One Prawn Noodle Review: Silky Smooth Prawn Noodle Broth By Former Burnt Ends Chef
Address: 17 Upper Boon Keng Road, #01-84, Upper Boon Keng Market and Food Centre, Singapore 380017
Opening hours: Sat-Thurs 7am to 3pm
Website
HeyMe is not a halal-certified eatery.
Photos taken by Keith Kok.
This is an independent review by Eatbook.sg.
The post HeyMe Review: XL Prawn Noodles And Prawn Porridge By New Hawkers At Upper Boon Keng appeared first on EatBook.sg – New Singapore Restaurant and Street Food Ideas & Recommendations.