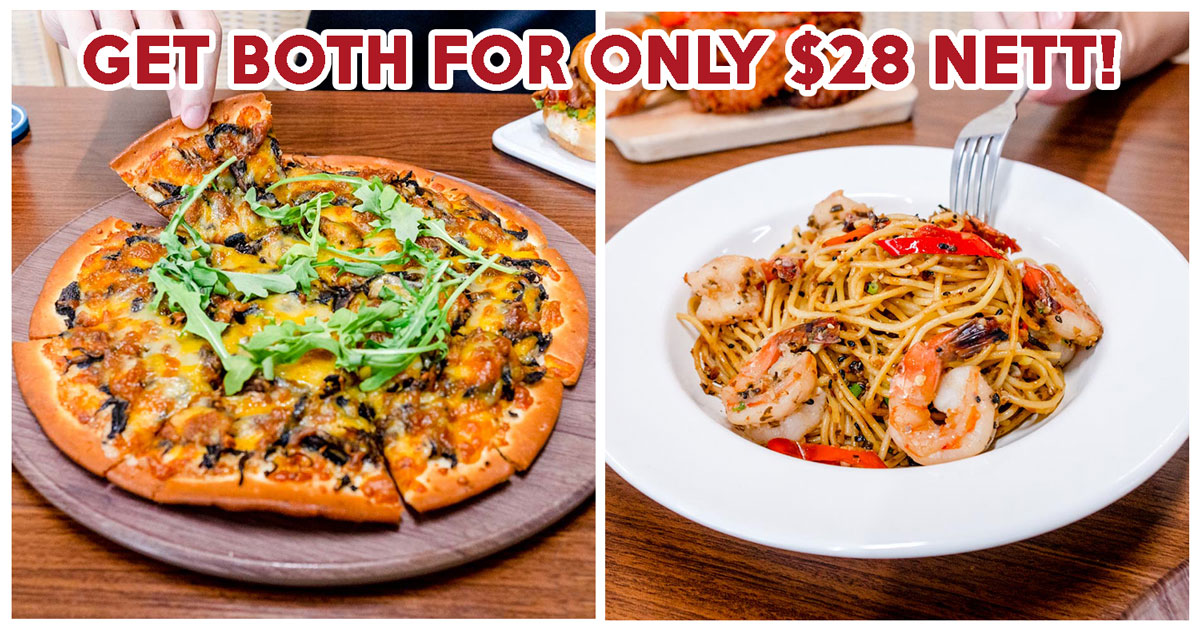 Delivery and takeaway deals at Harry's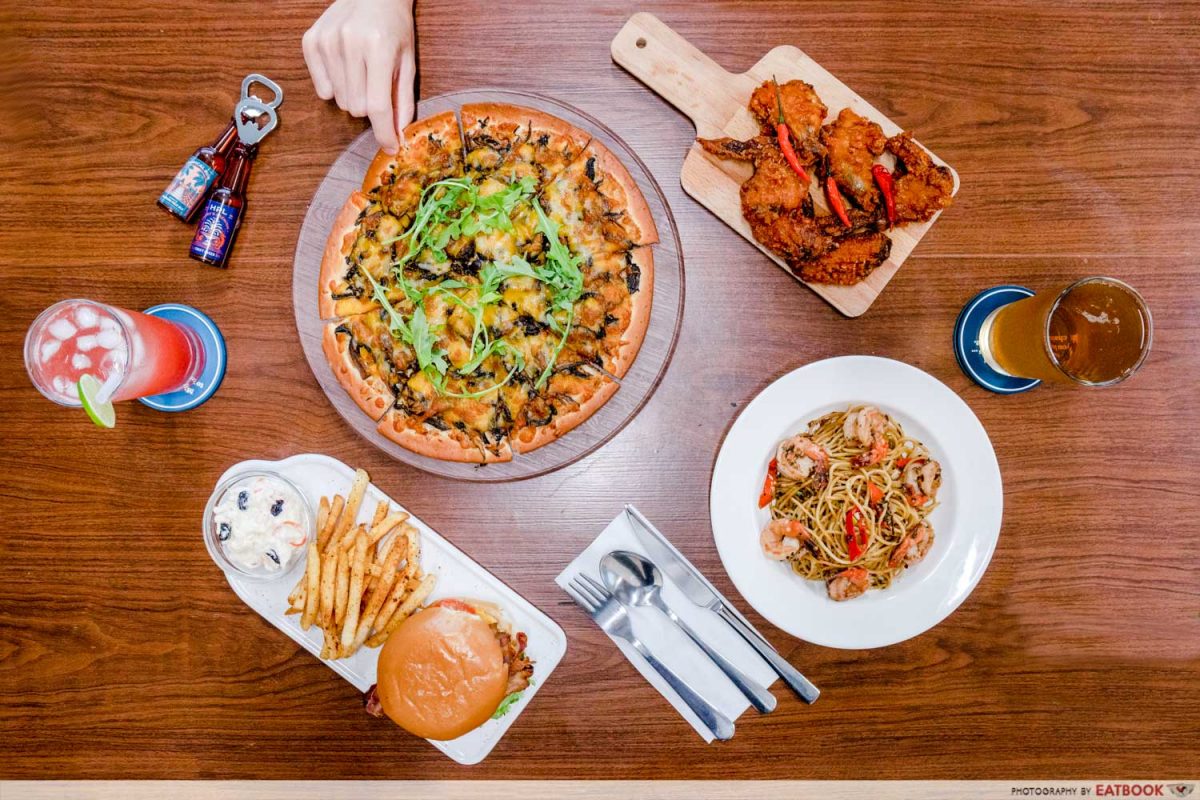 After a long day of work, many of us look to the ever-reliable Harry's to unwind over good food and drinks, with their family-friendly atmosphere ideal for any occasion. Although we currently do not have the privilege of dining in, rest assured that they will find a way to deliver, literally and figuratively. Currently, they are running two promotions, with any two pizzas or pastas for $28 for their islandwide deliveries, and 20% off their entire food menu for physical takeaway.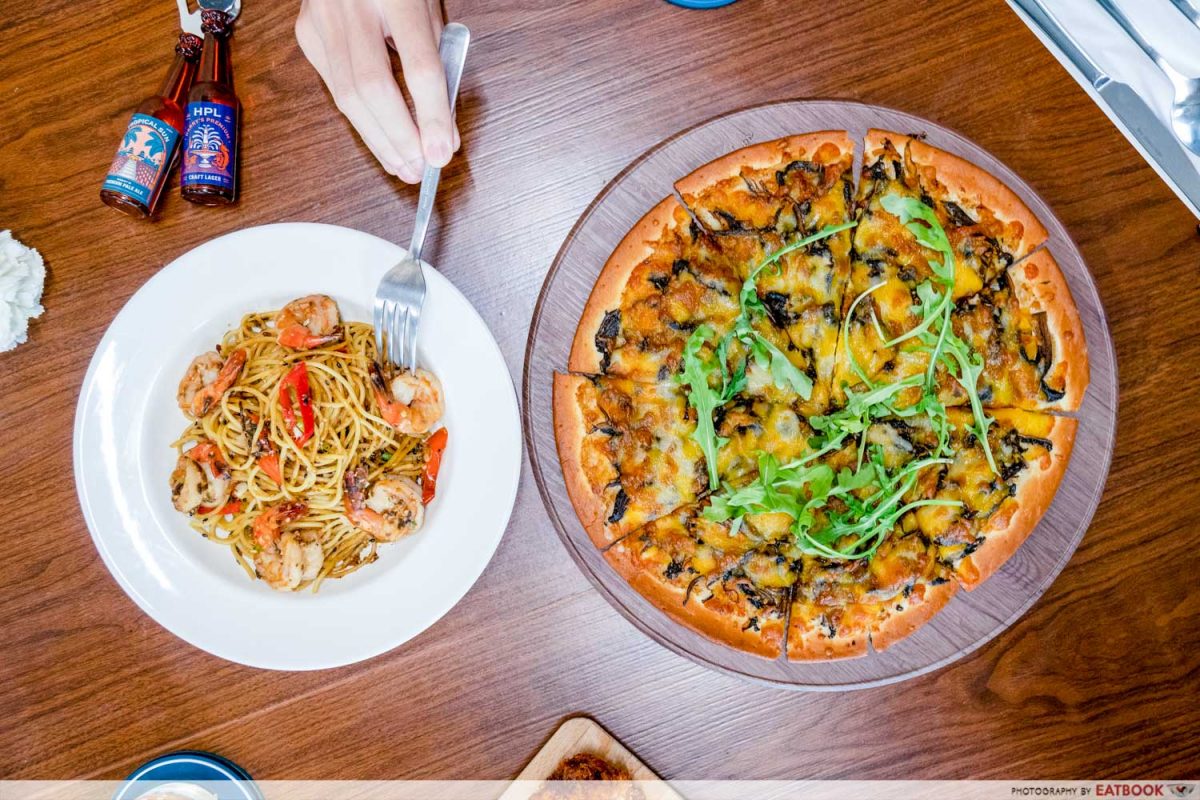 For your information, the two pizzas and pastas for $28 promotion means that you are able to choose from any two pastas and/or pizzas from their menu, allowing you to mix and match however you want together with another person.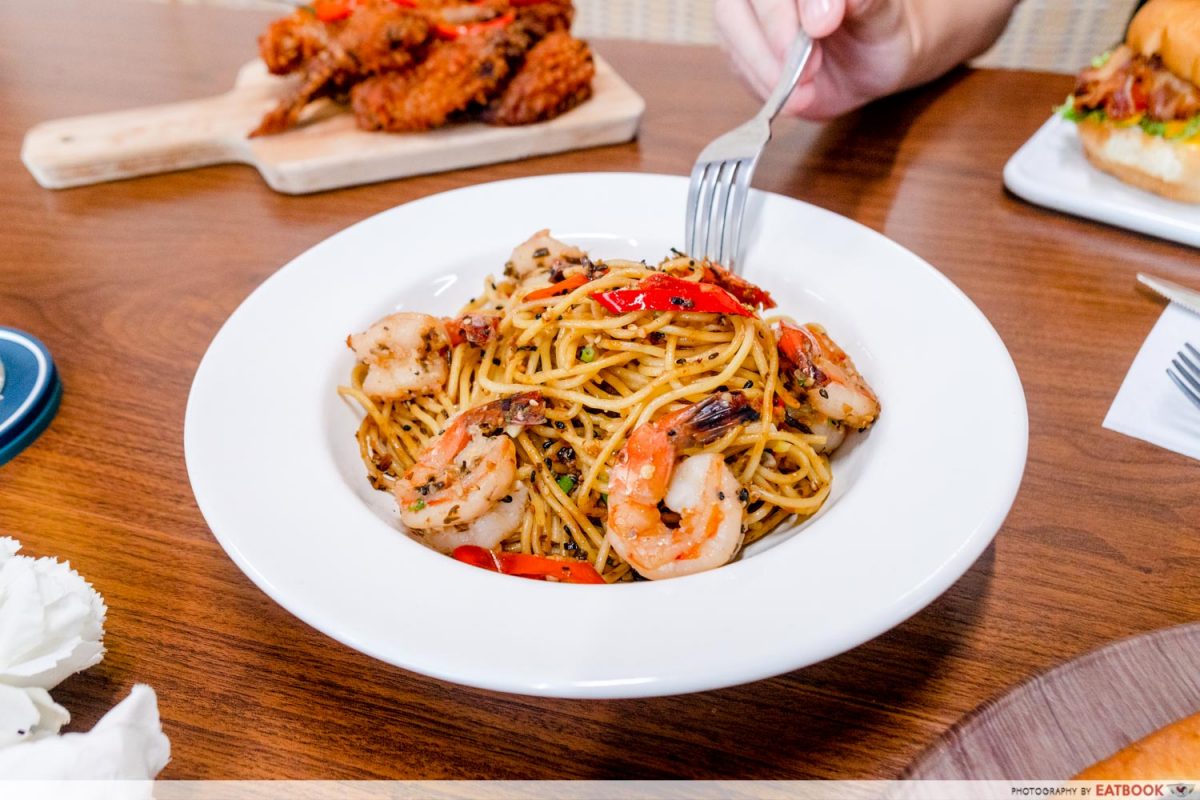 Especially for the seafood lovers, we would recommend the Prawn And Seaweed Aglio Olio. Their version is on the milder side, so you are really able to taste the garlicky and savoury notes of the pasta, though some might prefer theirs to have that kick.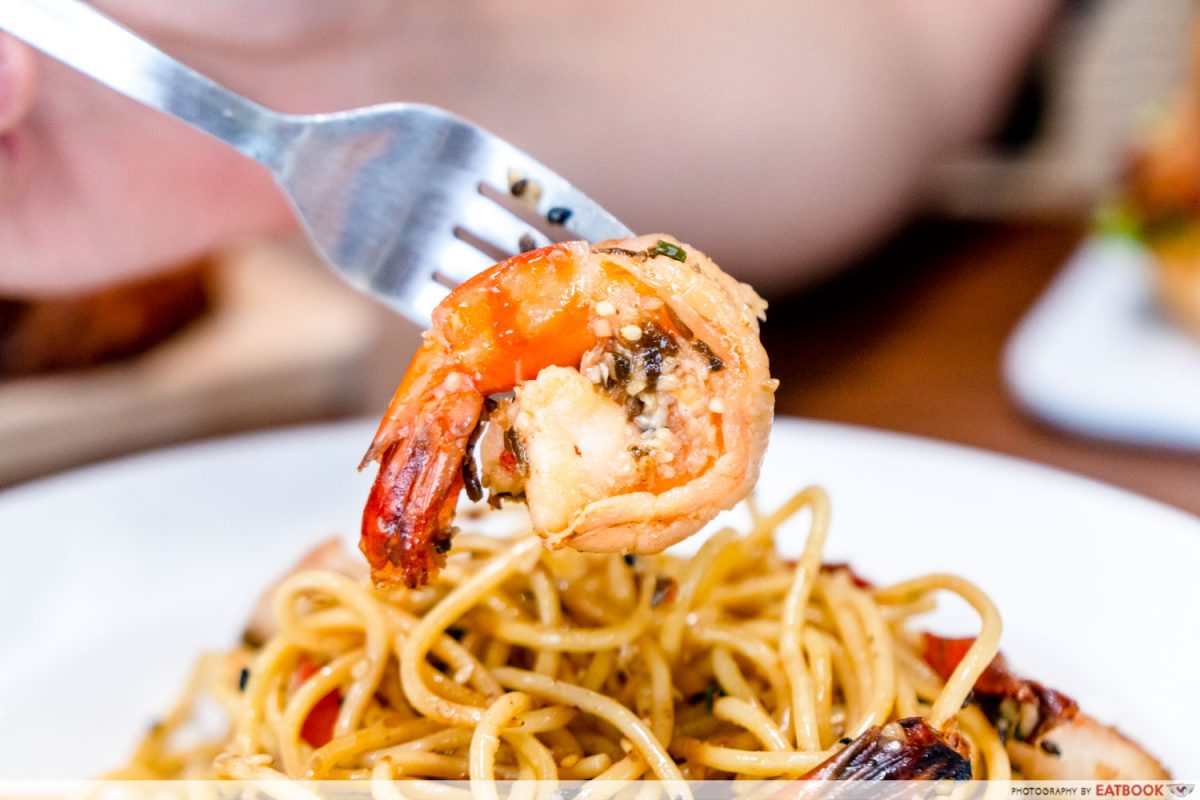 The juicy prawns bring a slight sweetness that injects more life into the dish, while the sauce is not overly oily either.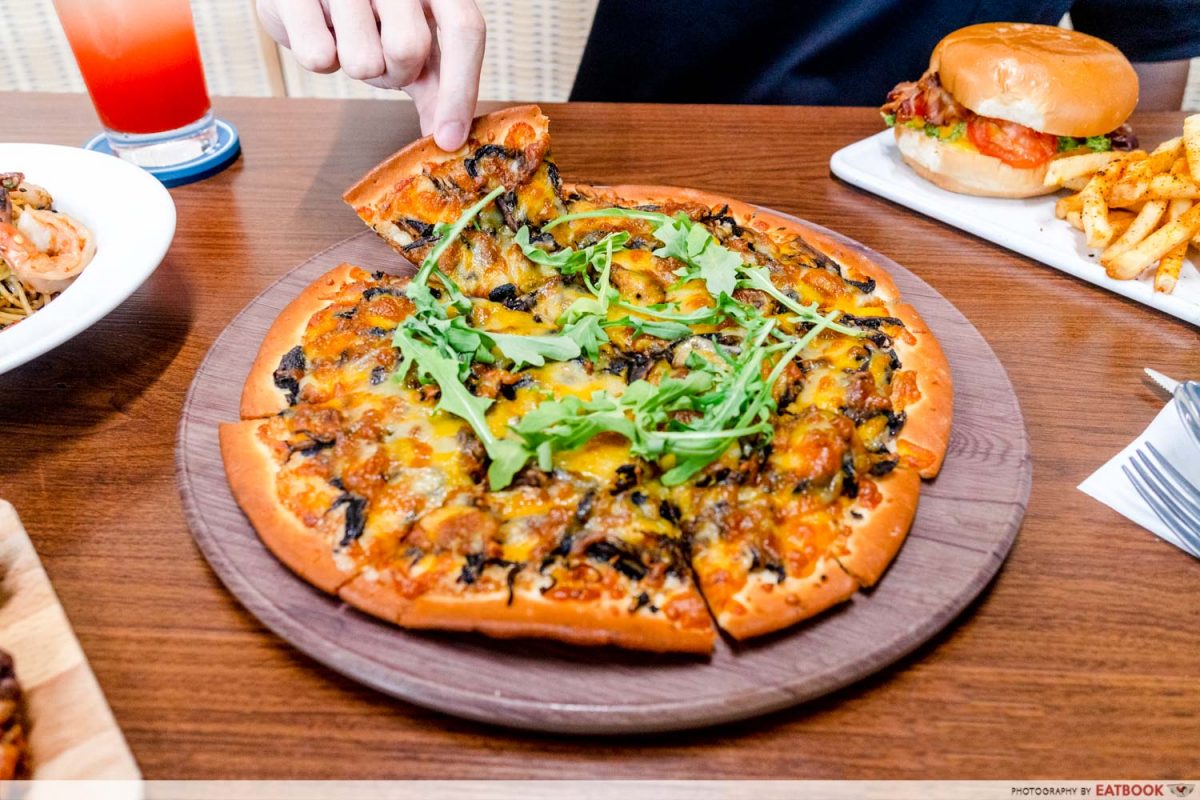 Alternatively, if you prefer something equally fragrant on the pizza side, go for the Mushroom And Truffle Flatbread instead. Apart from the unmistakable scent of truffle oil permeating from it, we also identified button mushrooms, aioli, and a dash of arugula too.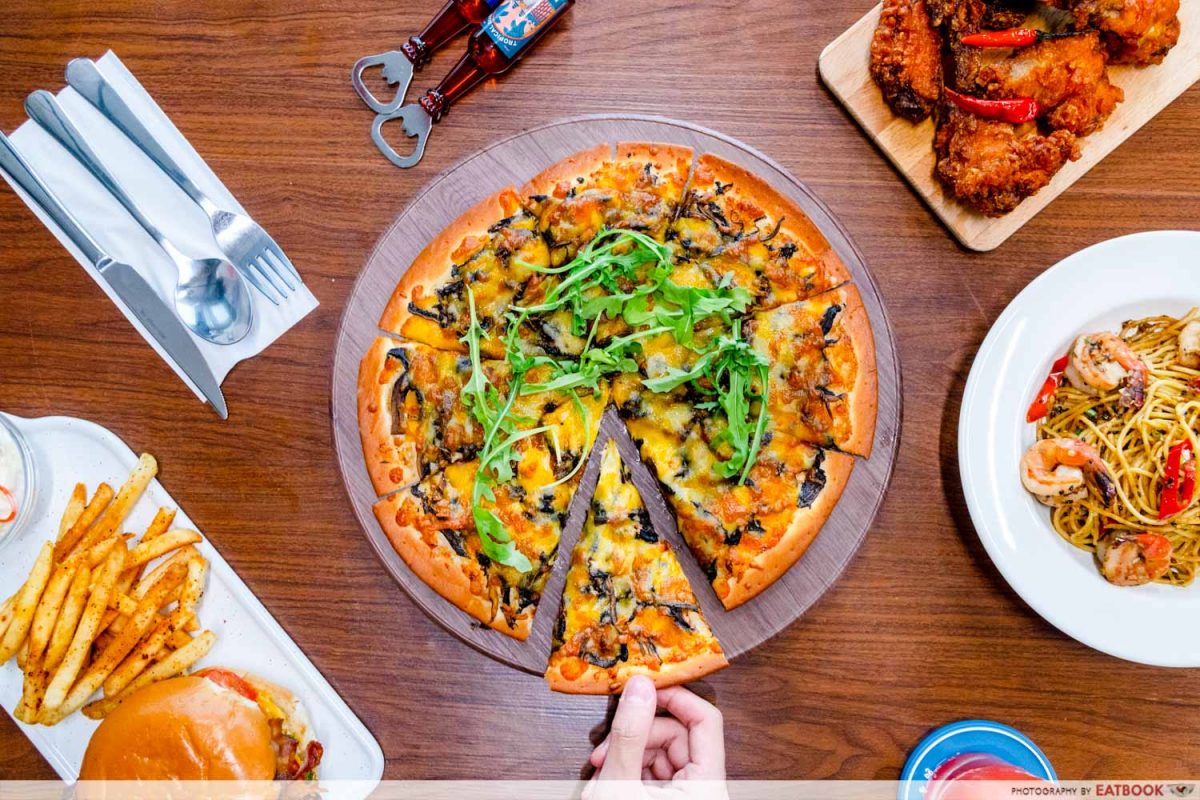 The use of flatbread makes each bite a lot lighter on the palate, with the mushrooms oozing with umami and enhancing the richness of the pizza. Though I would have preferred a wider variety of ingredients added, the freshness of the existing toppings more than made up for it.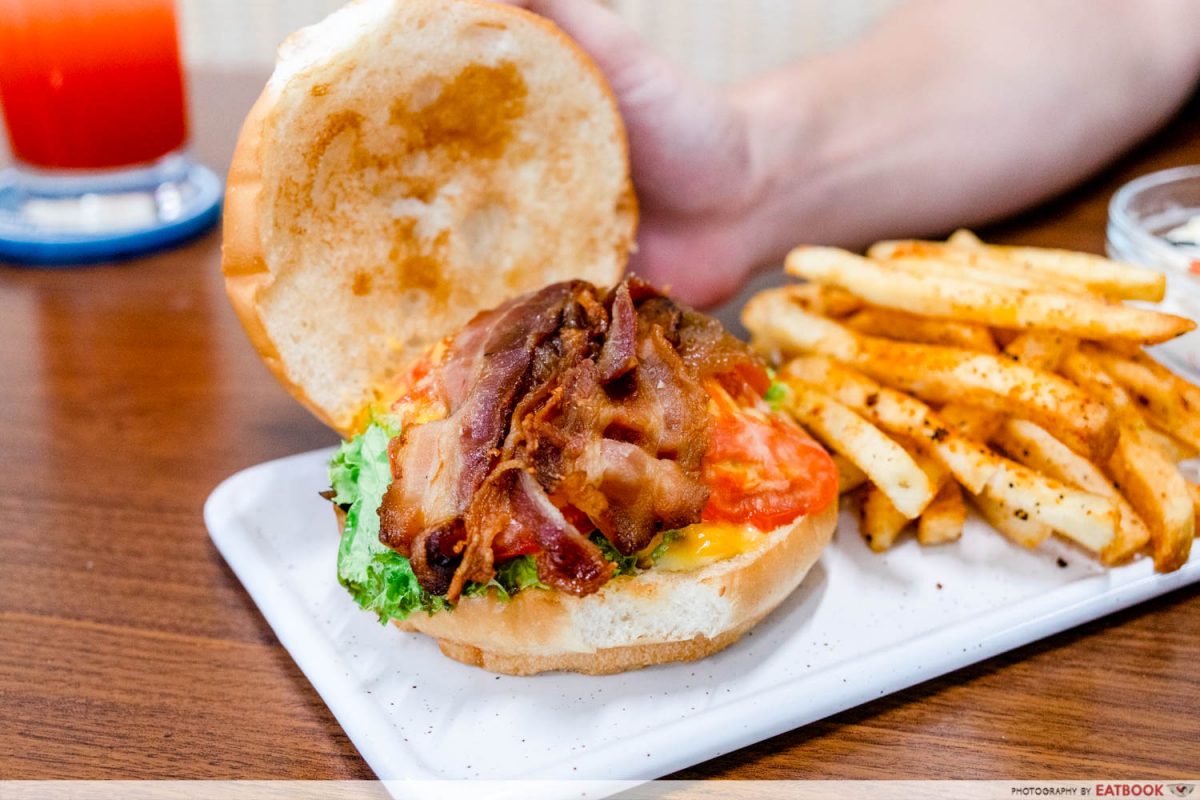 In case you missed it, they also have the rest of their food menu going for 20% off their usual price, only for takeaway. For the indecisive eaters out there, opt for one of their signatures, the Harry's Jazz Burger ($25.50). It arrives with a succulent wagyu beef patty, bacon, double cheese slices, and button mushrooms, among others. It is further topped off with their onion jam.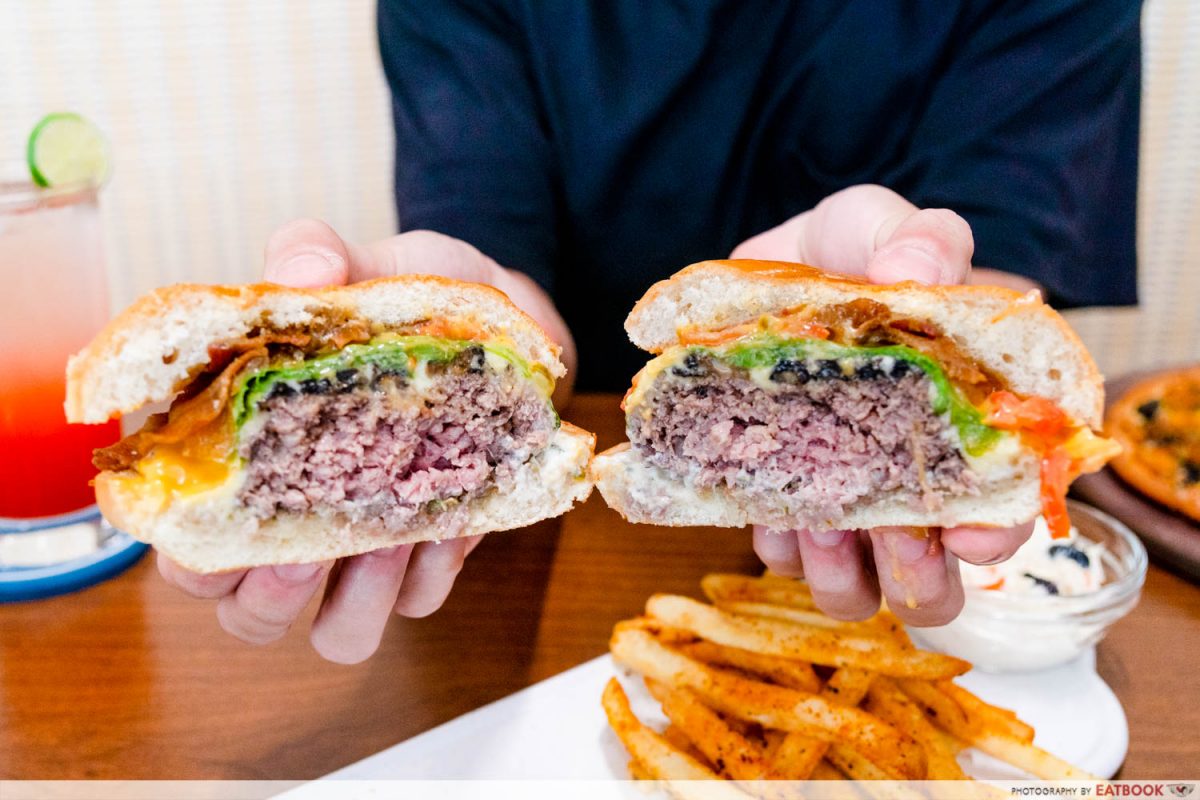 Additionally, you are also treated to a side of their spiced fries and coleslaw to accompany your burger. The burger buns are soft enough and go well with the tender beef patty, with the saltier bacon and sweeter button mushrooms adding depth of flavour.
Order a portion of their Harry's Signature Wings ($29.50 for 12 pieces) as a solid sidekick to your mains, great for sharing with friends and family alike. Though they are peppered with red chilli padi and their in-house spices, these wings were not as numbing as they looked, allowing us to appreciate how crispy and meaty each piece was.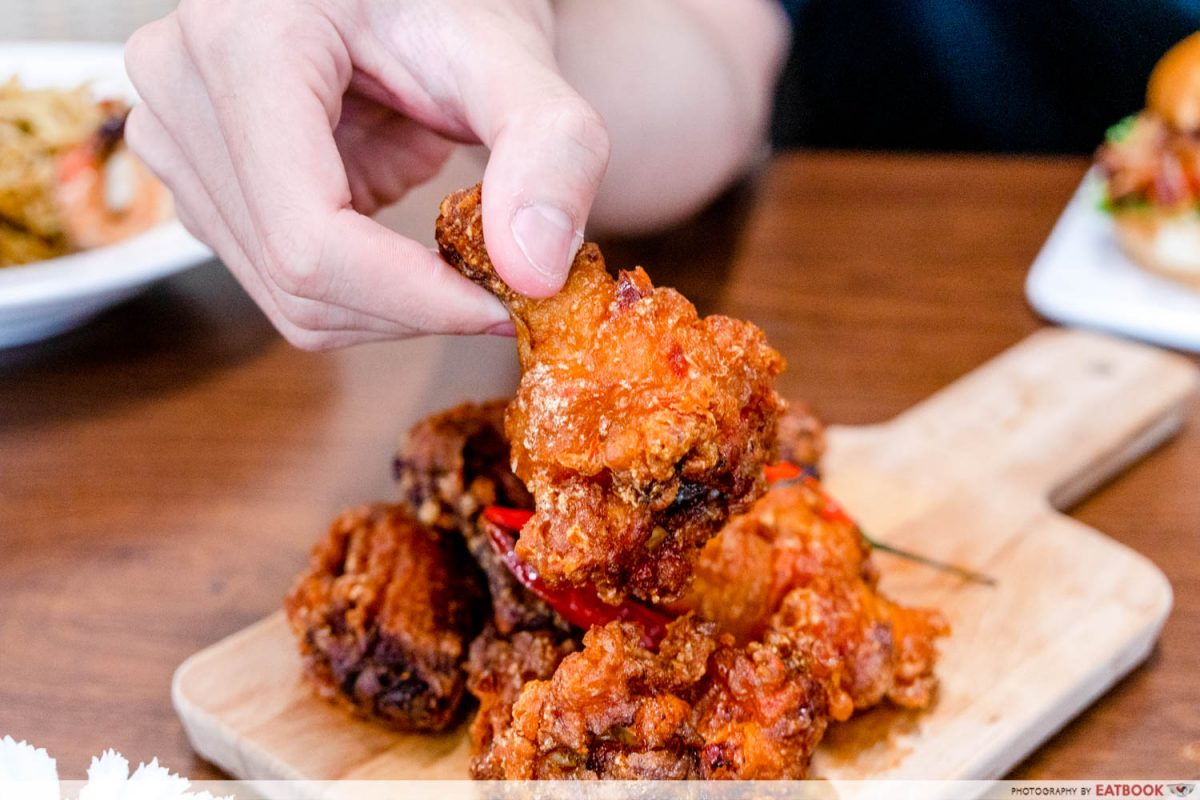 Each bite brought a delightful crunch with it, with the marinade having permeated from skin to bone, making their wings all the tastier.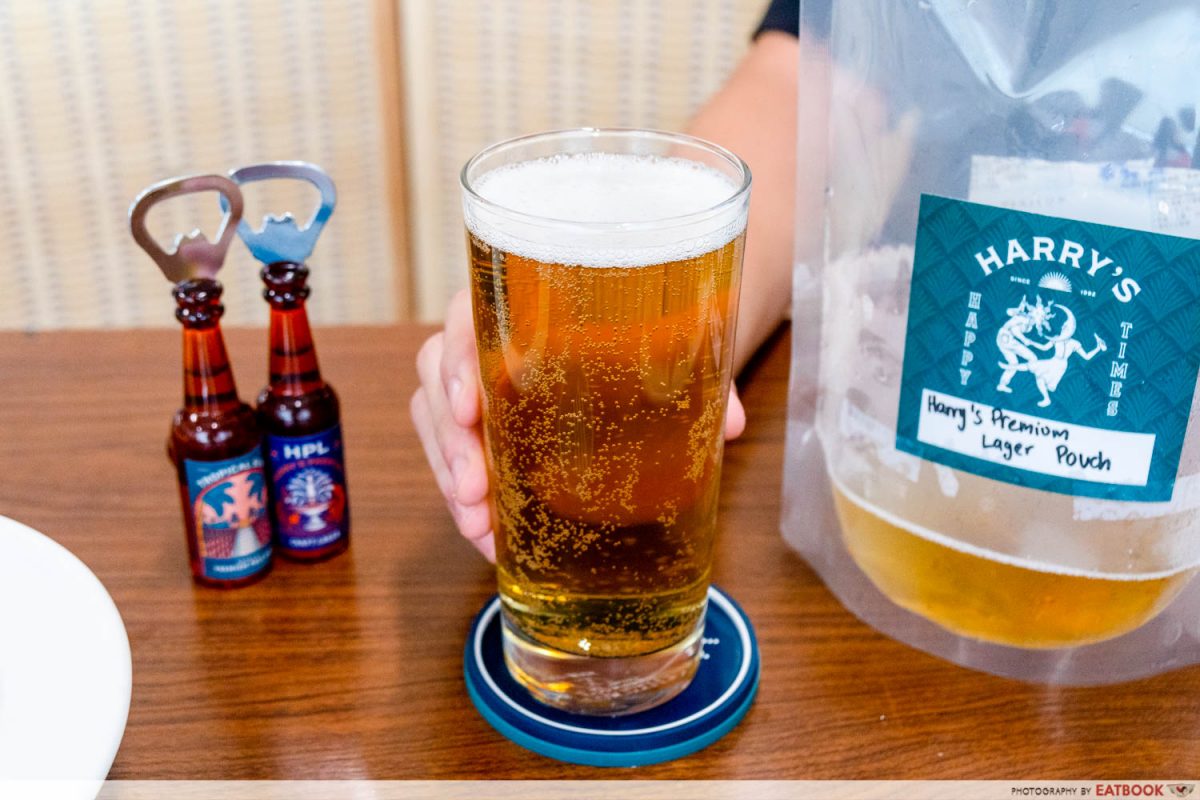 Pair your wings with a pouch of their Harry's Premium Lager ($25.68 for one litre) to wash all of that greasiness down right. Their beer is smooth and refreshingly light to gulp down, especially apt for our scorching hot weather.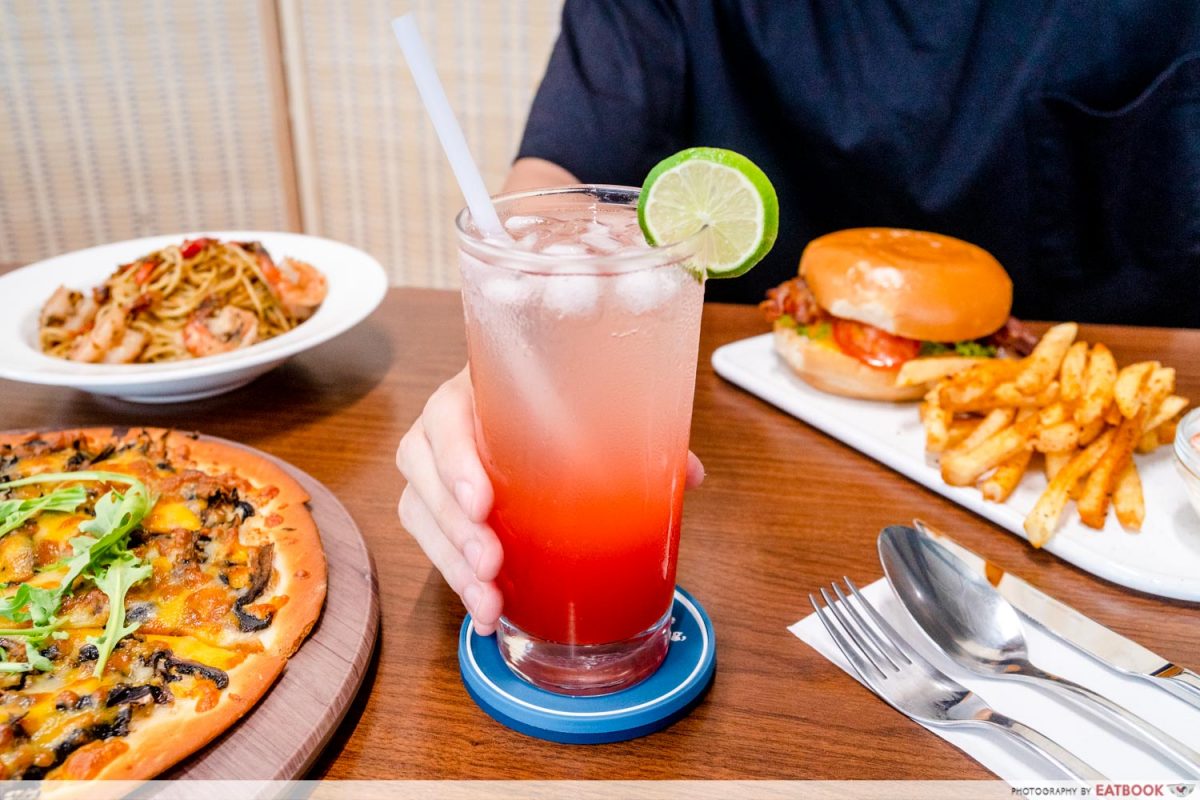 If your preferred choice of alcohol is cocktails, try their Singapore Sling ($13.91) instead, which now arrives in a pouch. Their mixture includes gin, orange Curacao, Benedictine DOM, cherry brandy, and dashes of pineapple. 
Simple instructions are given for you to self-prepare your drink, together with a can of soda water and a wedge of lime too for good measure. Their version is not overly sweet, well-balanced enough for you to still taste the essence of alcohol.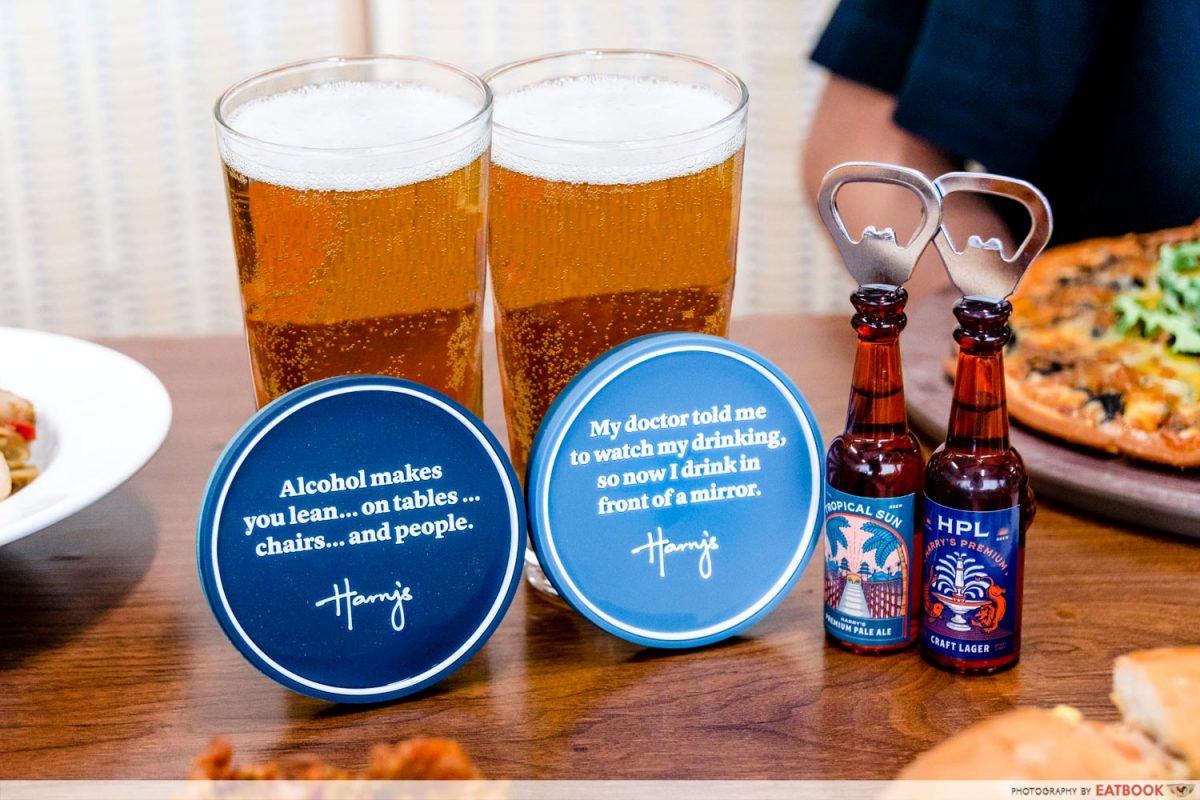 If you are a fervent supporter of Harry's, show your love by purchasing their merchandise as well. Their Harry's Fridge Magnets ($10 for a pair) are pretty much multi-purpose, as they also function as a useful bottle opener. Also, their silicone Quirky Coasters ($10 for a pack of four) are completely reusable and could come in handy too.
Photos taken by Melvin Mak
This post was brought to you by Harry's Singapore
The post Harry's Has Islandwide Delivery Promos Including 2 For $28 Nett Pizzas And Pastas appeared first on EatBook.sg – New Singapore Restaurant and Street Food Ideas & Recommendations.