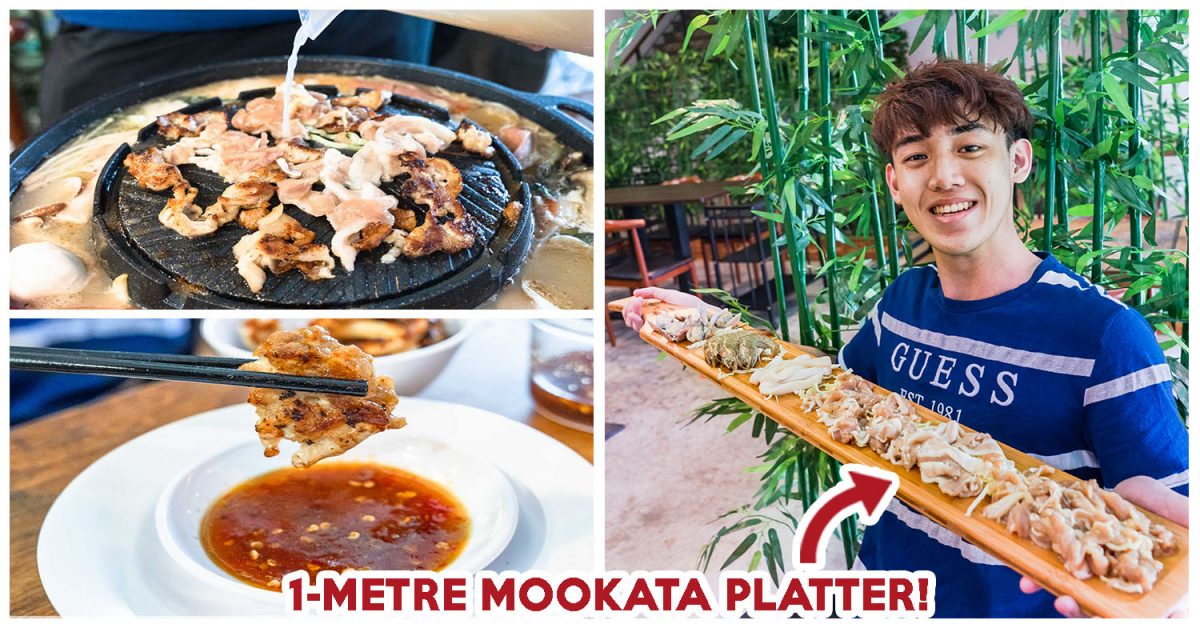 Happy Pot at HometeamNS-JOM Balestier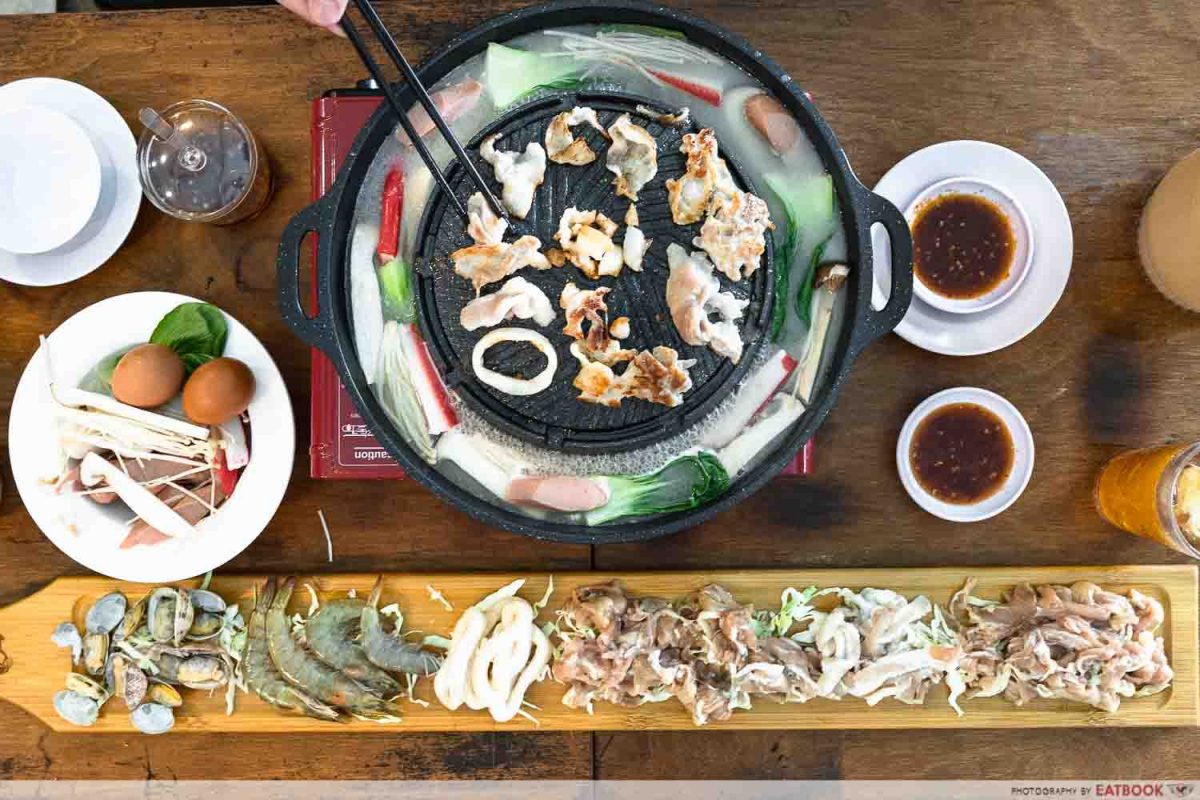 I'm sure many of us get jolted more than anything whenever we hear the term "one metre" nowadays, because of the social distancing measures enforced as a result of the pandemic. However, Happy Pot is here to turn your shock into surprise by giving their very own meaning to the term, with their One Metre Mookata Platter priced at $29.90+, designed to feed around three to four. 
Armed with a measuring tape, I ventured to their only outlet in Balestier, eager to confirm the exact length of their innovative creation, verified by a dining companion.
Phuket Town Mookata Review: Mookata With XXL Meat Mountain Platter At Ang Mo Kio
Food at Happy Pot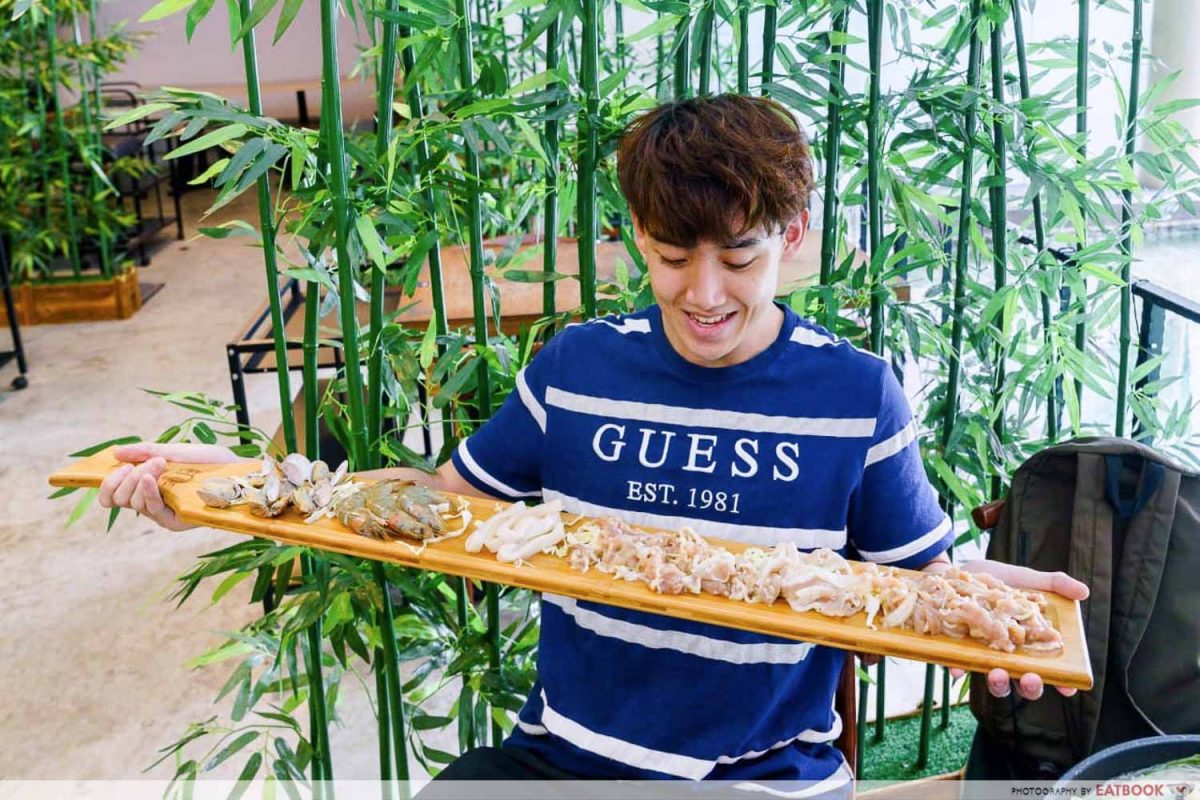 The platter itself kinda reminded me of the surface of a large cricket bat, with a whole plethora of ingredients that had me salivating when it first arrived. Six varieties of protein greeted me as I struggled to wrap my head around how all of them were able to be presented this well across all 100cm.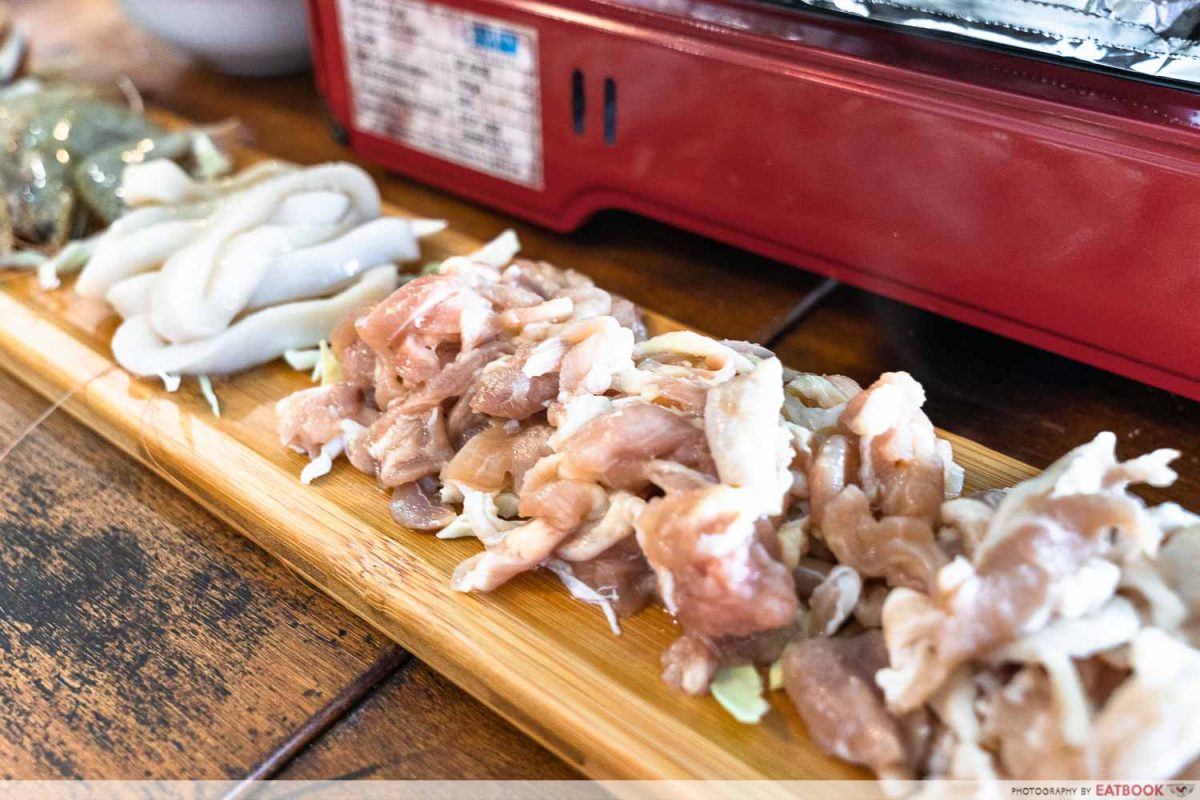 For my fellow meat-heads, they have sizable portions of both Marinated Chicken and Pork Belly for you. If you prefer the taste of the sea, peep at their decently huge Prawns, Asari Clams, and Sotong Rings too.
To add even more variety, each platter includes a selection of mixed vegetables and other familiar hotpot ingredients too. They include crab sticks, sausages, raw eggs, enoki and king oyster mushrooms, as well as fresh bok choy cabbage.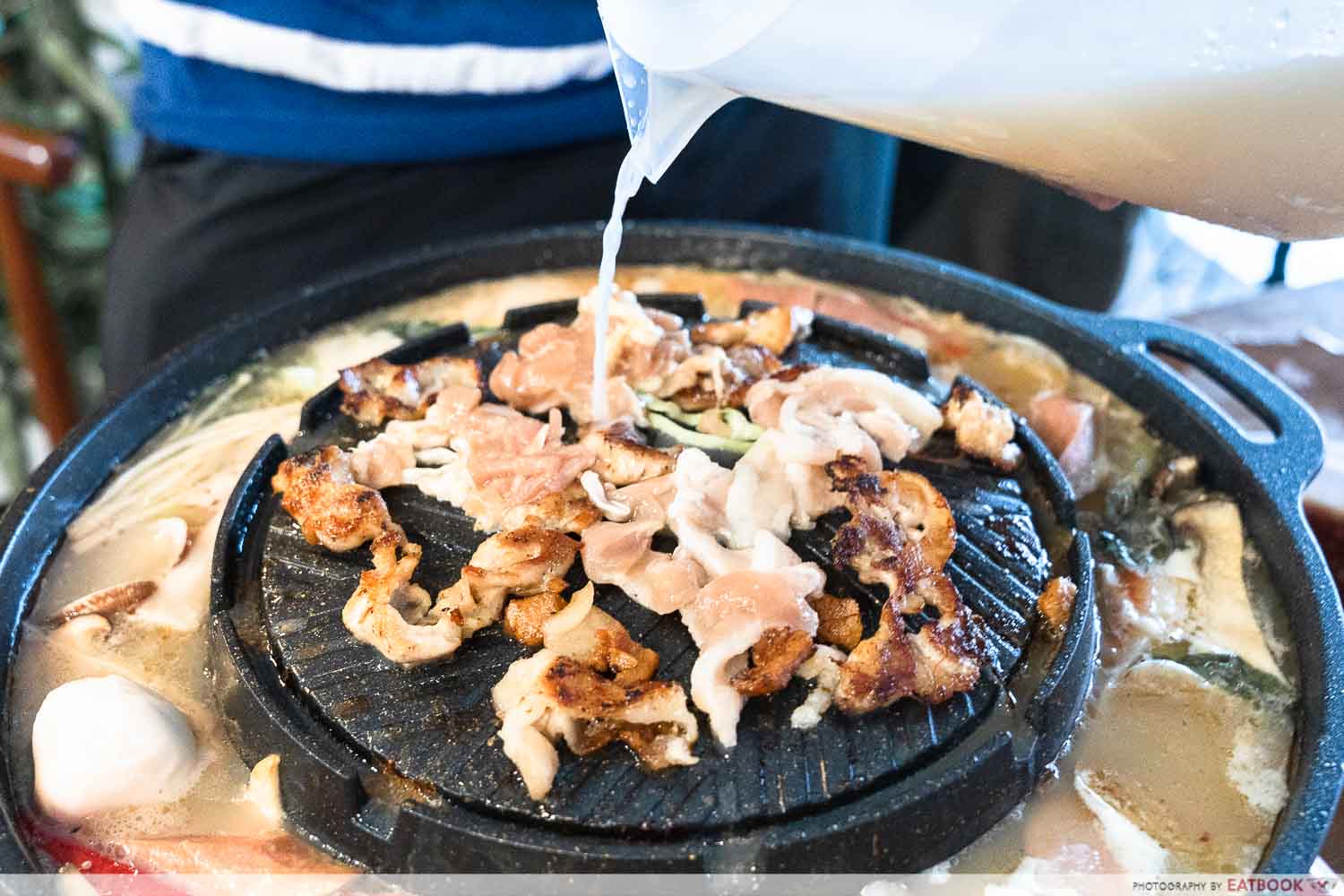 Bet you didn't know that they serve a unique tonkotsu-style broth here, so you get an extra dose of milkiness and creaminess in your mookata experience not commonly found elsewhere. Personally, I felt like the king oyster mushrooms and asari clams soaked up the broth best out of all, making for a hearty combination with the thicker soup.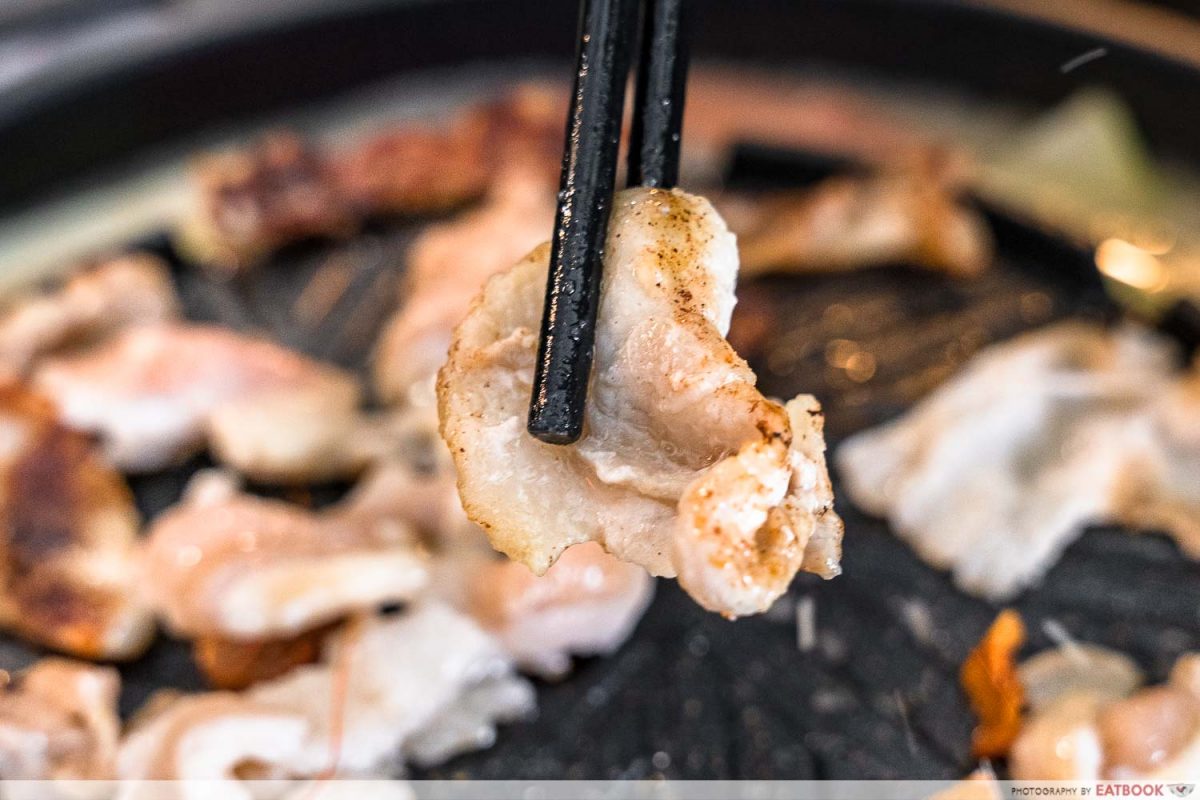 As much as I love all things porky, their pork belly just didn't hit as well as I thought it would. Sure, it was reasonably tender, with a decent ratio of gelatinous fat to lean meat. Yet, the slices were just too thin for my liking, with the fat layers having an overpowering taste. Also, it just wasn't well-seasoned, so the slices ended up being rather bland on their own.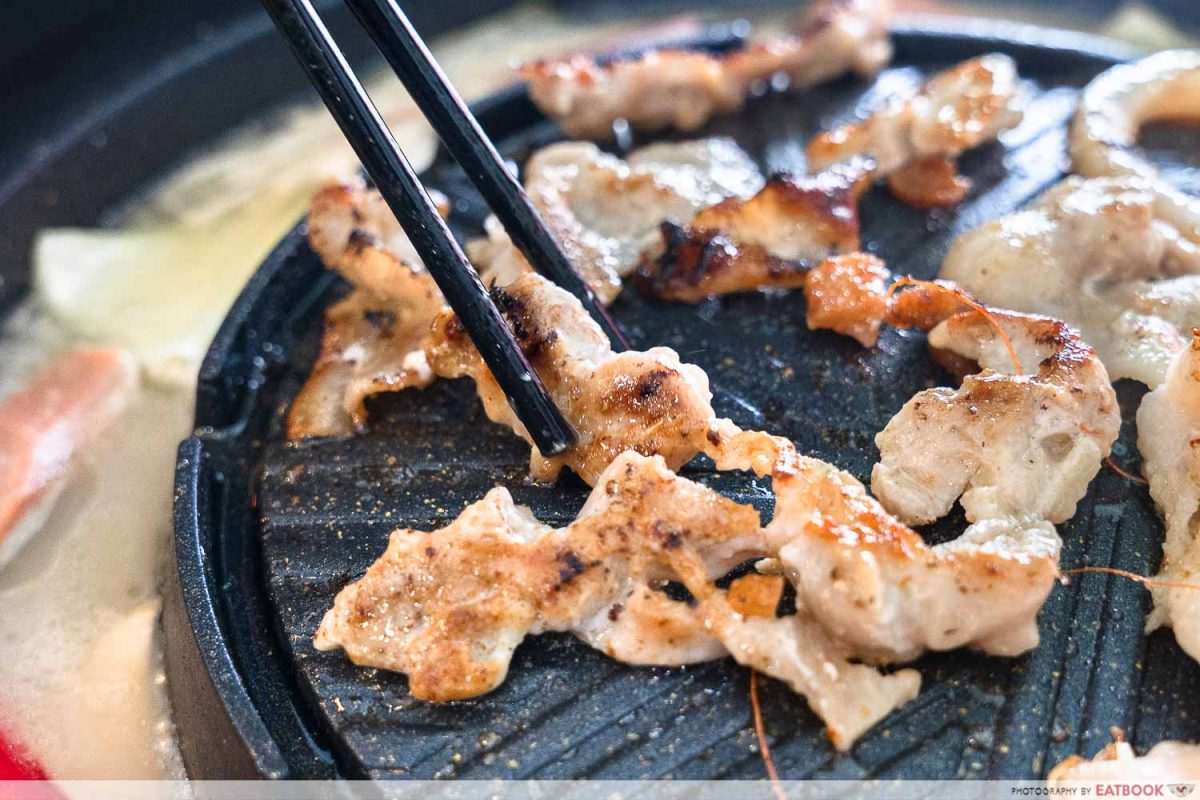 I enjoyed their marinated chicken more, as it was tender enough without being too chewy after being grilled. Unlike the pork belly, the chicken was coated in a more distinctive marinade, one which was slightly more peppery and savoury. I do wish the meat was more succulent though, as even with the marinade, it became pretty dry quite fast.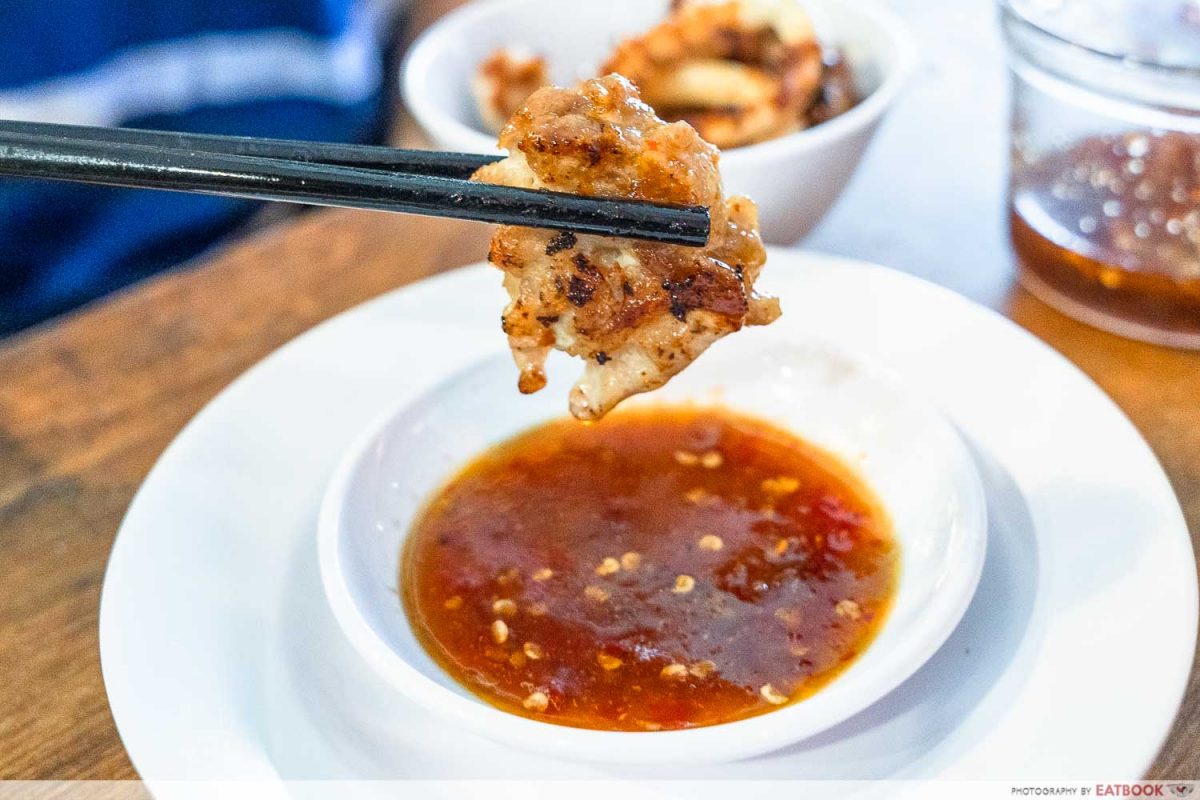 That being said, their house-made chilli sauce flew in to save the day. With mostly sweet and tangy notes reminiscent of sweet Thai chilli sauce, it infused nicely with the meat's savouriness to create a mini explosion of flavours in my mouth. With that, I constantly found myself dipping my grilled meats into the sauce to make myself feel better about the food.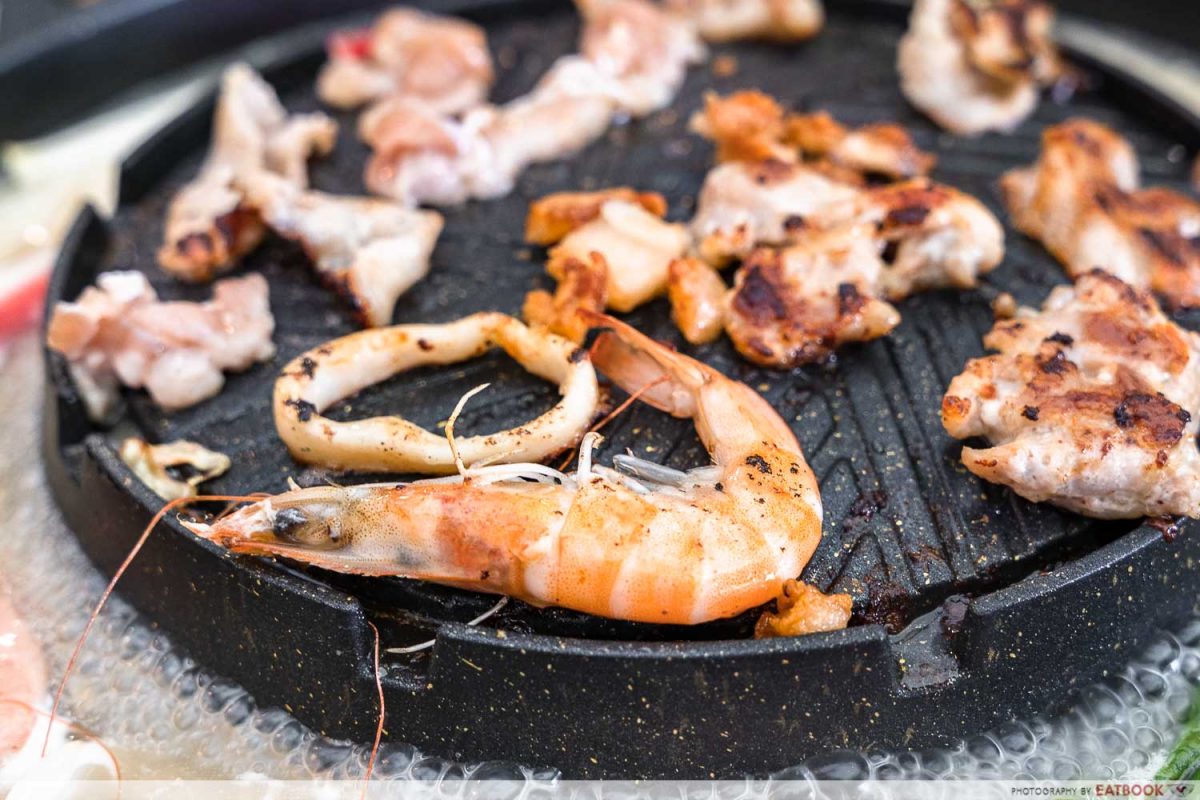 Having been called a "blur sotong" most of my life by my loved ones, I usually have to think twice before deciding whether or not to eat others of my kind. Thankfully, the squid rings were tasty enough for those thoughts to slip my mind, further aided by its relatively faster cooking time. 
The squid was rid of any fishy taste nor did it have an overly rubbery texture, with a slight char when cooked to give it a little pleasant crunch after being grilled. When cooked in the soup, it's equally as palatable, as they were soft, not overwhelmingly chewy, and easy to digest. I just wish they were a bit more generous with their sotong, to be honest.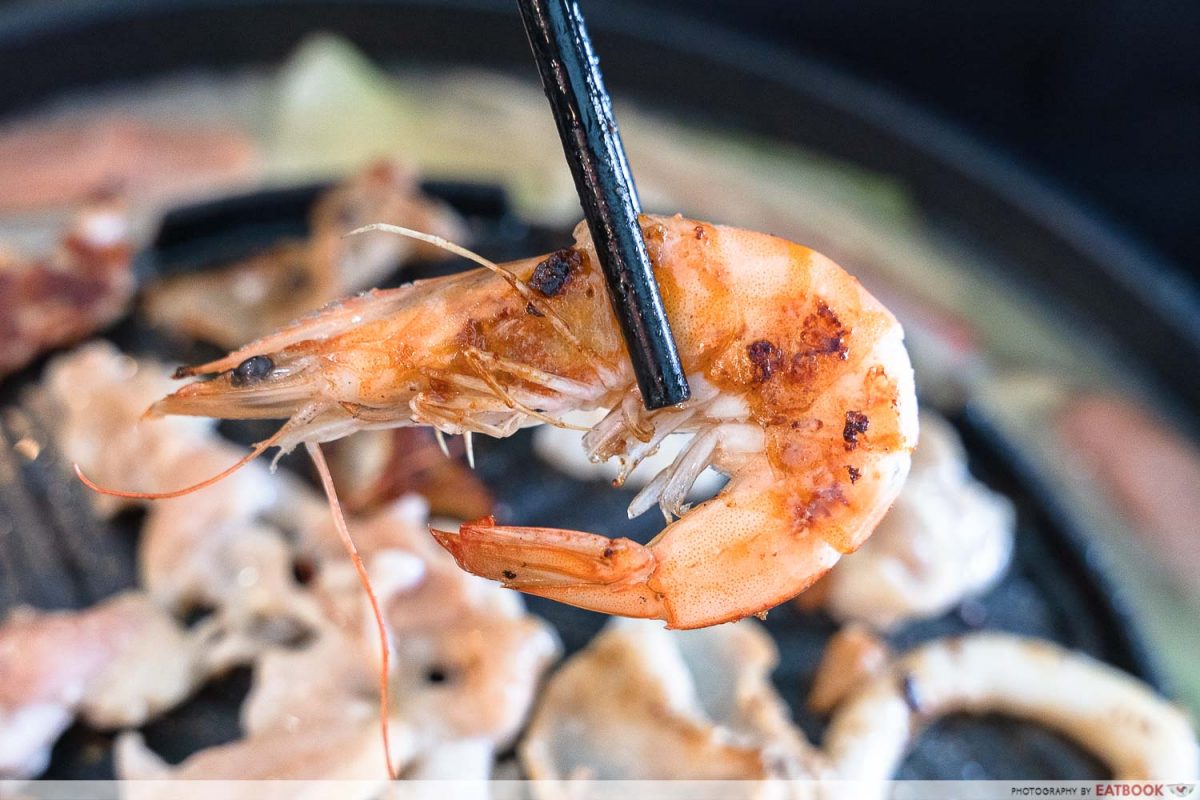 The four fresh prawns were pretty standard, as average as average can get. They were moderately fleshy and delicate, and I felt they tasted better cooked in the rich tonkotsu broth instead of being put on the grill.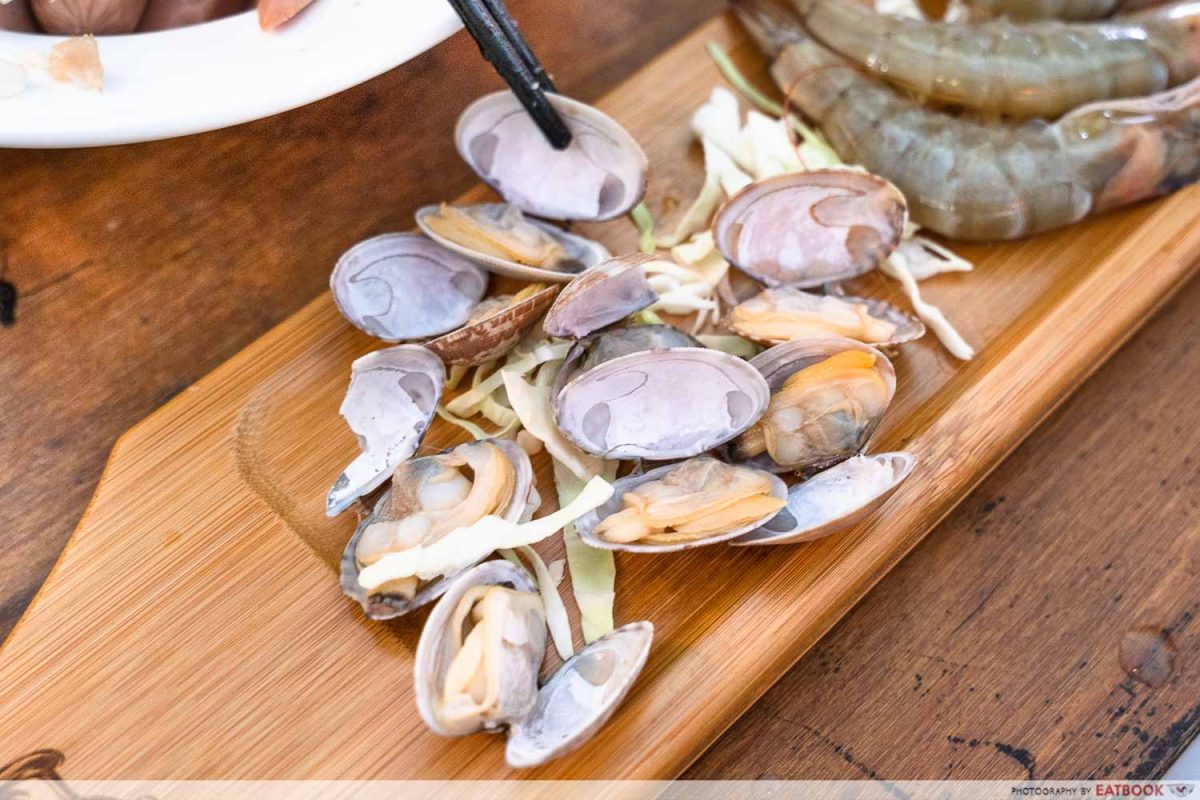 One of my must-haves at most Japanese restaurants would have to be a comforting bowl of asari miso soup. When cooked in the soup, their asari clams very much remind me of such a delicacy, with the clams adding an element of brininess that supplemented the gao-ness of the soup well. Again, it was the stinginess with the quantity of clams that was my main gripe.
Lao Dong Bei Shao Kao Review: 2-in-1 Ma La Barbecue And Hotpot Buffet In Chinatown Food Street
Ambience at Happy Pot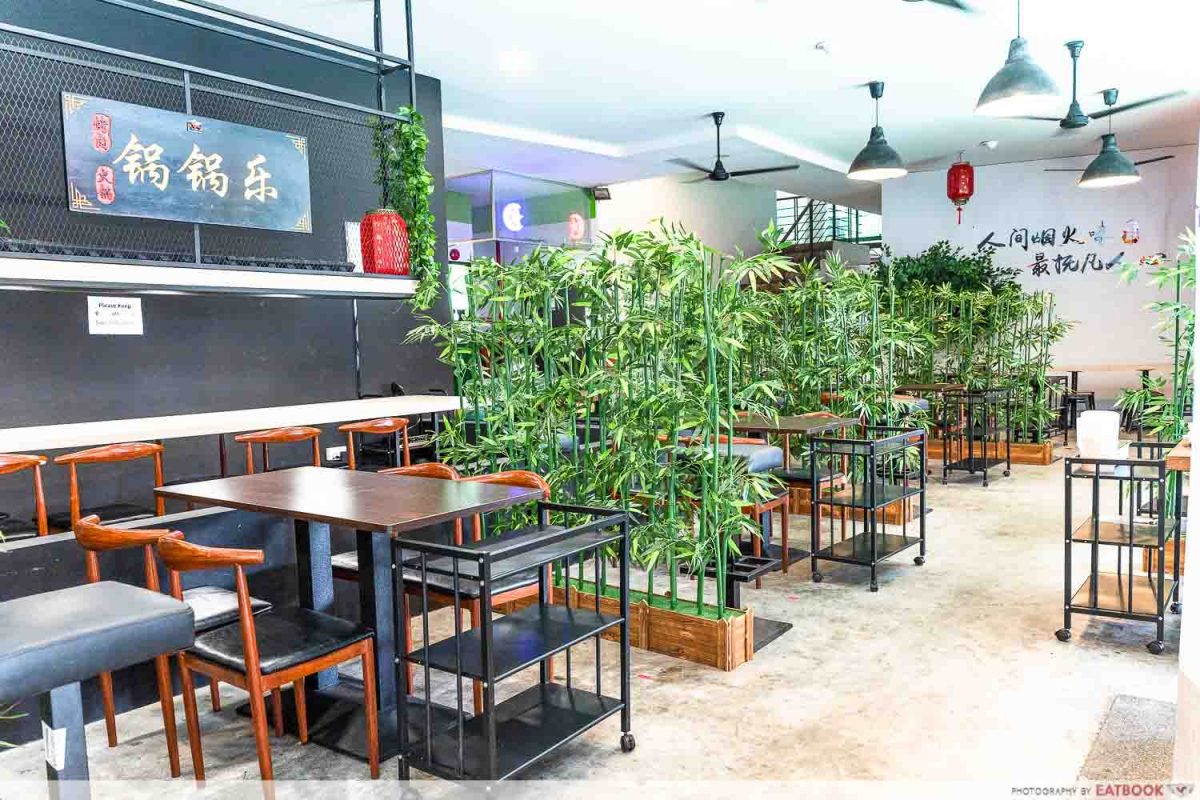 Situated inside the HometeamNS-JOM Balestier clubhouse, Happy Pot is about a 15 to 20-minute walk from Toa Payoh MRT Station, so it isn't exactly the most accessible place in the world unless you have the luxury of a car.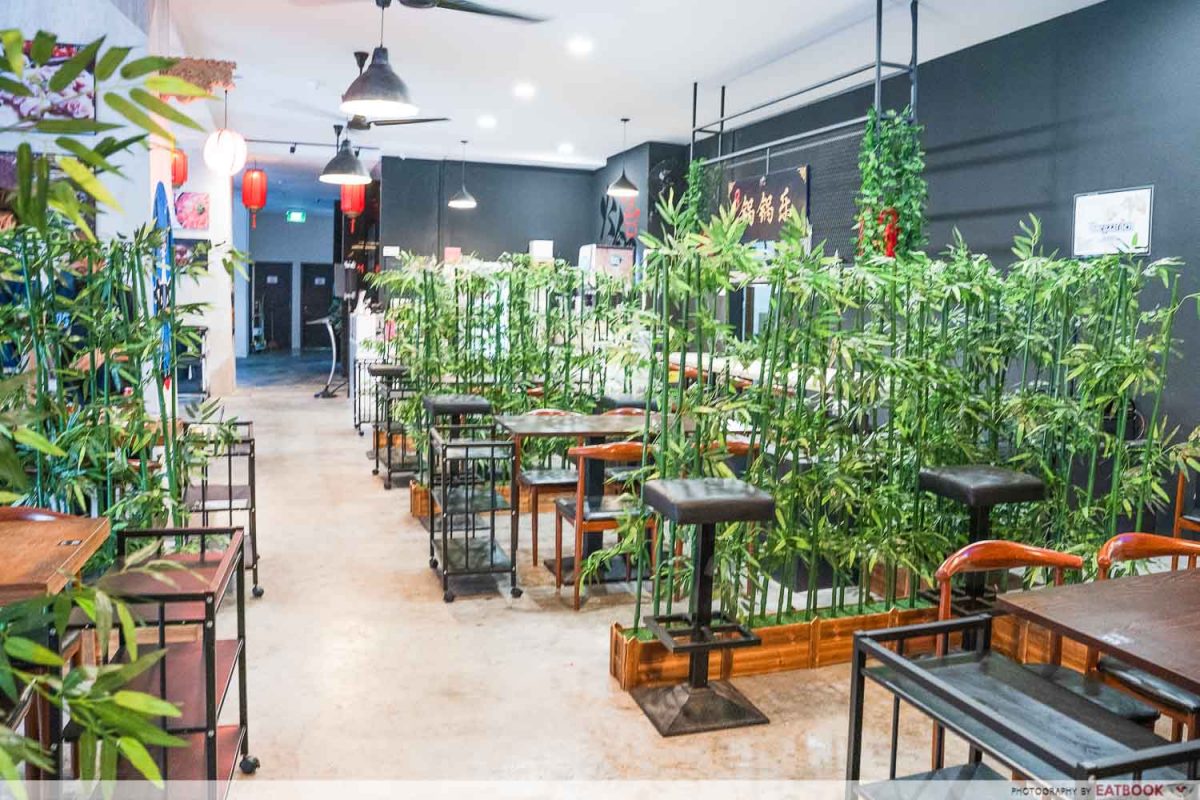 Upon walking into the eatery, I was strangely transported into one of my favourite scenes of Kung Fu Panda, of the panda protagonist Po gorging on noodles in his family's noodle shop. This is because of the presence of numerous bamboo tree displays, wooden table tops, and Chinese-style lanterns hanging from the ceiling, with a famous Chinese quote tattooed across the walls at one corner. All of these came together to produce a relaxed vibe, accentuated by its quaint enough location.
Singha Food Festival Offers Thai Restaurant Set Meals With Beer From $10 Islandwide
The verdict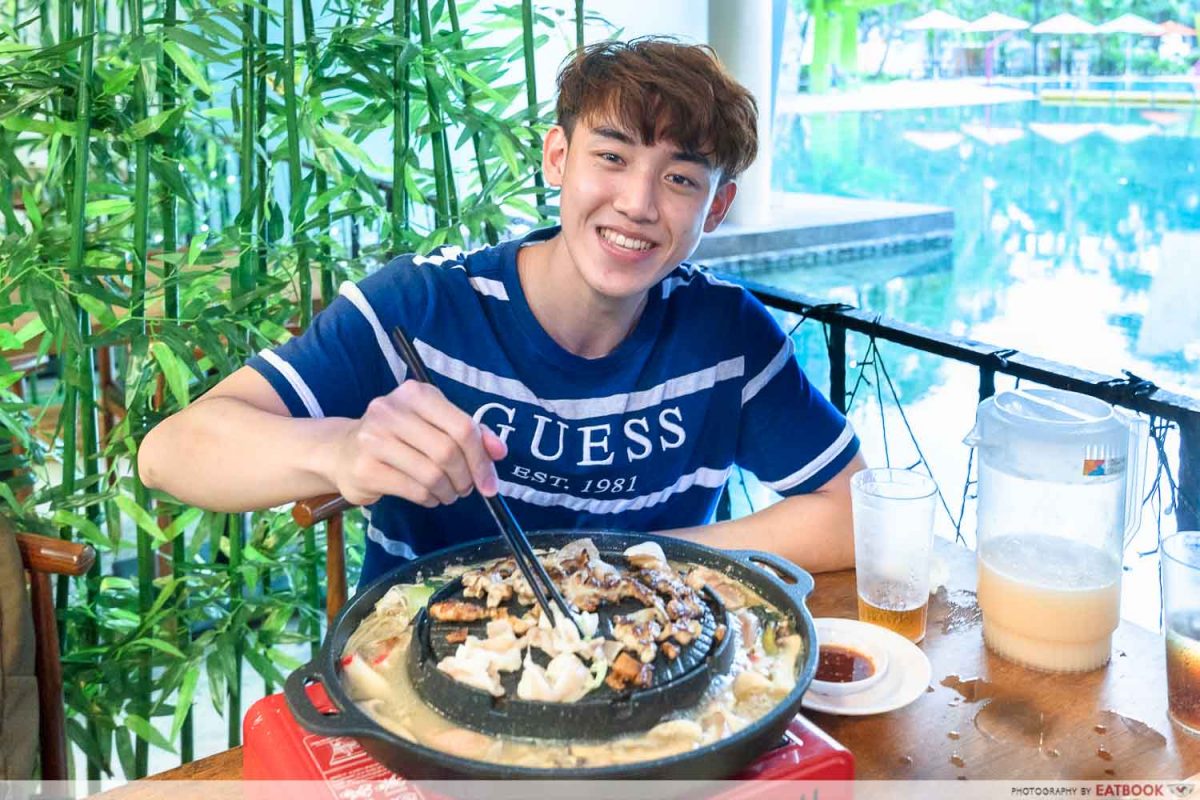 A self-professed food hypebeast, I find myself hopping on food trends that seem to be going viral more often than not, eventually arriving at Happy Pot especially since my fellow Singaporeans are always looking for all things XXL for cheap. True enough, I believe their one metre mookata platter can feed up to four, coming down to about $7.50+ a person, which is honestly really affordable. 
Yet, it's questionable how full you'll feel after depending on your appetite level, as I personally believe the platter itself is just enough to bloat two people. Though I particularly liked the squid rings, I'd say give this place a skip if you're fickle about the quality of ingredients. But, look no further if you want a no-frills, wallet-friendly mookata place.
For those looking for other mookata places around, check out our Ja Kin Mukata review for another mookata platter with 10 flavours of meat at Yishun. Alternatively, read our Phuket Town Mookata review for one with a XXL meat mountain platter at Ang Mo Kio.
Address: 31 Ah Hood Road, #01-06, HometeamNS-JOM Balestier, Singapore 329979
Opening hours: Daily 4pm to 10pm
Tel: 8857 4136
Website
Happy Pot is not a halal-certified eatery.
Photos taken by Nur Syamira.
This is an independent review by Eatbook.sg.
The post Happy Pot Review: 100cm Mookata Platter For $29.90+ In Balestier appeared first on EatBook.sg – New Singapore Restaurant and Street Food Ideas & Recommendations.