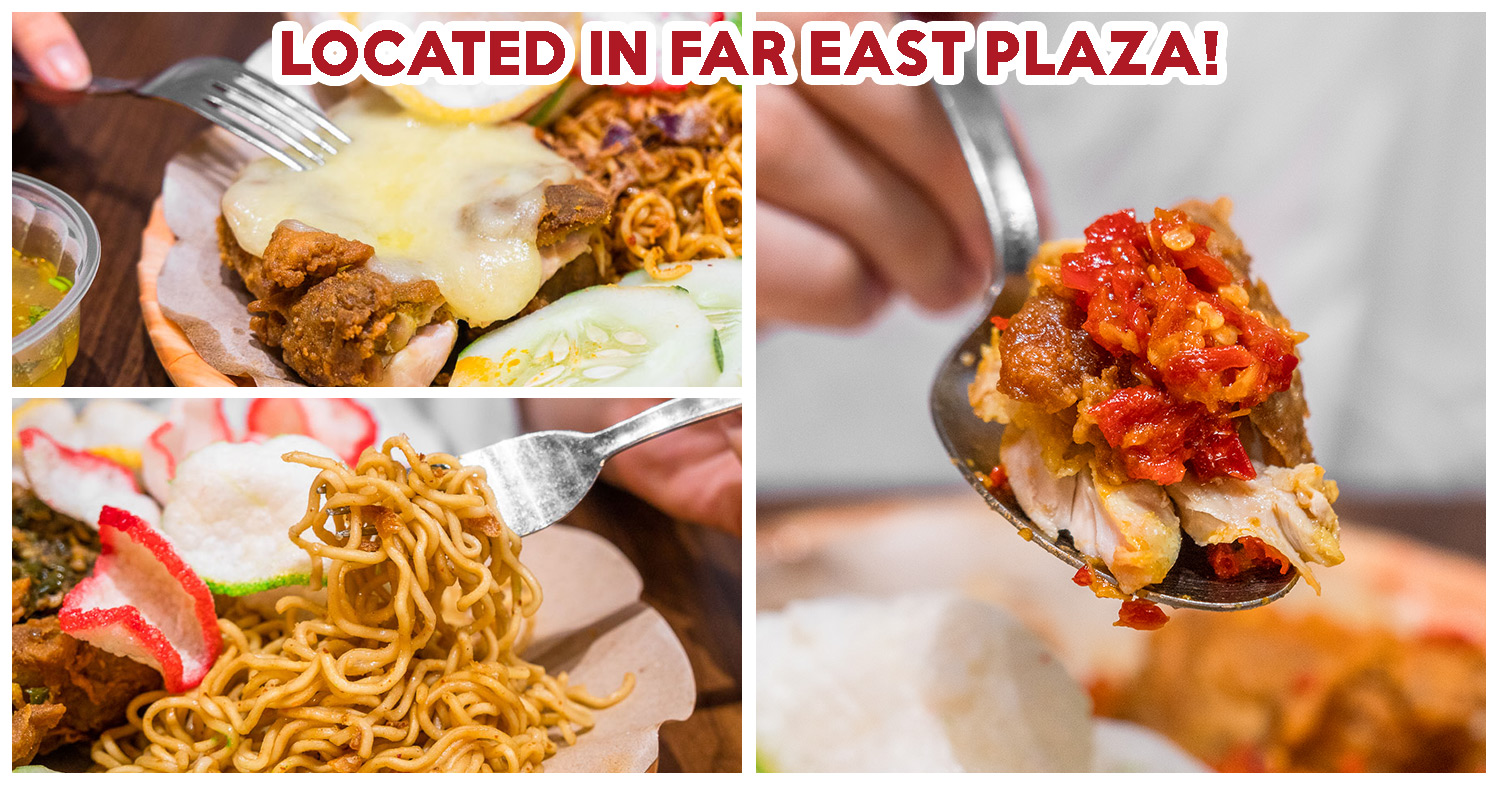 Happy Geprek in Orchard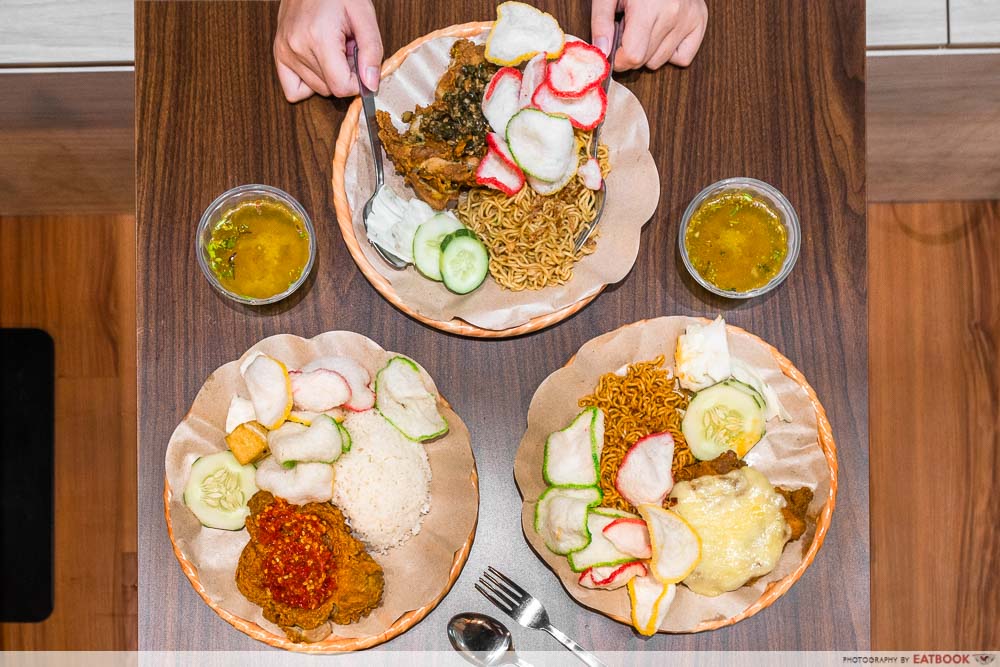 Most of us have heard of ayam penyet, an Indonesian smashed chicken dish. Ayam geprek is less common fare, with the same crushed chicken, eaten together with sambal. Curious about this dish, my colleague and I headed down to Happy Geprek in Far East Plaza, one of only a few places in Singapore selling ayam geprek.
Here, there are eight sambal selections to choose from, all of which are made in-house and differ in spice levels. You can also opt for rice or instant noodles to go along with your chicken.
Food at Happy Geprek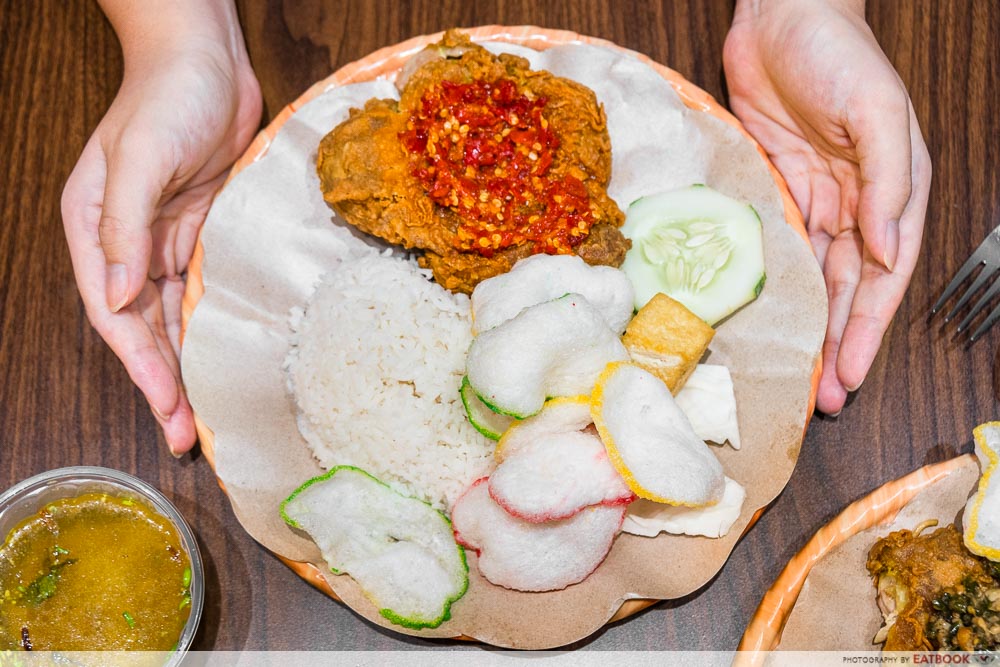 To kickstart our meal, we ordered the Ayam Geprek Rice Set ($6.50) and topped it with our choice of Merah sambal. This dish came with sambal-slathered, deep-fried boneless chicken, tau kwa, cucumber slices, keropok, rice, and a small bowl of soup.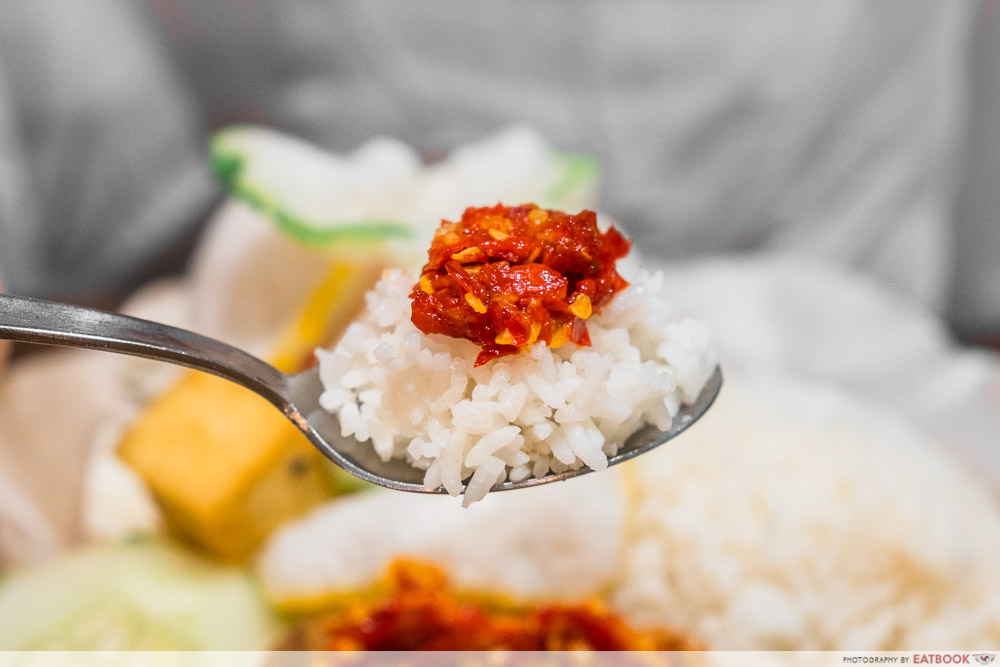 The sambal Merah sported a vibrant hue of red, looking deceptively spicy. It's traditionally made with shallots, chillies, tomatoes, and the like. Surprisingly, this sambal tended towards the lower end of the spice spectrum. In fact, it tasted a little sweet, a little acidic, and definitely brightened up the dish.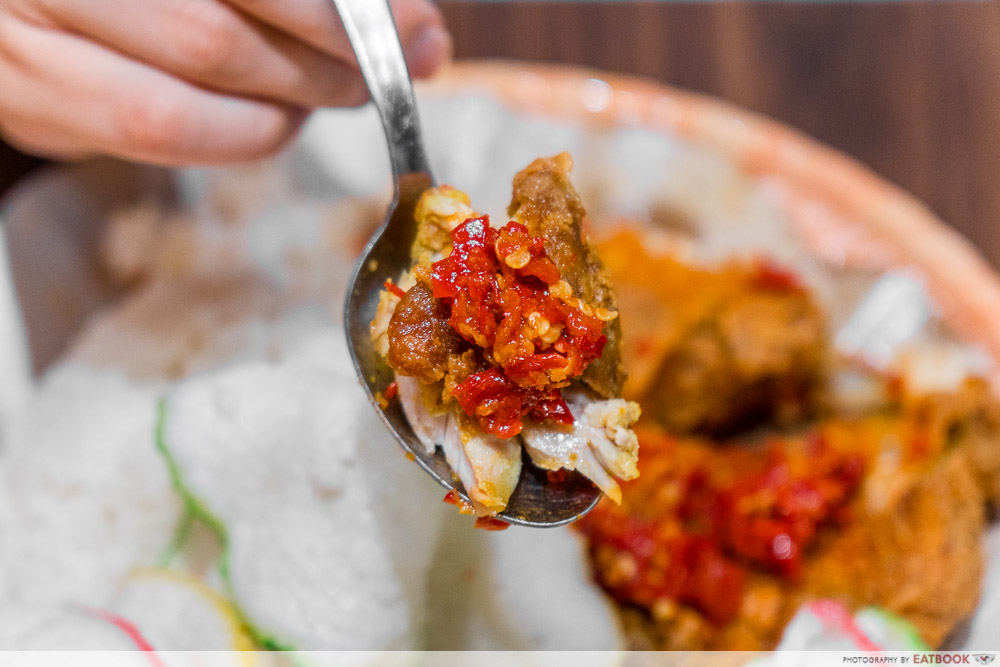 The chicken was heavy on the batter, with a nice, aerated crispiness. I also liked that it was well marinated. However, the meat was a touch dry, exacerbated by the equally dry sambal.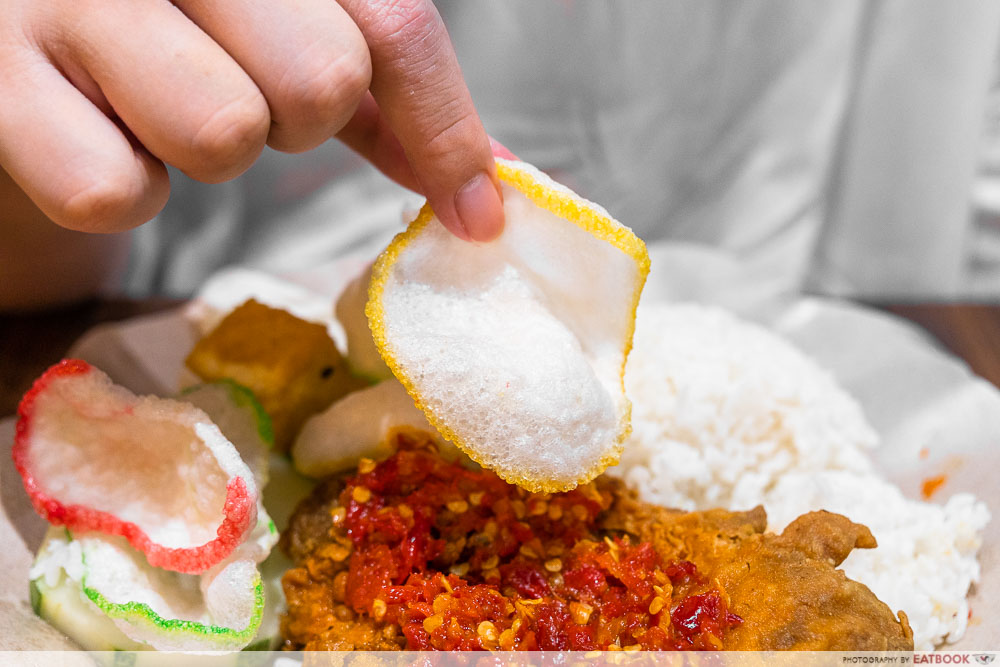 Keropok is easily one of my favourite snacks to have in Indonesia. They also make great vessels for the sambal. Here, the keropok was slightly stale, though it may be because of how we left it out to photograph the dishes. These crackers still made for addictive sides to munch on, and we cleaned them off rather quickly throughout the meal.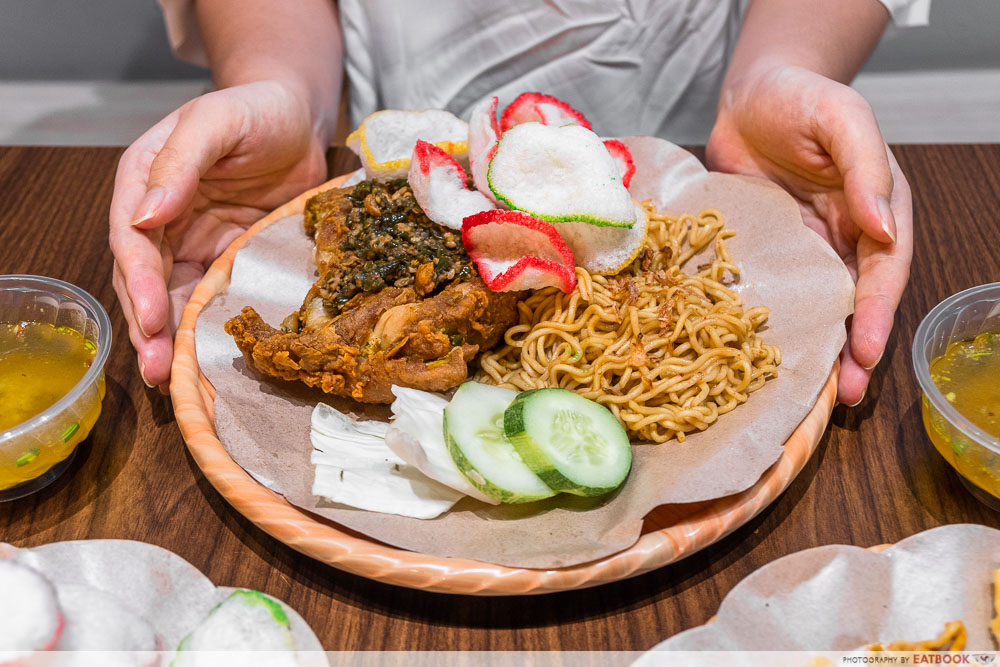 Our next item was the Indomie Geprek ($7), served with a side of Indomie noodles. For this, we topped our crushed chicken with sambal Ijo.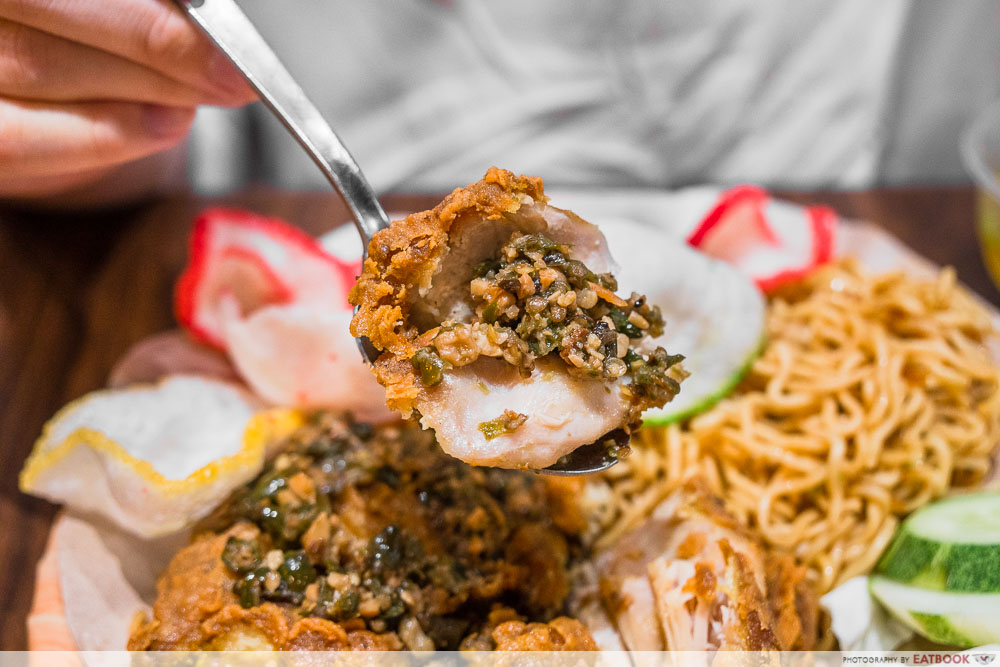 Sambal Ijo is typically prepared with long green chillies. As someone whose experiences with green chilli are limited to having it sliced and pickled, served with wonton mee or hor fun, I've always thought that they were more sweet than spicy. Don't be fooled, as this green-hued sambal is seriously piquant, leaving a belated burning sensation in our mouths. It was really aromatic though, so I found myself reaching out for more in spite of the spice.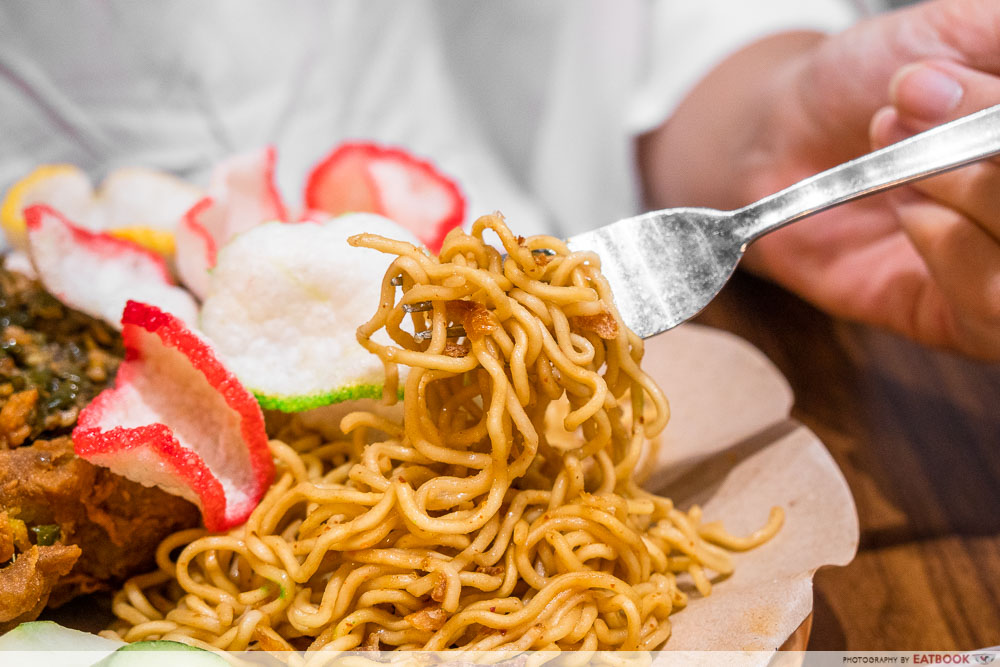 The Indomie noodles were cooked al dente, retaining a springy, QQ texture. We also had no complaints about the seasoning—salty, slightly sweet, and familiar.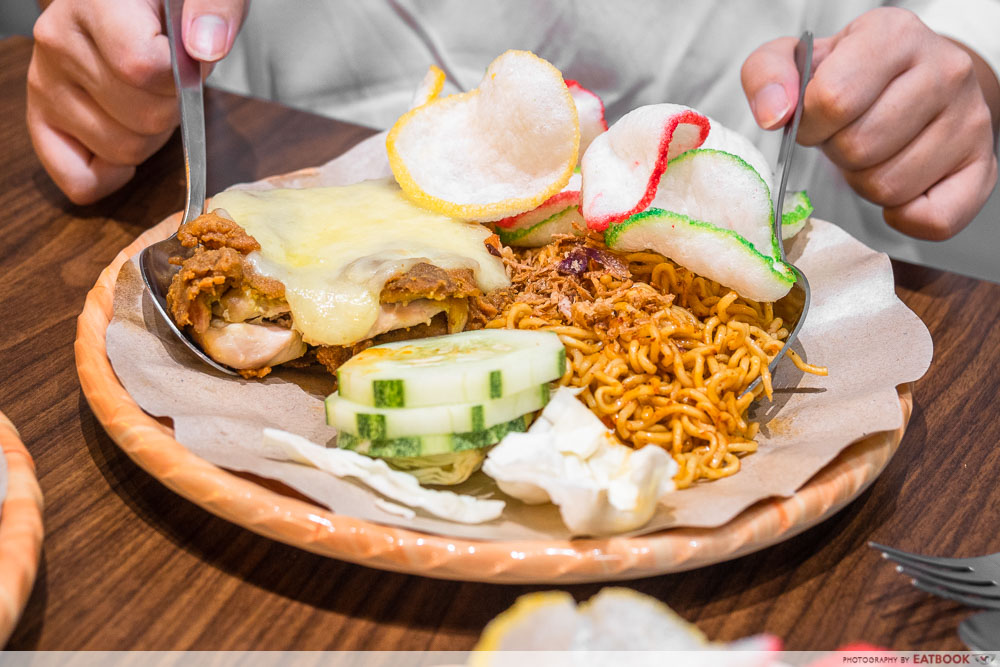 The last dish that we tried was the Spicy Mee Geprek ($7), served with spicy Maggi noodles. To combat the spice, we decided to top our chicken with Mozzarella.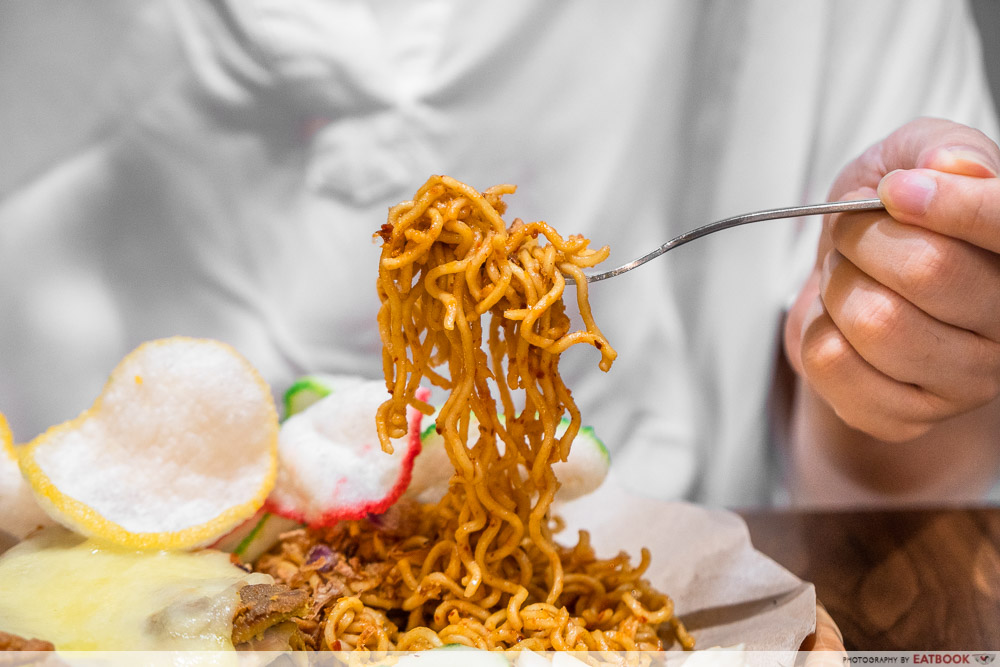 Think the heat of Samyang noodles, slightly subdued—that's what we felt the spicy Maggi noodles tasted like. We couldn't taste the spice as much as we felt a lingering tingling sensation in our mouths. Similar to the Indomie, these instant noodles were delightfully springy as well.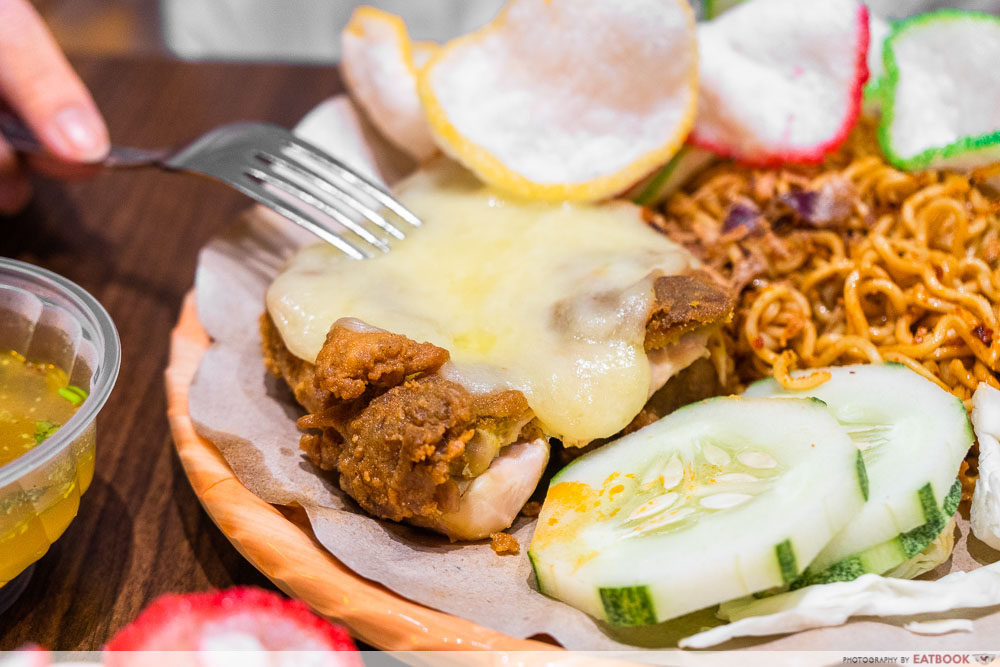 The layer of mozzarella was thick, draped over the crushed chicken like a cheesy blanket. I felt that our choice of mozzarella complemented the spicy Maggi as it helped cut through the heat, though I felt jelak after a few mouthfuls of this.
Ambience at Happy Geprek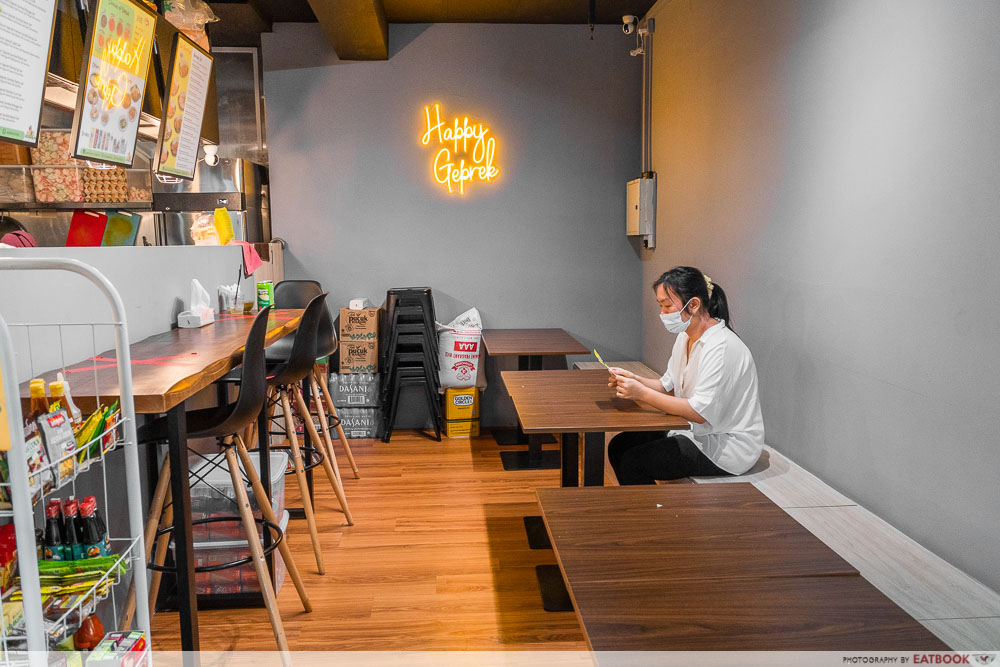 Happy Geprek is a cosy space tucked within the fifth level of Far East Plaza. It's simply furnished with wooden tables and a single neon decal, with a seating capacity of no more than 10 diners. It's also very convenient to get to by train, taking only a few minutes to walk here from Orchard MRT Station.
The verdict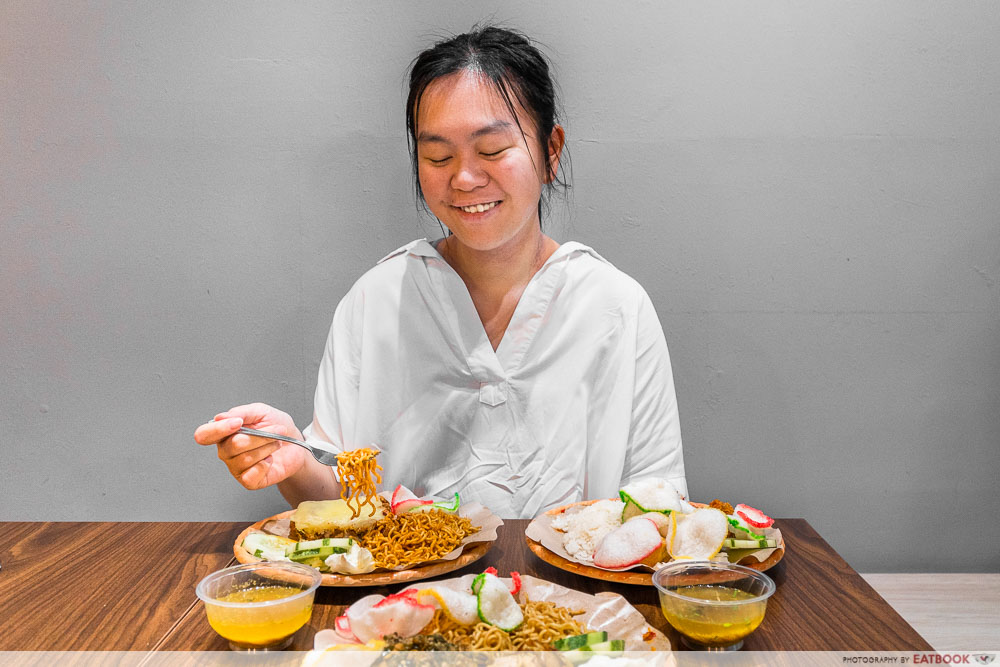 All in all, Happy Geprek makes for a good place to try out ayam geprek, especially for first-time diners who are uninitiated to this dish. While the chicken was a touch dry, the flavours worked well across the board, and I especially enjoyed the devilish sambal Ijo. Prices here are also very affordable, especially considering the eatery's central location. With that, do head down for a plate of spicy ayam geprek.
While you're here, check out our Joji Diner's review, a retro American diner with chicken waffles and decadent milkshakes. There's also our Ebi Bar review, for hae mee prepared with a modern twist.
Address: 14 Scotts Road, #05-99, Far East Plaza, Singapore 228213
Opening hours: Sun-Thurs 11am to 7:45pm, Fri-Sat 11am to 8pm
Website
Happy Geprek is not a halal-certified eatery.
Joji's Diner Review: Retro American Diner At Serangoon For Chicken Waffles And Burgers Under $12.90
Photos taken by Chew Yi En.
This is an independent review by Eatbook.sg.
The post Happy Geprek Review: Ayam Geprek And Indomie With Customisable Sambal In Orchard appeared first on EatBook.sg – New Singapore Restaurant and Street Food Ideas & Recommendations.