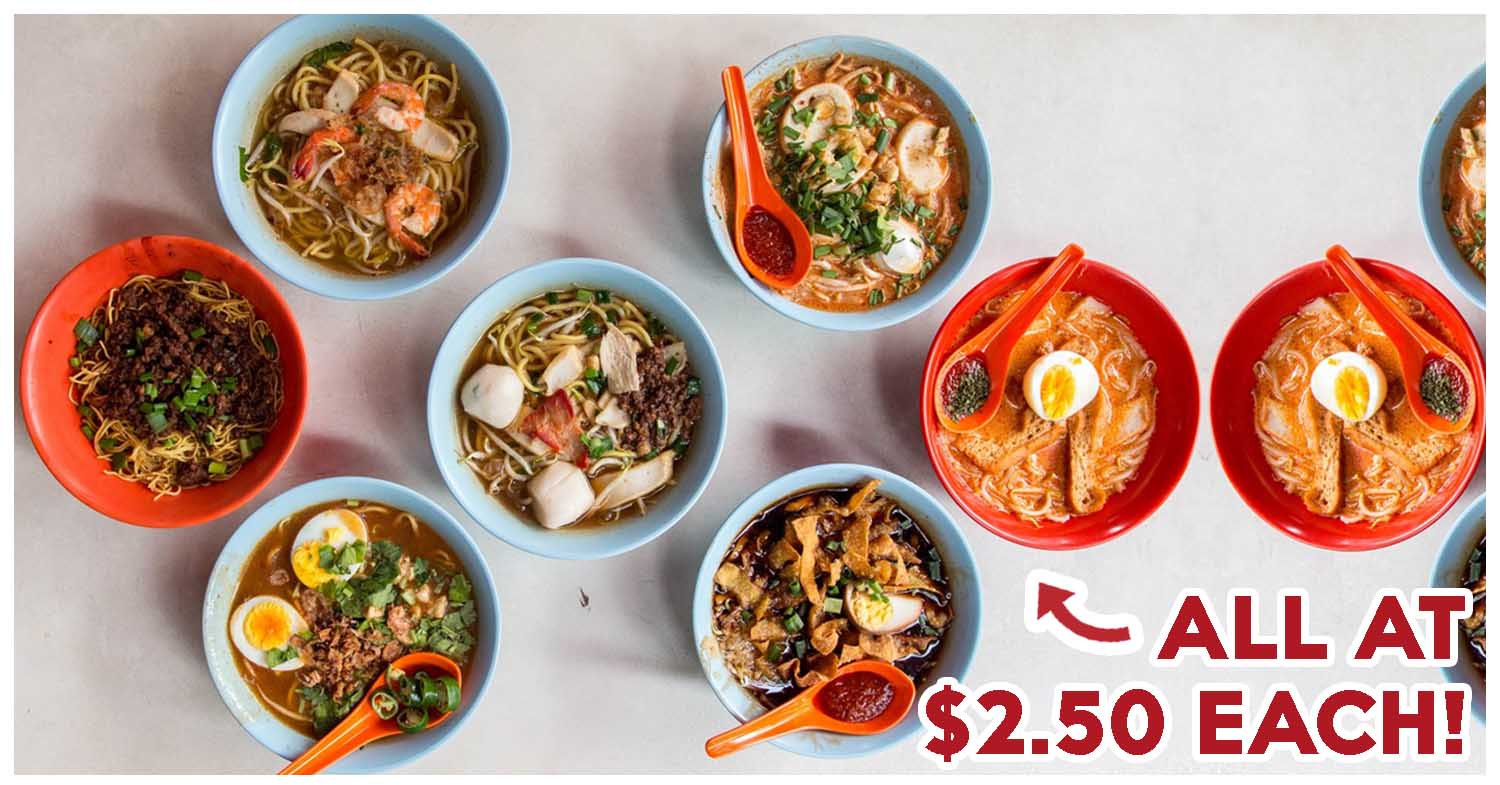 $2.50 noodles at Frenzlink Cafeteria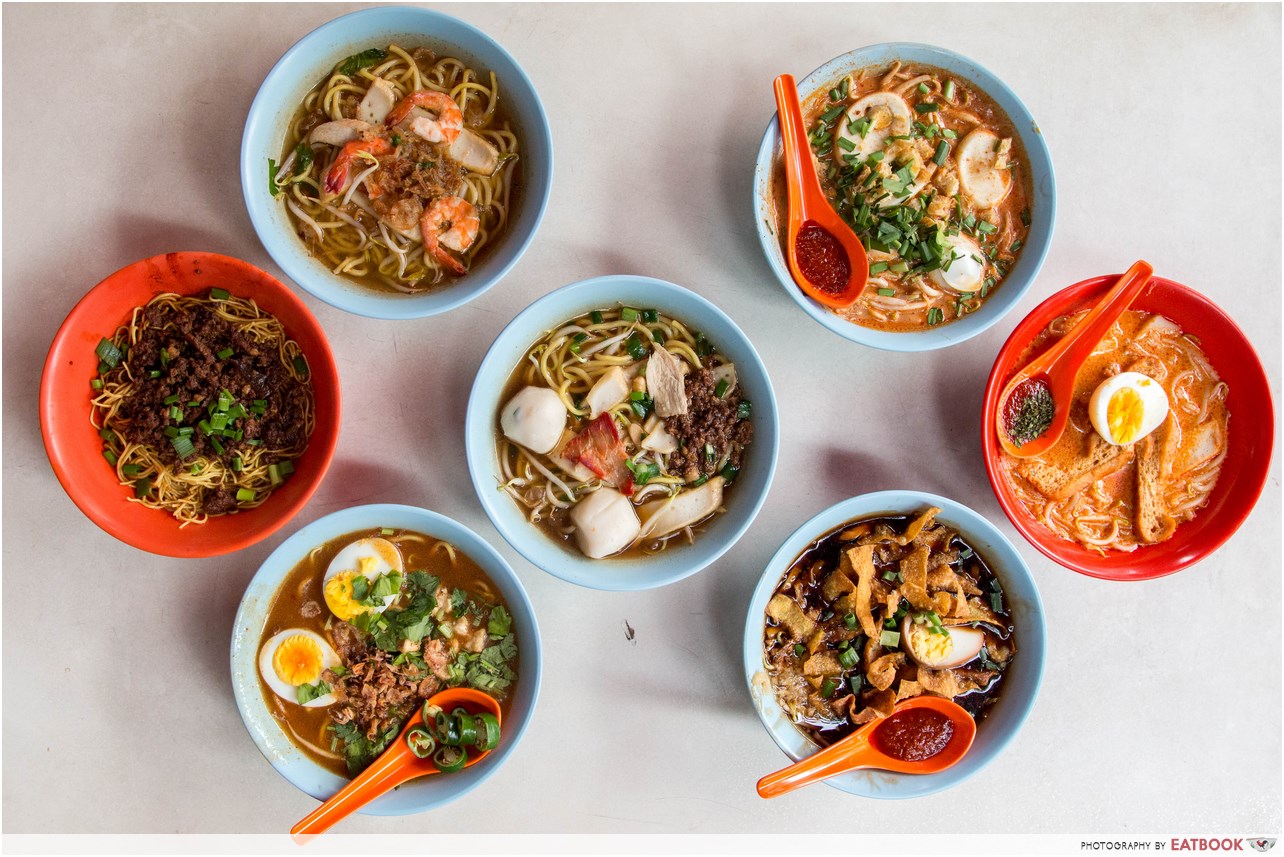 It's been a while since I've been able to buy a proper meal with a purple note. Back in primary school, $2 was enough to buy a meal, a drink, and have some coins left to accumulate over the week so I could treat myself to that fancy new shaker pencil at the school bookshop. Now, with $2, I settle for perhaps a hotdog bun, or just a drink. Never did I expect to find a stall still selling noodles of comparable size to those we'd typically pay over $3 for in a hawker centre for only $2.50 at Frenzlink Cafeteria.
Uncle Ah Cai from Frenzlink Cafeteria starts each weekday at 3am in order to get to his stall by 4am, when he starts preparing the food for the day. He opens the shutters at 6am, but do note that the noodles are only typically ready for sale at 7am.
Pre-COVID, everything would usually be sold out by 2pm, when he would it a day, although the dwindling CBD crowd has left his business badly affected. Only once in the past 28 years that Uncle Ah Cai has been in business has he raised the prices of his noodles—from $2 to the current $2.50.
Food at Frenzlink Cafeteria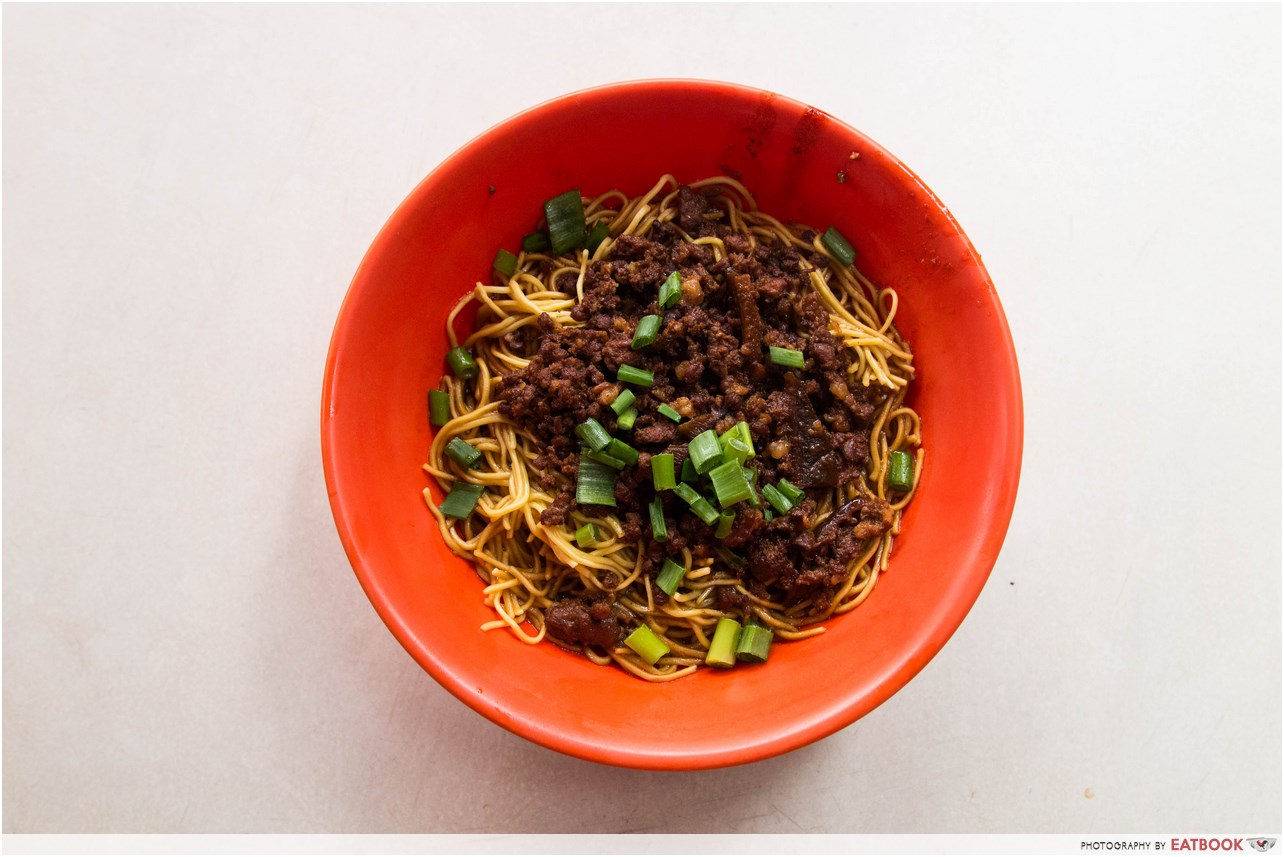 Frenzlink Cafeteria offers eight noodle dishes. Being only $2.50 each, we decided to try them all. Heading down to Frenzlink, we'd heard their Wanton Mee was the most popular, and is often sold out early. True to word, arriving before the lunch crowd well before noon, the wonton mee was already sold out, so we settled for the remaining seven dishes.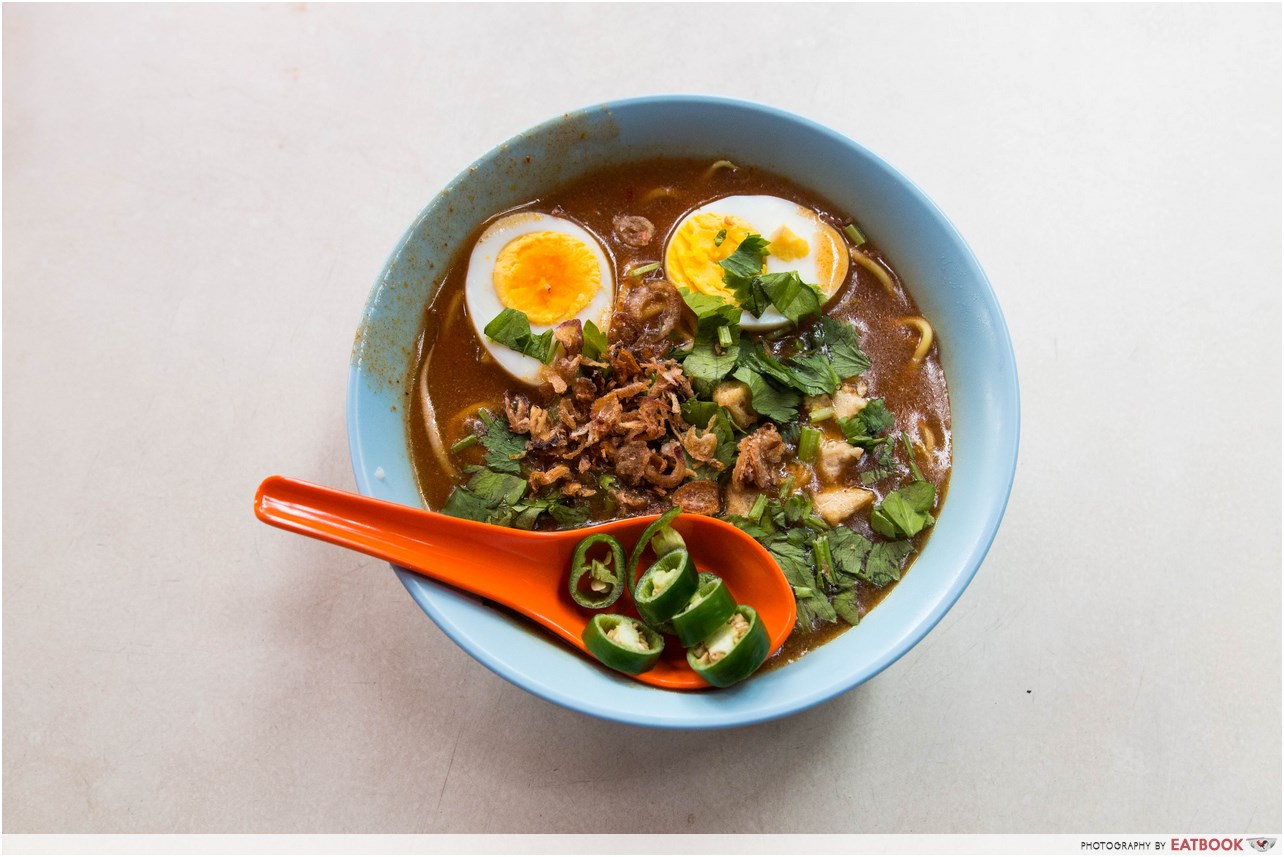 We decided to try the three spicier dishes that came with sambal first, before relieving our tongues with the remaining four dishes. We started off with Mee Rebus, which was hands down, my favourite dish of the day. The gravy of the mee rebus was rich and thick, coating the back of our spoons and the yellow egg noodles.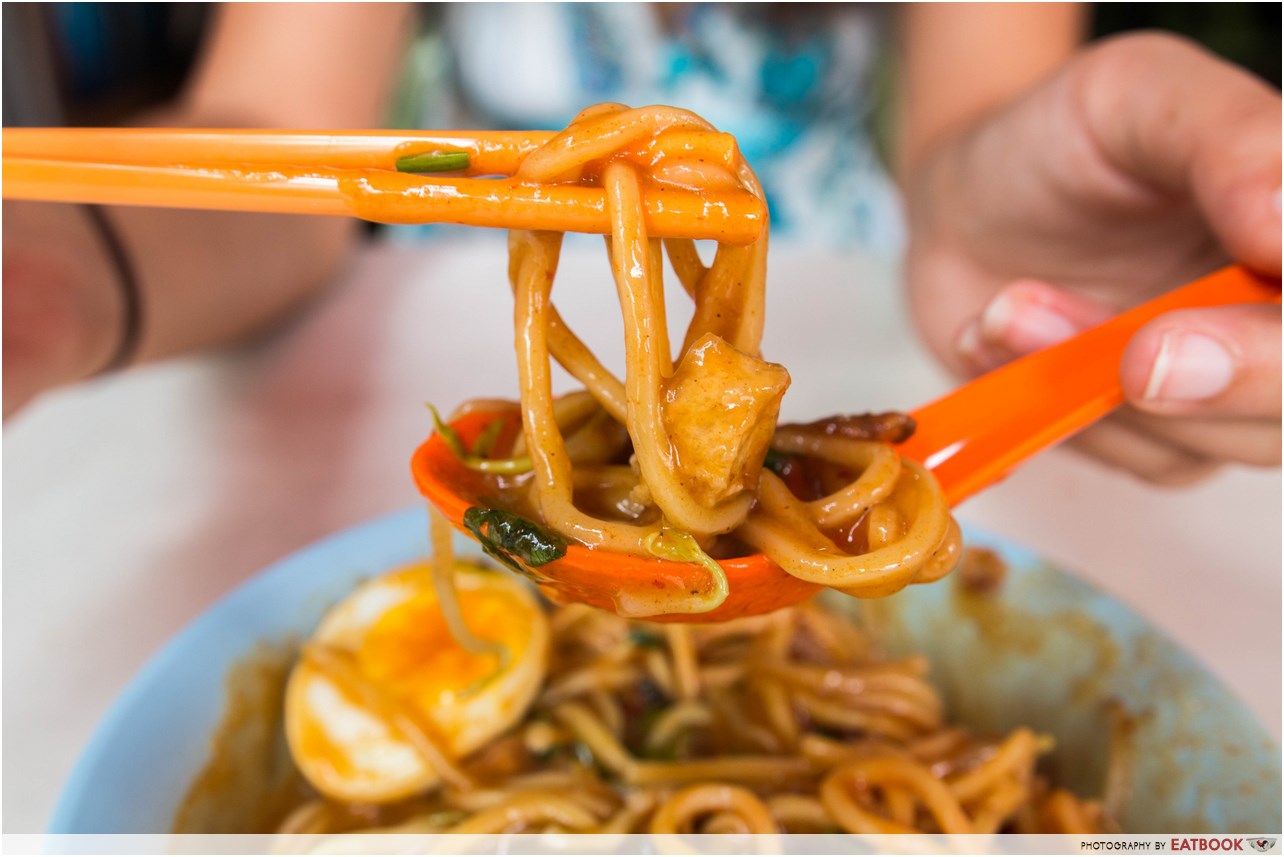 It was missing a good squeeze of lime, but other than that, the dish was pretty well put together. There was a generous serving of noodles, bean curd, egg, and bean sprouts, as well as cut green chilli, which added a nice kick to the dish, even though we felt that the gravy itself could have been a tad spicier.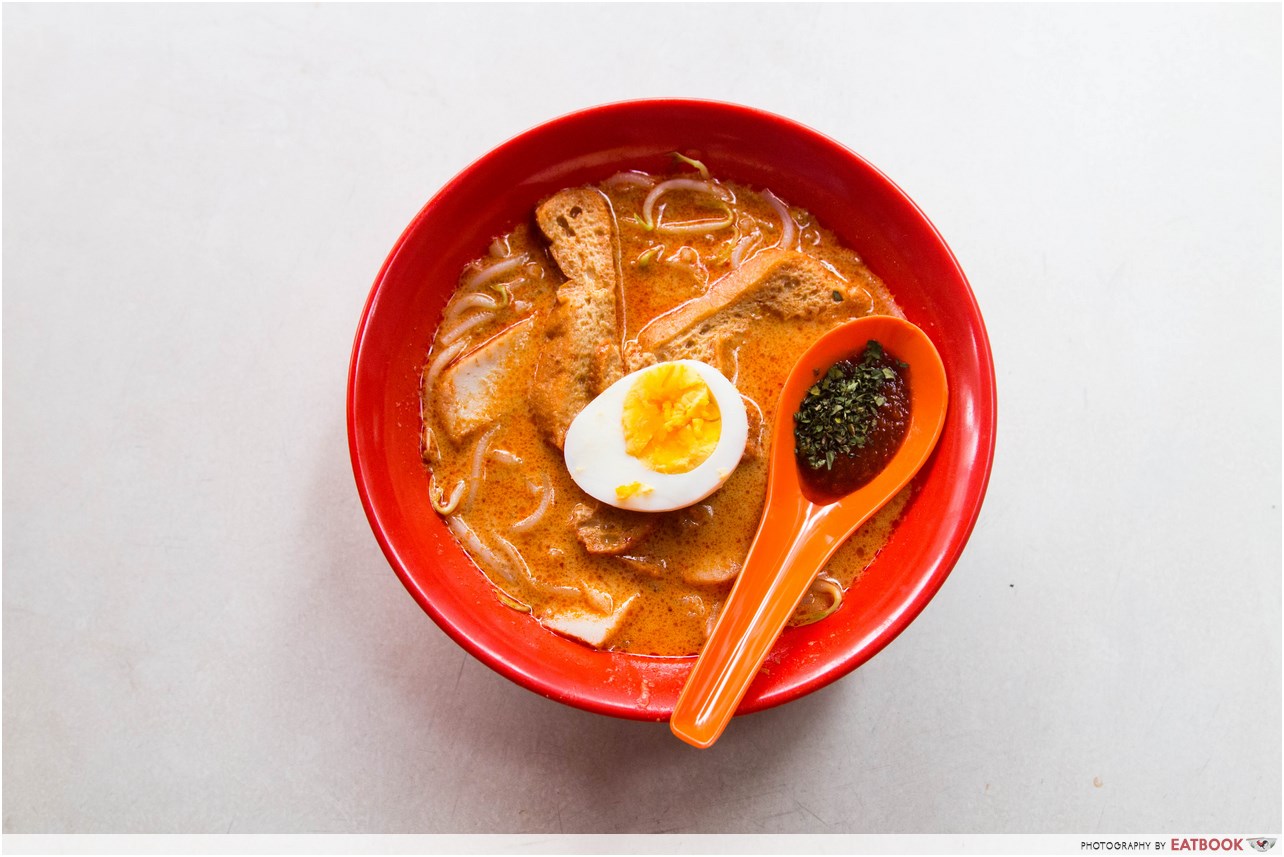 We next decided to go for Laksa. Any good laksa is comprised of at least these few elements: a spicy broth with undertones of coconut, and of course, the flavour from the laksa leaves, thick rice noodles, prawns, taupok, egg, and preferably some additional sambal on the side. Frenzlink, overall, did a decent job of this.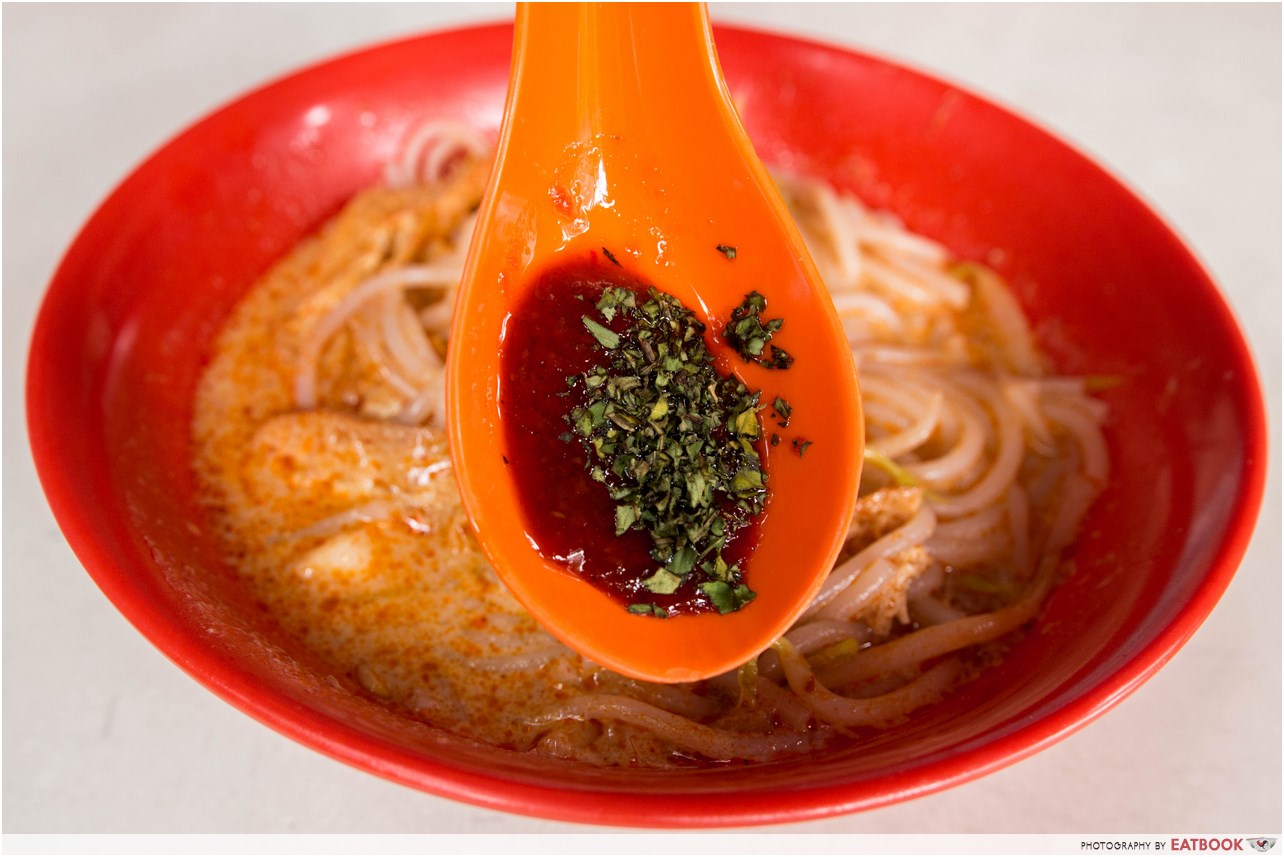 My only qualm was that the laksa contained no prawns, cockles, or any semblance of seafood, and the sambal provided was more sweet than spicy, making the broth slightly lacking in terms of that special kick. It did, however, deliver in terms of the strong coconut and laksa flavours, and was also one of the better dishes of the day.
The last of the spicy dishes, Mee Siam, surprised us the most—but not in a good way. The spiciest of the three, the gravy of the mee siam was strange, to say the least. It was extremely thin and watery, and tasted like plain coconut milk, lacking the usual flavour of soy beans and dried shrimp.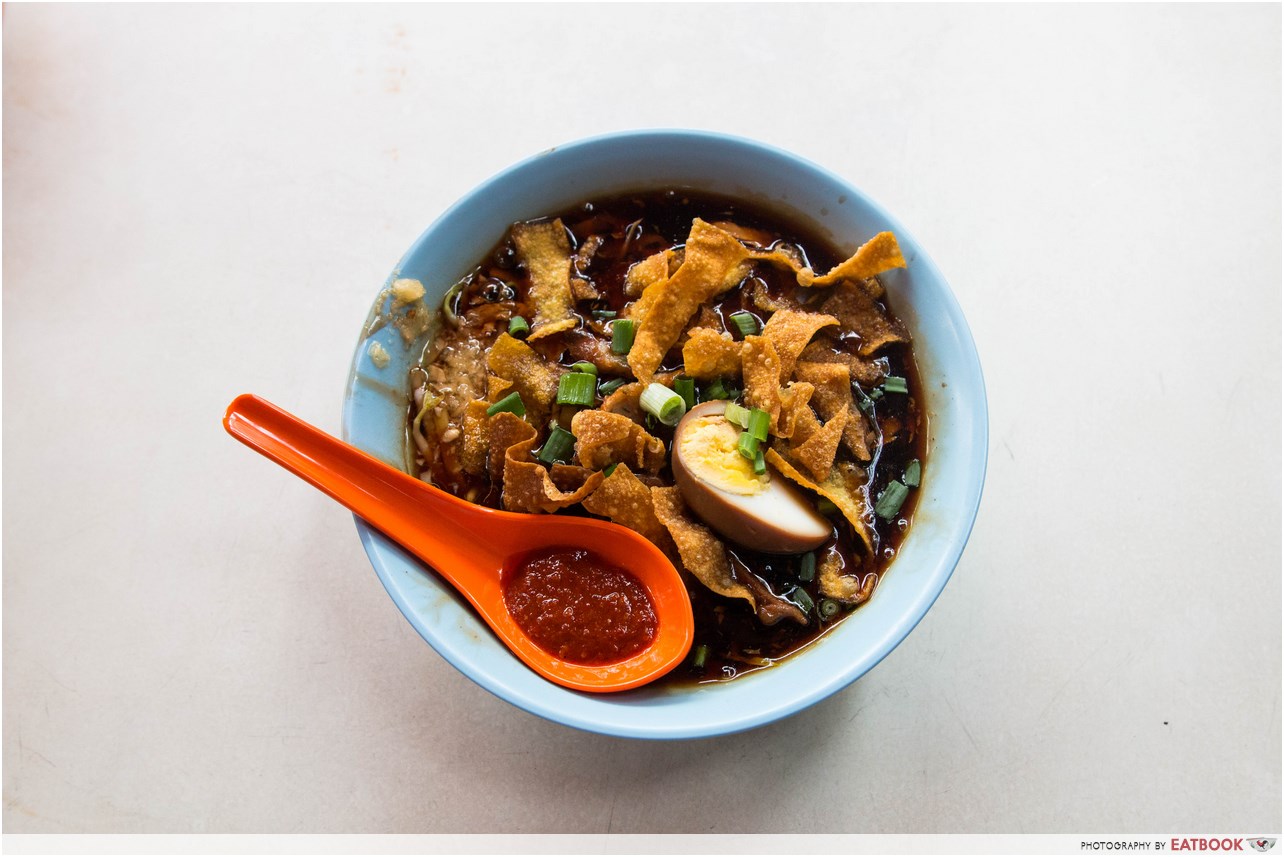 When I think of Lor Mee, I typically think of just thick flat noodles in a thick and sticky gravy.
Frenzlink one-upped this with the addition of crispy wonton skins, adding some texture in the form of a good crunch. The gravy itself was pretty standard—a tad too salty for my liking, but well enjoyed by the rest. We heard that sometimes, the lor mee comes with braised pork belly as well.
The Bak Chor Mee here was beyond generous with their toppings of meat and mushrooms, but I found them overly smoky, the noodles lacking the characteristic taste of vinegar associated with BCM. The noodles were also plentiful, but were a bit too dry, although the addition of the soup that came with it was a quick fix.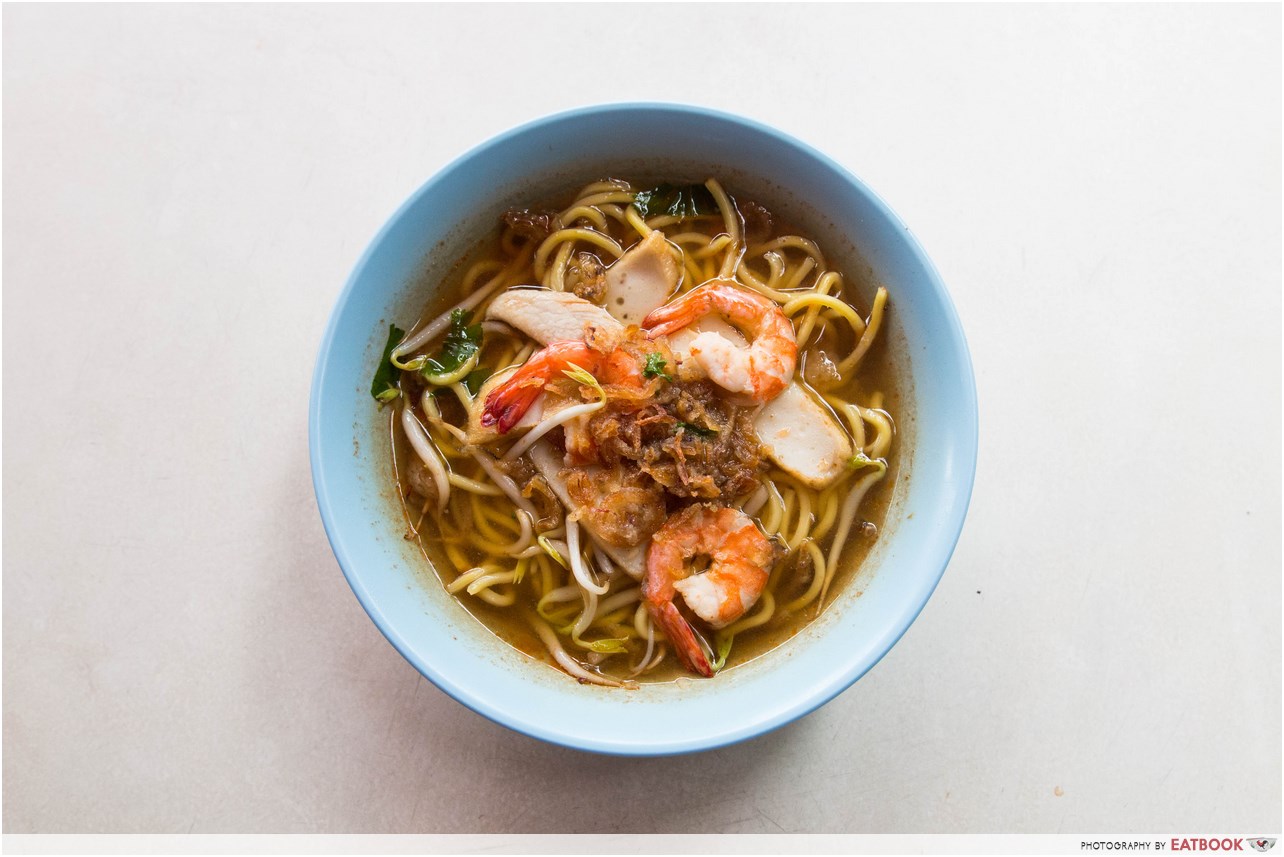 The Prawn Mee and Fishball Noodles were very similar, with a few differences in terms of toppings.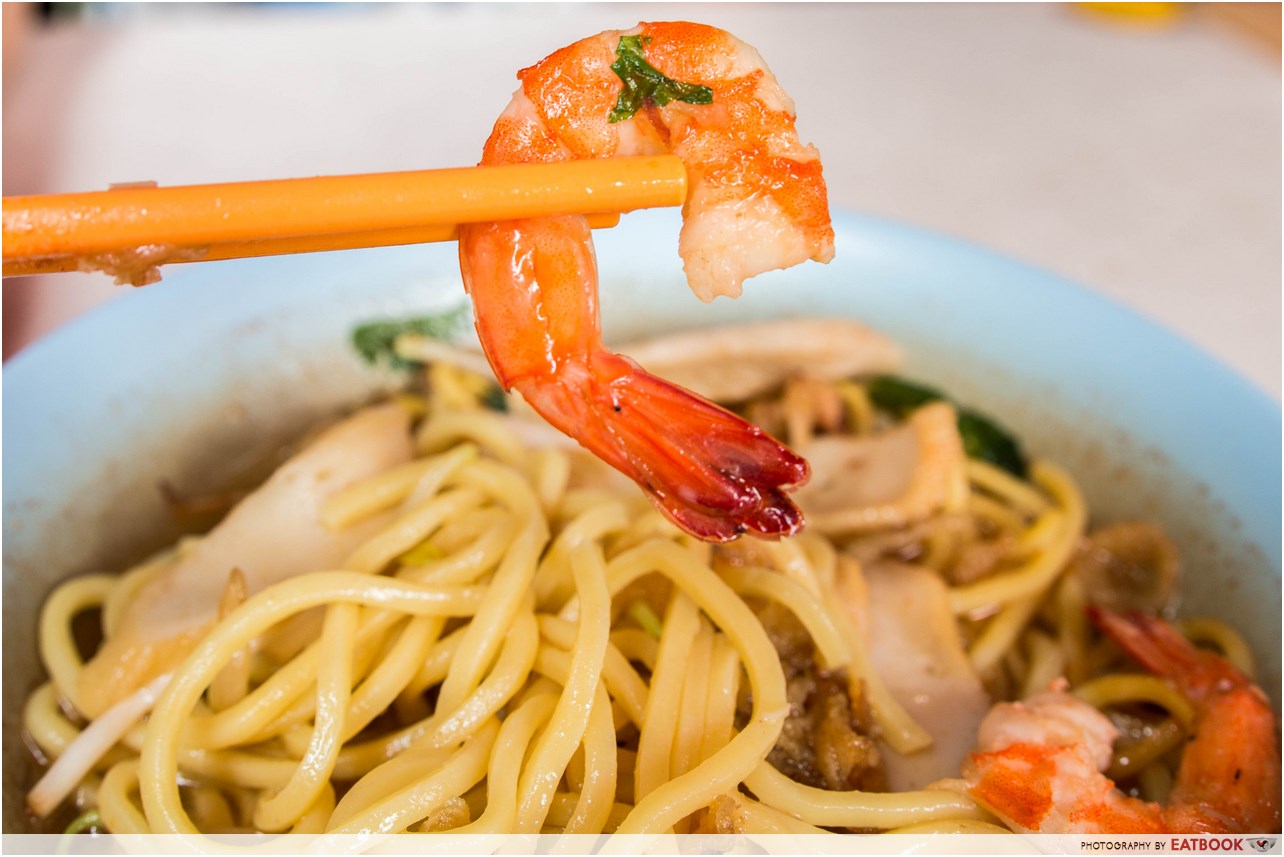 The Prawn Mee came with three skimpy, halved prawns, though I can't complain, on account of the low price. It also came with slices of fish cake, and a lone piece of chicken. The broth itself was decent, but tasted heavily salted, rather than the result of effortful stock making.
Curiously, the Fishball Noodles featured the same broth as with the Prawn Mee. The fish balls were plump, bouncy, and pretty tasty. This time, in addition to the fish cake, there was a lone slice of char siew, chicken, as well as some minced meat. Overall, though, the this bowl of noodles was a comforting hit.
Ambience at Frenzlink Cafeteria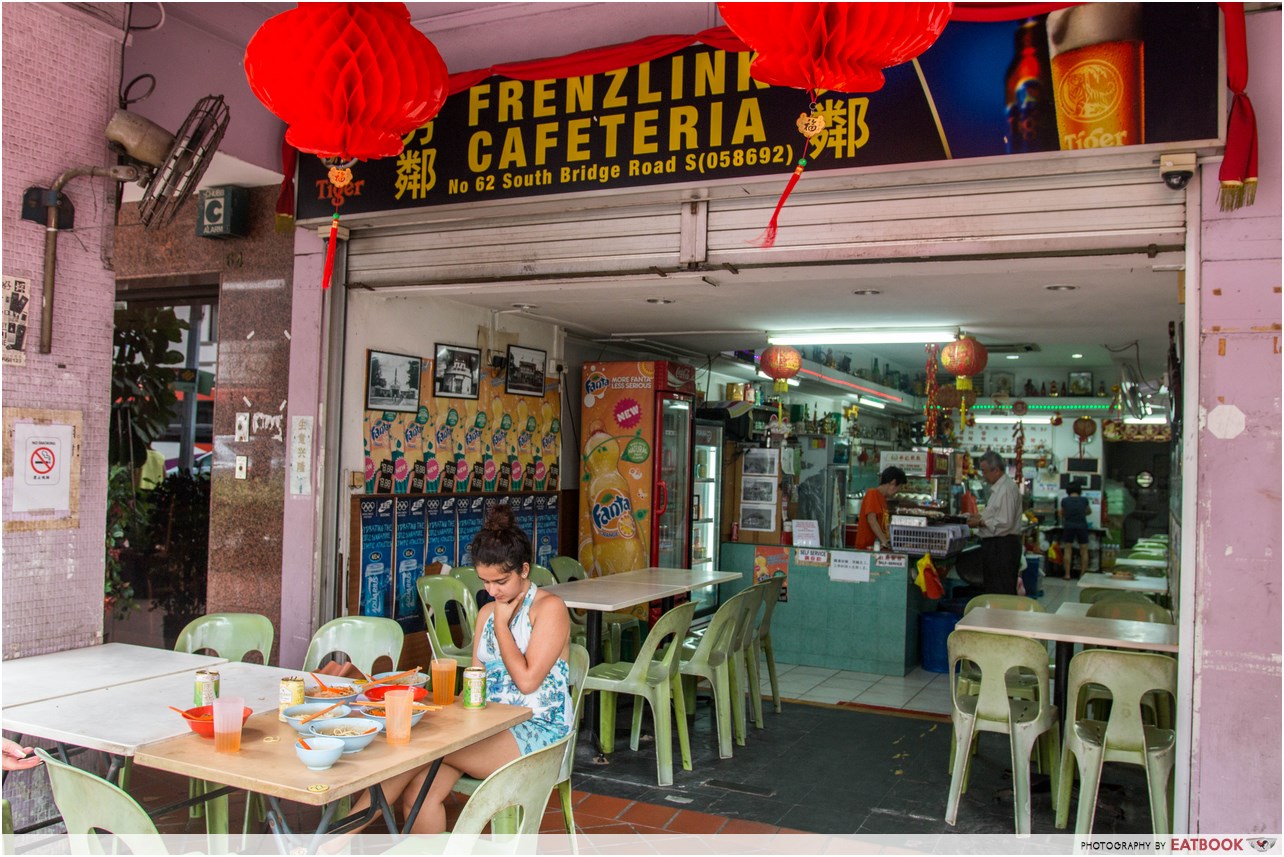 Frenzlink cafeteria is a serious blast from the past—cheap food, in a simple, comfortable ambience. We sat outdoors, but even that was pleasant. With fans on a high enough speed and the lack of insects, it was a lot better than your typical kopitiam get-up.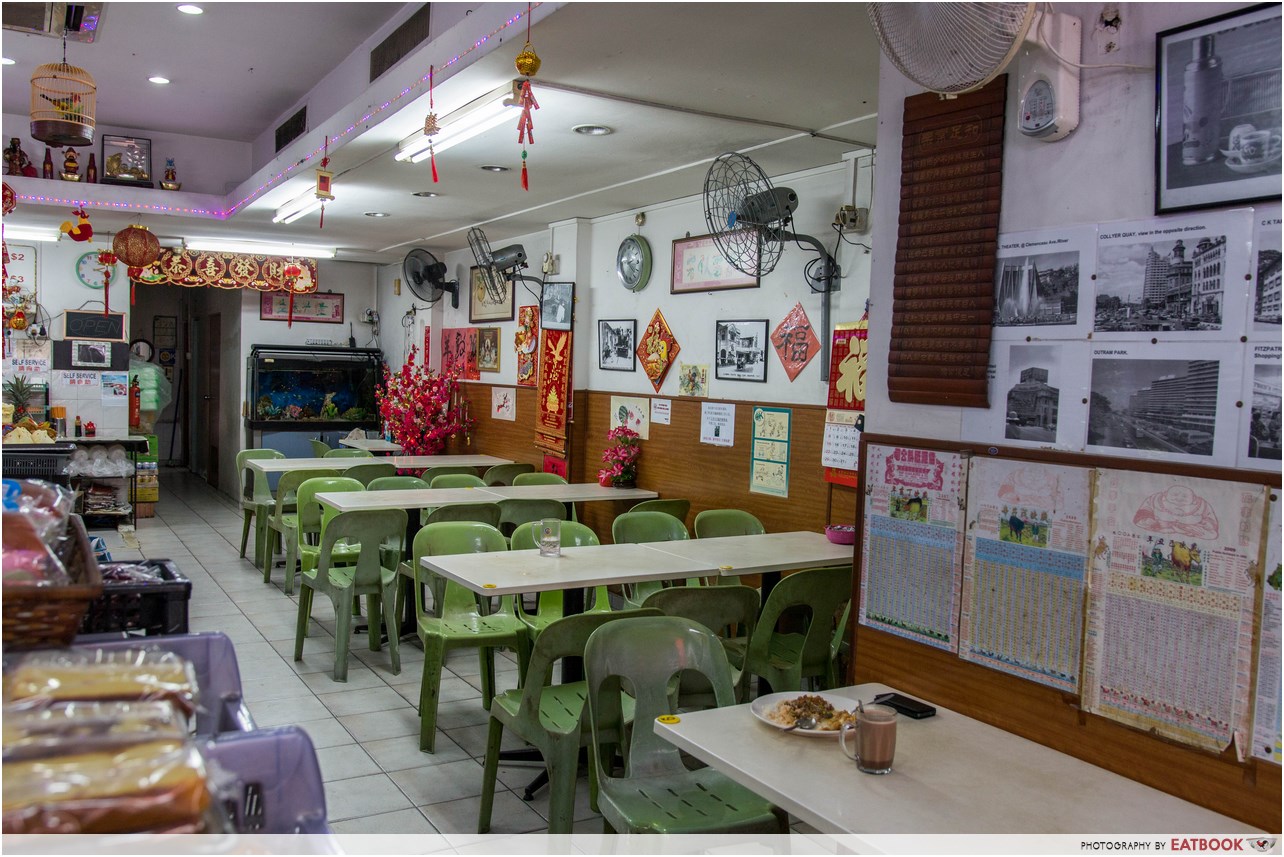 We ordered all seven dishes at one go and the service was impeccable—the stall owner was unfazed and efficiently put out one dish after the other in less than five minutes. Frenzlink also has two neighbouring stalls within the cafeteria—one serving cai png, and the other a drink stall.
MXG Classics Review: Mala Restaurant With Five Xiang Guo Bases, Truffle Fried Rice And More
The verdict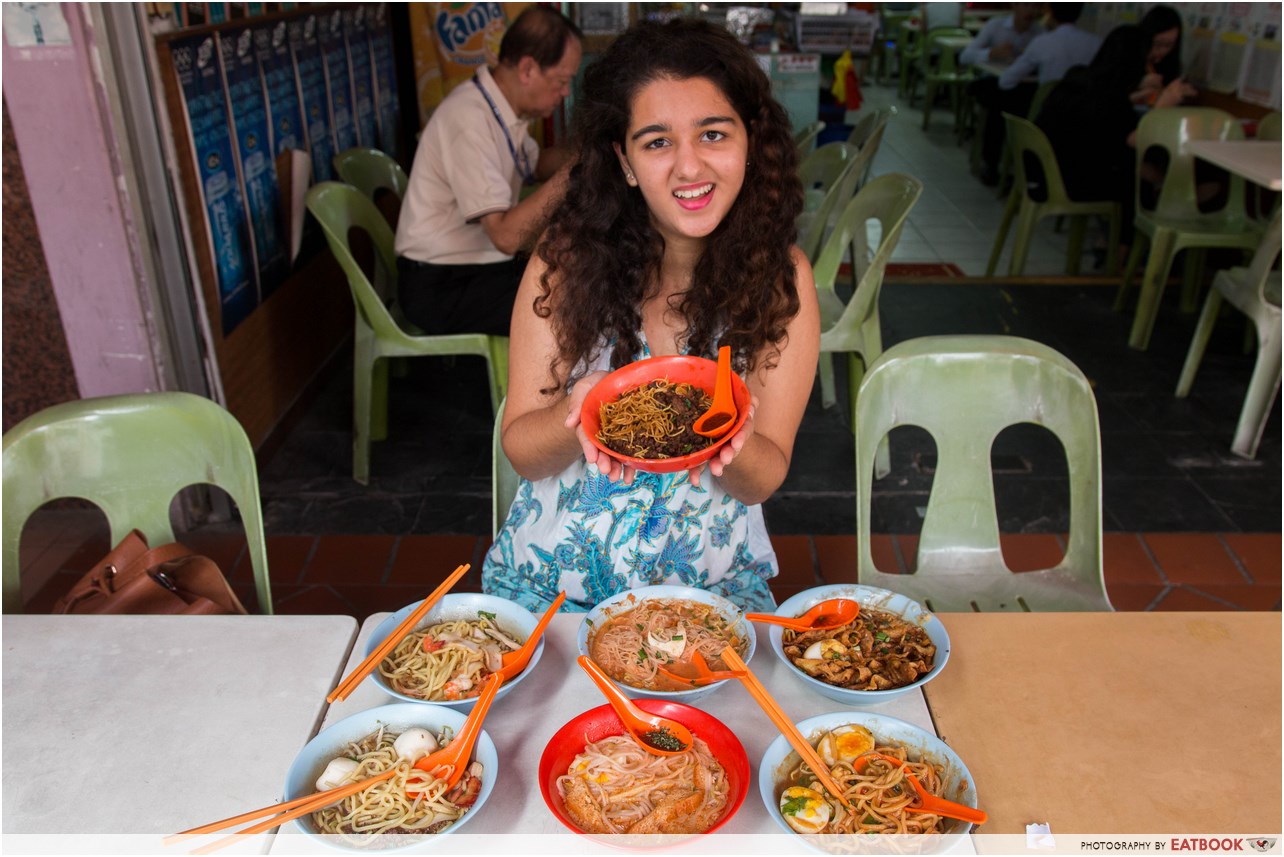 While some of the ingredients were pretty random and there were some dishes I'd be happy to never have again, there were some good finds as well, especially for the tiny price tag. So if you're in the CBD and on a budget, grab your friends and bring them over to Frenzlink Cafeteria for a hearty meal that won't burn a hole in your pocket!
For other eats around Clarke Quay, check out Big Mouth Eat for affordable Taiwanese bentos, or MXG Classics for mala xiang guo that comes with five different soup bases!
Address: 62 South Bridge Road, Singapore 058692
Opening hours: Mon-Fri 6am to 2pm
Frenzlink Cafeteria is not a halal-certified eatery
Big Mouth Eat Review: Affordable Taiwanese Bento Sets, Lu Rou Fan And Street Snacks At Clarke Quay
This is an independent review by Eatbook.sg
This post was originally published on 16 February 2017.
The post Frenzlink Cafeteria Review: $2.50 Wonton Mee, Mee Rubus And More In Clarke Quay appeared first on EatBook.sg – New Singapore Restaurant and Street Food Ideas & Recommendations.