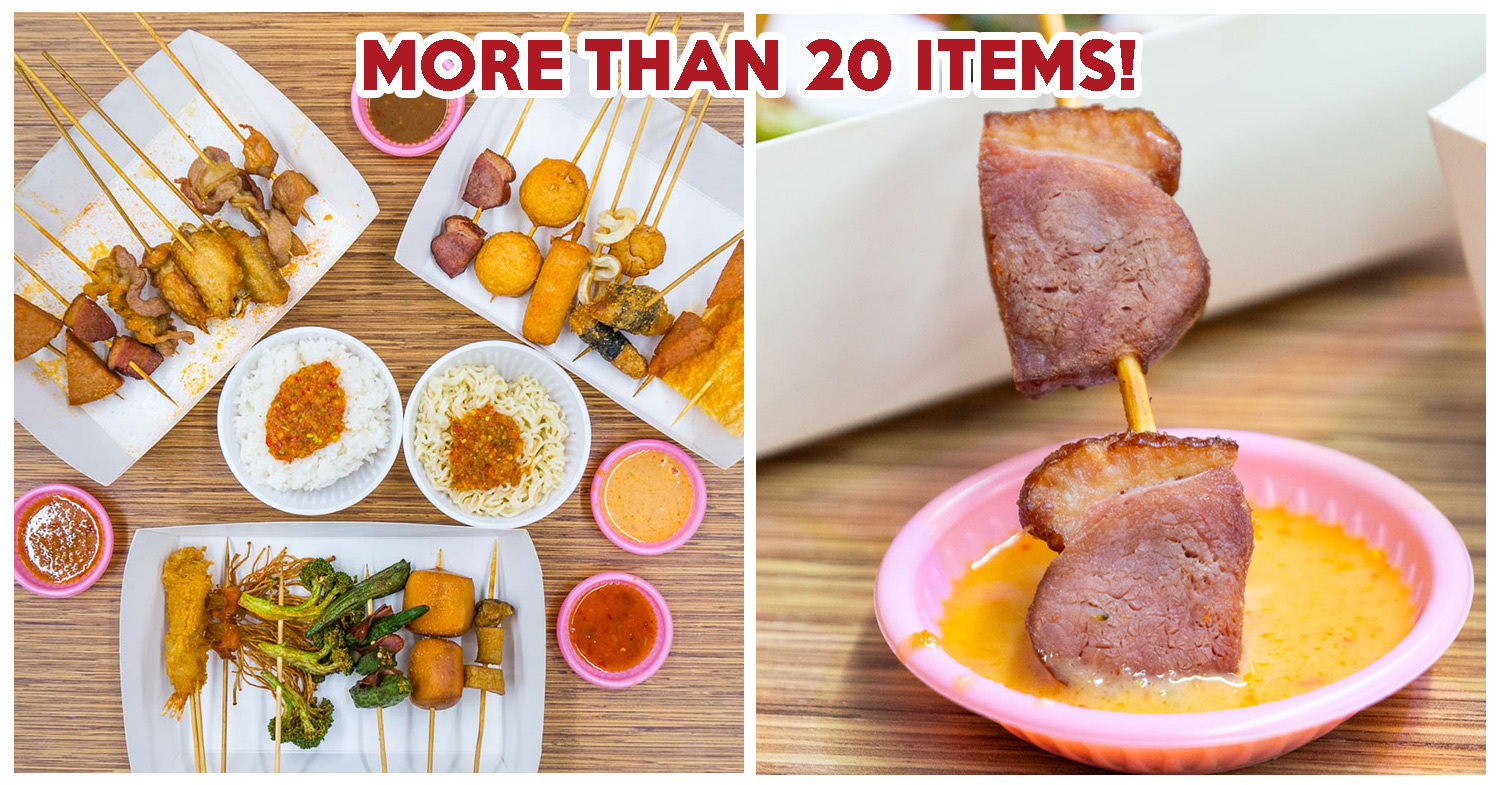 Fei Zhu Lok Lok in Tai Seng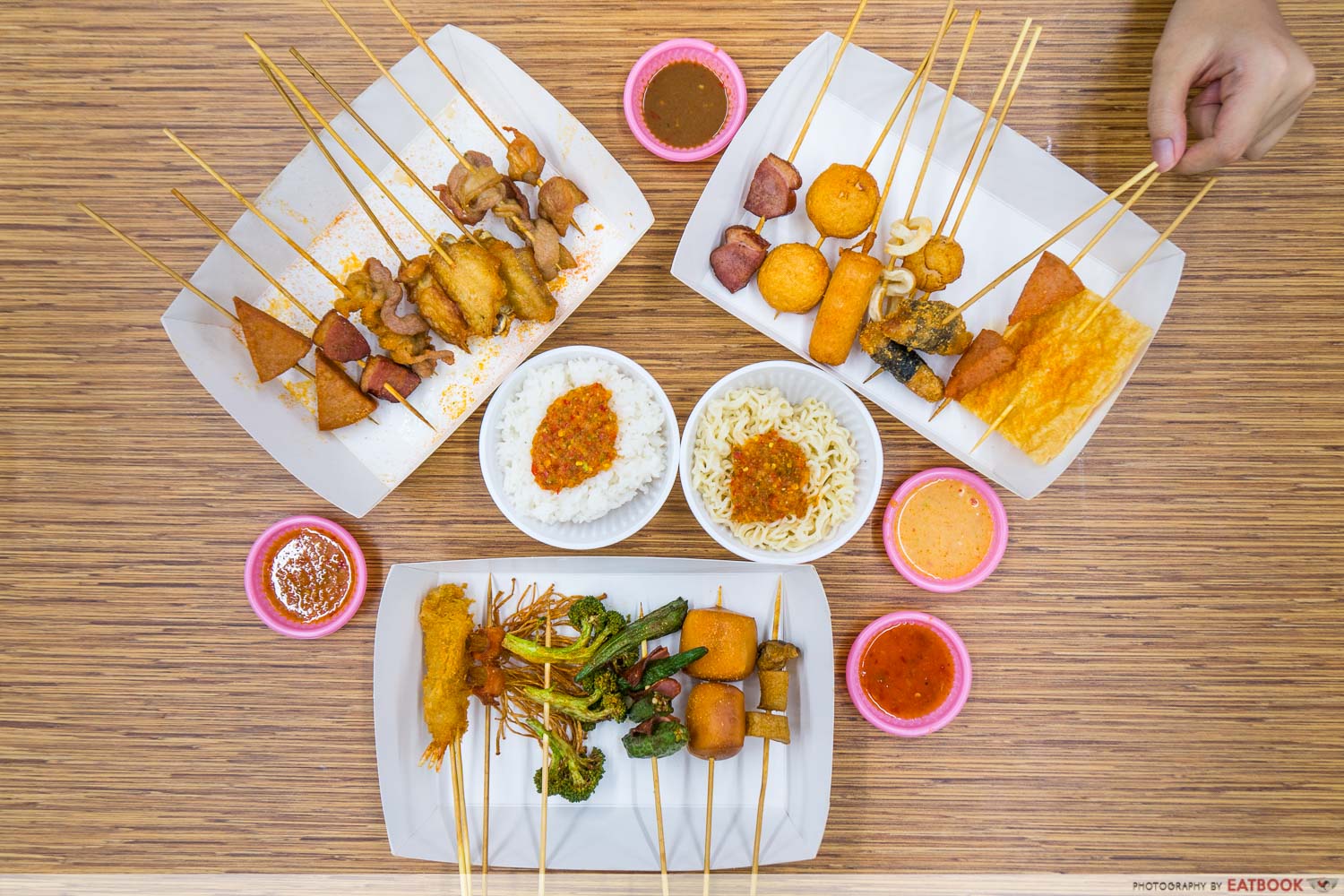 Ask 10 people what they miss most about JB, and nine of them will probably tell you that it's lok lok. I personally haven't had many experiences with this street snack, but I can't deny how addictive these skewered meats and vegetables are. With that, my colleague and I zipped down to Fei Zhu Lok Lok, hoping to relive those carefree times when we could travel to Malaysia as and when we pleased.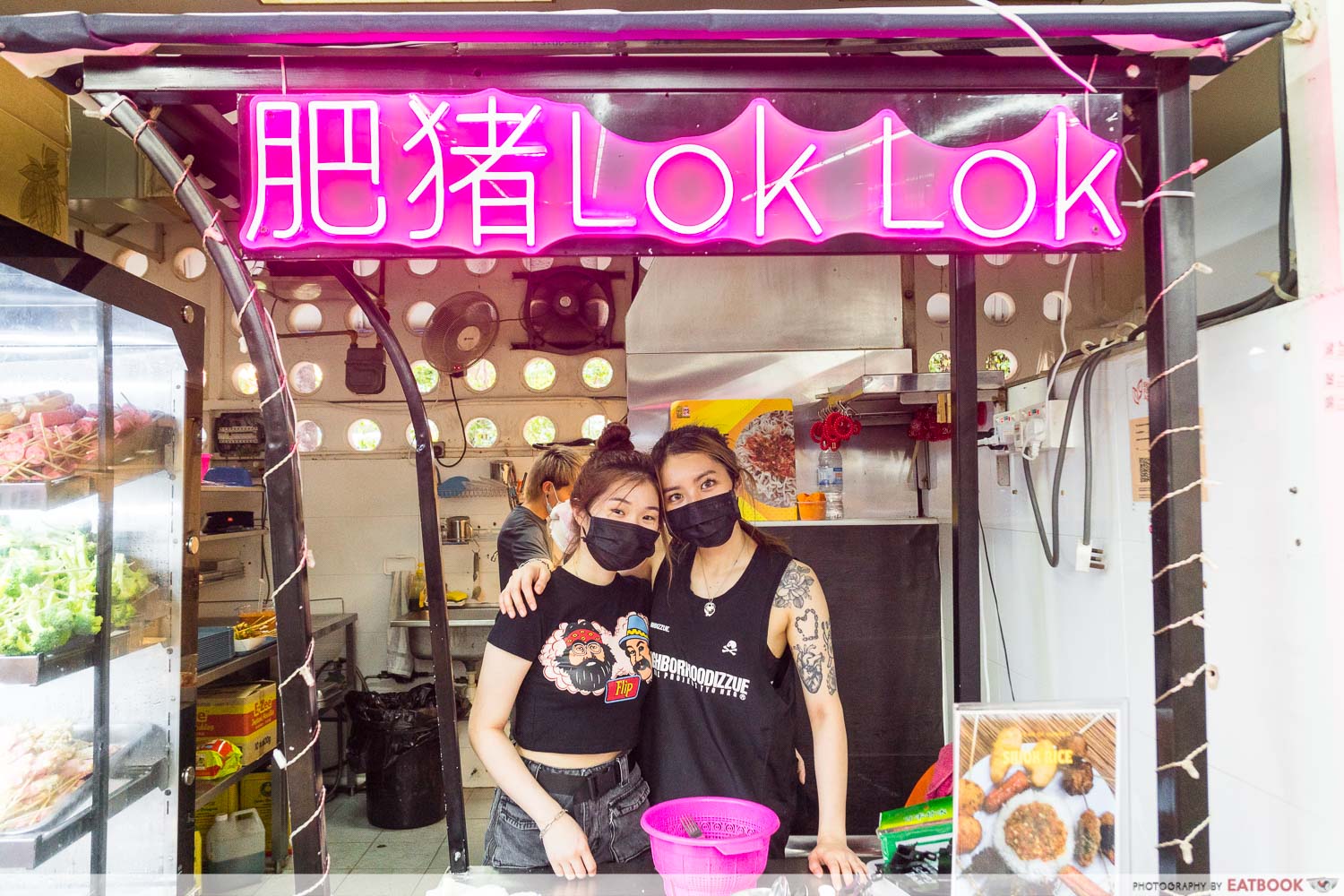 Phyllis and Jueying are the two pretty best friends behind Fei Zhu Lok Lok. They're only in their early twenties, joining the list of young hawkers who've recently broken out in the industry, such as Sticks 'N' Bowls and Mian Zhuang.
Sticks 'N' Bowls Review: $1 Lok Lok And Mentaiko Salmon Don In Tampines Coffee Shop
Food at Fei Zhu Lok Lok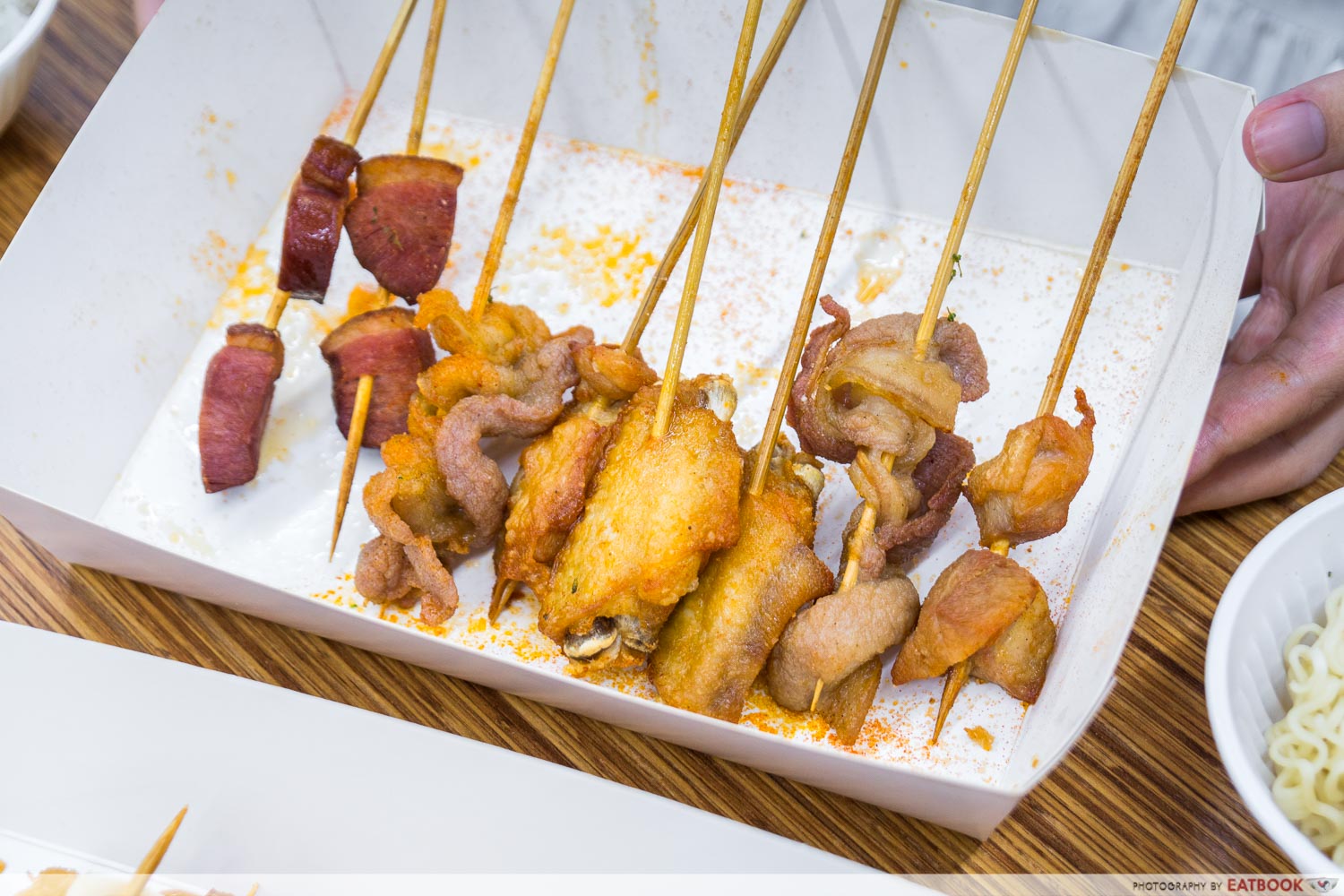 The variety at Fei Zhu Lok Lok is pretty impressive, with over 20 items to choose from, and a good mixture of meats and vegetables. Each skewer is priced reasonably at $1. These were well-fried overall, without being too greasy. I also liked the seasoning they used, which was bright, salty, and addictive.
Here, the chicken skewer was a touch dry. I preferred the mid wing, which was spicy-sweet, and well-marinated without the need for extra seasoning. It also managed to retain a juicy interior, while being crispy on the outside.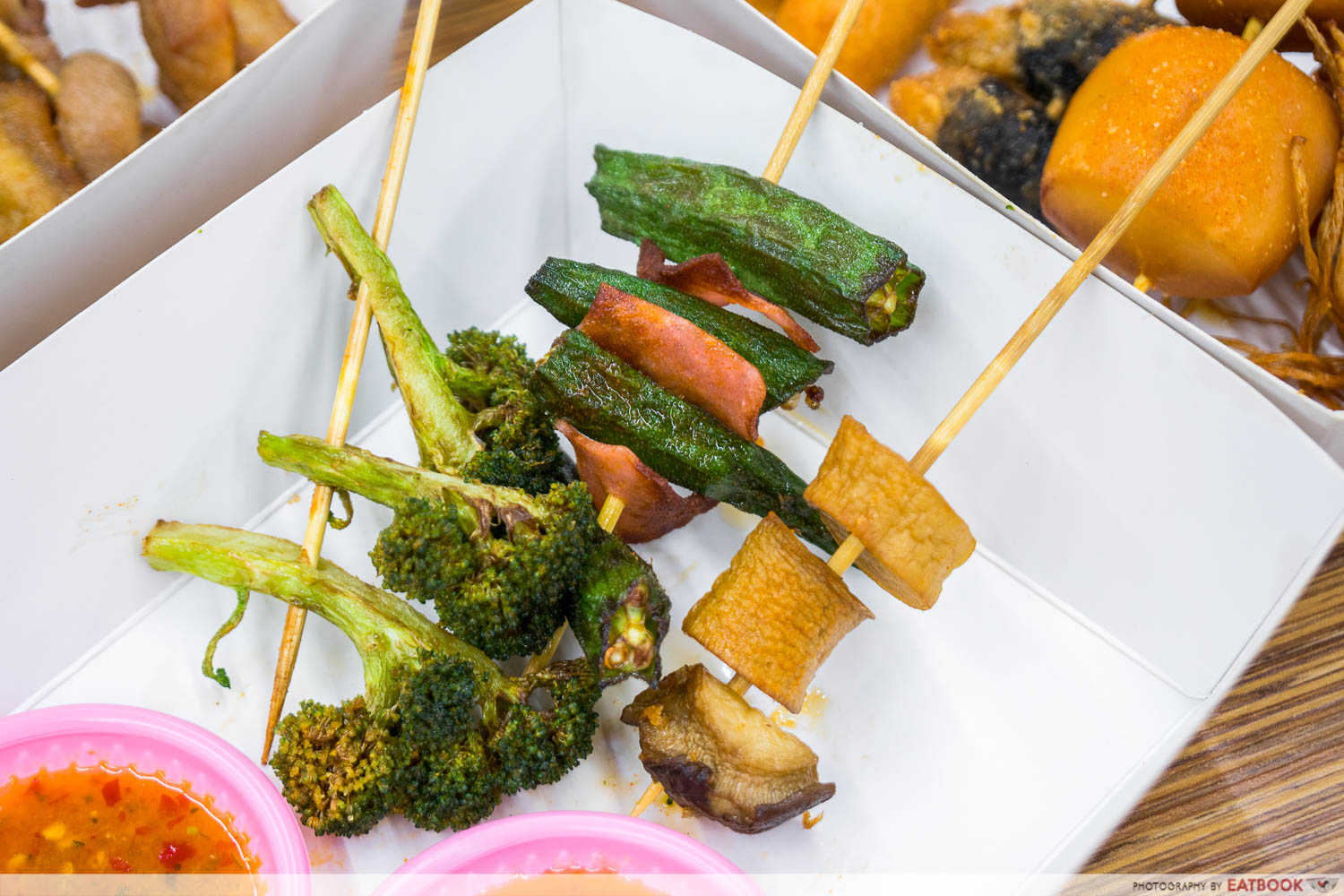 Vegetables taste better when they're deep-fried—there, I said it. Here, I enjoyed the crispy florets of the broccoli, slightly charred from frying. As for the mushrooms, the seasoning used brought out their natural earthy flavour. Meanwhile, I would have preferred the crunchy lady's fingers on their own, without the slices of ham in between.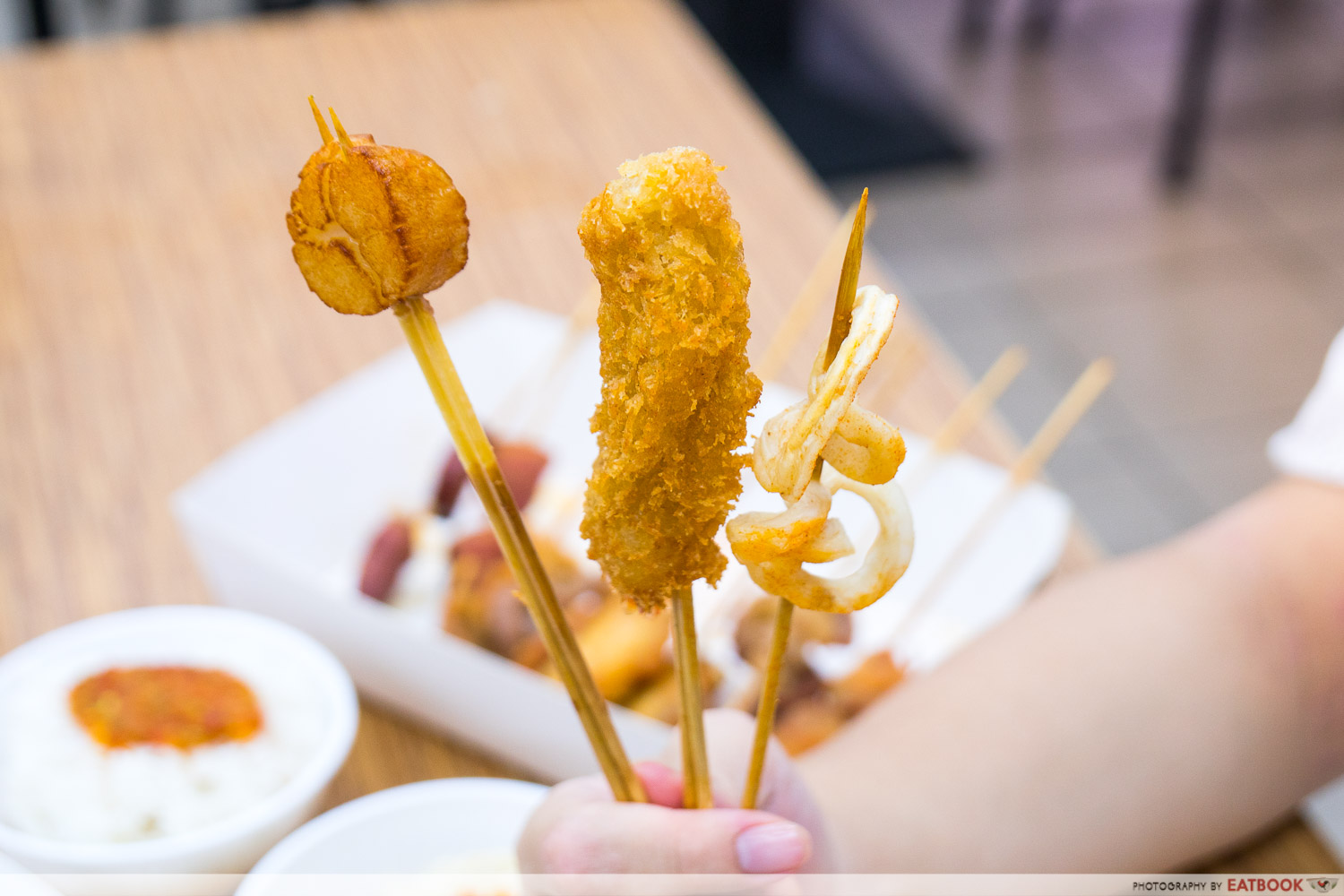 Fei Zhu Lok Lok has a small selection of seafood skewers to boot, including scallop, fried ebi, and squid. A single scallop here costs the price of two sticks, and while plump and sweet, it's something I feel you can do without. As for the fried ebi, they could afford to go lighter on the batter, as it stole the limelight from the prawn meat within.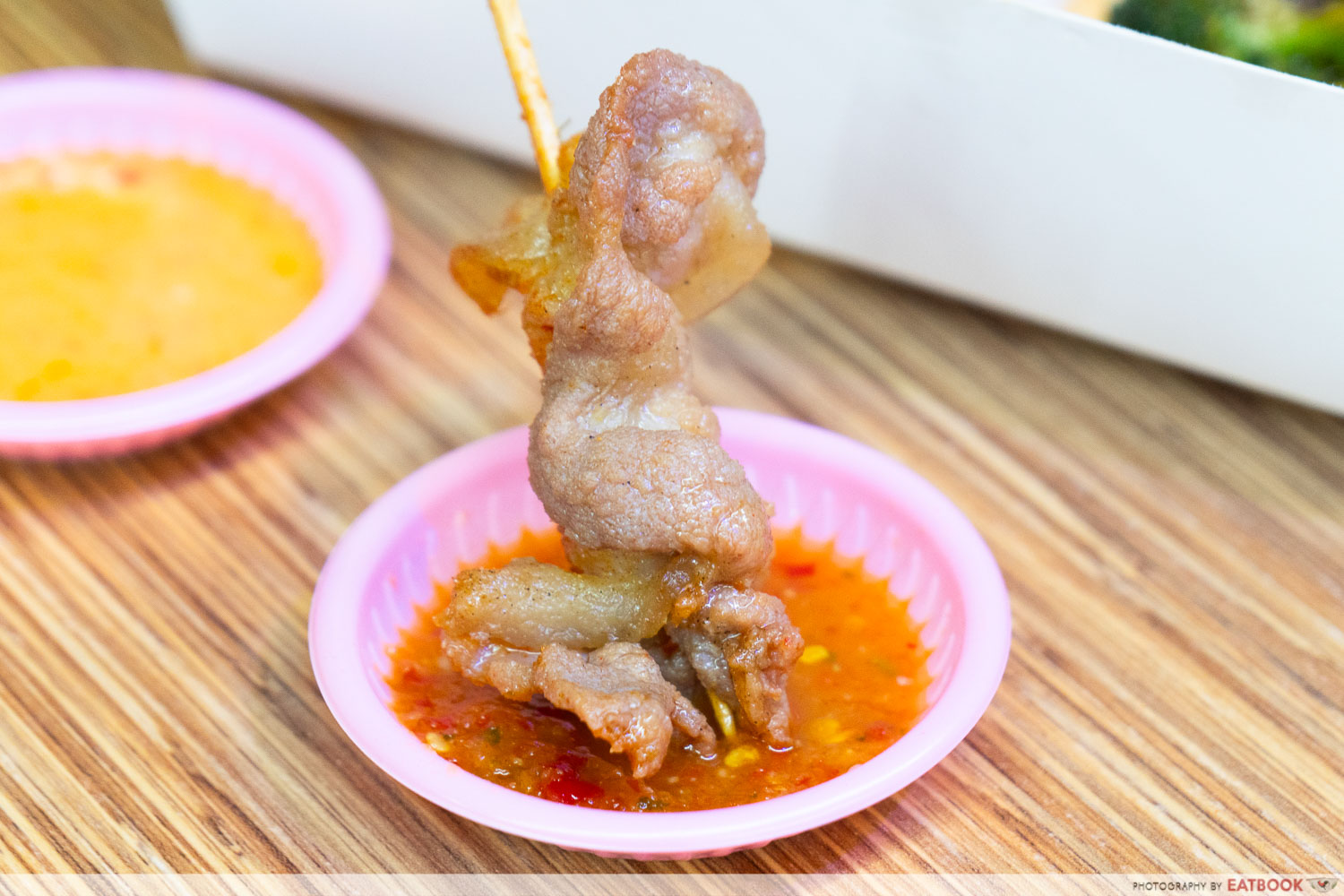 If the seasoning isn't enough, Fei Zhu Lok Lok has four sauces available to dip into. We started with their house-made sauce, which looked like it would be fiery hot, with its bright orange colour, and speckles of chilli seeds within. Surprisingly, this wasn't that spicy at all—in fact, it was bright, tangy, and slightly sweet. It definitely livened up the pork belly skewer, which we paired the sauce with. 
Meat-wise, I found the pork belly rather tough, though it seems like an unavoidable problem due to the cooking method used.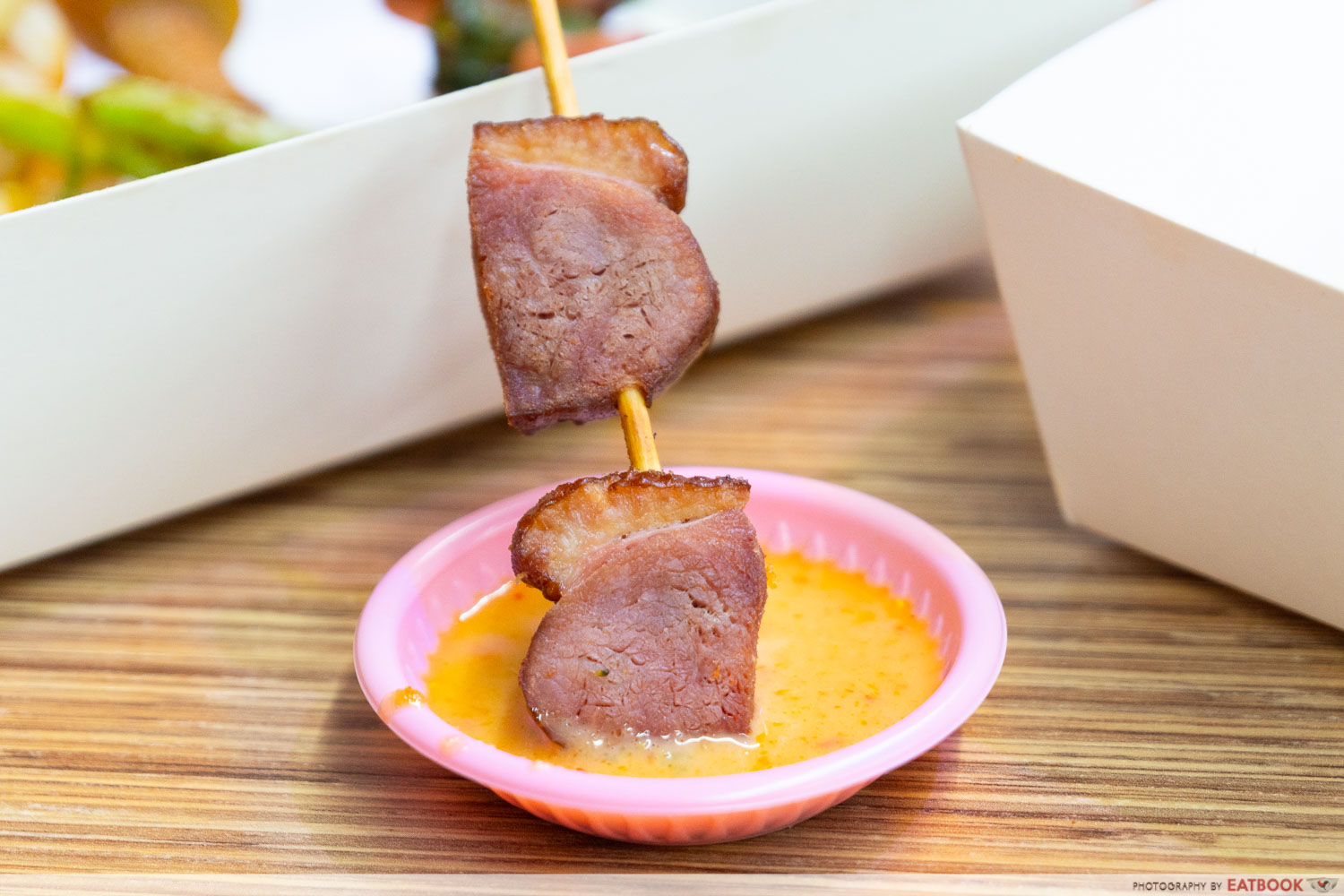 The next sauce on the list is an unnamed, mayo-based dip, which happened to be my personal favourite. We paired this sauce with their smoked duck lok lok.
This mayo-based sauce was creamy, with citrusy notes that cut through the heaviness of smoked duck. Meanwhile, the smoked duck was fried well, retaining a gelatinous layer of fat on top that was satisfying to bite into.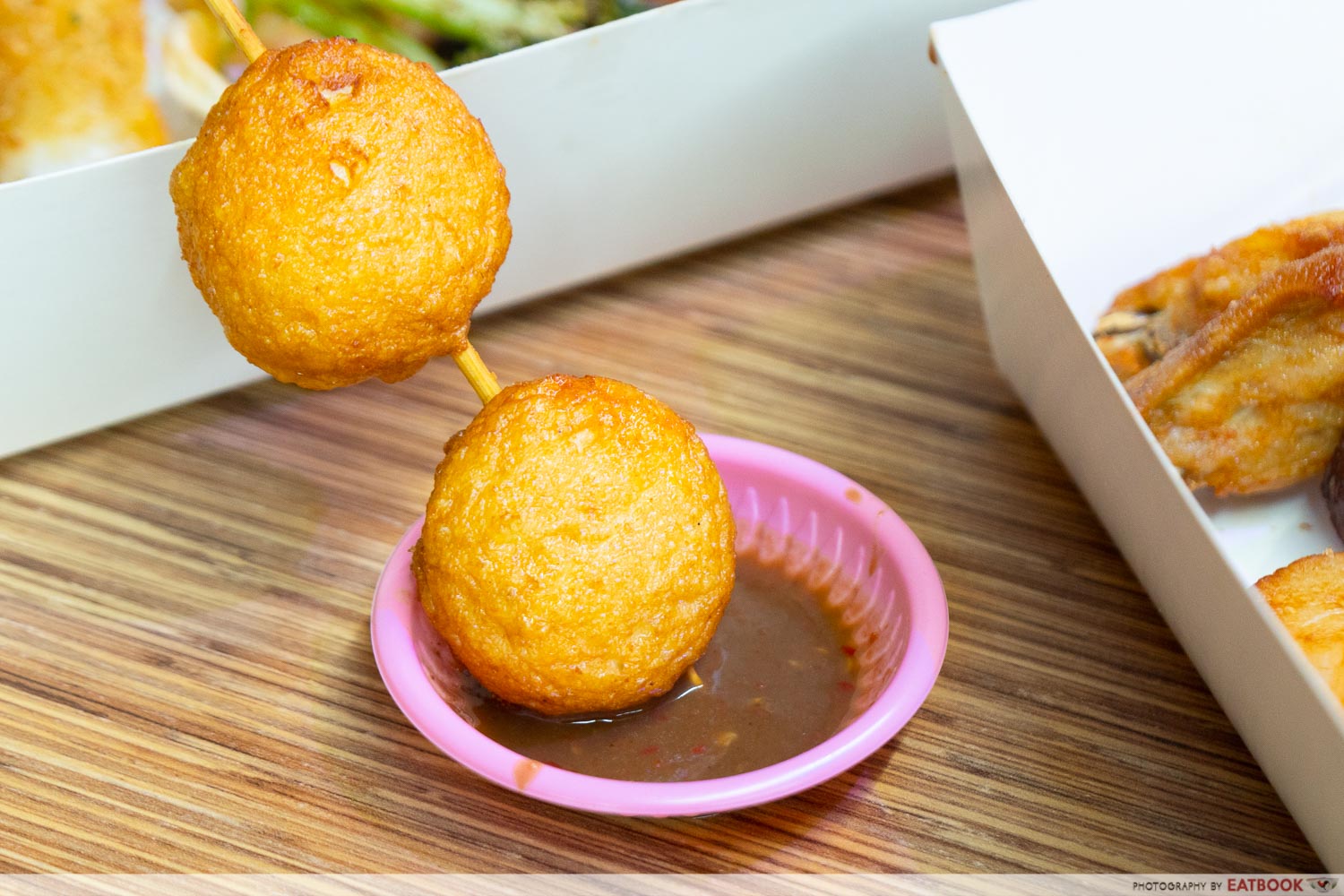 For something more localised, there's a belacan sauce available. This was the spiciest of the lot, with A robustness from shrimp paste. We had this with cheese tofu, which I wasn't the biggest fan of, as there wasn't enough cheese within. Since this is most likely an outsourced ingredient, Fei Zhu Lok Lok can't be faulted for this.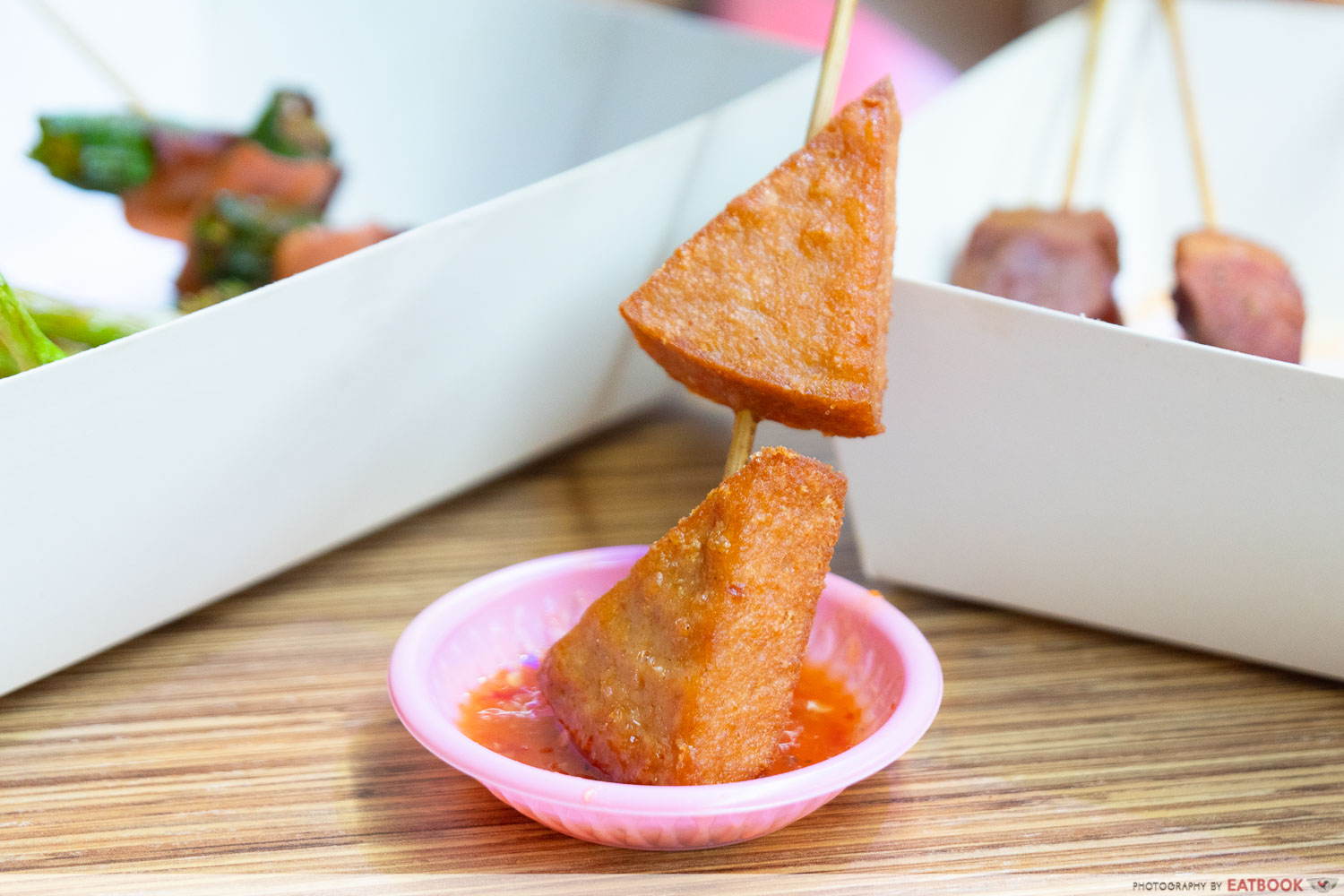 The last sauce we tried on our visit was the Thai sweet chilli sauce, which we dipped our luncheon meat skewer into. This tended towards the sweeter end of the spectrum, and I would have liked it with more spice. While it's not my favourite, I can imagine it would sit well with children, or diners who can't take spice.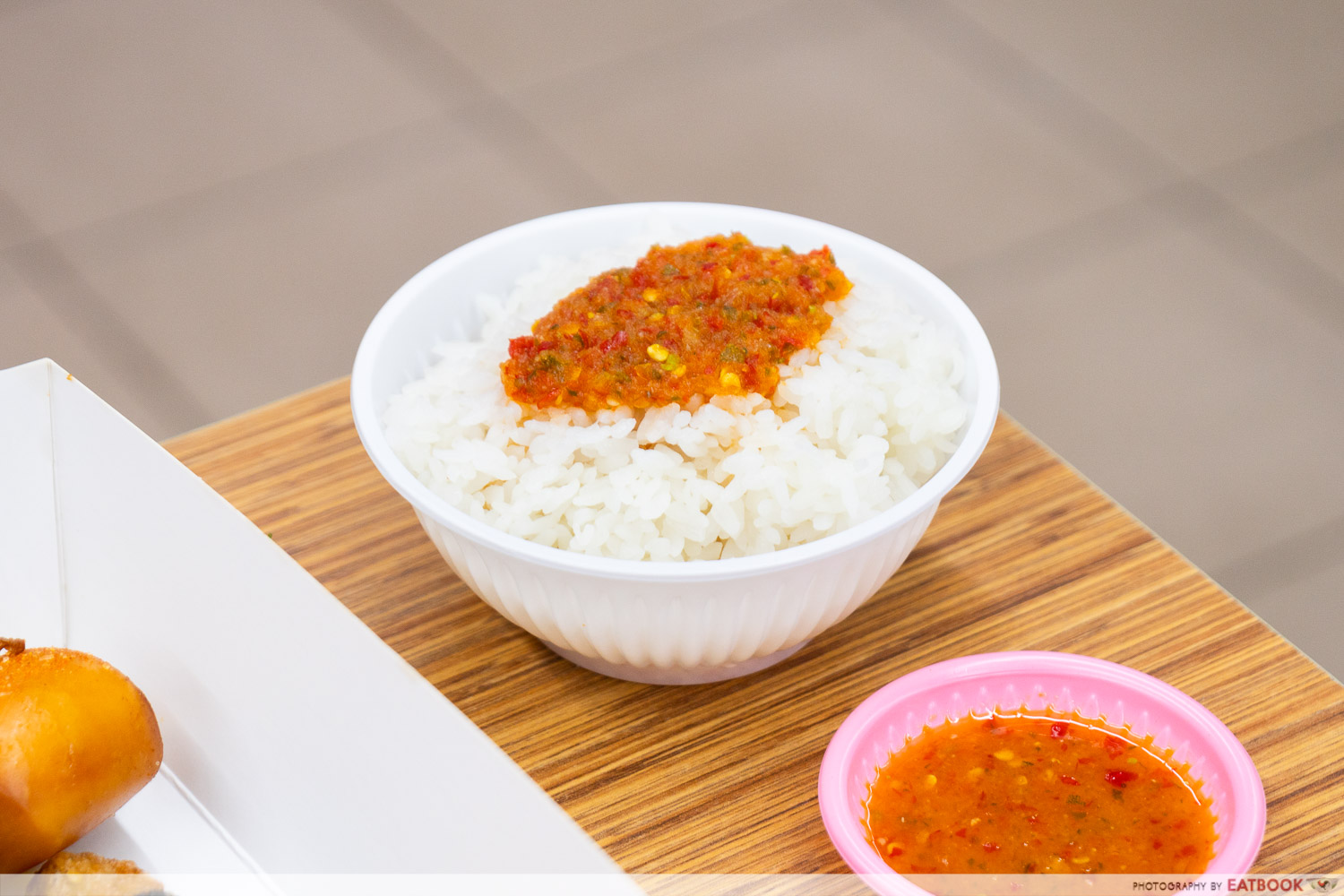 If you'd like some carbs to go along with your skewers, there's a Shiok Rice ($1) available, slathered with their house-made sauce on top.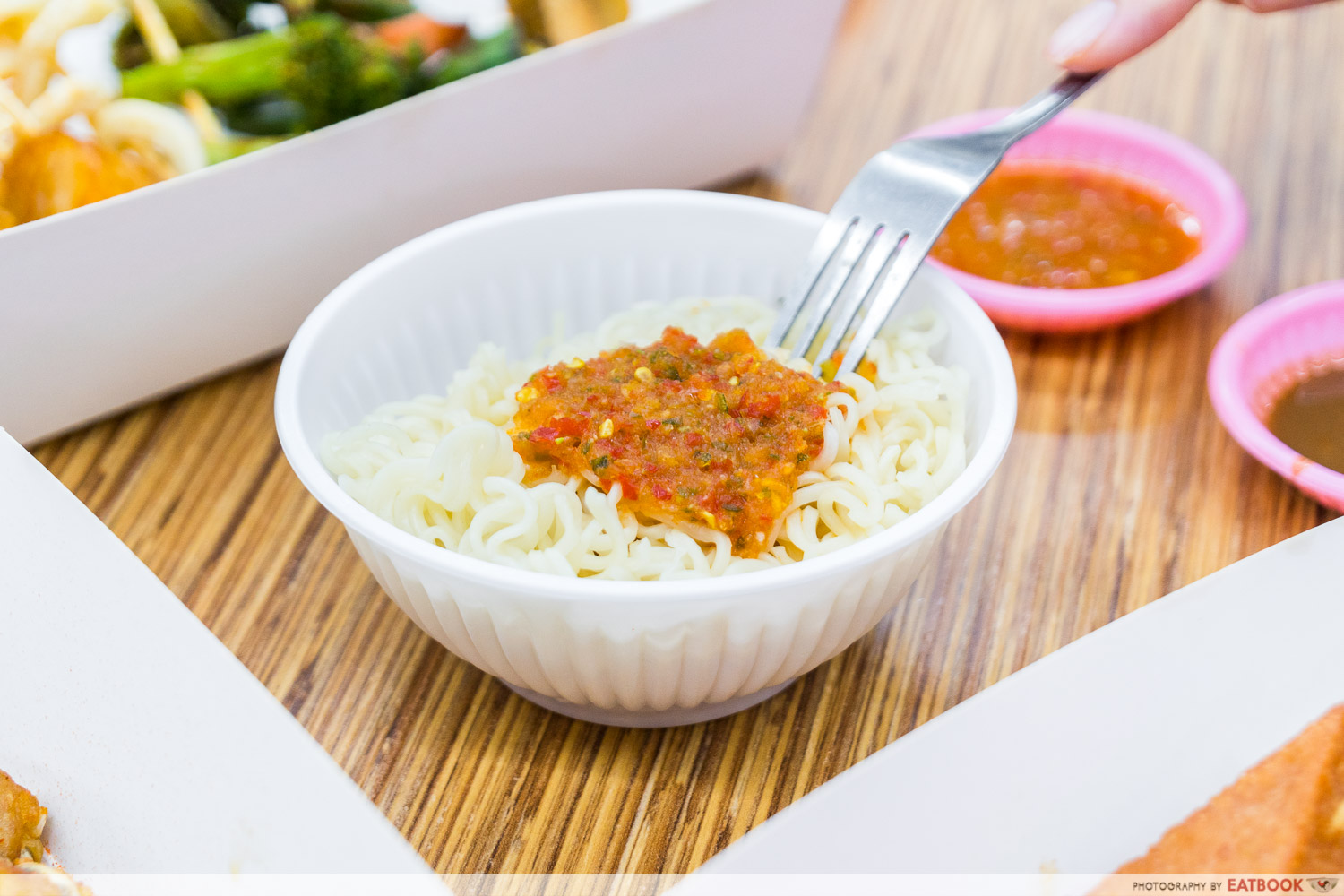 Noodle-lovers can opt for the Shiok Mee ($1) instead, which sees springy instant noodles topped with the same house-made sauce. Do note that you'll have to order a minimum of four sticks to purchase the rice or noodles.
DLLM Lok Lok Review: Lok Lok Stall With $1 Skewers And Salted Egg Sauce That Opens Till 4am
Ambience at Fei Zhu Lok Lok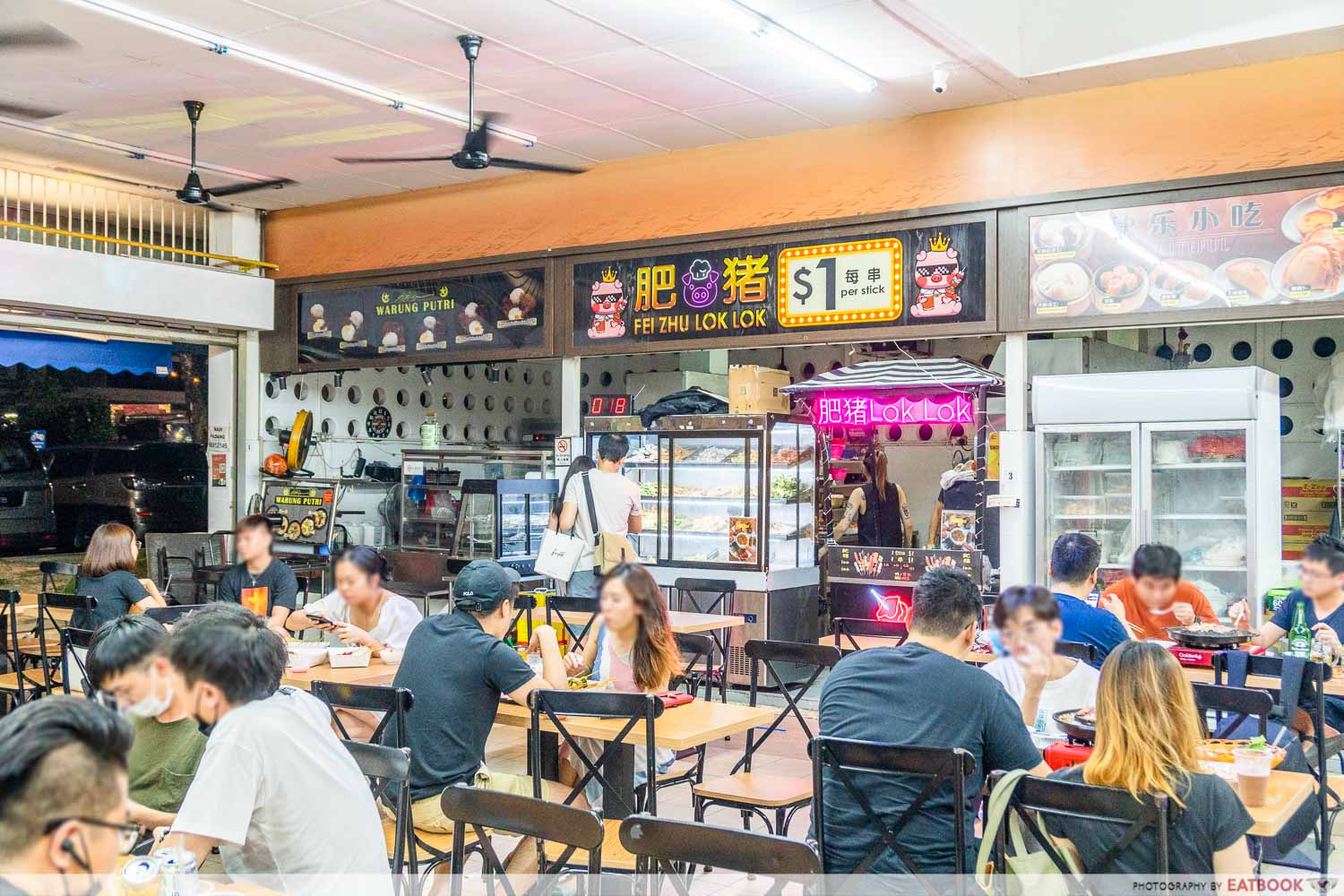 Fei Zhu Lok Lok is located in an unassuming coffee shop, tucked within an industrial estate in Tai Seng. It only takes about five minutes to walk here from Tai Seng MRT Station. 
The coffee shop is clean and well-ventilated. When the sky turns dark, they dim the space, and put on coloured lights that flicker across the ceiling. Mandopop songs which are popularised by Douyin, the Chinese version of TikTok, blast from the speakers. These add to the JB vibes, which we so desperately crave, as we're not able to cross the border anytime soon.
Pint And Dine Review: Korean Mukbang Buffet With Free-Flow Korean Fried Chicken, Samyang And More At Tai Seng
The verdict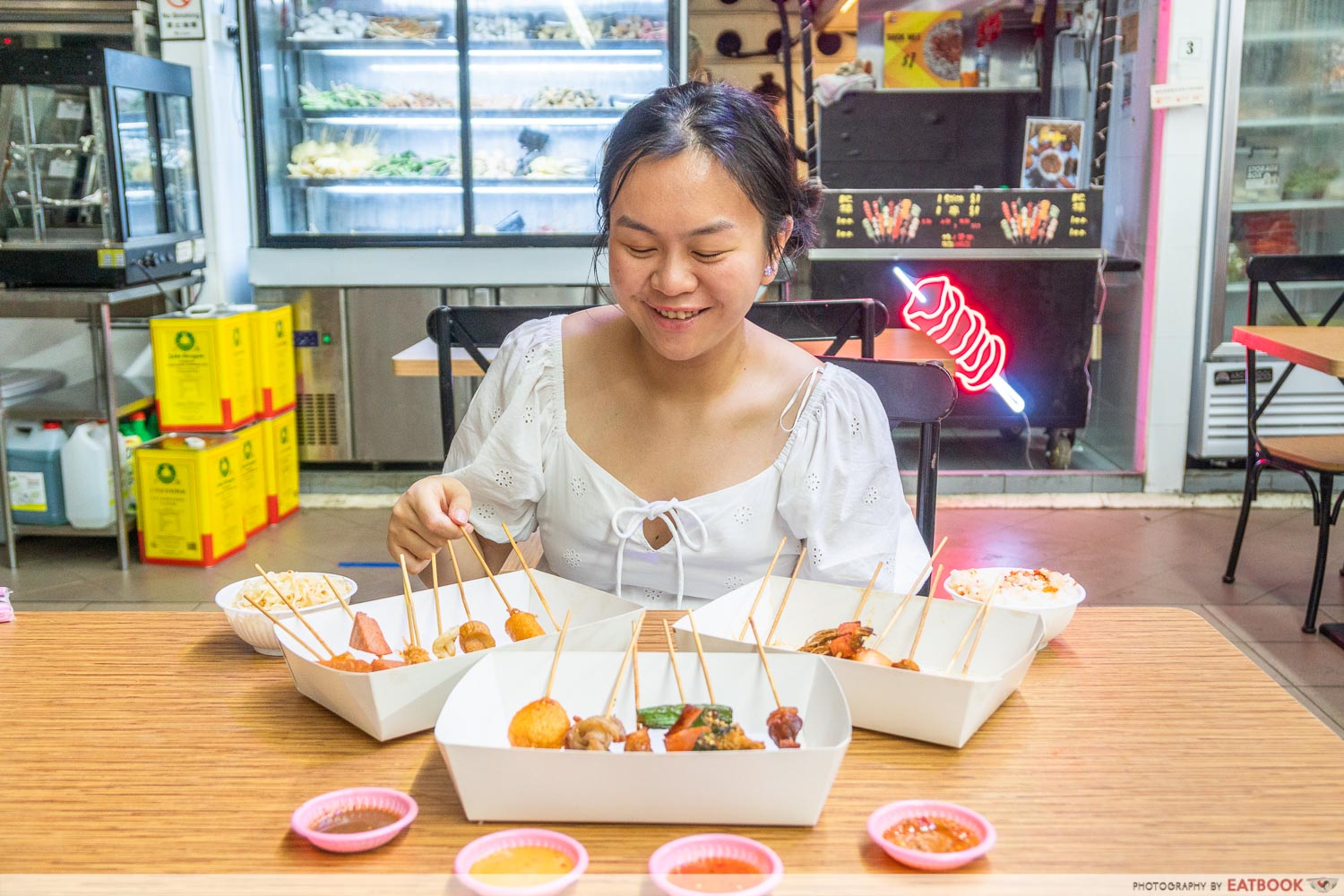 Lok lok is not a type of food to blow your mind, but feels so shiok to eat anyway. Fei Zhu Lok Lok elevates that, with a good selection of sauces, wallet-friendly prices, and lights and music to boot. Some items can be skipped, but overall, I much enjoyed my time here. Since we can't hop over to Malaysia for some streetside skewers, head down to Fei Zhu Lok Lok to get your fill.
For more Malaysian delights, check out our DLLM Lok Lok review, a lok lok stall that's open until 4am. There's also our Ipoh Curry Chee Cheong Fun review, for curry rice rolls and Ipoh hor fun.
Address: 1010 Tai Seng Avenue, Singapore 534417
Opening hours: Mon-Sat 5pm to 10:30pm
Tel: 9822 7755
Website
Fei Zhu Lok Lok is not a halal-certified eatery.
Ipoh Curry Chee Cheong Fun Review: Curry Mee And Chee Cheong Fun With Roast Meats In Yishun
Photos taken by Keith Kok.
This is an independent review by Eatbook.sg.
The post Fei Zhu Lok Lok Review: $1 Lok Lok And Popular "Shiok Rice" In Tai Seng appeared first on EatBook.sg – New Singapore Restaurant and Street Food Ideas & Recommendations.