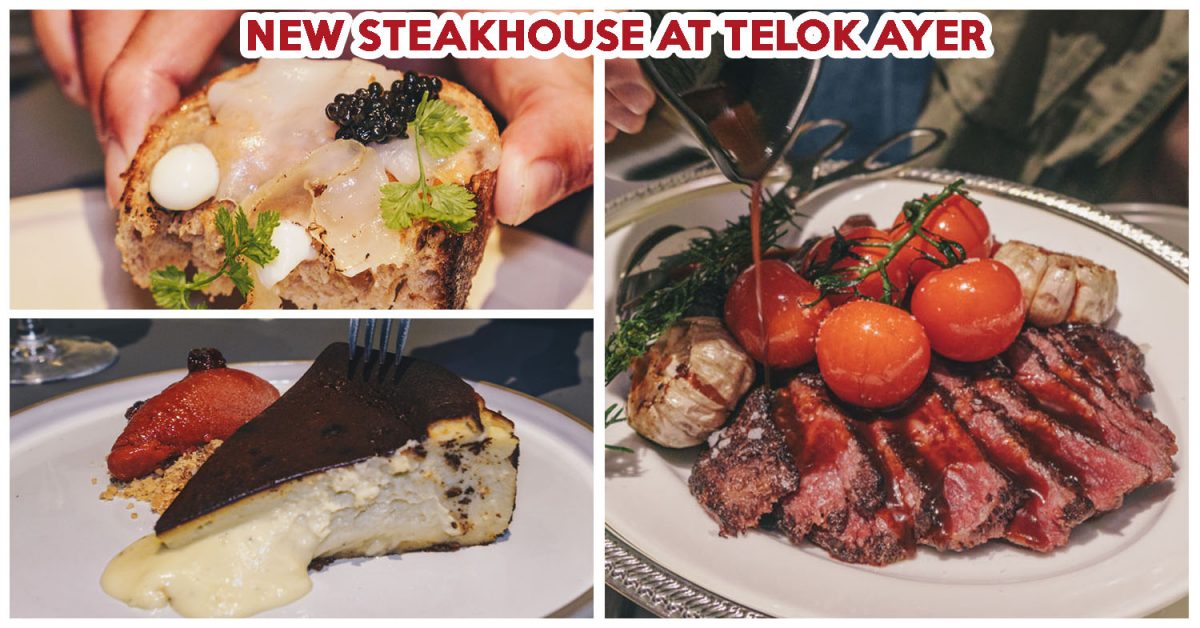 Fat Belly Social Steakhouse At Telok Ayer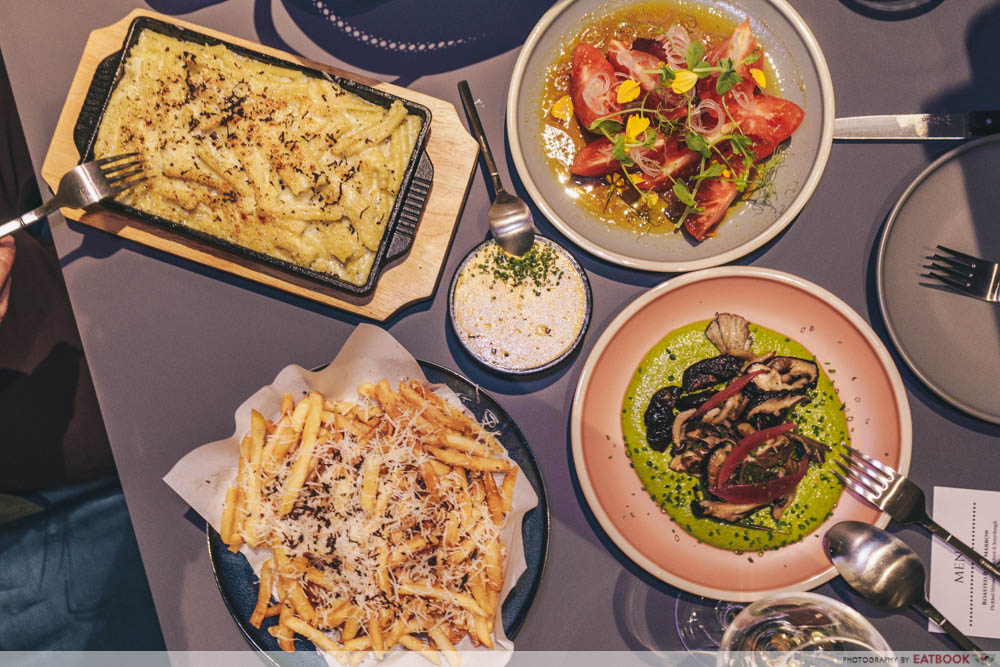 Being a self-proclaimed carnivore, I was excited to hear that Fat Belly, a Bukit Timah steakhouse, was opening a new outlet: Fat Belly Social Steakhouse in Telok Ayer. Offering rare, alternative meat cuts, a wide array of wine, and a cosy dining ambience, the new steakhouse concept aims to create a social dining experience.  
Food at Fat Belly Social Steakhouse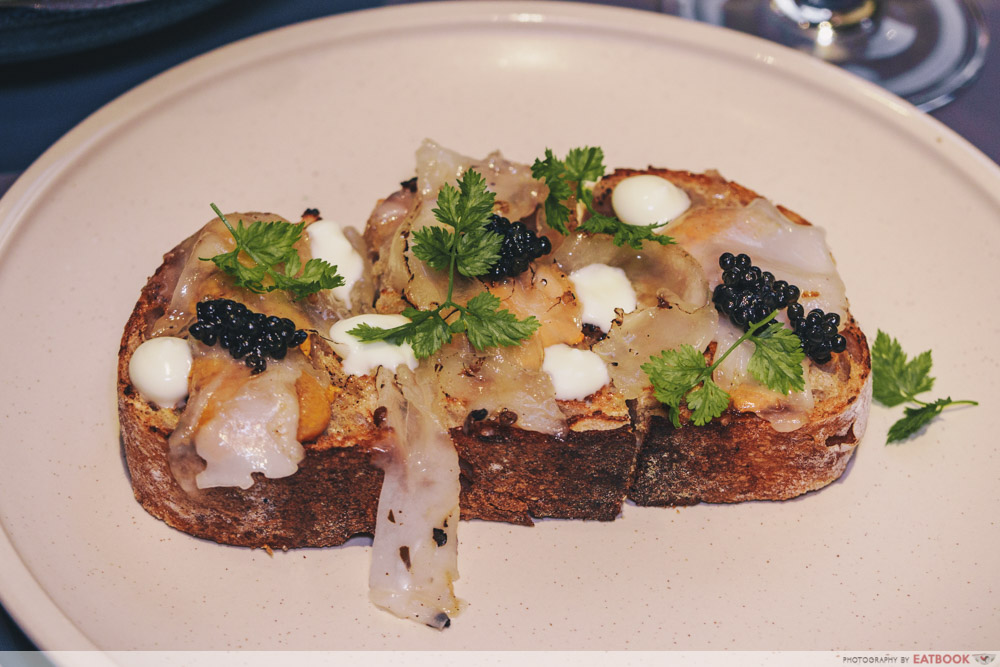 First on the table was the scrumptious Uni, Lardo, Caviar ($36++) starter served with a slice of sourdough toast, cut into three for easy bites.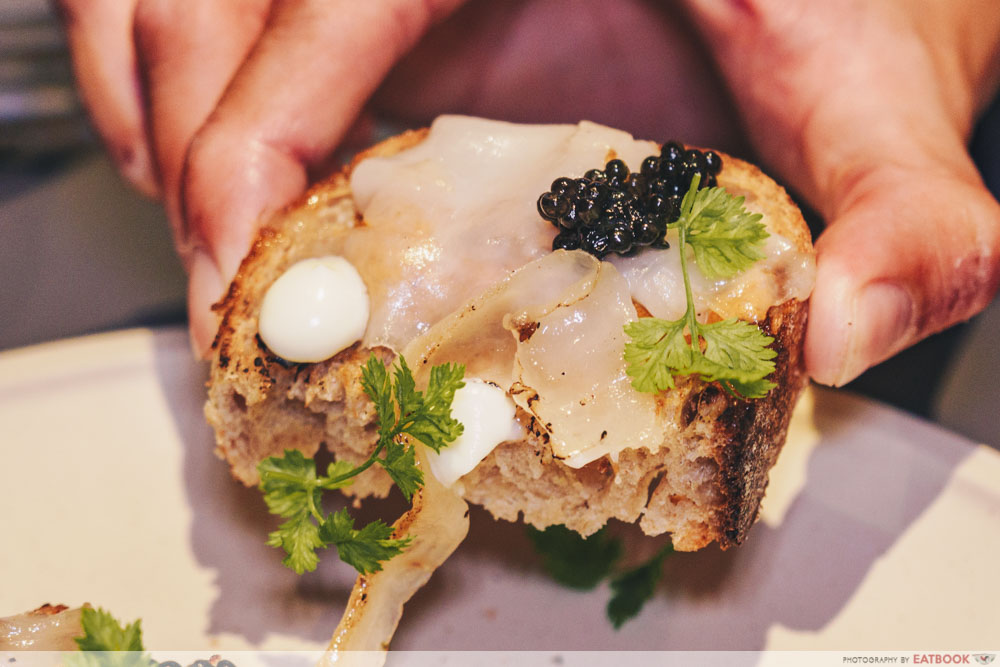 The creaminess of the uni and fatiness from the salumi was amplified by the saltiness from the caviar. The overall buttery texture was then contrasted by the chewiness of the sourdough toast.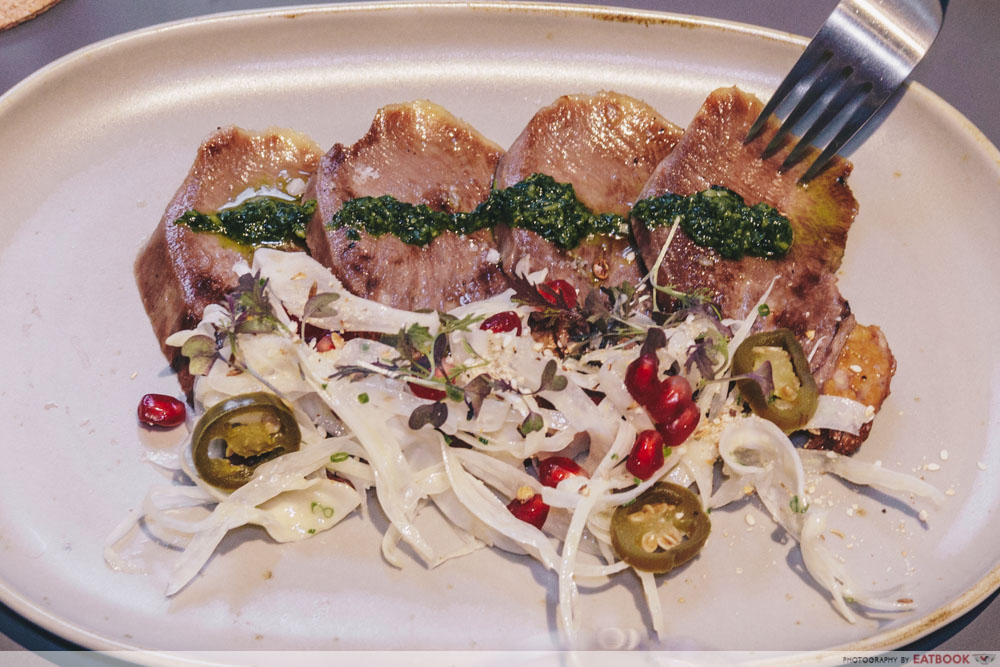 Their Grilled Ox Tongue ($26++) is garnished with shaved fennel jalapeno, dashes of salsa verde, and bright ruby pomegranate. The fibrous offal cut was tender and not rubbery. Light beefy flavours of the tongue were kept refreshing thanks to bursts of sourness and acidity from the pomegranate bits.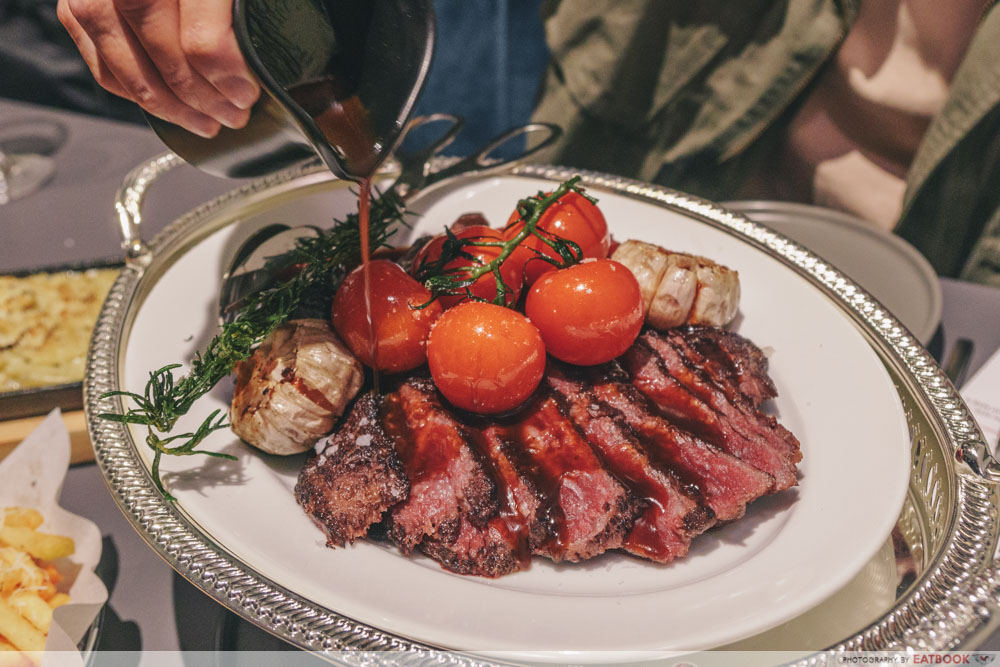 The 2GR Full Blood Wagyu Rib Cap MS 8/9 ($148++ for 600g) is cut from the cap of a ribeye steak. Some would argue that this is the best and tastiest cut of beef, and more marbled than the rib-eye. 
It went well with the flavourful Bordelaise ($10++) sauce that was prepared by reducing four different red wines. The sauce went well in contrast with the fatty beef cut, although I would prefer if its butteriness were dialled down a little.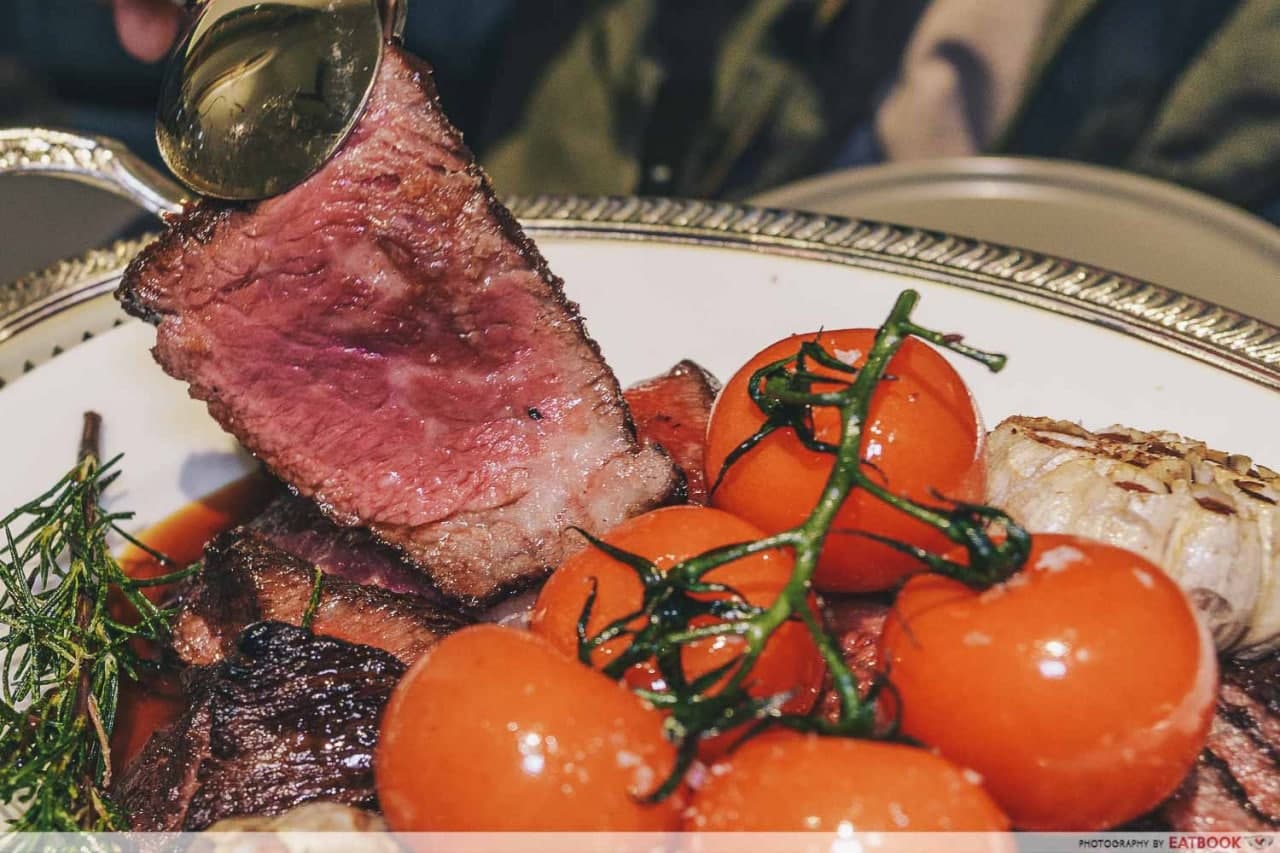 The YG Black Opal Wagyu Zabuton MS6-7 ($210++ for 700g) is a chuck roll cut and is prized for its high marbling. With a better mouthfeel than the rib cap, it allowed me to savour the intense flavours just a bit longer.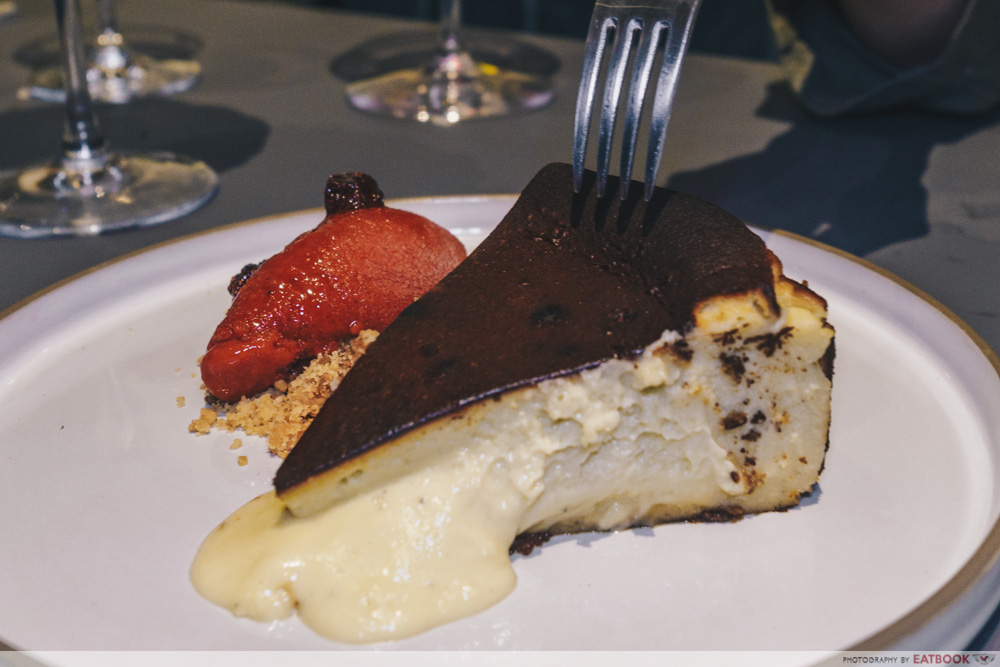 Fat Belly started off as a dual-identity dessert shop and thus I had high expectations for their sweet treats. 
Their Burnt Stilton Cheesecake ($16++) is made with sharp and salty blue cheese, with a creamy consistency. The tartness of the roasted strawberry, kirsch (cherry liquor), and berry sorbet on the side contrasted the warm and heavy blue cheesecake. I would say the cheesecake is worth a try, although it definitely was an acquired taste.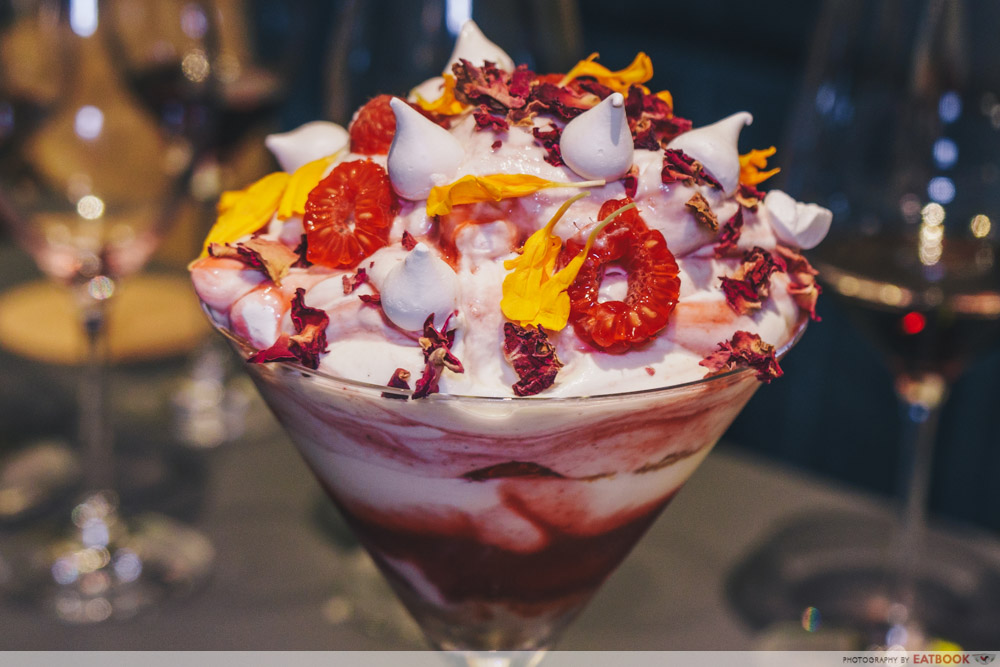 I easily scooped into the cloud-like Eton Mess ($16++), where the main volume of it was meringue and whipped cream. The cream tasted heavy, but was balanced out by tangy raspberry flavours.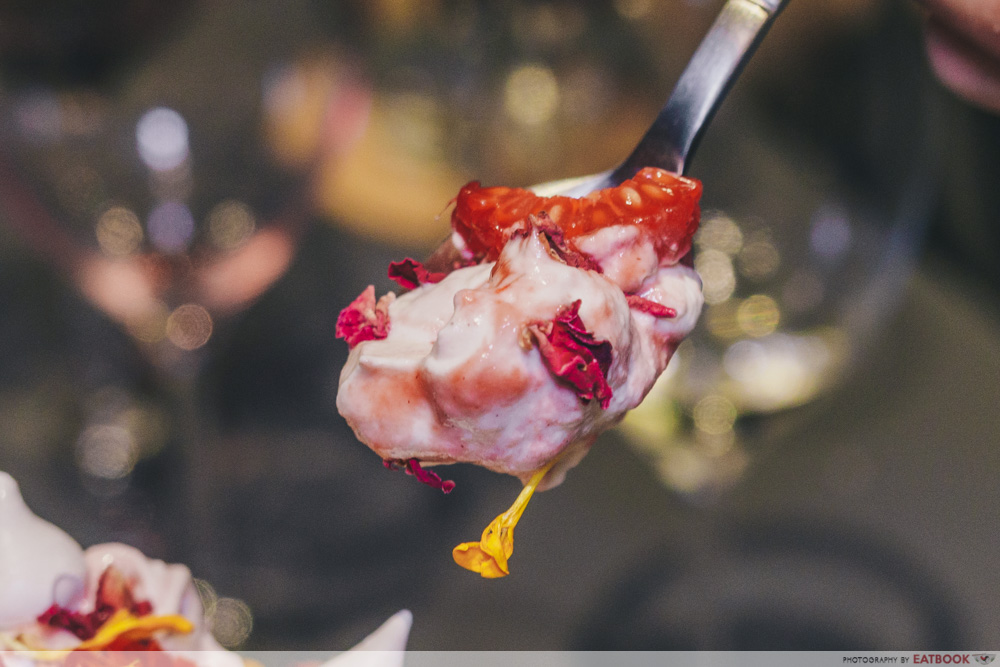 The rose petals here made for an aesthetically pleasing garnish, but proved to be more form over function as I constantly had to remove the hard-to-chew dried petals from my scoops.
Ambience at Fat Belly Social Steakhouse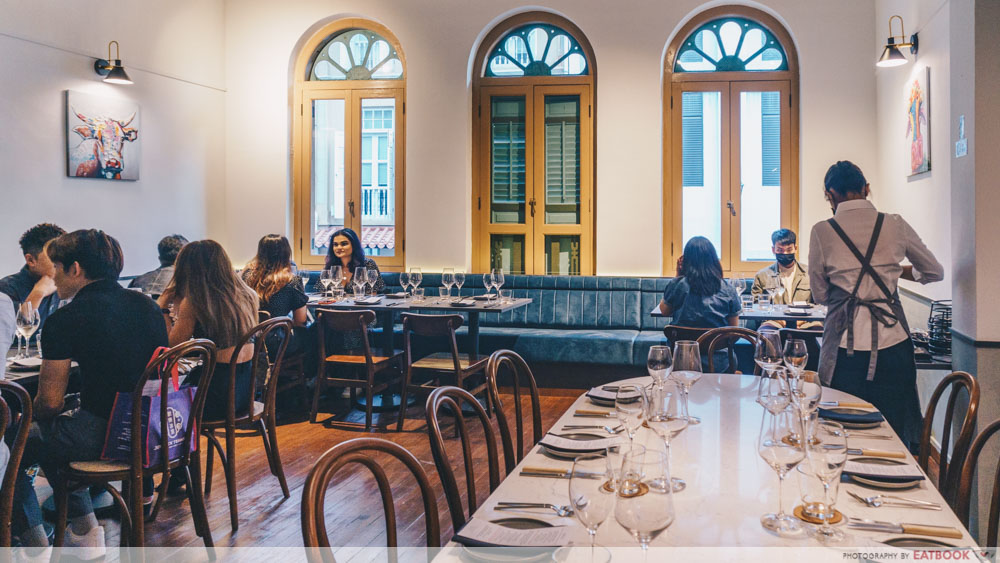 Fat Belly Social Steakhouse is located at a mere two-minute walk from Telok Ayer MRT Station.
With the limited and cosy dining areas in the steakhouse, I felt like I was at a small family gathering. The friendly and approachable staff were also knowledgeable and made the menu understandable and simple.
The verdict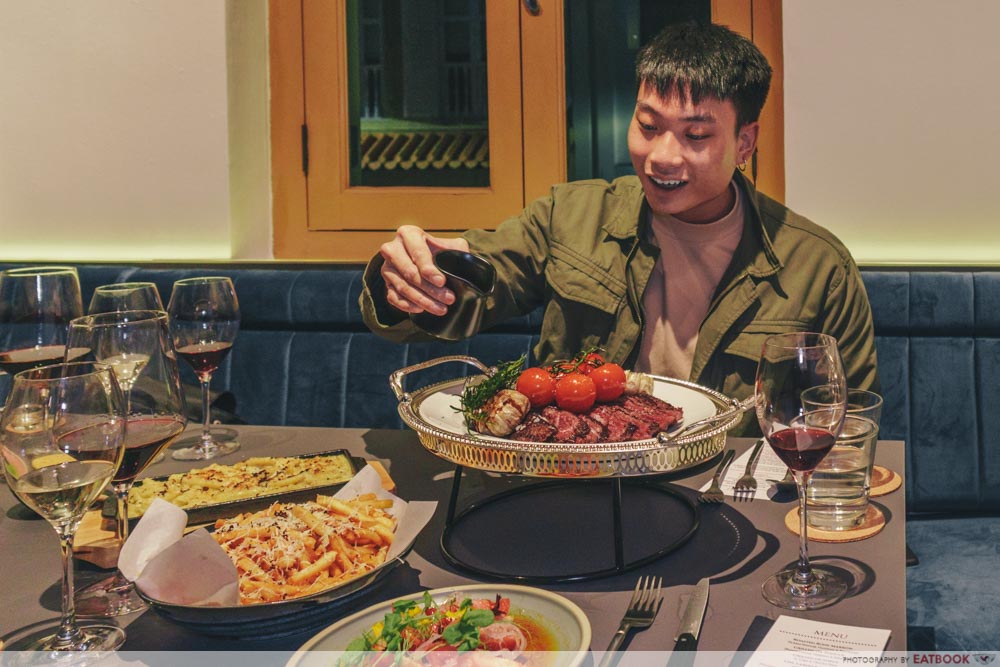 Fat Belly Social Steakhouse served a no-frills experience of a niche category of steak cuts. I would say it's worth a visit for any steak lovers looking to get spendy on payday. 
For more affordable steaks, check out our review of The Feather Blade, which offers flat irons steak cuts. All beef lovers can also check out our list of steaks under $30.
Address: 21A Boon Tat Street, Singapore 069620
Opening hours: Daily 5:30pm to 10:30pm
Tel: 6227 2247
Website
9 Cheap Steaks Under $30++ That Are Mouth-Wateringly Delicious
Photos taken by Syamira Rohaizad.
This was a media tasting at Fat Belly Social Steakhouse
The post Fat Belly Social Steakhouse Review: Wagyu Steak, Uni Toasts, And Blue Cheesecake In Telok Ayer appeared first on EatBook.sg – New Singapore Restaurant and Street Food Ideas & Recommendations.