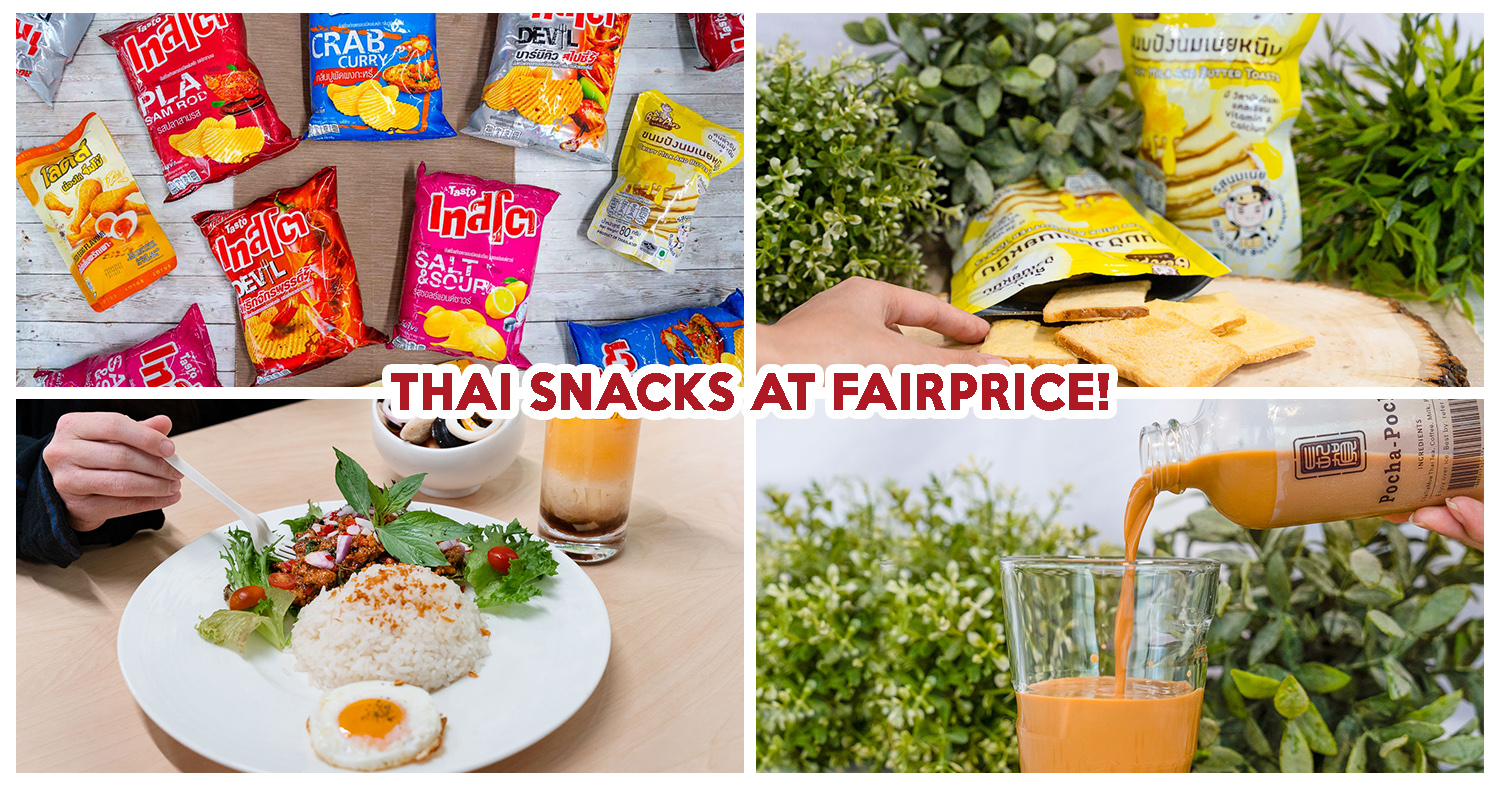 FairPrice Thailand Fair
The Land of Smiles has long been a hotspot for local travellers seeking a quick vacay, but now that borders remain shut, we have to look to getting our BKK fix in Singapore. Here's where FairPrice's latest Thailand Fair comes in. Following their recent Taiwan Fair, this Thailand-themed food, beverage, and snack fair will take place across all FairPrice outlets, including their supermarkets, Finest, Xtra, Warehouse Club, and on FairPrice Online from 22 July to 4 August. In conjunction with this event, we're also giving away a $100 e-voucher to one lucky reader—which you can find out more about below.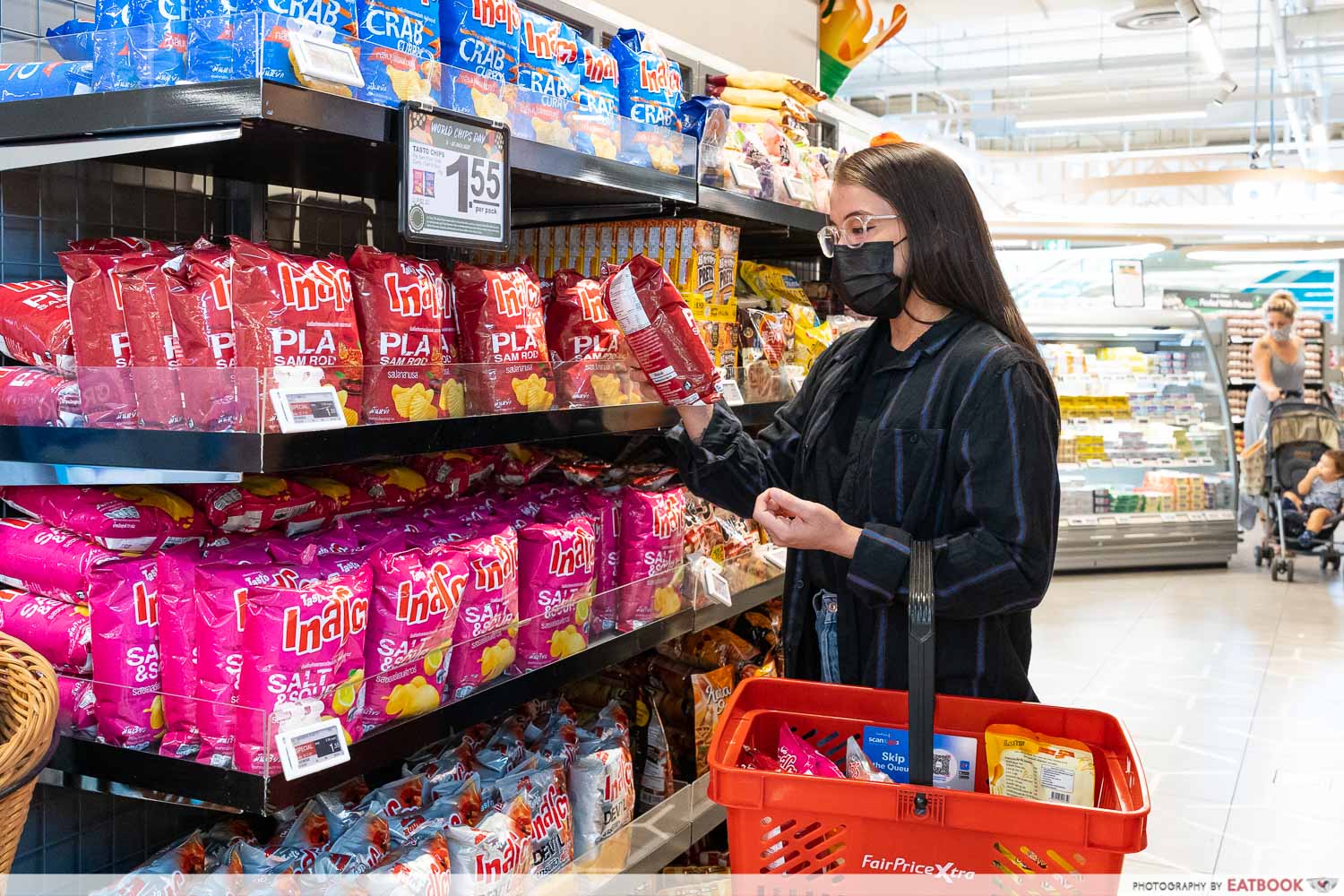 Familiar Thai snacks will be sold across FairPrice outlets islandwide, all for you to tide through your Netflix and stay-home nights. The most recognisable one would be the Tasto line of potato chips. Savour the uniqueness of the sweet-and-sour fish dish, pla sam rod, in chip form with the Tasto Pla Sam Rod potato chip flavour ($1.55 per pack, U.P. $2.30).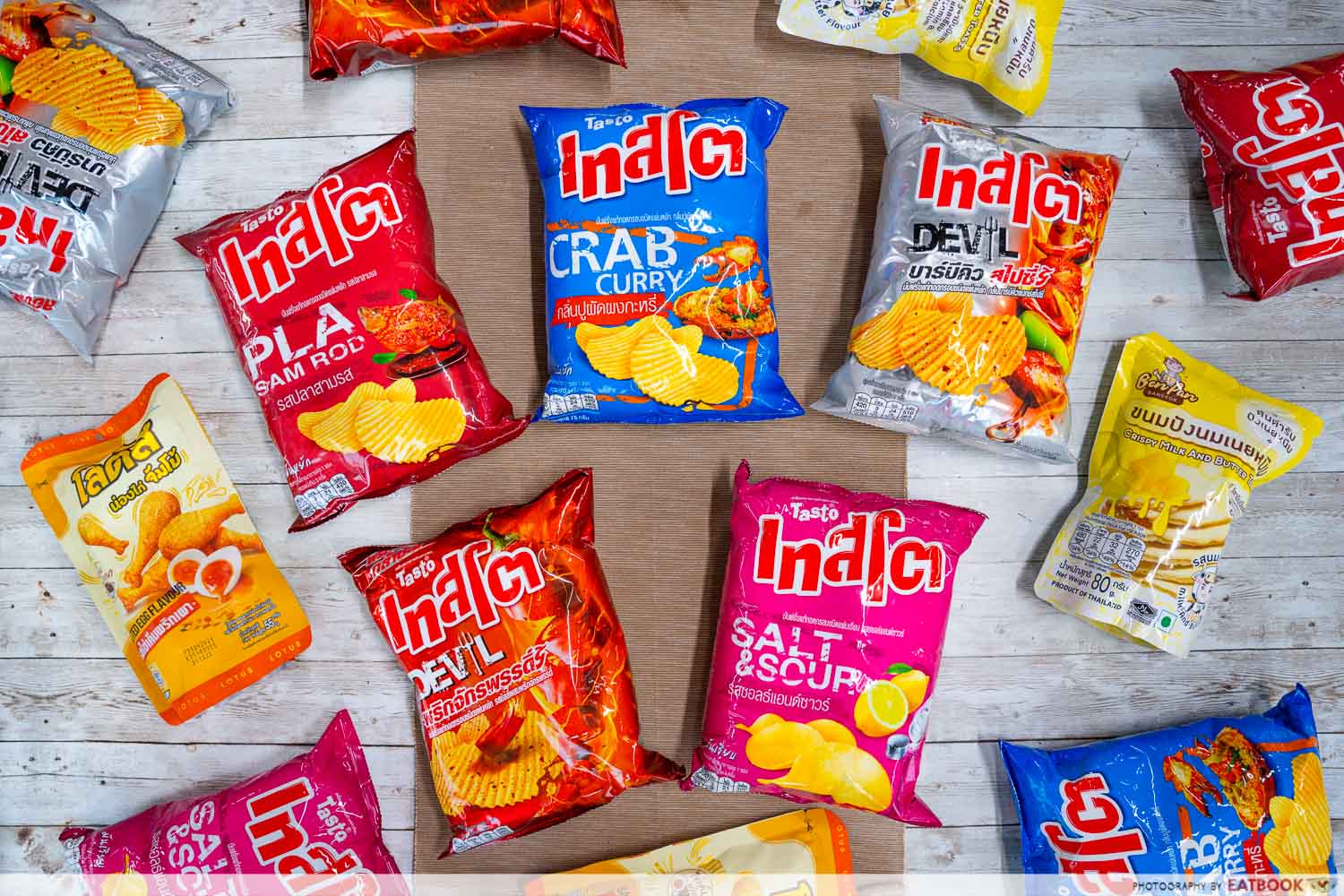 A handful of other Tasto flavours have also been brought in too, if you want variety. The Curry Crab ($1.55 per pack, U.P. $2.30) chips pays homage to the aromatic Thai seafood dish, while spicy chip fans can look to the Tasto Devil Max Spice BBQ ($1.95, U.P. $2.50) flavour, for a sweet and fiery kick, or the devilishly mouth-watering Tasto Devil Emperor Chili ($1.95, U.P. $2.50) chips, which come with real pieces of Thai chilli in the spice mix.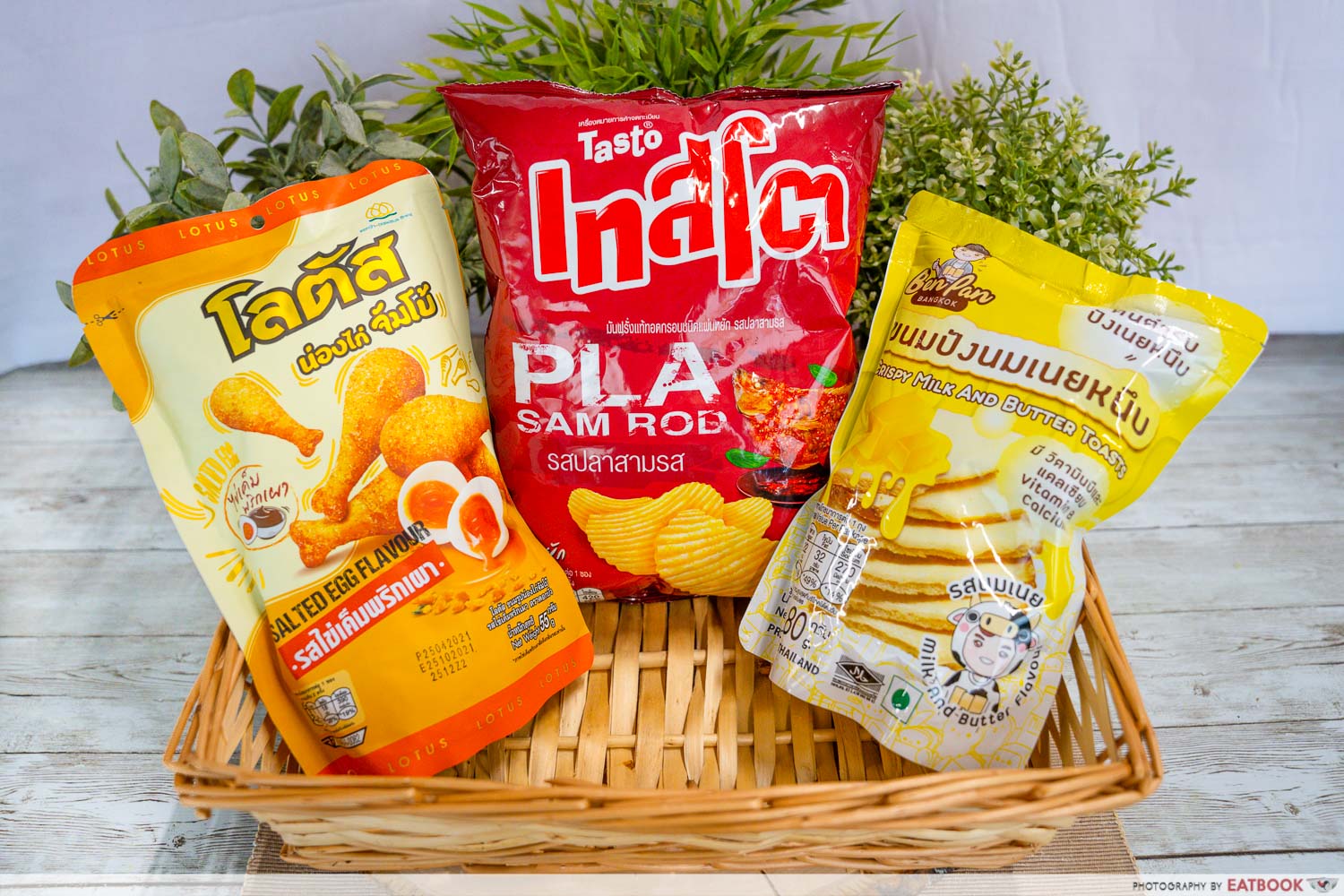 Another popular snack is the Lotus Jumbo Drumstick Biscuit Salted Egg with Chili Paste Flavour ($1.70, U.P. $2.10).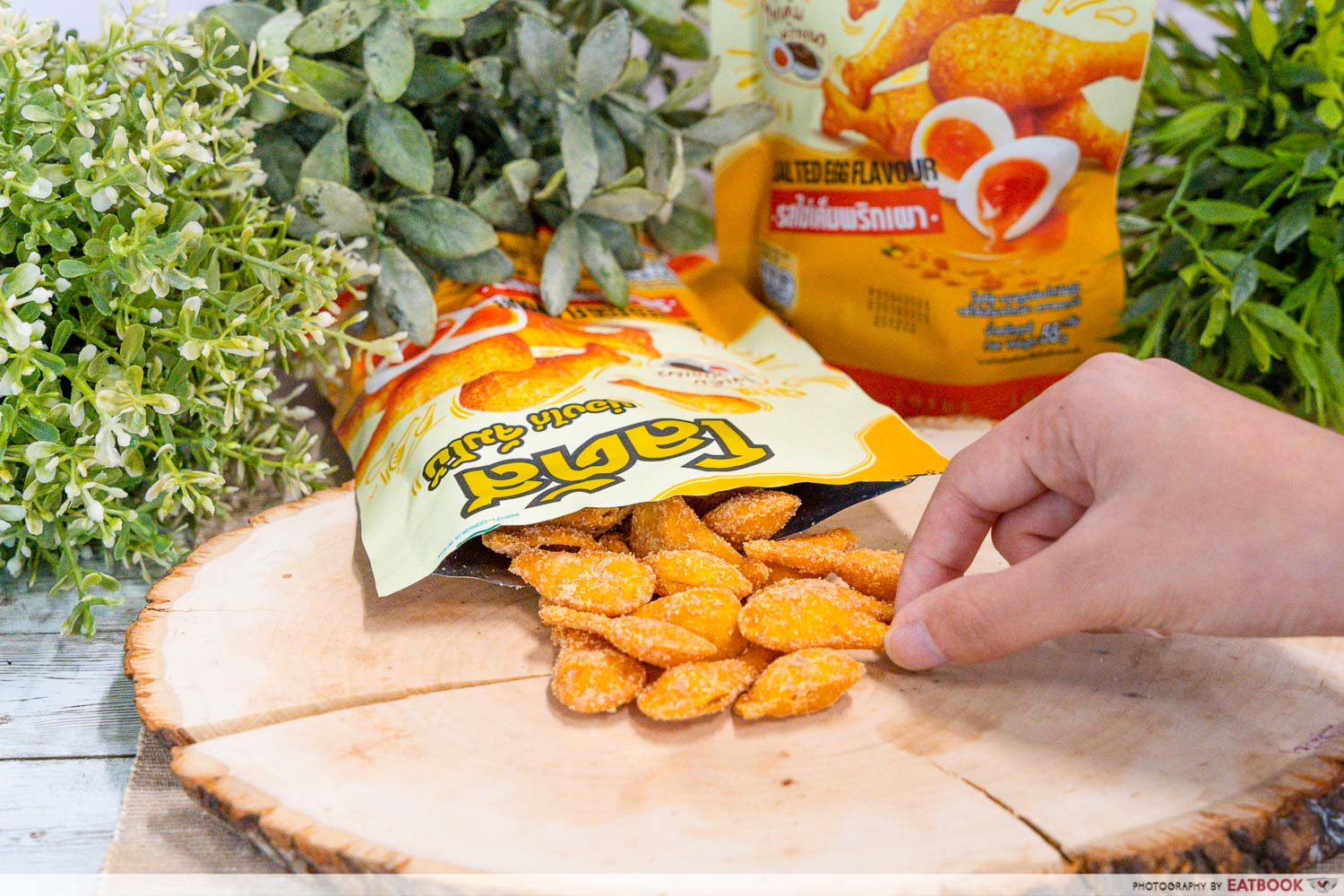 These drumstick-shaped crackers are thoroughly addictive, with a spicy salted egg yolk flavour that is so addictive, you'll find yourself working your way through a pack in a blink.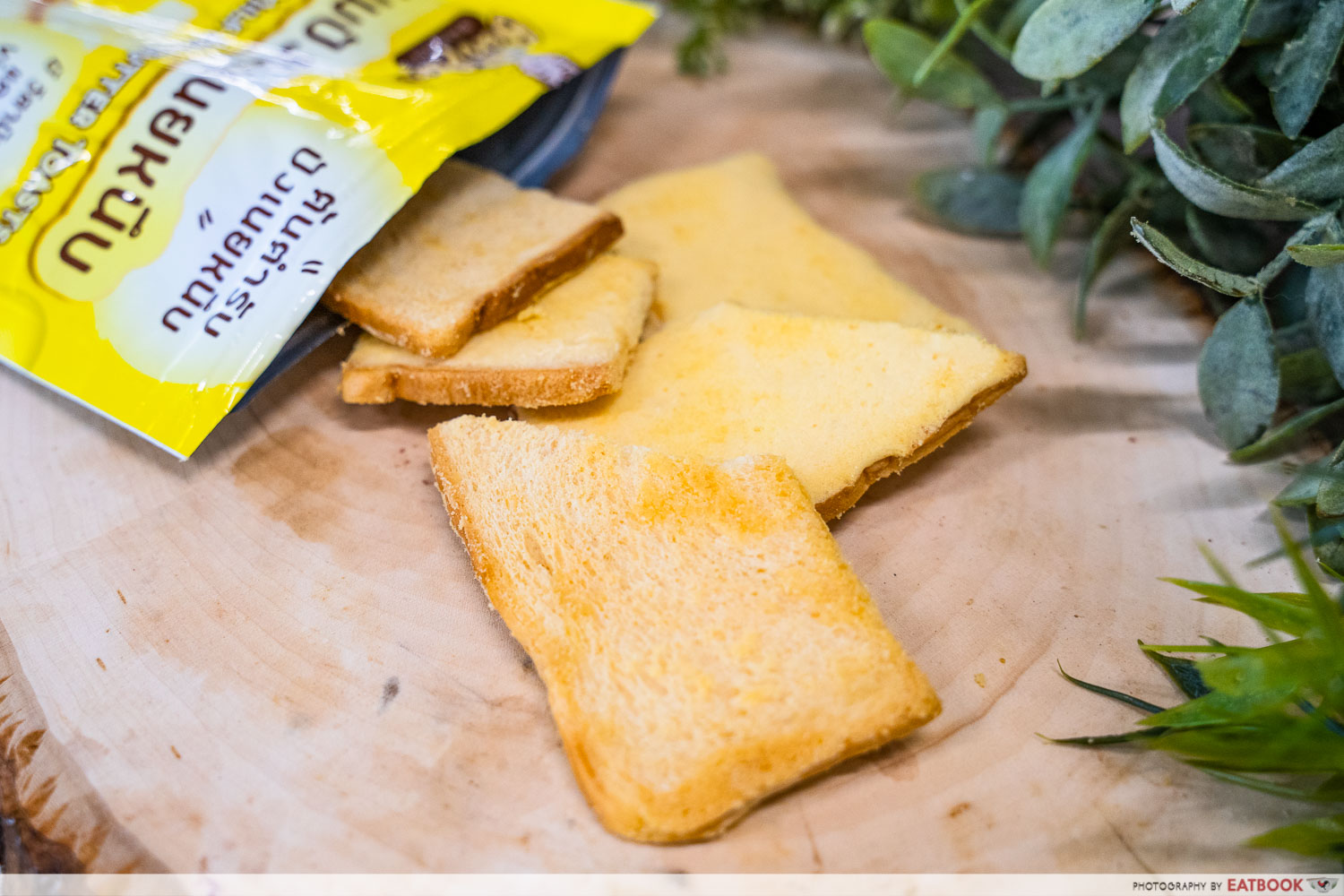 For sweets, try the Ben Pan Crispy Milk and Butter Toasts ($2.40, U.P. $3.20). These crispy, bite-sized toasts come in three flavours: Chocolate, Thai Tea, and Original. We tried the Original one, which is equally crisp and buttery, ideal to enjoy with a hot cup of Thai milk tea.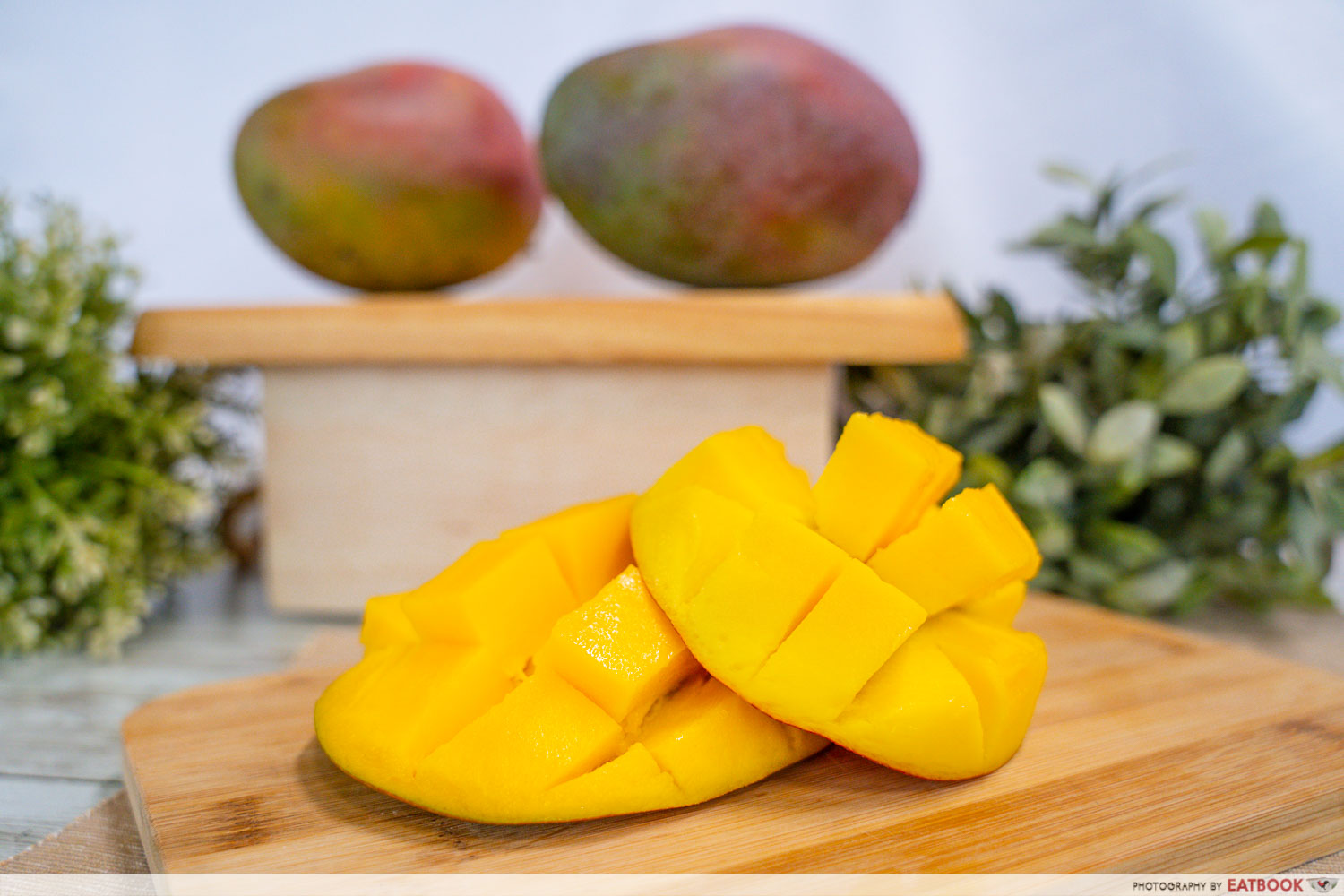 Thailand is known for their fruits, in particular, their mangoes. Get a taste of that at the FairPrice Thailand Fair, as they have extra-juicy, large Palmer Mangoes ($5.95 for two, U.P. $7.90 for two). High in antioxidants, and vitamin C, these mangoes feature firm flesh and are slightly tart.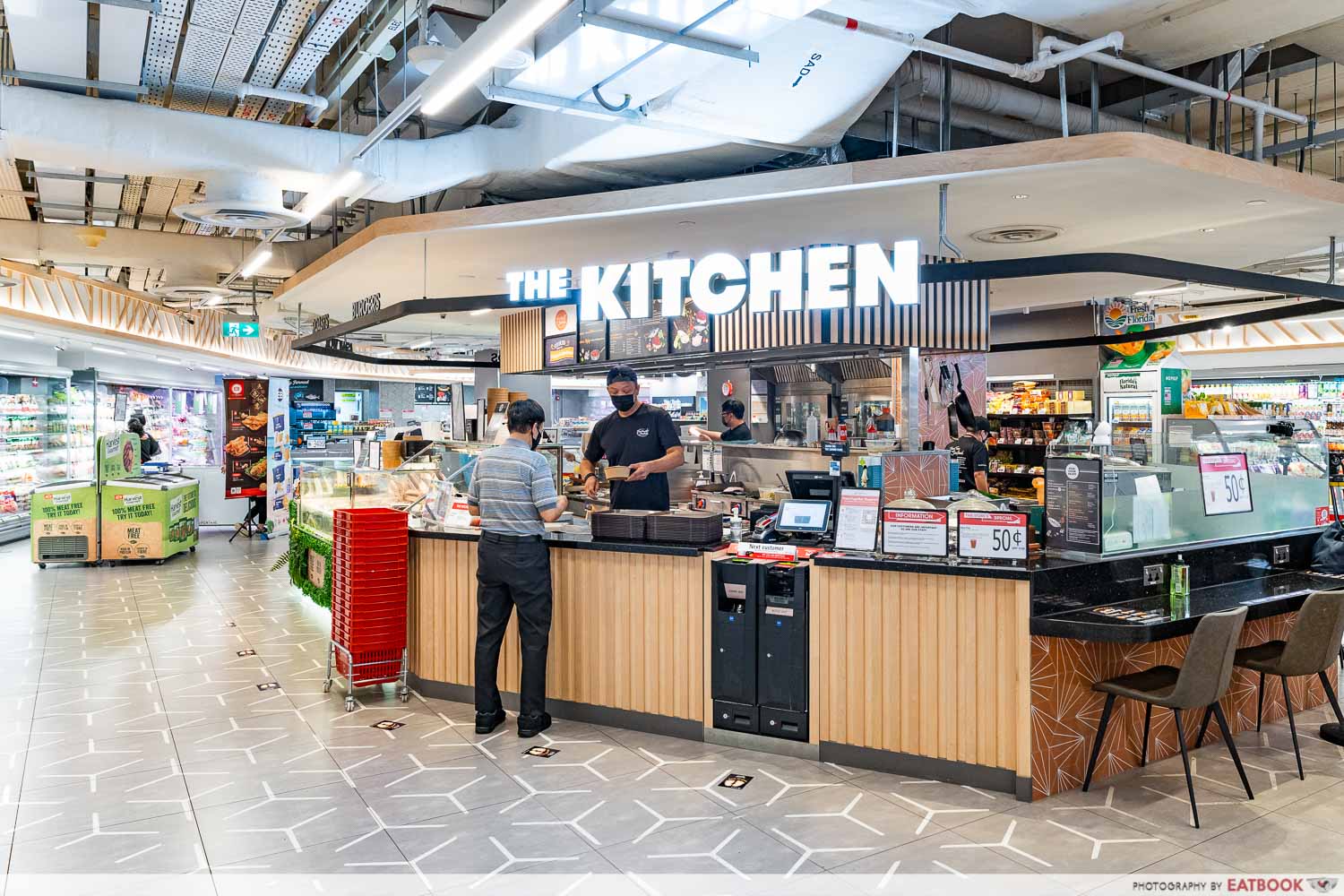 Apart from the snacks, FairPrice Xtra Parkway Parade will also have some outlet exclusives at their dining area, available for takeaway.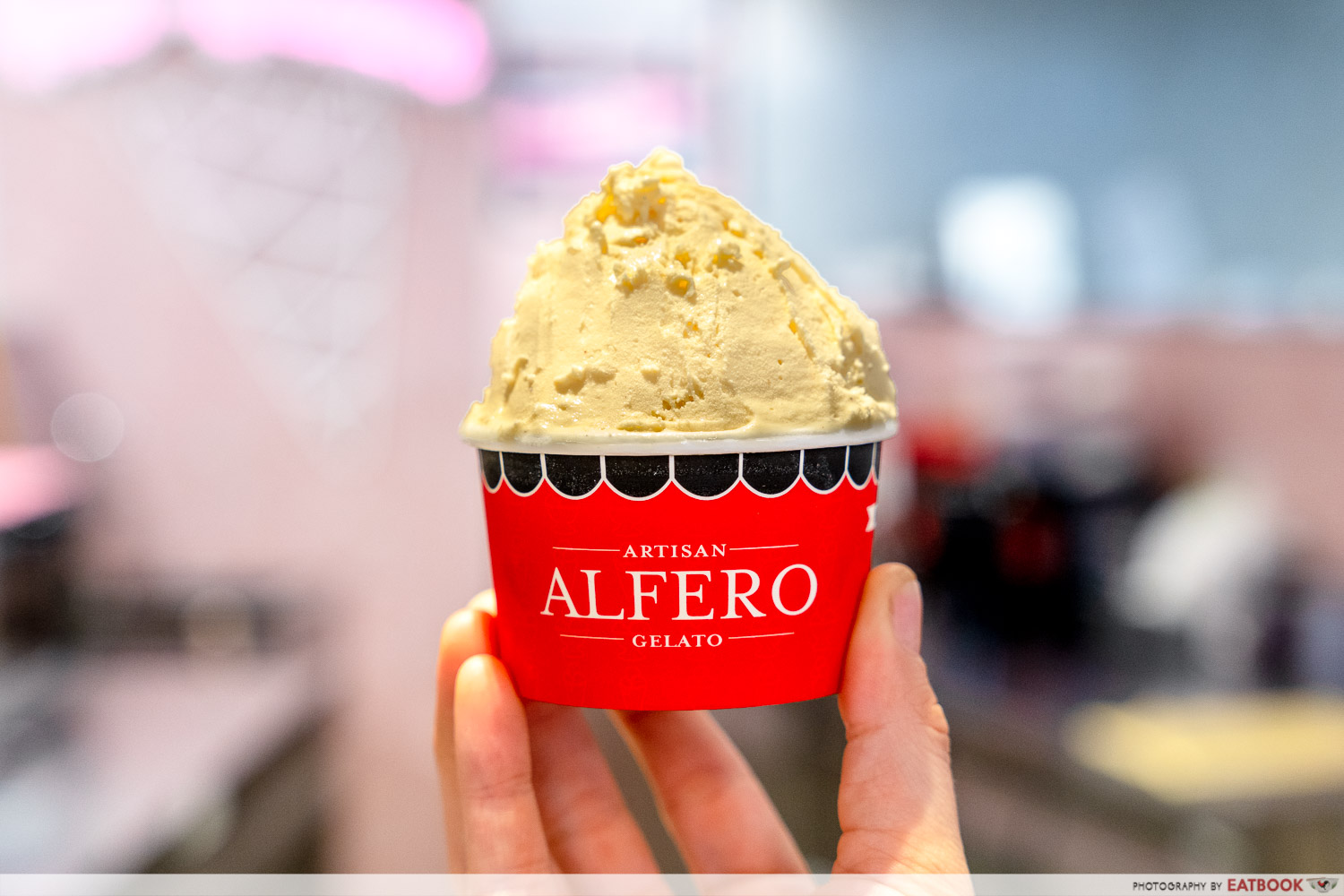 For a quick midday pick-me-up, try the refreshing dairy-free Coconut Lychee Thai Basil Sorbet ($6.50 per scoop), a super tropical and floral gelato that's great to beat the heat with.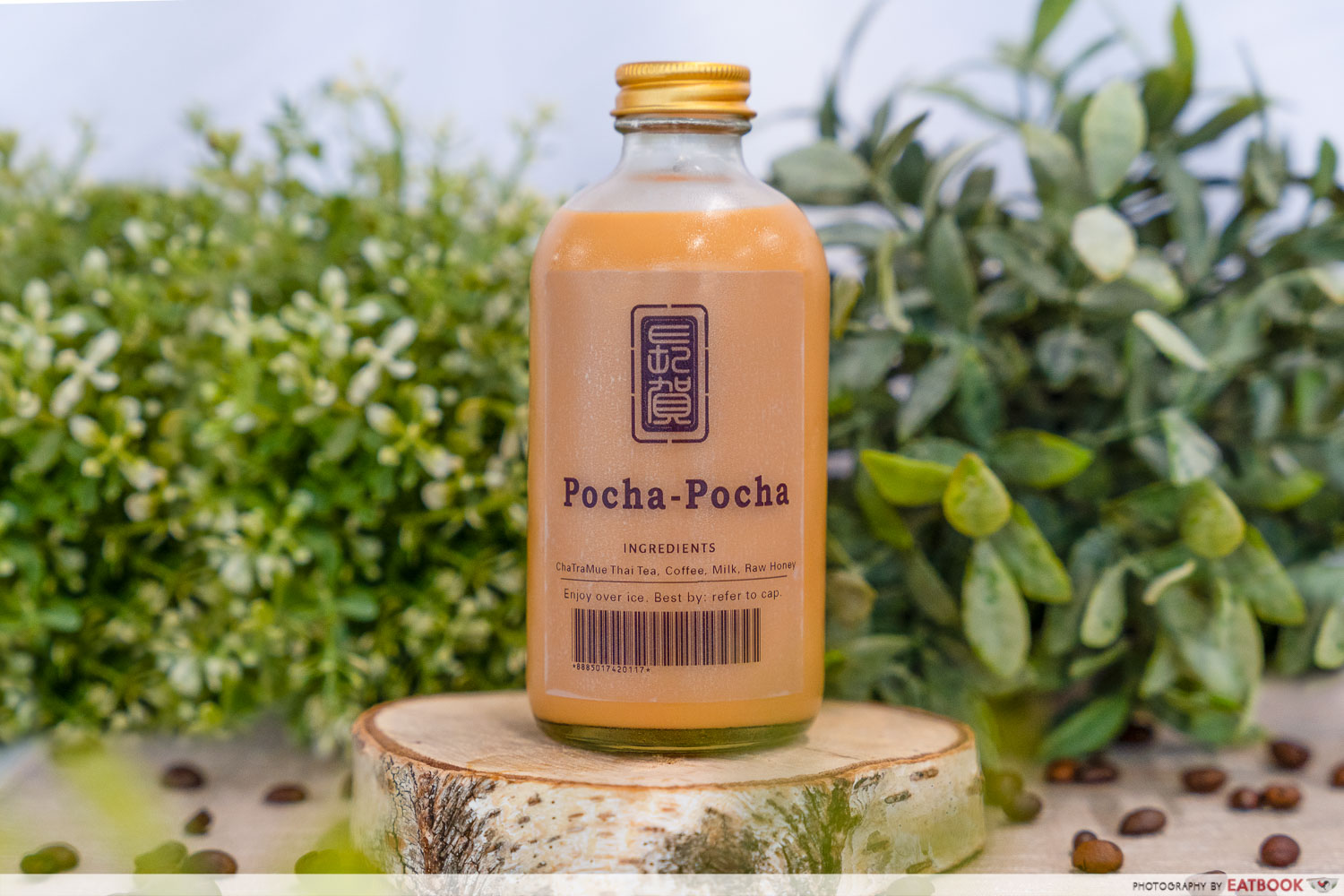 Pair this with the Pocha Pocha ($8), a classic Thai milk tea infused with cold brew coffee from homegrown roasters Tiong Hoe Coffee.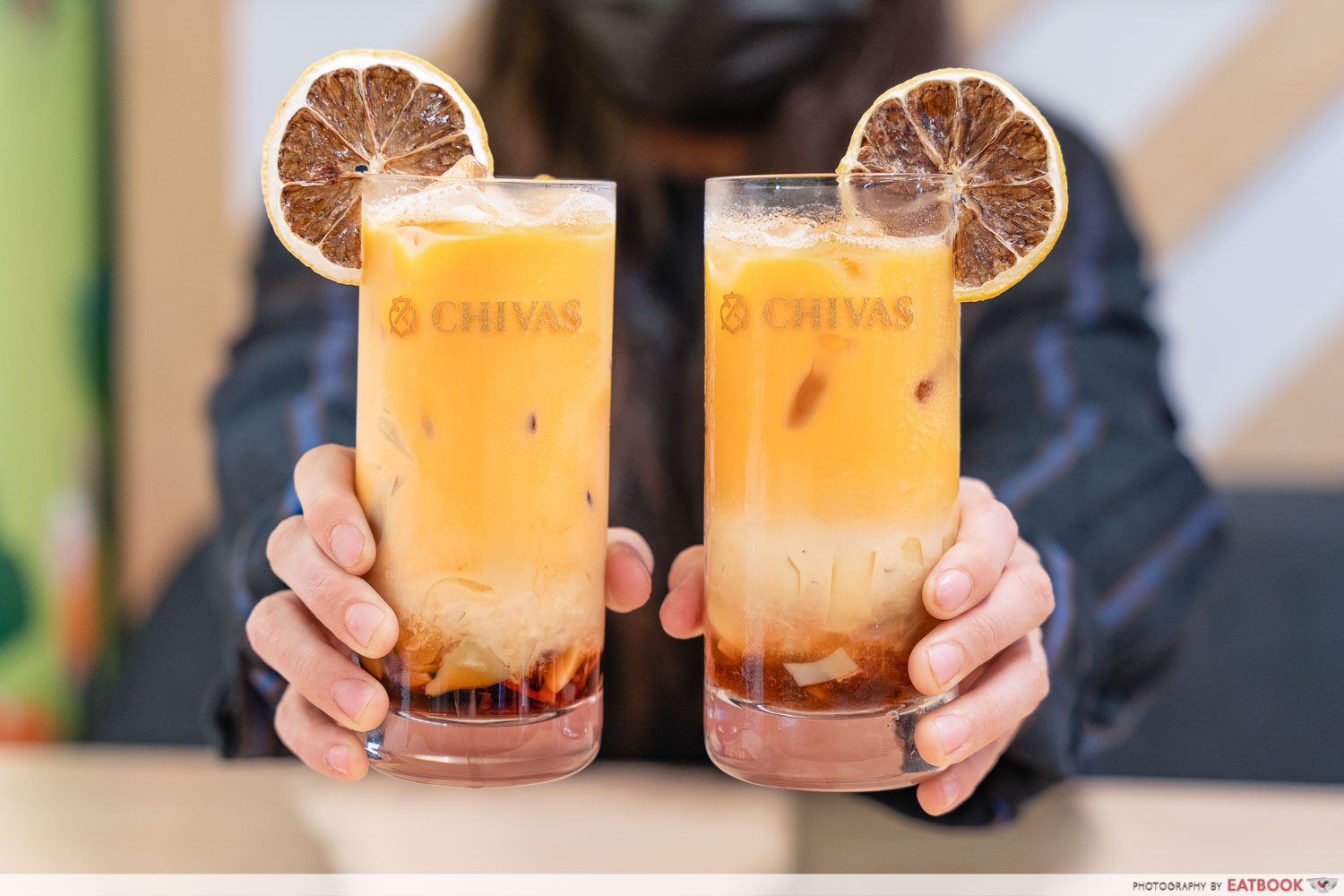 Treat yourself to the Jai Yen Yen, an exclusive vodka-based, Thai milk tea-inspired cocktail, sweetened with a touch of palm sugar and mango pudding. Each glass is priced at $9.90 and is available for takeaway.  If you prefer just straight-up Thai Iced Tea, The Bar at FairPrice Xtra Parkway Parade also has a version. Normally priced at $2, it is available for $0.50 with the purchase of any food item from the dining area.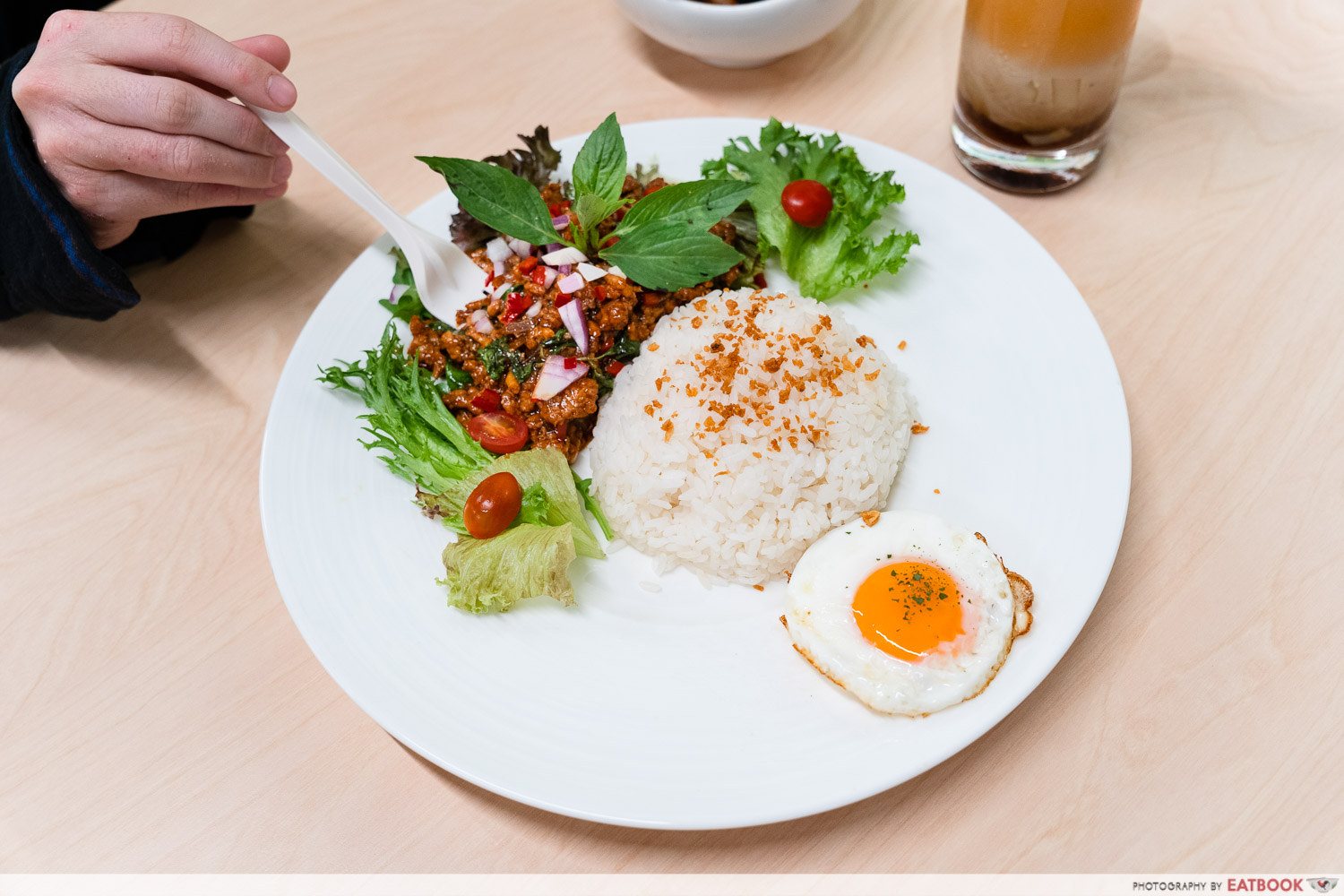 Those feeling peckish can opt to take away Thai dishes at Ban Tong Seafood. If the name sounds familiar, that is because Ban Tong Seafood is a famous zi char outlet in Clementi. They have two dishes available: a Seafood Tom Yum Soup ($9.80), where piquant tom yum is dressed with a variety of fresh seafood, and Thai Basil Minced Chicken ($8.80), where spicy, fragrant thai basil chicken is served on a bed of white rice, with a fried egg. A plant-based meat option of this dish is also available.
Head down to your nearest FairPrice outlet to check out the Thailand Fair exclusives, ongoing till 4 August, and recapture your BKK trips with the wide variety of items available. Do note that products and variants availability varies from store to store. FairPrice is also giving a $100 voucher away to one lucky Eatbook reader, which you can join via our Instagram giveaway here!
Photos taken by Melvin Mak.
This post is brought to you by FairPrice.

The post FairPrice's Thailand Fair Has Thai Snacks, Coconut Gelato, And Cold Brew Milk Tea To Remind You Of BKK Trips appeared first on EatBook.sg – New Singapore Restaurant and Street Food Ideas & Recommendations.