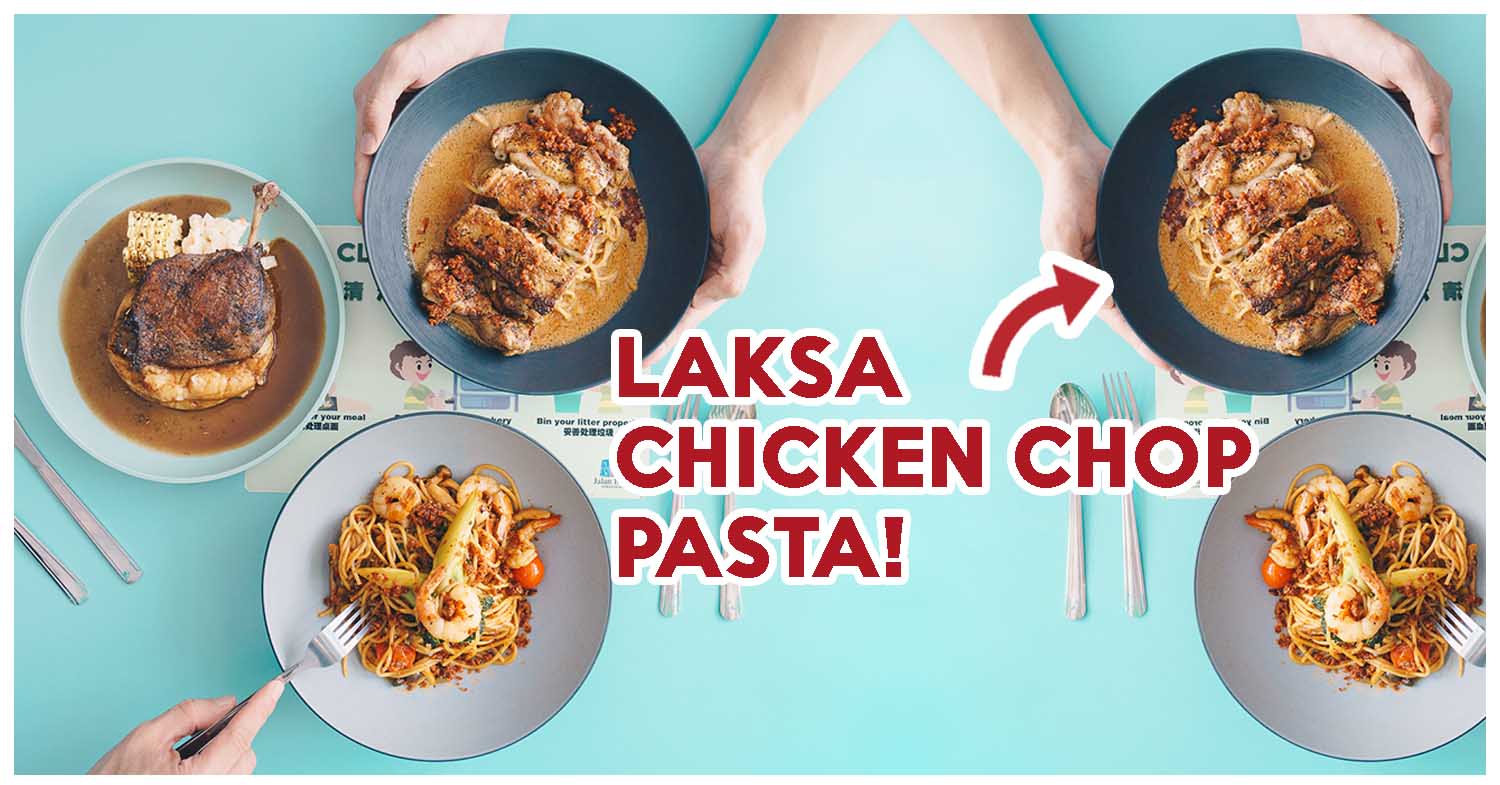 Eddy's No.1 At Hong Lim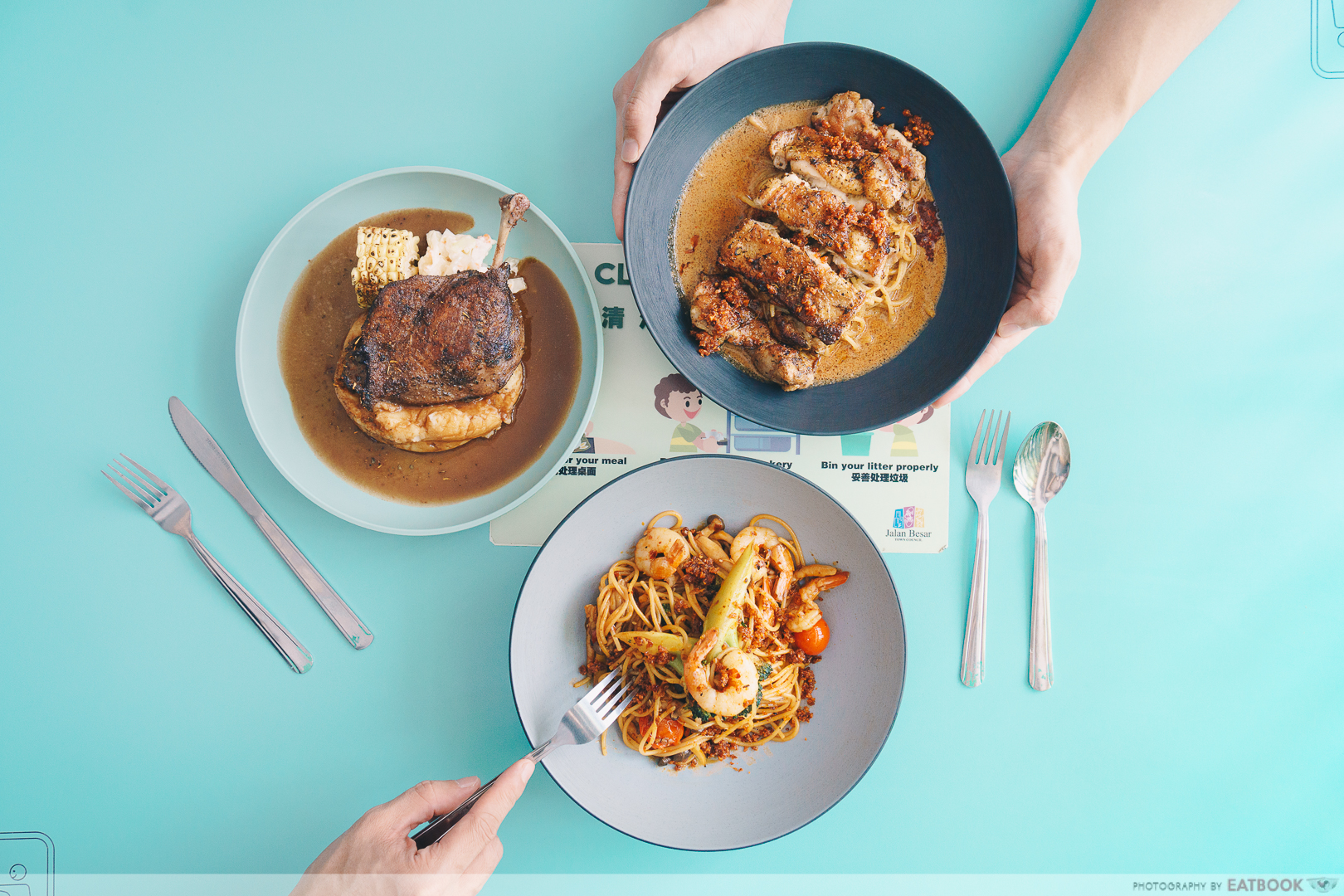 It's no secret that Hong Lim Food Centre is a hotbed for hawker superstars. Thus, when I heard Eddy's No. 1 introduces Western-Asian food to this traditional hawker food paradise, we quickly headed down to see how this stall matches up to the veterans.
For someone with many years of culinary experience, Eddy is quite a stickler for the basics. He passionately shared with us a few of his cooking philosophies when it comes to preparing his dishes.
Food At Eddy's No.1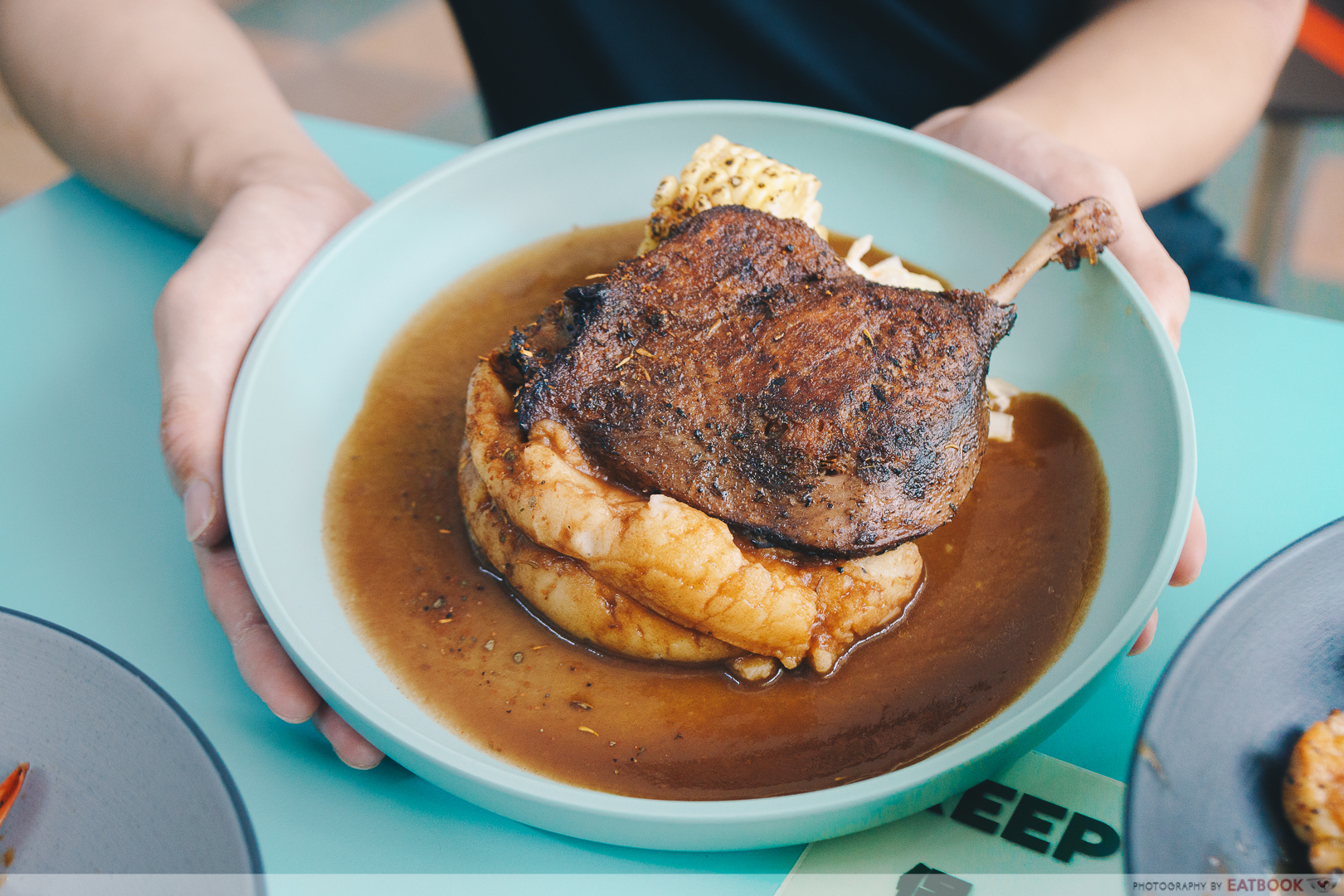 One of his philosophies is that colours create flavour. That's why the Duck Confit ($10) at Eddy's No. 1 sports a darker hue than usual. His darker duck confit is a result of an undisclosed spice, which adds an extra bit of flavour to the meat.
What he accomplished with the duck meat is a knife-through-butter cutting experience, while still retaining a firm bite. From skin to bone, the duck bore notes of a mild salty spice that is unforgivingly mouth-watering.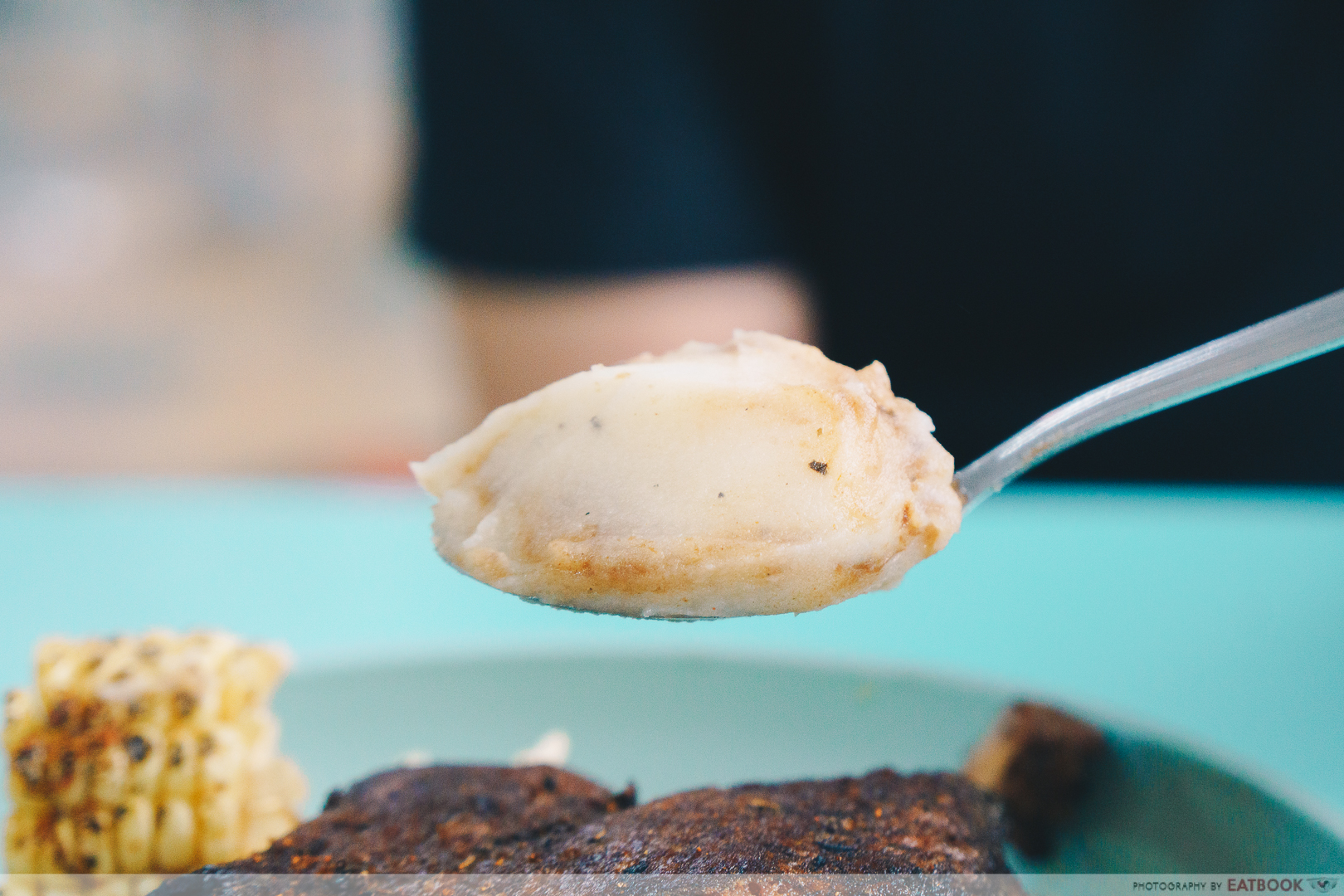 The dish comes with a choice of either aglio olio spaghetti or mashed potato. My choice of mashed potato, however, may not have been the most ideal as I craved a firmer bite in contrast to the tender duck.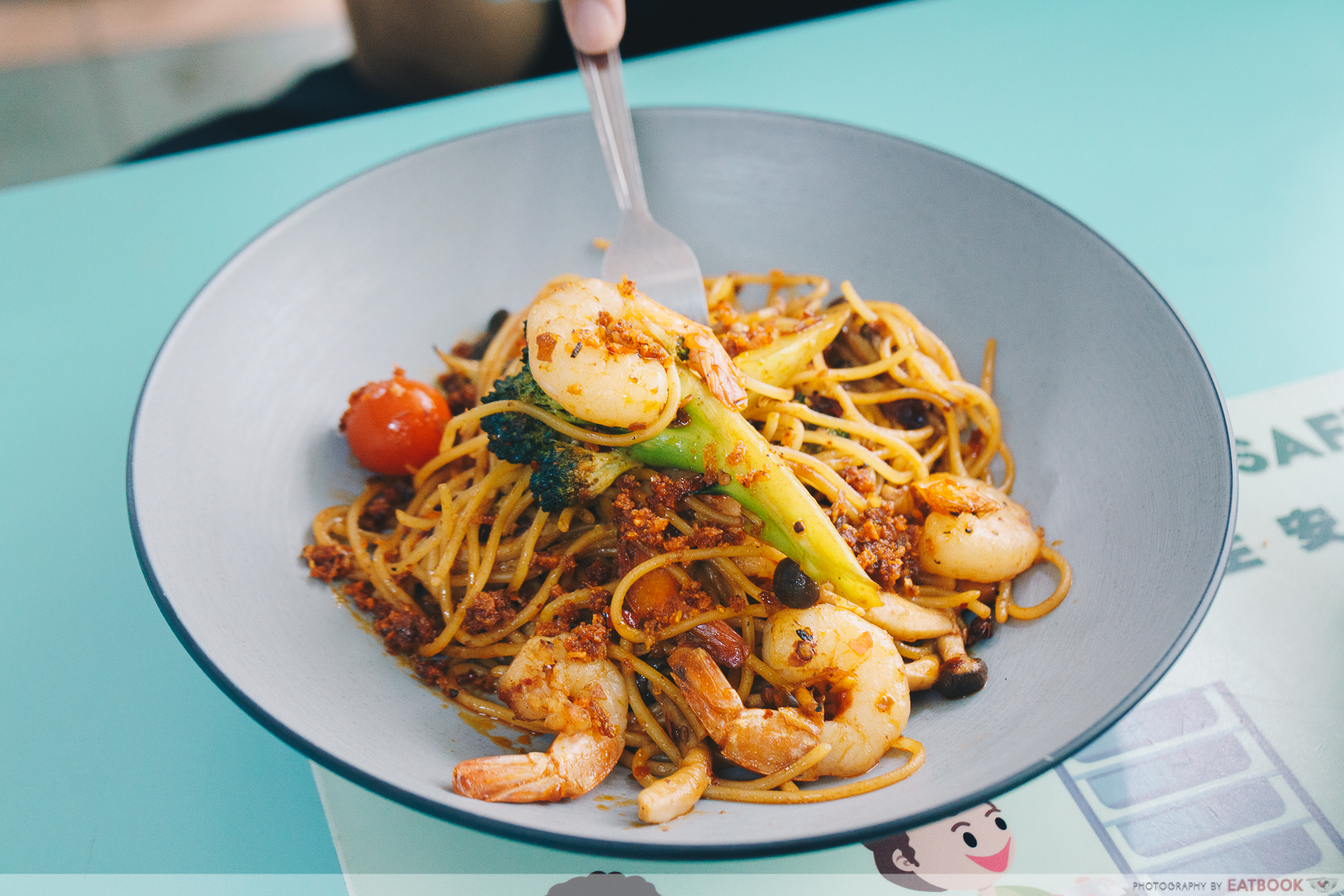 Eddy took us through the preparation of his Mala Shrimp Spaghetti ($7.50), by explaining his rule of preparing only one serving in each pan. This is based on his firm belief that each dish deserves its own attention, for consistency in seasoning.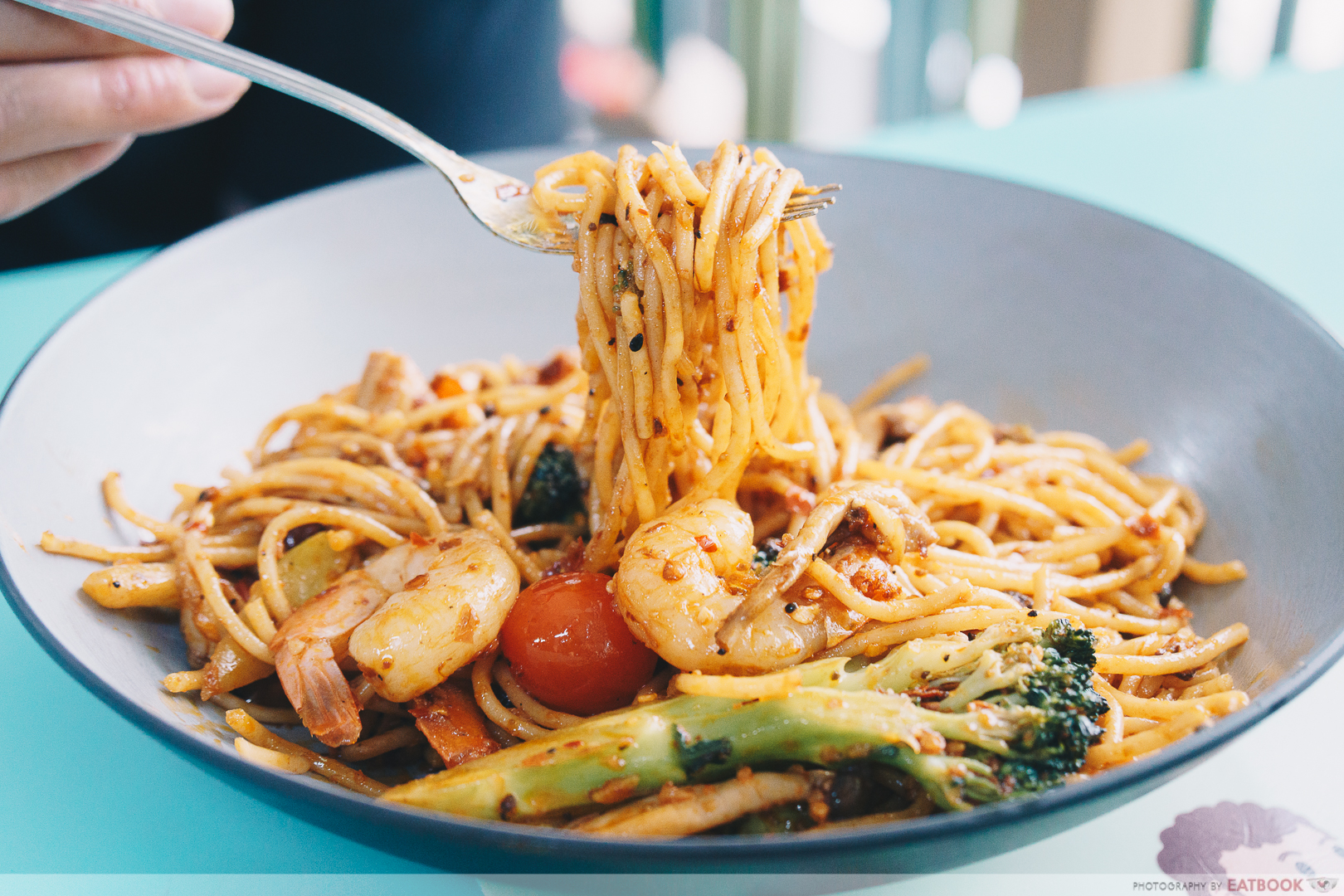 Each strand of spaghetti had a blend of salty and spicy mala flavours. The xiao la level of spiciness was given tongue-tingling numbness from the addition of Sichuan peppercorn.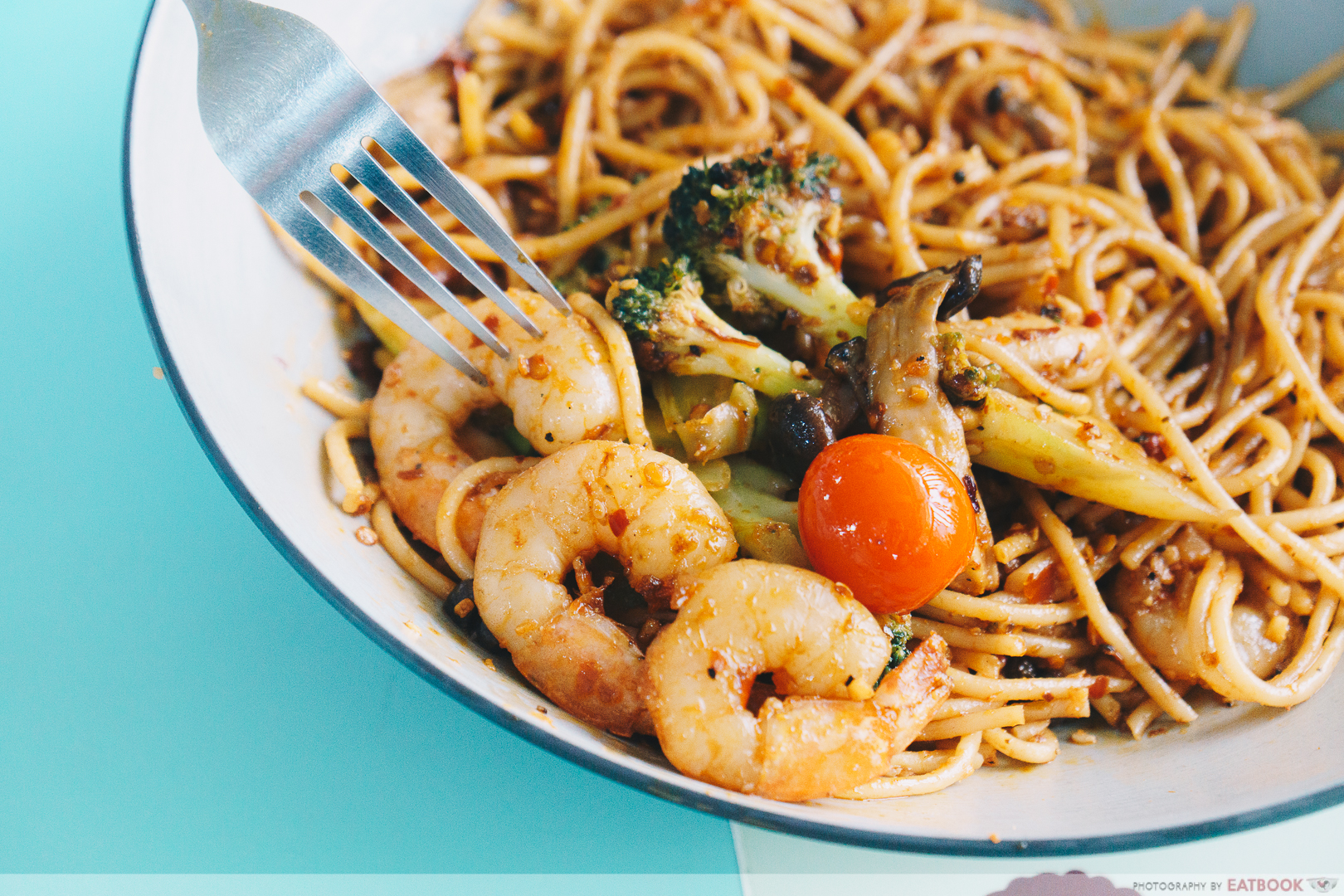 While the sauce here won't leave you teary-eyed, it did well to elevate the natural flavours of the ingredients. The earthy broccoli, slightly acidic cherry tomatoes, and lightly sweet prawns were well-integrated, but still stood out with their own flavours.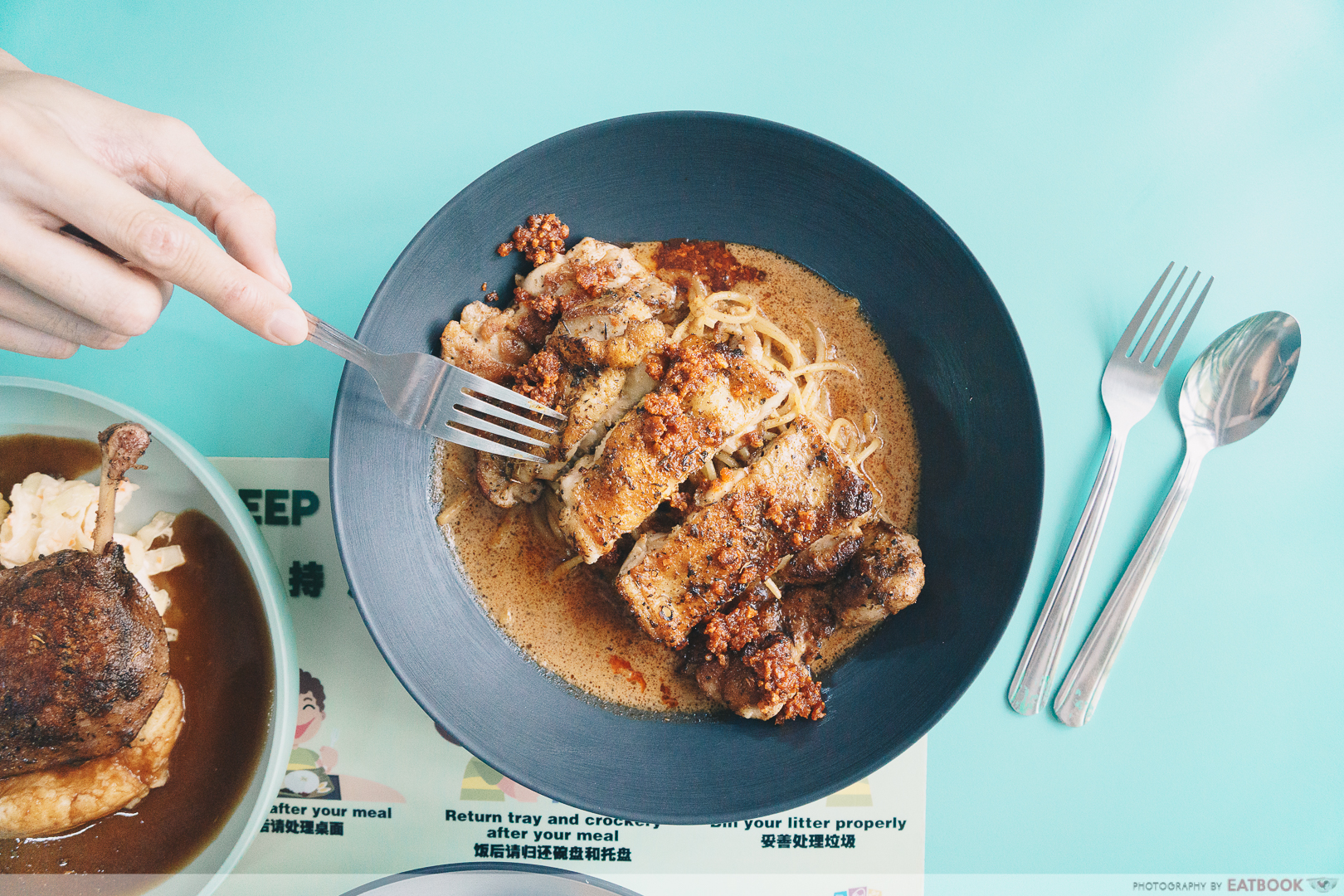 The Chicken Chop Laksa Spaghetti ($8.50) was, hands down, my favourite. While the sauce lacked the spicy kick of traditional laksa, such as the version from Gimee Face, the creamy consistency and savoury notes retained the lemak finish of a classic laksa broth.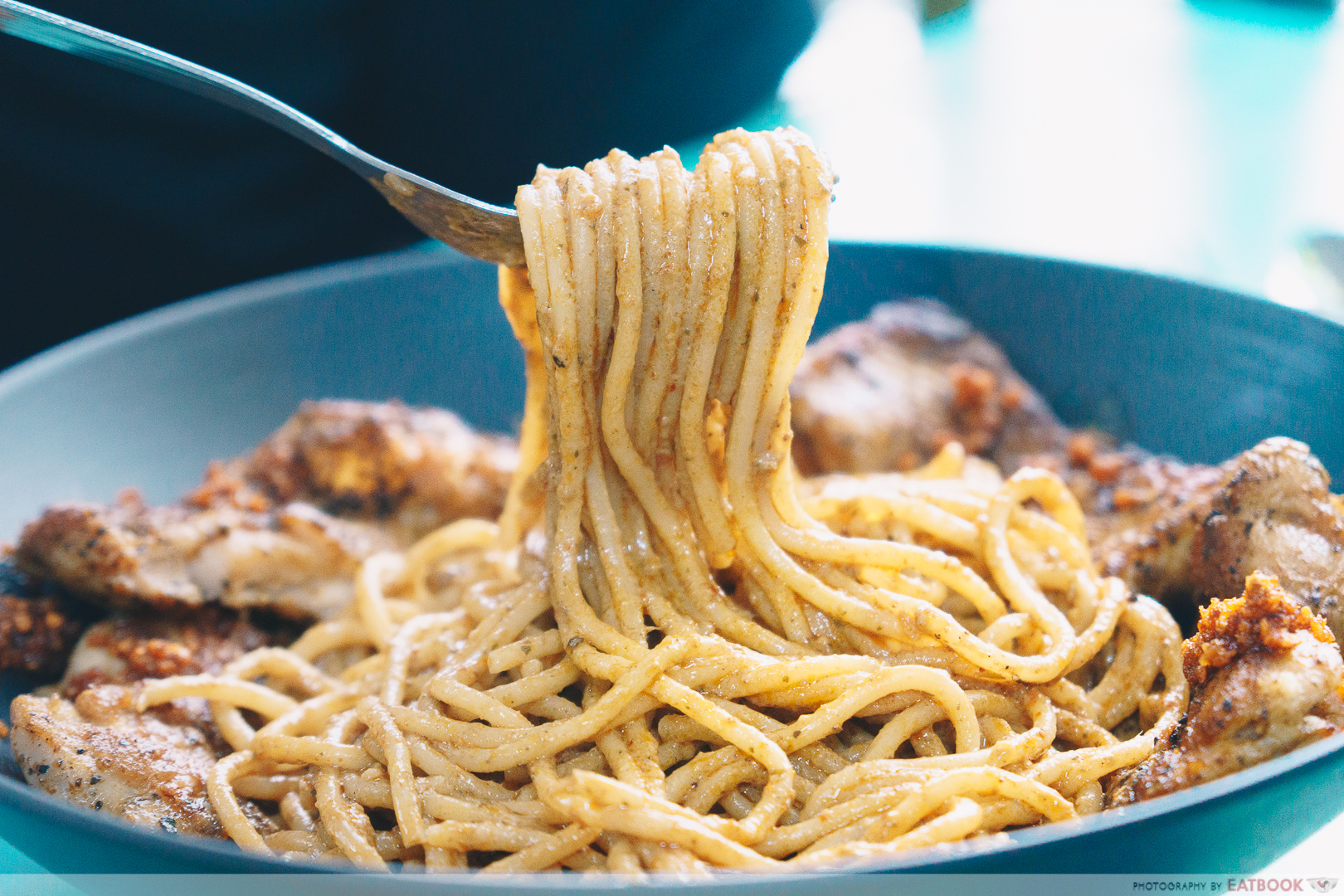 It made sense to tone down the spice in the sauce, as a thicker laksa broth tailored to a pasta dish may deliver levels of heat that are too concentrated. The result was an addictive, nutty concoction that went extremely well with the pasta.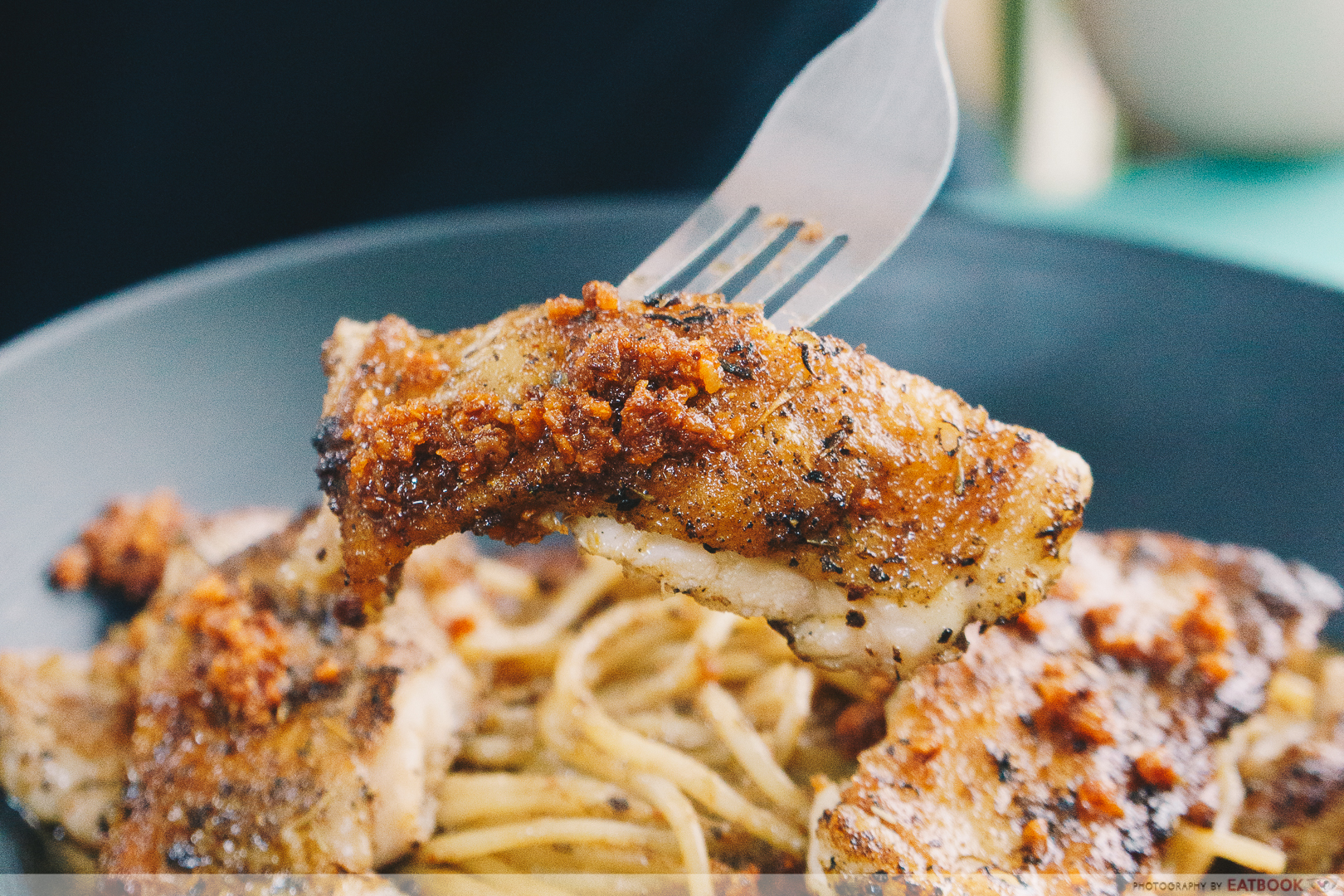 Grilled on a griddle and blasted with a blow torch, the chicken was tender and had an aromatic, charred exterior that blew me away and left me craving more.
Ambience at Eddy's No.1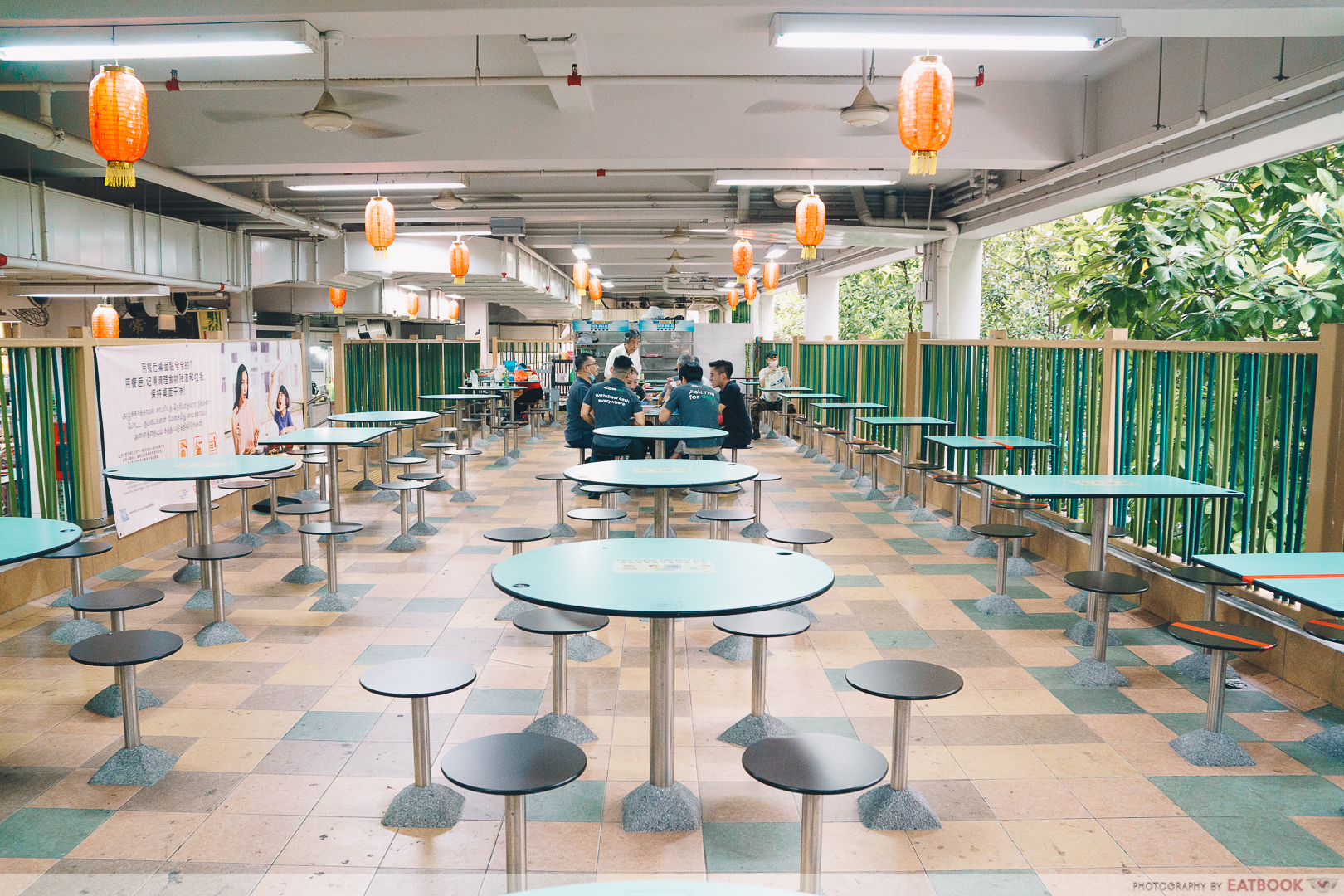 A mere five-minute walk from Chinatown MRT Station, Hong Lim Food Centre is crowded during lunch hours. Jostling among the crowd is part and parcel of the experience. For better ventilation, seating is available at the periphery areas within the hawker centre.
The verdict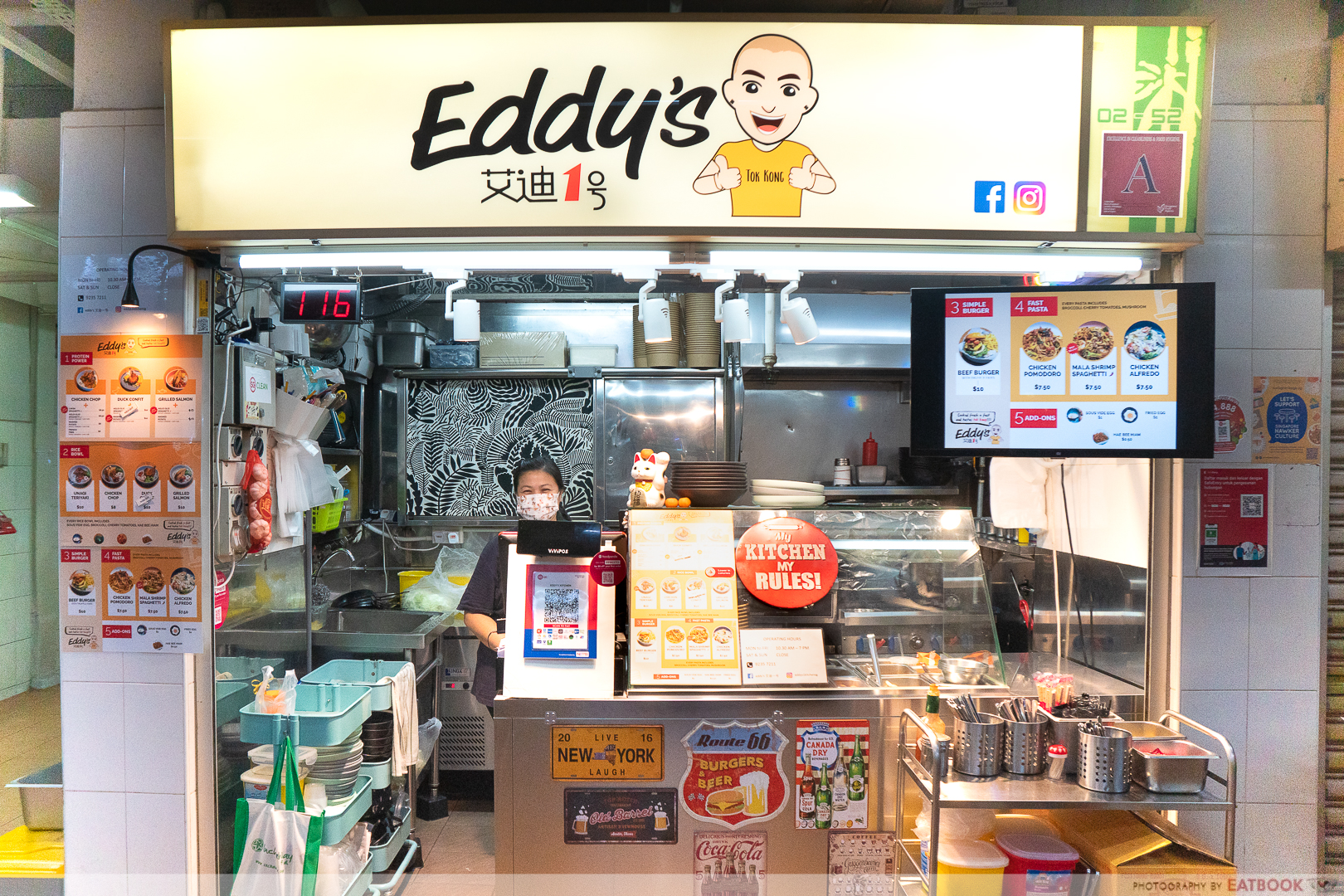 It takes courage to be a newcomer at Hong Lim Food Centre. Joining the ranks of Heng Kee Curry Chicken Bee Hoon Mee and Dong Fang Hong Fishball Noodle, Eddy's No.1 came prepared, for sure.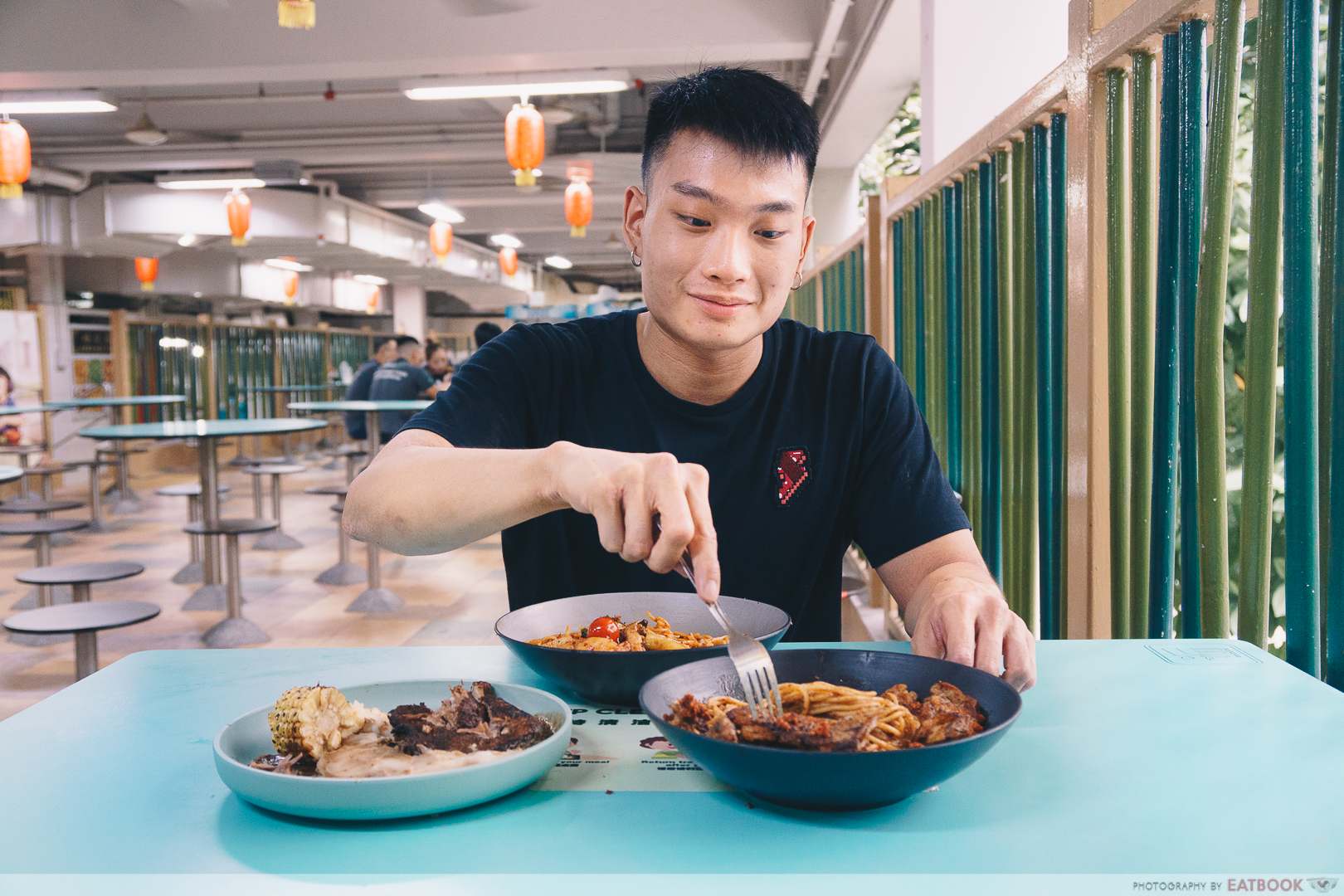 I do see Eddy's No.1 becoming another reason why people visit this place. In fact, Eddy's stall buttresses the food heaven status of this market. Although many come for the Duck Confit and it gets sold out quickly, my favourite dish here is the Chicken Chop Laksa Spaghetti that I'm already craving again.
Don't leave the food centre without checking out Cantonese Delights for fried chicken cutlet curry noodles, or Mian Zhuang for ban mian, made with a recipe that's been passed down through generations.
Mian Zhuang Review: Young Couple Sells QQ Ban Mian Made From Family Recipes In Chinatown
Address: 538 Upper Cross St, #02-52, Hong Lim Food Centre, Singapore 050538
Opening hours: Mon-Fri 10:30am to 7pm
Website
Eddy's No. 1 is not a halal-certified eatery.
Photos taken by Melody Teoh.
This is an independent review by Eatbook.sg.
The post Eddy's No.1 Review: $10 Duck Confit And Mala Spaghetti In Hong Lim Food Centre appeared first on EatBook.sg – New Singapore Restaurant and Street Food Ideas & Recommendations.