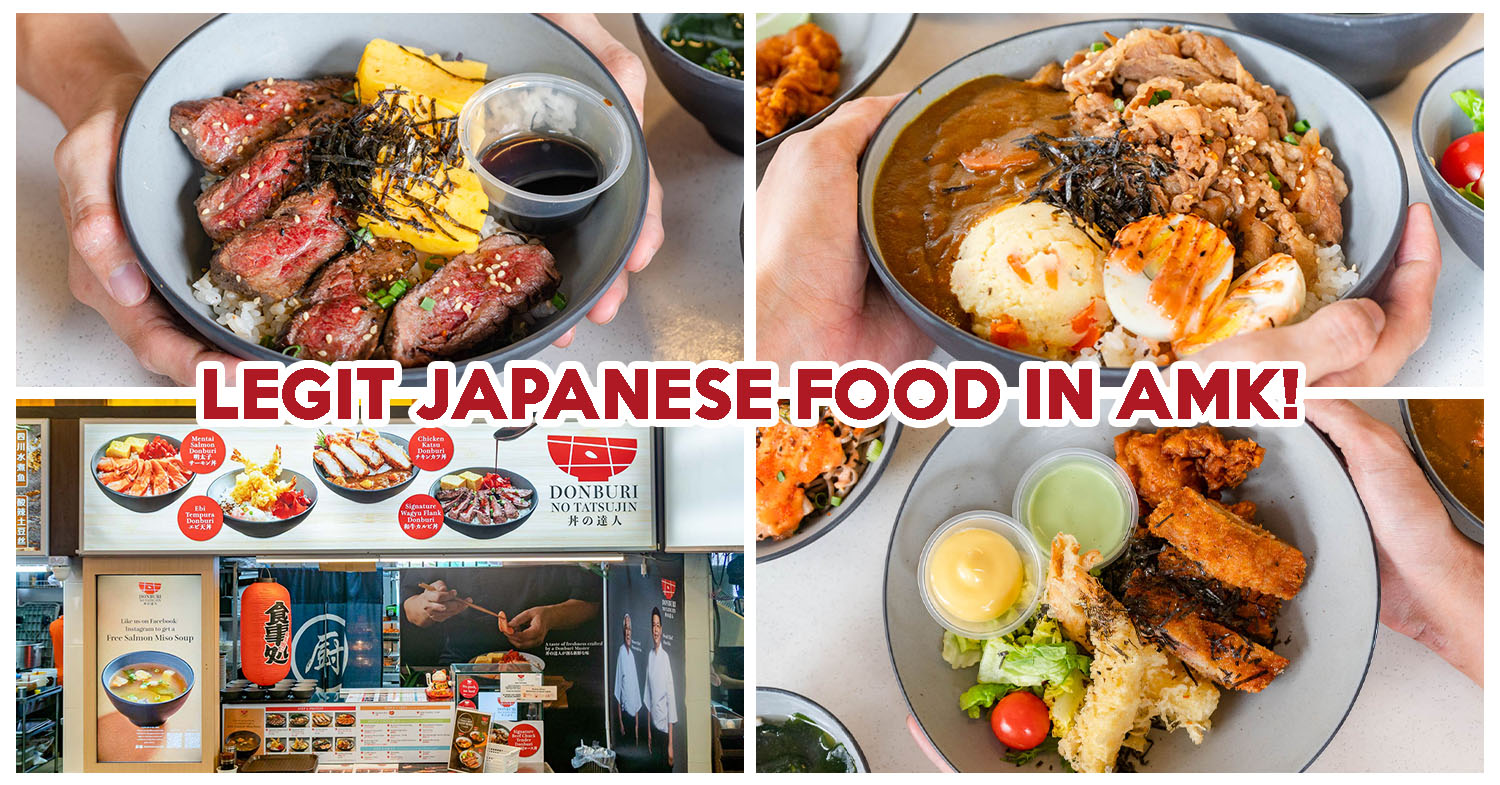 Donburi No Tatsujin at Ang Mo Kio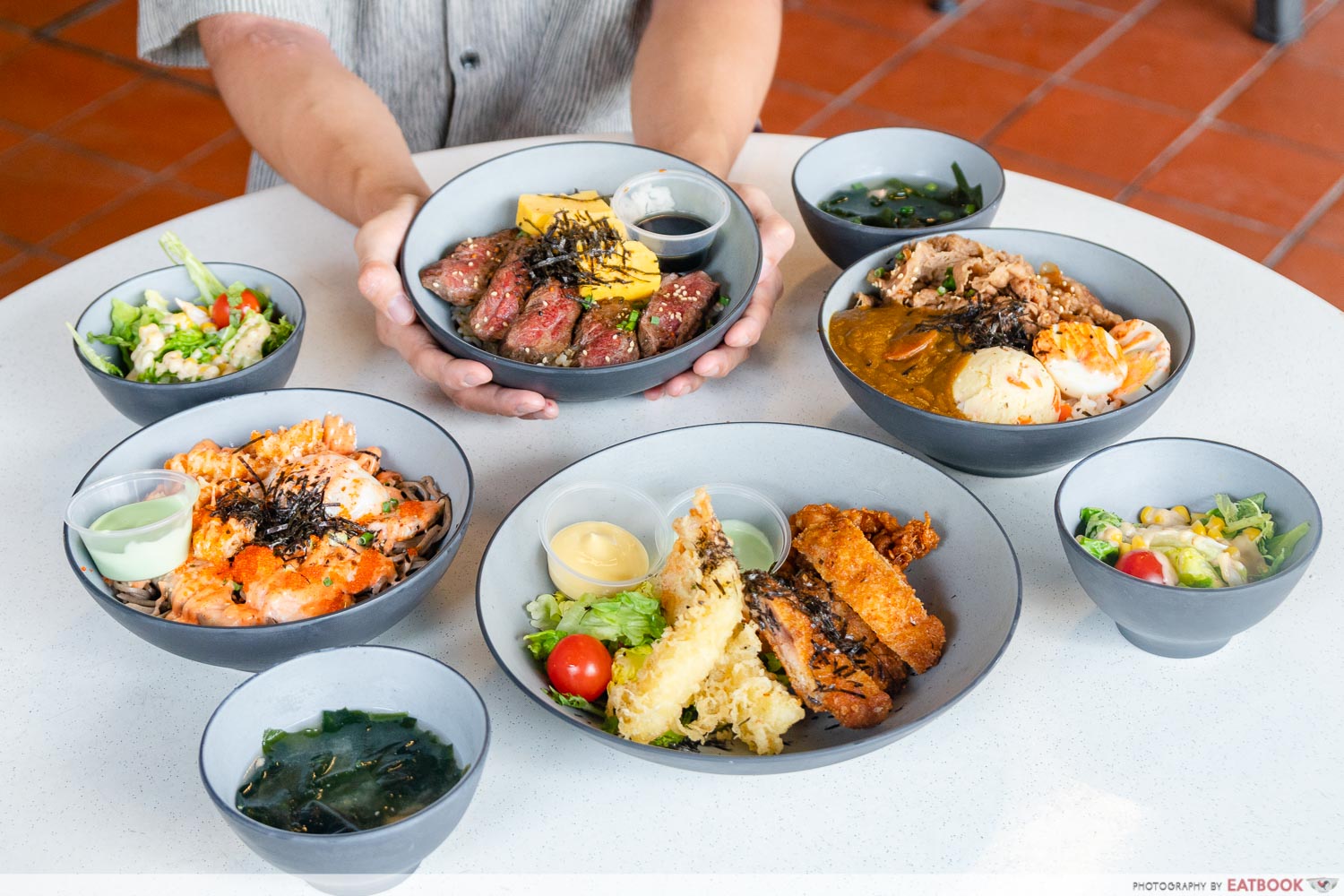 Donburi No Tatsujin is a relatively new stall in Ang Mo Kio, that specialises in Japanese rice bowls made with Muslim-friendly ingredients.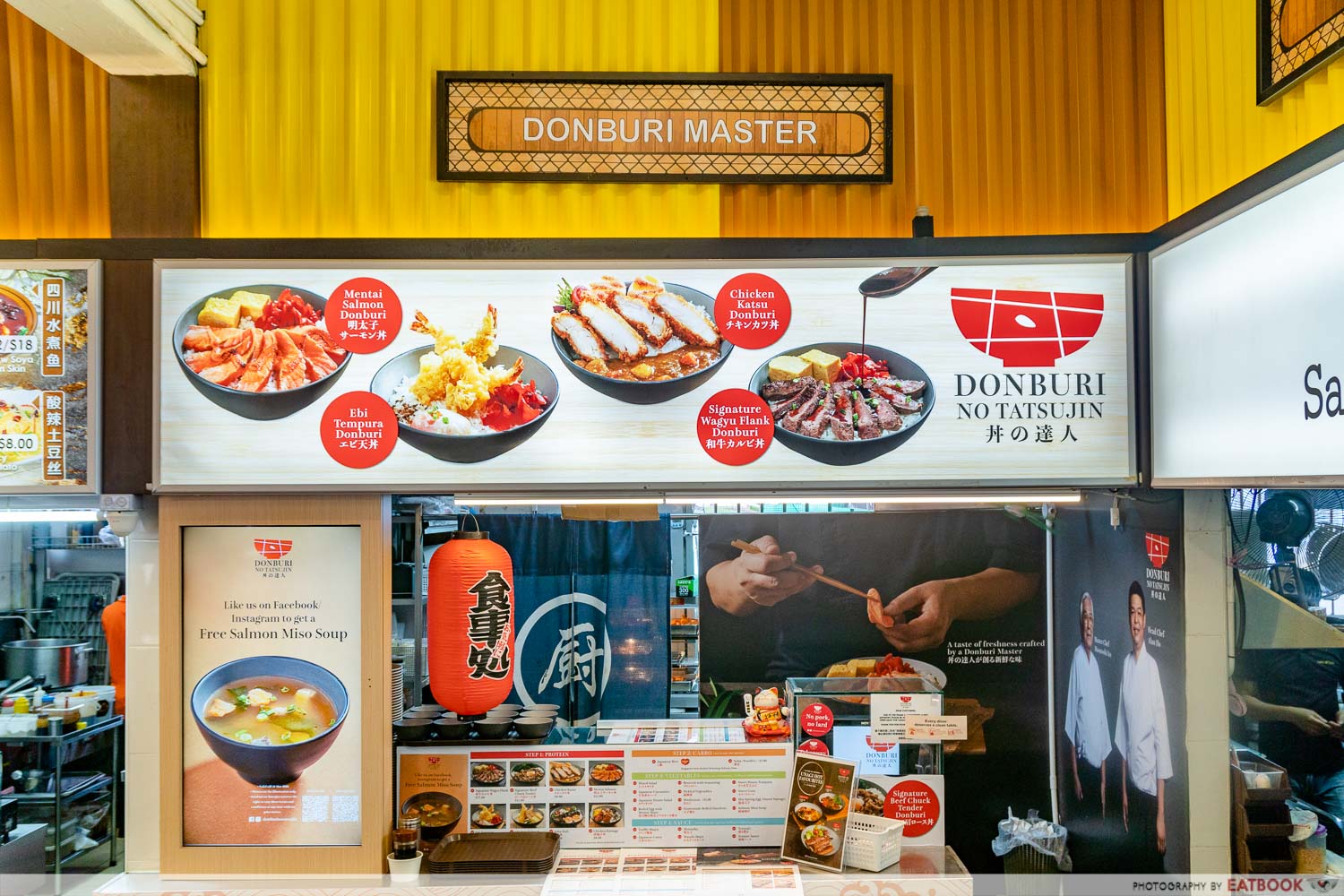 A life-size print of two men clad in traditional Japanese chef outfits greets you before you even see the stall. Both of these individuals have more than 25 years of experience across various Japanese restaurants in Singapore.
Stixers Review: New Izakaya Opened By Chirashi King Kong For Truffle Beef Rice Bowls, Mentaiko Pasta And More
Food at Donburi No Tatsujin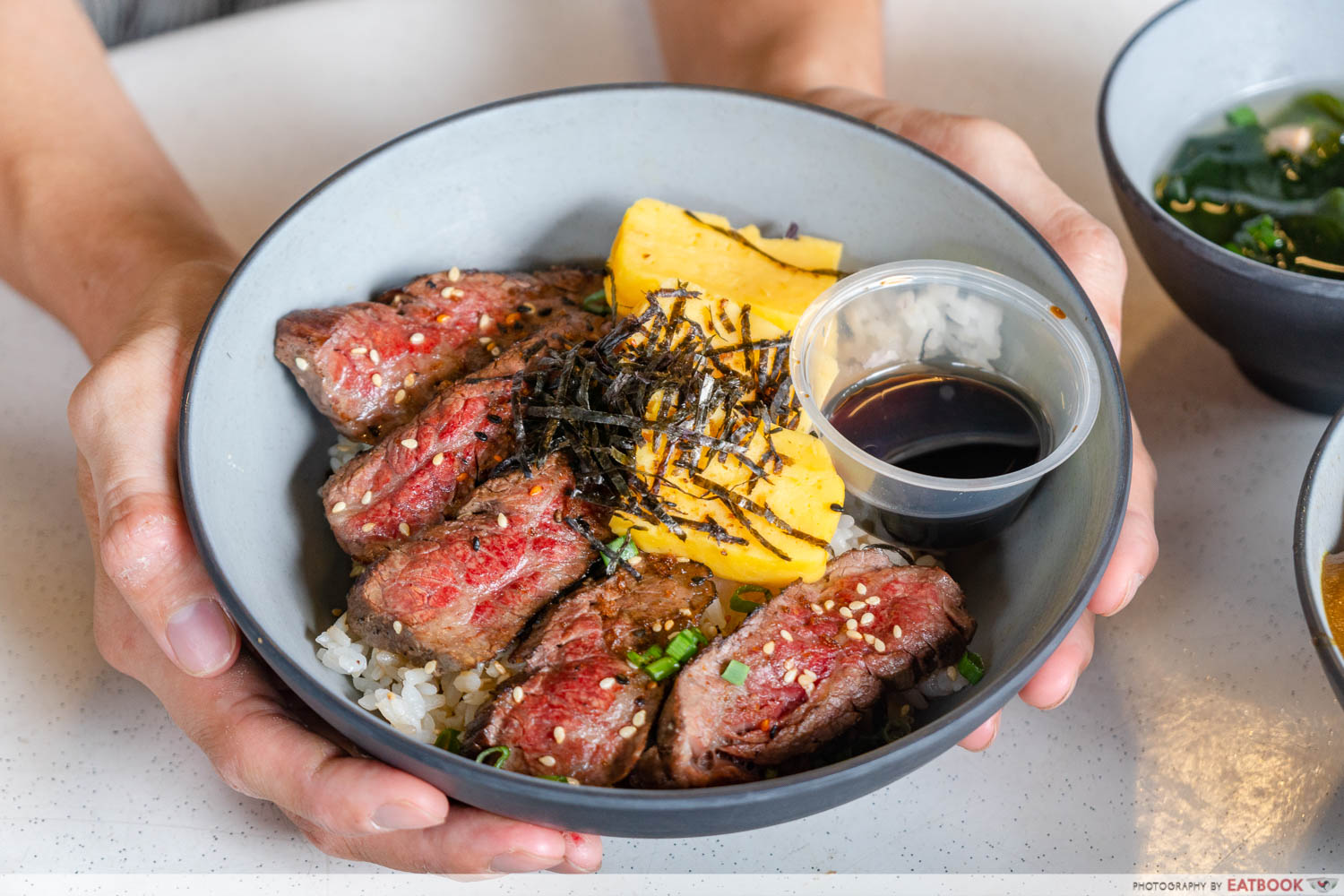 Every order of mains at Donburi No Tatsujin come with a choice of two sides, a carb, and a sauce. With their Wagyu Flank ($17.90), I opted for Rice, Tamago, and Truffle Shoyu Sauce.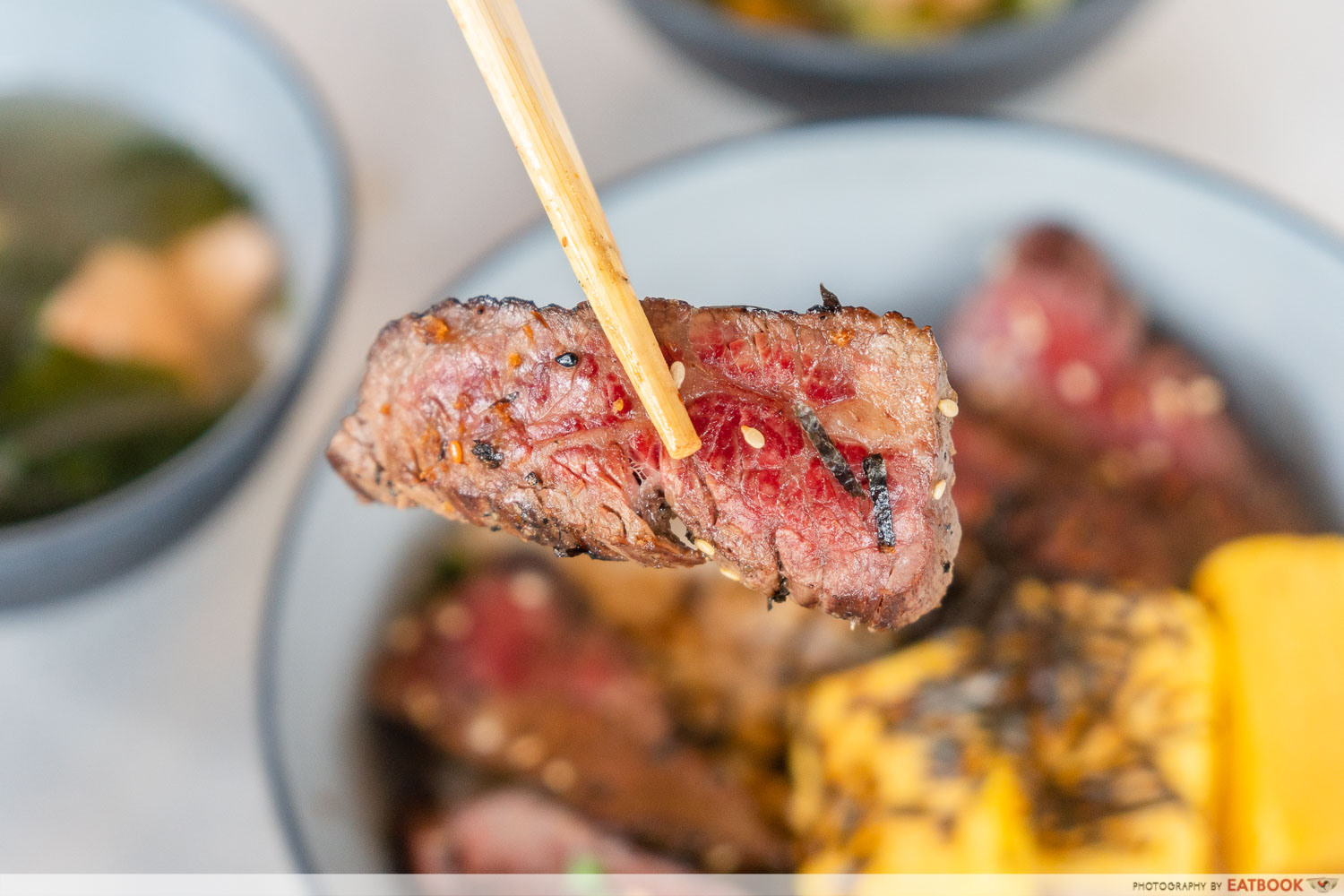 Despite the marbled look and reddish appearance, the meat had a dry surface. This gave it a toughness that's uncharacteristic of wagyu.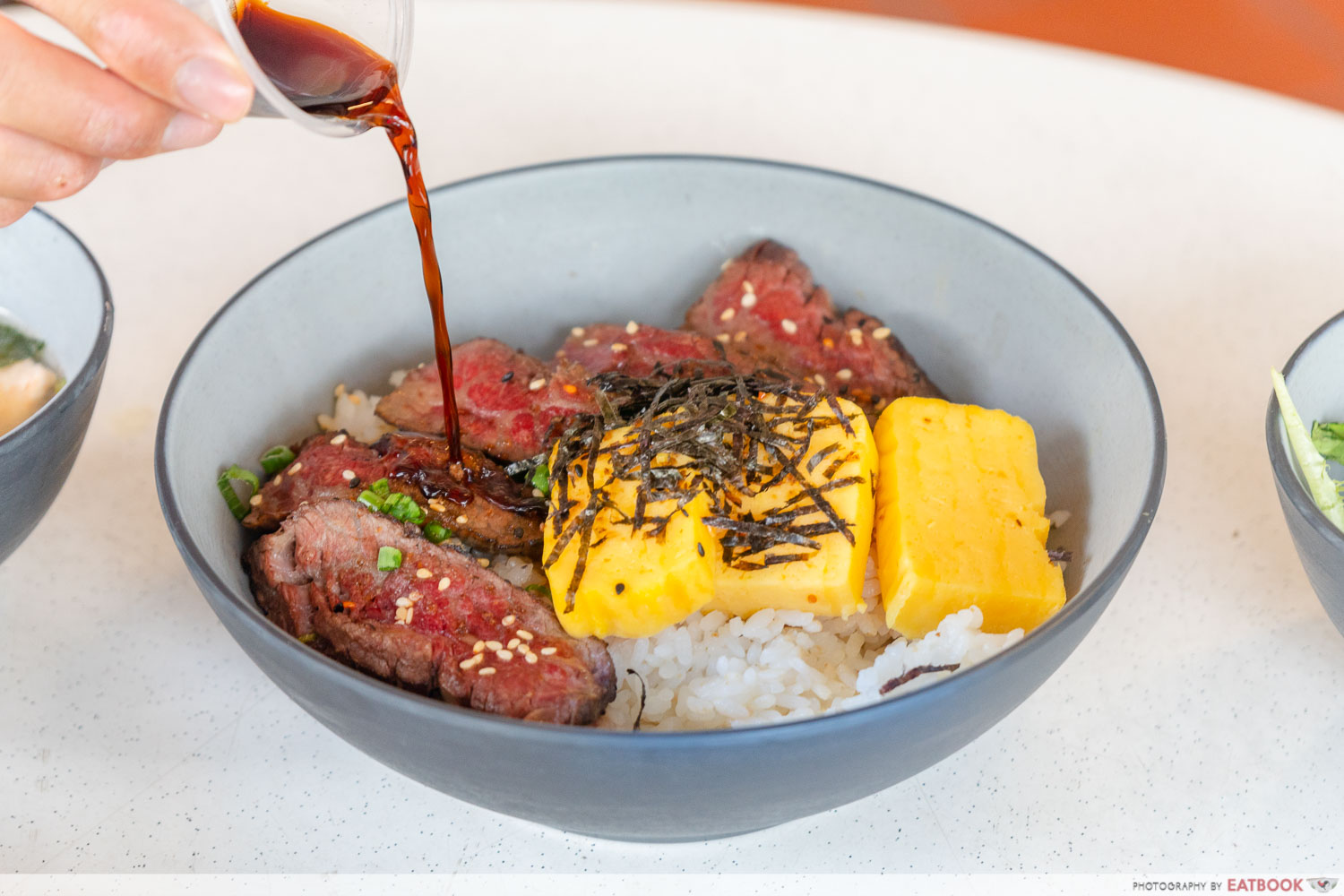 Mixing the savoury, aromatic truffle sauce to the bowl helped to add an extra, much-needed kick and moisture to the bowl.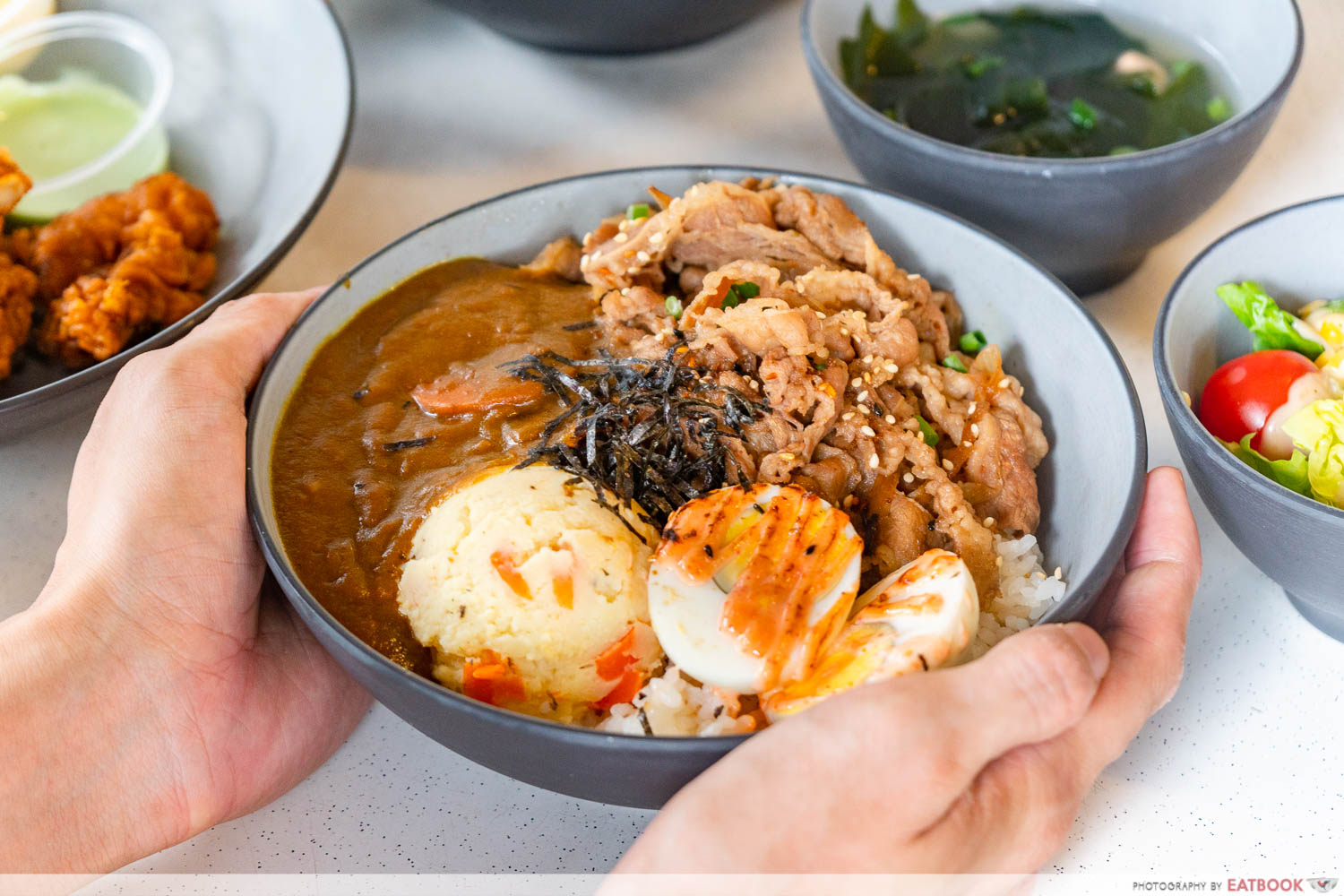 I always enjoy the tenderness of the thinly-sliced meat found in beef rice bowls. Thus, I felt obliged to order a Beef Chuck Tender ($11). For this dish, I went with Mentaiko Hard Boiled Egg, Potato Salad and Japanese Curry Sauce as sides.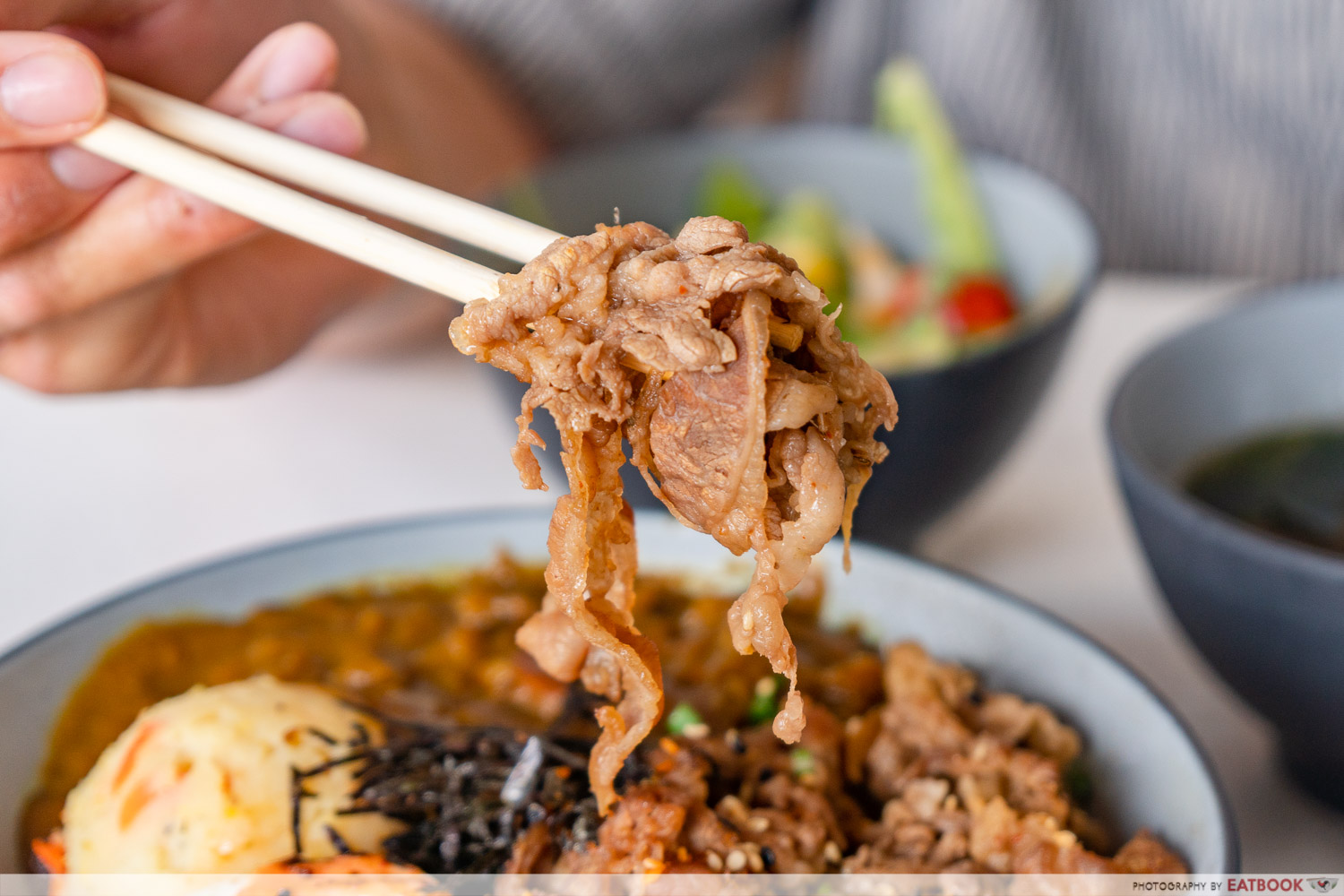 These curtains of beef slices had a much drier surface than the beef from most other gyudons I've tried. Unlike the beef bowl from Chef Bui Bui, the beef slices here did not have the same melt-in-your-mouth quality.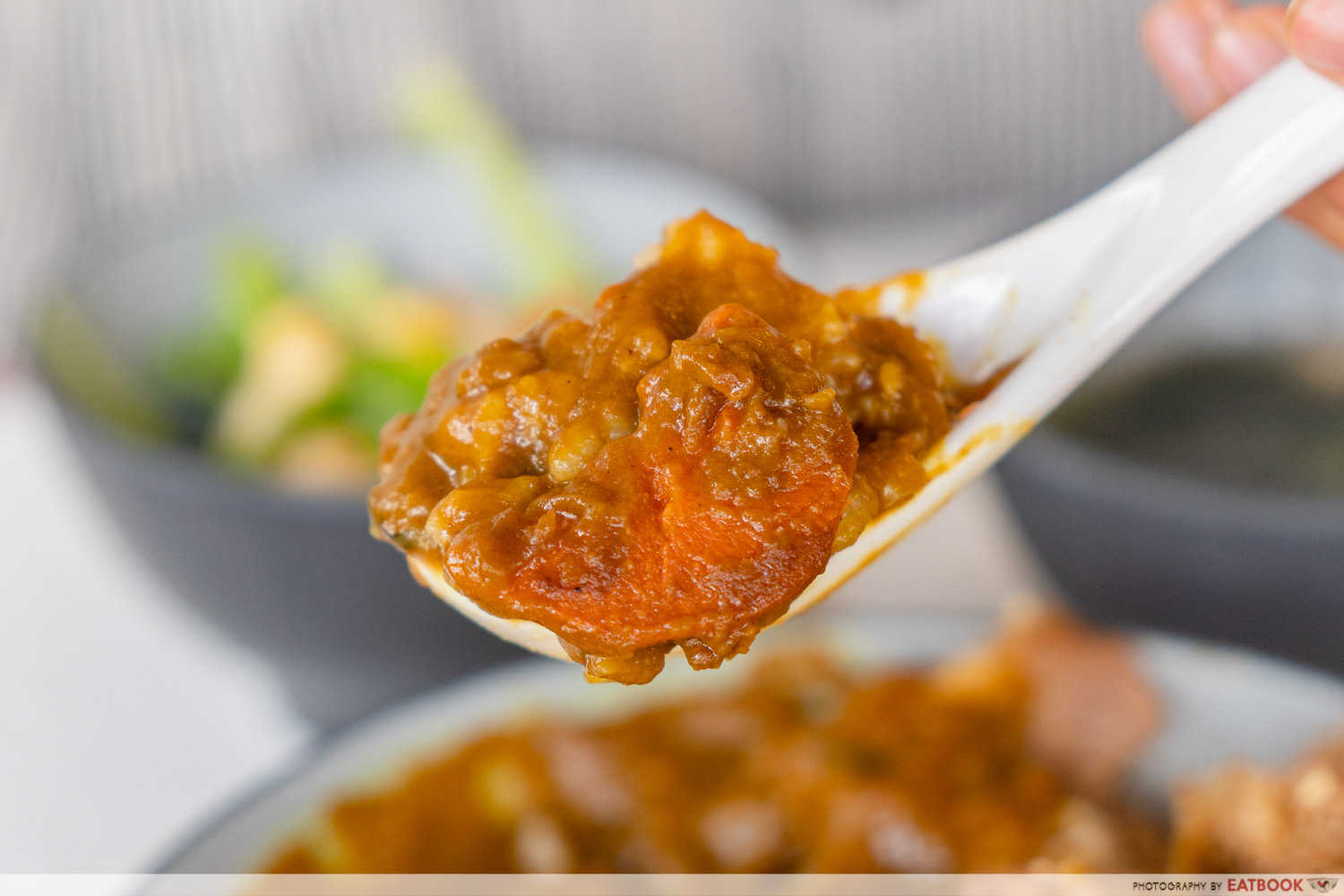 I suppose there was an attempt to appeal to a local palette, as their Japanese curry sauce carried strong flavours of spice and resembled an Indian-style curry much more than a Japanese one.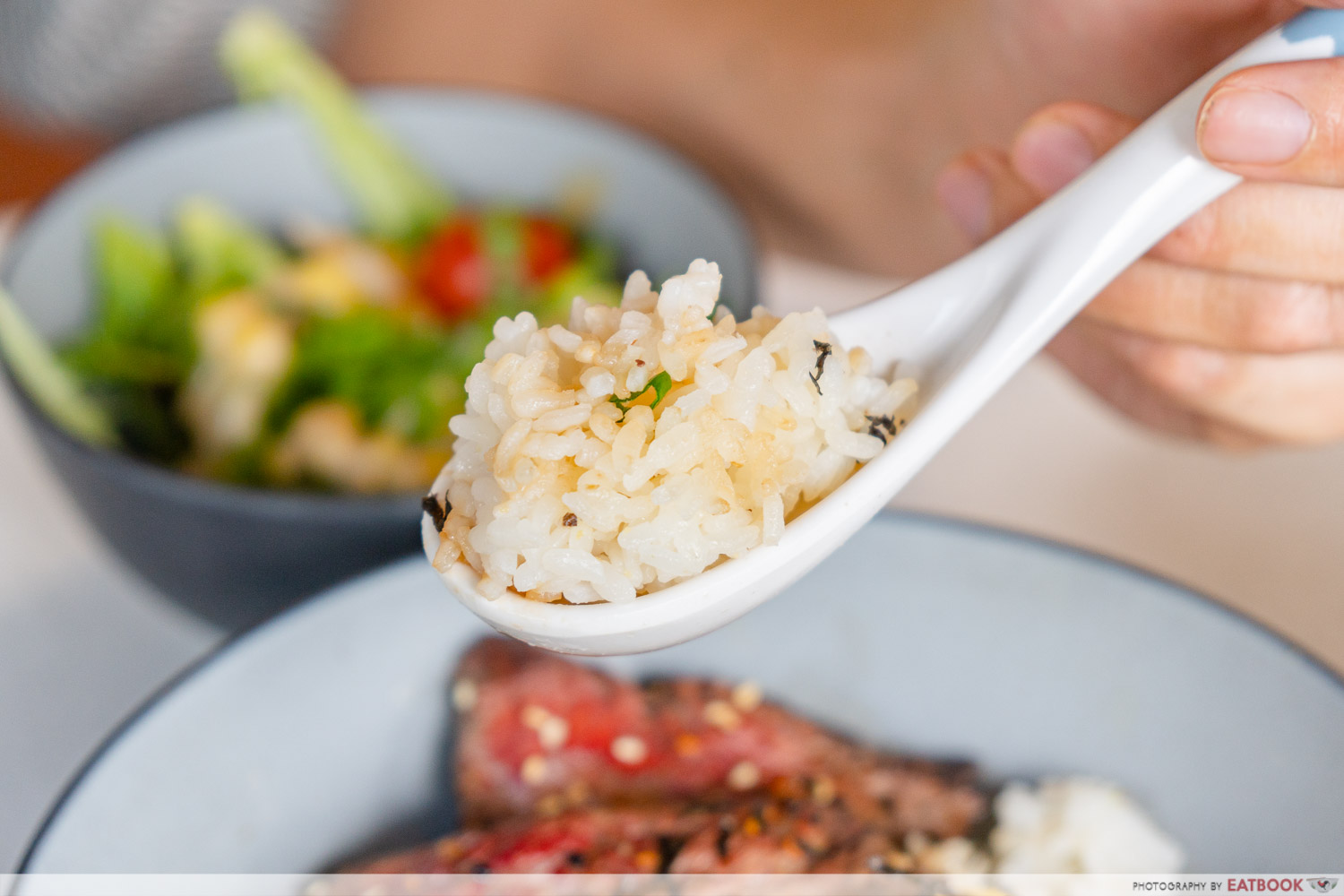 Both bowls of rice were cooked with Alchemy Fibre, which supposedly lowers the glycemic index of the rice and increases the fibre content, without changing its taste or texture.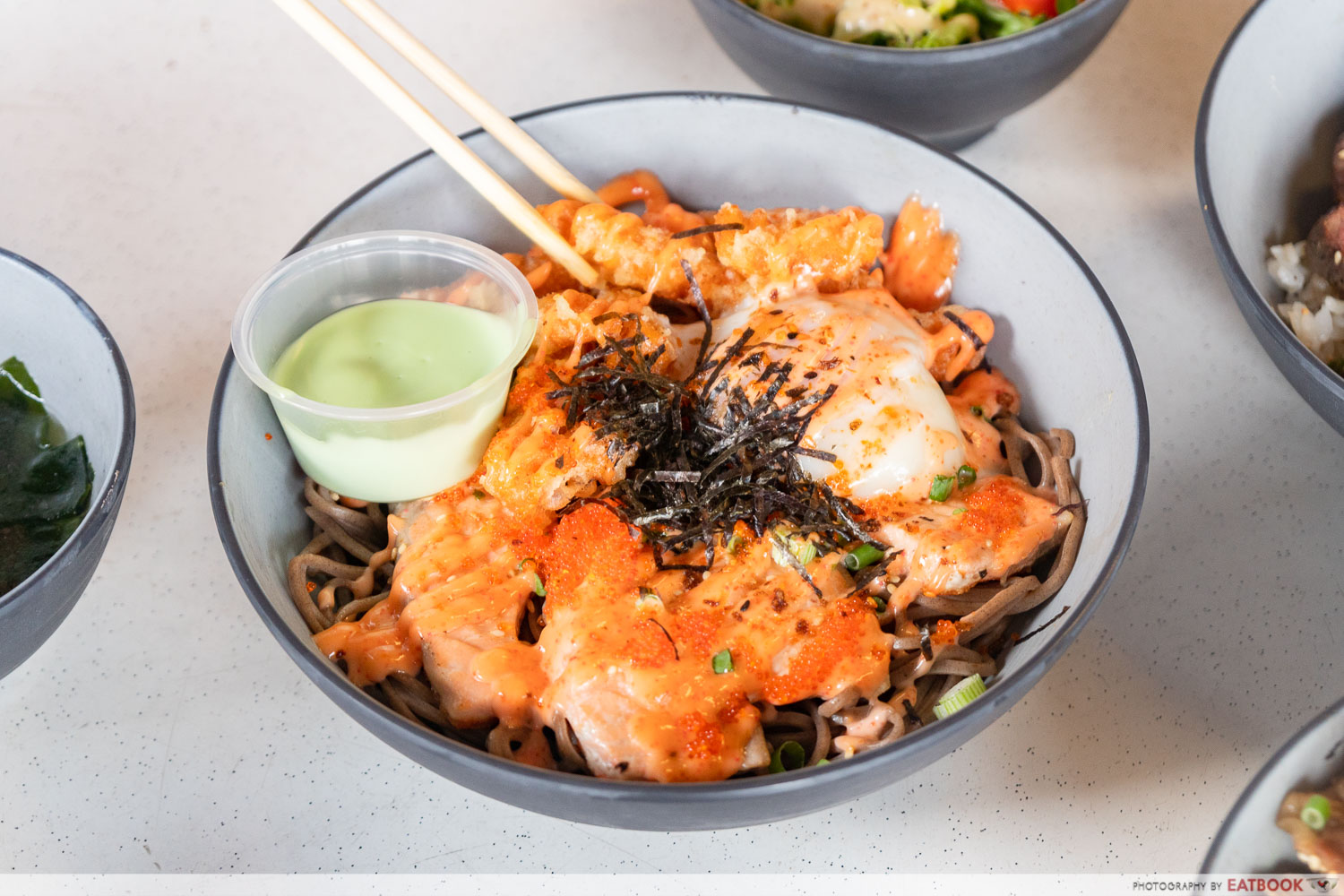 We are no strangers to the heavenly combination of mentaiko and salmon. I ordered their Mentai Salmon ($11) and decided to find out what their Soba Noodles ($1) tasted like. For sides, I went with Sweet Potato Tempura, Japanese Onsen Egg, and Wasabi Mayo.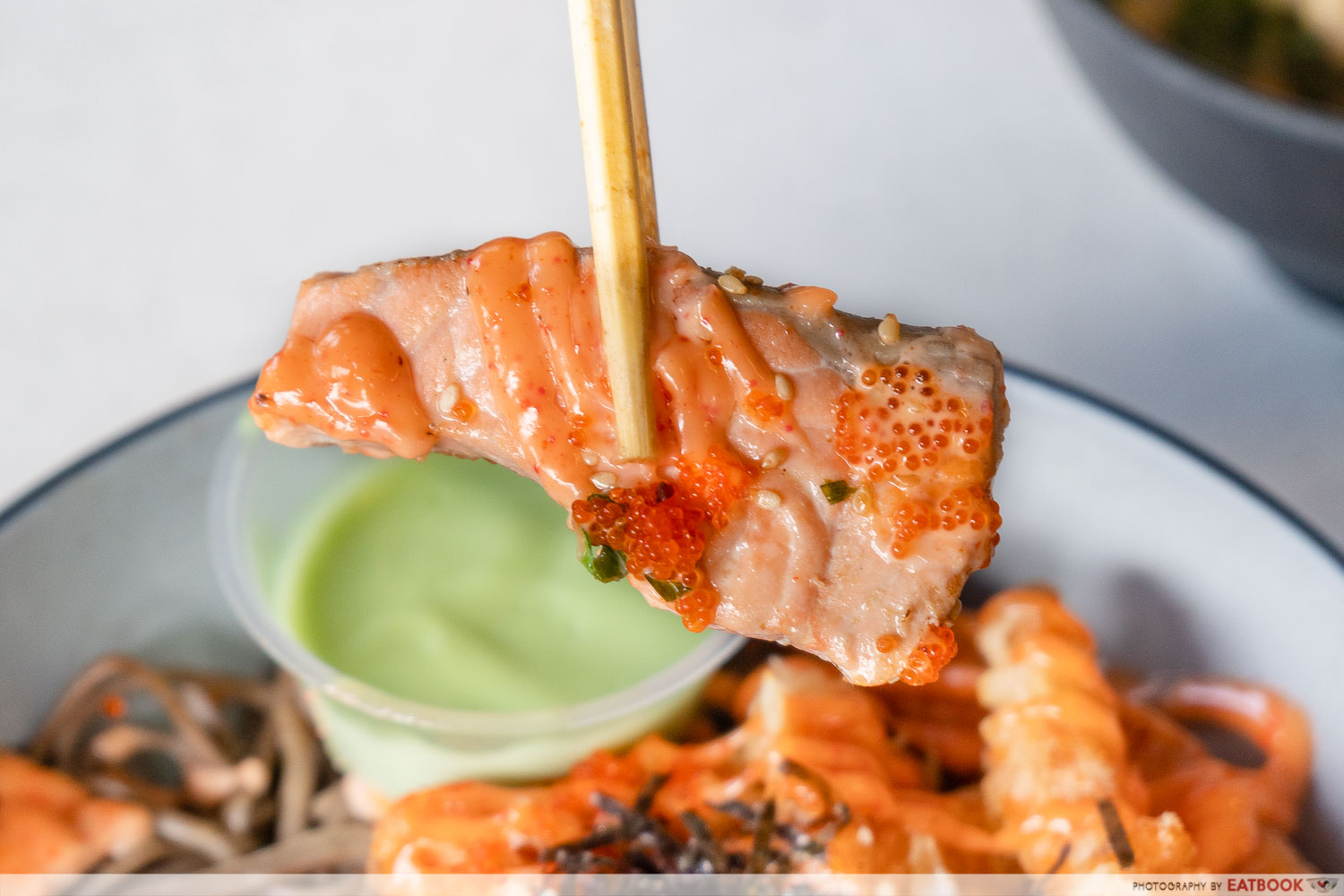 The pieces of mentai salmon had a slippery, rubbery aftertaste, and I suspect it might because it was a tad overcooked.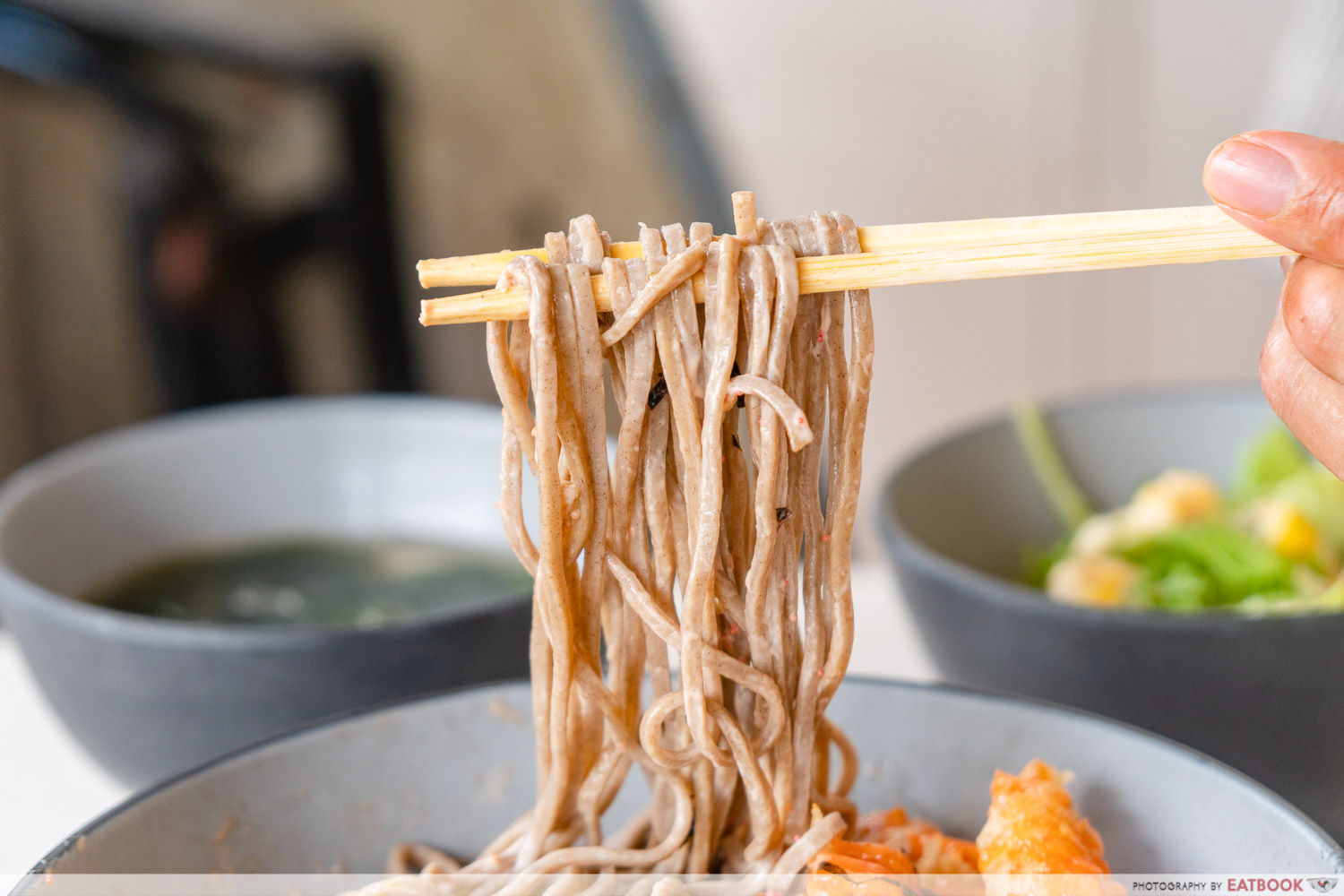 As I'm not a big fan of the nutty earthy flavours of soba noodles, I was glad to find out that these noodles were neutral-tasting. Though that might not make them great soba noodles, they carried a nice QQ texture and paired well with the salmon.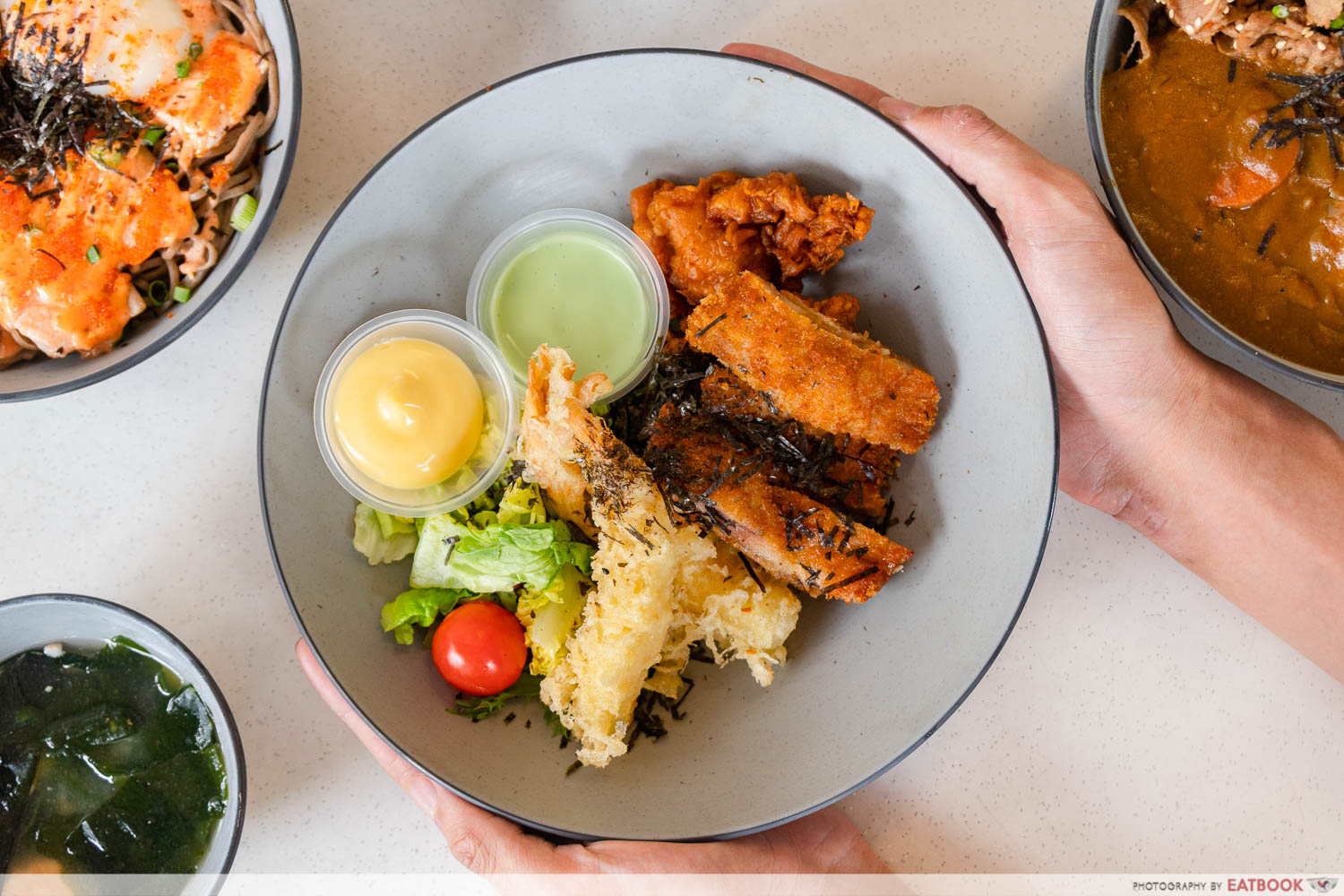 Their Mixed Platter ($6) is a combination of common Japanese fried ingredients such as Chicken Karaage, Ebi Tempura, and Chicken Kaatsu.
Sadly, their chicken karaage was a tough ball of batter and had a chewy texture, devoid of crunch.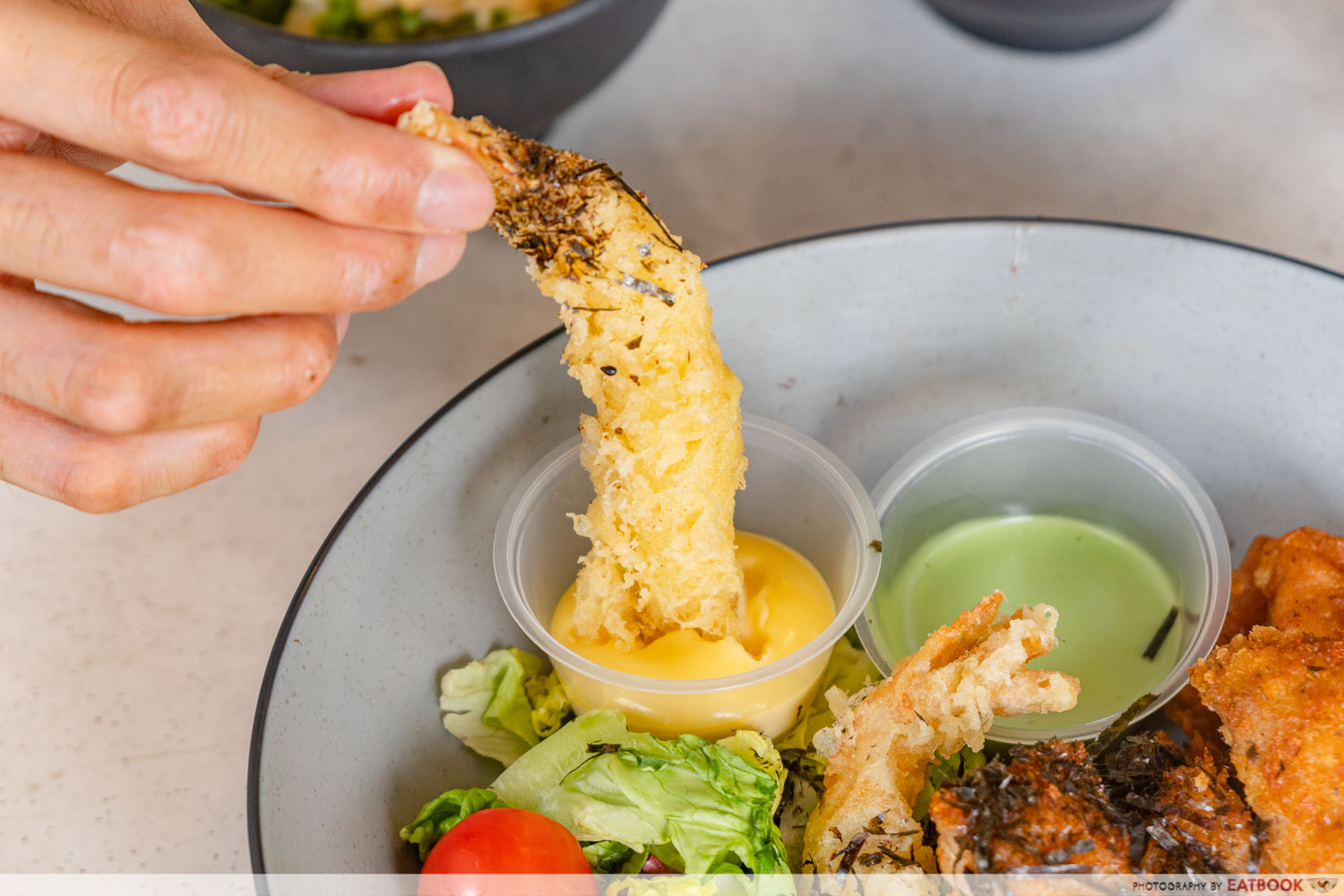 A dabbing of mustard sauce provided added an extra tangy kick, contrasting well with the savoury tempura.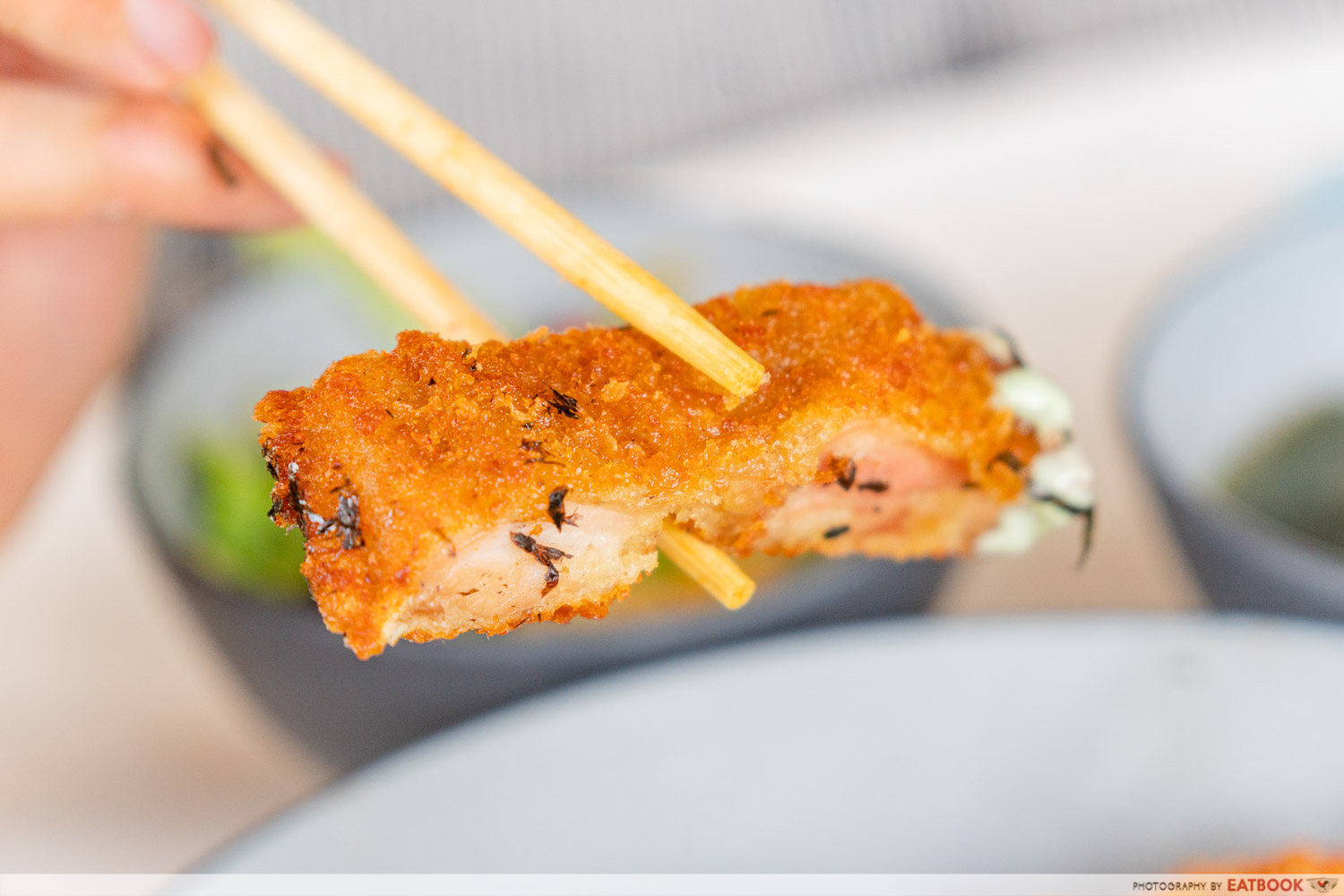 The chicken katsu was a mini sandwich of crispy fried skin with a layer of meat in the middle. I enjoyed the alternating textures of crispy skin and tender meat.
Okada Coffee And Sweets Review: Japanese-Inspired Cafe With Coffee Jelly, Mont Blanc And Sweet Potato Latte
Ambience at Donburi No Tatsujin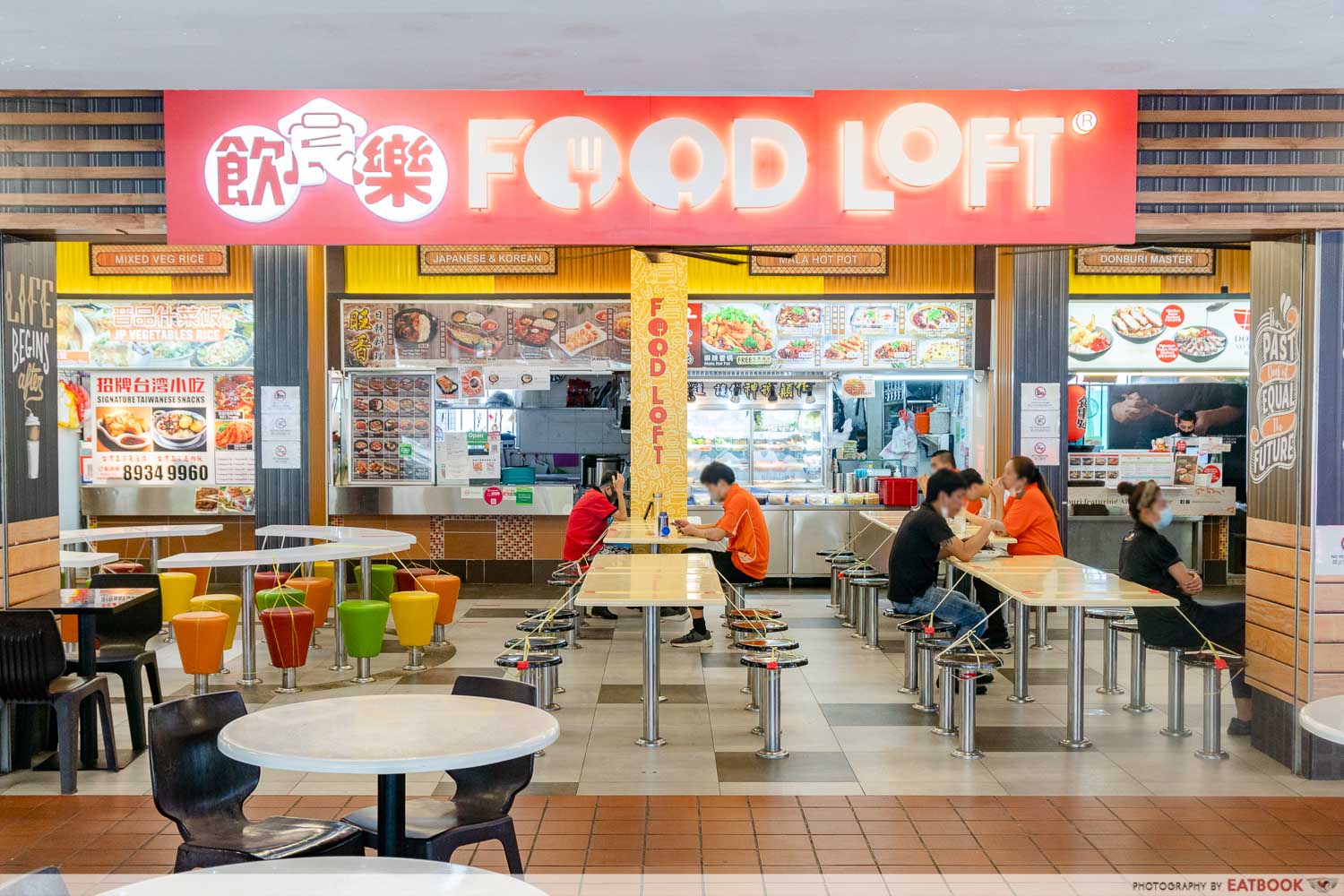 With a seven-minute walk From Ang Mo Kio MRT Station, Donburi No Tatsujin is located inside of Food Loft. When we arrived during lunchtime, Food Loft was much less crowded than other coffee shops nearby and was comfortably airy.
15 Ang Mo Kio Food Gems Including Cheesy Korean Corndogs And $1.30 Dim Sum
The verdict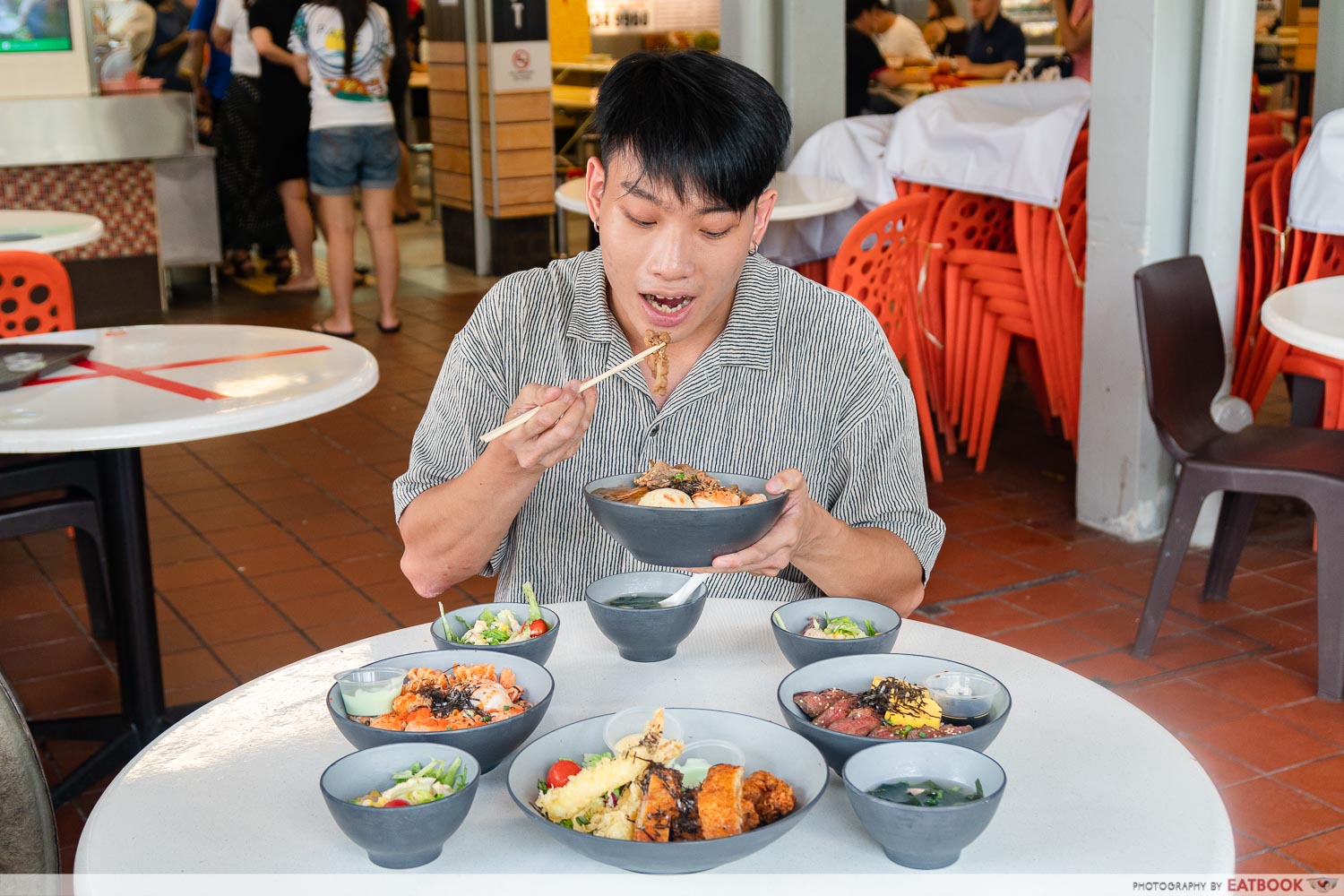 They definitely get brownie points for service here and the cashier was able to recognise his returning customers. However, I felt that their commitment towards healthy eating might have stripped their food off many satisfyingly sinful flavours. This resulted in their food coming across as bland tasting.
Check out our review of El Carbon Grill, a stall right beside Donburi No Tatsujin, for charbroiled chicken chop, seafood marinara and more. Or, for more food around the area, check out our Ang Mo Kio food guide, for cheesy Korean corn dogs, $1.30 dim sum and more.
El Carbon Grill House Review: New Western Food Stall By Collin's Group At Ang Mo Kio
Address: 721 Ang Mo Kio Ave 8, #01-2823, Food Loft, Singapore 560721
Opening hours: Daily 11:30am to 9pm
Website
Donburi No Tatsujin is not a halal-certified eatery but they use Muslim-friendly ingredients.
Photos taken by Keith Kok
This is an independent review by Eatbook.sg.
The post Donburi No Tatsujin Review: Hawker Donburi Bowls By Ex-Restaurant Chefs In Ang Mo Kio appeared first on EatBook.sg – New Singapore Restaurant and Street Food Ideas & Recommendations.