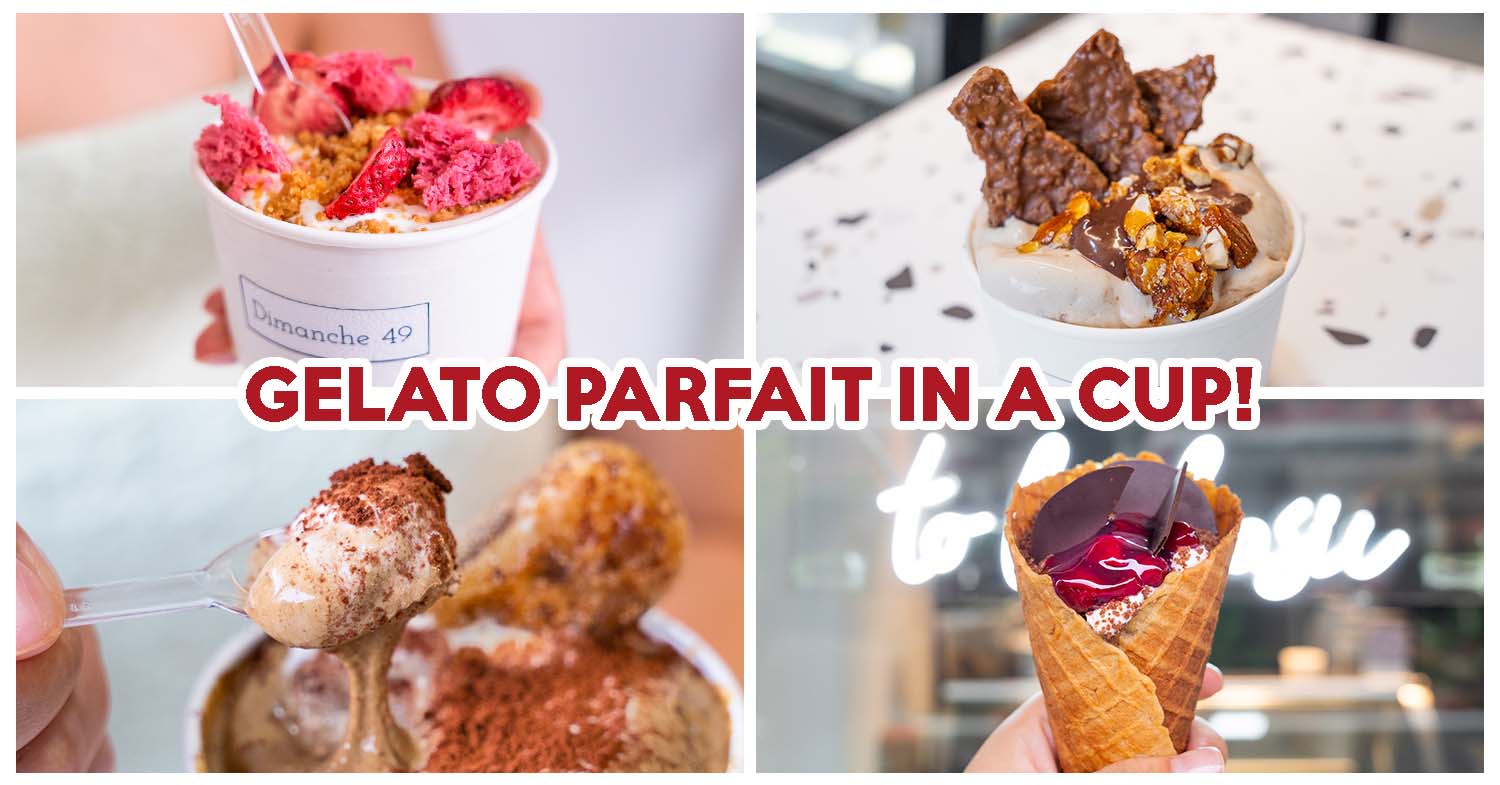 Dimanche 49 at Beauty World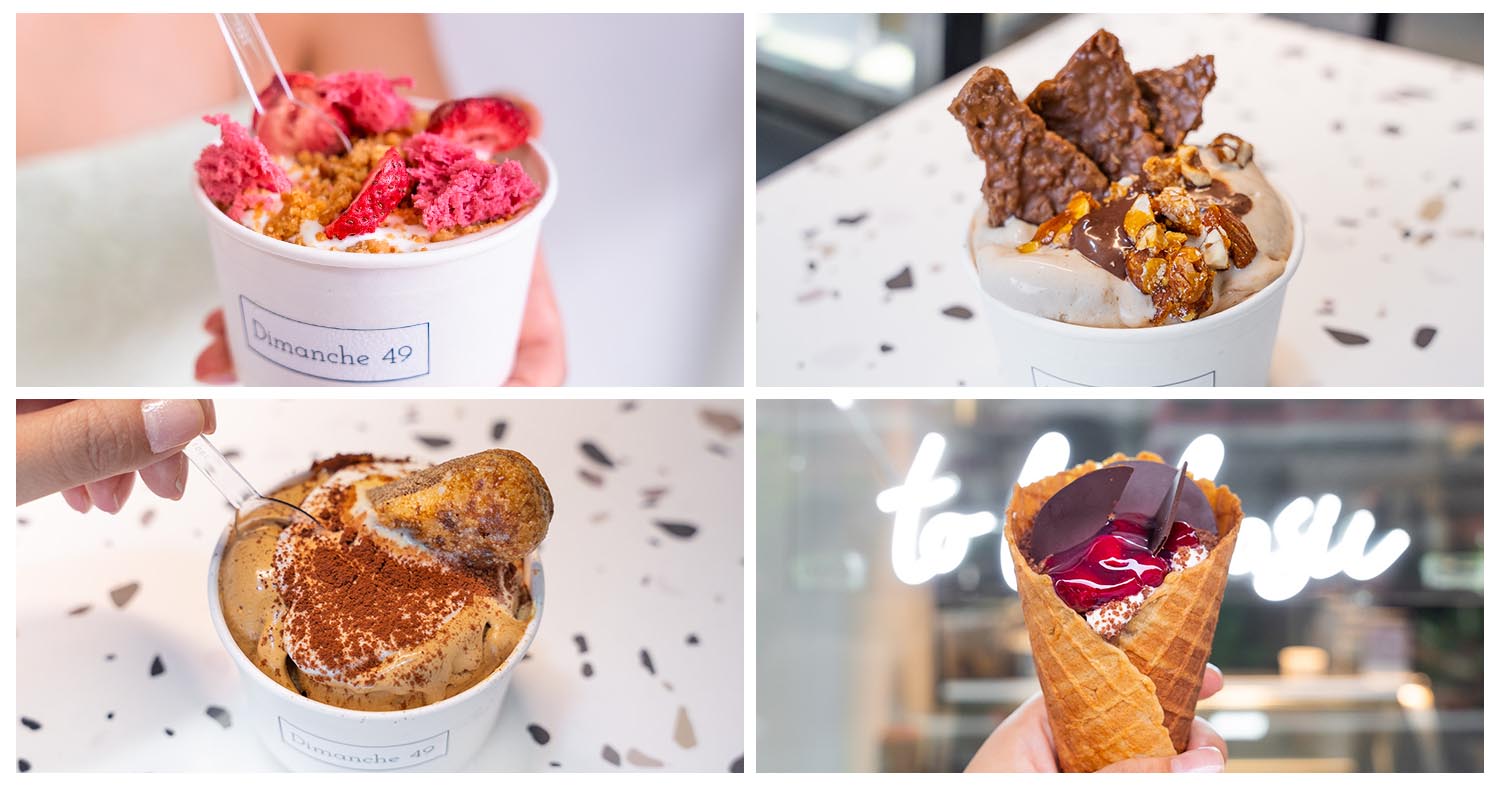 I used to drop by the Beauty World area only for Top 1 Handmade Noodles, Obba Jjajang, and Al-Azhar, a popular late night haunt. Dimanche 49, though, is now reason enough for me to make a detour from Beauty World MRT Station.
Dimanche 49 is run by a pair of friends who met in Paris as students of the pastry arts at the prestigious FERRANDI Paris. Between them, they've racked up an impressive 20 plus years of experience working with pastries, including stints at Michelin-starred establishments and patisseries all over the world.
Besides churning gelato, one of them is a culinary teacher, and the other holds a corporate day job. You could say Dimanche 49 is a testament to their love for pastries and desserts, as they continue to dedicate days off, evenings after work, and weekends to make all the toppings that go their house-churned gelato.
Pink Candy Review: Affordable Korean Hawker With Rooftop Views Near Beauty World
Food at Dimanche 49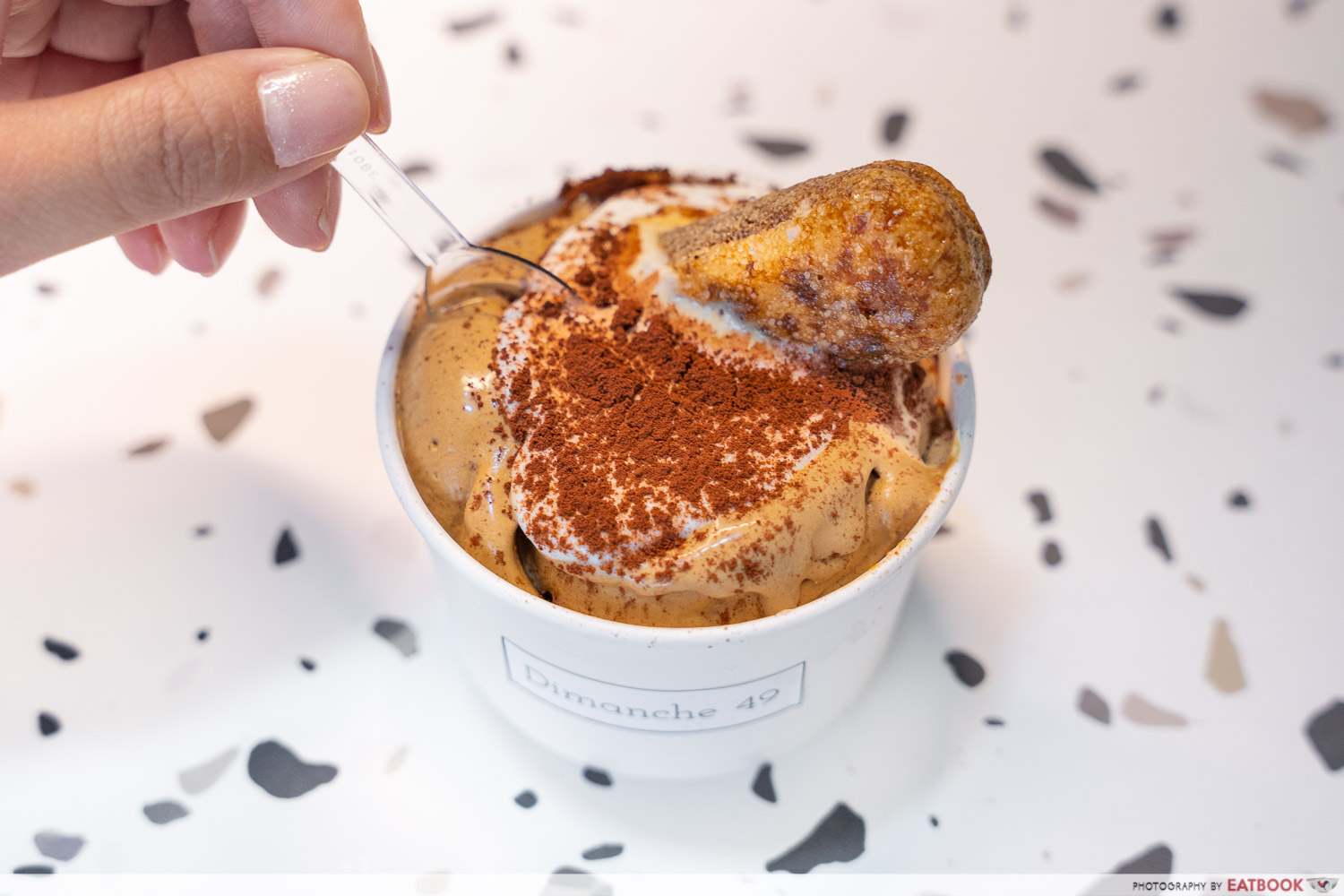 My undeniable favourite here is the Tiramisu ($7), with a burnt coffee gelato that was rich, sticky, and intensely aromatic. If you, like me, always order your drinks gao gao, you'll see the beauty of this particular gelato, spiked with Kahlua.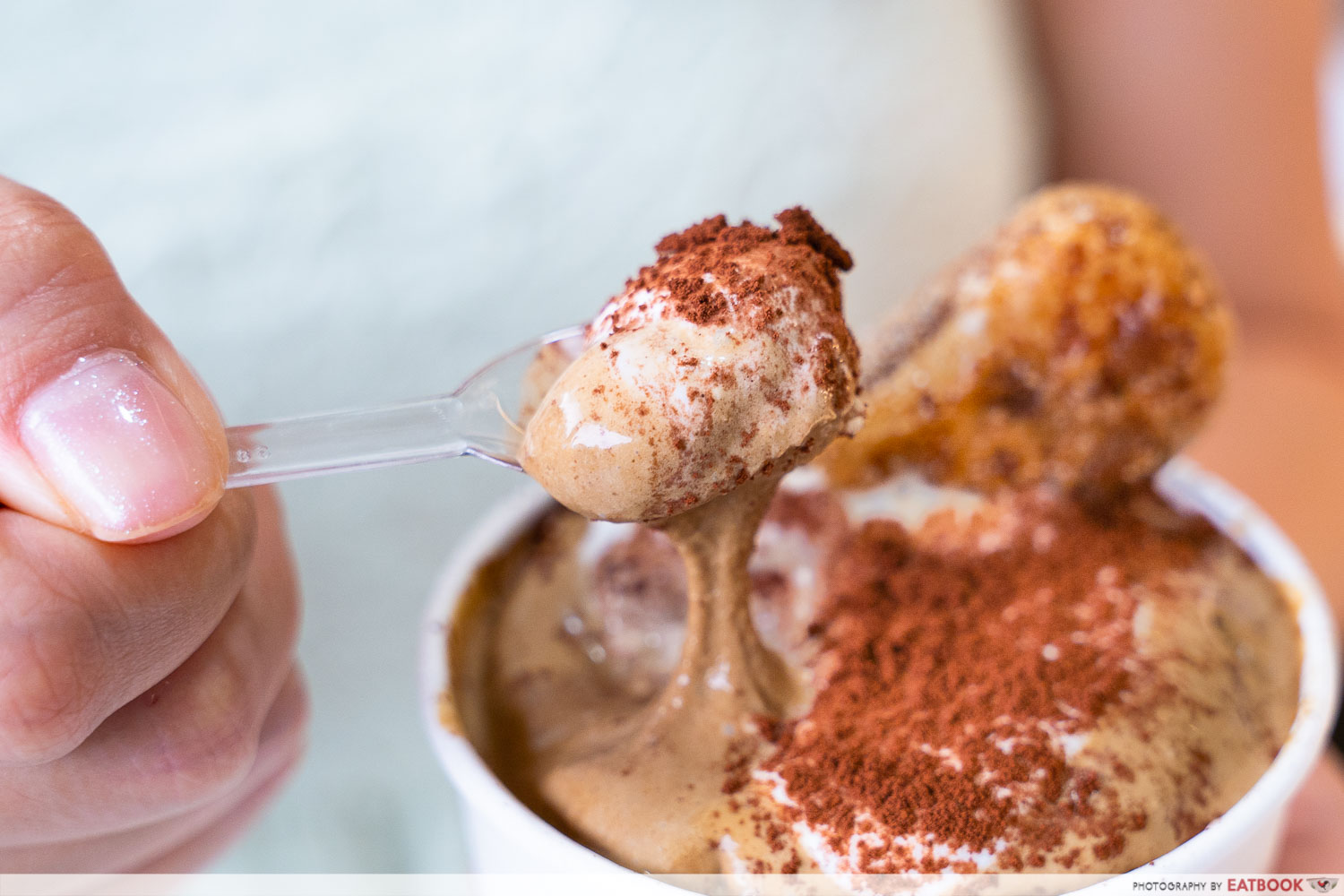 Mascarpone is an integral part of any tiramisu. It's so high in butterfat it's absolutely sinful, but it's what makes tiramisu so divinely creamy. Here, it's whipped into a fluffy espuma, or foam, so it doesn't add to the heaviness of the gelato, but lightens the overall texture, without compromising on taste.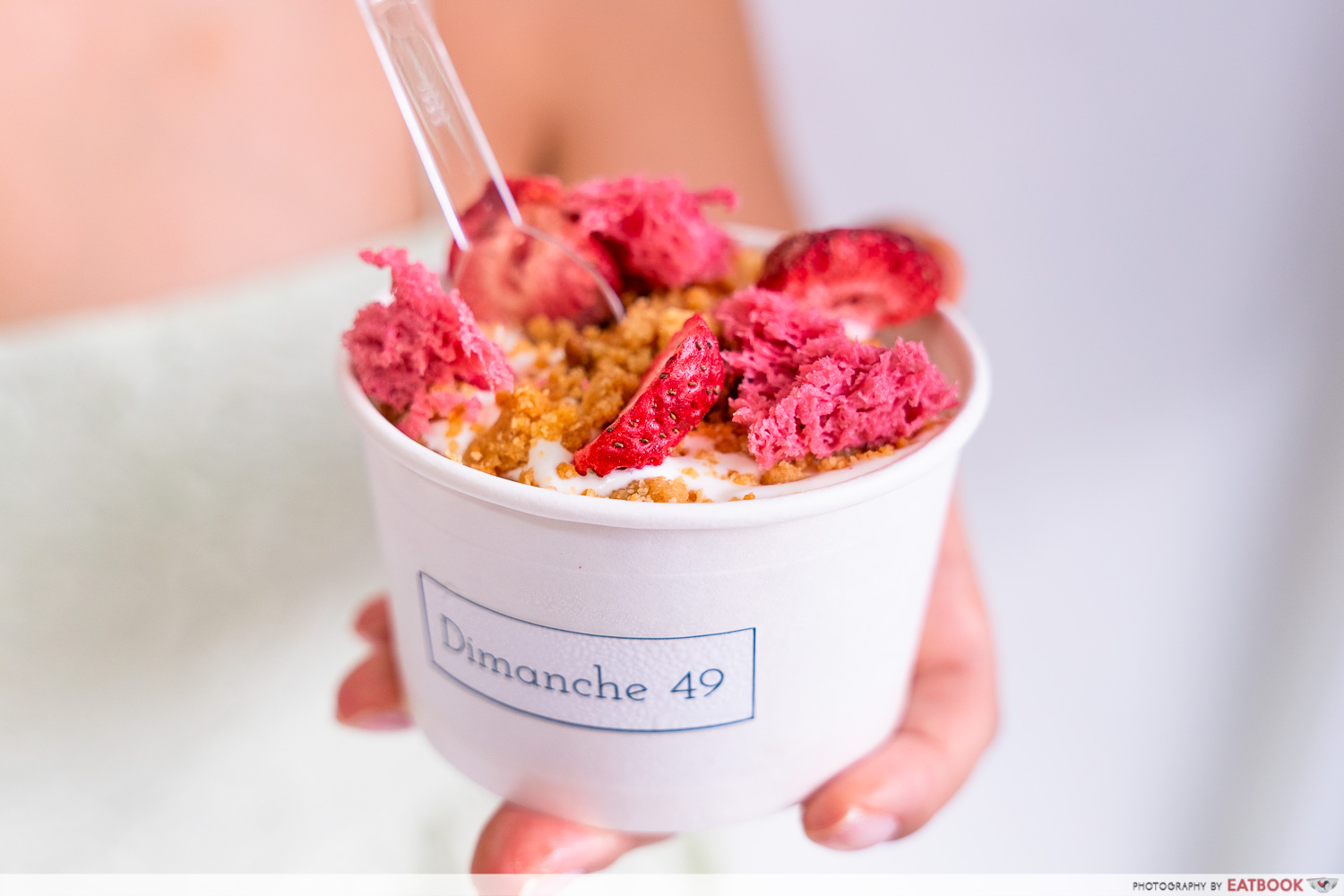 Wild Strawberries ($7) is summer in a cup, not least because of the scarlet slashes of freeze-dried strawberries nestled amongst the torn, dark pink micro sponge and sweet strawberry gelato. If you're wondering what microsponge is, it's a lighter, airier version of your regular sponge cake.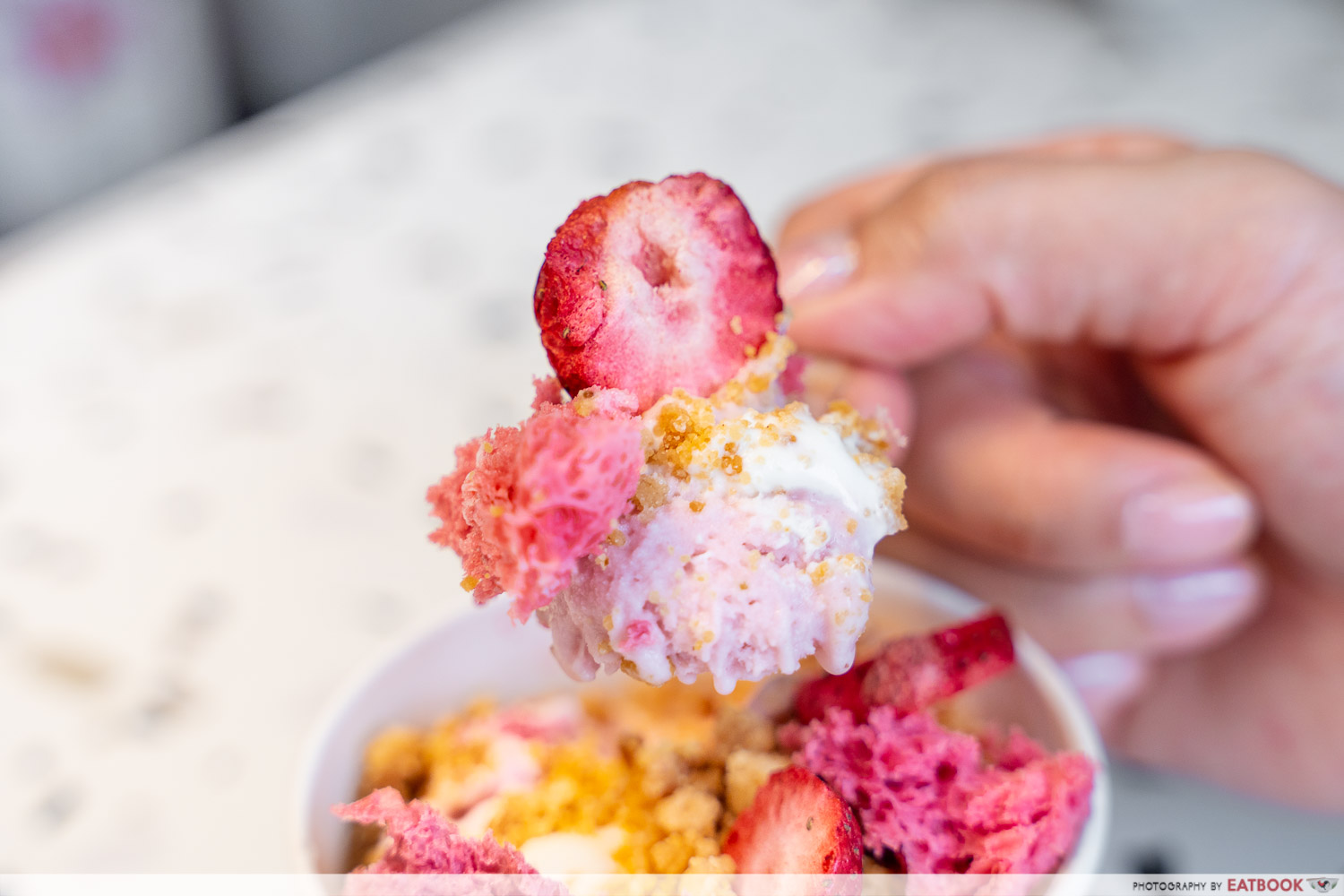 As with the Tiramisu, the same whipped mascarpone espuma features here, mellowing out the tartness of the sliced fruit. Strawberry shortcakes are the inspiration behind this cup, and it's easy to see how this rendition, without all the fresh cream, is so much better.
I was there in the mid-afternoon, and they'd already sold out of their signature Ispahan ($7), a rose, lychee, and raspberry concoction inspired by Pierre Herme's classic Ispahan macaron. They were even out of pints ($17) for this, so I recommend dropping them a message on their Instagram to order ahead.
I did, however, manage to sample a mini cuplette, scraped together from the last bits left on the shelf. It's refreshing and light in the mouth, since it's a lychee sorbet, though you get some body from the house-made raspberry compote, balanced with a salted crumble. To finish, it's perfumed with sliced lychee, rose petals, and crumbled, house-made rose macarons.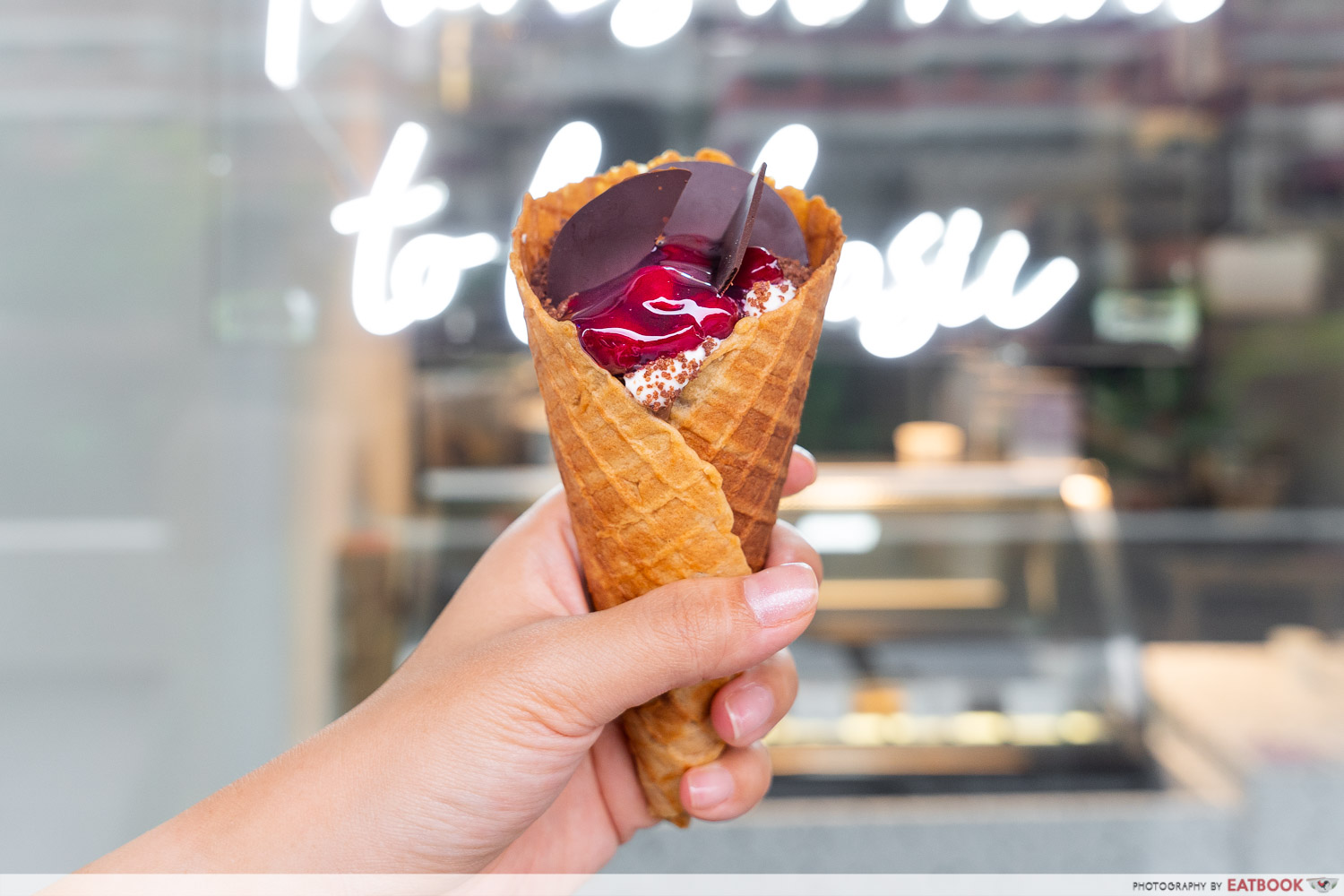 I am a fan of flavoured cones, such as the ones at Birds of Paradise and Monarchs and Milkweeds. So my interest was naturally piqued when I saw that Dimanche 49 does a Chai cone ($1). The flavour of the spices was just right, but the cone didn't hold up well, turning soft and chewy rather quickly.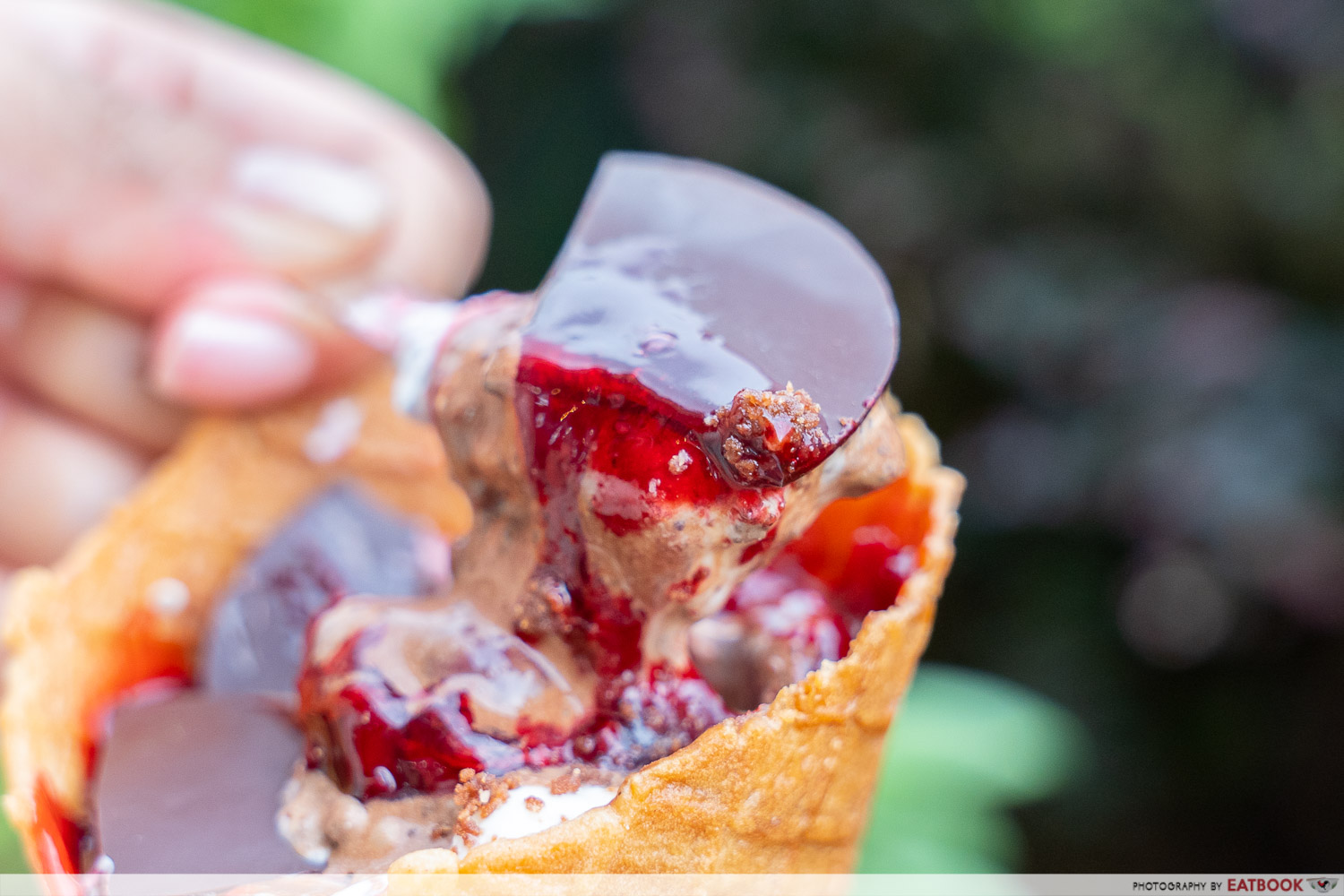 To go with the cone, I chose Black Forest ($7), a 70% dark chocolate sorbet laced with sour cherry compote and mascarpone espuma. It feels like indulgence, but really isn't, since it doesn't have that rich creaminess of dairy-based gelato. The tart compote also does an ace job of brightening the palate.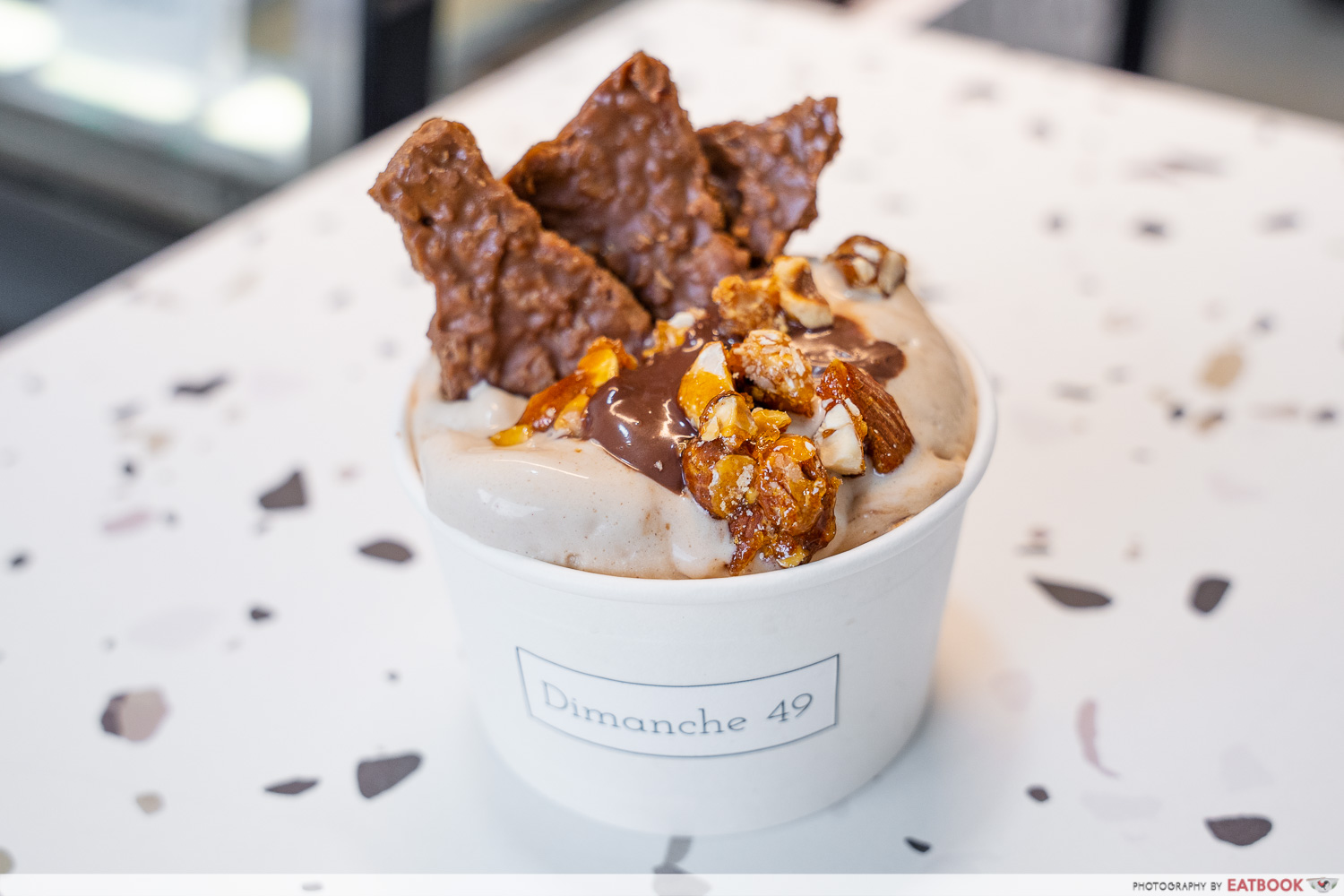 Other than the Chai cone, the Noisette ($7) was my least favourite flavour. While the toasted hazelnut gelato was texturally on point, I wished it could have been more punchy with the flavour of hazelnut. I did have this after the strong-tasting Tiramisu, though, so that might explain why I found this underwhelming. Meanwhile, I loved the caramelised mix of hazelnuts and almonds, and praline feuilletine that accented this creation.
Monarchs & Milkweed Gelato Review: New Gelato Cafe With Unique Flavours By Ex-Fine Dining Pastry Chefs
Ambience at Dimanche 49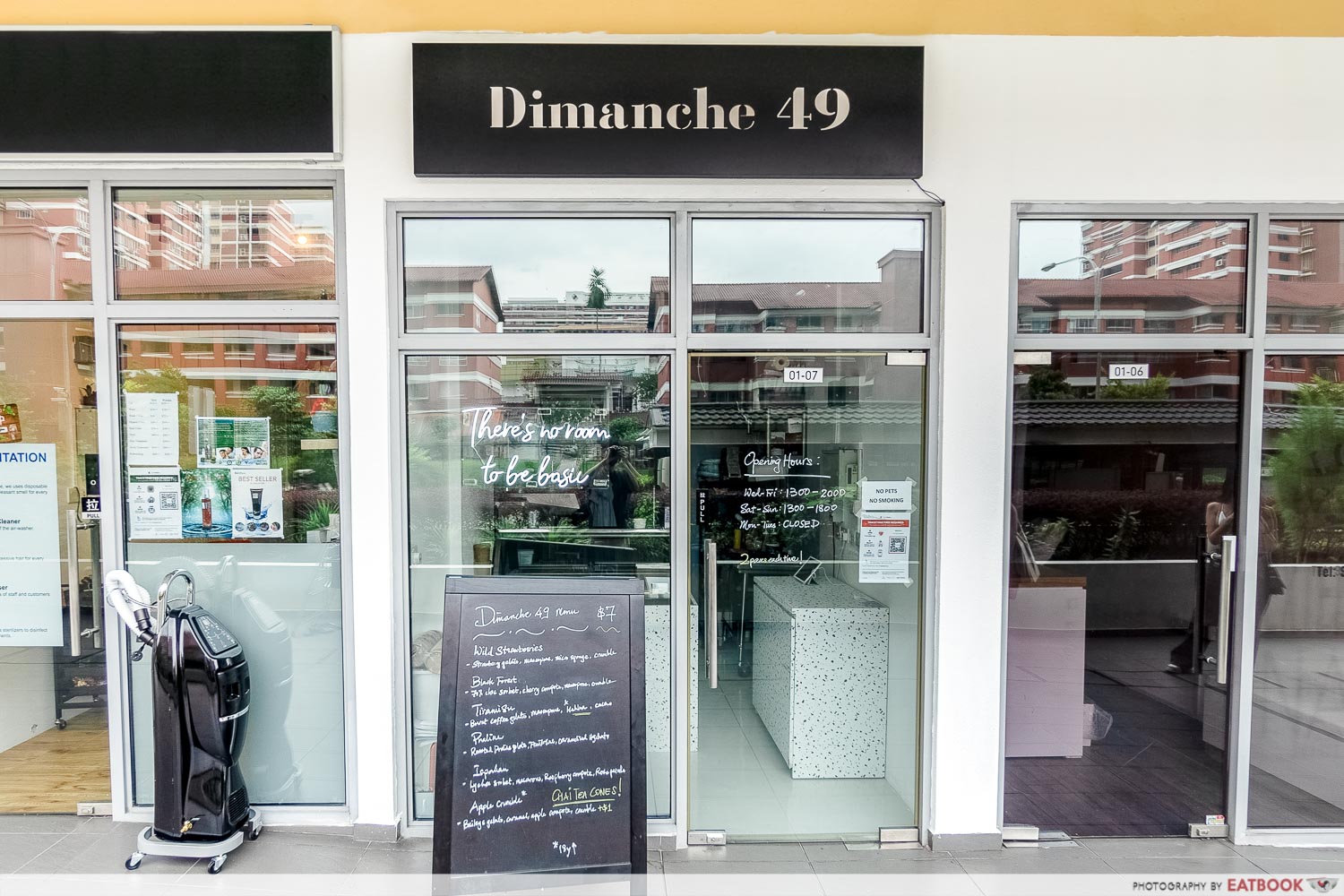 The tiny little takeaway shop space is utilitarian in its smallness. The refrigerated display for their wares dominates the front of the unit, and there's only enough space for a couple of customers to stand. In the remaining space behind is where the magic happens—churning gelato, baking macaron shells, making crumble, and caramelising nuts—it's a wonder how they fit all that in on barely any counter space.
You could stand on the porch outside to enjoy your cup of dessert, sit on the parapet, or if you're so inclined, bring a foldable stool. Otherwise, you might also consider having it as you make the three-minute walk back to Beauty World MRT Station.
Naked Ice Cream Review: New Cafe In Serangoon Has Waffles And Ice Cream, Open Till 2am
The verdict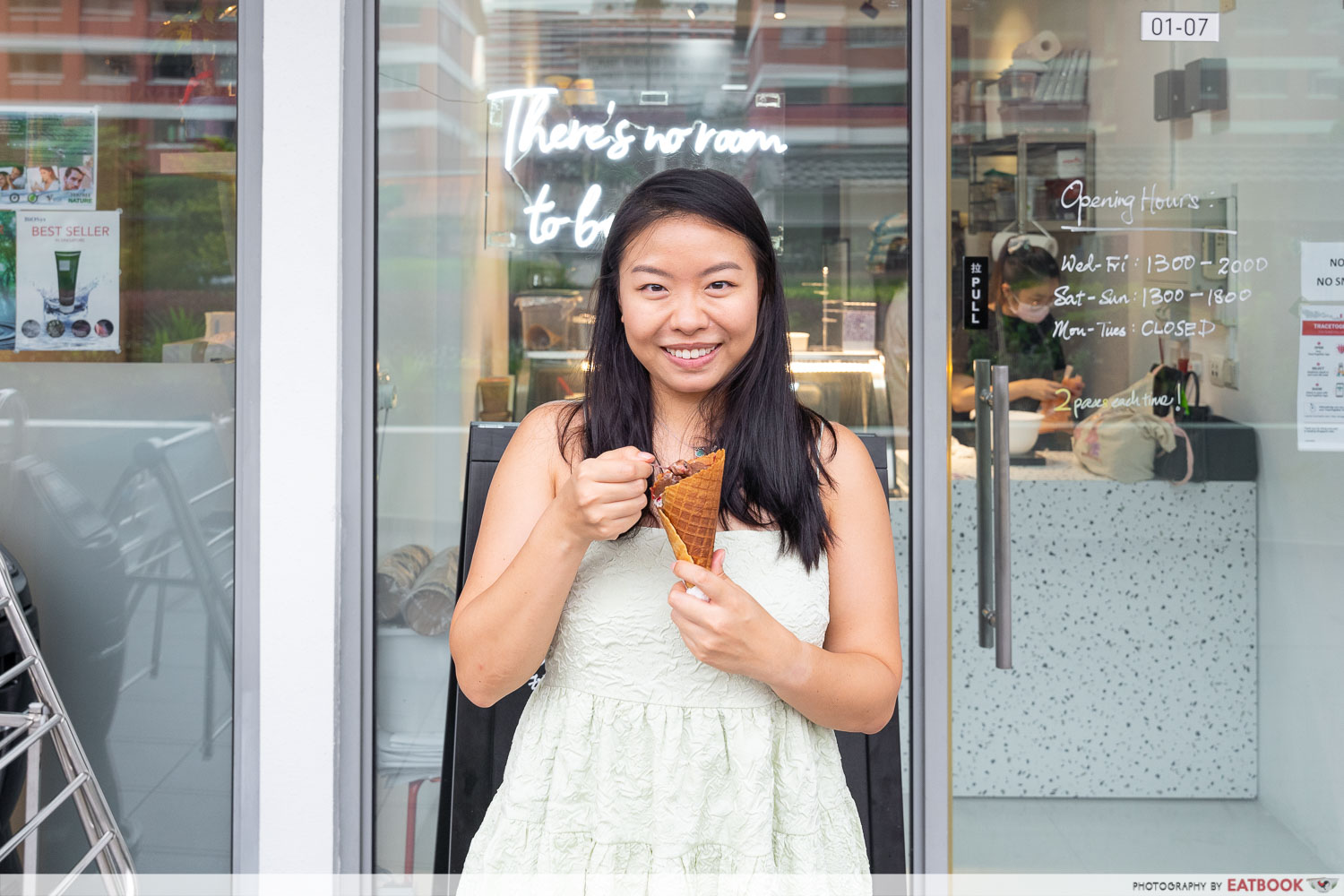 I don't profess to having a sweet tooth, but when the dessert's well crafted, I'll happily have it, and come back for more. The gelato desserts at Dimanche 49 didn't all worm their ways into my heart, but that's a Tiramisu I'll have a pint of, please.
It's a pity there aren't seats, and that they're not in a more happening area. Seeing as the pints are pretty much-upsized versions of their dessert cups, however, having it at home is a trade-off I can live with, since the customer wouldn't have to share the higher costs of them being in a more popular area,
For late-night ice cream, check out our review of Naked Ice Cream in Kovan. Otherwise, there's also Burnt Cones in Clementi for ice cream cones that are burnt to various degrees.
Address: 68 Jalan Jurong Kechil, #01-07, Suites@Bukit Timah, Singapore 596180
Opening hours: Wed-Fri 1pm to 9pm, Sat-Sun 1pm to 10pm
Website
Dimanche 49 is not a halal-certified eatery
Burnt Cones Review: New Clementi Cafe Open Till 12am For Waffles And Gelato Such As Yam And Pistachio
Photos taken by Melvin Mak.
This was an independent review by Eatbook. 
The post Dimanche 49 Review: Gelato Cup Desserts By Pastry Chefs From Michelin-Starred Restaurants appeared first on EatBook.sg – New Singapore Restaurant and Street Food Ideas & Recommendations.