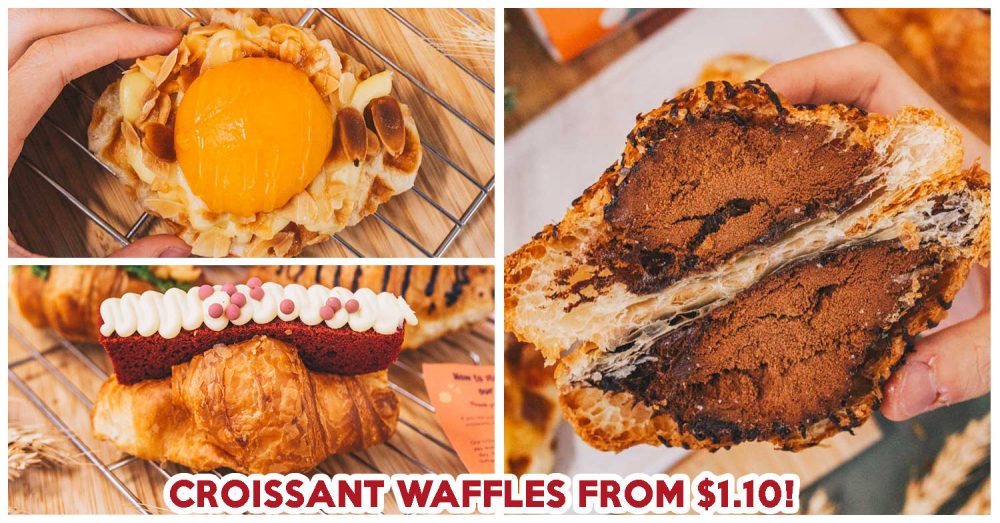 Crolo at Northpoint City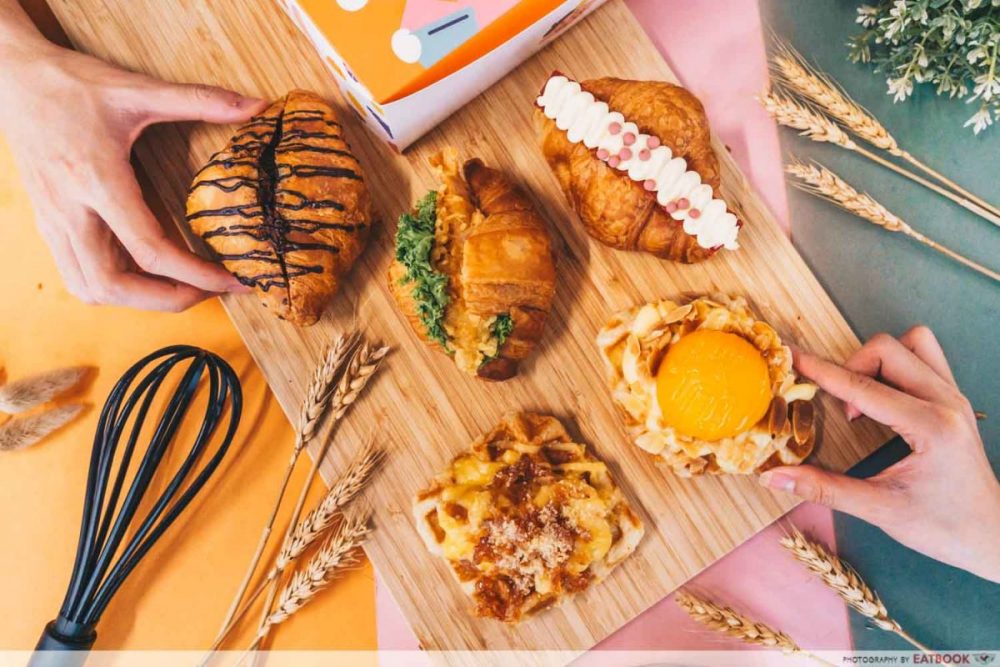 Food trends come in all forms. There are sweet ones like bubble tea, savoury like ma la xiang guo, all of which have captured the hearts of Singaporeans. Recently, croffles have emerged as one of these novel food crazes, thanks to Korea. If you're wondering where to get your hands on these croissant-waffle hybrids on home turf, then look no further than Crolo. 
Situated in Northpoint City mall, the kiosk sells a diverse selection of croffles and croissant creations. They are also owned by the popular local bakery, Swee Heng.  A sucker for buttery pastries, I wanted to find out if Crolo made their croffles and croissants taste as good as they look.
Northpoint City Food Guide: 15 Places For Ayam Penyet, Mala Grilled Fish And More
Food at Crolo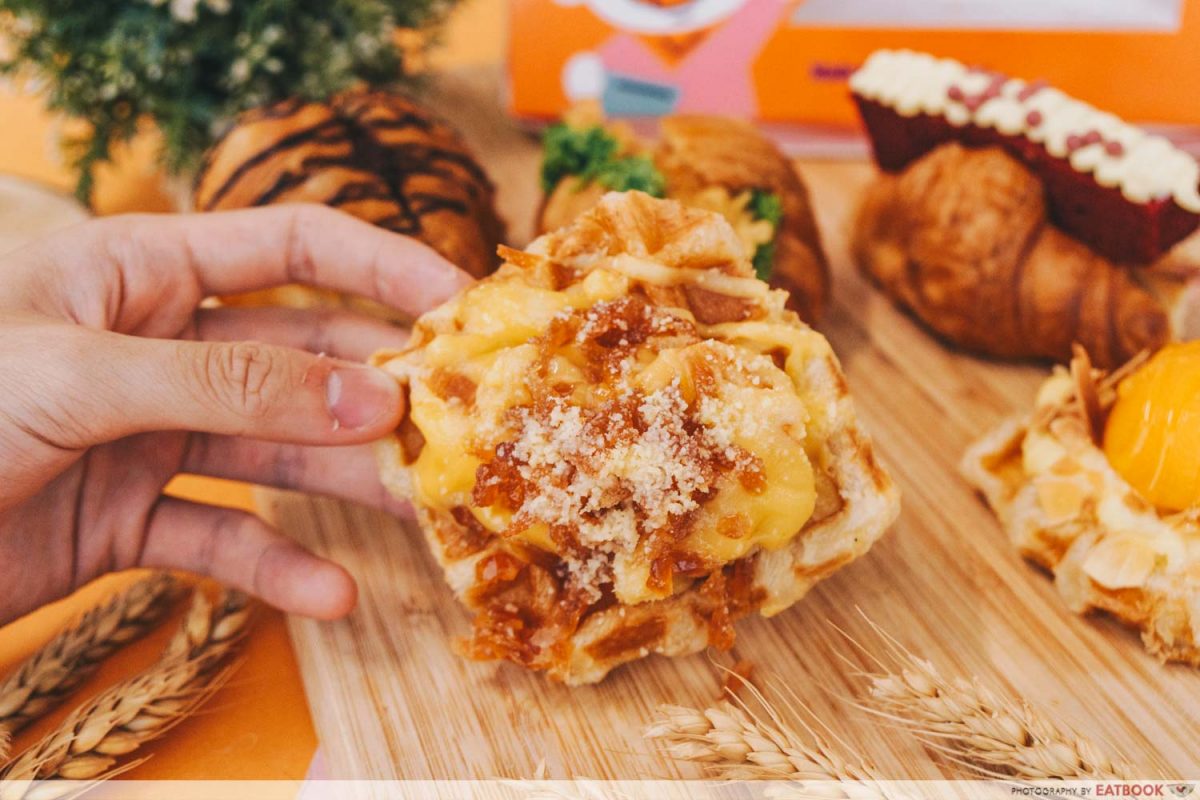 Their Salted Egg BBQ Chicken Croffle ($2.50) was a must-try. The pastry came with a creamy salted egg sauce, together with crispy bits of BBQ chicken, and a sprinkle of grated cheese. The pastry itself also had an ASMR crunch when sliced in half.
The salted egg sauce had a good sweet and salty balance, though the sauce can get rather jelak after a while. The BBQ chicken bits added texture and injected more sweetness, despite it tasting similar to bak kwa. However, the croffle ended up tasting stale, as it was a bit too tough on the inside.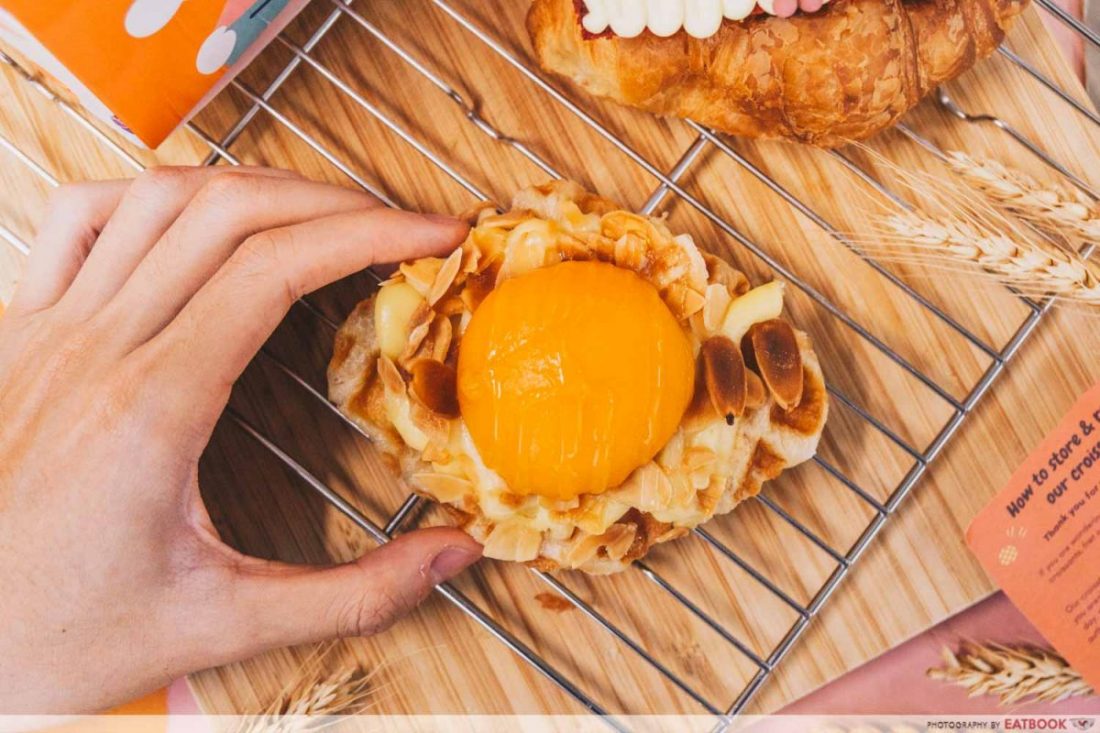 One of their more visually-appealing creations would be the Peach Croffle ($2.50). The presence of the yellow peach slices brought me back to my younger days spent gorging on Delifrance's peach tarts, which look pretty identical. The croffle comes with the peach sitting atop a bed of fresh custard cream and sliced blanched almonds.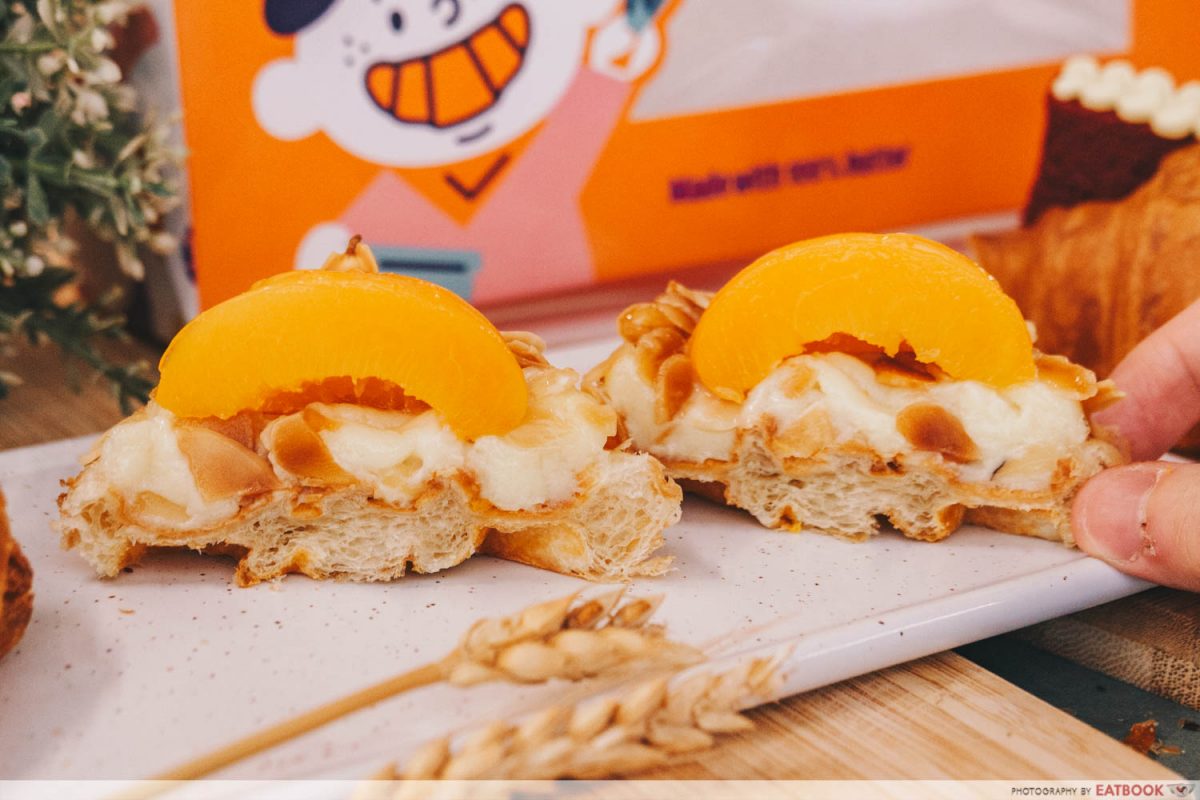 Ideal for those with a sweet tooth, this dessert pastry remained pretty crispy even after a while of sitting. Though some might find its sugariness a little cloying, the fruitiness and floral sweetness of the peach breathes life into it, so this was a winner for me.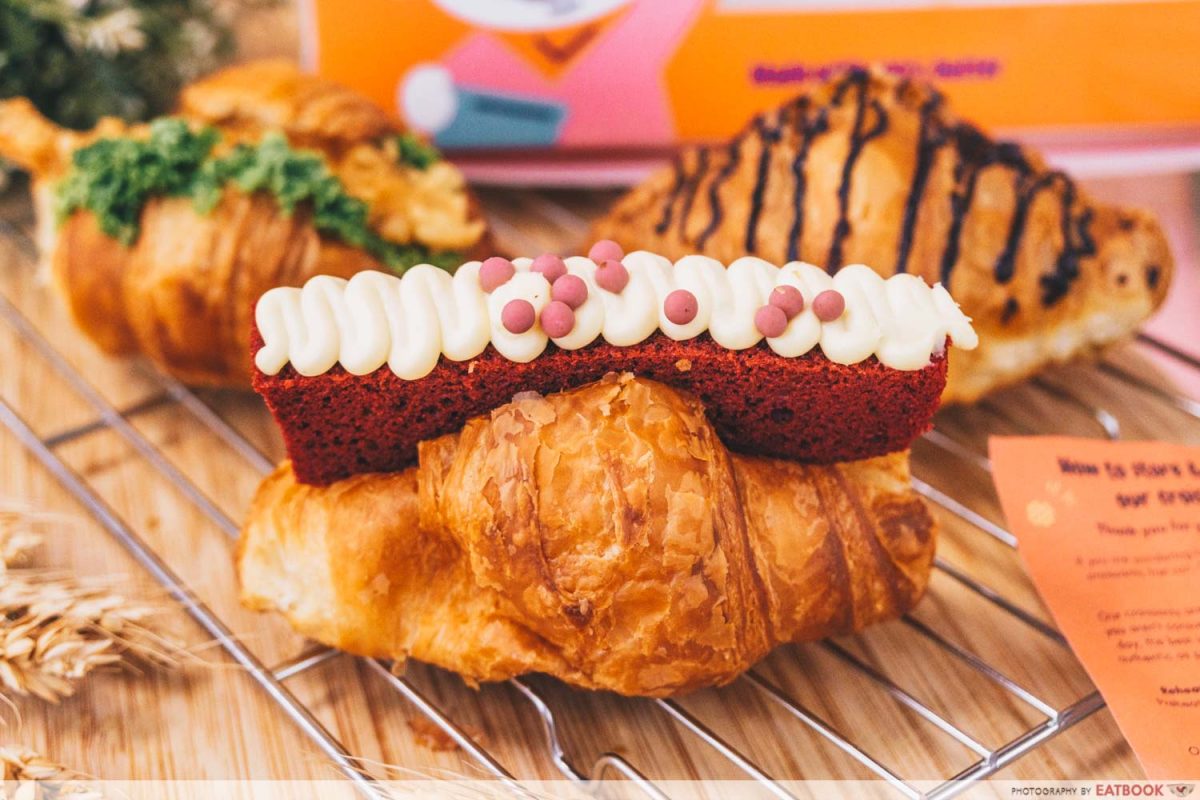 Looking like it's straight outta Sesame Street, the Red Velvet Cream Cheese Croissant ($2) includes a substantial red velvet cake slice as a topping, as well as cream cheese. Unfortunately, it turned out to be a mismatch of flavours. What was meant to be a cross between two baked favourites—red velvet cake and croissants—just didn't mesh well for me.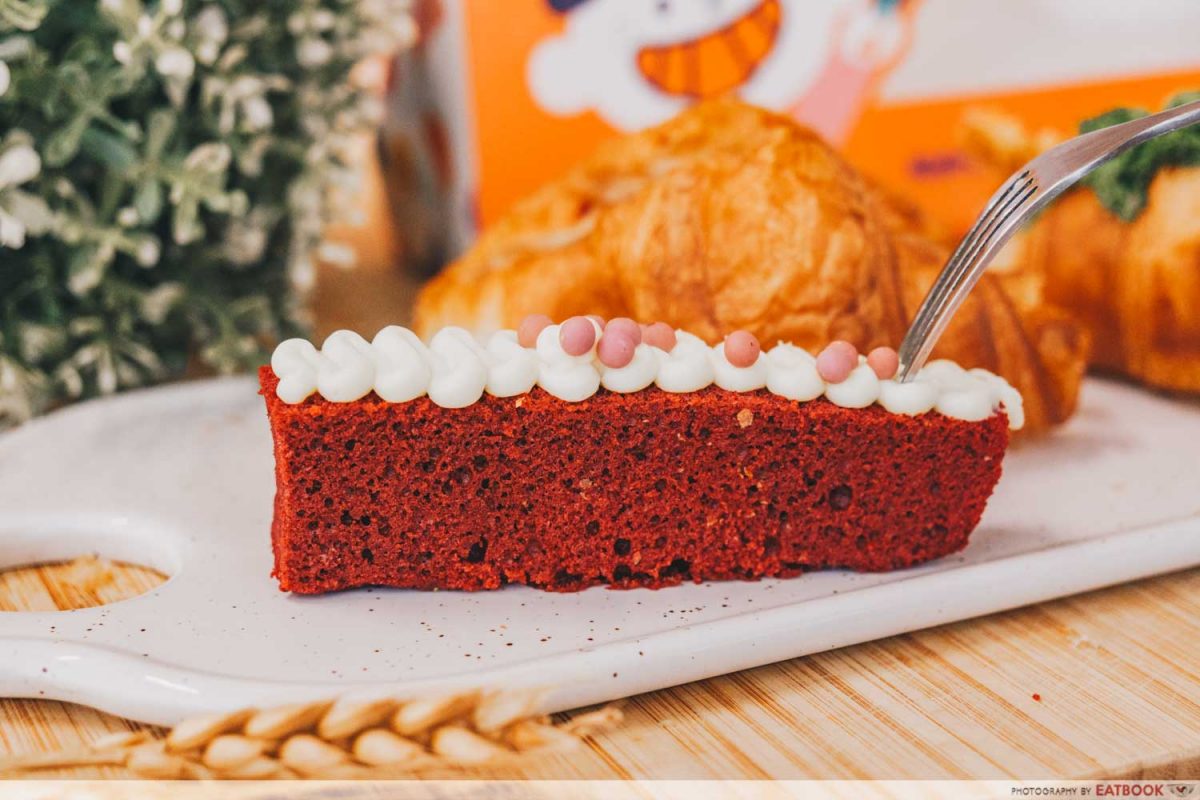 The cake on its own got the job done as it was light and airy. Honestly, it's a lot better eaten on its own than together with the croissant. The recognizable butteriness in the croissant was also absent from the croffle.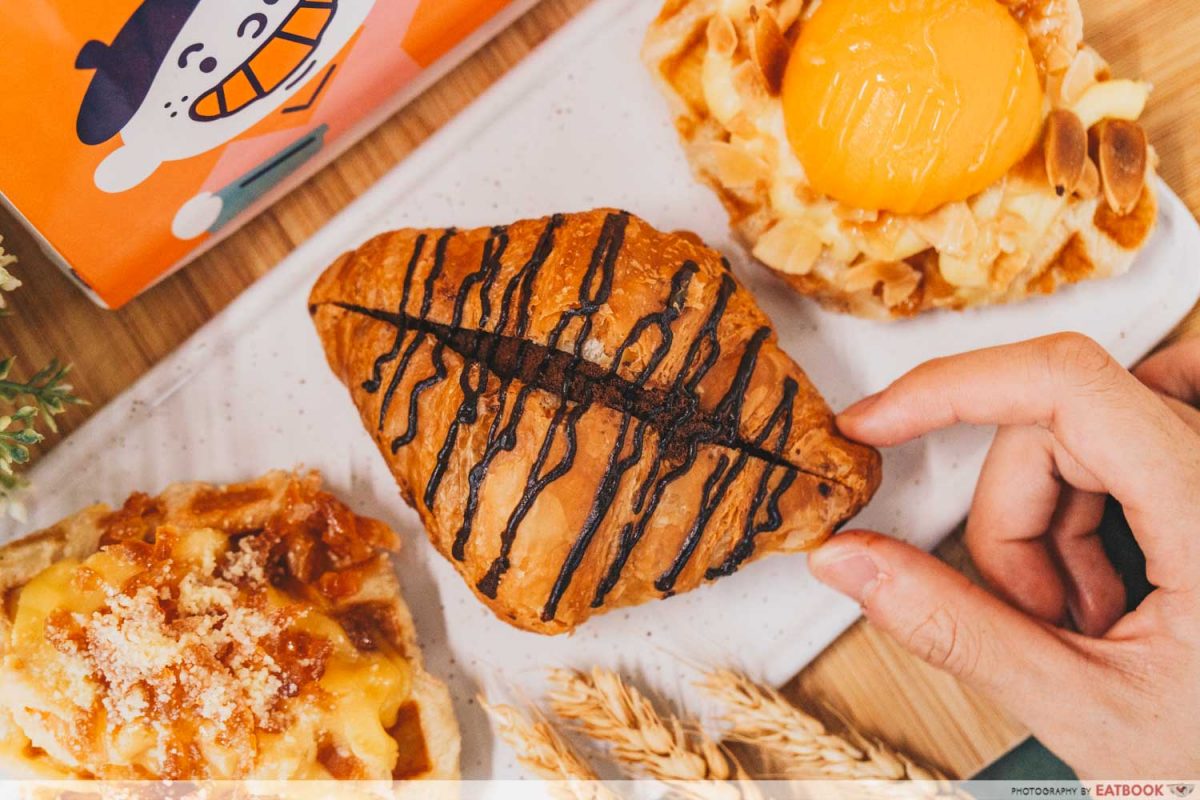 For that one friend who has to have Milo with everything, the Milo Dinosaur Croissant ($2) is right up their alley. Stuffed with a generous serving of Milo powder and glazed with chocolate sauce, it is a chocoholic's dream.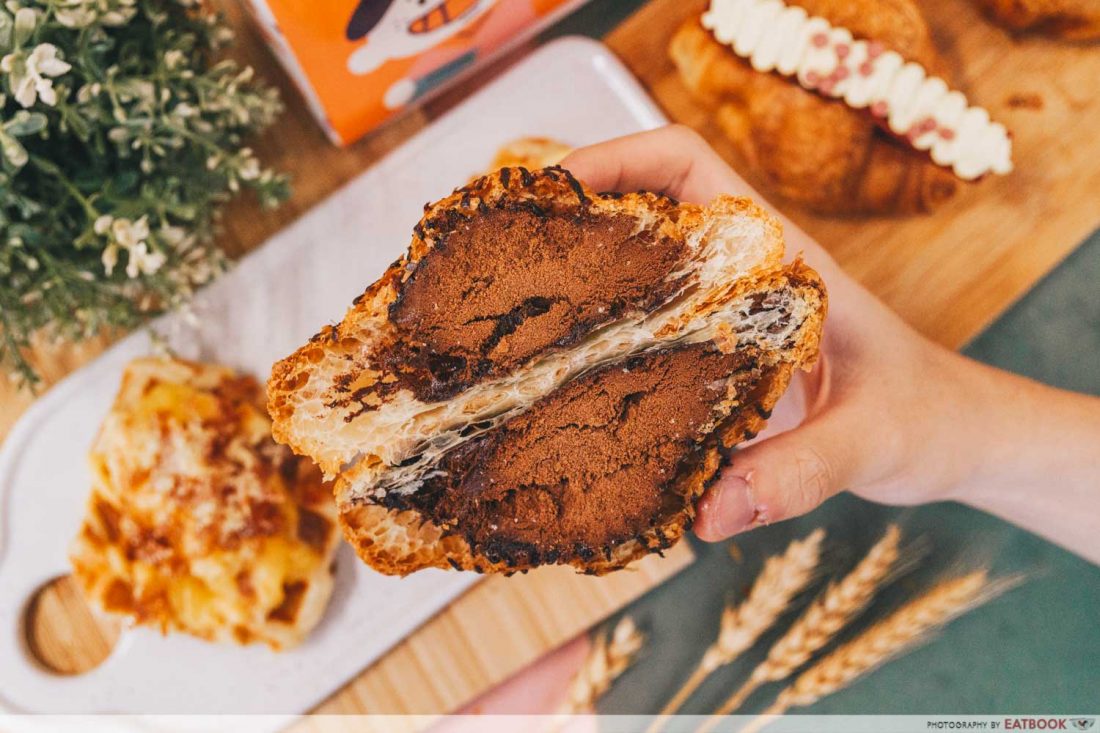 My gripe with it is the Milo powder does harden fast and becomes difficult to bite into after a while, sticking to your teeth easily and becoming a bit too chewy. But, the IG-worthiness and almost overflowing filling more than justified its price point. I'd recommend it to anyone who'd love a cheap Milo thrill.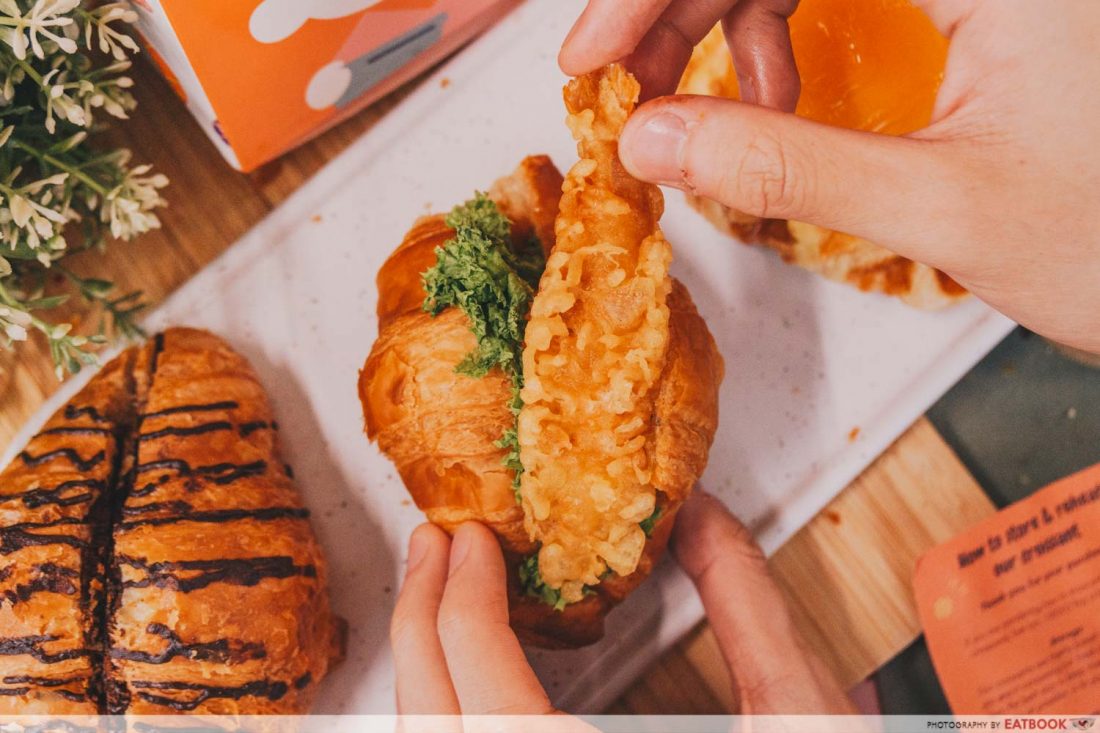 For the savouries, I chose the Tempura Croissant ($2.50) as I was curious as to how a Japanese deep-fried specialty would go with the pastry. A relatively large piece of crunchy prawn tempura, fresh lettuce, and a somewhat cheesy sauce make up the filling of this delicacy.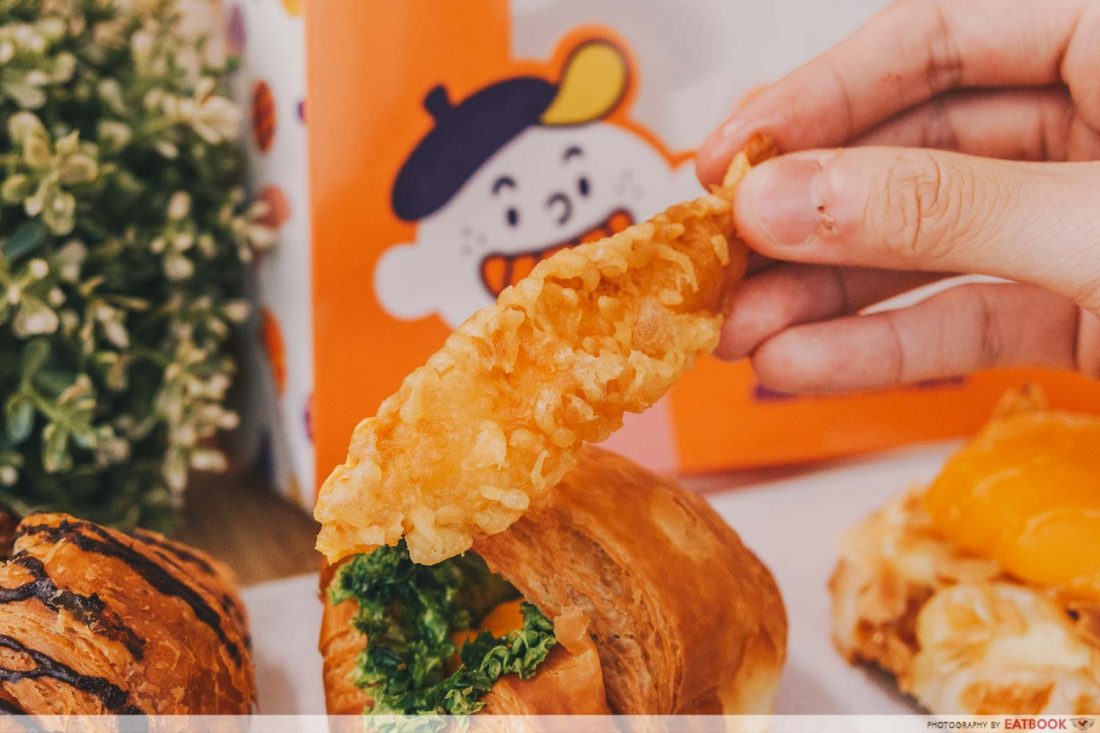 The tempura batter was light, with the prawn being fresh enough without any fishy taste. When eaten together with the croissant, it adds extra crispiness, together with a slight sweetness. Yet, I felt that they were rather stingy with the sauce, which went well with the tempura prawn.
Ambience at Crolo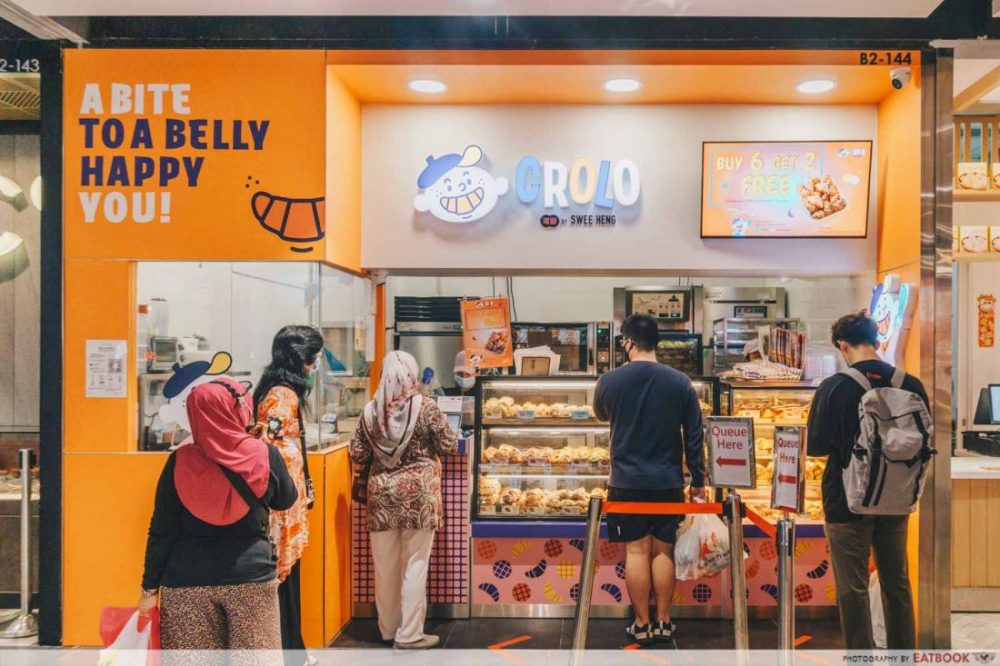 Crolo occupies a small shop space with a visible kitchen in Basement 2 of Northpoint City, literally just an escalator ride down from Yishun MRT Station. Their storefront is enticing enough, with a transparent glass display showcasing their extensive assortment of bakes that are churned out daily.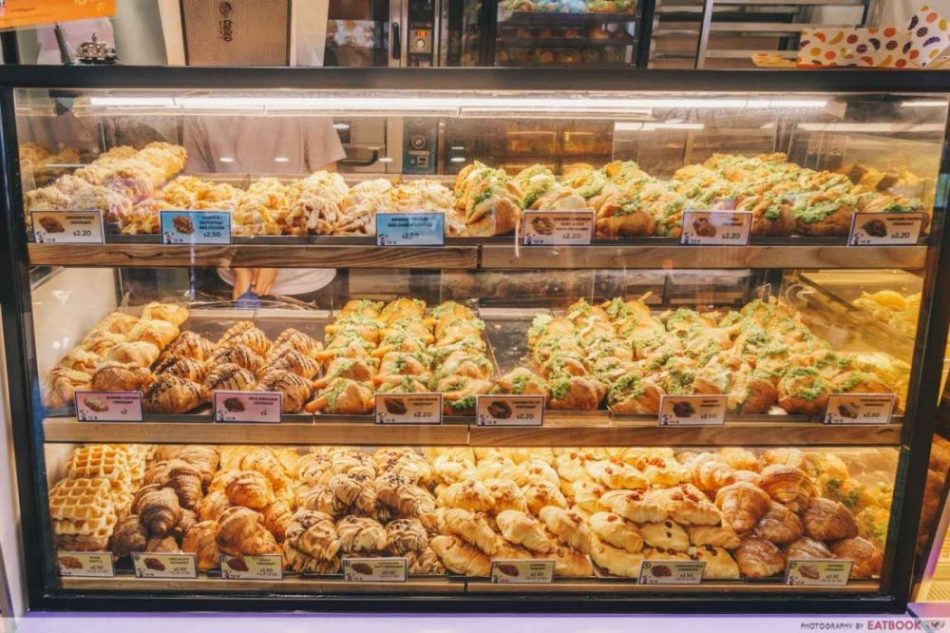 Their interior reminded me of old-school bakeries laden with trays upon trays of their freshly baked goodness. When I arrived in the early afternoon, there were two to three people waiting in line, but service was quick and efficient. 
Chir Cafe + Bar Review: New IG-Worthy Korean Cafe With Cheese-Drenched Burger, Croffles And More
The verdict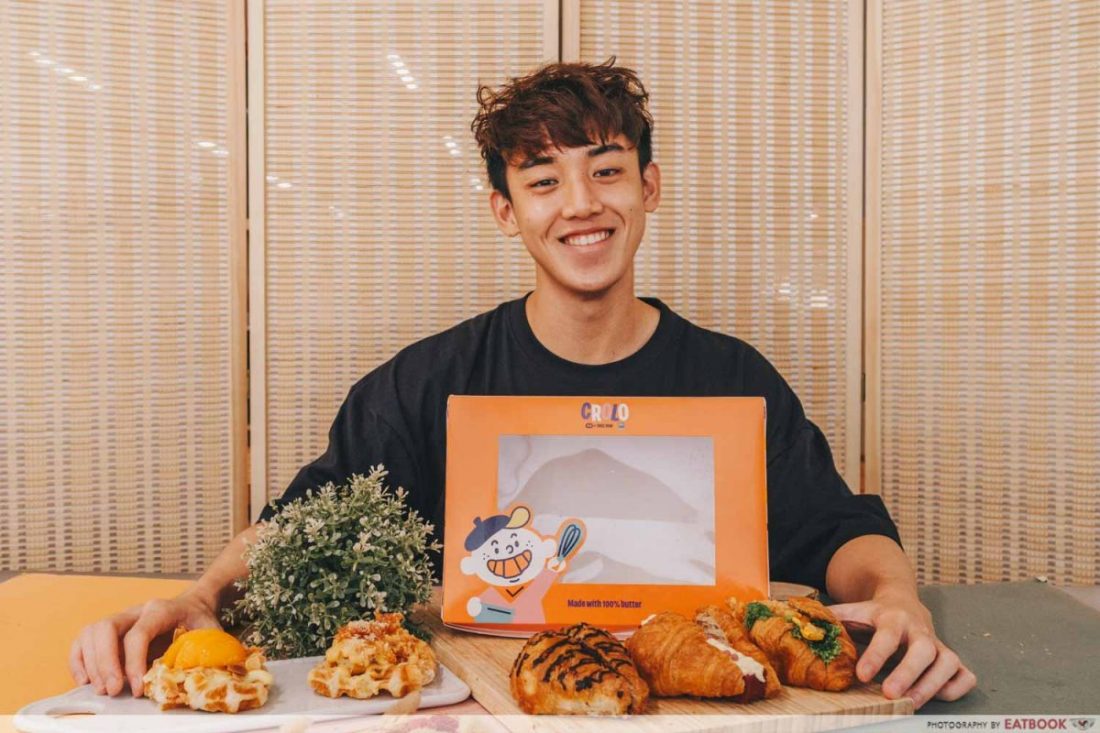 In all honesty, the affordable price points of Crolo's delights saved what was overall a rather lacklustre experience for me, with only a few of their creations living up to my expectations. I'm by no means an expert myself, but I felt the lack of the essential soft and buttery element that a great croissant should have was pretty much absent in most of their bites.
Their Salted Egg BBQ Chicken and Peach croffles are worth a try because they are not as heavy on the palate, and their flavours generally gel well together. But, their croissant innovations were sadly a tad underwhelming, at least for me.
If you're looking for more places selling croffles, check out our Bunsik review for injeolmi croffles and Korean street food at Ang Mo Kio. If not, read our Chir Cafe And Bar review for IG-worthy croffles and cheese-drenched burgers at Holland Village!
Address: 930 Yishun Avenue 2, #B2-144, Northpoint City, Singapore 769098
Opening hours: Daily 10am to 10pm
Tel: 6755 0300
Website
Crolo is a halal-certified eatery
Bunsik Review: Cheese Corn Dogs, Injeolmi Croffles And More Korean Street Food At Ang Mo Kio
Photos taken by Chew Yi En.
This is an independent review by Eatbook.sg.
The post Crolo Review: Yishun Stall Sells Croffles And Croissants In Flavours Such As Milo Dinosaur And Salted Egg Yolk appeared first on EatBook.sg – New Singapore Restaurant and Street Food Ideas & Recommendations.