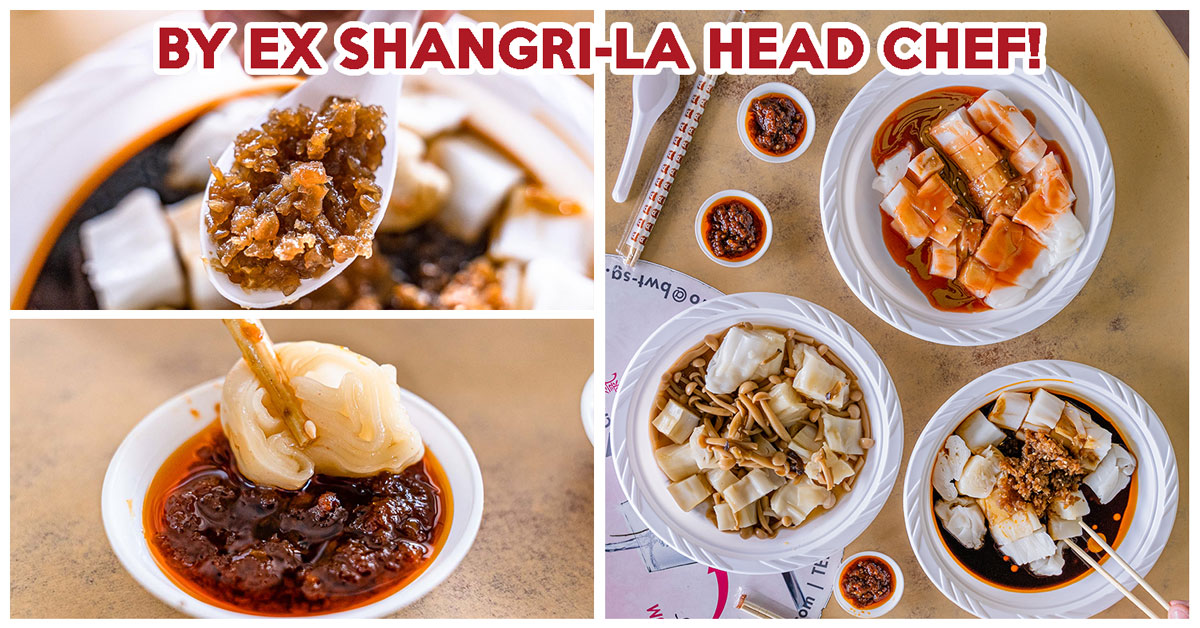 Cheong Fan Paradise at Ang Mo Kio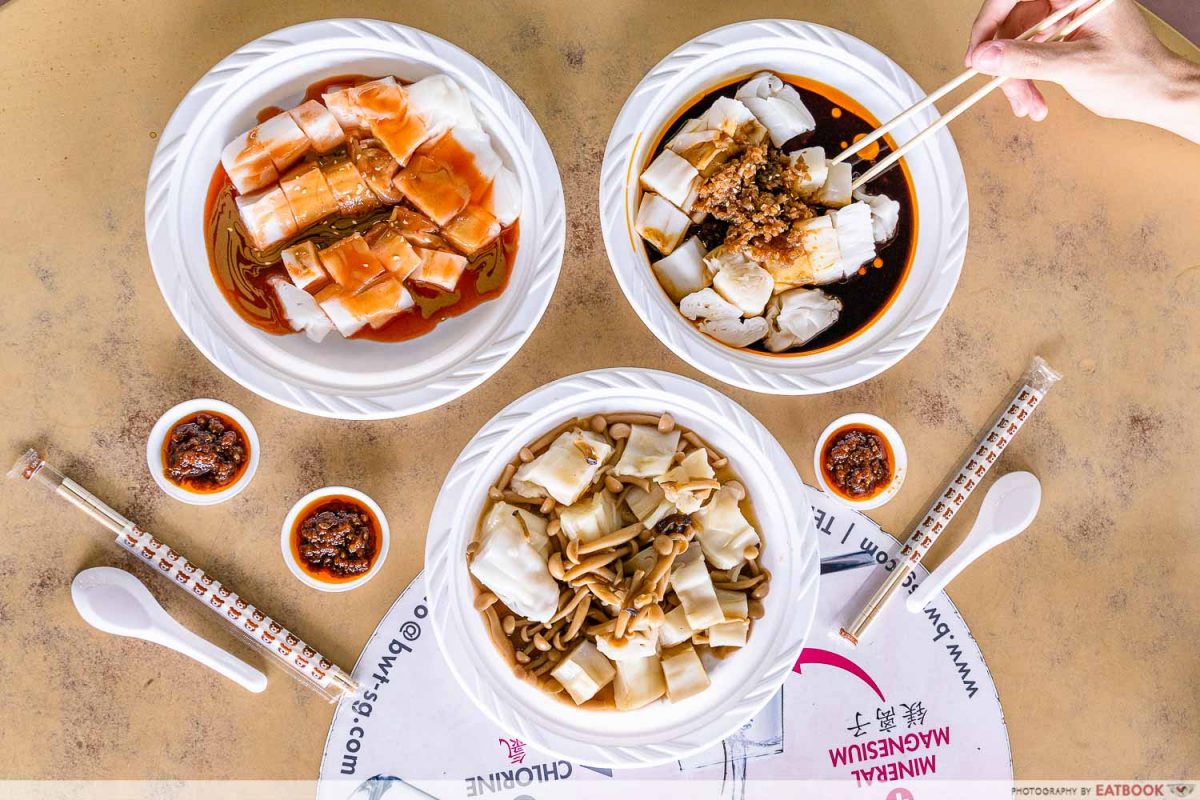 Nowadays, there's always a lot of fanfare surrounding ex-hotel chefs starting their own hawker initiatives and Cheong Fan Paradise happens to be yet another interesting addition to the mix. Started by an ex-dim sum head chef from Shangri-La Hotel, this industrial canteen stall attracts queues across the canteen for their silky smooth HK-style chee cheong fun that come with multiple fillings. I headed down to sunny Ang Mo Kio to try out their delights, together with a dining companion.
10 Hawker Stalls Opened By Ex-Hotel Chefs In Singapore Selling Steaks, Cakes, And More
Food at Cheong Fan Paradise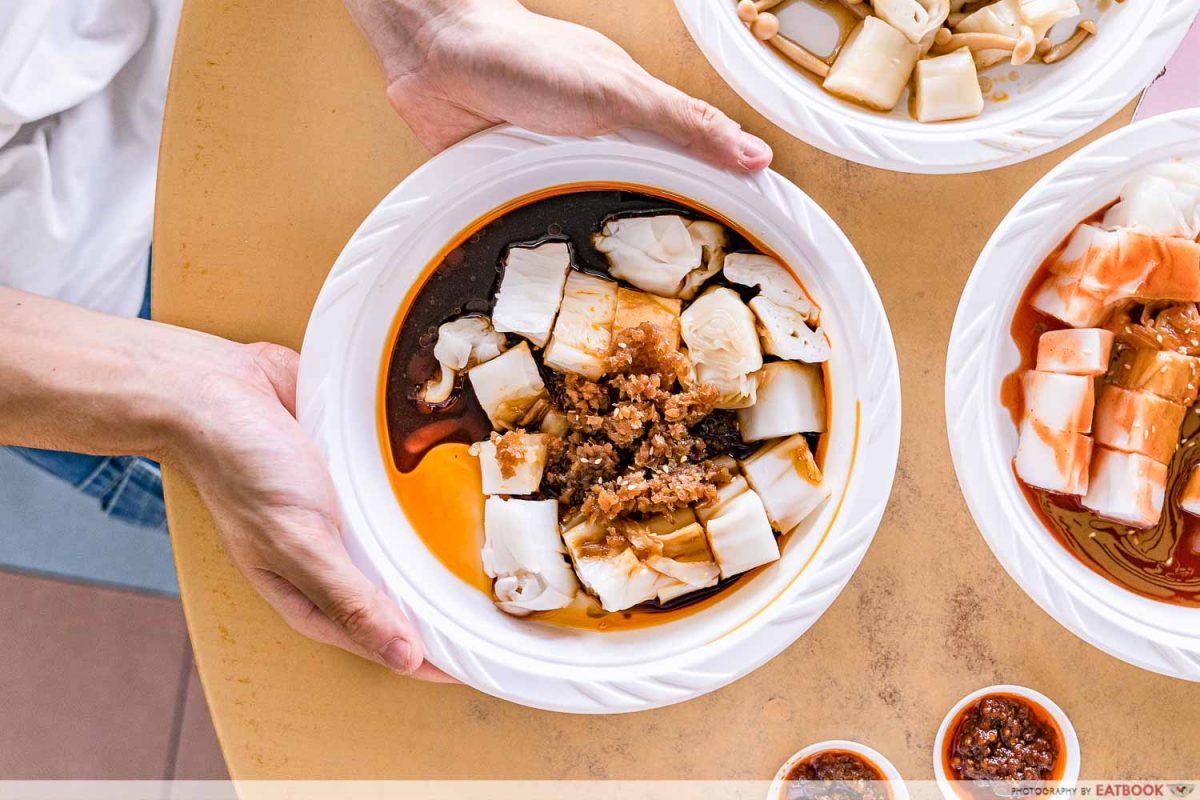 A sucker for chwee kueh, the Cai Pu Cheong Fan ($3) immediately caught my eye because of its resemblance to this local hawker dish. A generous helping of chye poh sat atop a serving of their rice rolls, doused in a house-made sauce mixture that's both savoury and slightly spicy. The sauce itself included a blend of chilli oil and dark sauce among other ingredients.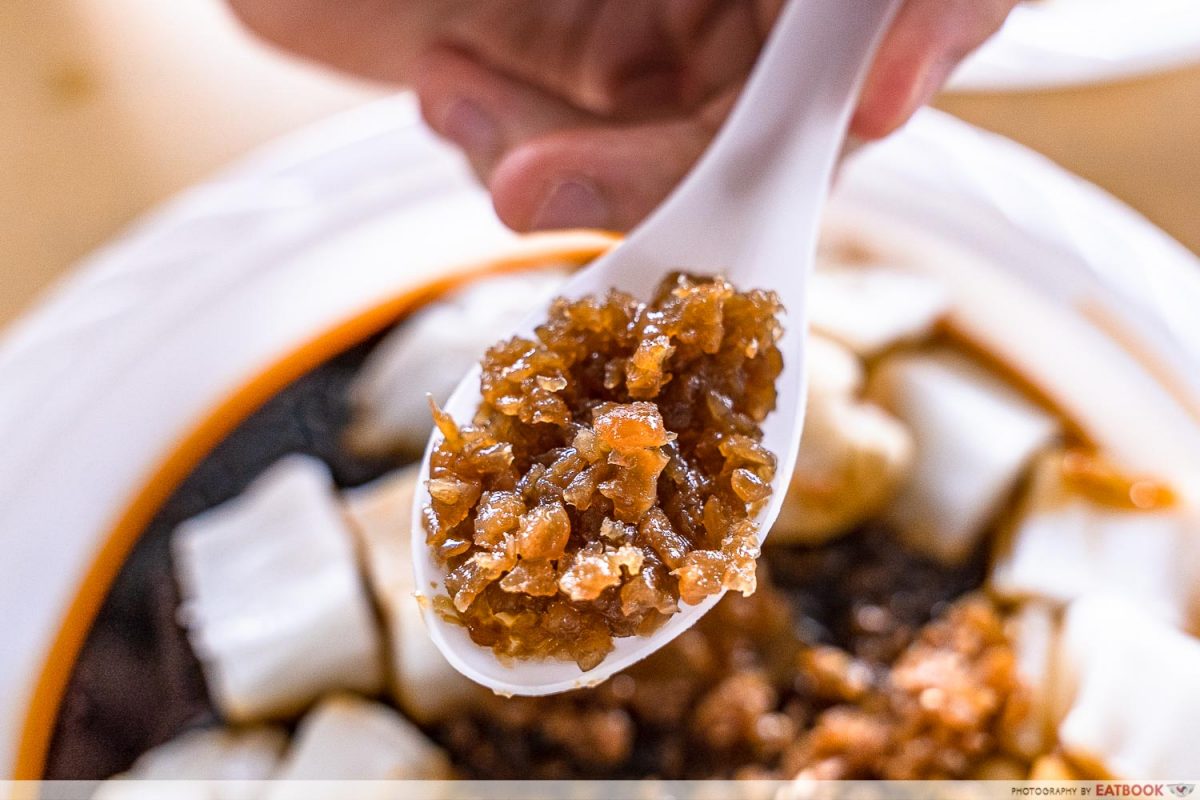 Off the bat, the chye poh had an ideal balance between sweet and salty, with a juiciness that went well with each spoonful of CCF. I thoroughly enjoyed the contrast of textures between the crunchiness of the chye poh and the fine-ness of the CCF as well. My only gripe would be that the chye poh taste can get quite jelak after a while of eating.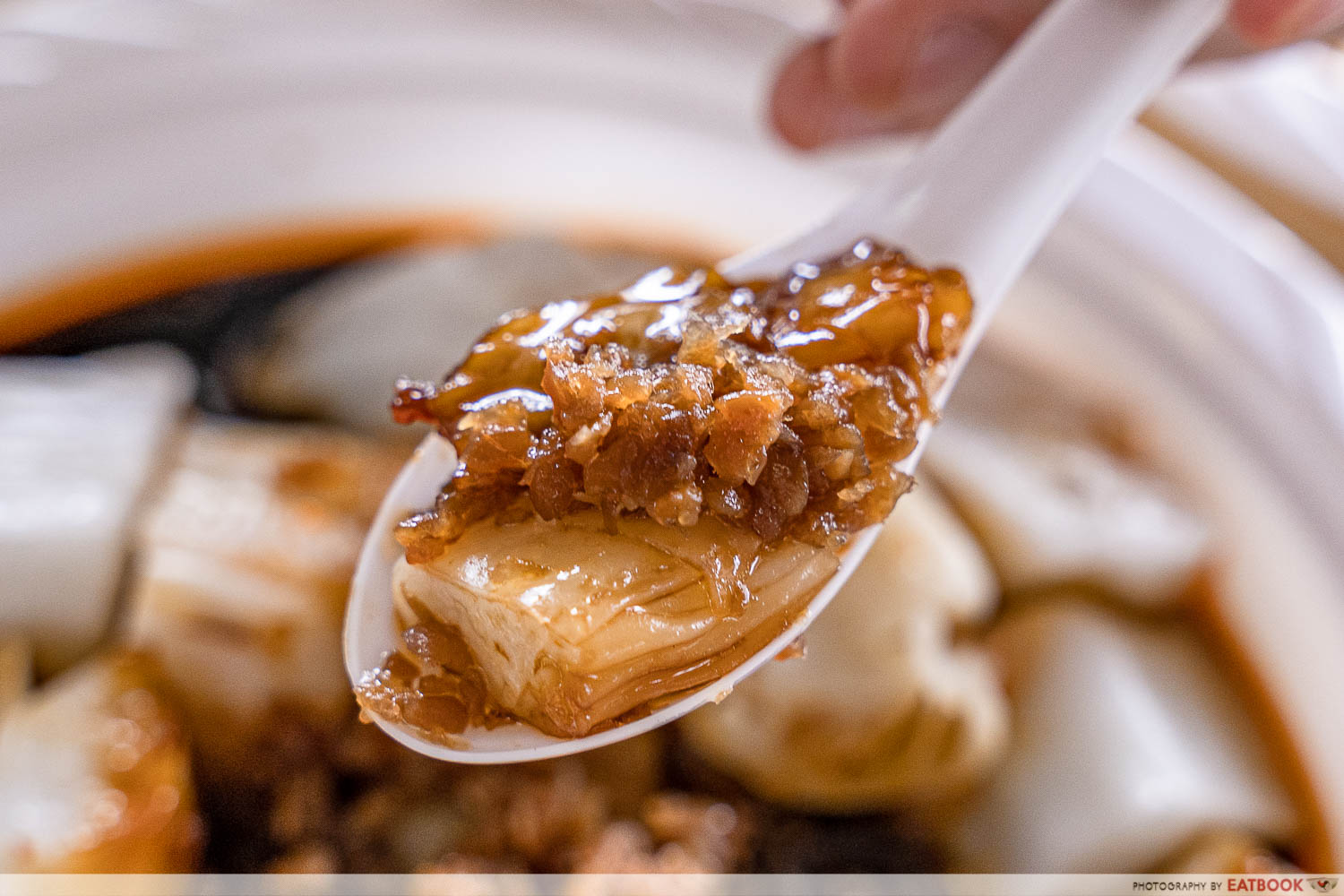 The sauce mixture was also a winner, especially for those craving a slight kick. With just the sauce itself, I managed to taste sweet, spicy, salty, and savoury flavours all in one, without any one element overpowering the others. This is a testament to the expertise the owners have in crafting each plate of CCF for us to enjoy.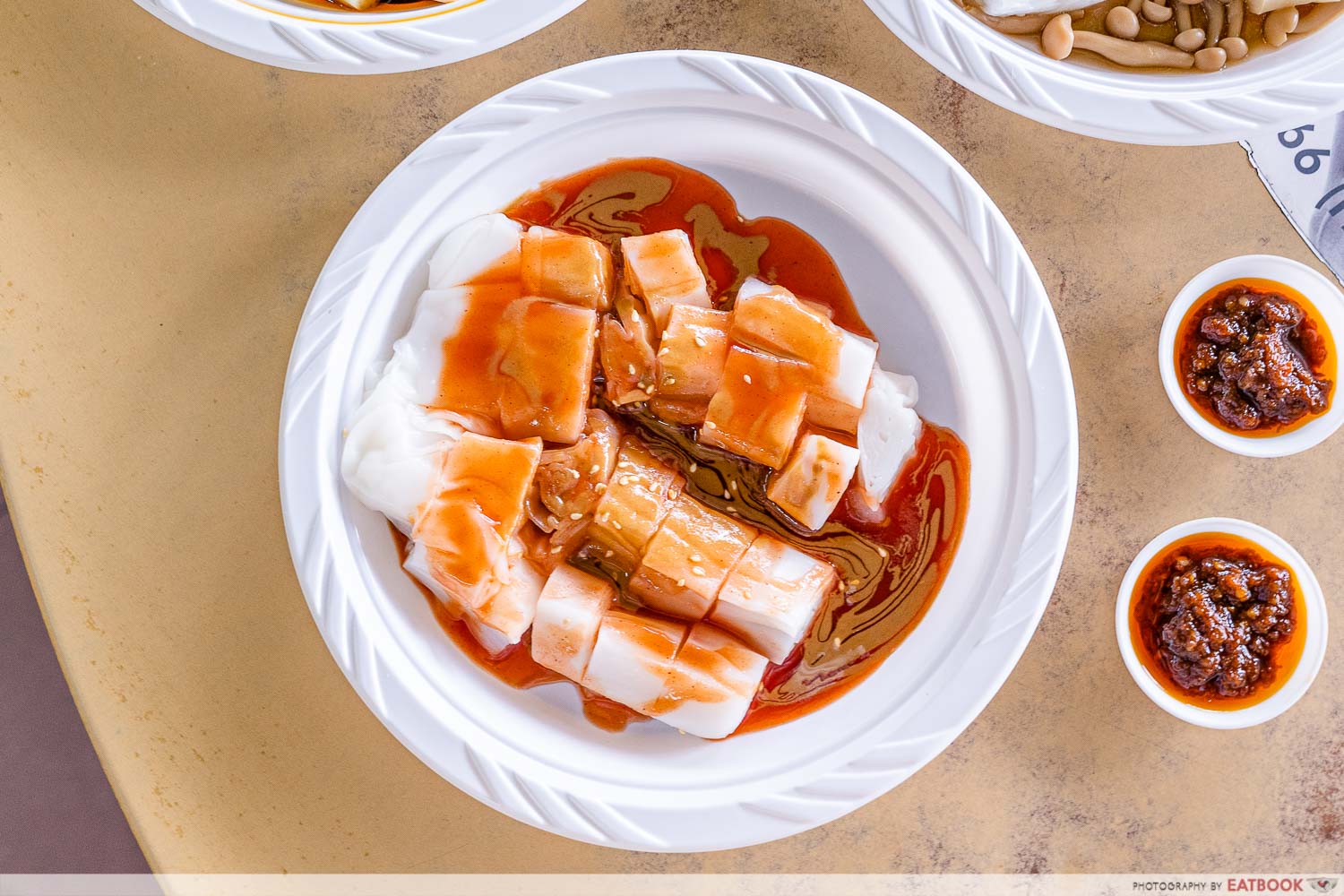 Probably the most IG-worthy among all three dishes, the Sesame Sauce Cheong Fan ($2.40 for two pieces) was a treat especially for those with a sweet tooth. 
This time, their smooth rice rolls are graced by the presence of a sweeter sauce concoction, made with their version of a seafood and peanut-sesame sauce. It was balanced out by the nuttiness and creaminess of the peanut sauce, adding texture to the dish as well.
Those who enjoy the typical Singaporean style of CCF with the thick, sweet sauce and sesame seeds would probably have an inclination for this dish. I do feel like the dish can be rather dehydrating after a while, so do standby your beverage of choice to help yourself out.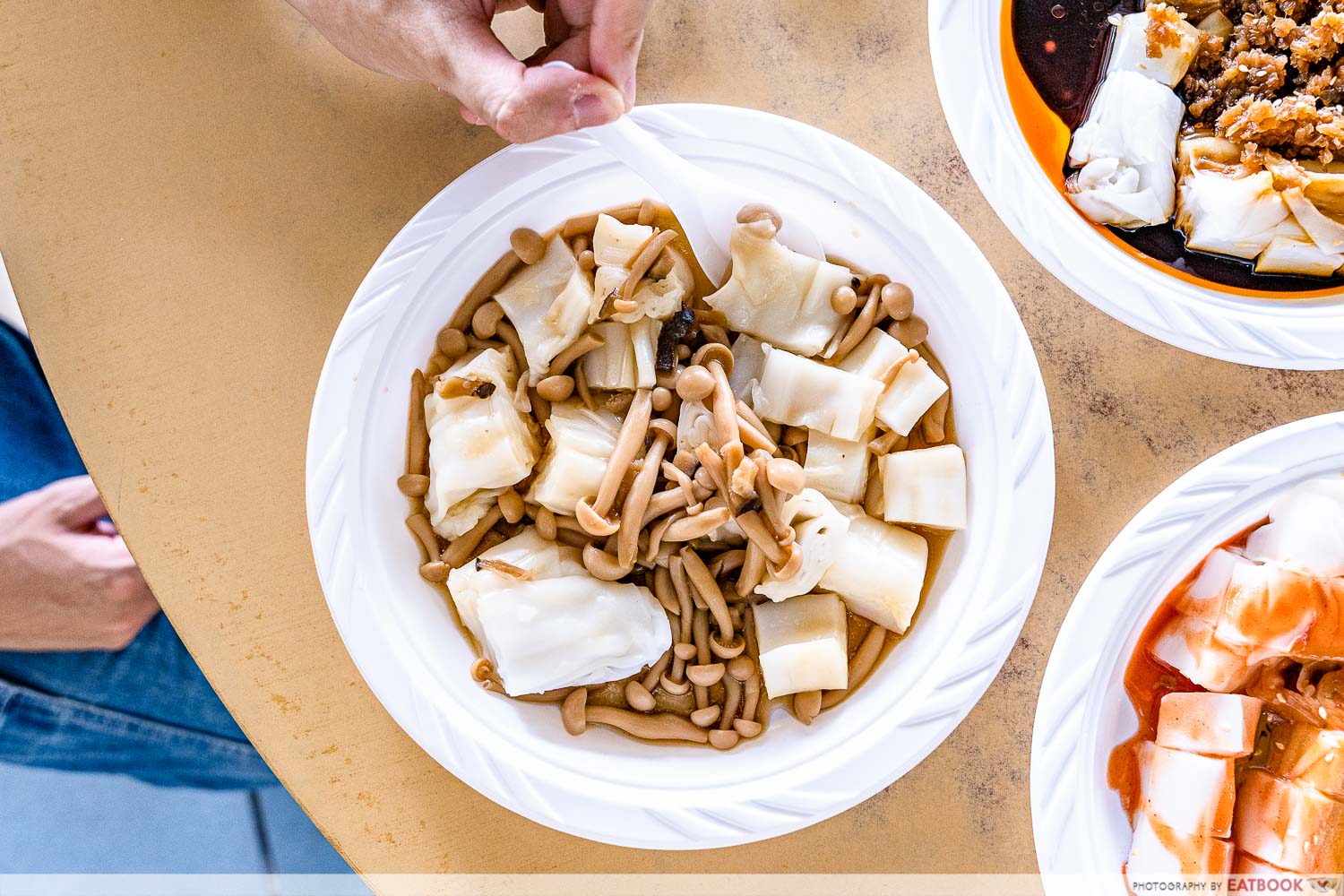 If you're a fan of mushrooms, the Vegetarian Cheong Fan ($3.50) has enough for you to eat yourself silly. Apart from the mushroom galore, you get your dose of rice rolls in their light and tasty sesame oil and soya sauce mixture.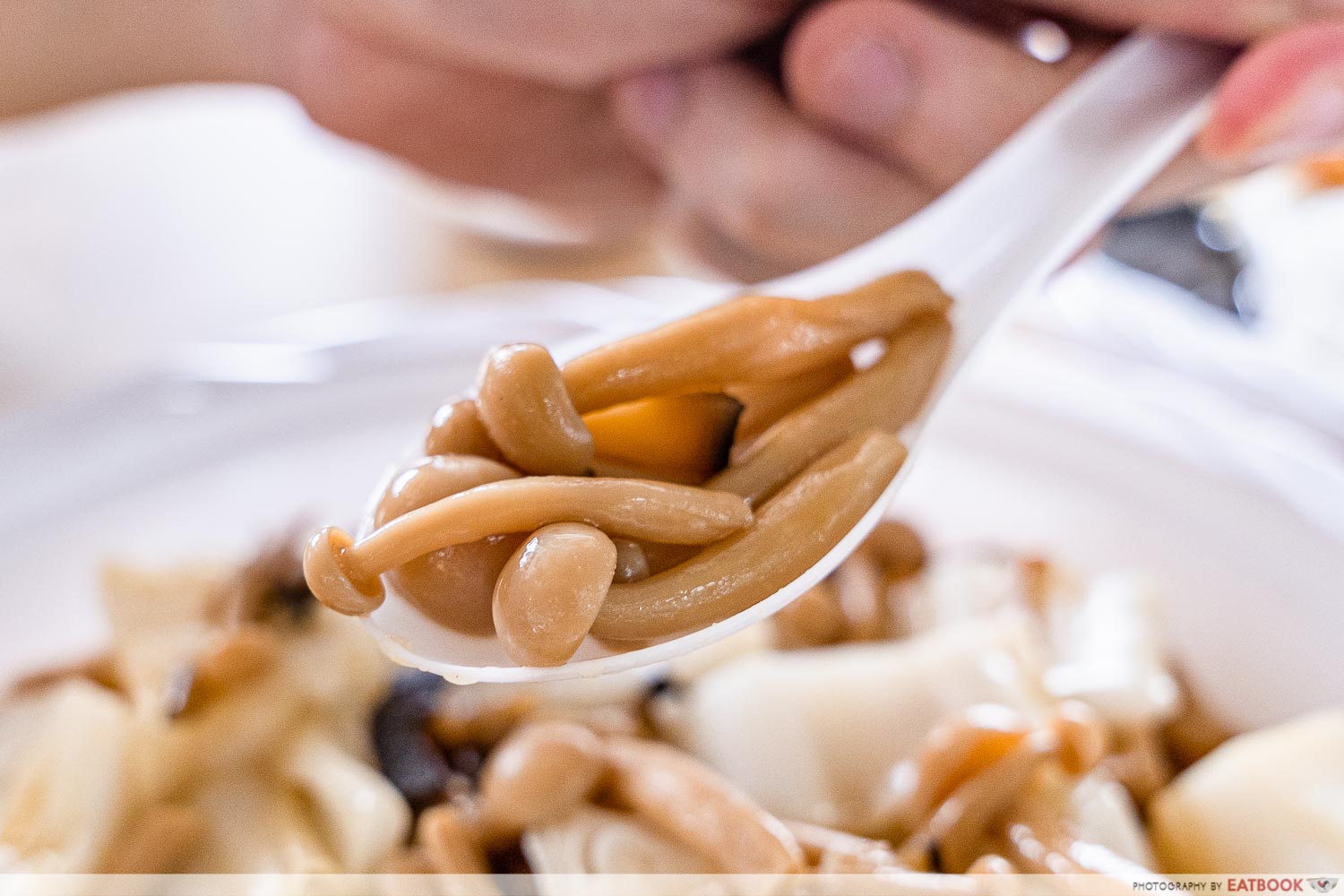 Using shimeji mushrooms was indeed a brilliant idea, as they were really juicy and earthy, soaking up the sauce mixture nicely. I do wish they provided more ingredients though, such as other mushroom types or vegetables, that would have elevated the flavour profile of the dish.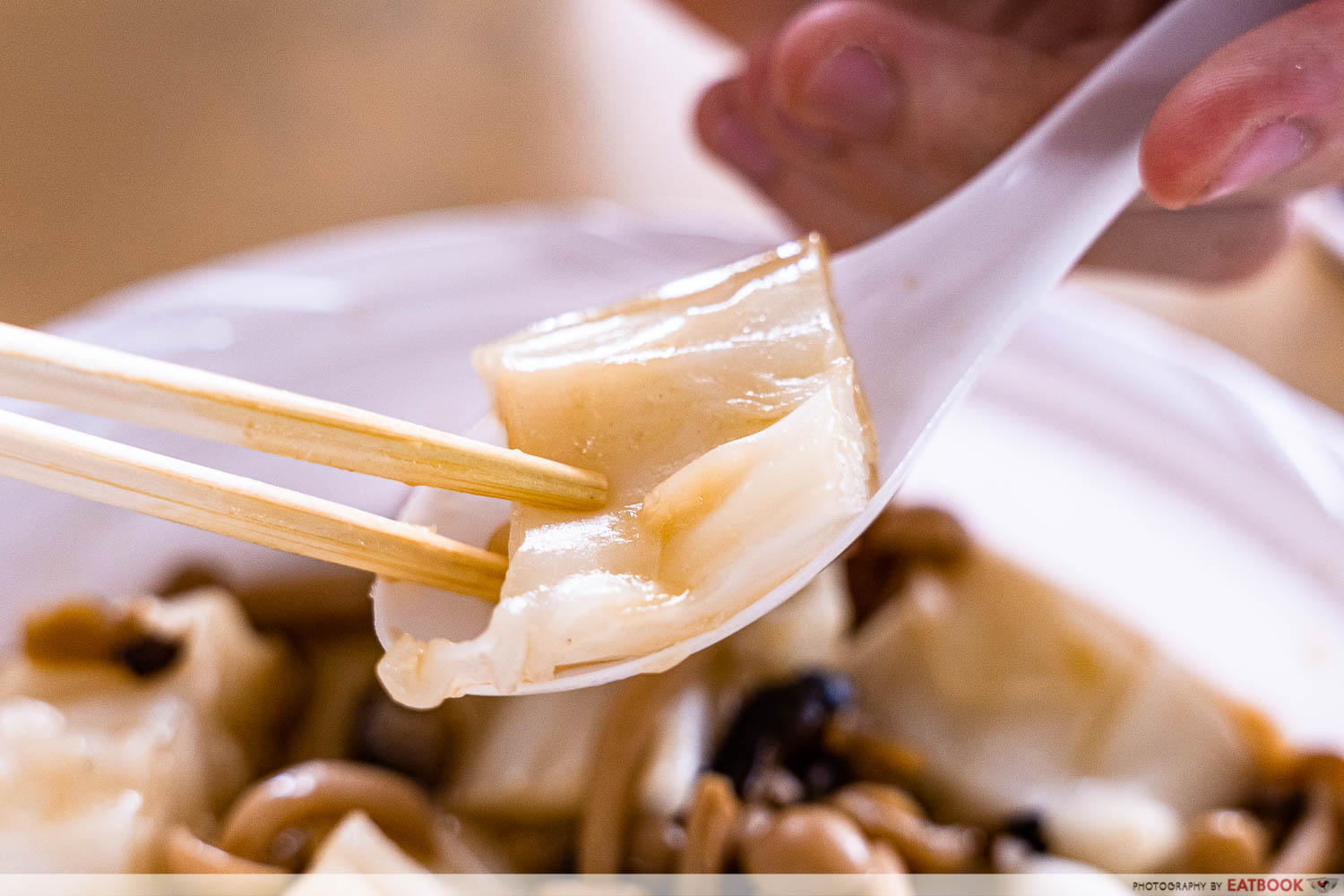 The rice noodle rolls had a thin, velvety texture, which allowed them to remain soft even after sitting for a while. They absorbed the savoury flavours of the sauce well, with the sauce permeating throughout each piece of CCF dipped in it. 
Xiang Gang Xin Kou Wei Review: Handmade Chee Cheong Fun By Hong Kong Chef Near Paya Lebar
Ambience at Cheong Fan Paradise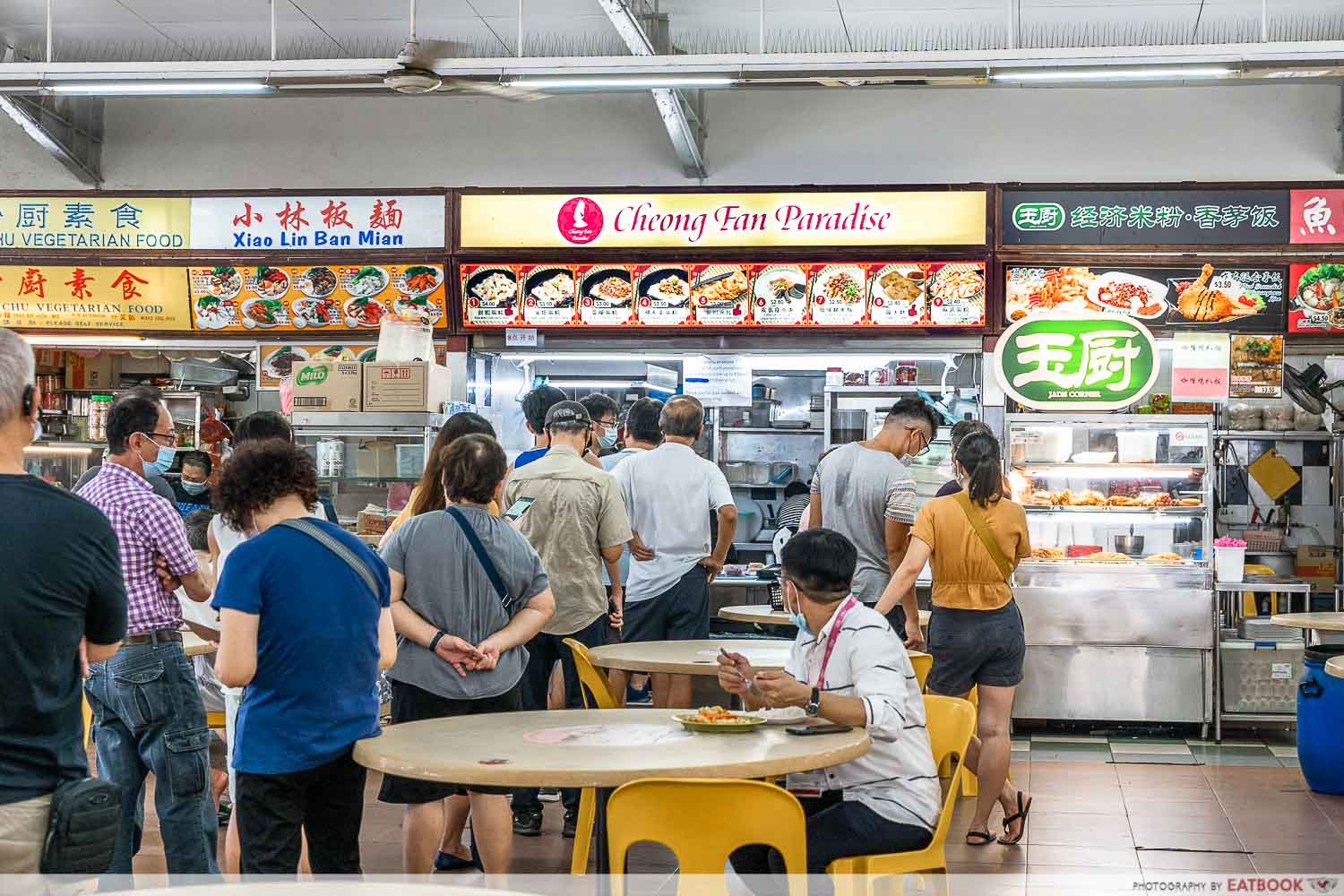 Accessing Cheong Fan Paradise isn't the most convenient unless you happen to work in the industrial area around the stall or stay around the area. It's actually a 10 to 15-minute bus ride from Ang Mo Kio MRT Station.
The canteen itself is rather spacious and you won't have to worry about finding seats, as it roughly sits about 100 to 150 people comfortably. However, the queue for the stall itself can get rather long, as each order is really prepared on the spot with a lot of meticulousness. We arrived at 12pm and had to queue for slightly less than an hour to get our hands on our own CCF.
The verdict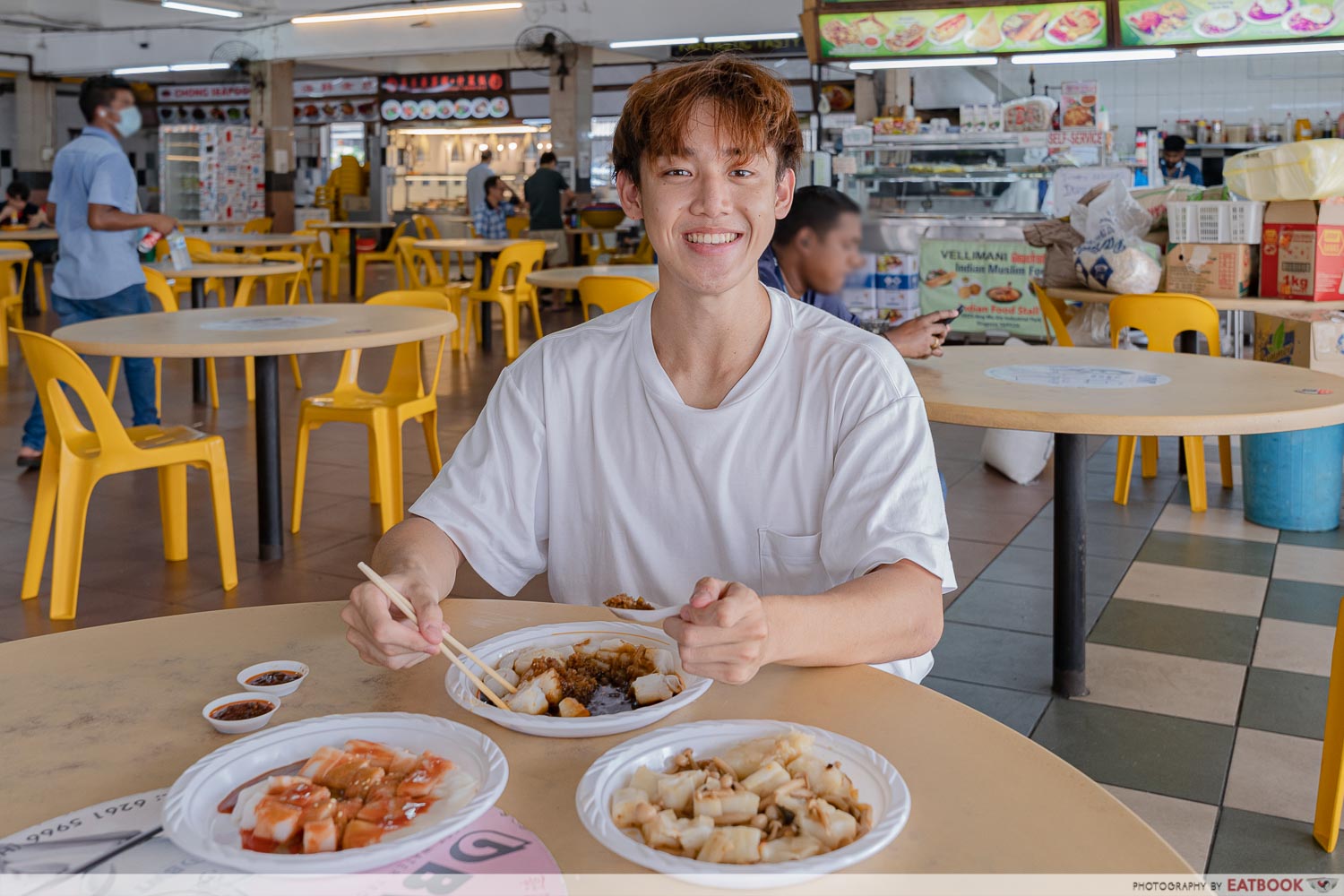 Compared to other hawker CCF favourites that I'd tried previously such as Xiang Gang Xin Kou Wei, Cheong Fan Paradise certainly trumps most of them in terms of flavour and quality, as the sauces were paired well with the various CCF fillings and each dish was flavourful throughout.
If you're looking for other CCF options around, check out our Happy Congee review for mala chicken CCF and more. Alternatively, read our Ipoh Curry Chee Cheong Fun review for Malaysian-style char siew curry CCF as well.
Address: Block 5023 Ang Mo Kio Industrial Park 2, #01-87, Singapore 569526
Opening hours: Tue-Sun 7am to 4pm
Tel: 9278 7792
Website
Cheong Fan Paradise is not a halal-certified eatery.
Happy Congee Review: Handmade Mala Chee Cheong Fun And Abalone Congee At Bendemeer
Photos taken by Syamira Rohaizad
This was an independent review by Eatbook.sg.
The post Cheong Fan Paradise Review: Ex-Shangri-La Chef Sells Chee Cheong Fun At Ang Mo Kio appeared first on EatBook.sg – New Singapore Restaurant and Street Food Ideas & Recommendations.